With the cold weather months upon us, the need for baby booties is greater than ever. No matter if you are looking for a Christmas gift for a newborn or a birthday present for a coming-of-age kid, these 25 crochet baby booties patterns will give you plenty of options to choose from. The best part about these baby booties is that they are easy to make and won't take up too much time. Whether you have a newborn of your own, or you're making presents for friends and family members, your time will be well spent with these cute and functional patterns. With so many different materials, colors, and designs to choose from, you can make multiple pairs in no time at all. These booties are just as easy as they are adorable, so get started on sewing some up today!

Newborns and babies grow so quickly, so it's important to purchase or make lots of baby clothing to fit them for those early months. And what better way to dress up your little one than with a pair of handmade baby booties? Baby booties are really quick projects that you can easily crochet in just a few hours, and they're also great stash busters if you have some leftover yarn in your craft room. There are 25 baby bootie patterns out there, from simple to elegant and everything in between. So, pick your favorite color and stitch pattern and get ready to add some cute little booties to your growing collection of handmade baby clothes. In this collection of free crochet patterns, you'll find pairs of baby booties that look just like socks, slippers, and shoes.
These 25 Crochet Baby Booties Patterns are designed to get the beginner crocheter started making beautiful baby booties.
Uses of Crochet Baby Booties
Crochet Baby Booties Patterns are used to keep your baby's feet warm.
Crochet Baby Booties Patterns make good gifts.
They can be made into baby slippers.
Use them to make a decor item.
You can sell them online to make extra money.
Crochet baby booties patterns can be used for crochet amigurumi.
Crochet amigurumi is an art, hobby, and skill.
A lot of people enjoy crocheting.
Little kids love all things fluffy, and furry.
Tips to Crochet Baby Booties Patterns
When you're ready to start your next crafting project, why not make some baby booties? Newborns are the perfect recipients for little crocheted shoes, and the patterns are simple enough for even the most inexperienced crafter to handle.
Here are some tips to help you choose a pattern that's right for you: Use these tips when choosing a pattern:
Choose something you can finish in an evening or two - crochet baby booties don't take too long to make.
Don't be afraid of using more than one color - it's fine to change colors as you work.
If you're making them for a specific person, make sure that the pattern is written in their size - not all newborns wear the same size shoe!
Basic Baby Booties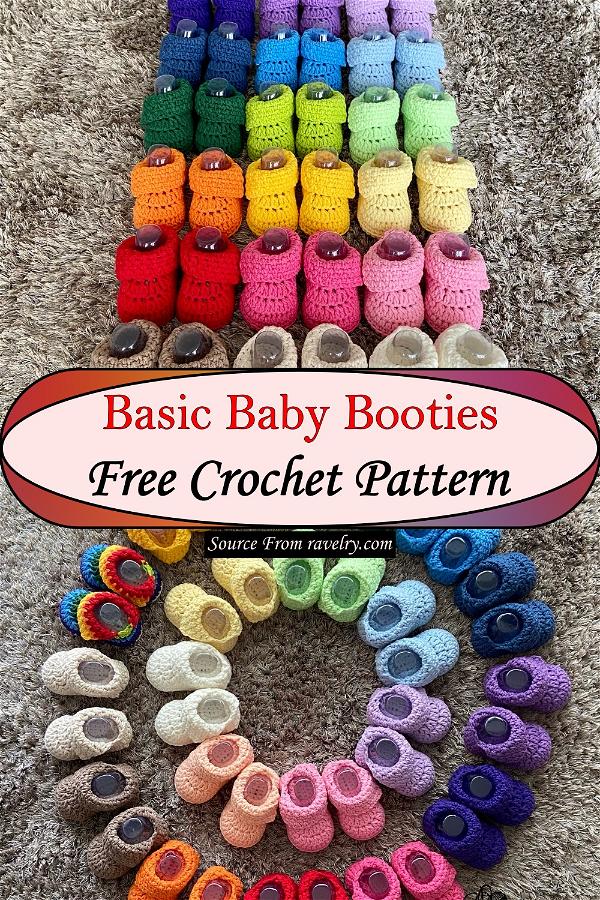 If you are looking for the first pair of booties to crochet, these booties are the ones. Now it's time to get warm and cozy with your new baby. These knitted booties are made to keep the little toes good and warm and perfect for indoor or outdoor use. The Basic Baby Booties is a very simple baby booty that is suitable for beginners with just some double crochet stitch and single crochet stitch. They are not as hard as making socks like booties. Moreover, it is quick and easy enough for beginners to make them.
Minion Inspired Baby Booties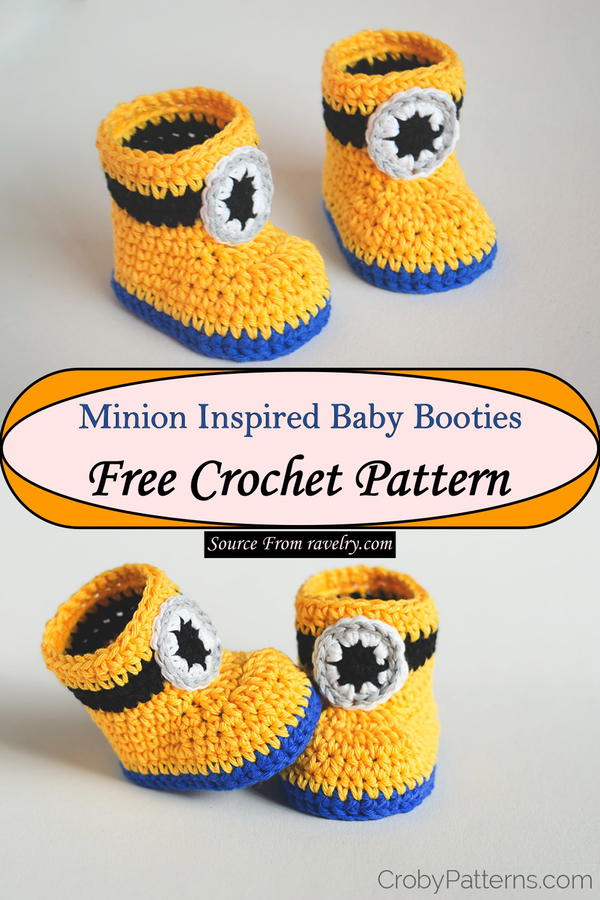 Adorable crocheted Minion-inspired baby booties. Perfect gift for a newborn baby boy or girl. These are perfect for a new mom or dad to pack in the hospital bag and bring their little one home in style! The booties have a squeaker inside the yellow portion so parents will quickly find out which one is the right and left foot. Each yellow squeaker minion has overalls, black boots with white flower detail, an eye patch, and a toothless smile. Perfect gift for a newborn baby boy or girl.
Clara Newborn Booties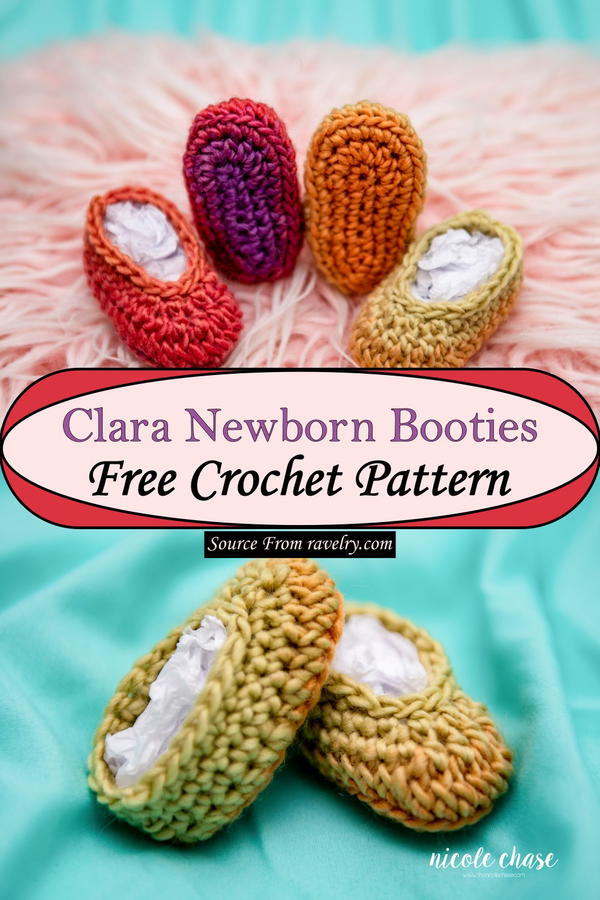 Made with soft baby yarn, these adorable newborn booties are quick and simple to crochet. Great for giving to a loved one or making for a craft show, this pattern uses scrap yarn and works up quickly. The Clara Newborn Booties are perfect for the new baby in your life. Simple to complete and such a cute gift, these booties work up quickly and make an instant hit with the little ones.
Draper Baby Booties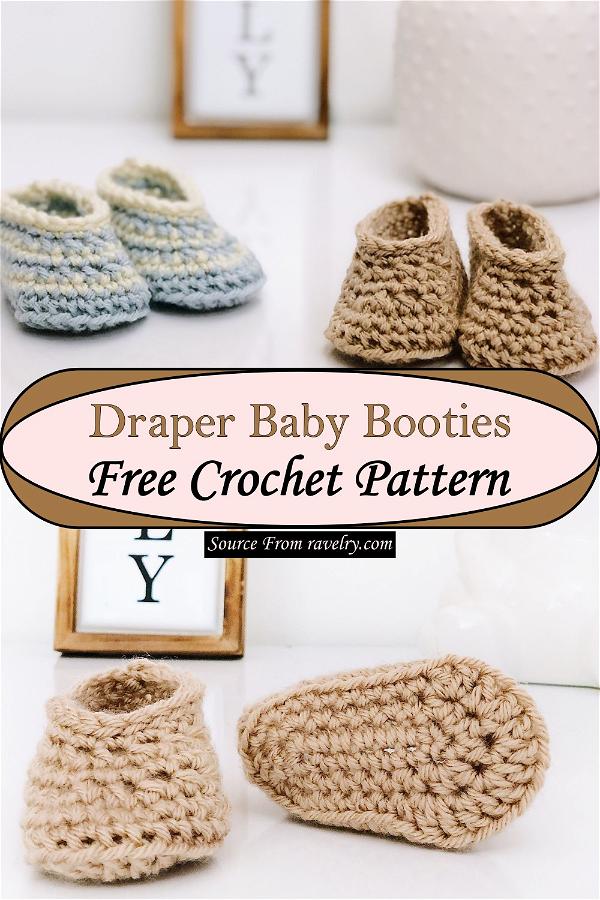 This hand-crocheted snappy baby booties pattern is easy to make and so adorable! The sweet little bows and stitching details look way harder than it is. These are really fun baby shower gifts and the new parents will love them. These simple booties are a great beginner crochet project, or just a quick one if you're more experienced. They make great gifts! Its soft, fuzzy fleece inside will keep your baby's toes warm as they kick off their first pair of shoes, and the straps make it easy for you to put them on.
Ruby Red Mary Jane Booties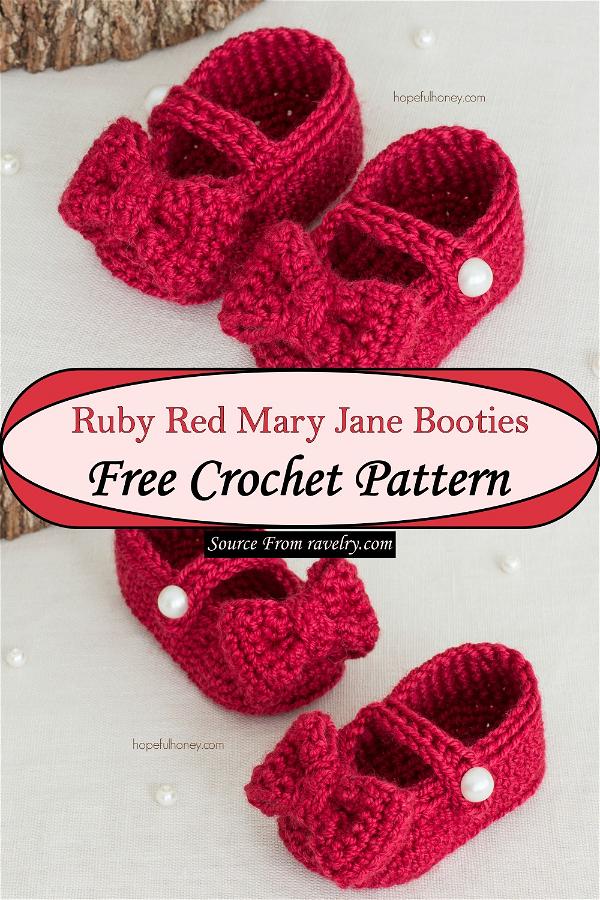 Prepare your little one to go on their own magical journey with these precious Ruby Red Mary Jane Booties. It won't take long to crochet this pair, and once completed, you'll be so proud to see your baby girl wearing them. These booties are sure to last through all of your little girl's magical moments, from her very first steps to her first day of preschool, and everything in between. Your little one will love to show off these crocheted shoes with the iconic ruby red slippers on the front.
Kimono Baby Booties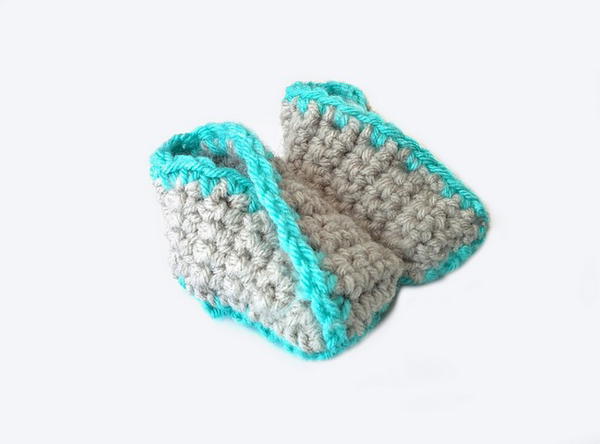 Making baby booties is even easier with this simple pattern that can be used over and over again. It's perfect for beginners because it only uses a few basic stitches and can be finished quickly. These easy crochet baby booties are made simply by crocheting a rectangle then folding it in half and stitching the sides together. Using this pattern you can create so many different variations of baby booties with unique colors, trims, and more.
You can also see: Crochet Kimono Patterns
Flamingo Feet Baby Booties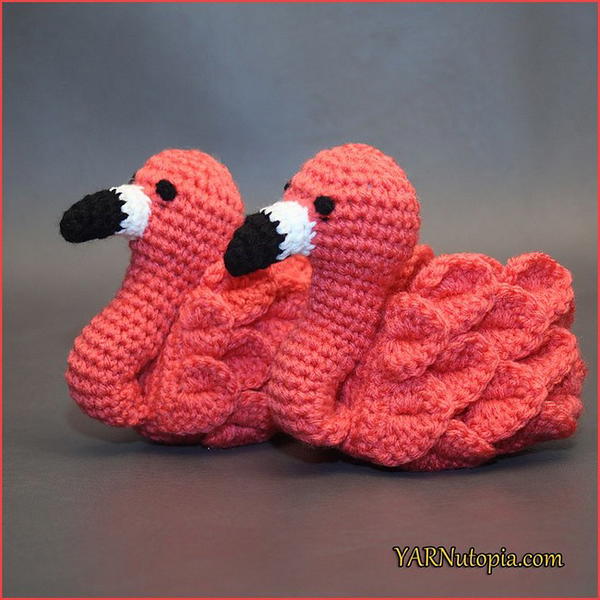 Fashion meets function with these handmade crochet flamingo booties, featuring embroidered eyes and a baby blue tie for easy adjustment. Cute yet breathable, these flamingo baby booties are sure to become an instant family favorite. There's nothing cuter than flamingo feet, especially when they're on a baby! This set of booties will keep your baby's feet warm and tiny toesies protected. The crochet flamingo feet design naturally looks nicer and is better for the environment when compared to synthetic materials.
Newborn Baby Booties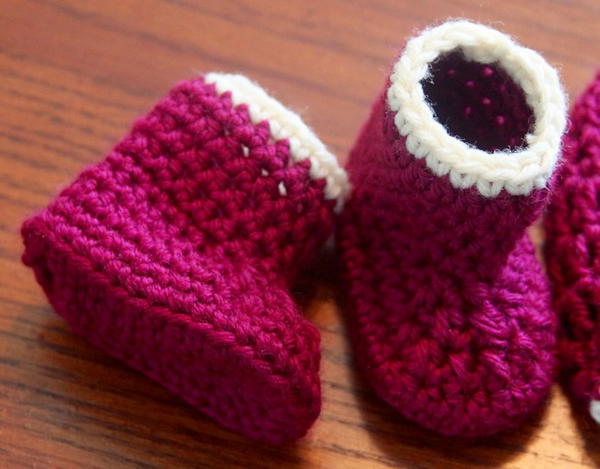 These booties are super cute and quick to make. It's the perfect project for an evening at home. A perfect project for naptime or nighttime, the Crochet Newborn Baby Booties are ideal for crochet veterans and first-time crocheters alike. Just three rounds long and assembled with no seams, these sweet little shoes will sew up in a flash and make a great gift for your new bundle of joy. These adorable baby booties are perfect for the little bundle of joy in your life! Just imagine how cute your new baby would look in these booties. These booties are the perfect baby shower gift for a girl or a boy.
Crochet Newborn Baby Booties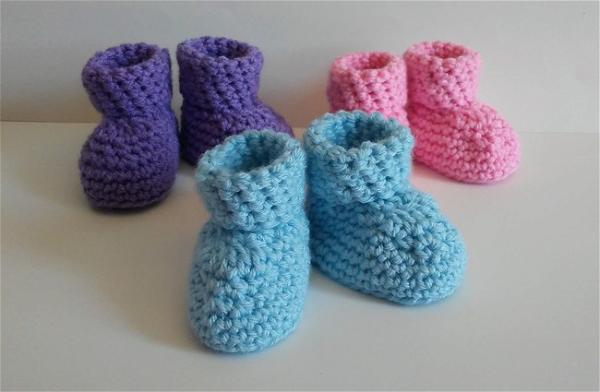 These hand-crocheted baby booties are sweet and soft, perfect for keeping little toes cozy. These hand-crocheted baby boots are so soft and easy to get on baby's feet, even those squirmy feet. They are custom made to order, in a size newborn, with rich cotton yarn. The pattern is simple and easy to follow, ideal for beginners. Create your own set today! Suitable for newborns and makes a perfect baby shower gift. These booties are available in many colors to suit your needs.
Heart Baby Booties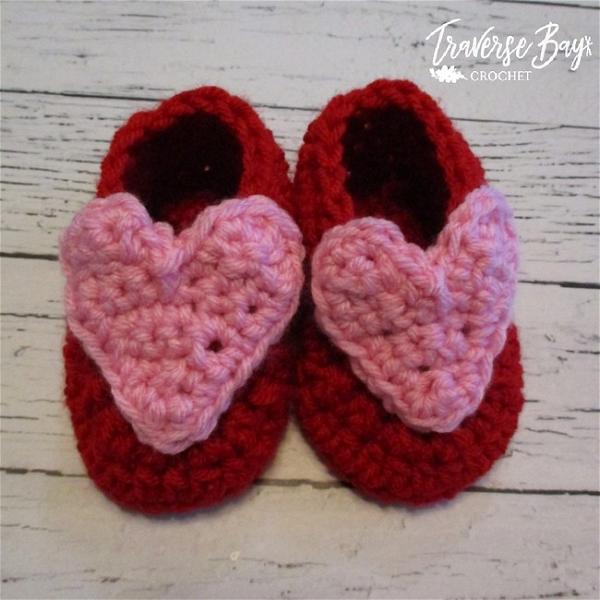 Here's an easy pattern to help you make some cute crochet heart baby booties. Make the sweetest pair of baby booties for your little one with this easy crochet pattern! These are some of the most darling booties to make and only require a basic knowledge of crochet stitches. These booties are super cute and simple to make. A great gift for the new parents in your life! This cute design is better than store-bought because you can make them with your own two hands! Grab your hook and yarn and get started!
Lion Baby Booties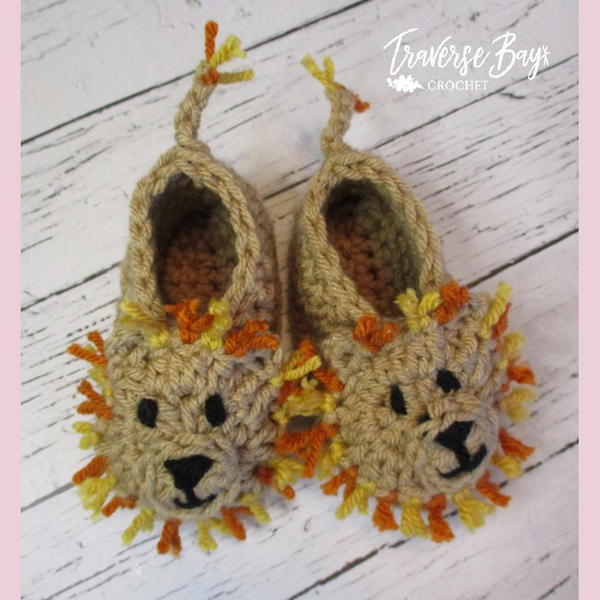 You will love creating these adorable crochet lion baby booties for the little bundle of joy in your life. These booties look absolutely darling on sweet little feet! Using this easy and cute pattern, you can create several pairs of these adorable booties for friends, family, or co-workers who are expecting. These adorable crochet lion booties will be your new favorite baby shower gift. Whip up a pair in an evening and people will be fighting over who gets them first. They are so cute on little feet! Just a few materials from your local craft store are needed to complete this fun project.
Rib Cuff Baby Booties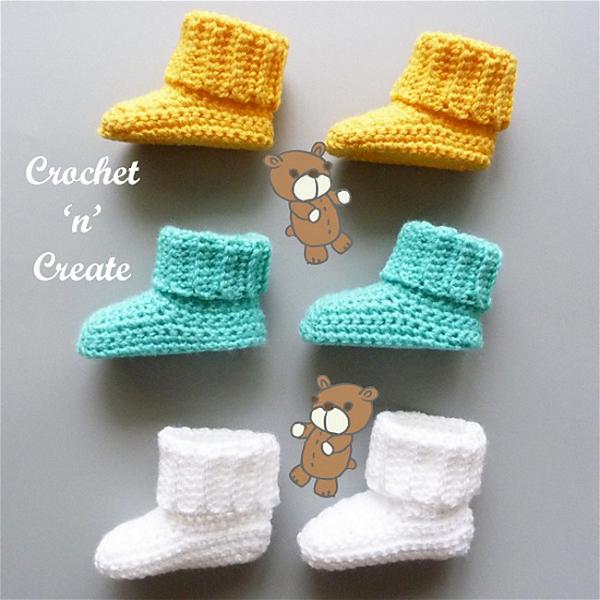 The Crochet Rib Cuff Baby Booties are super simple crochet booties that can be made in any size from a baby to a doll. These cute booties are crocheted in a simple one stitch design and are quick to make, you can crochet them up in a couple of hours, so are ideal for a last-minute gift for the new arrival. They feature simple ribbed cuffs to keep them on tiny toes and have an added ribbed cuff around the ankle (butt closed not open) with soles made to fit size 0-6 months approximately.
Simple Baby Booties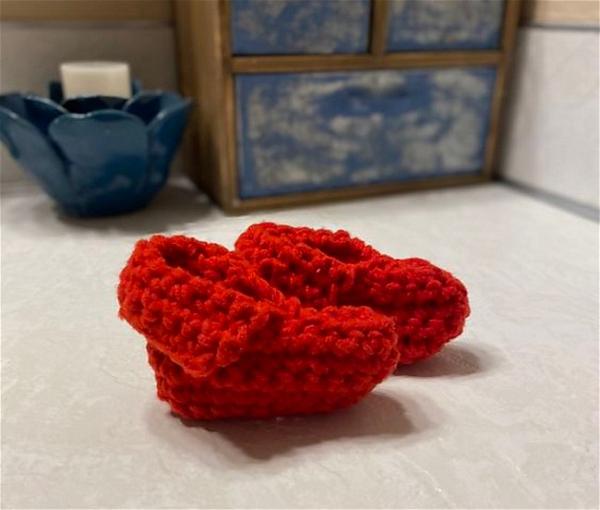 Keep your baby's feet nice and warm with these adorable booties. Crochet these Simple Baby Booties to keep your little one's feet nice and cozy. These crochet booties are easy to work up, so you can create a whole collection on a weekend, then give them as homemade baby shower gifts. These DIY baby booties take just one skein of yarn and come in two sizes so that you can use them on babies of different ages.
St. Patrick's Day Baby Booties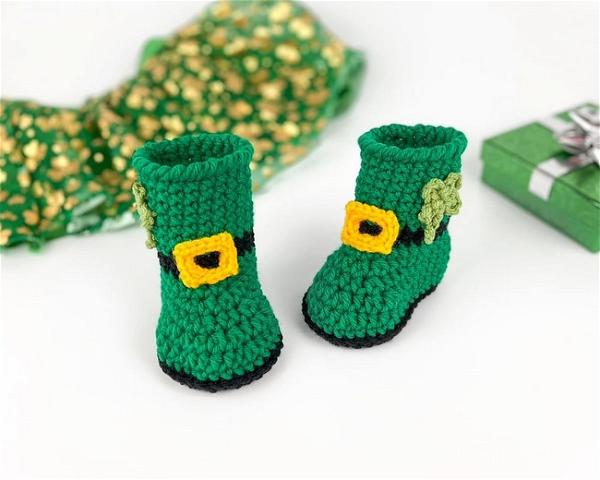 These Irish shamrock booties make the cutest little shoe for a baby's first St. Patrick's Day! Crochet booties and socks can be one of the most wonderful baby showers or new baby gifts or even a great item for your own baby. These adorable St. Patrick's Day Baby Booties are perfect for your holiday photo! They will add the perfect touch to your baby's outfit, and you can even personalize them with a name or monogram. Made in sizes newborn and 0-3 months. The green shamrock applique is made of felt. It's a great booties crochet pattern for beginners, but it also looks so unique and new that even experienced crocheters will love it.
Santa Baby Booties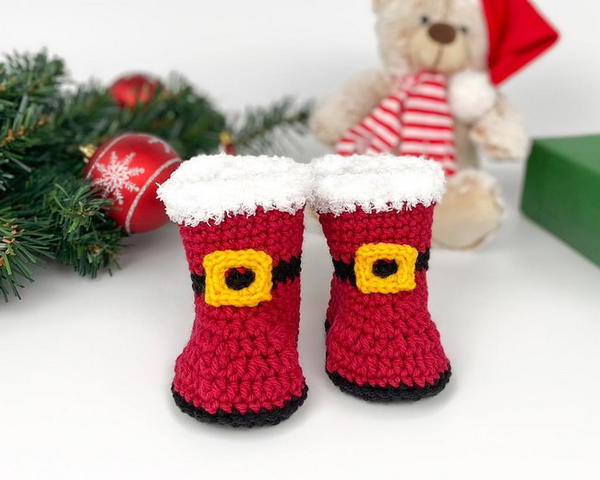 This Santa Baby booties pattern makes a great gift for new parents as well as an adorable handmade Christmas decoration, too. Crochet one for each baby in your family to give a special keepsake made with love. Add some jolly to this holiday season with these adorable crochet Santa Baby Booties. This easy crochet pattern is sure to be a hit with the family! They make great gift ideas for a baby shower and are even perfect little Christmas gifts, too. Fill them with candy canes for a fun decoration.
New Baby Booties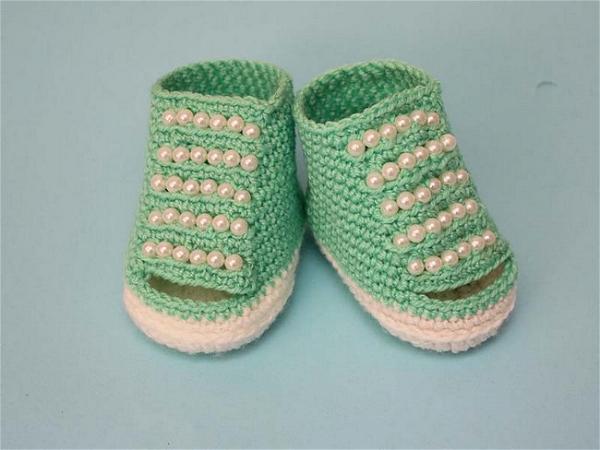 These Sandals Crochet New Baby Booties will look very cute in your baby's baby or toddler shoes. These booties are perfect for those who learn how to crochet but want to go beyond the basics. These Crochet New Baby Booties are designed specifically for use under less effort and in less time. These crochet baby booties look great on and keep your little one's feet warm. Made with acrylic yarn, elastic thread, beads, and a size F hook, they are also easy to clean as they are washable. These booties make an excellent gift for a new mother or grandmother. Great for baby showers!
Bo Baby Booties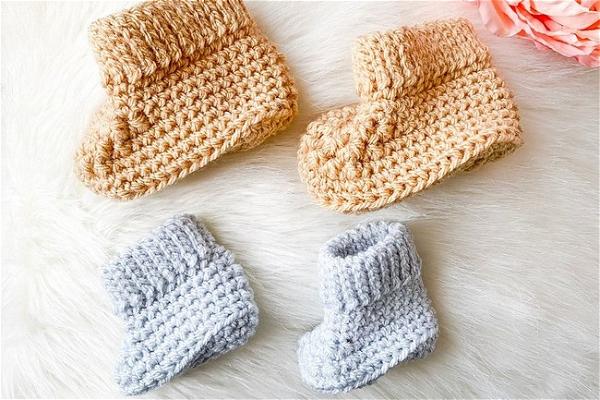 A cozy pair of booties is an essential baby shower gift, and this no-fuss pattern is sure to be one that the baby can wear all season long. Throw a cute pair together in a few short hours, or whip them out just in time for the big day! These adorable baby booties are not only super comfortable for the little ones, but also very easy to make. These shoes will stay on your little one's feet, and keep those tiny toes nice and warm!
Unisex Baby Booties
These cute baby booties are the perfect crochet gift for newborns! Crochet baby booties are the best project for babies and toddlers. They grow so fast that you need to follow up with your little bundles of joy. You never know when you will need a pair of shoes for your little one on a sunny day! These baby shoes are worked flat so you don't have to make a third bootie just to have two matches! It is unisex and it is beginner friendly as it makes use of simple crochet stitches like single crochet and half double crochet stitches.
Cable Baby Booties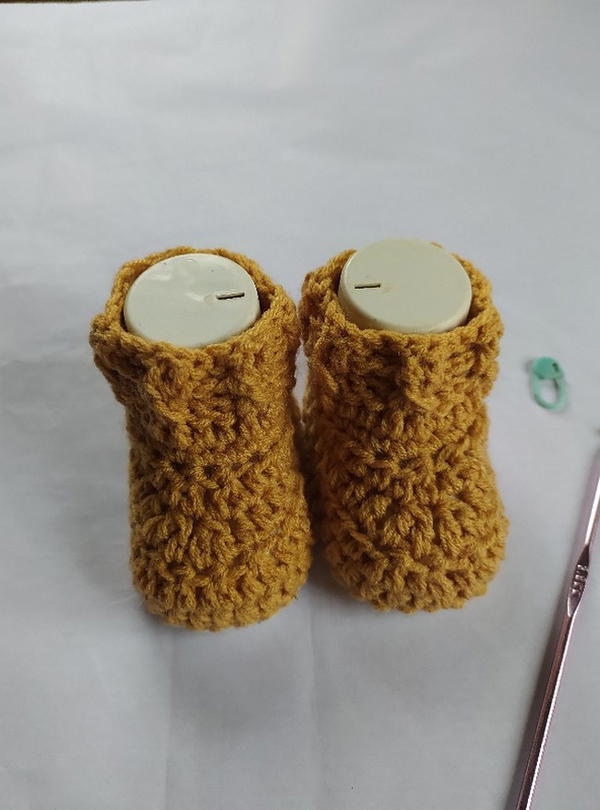 Crochet Cable Baby Booties are perfect for family members who are expecting new arrivals. These shoes make adorable baby shower gifts and are great for beginner crocheters. They feature a soft, cable-knit edging and a cute band of color at the top. Quick and easy project, these booties require less than one skein of a worsted-weight yarn to complete. It is definitely one of the easiest and quickest baby shoes to make. They are a perfect gift for both baby boys and baby girls. Just attach a bow instead of the button if you like to give it as a present for little girls. These crochet baby shoes are comfortable and can keep your little one's feet snug and warm.
Baby Posh Booties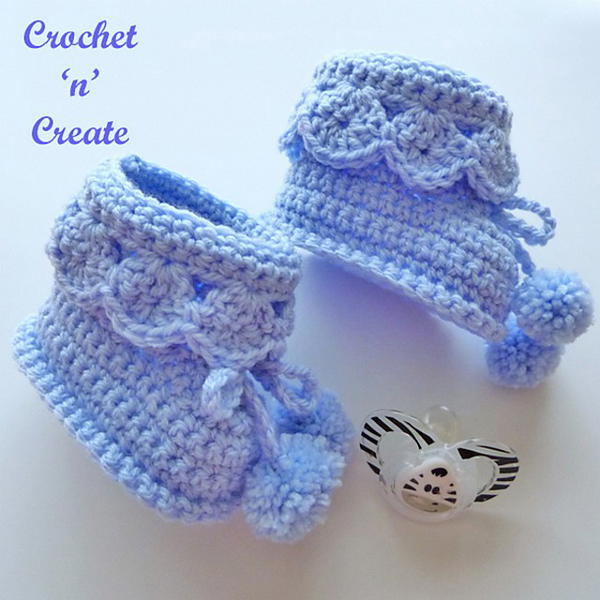 Crochet Baby Posh Booties. These adorable baby booties are super simple to make up from yarn, a great project for newbie crocheters. Finish them off with a pretty flower accessory to make them extra special - they'll be an instant favorite! Crochet a pair of these easy baby Posh Booties for a quick gift to make. The booties are worked top-down from the cuff, starting with the soles in neat crochet panels and ending with the garter stitch fold-over cuff. These cute baby booties are fast to make and have fantastic potential for color play.
Moss Stitch Baby Booties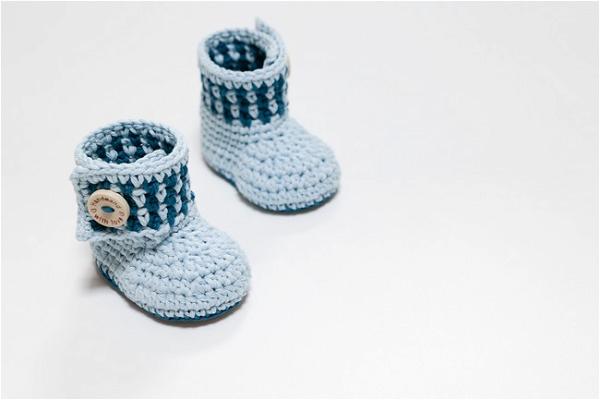 These quick and easy booties will keep your little one's feet warm and cozy with a softness that is unmatched. These are great for gifts or everyday use. The perfect baby shower gift! These super cute and stylish baby booties are great for newborns, preemie babies, hospital photos, or everyday wear. These are the perfect booties for a newborn! Made with amazing softness and love. A beautiful handmade baby shower gift. These baby booties are so quick and easy to make! Simple stitches that work up fast and easily. Very cute double-sole moss stitch crochet baby shoes pattern.
Snowflake Baby Booties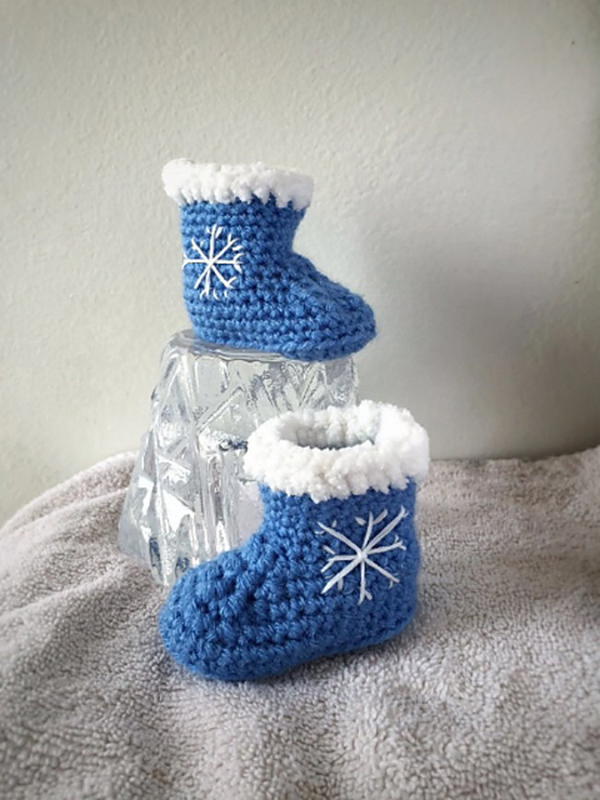 These crochet snowflake baby booties are perfect for any baby this winter. Easy enough to make that they would be great for a baby shower gift. Baby booties are great to make while watching television, during your commute on the bus, or in between appointments. These crochet snowflake baby booties are the perfect gift for any little baby this winter! It is an easy pattern with simple color changing. Basic knowledge of chaining, single crochet, half double crochet, double crochet, crochet decreases, and slip stitching are necessary to complete this pattern.
Pompom Baby Boots
These soft crochet baby boots are ideal for keeping little toes cozy. Keep your little one's feet nice and cozy in these cute baby boots crocheted with chic pompoms. This adorable baby boot features a crochet pompom for a fun and stylish look that any infant will love. You can create a beautiful accessory for your little one with this Pompom Baby Boots Crochet pattern. You will be making not only for your cute baby but also for a special gift for someone else.
Baby Booties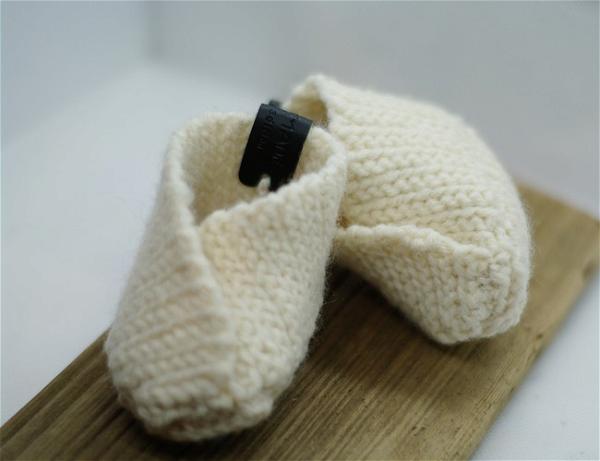 Crochet these adorable little baby booties for your next shower gift. They are very easy to make and take only a few hours to complete. This pattern will quickly become one of your favorites using a simple slip stitch. Makes the perfect gift or uses up scraps of yarn in your stash. These baby booties are the cutest! They are crocheted in a super soft acrylic yarn which makes them perfect for both boys and girls. They make a fantastic gift. If you can do a slip stitch then you can make these booties!
Newborn Hat and Booties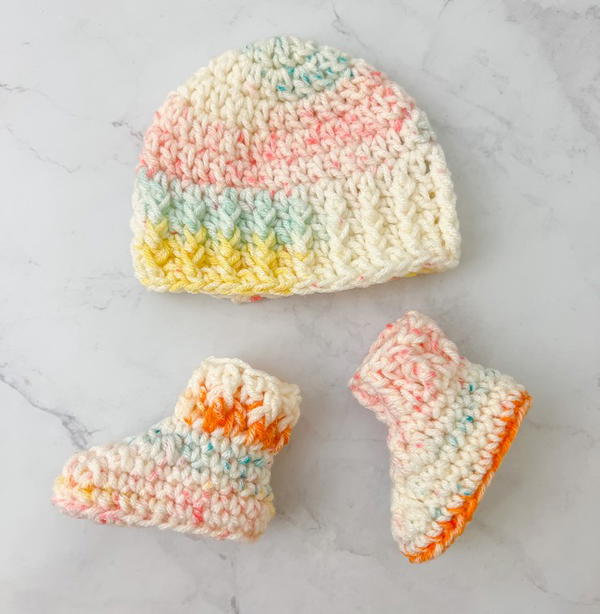 A new baby is the most precious gift. These adorable crochet newborn hats and booties are the perfect gift for a new baby boy or girl. Each set is handmade from 100% cotton yarn, making it both breathable and durable. Lovingly hand-crafted by Mili Designs (a female-founded company), this set is perfect for keeping your little one warm and safe on their first outings. Bundle your little one up in these adorable crochet Bev's Baby Hat & Booties. Made with classic colors and soft cotton, this hat and bootie set is sure to be a favorite!