Try a kimono if you're looking for a seasonally appropriate look that is also stylish and comfortable. Whether worn with a winter coat, over a tank top, or as an additional layer of warmth in colder months, kimonos add just the right amount of flare to any outfit. The Crochet Kimono Patterns include long-sleeved cardigans, short-sleeved jackets and shrugs, t-shirt styles, vest designs, and kimono tops. You'll love how they look with jeans or leggings, skirts, and dresses - even wear them over swimwear!
Here is a fun inspiration for all your fashion-savvy crochet friends. This series offers several unique crochet kimono patterns that are a great alternative to traditional crochet and are much easier to care for. With easy-to-follow instructions, the most difficult thing about the patterns in this list is choosing which one you want to make first.
Crochet Kimono Patterns

What's better than a kimono? Making it yourself! Make your crochet kimono with these 21 Crochet Kimono Patterns. From full length to half length, from lace to simple and soft, and from traditional to modern - whatever you like, you can make it with these crocheted kimono patterns. These easy crochet kimono patterns are perfect to wear over a sundress or skinny jeans, leggings, and sneakers. They slip on easily and make a big impact when paired with the right accessories, so you can look polished without getting dressed up for every occasion!
Crochet Kimono
This oversized crochet kimono is the perfect piece for layering in casual or leather looks. It works well over jeans, sequin pants, and even dresses. The kimono is a classic crochet piece, and this design adds a modern touch by using cluster stitches as the base. The stitch pattern is easy to memorize, making it a great piece for working in various colors. This kimono is a perfect addition to your vintage wardrobe, made from ultra-soft cotton material and featuring a simple but distinctive crochet cluster stitch.
Crochet Kimono Cardigan
Crochet Kimono Cardigan is a fun and easy crochet project to make in a few hours. The pattern comes complete with video tutorials for all stitches needed for this project, including how to do color changes in crochet. This crochet kimono cardigan is great for beginners. It's made using bulky yarn and a large (9mm) hook, so you can learn new stitches while keeping the project moving quickly. Pebble stitch creates a beautiful texture, making this an easy sweater to wear in any season.
Crochet Calypso Kimono Cardigan
Let's face it, everyone loves a cardigan. This crochet video tutorial will help you to make this sleeveless calypso cardigan sweater with front pockets that are stylish and accommodate the everyday last-minute needs of life. This simple crochet pattern is to follow, utilizing a basic stitch that creates a nice drape over the body and a feminine shape. This spring/ summer top is lightweight, warm, and perfect for this climate.
Sakura Kimono Bunny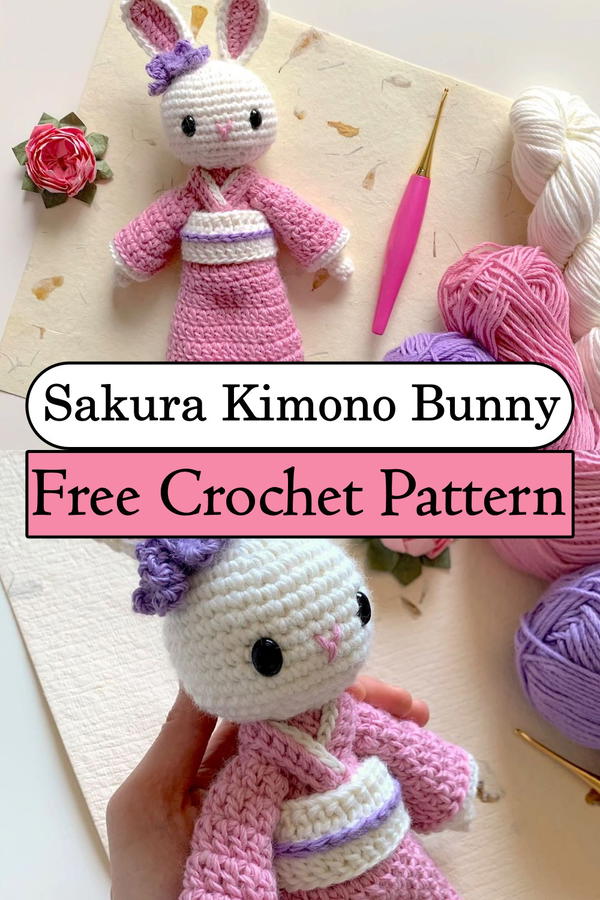 The Sakura Kimono Bunny is a traditional Japanese doll wearing a kimono, sakura flowers, and an obi sash. Customize this crochet project using different color combinations and make your handmade gift! This lovely bunny doll will be a wonderful addition to your collection of dolls. The Sakura Kimono Bunny comes with a traditional kimono that you can personalize to your liking. Her detailed outfit makes a great addition to any room or collection.
Kimono Geisha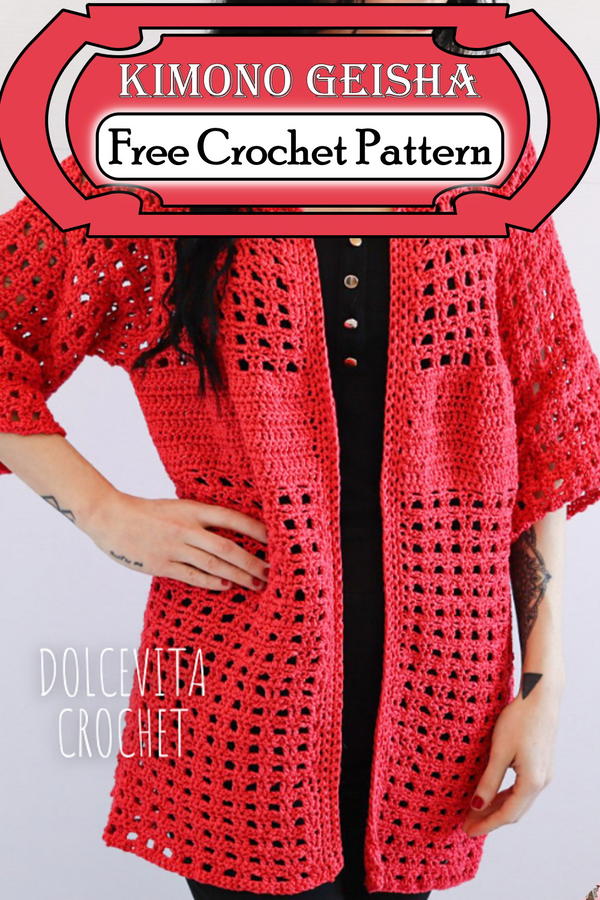 We are pleased to present you with this lovely crochet kimono geisha pattern. Follow these simple steps, and you will create a fantastic piece of wearable art. This crochet kimono geisha pattern is perfect for beginners and experienced crocheters. You can make various sizes and patterns or even sell them to fashion lovers at craft fairs! This pattern is fun and easy to follow, making it ideal for the beginner crafter who wants maximum impact with minimal effort!
Lace Kimono Cardigan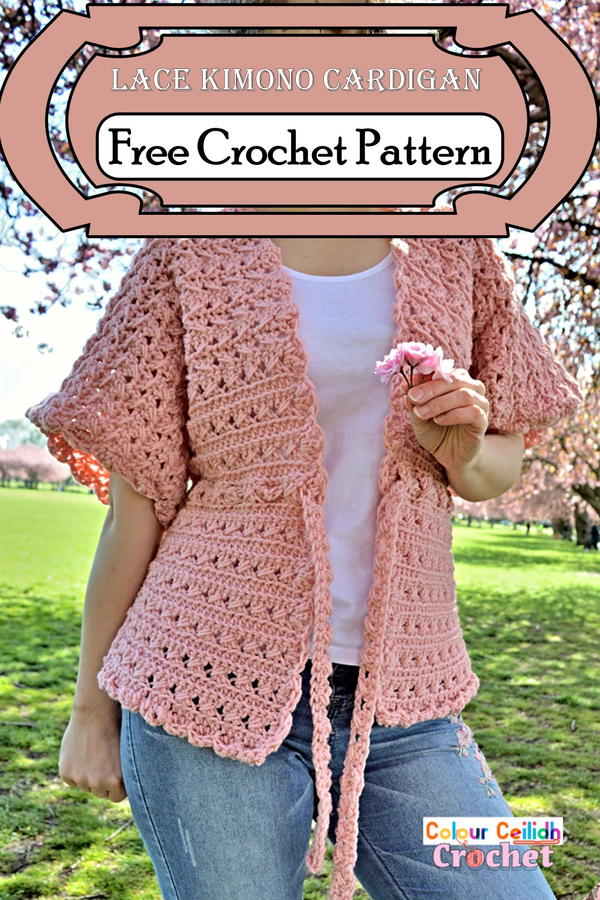 This crochet lace kimono cardigan is the perfect wardrobe update for any woman. It's ideal for wearing casually over a pair of jeans or dressier with a pencil skirt for a night out on the town. You can make it in about a weekend using chunky yarn and worsted-weight cotton thread. This gorgeous crochet lace kimono cardigan for women is elegant and comfortable. The cardigan is made with chunky yarn, so it's not only flattering but warm as well. This pattern includes a YouTube video tutorial to help you throughout the process.
Kimono Crisantemo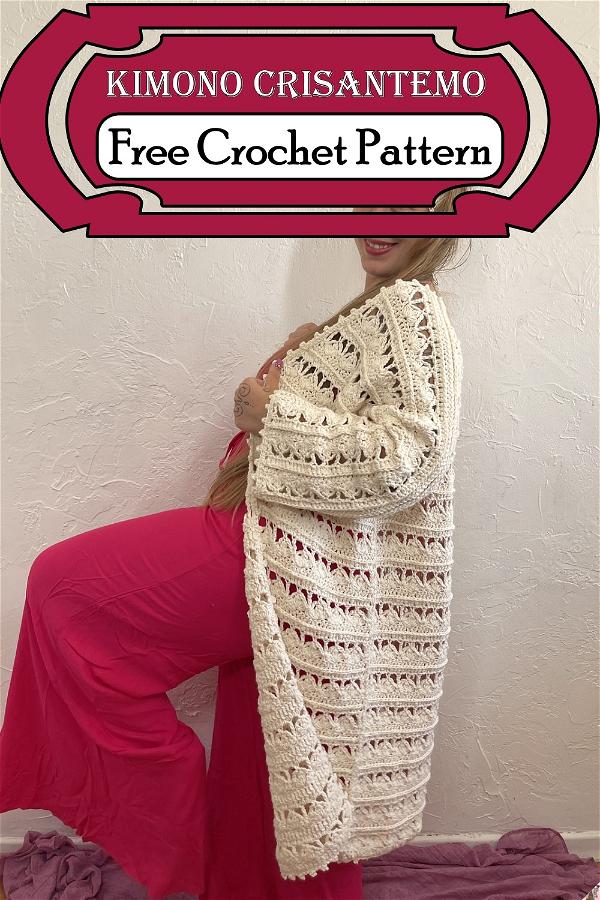 This crochet kimono pattern is a beautiful, intricate design that can be worn as a jacket or full-length kimono. The Chrysanthemum Kimono features a crochet flower pattern, which is simple enough to make this garment satisfying for the novice crocheter. It can also be used as a jacket if it is made shorter. It's a very versatile design. They are worked from the top down with beginning lace stitch instructions.
Baby kimono Yoko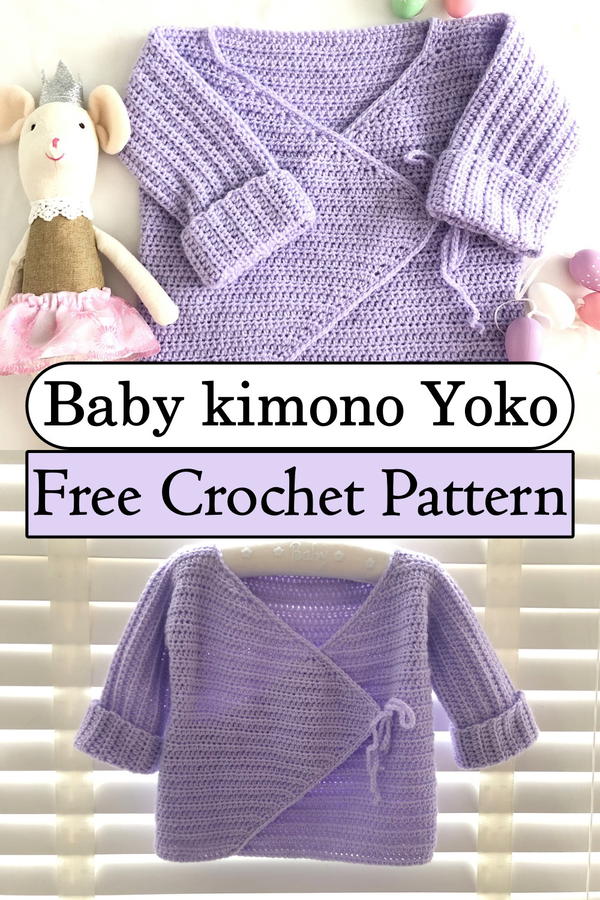 This beautiful cardigan is perfect for an active baby. You can wrap or tie them with a cord, which makes it easy to get dressed. The cardigan has a modern twist and an excellent design. This beautiful baby kimono is offered in sizes 0 to 6 months and 6 to 18 months. It consists of two parts, the body and the sleeves. The body is worked bottom up and is shaped with short rows. The sleeves are worked top-down and are finished with I-cord. The edging is crocheted around the entire piece, which gives it an elegant look.
Summertime Kimono Wrap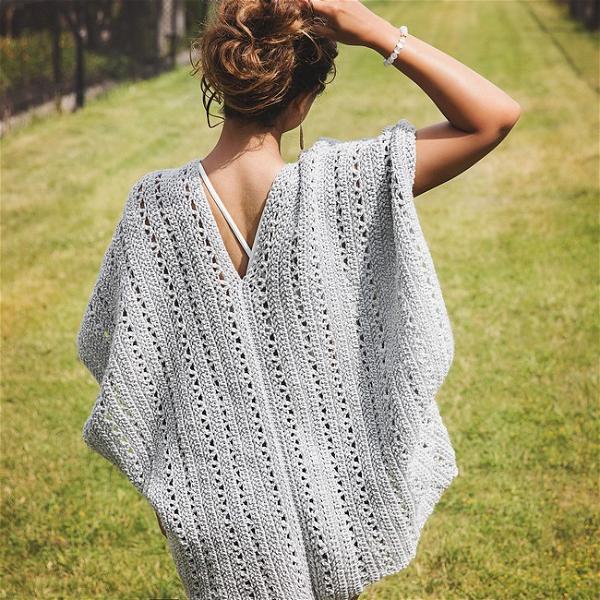 This kimono wrap inspired my love of the 70s and bohemian fashion. The body works with a super soft rayon crepe fabric, so it's extremely comfortable and stretchy. The hemline will embellish with a gorgeous design giving the 60" length wrap that extra special! Whether you want to go for a modern vibe or simply want to be ultra comfy during the warm summer months, this wrap will be your go-to accessory this season.
All Seasons Kimono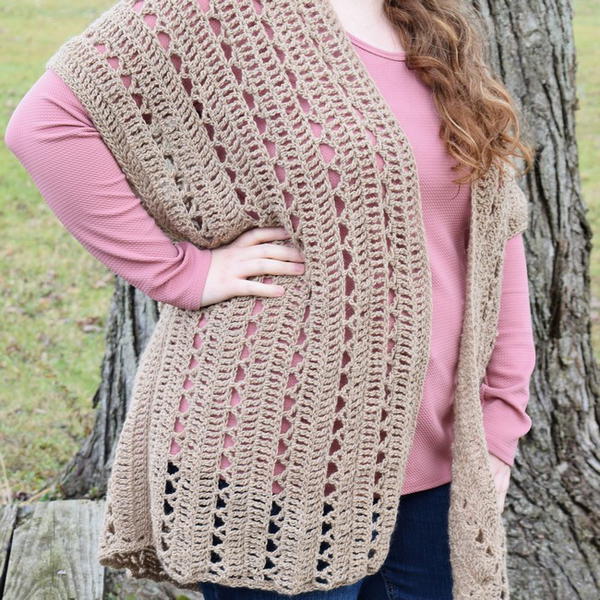 This simple garment is a great layering piece for all seasons. A slightly oversized fit makes this fun and flowy. This pattern incorporates a wide variety of techniques - there will crochet pieces as well as crochet. The All Seasons Kimono can wear casually or dress up with your favorite jewelry. The possibilities are endless! Crochet this project in bright spring colors or warm autumn hues, two or three colors at once, to create the perfect kimono for every season!
Crochet Lacy Days Kimono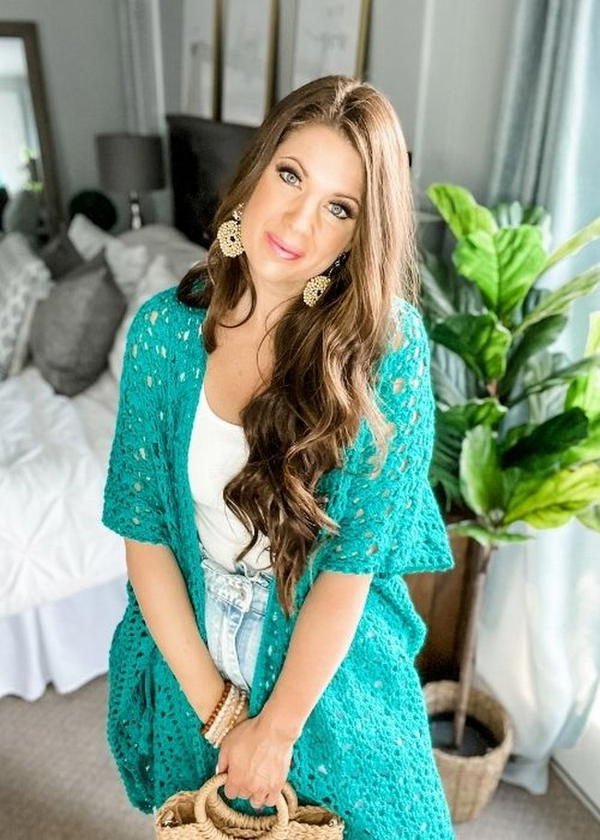 The Lacy Days Kimono is an easy construction pattern that you will love to make. Worked in two pieces from the side across and laced up the back, this dainty little garment is a delight to wear. A beautiful feather belt adds just enough accent to the waistband to make this kimono perfect for layering over skirts, even denim shorts or white skinnies. The beautiful feather belt finishes the piece with a pretty accent to the lacy front. A versatile piece for Spring/Summer
The Vacation Kimono Cardigan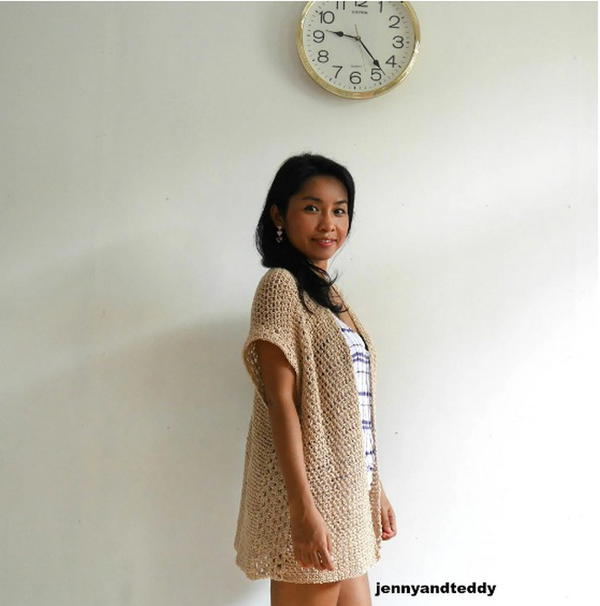 This can be your go-to summer cardigan. It is quick and easy to make in crochet linen stitch, with a pretty openwork pattern on the front, and the plain reverse side looks great with jeans and is dressy enough to wear to work or with sandals and white pants on vacation. This crochet kimono has a wide neckline and ¾ length sleeves. The stitch pattern is very simple but gives the garment an interesting texture. You will be able to wear it not only on vacation but also to work or in the evening with your friends. Its loose fit, crew neckline, and elbow sleeves make it a perfect addition to your spring wardrobe!
Lemonade Summer Crochet Kimono Cardigan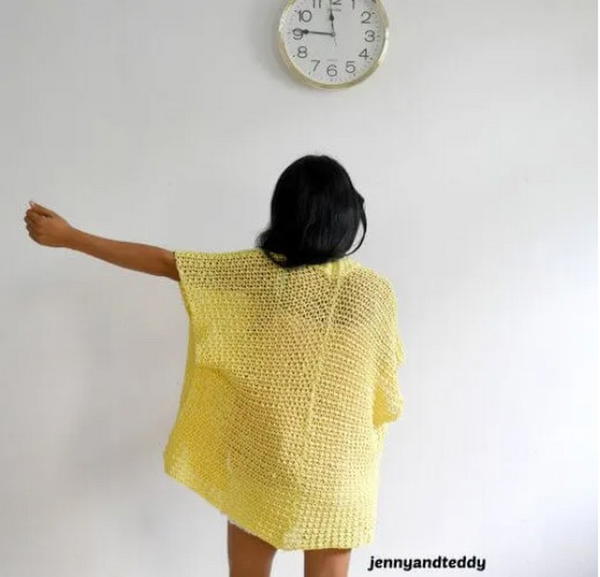 This summer crochet kimono cardigan is easy to make and looks stylish. The great thing about this crochet kimono is that it can wear all year round. Since it's lightweight and airy material, it makes a perfect match for the summer heat, but at the same time, you can also pair it with jeans in fall, winter and spring. This pattern is easy enough for a beginner but will be a fun project for more advanced crocheters. It works of cotton and is suitable for the beach or the pool or just to put on over your favorite tank top and jeans. The size can adjust by changing your hook size and how tightly you crochet.
Summer Diamonds Kimono Cardigan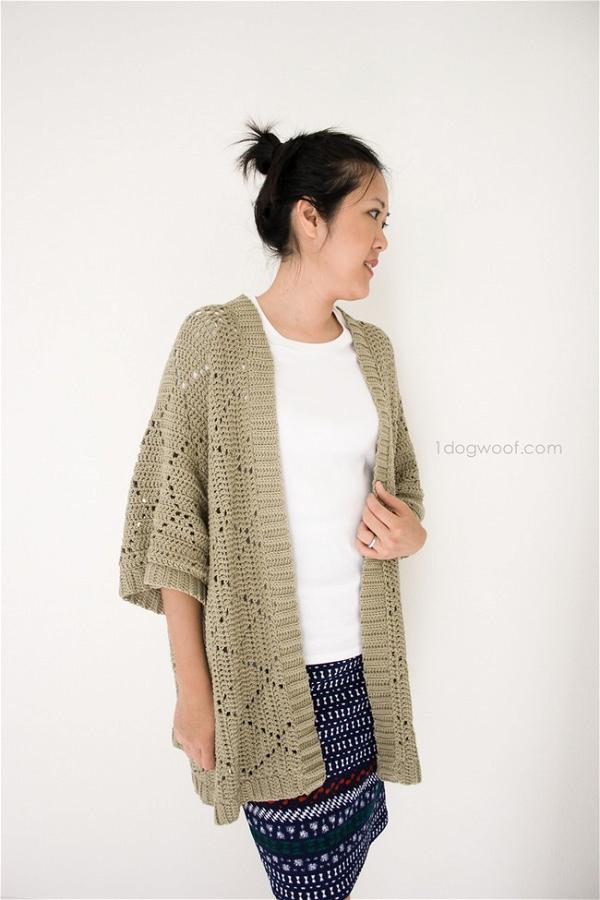 The Summer Diamonds Kimono Cardigan is a sweet and comfortable cardigan that is perfect for any time of the year. It'll be best to have a flattering fit and flare silhouette with a deep V-neckline and cozy shoulders. This sweater features two rows of eyelash lace at the hem, four tiers of eyelet ruffles in the lace pattern, and a rolled hem detail. The lace pattern reminds me of rows of diamonds on the sea, which is exactly why I named it Summer Diamonds! It will be a fun little knit for date night or as an extra layer when going to an outdoor event. If you see this on your needles in February or March, it's not too late!
Barcelona Summer Crocheted Kimono Cardigan Pattern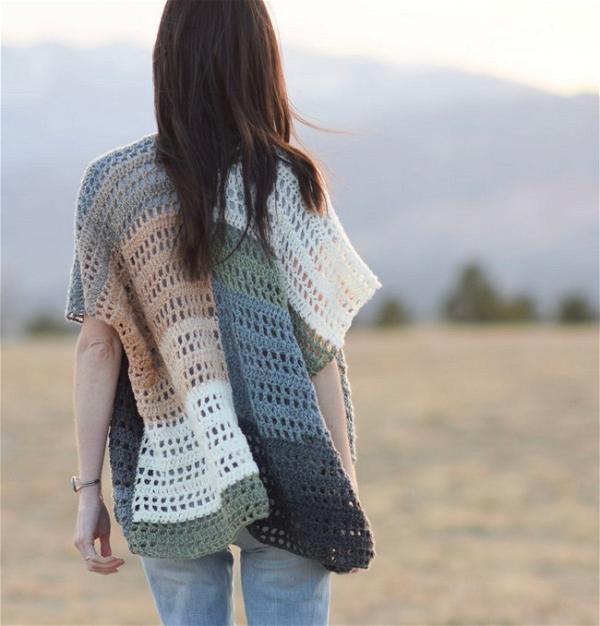 The Barcelona Crocheted Kimono Cardigan is a classic summer staple. This easy project is perfect for gifting or keeping you warm at the beach! It's also a great way to get comfortable with crocheting cables. This kimono cardigan is a fun weekend project to try. The open and airy design is perfect for spring and summer, made with lightweight cotton yarns in various colors. The easy construction features raglan sleeves, a V-neckline, and wide, open fronts that tie each side to define the waist.