There is a sweater or cardigan for every season and for almost every occasion as well. You'll love wearing cardigans any time of year. These crochet summer cardigans are great for those days when the sun is shining but not hot enough to make you feel like you could die from the heat. These 25 Crochet Summer Cardigan Patterns are perfect for your summer wardrobe. Whether you prefer longer cardigans or short-sleeved capes, this collection will give you endless stylish options to add to your wardrobe. why not slip on one of these crochet summer sweaters to look fashionably cool.

Summer is officially here, and that means it's time to ditch those sweatshirts and start wearing some lightweight crochet cardigans! These crochet cardigan patterns are the perfect accessory for a summer night. They're the perfect way to keep the chill off your shoulders without having to wear a bulky sweater. There are so many different styles of cardigans that you can make. From simple cardigans to more elaborate ones, you will find something that suits your personal style. Whether you need something for a summer night out or just want to add a little extra style to your outfit, these free crochet cardigan patterns will keep you looking stylish all year long!
These 25 Crochet Summer Cardigan Patterns are perfect for the summer and will help you add the best wardrobe to your collection.
Tips To Crochet Summer Cardigan Patterns
Crochet summer cardigans are a super cozy addition to any outfit. These versatile designs can be worn over your swimwear or paired with a slip dress for those breezy evenings. They will also look great when thrown on over your favorite pair of jeans. Be sure to pick up a few skeins of yarn and some fun stitches, as these patterns are sure to be a hit!
We love how simple it is to create these sweaters, which means that beginners will have no trouble making them. Plus, if you're looking for an easy pattern, this is definitely worth checking out.
This cute crochet top features an open front and short sleeves that make it perfect for layering during warmer months. It's made from lightweight cotton yarn and has been designed in three sizes, so there's something everyone can enjoy wearing this summer (or all year round!).
If you're looking for something more intricate than plain old cotton yarn, this pattern uses both worsted weight acrylics and DK-weight merino wool--each in two colors--for added texture interest as well as warmth!
These light and airy sweaters are perfect for when the weather gets warmer, but you still want some coverage over.
Materials Needed To Crochet Summer Cardigan Patterns
In order to crochet the perfect summer cardigan, you will need a few materials:
Yarn
Hook Size P
Scissors
Tape Measure
Tapestry Needle
Uses Of Crochet Summer Cardigan Patterns
Crochet Summer Cardigan Patterns have a plethora of uses
Use them at work or out playing with kids
They're the perfect item to layer under any outfit
Crochet summer cardigan patterns are great for professionals, students, and homemakers
They can be worn as a cardigan in warm weather or as a blanket in cold weather
They're simple for beginners, but you can get
Crochet something for yourself, or make it into a business idea
Use this summer cardigan to stay cool inside and out all year long
Customize it with any fabrics, decorations, or patterns that you'd like
Crochet Ariel Summer Cardigan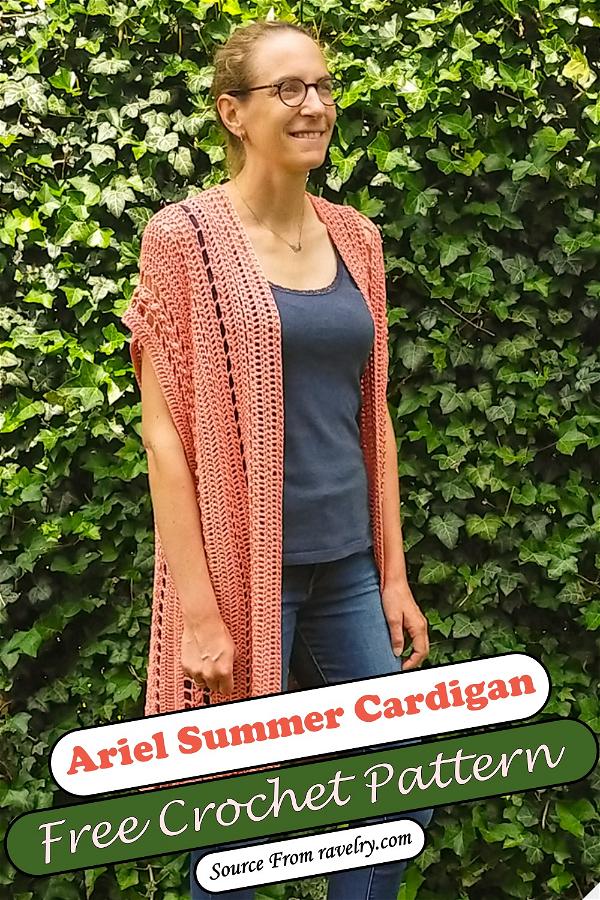 The Ariel boho crochet summer cardigan is an easy light, and airy summer cardigan. Wear it over a tank top with simple jeans; it instantly uplifts your outfit. Long with lots of drapes, it's perfect for a summer stroll on the beach or while hanging out on a BBQ under the sun. Long with lots of drapes, it's perfect for a summer stroll on the beach. It is a perfect choice for beginners, it is made out of 2 simple rectangles and features sport weight yarn, a big hook, and airy construction, making it a quick make.
The Lyndie Summer Cardi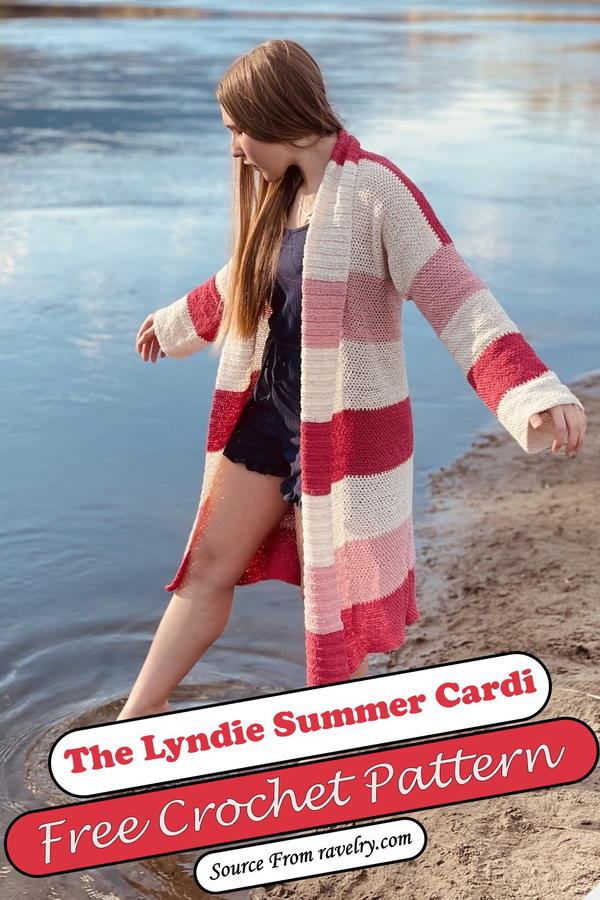 You'll love wearing this simple and stylish cardigan! The Lyndie Cardi is a great project to take with you on the go using only single, half double, and double crochet stitches. This piece is so comfortable it feels like you're in your pyjamas! This simple cardigan is made using basic crochet stitches and is perfect for throwing over a bathing suit at the beach or wearing out to your favorite summertime restaurant or club in the evening. A basic pattern using only basic crochet stitches, you'll be done in no time flat! Wrap yourself in luxurious style with this great pattern.
Hoku Summer Cardigan Pattern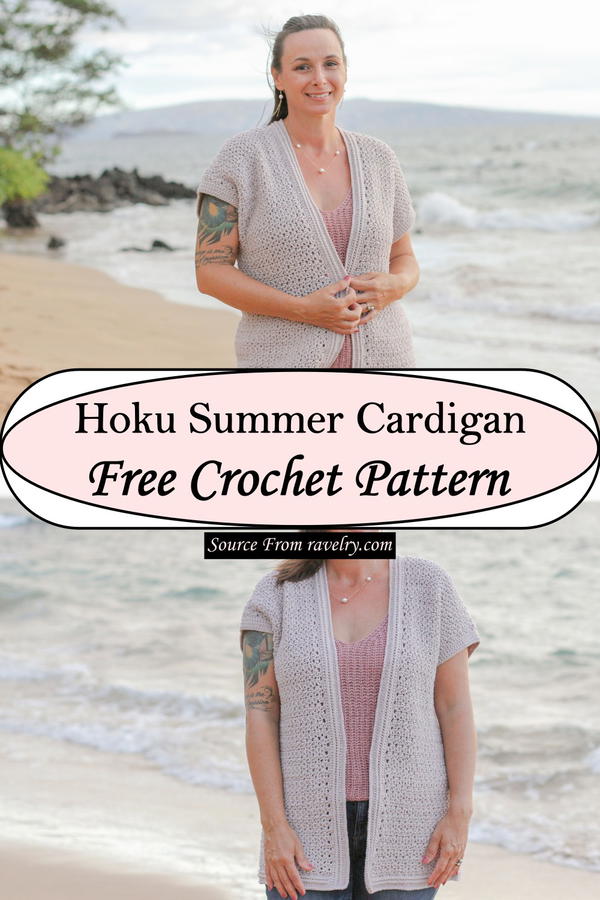 Try on the breezy style of this crochet cardigan. Its open-weave design will fit comfortably over a tank or strappy dress, and its extra-long length allows it to double as a light wrap. Pair it with other pieces from your Hoku Collection for an easy summer look that transitions from morning to night. The slightly oversized fit allows you to customize the length so that you can wear this piece as a top layer or under another cardigan in colder climates! The simple construction makes it easier to finish faster: make yours today!
Floral Summer Cardi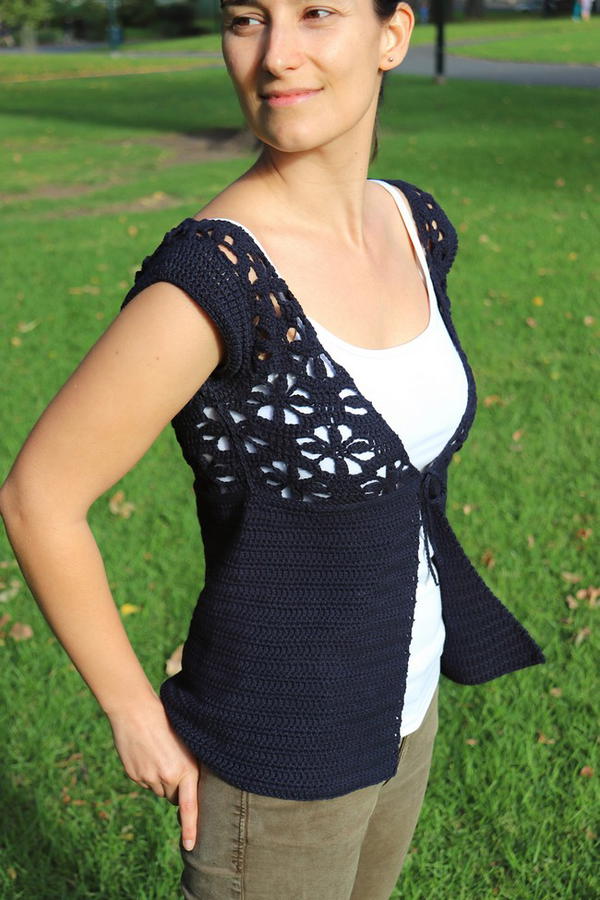 Refresh your cardigan collection with this lovely crochet floral summer cardi. Crocheted with a flower design, it's sure to enhance your outfit and keep you looking smart. A great layering piece all year round. Get your wardrobe ready for the warmer weather and make this beautiful Crochet Floral Summer Cardi. This short-sleeved cardi will enhance your feminine side while its flower pattern will make for a stunning layering piece Featuring beautiful floral crochet detailing around the edges, wear over this Floral Print Camisole for an elegant and feminine look.
Summer Nights Cardigan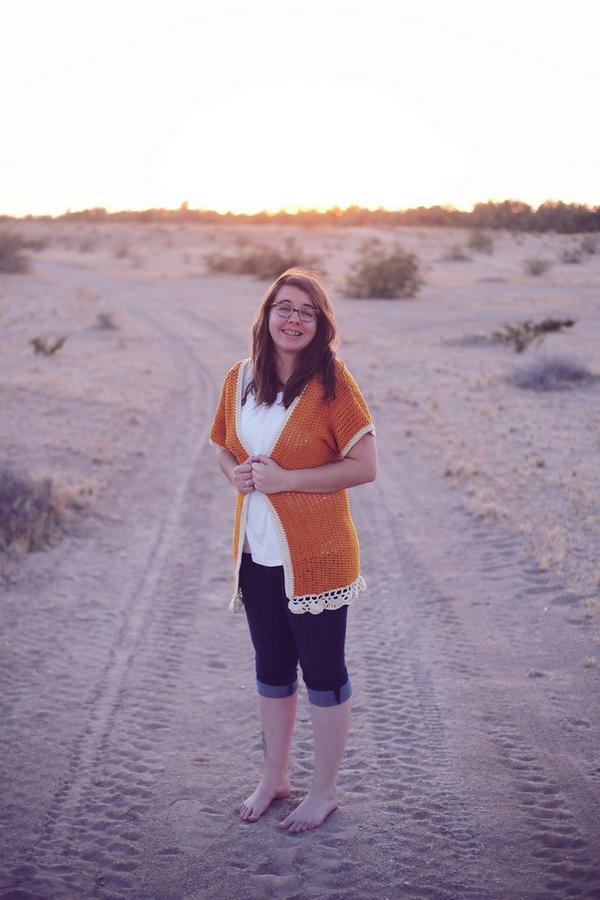 If you love a super versatile piece that's perfect for all seasons, you're going to love the Crochet Summer Night's Cardigan. This lightweight accessory is absolutely perfect for those summer nights that tend to get a little chilly. The cardigan features an easy construction with very little seaming at the shoulders. Made with a lovely lace pattern, it'll work up fairly quickly and easily, making it the perfect piece to only whip up a few hours before your evening plans! It's sure to become an instant favourite in your wardrobe.
Summer Cardigan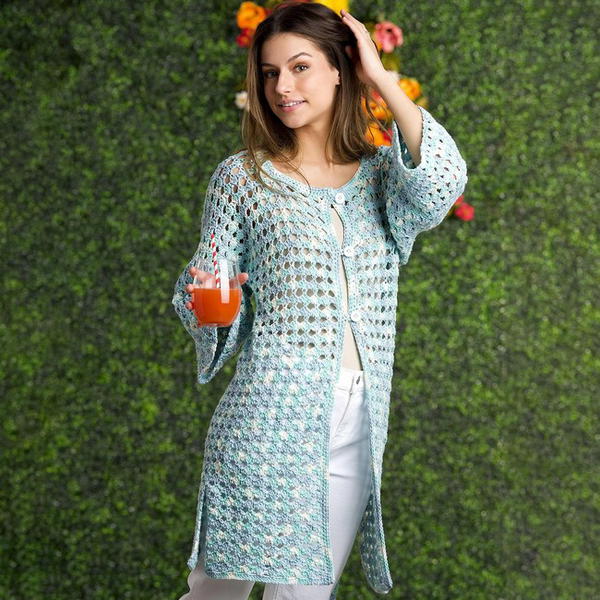 Bring a feminine touch to your warm-weather wardrobe with our breezy and beautiful crochet cardigan. The body is worked in one piece and features minimal shaping. Crochet in a cool-toned, light-weight yarn, you can wear it over thigh-skimming dresses or rolled-up jeans. The perfect cardigan for summer, this crochet cover-up from Bernat is worked in a cool blend of yarn. The breezy color featured here will complement any wardrobe. The pattern is great for beginners who wish to practice single crochet, double crochet, and chain.
End Of Summer Cardigan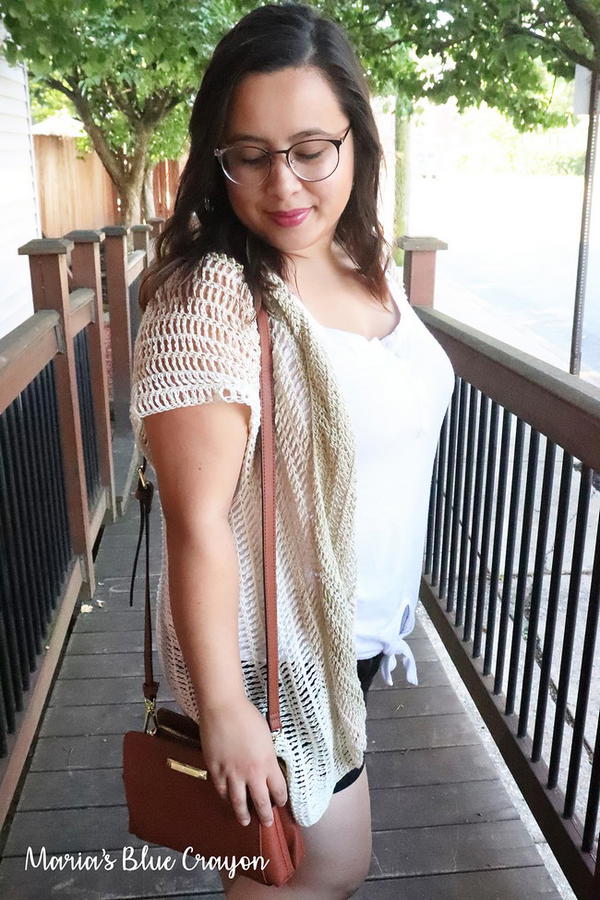 If you're looking for something light and airy to throw over your summer dresses and tops, then this end of Summer Crochet Cardigan is perfect. The pattern includes only one stitch, so it is very easy and beginner-friendly. You can make this cardigan in just a couple of hours, and it is also very versatile. You can wear it as a shirt or cardigan, or throw it over a summer dress to keep you warm on chilly nights. Designed to be long enough to cover your bum, this cardigan will keep you warm in the office, in the evening, or any time that you need just a little something extra
Summer Cardigan With Pockets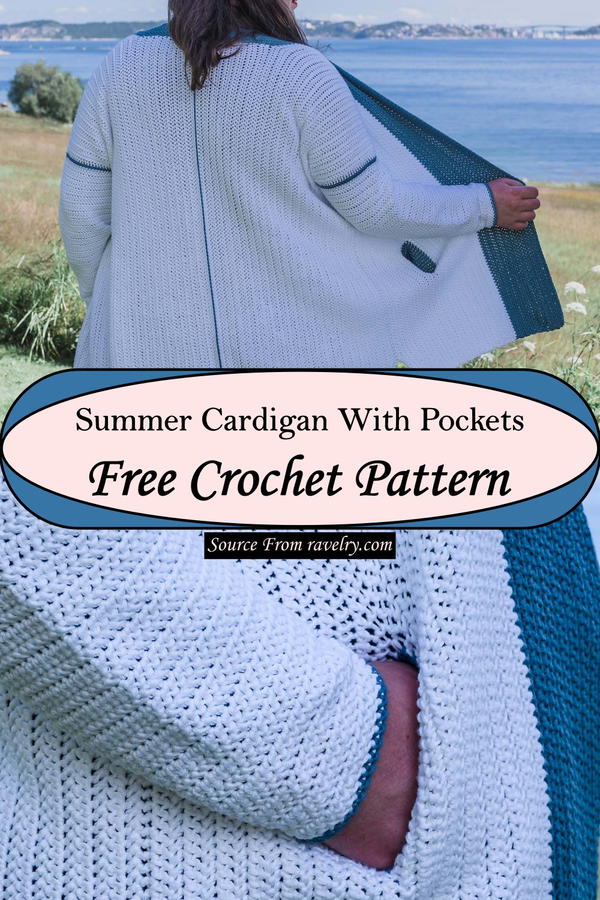 Nothing says warm weather like a crochet summer cardigan! This long and flowy cardigan is the perfect pairing for above your favourite maxi dress, swimsuit, or tank. You'll love the shawl collar and open front, which perfectly fits all body types, plus pockets! This one is perfect for long walks in the park, beach strolls, and even morning exercise sessions during the sultry, steamy summer months. You can just fling it over your shoulders and be on your way without caring.
Easy Summer Cardigan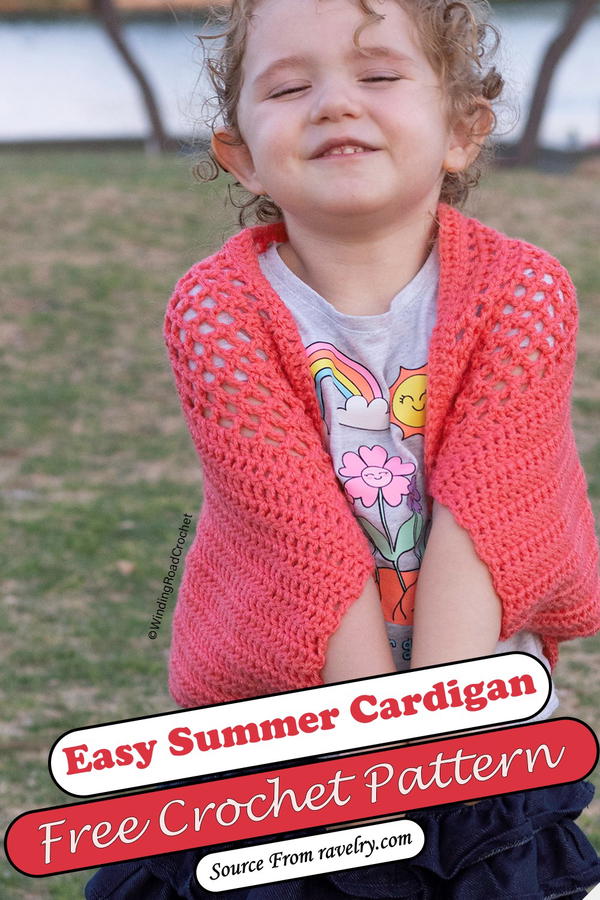 When it's too warm for a jacket or coat but too cool for a shirt, slip into this Easy Summer Cardigan—the perfect layering piece for air-conditioned offices and summer evenings. This open-front cardigan features long sleeves and waterfall lapels. A slight breeze and closeness of summer dusk are the perfect backdrop for throwing on your favorite summer cardi! Easy Summer Cardigan can be worn as a breezy coverup or as a layer over a cute cami. Whatever you decide, it's sure to up your cool-girl factor in any season.
Summer Isle Cardigan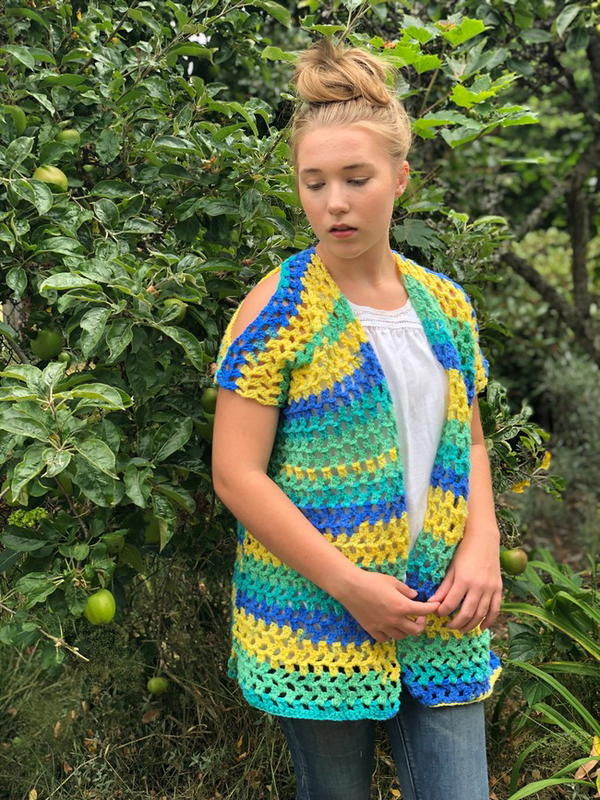 Lightweight, comfortable and perfect for those cool summer nights, this Summer Isle cardigan is the ultimate accessory. Featuring a trendy open shoulder design and a beginner-friendly granny stitch variation, this piece is easy to make and even easier to wear. Whether you're throwing it over a dress for a summer wedding or using it to keep warm on the boardwalk, this crochet cardigan will be your new go-to! Grab a crochet hook and start making this stylish and breezy Summer Isle Cardigan, which features trendy open shoulders, a gorgeous flower-filled stitch pattern, and other summertime positive vibes.
Pluma Summer Cardi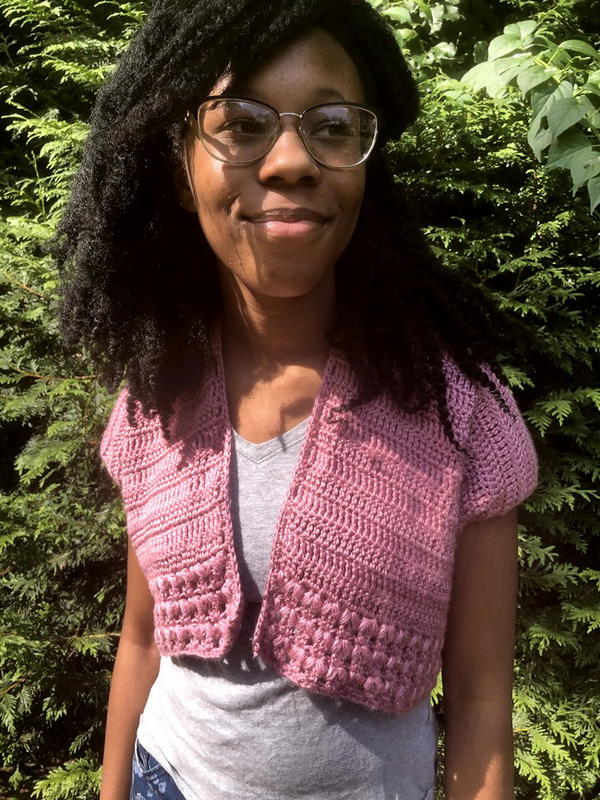 Do you love cardigans but don't want a heavy summer cover-up? This lightweight open-front shrug/cardigan is the perfect solution! Adding a little party to your outfit is as easy as wearing this lightweight summer cardi. Crafted with a cushy Turkish stitch and super-soft yarn, you can wear it at the office or over your swimsuit while the sun sets in paradise. This beautiful cardigan will be your new go-to piece for summer parties. This crochet pattern is perfect for anyone who wishes to learn the Turkish stitch and create a light summer piece.
Summer Luv Cardigan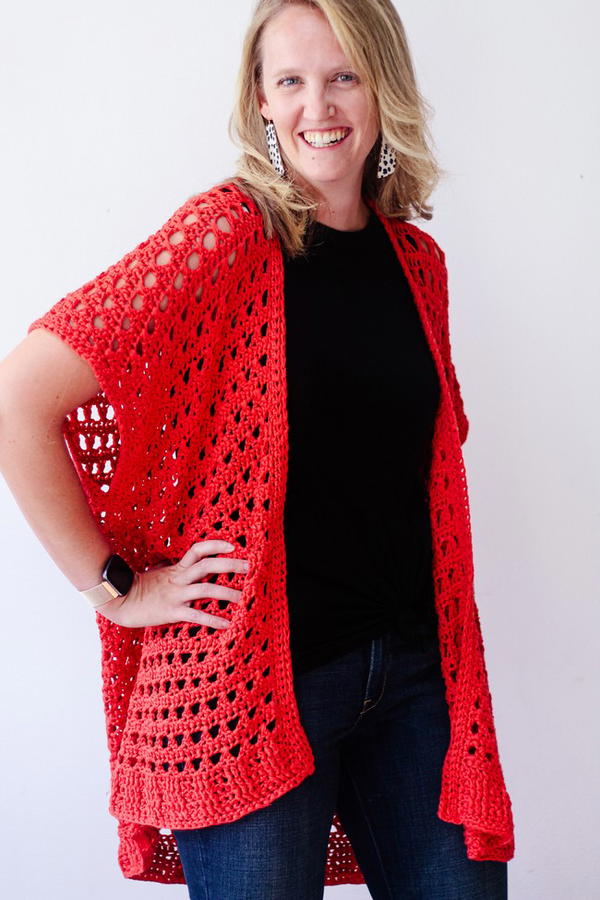 The Summer Luv Cardigan is a light, airy cardigan that can be worn year-round but is especially great for layering over your summer tank tops and dresses. This cardigan can also be worn with jeans and boots in the fall. It's perfect for wearing at the office, or just wearing around town. It is a casual fitting cardigan with a similar fit to your Central Park Hoodie or Manhattan Cardigan, with easier construction and a quicker finish! You will not get bored with the stitch repetition-- it's the perfect cardigan for the office or weekend errands.
Seaglass Summer Cardi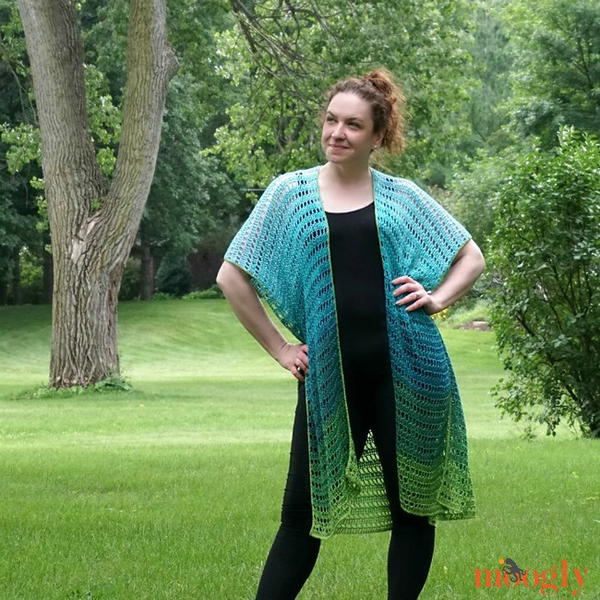 A perfect lightweight cardigan for a chill day at the beach or out and about, the Seaglass Summer Cardi is cool, comfortable, and cozy! The simple and classic style compliments any outfit, and the lace detailing is a cute accent. This cardigan-like cover-up is perfect for throwing over your favorite swimwear on cool nights, as it warms while providing breathability. But don't limit yourself - this cardigan is great for popping on over a tank top! You'll want to bring it with you everywhere this season.
Summer Nights Cardi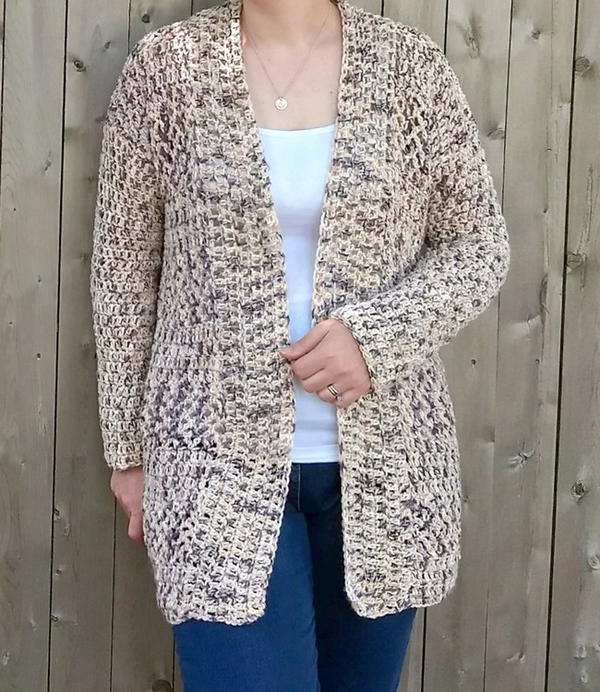 This gorgeous lightweight cardigan crochet pattern is the perfect addition to your summer wardrobe! Perfect for a cool summer night, or in air-conditioned restaurants this versatile design can be edged with a ruffle, lace, and more. With this gorgeous Crochet Summer Nights Cardi, you'll be ready for date night, an evening out with friends, or even a cool summer wedding. Featuring a beautiful design that shows off the richness of the natural colours in Lion Brand Flikka yarn, this cardi will help you look fabulous no matter what you are wearing it with.
Summer Crochet Cardigan Pattern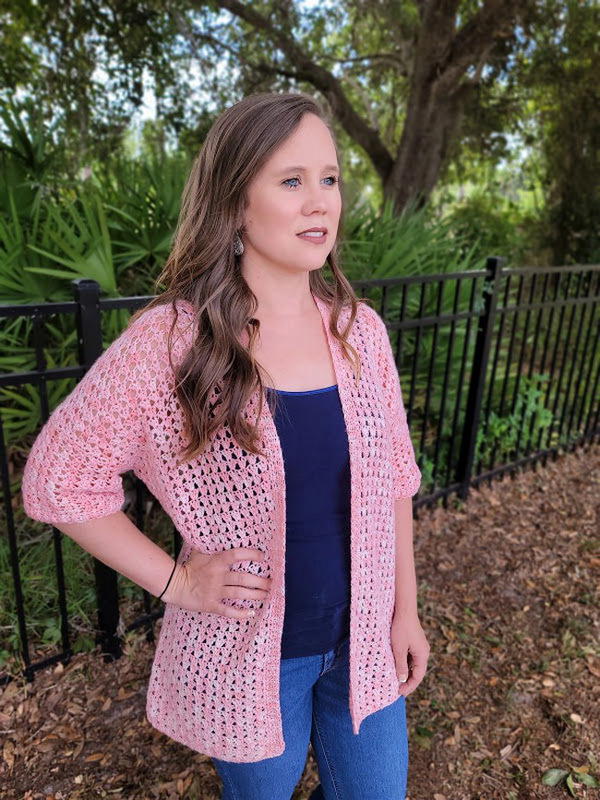 This simple project is made with lightweight yarn and fairly open stitch work, making it perfect for warmer months! Made of light, breezy yarn and with a simple row repeat, this cardigan is the perfect project for warm weather! The oversized fit and long open fronts give this cover-up a casual look that compliments any style. This simple project is made with lightweight yarn and fairly open stitch work, making it perfect for warmer months! The loose fit also makes it super comfy to wear every chance you get. You'll love this garment as much as we do!
Mid Summer Cardigan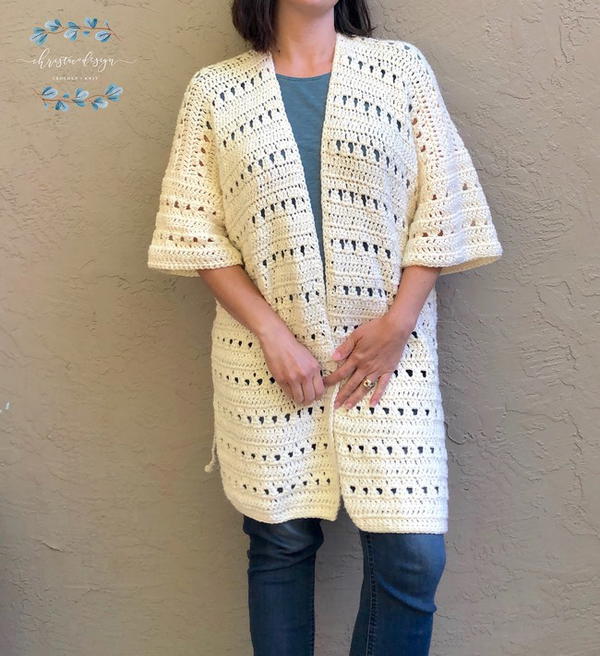 A summer crochet cardigan is an essential piece to add to your wardrobe this season. A great layering piece, the Mid Summer Cardigan can be thrown over any outfit for a classy, sophisticated look. The mid-length is stylish and versatile, making it easy to throw on over a dress or with shorts and a tee. It's lightweight enough to keep you cool – great for wearing to the beach or around the house in the morning. With feminine slits in the sides and back, it flows effortlessly. This cardigan is so comfortable, that you won't want to take it off! Wear it to the gym, wear it over your bathing suit or dress it up with your favorite heels. This casual cardigan is one you won't want to miss.
Boho Summer Cardigan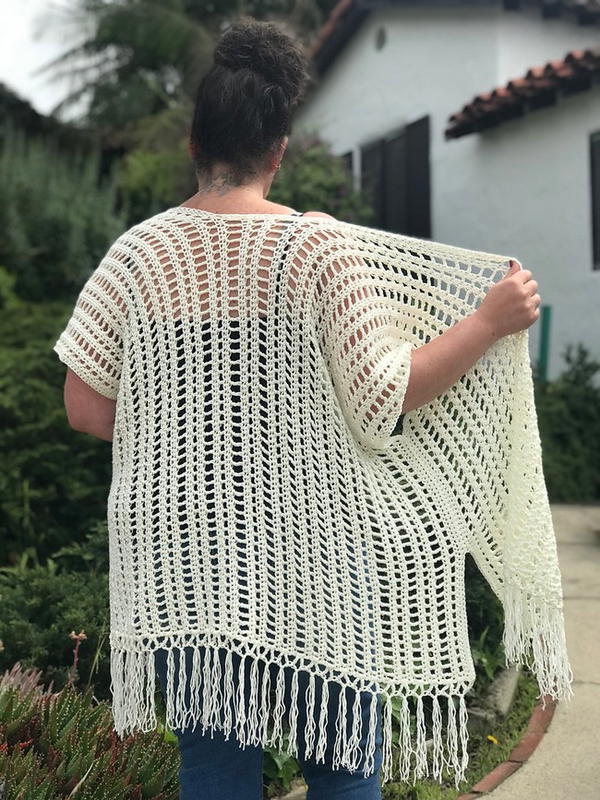 The Crochet Boho Summer Cardigan is the perfect lightweight sweater project to cover up a little or even use as a swimsuit cover-up. It is worked in vertical panels and has a fringed edge that really adds to the boho style. It also has many styling options, allowing you to change its look easily. This crochet cardigan is a must-have for your summer outfit. It is elegant and stylish. It's a breeze to make up with sportweight yarn. The pattern is made up of double crochets and treble crochets, so it's easy enough for beginners, but you need to know how to crochet in rows and foundationless double crochet.
Crochet Summer Cardigan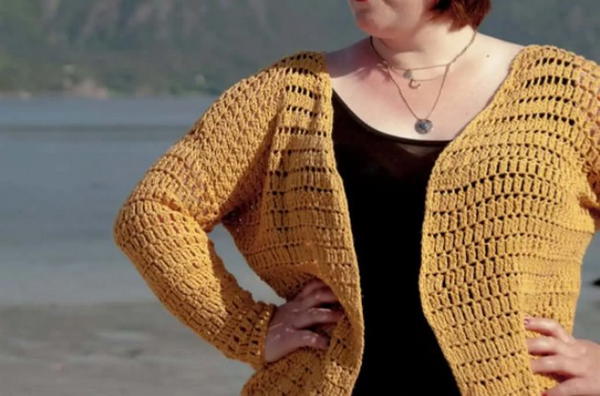 Inspired by the sunny days of summer, this simple crochet summer cardigan is perfect for layering and will keep you cool during these warmer months. There's nothing like a handmade cardigan crochet pattern to make you feel your best. This gorgeous crochet sweater is an easy cardigan pattern you'll love to make and will want to wear all the time. Made with cotton yarn and your favorite colors, this is a perfect summer cardigan that you won't mind wearing! You could also make the pattern in a larger size to wear as a light beach cover-up.
Lacy Easy Summer Cardigan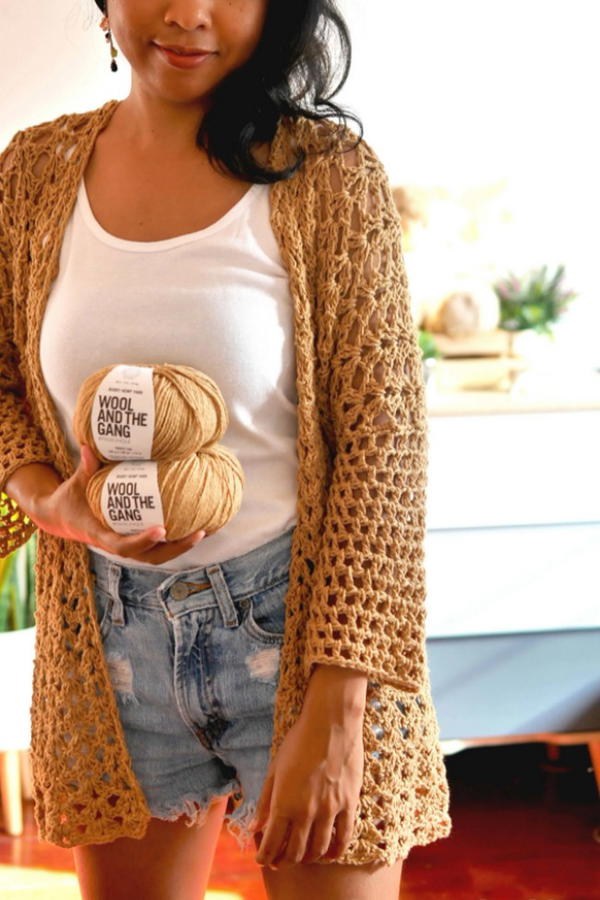 The lacy crocheted summer cardigan is a perfect beach cover-up which is also a great accessory for your summer party. You'll be the 'star' of any party in this pretty summer cardigan, or maybe you just wear it to stroll in the sunshine! The possibilities with this cute creation are endless. It is the perfect summer throw-on! It fits beautifully over a tank top, yet it is lightweight and easy to carry anywhere. This crochet lacy cardigan is perfect for spring and summer. You can throw it over any outfit to stay chic and comfortable. This cardigan is very easy to make, perfect for beginners as well.
Eva Crochet Summer Cardigan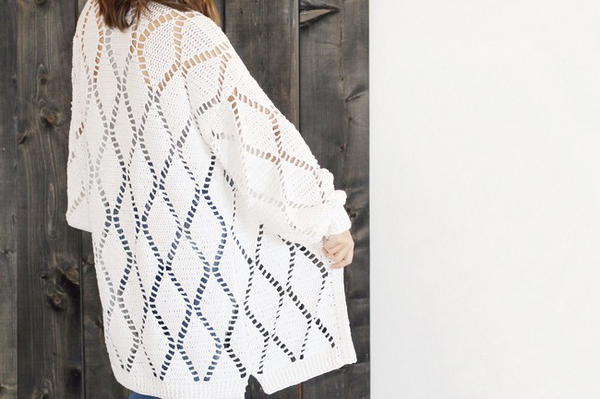 This light, the breathable cardigan is a perfect topper for your favorite tee or tank. The super-soft, drapey sleeves make this the ideal fabric to keep the air flowing without overheating and getting sweaty. The fully customizable straps allow you to choose between wearing it as a true cardigan or a top that mimics a crochet kimono. Layer this lightweight cardigan over your favorite tee or dress for a breezy Spring and Summer look. With an airy design, ribbed trim, and drapey sleeves this breathable and soft cover-up is perfect to wear on its own or as a layering piece.
Magnolia Summer Cardigan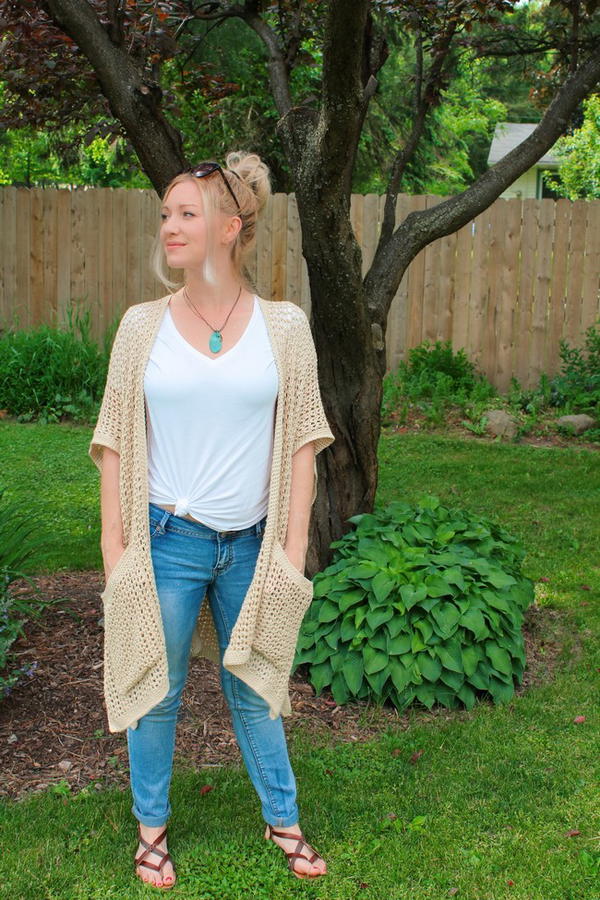 Summer is officially here, and what better way to welcome in the warmer weather than to learn how to make a cute new crochet summer cardigan! This easy crochet summer sweater pattern is just two rectangles and a bit of seaming – no increasing/decreasing necessary. It's perfect for beginner crochet projects. This summer cardigan crochet pattern uses basic stitches, and it's a great first-garment project. This cardigan features a poncho-style fit and optional pockets and is a great layer for spring or summer. With the pockets, you've got all the feel-good warmth that you need for this summer. It's breezy and lightweight enough for the last hot days of summer but still has long sleeves…and it only gets better as it gets cooler outside!
Textured Pocket Cardigan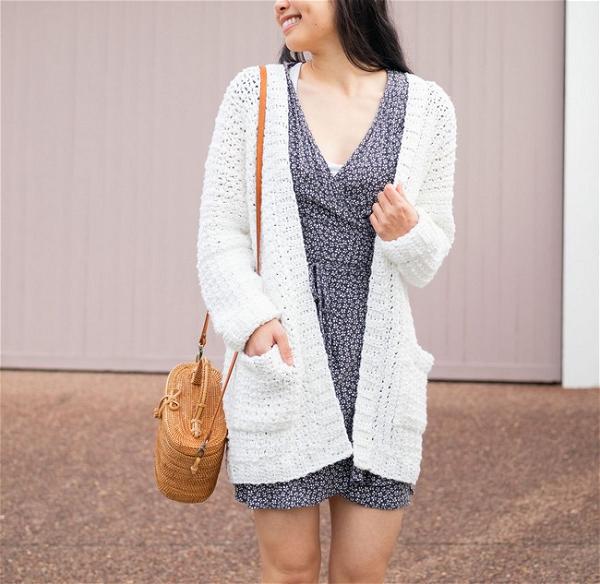 This cardigan is dreamy and lightweight, making it perfect for spring and summer! Inspired by the fluidity of clouds, this easy crochet cardigan is an essential layering piece. Designed with a soft, drapey fabric, this cardigan features a shorter body length and dolman sleeves for the perfect oversized fit. With pockets on each side and a removable belt at the waist, you can pair this cardigan with lounge pants for a chic, cosy look! Perfect for your favorite casual style or getting comfy at home!
Crochet Summer Cardigan Pattern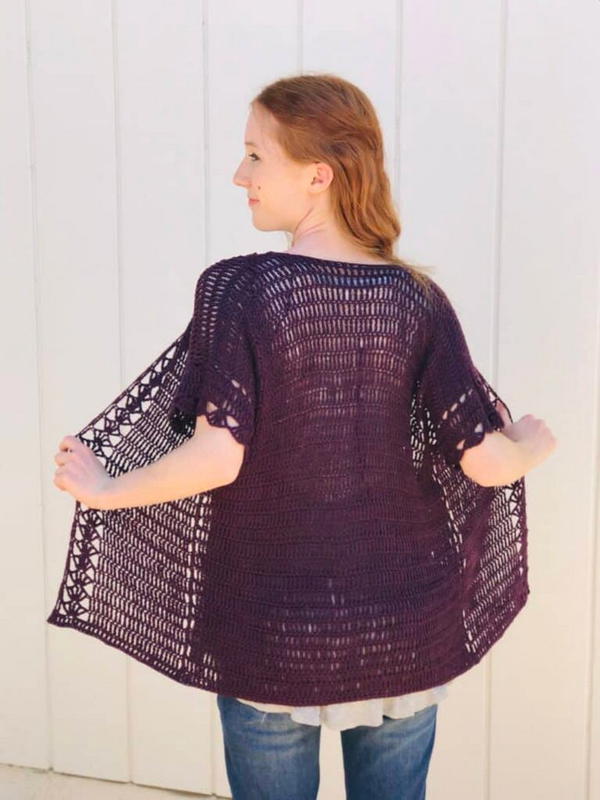 Midsummer is a lightweight cardigan that can be worn any time of day. Use this free crochet pattern to create a versatile piece for your closet. It's so easy to throw it on with a pair of jeans for a casual look or wear it over a dress for date night. This cute and casual summer crochet cardigan pattern takes just a few days to whip up and is so versatile. It can easily be thrown on over anything from shorts and a tank top to a cute summery dress.
Summer Cardigan Crochet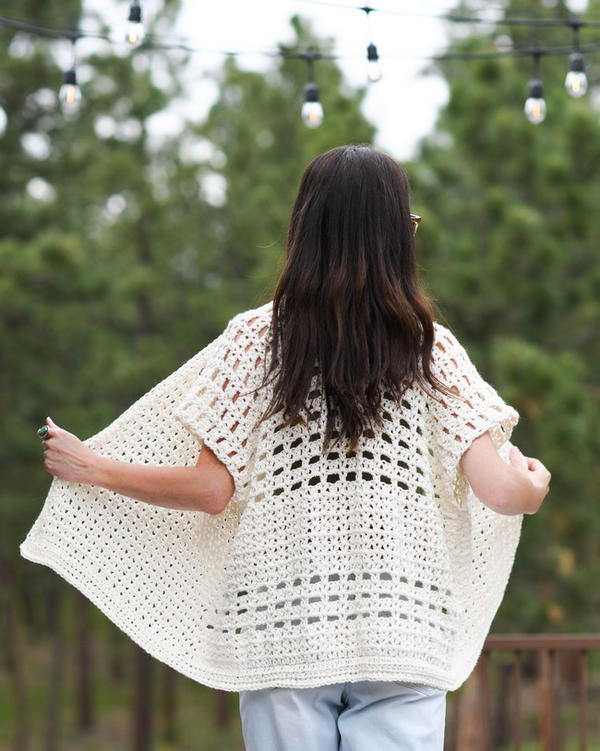 This "Summer Fun Cardi" crochet pattern is so fun to make and is super airy and light! It's pretty neat to design summer and spring tops because this time of year lends itself to lace, cotton yarns, and light projects. If you love lighter-weight yarns, this is definitely your time of year! This summer, you will definitely want to make a few of these amazing and stylish cardigans. You can wear it over your usual t-shirt and jeans or shorts, and you will get an absolutely gorgeous and trendy look. So, let's crochet!
Summer Crochet Cardigan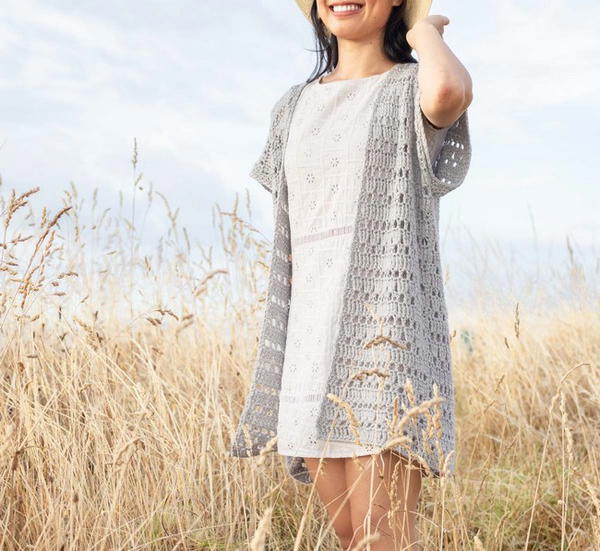 Want to enhance your summer wardrobe with a stylish cardigan you can wear anywhere? Get the Summer Crochet Cardigan pattern and learn how to crochet this beautiful piece with easy stitches and cotton yarn. You will love this summer crochet cardigan pattern! A fast and easy cotton yarn lace cover-up is perfect as a bathing suit cover-up or over a tank top through the summer. This lace crochet cardigan is worked in one piece from the sleeve cuff to the sleeve cuff, and the back panel is not seamed in. Get out your favorite summer sundress or swimsuit, and make this versatile pattern today!