Crochet Baby Romper Patterns are the perfect project for a beginner crocheter. They can be made in a matter of hours, and they make wonderful gifts that will be treasured by new parents. There are so many adorable crochet baby romper patterns out there and we have rounded up some of the best ones here. Crochet baby romper patterns are so popular and for good reason. They are the perfect little outfit for any occasion. The best part is that they are fairly easy to make. Here is a collection of 25 free crochet baby rompers that you can make. This collection will surely have something you like. So grab your hook and get started on your next project, a beautiful crochet baby romper.
Crochet Baby Romper Patterns:

A Crochet Baby Romper Pattern is a great gift idea. Whether you are looking for something to give to a new baby, or if you want to make something for a friend that is pregnant. These are all adorable, easy to make, and the perfect project for the beginning crocheter or someone that wants to learn how to crochet. There is nothing cuter than tiny clothes for babies. They are always so small and dainty. Crochet baby rompers are a great way to make a tiny baby outfit that can be used for photos or everyday wear. These crochet patterns for babies will be a huge hit with your kids, as well as your friends and family.
Crochet baby rompers are the staple for any child's wardrobe. This guide will help you make one yourself, with easy-to-follow tutorials and patterns.
Infant Romper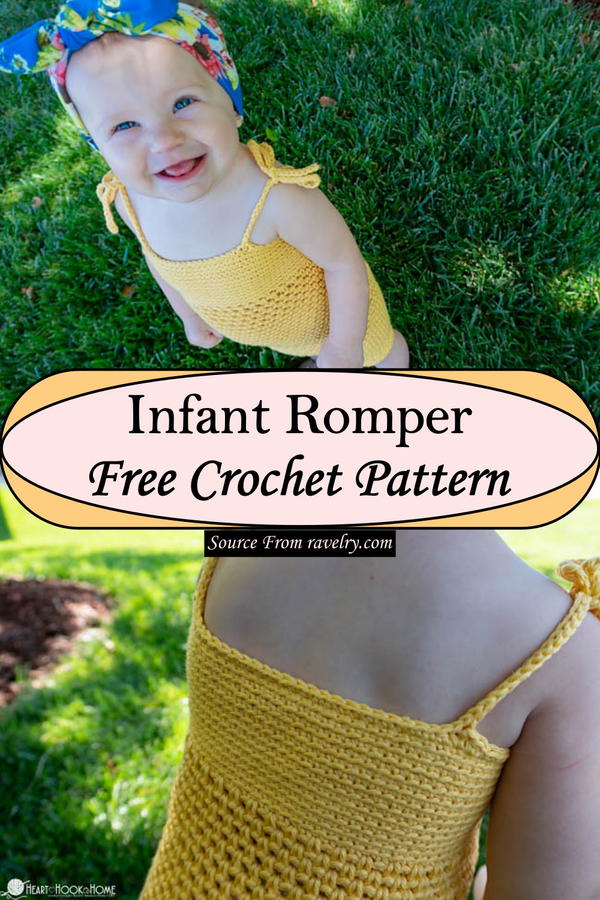 The Infant Romper is a child's one-piece garment that is worn as outerwear. It's basically like a one-size-fits-all t-shirt dress. This fun little romper can be made out of cotton yarn and includes instructions to make it sleeveless, short sleeve, or long sleeve. The sizing is extremely forgiving so don't be surprised if your little one could even wear this into their toddler years! This romper has a half-circle skirt which gives it a little more length, perfect for when baby is first learning to chase family and friends around, and with openings on the shoulders that make changing much easier.
Frejs romper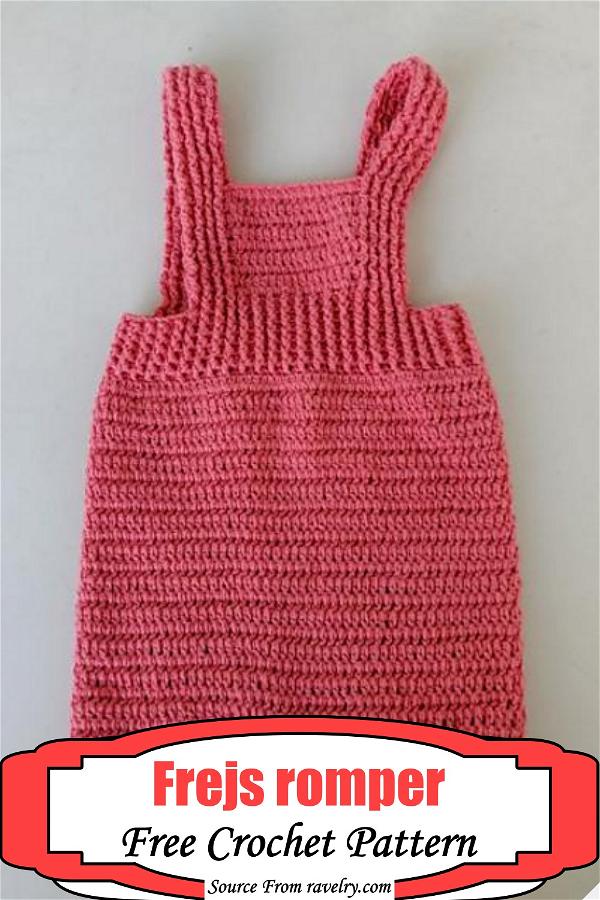 Frejs is a unisex romper that can be used all year round as it is crocheted in cotton. In the summer outside on a bodysuit and in the winter with tights and a long-sleeved bodysuit or sweater underneath. The arms, feet and back are made of one piece and can be worn on both sides so that you have four combinations! It's cozy to sleep in and fun to play inside the house. Just like a blanket but more mature!
Frejs romper can be worn all year round. In the summer outside on a bodysuit and in the winter with tights and a long-sleeved bodysuit or sweater. Frejs is a unisex romper that is crocheted in cotton.
Rosy Romper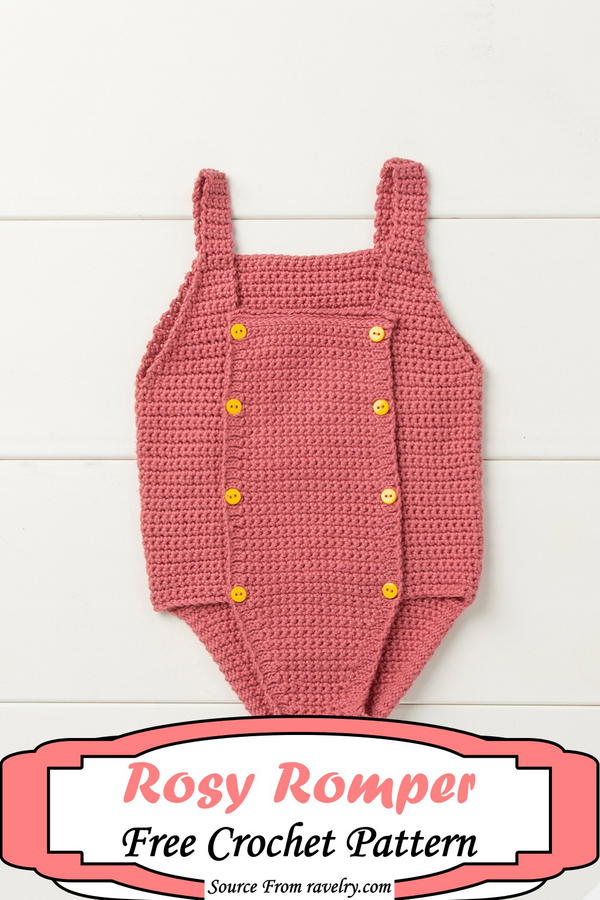 This adorable 100% cotton Rosy Romper is worked from the top down in one piece. It has a functional button front for easy diaper changes and two pieced straps with short rows for a good fit on the baby's shoulders. The shorts are added last and feature an elastic waistband for comfort and easy fit as the baby grows.
This pattern is worked from the bottom up, with minimal seaming. The front panel, bib, and straps are all worked as one piece, by picking up stitches for the button band, then working back and forth, decreasing and increasing for the crotch area.
Oopsie Daisy Baby Dolls Romper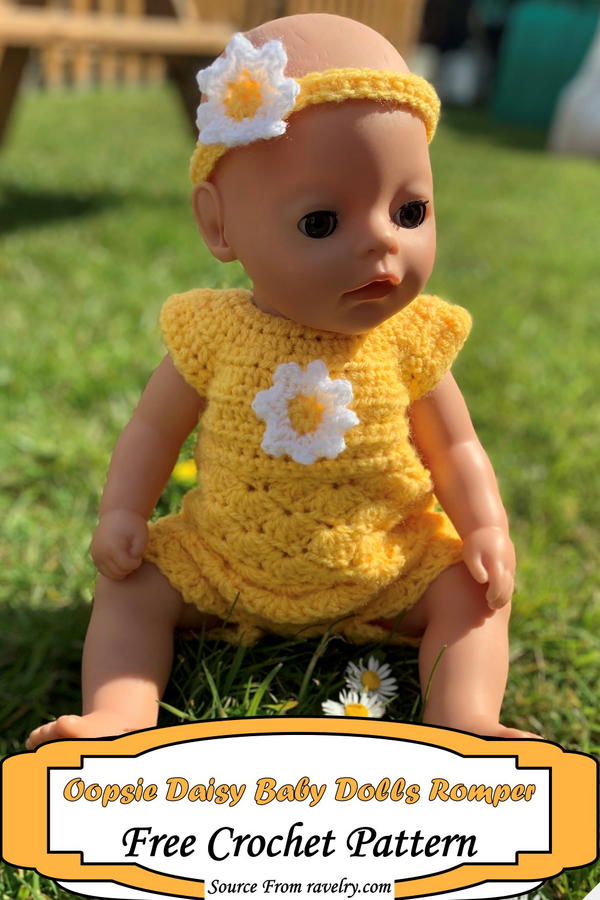 Baby doll clothes are fun to make and this crochet pattern bundle includes the pattern for a daisy-themed romper and headband. The items are made separately, then sewn on to start. The headband is seamless and simply attaches around the baby doll's head with some simple stitches. An attractive ruffled edge adds to the look. With some basic crochet knowledge, this is a great project suitable for beginner crocheters.
I-Heart-You Baby Romper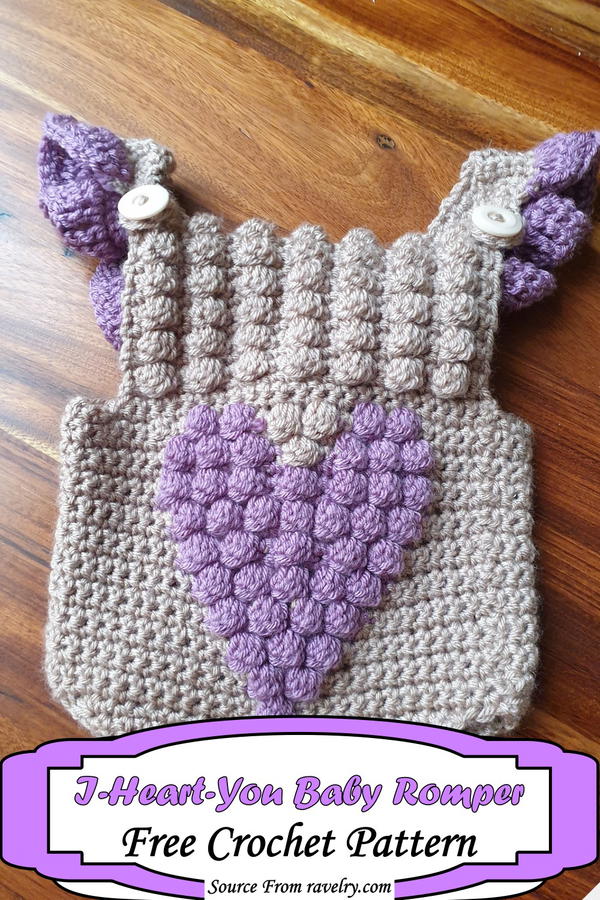 The I-Heart-You Baby Romper romper is such a soft and comfortable piece to wear. It is perfect for your little ones' daily changing routine, or for their newborn photo shoot. Its design is meant to be comfortable for your baby, so there is no itchy yarn or pointy things. This piece can make the perfect addition to any baby wardrobe.
This romper is the perfect gift for any new mom! Its soft knit allows for easy movement, meaning your baby can play and move around without restriction. It has a beautiful heart detail on the front, and a round neckline. This romper will be the talk of any room when paired with the right accessories or a cute headband!
Sweet Dream Romper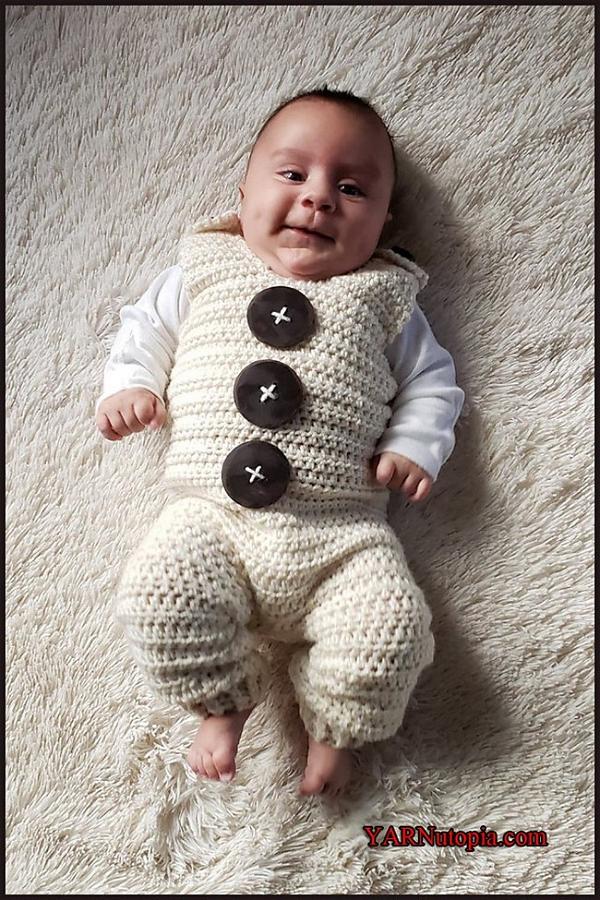 Sweet dreams romper is perfect for special occasions and birthdays! Perfect for an infant's photo shoot or play time. This romper is a wardrobe staple that is perfect for any occasion. It can be worn alone during the summer or layered over a long sleeve shirt in the winter.  You will fall in love with this adorable romper. It's made of an extremely soft, high quality fabric that is comfortable, durable, and easy to care for. Grab a few so you'll always have a clean one on hand!
Rompers and Bobble Hat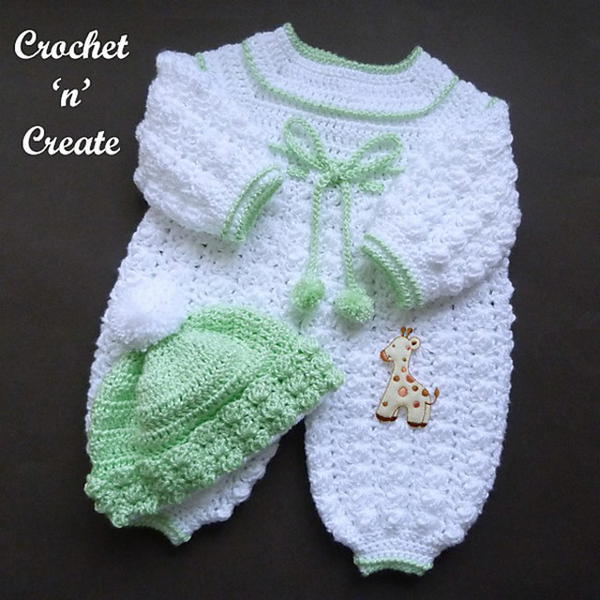 Your little ones will be lovely and warm from their head to toes in these crochet rompers and bobble hats. The crochet romper is easy on and off and the bobble hat will keep your little one's head warm. Perfect for your baby shower, pictures, or just for fun.
This adorable set is worked up in a worsted weight cotton yarn and Crochets up very quickly. It uses bulky weight yarn for the bobble hat and sleeves of the romper. This set is sure to keep your little one warm, so he or she can enjoy their playtime in style.
Marshmallow Rompers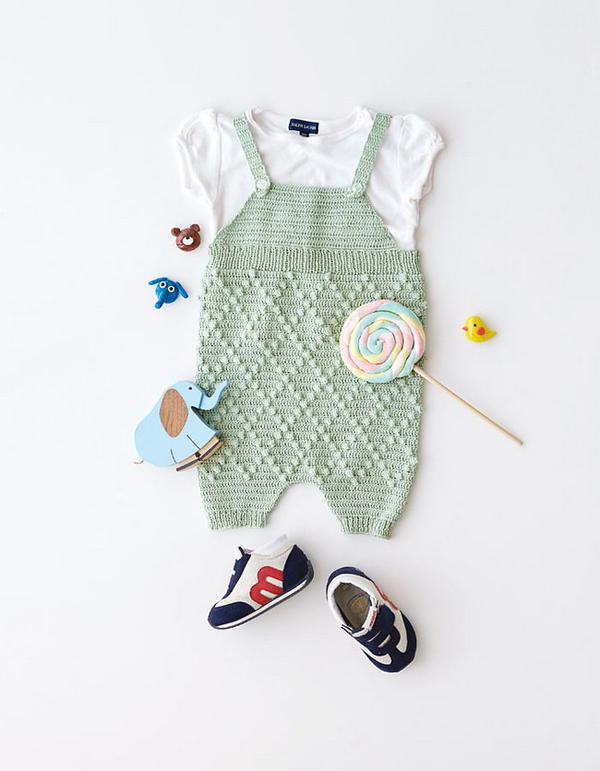 The Marshmallow Rompers are as comfy as they look. No need to worry about impossible snaps or hard-to-tie bows, just pull this 100% handmade marshmallow one piece on and off. Durable yet soft and stretchy, it's made of a merino wool yarn with an acrylic inner layer to keep little ones extra warm in winter and cool in summer.
Featuring a flattering silhouette and extra-plush stitching, this cozy sweatshirt has an optional hood crafted in extra-sweaty fleece. Our Cool Nights yarns are engineered to be cool and breathable, yet still incredibly soft. A simple twist adds adorable, whimsical style to this sweet garment.
HoneyBee Romper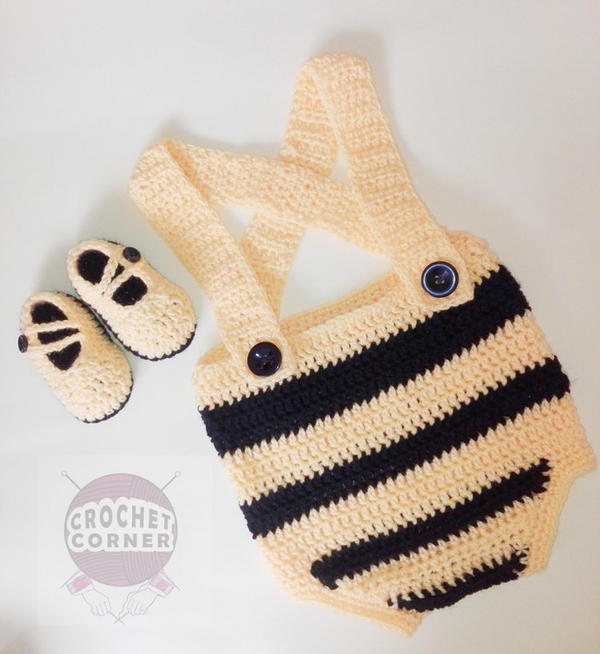 This sweet romper is the perfect gift to make your little one's heart melt! It is quick and easy to sew with simple instructions and sizing options provided. The HoneyBee Romper features big buttons on the front so you can dress and undress your little one with ease.
The HoneyBee Romper is the perfect garment for a boy or a girl. Use it as an over-dress or as a romper under your favorite outfit. There are a few different ways in which you can add buttons, so that you can get exactly the look that you envision for your little one.
Button Me Up Romper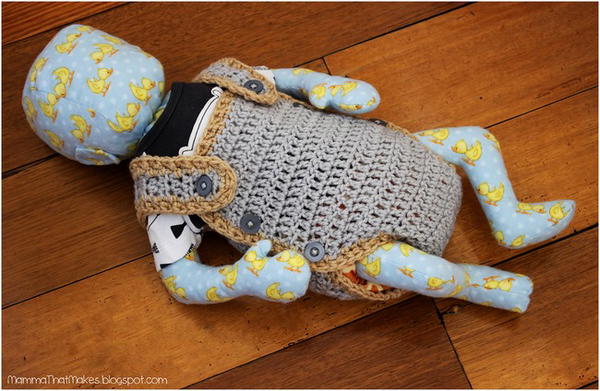 This is the Button Me Up Swimsuit Pattern. A one-piece romper that has been drafted with a generous amount of ease and shaped to fit over your diaper. It is made in multiple panels with a straight hemmed bottom edge and straps are put on last. There are no difficult or tricky parts to this pattern, and there are many options for decorating your suit. The possibilities are endless!
This button me up romper pattern is perfect for beginners. It's such a simple but basic design, and there are lots of optional extras; you could add pockets, do some embroidery or topstitching, or even add some ruffles to the legs! If you're looking for something fast to make, that is also very forgiving on the possibility of mistakes - this is the one.
Doll Romper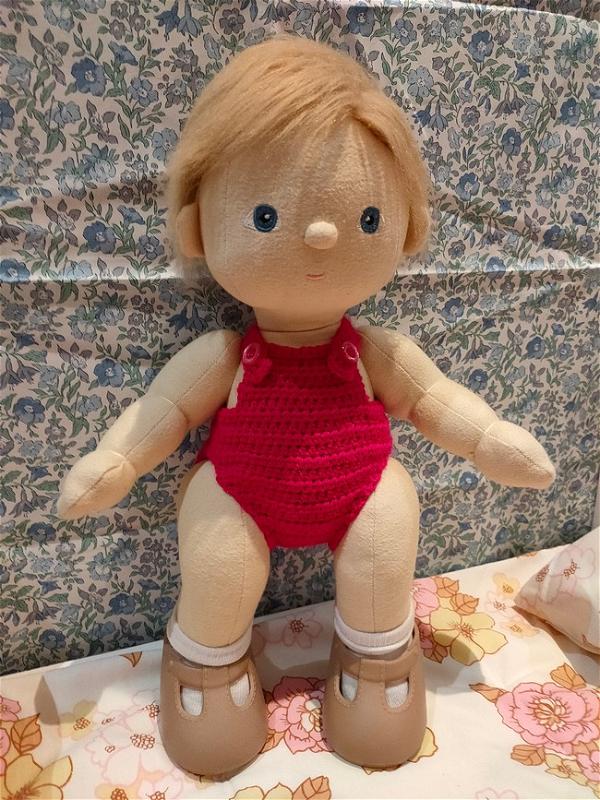 You will create a doll-sized crochet romper to fit the dinky dolls. This simple and easy design is sure to please you, your friends, and your family. Worked in superfine cotton this outfit works mainly as one piece with minimal joints/seams. Beginners will enjoy this simple, classic design. The perfect outfit for all your dinkum dolls' summer adventures. This is a one-piece crochet romper quick and easy to make in the color, size, and style of your choice.
Baby Onesie Romper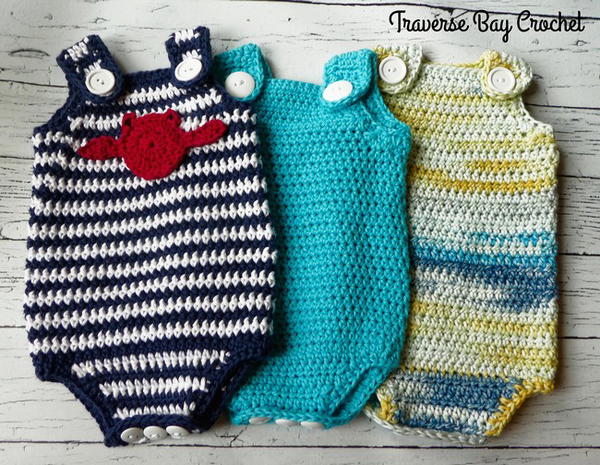 No matter whether you're on the beach, in a park, or even at home, this crochet onesie romper will keep your little one comfy and cool! It's lightweight, with a water-resistant finish, and cozy leg holes that can double as leg warmers. The button closure means it will grow with your baby. This pattern is simple and works up quickly -- no-frills, nothing fancy, just charm and function.
The crochet baby onesie romper is an adorable addition to your little one's wardrobe. You can use it for either a girl or a boy and there are even instructions on how to add as many buttons as you'd like to get the look you are after. This would make an awesome baby shower gift.
Baby Romper Sweater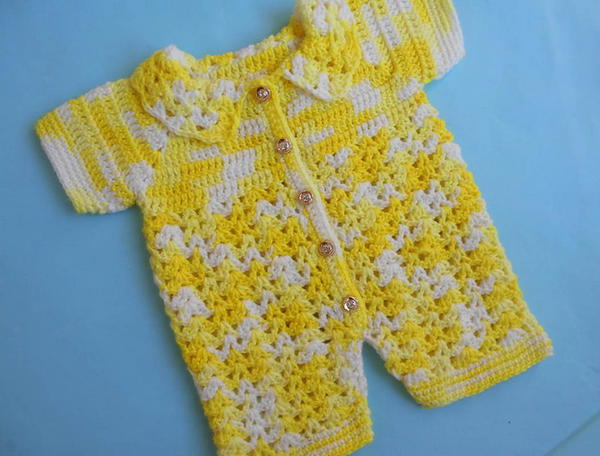 This Baby Romper Sweater will keep your cute little one cozy, warm, and stylish all at the same time! The hand-knit piece is a great gift for newborn boys or girls and can be dressed up or down depending on your style. It's a great fit for preemies as well as full-term babies.
This set is comfortable and easy to put on or take off. Newborns are not able to roll over yet so they do not need snaps in the back or have feet/leg openings! This romper is designed to grow with your little one and fit sizes 0-3 months old.
Unisex Baby Romper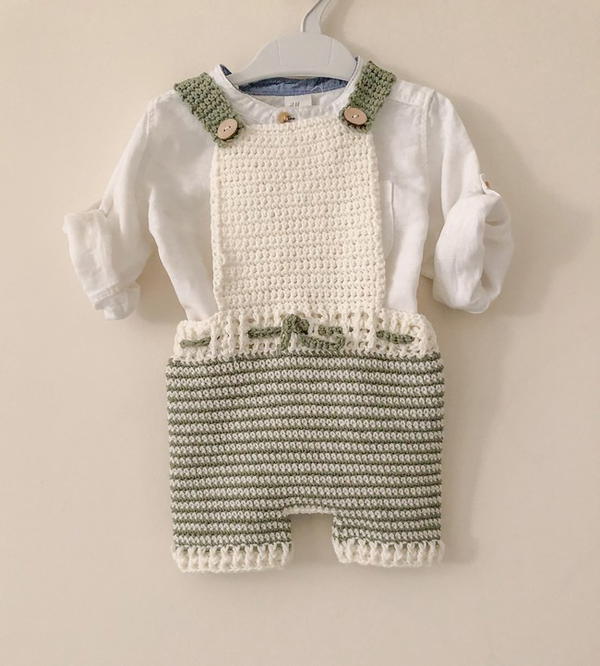 This Unisex Baby Romper is worked seamlessly from the top down to the bottom. You can make this baby romper in both unisex or girlie versions. Just choose your favorite color and embellish it with crochet along the neck and waistline. You don't have to worry about finishing off the seams and imperfections as you get a clean finish when you sew up side seams. This pattern is perfect for anyone who wants to give handknitted gifts but doesn't want to invest a lot of time into complex projects. The design is quick and fun to knit.
Boutchou Baby Romper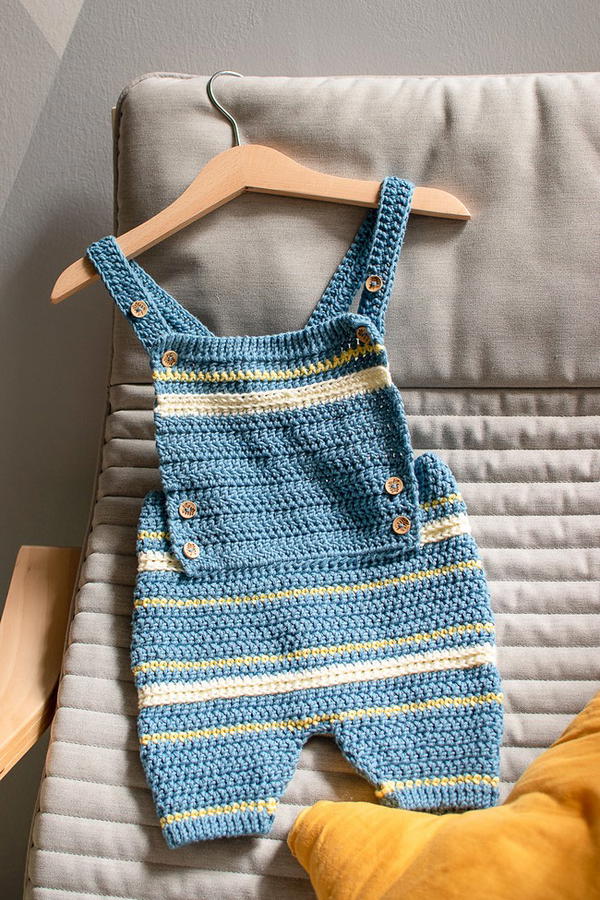 This baby romper is the perfect addition to your little one's wardrobe. With cute stripes, adorable buttons, and a cozy knit cotton, it's the perfect outfit for any boy or girl. Make this cute set with your favorite colors and an adorable vintage vibe for any baby shower, photoshoot, or just lounging around!
This crochet overalls set is perfect for any boy or girl. You will love the classic striped design, and the choice of colors makes it an outfit that can be worn with nearly anything. With a messy knot on the back, this cute romper can be dressed up or down to match any occasion. Great as a gift!
Beachside Baby Romper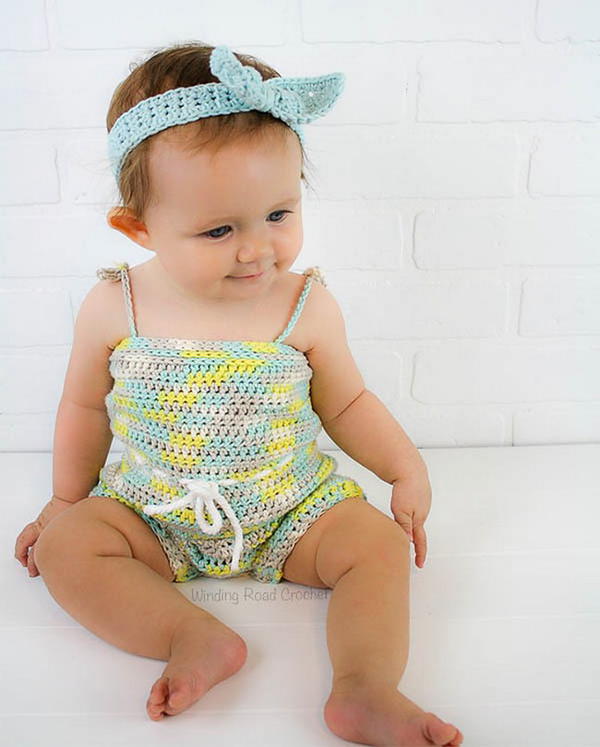 Take your baby to the beach or anywhere else in this adorable organic romper. The Beachside Baby romper is loose fitting, easy to put on and take off, with a built-in bungee cord belly strap to ensure that it stays up and won't slip down during play. It's made from a stretchy knit fabric that breathes well during warmer weather.
There is no better way to welcome your baby into the world than with a special outfit. This romper is a perfect example of that. The Beachside Baby Romper is a fun outfit for your child and one you will cherish for a lifetime. It is made from organic cotton and features cute designs of your favorite sea creatures.
Bauble Baby Romper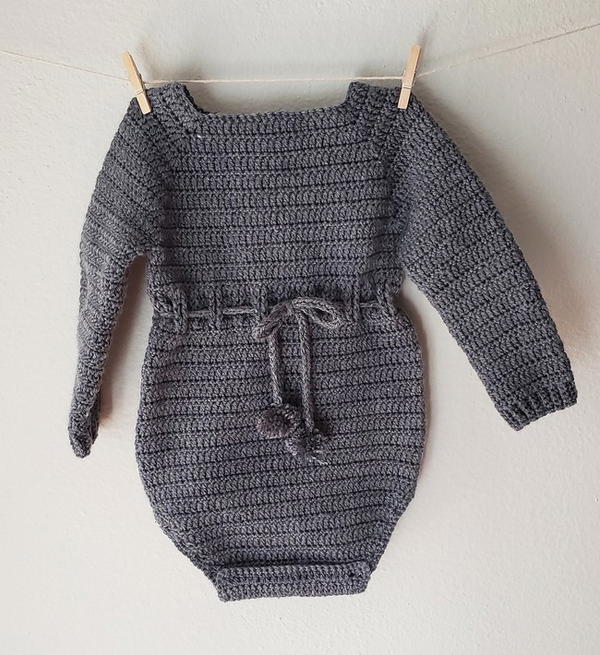 The Bauble Baby Romper is a versatile pattern that has endless possibilities for color choices. The romper can be made in any one yard of any weight of yarn and provides a unique and beautiful way to showcase your favorite hand-dyed yarns. The ruffled bottom is created from a mesh pattern that adds texture without adding bulk. The skill level of this project is listed as beginner/intermediate.
Add a little bit of sparkle and shine to an adorable spring outfit. This sweet-looking baby romper pattern is so simple you could use it for a last-minute baby shower gift. It's nice enough for church yet casual enough to wear every day, which is perfect since the baby will likely spend most of his time in this little romper!
Newborn Baby Romper Outfit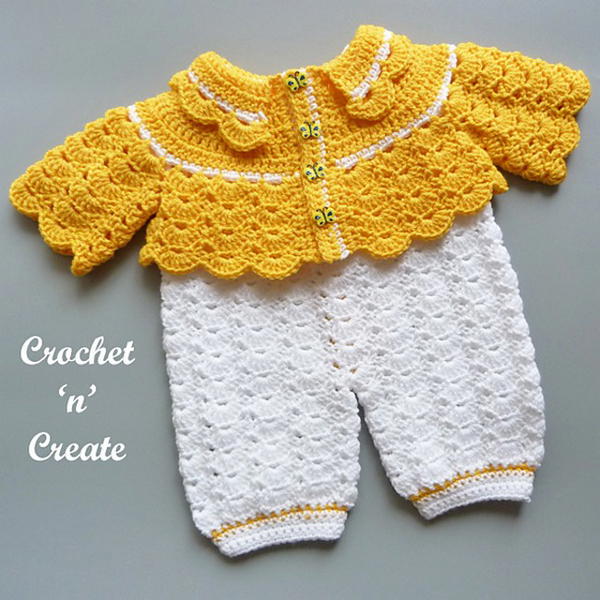 The best Christmas gift for your baby is a snug, trendy, comfortable, and warm newborn baby romper. Crochet this baby romper in any color you like. This Newborn Baby Romper Outfit is an all-year-round outfit for a newborn baby. This inexpensive newborn outfit is great for your family photoshoots as well. In addition, crocheted from 100% cotton yarn makes the outfit breathable and safe for the baby's skin. Get this impulsive free crochet pattern and watch the smile on your baby's face later!
Newborn Baby Romper Outfit is the perfect setting for a newborn baby girl or boy. The outfit would make a lovely gift for a new baby shower but is also the most thoughtful gift you can give to a new mom.
Baby Romper Suspenders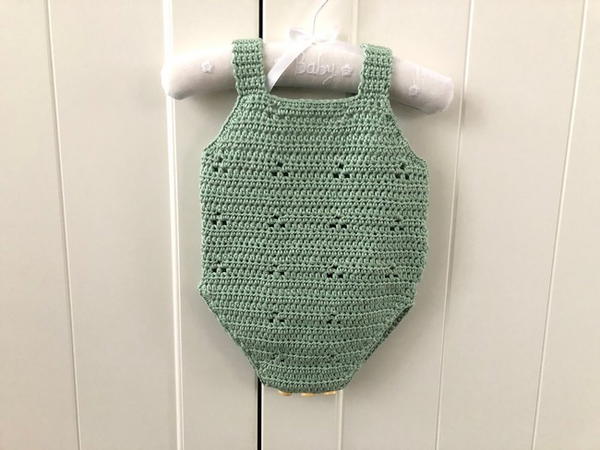 Baby Romper Suspenders are a unique garment that can be assembled using only a few basic skills. These shorts look like ordinary baby rompers but with a different waistline as they are attached in the back. You can make these suspenders using cute colorful patterns. Making these suspenders look good is simple; in fact, you can make them in an instant. This pattern is suitable for beginners. The rompers are really easy to make, and since they are sleeveless and the best part is, baby doesn't have to carry around any extra weight with sleeves!
Whale of a Time Romper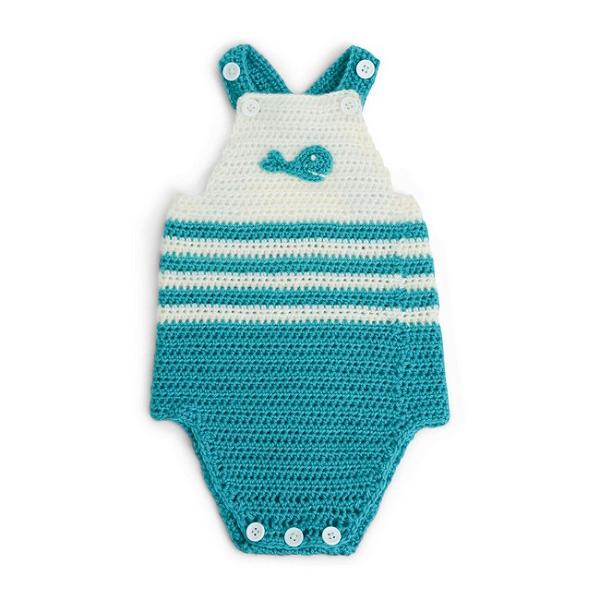 This versatile crochet romper is the perfect addition to a baby's wardrobe. It features easy half double crochet and simple stripes that work up in any 2 shades your little one likes. When paired with skinny jeans, it's ideal for fall, or layer a shirt or leggings under it in the summer! Quick half double crochet and simple stripes keep things fun and easy, while the adjustable button straps allow for some growth. Worked in the round from underbelly to upper chest, this easy crochet romper for baby is a simple design you can wear in any season. The stripes make it easy to use up the small bits of yarn in your stash.
Baby Romper Calming Green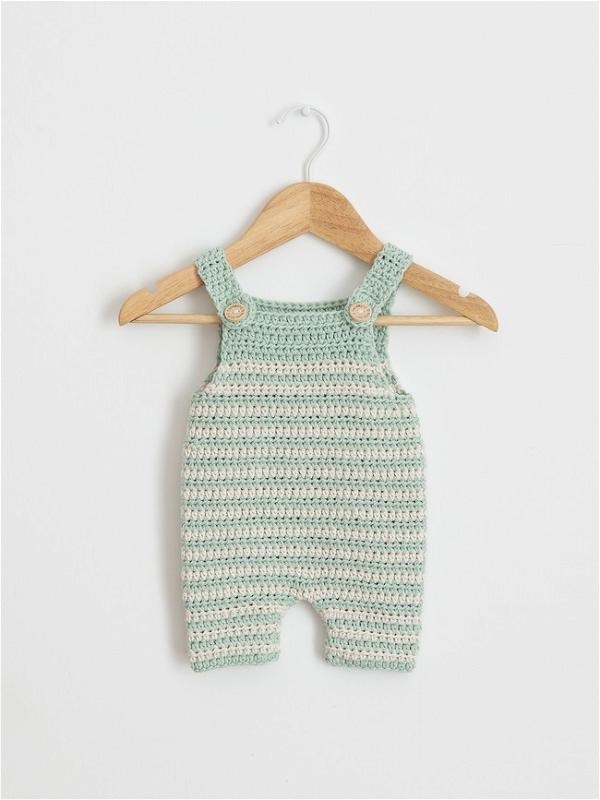 A super easy crochet Baby Romper Calming Green pattern for a baby with a front button. Crocheted flat it's a great make if you're new to crocheting garments, as it doesn't require sewing together two pieces - only sewing on buttons. Uses less than 100g of yarn. It's super easy and quick to make. This is not only a lovely comfy romper for the baby, but it will also bring much joy to you, both while making it and when you receive these compliments from other people. With a cheerful colorwork yoke and simple ribbed body, this classic baby romper is completely adorable.
Seashell Baby Romper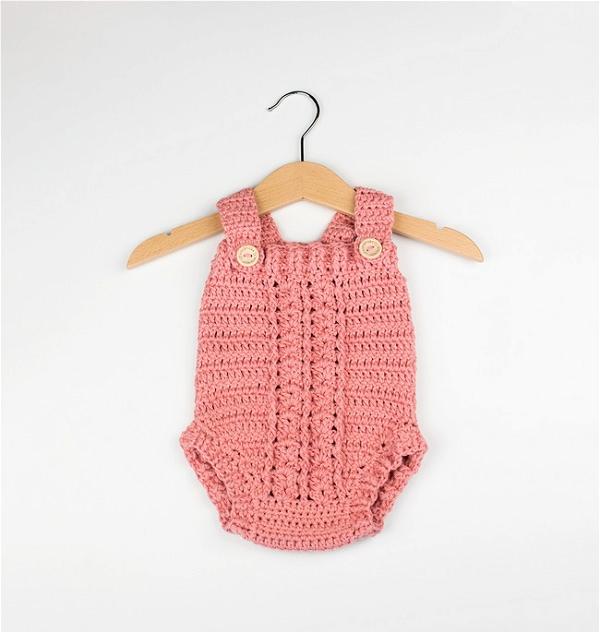 This easy knit Seashell Baby Romper is perfect for the beach and is so cute, everyone will want one. The ruffled bottom is finished off with a scalloped hemline to give it just a little bit of femininity. It's designed to be loose and comfy with long sleeves and a roomy chest and waist. Seashells dot the print near the bottom in a sweet touch that adds charm to any little outfit. The most adorable seashore romper ever, ready to catch the eye of family and friends. It's our Seashell Baby Romper with a shell pattern, super simple round neckline, and super soft knit.
Baby Romper Bjorn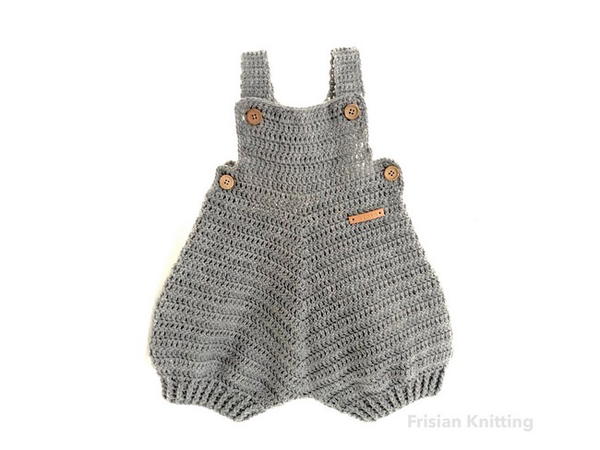 This is an easy, straightforward pattern to make a baby romper with or without sleeves. It has a three-part sleeve that allows your baby to move freely and not get entangled in the fabric. The romper is crocheted from the top down with raglan sleeves. This style will fit from when your baby starts to sit upright and can grasp things in front of him up until he is able to walk. This is so adorable and fun to crochet! Cheerful and playful this baby romper with a ducky on the chest will make her look gorgeous! You may make it for a girl or a boy, just change the colors.
Granny Square Baby Romper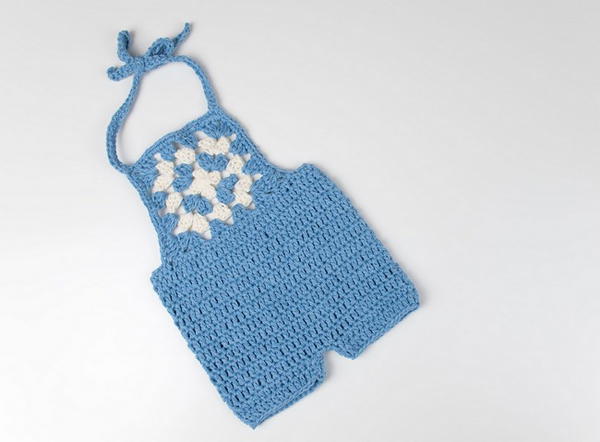 This sweet handmade romper is a versatile multi-season outfit that can be worn in warm weather with the addition of a long sleeve top and tights, or layered in cooler climates. It is made from a beautiful hand-crocheted floral granny square pattern, trimmed with pink woven ribbon ties, and a cute little matching flower applique on the foot of the baby romper.
This beautiful Granny Square Romper is perfect for your little princess. The jumper has big colorful flower embellishment detail on the chest that adds some extra sparkle. The matching shoes are an additional touch to make sure your little one stands out! The unique handmade baby clothes come in a range of sizes and can also be custom made making them the ultimate present for any newborn or new parents.
Boy Romper Set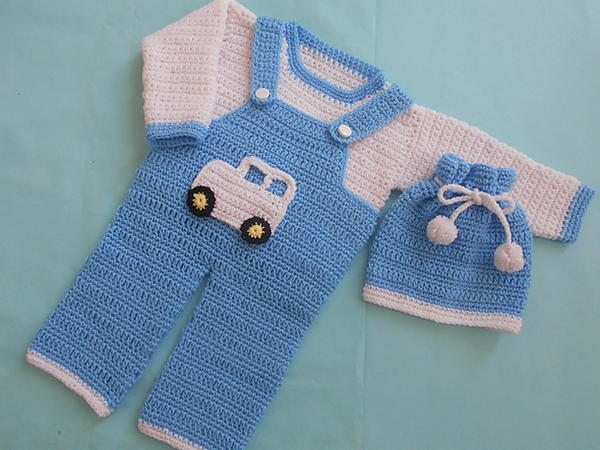 This precious baby crochet Romper Set will be a warm, cozy and comfortable addition to your little one's wardrobe. The sweater is made with a shell of cotton and the inside layer is made of acrylic yarn to provide warmth. There are two classy blue buttons attached to complete the sweater. This set is rarely found, and the first thing that people notice about this set is how adorable your little one looks in it. The blanket is crocheted in a different pattern than the sweater, but nevertheless, it compliments it.