What could be more cheerful than crocheted bookmark that pops out of the book?! Never lose your place again with these beautiful gifts you can make in just an hour. Did you say something? No? Oh, it must've been the sound of a new book lover jumping with joy. I am sure that someone who loves reading as much as I have just found the solution to the biggest problem that every adult faces: how to remember where exactly where we last read. We have the best solution for you! It's so simple. Take these crochet bookmark patterns with you, so they will stick to the page, so you have no reason to lose your place.
These free crochet bookmark patterns are perfect for making small accessories to give as gifts. Work up to one of these bookmarks and then tuck the crochet project inside the gift of the book for a personal touch in the gift-giving. It is also really annoying if your bookmarks are not so pretty or special. No more! It's time to show off how much you love books, and make a bookmark out of a pattern that is as beautiful as it is functional. Crochet bookmarks are a quick and easy pattern that you can do as a gift for an avid reader. The nice thing about the pattern is that the number of crochet rows you need to complete depends on how long you want your bookmark.
Crochet Bookmark Patterns: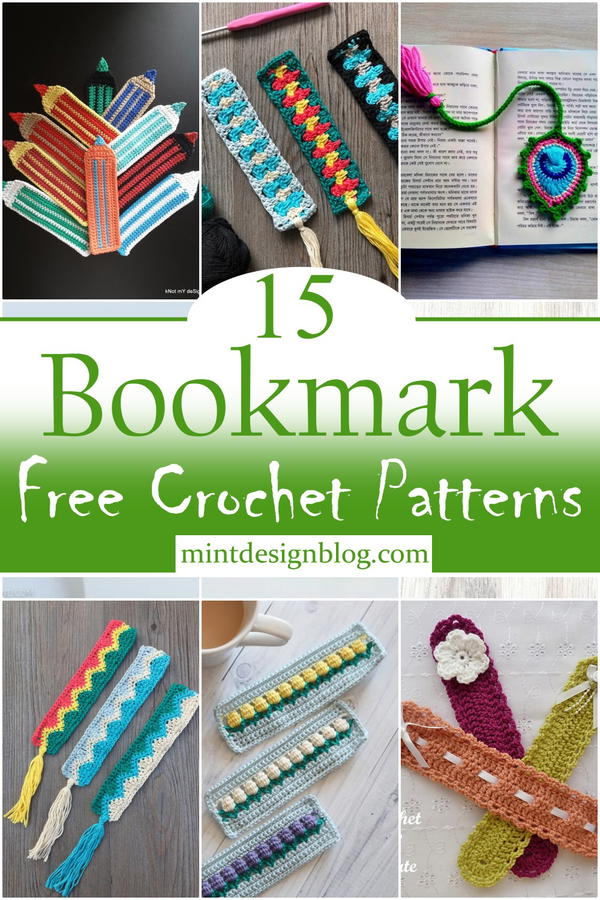 If you want more, just add some more rows before the end; if it's too long, just skip a row or two, and there you go! Because of that, why don't you try making yourself one of these cute crochet bookmark patterns? They are easy to crochet and re-create the look of the paper bookmarks. Made in just a few hours or nights they will definitely become your favorite reading companions. Crochet yourself a bookmark and say goodbye to losing your place.
You can customize them using fabrics you like or using different techniques, but the kit contains interesting and fabulous bookmark patterns for anyone who is just starting out on the crochet journey. Bookmarks can be given as a gift, double as a hair accessory, or worn as a brooch. You can use only a small amount of yarn and spend no more than an hour on it, but the results will delight all those who receive them!
Bunny Bookmark: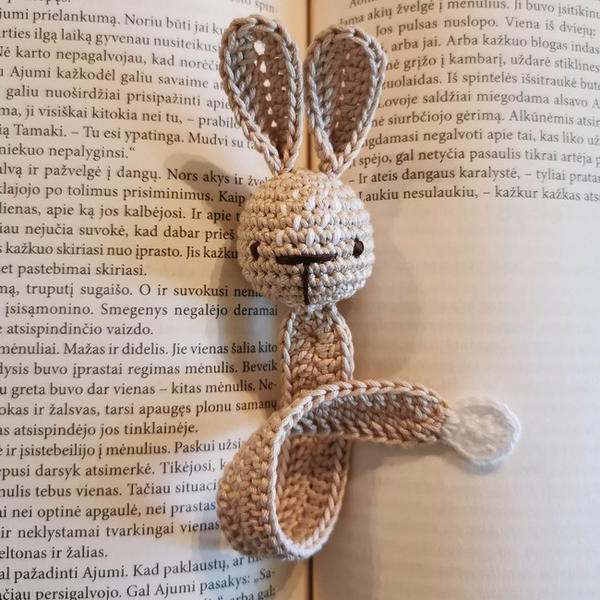 This bunny bookmark is simply adorable. It will make reading so much more fun! And this bunny, unlike other bookmarks, would be really hard to lose. The finished bookmark has a width of 23 cm. This bunny bookmark will keep your child from losing his books while keeping the story going. The bunny is made in a spiral way, which makes it a great crochet toy to play with. The toy does not require a sewing needle! All you need to create this bunny is some yarn and a 2,5 mm hook.
This cute little bunny will add a little bit of fun to your reading adventures. He is the perfect partner when you are reading a long and boring story or when you want to read in bed, but your parent wants you to go to sleep! This bunny bookmark will make sure that your place in the book will be safe, and he is hard to lose.
DESIGNED by Banga Vaicekauskiene
PROJECT TYPE bookmark
CRAFT crochet
SKILL LEVEL beginner
Read more about it on
Ravelry
.
Peacock Feather & Bookmark: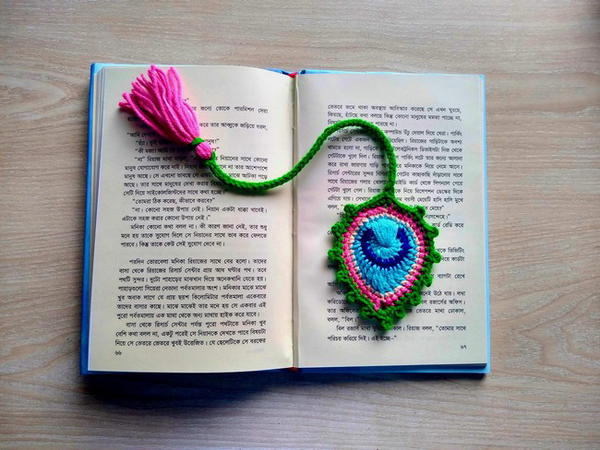 Everyone needs a bookmark, but not many people have the time to knit or crochet one. Now you don't have to! This Peacock Feather & Bookmark comes with a youtube tutorial so you can learn how to make a bookmark all by yourself. No knitting or crocheting is necessary! Just a pair of scissors and a glue stick! This is a wonderful way to keep track of your place in a book. It does take time to learn bookbinding, but if you let Peacock Feather & Bookmark teach you, then the process will be easier.
This hand-made bookmark is wonderful to show off your creativity. It's super simple (even for beginner bookbinders) and only takes two hours to create! Just pick your favorite color of yarn, cut it out, follow the easy instructions on this downloadable PDF tutorial, bind your books with it, and have fun watching the video explanation of this unique craft.
DESIGNED by Naurid Kashpia Senjuti
SKILL LEVEL beginner
Find this free crochet tutorial on YouTube, or read more about it on Ravelry.
Bruges Lace Bookmark: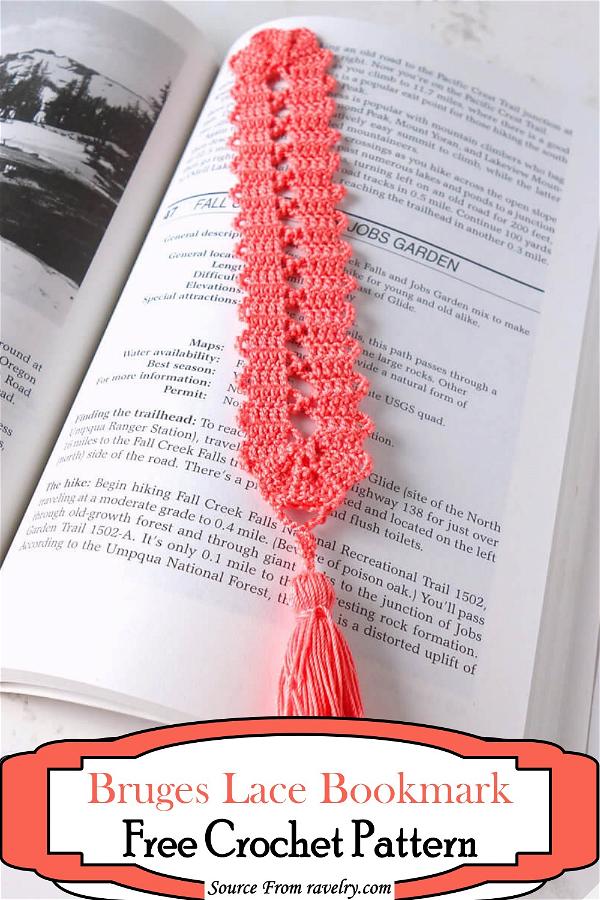 The Bookmark is crocheted using a Bruges Lace crochet technique. This pattern is essentially a long double crochet stitch, which forms the most delicate and elegant pattern, and its simplicity makes it really easy to follow. You can use any yarns you like, but they must be cotton-based yarns as they are the easiest to work with. Bruges Lace is an exquisite crochet pattern you can use to make a truly gorgeous bookmark. The pattern is simple and it's accompanied by lots of helpful photos and detailed illustrated instructions.
Bruges lace bookmarks are easy to make when you follow the step-by-step instructions. Your friends will surely appreciate this beautiful handmade bookmark when they get it as a gift. With its posh and elegant pattern, this handmade bookmark would make a great gift for your special someone, particularly if she loves to read books. The project is very easy to follow and works up fast.
DESIGNED by: GoldenLucyCrafts
SKILL LEVEL: beginner
THIS VERSION is by Olena Jones
 Read more about it on
Ravelry
.
Birgitta's Bookmark: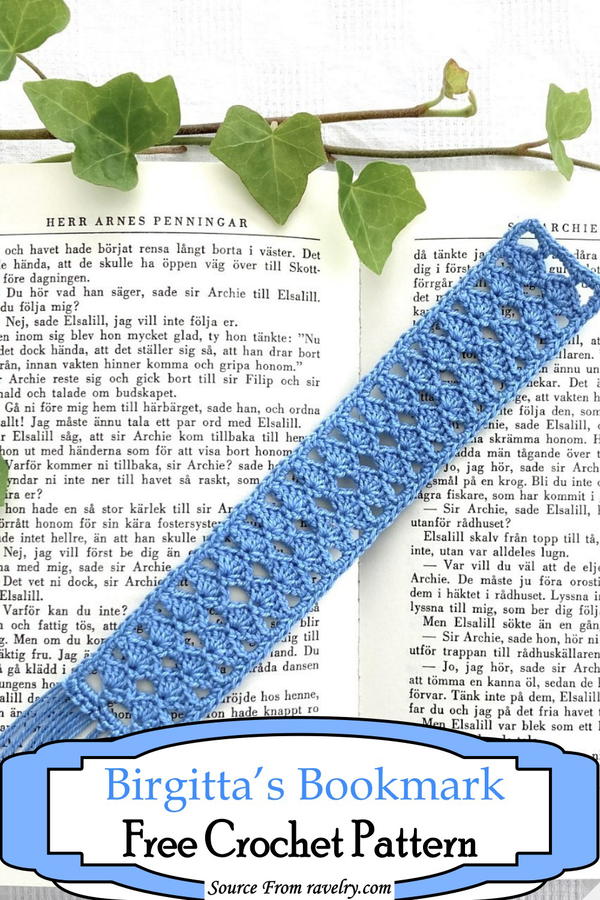 This beautiful bookmark makes a wonderful thank you gift for a dear friend, a thoughtful upcoming baby gift, or a thank you gift for any occasion! The perfect last-minute gift can be made from things that you have lying around your craft room! Look no further, this bookmark will solve ten problems at once.
It's a little piece of 'the good old days' This Sweet Boho bookmark will be loved by the bookworm in your life! Wrap it in a book, or gift it to someone as a little token of love. Great for someone who loves all things sentimental and sweet, this bookmark is sure to be a hit, the Birgitta's Bookmark is a sentimental gift sure to delight any book lover! It is made of 100% linen fabric on both sides of the bookmark, with concealed batting for strength.
DESIGNED by Torun Johansson
SKILL LEVEL beginner
Find original free pattern on 
Ravelry
.
Lotte Lace Bookmark: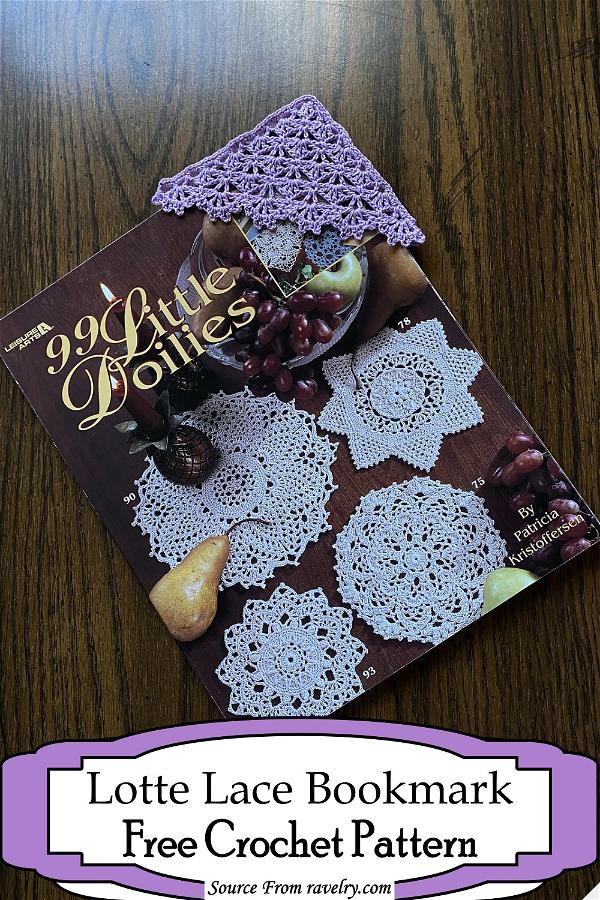 This bookmark was made by the independent website DreasCrochet and it looks so delicate and vintage. It's very quick and satisfying to make and the finished bookmark is 12cm/4″ square, 15cm/6″ long. You can use any type of yarn for this project – thin or thick, and in any color you like – just choose two different colors and you can also include a fluffy pom pom because who doesn't love a matching one? I love that you don't even need a pattern for this! Enjoy making your beautiful bookmark using your yarn and suitable hook.
This Lotte Lace bookmark is perfect for your adult coloring book or adult coloring books. These vintage-looking Lace crochet Bookmark patterns are the perfect handmade gift for friends and family and they will thank you for it. It´s easy to make and would look lovely in any book lover's library. All you need to know is sc, dc, and ch stitches - but don´t let that put you off trying it!
DESIGNED by Veronika Cromwell
SKILL LEVEL beginner
THIS VERSION is by DreasCrochet
Read more about it on
Ravelry
.
Very Shelley Bookmark: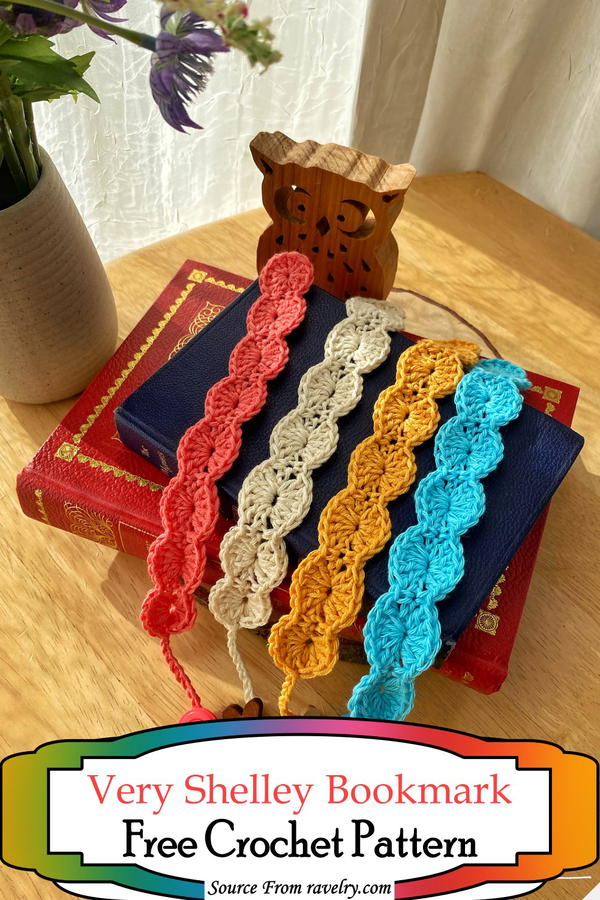 The one thing I could never find in any book store was a crochet bookmark, now you can make your own! This pattern is written for those who have completed at least one triangle shawl, but if you want to try it out first, all the basic skills are covered. Get organized for your next book club or a beachy vacation with this cute DIY crochet bookmark.
It's quick to make, cute to use, and easy to personalize. Make one for yourself or as a quick gift for friends, family, or a teacher's gift. With a loop for hanging on the side of your favorite book, this little bookmark will be there awaiting your next read. The softness of the chunky yarn combined with the sturdy wooden button makes for easy reading.
DESIGNED by Labours of Love Crochet
SKILL LEVEL beginner
PROJECT TYPE bookmark
Find original free pattern on 
Ravelry
.
Easy Textured Bookmark: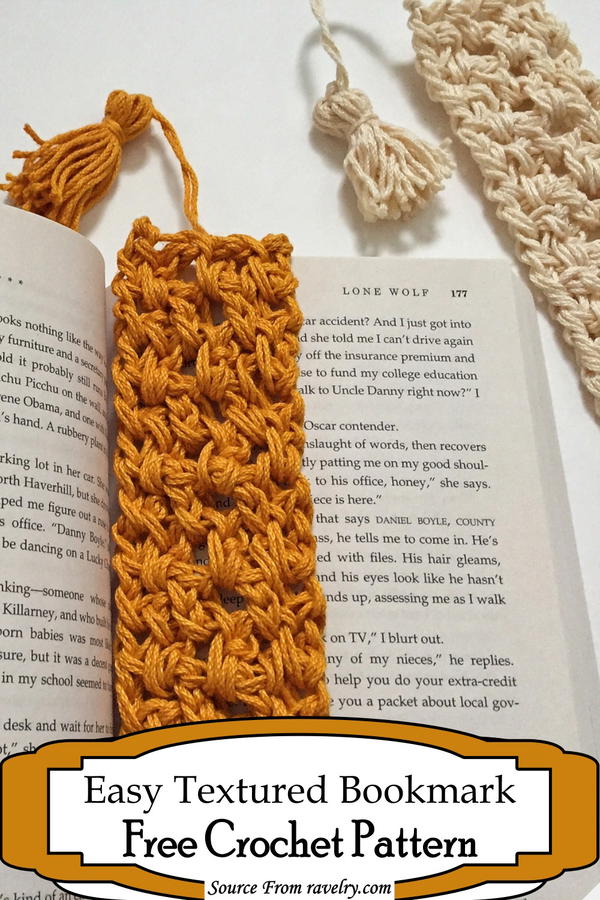 Looking for a last-minute, heartfelt gift for your favorite bookworm? This simple textured crochet bookmark takes only minutes to create and works up with less than 20 yards of medium-weight cotton yarn. With a beautiful texture and elegant touch, it's the perfect way to say you care.
The crocodile stitch allows you to work fast without having to pay attention to specific stitches. This easy textured crochet bookmark is a quick project for a last-minute gift or a treat for yourself. This bookmark makes a great gift for book lovers, and it looks great in any color!
DESIGNED by Dayna Perry
PROJECT TYPE bookmark
SKILL LEVEL beginner
Read more about it on
Ravelry
.
Dainty Bookmark: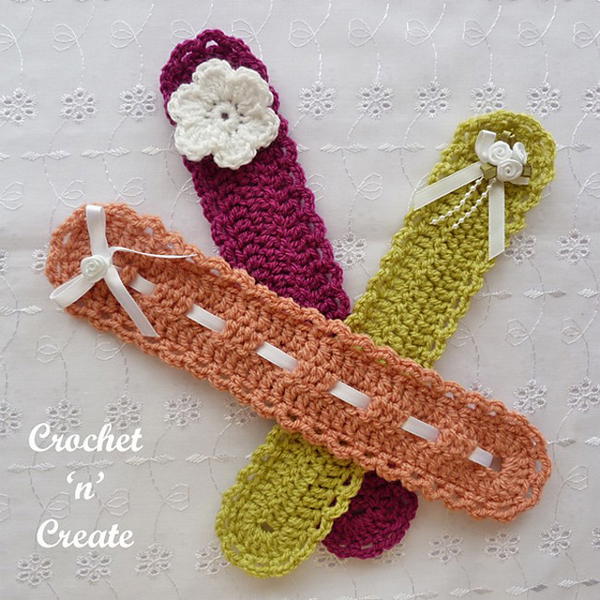 Liven up your favorite books with these dainty crochet bookmark patterns. Have you ever finished a book and found that the page was no longer in good shape? Well, this crochet bookmark is the answer! It works up so quickly, and you can customize it in any color scheme--think school colors or bridal party. And it really does mark your place well! Thanks for picking my pattern, I hope you enjoy crocheting these for all of your favorite readers! Made out of yarn ends, they look great in many different colors.
You can either work up one bookmark or make a bunch to hang around. Dainty Bookmarks crochet up quickly and can adorn your favorite reading materials or even a hairbrush while you're at the salon. They look beautiful in all different colors, so gather up your leftover yarn ends and get started! As shown above, you can add anything to these little beauties such as buttons, flowers, beads,1, or ribbons. The possibilities are endless!.
DESIGNED by Crochet 'n' Create
SKILL LEVEL beginner
PROJECT TYPE bookmark
Read more about it on
Ravelry
.
Spiked Granny Bookmark: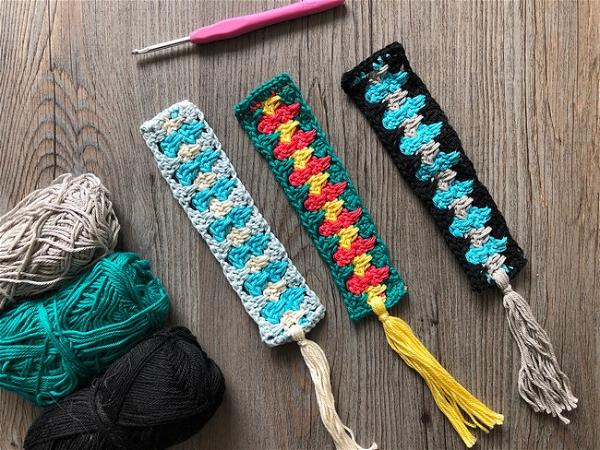 Crochet one of these spiked bookmarks to use as an elegant gift or to use yourself! This bookmark makes great use of the Granny Spike Stitch, which is combined with the Triple Crochet stitch. Surprise your favorite bookworm with a handmade and unique gift! A granny spike stitch is a textural diagonal spike that is the central feature of the Spiked Granny bookmark. It is worked up in super-soft yarn and features a large bobby pin attached so you can always mark your page!
The curved bottom makes it so it easily slides around the pages of any sized book. Great for travel, new book collection, or gifts! They are made by adding a new loop to each peak of every other row. This process adds a spike unit to each peak and valleys between each spiky peak allow a place for your fingers to flip the pages.
DESIGNED by Rich Textures Crochet
SKILL LEVEL beginner
Read more about it on Ravelry.
Flower Garden Bookmark: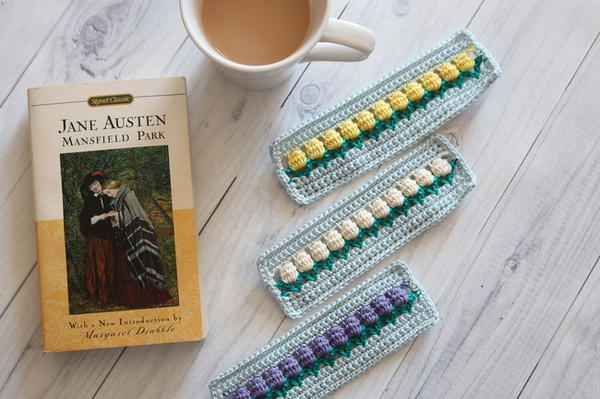 Summer is here, and time spent with your book in the garden will be a lovely memory to hold on to during the winter. To make it even more special, you can create these cute crochet bookmarks with rows of little tulips. Crochet is a perfect summer hobby. And what is more delightful than crocheting these bookmarks.
Lovely patterns of tulips, with clear instructions on how to create them with yarn colors to your taste. These cute crochet flower bookmarks are great for keeping your place in a book during the hot months but also make great decorations for the home. The hardest part about making these lovely tulips will be deciding which color to use next!
DESIGNED by Rich Textures Crochet
SKILL LEVEL beginner
Read more about it on
Ravelry
.
Making Waves Bookmark: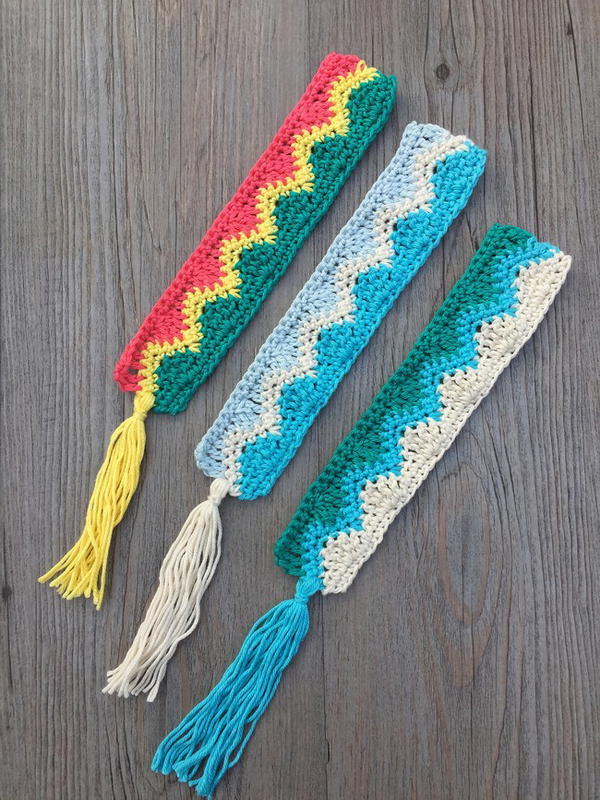 Wake up to the sound of the waves and make these sweet bookmarks with your child (or your friends!) What a special gift to give to someone you love! Each one of these bookmarks is unique and can easily be customized with the yarn colors of your choice. All the instructions are given in the pattern, nothing needs to be changed afterward - it couldn't be easier! Use this simple pattern to make a bookmark that will be loved by children and adults! It is textured and made of felt so that it can be washed or wiped clean.
The bookmarks are one of my favorite handmade gifts! Have fun making your own and playing with colors, and texturing the different pieces. This is a very easy and quick to repeat pattern that you can start at any time, just by choosing different colors. It's very beautiful as it is, but you can play with color, leave it blank or maybe write something on it. As always – washable cotton yarn is highly recommended 🙂
DESIGNED by Rich Textures Crochet
SKILL LEVEL beginner
Read more about it on
Ravelry
.
Celebration Bookmark:
This delicate bookmark is inspired by lacy, vintage lace, and the subtlest touches of vintage lace overlay. Self-standing for easy insertion into your books or magazines! There are so many cool bookmarks available. This Celebration Bookmark is one for lovers of vintage styles. The intricate lace pattern will catch your eye, and you won't be able to take it off your book.
The beautiful heart pattern, with the words "Love Forever," will make you appreciate all the things that you are passionate about in life. It will add to your reading pleasure with its lace patterns and its large, 3-dimensional butterfly. The back is lacy and shaped like either a leaf or a flower. Have fun choosing the one you like best!
DESIGNED by Draiguna
SKILL LEVEL beginner
Read more about it on
Ravelry
.
Animal Bookmark: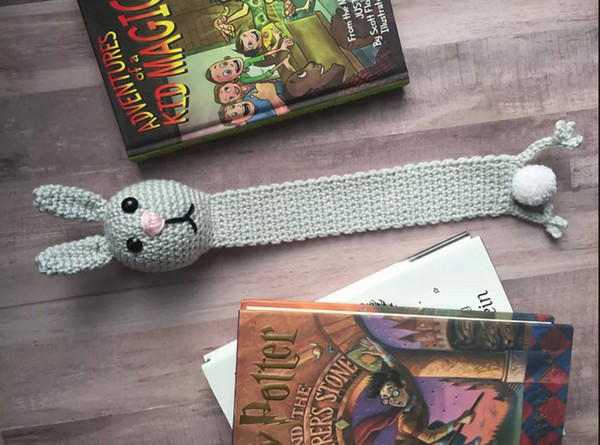 With this pattern, you can make an adorable crochet bunny bookmark. This little bunny has a cottontail that sticks out the bottom of the book, making it an extra-cute addition to your bookshelves. These adorable little bookmarks are delicate crochet series of designs by Heart Hook Home using worsted weight yarn. The skill level is easy, with well-written instructions to teach you the basics. Additional details, like the cottontail, peek out of the bottom of the book.
These adorable crochet bookmarks will brighten up your bookshelves. Each one is long, with a large heart hook at the top and a short body with an amigurumi head poking out the top of the book, with additional details like a little bunny tail peeking out from under the bottom.
Crochet Characters: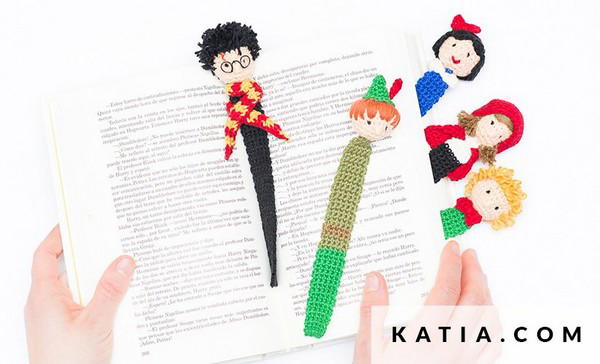 Crochet five characters inspired by your favorite literary classics. You can learn how to turn The Little Prince, Snow White, Harry Potter, Little Red Riding Hood, and Peter Pan into cute bookmarks. This book will take you through the basics of crochet, beginning with easy stitches and working up to an intermediate level.
You will also learn how to incorporate changes to facial features and clothing/accessories so that you can create your own customized character bookmark. With this creative guide, you can kickstart your creative side and put it to good use by making adorable keepsake bookmarks that are sure to be treasured by everyone. Crocheters of all skills can make the Crochet Characters bookmark set.
Striped Pencil Bookmark: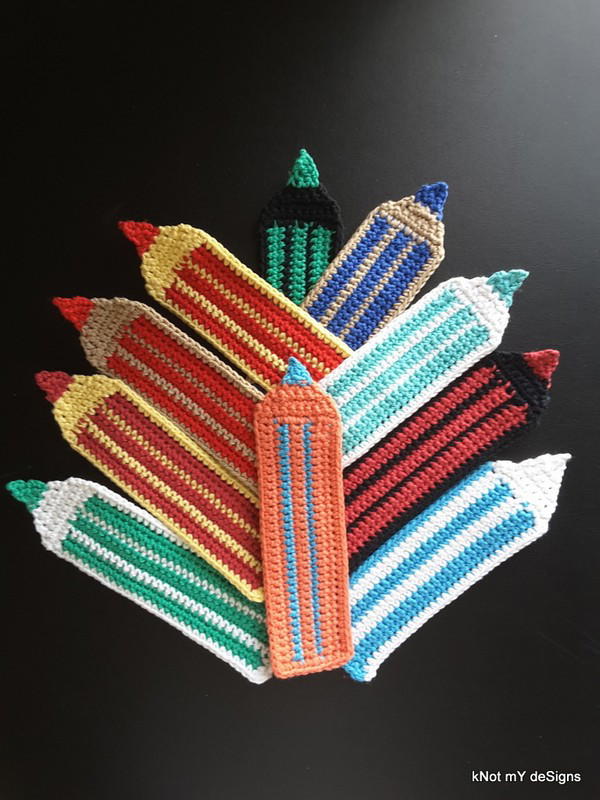 Crochet a bookmark in your school colors, or in fun colors to add some spice to your reading. This little bookmark is just right for your paperback novel, your textbook, or your hymnal. Make it in your school colors to show off some school spirit. The pattern is easy to follow and creates the sturdy bookmark you need to help you turn pages without losing your place. It's worked in single crochet with a little bit of bobble-stitch texture.
The stripes are created with yarn over stitches worked on both sides of the marker, so you don't have to work any complicated pattern stitches. The striped pencil bookmark is a simple pattern, worked in two colors of bright acrylic yarn, to help brighten your school day. It can be made with or without a wrap-around bead ornament, and in the no-bead version, its ends are naturally glued together providing a non-slip surface for your book.