Are you looking for creative and unique Christmas gift ideas? These adorable crochet elf patterns will be the perfect choice for your or any elf lover on your list. Crochet elves are the perfect gift, especially for someone who enjoys a good laugh. These elf patterns are full of fun designs and instructions. There are 25 different crochet elf patterns you'll want to make this holiday season. From tiny elves to huge ones, from little elves on Christmas presents to tinier ones tucked inside stockings, this book is for you if you love cute holiday decorations.
Crochet Elf Patterns For Santa Lovers

Elf on the Shelf is a tradition in many households during the holiday season. But what do you do if you're not up for the Elf on the Shelf role? Or if you want to give your Elf a break? Here are some fun crochet elf patterns that will smile on your loved one's face. The crochet elves can act as companion pieces to your beloved Elf on the Shelf, or they can be enjoyed as their little characters. They make for great companions for Santa, too! There's just something about their pointy little ears, tiny shoes, and how they decorate our houses with ornaments and toys (and cookies!) each year that makes us want to play along.
Materials Needed For Crochet Elf Patterns:
Hooks and yarn sizes are based on the brand you use. You can use any yarn of your choice and hook size.
Hook: Steel Hook size 6 (1.75 mm)
Other materials for this project are tapestry needles, scissors, stitch markers, and sewing pins.
Abbreviations:
Ch - Chain; Sc - single crochet; Dc - double crochet; St(s) - stitch(es)
Holiday Elf Gnome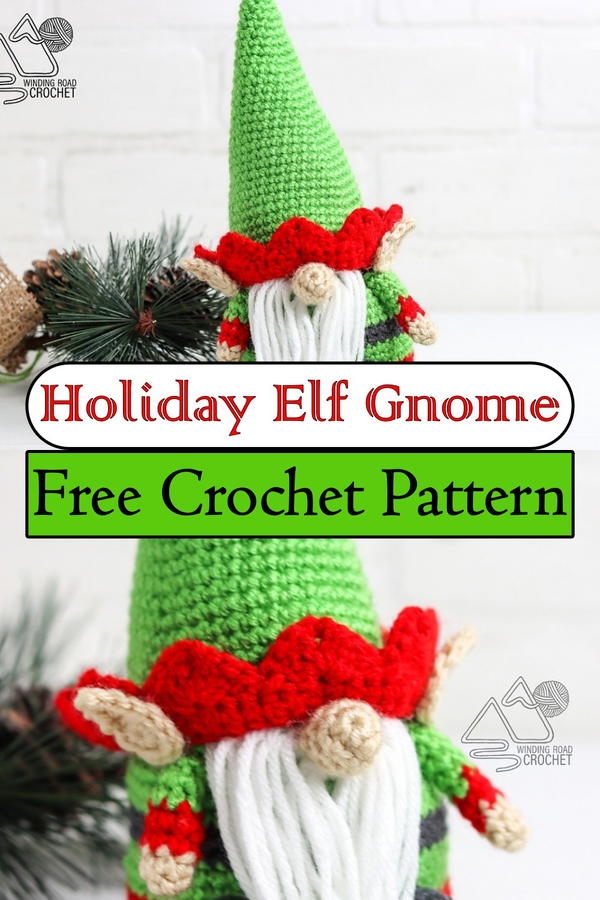 Create a cute crochet gnome to keep your home safe. The Holiday Elf gnome and snowman are the two festive friends that will keep your winter home warm and bright. They look great indoors or out and make excellent gifts for adults or children. This little guy is the perfect addition to your holiday decor! It makes a great gift for an avid crocheter or even those who have never tried it before. This adorable little Elf Gnome will bring a cozy feeling to your home as you pass the holiday season.
Elf Berry Amigurumi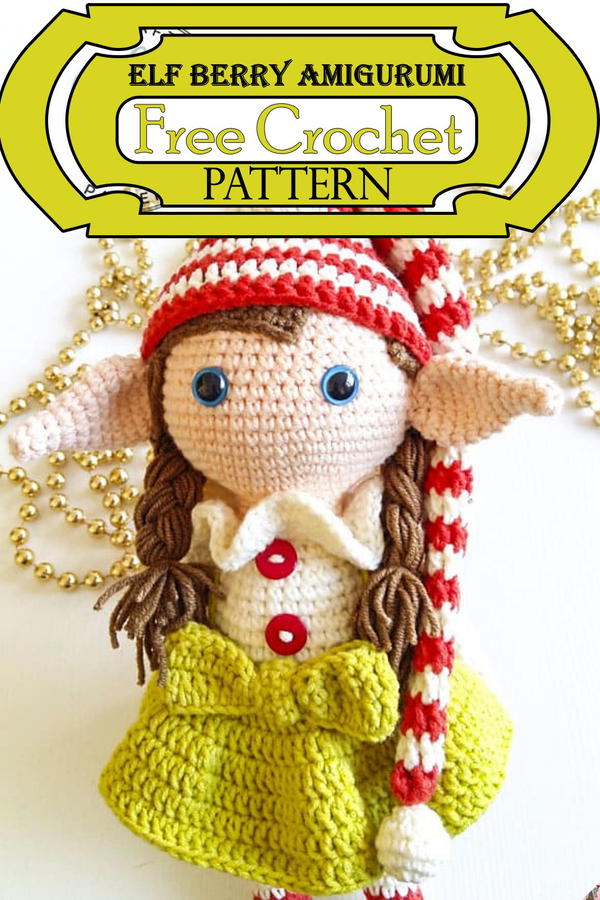 This crochet is a cute elf. He loves to hang out with his friends in the snow. It is perfect for any Christmas celebration this year! Make this crocheted Elf Berry Amigurumi for some Halloween holiday cheer! Your kids will fall in love with these cute little elves. You can also make them a perfect gift or decoration for your home or office. Crochet these easy-to-follow chillers jockeys in any colors you like. This mini amigurumi is super cute and handmade using acrylic yarns that can easily be cleaned. This amigurumi combines crochet magic with modern charm.
Elf Baby Onesie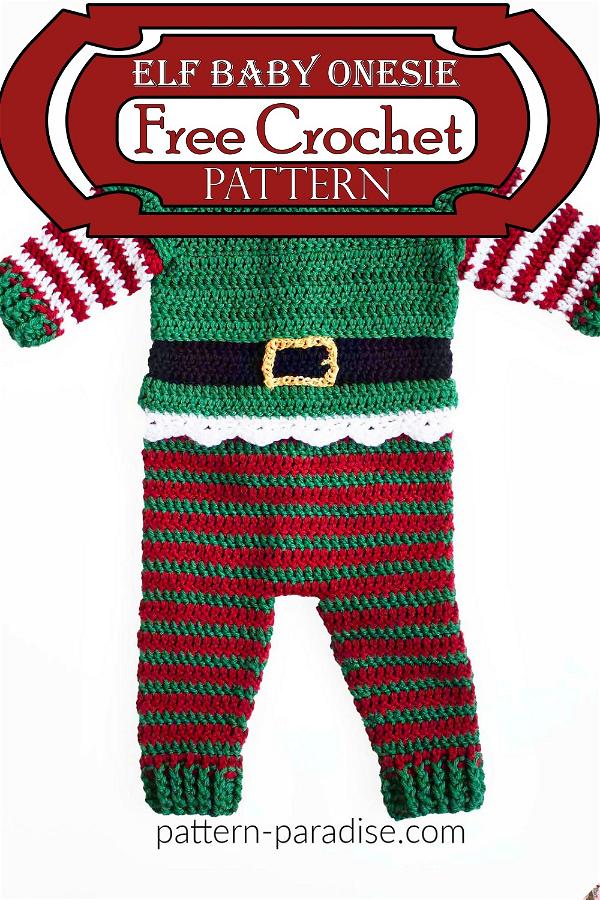 Here are a few reasons you should buy this onesie: - It's adorable! - Perfect for your holiday photos or just because. This cute, warm sweater is perfect for your baby this holiday season. Whether you are taking pictures or just because you want your baby to feel extra festive, this crochet elf onesie is sure to please! This item is a dream come true for any elf fanatic who loves Christmas. It's no wonder we see so many kids dressed as elves and reindeer during this time of year, but now you can dress your child for any occasion.
Elf Kids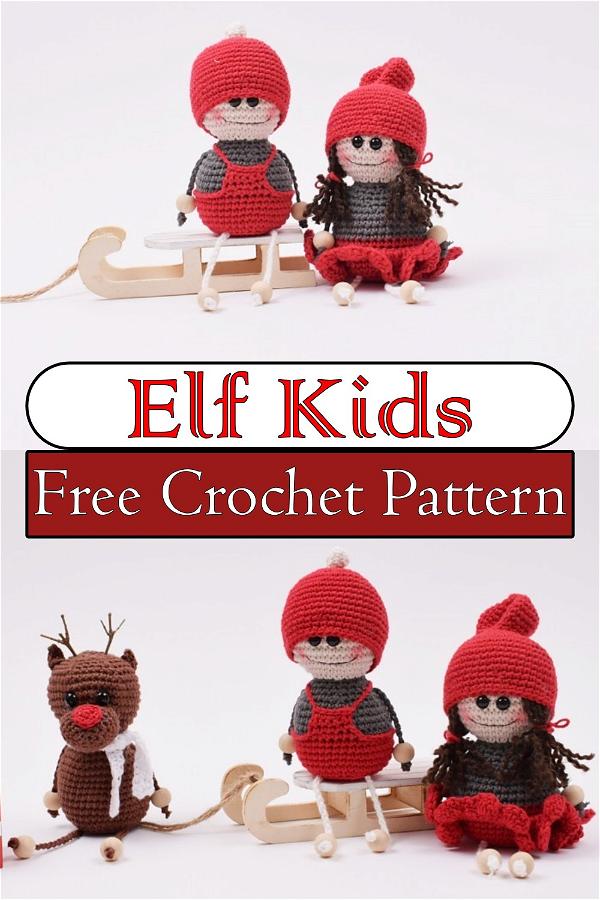 The crochet elf is a traditional Christmas symbol for many generations who love celebrating the holiday. The Christmas tree has always been covered with star decorations and other ornaments made from beautiful materials. But we wanted to add some more fun and cuteness to our Christmas decorations this year and make crocheted elves a part of our decorating plan. This is the perfect crochet elf pattern to make for your children, friends, or even yourself and display around the home.
Elf Gift Bag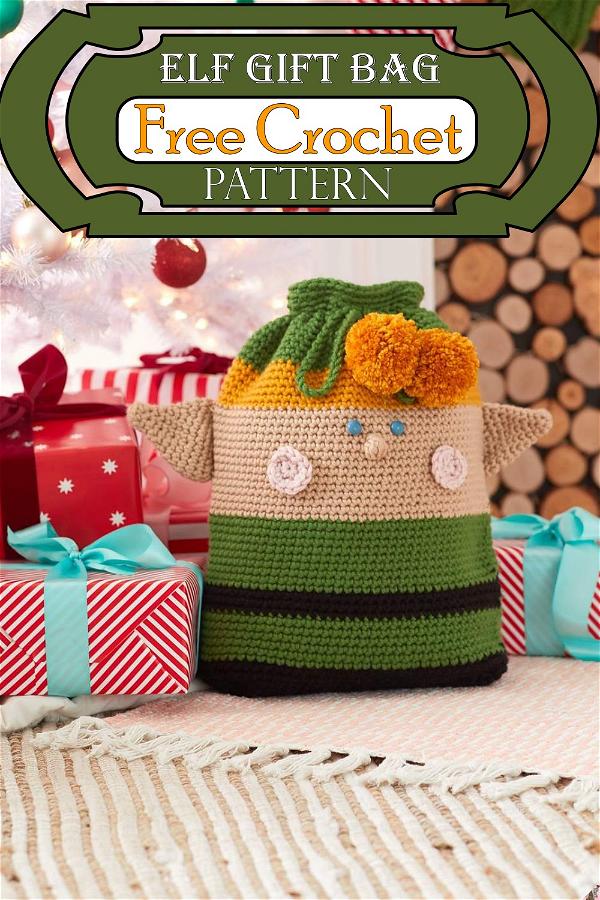 The Elf Gift Bag is a perfect gift bag for the holiday season. Crocheted in soft yarn, this Elf is made to be loved and makes a good home for any small Christmas gifts. This soft toy can also become a pillow to decorate your home with or hang from its round body as a bag hanger. It's also easy to store away when unused due to its small size. This little elf bag is a great gift for friends, family, and associates. Customize the bag to be whatever color you would like! It is crocheted using basic stitches and can be made using different colors if you wish.
Elf Ornament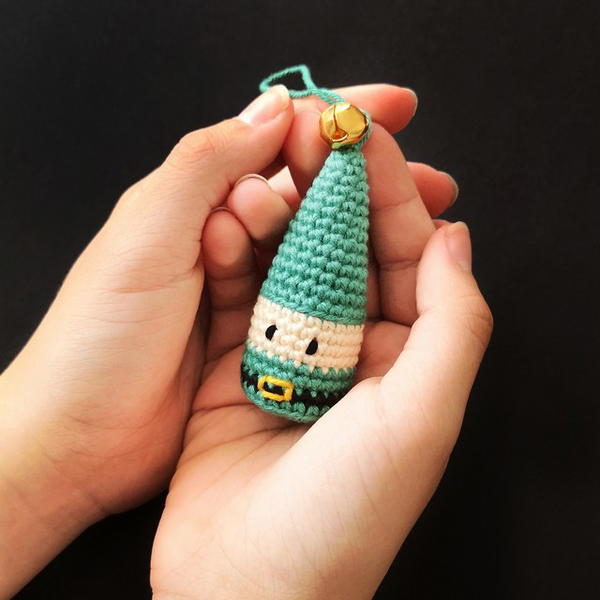 Crochet your ornament out of this super soft yet durable yarn. It's easy to make and even easier to love! This crochet elf ornament is a perfect addition to any Christmas tree. It hangs easily from a branch and makes a great gift for anyone that loves Crochet and Christmas! This little Elf is ready to help you with your holiday decorating needs. Get crafty with this easy-to-make crochet ornament and enjoy the joy on a child's face when they discover an elf in their stocking.
Elf Cup Cozy
This pattern is so easy and fun! Beginners can make it in less than an hour. It's the perfect gift to give a little elf. Make this cup cozy for your Elf, a friend, or a gift! It works up fast and looks great on any hot or cold drink! Works for mason or beer and standard sizes! Super cute and easy! This easy-to-crochet cup cozy is a great addition to your Christmas Decorations. It works up quickly, so you can make a ton of these for gifts for family and friends!
Elf Bunny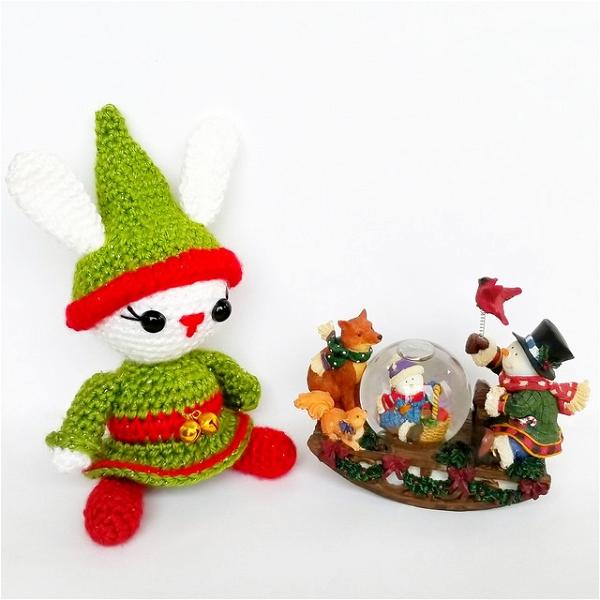 Santa's favorite helper, this elf bunny, is ready to bring gifts to good boys and girls worldwide. Whether decorating Christmas trees or preparing toys at Santa's Workshop, this little Elf is always on the go! Prepare for Christmas with this fluff-filled Elf Bunny! He's worked hard but has the energy to go another round when the holiday season rolls around. And he'll sparkle in the light of dozens of ornaments on your tree.
Elf Amigurumi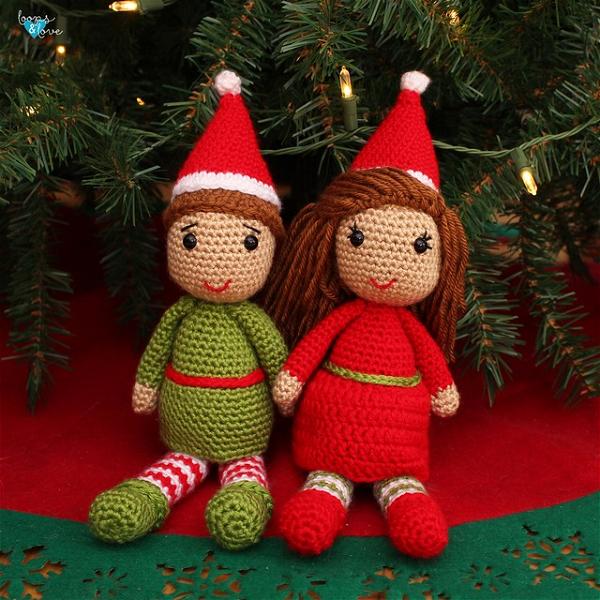 Elf Santa dolls (or Elf Santas!) are a great way to put a little Christmas joy into someone's day. We see our elves in many places every holiday season, from people's homes to holiday craft shows! They are super easy to crochet up in under an hour and are fun for kids of all ages. This is a cozy and cuddly crochet pattern for the holiday season. These adorable elves sit on the Shelf but can be used as decoration or friends for years to come. You can choose to make one or a pair. Together or individually, these elves are perfect for cuddling, decorating, or gift-giving.
Kreacher The Elf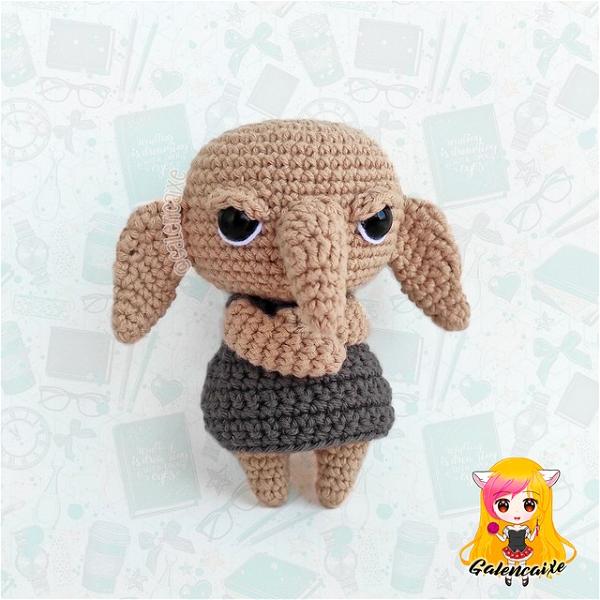 This cute crochet Kreacher the elf plush makes an excellent gift for Harry Potter fans. This pattern is fairly simple and works quickly! It's easy enough for even a beginner to make. The perfect gift for any Harry Potter fan, this Kreacher the Elf is a great souvenir from one of the best fantasy series ever. The doll comes dressed in traditional clothing and can be taken out of it and put back on, so he can be put anywhere in your house.
Mistletoe The Elf Bear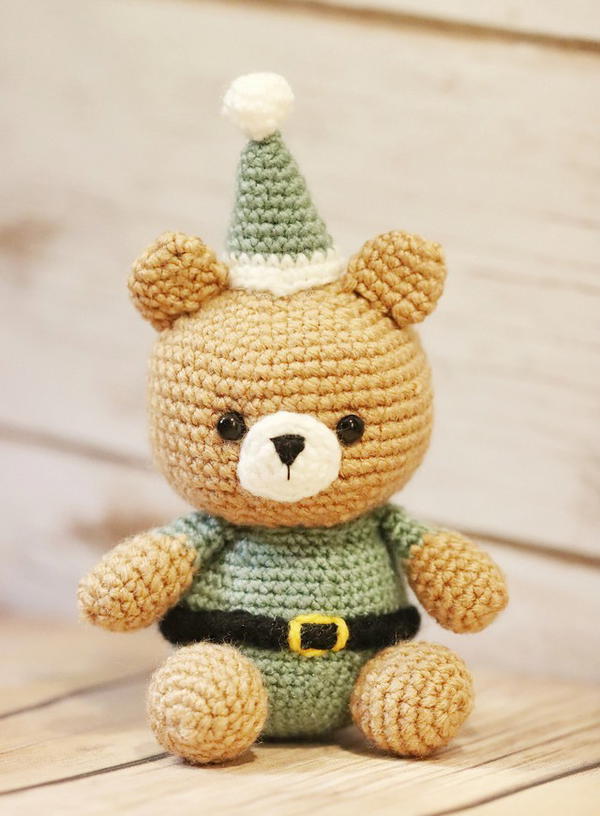 This is your first Christmas season in your new home, and you must hang the mistletoe! Be kind to all the elves who visit and share their presents with you. Hang up your Mistletoe The Elf Bear; this sweet little fellow is just waiting for all of your Holiday guests. This elf bear just landed the perfect job: hanging out all season long in your Christmas tree. Be sure to hang him up before Santa Claus comes to town, though—because mama knows that he wouldn't look very good with a lump of coal!
Ella, The Mini Christmas Elf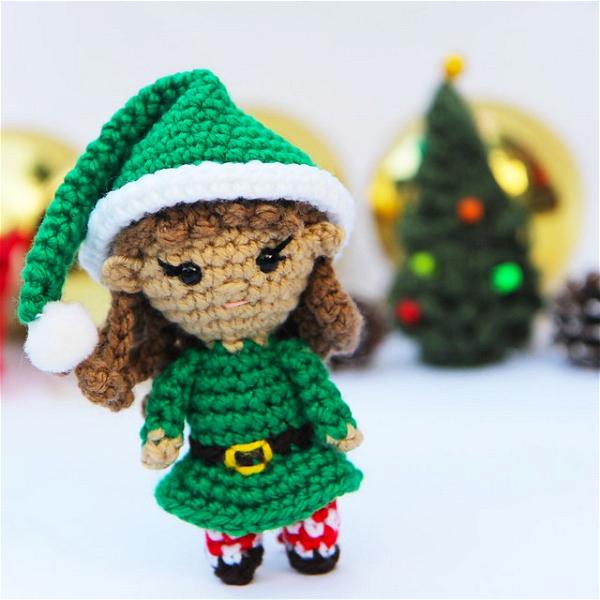 Ella is the little crochet Christmas Elf that we just had to make! At 4.5 inches tall and with a super easy hair cap, she is the perfect last-minute crochet Christmas gift or crochet ornament for your tree. Meet Ella, the mini crochet Christmas Elf. These miniature Christmas ornaments are a perfect last-minute gift to make for your family, friends, or coworkers. You can use any variegated color combination that you like, but be sure to make one for everyone! Get your whole family together and ready for some fun!!
Mini Elf Amigurumi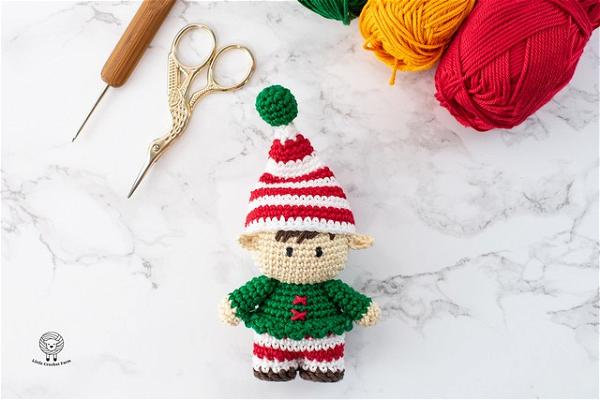 Get ready for Christmas with this adorable amigurumi crochet mini elf! This pattern is cute and simple to work up. It's the perfect addition to any new or seasoned crocheter's collection of patterns. This is a super cute mini elf amigurumi that you can use as a keychain or attach to your bag or backpack. It is crocheted and stuffed with polyfill. With this pattern, you can make all your favorite Elf on the Shelf dolls. Make the boys green and the girls in pink; Santa's elves are here to help make Christmas great!
Adult Elf Hat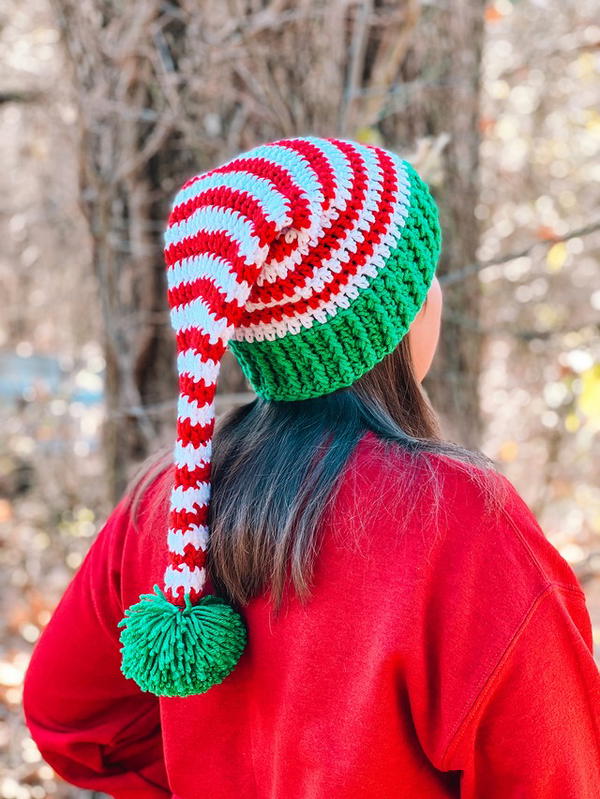 Adorn your head with this fluffy Crochet Adult Elf Hat. It is the perfect addition to your Christmas costume, whether you are a store Santa, Elf or want to be a festive fella! The hat's brim features pom poms and braids that curl up around the bottom of the band. This lovely hat is made from acrylic yarn, which is soft and warm. A bow at the top adds some extra charm to this adorable piece. This Elf hat is a great addition to your holiday wardrobe. It's easy to make so you can whip up a bunch in time for the holidays.
Cat's Elf Hat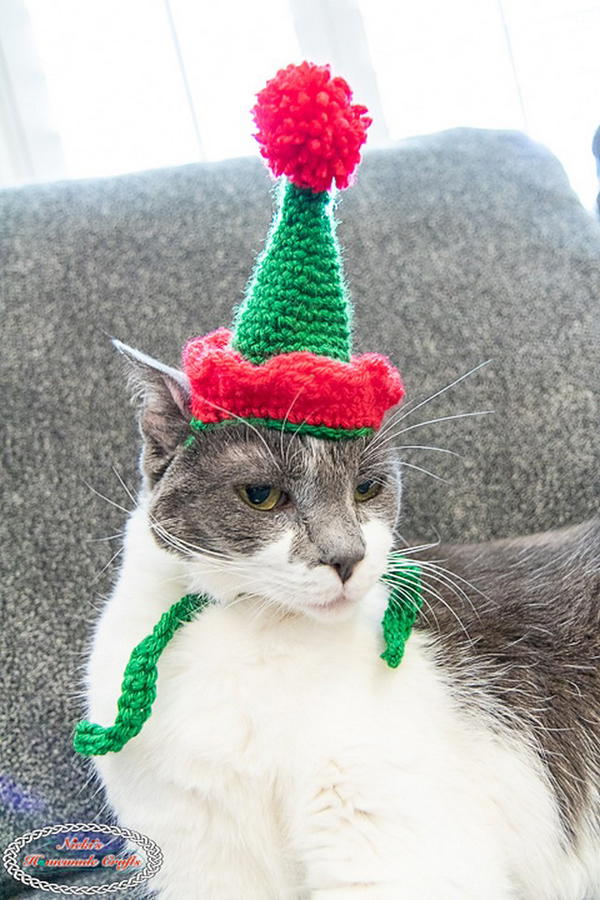 This crochet Cat's Elf Hat is the perfect accessory for your cat. You can make one with easy-to-work popcorn stitches and a festive band of color for each of your kitty's favorite holiday outfits. Or perhaps volunteer at a local animal shelter to make one for every cat that needs some love and affection on this special day. This crochet hat is just the thing a young elf needs while they fly through the air on their sleigh. The ears and nose are stitched on with colorful yarn.
Santa & His Elf Gift Bag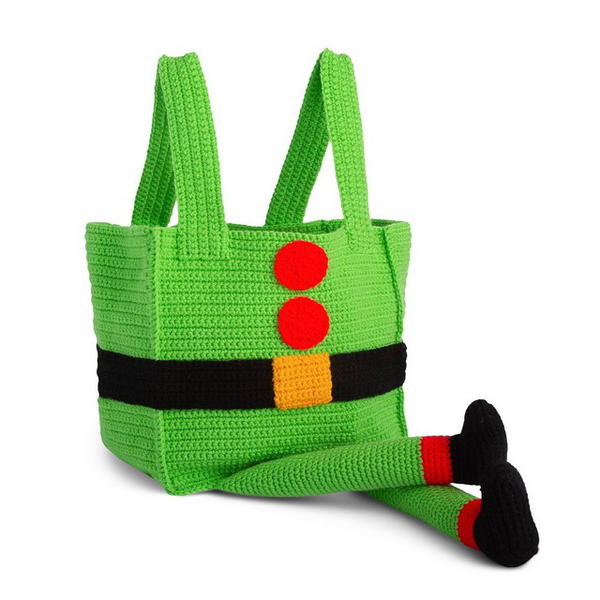 The perfect gift bag for the holidays! Handmade and unique, this Santa & Elf crochet gift bag is sure to help spread some cheer. This Santa and his elf gift bag is the perfect gift for the holidays or to display anything you want. You can use it as a storage box or fill it with toys, socks, underwear, and more. It's also great for Christmas decorations. This bag is so cute! These are great for any occasion and make a perfect gift.
Nisse Norwegian Elf Gnome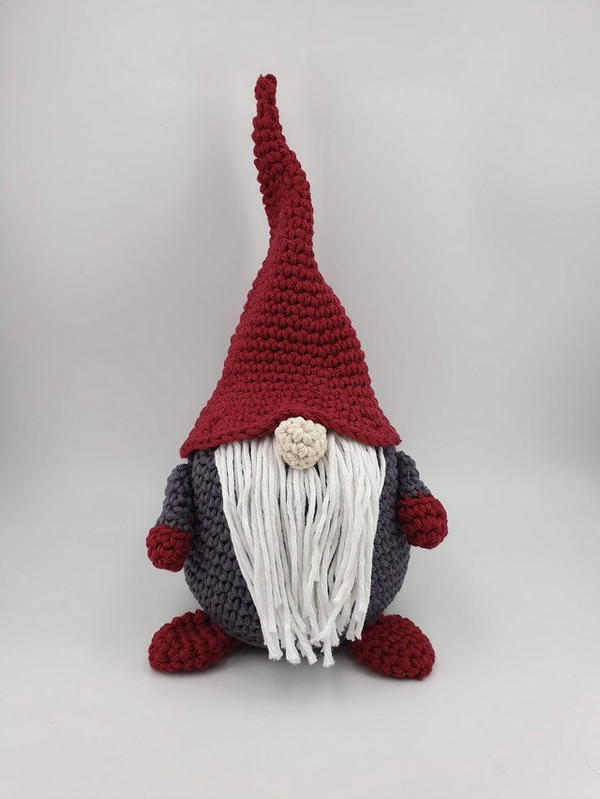 This Crochet Nisse Norwegian Elf Gnome is a wonderful decoration to add to your home. It can be added on top of the Christmas tree or placed near the Christmas tree in your home. The Nisse is the Norwegian version of the house elf. A mischievous gnome that lives in attics misses is believed to protect houses and farms from harm. Create your own with this crochet pattern! Add a special touch to your Christmas decor and tree this year with this cute little gnome! Handmade by an artisan in Norway and made of corn fiber wool fabric. The Nisse is an elf-like creature who lives in farmhouses or barns.
Elf Belly Flatware Holder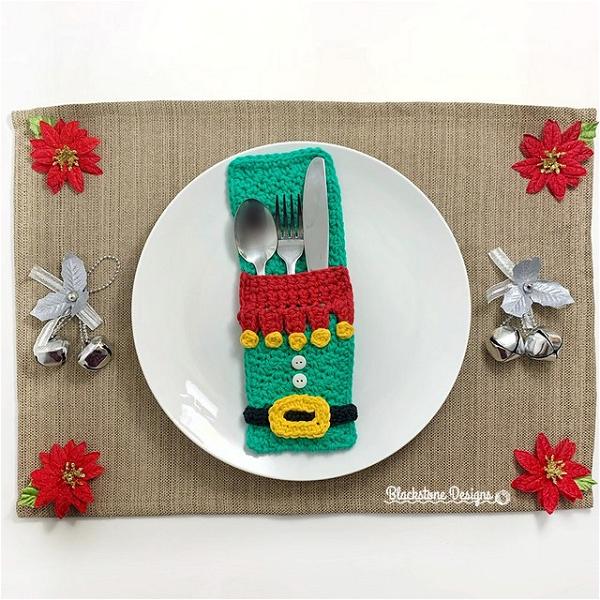 A delightful crochet elf belly flatware holder is the perfect way to store your flatware. It will add whimsy to your dining room and make everyone smile! Its elastic opening fits all flatware and looks so cute on the table. This elf belly organizer works with both plastic and metal flatware. The beautiful crochet elf belly flatware holder is great for keeping all your silverware organized and ready to use! Made of cotton yarn, this elf baby sack is completely washable and can be used repeatedly.
Elf Belly Pot Holder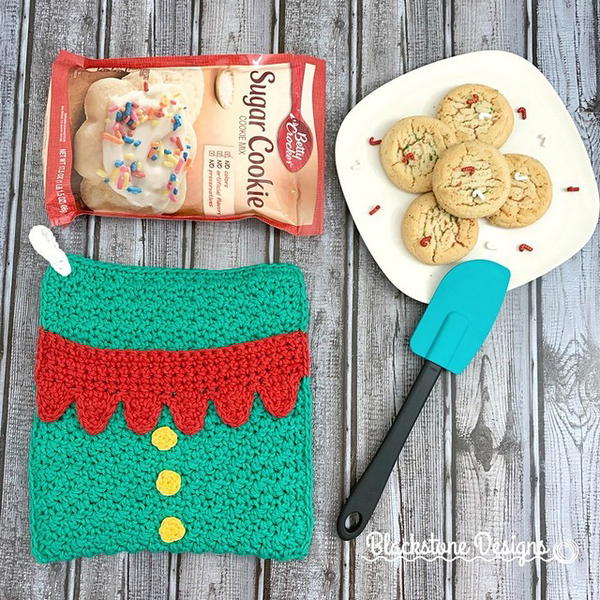 The Crochet Elf Belly Pot Holder is the perfect holiday or wintertime accessory you can make yourself. Select the colors and yarn of your choice and create your own crochet elf belly pot holder! Made with 100% cotton, this fun, and festive crochet pattern makes a great gift for all ages. A crochet elf belly pot holder is a great item when cooking. It will keep your hands far away from the heat while also keeping your hands warm. This makes it ideal for cold weather. The various colors allow you to match your pot holder with any color scheme you may have in your kitchen.
Elf Christmas Ornament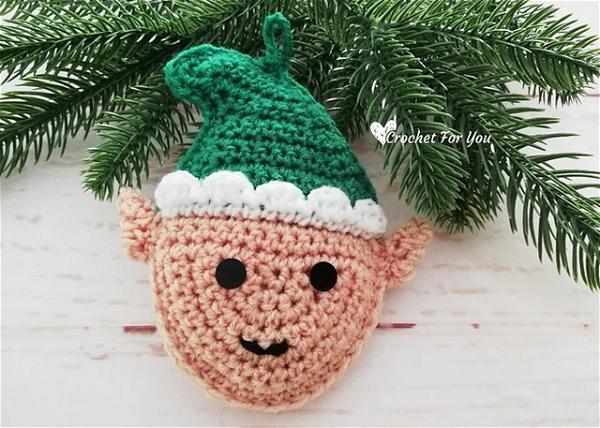 Crochet this fun elf to adorn your Christmas tree this season. This would be a great activity to do with kids and an excellent gift idea! Make your Christmas tree sparkle with our crochet elf ornament. It's the perfect touch to add a bit of whimsy! This adorable Elf Christmas ornament is the perfect way to add a touch of Christmas magic to your holiday decorations. Just string a ribbon through the crochet loop and hang it up with your favorite tree or bring home one for every family member!