Create cute, clean-smelling scrubbies with these crochet patterns in a wide range of designs. Suitable for beginners, the face scrubbies are made using cotton yarn and are simple. The crochet face scrubby patterns include character shapes such as princesses and pirates, flowers, animals, and more. This collection of 20 Crochet Face Scrubbies Patterns is too cute to use. Keep one handy in your shower or bath, and you'll always have a fun face scrubber when you need it. These crochet face scrubbies let you pamper yourself with your handmade gift, which is great for using leftover yarn.
Crochet Face Scrubbies Free Pattern

Crochet, the age-old craft of creating fabric from yarn, is not just for making sweaters and scarves anymore. These Crochet face scrubbies are a great way to use your extra yarn scraps. They're also a fun way to make your own customized accessory since you can choose the size and shape of your scrubbie depending on how much yarn you use. The best part is that crochet scrubbies are easy to make, which is a great way to get kids into crafting. And they're cute enough that they'd even make a nice gift! So whether you want something simple or something more decorative, here are 20 crochet face scrubbie patterns for you to choose from.
Benefits Of Crochet Face Scrubbies Patterns
Here are some of the benefits of crochet face scrubbies patterns:
They are very easy to make. You only need a few basic stitches and can start making them.
You can make their gifts for friends, family members, or even business items. If you have a shop selling handmade items, this is a great way to add more products to your inventory.
They can be made in any color combination, so this is great if you want something bright and colorful.
They are affordable compared to most other bath products like soap or shampoo. You will not spend much money on this product either because it does not take much time or effort to make these face scrubbies, so they will not cost you anything.
Face Scrubby
Soft, colorful, and shaped like a heart, this scrubby is the perfect way to add fun to your daily face-washing routine. With a little crochet skill, you can make this scrubby yourself. This crochet face scrubby is a unique, soft, and versatile beauty product that you can use as a makeup remover pad, facial scrubber, baby bath sponge, washcloth...and the list goes on! Great idea for a gift too! This crochet face scrubby is a unique, soft, and versatile beauty product that you can use as a makeup remover pad, facial scrubber, baby bath sponge, washcloth...and the list goes on! Great idea for a gift too!
Dahlia Face Scrubbies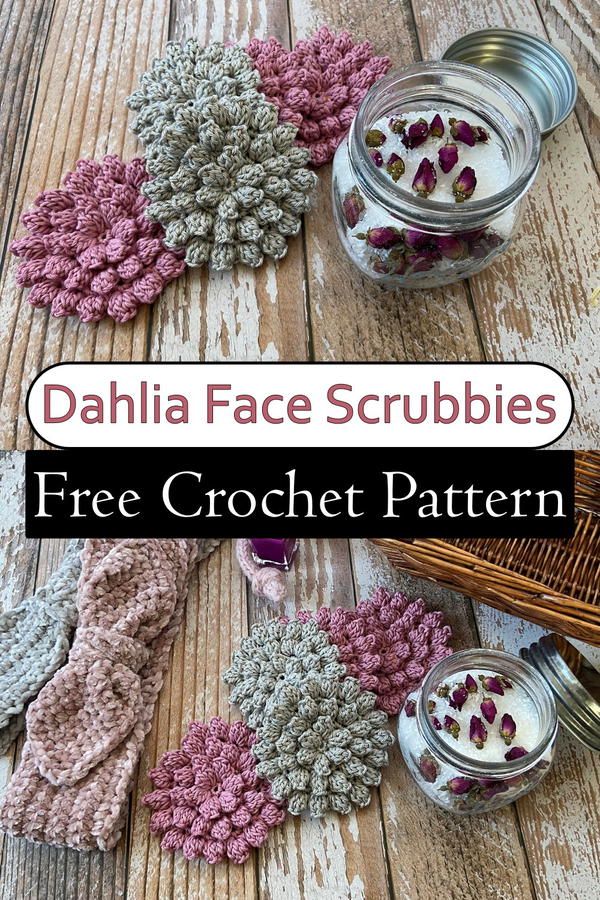 These Dahlia face scrubbies are super soft and gentle for your skin. They work great for removing makeup but also deep cleansing your face. Designed with a hand strap so you can hold it like a scrubber and wash your face with it. These adorable face scrubbies make the perfect addition to your beauty regime. Just use the soft-grip crochet loops for gentle exfoliation and removal, or leave them as is for a face wash that feels like a spa treatment. The decorative crochet design adds a level of luxury—and style!
Cara Face Scrubby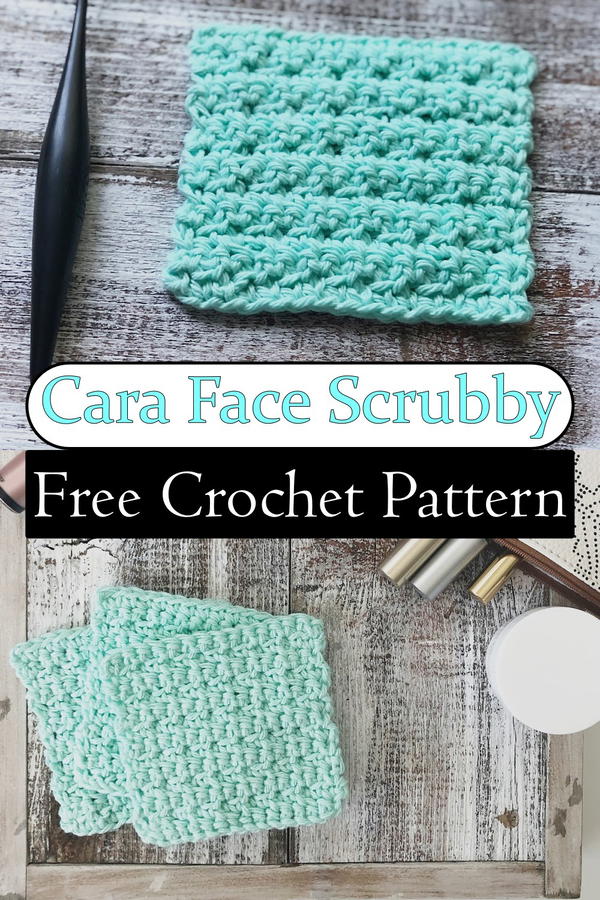 Lovely face scrubby with Cara's cute face. It's a great washcloth and makes a great gift! Turn your face into silk for the day with our luxurious and charming Cara Face Scrubby. This scrubby is made from a soft cotton blend yarn and features a crocheted design that helps exfoliate the skin, leaving it smooth and refreshed. Use only on dry skin to avoid possible irritation, and hand washes cold water only. This crochet Cara scrubby is the perfect addition to your bathroom. Great for washing your face and body, this scrubby will help you keep things clean!
Crochet Face Scrubbies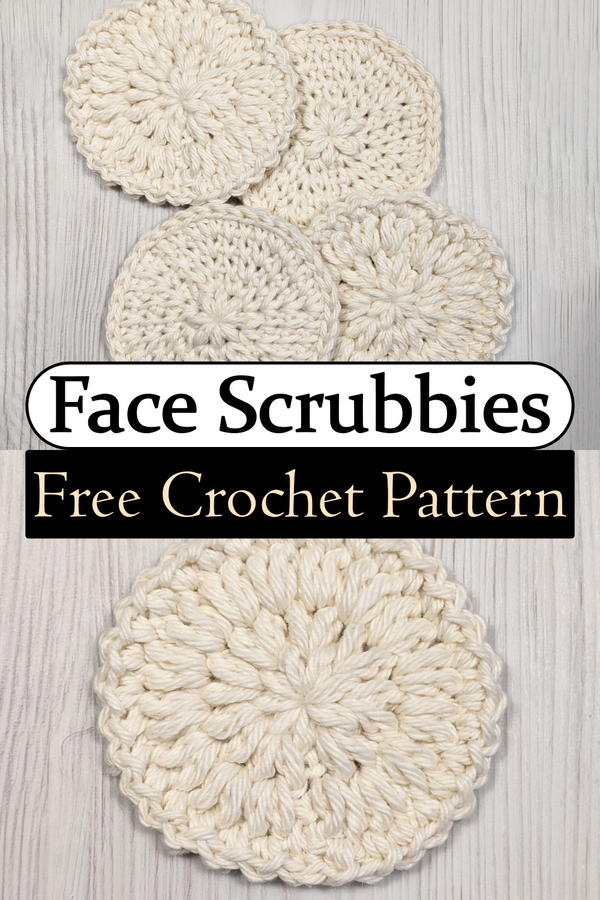 If you love silk or cashmere, you will love these reusable cotton face scrubbies. This facial hair remover is made from high-quality cotton, which holds its shape after each wash. Using face scrubbies to replace your makeup wipes reduces waste and saves you money! Makeup removal will never be the same with these reusable cotton face scrubbies. These cute and cheerful little guys remove all your makeup without harsh chemicals, leaving your skin feeling soft and silky. Throw it in with your next load of laundry, hang it to dry, and you're ready to go!
Crunch Stitch Face Scrubbies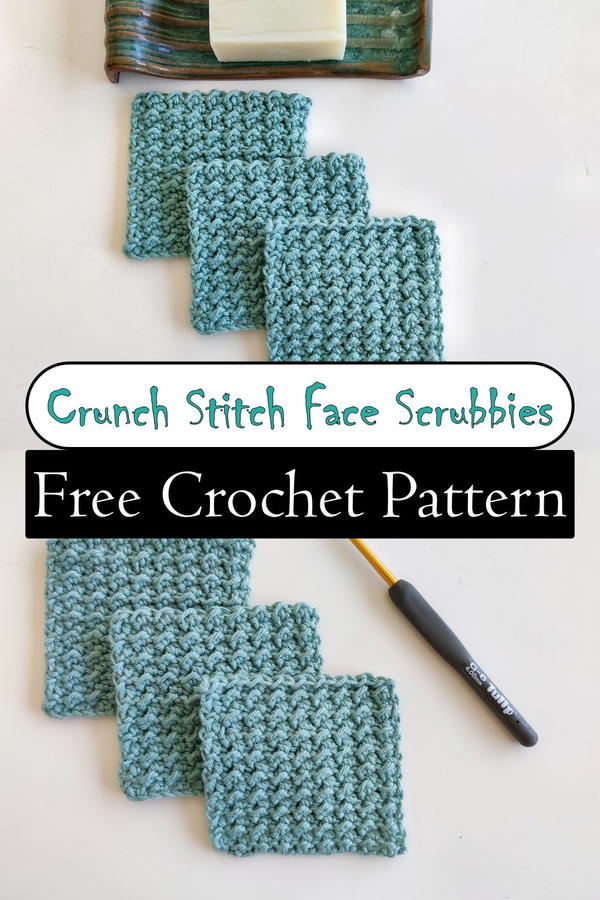 It's time to get scrubbing. The Crunch Stitch Face Scrubbies feature rows of crossed stitches that create a beautiful texture and are perfect for use in the kitchen and bathroom! These are some of our favorite scrubbies! They are soft, smooth, and perfect for everyday use. You can also use these for towels, washcloths, baby bibs, and more. Add a little texture to your next project with Crunch stitch. This stitch is great for washcloths, blankets, hot pads, and more.
Coral Blossoms Face Scrubbies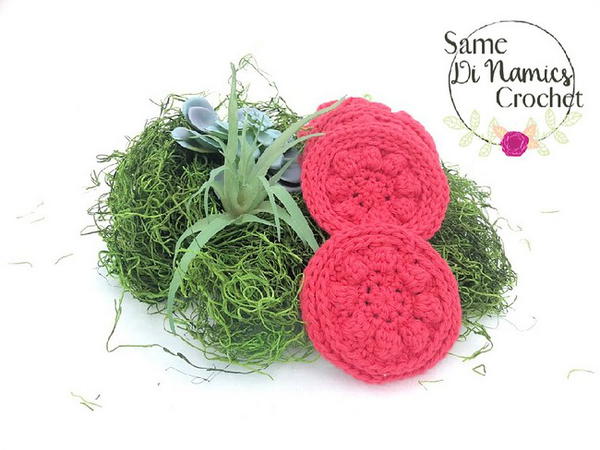 These easy and fun crochet scrubbies make great craft fair products. They are free crochet patterns for beginners looking for simple projects. Coral Blossoms are the perfect gift for any friend or family member who loves to use face scrubbies. You can make Coral Blossoms in any color to be great additions to any bathroom or kitchen. These little scrubbies are also great craft fair products and even products for local artisan shops. They work quickly and easily, making them a great project for beginner crocheters.
Flower Blossoms Face Scrubbies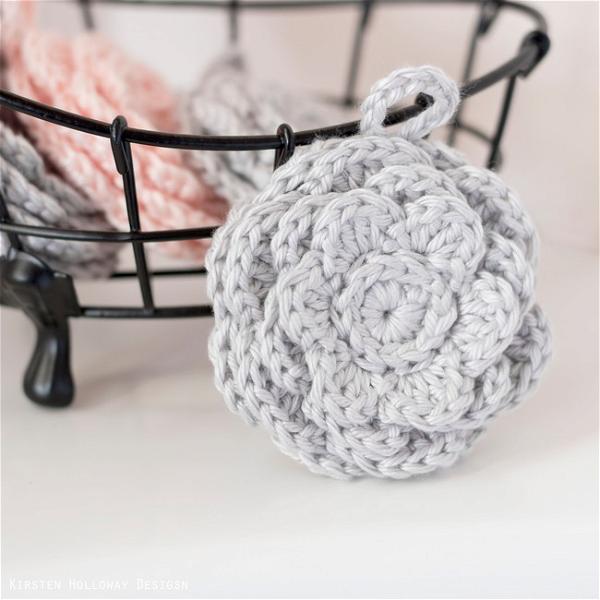 These crochet flower blossoms face scrubbies are the perfect gift for your favorite beauty lover. A handmade, single-use face scrubbie packed with natural ingredients! Make these handmade beauties a part of your cleansing ritual or treats and gifts for friends, family, and loved ones. Use them as a cotton ball replacement, or go eco-friendly by using one for each use and throwing it out after it dries up! These adorable face scrubbies are crocheted from one piece of yarn. They are easy to store and come with a little bag, so they are ready to be taken on the go with you!
Octagon Star Face Scrubbie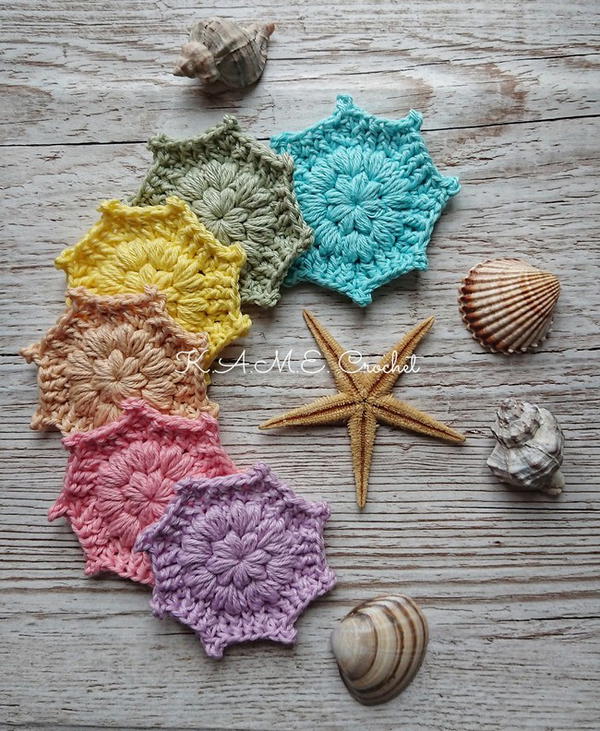 If you love crochet and face scrubbies, this scouring pad is just for you! This great beginner pattern looks intimidating at first glance but is easy to make once you start. This Crochet Octagon Star Face Scrubbie makes the perfect addition to your favorite face wash routine. Made from cotton and nylon, this scrubbie has a nice weight and will last for years. It is a must-have for any woman who likes to stay on trend. It's the perfect combination of beauty and functionality.
Reusable Cotton Face Scrubbies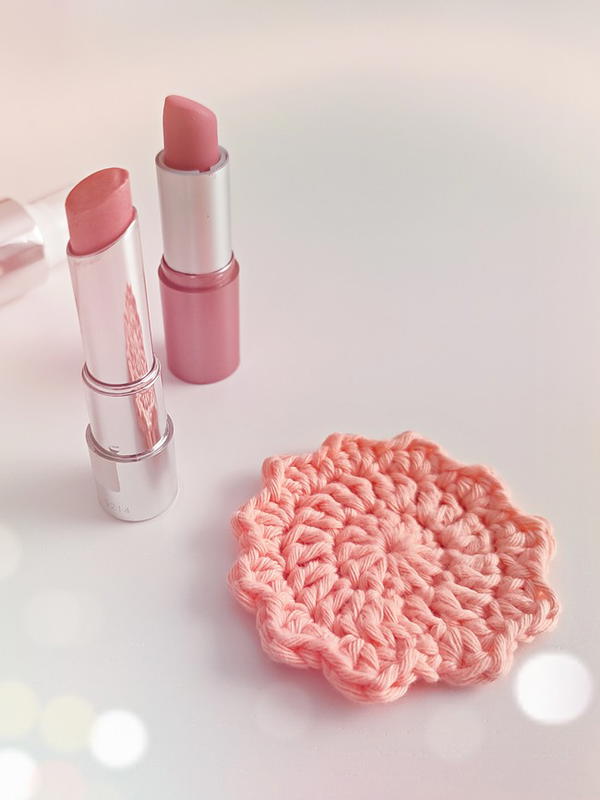 Great for removing makeup, these washable scrubbies are made with sustainably-sourced cotton yarn and can be used repeatedly. The crochet technique for these beauties makes them exceptionally soft on your delicate face. These scrubbies are made with cotton yarn and have a unique design that will make you feel like you are in the spa or beauty salon. Reusable, soft, and gentle makeup remover brushes. It can be used for facial cleansing, eye makeup removal, and exfoliating scrubbing.
DIY Face Scrubbies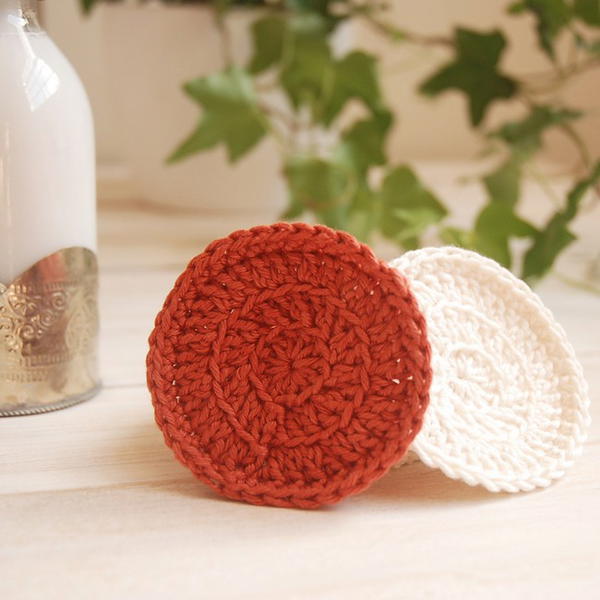 Reusable Flower Face Scrubbies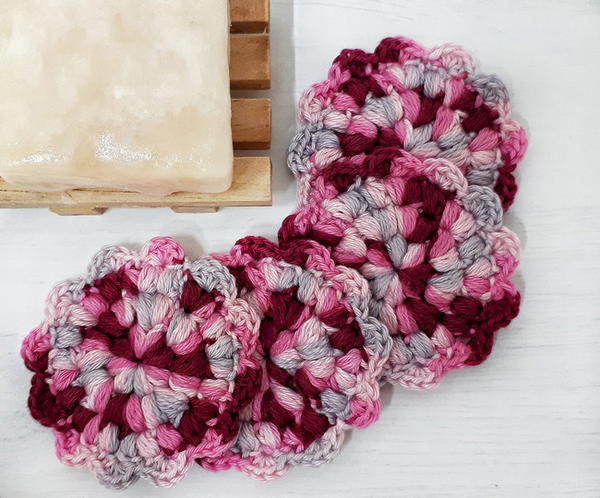 Want to have a luxurious face scrubbie that will help you clean your skin of pollution? Then this is the tutorial for you! These little crochet face pads are great for helping yourself or for giving to others as their own little luxury pampering item. Crochet with linen yarn and hemp thread; it's super soft yet durable enough to be used daily. The two-toned texture of this DIY face scrubbie is designed with you in mind. Easy to make and quick to dry, these little scrubbies will add a touch of luxury to your everyday routines.
Tunisian Crochet Face Scrubby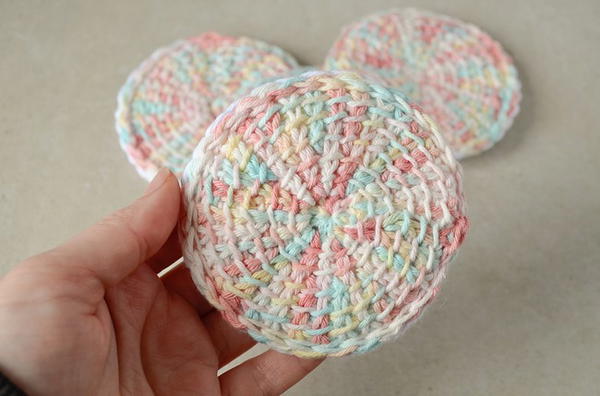 This Tunisian Crochet Face Scrubby uses fine, tightly-spun cotton yarn to create a delicate but effective scrub. The little rough bits at the ends are perfect for gently exfoliating your skin and removing dead skin cells and impurities. This is the perfect tool for washing your face or exfoliating. The scrubby is made from 100% cotton yarn and is super soft to the touch. You'll love how well it scrubs while being gentle on your skin. Use it daily as a cleansing tool, exfoliator, massager, or rinse cloth.
Popcorn Face Scrubbie Mitts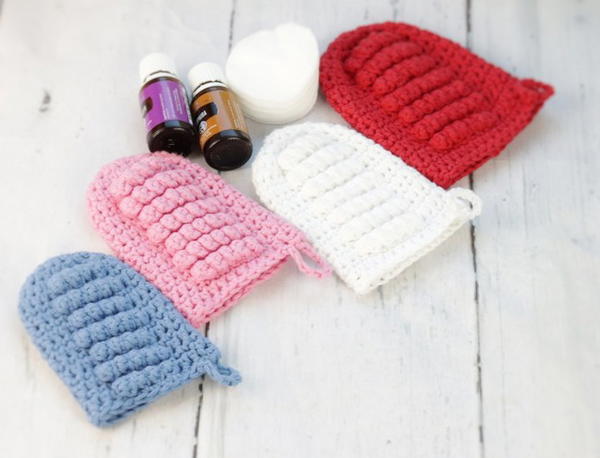 These Crochet Popcorn Face Scrubbie Mitts will keep your hands warm and dry while turning up the dial on your exfoliation routine! Crochet popcorn face scrubbie mitts are a great way to clean yourself and your face! These scrubbies are soft, velvety, and gentle for daily use. After each use, toss in the washer with your towels or clothes. These crochet scrubbies will surely be a hit with your friends and family. Great for keeping your face clean and moisturized or for removing sunscreen or makeup before bed.
Makeup Remover Face Scrubbies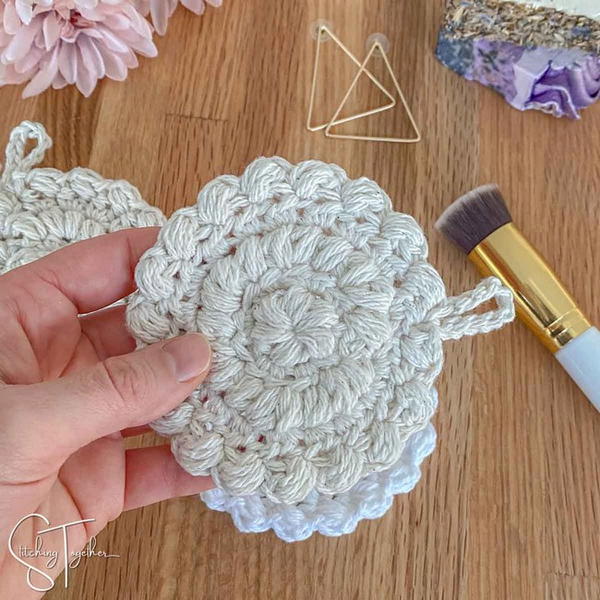 These makeup remover scrubbies are a great addition to your bathroom. They gently exfoliate and remove dirt, oil, and makeup from your face leaving it feeling softer and cleaner than ever. These Hand crocheted makeup remover face scrubbies are perfect for exfoliating your face and body. The Makeup Remover Face Scrubbies are washable, durable, and reusable. These crochet makeup remover face scrubbies can be used daily or as needed. These little scrubbies are perfect for gently removing oil-based cosmetics like mascara, lipsticks, eyeliners, and lip balms without irritating your skin. They're also great for exfoliating with a body scrub now and then.
Diamond Textured Face Scrubbies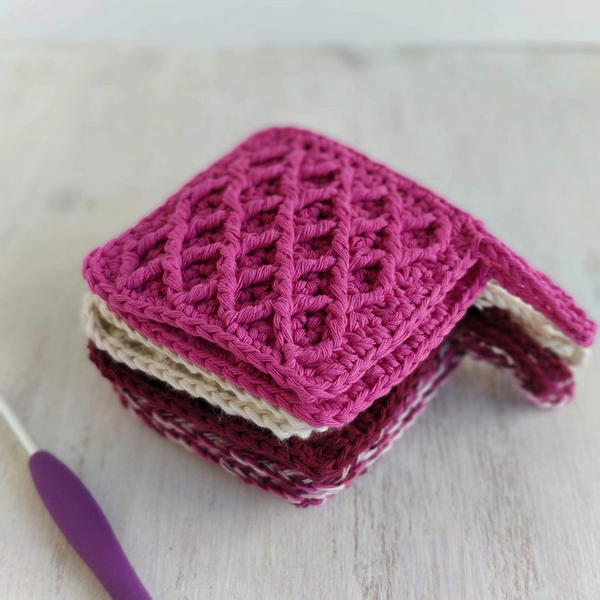 These face scrubbies are quick to make and perfect for exfoliating your skin before washing. They can also double up as washcloths for sensitive faces and faces with acne. This design is perfect for using up those leftover bits of yarn. It's a great project to practice your favorite crochet stitches, and it makes a wonderful gift - it's great for travel as it packs down into its own little pouch! It uses so few materials that once you have made one, you'll be dying to make more! These cute little washcloths are perfect for exfoliating and removing makeup or for a quick clean-up on the go. Add a bag of soap and a few extra scrubbies to your next gift basket--the recipient will love you for it!
Pep Coaster & Face Scrubbie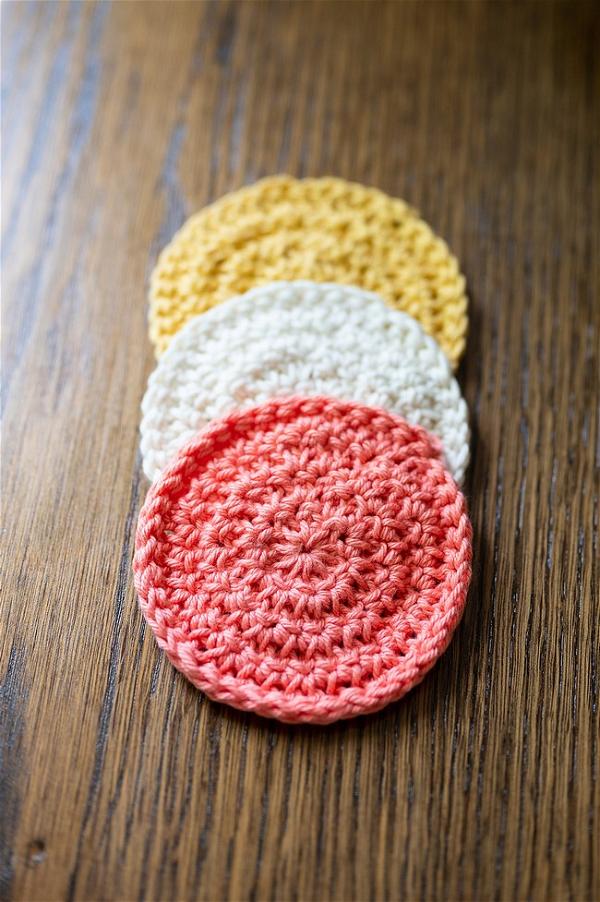 Looking for a little crochet pep in your day? With this fun pattern, you can decide what these little guys are used for! Use them as coasters, or face scrubbies. Whatever works best for you! The perfect crochet pattern for all you busy crafters out there, these little face scrubbies and coasters are the perfect size and texture for either a scrubbie or coaster. Whether you want to use them for your face or around the house, these little guys will get you excited about crocheting again!
Reusable Face Scrubbies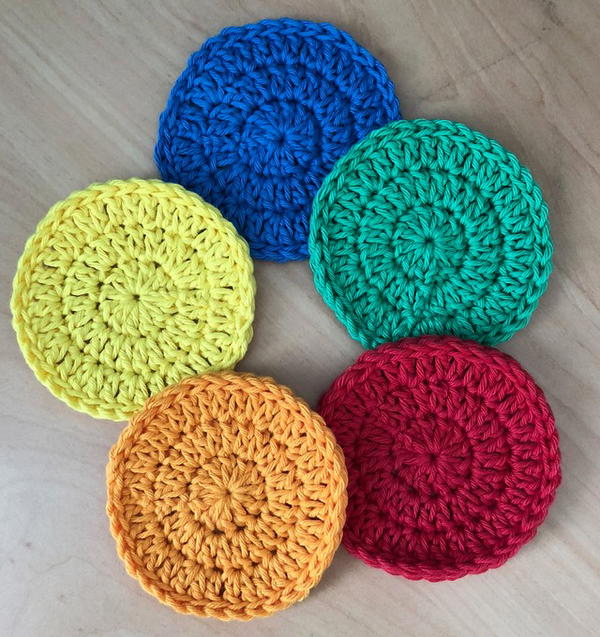 Clean your face with these reusable facial scrubbies! They are a great alternative to conventional face wash and are super easy to use. Made with a mesh liner to keep the soap from pouring out, these scrubbies are just the right size for your face and gentle enough for your skin. The choice between a clean face and one that is squeaky clean can be an impossible decision. Luckily, we're here to help you find some balance! Massage these soft washcloths over your face while using soap or cleanser in warm water to exfoliate and remove dirt from clogged pores.
Bumpy Face Scrubby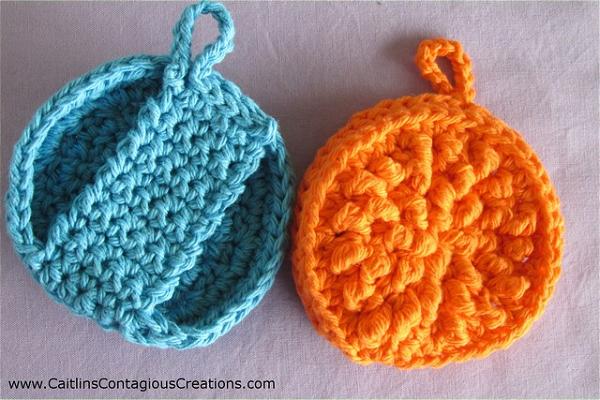 This super soft and colorful face scrubby is great for any skin type and can be used to remove makeup and exfoliate! This crochet scrubby is great for exfoliating and removing dead skin. It also works well for cleaning vegetables and fruits off their skin. The bumpy texture helps to get into crevices and makes cleaning more efficient. The nylon yarn is stronger than acrylic or acrylic blends, so it can withstand the rigors of daily laundering in the dishwasher while still being soft on the skin.
Flower Face Scrubbies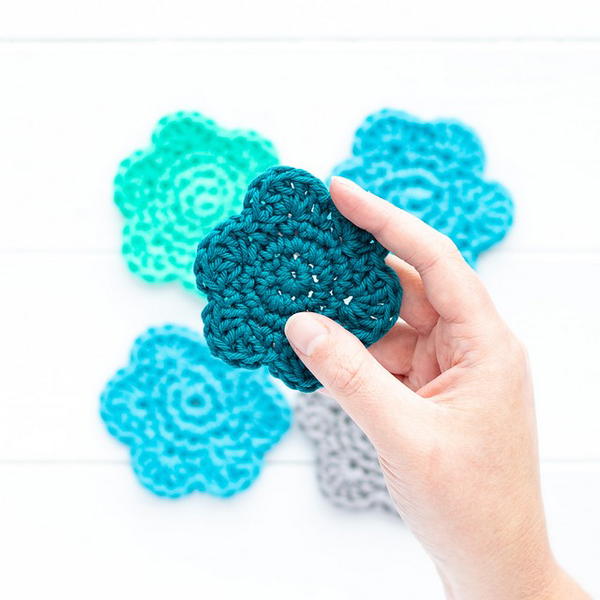 These crocheted scrubbies are a beautiful addition to your face wash routine. With their bright color and fun design, these scrubbies are made to last a lifetime. Add a sweet touch to your skincare routine with these crochet flower face scrubbies. These 100% natural and vegan face scrubbies are perfect for a gentle cleanse when using your favorite beauty products. Each scrubbie is hand crocheted from soft cotton yarns, making it durable yet gentle on sensitive skin. Use them dry for an abrasive facial exfoliator or wet for a more gentle cleansing experience.
Easy Reusable Cotton Face Scrubbie
Who says personal grooming has to be a chore? This easy-to-make face scrubbie is perfect for removing dead skin and pore-clogging dirt. It is eco-friendly, it feels great, and you make it! Who knows? You could even have some fun with it. This crochet scrubbie is the perfect size for scrubbing your face! It comes in six different colors to match your style. Each scrubbie takes 10 minutes to make and uses just two skeins of 100% cotton yarn. They are easy to clean, super absorbent, and eco-friendly.