Soap saver bags are a must-have for all crafters and DIY enthusiasts. These soap saver bags work like a charm, as they keep your handmade soaps from melting. They can be used to store your handmade soaps or even store your body scrubs. These free crochet soap saver patterns are an easy way to give an old bucket a new life. These DIY soap saver bags will be perfect even if you don't like keeping your soap in the bathtub while bathing. They can be used as scrubbers in your kitchen, bathroom, or shower, so without wasting time, put your hands on these crochet soaps, save patterns and save your hard earned money by utilizing your crochet skills.
Free Crochet Soap Saver Patterns

Are you looking for a great way to store your bar soaps? Try these free patterns for soap savers that are beautifully crafted and easy to make. You can use these free crochet saver patterns to create durable and stylish soap holders that protect your bath and body soaps! Use them instead of plastic wrap or paper when storing your bar soaps, or make one as a great gift! These crochet soap saver patterns are made from various materials and will save your soap from the harshness of water.
Spa Soap Saver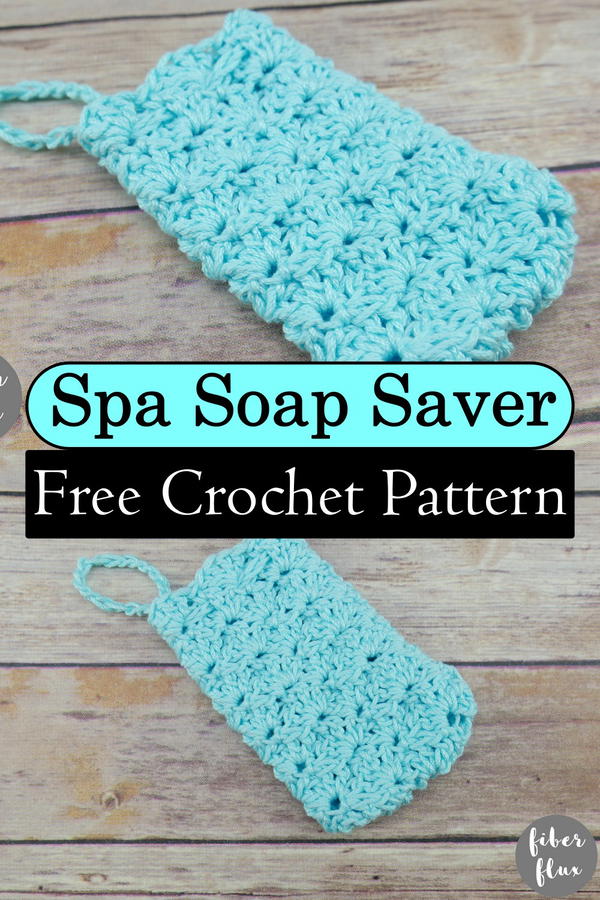 This crochet spa soap saver is a great pattern for summer, with all the relaxing parts of crochet that you love. It's meant to be a quick and easy-going project, so you can have it done in no time, just in time for all your camping and traveling. You can make these soap savers in a few days with minimal supplies. They are great for use at home or as gifts or party favors. This excellent summertime craft can help you relax and unwind after a busy day!
2 Sided Soap Saver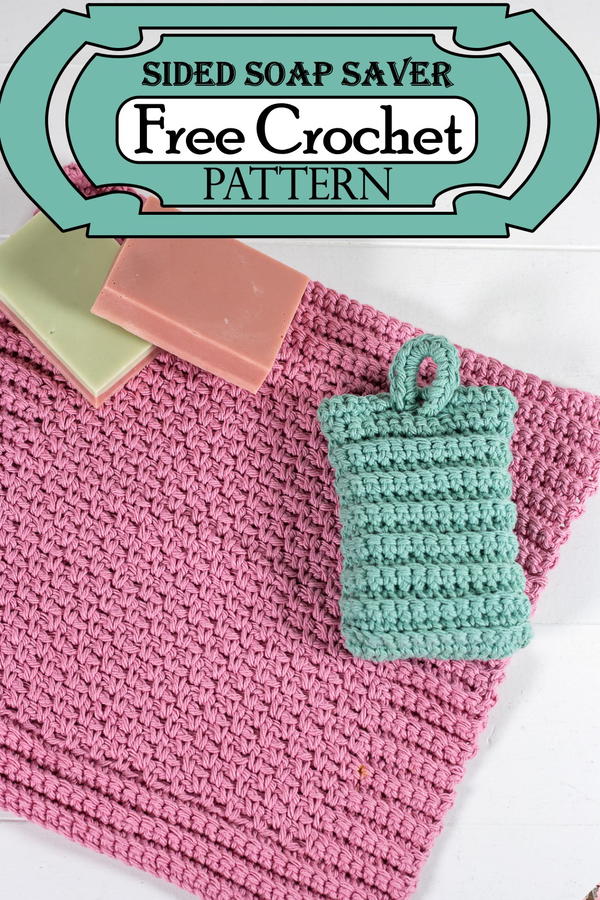 This crochet 2-side soap saver pattern is quick and easy to make. You will be able to finish a matching set of soap savers and washcloths in one evening! Add it to your gift basket and a few handmade gifts, and you're set for a spa day or as a gift for the bride-to-be! You can make them for all your friends or keep them for yourself! These soap savers are easy to make and great for using yarn scraps. You can make them for all your friends or keep them for yourself!
Crochet Soap Saver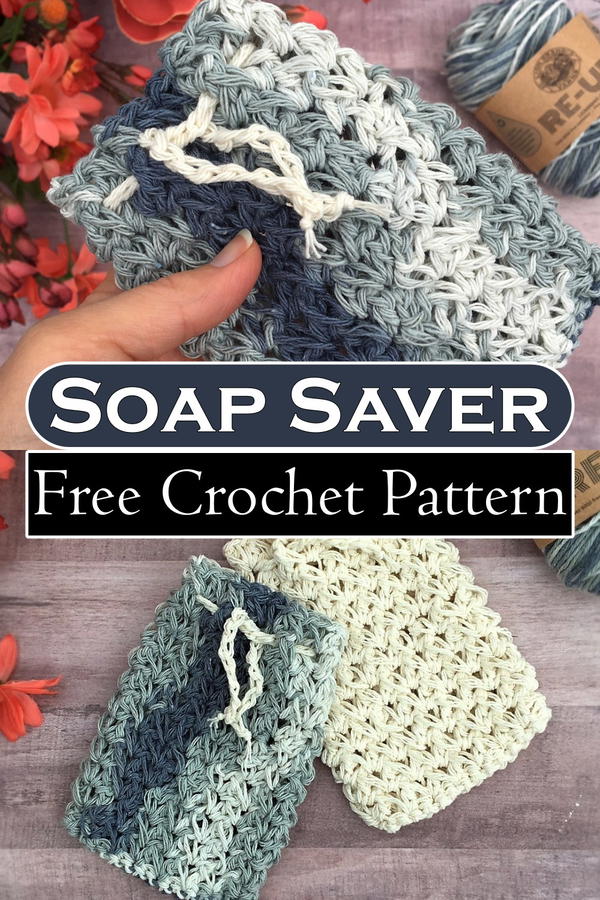 Who doesn't want to save their soap? Now you can with this crochet soap saver pattern. The unique addition of an extra loop before each stitch creates a beautiful texture and a perfect fit for any soap bar. This is the perfect accessory for your bathroom, kitchen, or guest room! One size fits any standard bar of soap. Make it in colors that match your bathroom decor, and you'll have a beautiful new way to keep your soap dry!
Soap Saver Crochet Bag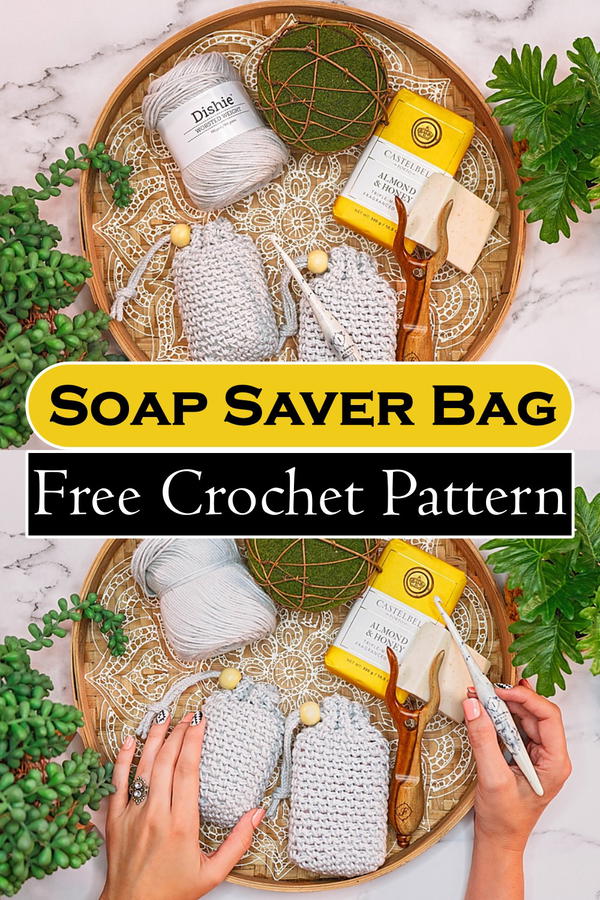 Our soap saver bag is a convenient, easy-to-use substitute for a loofah. This crochet bag can be used to save your precious bar from becoming waste in the shower or bathtub, and you will feel like you are part of the solution to protecting our oceans. The soap saver crochet bag pattern is the best way to keep your kitchen smelling fresh and clean. It will help you save time, money, and water! It's also a great gift idea for anyone who loves handcrafted items.
Soap Saver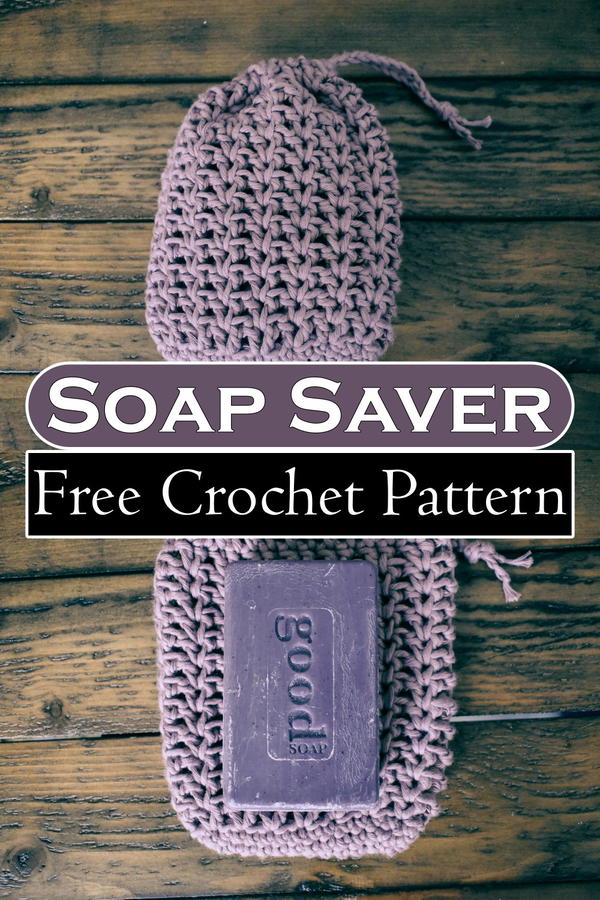 Don't waste your soap slivers! Crochet this soap saver to keep your soap intact and your shower clean. This is a great project for leftover cotton yarn and a must-have for green living. The pattern is worked from the bottom up in the round. This easy, quick project will only take you around 15 minutes to complete. This soap saver is made from leftover cotton yarn and will prolong the life of your bar soap. This pattern is suitable for advanced beginner crocheters, and I hope you're going to love this pattern.
Spa Soap Saver
Don't let those soaps linger, hide them in this spa soap saver bag like this and make them usable for a longer time! This pattern is easier to make and even safer for the environment than plastic wrap and paper towels. It will keep your soap moist and ready to use, but it's also the perfect scrubbing surface for exfoliating. When you are done with it, throw it in the washer. This pattern is easier to make and even safer for the environment than plastic wrap and paper towels.
Delta Soap Saver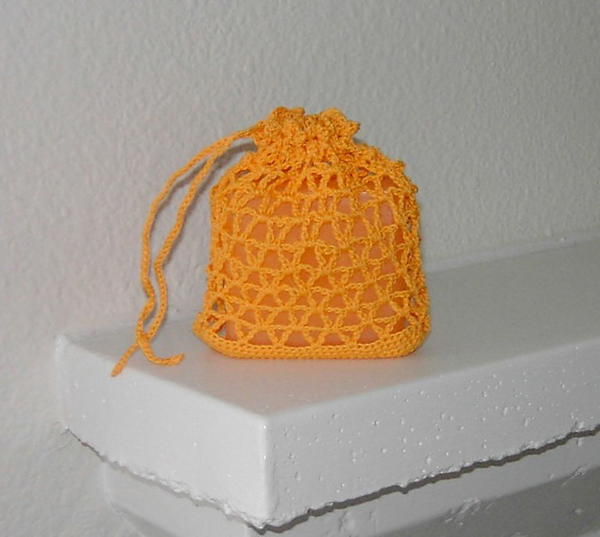 This soap saver is soft and luxurious yet sturdy. It's just what you need to keep your soap from jumping out of its holder! The traditional chevron pattern looks nice next to a sink full of flowers or other decorative items, but the color combinations are endless, try a deep plum and lime green or a navy and white stripe. This simple, quick project will also save your nails from scuff marks on the soap bars. The crochet stitches are simple enough for beginners as well as experienced crocheters.
Mesh Soap Saver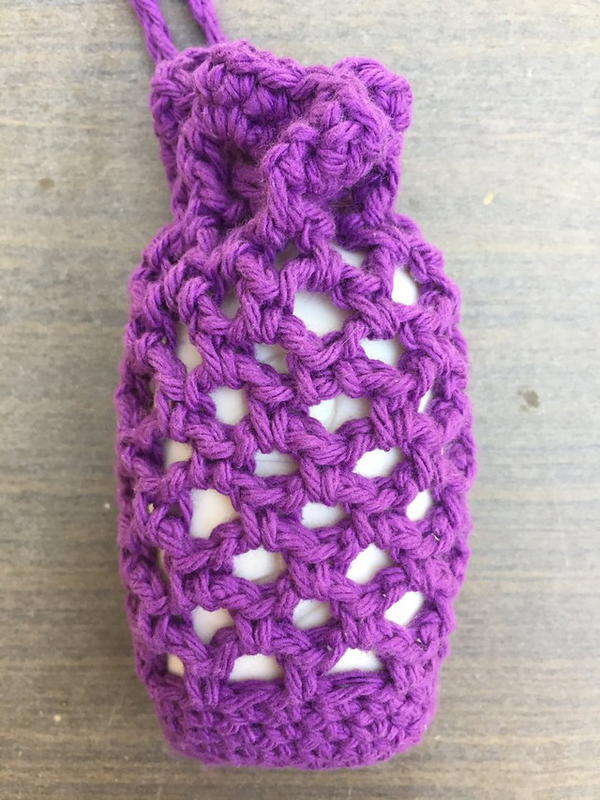 The crochet mesh soap saver pattern is the perfect handmade gift for the person who has everything but still needs a unique, reusable and practical soap saver. It will be a decent mastepriece for you to try, and I hope you'll love this impressive loveable accessory. The mesh lets your skin breathe while keeping dirt out of the water. This item can be folded up with your favorite bar of soap so it won't get lost in your purse or gym bag.
Soap Saver Bag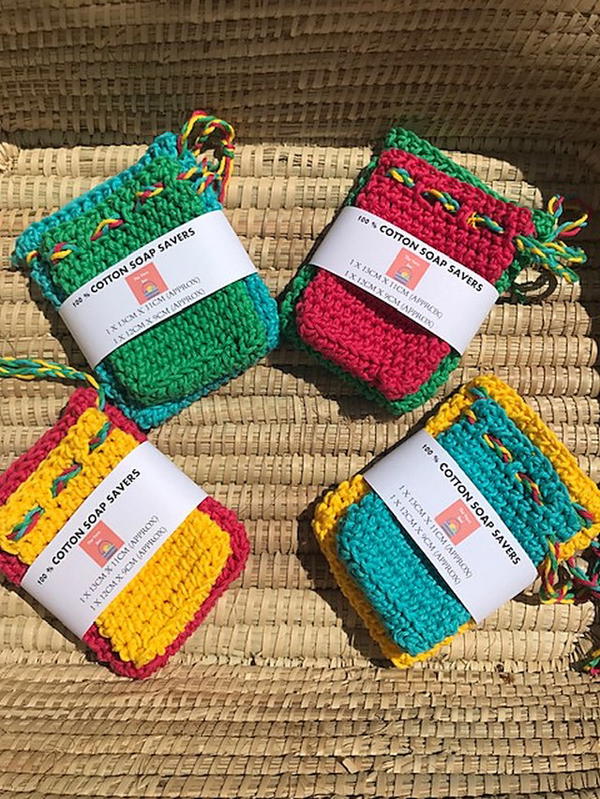 Create a variety of soap savers with this easy-to-follow crochet pattern. This pattern will allow you to create a medium and large soap saver using just 50g of cotton yarn! Its simple modern design makes it a great gift for any occasion and is quick to make using the magic start technique. This is a great introduction to making soap savers, and you can use 50g of cotton yarn to create a medium and a large soap saver. It's also wonderfully suitable for gift giving.
Mesh Soap Saver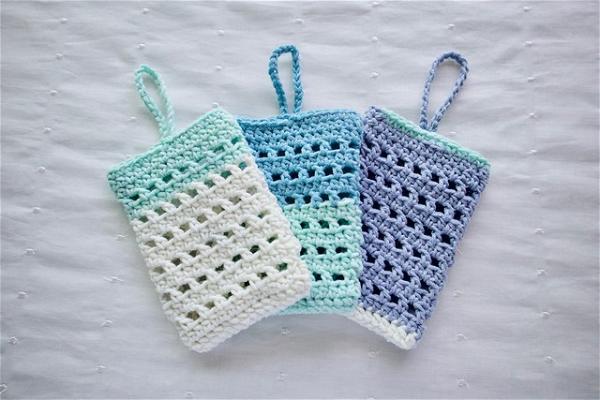 This crochet soap saver is perfect for any of your bar soaps. It would also work great for shampoo and lotion bars and create an adorable addition to a bathroom sink! It reduces the amount of waste produced by bar soaps and saves money by prolonging the life of your bar soaps. The pattern can be adjusted to fit any size soap bar, making it the perfect gift for someone who loves unique, handmade items. Great for beginning crocheters!
Crochet Soap Savers
This soap saver is a great gift-giving option while also working hard to extend the life of your soap by keeping it dry and away from water. Made with cotton yarn, this pattern is simple and easy to follow. It will work up quickly and is easy to customize in any color you fancy or use in one of the tutorials in the pattern instructions. This pattern is great for beginners; however, some advanced techniques are used. A little bit of sewing knowledge is required as well.
20 Minute Soap Saver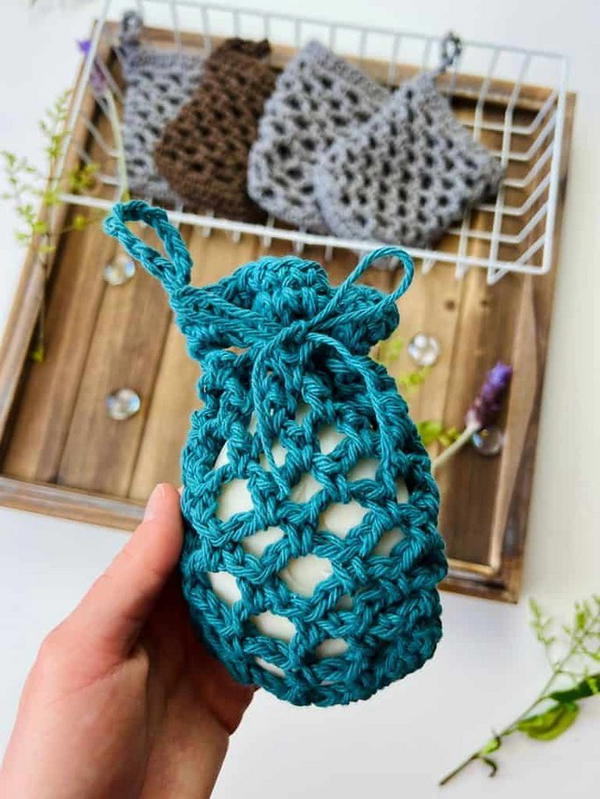 This crochet pattern is a perfect project for beginning crocheters! It will give you some practice working with mesh, and it's fun to make. With a little time and effort, you can do this practical project that makes all the difference in your life! It's also a great gift or piece for craft shows. This crochet 20-minute soap saver pattern is a great project for anyone who wants to start crocheting. It's a practical item, easy to make, and a really cute gift idea! This pattern is beginner friendly, with simple stitches and detailed instructions.
Soap Saver Scrubby Sock
The crochet soap saver scrubby sock is easy to make and uses only a small amount of yarn. This would make a great gift with a luxury soap bar (see picture). It makes a practical and fun way to use a bar of soap right to the very end. It can also be used as a soap dish in the bathroom. You can easily adjust the size to keep it in line with your favorite bars of soap or make it bigger or smaller, depending on your needs. Make it in any color and enjoy this scrubby sock's many uses.
Soap Saver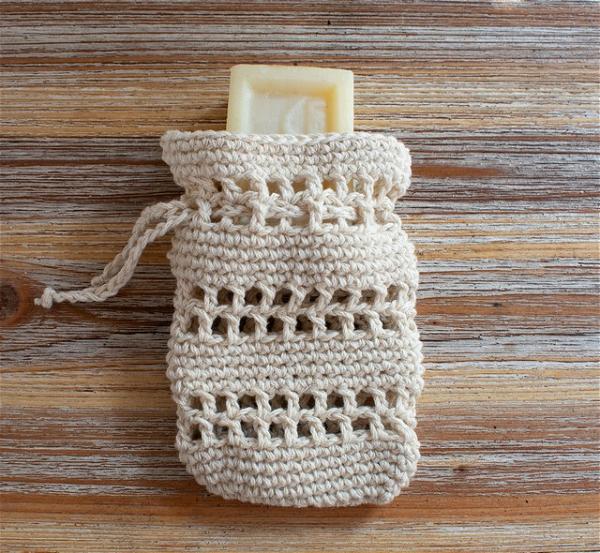 We present to you a very easy pattern for a soap saver. It's efficient and functional as it keeps the soap moist and fresh. You can also use this box to decorate your bathroom or kitchen. This is a quick and easy crochet soap saver that can be used to create a bubble bath or shower pouf. Make one for every bathroom in your home - it's the perfect gift for a housewarming, a shower, or a birthday. This pattern is perfect for beginner crocheters and is an easy-to-follow step-by-step image tutorial with 12 illustrations.
Ecofriendly soap saver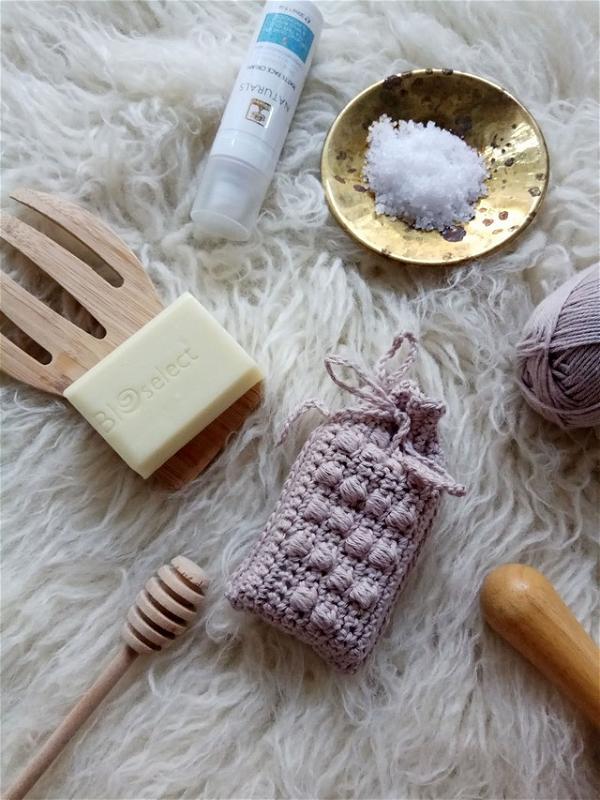 Do you have trouble keeping your soap dry to the last drop? Do you find yourself overusing your soap bar because it's difficult to use? Are you looking for a new way to extend your favorite soap? The crochet Ecofriendly soap saver pattern will be a perfect solution for you. It is ideal for use with soaps that come in round or square shapes, but if your soap has an odd shape, I am sure you can come up with something. It also makes a great gift, since who doesn't love getting to hang their favorite soap on the wall?
Cotton Soap Saver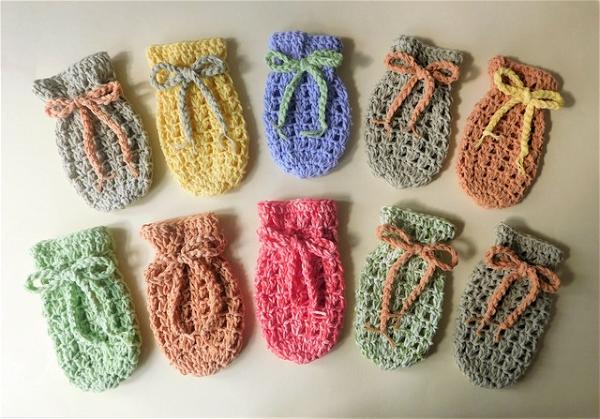 This crochet Cotton Soap Saver pattern is a simple idea but very useful in everyday life. The benefits of using this soap saver are that you can save money by reusing your bar soap, prolonging its life, and making it usable for a long with minimal effort. They're easy to make, fun to crochet (the pattern is really simple), and they work! This pattern is super easy to understand, and even a beginner would be able to tackle it without trouble.
Special Soap Saver Bags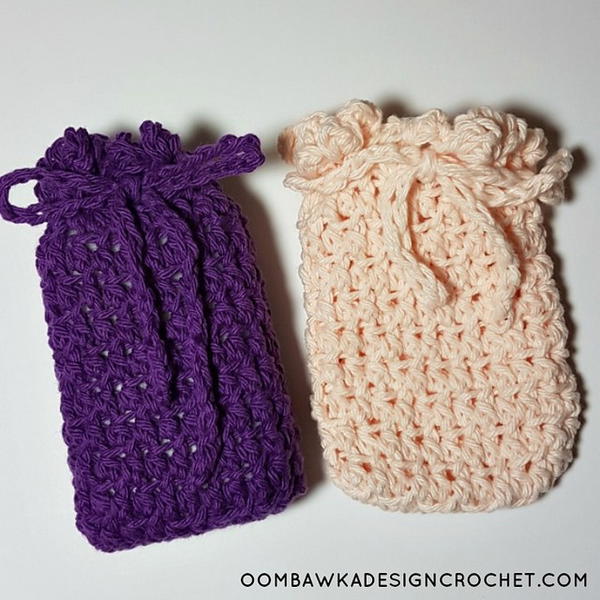 This pattern will show you how to crochet a fun, functional, and incredibly handy bag that is perfect for covering your special bar soaps. Customize the pattern to make it your own by changing the size or adding some color. Make a stash of these and keep them on hand for gifts, bath time, or parties. This basic yet attractive little bag is perfect for helping prevent your soap from falling over and getting dirty, wet, or moving around in your shower or bathroom. The pattern is great for today's busy lifestyles – quick, easy, yet fashionable!
Easy Mesh Soap Saver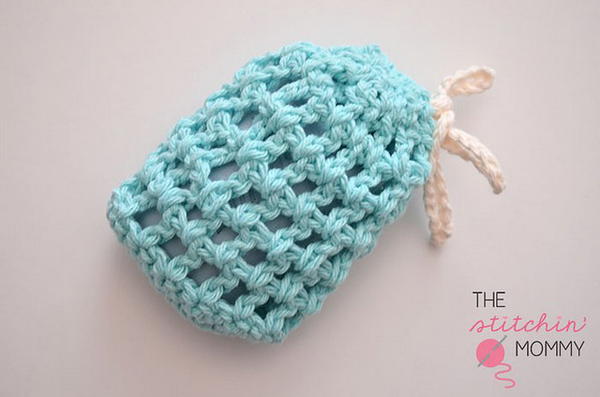 Make this easy mesh soap saver pattern and add style to your bathroom decor with this simple, quick project. This Soap Saver is a perfect beginner's project for crocheting a fun gift for yourself or others. Whether you're looking to create a fun statement or want to keep things clean in your shower area, this pattern will help you make the perfect gift or personalize your shower space! Use it as a small kitchen towel to dry your hands or hang it on the sink or dish drainer rack.
Soap Saver Crochet Pattern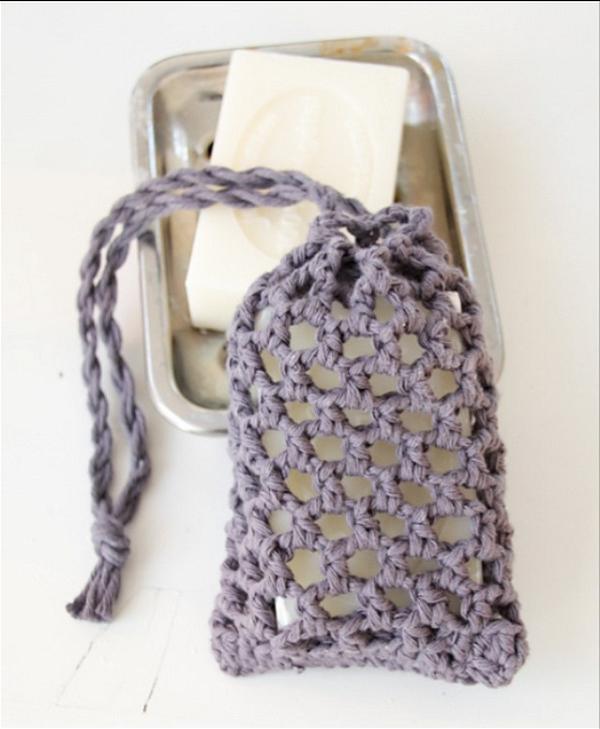 This crochet soap saver pattern is an amazing design that can be used to hold your soap with elegance. The pattern is very detailed and comes with many images that will help you understand every step you need to make while crocheting it. It's also very easy to follow, so don't worry if you are beginning your journey as a crocheter. This item will make a great gift for everyone who appreciates handcrafted ornaments. It's very useful when staying away from home if your soap bars are small or break easily.
Thistle Stitch Soap Saver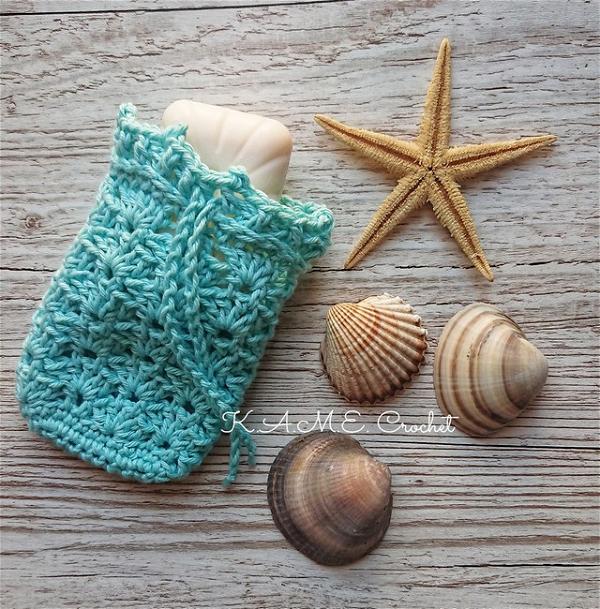 This pattern features a lovely clover-shaped flower in the center of the soap that will remind you of spring. I have designed all the sizes to fit over your favorite bar, no matter what size it might be. It is also a wonderful way to use those balls of yarn just waiting for an opportunity to be used with an amazing fragrance. The Chic Thistle Stitch Soap Saver will bring a touch of elegance and style to your bathroom. With this one-of-a-kind design, you'll be able to organize, protect and decorate simultaneously!