Protect your hands from the elements with these crochet patterns for fingerless gloves! Fingerless gloves are also known as half gloves or opera gloves. They are not only fashionable but functional. Fingerless gloves can keep you warm at outdoor events and when you're working on your computer or scrolling through social media. For those who want to stay warm while continuing to use their touch screen devices, these crochet glove patterns are a must-have!
If you're looking for a great new crochet pattern, this list of fingerless glove patterns will be perfect for you! The list includes patterns for both men and women of all ages. Many of these crochet patterns are simple enough for beginners, but there are also more complex options with more detailed instructions for more experienced crocheters.
Crochet Fingerless Gloves: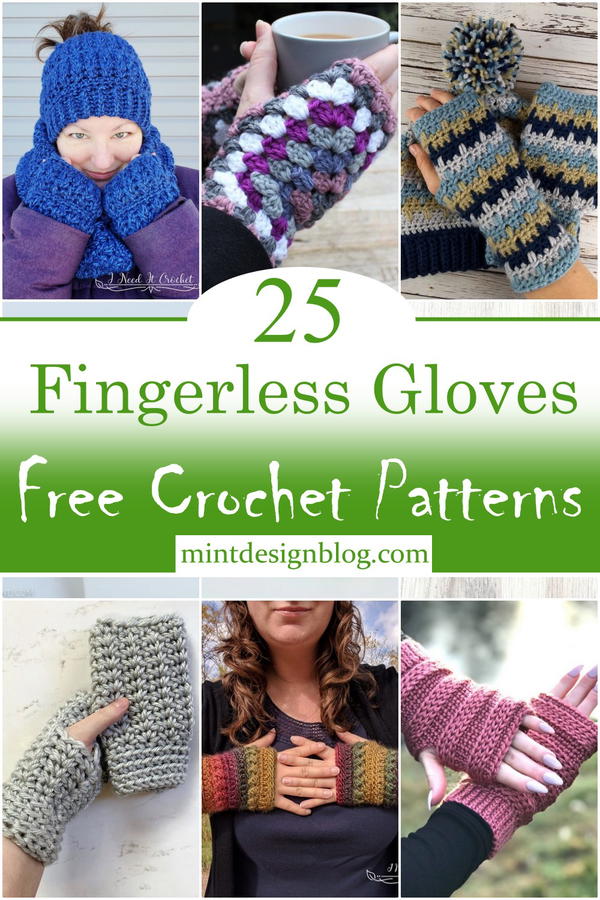 Fingerless gloves are a super fun and easy crochet project that can be customized to fit your personality. Fingerless gloves are knitted in a long tube that fits over your hand and arm for a comfortable, casual look. The yarns used in these projects are typically light worsted or Aran weight yarn, which gives the gloves a sturdy, warm feel without being too bulky. Fingerless gloves are ideal for fall and spring weather – any time you need an extra layer to keep your hands warm but don't want to have to wear mittens.
Granny Square Gloves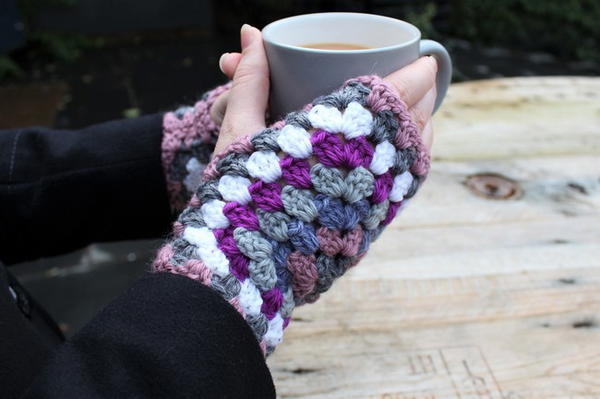 The pattern is named Granny Square Fingerless Gloves because of the granny square, which is a popular crochet stitch. It's not a crucial part of the design though, and you could easily make these gloves out of any texture or color combination you like!
The gauge is not important for this project. Just keep in mind that your stitches need to be tight enough to keep your hands warm. If you are a beginner, use a smaller size hook than recommended on the yarn packaging so your stitches will be tighter.
Falling Feathers Gloves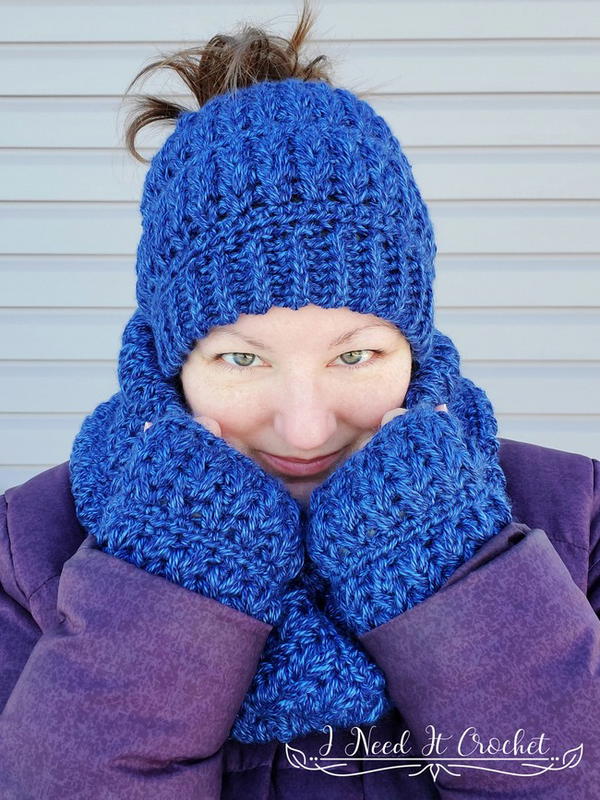 The Falling Feathers Gloves are quick and fun to make, but they can be adjusted in a variety of ways to suit almost any taste. Worked in worsted weight yarn, they are a good size for wearing over the Falling Feathers Cowl or Toque, or on their own. The pattern also includes instructions for making the gloves longer if desired.
There is no hand shaping, and both the palm and finger sections are worked in stockinette stitch so they won't curl up when worn. The gloves are also very stretchy, which makes them comfortable to wear even as they're still being knit up.
Stria Gloves and Mittens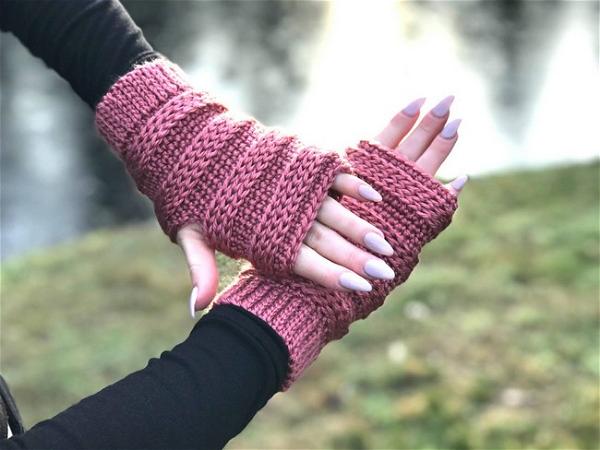 The Stria Gloves and Mittens are designed for advanced beginners and can be customized to perfectly fit any adult. This gorgeous design is perfect in solids or in varied colors and is great if you have a skein of worsted weight yarn that's begging to be used. These make awesome stocking stuffers, teacher gifts, or market items! You'll need no more than 200 yards of yarn to complete a whole pair, and they'll look fantastic when you're done.
Star Stitch Fingerless Gloves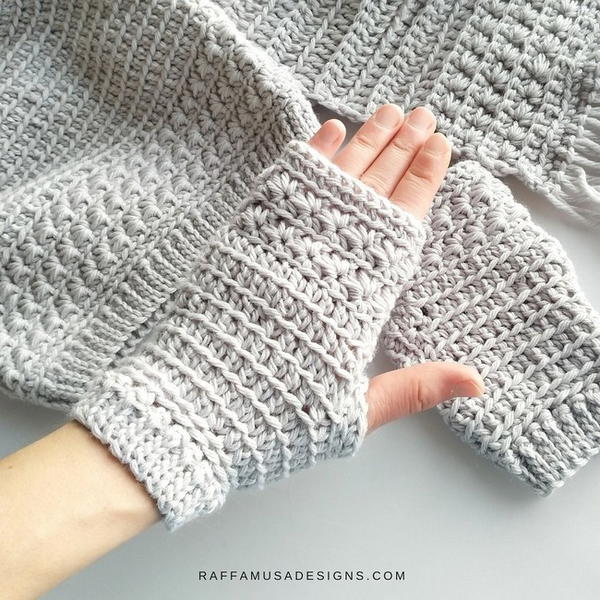 The Star Stitch Fingerless Gloves are very simple and elegant. Worked in warm Aran weight wool, they feel comfortable and practical for everyday use. The gloves are worked from the cuff up with a simple thumb gusset construction. The star stitch pattern is available in both charted and written format. The gloves are designed for worsted weight yarn but can be easily adjusted by using larger needles or a heavier yarn weight than worsted.
Wintertime Fingerless Gloves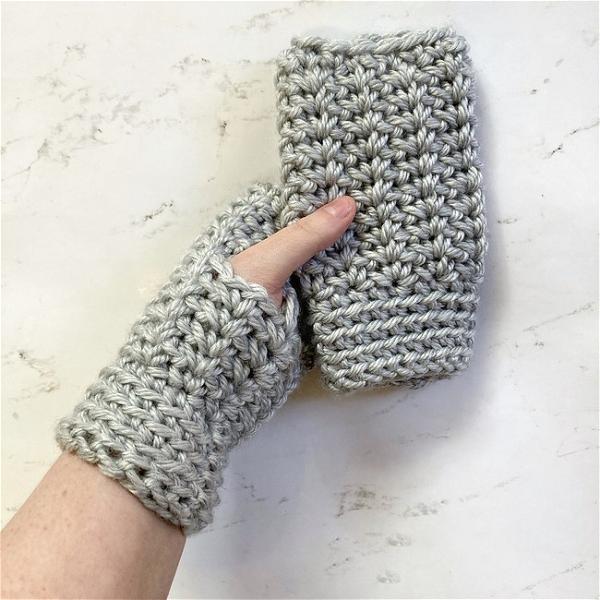 These are so easy and fast to make that you can easily create a pair in a single evening. You will need to know how to double crochet and chain stitch. It's a great beginner pattern. These gloves are a perfect way to use up those leftover skeins of yarn you might have lying around. They are also the perfect project for beginners in knitting or crocheting. Add a button or two, and you'll be able to keep your hands warm while waiting for the bus, riding your bike, or just hanging out in the park on a chilly day.
Seaside Fingerless Gloves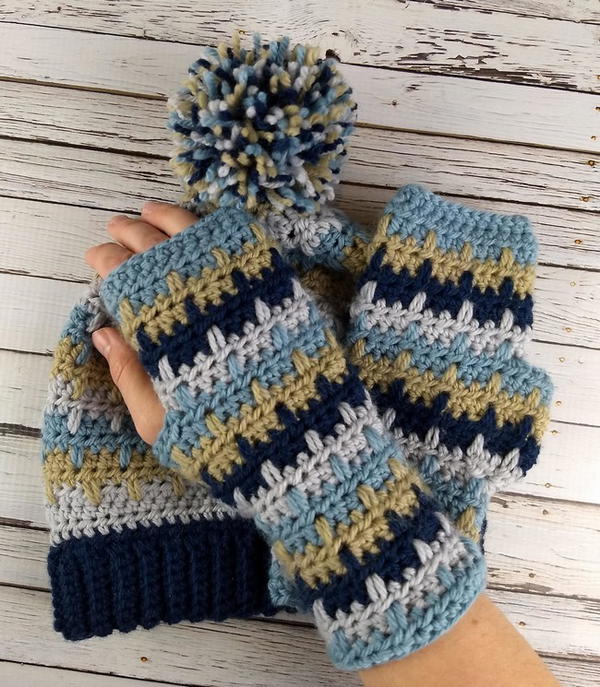 The Seaside Fingerless Gloves are a great way to use up leftover yarn - they are simple and quick to complete, but very stylish! The spikes on the gloves were inspired by sea urchins. Featuring a fun spike stitch pattern, these gloves are worked in the round from the finger opening to the cuff. The spiked stitches create an interesting texture while still being nice and warm! These gloves will make a great gift for your favorite ocean lover.
The Bauble Fingerless Gloves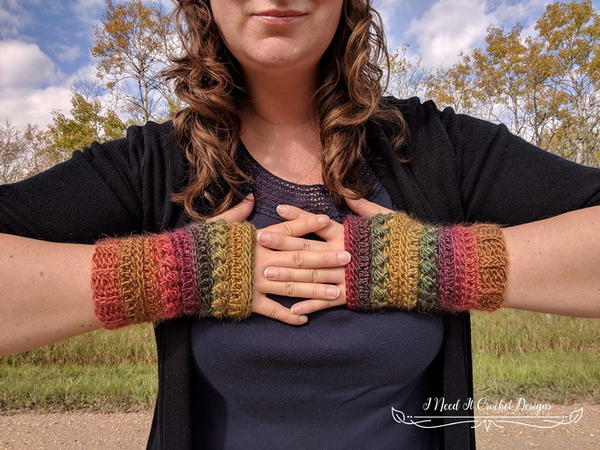 The Bauble Fingerless Gloves are a gorgeous and elegant pair of fingerless gloves. They are worked entirely in the round using a beaded pattern stitch. The beads in the stitch create a lovely texture, which is highlighted by the delicate lace edging. The gloves are worked from the top-down, starting with a ribbed cuff, then increasing to form the body of the mitt. The lace edging is worked sideways and attached at the end when you work around to close up the hole.
The Bauble Fingerless Gloves Crochet Pattern is a great gift for yourself or to give as a gift! The pretty design looks like beading but it's actually only single crochet and double crochet stitches. And the pattern is easy to follow with step-by-step instructions and photos included in the pattern. This project is also a good one for beginners.
Horizon Fingerless Gloves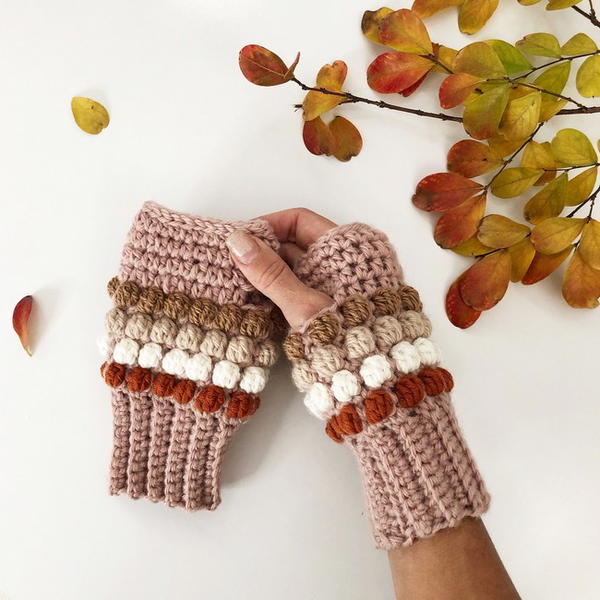 The gloves are crocheted using a soft and warm blend of merino wool and acrylic yarn. The yarn is available in many colors, so you can pick the one that matches your outfit perfectly. The easy crochet pattern is suitable for beginners. These fun fingerless gloves are perfect for the cold days when you want to keep your hands warm but you don't want to wear long winter mittens or heavy woolen gloves. Also, they will look great with your favorite fall or winter coats!
Carolina Gloves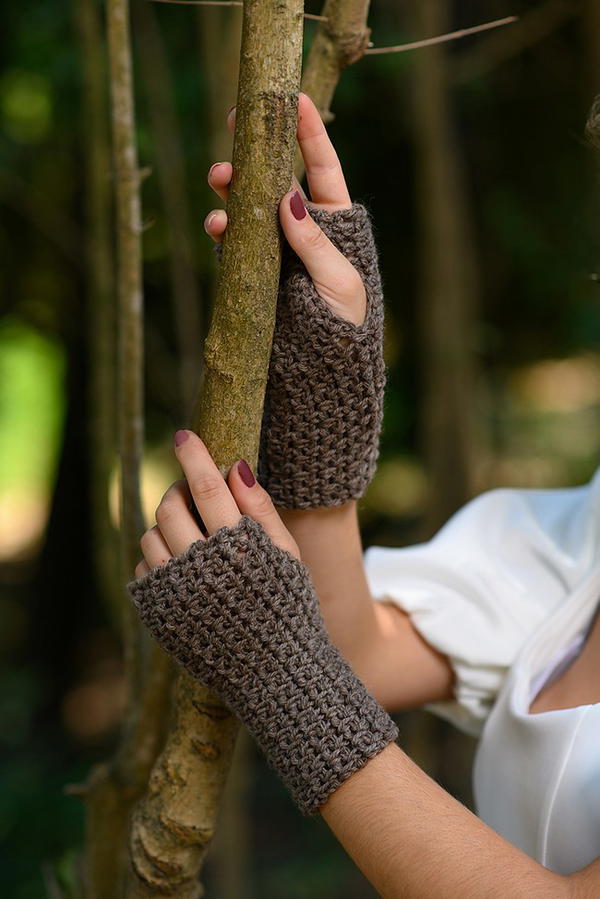 Single crochet is a great stitch to learn, not only because you can make a wide variety of items with it and the pattern is easily memorized. It's also one of the most versatile stitches and can be worked in rows, rounds or in combination with other stitches. This stitch is worked into the row below, creating a raised design. For this project, you will be working in single crochet for most of the mitt, with a few rows of regular double crochet at the top and bottom of the mitt to create a seam and thumb opening
Galloway Fingerless Gloves

Galloway Fingerless Gloves is a cozy, slouchy knit pattern. Easy to adjust for any size with cute little openings on the palm side of each hand and an elasticized wrist! Add a cuff and they're even more stylish. A great beginner project!
These Galloway Fingerless Gloves give you the perfect balance of comfort and style. They are knit from the cuff down with simple lace detail and can be made in any weight yarn as long as you choose needles appropriate for your chosen yarn. Since this design is worked from the top down, there is no sewing involved which means you will be wearing these gloves before you know it!
Layer Cake Lace Fingerless Gloves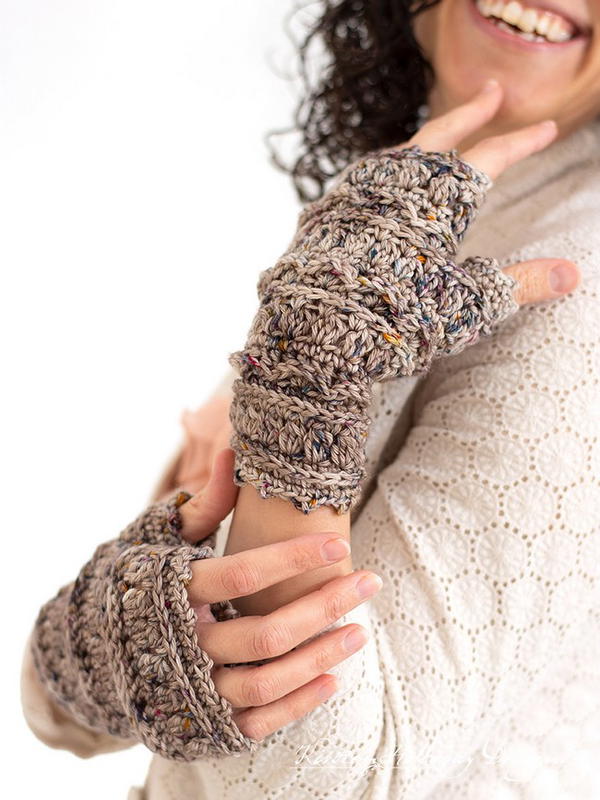 These lace fingerless gloves are a quick, beautiful, and very useful project for cool winter days. They're worked in one piece, from the bottom up, and can be made with any yarn you choose. Treat yourself to a pair of these lovely lace gloves which will keep your hands warm and cozy all winter long. They'll make a great gift, too, so you might want to knit several pairs! The pattern is written for one size (it will fit most women's hands), but you can easily make them larger or smaller by changing to a bigger or smaller hook and using more or less of each color.
Dakota Fingerless Gloves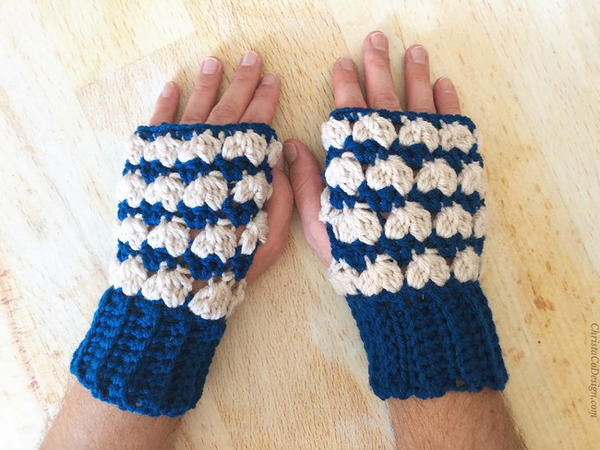 These Dakota Fingerless Gloves are so versatile; they can be worn at the wrist or all the way up to the elbow. With the crochet texture and a simple pattern, you can make several pairs of these gloves for gifts throughout the year. Use Venosa yarn for a soft and warm pair of gloves, or use your favorite worsted weight yarn for a durable cold-weather glove that will stand up to daily wear.
The Dakota Fingerless Gloves features an easy to remember pattern that is easy to follow. Sizes toddler through XL adult are included in this pattern with tips on how to adjust the pattern for smaller or larger hands.
Hygge Arrow Gloves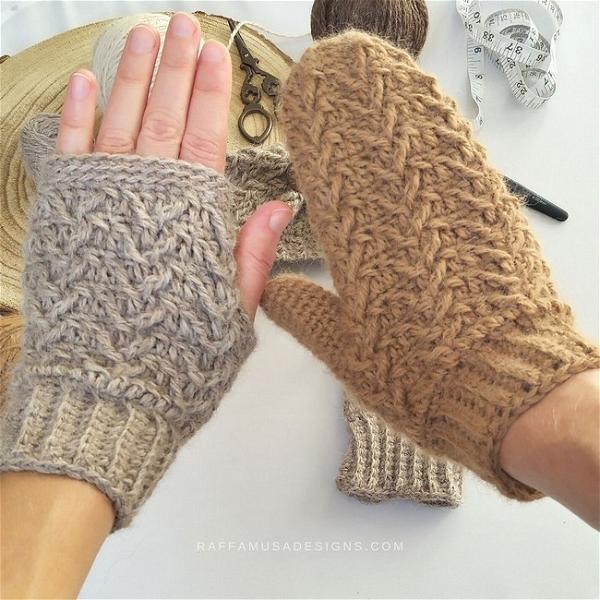 Keeping yourself warm and cozy during the cold season is not only hygge but also a necessity! Wearing these gloves will keep you stylish and cozy during the cold season. The gloves work perfectly with both solid-color vests and long sleeve tops, or you can even wear them alone by showing off your fancy fingers while keeping your palms warm.
The design of the gloves/mittens features a unique posture, which enables the wearer to look more stylish and charming. No matter you are wearing the gloves or mittens alone or along with other clothes, they will surely enhance your overall look!
Easy and Quick Fingerless Gloves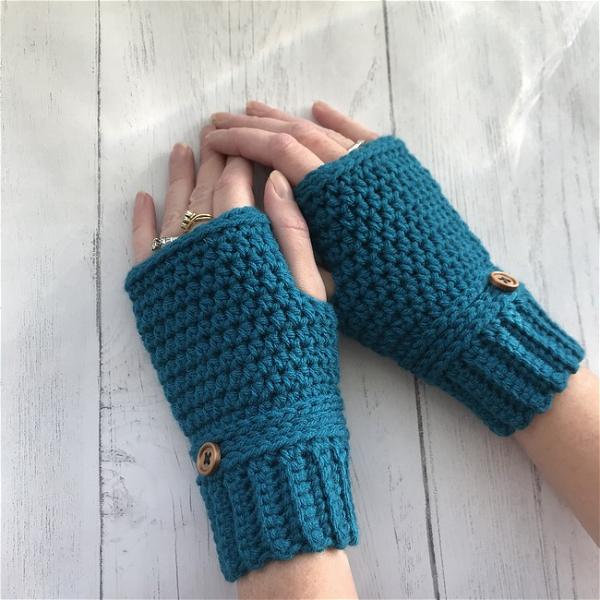 These fingerless gloves are a great beginner project that can be finished in about an hour. They would make a great gift for anyone on your list and would be suitable for both men and women. These are made with any worsted weight yarn, and you can use any type of yarn you'd like. These gloves make excellent gifts, especially if you have a winter wedding to attend this season.
Lemon Peel Fingerless Gloves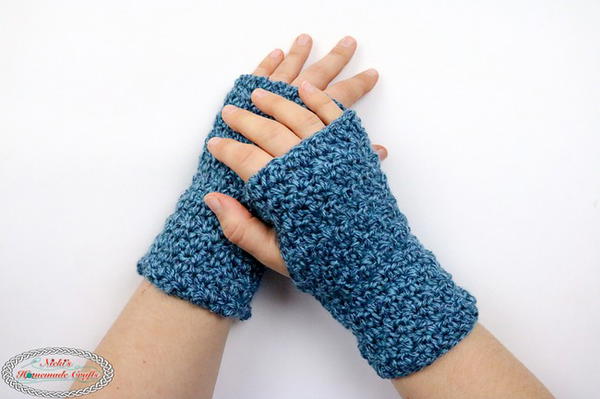 These fingerless gloves are the easiest you will ever have made. The lemon stitch is easy by using the single crochet and double crochet stitch in a combination providing the fingerless gloves with lots of texture. Make these for your friends, family members, and yourself. The lemon peel stitch is simple to do and the fingerless gloves come out so nice and stretchy, perfect for all your fall wardrobe needs!
Textured Fingerless Gloves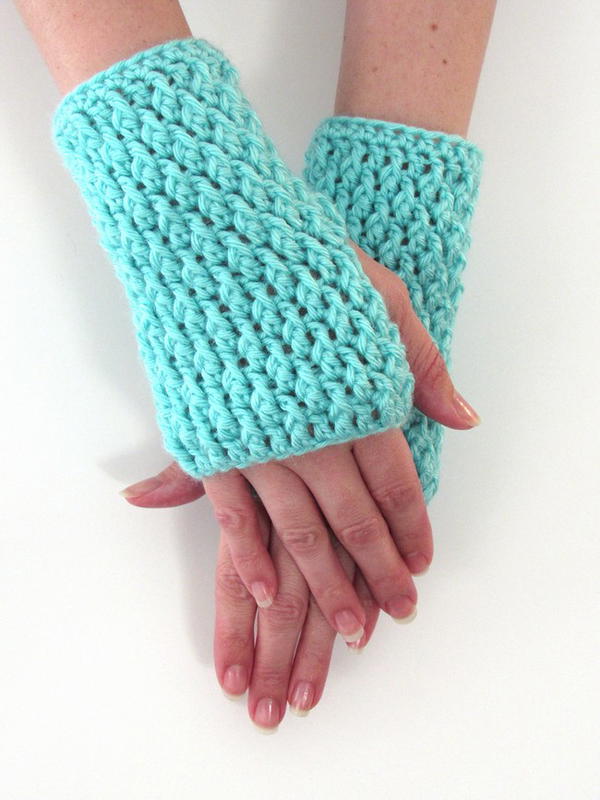 Bored of plain old mittens? Try some textured fingerless gloves. Worsted weight yarn is used with a simple variation of double crochet stitches and an easy ribbed pattern. The gloves are worked in one piece, so there is no seaming. Work these in solids or matched sets. Make a set for yourself, a friend, or a family member in two different colors for coordinating gifts.
These textured fingerless gloves are beautiful and cozy. The thick yarn and bold stitch pattern make them perfect for keeping your hands warm on chilly days. The gloves are worked up in the round in a seamless design. The pattern is written out line-by-line and there is a video tutorial to help you through. All you need to know is how to cast on, knit, and purl.
Perpetual Posts Fingerless Gloves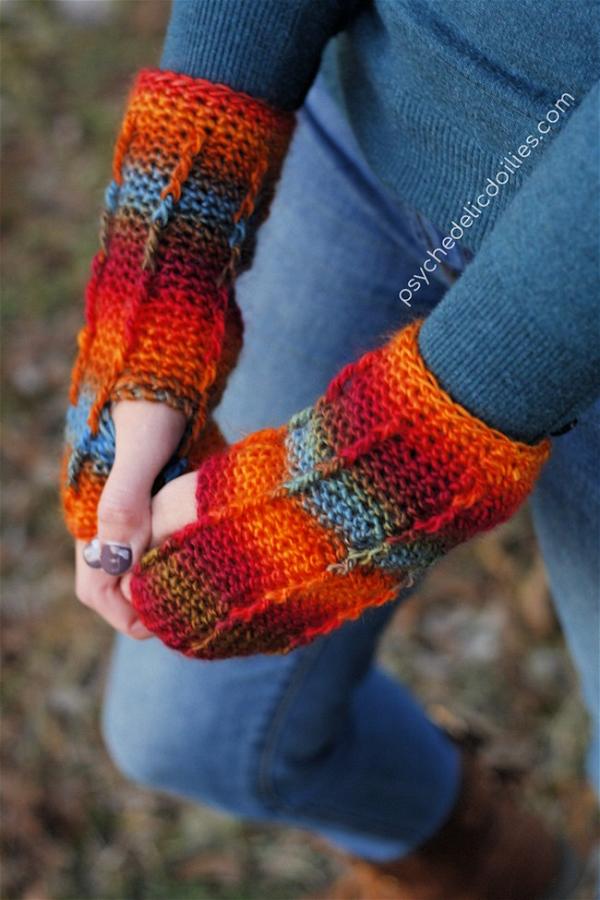 These fingerless gloves are worked from the cuff up and are made to fit an average adult hand. The wrist warmer portion is about 8 inches long. This can be worn up higher or lower on the arm, depending on your preference. They are made using a single crochet stitch throughout with some post stitches thrown in for fun.
The yarn used in this pattern is Loops & Threads Charisma, which is machine washable (cold water), dryable, and comes in a wide range of colors. It's also relatively inexpensive compared to other brands, making it a good choice if you're just learning to crochet or want something inexpensive to play around with while practicing.
Fingerless Gloves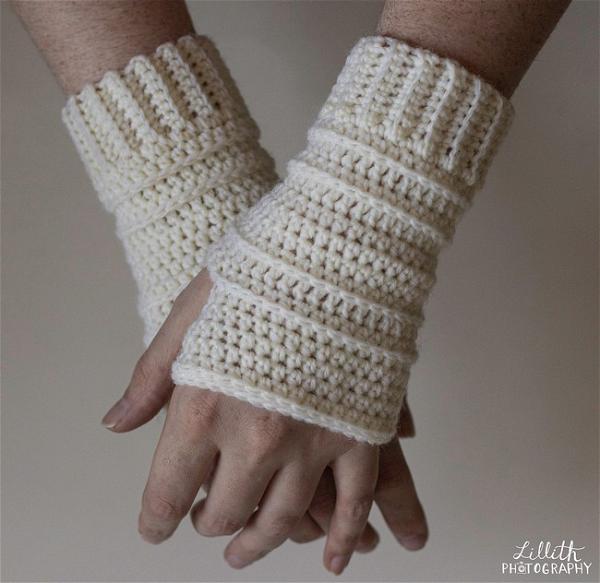 The best thing about crocheting fingerless gloves is the fact that you can easily crochet one up in a day or two. No matter your skill level, these glove patterns are great for beginners and advanced crocheters alike. They can be crocheted with worsted weight yarn or bulky for a warmer fit. If you make the beginner-friendly crochet patterns, you'll also want to give them to family members who might need some hand-warming as well!
Catching a cold during the fall and winter months is a normal thing, but you can avoid them with these fashionable fingerless gloves patterns. They're also an excellent gift for your friends and family, so check out my list of fingerless gloves now!
Enchanted Fingerless Gloves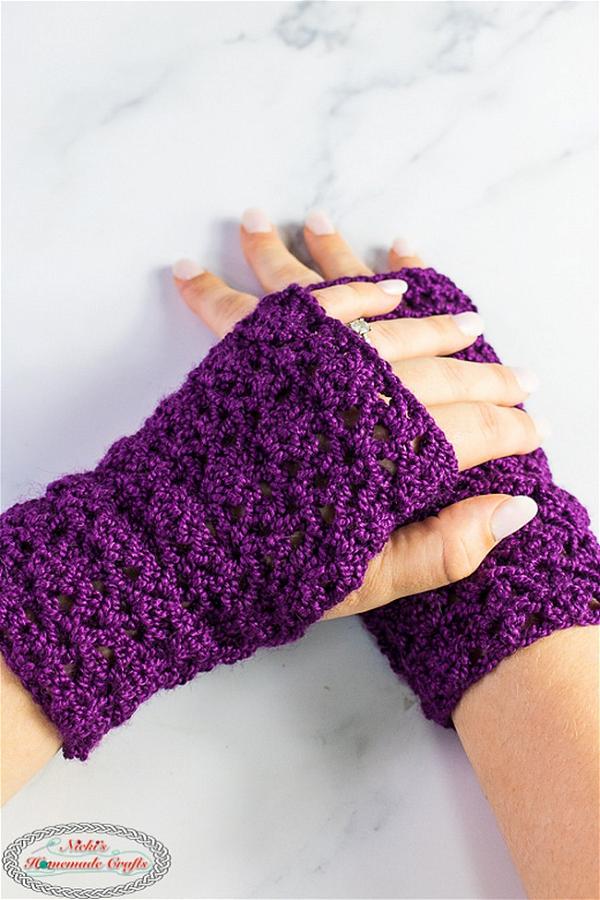 These lacy fingerless gloves are perfect for the girl that wears their heart on their sleeve. The unique lace design on these gloves makes sure that she looks fancier than the rest of her friends. The ribbed cuff helps to keep them warm, so you don't have to worry about cold hands in winter. This pair of lace gloves are made for girls who like to stand out from the crowd. The ribbed cuff ensures that her hands are warm in winter, whether she's wearing short-sleeved tops or long-sleeved shirts.
Ribbed Fingerless Gloves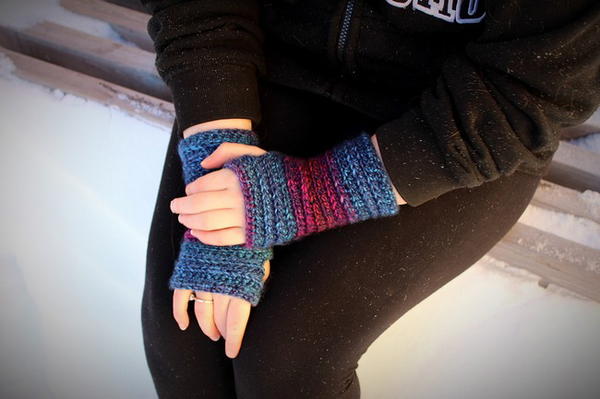 These ribbed fingerless gloves are perfect for the winter when you need dexterity but don't want bare fingers or bulky gloves. They feature a back loop only half double crochet ribbed texture that is achieved through alternating the first and last stitches of each round with a raised stitch, and then increase as you go. They are simple to make, only requiring single crochet, back loop only half double crochet, chain, and slip stitches; making this a great beginner-friendly pattern for anyone looking for a little texture in their life!
Alpine Fingerless Gloves
Wrap up your hands against the chilly weather in a pair of Alpine stitch yarn crochet fingerless gloves. These free crochet patterns are quick and easy and use a basic weight 4 yarn to create an elegant and warm pair of gloves. Make great crochet Christmas gifts with these wonderful crochet patterns. Great to crochet for adults, teens, and even kids.
These crochet gloves are an absolute treat to make and a pleasure to wear. The crochet pattern features an Alpine stitch that accents the wrists with repeatable texture. The ribbed cuff, increases, and decreases create the shaping for these gloves making them both fun and comfortable to wear.
Autumn Crunch Fingerless Gloves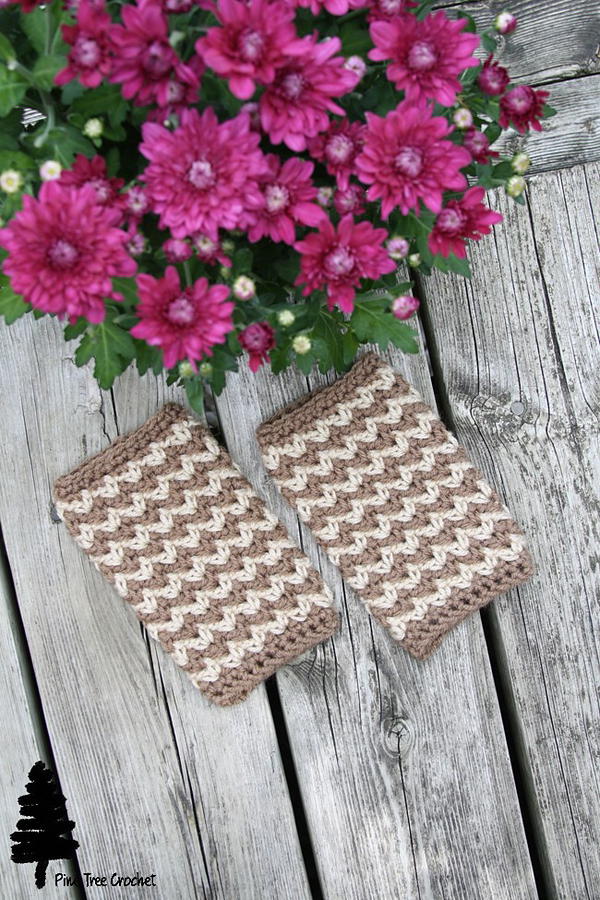 The Autumn Crunch Fingerless Gloves are the perfect accessory for slipping on when leaving the house for an outdoor adventure or just for a walk in the park. These fingerless gloves can also be a cool addition to any fall outfit and make a fun gift. The Autumn Crunch Gloves are a fashionable way to keep your hands warm on crisp fall days. They're a fun and stylish outfit accessory that's comfortable, functional, and durable.
Warm Fingerless Mitts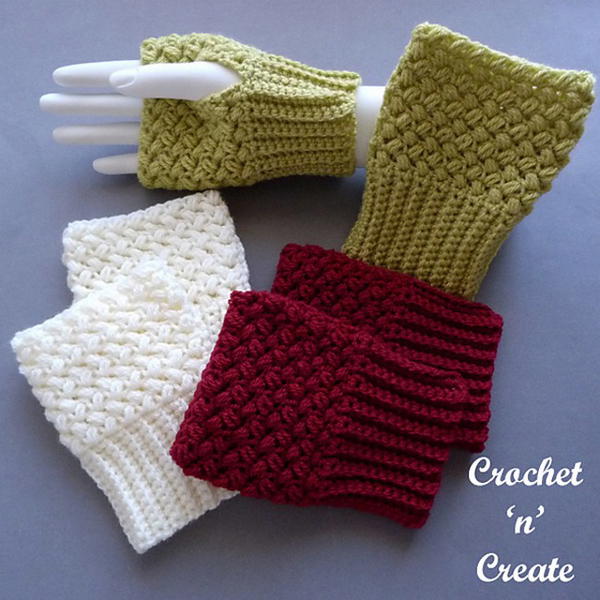 Crochet fingerless gloves are among the most popular crochet patterns because they combine style with functionality. They're great for those who spend a lot of time typing, texting or using their phone. They're a fantastic way to keep your hands and wrists warm while still having freedom of motion. Fingerless gloves are also easy to make, more versatile than you might think, and offer the opportunity to practice a variety of crochet techniques.
Ribbed Fingerless Gloves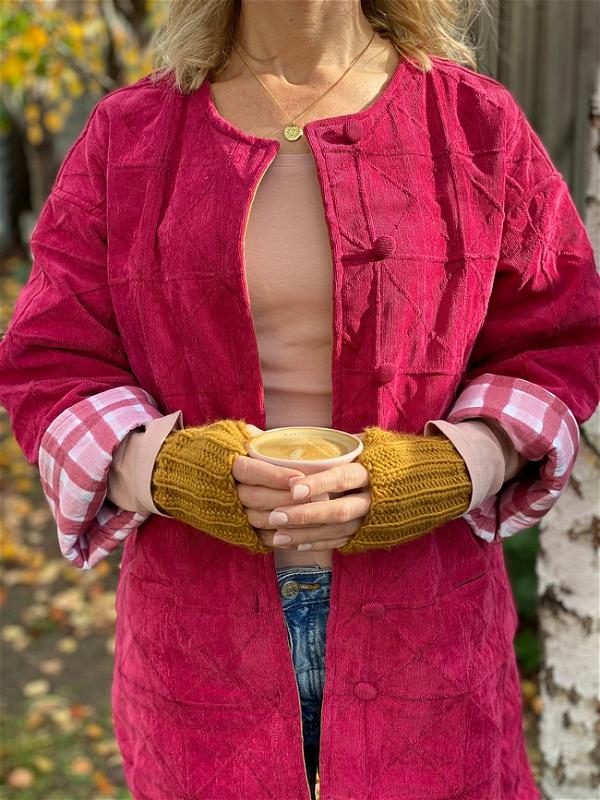 Ribbed Knitted Fingerless Gloves will solve a problem that all women face: how to keep your hands warm, while still having use of them. With these cute fingerless gloves, you can knit up a fun pattern and feel great while doing it. This pattern includes detailed written instructions on how to make ribbed knitted gloves in one size to fit the average lady's palms.
These ribbed knitted fingerless gloves are wonderful to make and perfect for this chilly winter weather. The pattern includes detailed written instructions on how to make the ribbed knitted gloves that are perfect for this winter weather. You will love your new soft, warm and stylish new gloves!
Criss Cross Fingerless Gloves
Criss Cross Fingerless Gloves are the perfect accessory for fall. These gloves keep your hands warm while allowing you to use your fingers. The pattern works great with different yarn weights and with or without the thumb for a fun variation. You will be sure to receive compliments and requests for the free pattern everywhere you go with these. Each glove is worked from the cuff up and the patterns are easy to follow. If you know the basics of knitting there is nothing difficult in these gloves. The cable crosses back and forth and there is a gusset thumb, but other than that they are plain vanilla.