Headbands are all the rage right now, and for a good reason! They're cute, functional, and can add a pop of color to any outfit. Crochet headbands are a great way to add a little something special to your business. They are a great way to put your crochet skills to good use. These days, every girl has a headband in her wardrobe, and they come in all shapes and sizes. Crochet Headband Patterns are trendy among children and adults alike, so why not make your own? You can make them in any color, size, and style. They're also straightforward to make, so don't be afraid to try something new and fun. These headbands can also be used as embellishments for other projects like bags, hats, and clothing.

There are many ways to style headbands that you may never need another accessory again! You can make simple designs in under an hour to complicated patterns that take days to complete. Some simple ones, some more complicated ones, and even some use different stitches like slip stitch or puff stitch. So, there's something for everyone in this list of Crochet Headband Patterns. Whether you're looking for a basic band or something more elaborate like flowers or ruffles, these headband patterns will cover you!
These 25 Crochet Headband Patterns are best for beginners and advanced crocheters, so these headbands are easy to follow and keep you warm.
You Can See More: 50 Free Crochet Slouchy Hat Patterns ( With Details )
Materials and Tools:
Yarn
Hook
Scissors
Tapestry Needle
Measuring tape
Headband
Crochet Headband

This crochet headband is an excellent and perfect accessory to dress up any outfit. It can be used as a hair tie, headband, or scarf. Choose from many different colors that match your personality or business. This crochet headband is bound to become one of your favorite accessories! This crocheted headband has a comfortable elastic band for the perfect fit, adding a splash of fun to any look. The crochet headband is made of a soft material that is not too thick, so it will not crush your hair. This style has exquisite detail and is excellent to wear when running errands or working out at the gym.
Skill level: Expert
Molly Diamond Headband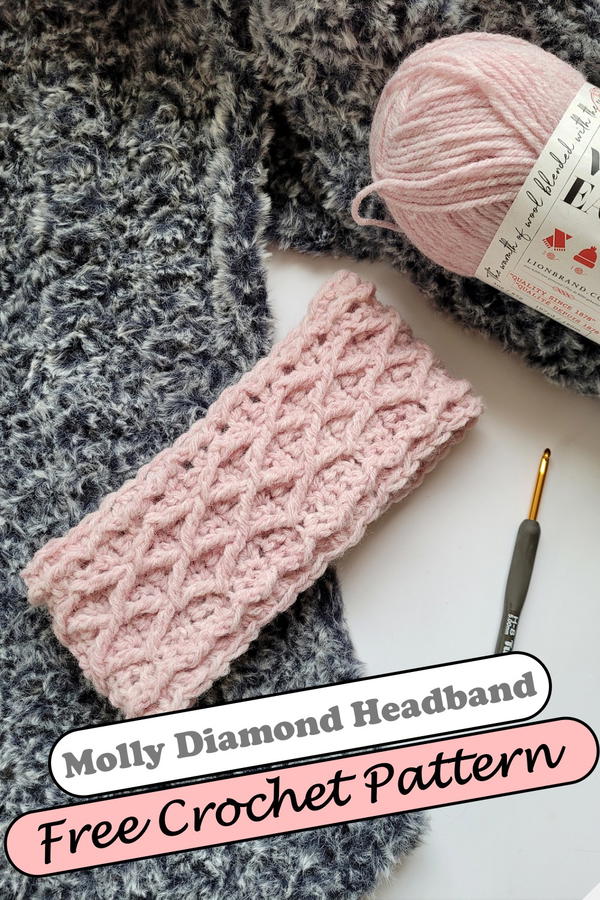 Molly Diamond Headband was designed to be a go-to accessory while you're going! This trendy headband features a slim band of delicate hoops connected with a simple clasp in the back, allowing you to add and remove them as desired. You can wear this headband low on your head or high up on your forehead, depending on the look you want. The Molly Diamond Headband is a solid choice for girls who love to play hard and cool every day. It's the perfect addition to your look! This delicate headband is constructed from the softest suede and adorned with sparkly stones that give any look a touch of glamour.
Skill level: Intermediate
Country Cottage Headband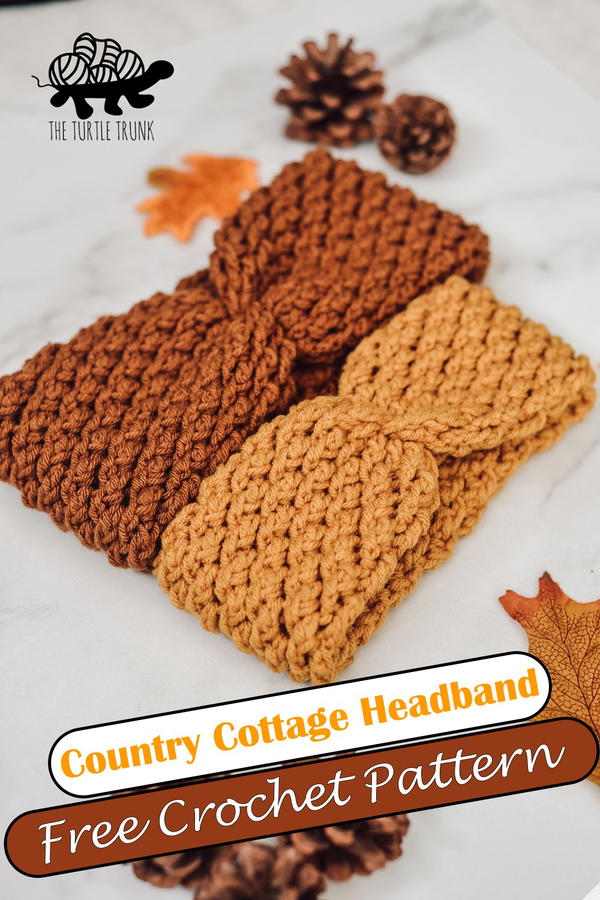 Country cottage headband from Wear it Well! A stack of vintage lace appliqués is hand-applied to a pliable stretch headband for a playful look. You can wear this versatile piece in ivory in many different ways, such as with your hair pulled back in a ponytail or around the base of a messy bun or half-up style. Inspire your home with a touch of cottage country style with this elegant embroidered kitchen headband. It is the perfect finishing touch for a neutral kitchen, and it also adds a pop of color and whimsy to any room. This cute and comfortable headband is made from a light stretch jersey fabric with an adorable print coordinate & can be worn casually or dressy.
Skill level: Expert
Picot Headband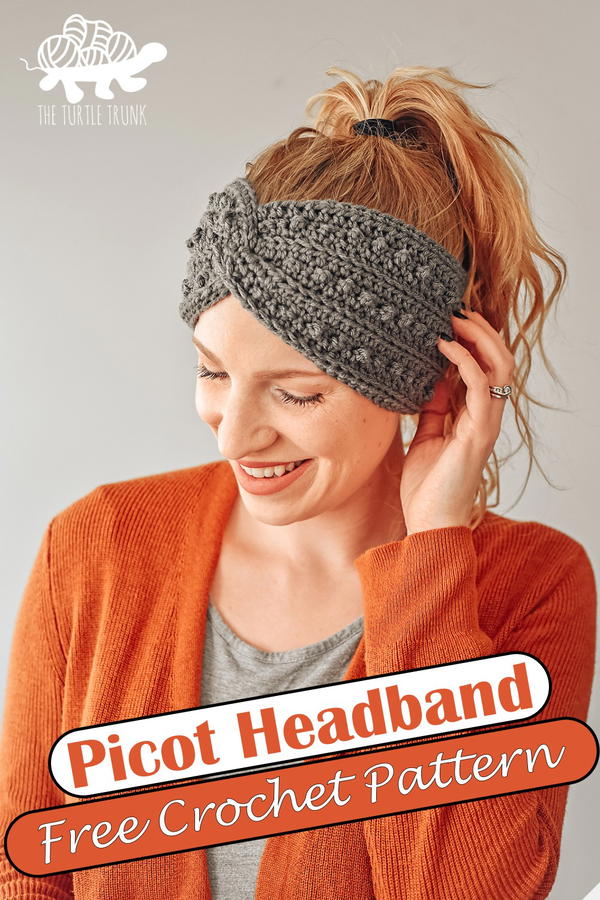 The Picot Headband is an elegant and simple accessory, perfect for daily wear or adding a bit of charm to special occasions. The pattern is introduced with knitted picots to create a delicate lace. Picot Headband is a statement piece with the look of a fancy wrap and the ease of wearing a headband. A picot border adds the perfect amount of detail to this go-to accessory. The perfect addition when you want to keep your hair back but don't want an overbearing look. Keep your brows in place with this cute and comfortable headband. A simple, timeless headband that adds a pop of bold color.
Skill level: Intermediate
Cascina Cabled Headband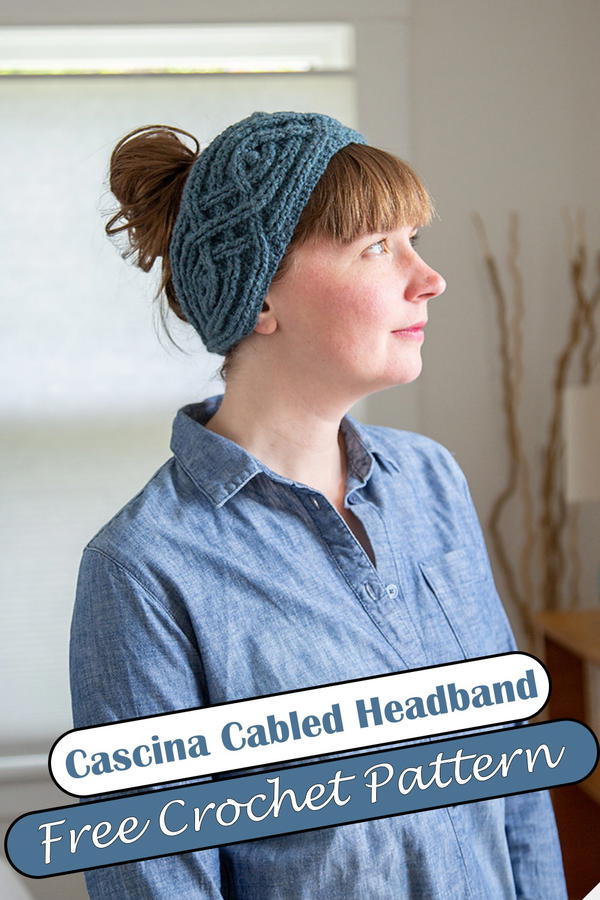 This Cascina Cabled Headband features cables, which add beauty and warmth woven into a simple headband. This pattern is quite stretchy; if you prefer the band to be larger (or smaller), add more (or fewer) pattern repeats. This pattern is worked in a soft, washable merino wool/alpaca blended yarn. The headband is great for those chilly days when you want to keep your ears and forehead warm but doesn't want to use a bulky hat or hood. The wide ribbed band stretches to fit any size head, while you can wear the cable on either side up or down. The headband is warm enough for winter but light enough for spring.
Skill level: Expert
Molly 18 St Cabled Headband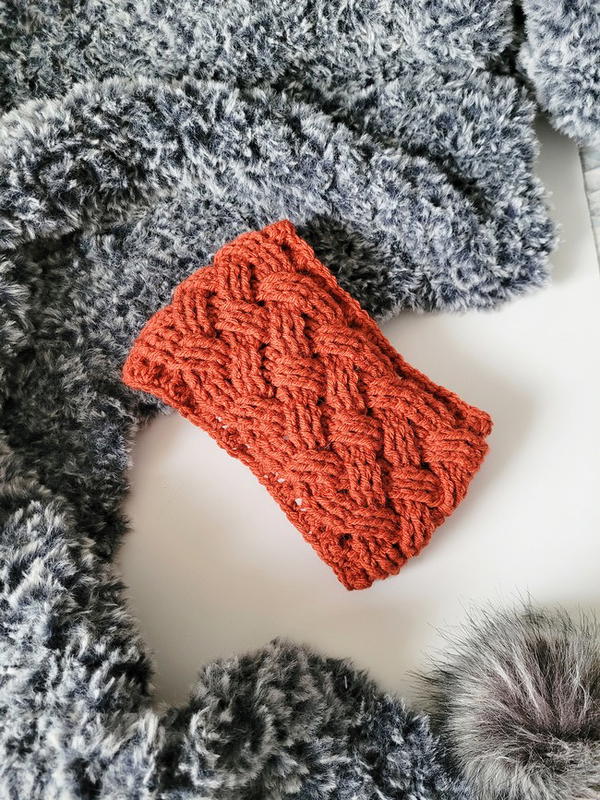 Molly 18 St Cabled Headband uses a beautiful cable pattern, adding texture and warmth to any outfit. This headband is not only stylish but also functional - it will keep your ears warm in the winter and protect them from harmful UV rays in the summer. With an easy cable stitch, the cabled headband will add a pop of color and texture to any outfit. It's an excellent beginner-level project for knitters looking to expand beyond scarves! Cabled headband made with wool yarn and knitted by hand. Features a black ribbon for a secure fit. This band is incorporated in the round, then steeked and cut open. The cables on the crown are balanced with smaller ones at each side of the head. The result is a soft, stretchy, warm, and cozy headband that looks great on everyone!
Skill level: Intermediate
Acacia Headband
Acacia Headband by Shine Creations is a stylish, elegant, and fun headband that will enhance your outfit. This unique and versatile piece can be used as a headband or hair clip and adds flair to almost any outfit. It is made with high-quality materials for a long-lasting product that can be worn repeatedly. Acacia Headband is a simple and elegant accessory for any business. It will look great with casual or the formal-wear, and at the same time, it can keep your hair out of your face while doing sports activities like running, cycling, or other outdoor activities.
Skill level: Expert
Jack Frost Headband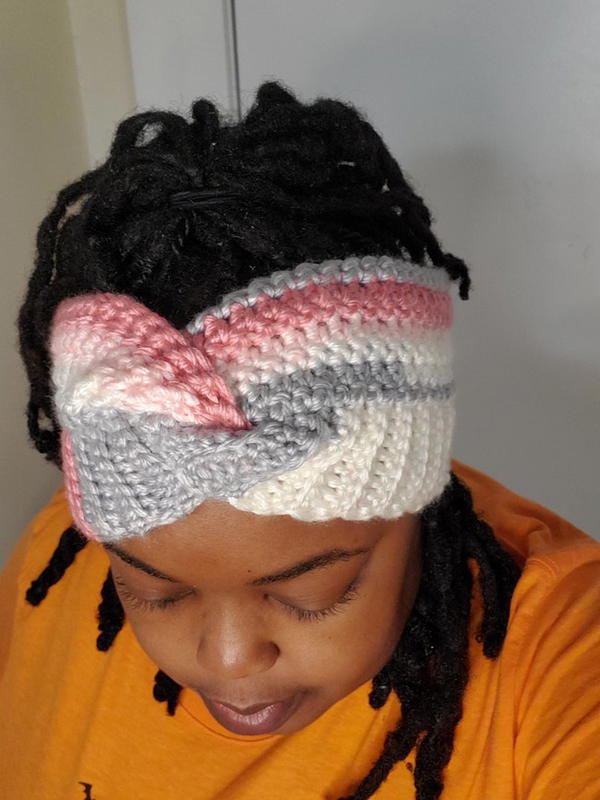 When a winter storm rolls in, you want to keep it at bay. The Jack Frost Headband is made with a unique fabric that resists wind and moisture, so you'll stay warm, dry, and comfortable as you head outdoors. It is a comfortable headband for men, women, and kids that provides an extra layer of warmth under hats and helmets. Perfect for protecting ears from frostbite on cold winter rides, skiing, snowmobiling, or just out in the cold. It is an all-weather headband designed to keep you warm, dry, and comfortable during frigid weather. The outer layer is made of a fun, soft fleece with a colorful print.
Skill level: Intermediate
Sophora Headband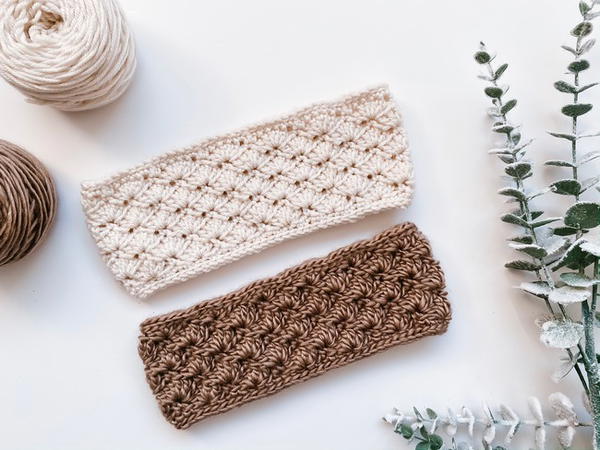 Sophora Headband is a perfect product for working out and staying in trend. It will keep your hair out of your face while running, jumping, or cardio. A hidden pocket provides space for your phone or other items, and the easy-wrap band fits all sizes. It is a combination of a headband and ear band. This project is suitable for both men and women, can be worn every day, and is ideal for all seasons. The features are a soft fabric-covered ear band and adjustable straps with a fashionable look. It's comfortable and quiet and can make your head feel very relaxed in any season.
Skill level: Expert
Headband Ear Warmer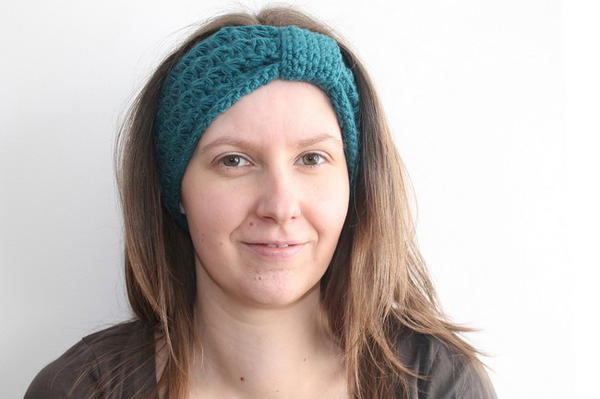 This project is a cute Headband Ear Warmer that can warm your ears, protect your head and make you look fashionable. It will be a great addition to your winter wardrobe and other cold-weather outfits. Made of soft fleece on one side and terry cloth on the other, it's machine washable for easy maintenance. Wrap it around your head like a scarf or wear it like a hat in the cold winter months! It's perfect for snowboarding and skiing, as well as everyday use. It features small loops on the inner side to keep the warm flap from touching your face, which can irritate you.
Skill level: Intermediate
Primrose & Proper Twisted Headband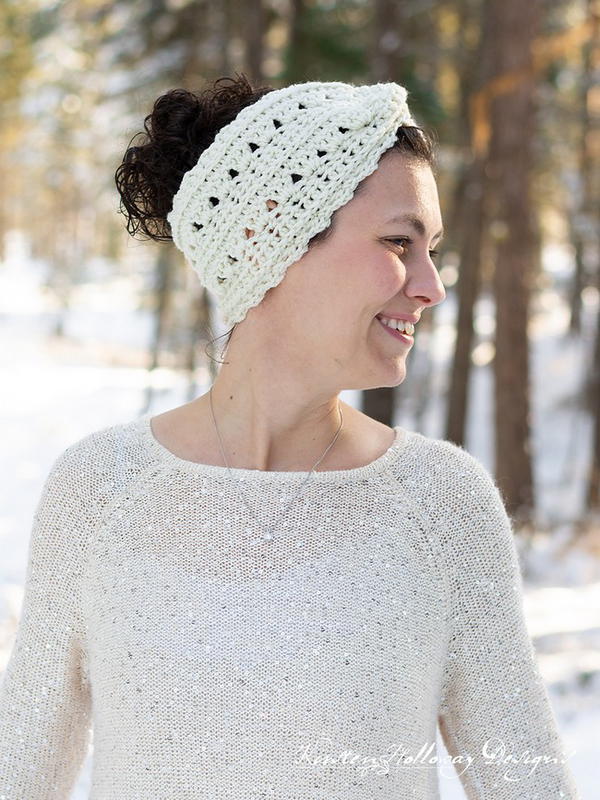 The Primrose & Proper Twisted Headband is soft, stretchy, and comfortable. You can wear this stylish headband with a ponytail or in a messy bun. If you're looking for something to go with your ballerina bun braid or top knot, this versatile headband will do the trick! This stretch headband has an elastic band in the back to fit just about anyone. The band is also made of cotton for comfort and breathability. You can wear this headband with various outfits such as dresses, skirts or even jeans! The twist allows for a secure hold and will keep your hair from being in your face.
Skill level: Expert
Morgan Ear Warmer Headband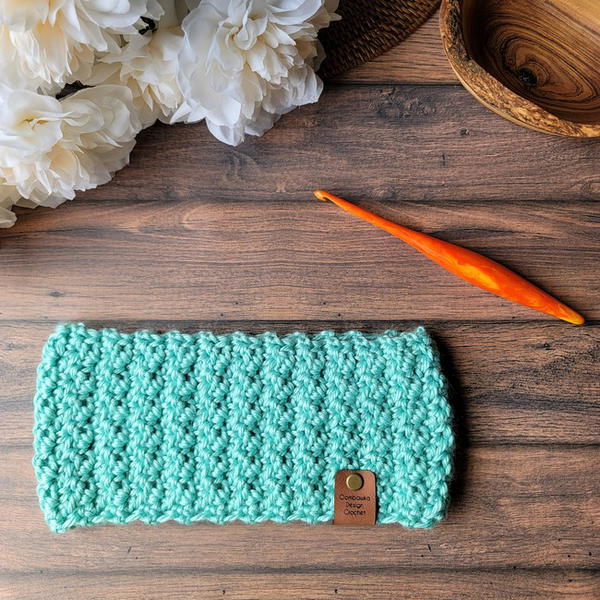 The Morgan Ear Warmer Headband is cozy and fashionable. It's perfect for running outside or when you're walking on a cold day. It keeps your ears warm without leaving you with unwanted cold spots on other parts of your face or head. This soft and durable knit headband is lined with fleece for added warmth. It's sure to fit in your purse or pocket, so you can take it everywhere you go. This headband is perfect for keeping you toasty warm while still looking good. The design is timeless and trendy, great for wearing in the office or on a night out.
Skill level: Intermediate
Easy Crochet Velvet Twist Headband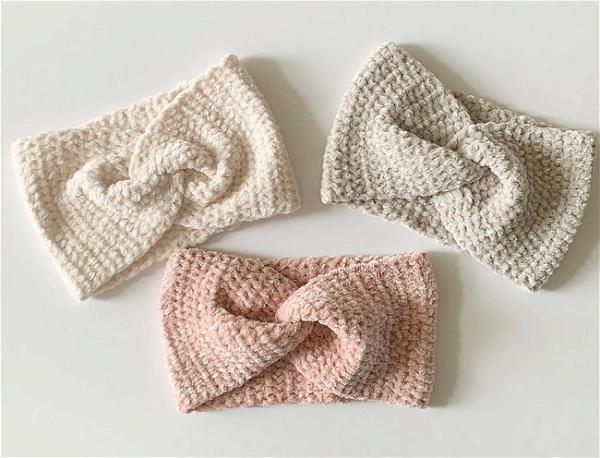 Crochet this beautiful headband to match your favorite outfit, or pick your favorite colors and make a few. You can also make them in the team colors of your favorite sports team. The Easy Crochet Velvet Twist Headband is a stylish way to keep your ears warm. This pattern has been designed specifically for those who have never crocheted with the soft 'hoooked' velvet yarn before! It's the perfect project for anyone looking to get started with crochet. This easy crochet velvet twist headband is the ideal accessory for any outfit. This piece is made with a gorgeous ribbon, soft to the touch, and can be worn for long periods!
Skill level: Expert
Riverside Headband Earwarmer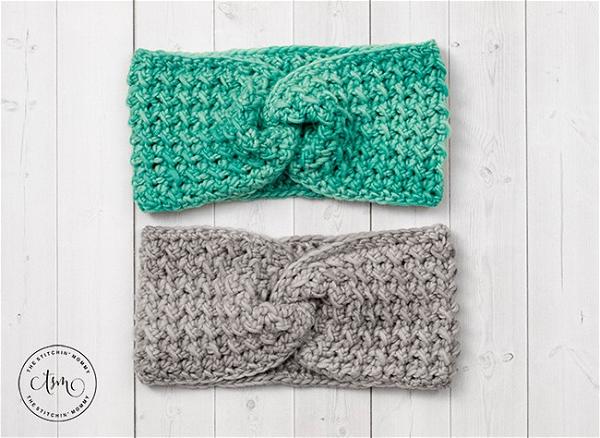 Riverside Headband Earwarmer keeps your ears warm while getting some fresh air on the river - and looks good. Windproof, water-resistant fabric and foldable design fit into your pocket until you need it. The earflaps can be worn up or down, depending on which direction the wind is coming from! And with a cute button design on top, it's the perfect way to add colors and style to your look! The lightweight ear warmer is ideal for the cold weather and will keep you warm wherever you go. This project is a great gift idea for any sports lover!
Skill level: Intermediate
Harmonic Headband
Break new ground with the Harmonic Headband, a revolutionary approach to mindfulness and meditation. Its patented design helps you find balance through harmonic resonance, which is essentially the practice of resonating your head against a steady frequency. The vibration from the harmonizing headband helps stimulate specific areas of your brain responsible for relaxation, focus, and increased cognitive performance. The Harmonic Headband is designed to be your everyday essentials. Whether you have long or short hair, it's designed to hold tight, secure, and look good! The Harmonic Headband is an innovative, made-from-recycled material headband that promotes a healthy natural hair growth cycle.
Skill level: Expert
Havskum Headband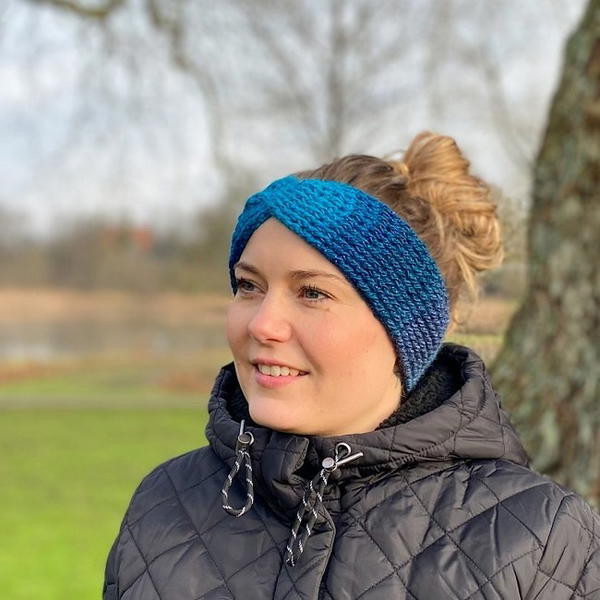 Don't let the cold weather slow you down. Wear the Havskum Headband for a stylish look that will keep you warm and cozy. This headband is so soft and warm that you'll never want to take it off. The Havskum Headband is a comfortable and stylish way to keep your hair out of your face when swimming or at the beach. This headband is made from 100% animal-friendly materials; this headband will make you feel good about looking good! The Havskum Headband is designed for you to protect yourself from UV rays and give you peace of mind. It is an embedded sunscreen that absorbs UV-A and UV-B rays, protecting your scalp and giving you protection while showing some love to your oceans by keeping microplastic out of it
Skill level: Intermediate
Winter Star Headband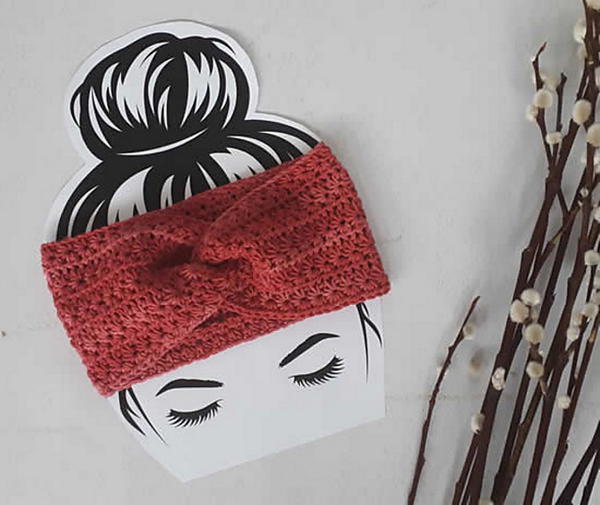 Winter Star Headband is a simple and cute headband that you can wear with or without a hat. It is made of a soft yarn that will keep your head warm during the winter seasons while also giving an adorable look to your outfit. Your little girl will look adorable wearing this headband. Perfect for the holidays, you can wear it with a snuggly winter hat and scarf! Perfectly festive and beautiful, this wool headband is soft on your ears while staying warm and comfortable when you need it the most. Let the light of the Winter Star warm you, and let your dreams shine through this beautiful headband.
Skill level: Expert
Thora Headband
The Thora Headband is a great way to complete your layered look. This stylish accessory keeps your hair off your neck and out of your face while making a bold statement.It is a simple yet stylish accessory that adds a touch of sophistication to any outfit. Whether you're going for a run or just hanging out, a sweat-wicking headband will keep your hair in place and dry to focus on what matters most to you – your workout. This headband will make your hair look fabulous while protecting it from sweat and weather elements.
Skill level: Intermediate
Courtney Twisted Headband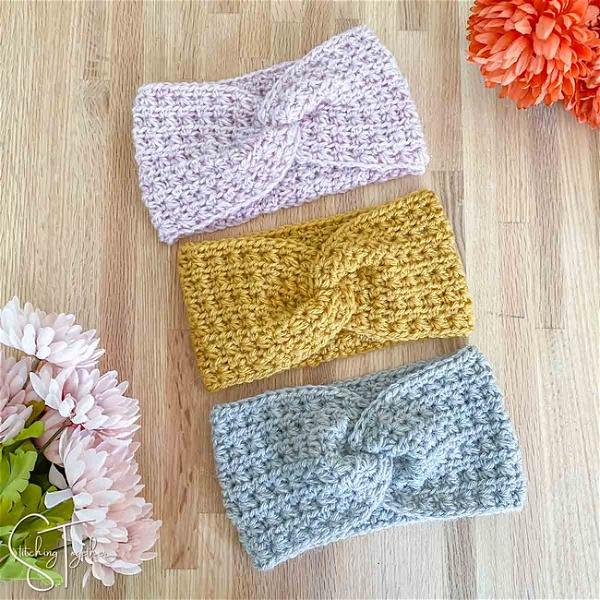 Courtney Twisted Headband is the perfect accessory for any outfit. The timeless, go-with-everything design makes it ideal for wearing on the go or wearing at work. This headband feature is a versatile twisted design and for a different look you can wear it traditional or side-folded. Also, it is comfortable and fun to wear with any outfit, from casual to dressy. The tightly twisted design on top keeps your hair in place all day long. This unique style features an intricate pattern and a comfortable twisted band in front. An elastic band at the top lends stretch for all-day wearability.
Skill level: Expert
Headband Ribbed
Headband Ribbed is a soft, ribbed band that works like a regular headband. It's perfect for keeping your hair back during workouts or any other activity when you want to focus on your performance. Keep your style classic and casual with this headband. The soft cotton ribbed fabric is comfortable to wear, and the simple design is perfect for everyday wear. This headband holds hats, helmets, and other headgear during any activity. The superior comfort, adjustable hook and loop closure, and universal fit make it an intelligent choice for Racing- Skating- Cycling- Running.
Skill level: Intermediate
Bijou Headband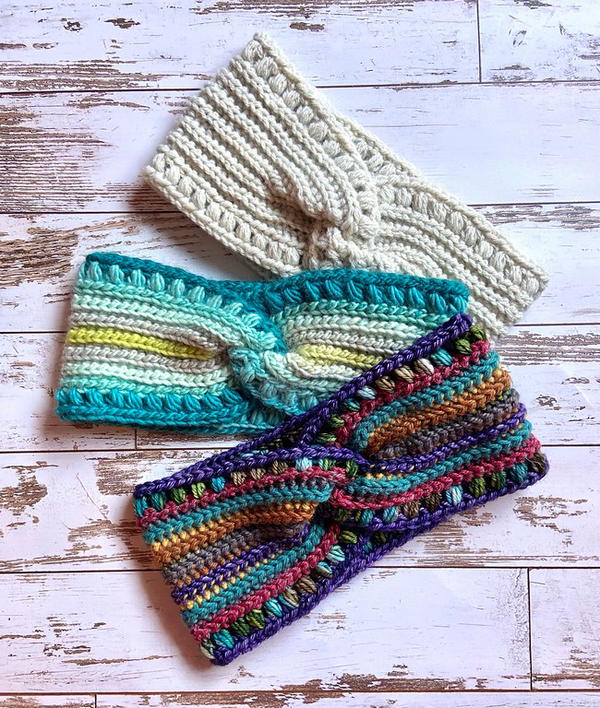 The Bijou Headband is the perfect accessory for your wedding day. With its soft and delicate fabric, it's sure to add a touch of romance to any outfit. It adds a touch of glam to any look. A fun and flirty headband for the young girl. Made from cotton knit fabric, lined with luxurious satin on the inside, and backed with a soft elastic band for a great fit. A lovely headband in feminine floral design. Wear it with a dress or top and jeans for a touch of elegance on any occasion. The stretchy, lightweight cotton/spandex blend fabric has a high elasticity that will stay in place during any activity. The seamless construction ensures a comfortable fit that does not chafe or pull at the hair.
Skill level: Expert
No Sweat Headband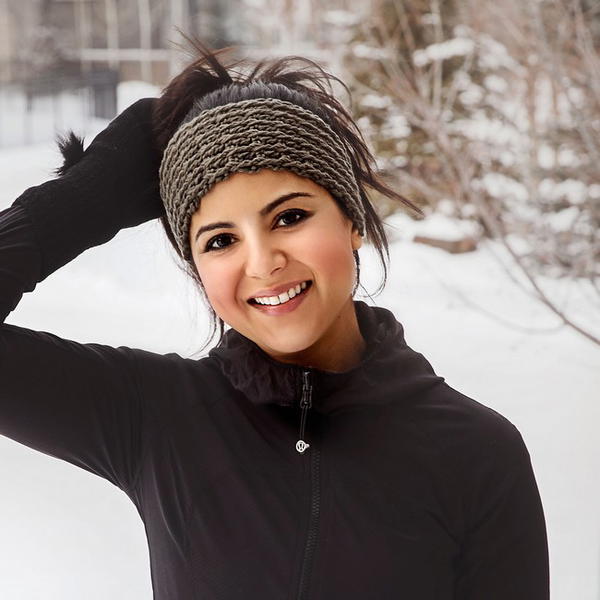 No Sweat Headband is the ultimate headband for anyone who wants to keep their hair out of their face while working out, playing sports, or any time they need a sweatproof bandana. Made from a super-soft, moisture-wicking material that won't chafe your skin or fall like regular headbands. To clean No Sweat, wipe it off with a damp cloth. No more sweat dripping down your face. No more sprinting through the airport with a soaking wet look. The headband absorbs sweat, leaving your head dry and cool when you need it most. It is a lightweight and breathable headband that absorbs work while exercising without messing up your hair.
Skill level: Intermediate
Forest Trail Headband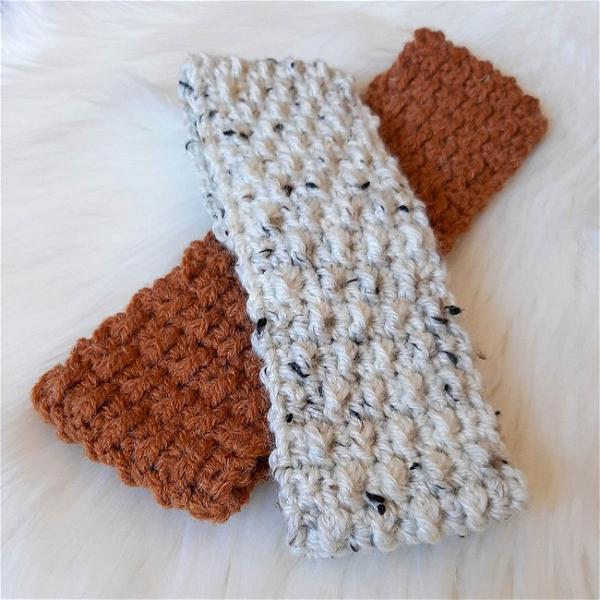 Forest Trail Headband is designed to provide comfort, support, and a touch of color for your trail runs. Its versatile styling and design make it perfect for playing in the snow, hiking, and hanging out in any casual setting. The classic solid colors will match almost any outfit. It is a gorgeous accessory that helps keep your hair out of your face while working out. This stylish piece looks great during outdoor runs or on the yoga mat. This headband is the perfect addition to your outfit. It is made with soft, durable fabric and features a stylish forest design.
Skill level: Expert
Wonder Headband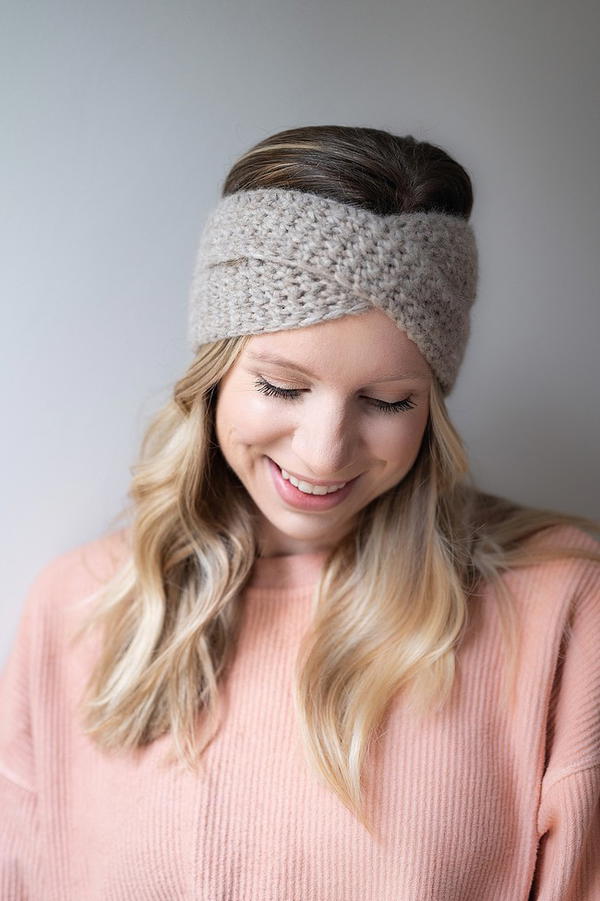 Wonder Headband is a flexible, comfy head wrap that keeps your hair out of the way so you can focus on getting things done. It's great for people who like to work out at the gym or go for a run. The headband stays put even when running, jumping, stretching, or doing yoga. Wear it in your hair, on your wrist, or even around your ankles to get a total workout that's fun and effective. It is designed to help you tone and strengthen your body; it's easy to use anywhere. It is intended to be the perfect headband for the girl on the go! Sporting a thin mesh fabric band and a lightweight design, you'll love this style.
Skill level: Expert
Chunky TC Headband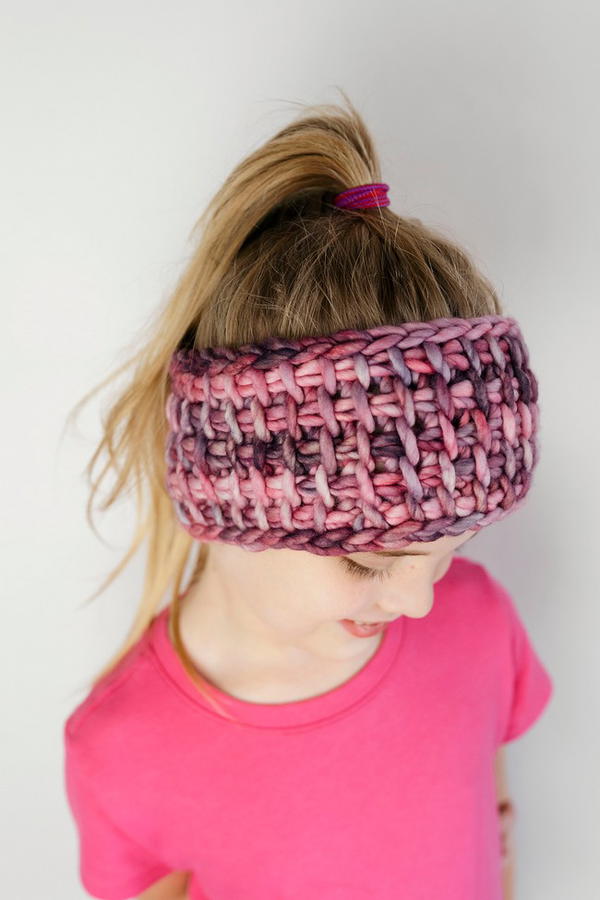 This beautiful, bold headband is made of cotton voile and features an elastic that stretches to accommodate different head sizes. Choose three colors to compliment your outfit or occasion, then take them everywhere! Designed with you in mind and easy to wear, it can be stretched to fit any size head with its flexible plastic band construction has just the right amount of stretch. This stylish headband will keep your hair out of your eyes while working out, playing, or hanging out on the weekend. Ideal for anyone who has to wear a headband while working out, playing sports, or just relaxing at home, the Chunky TC Headband is sure to give you the comfort and stability you need.
Skill level: Expert
Conclusion:
25 Crochet Headband Patterns is a project full of great ideas to make your headbands. Some patterns can be made using different materials, like yarn and ribbon; many styles depend on the occasion you want to wear them. You can make them in any color and use them for many events. They are quick, adjustable, and, best of all, don't take much yarn to make one. You have to choose your favorite pattern, pick up your crochet hook and start working on your stitches. Make yourself several, or give them as gifts!