A lovey is a small blanket or other soft object used by children to provide comfort. It often has a stuffed animal head attached to it, like a bunny, bear, or giraffe. Each one of these crochet lovey patterns has something unique and special about it. They are quick and easy projects to work up, so you can give the gift of love to the little ones in your life. We have rounded up 25 of the cutest crochet lovey patterns for you to make. You will find patterns for crocheting baby blankets, stuffed animals, and everything in between.

When you look at all of these sweet crochet lovey patterns, you will want to make them all! They are so cute and your little ones will feel so special and loved when they cuddle with their favorite lovey blanket. The best part about making your own is that they will be soft, cuddly, and keep your little ones warm at night. These 25 crochet lovey patterns are perfect for babies and toddlers. They're small enough to carry around but big enough to snuggle with at naptime or bedtime.
These 25 Crochet lovey Patterns are perfect for a quick summer project or even to make as a keepsake for your child.
What is a Crochet Lovey Pattern?
If you're a knitter, you may have seen the term "lovey" and wondered what it meant. A lovey is a small blanket that's usually combined with a toy or stuffed animal. Loveys are often made with soft yarn or fabric such as Minky, which is extremely soft to the touch. The combined features of soft fabric and an adorable toy make for a great transitional object for babies.
Advantages Of Crochet lovey Patterns
Loveys offer several advantages over other types of baby blankets:
They're small, so they can be easily transported in a diaper bag or purse
Their combined toy and blanket features provide comfort to kids on the go
They're versatile, meaning they can double as playmats or nap mats while not in use
Loveys can easily be sent to daycare with your child since they don't take up much space when folded up
Here are the advantages of crochet lovey patterns:
They are small enough to carry around with you and your baby.
You can create the perfect one for your family by adding favorite animals, colors, and features.
They make perfect gifts for new moms, moms-to-be, baby showers, and more!
They are fun to make and work up quickly!
Basic Tips To Crochet lovey Patterns
Crochet lovey patterns are a great beginner project for someone learning to crochet. They are usually made up of the same basic stitches, just in different sequences to create the different types of patterns you will see. Learning how to read stitch charts is another key part of learning how to crochet lovey. There are many free crochet lovey patterns that you can download and follow along with once you learn the basic crochet stitches. These charts will help you visualize how your project will turn out after it is finished.
Here are some basic tips on how to create your own lovely patterns:
Learn the basic stitches
Use a small tapestry needle (ideally) for your knitting projects
Choose yarns with similar weights and textures as those used in the pattern
Always read through all instructions before starting any new technique or stitch pattern
Lovey Cat Hat
Show your love for felines with this adorable crochet cat hat pattern. You could use soft, warm yarn to make it super cozy, or get it done a little faster with a lighter-weight yarn. Whether as a gift or a treat for yourself, this crochet lovey hat is adorable! This matching hat works up quickly and it's a fun addition to your cat's wardrobe! You can use different colors or yarn weights depending on what your cat likes.
Dino Baby Lovey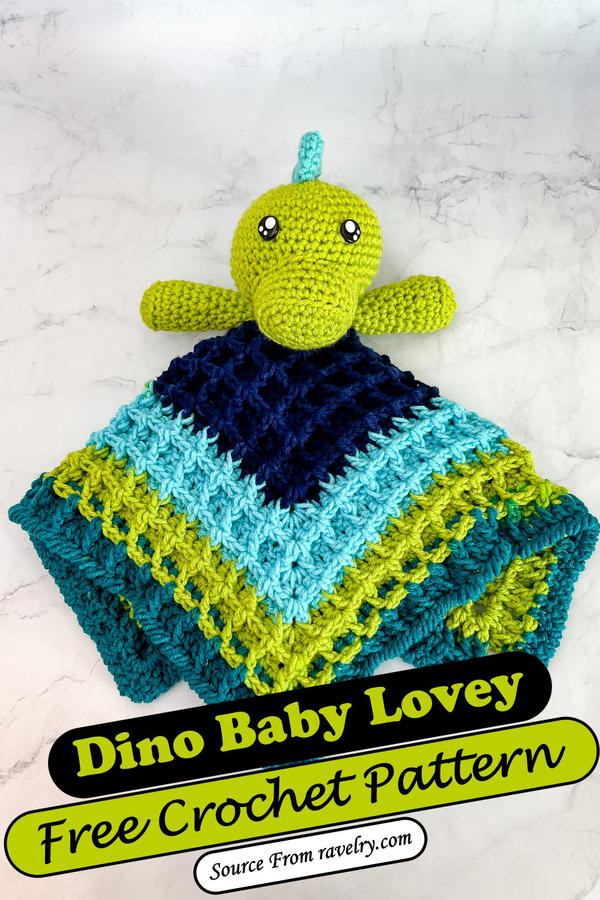 This lovey is the perfect gift for a Newborn. This adorable little baby comforting security blankie will be your child's first lovey! Its small size makes it easy for little hands to play with, and the bright colors help stimulate their vision. The dino design will get babies excited about playing with the lovey and help comfort them when teething begins. This cheeky fellow will be sure to bring a smile and comfort to any young one that needs a little pick-me-up.
Angelus Lovey Blanket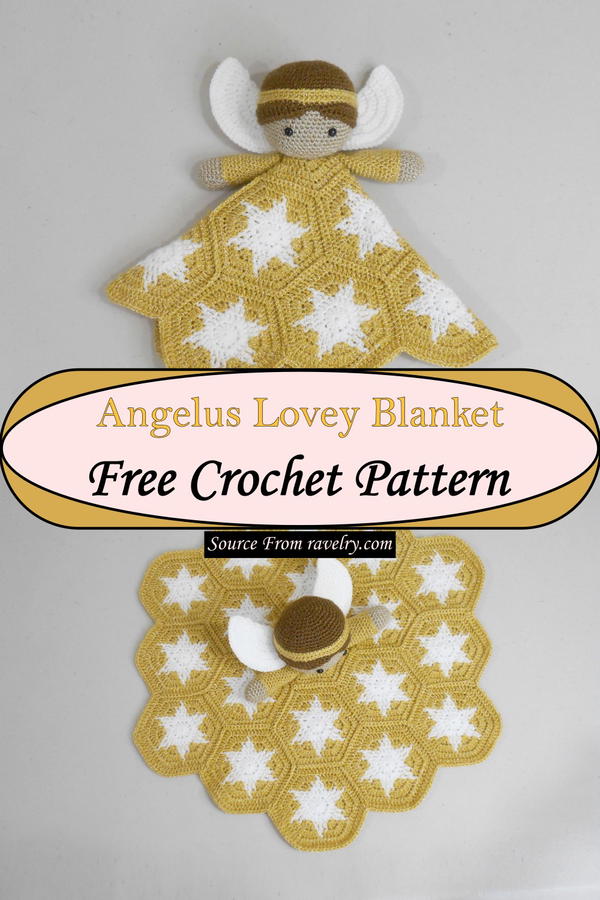 This crochet blanket for newborns and babies is a beautiful work made with love. The blanket is worked from top to bottom of the colors, in rows, outstanding with chains, double crochets, and stars crocheted from separate hexagons and seamed together later. This combination of colors in this crochet pattern makes it unique for each one that you make. It is just the right size for a baby to carry around and keep them warm through both night and day.
Aurora Unicorn Lovey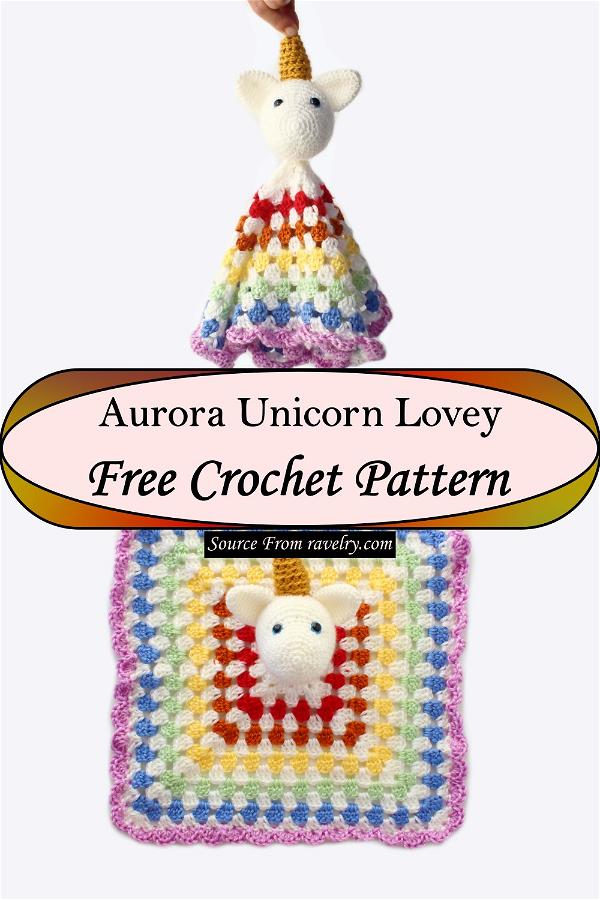 Aurora is an adorable crochet stuffed animal that loves to hug you back! Knit this cute little polar bear lovey for your favorite little one! The face and paws are knitted separately and then sewn on after, so there's minimal sewing involved in this pattern. This is a great project to use up small amounts of colorful yarn leftover from crocheting other items or leftover yarn from other projects. A favorite accent piece for nurseries or kid's rooms, she is sure to become a treasured friend.
One Hour Baby Lovey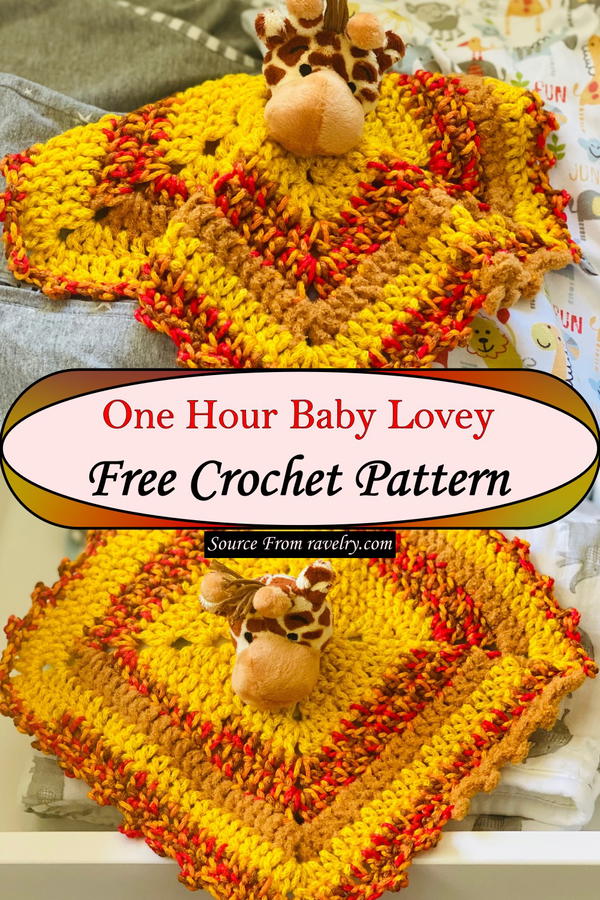 Make the perfect baby shower gift with one of these easy crochet patterns. The pattern is quick and inexpensive making this crocheted baby lovey a great gift to make in an afternoon or evening when you are "babyproofing" the house and can't go out. Baby loves are also great for use as decoration, hanging from cradles, and as decor in general. Products like these also make a great healthy handmade baby shower gift! If you are looking for more great designs like this Crochet One Hour Baby Lovey you can find them in this collection of popular crochet patterns!
My Cuddle Bear Lovey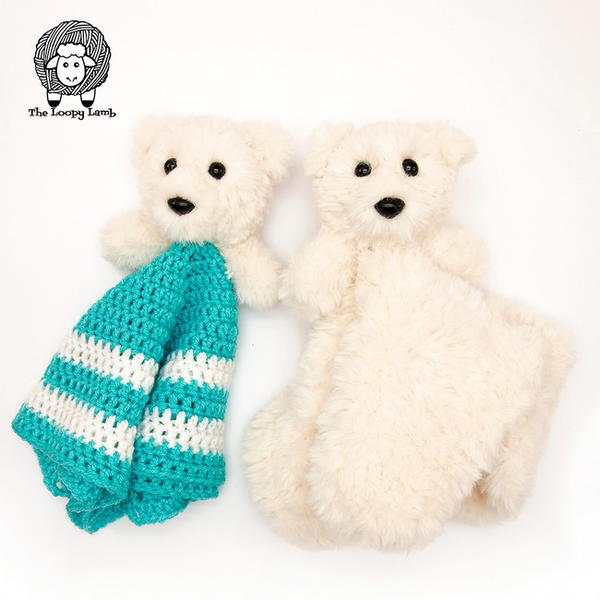 The My Cuddle Bear Lovey is a free pattern but it'll cost you dearly when you experience the intense cuddling that comes from one of these bears. The fine-tip yarn has been used to make him feel like a soft and cozy blanket. This bear lovey will become the most cuddly friend your baby can have. Its lightweight size makes it perfect for little hands to hold and its thick, dense construction makes it ideal for mouth and cuddle games. The fun, crocheted bear head with its lifelike features will surely become the star of your baby's playtime. Don't miss out on this must-have pattern that'll make a great shower gift.
My Baby Cuddle Owl Lovey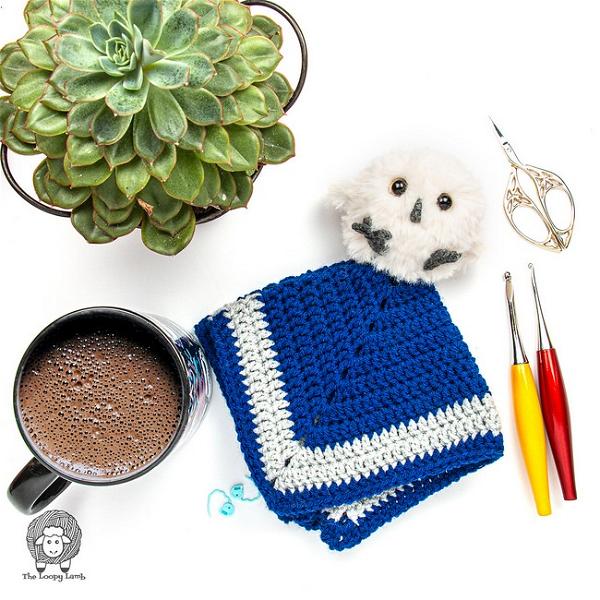 Looking to create a fun new baby gift? Why not crochet an owl lovey that even mom and dad will want to cuddle? This baby shower crochet pattern shows you how to make a cute owl stuffed animal embellished with a pompom tail, but it goes faster if you use yarn in the same or coordinating colors as the skinny yarn used in the owl. If you're looking for something quick and simple to make that both mom & dad will enjoy, try this Cuddle Owl Lovey!
My Cuddle Bunny Lovey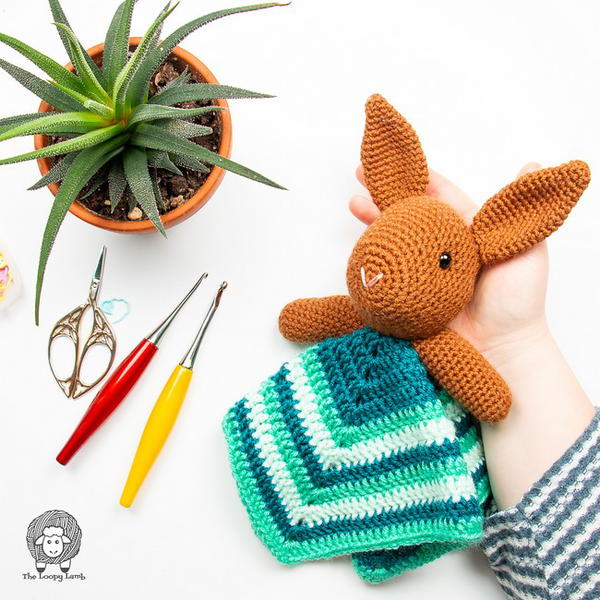 Let your little one snuggle up to this Cuddle Bunny! This ultra-soft My Cuddle Bunny Lovey is an adorable crochet pattern that makes a fantastic baby shower gift or anytime gifts for toddlers. This pattern is perfect to make on a weekend, put in a gift basket, and have ready to go. The hard part is over! Perfect for the woodland nursery or for that toddler that just loves their snuggles, this awesome plush friend will charm even the hardest hearts. Perfect for the woodland nursery, or for any little one that just loves to snuggle, it makes the sweetest decoration for kids' rooms too.
Baby Bunny Lovey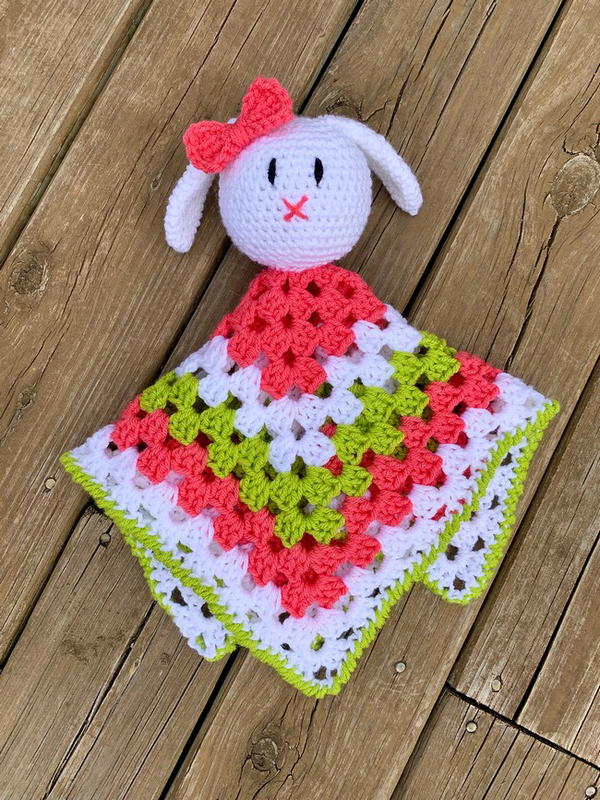 This crocheted Baby Bunny Lovey makes a perfect gift! ADORABLE! The perfect baby shower gift for a newborn. The fluffy little bunny ears are sure to grab the attention of family and friends – and the practical purpose of being a blankie, stuffed animal, and toy will never be lost on the baby. It is so cute and will be a welcome gift for a new baby or an older child. Great for travel, bedtime, or just to cuddle---you will fall in love with this bunny! This darling small crochet baby toy is perfect for a special little boy or girl in your life.
Dress-Up Bunny Lovey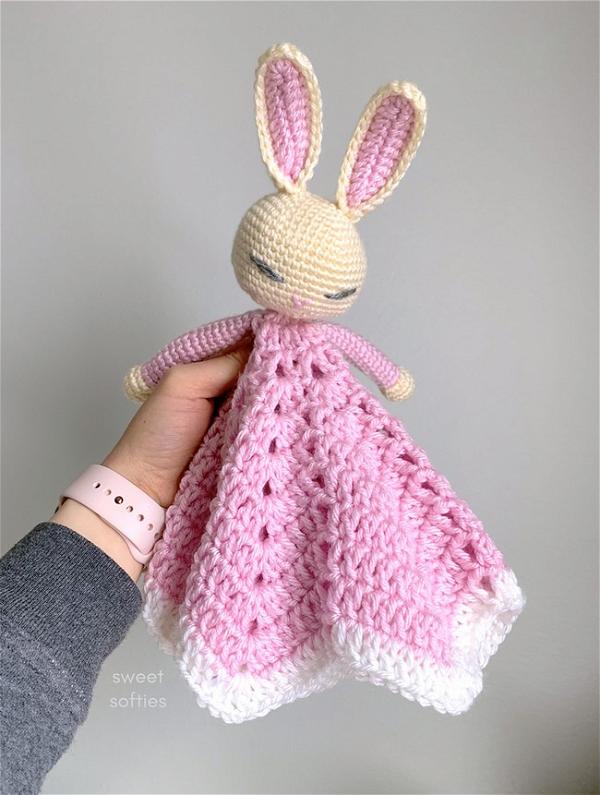 Worked up using mostly double crochet stitches, the Dress-Up Bunny Lovey is a simple yet effective design. Crochet yourself this sleepy bunny blanket for a handmade baby shower gift or as a birthday gift for toddlers and young children. It is easy to customize with different color combinations, and kids will love playing with the adorable little bunny while staying cozy, having sweet dreams, and resting comfortably. With only a few color changes and cute accessories, this sleepy bunny blanket will be a gift that any child will love to have and play with.
Hug Me Unicorn Lovey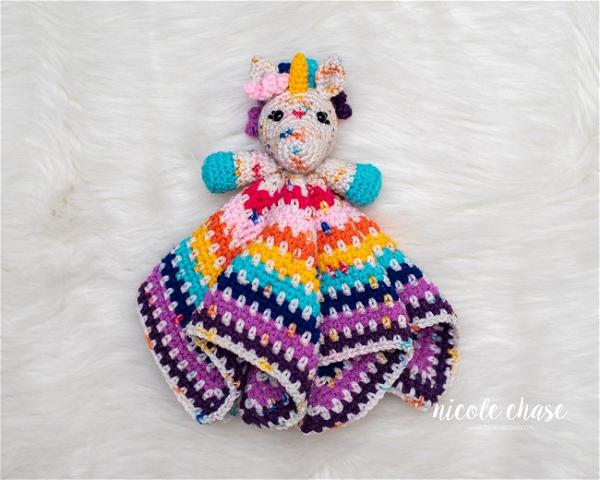 This crochet lovey is sure to be loved by any little girl. Baby's first blankie will be a cuddly lovey, soft enough for snuggles, with bright colors and a fun curly mane. This pattern is beginner friendly and makes a great gift that is just right for any new baby shower or birthday. The head, arms, and ears are worked in the round with a moss stitch blanket. This project uses simple stitches that any crocheter can handle, so grab your favorite yarn and get started on a present for a little baby to enjoy for years to come.
Hug Me Triceratops Lovey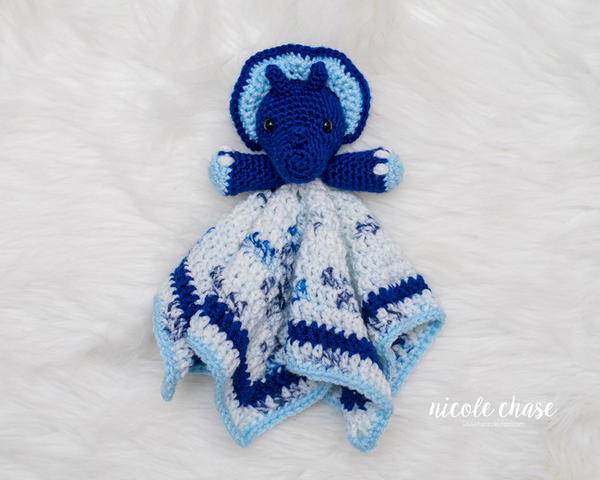 Crochet your own soft, cuddly triceratops amigurumi! The perfect dinosaur souvenir for the child of a dino-lover or paleontologist, this little dino is relatively quick, works up fairly easily, and is just absolutely adorable. Cuddle up your favorite baby with this sweet Hug Me Triceratops lovey. This adorable lovey is the perfect size for little hands to hold and hug and makes a great gift. This is an easy crochet project because it's worked in the round and in rounds of squares. Because of its small size, it works up surprisingly fast. This plushie is also great as a unique addition to any nursery decor.
Prism Baby Lovey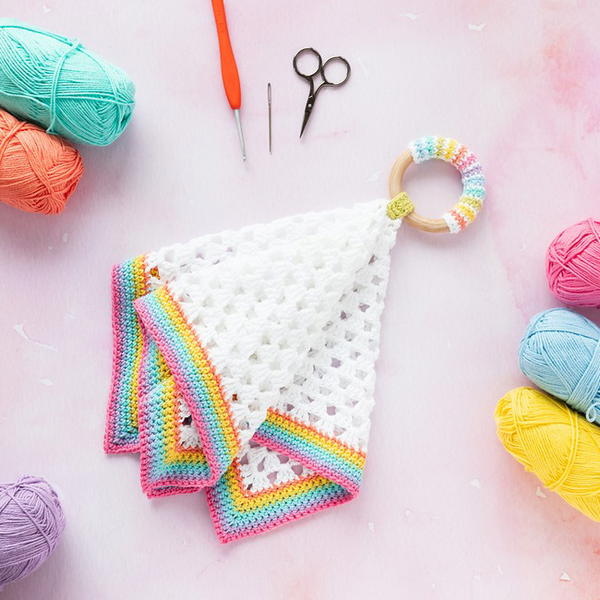 Have you ever seen a crochet lovey as cute as this? The Prism Baby Lovey is a modern take on the classic lovey pattern with a rainbow twist. It is a modern-style baby blanket, crocheted in a fabulous rainbow color palette. The modern look brilliant in colors such as blue, white, or yellow. This is a great project for someone who wants to try out new stitches or even begin to make toys. It is perfect for babies or toddlers. It's a very versatile design and can be used as a cot blanket, pram blanket, lovey, play mat, and many other things!
Bobblehead Gingerbread Lovey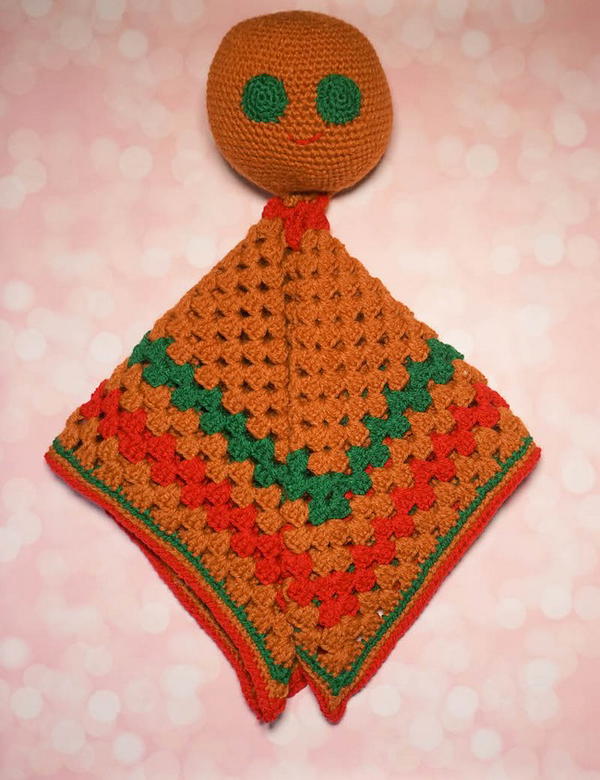 Like your favorite gingerbread cookie, this Crochet Bobblehead Gingerbread Lovey combines sweet cinnamon red yarn with spicy ginger-colored yarn for a hard-to-resist combination. And just like a real cookie, it's topped off with a cheerful beaded rosette. Just right for little hands, this lovey will surely become your toddler's new best friend. This crochet pattern is designed for a beginner crocheter. It uses only double crochets, chain stitches, and basic increases and decreases. A magic loop (or any other preferred method of creating a circular crochet piece) is used to create the body of the gingerbread man.
Gingerbread Lovey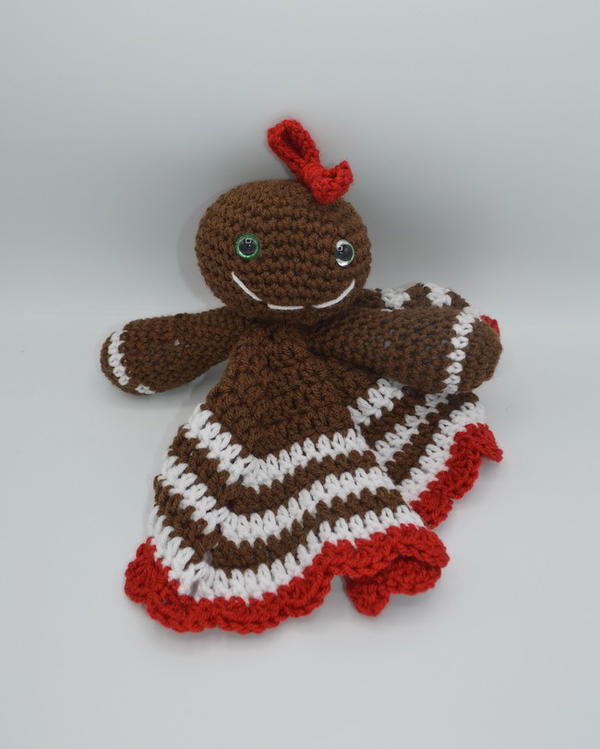 The Crochet Gingerbread Lovey will make a nice addition to your baby's wardrobe, and it's practical as a security blanket! This crochet pattern was designed for beginner and intermediate crocheters who want to make a gift for a baby shower, Christmas, or just because. This blanket works up fairly quickly. Using only basic stitches and a couple of color changes this pattern is quickly learned by beginners and advanced beginners. Perfect for those looking for an easy, yet cute project. This blanket would make a great gift for anyone that is into crochet.
Airplane Lovey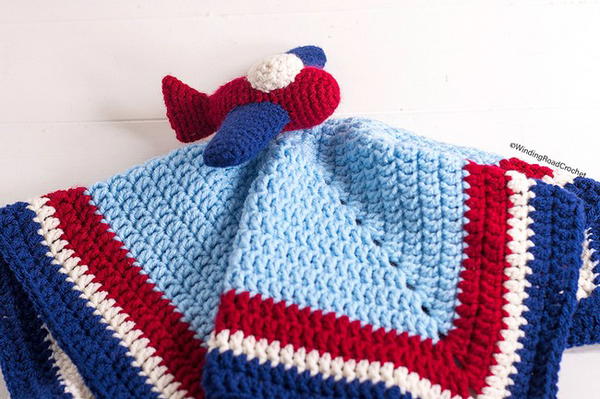 The Little Airplane Lovey offers a great new way to say goodnight and sweet dreams to your little one. Crochet this perfectly sized lovey for a baby. It's a sweet, soft, and snugly project that is so easy to make. Crochet of fine materials like cotton yarn and lightweight batting, it is both machines washable and dryable to keep baby clean! These loveys are so versatile. Use them in a bassinet, stroller, car seat, swing, or anywhere you would use a blanket.  It can be used as a security object and is designed for those who are afraid of flying. When the plane is put on, it will fly so high in the sky that it seems to never come back down and bring your child comfort.
Willow The Bunny Lovey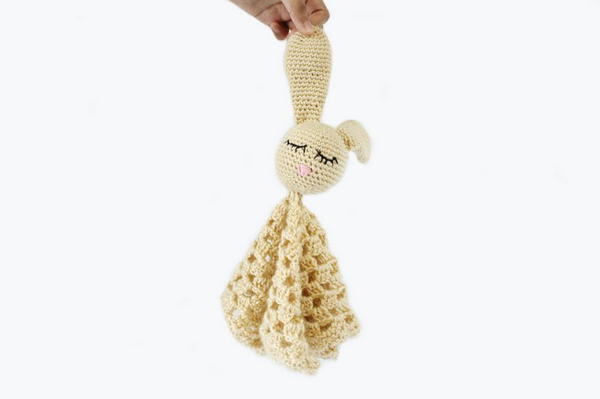 The Crochet Willow Bunny Lovey is super easy to make, perfect for beginners of any age! This is a little pattern that includes instructions on how to make the head and body of an adorable bunny lovey. It has a fairly simple design so that even beginners can learn it easily. This crochet bunny lovey is the perfect size for little hands to carry and pack around. It will make a great addition to your little one's collection of loveys! It uses a simple crochet pattern that is really easy to learn, and then it's finished off with some cute little embroidered details. The perfect gift idea for any child, beginner or not!
Ribbert The Frog Lovey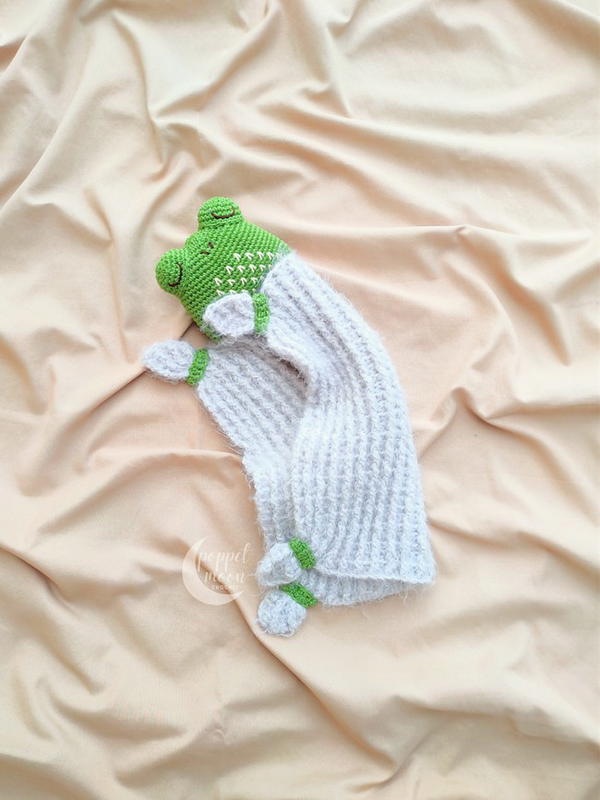 Crochet Ribbert the Frog is a cute and easy amigurumi pattern. It is intended to be a lovey/security blanket for babies and toddlers. The body is crocheted with worsted-weight yarn in an easy stitch while the head, arms, and legs are sewn on separately. This easy crochet frog pattern includes guidelines on how to make it in larger or smaller sizes as well as eye patterns if you wish to make your little one realistic-looking amphibians! This easy lovey crochet pattern is great for anyone who is new to or wants to learn, amigurumi.
Bear Lovey Blanket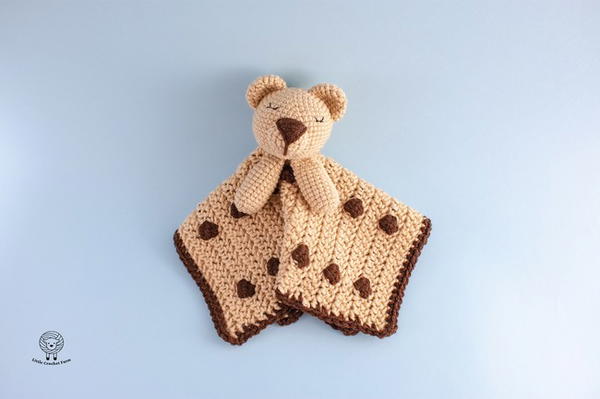 Cute, cuddly, and very huggable!  This amigurumi crochet bear blanket is soft and lovable and it makes the perfect baby shower gift or newborn baby present.   This crochet blanket is part of a fun and adorable new baby toy collection. It's great for cuddling, with its soft and comforting design. This darling crochet blanket is ideal for a baby shower gift, or as a special friend for the little one at home. It will help you to develop your skills and/ or become a great gift for a new baby. Of course, adored by his parents, our Amigurumi Crochet toys look like little friends!
Elephant Lovey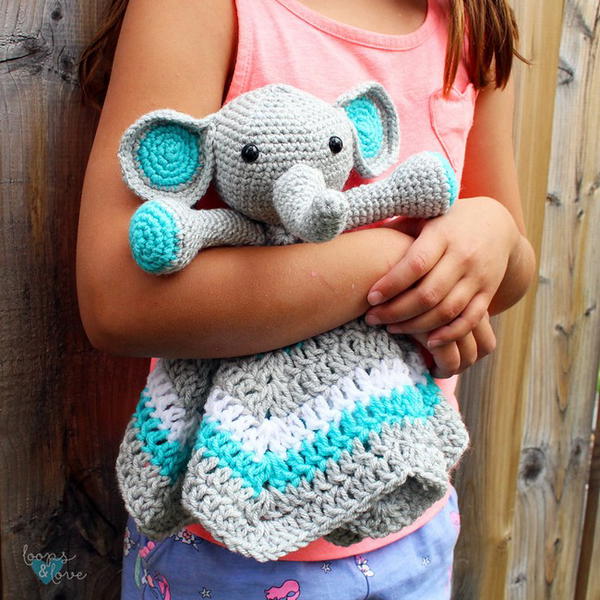 Can't you see your little one snuggling with this sweet elephant lovey? This pattern is simple and fast. It uses only single crochet stitches, so it's perfect for beginners. Don't be intimidated by the size of this project. The head, ears, and blanket are all crocheted separately, then sewn together once finished! This cute little elephant lovey is a great project to whip up for your little one. The pattern is beginner-friendly with lots of descriptions and photos but is also enjoyable for more experienced crocheters.
Bunny Baby Lovey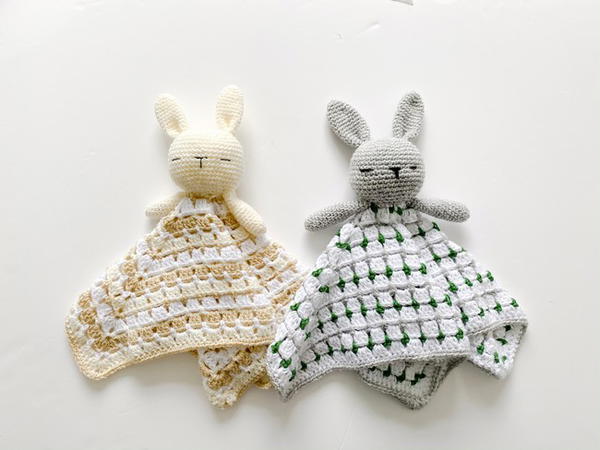 A quick and easy little project to crochet for a unique baby gift. Uses fun, but simple stitches to make it easy for anyone to create their own unique bunny lovey. This is a crochet pattern for the perfect baby gift or decoration, using your favorite yarn to achieve the desired color combination. This bunny lovey/comforter is hand washable, making it easy to care for. Brighten up a baby's life by making this comforter for them.
Narwhal Lovey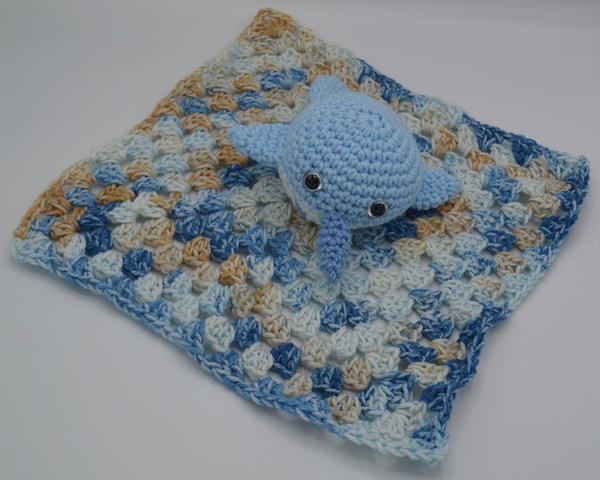 This narwhal is sure to get you and the underwater fans in your life into the holiday spirit. Start making this crochet narwhal lovey with a granny square blanket. You'll have a whale of a time crocheting up this adorable little bundle of fun. This will make an excellent Christmas present! This makes a marvelous addition to your craft fair inventory this holiday season. Crochet away with this fun and easy granny square blanket pattern. Pair it with cold-weather clothing or stash it away for next year.
Little Lamb Lovey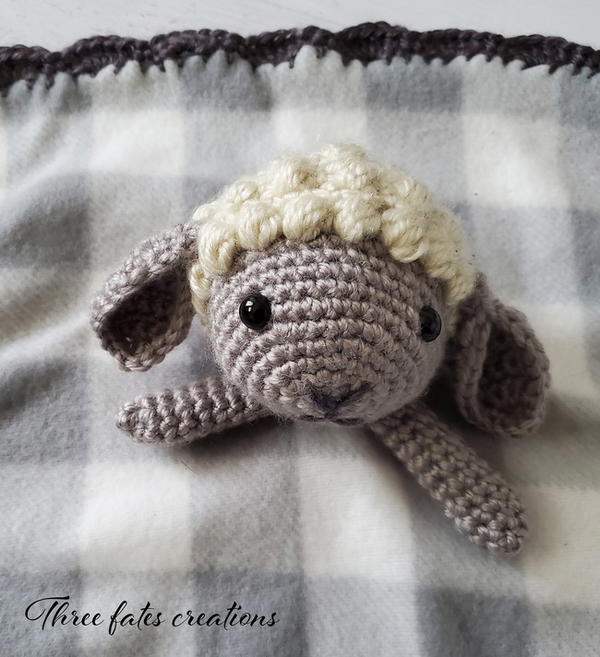 This little lamb crochet head is made with soft yarn and stuffed with Poly-Fil so that he is nice and cuddly. The eyes are attached with a few stitches and the face is embroidered on after stuffing and closing up. The ears are not attached until you have finished stuffing and closing the body. You can make this lambs head in any color to match your Easter décor or choose one of the many colors available in baby yarn to match a little one's room. This is the perfect pattern for a new crocheter or someone looking for a slightly more advanced project.