Crochet men's hat patterns are fun to make because they can be worn in various ways. There are certain styles that will make the man in your life look very stylish. Men can wear them with casual clothes or dressy clothes, depending on their preference. Some of these men hats can be made with yarns that are thicker and bulkier, while others can be thin and lacy, which gives a different look to the hat. Trying out new crochet men's hat patterns is a fun way to add some variety to your wardrobe, especially if you want something that is warm and easy to care for.

The right hat will help keep you comfortable as well as look good. When choosing between the many types of yarn available, remember that you want it to be soft so that it does not irritate sensitive skin. The best crochet men hat patterns will have yarn instructions along with them so that you will know exactly what size hook to use as well as the type of yarn needed for each particular pattern. You can choose from the many different designs presented here or create your own unique style by combining different elements from different patterns together to create your own unique creation. Crochet men's hat patterns are quick, easy, and a great way to try out a new stitch. You can work them in many different sizes and yarn weights.
Easy Crochet Men's Hat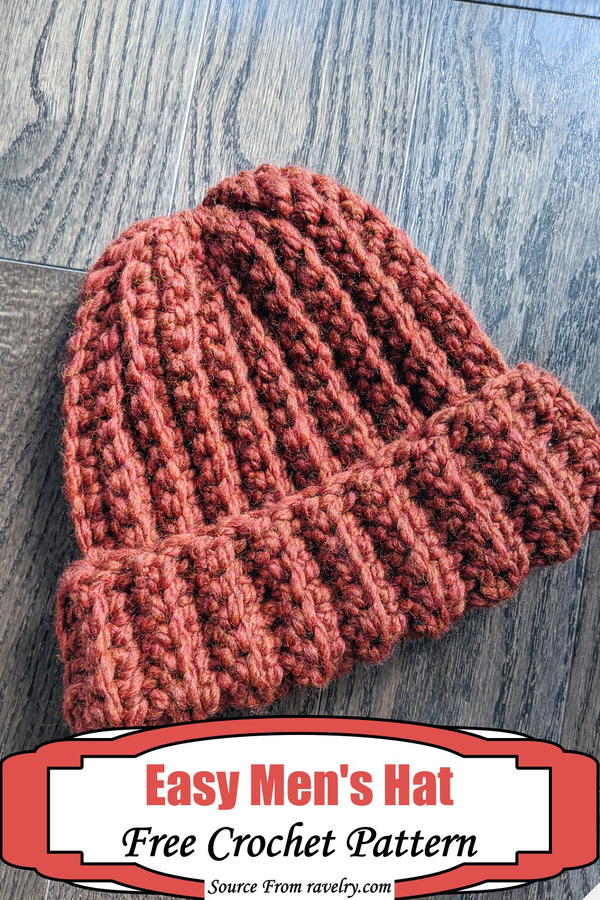 This beautiful crochet hat is perfect for cold weather. Created in under an hour and worked with one skein of worsted weight yarn, this textured hat is great for all levels. This pattern comes in teen and adult sizes, both women and men alike will like this beanie style hat. Worked flat and then stitched up to form a beautiful rectangle-shaped hat with a thick brim.
The pattern is easy to follow and can be worked up in a short time so that you can make one up for your guy friend or significant other and they will enjoy the finished product. Men can be difficult to come by patterns that are the right fit or have things they will like but you will not have to worry about this with this hat.
Herringbone Stitch Men's Hat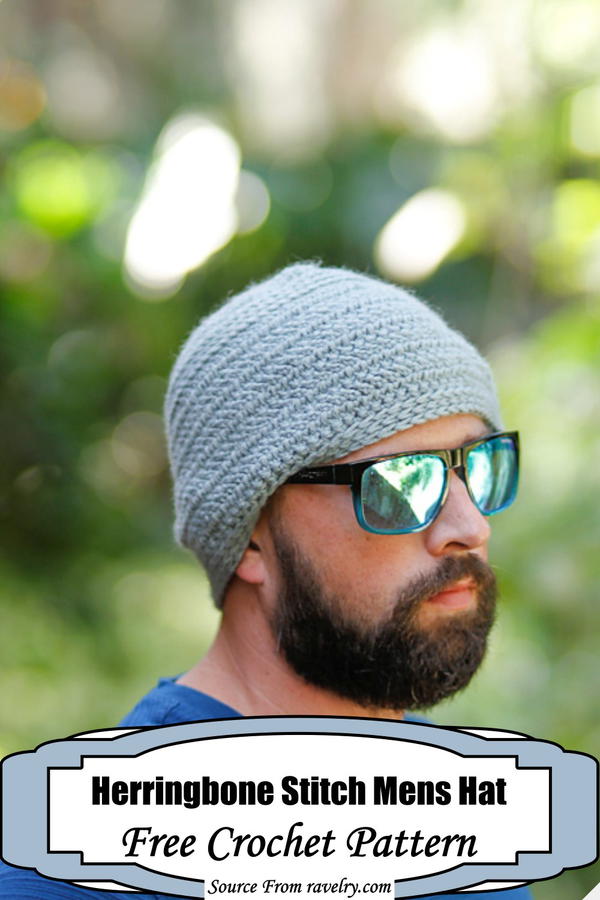 This hat features a common crochet herringbone stitch made in a subtle, tweedy stitch pattern. This makes it interesting to look at from both the front and backside. It is unisex because it is warm, stretchy, and simple in design. This pattern calls for medium-weight yarn and crochet hook H (5.0 mm) or size needed to obtain gauge. The hat is crocheted in the round top down with an i-cord edging. The design is made with a simple multi-coloured pattern that is interesting and fun to make. The stitch makes this hat stretchable so it fits most size heads.
Men's Classic Beanie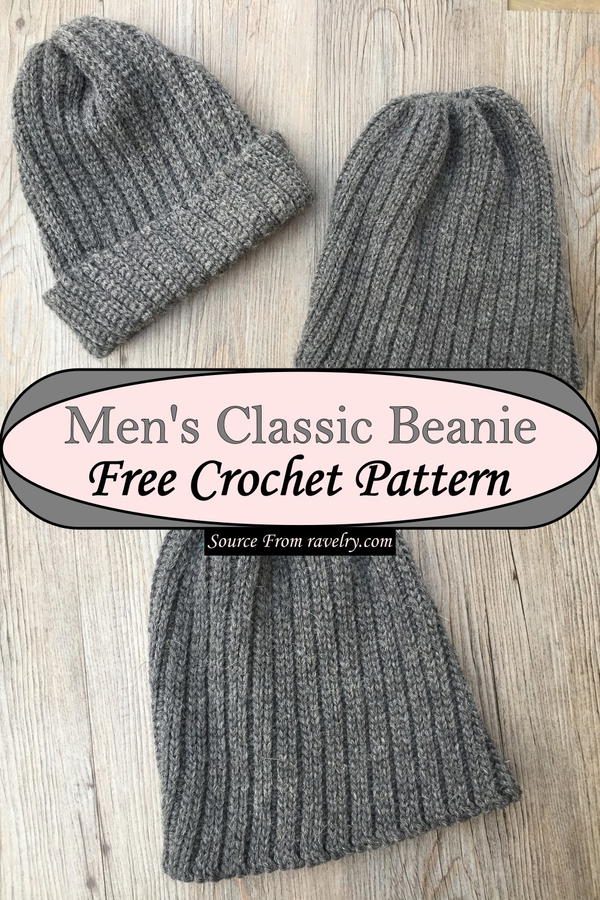 This Men's Classic Crochet Beanie is a pattern for beginners and experts alike. The beanie is created by working in the back loop of half double crochet stitches only and creating a spiral texture throughout the beanie. This beanie will create a nice full look when worked in bulky yarn, and a bold look when worked in a thinner weight.
Whether you are headed out for a day of winter fun, or just need to keep your noggin warm, this crochet men's beanie is perfect for you. Make one to coordinate with your coat or jacket, or make several in different colors for a matching set.
ravelry or richtexturescrochet
Hyland Men's Hat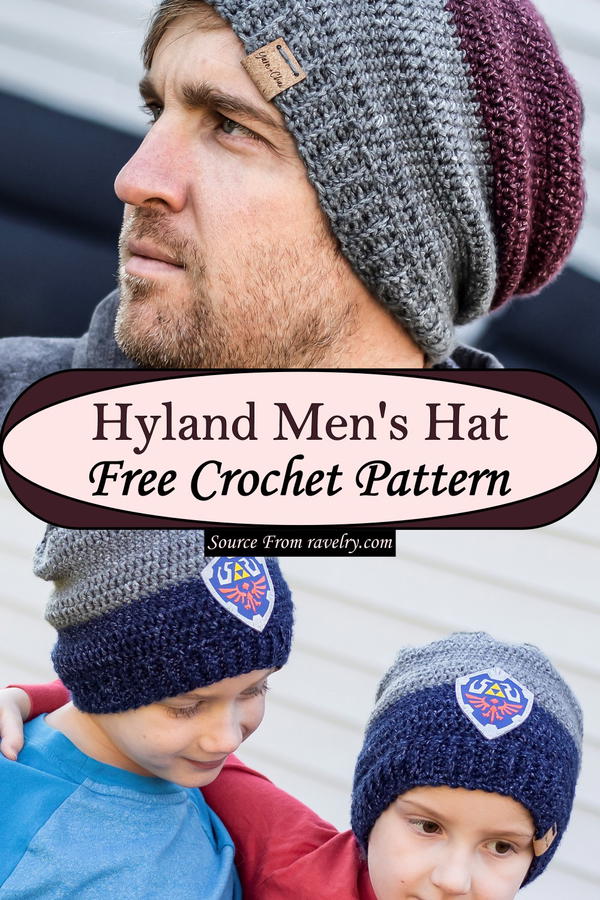 The Hyland hat is a soft slouchy beanie knit in the round from the bottom up. The name comes from the tumbling wooden boats that collect on the shoreline of our favorite trail. It is knit with an undyed, superwash Merino yarn called Jeans. The colors are gentle and heathery, a lovely mix of subtle blues and browns with a hint of purple. Whether you're hanging out with friends or out on a date, this Hyland Hat will keep you looking and feeling your best
Cabled Beanie For Men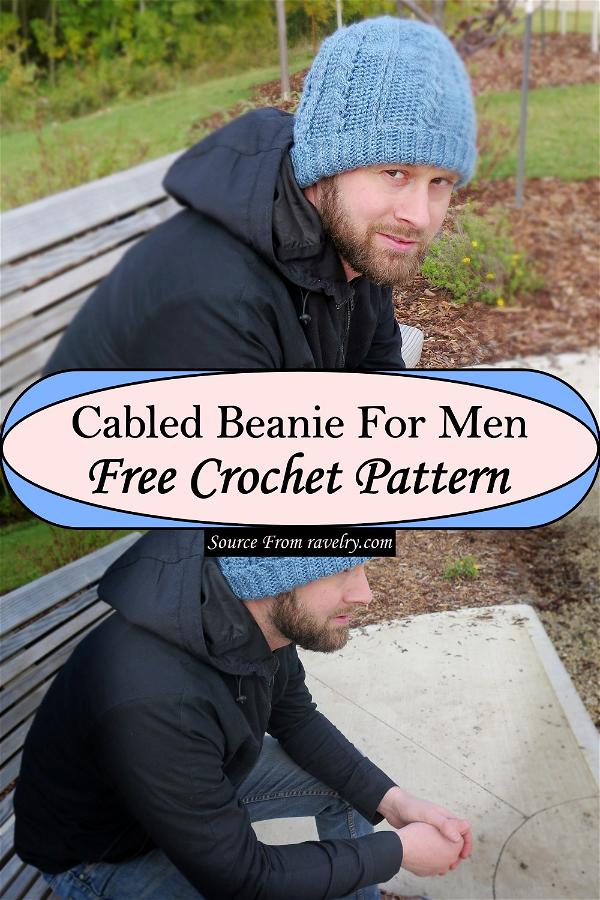 Easy Cabled Beanie is a quick, winter hat that's as practical and warm as it is stylish. This easy-to-knit pattern features two cable patterns -- one ribbed and textured, the other traditional and smooth -- for a chic and cozy hat fit for the coolest winter days. Make this hat for your husband, dad, or friend, and they'll look great while keeping warm all winter! It's thick and chunky to keep them warm, but the cables keep it airy so their heads don't overheat.
Easy Knit-Look Hat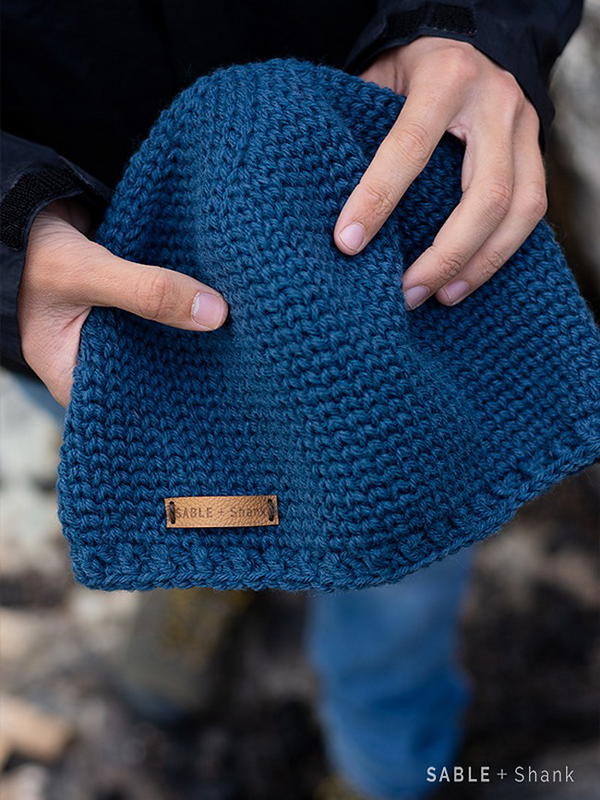 Take a break from the cold and knit up this sweet, thick beanie. The super bulky yarn allows you to crochet quickly for a hat that's warm, cozy, and stylish! It's slightly slouchy, so it looks great on kids as well as adults. And because it is crocheted in the round it's super easy to make! The hat comes in 8 sizes to fit everyone from babies up to adults and can be made with any worsted weight yarn. You can even swap out the basic hat for a beanie if you want a slouchy appeal!
Easy Men's Beanie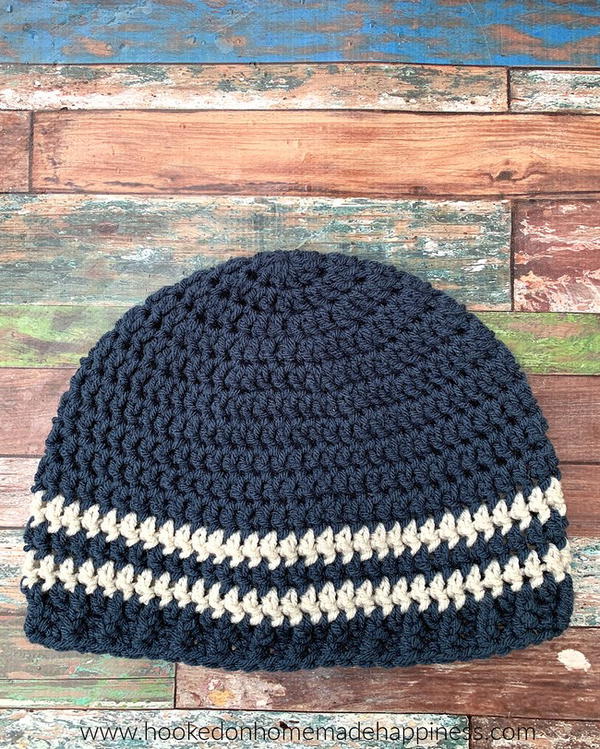 If you love the trend of knit hats for winter, here's a simple man hat crochet pattern you will LOVE. It's quick, uses only one stitch, and is the perfect hat to make for men or women! The Easy Men's Beanie is simple, quick, and easy to crochet for the men in your life. It only requires basic stitches and an "H" hook and yarn. Simply work in rounds from the bottom up. This is a basic beanie but can be easily styled by using different yarn or adding optional bow ties.
ravelry or hookedonhomemadehappiness
Men's Textured Beanie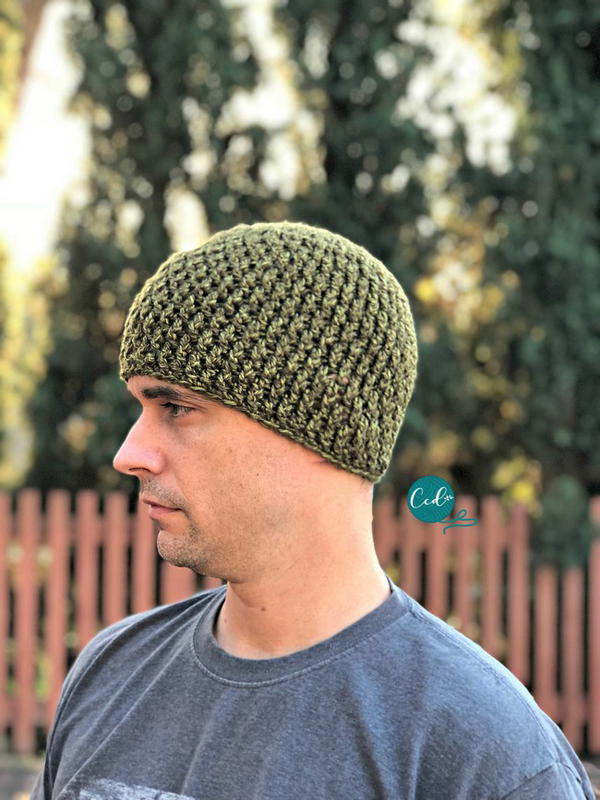 This beanie is a quick knit that can be done in almost any weight yarn. Directions are given for either women's or men's size. The great thing about this pattern, it would not take much to convert it to a slouch hat too! The men's beanie is a snug-fitting beanie great for the cooler months. The texture is achieved by working front post stitches on the main panel and then picking up stitches along the side to work the border. This pattern does have directions for the women's beanie worked in a sport weight yarn as well.
Simple Men's Beanie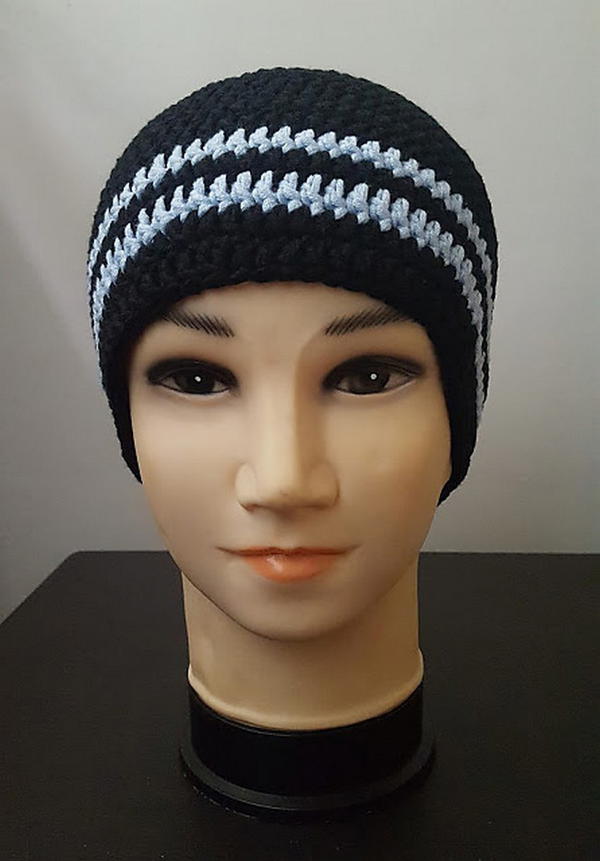 The Simple Men's beanie is a good accessory to add to your winter wardrobe. The hat is worked in a simple motif which reduces the number of double crochets that are worked, making it easier to work. The pattern only takes one skein of yarn. The beanie comes in two sizes: toddler/youth and adult. It's possible to size the hat up or down by changing the weight of your yarn and hook size.
ravelry or crochet-af.blogspot
Men's Slouch Beanie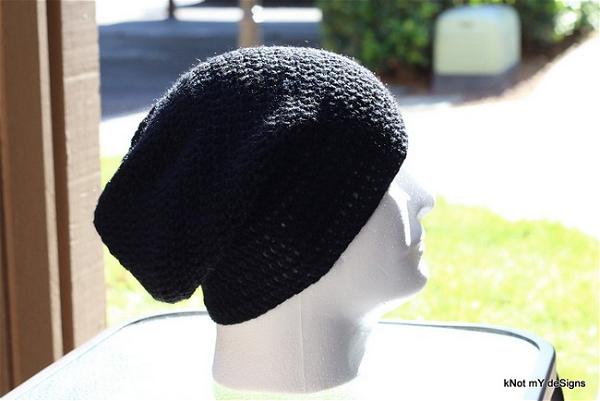 This Men's Slouch Beanie is a great quick handmade gift that anyone would love to have or give. It gives details on how to make it in many colors and also how to sew it into a cuff with a button. It could even be made in bandana style for men, women, and teens. The Men's Slouch Beanie is a quick fun knit for all and works up fast. It is perfect for keeping anyone warm and stylish no matter the age.
Whether it's a slouch hat or an old-fashioned beanie, the Men's Slouch Beanie offers everyone a classic look. This fleece hat is popular during the fall and winter, but it can keep you warm year-round. The ribbed pattern is simple, which makes this hat great for beginners.
Men's Checkered Brim Beanie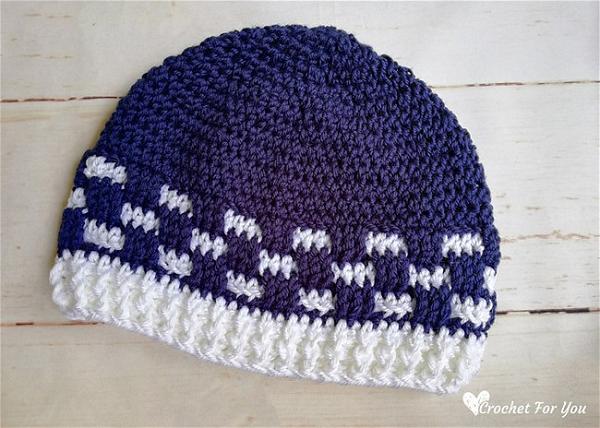 Men's Checkered Brim Beanie is a perfect fit and comfortable to wear. You can make it with almost any type of yarn, but we recommend a soft, elegant, wool blend. The hat is turned out beautiful and handsome. In addition, the stitch pattern is so easy to dress up your beanie to be more practical. It's a fun and interesting project for the men on your gift list. This simple beanie with a checkered stitch pattern is the perfect hat for the man who likes to wear hats and loves a winter hat gift. It's great for the cold weather days. and looks wonderful on anyone!
Tweed Hat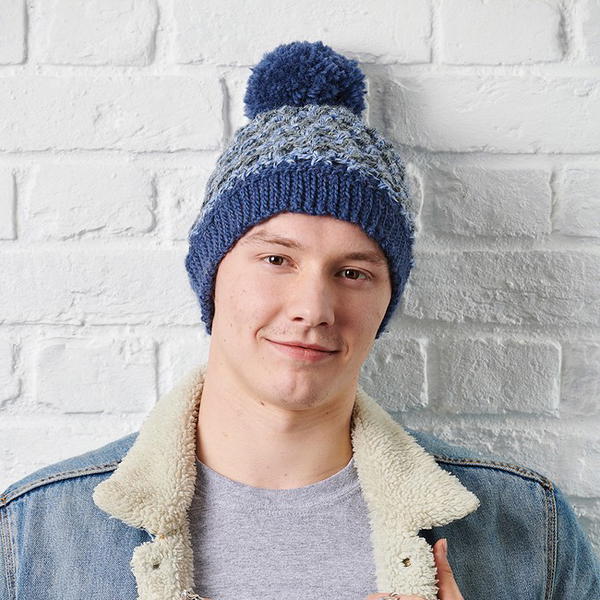 The Tweed Hat can be made with only the basic knit and purl stitches and is a great, fast project. It's warm, comfortable, and stylish. The Aran weight of the yarn held double-stranded makes it heavy enough to keep your ears extra warm – perfect for cold weather. The Tweed Hat is a small pattern that makes a big impact. Wear it while out and about, or to keep warm when you're home.
You'll have a stylish companion on even the coldest winter days. Twill is made by knitting two strands of Aran-weight yarn and holding them double, then crocheting with it. The result is a stout hat that will be your faithful friend in winter as well as any other season.
Mens Simple Ribbed Beanie
Men's Simple Ribbed Beanie will keep you warm through the winter months and is an excellent choice for those seeking a soft slouchy hat pattern. This basic knit beanie is easily customizable to suit your own personal style. Your head will stay warm when temperatures dip with this quick-to-knit beanie. The ribbed texture opens up beautifully in either a solid or variegated yarn to create a handsome hat that shows off your style and sophistication.
Silver Beach Beanie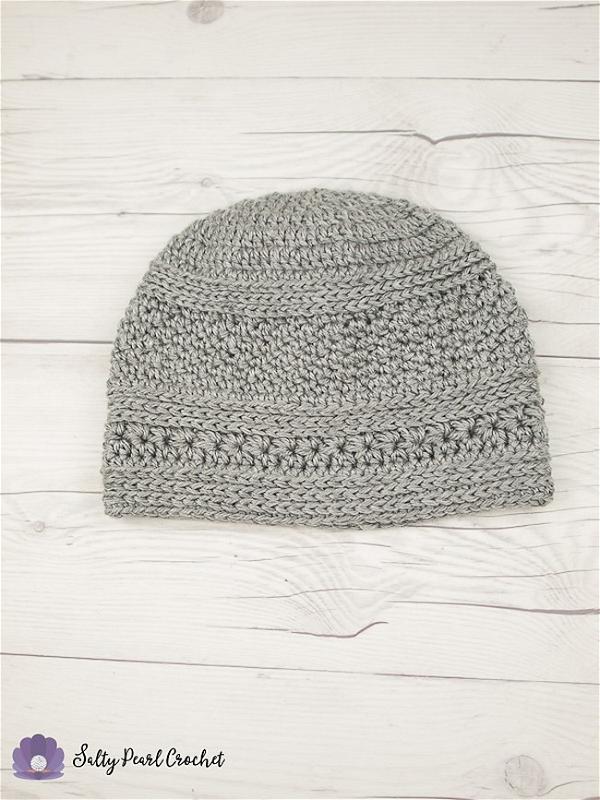 The Silver Beach Beanie is a wonderful crochet pattern that all men can wear! Crochet this beanie in your favorite winter color, and pair it with any coat or jacket. This hat was designed to top off any outfit, since the fit is flexible and roomy, and will allow for the desired amount of slouch depending on your preference. No matter your skill level in crochet, you can make this beanie with ease.
This beanie looks great on men of all ages, and it's the perfect gift for him! This hat has a nice wide and thick design, with a bit of slouchiness so it doesn't look like a hat that should be worn by just kids and teenagers.
Simple Seed Stitch Beanie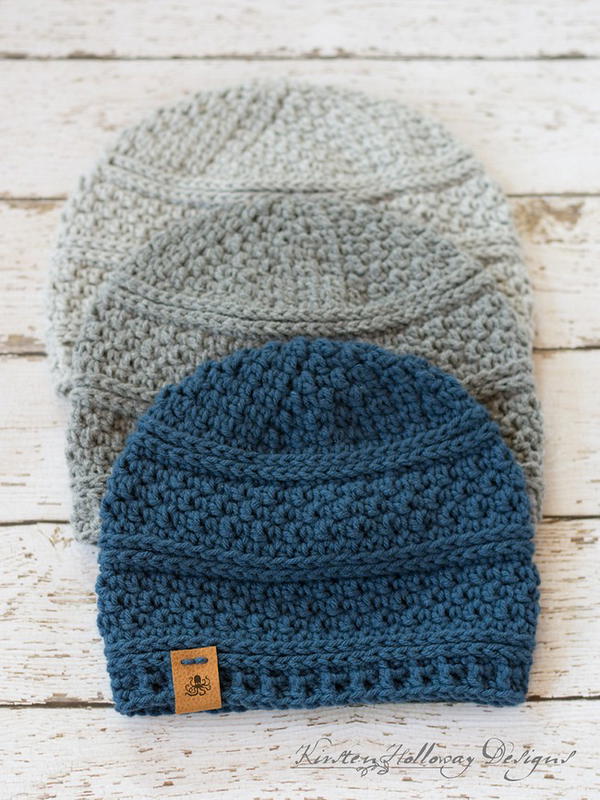 The seed stitch is an easy pattern that everyone should learn. This beanie is perfect for beginners and knitters looking for an everyday beanie. The decreases are all done as paired decreases, so you do not have to purl. The hat knits up quickly, and is the perfect project to practice your new skills on! The idea behind this pattern was to provide warmth through double layers of fabric. It's a simple pattern that works up easily.
ravelry or kirstenhollowaydesigns
The Lakeside Beanie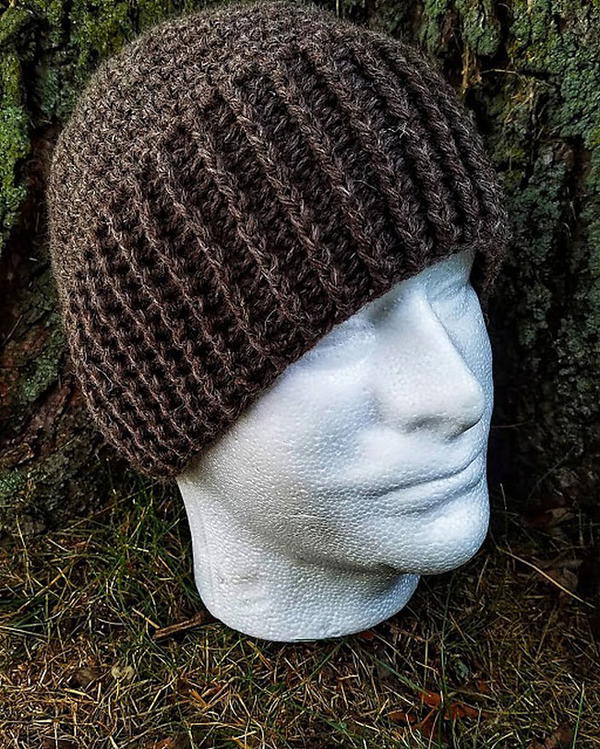 Do you live in a cold area where you have to wear hats in winter but still want to show off your ridiculous sense of style? Introducing the Lakeside Beanie by Urban Outfitters. This beanie will not only protect your head from the cold but also express your personality to everyone around you.
The Lakeside Beanie is a simple beanie with a fun, lacy pattern that is easy to work upon your favorite size hook. This pattern can be adjusted to be as long as you want it to be. If you would rather have a slouchier-type beanie, then use bigger hooks, and if you would like to make a smaller beanie for a child or baby, then use smaller hooks.
Wanderlust Beanie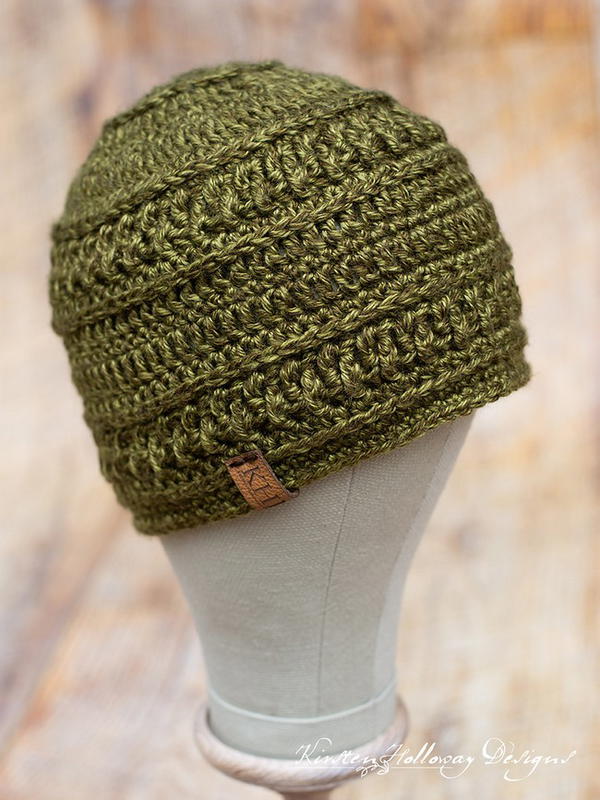 Our Wanderlust Beanie is a lightweight, slouchy beanie hat, made with 100% soft and cozy acrylic yarn. It is perfect for keeping your noggin warm on chilly summer nights as you camp out under the stars, or when communing with nature walks on crisp autumn mornings. Our wanderlust beanie is great for those wild-at-heart individuals who are looking to explore the world, blaze new trails, and travel to distant lands.
Sometimes when you are traveling there are days where it can get chilly. At times, you may need a hat with which to cover your ears and forehead. The Wanderlust Beanie will get the job done.
ravelry or kirstenhollowaydesigns
Two-Tone Beanie For Men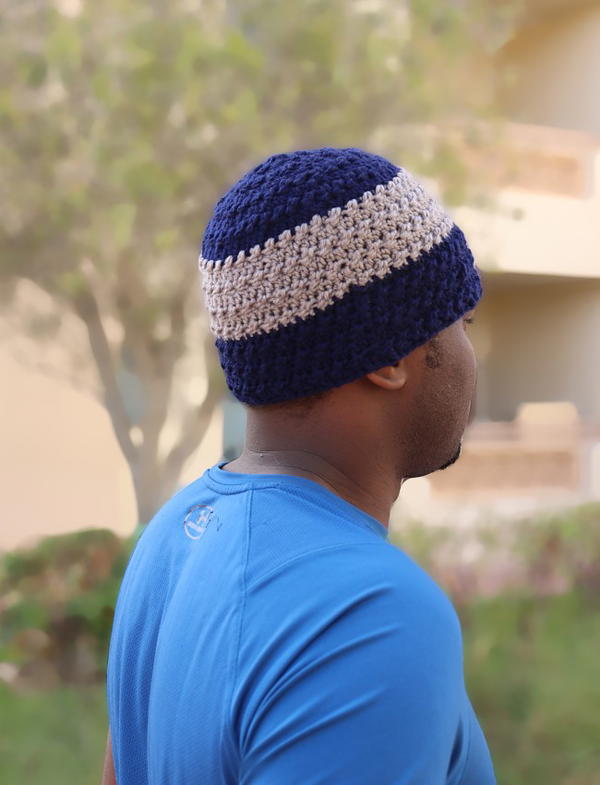 The reversible hat is crocheted in back and forth rounds. The pattern begins with the foundation chain and is worked by alternating rounds of single crochet and half-double crochet stitches. You will end up with a two-tone beanie that works great on casual outings or while hitting the slopes and is simple enough for beginners. A stylish beanie that is seamless, warm, and lovely. It has a simple design that is perfect for both men and women. In addition, it is made with basic stitches thus allowing you to create a subtle yet lovely texture.
Men's Vintage Golf Hat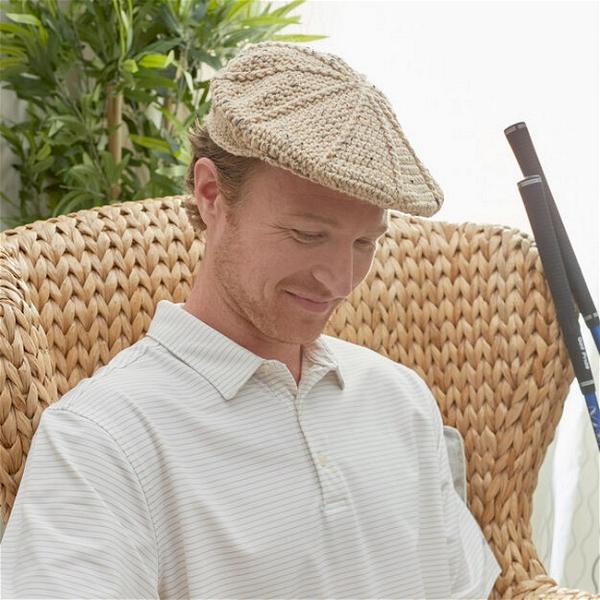 Launch a full-on attack on dandruff with headgear that protects you from the elements and keeps your mane looking it's glistening best! This Golf Hat puts retro looks and protection in one classy package. With soft acrylic fibers and a stitch pattern that hearkens back to the golden age of golf, it has as much style as it has substance It may be made of comfortable, easy-care 100% acrylic fibers, but it is still machine washable The Men's Vintage Golf Hat is great for men who want to look dapper while curtailing an ugly enemy Hair don't care!
Easy Striped Beanie For Men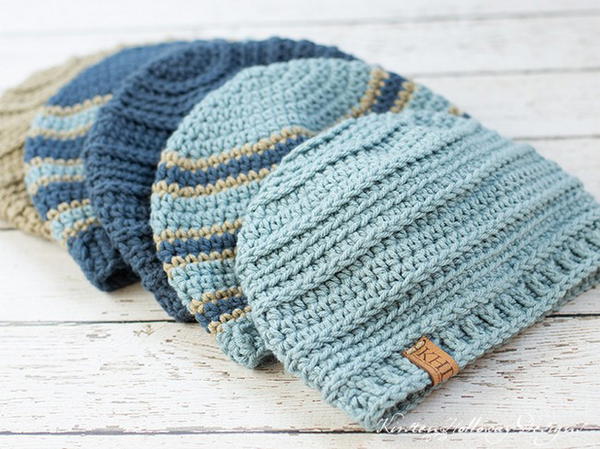 "Comfortable, stylish, and easy to make with your trusty crochet hook." These simple hats will help you get started on the way to gorgeous crocheted gifts − or express your fun or free-spirited self! Easy Striped Beanie is a beginner-friendly pattern that even if you have never crocheted before, this hat will have you looking like a crochet pro in no time!
This crochet hat pattern is simple, stylish, and easy to wear. Make it in your favorite colors or a combination of stripes! Basic beanie patterns are a great way to get started crocheting - they work up quickly, look adorable in any color combination, and have just enough interest to keep the pattern interesting without being too complicated for a beginner.