Need a new way to show your love for coffee, tea, and other beverages? Are you looking for a great gift idea? Check out these crochet mug rug patterns! Looking for something fun and easy? Look beyond these mug rug crocheting patterns, perfect for last-minute gifts! These quick crochet patterns are created using just a few stitches and unique materials to create a one-of-a-kind mug rug. These crochet mug rugs make great housewarming gifts or Christmas presents that your friends and family will treasure forever. These projects are quick and easy, with most requiring only an afternoon to complete. They will liven up a table, dress up a dinner party or make a perfect gift for any occasion.
Easy Crochet Mug Rug Patterns

Mug rugs make it easy to protect your tables or desk at work or school, and they're so cute that sometimes people don't want to use them for their intended purpose! Mug rugs are a great way to use scraps of yarn and other materials from your stash. They're also easy to make and can be a fun way to try out new stitches and techniques. Many mug rug patterns are free, but you can also find excellent paid pattern options for various skill levels. No matter what type of crocheter you are or how much time you have, a mug rug pattern is bound to be perfect for your needs. Here are 25 free crochet mug rugs for you to enjoy working up!
What Is A Mug Rug?
Mug rugs are easy, quick, and fun to make. They are great for using scraps of fabric and making wonderful gifts. These Mug rugs are perfect for using scraps of material when you want to create something beautiful but don't want to spend much time or money on it. They also make great gifts for friends and family members who love quilting.
Why Make A Mug Rug?
If you love to sew and quilt, making mug rugs is a great way to use up extra fabric scraps that would otherwise be thrown away. If you're sewing for charity, they are inexpensive to make and can raise funds for good causes like disaster relief efforts or animal welfare organizations.
Why Are Crochet Mug Rugs So Popular?
Crochet mug rugs are a popular DIY craft. They can be used to decorate your home, make great gifts for friends and family, and even help you to save money on expensive dish rags. Crocheters have been making these mug rugs for decades, but recently they've become more popular than ever, thanks to Pinterest and other social media sites. Why? They're easy to make and use leftover yarn scraps you don't want to throw away. They're a great way to eliminate all those little balls of yarn left over from other projects!
Tools Needed For Mug Rug Patterns
Crocheting a mug rug is a great way to use up scraps of yarn and give your kitchen or bathroom a little bit of style. It's also a fun project you can complete in just a few hours. The following are the tools needed for crocheting mug rugs:
Crochet hook. You'll need one hook size smaller than what is recommended on the yarn label — for example, if your pattern calls for using an H hook, you should use an F hook instead.
Yarn needle. A sharp-pointed needle will help you weave in ends and sew pieces together.
Scissors. These are useful for cutting off excess yarn at the end of each row.
Optional items include acrylic blocking mats, wires, pins, stitch markers, and row counters (if desired).
Stitches And Abbreviations To Know Before You Start
If you need a quick gift or project, these crochet mug rugs are great! They're easy to make and can be customized to fit any style and color. If you are new to crocheting, check out this tutorial on the basic stitches and abbreviations used in this pattern. Stitches and Abbreviations to Know Before You Start:
SC – Single Crochet
DC – Double Crochet
CH – Chain
SL ST – Slip Stitch
Gio Mug Rug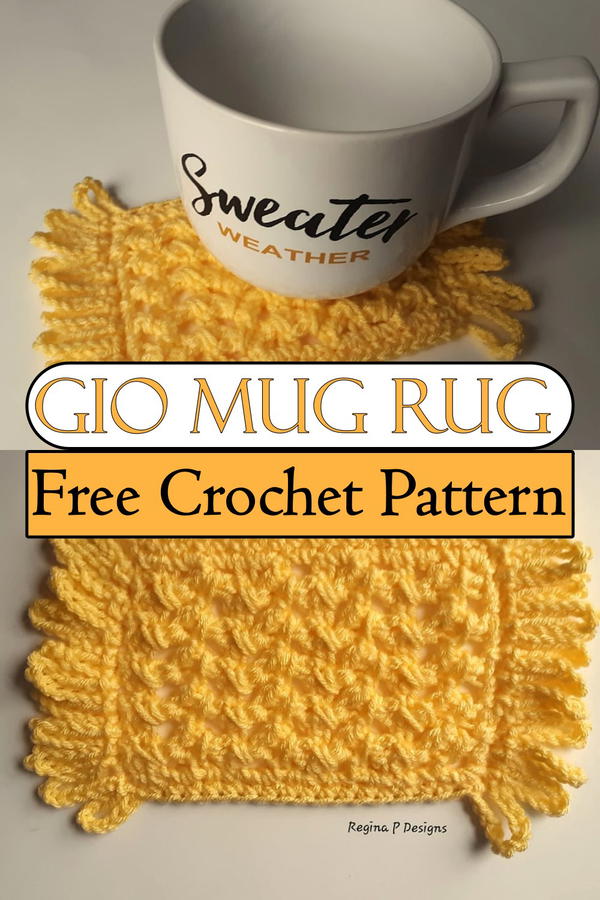 Add some crochet to your morning with our mug rug. This versatile piece is perfect for keeping your coffee hot on a chilly morning with its playful pattern. Keep your favorite mugs cozy with this crochet mug rug. The pattern is written in an easy-to-understand way, and this simple yet decorative accessory makes a sweet gift. This crochet mug rug is perfect for keeping your coffee or tea warm while you relax. It can be used as a runner or coaster and makes a great addition to any room!
Modern Mug Rugs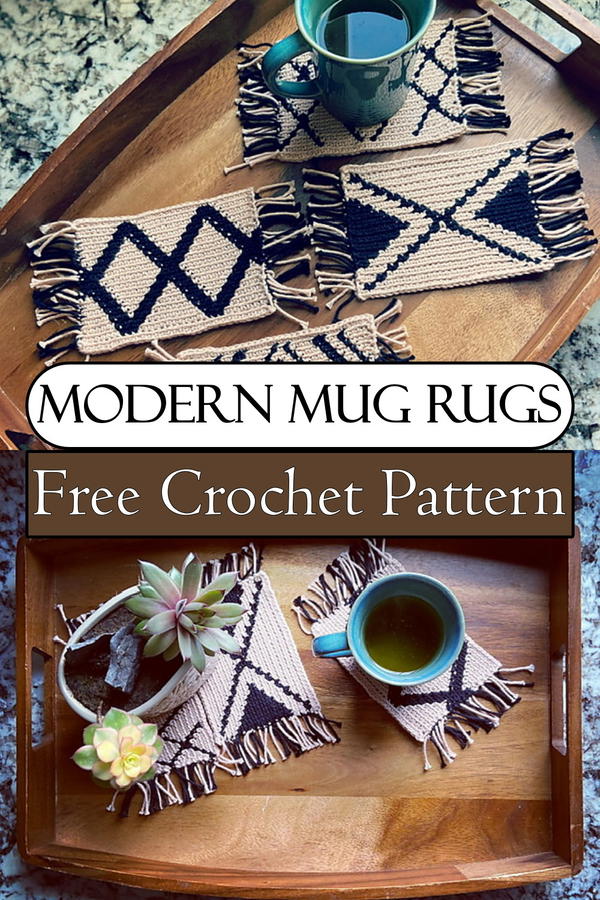 Crochet is back in style, and this contemporary mug rug will add an elegant touch to any kitchen. It's not just a pretty dish but also functional too! It's reversible, making it easy to clean and fold for storage! A mug rug is a perfect addition to any kitchen. It protects your surfaces from coffee, tea, and condensation while adding an extra layer of warmth under your coffee mug to help keep them cozy. Add a dash of style to your morning routine with these mug rugs. Each one is "designed to fit perfectly" in your favorite beverage container's cup holder and is made with a 100% cotton exterior, allowing for easy washing and drying.
Mug Rugs Trio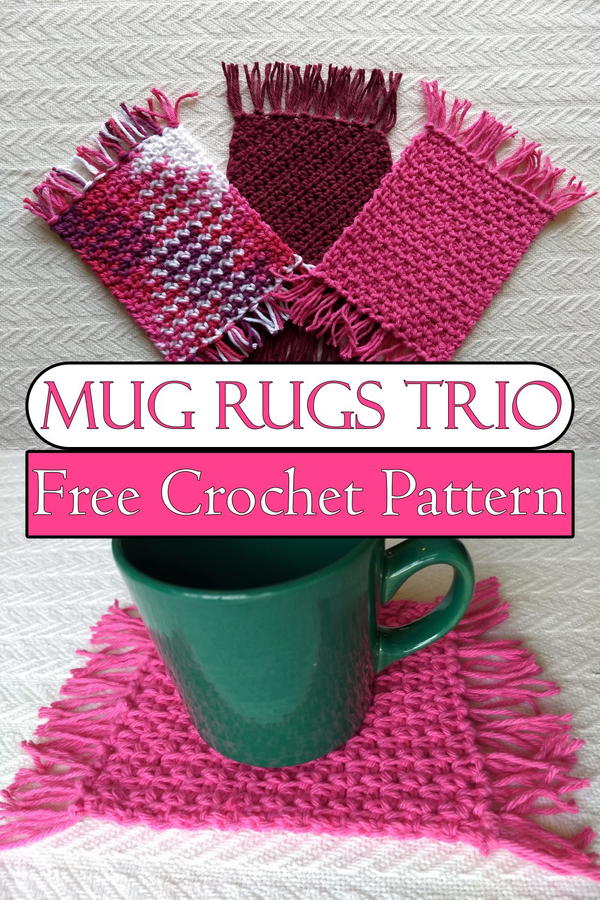 Crochet Mug Rugs are the perfect way to protect your surfaces from hot drinks and spills. With a super absorbent design, they soak up all the moisture while adding instant style to any room. These gorgeous mug rugs don't just look great; they can also be washed in a washing machine so you can keep them looking as good as new. This trio of crochet mug rugs is a great gift idea any time of the year. They are worked in worsted-weight yarn and will fit in most coffee mugs, travel mugs, and even soups cups. They make great gifts for family and friends of all ages.
Pretty In Gingham Mug Rug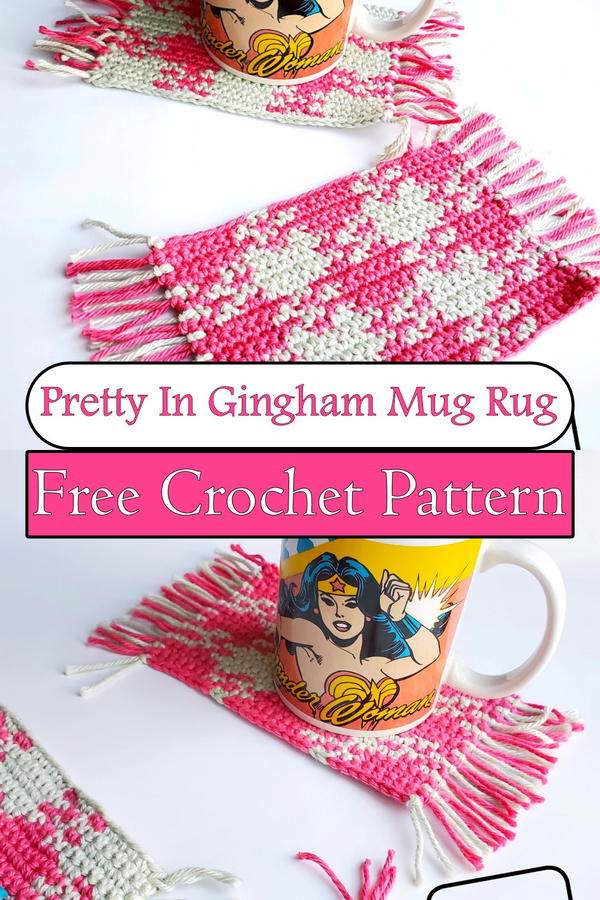 Knit up this mug rug in no time! This pretty mug rug quickly stitches using Bernat Pipsqueak yarn and a simple, easy-to-follow pattern. The crocheted border completes the look of this cozy little crochet piece. Pretty as a picture, this mug rug is the perfect size for your morning coffee or tea. It's also fantastic to add some handmade decor to your kitchen! The pattern comes complete with easy-to-follow instructions and a helpful photo tutorial to walk you through each step.
Monstera Leaf Crochet Mug Rug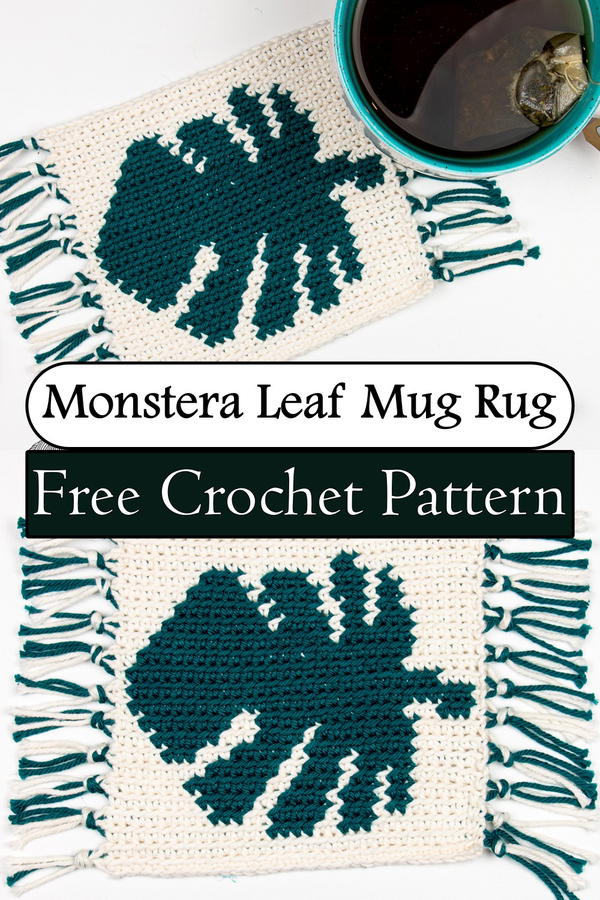 This Crochet Monstera Leaf Mug Rug makes the perfect gift for any occasion and is a pretty addition to any home. It's easy to make this crochet Monstera Leaf Mug Rug and give your kitchen or table a little bit of green. The Crochet Monstera Leaf Mug Rug has a big impact; it covers many surface areas and perfectly shows off your favorite colors. This mug rug was made using Monstera leaf crochet stitch. It's the perfect addition to your kitchen decor. It works great as a regular-size mug rug, large enough to hold most coffee cups and glasses or small enough to fit on top of larger mugs.
It's Coffee Time Crochet Mug Rug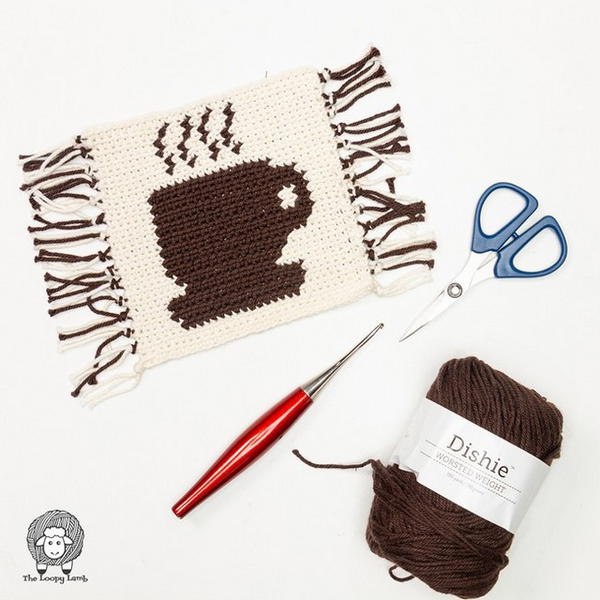 A lovely mug rug is perfect for keeping your mug warm and comfortable on the table. The pattern is simple, using only double crochet and chain stitch. This is a fun project and makes the perfect gift for any coffee lover! This mug rug makes a great gift for the coffee lover in your life. The easy-to-crochet pattern features a coffee cup, sugar, and creamer, along with fluffy whipped cream on top. This is perfect for those who prefer their coffee black or for that special morning you want to treat yourself!
Magnolia Springs Mug Rug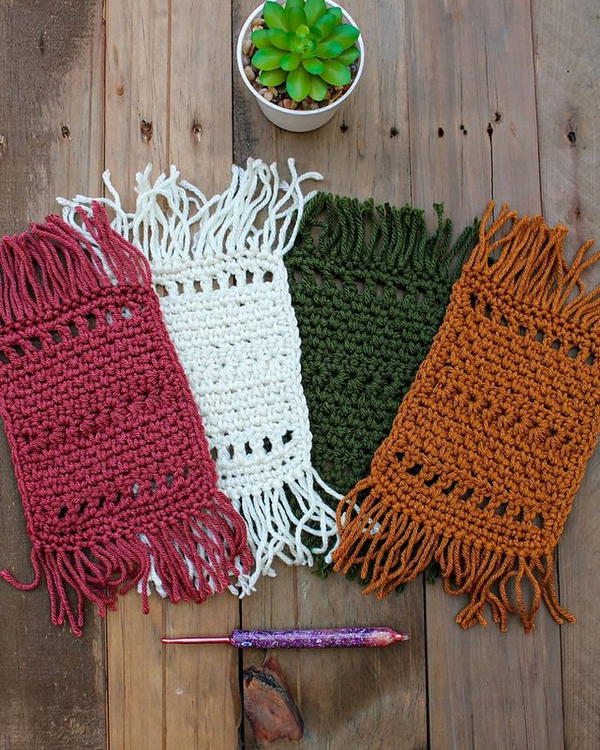 The Crochet Magnolia Springs Mug Rug is perfect for your kitchen decor! This mug rug uses "popcorn" stitches, so it's pretty and functional, protecting your table and keeping your drink warm. It's soft and thick enough to absorb heat but thin enough that the surface won't affect your coffee's flavor. This beautiful crochet mug rug is soft and cozy, perfect to use while you sip your favorite hot beverage. Perfect to use at home or give as a gift!
Barbed Mug Rug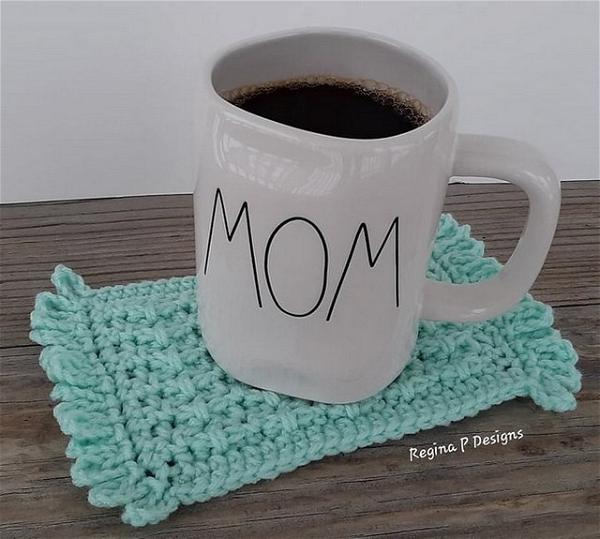 This Crochet Barbed Mug Rug is made with cotton yarn, so it will dry quickly if it gets wet. It comes in many colors and is nice and soft. It has an edging to prevent slippage on the table, can be used as a trivet or drink coaster, or decorate your coffee cup to show off how much of a crocheter you are. Keep your coffee hot and hands cool with the crochet Barbed Mug Rug. This rug is reversible, so you can use it to keep your drinks warm, or its heat-protecting properties to prevent chills while drinking cold beverages. The rug has a unique design that makes it ideal for placing on any table or desktop to catch condensation, spills, and other messes. It can even double as a trivet when needed.
Square Heart Mug Rug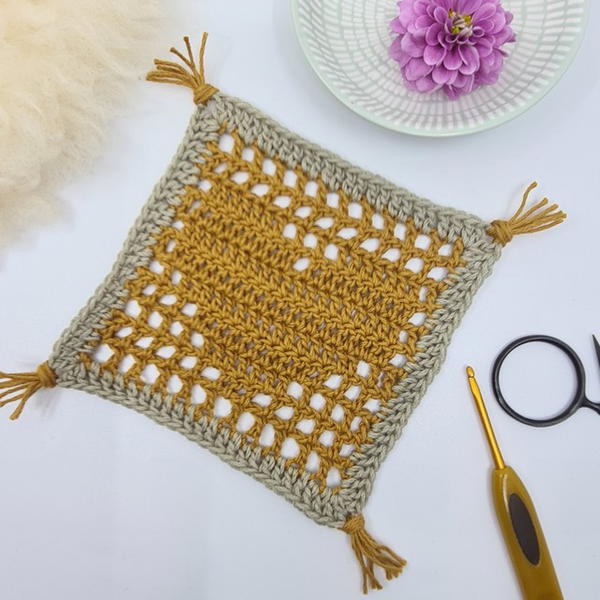 Make your morning coffee that much better with this mug rug. It's the perfect gift for the coffee lovers in your life. Plus, you don't have to worry about keeping it clean as it is machine washable! Crochet mug rug to use as a coaster or washcloth. This mug rug has a pretty design and is soft to the touch. The pattern is given for the front and back of your mug rug. This can be completed in an evening for yourself or as a gift. It is not just a seasonal item but can be made year-round!
Happy Crab Crochet Mug Rug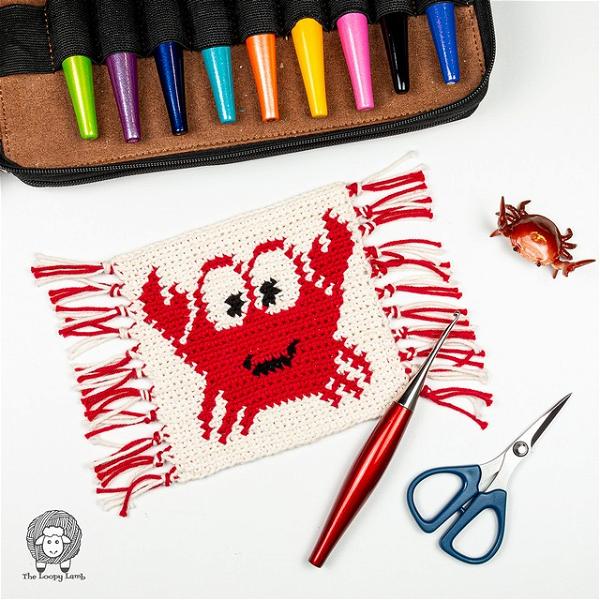 This cute and cozy mug rug features a crab. It's perfect for keeping your drink warm, especially in winter! Make this crab mug rug for your favorite hostess, friend, or family member. The happy crab mug rug pattern is easy to follow and comes with instructions, a materials list, and special notes section. This beautifully crafted crochet mug rug will protect your mug. Made with cotton yarn, it will last for years and only improve with age. This is a great gift for yourself or anyone who loves a happy crab!
Mosaic Mug Rug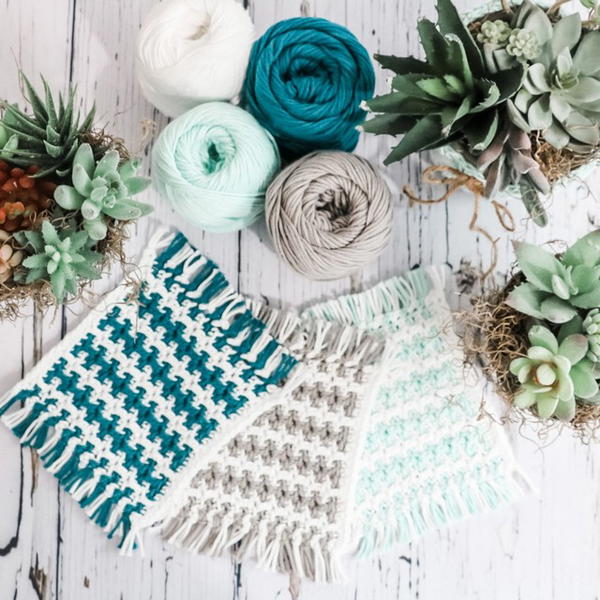 Crochet this mug rug and make your morning coffee more beautiful! This crochet mosaic mug rug is a quick project that works in the afternoon. Perfect for giving as a gift or using yourself. This mug rug is great for any kitchen! This simple crochet pattern uses only single, half-double, and granny clusters to create a beautiful mosaic design. The mug rug can also be used as a placemat, trivet, or potholder. This mug rug is the perfect way to dress up your coffee mug. It's also great for use as a trivet, hot pad, or coaster when it's time for someone to sit down and enjoy a drink.
The Penelope Mug Rug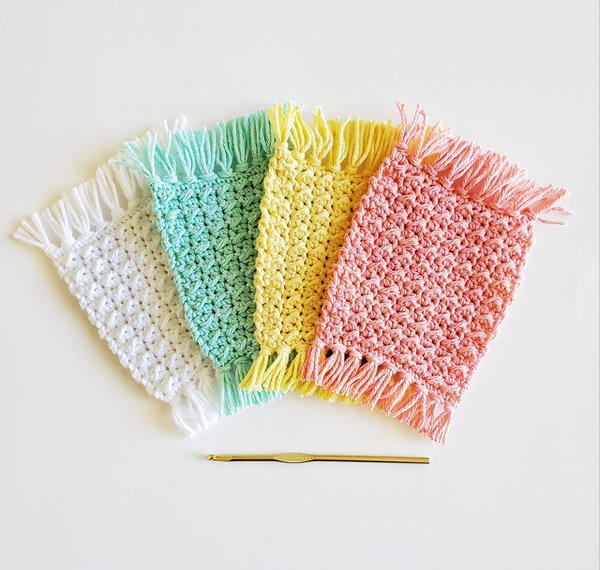 The Penelope Mug Rug is the perfect crochet project for beginners. This easy-to-follow tutorial pattern will teach you the basics of single-crochet stitches and make your first mug rug. This versatile pattern also includes a handy chart to help you add as many repeats as possible to create your own custom size! This crochet mug rug is the perfect way to add fun to your morning! The Penelope Mug Rug pattern is simple yet effective and will keep your coffee warm while adding color and style. It's quick to make, too: this little project is completely yours in just a few hours!
The Addison Mug Rug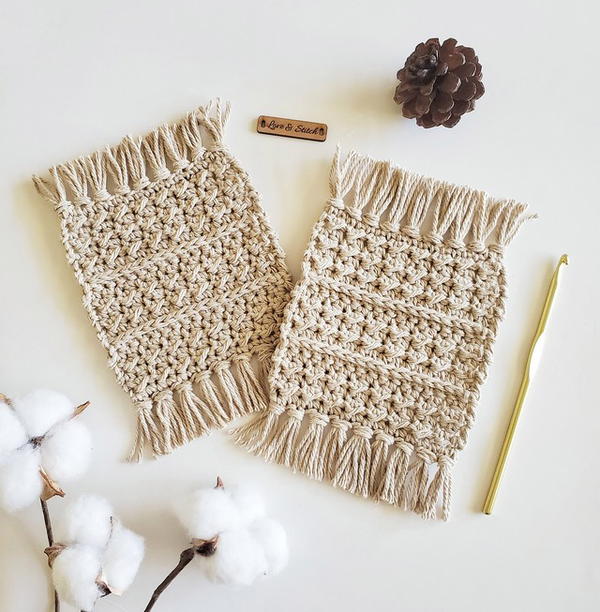 Add some character to your kitchen with The Addison Mug Rugs. These designs have a retro feel and will add a pop of color to any room. Their clean and linear design makes them versatile, so you can use them on your coffee table or hang them on the wall. Crochet, The Addison Mug Rugs are a great way to add comfort and style to your home. These can be made from many types of yarn, making them perfect for beginners. Use these as accent pieces and show off your crochet skills.
Cute Pumpkins Mug Rugs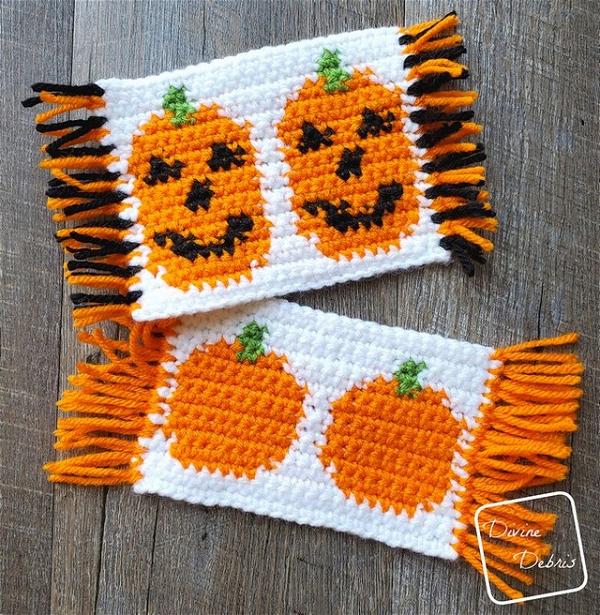 The perfect gift for your mom, grandmother, or just for yourself! These cute pumpkins will keep your coffee warm longer. Your kitchen just now got the perfect arrangement with this lovely mug rug. This crochet pumpkin pattern comes with a beautiful stitch that looks good and gives a lovely texture to your sink or counter. Add some charm to your morning rituals with these creative and useful designs. Do not wait to fill the room with laughter and share the love with friends and family.
Learn To Crochet Mug Rug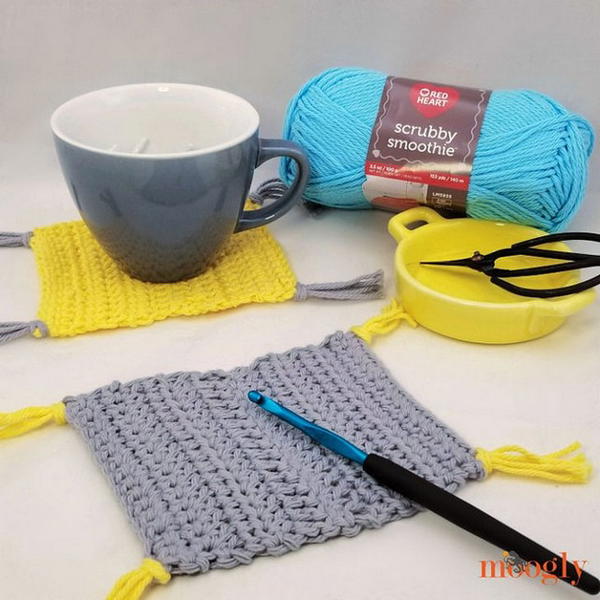 This mug rug is made of acrylic yarn and will teach you how to crochet in the round. Simple stitches and clear instructions make this the perfect beginner project for those new to crochet. You'll love this crochet mug rug, which makes a great gift for yourself or your favorite crocheter! Made from acrylic yarn, it features a beautiful scallop edging and is super easy to care for. The crochet mug rug pattern is a fun and easy project, perfect for beginners! This project will keep you warm while your coffee stays hot.
Monogram Coaster Mug Rug Set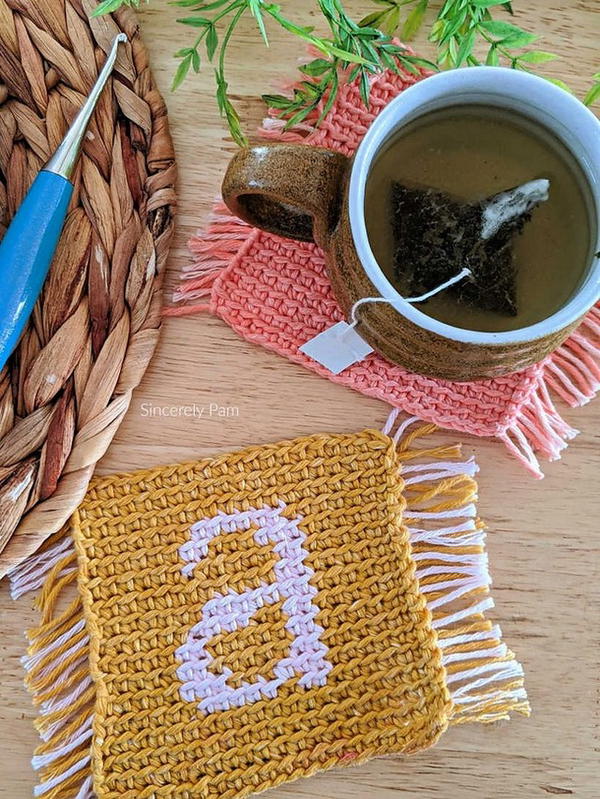 Enjoy your morning coffee or tea with a set of friendly coasters! The letters on the top and bottom of these coaster mug rugs are made with slip stitches so that your mug won't scratch. Each coaster measures about 4" in diameter, making them perfect for just about every type of cup. If you are looking for a gift for a friend who loves cozy knits, this is it! Add to their collection of gifts, or make one for yourself! The crochet Monogram Coaster Mug Rug Set is the perfect addition to your home. Add these over the holiday season or accent your coffee table; they will be a great conversation starter with guests. This set makes a great gift too!
Linen Stitch Mug Rug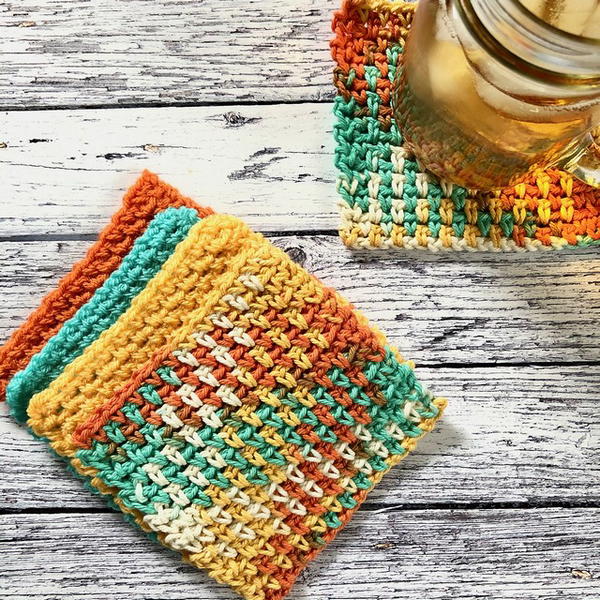 Create a beautiful silk-like mug rug with the crochet linen stitch. This dash of texture adds one or more chains to traditional single crochets, creating an almost lacy effect. This stitch is fun and easy to do and would be a great addition to any home. Designed specifically for your favorite mugs, this mug rug will help protect your table and make sure that no water stains are left behind on your furniture. The stitch creates a textured, basketweave look that is great for this project! A super-quick and satisfying crochet project for an afternoon or evening, it does an excellent project to give as a gift.
Caia Mug Rug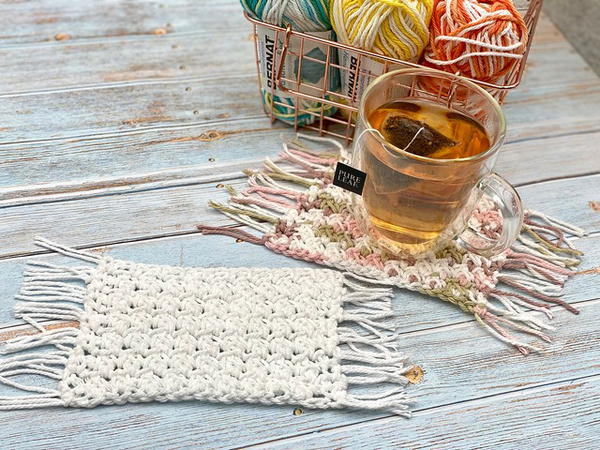 The colorful crochet mug rug features a cable design and adds a touch of color to your kitchen counter or table. This versatile gift can be used as a coaster or trivet, keeping hot items from directly touching your furniture while adding a splash of color. It's easy to clean and care for, too! A mug rug is a perfect way to embellish your favorite ceramic mug. This crochet caia mug rug has all of the best features: thick yet soft material with a subtle fringe that keeps it from sliding around and adding a pop of color to warm up any room.
Apache Tears Mug Rug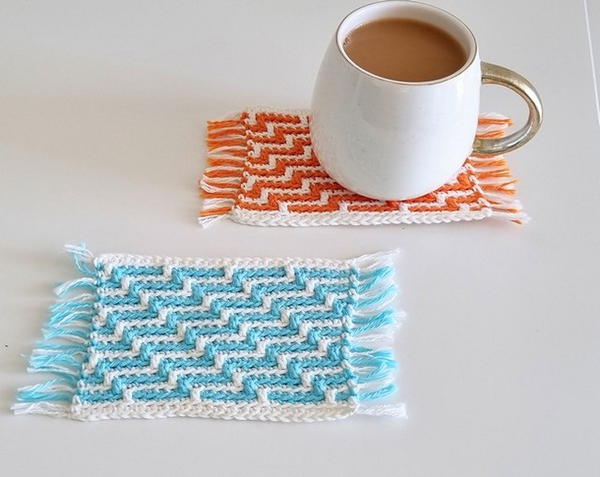 A crochet mug rug with a beautiful and unique design will become one of your favorite home decor pieces. A functional piece that can be used as a coaster or hot pad, this mug rug is also great for covering bowls and trays. It makes a perfect gift for anyone who enjoys crochet projects and the freedom of crocheting without having to follow a pattern. This mug rug is quick and easy to crochet! You can make it in one day, leaving plenty of time to enjoy your morning coffee or tea. It's also ideal for giving as a housewarming present or holiday present.
Mug Rug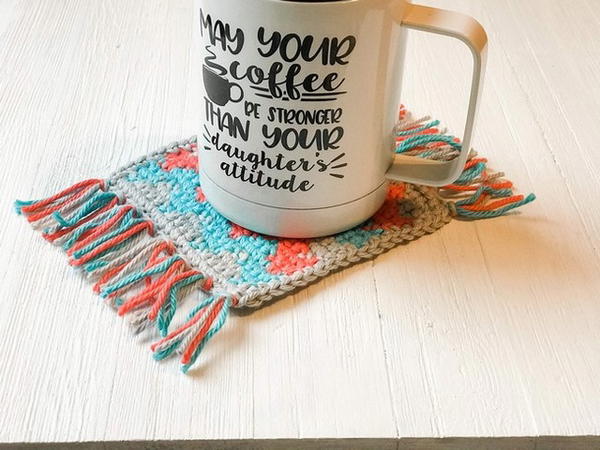 Mug rugs are a great addition to your kitchen accessories. Using a mug rug is a great way to absorb leftover liquids in the bottom of your favorite cup or mug. This mug rug works with cotton yarn and any other type of yarn. This crochet mug rug is perfect for keeping your favorite beverage hot or cold. It fits a standard coffee cup nicely on a coaster to keep your table clean. Add some sunshine to your morning with this bright yellow mug rug!
Mosaic Crochet Mug Rug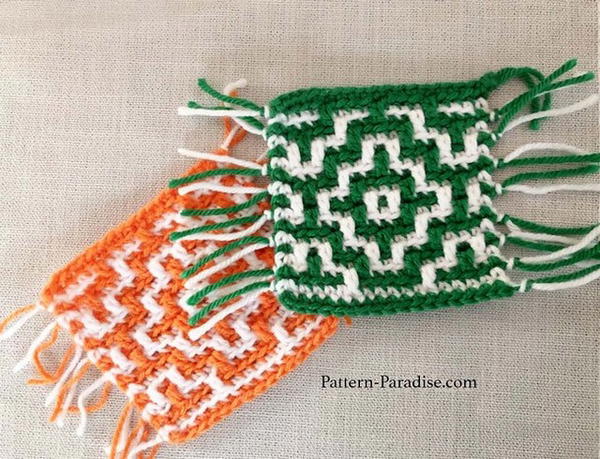 Crochet a mug rug with this easy-to-follow pattern. The mosaic crochet pattern is fun and quick to make and will have you wanting to crochet more as you go along. This mug rug can hold hot beverages without worrying about burning your hands while drinking. This mug rug works from a mosaic of colorful squares, making it extra special. Indulge your inner crafter with this easy-to-crochet pattern that comes together quickly and makes for a welcomed gift for family and friends.
It's Fall Mug Rug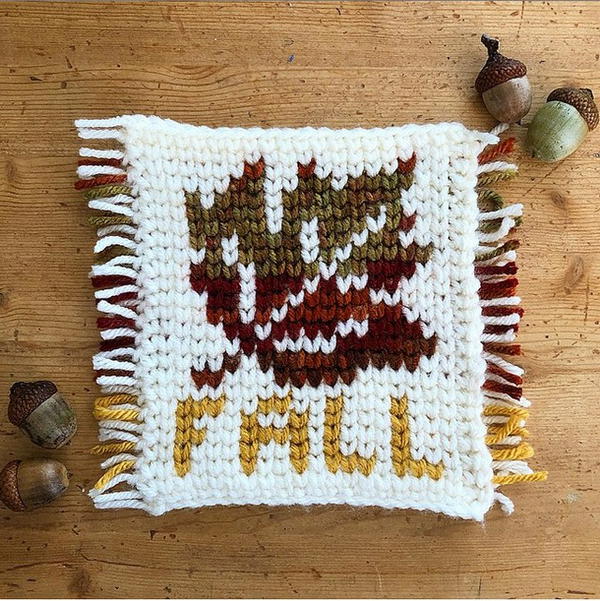 Show your love for fall with this crochet mug rug that is easy to make and functional. The Crochet, It's Fall Mug Rug combines crochet and craft. This mug rug makes the perfect gift for anyone who enjoys both crafts. The crochet rugs look as great in any room as on your coffee table, end table, or anywhere else you want to put them! This mug rug is a soft, chunky yarn that feels great against your skin. It's easy enough for anyone to finish despite its cute shape and pretty details, but still, a great gift because who doesn't love fall?!
Simple Mug Rug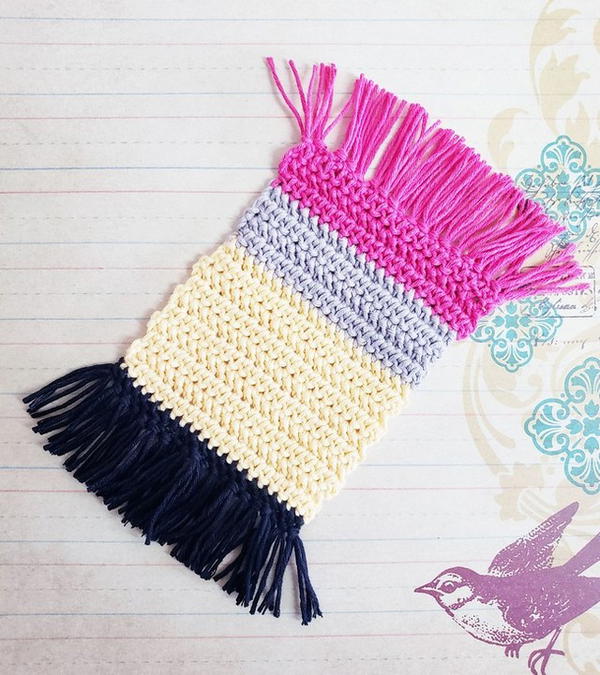 A simple mug rug to fit your favorite coffee mug. This will help keep your hands dry while drinking and adds a little style to your breakfast table. Made using only single crochet stitches, this is an easy project for any beginner crocheter. The Crochet Simple Mug Rug is a great crochet project for crafters of all skill levels. The pattern is easy to follow and makes a quick, fun project! With this mug rug, you can create your unique look by using whatever colors you like. This mug rug (the perfect size for a coffee mug) makes sense. The bright colorway will add a little flair to your morning and make your mug look stylish.
Magic Mug Rug
A mug rug made from the same crochet stitches as your favorite crochet blanket. This is a great way to display your favorite coffee mug or tea cup while also having something soft that you can use on your lap or desk. It's also super easy! You don't have to know how to read a graph or do complex color changes to make this cute and useful accessory. Crochet Magic Mug Rug is a great addition to any kitchen or office. With a simple single crochet stitch, you can crochet this coaster in minutes and make a beautiful rug. The mug rug can use as a coaster for different-sized mugs and cups. This quick project's versatility makes it a go-to gift for sitting on your friends' tables or celebrating holidays at home.
Pumpkin Mug Rug Crochet Coaster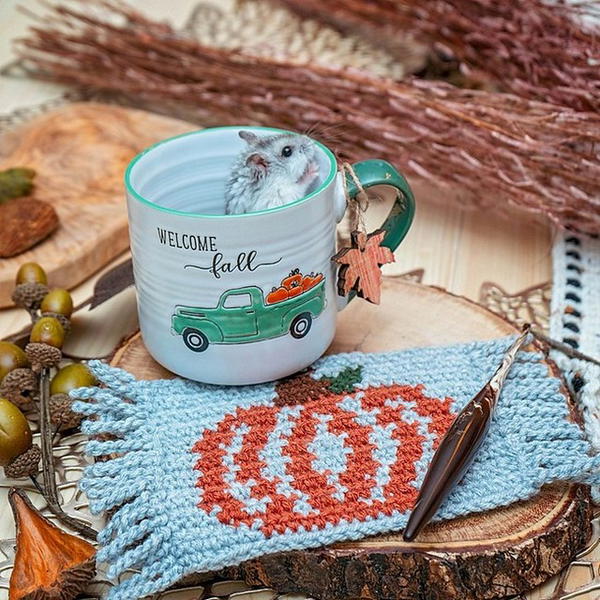 Crochet this mug rug using bulky wool like The Woolery's Chunky Wool. It will be your favorite crochet coaster to show off at the kitchen counter, on your desk at work, or while reading in bed on a chilly evening. This crochet coaster is the perfect finishing touch to your Thanksgiving decor. This colorful and festive pumpkin mug rug will greatly add to any fall or Halloween decoration. It's easy enough for the beginner and fun for experienced crocheters!