Are you a piggy lover? Or have someone in your life who is a piggy fanatic? Or maybe you're just looking for a few more crochet patterns to add to your collection. Whatever the case, you'll find adorable crochet pig patterns that are just right for you! From tiny piglets to giant pigs and everything in between, there are patterns here to suit every occasion. From Christmas to Easter and birthdays, there is sure to be something here that will be loved by everyone. You'll even find some super cute accessories that are great for pig lovers!  They range from easy to advance levels. Some of them are perfect for beginners and some of them are perfect for advanced crocheters. Crochet these projects as gifts to your loved ones or make them as room décor!
Crochet Pig Patterns

This collection of 25 crochet pig patterns will surely inspire you. Whether you are a beginner or an experienced crocheter, there is something for everyone here. What's more? These little amigurumi pigs make great gifts for kids. You can also gift these adorable crochet pigs to an expecting mother or your friend who loves animals. They can be used as decorative pieces as well which makes them a great addition to your home décor. Different types of yarn are used in these patterns while some use acrylic yarn and others use mercerized cotton yarn. However, you can always substitute the yarn with any other type that suits your needs perfectly and matches the colour scheme as well.
Featuring adorable animals, captivating accessories, and more, these 25 crochet pig patterns are sure to delight even the pickiest of pet lovers.
Uses of Crochet Pig Patterns
Crochet pig patterns are used in toys and in decorative pieces.
Crochet pig patterns are also used as home décor items.
You can use crochet pig patterns to crochet a scarf, coat, or blanket.
Crochet pig patterns can be used as gifts.
They can be used as amigurumi.
Crochet pig patterns are perfect for gift baskets.
Crochet pig patterns are great for kids.
They can easily be customized.
They are easy to make and look adorable.
Things To Be kept In Mind while Crocheting Pig Patterns
As you crochet pig patterns, there are a few things to keep in mind. First, you'll need to choose the correct hook for your yarn. The hook size should correspond roughly with the weight of your yarn. Your pig will be smaller if you use a smaller hook, and larger if you use a larger hook.
A general rule of thumb is that the hook size should be equal to or smaller than the number shown on the ball band of your yarn. For example, if you're using an 8-ounce skein of yarn, your hook should be an 8 or smaller.
When crocheting pig patterns, always make sure your stitch gauge is consistent. If you have too many stitches per inch (PPI) on one part of your pig, such as the ears or snout, you may need to change to a larger or smaller hook to even out the stitches. Conversely, if you have too few stitches per inch (PPI), consider going down a hook size.
The ultimate goal is to end up with an even fabric so that the stuffing doesn't show through and the pig can stand upright without toppling over!
Paisley The Pig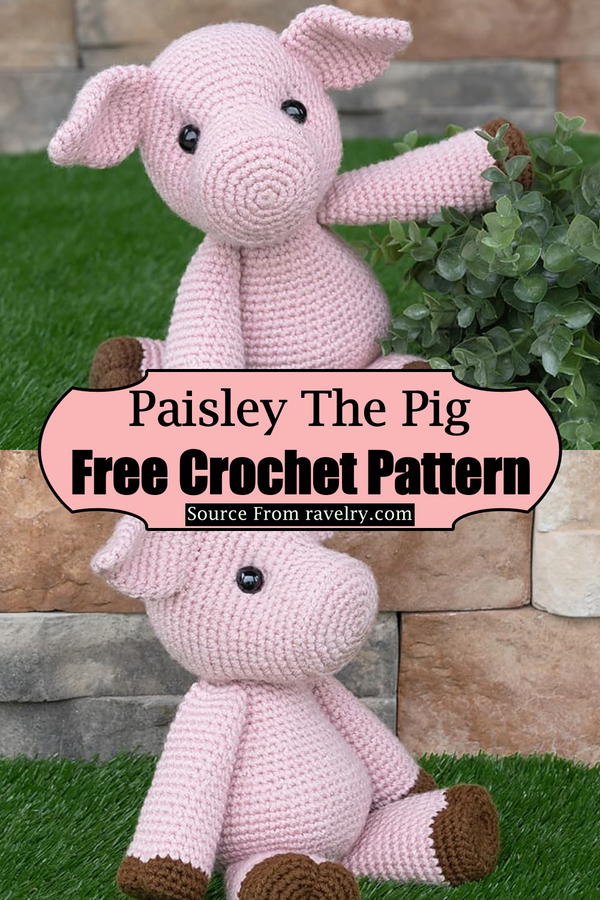 Longing for the down-home life of Paisley the pig? Well, forget about actually moving to the country, and just bring home this plush version of your favorite barn buddy. The soft polyester and cotton construction is perfect for snuggling up with an honest-to-goodness country feel. This quirky pink pig is cute to look at and perfect to cuddle! Give Paisley a squeeze and she oinks. Her soft, squishy plush body is perfect for playing at the beach or in your bed. The Crochet Pig is a super soft and cuddly plush that's the perfect size for snuggling on the couch and bringing along on adventures! she loves long naps, tasty apples, and mud baths almost as much as you'll love her.
No Sew Scrap Pig Amigurumi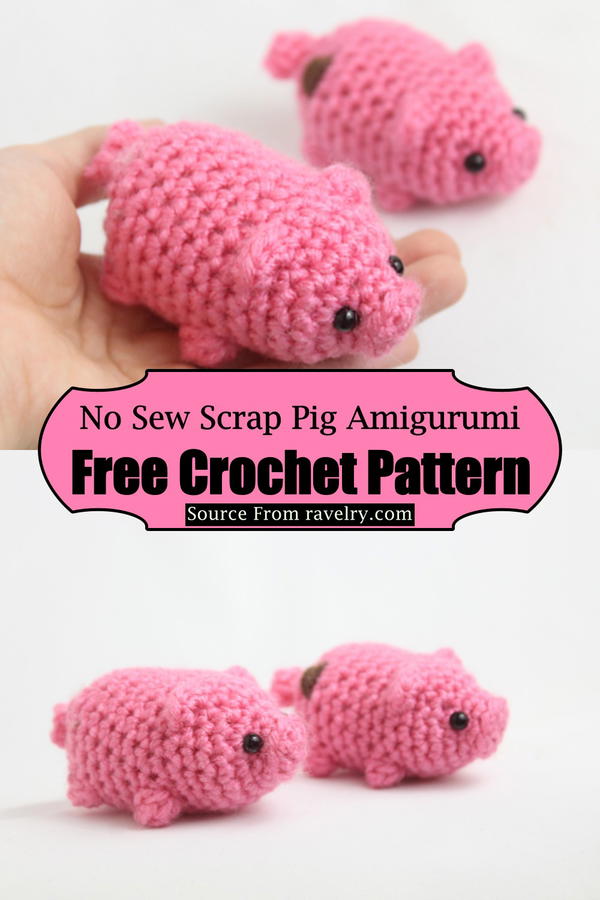 Get ready to make a fun, super quick project that is great for beginners and experts alike! With unique crochet hook and no-sew technique, you can make this little piggy in an afternoon. Make a sweet little amigurumi pig with this no-sew pattern! The head and body are made in one piece, with special stitches for the ears and arms. This pattern is great for those who are new to amigurumi because it's quick and easy—you'll likely make one, two, or more!
Pig Potholder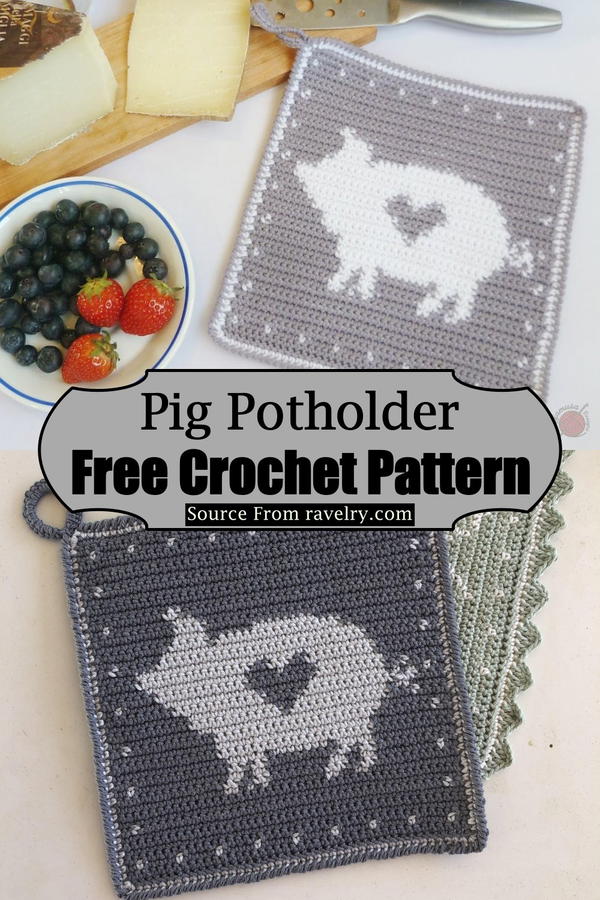 Need some extra help in the kitchen? This Pig Potholder will make sure you never forget just how hot that skillet handle maybe. A must-have for taking dishes out of the oven or even removing lids from your pots, it's made by hand with heat-resistant cotton that helps protect your hands — and your cooking — from harm. Bring some personality to your kitchen with this spirited potholder featuring a cheerful pig and simple crochet details. This awesome potholder is part of the Farmhouse Collection of tapestry crochet potholders. Made in tapestry crochet, this potholder is compact and doesn't have any holes in it, making it very functional.
Flip Flop Pig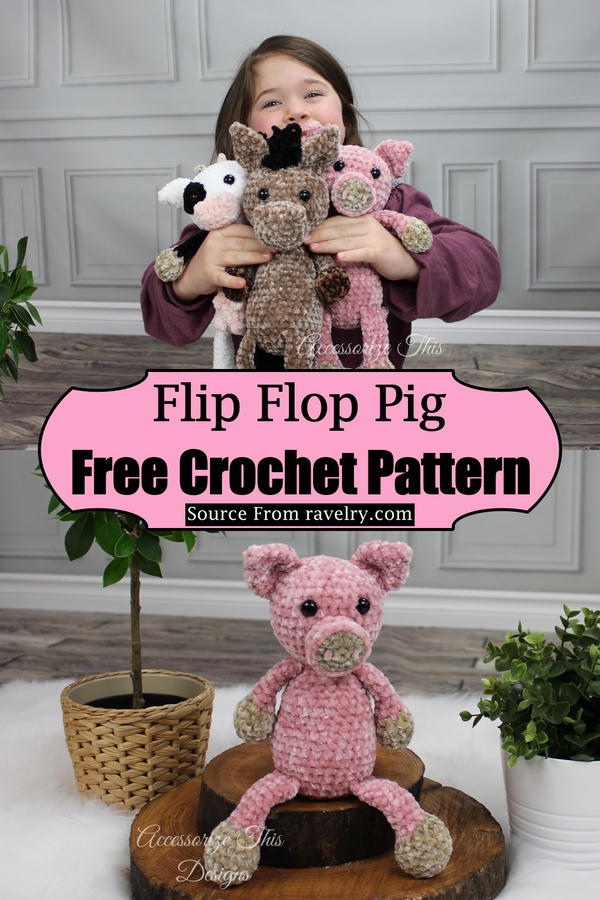 This is the perfect Pig for all the little piggies in your life. Whether at a beach, a campfire or just hanging out by the backyard grill this Flip Flop Pig will make everyone smile. This adorable crochet pig is a really fun gift to make. Perfect for you or the little one in life, just follow these easy-to-understand steps and create something that is sure to be loved forever. The pig features an adorable smile. It is perfect for setting on the couch for a day of relaxing with the kids, or as a bedtime book buddy.
Guinea Pig Amigurumi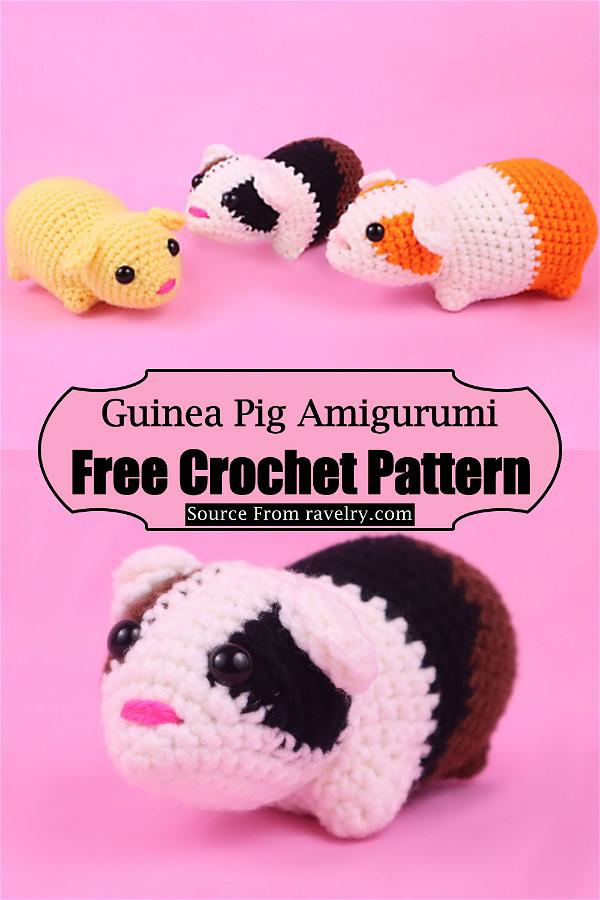 No matter if you're a kid or a kid at heart, this guinea pig is sure to win your heart. It's soft and cozy, yet durable and cuddly – everything needed to make a perfect play pal. Crocheted from 100% acrylic yarn, this sweet little toy makes a great birthday present or stocking stuffer for any animal lover and is made with care down to the last detail. This adorable little guinea pig can serve as the perfect gift for an animal lover. This cute guinea pig is hand-crocheted with attention to detail, making a great gift for someone who has already got everything. It would be a great addition to any home decor or baby's nursery.
Little Pig With Bucket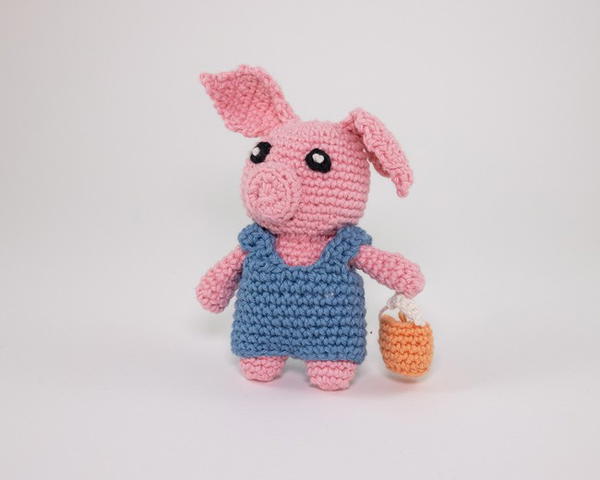 This adorable little pig will love to be your friend. We love dolls. These adorable handmade crochet dolls are made with super-soft cotton yarn, and they make a perfect gift. They will arrive wrapped in tissue paper and tied with ribbon, ready to give to the new owner. This little pig is denim blue with pink accents, a pair of overalls, and suspenders. He carries an orange bucket that he can sit on, ready to place wherever you need a cheerful companion. He makes the perfect gift for that special someone who likes a bit of whimsy in their life.
Mini Pig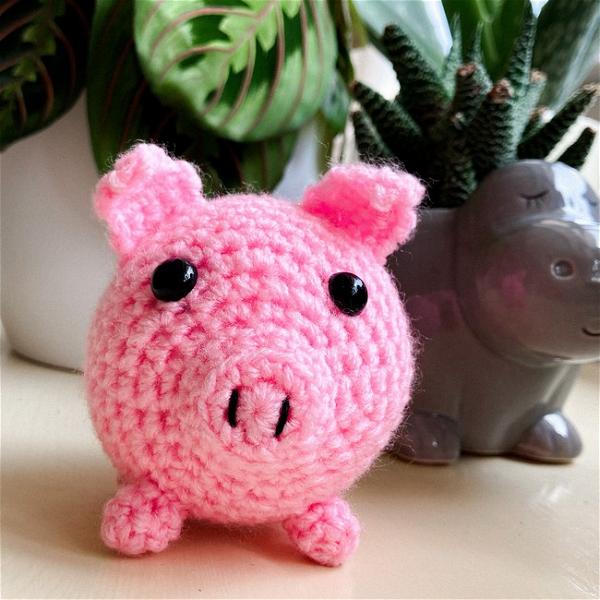 Fun and easy amigurumi crochet pattern for a tiny miniature pig. Beginner crochet! This pig is a fun and easy project. Make a pink one or one in any color you choose. A couple of these make great gift toppers or save them for decorating your own gifts. These are also perfect for scrap yarns and make great instant gratification projects!  This pattern uses basic stitches and is worked in continuous rounds; no need to join at the end of each round. You can make this cute little pig in less than an hour with this easy pattern. This is a fun crochet pattern for a small pig, just 3" tall when completed. This little pig would love to join your family.
Plorp the Pig Amigurumi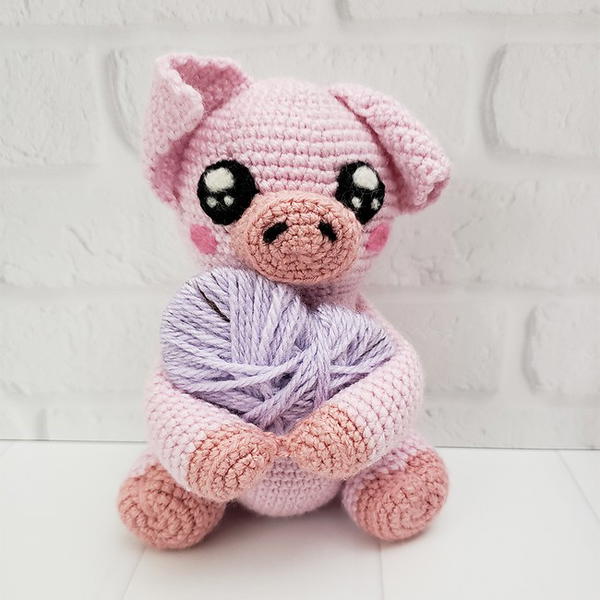 Do you have a little one who loves to hug stuffed animals? Add some magical friends to her collection with this crochet Plorp the Pig amigurumi. The pattern is easy enough for advanced beginners to make, and is worked in rounds, with no sewing pieces together. It's a great project for beginning crocheters looking to take their skills to the next level. Amigurumi and other softies are the perfect handmade gift for children and adults alike. This adorably cute pig amigurumi pattern is great for crocheters of any skill level. Perfect to wrap around a present or give as a gift by itself - Plorp the Pig Amigurumi is sure to make you smile!
Amigurumi Pig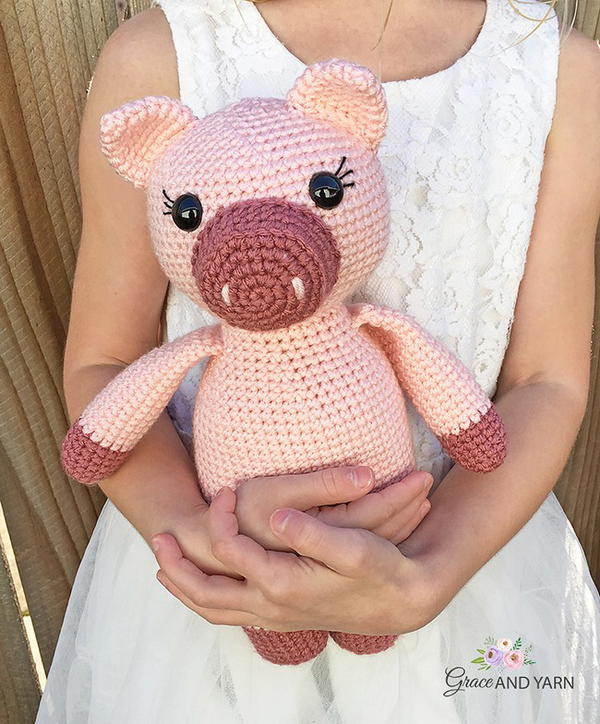 Creating your own amigurumi pig is a fabulous way to spend the day! With this easy-to-follow pattern and some yarn and a hook, you'll soon have cuddly friends for everyone in the family. This pattern is worked in the round with the legs and body as one piece, so make sure you're familiar with this technique before starting. Perfect for the farm or for a new friend, get ready to meet your new favorite pig. Worked in the round from nose to tail, this little cutie is a fun and quick project that is great for gift giving. Make them all year long with our specially selected yarn shades!
Olive The Pig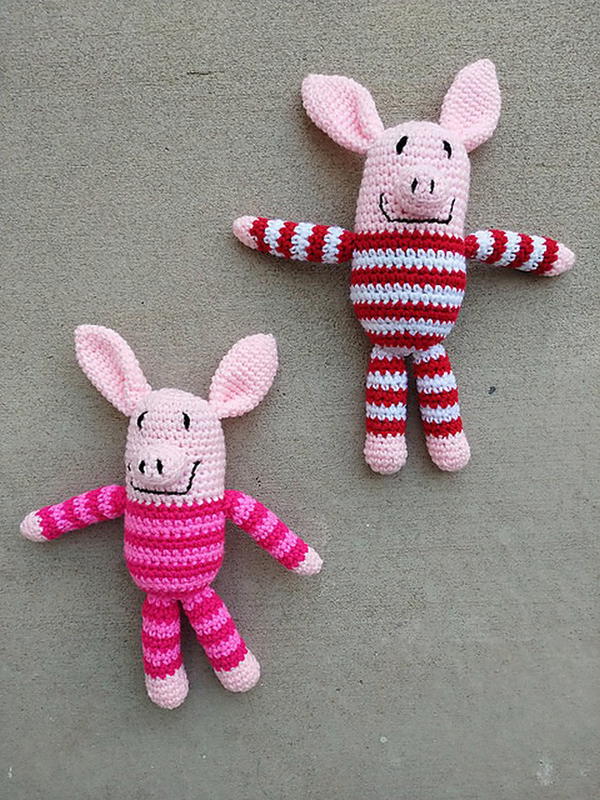 Crochet Olive The Pig Toy, crochet toy pattern. With simple shaping and minimal sewing, this little pig plush will capture lots of hearts! This amigurumi crochet toy is perfect for small hands. It is an easy pattern, suitable for beginners. It is a quick and easy project that makes a great gift for kids of all ages. Get creative using as many or few colors as you like with stripes or change up the pajama color to match your child's favorite color.
Mini Amigurumi Pig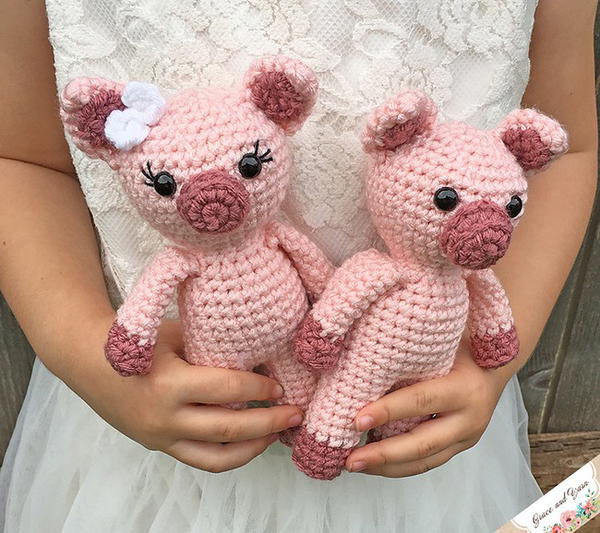 This mini crochet pig would make an adorable gift for kids of all ages! Kids big and small can be busy for hours playing with these mini bean bag animals and will definitely love taking them along with you on the go. This tiny swine is great for using up scrap yarn, and makes a perfect addition to any child's toy box as well. Create your own mini stuffed pig with this easy-to-follow pattern! Using the yarn and hook specified in the pattern, these cute little piggies measure about 7 inches tall, making them a super fast make and great toy for both children and adults. The legs and body are made as one piece to cut down on sewing.
Chinese New Year Pig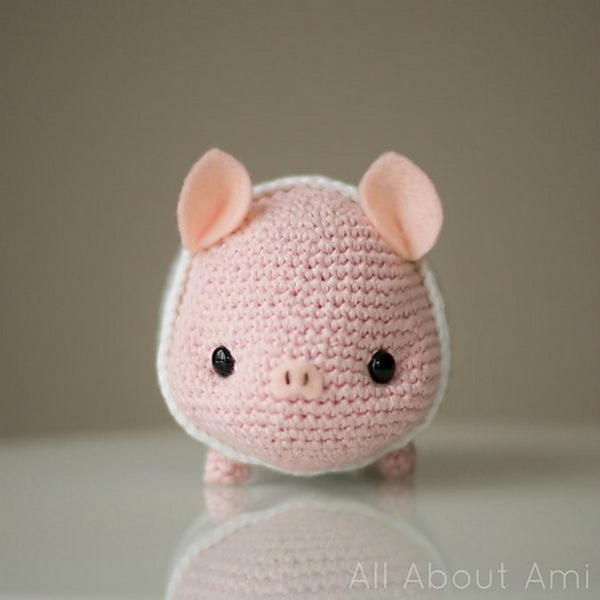 Get ready for next year's Chinese New Year by crocheting your own cute little pig! Instead of using needle felting and appliqué, this adorable pig sports a new technique called eye indentation to give his face a wonderful definition. He also has a curly little tail, protruding cheeks, and an adorable snout. With a pattern like this, you are sure to get the most compliments on all of your crochet animals! Crochet the perfect gift for your favorite Pig lover! This sweet little guy would display nicely in a child's bedroom, be a welcome addition to nursery decor, or even be used as a bookend or shelf-sitter! He is sure to bring a smile with his curly little tail, protruding cheeks, and adorable snout.
Piglet The Pig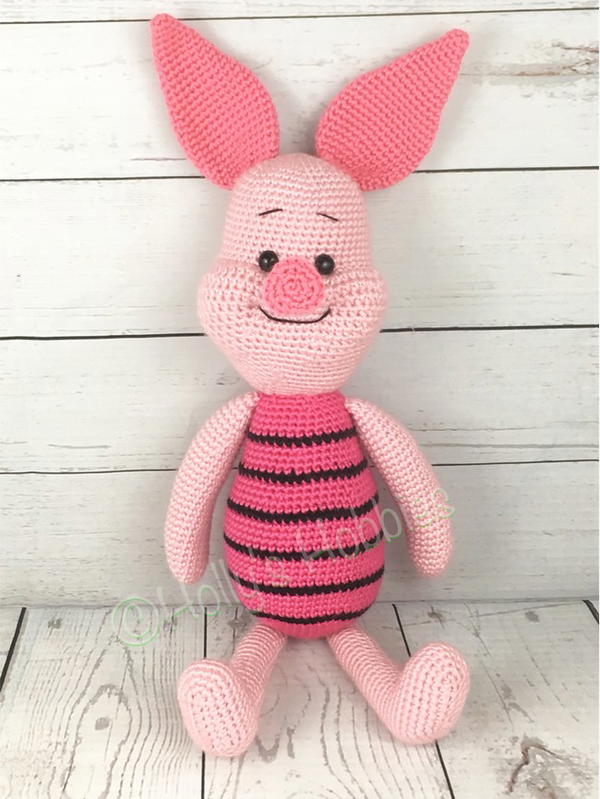 The new crochet piglet is a delight for babies, toddlers, and adults alike. Added to the stable of Amigurumi animals, the pig features a sturdy frame and a cheerful disposition. It's small enough for comfortable handling by young children, yet it's large enough for rugged play by adults. With an incredibly soft polyester filling, cute button eyes, and a sculpted pink snout, she is sure to become one of your most loved trusted friends! This Amigurumi Piglet is as delightful as she is adorable! She is great for babies, toddlers, and adults alike. She also makes a wonderful gift for any holiday or birthday.
Cube Piggy Pig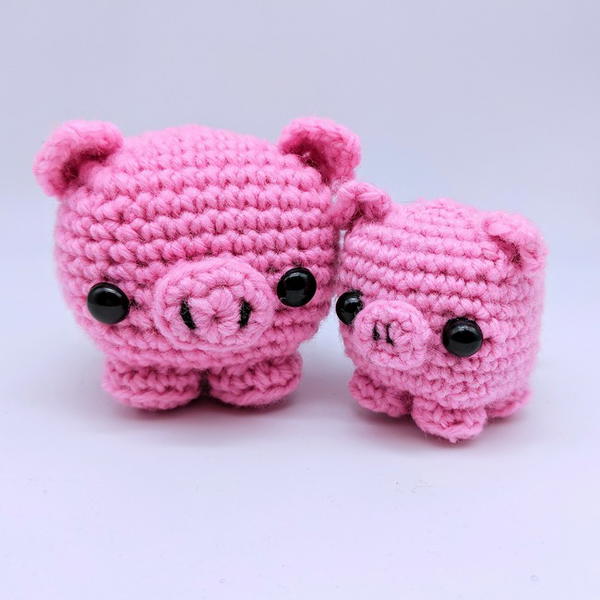 Get your hands on Piggy Pig. This adorable cube-shaped crochet pig is a fun addition to the home. This cube pig isn't just cute, it's also a handy home decor piece and an occasional footrest/ottoman. Use it as a paperweight or a stress ball. You can add it to a flower arrangement, desktop, or bookshelf. Let Piggy Pig be the perfect addition to your home or office. It's always a great time to be a pig!  Use it as a footrest, doorstop, desktop decoration, or even work off some stress by hitting it around like a stress ball!
Pig Bitty Bumble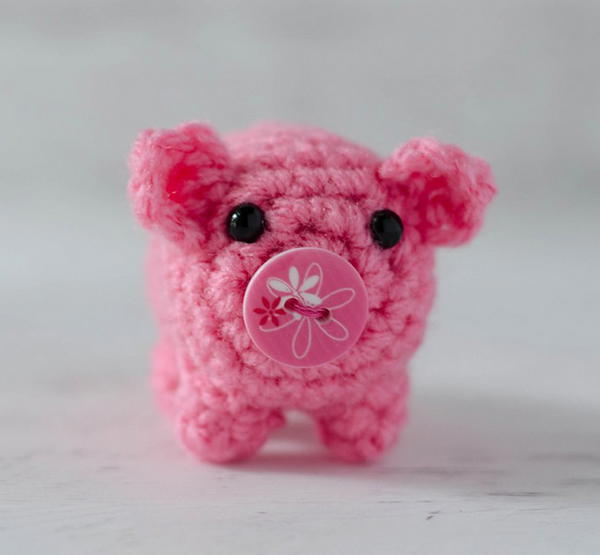 You'll love this cute little pig. Great for decorating gift, can be placed anywhere in your house. Wonderfully soft to touch and cuddle. This adorable crochet pig is named Bitty Bumble and she's great for tiny hands of babies. Don't you just love her little pink snout? Bring smiles to your baby, toddler, or preschooler's face with this plush Crochet Pig Bitty Bumble Pig. The pig is made from several small pieces of yarn and stuffed with polyester filling. The face is crocheted separately and sewn on securely. Your little one will love acting to play with this cute pig and then cuddle up with it at night or during naptime.
Pig Potholder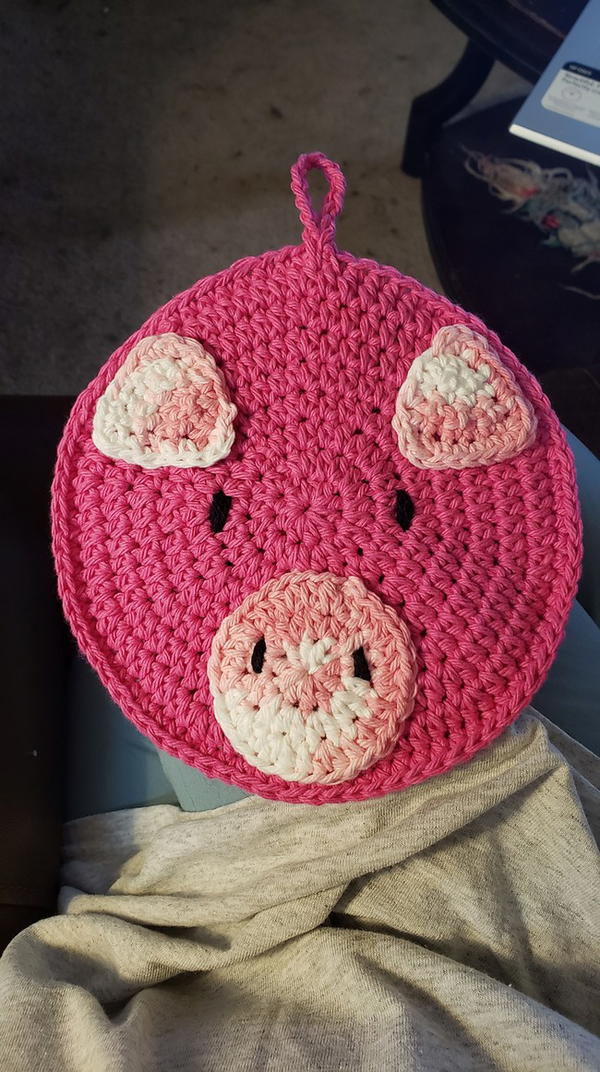 A classic crochet potholder pattern that will make a great gift or addition to your kitchen. Make this cute pig potholder to adorn your kitchen, or as a gift for someone special. The Crochet Pig Potholder pattern is so simple to crochet. First, you need to make two flat circles. After adding facial features to the one flat circle you will see a cute piggie face. The next step is joining these two circles together to get a double thickness. And it will cover the yarn ends on the wrong side of the pig face. You will love this piggy face on a round potholder.
Pig Lovey Puppet
This unique lovey design is a fun combination of lovey and puppet! It is absolutely perfect for little babies as they grow, and learn to be creative with their toys. From tiny fingers grasping on to new textures, to toddler hands that love to explore, this is a toy that can provide both comfort and creativity for years to come! This Pig Lovey Puppet is an easy project that takes less than a skein of yarn and provides plenty of comfort to little ones. This cute little lovey is the perfect combination of toy and puppet!
Pig Hand Puppet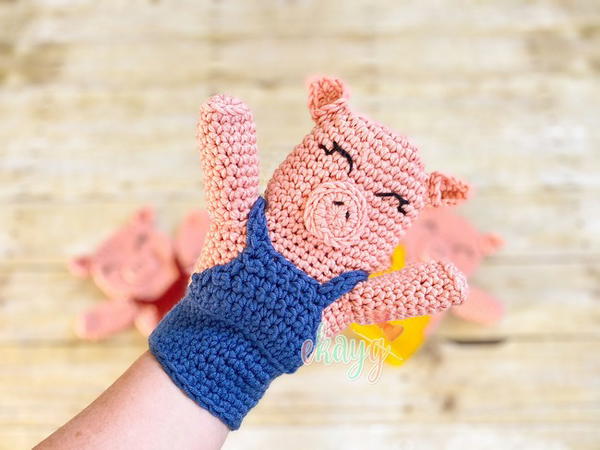 This pig hand puppet can be made with or without the overalls, to tell two very different stories! Works up quickly and is a great introduction to toy making for beginners. Knit this for that special little one in your life, and make sure to have a lot of FUN along the way! The Crochet Pig Hand Puppet pattern is an adorable addition to your little one's puppet collection! This pig hand puppet can be made with or without the overalls, to tell two very different stories! The pig puppet works up very quickly in a pattern easy for beginners to toy making.
Pig In A Blanket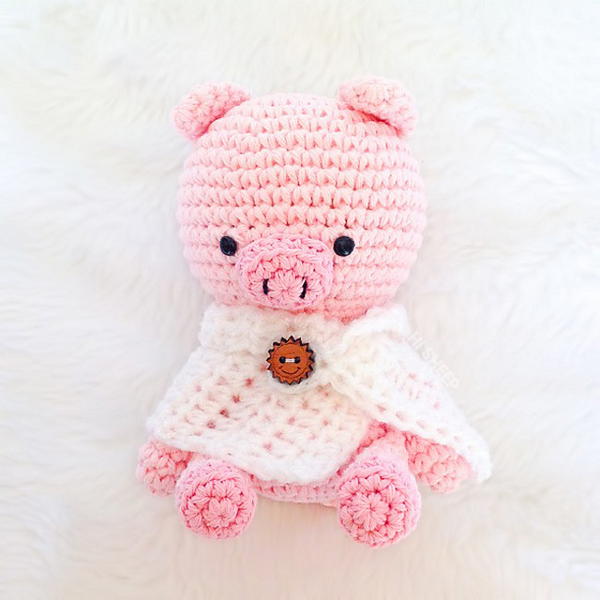 "Happiness is a warm, Piggy". In this fun crochet pattern, you will learn how to make a cute little piglet with a blanket - this is such a sweet and fun project, perfect gift to anyone who likes pigs and crochet! This crochet pig in a blanket pattern is a perfect project for the chilly coming days and a great way to get cozy after a long day. This pattern is suitable for beginners, doesn't have any complicated stitches, and works up quickly.
Pig With Dress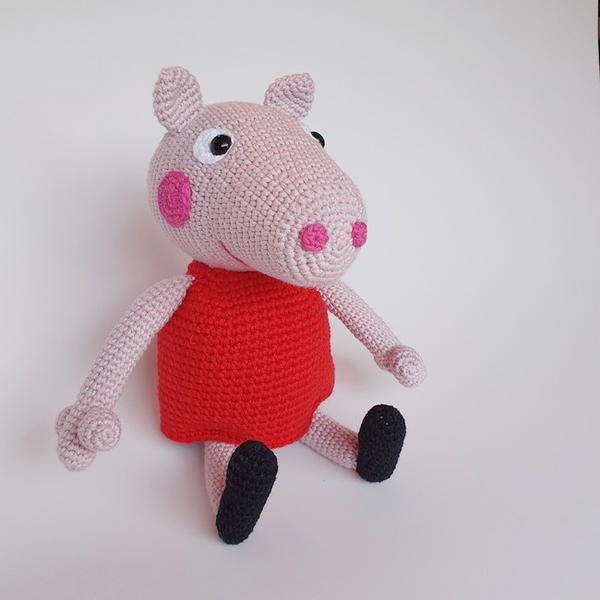 This sweet little piggy is a delightful crochet project suitable for all ages. Her dress is detachable, so she can be dressed in fine apparel or look adorable with her favorite blue jeans. She's soft and cuddly, making her perfect for snuggles. Hand-crocheted, this sweet, sleepy pig is wearing a floral dress and has a lace flower bow on her head. This adorable crochet pig will delight children and parents, alike! Featuring a frilly dress in a soft pink color, and with a jute string for hanging, this pig makes the perfect gift for almost any occasion. Makes a great baby shower or new baby gift.
Pig Cute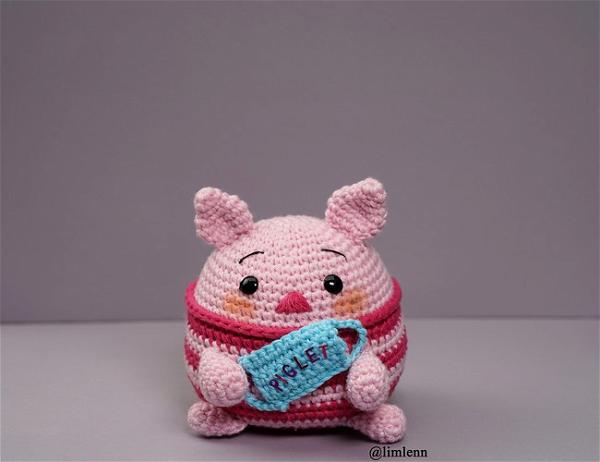 This is the perfect pattern for anyone wanting to learn how to make an animal. These little crochet pigs are very soft and cuddly. You can make them in light pink or dark pink and use contrasting yarns for the snout, ears, and tail. They are easy to make (even beginners can do it) and take about an hour to complete. The crocket pig is a great decoration for your home, you can use it as decor on the table, put it on the shelf, in the kitchen, and of course, do not forget to hang this piglet in your child's room!
Pig Rabbit
If you love to crochet, this listing is for you. Adorable Pig Rabbit pattern makes a cute little rabbit with a pig snout and adorable tusks. This can be made into a keyring or bag charm or used as the cover on a pencil case of the same size. Pig Rabbit is a sweet little toy with a big personality - she'll be a fabulous addition to any nursery or living room. Complete with pink fabric ears, button eyes, and a cute nose, she's sure to steal your heart!
Pig Stuffie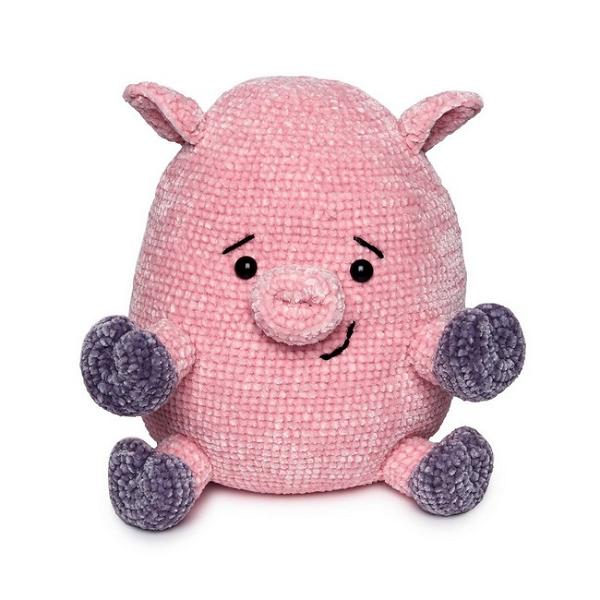 Snuggle up to this adorable crochet pig. Inspired by Fat Cat and kawaii toy trends, kids will love this endearing little stuffed animal. Made with Bernat Baby Velvet yarn, this irresistibly soft and cushy toy is stitched almost entirely in the round using single crochet. Tight crochet ensures a nice dense fabric that won't let the stuffing show through. Make a cute crochet toy with this Pig Stuffie project. Crocheted in Bernat Baby Velvet and shaped with simple shaping, this Piggy is a fun project for kids of all ages to stitch. Once complete, set him on a shelf for decoration or stitched eyes for extra safety.
Spike The Pig Lovey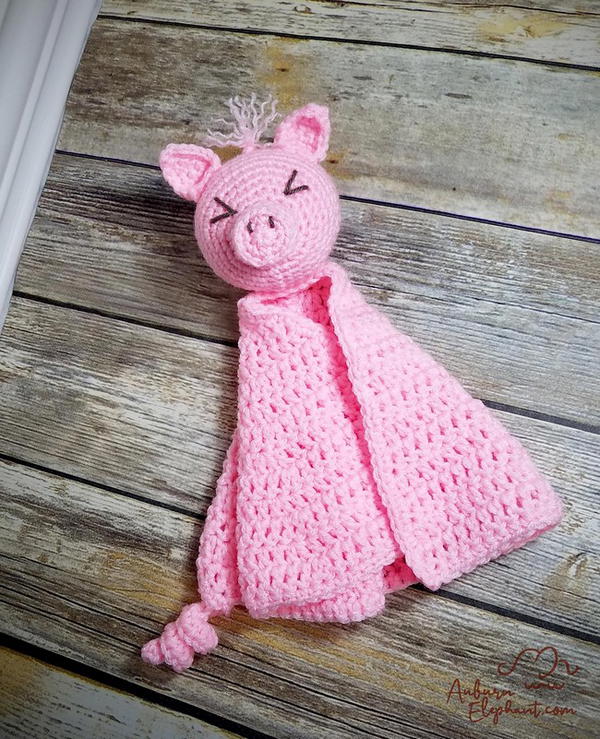 This lovable pig lovey may not be a living, breathing piggy but it will make a great friend! It is the perfect combination of snuggly softness and cuddles while providing comfort and a feeling of calm. Use it to help little ones fall asleep or soothe them during hard times. The Crochet Spike The Pig Lovey is the perfect cuddle buddy. This pattern works up quickly and, with several sizes included, you can make one for the whole family!
Mini Pig Amigurumi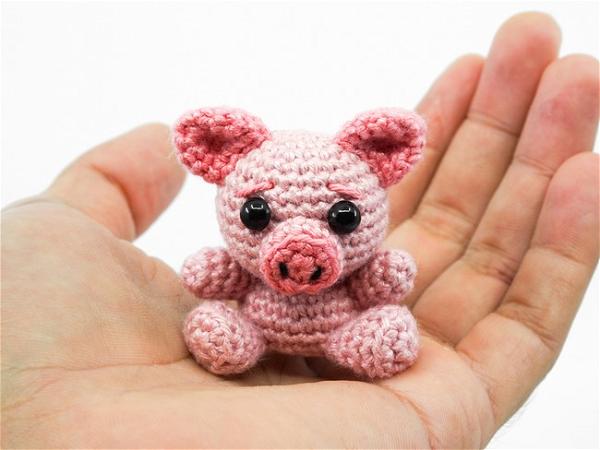 Mini pig amigurumi is an Adorable crochet pattern. This little pig likes to smile and will happily join you for breakfast, lunch, and dinner. It's that versatile! Quick to crochet, this little Pig is gifted by children big and small alike. Easy on the eyes, he loves nothing more than hanging out around the house or playing in the garden. This little Pig can be crocheted relatively quickly and is perfect as a decorative figurine, gift, or key chain.