Our collection of crochet pocket shawl patterns will help you create the perfect crocheted covering to keep you cozy in cool weather. These easy-to-crochet pocket shawls are so much fun to make and can be customized any way you like! They're great for beginners, advanced crocheters, and kids who are learning to crochet. Whether using it to cover your shoulders on a chilly day or simply throwing it over your clothes as a stylish accessory, these versatile accessories can be used in many different ways! Go through this series of easier crochet pocket shawl patterns. I hope you're going to love adding all of these accessories to your wardrobe.
Crochet Pocket Shawl Patterns

Pocket shawls are a must-have for every stylish woman who likes to look good. This is the perfect pocket shawl to transform any outfit, making it more fabulous and elegant. You can wear them with a formal dress or jeans; they always look great. They are also Perfect for adding a bit of extra warmth at the end of a chilly day and some personality to any outfit; these crochet pocket shawl patterns can be made for a person of any age and in many combinations of colours. Try out one or more of the options below.
Crochet Parlor Pocket Shawl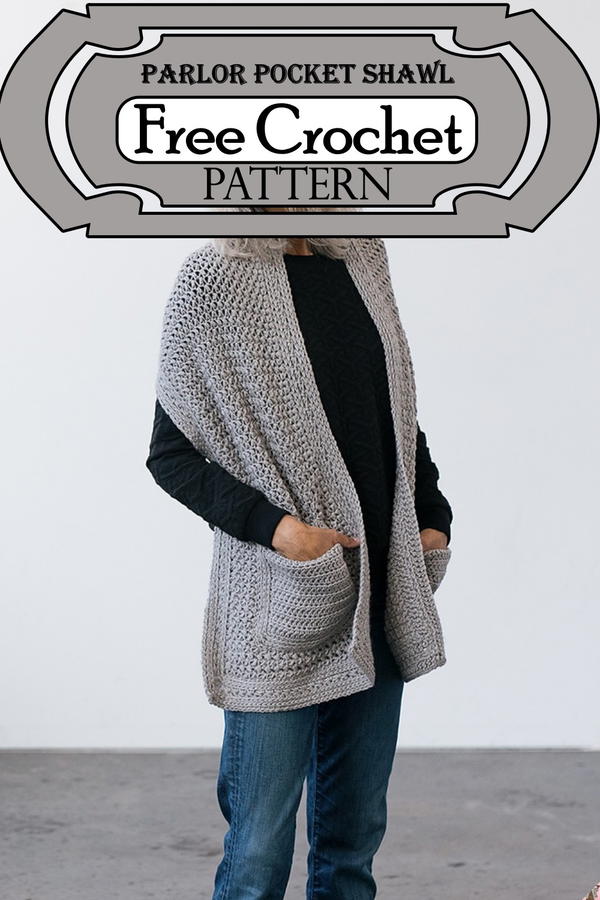 With the comforting warmth of a crackling wood fire, the Parlor Pocket Shawl is a modern take on the classic shawl. Evoking delicate snowflakes drifting across distant hills, this textured accessory is worked in rows of puff stitches to create elegant contrast against a snowy white field. Two pockets are stitched along each side. With its simple construction and luxurious yarn, this project is ideal for any crochet lover looking for a unique pattern to try out. It is worked vertically in rows of delicate puff stitches and features two pockets when finished. Snowflakes inspire the end stitch pattern.
Crochet Mattie Pocket Shawl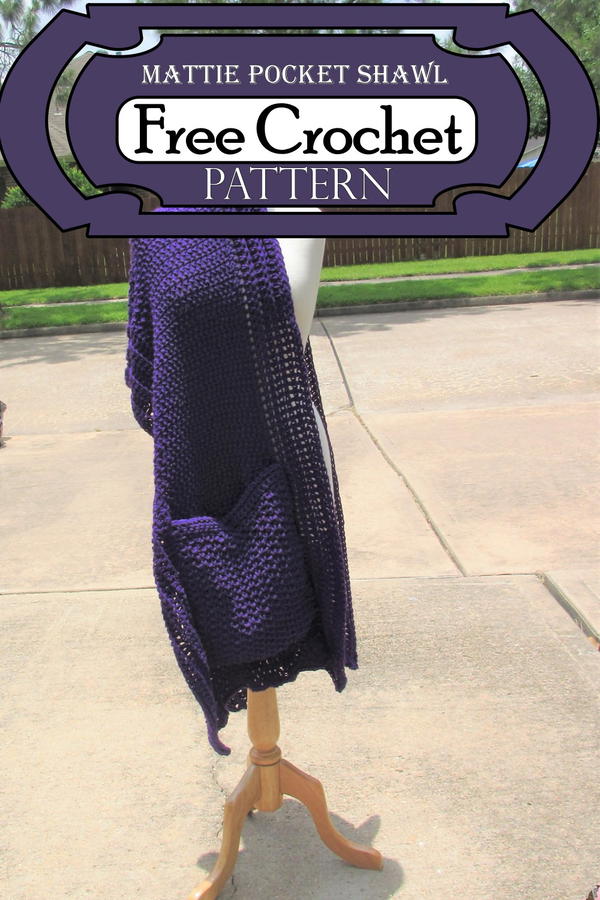 The Mesh Stitch Shawl is a beautiful, simple pocket shawl perfect for summer days and nights. Make it with cool cotton yarn or a semi-solid or variegated yarn for a stunning accessory to your outfit. The shawl is made mostly of slip stitches and chains, so it works quickly while giving you something beautiful to wear in the spring and summer months. It also works as an accent piece in any outfit. The pattern includes detailed instructions on making this simple mesh stitch and getting it right every time.
Crochet Harvest Pocket Shawl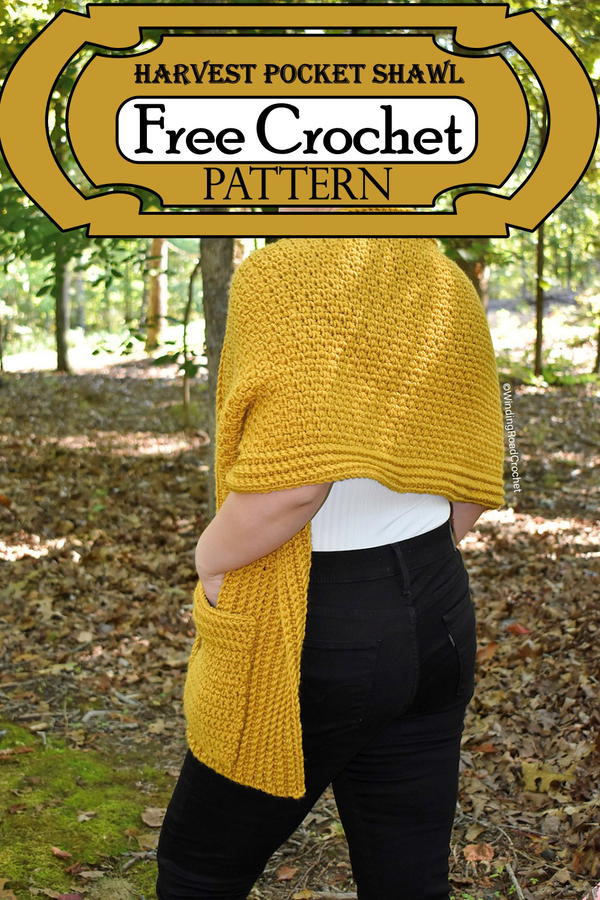 This Crochet Harvest Pocket Shawl pattern is perfect for the fall months. It can be worn as a shawl or folded in half and used as a scarf, and it's large enough to hold your phone and keys while you're out running errands. This beautiful crochet design includes a flower motif and pumpkin pockets on both sides to keep your hands warm in the colder temperatures. Use this pattern to make a pocket shawl for fall or winter that you can wear with a blazer or combine with your favorite color dress!
Hip Granny Crochet Pocket Shawl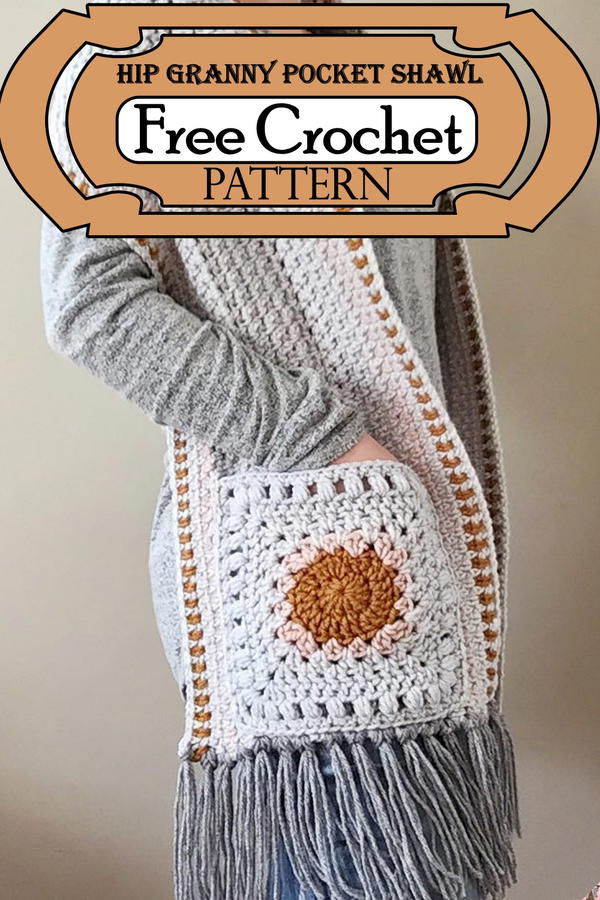 What could be better than a shawl with pockets? This baby is soft, stylish, and warm. It makes a great gift and can also use as a wrap to keep you cozy while watching movies or reading on your favorite chair. Great for showing off colorwork or adding a splash of interest to an outfit, this stylish crochet pocket shawl is easily customizable with options and techniques you can use in other projects. The granny squares in this pattern will create using a variety of stitches, including clusters, bobbles, and popcorn stitches. The edging will create using two different colors to give it that extra pop and make it stand out.
Crochet Crafty Pocket Shawl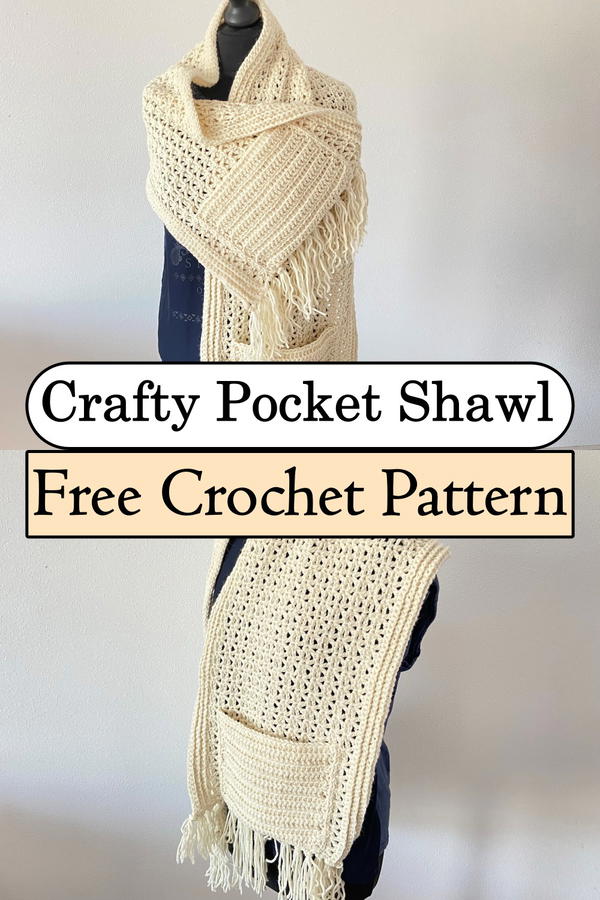 The Pocket Shawl is a boho-inspired crochet pattern that can be created with any yarn weight. Designed with a simple ribbed pattern and beautiful long fringes, this shawl will easily adapt to the wearer's individual style. It is easy to customize and make unique in your way. The shawl is easy to crochet with a nice casual look while keeping you warm during busy days. The pocket in this pattern can be used to keep your hands warm or store something small like keys and a phone.
Pocket Shawl With A Detachable Hoodie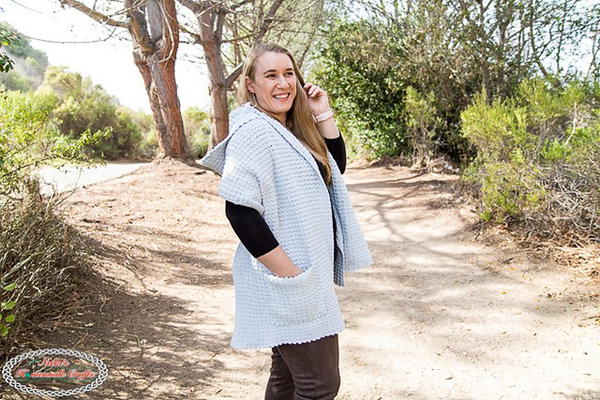 Do you love the look of a pocket shawl and a decent hoodie but aren't brave enough to try all one fabric? If you haven't heard of it, this stylish shawl is crocheted using the Suzette stitch. It's great at adding body and volume while being relatively easy to crochet over a weekend. The Suzette stitch also creates an attractive ridged texture that makes this project stand out from others you may have seen. This pattern is suitable for someone familiar with a few crochet stitches and knows how to do single foundation crochets (FSC).
Lazy Diamond Boho Pocket Shawl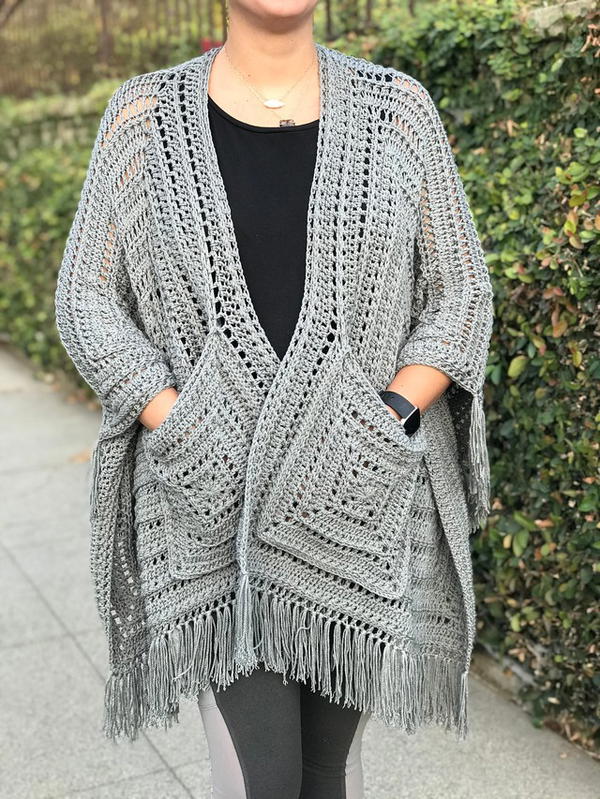 The Crochet Lazy Diamond Boho Pocket Shawl makes the perfect accessory for your next vacation or even a warm-weather evening out. This shawl is worked from side to side in one piece and is ideal for anyone who wants to crochet something that can be worn in many different ways. The main color yarn will make this crochet project pop, and the smaller accents add an extra dose of fun to this accessory. Perfect for beginners ready to dive into their first true pocket shawl project!
Crochet Pocket shawl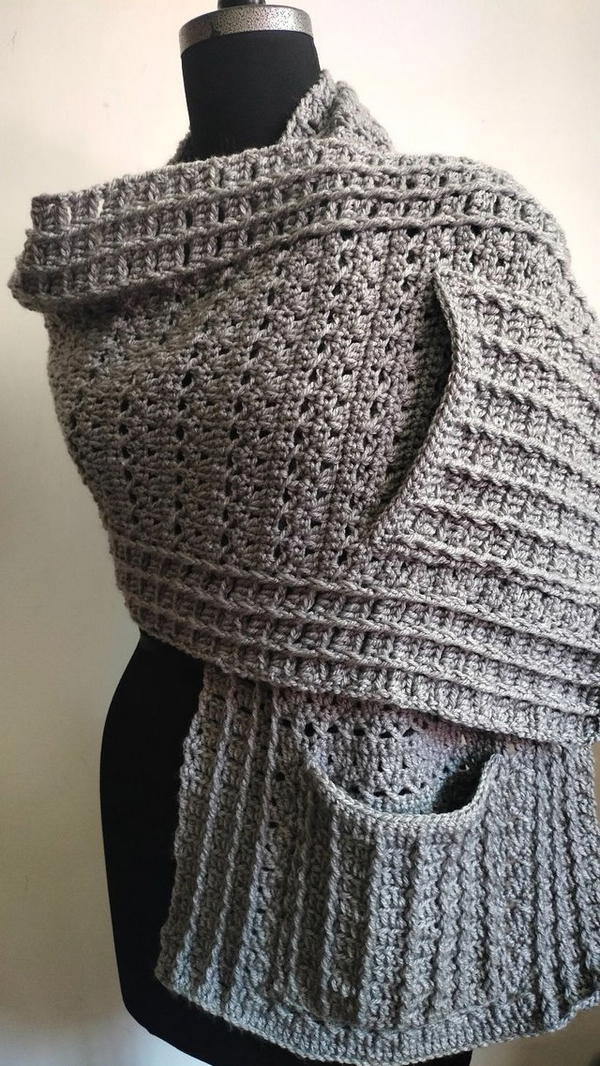 This pattern is for a trendy crochet pocket shawl. It is about 65 inches long and 15.75 inches wide. Both width and length can be adjusted. The design has many great details that make this shawl easy to wear but still make you look beautiful. This is a reversible crochet shawl pattern in a double crochet stitch. It can be made in any size and weight yarn, and you can choose to make it as long as you like. The pattern includes a tutorial showing you how to do the corner-to-corner stitches.
Kosh Tunisian Pocket Shawl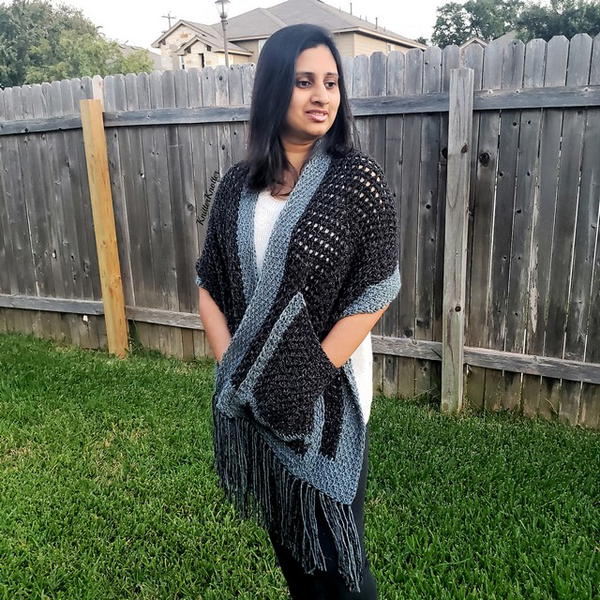 This Boho Tunisian crochet pocket shawl pattern that you will love to crochet with this easy-to-follow, step-by-step tutorial. It features two stitches: the honeycomb stitch and the more lace pattern. The central motif is a beautiful round design that adds to the modern quality of this project. This versatile accessory can wear as a wrap or thrown over your shoulder in summer to protect yourself against UV rays and keep you cozy and cool anytime during the year. It works quickly in chunky yarn and is perfect as an all-year round shawl and an ideal gift for any occasion.
Stay At Home Pocket Shawl
The Stay at Home pocket Shawl is a great accessory to have on hand, whether you're off to work or just staying home. The pocket shawl works with a simple crochet pattern that will be enjoyable for both beginners and advanced crocheters. It comes in three different sizes and includes optional wooden buttons in the front to keep it closed or open it up as needed. Use this pattern to create your unique look! It's perfect for an evening out in the chilly air, but you can also wear it while sitting on the couch playing video games or staying warm while walking the dog!
Puff Stitch Pocket Shawl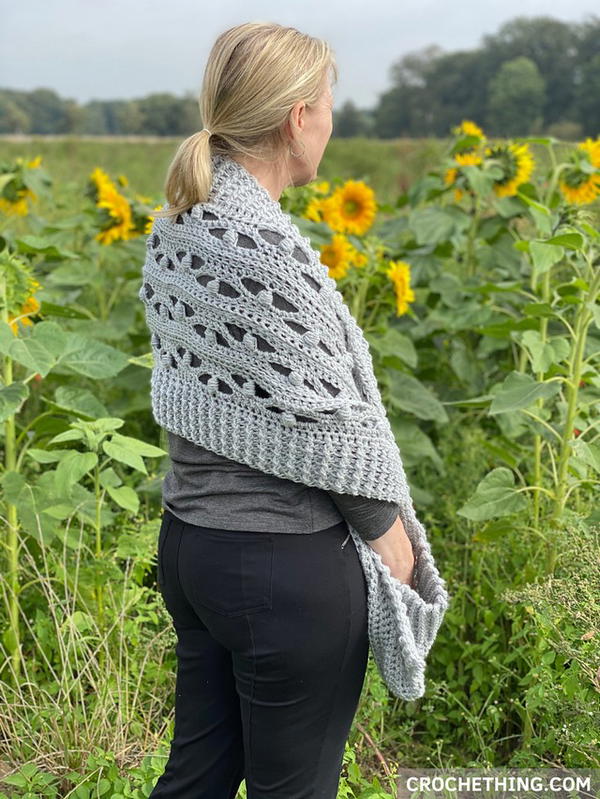 You will learn how to crochet a puff stitch in this video tutorial and a step-by-step tutorial to make this beautiful puff stitch scarf. This scarf is great for any cold weather event from outdoor festivals, winter camping trips, and even the most elegant parties. The edging has a beautiful lacy look, and the pocket is full of detail, making this shawl unique. This pattern includes step-by-step written instructions, photos, links to youtube videos, and tutorials for special stitches.
Crochet Easy Pocket Shawl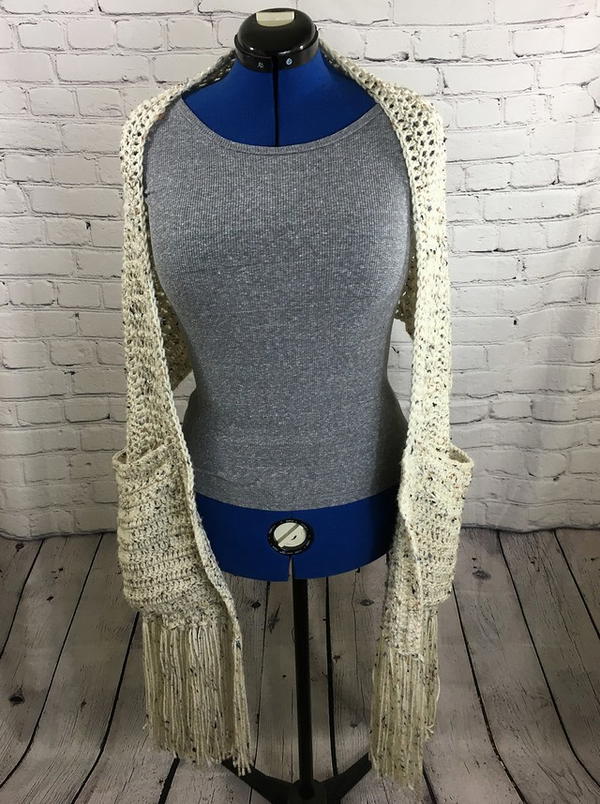 This beautiful shawl is perfect for any season and can dress up or down. This garment is work in a simple double crochet criss-cross stitch that creates a lovely waffle-like texture on the fabric's surface. Work from side to side, this piece begins by creating a rectangular base that forms the body of the pocket shawl and then increases at each end to produce a point shape. The beautiful colors and criss-cross double crochet stitches make this a piece you enjoy working up and wearing.
6 Day Sideways Pocket Shawl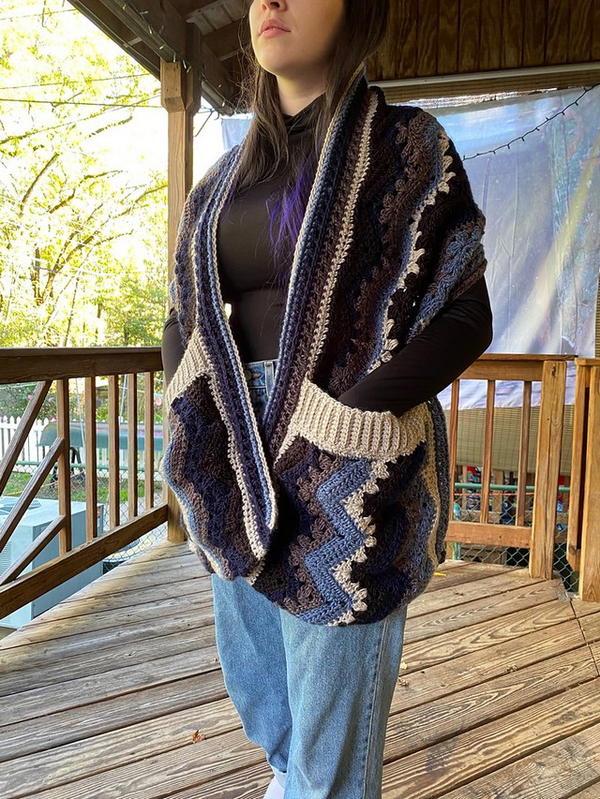 This crochet pattern is a six-day project, allowing you to work on something new daily. The pocket shawl works on sideways, with increases at the top and bottom of each row. It starts with a straight line and grows into a chevron pattern that makes it unique. Pockets will add as extra width once the shawl body is complete, then fold up before working in single crochet to create a border around the edge. The finish size can adjust by changing yarn weight and hook size.
Velvet Cables Pocket Shawl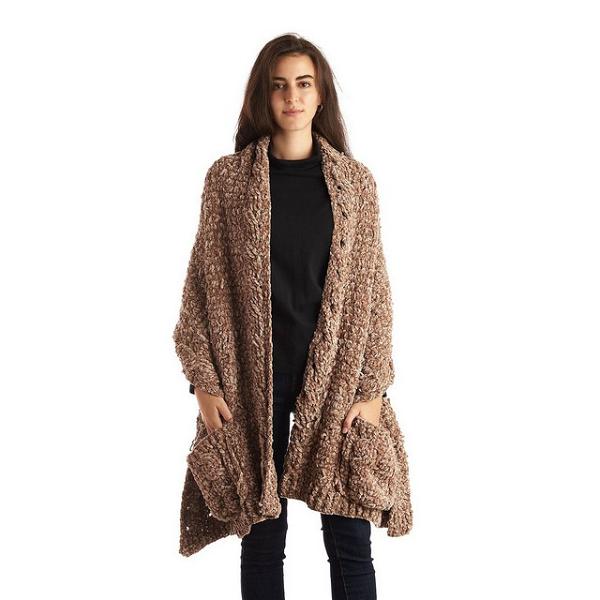 Wrap yourself in this inviting crochet shawl featuring cozy pockets and attractive cabled edges for interest. Fashioned in our silky Bernat Velvet yarn, this garment features a smooth, half-double crochet trinity stitch body. Cable, trinity stitch, and patch pockets add an inviting touch of coziness to this crochet shawl. Made with Bernat Velvet yarn, you'll enjoy working with the soft hand of the yarn as you do cables, mock ribbing, and trinity stitch.
Hands In My Pockets Shawl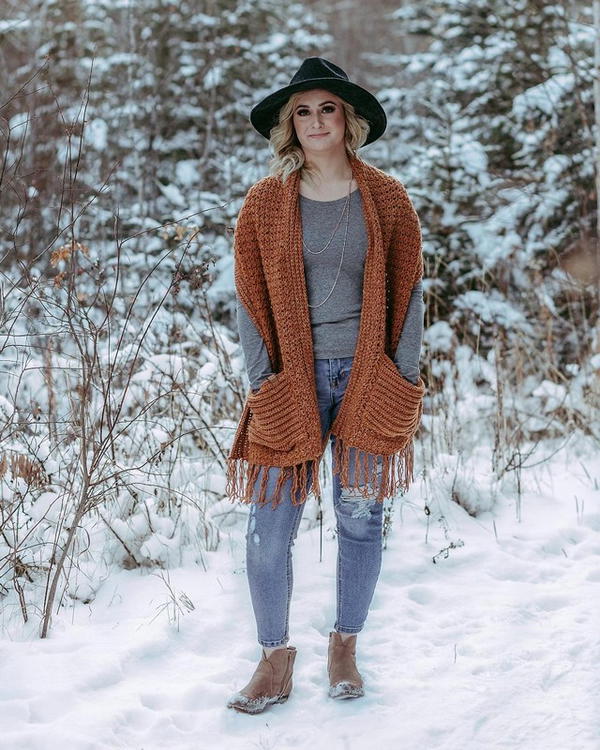 This design is a beautiful pocket shawl that can wear in many ways, including as a scarf or over your shoulders, and can work in any size you like. The pattern is quick and easy, taking just one hook so you can crochet leisurely on the couch watching your favorite TV show. This crochet pattern is easy to follow and has a lovely result. All you need is some yarn and a hook, and you can create your shawl/scarf by following the pattern described below.
Holly Jolly Pocket Shawl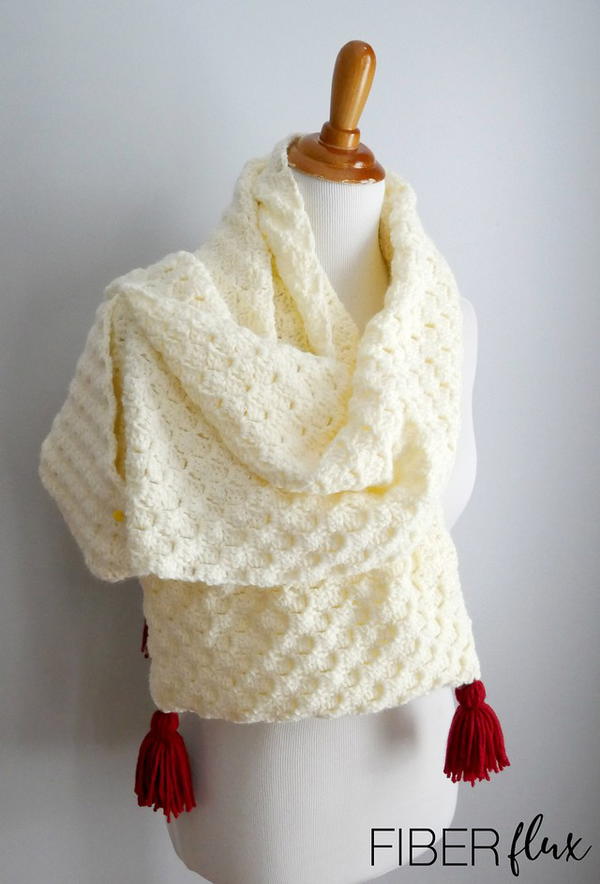 The Holly Jolly Pocket Shawl is a lovely and versatile piece of crochet that can wear on the shoulder or across the body. This project will make you feel festive from the inside out, perfect for holiday parties! You will love the Holly Jolly Pocket Shawl, a richly textured shawl that emanates warmth, comfort, and style. It's perfect for wrapping around your favorite shoulders on chillier days or throwing over your shoulders as you head out for date night.
Pine Gap Pocket Shawl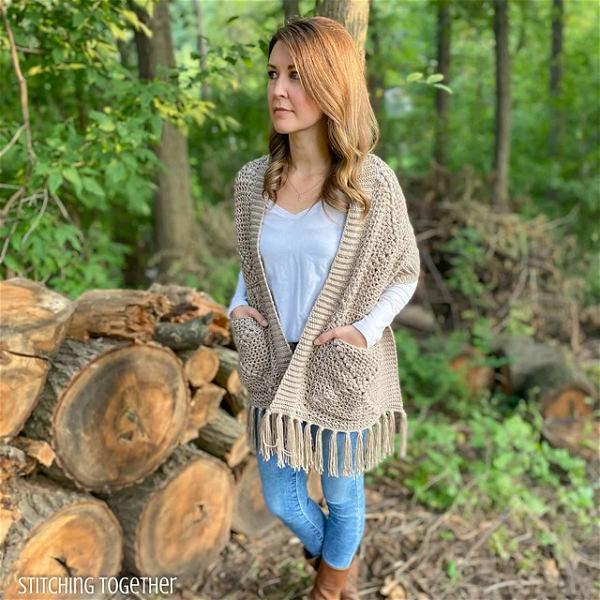 Our Pine Gap Pocket Shawl is the perfect accessory to keep you cozy and fashionable through the colder months. This amazing shawl will be your favorite make of the season, featuring garter granny squares and cozy ribbing. You'll never have to put your hands in your pockets again with oversized pockets like attached mittens! This gorgeous crochet pocket shawl will be your favorite make of the season. This accessory will keep you warm and comfortable throughout the colder months with modern granny squares and cozy ribbing.
Penelope Pocket Shawl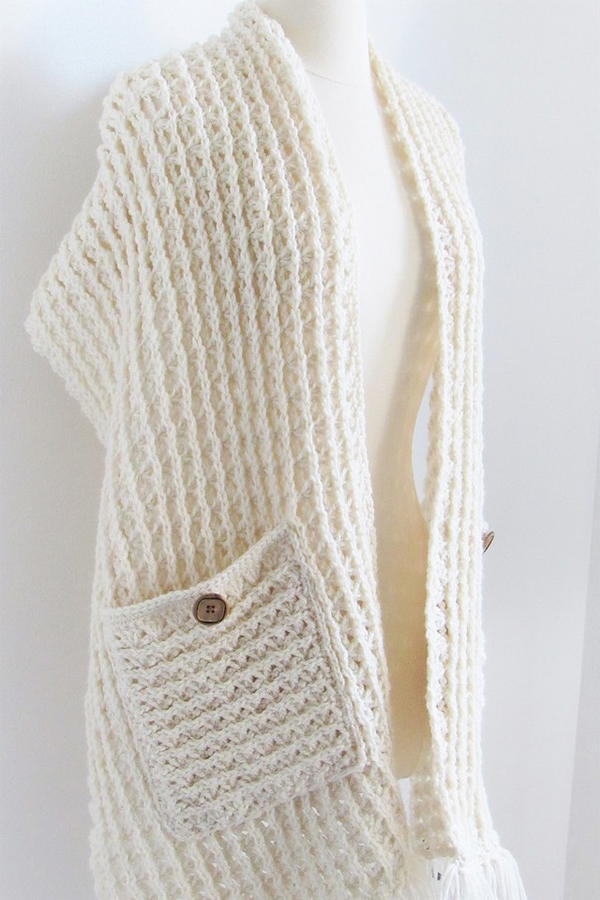 This gorgeous texture is easy to work with, and the result is stunning. It features braids and yarnovers that give it a rich look, with just enough sparkle to see in the sunshine. It's also warm, soft, and lightweight at the same time. It's a wonderful piece for sexy summer evenings or equally cozy on a cool fall evening at home. Made with 100% cotton yarn, it is lightweight and breathable—perfect for summer evenings. Now available as a free PDF pattern from our site!
Ashley Pocket Shawl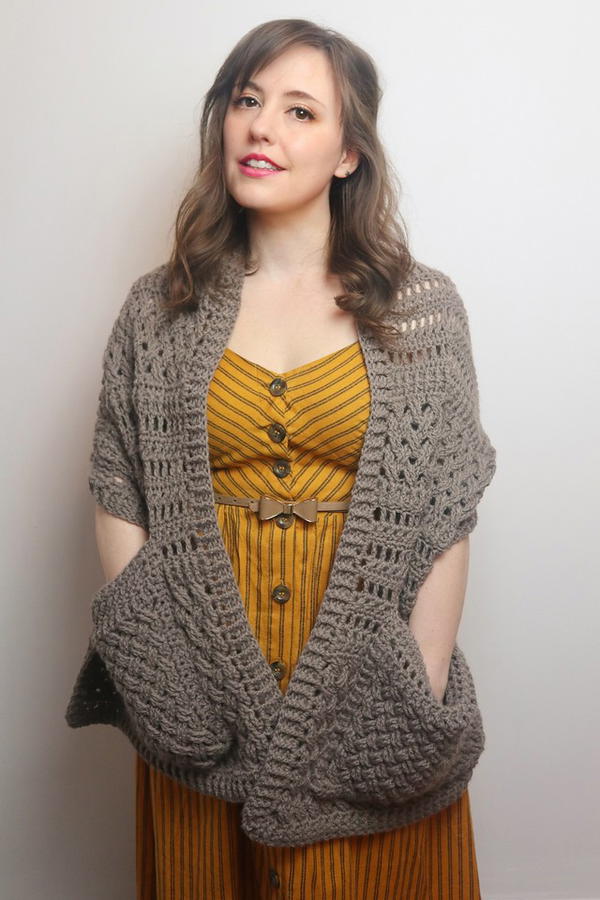 If you love pocket shawls and have been wanting to make one of these for yourself, then this pattern is for you! You will love this double thick, 100% cotton pocket shawl for its warmth and beautiful crochet patterns. It features a lovely scalloped edging and uses a simple leaf pattern to create a really elegant look. This is a must-have accessory for casual winter attire. This pattern will best be as clear, concise, and easy to follow as possible. Each step has been explained with photographs to help you along the way.
Crochet Easy Angled Pocket Shawl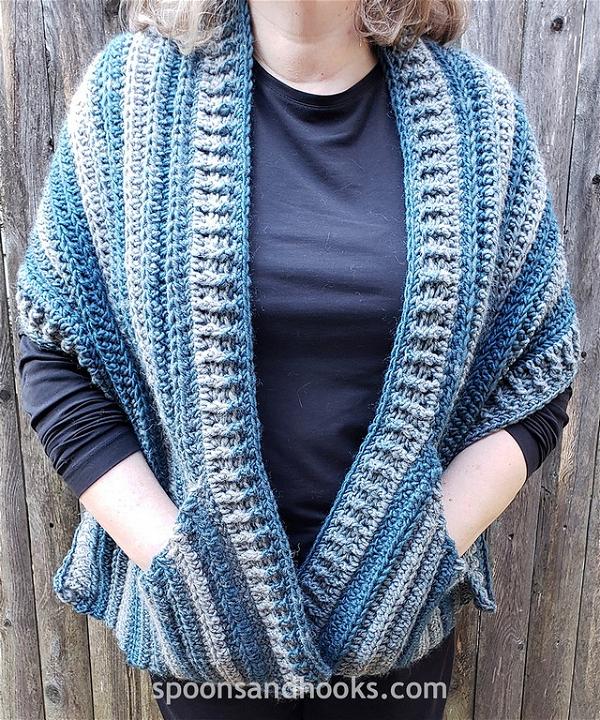 Keep your hands warm and toasty while sitting outside watching a concert or sporting event with this easy angled pocket shawl pattern. Its wide border also doubles as a lap blanket. To keep you warm while watching TV or reading your favorite book. This Angled Pocket Shawl is perfect for gift giving or crocheting for yourself! The look is simple and elegant, perfect for wearing jeans or a skirt, depending on your mood.