Ponchos are warmer and allow more physical movement because the person is not limited by the use of the arms. When wearing a poncho a person is able to use both hands freely without showing any skin that would be exposed if wearing a normal jacket. Are you ready for some fresh and fun inspiration for crochet this season? Whether you're looking for a chic stylish accessory to wear or make as a gift, these free crochet poncho patterns have you covered. Whether it's lace-up, oversized, or tunic length, there's sure to be one or two patterns in here just for you.
Crochet Poncho Patterns:

Free crochet ponchos patterns that you can make for both adults and children. These beautiful patterns are for all kinds of winter clothes that you can make for the whole family. Crochet poncho patterns are here! Whether you are looking for ponchos with buttons, embellishment, or lace, we've got plenty of them for you.
Transitions Poncho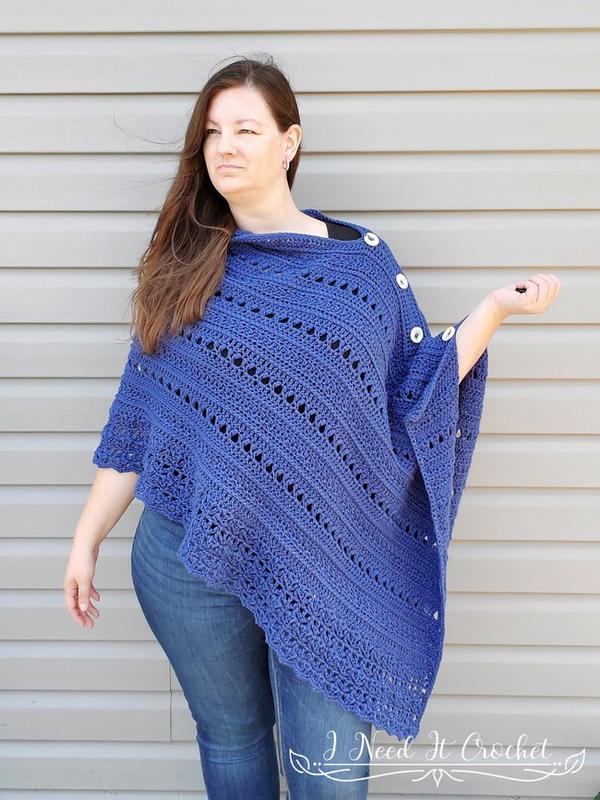 The Transitions Poncho is a lovely and quick-throw-together project. This poncho is super simple to make. It is one large rectangle that is sewn together along the shoulder. The striking combination of solid and lacy stitches makes this piece warm but not stifling. It pairs beautifully with your favorite outfit while adding a cozy fall vibe.
Drape yourself in the coziness of a poncho for fall and winter. This quick-to-knit rectangle is made in one piece with simple stockinette fabric and framed with lace edges. Use any weight of yarn and with any size needles! This poncho is great for keeping you warm on those chilly fall days. It's super quick to make and a fun piece that you can pair with lots of outfits!
Saratoga Poncho Top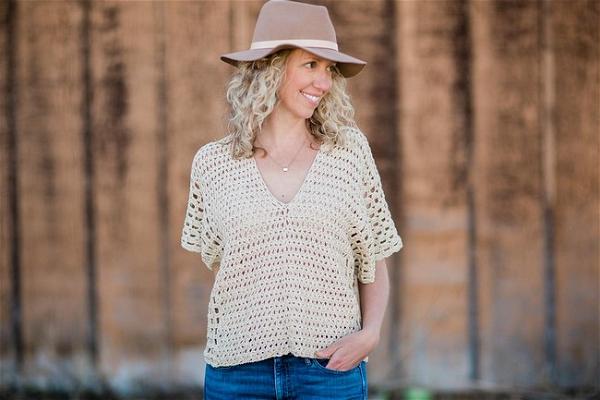 This versatile poncho is an easy-to-knit and fun addition to your wardrobe this spring. This piece works just as well in the office as it does with jeans on the weekend. This quick and easy pattern will become an instant favorite. Who doesn't love an easy, stylish poncho! This stunning and very easy-to-knit poncho is worked from the neckline down in one piece and can be worn in a variety of ways.
Designed to be easy to wear, the Saratoga Poncho is a fun project that can be whipped up in less than one day. The fun and easy changing stitch patterns will keep you motivated while you constantly change colors to create your own unique piece.
Perfect Summer Poncho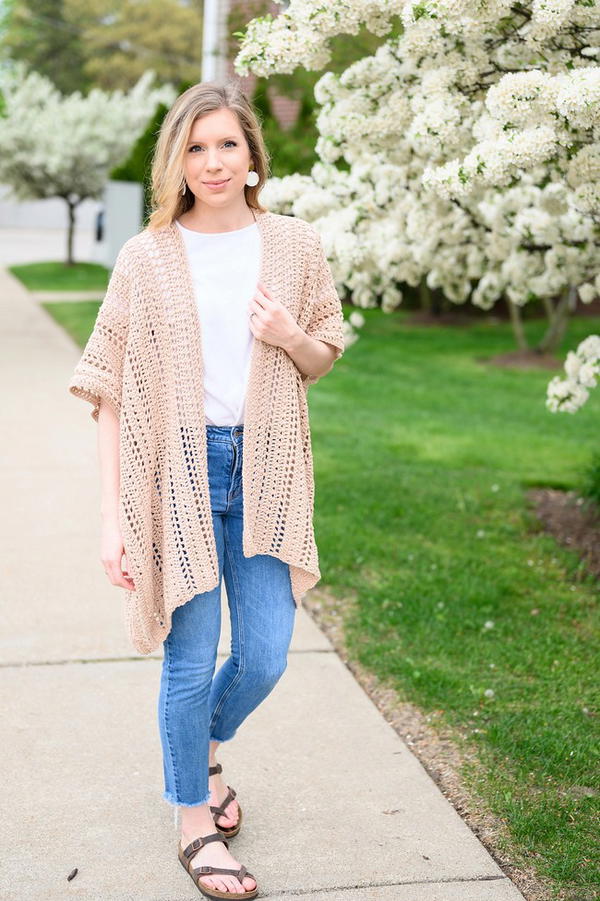 This poncho will instantly become your go-to summer garment. The breeze billows through the oversized eyelet holes and the double layer keeps things light and breezy while being perfect on its own or layered over a tank top or t-shirt. It's crocheted in two rectangles, with a few quick and easy seams, and that's it! It's a great beginner project for your first garment.
This quick and easy poncho is a great beginner's garment! It's crocheted in two rectangles, with a few quick and easy seams, and that's it! It's the perfect size to throw on over all of your summer outfits, with the bonus of being long enough for leggings. Add a few rows at the beginning to fit your bust, and you can wear this pattern all year round.
Four Seasons Poncho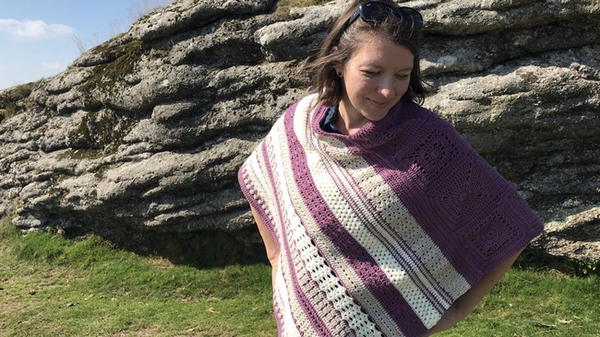 This is one of the most popular patterns. You will learn the tapestry crochet technique, making rows that are connected to make a larger piece, yet separated into sections so you can do each square separately. Each week there will be a new instruction sheet on how to work each row and new squares to add. The squares are then joined at the end after all 6 are completed and a fringe is added to each end.
This new project will make a great insulation piece for the colder months. Made from plucky worsted yarn, it's sure to be warm and cozy. We will keep this project pretty square-based so it's perfect for those who like the quick, satisfying results of a small project.
Darla Asymmetrical Poncho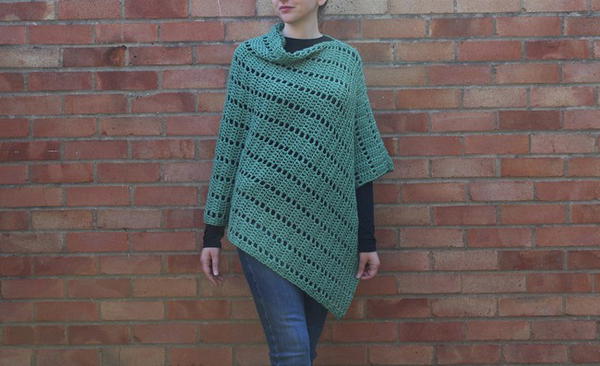 This Darla Poncho is made with an asymmetrical hem so it will drape beautifully on the body. It's a quick modern update to that classic poncho stitched in a soft Aran weight wool blend yarn and finished off with a large plastic button. Wear it with jeans, leggings, and over your favorite cardigan for a stylish casual look.
This oversized poncho is perfect for those chilly days that are coming up soon. It can be worn two ways with or without the hood and snaps at the neck to keep you warm! The stitch pattern is fun and easy yet creates a beautiful texture. When choosing your yarn for this project remember to use a good quality chunky Aran yarn. This one, in particular, is soft and has a lovely drape.
The Barcode Poncho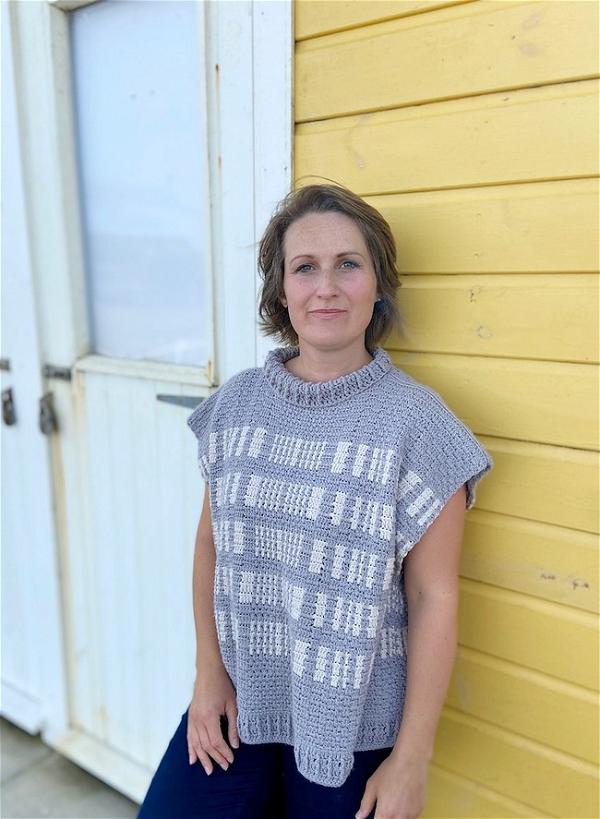 The Barcode Poncho is a garment that can be wrapped around you like a cape and fastened with the toggle button drawstring. It has a large hood which is great for keeping your head warm in Winter, or it can use off the shoulders too. The poncho is super simple to make. The yarn used in this design is chunky and thick so it works up really fast, especially if you have used any of our Bulky/Super Bulky yarns.
The Barcode Poncho is a crochet poncho pattern perfect for you in Winter. It can be wrapped just like a cape around your shoulders to keep you warm, or it can also be worn off the shoulder. Great for beginners who are trying to develop their crochet skills.
Lucky Penny Poncho
It's time to update the staple in your fall wardrobe: the poncho! This easy crochet pattern features a chunky texture that looks just as great with jeans, dresses, or leggings. The combination of beautiful braids, openwork, and fantastic texture patterns make this design go from day to night with ease. Make one in every color!
Are you bored with the same old scarves? This poncho makes a perfect beginner crochet project. It's chunky, so you'll create the design quickly, and it looks great over your favorite tees or with an evening dress. This hardworking pattern contains everything you need to make this shawl. It's a must-have for every fall wardrobe!
Kismet Poncho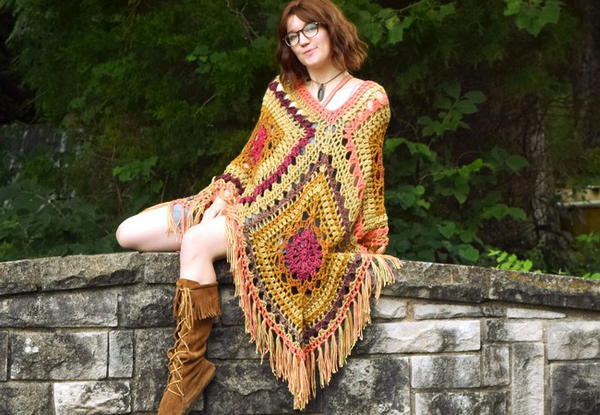 This poncho is worked in the round from the top center out, starting at the point of the circular flower motif. The patterning is bold and the result is a texturally interesting garment that may be worn with the collar up or down, providing two different looks. Create a color-blocked poncho that's as stylish as it is comfortable with our Kismet Poncho crochet kit. Blending solid and openwork stitches, each round is created by a crochet hook in an easy-to-follow stitch pattern inspired by decorative traditions of the Middle East.
The Kismet Poncho is a versatile piece that can be worn as a scarf, infinity scarf, shrug, or poncho. Perfect for cool nights out on the town or around the house, and at a great value.
Child Size Ponchos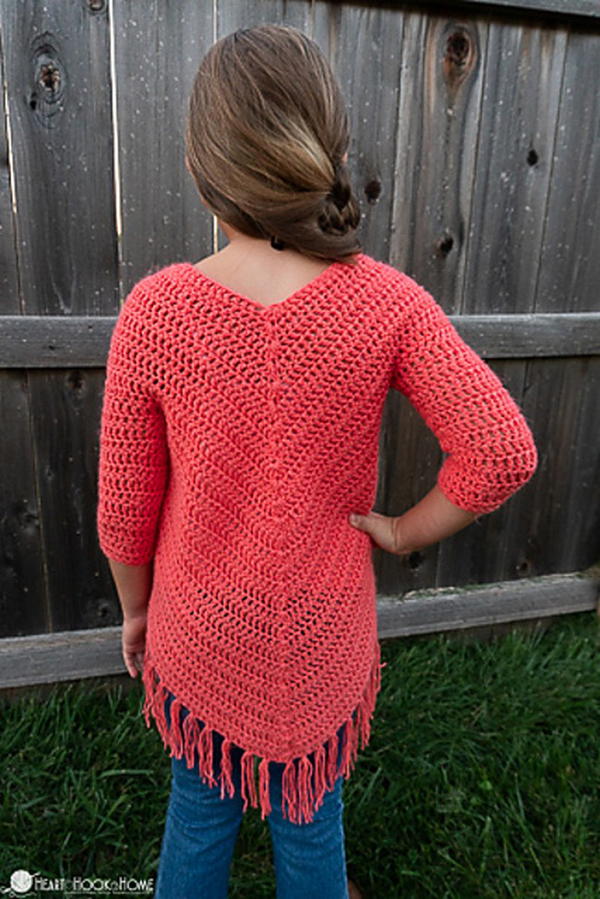 These little ponchos make great accessories for photos and are also just a fun thing to have kids try on and play with to see how their personalities come through. They're colorful and fun for all ages and can be made in any combination of your favorite colors. These are designed for babies but sized to be worn by toddlers as well.
Going out to an evening ball game? Why not take a kid along! This pattern is easy to make and looks adorable. You can use it as a doll or toddler poncho. Just tie on a slippery belt underneath and above the arms of whatever clothing you choose for your little one and you're set.
Ava Fringed Poncho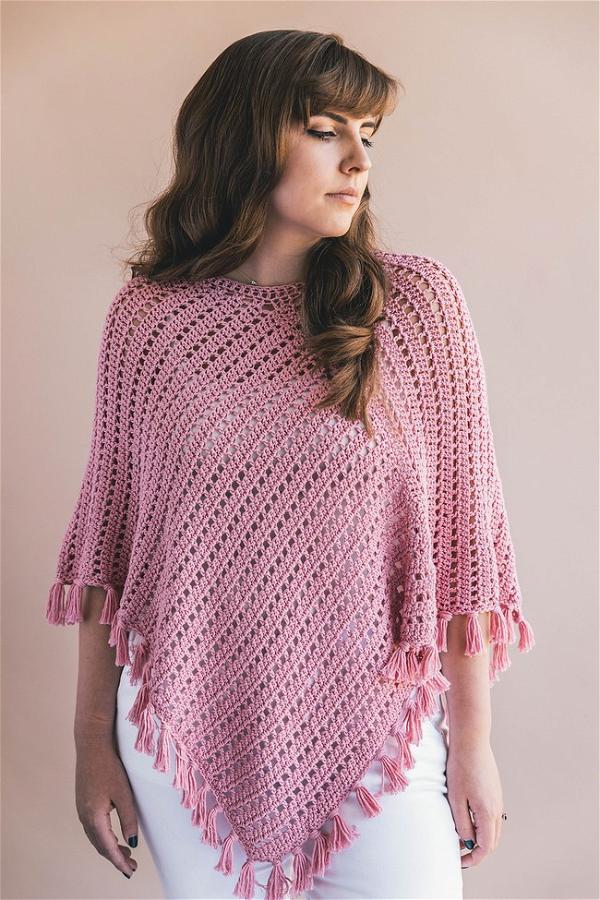 Worked up on a weekend, this easy crochet poncho is a great everyday piece. With simple construction using only two rectangles and basic crochet stitches, it is perfect for beginners! It's roomy enough to throw over any summer outfit and it's lightweight but still wonderfully soft and warm. The shawl collar and tassel-style fringe give this piece an artsy vibe without being kitschy.
Ava is a gorgeous crochet poncho with a unique fringe pattern. This poncho is worked in two rectangles, and can easily be adjusted to fit any body shape or size that you need. Perfect for beginners wanting to make something beautiful with very little effort! Work it up in a weekend, and you'll be wearing it all spring and summer long!
Such Simple Poncho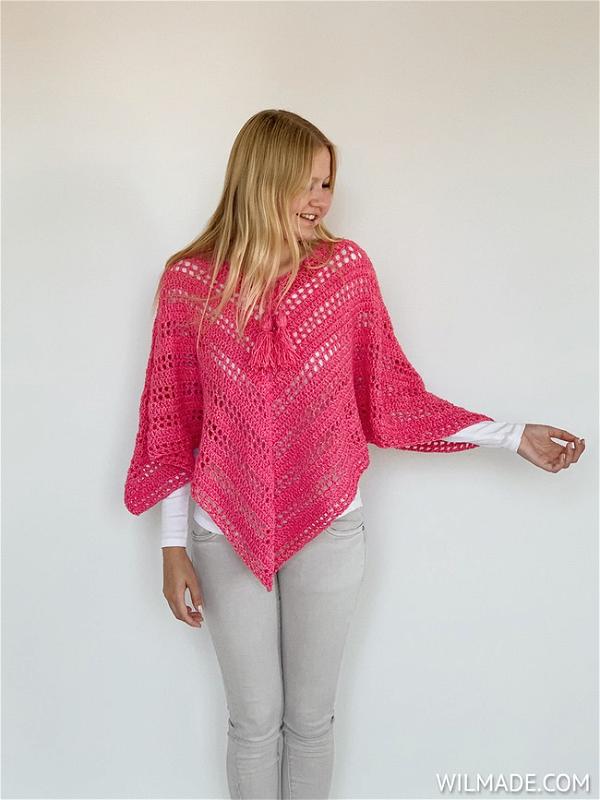 Such Simple Poncho is a very simple crochet poncho, which you can make easily. This poncho features only chains, slip stitches, and double crochets stitches. You can easily make it longer by repeating the pattern in more rows or adjusting the length to your preferences. Optionally, you can make 2 tassels at the front bottom of the poncho (as shown in the picture).
The Such Simple Poncho is characterized by its simplicity. The poncho consists of 2 rectangles and two half triangles. These rectangles and triangles are joined with slip stitches to form the front and back parts of the poncho. You can easily adjust the length of the sweater as well as make a longer fringe if you like that style. The scarf is crocheted lengthwise so you can use every kind of yarn (even if it's not very wide). For an extra effect, you can even add tassels on the front part!
Poncho Triangles And Hexagons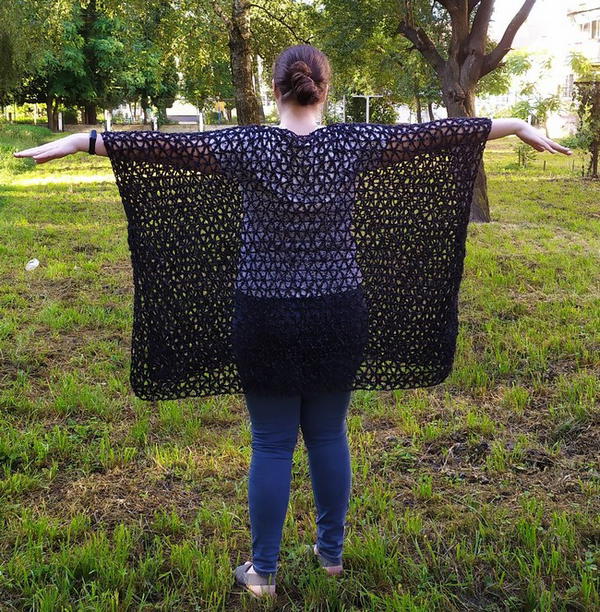 Ponchos are a popular choice of clothing worldwide, even in wet weather. This beautiful poncho is designed with an easy-to-follow colorwork pattern, so you can stay warm and fashionable all year round! The possibilities are endless: whether it's at a festival, a wedding, or just a rainy day, this poncho will ensure you stay dry and warm.
Stay warm and fashionable year-round with this easy colorwork poncho that you can tie around your waist or drape around your shoulders. It's great for wet weather and parties, festivals, weddings, concerts, etc. It's also easy to customize!
Poncho for Vero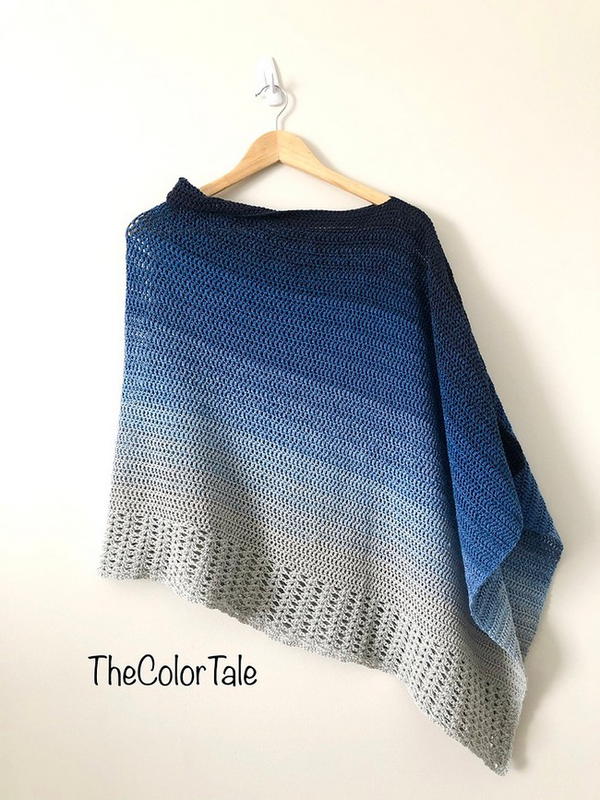 This easy crochet poncho is a perfect piece to throw on over any outfit for a cozy look. Customize it for your own style by making it longer or shorter. Instructions are available in both imperial and metric measurements. This pattern includes the basic crochet techniques required, extra tips, and quick-reference photo tutorials are also provided to ensure you end up with a beautifully finished poncho! This poncho works top-down and is so quick to work up. It can crochet too long, short, or even knee-length because of the nice ribbing detail at the hem. Because it has a chunky look, it is easy to make with worsted weight yarn too.
Mountain Trail Tweed Poncho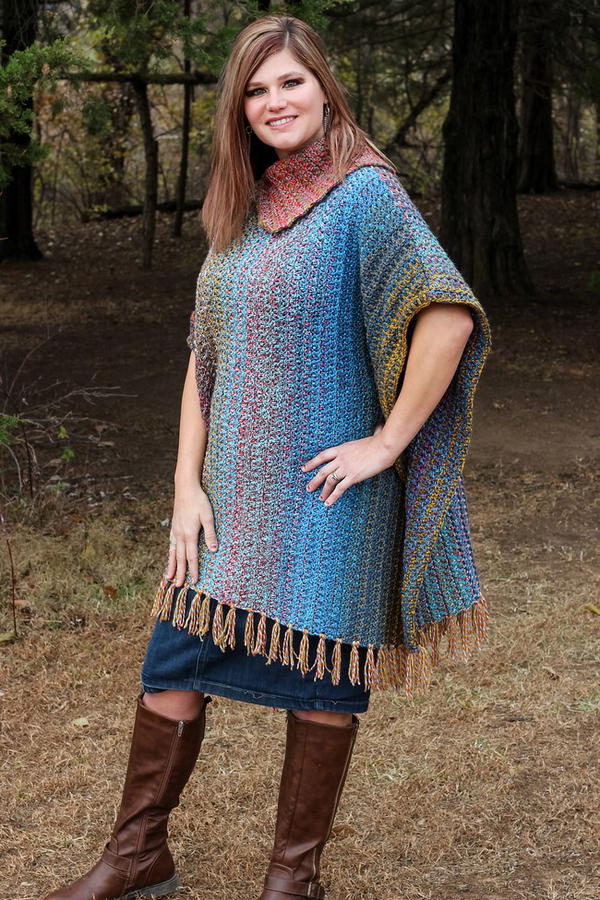 Use the Mountain Trail Tweed Poncho to keep the rain off your adventures in style. The unique construction will keep you cozy, while its attractive striped tweed pattern and fun fringe along the bottom edge add a touch of flirty fun to any music festival or outdoor adventure.
The Mountain Trail Tweed Poncho features a gorgeous, tweedy fabric, which adds texture and chic to any outfit. The three-seamed rectangle shape ensures that it will fit many body types. Loose enough for your arms to move, shown with a slit at the bottom for ease of movement.
Autumn Bliss Poncho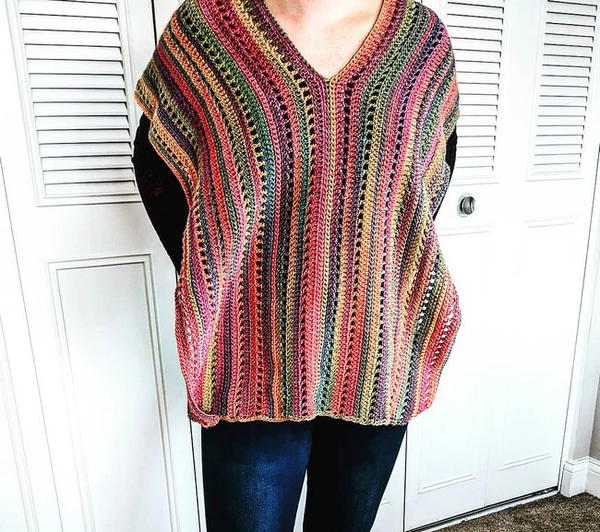 This poncho is great for fall and a wonderful addition to any outfit while keeping your shoulders covered. It is warm, soft, and also thick enough to wear in the fall/winter months. It's like a cross between a blanket and a shrug but longer. This pattern would also be good for beginners as it is easy to work up. All of these qualities make it a versatile garment that you can use all year long! The Autumn Bliss Poncho is the perfect crochet blanket to wear over your everyday outfits! With great texture stitches throughout, this poncho can use year-round.
The Herringbone Poncho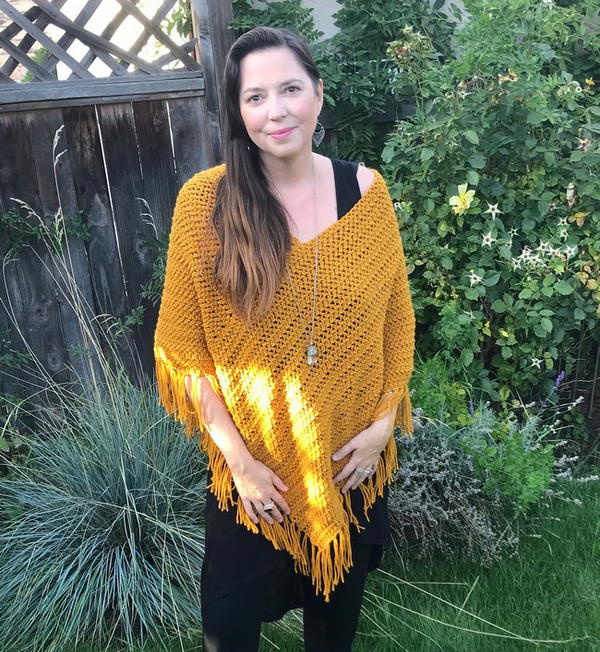 The Herringbone Poncho is quick to work and will be your new wardrobe staple. The special texture of the herringbone stitch, along with the fringes, guarantees a poncho that is perfectly on-trend. This piece is perfect for fall weather and trips to music festivals or outdoor events. Design to wear as a poncho or a scarf, this light and airy piece is an elegant addition to any wardrobe. The special textures created by the herringbone stitch are especially lovely in combination with the fringes.
Luxury Plaid Tunisian Poncho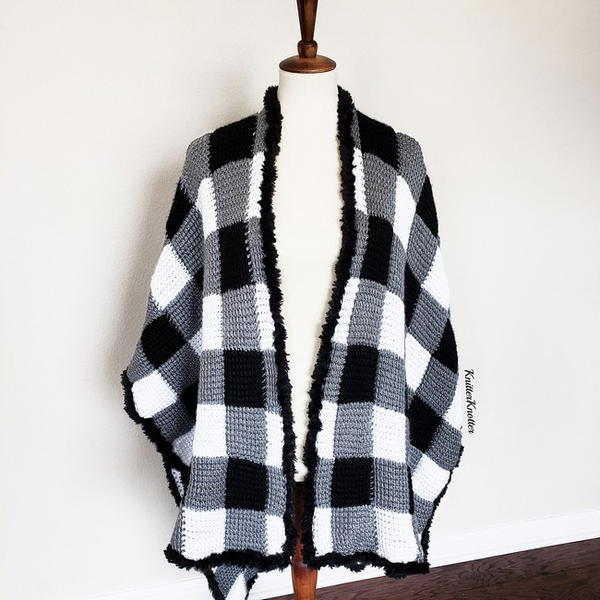 The Poncho is quite a warm shawl with plush, warm fur trim, and a more complicated design you can really show off! It works seamlessly on the bias is mostly garter stitch and entrelac lace. It is a more advanced project, but if you love color and textured knitting then this poncho is for you. A luxurious and warm poncho that you can wear around the house, to the park, or out on the town. It's easy to make in one piece, with no seams to sew up at the end!
Sparsh Poncho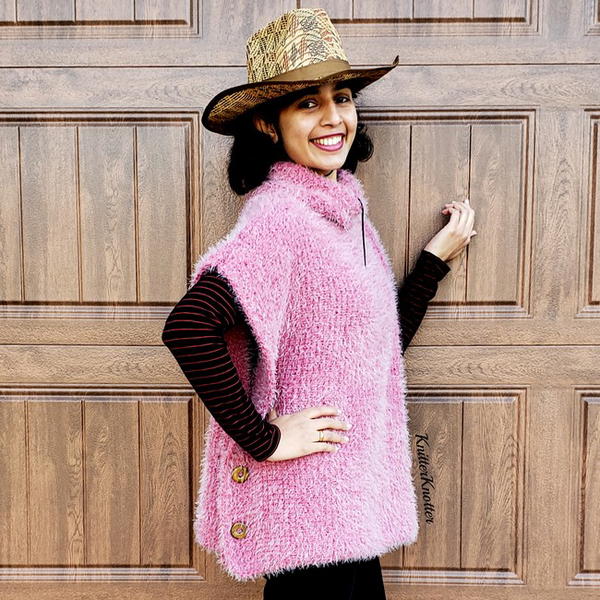 This poncho is a great project for beginner Tunisian Crocheters. Worked in three rectangles, this poncho has no increases or decreases to mess around with. It makes for a very simple, but fun project! The pattern uses two stitches - Tunisian Simple Stitch and Tunisian Purl stitch. If you have an interest in trying out some Tunisian crochet, try this one out!
This easy poncho pattern works well with the Tunisian Simple Stitch and Purl stitch. If you know how to do these two stitches, you can make this! It works up quickly using bulky yarn. Lots of photos are include here to help you along every step of the way.
Mo'Rockin' Sunrise Pochette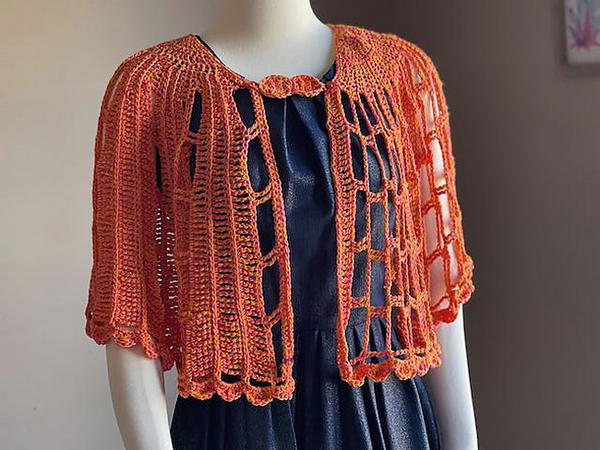 Sunrises inspire the shape of the Mo'Rockin' Sunrise pochette. It begins with a band of rows that gradually increase in height, evoking light rays. The textured peaks of the rows give way to increasingly wider rows, eventually blooming into a curved peak at the top before tapering once more to a point. This design is worked in six panels and joined together with only slip stitches, passing one stitch from each row through two stitches from the previous row that were worked identically before being joined.
Kalisha Poncho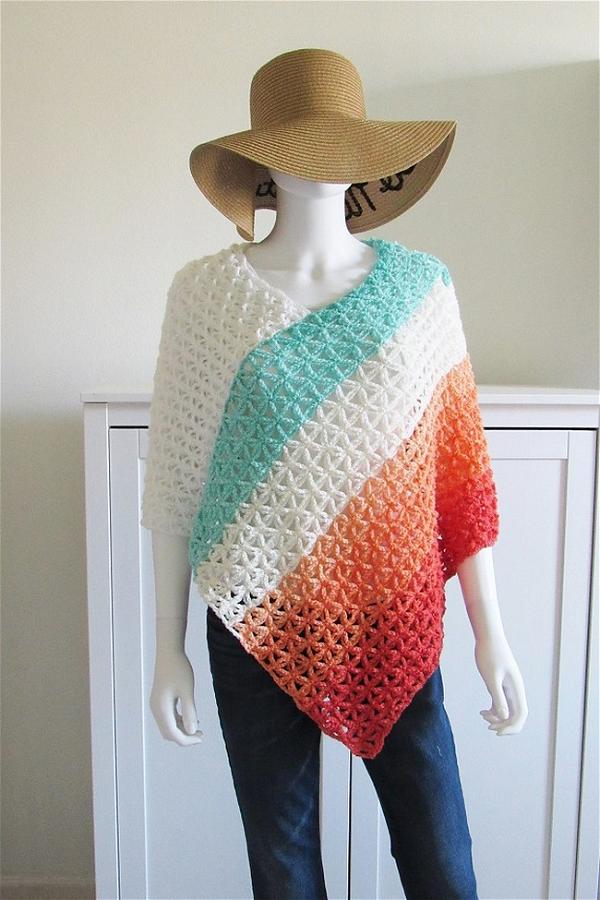 This is a fun, interesting, and easy-to-make shawl or poncho that can wear around the shoulders, or slung like a scarf. The pattern works of tall stitches, which give it texture, short stitches, and chain stitches will use in between to keep things simple. The yarn I have used is little and lofty which gives it drape, so you could use bulkier yarn and still get good results.