Dress up your holiday decor with these cute crochet reindeer patterns. They're quick to make and include a variety of styles and sizes so you can find the perfect one for your home. Everyone loves these holiday characters, whether Rudolph, Frosty, or Hermey the elf. The next time you sit in front of the fireplace sipping hot cocoa, try crocheting one of these adorable crochet reindeer for yourself or a friend or family member – or make them for your tree as decorations! You might get a kiss from one of these cute creatures. These adorable animals are perfect for displaying on your mantle or adding to a tree – even better if they're handmade!
Crochet Reindeer Patterns

Crochet reindeer patterns are used to make lovely accessories that may be used as gifts or to decorate your home. They are amazing pieces of art that you can use to showcase your personal style and beautify your home. Here we have gathered some of the most popular crochet reindeer patterns, including the simple snowman design and the tree with a family of reindeer. These are always a favorite amongst loved ones, so we hope you'll like them too! Made with easy-to-follow instructions and easy-to-follow diagrams, these little reindeer will be a great addition to your home.
Reindeer Ornament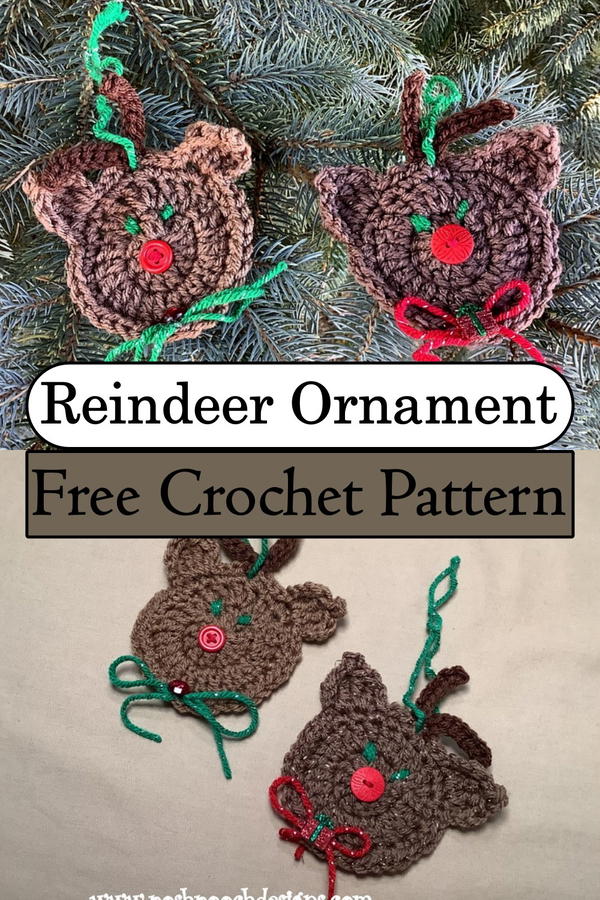 Create this adorable crochet reindeer ornament pattern. It makes a perfect addition to your holiday table, bedroom, or tree. It is a fast and fun project you can easily make in one evening. Also, this makes a great gift for that special person or yourself. Make them in bulk and give them as small gifts this holiday season with notes attached. Make them in bulk and give them as small gifts this holiday season with notes attached.
Petite Reindeer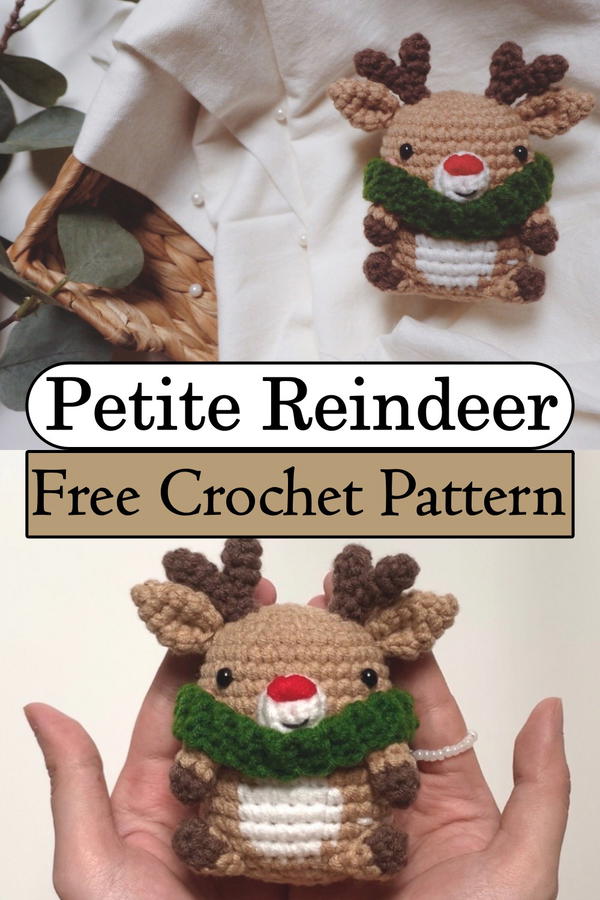 If you love making handmade gifts for your family and friends for the holiday season, this crochet Petite Reindeer pattern will be great for making loveable accessories for gift giving, especially for the coming holiday season! It's easy enough to make even if you've never crocheted before. This pattern is suitable for an advanced beginner who already knows how to crochet in the round and has practiced surface stitching. It is a perfect project to make with your own two hands, especially if you are a beginner in crochet. The pattern may seem complex, but it is easy and fun.
Reindeer Kitchen Towel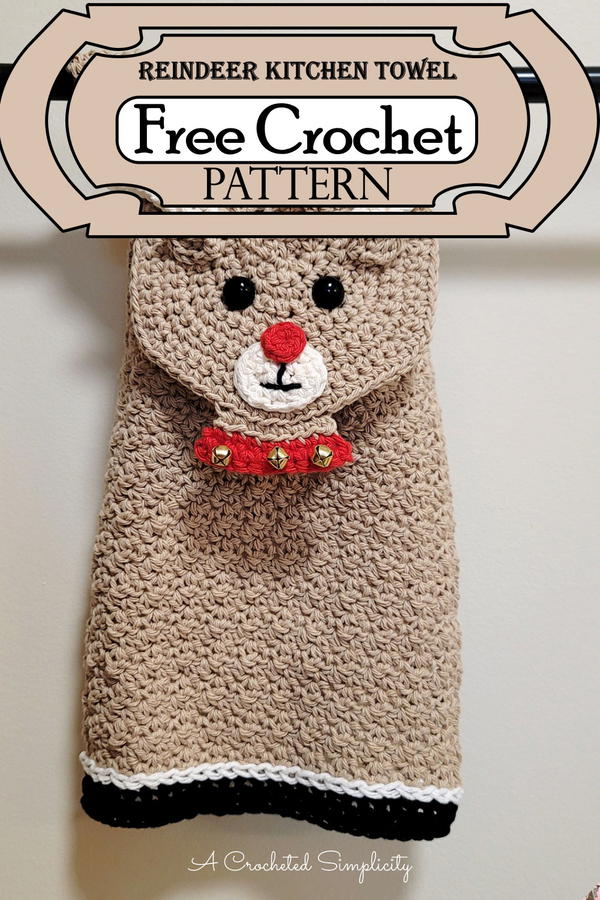 Look no further than this cute reindeer kitchen towel for the ultimate Christmas kitchen towel. This looks great hanging on a hook in an ethnic-style kitchen; give it to a friend or family member for their holiday gift exchange, or place it under your tree as a decorative piece. With just a little yarn, you can make this fun holiday kitchen towel for yourself or even a friend to add some cheer to the kitchen. It will be a fun, festive towel as a companion piece, and I hope you'll love it.
Buddy Reindeer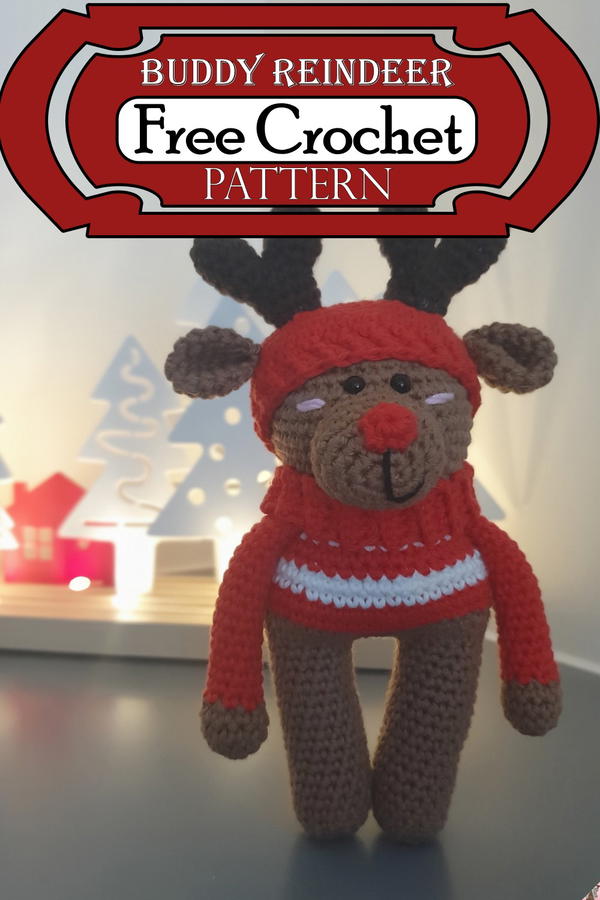 This exquisite bunny amigurumi pattern is super fun to make and even more fun to give. This unique addition to the Buddy family will quickly become a favorite toy in any household. This pattern is great for beginners. The completed project would be perfect as a gift or to put on display! This easy and fun pattern features a bunny ready to brighten your holiday season. Made using simple single crochet and basic increases, this project will be perfect for beginners! This pattern is great for any skill level and not to mention adorable!
Chubby Reindeer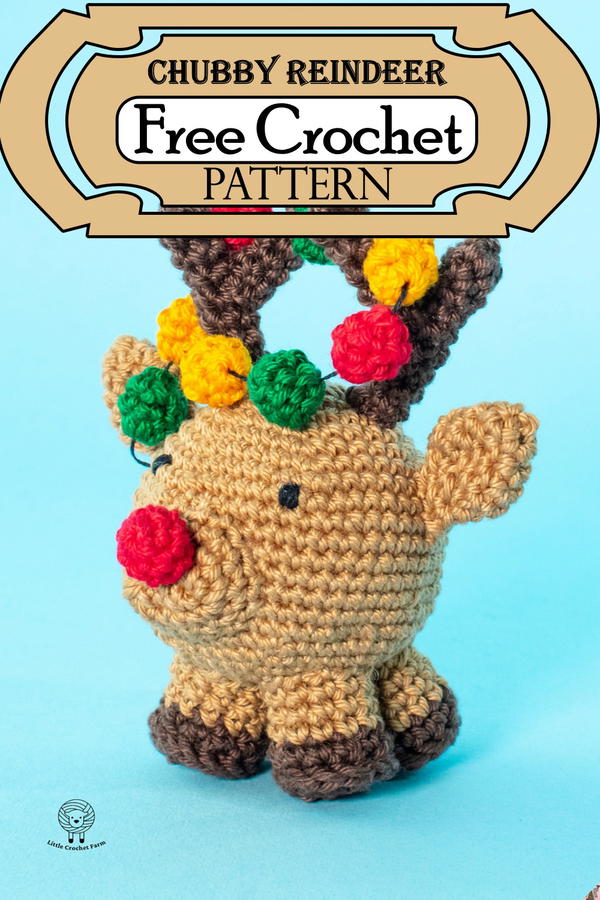 The Chubby Reindeer Pattern is fun and easy to make. They are perfect for holiday celebrations, birthday parties, and any other events you can imagine. The shape of this reindeer will make your fall season something to talk about! This is a beginner-friendly pattern with detailed step-by-step instructions and photos to help you finish the project. This traditional Chubby Reindeer is perfect for household decorations and presents. It is easy to crochet and would look great when made by your child, no matter their age.
Reindeer Mod For Alpaca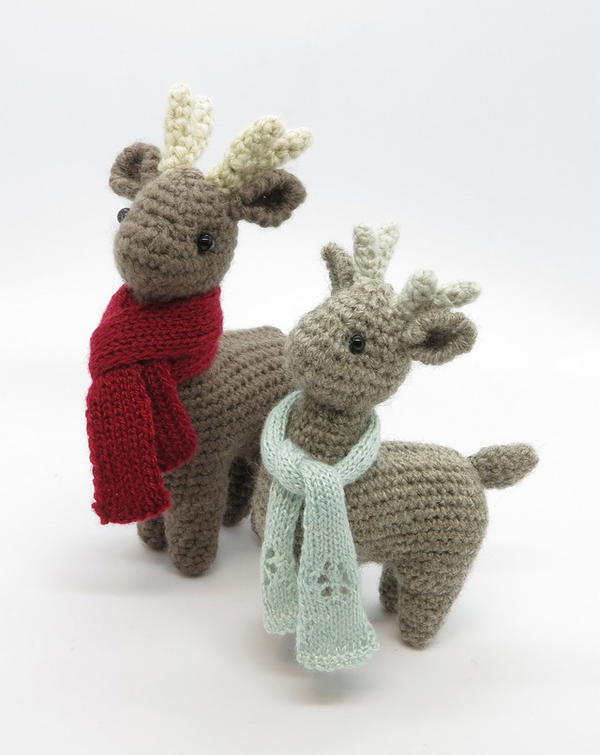 With this pattern, you can create a crocheted reindeer and use the modular technique to avoid sewing. Enjoy making crochet ruffled reindeer ears to add the finishing touch to your knitted or crocheted hat. They are quick and easy to make and can be used independently or as a matched set. This Reindeer Mod pattern is perfect if you have a basic understanding of crochet and want to learn how to make an accessory that makes you look like an expert.
Rudy The Reindeer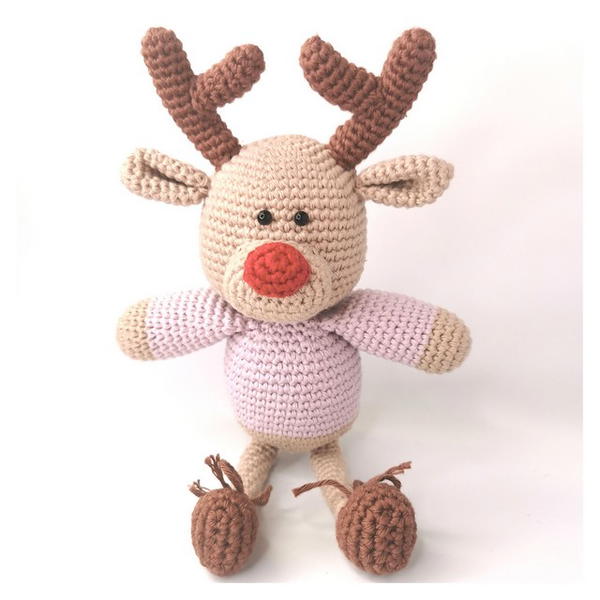 The Rudolph the Red Nose Reindeer crochet pattern is a great way to practice your amigurumi skills. This pattern can be modified easily to make Rudolph look like your version of the famous reindeer, or you can make the base design as presented and add a nose (instead of making it from scratch) if you're not ready for that level yet. This easy-to-follow, beginner-level pattern includes detailed instructions and pictures to help create this cute reindeer. His antlers and nose are so easy - you'll be able to make him in just one night!
Reindeer Applique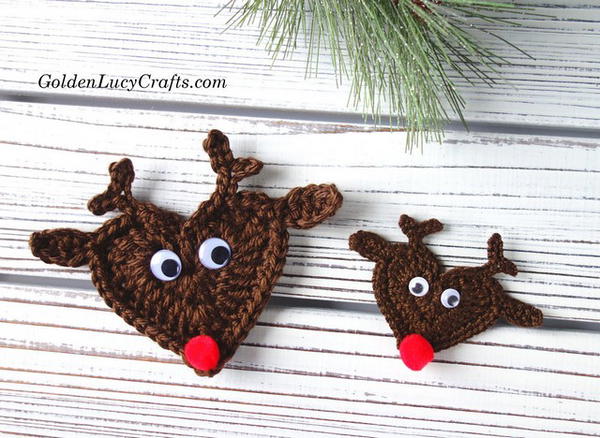 This crochet reindeer applique pattern is a perfect holiday decoration to add to your tree or to use as a unique gift. Make it into a pillow or set it on your mantel. This crocheted appliqué pattern makes it easy for anyone to make their own handmade Christmas decorations, so get started now! Whether hanging on a tree or as an accent on your walls, it will be great to capture everyone's attention. They look adorable all by themselves but also stand out beautifully when paired with other winter-themed appliques.
Christmas Reindeer Tree Decoration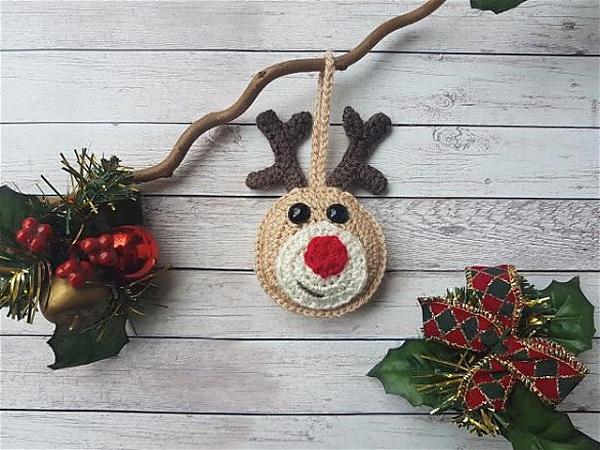 The Christmas Reindeer Tree Decoration is easy to make and works up quickly. You will be able to customize this pattern for any size tree. It also makes a great gift for family, friends, teachers, and more! It is great to make and has a classic look that goes perfect with any Christmas decorations. Use this pattern to add some more Christmas awesomeness to your home! With its simple color scheme, it would be very easy to customize this design to match your style. Follow this amazing pattern and make loveable additions to your home decor.
Mini Amigurumi Reindeer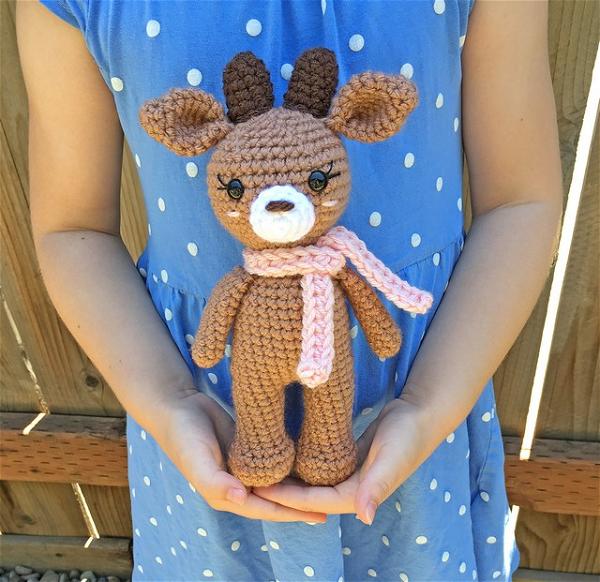 This cute little Reindeer Christmas Wreath is the perfect addition to any December-themed decor. It is great to make and has a classic look that goes perfect with any Christmas decorations. Use this pattern to add some more Christmas awesomeness to your home! The reindeer is a unique Christmas decoration that you can use on your holiday tree or around the house as a fun and funky accessory! You can make the reindeer without the garland, too, so it's great for decorating your tree or mantlepiece – he would make a great gift too!
Reindeer Beanie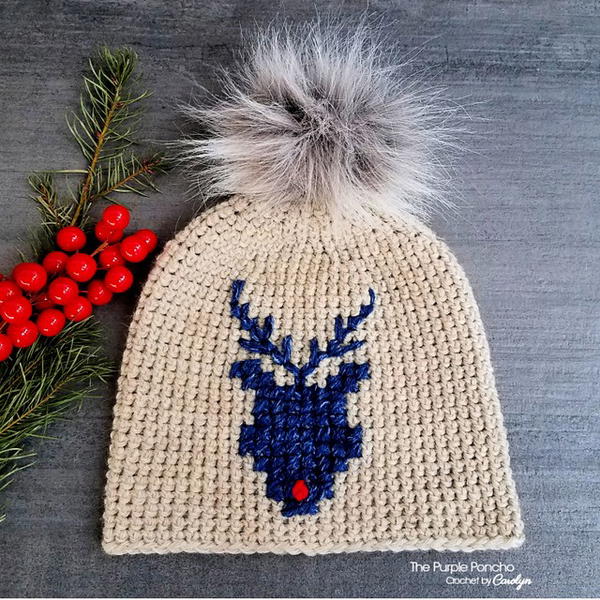 This adorable amigurumi reindeer hat pattern is perfect if you're looking for a quick and easy crochet project! The 8-inch tall reindeer works in about three to four hours and will be a welcome addition to your Christmas decorations. Don't be intimidated by the challenge of creating amigurumi--the secret ingredient is using multiple strands of yarn at once! It's 8 inches tall, making it a great accessory when paired with a bottle or photo prop. It's also super soft, so you can use it to snuggle in the stroller or car seat.
Reindeer Christmas Sweater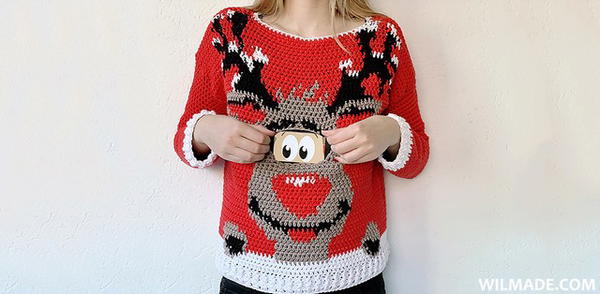 Are you looking for the perfect sweater to compliment your outfit this Christmas? Then this Digital Reindeer Christmas Sweater is the perfect fit! This hat is perfect for men and women, making it a great last-minute gift. This pattern is also great for crafting clubs and holiday parties. The sweater has a digital print of the front and is made of an acrylic blend (cotton/acrylic) yarn that is perfect for cool weather and easy to care for. With a color scheme that screams Christmas, this will be a great addition to any loved one's wardrobe.
Reindeer Stocking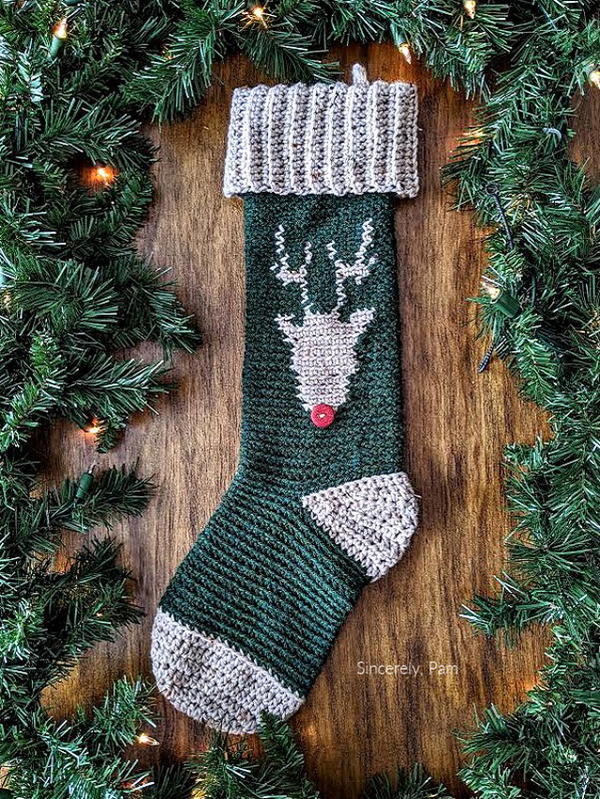 Pinking up your winter with a crochet reindeer Beanie hat is a great idea to keep away from the cold and warm. The crochet design of this Beanie will make you look different from others, and it's easy to create multiple designs by adjusting color choice and embellishments. This hat is quick and easy to make and comes with a tutorial video to help you along the way. Ideal for beginner crocheters and would make great gifts! Perfect for winter, Christmas, and any other cold weather or holiday occasion.
Amigurumi Reindeer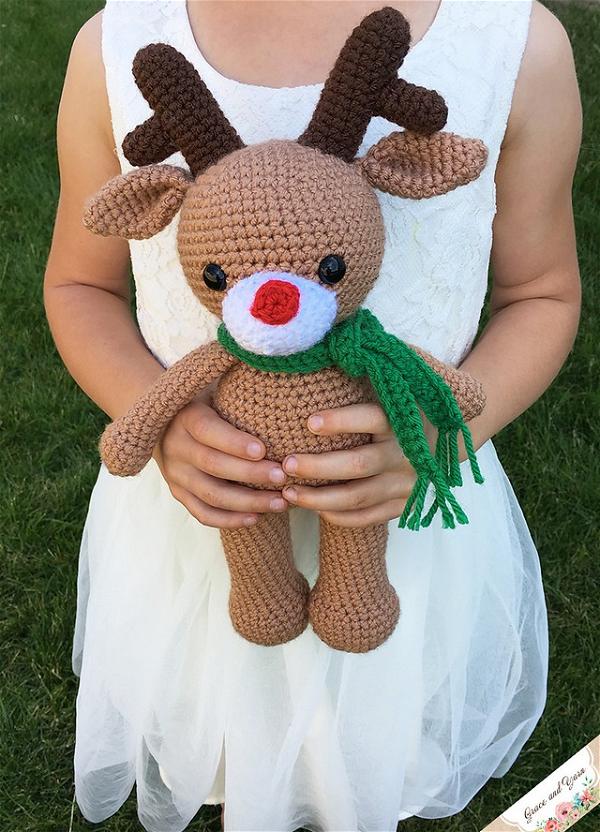 Are you looking for a pattern to crochet your reindeer? Here are one of the best amigurumi reindeer patterns kids will love easily. This crochet pattern is simple and easy to follow and can be completed daily. First, let's start cropping this amigurumi reindeer; It is perfect for Christmas gifts or would make a lovely addition to your own home décor. The finished reindeer is around 9 inches tall and 6 inches wide at the horns, so it's not too small or large to make!
Christmas Reindeer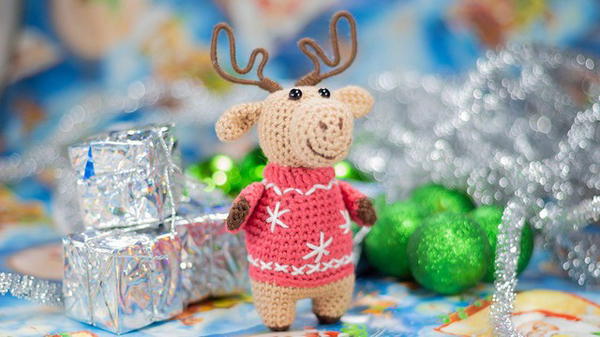 Crochet Christmas Reindeer pattern is a lovely and easy Christmas crochet pattern. If you are a beginner at crochet, this pattern is the one for you to try. It is easy to follow and super fun to do. The final result is a beautiful reindeer that will make any Christmas holiday special. You will love that this design can be used to make different animals with similar construction! Be it a gift for your loved ones, a decoration for your home/office, or as part of your holiday decorations, and this pattern will add beauty to your space.
Mini Reindeer Amigurumi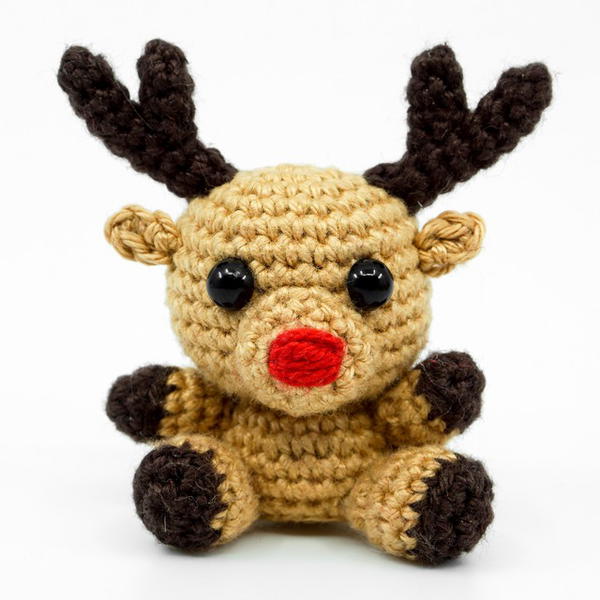 Crocheting this cute little Reindeer is surprisingly easy and fast. It could easily be created in about half an hour, depending on your crochet skills, and is perfect for decorating Christmas tree branches. The reindeer could also be a nice gift or key chain for anyone who loves Christmas! It is perfect for both beginners and experienced crocheters who would like to try something new. The pattern includes step-by-step instructions, photos and links to helpful video tutorials.
Reindeer Headwarmer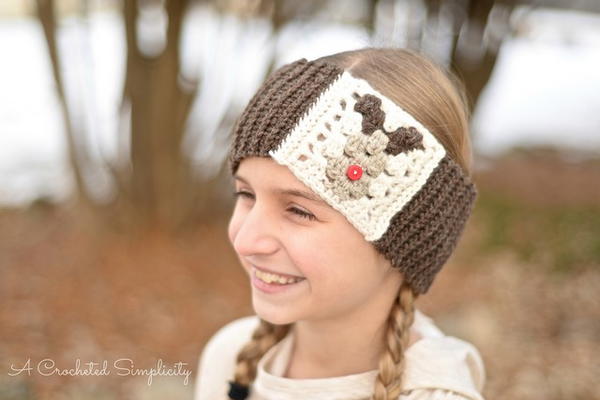 This crochet pattern is fun, easy to do, and a wonderful way to keep your child warm this holiday season. Pattern includes instructions for adult, child, and baby sizes. The simple star design creates a cute pop of color for every occasion! This crochet pattern uses simple stitches, making it perfect for beginner crocheters. It works up quickly due to the smaller gauge of yarn used. The result is an adorable accessory that will keep any little one amused and warm this winter!
Reindeer Hot Pad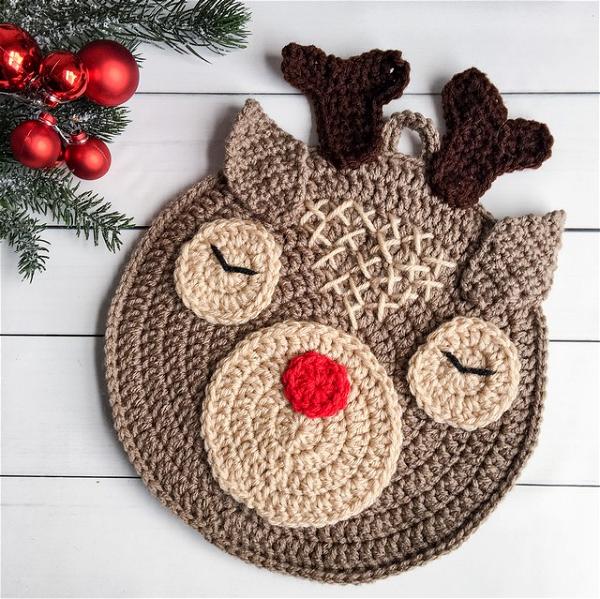 This crochet reindeer hot pad is the perfect stocking stuffer for crafters or a quick gift for your favorite holiday hostess. With a simple yet adorable design and festive red yarn, this soft and squishy reindeer hot pad will be the hit of any Christmas dinner table! Make one for yourself, or give it to your friends and family this holiday season. This adorable crochet reindeer hot pad pattern is perfect for beginners who want to learn a more advanced stitch. These easy instructions include photos and video, so you'll be crocheting in no time!
Reindeer Ornament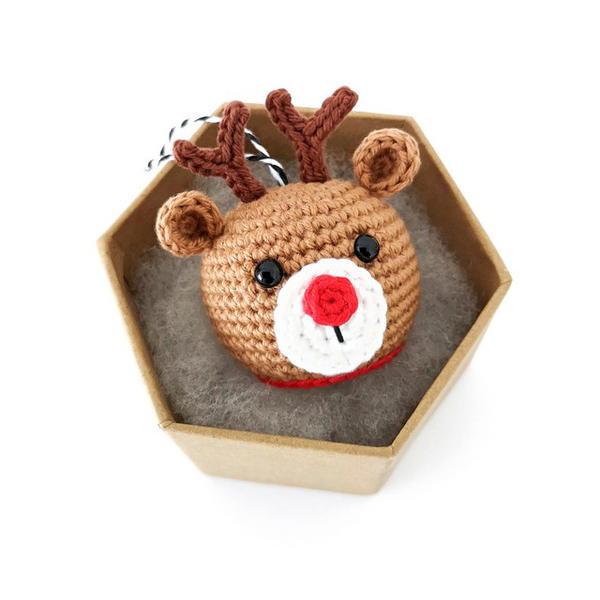 The Reindeer Ornament pattern is a fun and easy crochet project that will make you warm and fuzzy on Christmas morning. It's sure to be a hit with everyone in your family. The reindeer can be made with a simple or variegated yarn for added decoration. If you want a more festive look, feel free to add some red pompom hats! One thing for sure is that the reindeer will take center stage at Christmas time! This cute crochet reindeer ornament makes a lovely addition to any home this festive season.
Reindeer Square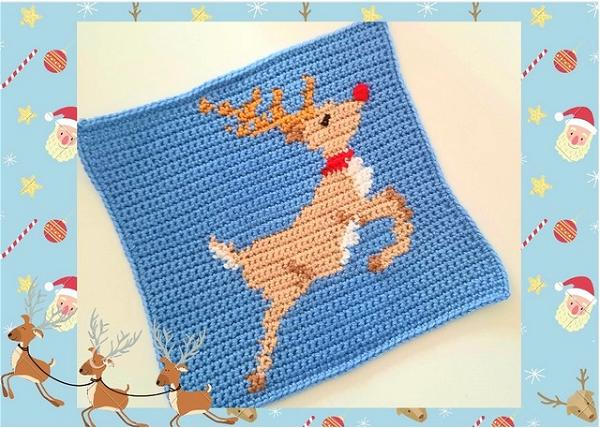 Have you seen the crochet reindeer square pattern that is so popular this season? If you have not, then your time is coming to make on. It is an easy pattern and also simple to do with any yarn of your choice. This square can be worked in any size so that it can be made for any project you want. Just follow the instructions where instructions are provided, and make these animals stunning by adding some beads and buttons on their heads, giving them a beautiful look.
Reindeer Coaster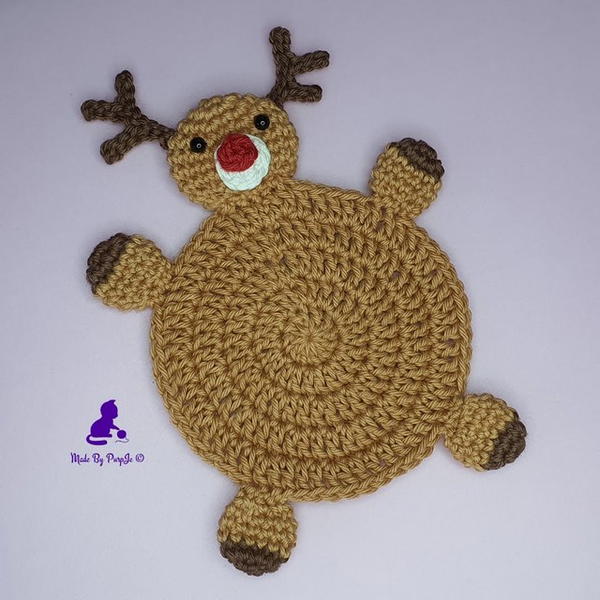 This crocheted reindeer coaster set is a perfect DIY Christmas gift for your family and friends. It comes in a beautiful box which makes it a wonderful gift. This pattern includes step-by-step directions, with photos throughout to make it easy for a beginner to follow. It is also the perfect size for your holiday table or buffet table. Get ready to whip these up and make some friends very happy! Follow this amazing pattern, and I hope you're going to love this pattern.
Reindeer Basket
Make this festive crochet basket to decorate your home during the holidays! Crossed single crocheted in red heart super saver yarn, this basket is a great way to add cheer to any room—a fun project for beginner crocheters looking to move on past granny squares and simple afghans. Stitch in long-wearing red heart super saver yarn with a soft texture, and you can decorate year after year! Crochet in Red Heart Super Saver, you'll make with double strands of yarn in crossed single crochet for long-lasting durability.
Reindeer Ornament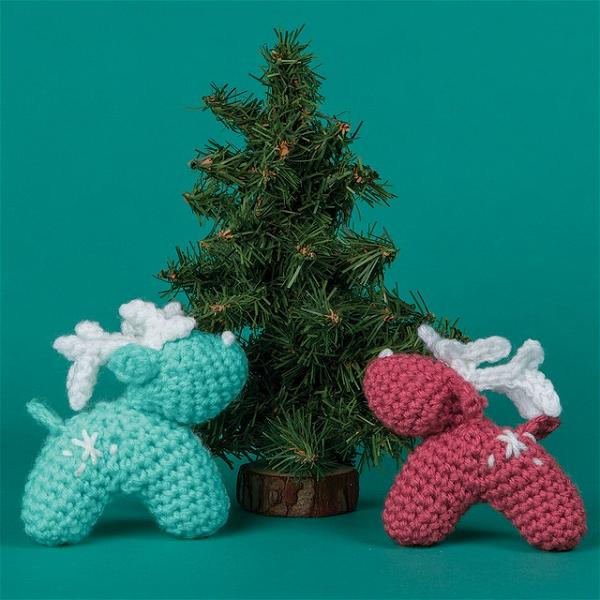 Every home needs a custom-crocheted Reindeer Amigurumi Ornament to add festive cheer this Christmas season! Looking for a unique gift idea? Or maybe you need one more thing to add to your holiday decor. This easy, breezy crochet pattern makes a super cute reindeer that will be the star of any tree, wreath, or garland! This pattern is easy to follow with only five rounds of color changes, so it is great for beginner crocheters! All yarn in our patterns is 100% acrylic and machine washable/dryable.
Reindeer Mug Cozy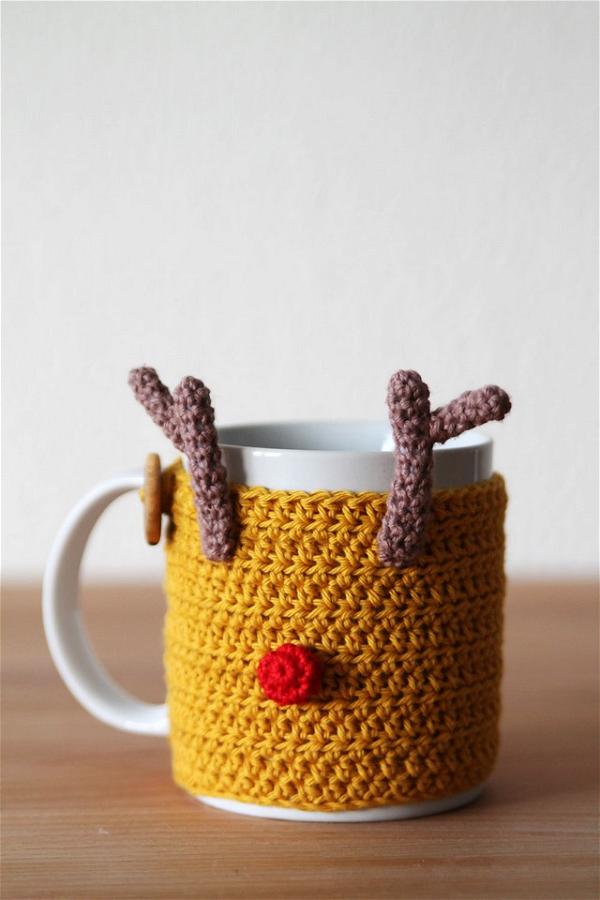 Crochet this super cute Reindeer Mug Cozy for just about anyone. This cozy is fun to make and goes quickly with one of our pre-made crochet kits, so it's a great last-minute gift idea! This cozy mug pattern will help keep your coffee hot and your hands cozy! The design is simple to fit any mug or cup, and you can make it fairly quick with the reusable heat-resistant yarn. The pattern is simple to fit any cup or mug. You don't need lots of yarn, and it's easy to make in a short time!
Reindeer Rudolph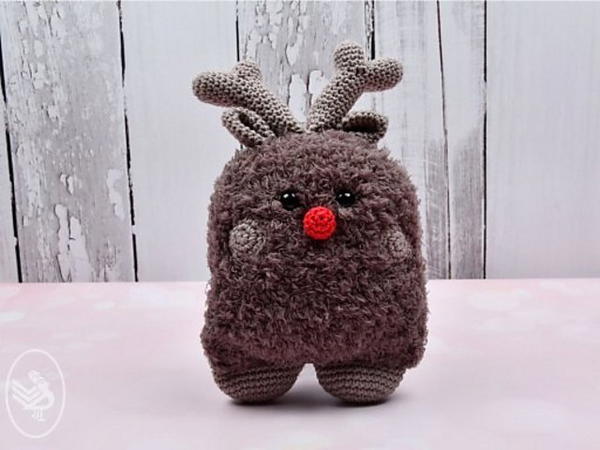 Crochet this sweet reindeer design to give as a gift or keep for yourself! The pattern includes instructions for making Rudolph, the red nose, and the two rattling discs hidden in the body section. They are made using Durable Teddy's extra fine yarn, so your little one can confidently cuddle up to this soft toy. It's perfect for babies and fun to crochet, even with a hodgepodge of colors. The soft teddy can be made using any color combination you desire and as one of your favorite Christmas traditions!