Sleep masks are a great accessory to have around the house. They can be used to help you fall asleep faster by blocking out distractions and light, they also work great at keeping your eyes moisturized after your eight hours of rest, and they're also great for spa days! These 15 crochet sleep mask patterns will give you ideas on how to make your own so that you don't have to worry about light seeping into your eyes while you're trying to rest up. In addition, these patterns are a fun way of using up leftover yarn and turning it into something useful rather than just wasting it with all those pesky knots in between projects!

A sleep mask can be a great help for getting a good night's sleep. Whether you're traveling, working the night shift, or just trying to get some sleep at home, a good eye mask can help. Making your own sleep mask allows you to customize it to your needs and tastes. Try one of these free crochet patterns if you're looking for a simple project. All are fairly quick projects that require just a small amount of yarn. You can make them up in a few hours. These patterns cover a wide range of styles from the cute to the edgy. Find one that suits your taste and start crocheting!
With these 15 free crochet sleep mask patterns, you can make a pretty eye mask for sleeping that will help you get the rest that you need every night.
Tips To Crochet Sleep Mask Patterns
Crochet sleep masks are easy to make, and they are a great homemade gift. Plus they are inexpensive to make.
Here are some tips to follow when making a crochet sleep mask.
Use a soft yarn so the fiber won't irritate your skin while you sleep.
Use soft colors so the color won't disturb your sleep.
Make sure that the mask is comfortable on your face and doesn't press against your eyes or eyelashes.
Choose a stitch pattern that is not tight or stiff.
Crochet sleep masks patterns are one of the most popular crochet patterns.
Don't make your crochet sleep masks too tight.
Choose lightweight yarns.
Make sure to use easy stitches.
Don't worry if they're too light or dark.
Keep the patterns simple, using only a few colors.
Crochet sleep masks can be crocheted using different yarns and colors.
Crochet Sleep Masks Patterns are a perfect gift to give to friends and family on any occasion.
Why We Crochet Sleep Mask Patterns
There are many reasons why you would want to crochet sleep mask patterns. One of them is because they are fun to do. When you crochet, you will find that it is much easier than most people think it is, especially if you have never done it before. Another reason is that they will give you something creative to do while relaxing. You can relax while crocheting your sleep mask pattern, but at the same time, it will give you something useful that you can use at home later on when you have more time on your hands. We believe in the power of relaxation. We believe it's a part of a healthy lifestyle. That's why we crochet sleep mask patterns.
Basic Materials Needed For Crochet Sleep Mask Patterns
Polyester fiberfill
Yarn (worsted weight)
Crochet hook (size E)
Tape measure
Scissors
Koala Sleep Mask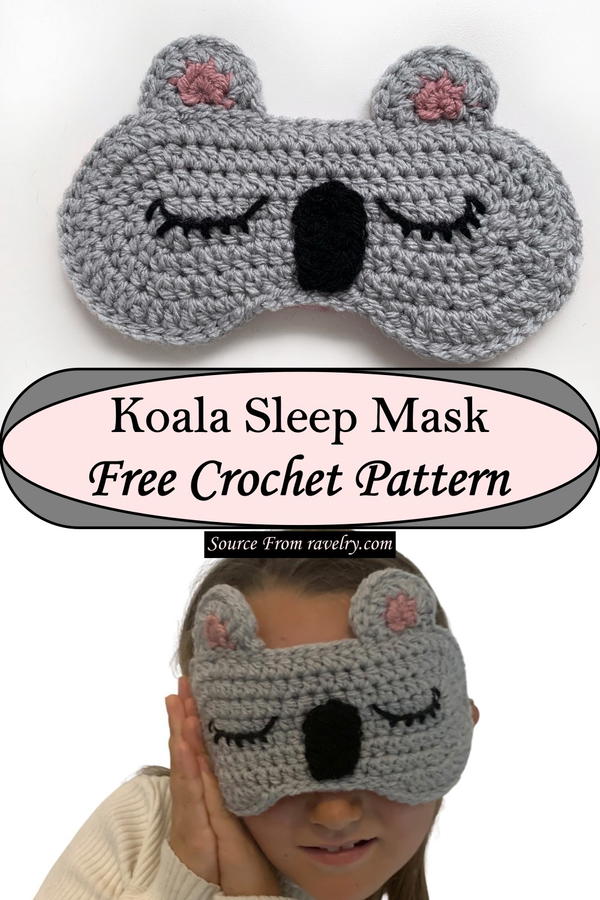 Perfect for kids, the koala sleep mask is made with chunky crochet cotton. The crochet koala sleep mask is so cute that it will quickly become your favorite travel accessory and is sure to catch other passengers' eyes en route! The eye mask is doubled up for a good quality sturdy mask. The headband contains elastic to ensure a snug fit on the head. This eye mask can be worn by children and adults alike. This cozy koala kids sleep mask will be your child's favorite bedtime companion. Made with soft crochet cotton, and sturdy elastic, it is perfect for sleepovers, campouts, or any time your child needs a little extra shut-eye. One size fits all!
Bunny Sleep Mask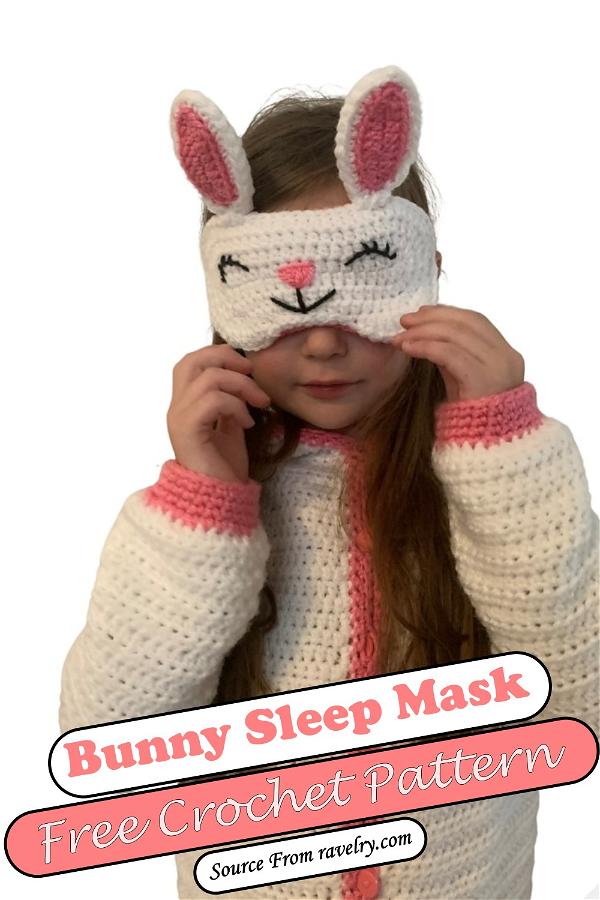 Looking for a cute, unique and cosy sleep mask for kids? This crochet eye mask features adorable bunny rabbit mask, sleepy eyes and little cotton tail. It's not just a sleep mask; it's also a huggable stuffed animal toy that perfectly fits into your kid's bedtime routine! Crochet up this sweet and sleepy bunny sleep mask as a gift or for yourself. It is made extra long so that it fits most children and adults. The eyes are embroidered onto the mask with black yarn in a satin stitch.
Unicorn Kids Sleep Mask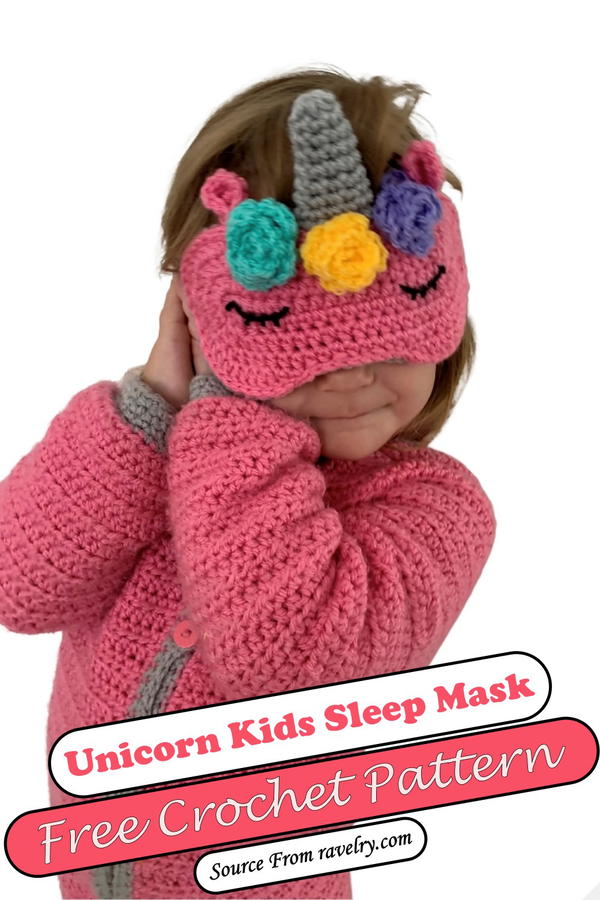 This cute child or youth sleep mask is a perfect gift for any child. The crochet unicorn sleep mask makes bedtime fun and comfortable. Create a soft, snuggly eye mask for your kids with this pattern. The sleep mask features fashionable unicorns and pretty flowers and is made with double-stranded yarn. A simple crochet design that's suitable for beginners to crochet, the kid's eye mask will help them sleep peacefully. You'll also be comfortable knowing that the unicorn sleep mask has pretty flowers and unicorns. The eyes are doubled up for extra comfort and durability.
Fuzzy Sleep Mask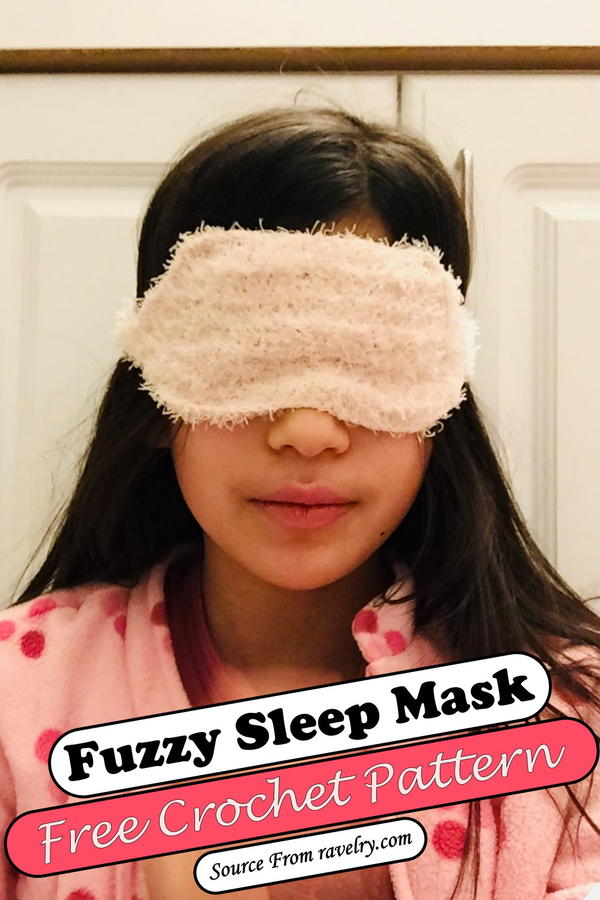 This crochet fuzzy sleep mask pattern is perfect for beginners. Not only is the yarn great to work with, but it's so comfy you'll want to wear it all the time! Plus, who wouldn't love a sleepy-time mask that adds a little cozy warmth to the face, along with blocking out some of the light?" It's double-layered so it blocks unwanted light and feels super soft against your skin. If you're sensitive to light, this is the mask for you. Your kids love these as well; they want to wear them everywhere and we always bring them when we're traveling!
Panda Sleep Mask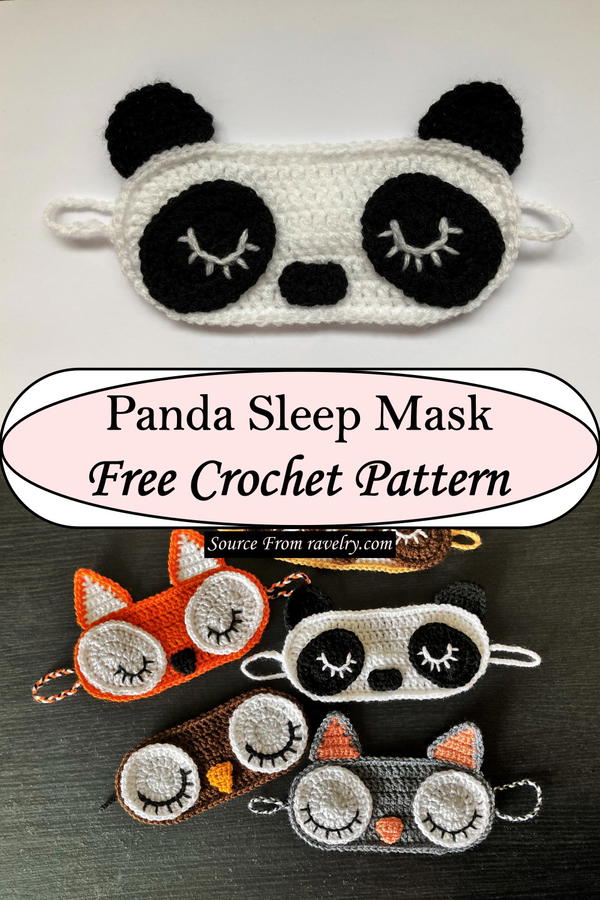 Want to get some shut-eye on your next flight? Make this panda eye mask that you can crochet in just over an hour. Slip into a deep sleep with this handcrafted modal sleep mask. Designed to be super soft and cushiony for ultimate comfort, the lightweight design provides just the right amount of pressure to keep out the light without squeezing your face or tugging on your eyelids. Add some fun to your next sleepover with this crochet panda sleep mask. Perfect for children and adults of all ages, this is a quick, fun project that you'll want to make again and again.
Fomo Sleep Mask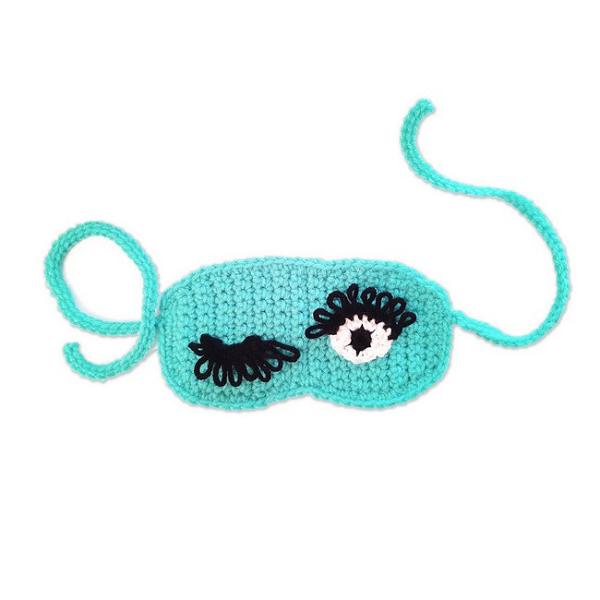 This easy-to-make, one size fits all sleep mask is the perfect gift for anyone with FOMO! Worked from side to side, this quick crochet project requires simple increases and decreases, single crochet, double crochet, working in rounds, and loop stitch techniques. The eyes and eyelashes are worked separately, then sewn onto the front of the mask to create a functional accessory that ties in the back for a comfortable fit. This tired kitty just wants to rest its eyes in a dark place, so it's made a cozy crochet sleep mask. The mask is double thickness and completely blocks out light, with loop stitch yarn eyelashes for added whimsy.
Bear Sleep Mask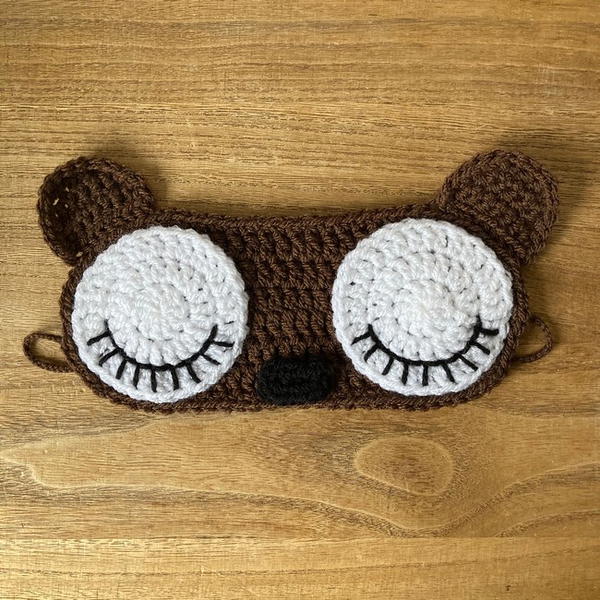 Handmade gifts make the perfect present…don't you think? These crochet teddy bear sleep masks are completely handmade – using only yarn, a crochet hook, and a little fabric and they are a great creative project to get involved with. The best thing is even if you've never crocheted anything in your life before… you can still manage this fun project!
This crochet bear sleep mask is cute, simple and a great project for using up any leftover yarn you might have. It makes a great gift for someone who loves to travel or a fun sleepover accessory. Grab your hook, some yarn, and a cuppa – it's time to get crocheting!
Crown Goose Sleep Mask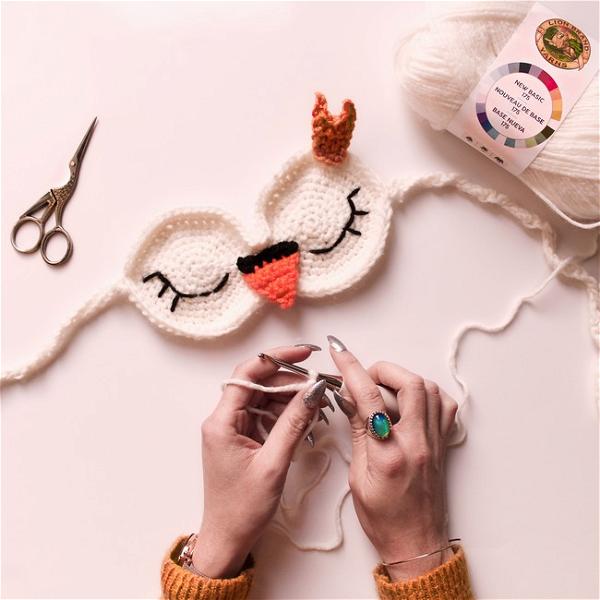 Crochet this soft and comfortable sleep mask to soothe aching eyes, increase melatonin levels for deep sleep, and decrease migraine pain when worn. This Sleep Mask pattern is easy to crochet and only uses few stitches! The Crown Goose Sleep Mask crochet pattern is the perfect addition to your bedtime ritual. Create a luxurious sleep mask to help you fall asleep, and stay asleep throughout the night. This sleepy time project is made with yarn – a buttery soft, easy-care material that will keep you comfortable, and cozy no matter how long you are out for the count.
Chicken Sleep Mask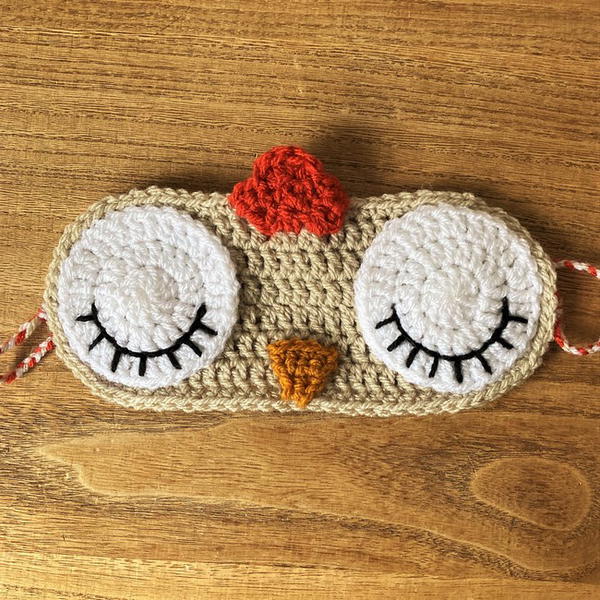 This cute Sleep Mask can help block out light and soothe anyone who needs darkness when they sleep and is a perfect gift for chicken lovers. It uses small amounts of yarn, making it a good scrap yarn project, or use it as an excuse to go shopping for some new colorful yarns! A fun and easy crochet project for all skill levels, this colorful Sleep Mask pattern is unique and the perfect gift for the special person in your life. Made with scrap yarn and a few colors of DK weight yarn, it's also a great project for using up leftover yarn from other projects.
Velvet Dreams Sleeping Mask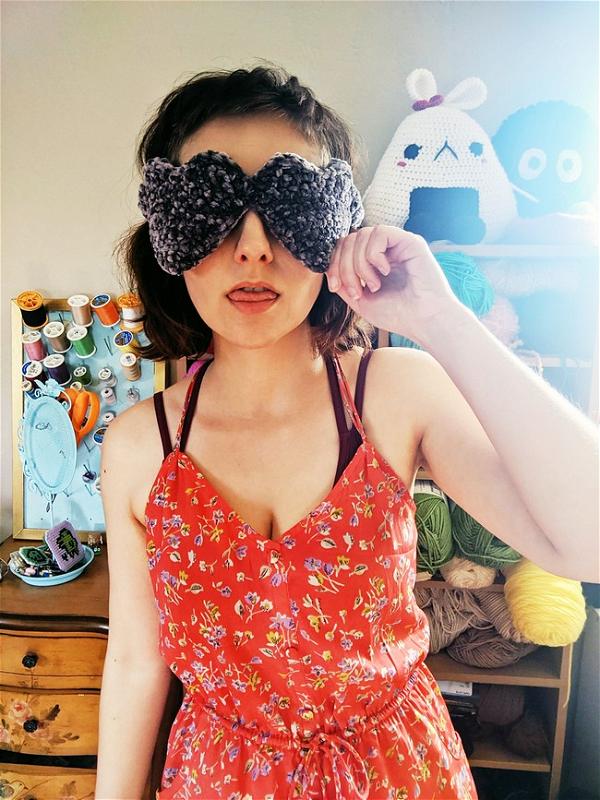 Get ready for a good night's sleep—even on the go. This sweet sleeping mask will completely block out distractions like the early morning sun, loud roommates, and airplane ceiling lights. This sleeping mask is crafted from luxurious velvet fabric that'll keep the light out with the sweetest dreams. Choose from unique prints and colors to match your personality or style. Sweet dreams are sleeping on your head when you wear this eye mask to bed. Woven from a soft and supple cotton blend, the terry-lined mask is a comfortable way to block out light for an uninterrupted night's sleep.
Giraffe Sleep Mask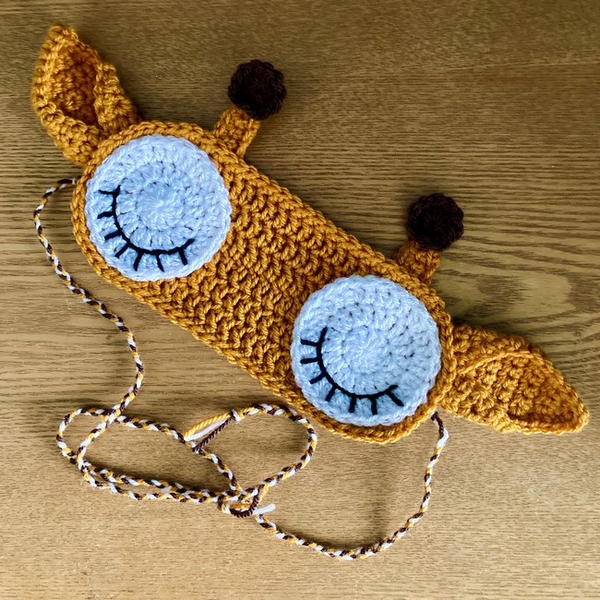 It's time to relax! This sleep mask is the perfect gift for your friends who love giraffes, crochet, and naps. It also makes the perfect gift for all amigurumi fans. It crochets up very quickly making it ideal for those last-minute gifts at Christmas and birthdays. This sleep mask is designed with a DK weight yarn, making it a great way to use up yarn leftover from other projects. The stitches are quite loose and don't completely block out the light, so this pattern includes suggestions on how to back the mask with fabric. For anyone who doesn't have time, it's also available as a finished item.
Breakfast At Tiffany's Sleep Mask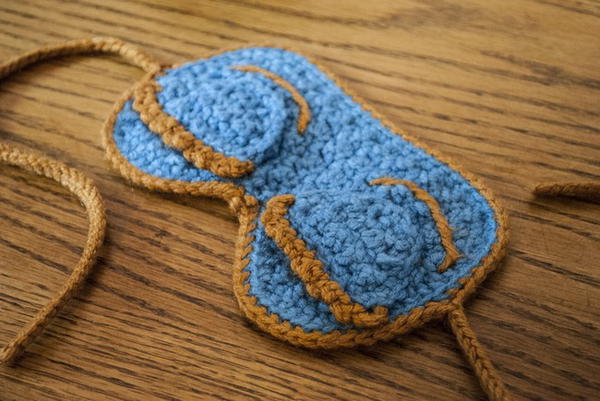 Crochet this Holly Golightly sleep mask to give the Best gift ever! A crochet pattern for a Breakfast at Tiffany's sleep mask. This is an easy pattern, and perfect for newer crocheters, or anyone who wants a super quick project. Just two hours of work can yield a sweet and stylish addition to your rest routine, or could make a great homemade gift. Crochet with worsted weight yarn and have a bit of fun with the different colors. A great project for beginners and experienced crocheters alike!
Feline Rested Sleep Mask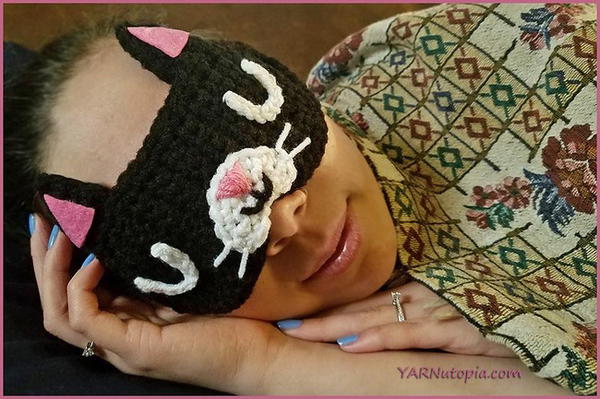 Let nothing interrupt your well-deserved beauty sleep. The Crochet Feline Rested eye mask is the perfect cozy accessory for your nighttime routine. The soft, dark fabric blocks out light and encourages a deep slumber. Lined with silky smooth bamboo fabric, it feels luxurious and relaxing on your skin. This feline-inspired sleep mask sits comfortably on your face as you drift off to dreamland. The satin back is a treat for your skin, and the adjustable strap allows for the perfect fit. With such a cute sleeping companion, why would you want to wake up?
Aviator Sunglasses Sleep Mask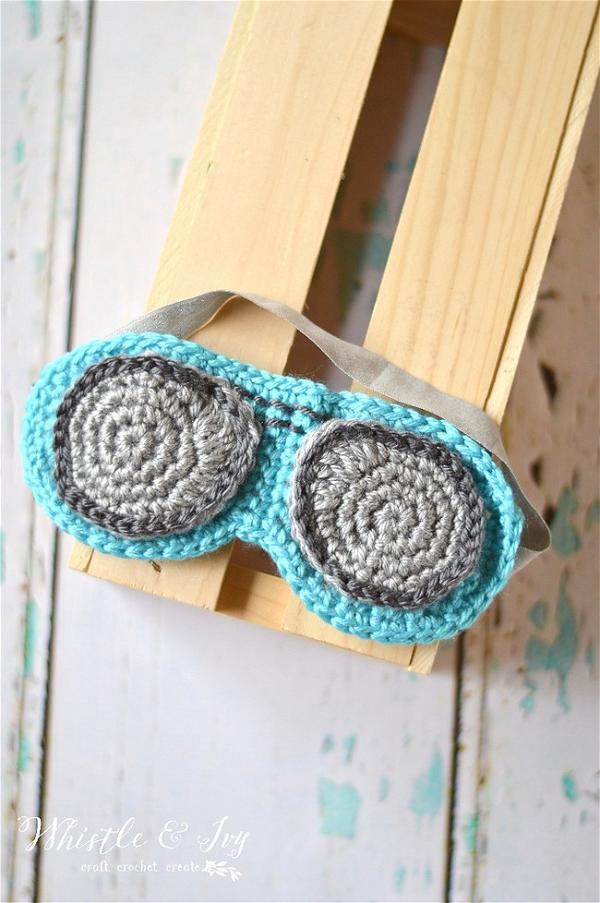 Sleep like you're on vacation no matter where life finds you. This aviator sunglasses sleep mask is cozier and more stylish than traditional fabrics. The crochet yarn accentuates the aviator frame shape while keeping your eyes shielded from any light. Take it easy with this super cool sleep mask. It looks like your favorite aviator sunglasses, but it's designed for one thing only: taking a good nap. The soft crochet fabric is light and breathable; the stretchy band means one size fits all. Good vibes only.
Child's Unicorn Sleep Mask
This cozy, cute and magical unicorn would love to take a journey with you resting on your night stand or in your car! This crochet unicorn sleep mask is for a child or a petite adult. The body is crocheted with a rare gold soft yarn, the eyes and nose are made with black acrylic yarn and the eyelashes are made from white nylon yarn. It has two layers to block out light and make it comfortable to sleep without irritation. The handmade cuteness is sure to bring a smile to anyone's face. Soft and huggable, this crochet unicorn can also be used as a plush toy for any age or placed as a decorative piece in your home.