Are you looking for some excellent crochet wall patterns? This is the place. I have a collection of gorgeous crochet wall hanging patterns that you can give to friends and family or keep for yourself! Colorful, textured crochet wall hangings are a fun and creative way to add character and style to any decor. These beautiful wall hangings are perfect for your bedroom or living room. I'm sure you'll love them as much as I did! These wall-hanging patterns are so beautiful and creative. They will help you to use your talents to create amazing pieces of art that are both functional and fashionable, then pat yourself on the back - you just created something fantastic, and I bet people would be willing to pay good money for it.
Crochet Wall Hanging Patterns

This Crochet Wall Hanging Free Patterns collection is just the inspiration you need to complete that project you've been putting off. You can make them as craft show items or make-and-take stations at your next craft fair. They're also perfect for donating to charity and friends and family. They'll look beautiful up on your walls or hanging from your ceilings! These crochet pattern ideas are written with easy-to-follow directions and step-by-step instructions.
Cute Hearts Wall Hanging
This Valentine's Day-inspired crochet wall hanging is a quick make and works in various colors. It's an easy pattern to customize if you enjoy crocheting not just for Valentine's Day but also in other colors. While working from the graph and written instructions isn't rocket science, this is a good choice for someone learning graph-style patterns. Make this quick and easy wall-hanging out of any color yarn your heart desires. It will surely be a great masterpiece for your home décor and gift-giving.
Tisket Tasket Wall Hanging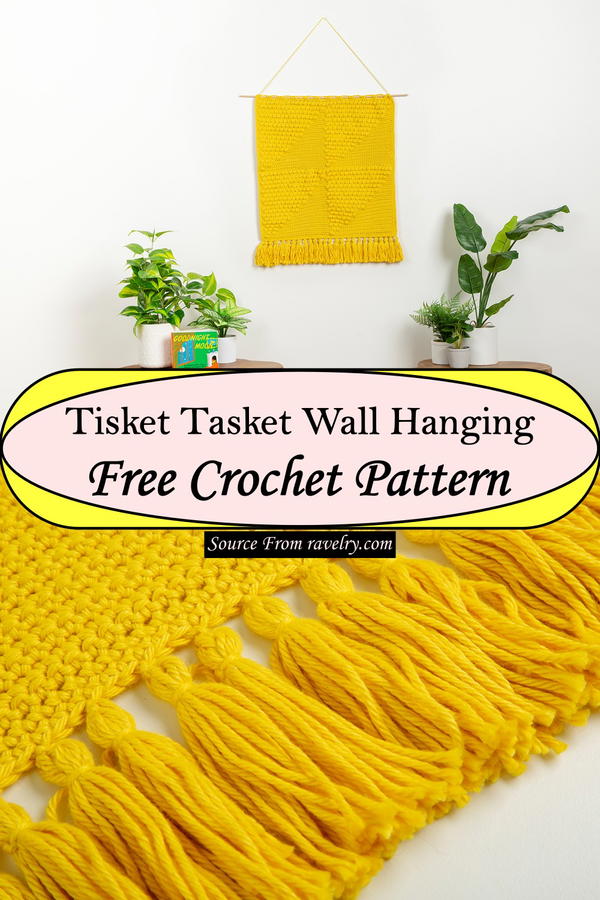 Stunning when hung alone but equally as beautiful when displayed in twos or threes, this wall hanging is all about modern style and good vibes. Triangle shapes are made using fabric strips and wrapped around sturdy driftwood. The finishing tassels add another layer of texture and movement to this static piece. This Tisket Tasket Wall Hanging is where texture meets color and form. The bold shapes and expressive color palette balance with the playful tassels to create a unique piece that will be a focal point in any room.
Cool Tree Wall-Hanging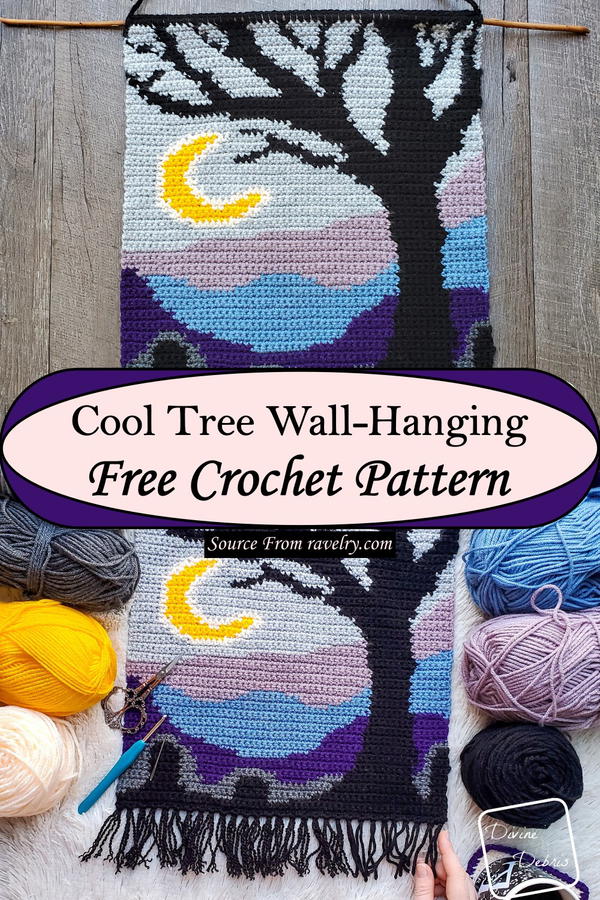 This pattern is a fun and creative way to fill your space with modern style, and this pattern lets you practice your colorwork skills to create an eye-catching wall hanging. This crochet wall decor adds a touch of modern art to any room and is also a great way to stash bust! Practice colorwork on this cool tree wall-hanging. There are endless possibilities for yarn combinations to give you a unique, one-of-a-kind piece for your home. It's a fun stash buster too. This modern wall-hanging is a great way to decorate your home and practice different colorwork techniques.
Evil Eye Charm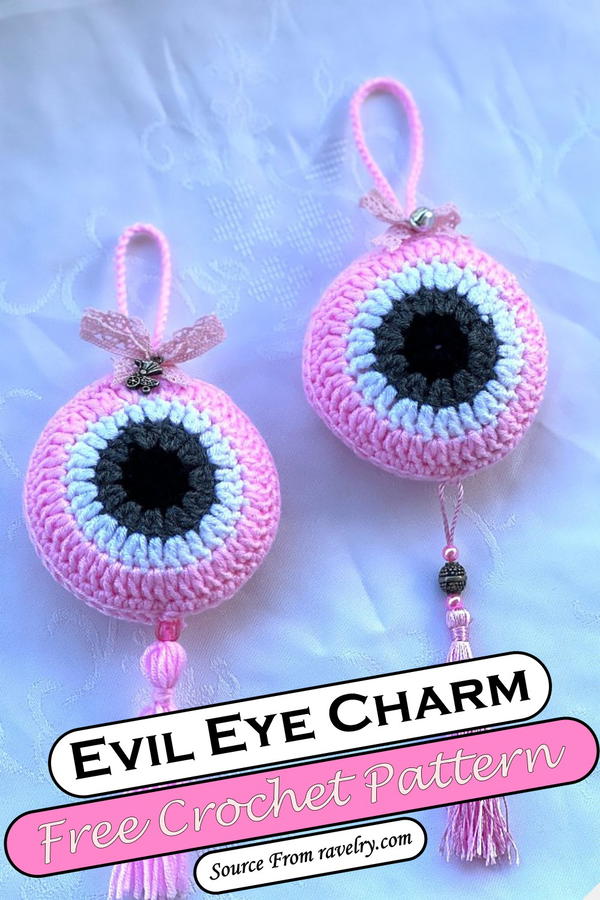 Handmade crochet evil eye charm pillow. Perfect for your gift-giving or to give your home decor a unique touch. Add the charm of traditional Turkish handicrafts to your home with this beautiful handmade piece. Handmade from 100% cotton, using techniques originating in Anatolia for hundreds of years. Pillow is reversible and features crochet tassels and a pocket for filling (stuffing not included). This crochet evil eye charm can be used as a decorative item, hanging ornament, or an accessory (you can use it as a keychain or a bag charm).
Captain America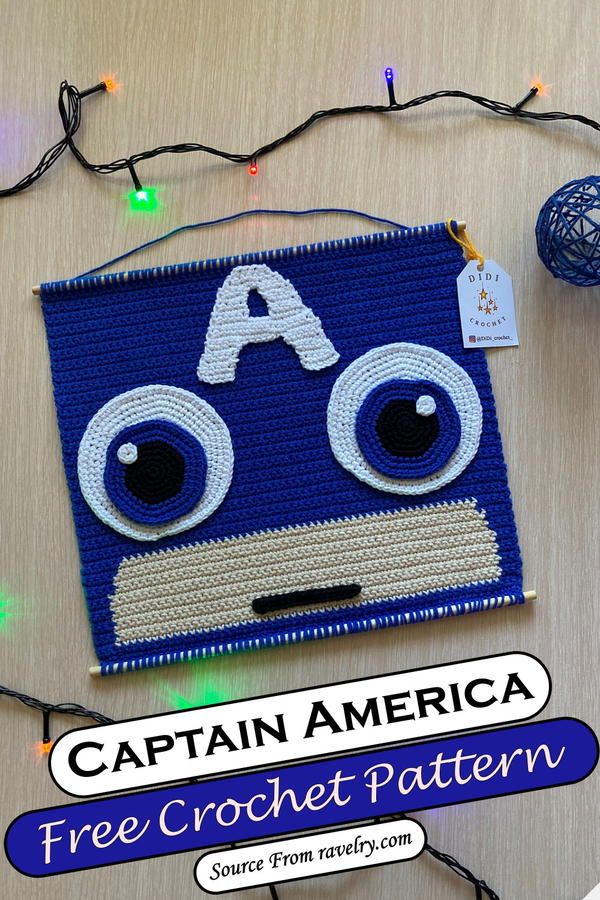 Hawk down your prey like the beautiful predator you are with this ultra-stylish Captain America adult cape. This iconic superhero pattern will be a stunning masterpiece for you to try this season. Let the world know that you're a force of nature with this high-quality, durable, and very cool cape. This pattern will be a stunning masterpiece for you to try this season. It has a beautiful eye-pleasing design and color scheme. This Captain America pattern will be perfect for those who are going out of town on vacation or business.
Wall Hanging Bags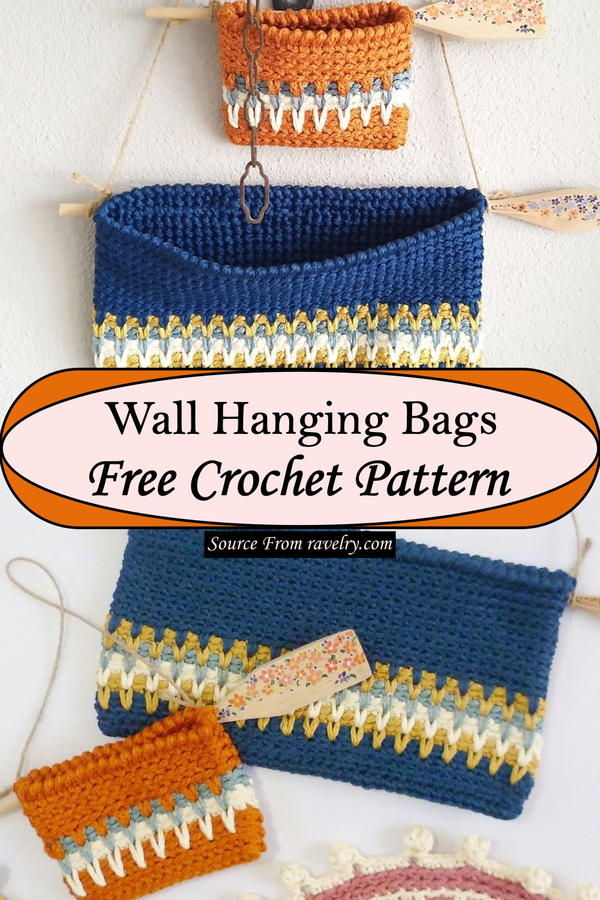 Make these beautiful wall-hanging bags with this crochet pattern. Perfect for kitchen organization and home décor, these bags are easy to make and look great in any room. Don't miss this free crochet pattern! Crochet your bags in the colors you like and fill them with your favorite items. The tutorial includes many photos and step-by-step instructions that will help you through the entire process of creating these lovely bags. These lovely bags will keep your groceries, fruits, and veggies right in front of you. The bags are eco-friendly, and the best part is that they can be washed and reused multiple times.
The Arabian Tone Wall Hanging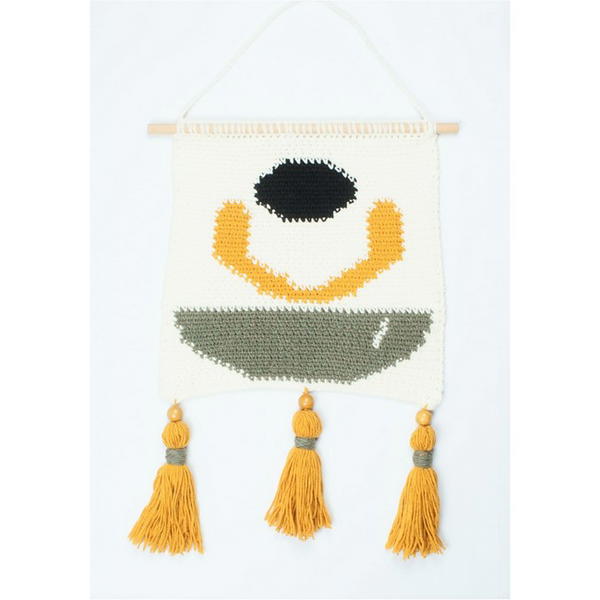 Crochet this beautiful wall hanging, featuring the afghan stitch and working with more than one color, for a unique fall decor piece. This wall hanging is a unique piece; the color palette I chose for this piece was inspired by the fall season. The pattern is for intermediate crocheters who are comfortable working with more than one color. This wall hanging would be great for your fall market inventory as well. This wall hanging will look beautiful in your home decor and add gorgeous fall color to any room.
Rainbow Showers Wall Hanging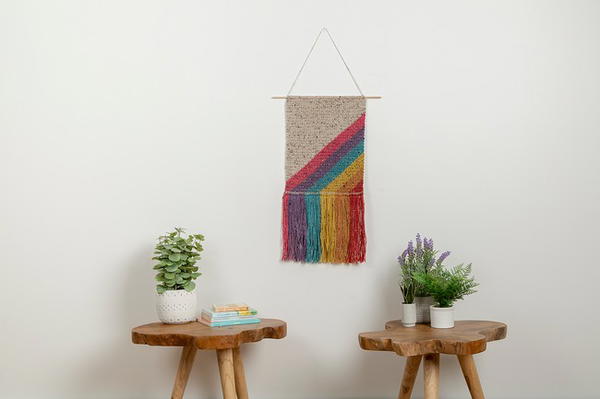 This project is perfect for your first weaving adventure. The perfect size for your wall, this cross stitch-inspired Rainbow Showers Wall Hanging will brighten any room. This quick little make is super fun and can be made in any color palette to match your room décor. This quick little make is super fun and can be made in any color palette to match your room decor. Just use the color palette of your choice and bring some rainbow joy into your home! This craft project is small but packs a big punch! If you can chain and double crochet, this is your project!
Stardew Valley Monster Blanket Wall Hanging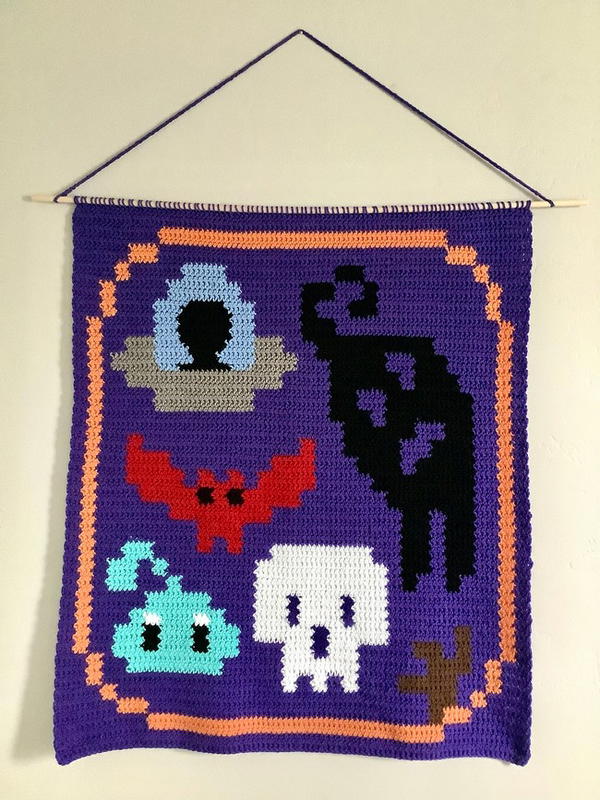 This monster blanket is a fun addition to your home during the Halloween season and can be enjoyed by kids of all ages. This blanket/wall hanging is made with 100% cotton fabric and features a colored version of the Monster Rug found in the game. It can be used as a lap blanket for you, a baby blanket for a little one, or a wall hanging for your home. This piece is hand-crocheted using acrylic yarns; the colors include orange, red, black, and green. The blanket measures 40" x 40" and can be machine washed in cold water; lay it flat to dry.
Spooky Spider Halloween Hanging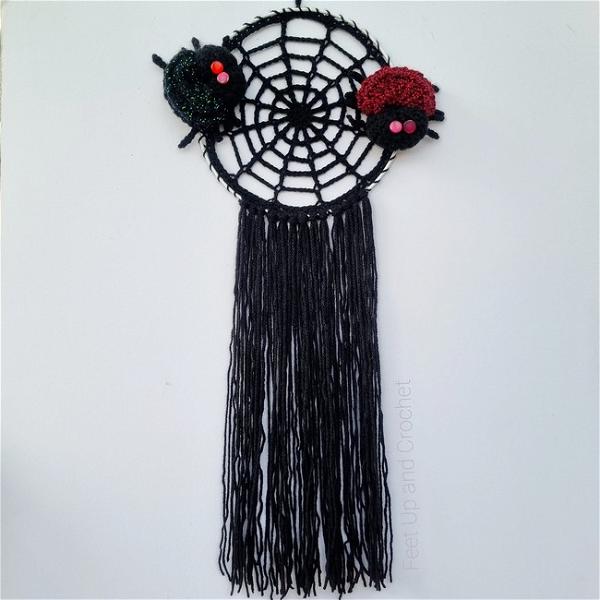 Get creative with these spooky spider-hanging decorations. Easy to make and great for Halloween parties, they come complete with a pattern to help you. Whether you choose to add tassels or not is up to you! We've used DK yarn, but any yarn will do. This spider is the perfect Halloween decoration. While this Halloween version of our popular Spooky Spider is made with black and orange, you can use any color to make it your own! Instructions include making the spider, a web, and hanging thread.
C2C Wall Hanging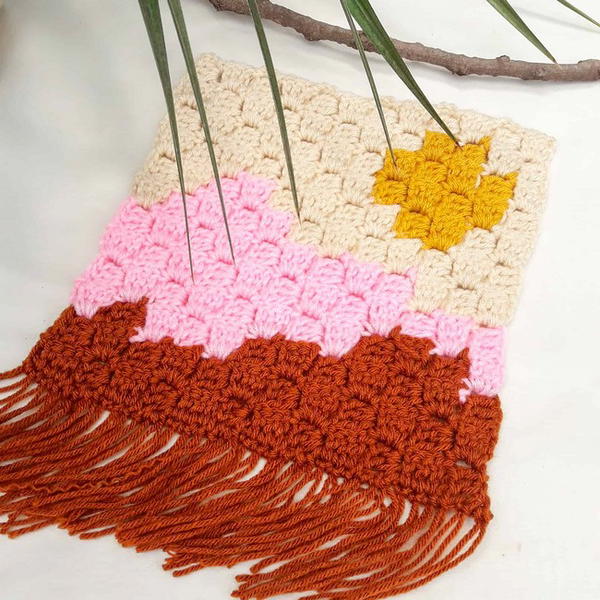 This pattern will teach you how to create a Corner-to-Corner (C2C) Crochet Wall Hanging. This is the perfect project for beginners to C2C as it is made up of only two squares! Corner-to-Corner crochet is one of the hottest trends in the crochet world right now, and what better way to learn than this simple wall hanging pattern? The pattern's full-color 24-page PDF version includes a step-by-step tutorial of the pattern and a color chart generator, and a Corner to Corner stitch library, so you'll never have to wonder how to do your next C2C project!
Suzette Hanging Basket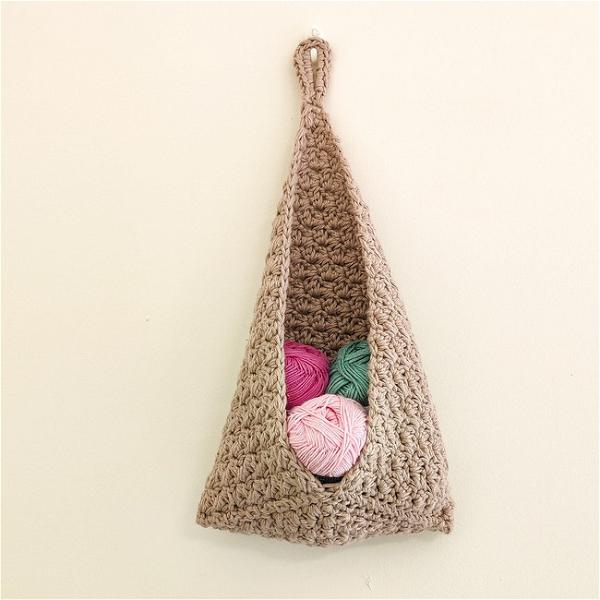 The Suzette Hanging Basket is made using a technique where 3 of its corners are folded towards the middle. The square is then sewn along the sides to close off the top and bottom, leaving an opening in the center for storage purposes. This decorative basket is great for those small things you want to keep handy that don't have a place of their own, such as the plastic bags you pick up from grocery stores or easy access to your phone, keys, and purse. The entire basket is made with the Suzette stitch, a stitch pattern that uses only single crochet and double crochet stitches to create a textured fabric with subtle ruffles.
Follow the Moon Wall Hanging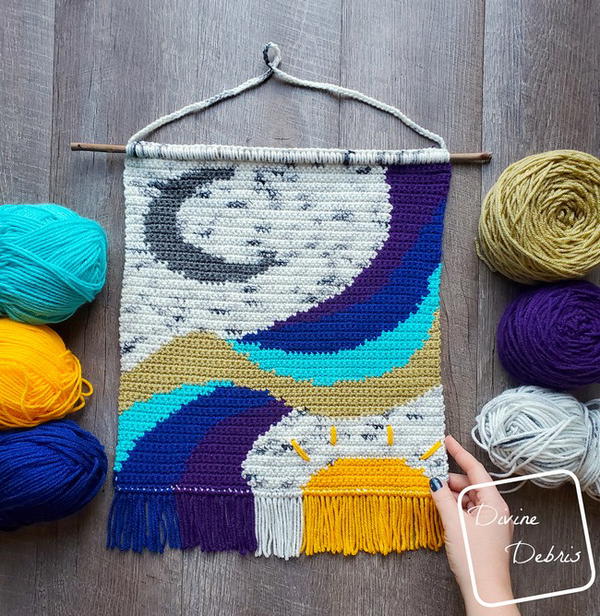 Follow the Moon Wall Hanging is an abstract wall hanging created to bring out the personality of each crocheter with color choices and personal touches. Single crochet stitches create the background for colorful circles, and then a simple twist brings it all together. Crochet in one piece, then work up any finishing touches you'd like. This pattern is easily customizable; see pictures below of other versions made by crocheters who followed their sense of style.
Pansy Pizza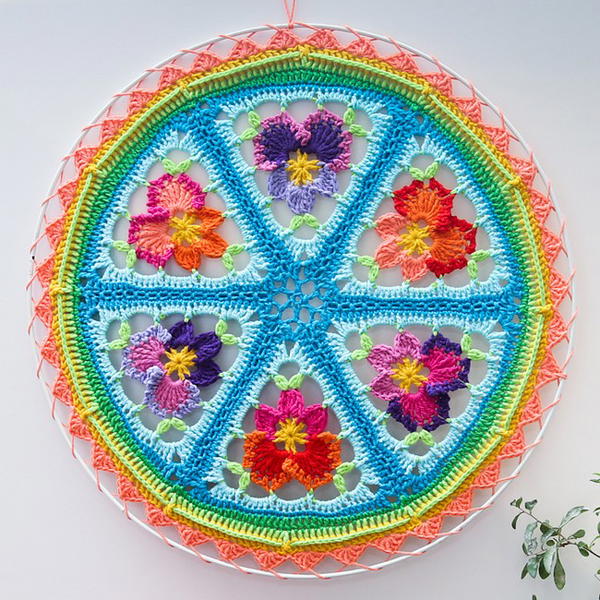 Follow this easy-to-make pansy pizza pattern to make some admirable decorative accessories for your home décor and gift-giving. The Pansy Mandala is worked in the round, with multiple colors. Each petal is worked separately and then sewn on afterward. The design looks detailed and complicated but uses only basic stitches and only at one time. This mandala is best to celebrate the joyful world of color and crochet, and you'll be surprised at how easy it is to create this beautifully patterned crochet.
Heart Wave Wall Hanging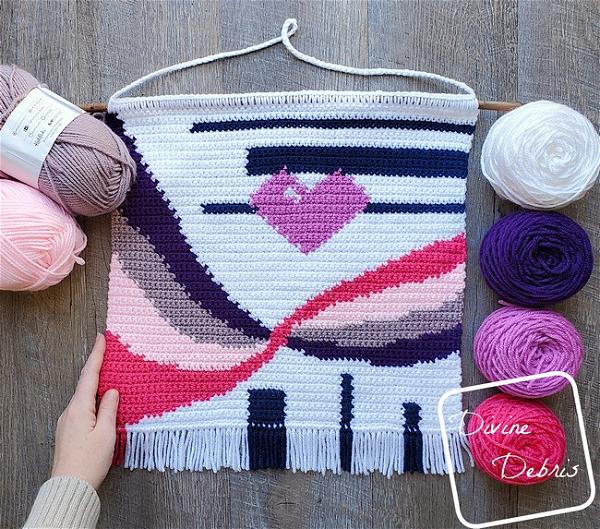 Crochet a Heart Wave Wall Hanging with our downloadable pattern and make a piece of home décor that is sure to be a hit. We've made this lovable design customizable with a palette that you choose, so you can make a unique wall hanging all your own. This crochet project is worked in all single crochet sts side to side in rows and includes tassels for added flair. This project is worked in single crochet stitches in rows, so it's easy and fun to work up! Once you've mastered this beginner-friendly pattern, you can easily customize the design by changing colors or altering the size of your piece.
Evil Eye Wall Art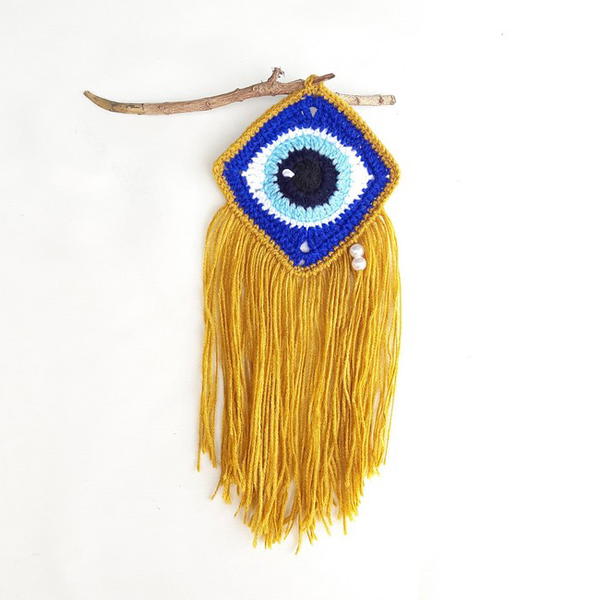 This beautiful crochet Evil Eye Wall Art pattern makes an excellent addition to any room. Made from cotton yarn, this simple yet fun crochet pattern looks lovely when added to a wall as an artful and decorative piece. This crochet pattern comes complete with instructions for how to create it yourself. The finished product size is approximately 9 inches in diameter, and it matches well against blue, yellow, and grey walls. A hook size of 6 mm is recommended, and different varieties of yarn can be used for a special look. This piece is created by crocheting circles together, so it's a good project for that learning crochet.
C2C XO Wall Hanging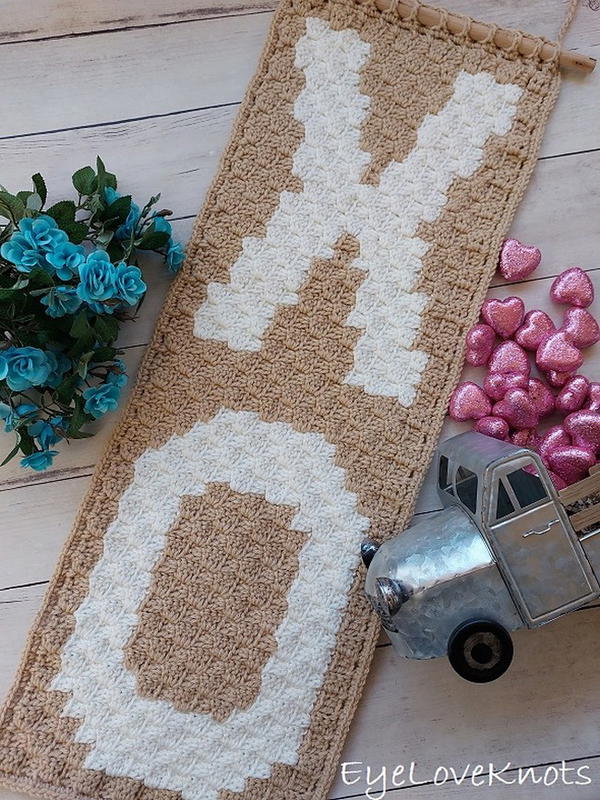 Crocheted corner to corner, this XO wall hanging is the perfect addition to your décor. It's a wonderful way to solve the problem of what to put over the bed, on an otherwise bare wall, or in a gallery of family photos in your entryway. The cotton yarn used is super soft and has a wonderful texture that creates more dimension than typical store-bought signs. As with all my items, this one is handmade by me with love and care in a smoke-free home. This XO wall hanging will instantly add a unique and modern touch to any room. This piece can hang alone or on a gallery wall in a neutral off-white.
Love Wall Hanging
This set of crochet mandala wall hangings combines a red heart with love and an open mandala. It can work in any yarn weight as long as the appropriate hook and yarn color. The set takes very little yarn and makes up quickly, perfect for gifting. This lovely wall hanging will be the perfect decoration for your boho-chic room. This pattern is mostly crocheted in double crochet, and this pattern is easy to make with only one stitch required to learn: the double treble! Pattern includes both metric and United States measurements to use any yarn weight and size hook to make something unique to your home.
Suzette Double Hanging Basket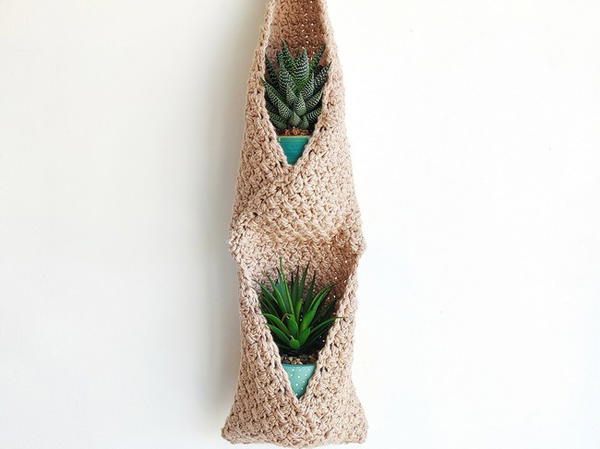 The Suzette Double Hanging Basket is designed to allow you to show off your favorite plants uniquely and unexpectedly! The hanging basket is constructed of two connected triangles. Each triangle consists of two sides sewn together to create pockets where your plants can sit. The corners of the triangles are then folded and sewn together to form the basket's shape and create a sturdy bottom. A thick cotton rope is hung through each basket corner, allowing you to hang your new plant holder near a sunny window or even outdoors.
Hearts For Ukraine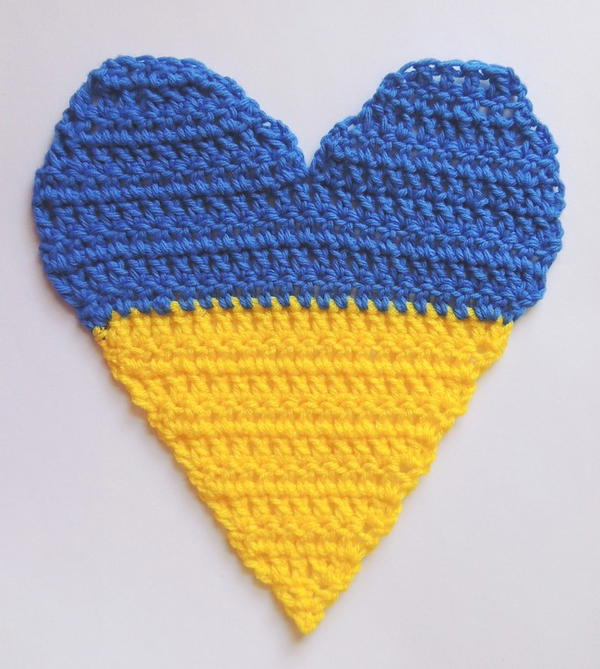 Wear your heart on a tree, fence, or any other public place. Hearts can pin to clothing as well. These hearts are approximately 4" tall by 3.5" wide. Make a garland and wrap a tree! Or make them smaller with thread and wear them as pins. Ukrainian flag to yarn-bomb trees in your neighborhood, wear one on your shoulder, or make a bunch and set them out on a table at your next coffee with friends.
Frida Filet Panel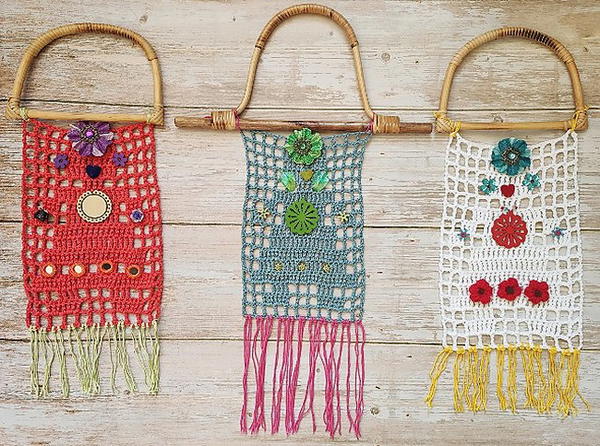 A charming way to revisit a few of her greatest works, this Frida Filet Panel wall hanging is weaving that shows scenes from some of the artist's most famous pieces. You'll love it if you have a sectional sofa in your home. A tribute to her passion, the panel provides a unique take on the temporary art form of fileting and depicts brief glimpses of her most beloved oil paintings. Filet crochet is an openwork technique that produces a delicate, lacy design. It typically works with one thread and a fine steel hook and needle size 2-4 to create delicate frills and a feminine look
Sunflower Wall Hanging & Brooch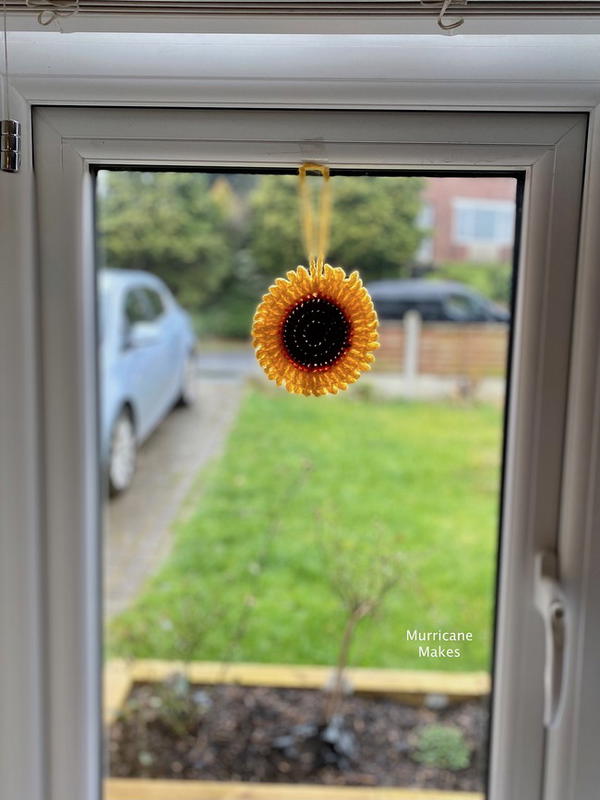 Elegant and handmade, this brooch can be worn to give your everyday wear a bit of oomph or hung as a beautiful wall hanging for your home. Made by artisans in Ukraine, it features a symbol that has become synonymous with solidarity. When you purchase a Sunflower Wall Hanging & Brooch, you're showing your support for the community in Ukraine that made it. Our sunflower pin and wall hanging decoration will brighten up your day and spread hope and solidarity to anyone who sees it.
Freeform Storm Cloud
This freeform crochet project combines two colors of wool roving and bulky yarn to make a unique storm cloud. There is no set pattern, so no two clouds will be the same. This class is great for beginners or more advanced crocheters looking for a relaxing project. This pattern is for a simple, textured cloud inspired by rolling thunderheads. It's easy to make and a great way to use up yarn scraps. No two storm clouds will be alike!
The Kunzite Wall Hanging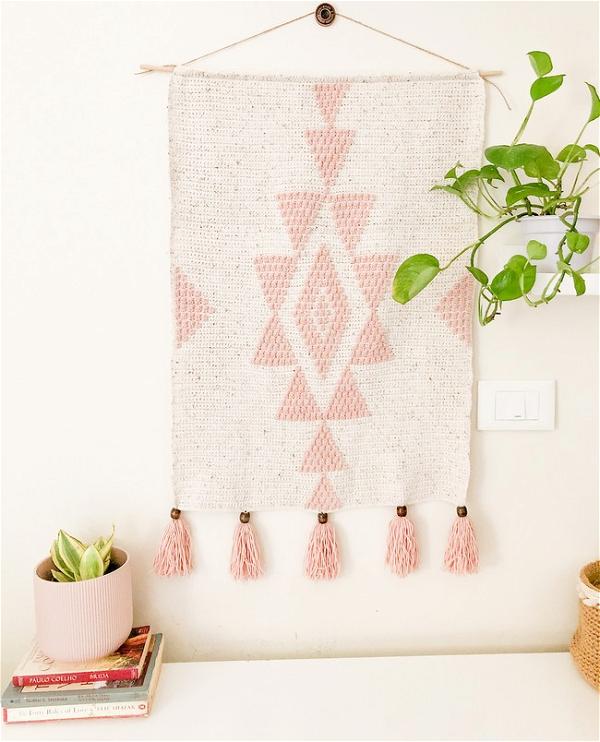 The Kunzite wall hanging is a modern crochet wall décor. The design works in three panels, easy to finish and assemble. It is perfect for using those colorful mini balls of yarn you can find in the shops. You can try out many different colors and create a unique wall decoration for your space. I chose to work in single crochet stitches and spike stitches to enhance some features of the Kunzite gemstone. If you have this yarn from Yarn and Colors, you will love working with it!
Moon Phase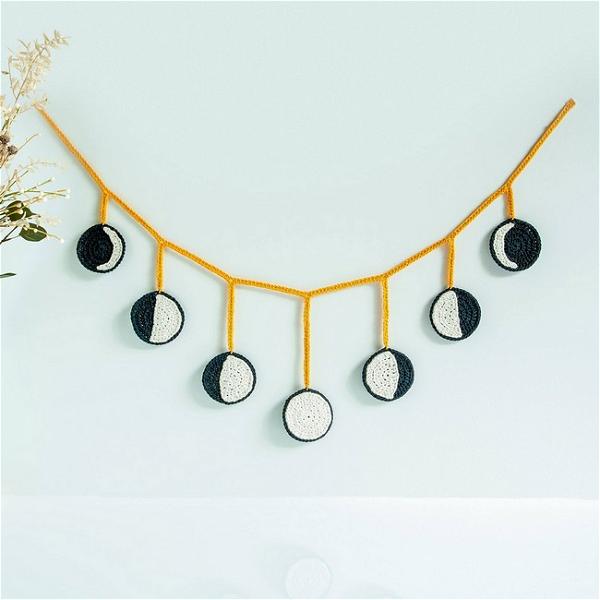 Add a touch of magic to your home decor with this crocheted moon phase garland. Each crochet ball works with 100% cotton and features a different phase of the moon as it cycles through its lunar cycle. The pattern uses half double crochet, single crochet, double crochet, treble crochet, chain, and sewing techniques to create this lovely decoration. Hang it above your bed or in the living room to add some mysticism to your decor. Makes a perfect gift for gardeners or astrology enthusiasts!