Without crochet tassels, a clothing accessory would look incomplete. You can use them in many ways by experimenting with different patterns and colors. They are easy to make, even for beginners, and look attractive when attached to other crocheted items and accessories. Crochet tassel patterns are very popular and can be added to accessories like clutches, purses, and jewelry items. Crocheted tassels also look great when used as a yarn fringe on afghans or other blankets.
Crochet tassel patterns are the latest trend and the most preferred choice of women who want to change or revamp their wardrobe. There are many simple and easy-to-make crochet tassel patterns that you can follow to wear on your earring or as beautiful jewelry or start your day as a new, bright blooming day. And you will be amazed by knowing how easy these crochet tassel patterns are.
Crochet Tassel Patterns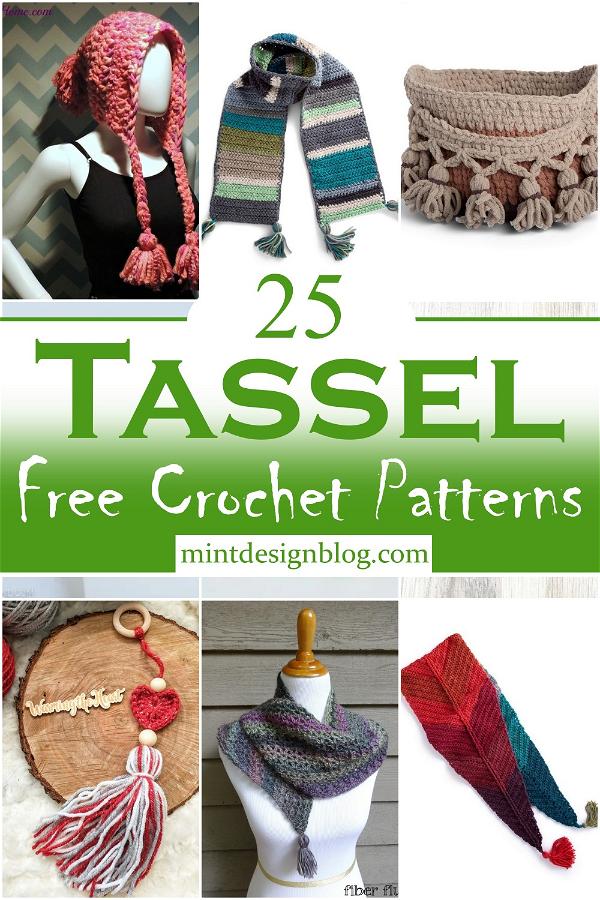 Crochet tassel patterns perform a unique role in making your completed crochet project more embellished and beautiful. And you will not need additional embellishments like beads, stones, feathers, or embraided work to make them attractive; only crochet tassel patterns will work all. If you want to follow the latest spring and summer fashion, these crochet tassel patterns will help. They can be used to add utility to your shawls, beach cover-up tops, purses, outfits, and even home décor accessories.
Crochet tassel patterns are also very easy to make and can be crocheted in any design and shape, their size and length can vary, but they should be thin. You can easily make these patterns if you have a little or at least basic knowledge of crochet stitches. All those who want to learn basic crochet stitches or newbies to the crochet world must try these tassel patterns to nourish their talent in no time. You can knot them several times with your complete crochet art or even place them once or twice, depending on your project theme.
Crochet Fair Isle Hat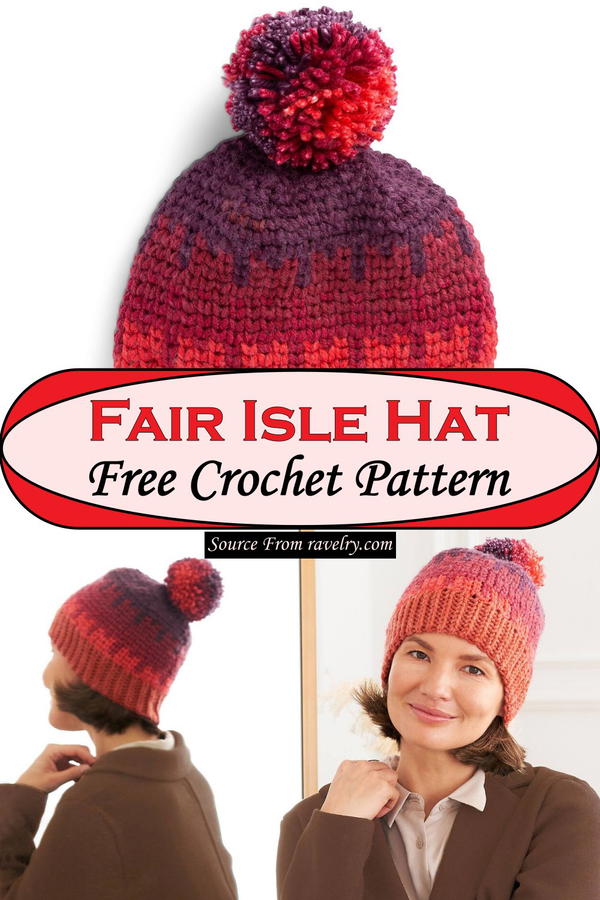 This crochet hat is a dream to work in the Caron Colorama O'Go yarn. The changing colors in each ball of yarn give you everything you need to create a graphic Fairisle look, while your hook and hooking skills do all the colorwork! Practice split single crochet and ribbing techniques on this relaxing project that will fly off your hook! Since the pattern features a simple, easily memorized repeating sequence, you'll want to make this pattern again and again. Finished with a happy pompom, you can tackle this project on a rainy weekend when you want to whip up something fun and addictive.
Ridged Chevron Crochet Pattern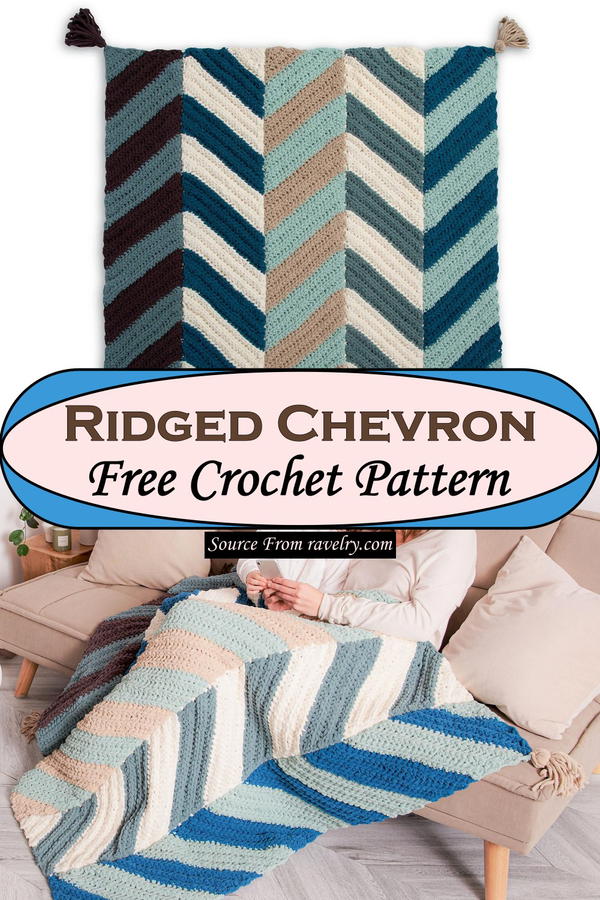 Follow this pattern to make impressive accessories for any room with this dynamic crochet throw. Featuring Bernat Blanket O'Go, this beautiful throw has a soft texture and chevron design in 6 shades of yarn. Made from 2 simple panels, it's easy to work up (or adjust for other sizes) and reversible, so it looks good from any angle. The blanket has an interesting texture created using a back loop single crochet. Worked corner-to-corner and finished with a simple border and tassels, it's the perfect way to brighten your space! This throw is perfect for use on top of a sofa, oversized chair, or even as an extra layer on a bed.
Crochet Diamond Lattice Tassel And Tie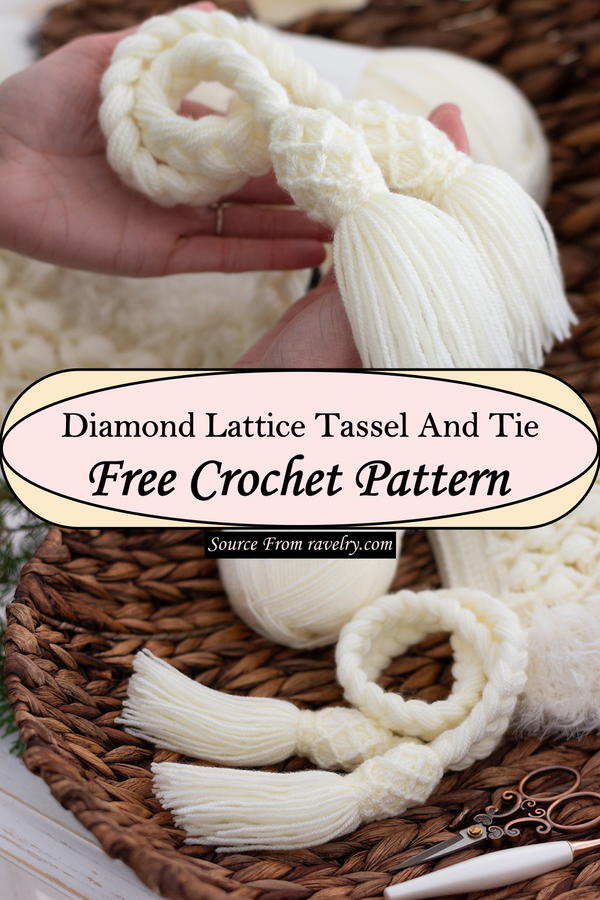 Create a double-ended tassel by crocheting a diamond lattice pattern across the true end of a braided strand. The resulting tassel can be used in various projects, from curtains and clothes to wall hangings. And since it is attached to the end of the braid, it can slide along the cord or chain for quick and easy placement. The tassel is attached to one end of a braided tie, so once you're done with the crochet work, you can skip the tying part and move on to your next project. Makes a wonderful gift for someone special in your life.
Crochet Evil Eye Charm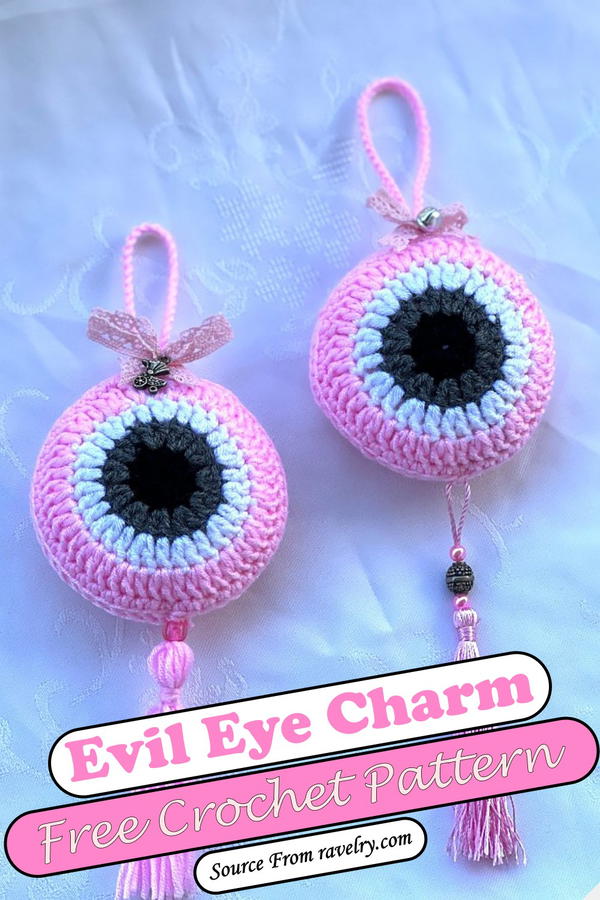 This is very fast and simple to make Amigurumi. In addition, it is a very little one. It is easier to make a bunch of them at once, so this makes the perfect gift for everyone: friends, family, or coworkers! These Charms will be great when you attach them to your accessories such as iPad covers, Computer Accessories, etc. Handcrafted from sterling silver, this charm's traditional design features a central "evil eye" encircled by delicate glass accents and a black crystal border. Wear it strung on cord or leather, attached to your charm bracelet, or simply as a pendant.
Crochet Evil Eye Wall Art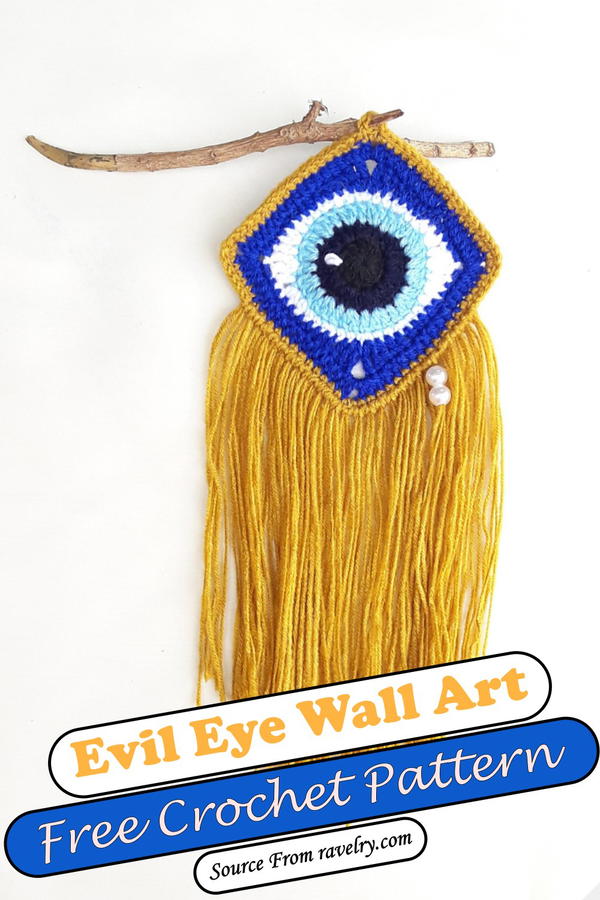 Bring an eye-catching style to your home with this Evil Eye Wall Art. The evil eye symbol is one of the most popular and powerful symbols in fashion. This gorgeous piece is handcrafted from cotton yarn, accented with gold and pearl beads for a teardrop effect. It has a linen back and hangs from a loop of leather cord. The cute little eyes and hearts hanging from the amigurumi evil eye and crocheted diamond shapes are a great addition to any wall in your home. This beautiful pattern can be followed by both beginners and experts alike and is a fun project that will look fabulous on any wall.
Mini Heart Tassel Crochet Pattern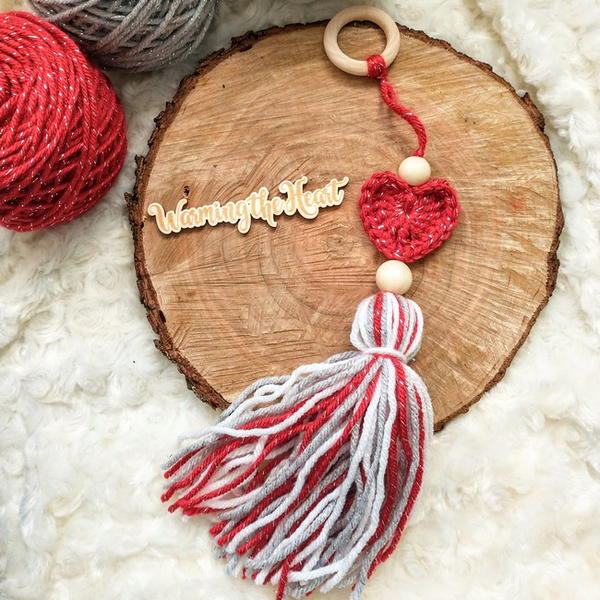 Make an adorable heart tassel on a key chain, lanyard, or even as an ornament. It works up quickly and easily, making it perfect as a gift. The heart is pretty small, less than two inches across, but the tassel can be made in any size. This is an excellent project for using up leftover thread. A mini tassel is an excellent charm for many projects like keychains, earrings, bracelets, and zipper pulls. This pattern includes a photo tutorial and written instructions to help you make your heart tassels.
Varied Stripes Scarf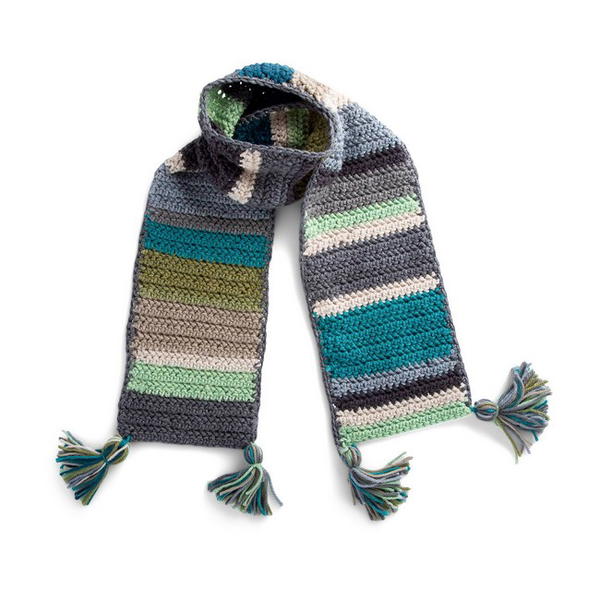 Crochet up a bold striped scarf with the yarn that changes color as you work, Caron Colorama O'Go. Worked on a large crochet hook in herringbone half double crochet and single crochet techniques; this scarf features faux fringing at each end and is sure to get you noticed! Make it in just two shades for a coordinated look, or select up to 5 shades for an even bolder effect. This boldly striped crochet scarf is sure to get you noticed. The scarf is worked in herringbone half double crochet and single crochet techniques and is easy to adjust for a longer or shorter look.
Crochet Chevron Scarf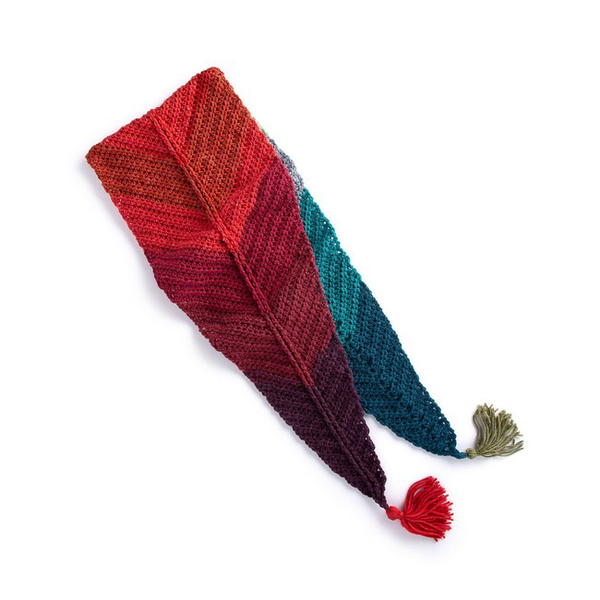 With an attention-grabbing chevron design and large tassels, this crochet scarf has a Southwestern look that will complement your favorite denim. It's a perfect 'in-between seasons' accessory to help you transition from winter to spring. This project is more challenging, so it's the perfect time to practice your advanced crochet techniques. Learn how to make the half double crochet, double crochet, and triple crochet front post stitches; the rest are simple chains and single crochets!
Beginner Hat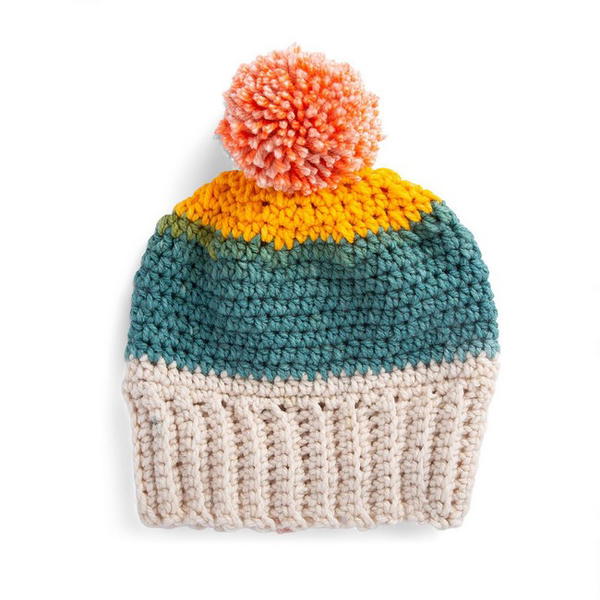 Made with Caron Colorama O'Go, this hat is the perfect beginner project since its color combinations are perfectly curated, and no fussing over colors is needed. Worked in half double crochet and decreases, it creates a mock ribbing with a nice chunky texture that's perfect for brisk days. A playful pompom completes the look! Crocheted hats make wonderful gifts for children, men, and women alike. Whether you are working on your first crochet project or need a refresher, this easy hat would be great for the beginner crocheter.
You can also see: Crochet Men's Scarf Patterns 
One and Done Fancy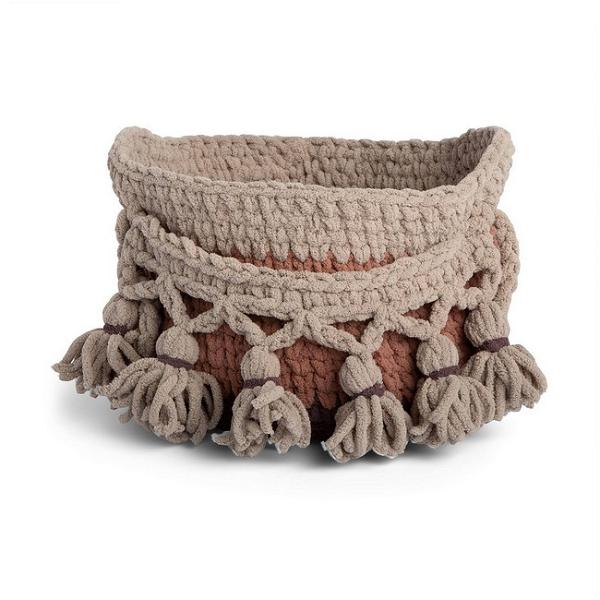 Convenient storage is always in need, so keep this trendy crochet basket handy. Worked in Bernat Blanket O'Go, a super soft and cozy yarn that makes the basket sturdy enough to haul around anything you need to carry. Perfect for organizing and stashing, or prettying up a plant pot - this basket will welcome you home. This crochet basket is small enough to store accessories or use it as a plant pot cover. The simple crochet pattern makes striped work in the round simple. A fun tassel border along the top adds effortless flair.
Crochet Chev Scarf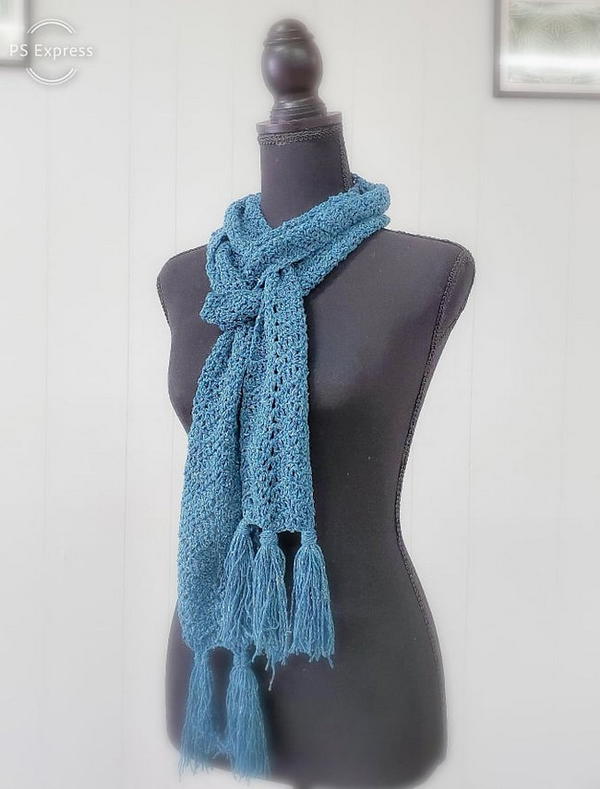 The chevron stitch is a classic yet timeless look that has been crocheted in various weights and colors. I've chosen a lightweight cotton yarn in gorgeous heather that works from spring through fall. Tassels on the ends add just the right bit of whimsy to this beautiful, versatile scarf. The chevron pattern is easy to work up but makes a statement. This lightweight scarf is a great summertime weight, making it the perfect accessory for your wardrobe.
Chunky Ribbed Blanket Tassel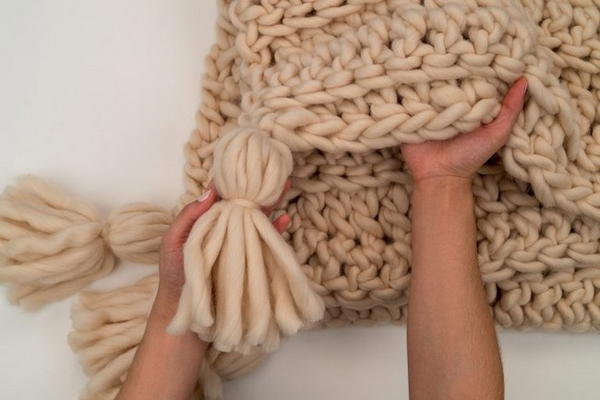 When winter is on the way, you want to crochet something special for yourself and others. This super chunky ribbed blanket is easy to crochet and keeps you warm in winter. One ball of cotton yarn would be enough for chunky crochet for this blanket. I used the skin color, but try it if you want another color. The textured stitch creates a chunky, breathable fabric that is quick to work up. The best yarn to use is cotton, so the blanket will not be itchy.
Bobble Hood With Tassels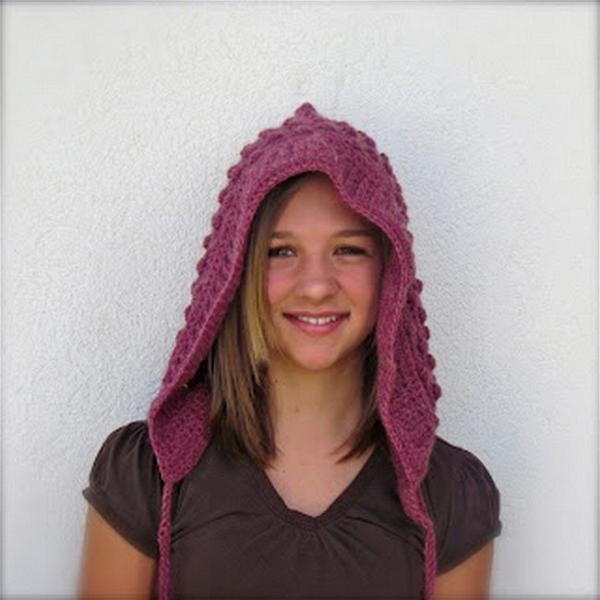 The Hood with Tassels Cowl is a free pattern that you can get from the Purl Soho. It's truly an amazing pattern to crochet with cotton yarn because it gives warmth to your neck and shoulders in the fall season. This hood with tassels is a desire for everyone in winter to keep warm. This hood keeps you warm and cozy, perfect for cold days and nights. The hood has a very lacy pattern that looks great, and the wearer will feel comfortable when you wear it. It has tassels that give it a magnificent look and a special gift it crocheted or knitted.
Warm Hug Hat With Tassels Pattern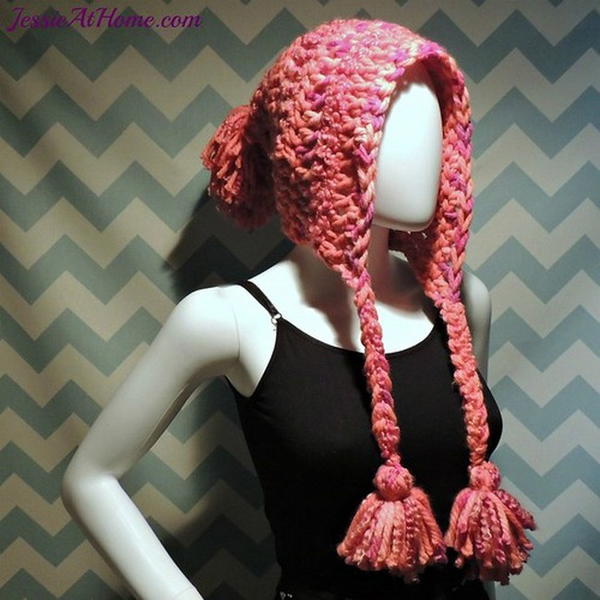 I have used bright colors to design this pattern, but you can change it. It is not that hard to make this hat. Beginners can also make this hat. This will be a great project for beginner crocheters who want to learn some basic stitches of crocheting. You can make these hats for your babies, friends, family members, and everyone on any occasion. This hat will look elegant and keep you warm and cozy on cold days. It is also easy for beginners to learn crocheting at home.
Tassels Philomena Shawlette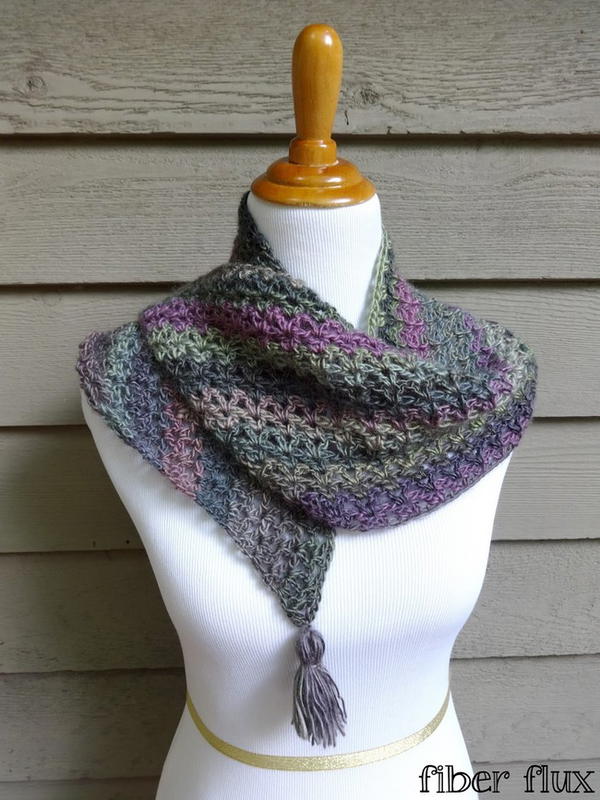 This beautiful crochet Philomena shawlettes are the everyday shawls you can use to stay warm. These easy-to-make crochet designs can be used in fashion and stay warm. The colors have used grey, but you can change the color according to your choice. It will give an elegant look to you. Adorn yourself with this shawlette. You can wear it around your neck and shoulder. It will give an elegant look to you.
Cathedral Convertible Tassels Cowl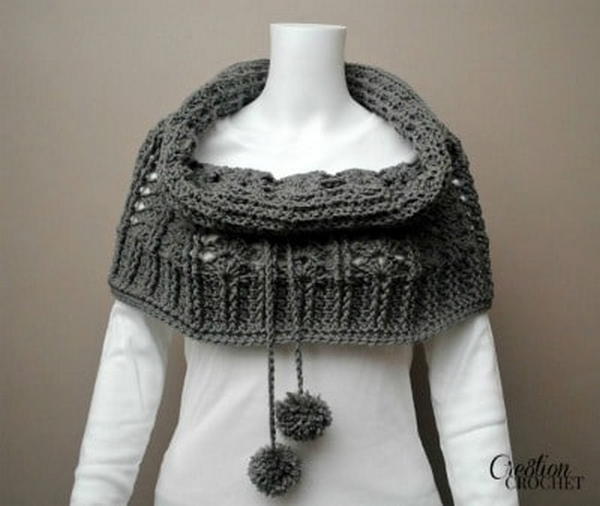 The main feature of this elegant Cathedral Convertible Tassels Cowl is that it gives you a very good look and keeps you warm and cozy in winter to use in many different ways. You can crochet this for your beloved one, your friends, or for yourself, as wearing a cowl in winter is an excellent choice for everyone. Designed with the red heart yarn and crochetable within a couple of hours, this pattern becomes a winter wardrobe staple. You cannot complete your winter wardrobe without this cathedra convertible cowl!
Owl Baby Booties Tassels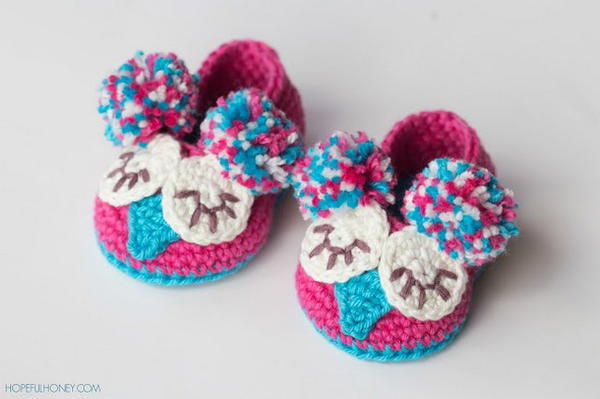 Crochet these little owl booties if you're worried about your baby's health, especially in winter. You need cotton yarn to crochet. The colors used for pink and sky blue, but you can change them. It keeps your baby warm and cozy in winter. When you see this cute little pair of booties with his little feet, all the hard work becomes worth it! These little owl baby booties keep your baby warm and cozy in winter. If you are worried about your baby's health, you can crochet these little owl baby booties. The ideal gift for the next baby shower!
Fun Free Crochet Tassel Garland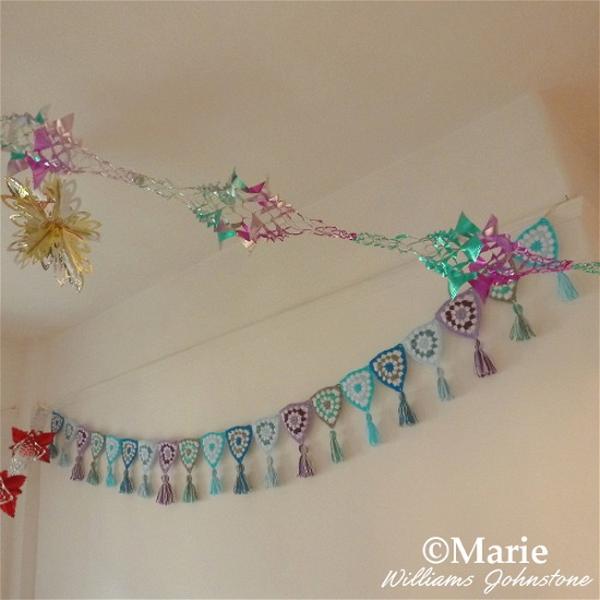 To make this crochet garland, you need cotton yarn. The color selection depends upon your choice. For example, if you select your baby's party, you can choose pink color for decoration. This is the best way to decorate the party and easy to do it. In the future, when your baby feels back to her older age, then she will recognize how much you love and care about her. You'll need three colors of cotton yarn, a little cardboard, and some other supplies. Just choose a color palette and go for it!
Finger Tassel Monogram Bookmark
Are you worried about forgetting things? Are your friends and family members suffering from the same problem? Don't worry! This finger tassel monogram bookmark would be the best option for you, which will help you not to forget important things. It is easy to crochet finger tassel monogram bookmark and has two colors, purple and sky blue. You can also change its color if you want. It has purple and sky blue colors, but you can change if you want. The cotton yarn makes it a soft and stylish look.
Modern Granny Stitch Blanket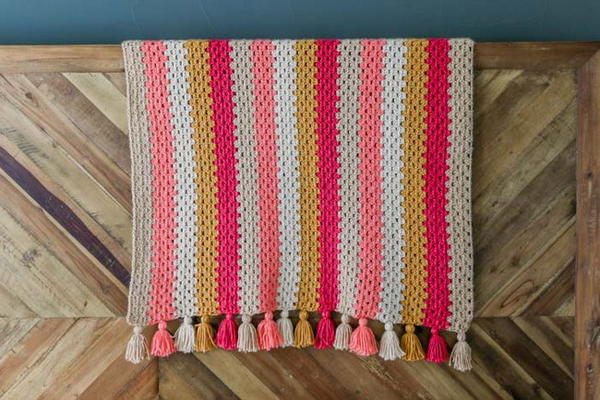 This is another modern granny stitch blanket that is easy to crochet. You can crochet this for your baby's room. It keeps you warm and cozy in winter. Crochet these stunning blankets for you or your beloved ones. Modern Granny Stitch Blanket is fashionable and soft. This pattern is easy to crochet, so it's best for you if you are a beginner. First, you have to select your choice of color. Then choose the cotton yarn for this one. This blanket is very useful in winter because it keeps you warm and cozy.
Newsprint  Granny Stitch Shawl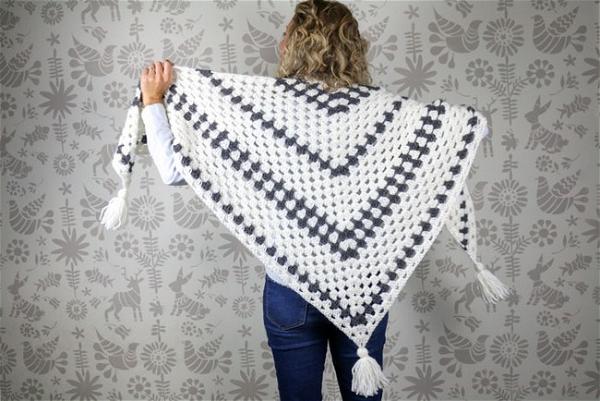 This Newsprint  Granny Stitch Shawl Pattern is perfect to decorate without spending time and money. It's easy to crochet and can be made with granny stitches. The elegant design and use of black and white colors will keep you warm and cozy in winter. This elegant shawl is designed with a beautiful granny stitch utilizing black and white yarn, which can be worn in either color palette. You'll feel warm and cozy in the colder months.
Free Hooded Baby Blanket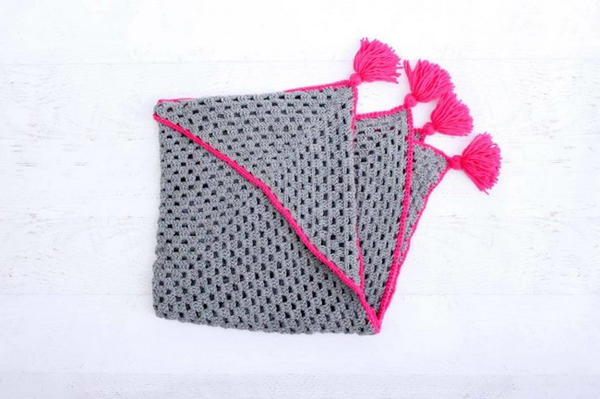 Crochet is the best and most adorable way to create something unique and creative. You can add anything to your home decor by crochet. This hobby needs only a little yarn, colorful ideas, and creativity. Crochet this hooded baby blanket, and your baby will look so cute. Made with crochet cotton yarn, this grey and pink striped hooded blanket is the perfect gift for a new baby girl. Easy to follow the pattern and made in no time at all!
Crochet Tassel Necklace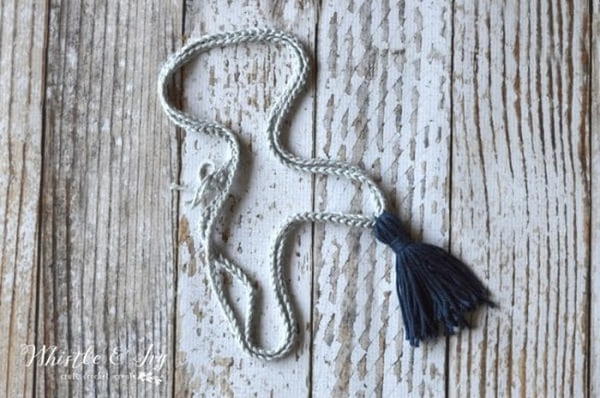 Crochet Tassel Necklace is a special design for crochet lovers. You can make it easier if you are mad about crocheting. This necklace is perfect if you want to beautify yourself according to the latest fashion. The crochet tassel neckless will be sophisticated, elegant, stylish, and unique. This necklace will transform an ordinary outfit into something stunning and extraordinary. If you want to crochet this neckless for someone special, it is a gorgeous gift for every occasion. So, come and crochet it!
How To Add Tassels To A Crochet Piece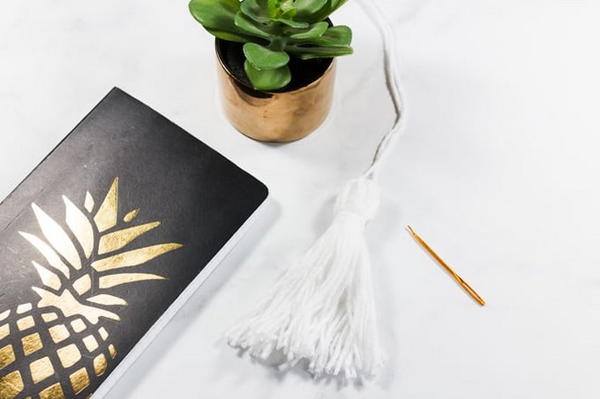 Add some flair to your crocheting with tassels. In this pattern, you'll see how to add tassels to a scarf. This is a great way to embellish a crochet project, and it's easy once you get the hang of it. You are ready for this project if you can make a crochet stitch. This scarf is so easy, quick, and beginner-friendly crochet project. You can make it in any color, made with bulky yarn, and you will finish this scarf very quickly. It's stylish and easy to wrap so that you stay warm in style all winter long!
Crochet Triangle Shawl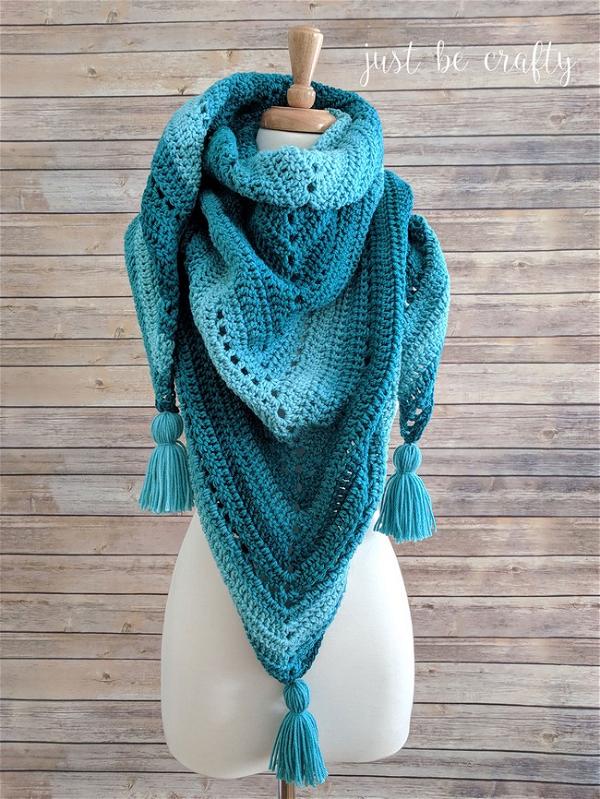 This Crochet Triangle Shawl is a beautiful shawl that keeps you warm in winter. It has blue, but you can change the color. This Crochet Triangle Shawl is very useful in winter. If you are afraid of how you will get through this winter, you should try this crochet pattern! The design of the scarf looks like a butterfly and keeps you warm at the same time. If you are looking for something to gift your beloved, this crochet shawl will be ideal. The cotton yarn has been used in this crochet pattern, and it is very easy to crochet, even for a beginner!
See More Crochet Patterns