Crochet is an excellent hobby for men as well as women. It is an easy way to make something useful and attractive. Men's scarves are a good project for beginners because they are small, simple, and can be done relatively quickly. A crochet pattern can be used to make a wide variety of items. You can make numerous types of clothing, bedding, tablecloths, and much more. There are multiple types of crochet stitches that you can practice to get better at the craft. There are countless free men scarf patterns that you can find online and use as a base to make something unique or different from the original design.

Crochet stitch patterns will vary depending on what it is being made, but typically you will find basic stitches such as single crochet or double crochet stitches. You may also want to try something like shell stitch or double shell stitches as well if you are looking for something a little fancier. There are many varieties of yarn that you can use to make scarves for men. While the cotton yarn is popular for making scarves, it may not be the most comfortable material against the skin, especially in cold weather conditions such as winter. Acrylic yarn is another popular material choice for making scarves because it is durable, inexpensive, and warm. These 20 crochet men scarf patterns are great for beginners learning to crochet and more advanced crochet enthusiasts.
Ripple Scarf For Men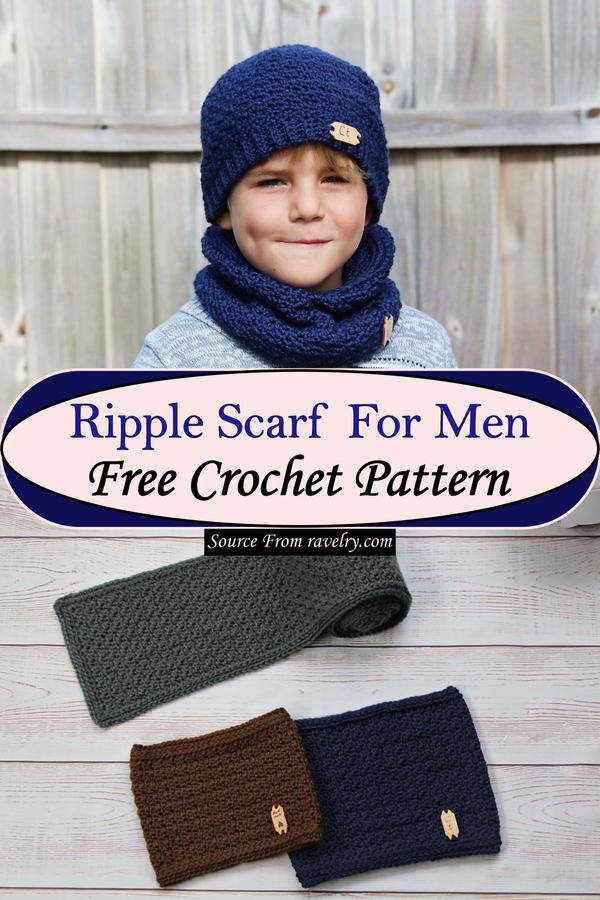 Looking to whip up some new accessories for Dad? or just trying to figure out which guy in your life wouldn't mind an upgrade of his scarf game? You are in luck! We have the perfect crochet scarf pattern and accessory combo that he will love. This Ripple Scarf and Cowl can be made in any manly solid or heather color and any DK yarn.
This pattern is simple, very easy to make more detailed by adding more stitches or making longer chains for the Ripple look. It's great for last-minute holiday gifts and good for guys who aren't into fancy knit patterns. Wear it like a scarf on cooler days or around your neck while you play your favorite sports! Or, roll it up like a turtleneck and let it peek out over the top of a button-down shirt. This scarf pattern can be adjusted to any age, adult, or child.
Classic Ribbed Men's Scarf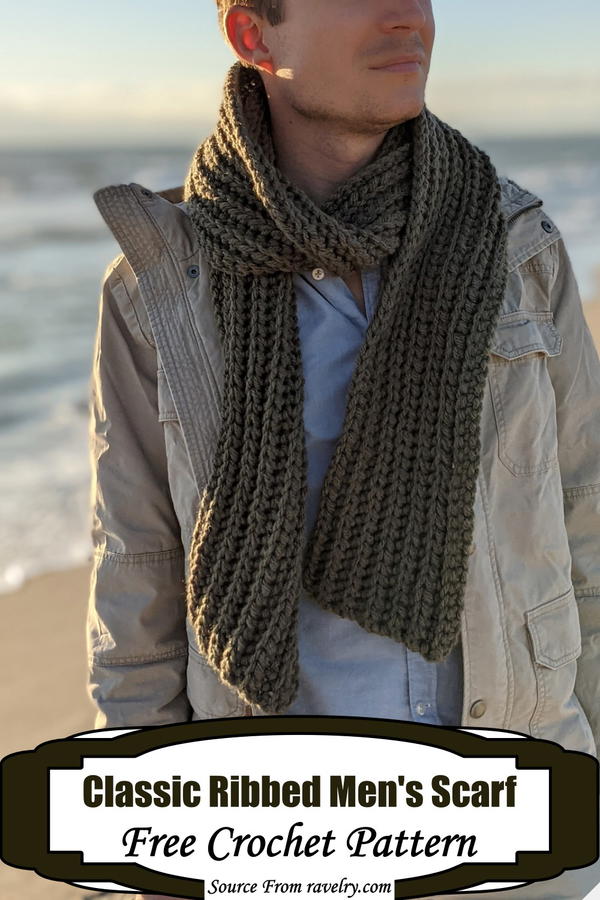 Looking for a quick men's crochet pattern that works up quickly? This chunky Scarf for men is light, soft, and comfortable. The perfect crochet project for all the men. This classic ribbed men's crochet scarf is the ideal crochet scarf pattern to knit for all the men.
This men's crochet scarf is super simple to make and is the perfect gift for all of the men in your life. Its simple design makes it the perfect beginner project or even a fun, fast and easy finish to go along with something else. With just one stitch and bulky weight yarn, you can have this crocheted Scarf done in just a few hours.
You can also see: Scarf Sewing Patterns 
Crochet Men's Scarf Cool Ombre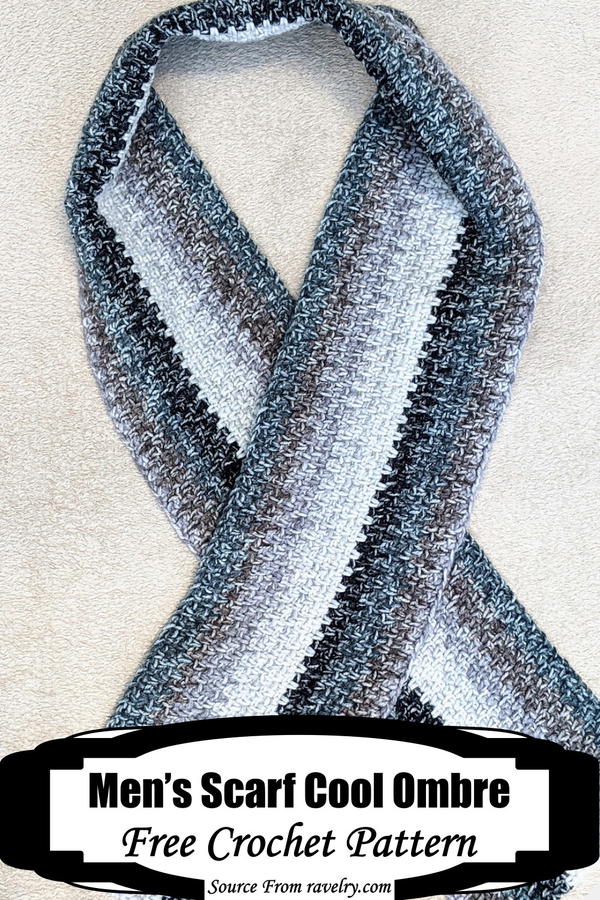 This men's Scarf looks super neat and attractive. Its design is inspired by the colorful transitions of the Ombre gradient. This ombre men's Scarf comes in a simple, clean, and classic design. It is soft, durable, warm, and stretchy. If you enjoy crochet but are looking for a simple project, this crochet pattern is ideal for you. It took me some time to decide on a stitch, as we wanted it to look simple but still enjoyable. The simplicity of it makes it perfect for men's scarves! This pattern is easy to follow and very beginner-friendly. You will only need to know how to make the single crochet stitch for this project.
Men's Winter Scarf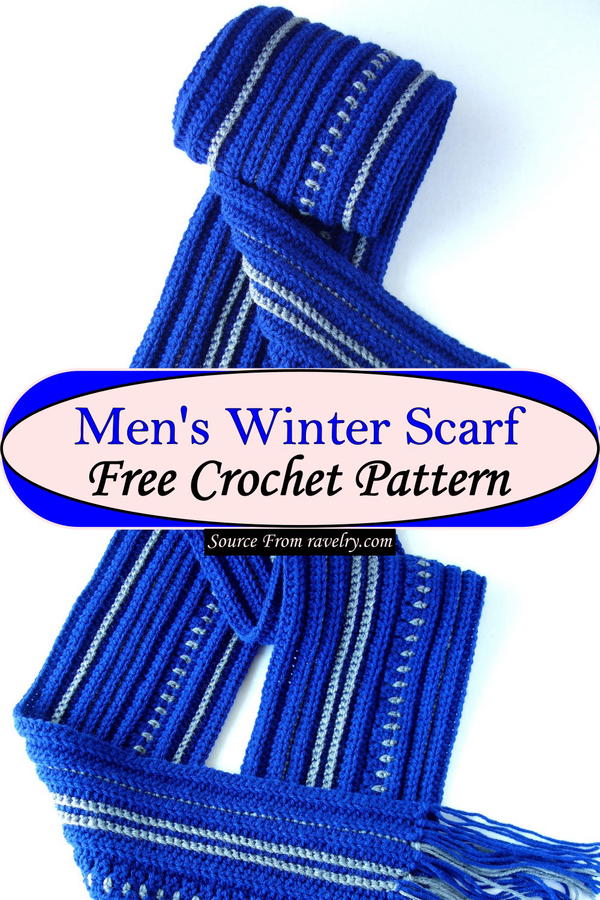 Whether you are looking for a unique gift or want to make one for yourself, this pattern is a fun and easy project; this texturing crochet men's winter scarf will keep you warm in the cold. It's a fun way to reduce your stress and zen out by working each stitch carefully. It is specially designed for a stylish and casual man to make a perfect gift idea for a birthday, fathers day, or Christmas. This warm and elegant loop scarf is a crochet pattern that offers a fast and fun way to showcase your talent. The scarf pattern includes instructions for three different sizes so you can make a scarf that will fit many men. This is the perfect Scarf to keep your loved ones warm during cold winter days.
Men's Boulder Scarf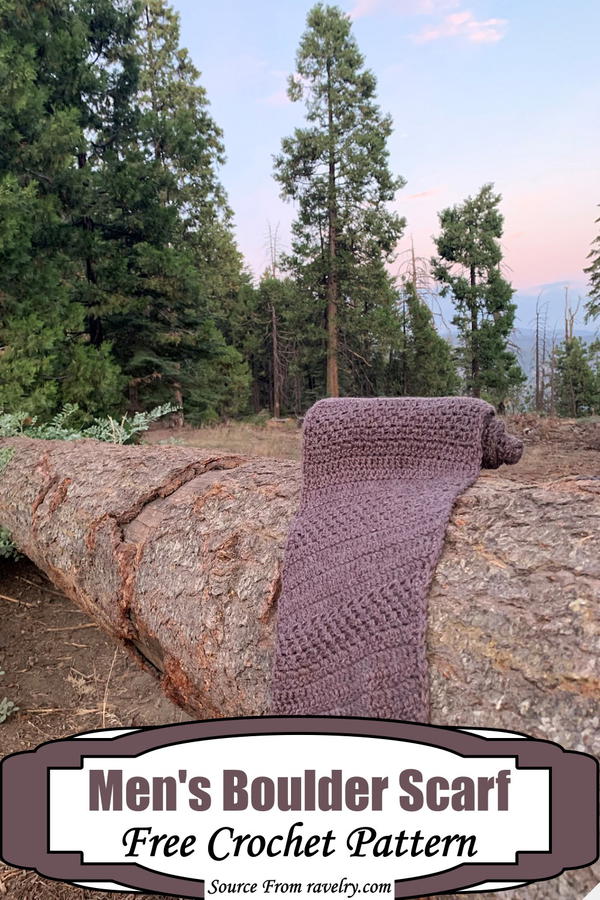 Looking for an easy men's Scarf? You will want to make yourself a Crochet Boulder Scarf! The beauty of this pattern is that the shape of this Scarf can be altered to suit you and your needs. This crocheted Scarf has a simple stitch pattern that looks great on both sides of Scarf. It's easy to customize your Scarf by changing the yarn color. It is a great basic addition to your accessory collection.
A slightly oversized design adds style and warmth to your fall wardrobe, while the fringe at each end makes it easy to tie around your neck. The pattern calls for basic crochet stitches and a simple combination of slip stitch, single crochet, and half double crochet rows.! Add rows or just add a few stitches in order to create the length you desire. And with crochet, the gauge doesn't have to be exact. The main stitch is single crochet, and the pattern also used slip stitch and chain stitches as well. The only thing needed is a basic knowledge of basic crochet stitches. It features a basic yet modern design that can be worked up in less than an hour.
ravelry or knitandcrocheteverafter
Scarf For Men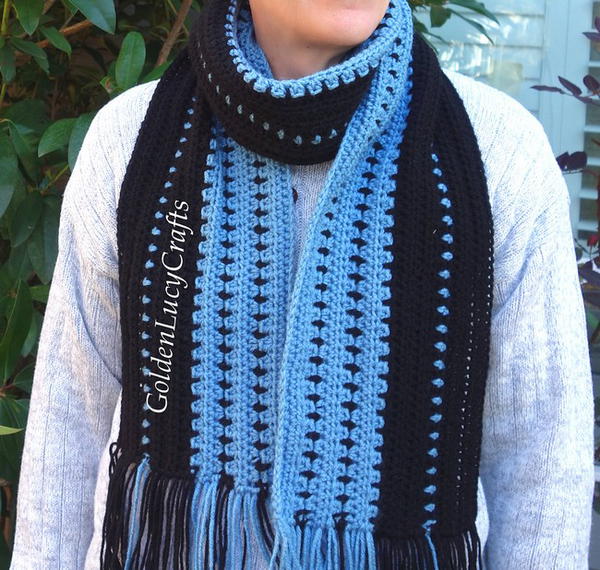 Our unique crochet scarf pattern for men is a warm and lovely accessory for any man. It comes in blue and black colors and can be worked up in a couple of evenings. It's thin but still warm enough. It's been designed to be the perfect size to cover your neck and ears when the weather is cold, as well as stylish enough to look great with your everyday outfits. This crochet scarf is easy to make and can be worked up in a couple of evenings. It makes a lovely addition to outfits, whether it be a suit or your favorite jeans and shirt, and adds that extra something special. This Crochet Men's Scarf looks great, not only for the winter season. It can work in any season and any weather. It is ideal for everyday wear and perfect for gifting purposes.
Monochromatic Men's Scarf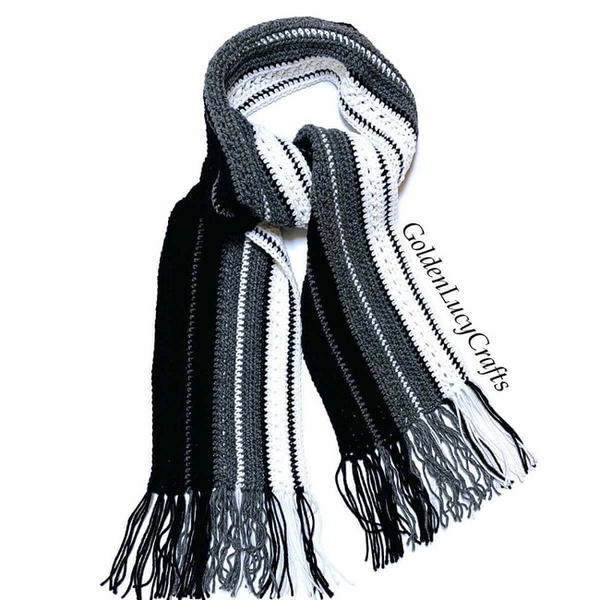 This is an easy scarf to crochet, but that doesn't mean it's boring. The texture on the edges of this Scarf is what makes it so attractive. It's made with classic black, grey, and white color combinations. This easy-to-crochet Scarf is perfect for cool weather. The Scarf has a beautiful texture and is made in classic black, grey, and white color combinations. The texture of this design is created by working rows in the back multiple of 5 stitches then two extra stitches on each side for each row to create the curvy banded effect. You have to use classic black, grey, and white yarns for this design. The texture will add interest to this Scarf as it adds a soft hand feel while keeping you warm.
Men's Classic Scarf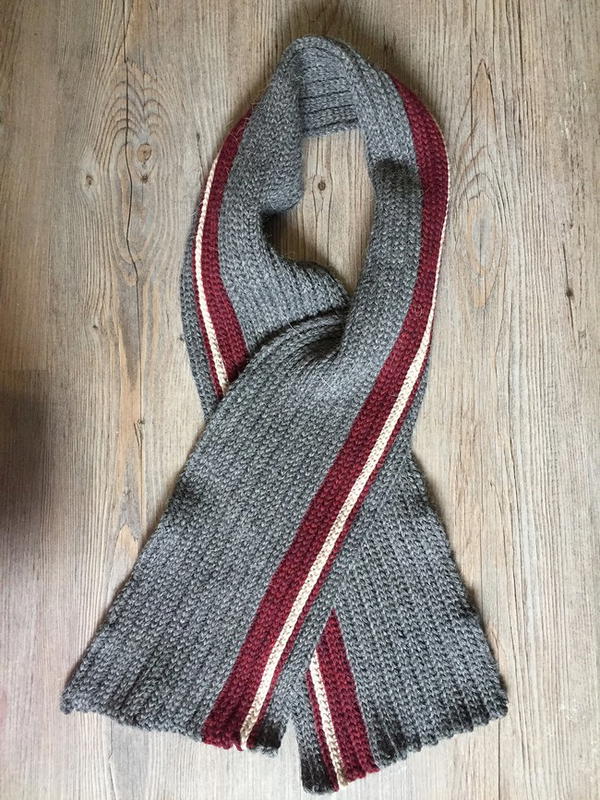 Whether it is the holiday season or simply a cold winter night, having the right Scarf can make your outfit. This Scarf is the perfect balance between handsome and homey! Reminiscent of those worn by the Winter Olympic athletes of the past, it will help you brave the cold with little fuss. The lightweight wool blend and easy slip stitch pattern provide cozy warmth that lasts.
This men's Scarf will keep you warm and cozy in style. The knit look is achieved using single crochet and slip stitches, resulting in a stretchy yet durable scarf. Make it as long or short as you like, then wear it with your favorite cardigan and sweater. Worked lengthwise, you will begin with a fairly long foundation chain which you may want to shorten before the end depending on how bulky you like your scarves, or even add a tassel or fringe
ravelry or richtexturescrochet
Verso Scarf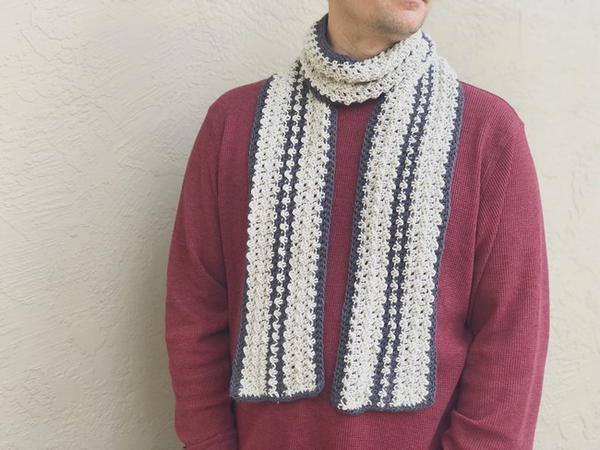 Scarves are a fantastic beginner knitting pattern. This scarf pattern is so easy and beginner-friendly. The beauty of stripes and crochet texture come together in the Verso Scarf. The Verso Scarf is an easy crochet pattern that's beginner-friendly. Any level crocheter can crochet this simple scarf pattern.
The Verso Scarf is a two-color scarf that combines stripes and textured stitches, making it the perfect crochet pattern for men. Two colors are used to create the striped color effect, while the crochet texture adds warmth and appeal. This Scarf has simple crochet stitches that work up quickly; making this an ideal project to practice new skills or work on those pesky stash yarns you're not quite sure what to do with yet. You can use any yarn to crochet this beautiful pattern. Just grab your hook and yarn of choice and begin this easy scarf pattern!
Hudson Scarf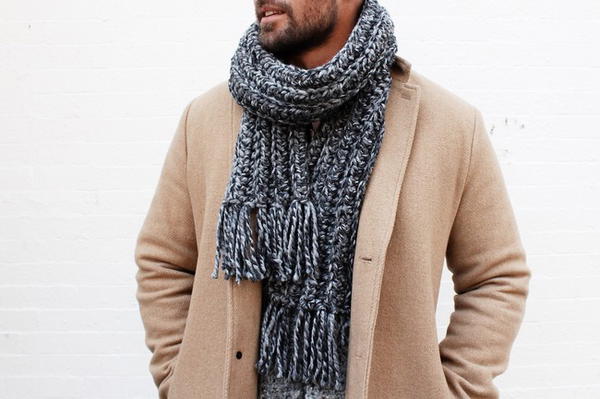 The Hudson Scarf is the perfect basic accessory for anyone's closet. A quick and easy project, the Hudson Scarf is all about simplicity. This simple stitch pattern creates a warm, modern accessory that can be customized to your liking with a variety of color combinations. Whether it's for you or someone special, you can't go wrong with this classic and timeless design.
The simple ribbed stitch is so easy even beginners can learn it, and the Scarf is unisex so that anyone can wear it! Lightweight and thick, this Scarf is an easy project for beginner crocheters and a stylish accessory for any time of year. The stitch pattern is simple and repetitive, making it ideal for using up scraps of yarn in your stash. Use this pattern to make one for yourself, or as a gift to someone special.
Wanderlust Scarf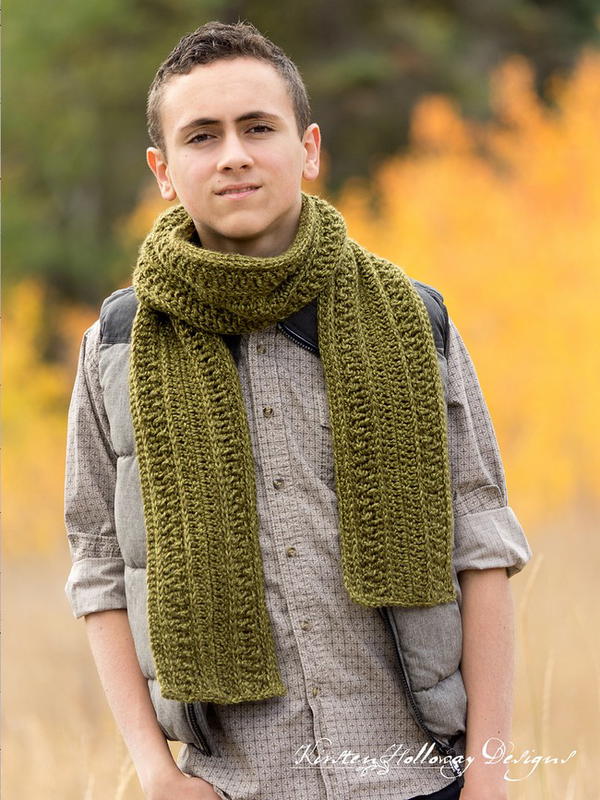 The Wanderlust scarf is the perfect addition to your fall and winter wardrobe! An easy crochet pattern that uses basic stitches, this pattern works up quickly without being overwhelming. The blanket stitch seen on the Scarf gives it texture and makes it a fun accessory to wear even on shorter days. It's a great way to use up some of your scrap yarns, too! who wants to learn how to keep their edges from curling. And it's chock full of texture and easy stitches in order to make it go very quickly!
ravelry or kirstenhollowaydesigns
Silver Beach Scarf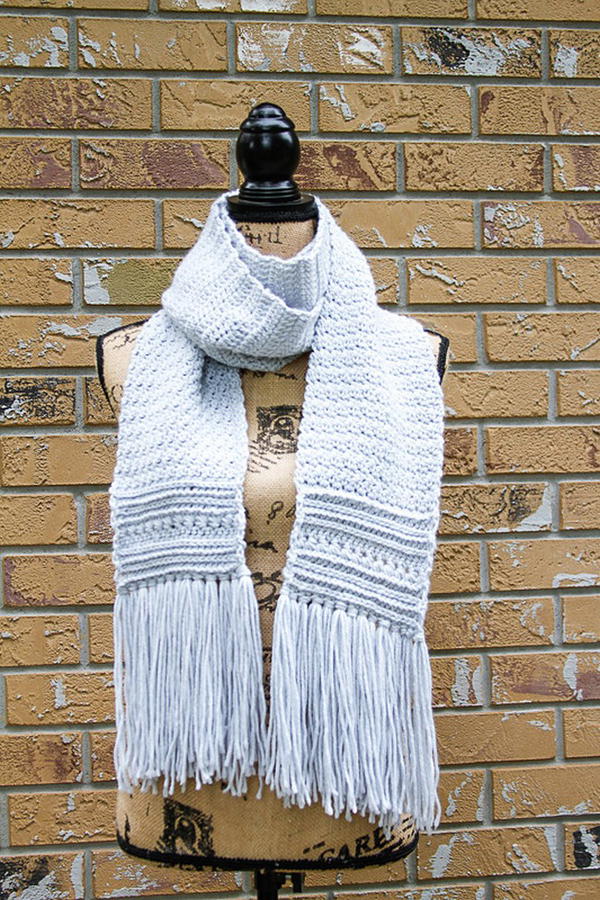 Here's a beautiful, textured pattern to crochet for yourself or to gift. The Silver Beach Scarf is a yarn-friendly design that combines several different stitch patterns into one piece This is a pattern for an intermediate beginner level. It is worked in many different stitch patterns and can be worked up in any weight yarn. This design will have you looking forward to falling weather with its lightweight design. It works up quickly for a great last-minute or holiday gift!  The Scarf features a traditional fisherman's rib worked on the diagonal and framed by a woven stitch border pattern. The modular construction allows you to customize your scarf length, making it the perfect stash-busting project for using up odds and ends of yarn.
Easy Crocheted Men's Scarf
Make yourself a scarf that is warm and comfortable with this easy-to-make scarf pattern. The yarn used in this Scarf can be color changed to make it whatever color or size you need. If you have been looking for a project to try with the crochet hooks recently acquired, this is it! This cozy Scarf is just what you need to stay warm without running all over town looking for the perfect gift. Store-bought scarves are expensive and not nearly as fun. This is the perfect gift for the man in your life, or for anyone else on your list!
Classic Men's Scarf
This is the easiest crocheted men's scarf pattern out there, but that doesn't mean it's boring it was designed to be both simple and stylish. It features tidy loops of color! The end result is multicolored and chunky for a manly appeal. The bold, bright colors of the Men's Scarf are perfect for winter days. The Scarf is easily crocheted using a basic stitch and completed in three steps.
Because we live in a country where men's scarves are folded in half and looped through generally instead of tied around the neck, the scarves needed to be plenty long to provide ultimate warmth and comfort. A perfect project for beginners too!
Entirely Easy Men's Scarf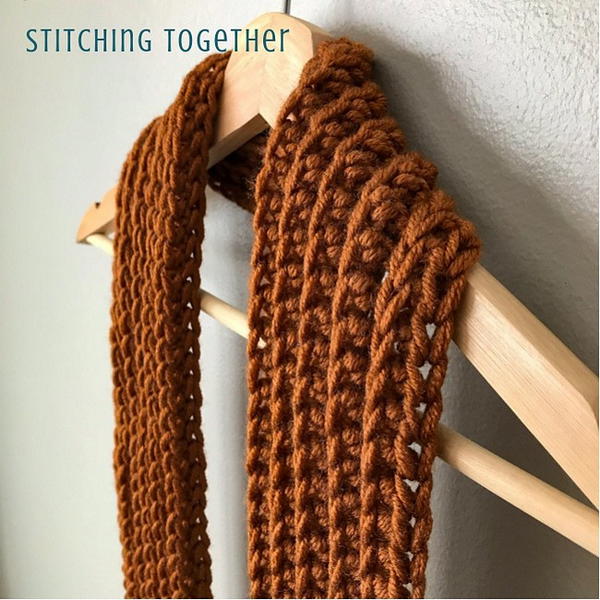 The Entirely Easy Scarf is a free pattern from Lion Brand Yarn Company. The Scarf's beads give it that extra-special touch, along with the way the blocked Scarf is folded over at the end. This is an individually handmade item and one that you simply can't find anywhere else. this Scarf is a super simple design that uses one skein of our Color Made Easy yarn. This yarn is so easy to work with and comes in a variety of different colors including neutrals, brights, and pastels, that every guy on your gift list can find the perfect Scarf for him.
The Entirely Easy Scarf features the Color Made Easy yarn from Lion Brand. It's available in eleven rich and vibrant shades that fit any outfit. Pick your favorite color and start crocheting today!
Alpine men's Scarf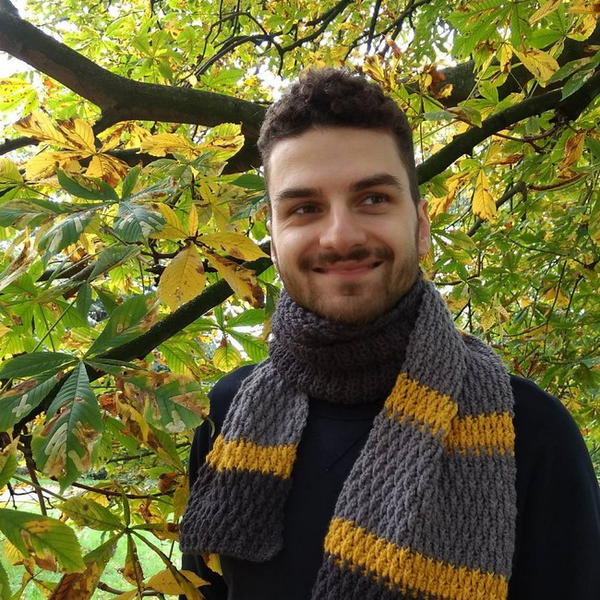 There are many reasons to like this Scarf. It's thick enough to keep you warm, but not so thick that it would feel too hot for summer wear. The yarn is merino wool, which means softness and warmth. Alpine men's Scarf has been hand-knitted using soft merino wool, which means it's durable, warm, and designed to withstand the elements. It can be worn as a neck scarf or as a long looped scarf. The way you wear it is up to you. You can choose to not wear it at all, and just carry it in your pocket. The Scarf could provide the warmth you need during a cold day and doubles as a stylish good luck charm! With a cool grey and yellow color, we find that the Scarf suits most men. Whether dressed for school or work, this cool piece compliments any outfit and will add more character.
Darren's Bandana Ribbed Scarf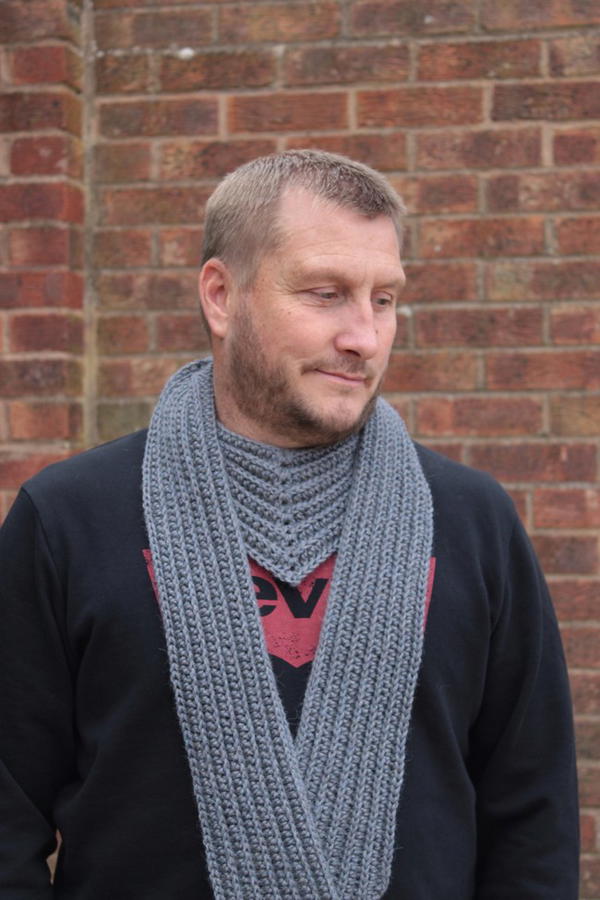 Darren's Scarf is super easy to crochet and makes a fun addition to your guy's winter wardrobe. It's great for beginners, or anyone wanting a quick project that looks really impressive. The V-shape sits nicely at the chest and could be worn casually over a jacket or dressed up with a button-up shirt.
This is a perfect addition to your fall wardrobe and a great way to use up scrap yarn ends. This lacy Scarf uses simple stitches and is fast, fun, and easy to crochet. With a basic knowledge of the bandana scarf, you can mix up your yarn colors and stitch patterns to create endless possibilities!
Tunisian Crochet Scarf For Men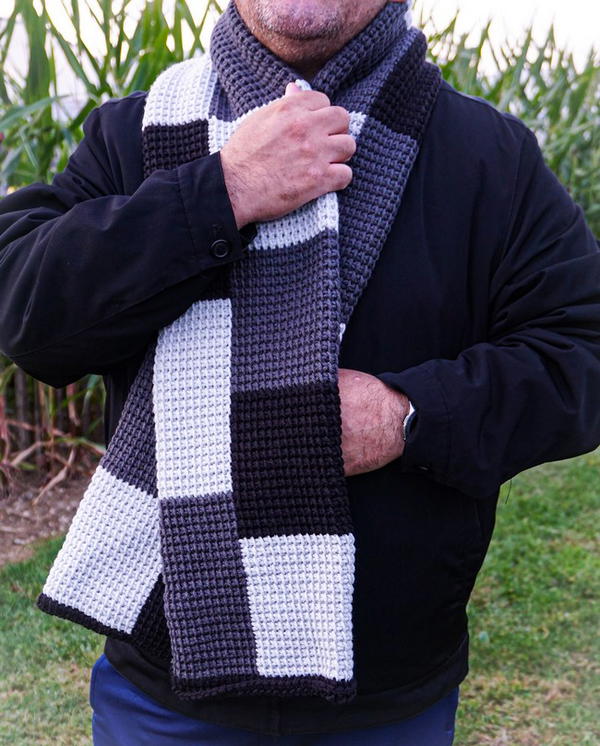 If you are a man and you are looking for an absolutely unique and fashionable scarf - then you have found it! This is a handmade one-of-a-kind crochet scarf in the Tunisian style, which is great for both men and women. It perfectly combines simplicity with elegance. Just imagine how great this piece of art would look on you lying around the neck or on your shoulders. The classically designed Tunisian Crochet Scarf For Men will keep you warm, comfortable, and stylish! It's perfect for both work or casual wear and is great for men of all ages.
Men's crocheted Scarf is a unique design, using a Tunisian knitting technique, which is stunningly textured and then handmade The lightweight Scarf adds a fun accent to an evening look with a fine dark sweater.
Striped Scarf for Men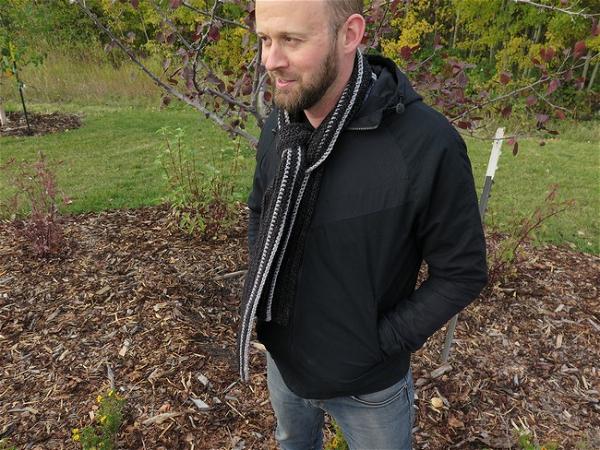 Striped scarves are a great way to add style and warmth to your everyday wardrobe, so why not make one for yourself? Being the only one in this men's fashion piece will surely make you stand out from the crowd. Its easily adjustable design allows you to match its size to yours. The perfect accessory for fall, this striped Scarf is easy to make and looks complex, with a dashing chevron pattern. Made from super chunky yarn so it'll keep you warm all winter long! Being the only one in this men's fashion piece will surely make you stand out from the crowd. Its easily adjustable design allows you to match its size to yours.
Asheville Scarf
Everyone needs an all-season scarf in their wardrobe, and this Asheville Scarf is the perfect addition. With little effort, you can create a beautiful piece of fabric that will be fashionable and functional for cold winter days as well as for nights out on a milder evening!
The Asheville Scarf is an elegant way to wrap yourself in warmth. It's very portable and perfect for on-the-go people. It's crochet, so it stretches out to fit any size head without needing a tie or pin. Make it as long or short as you like. For a cold winter day, pair the Asheville Scarf with a cable-knit sweater to add some color and fun, or go for simple and timeless all black. You can be creative by choosing your own four colors of worsted weight yarn in a complementary colorway – there are no restrictions!!