Building a cat house is very simple, but if you want to develop one that your cat will love, there are some things that you need to keep in mind. First of all, there are many sizes, shapes, and designs of these houses on the market. But there is no need to buy those expensive ones when you can simply make one yourself. Cat houses are built for one thing only; to keep your pets safe and warm! With this being said, let's look at some DIY cat house ideas. There are quite a few to choose from, so it should be easy to find the perfect one for your kitty.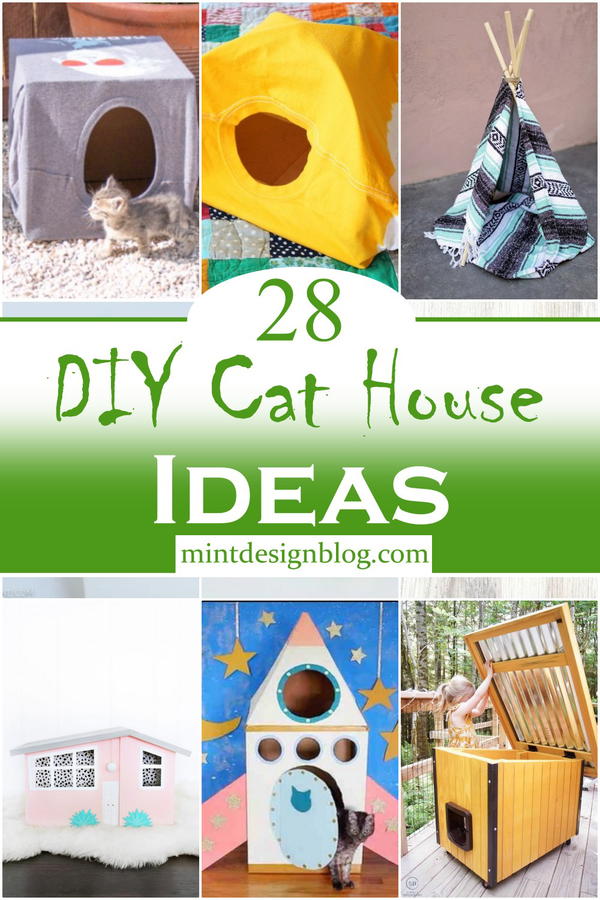 Building your cat a house is a great way to get them to feel more at home and have something that they can call their own. Some people prefer to build their cat houses out of wood, and others prefer to develop them with concrete or brick. There are many different options that you can choose from. No matter your skill level, there's a cat house that can fit your needs. Here are some of the most common materials used to build DIY cat houses and ideas to help you get started. You can make your cat apartment or house out of wood, use concrete or brick, or use something else. With these 28 DIY Cat House Ideas, you're sure to find something that will work for your kitty's home.
Tools and Material:
Laundry Baskets
Beds Made From Old Tires
Dresser Drawers
Hammocks
Kegs
Old Suitcases & Trunks
Pallets
Old Furniture
Cardboard box
Cardboard tube
Fabric scraps or an old towel or T-shirt
Old blankets or pillows
Paint and paintbrush
Hot glue gun and glue sticks
How To Make A Cheap Cat House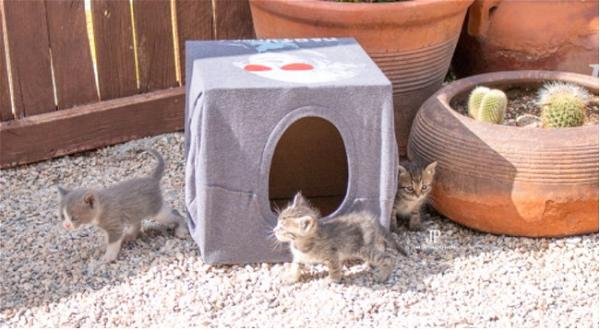 Cat owners always feel the need to make their pets happy and comfortable in their home environment. A thing that you would want to keep in your mind is providing them with a safe and warm place to sleep during winter. Suppose you have ever seen your precious cat shivering outside in the cold. It will keep your pet safe and warm in chilly winters! And it is easy to make. Providing warmth and comfort is one of the most important things that a pet owner can do. One of the best ways to keep your cat happy in winter is by providing them with a safe and warm place to sleep during winters. Not only will you be saving their life, but also making their life more comfortable. All you need is some wood, material, nails, and effort.
Skill Level: Experienced
Suitcase Pet Bedding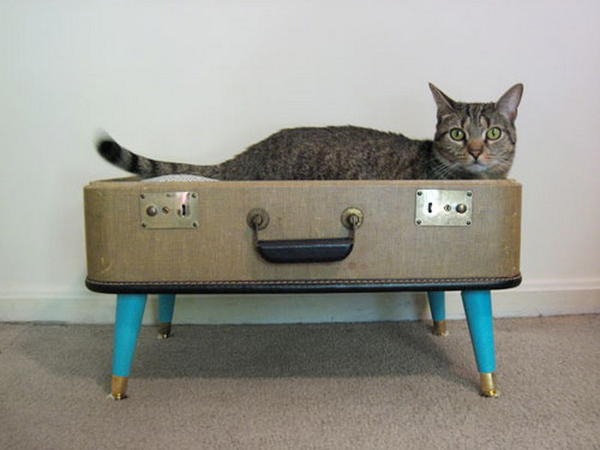 If you are interested in extreme DIY projects, why don't you try to create fantastic pet bunk beds from an old suitcase? It was built for a family of four, and the cats will love you for making this whimsical piece of furniture, which provides them with their private sanctuary hidden behind two doors. The commercial-grade nylon fabric comes in four different colors, enabling you to customize it to your taste. The most creative way to transform your old suitcase into pet bedding and make it for your beloved pets will make the room look bright and pretty. Detailed steps are given in this article; find out how to create a cozy bed for your pet.
Skill Level: Beginnersfancyseeingyouhere
Indoor Cat Tent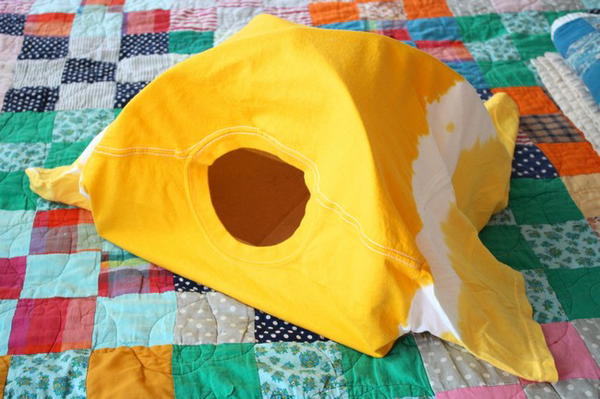 This cat tent is a perfect DIY project for people new to sewing. It doesn't require any special skills, yet it gives your cat an adorable gift. The round shape of the tent fits in any room inside the house. Your furry friend will love playing in it! The construction method is straightforward; therefore, this project is ideal for girls and boys of all ages who want to make something beautiful for their pets. It's clear and quick to do; you need a pair of scissors and a sewing machine. The cat can jump up and down in it while enjoying the view.
Skill Level: Experiencedinstructables
Loveable Cat Teepee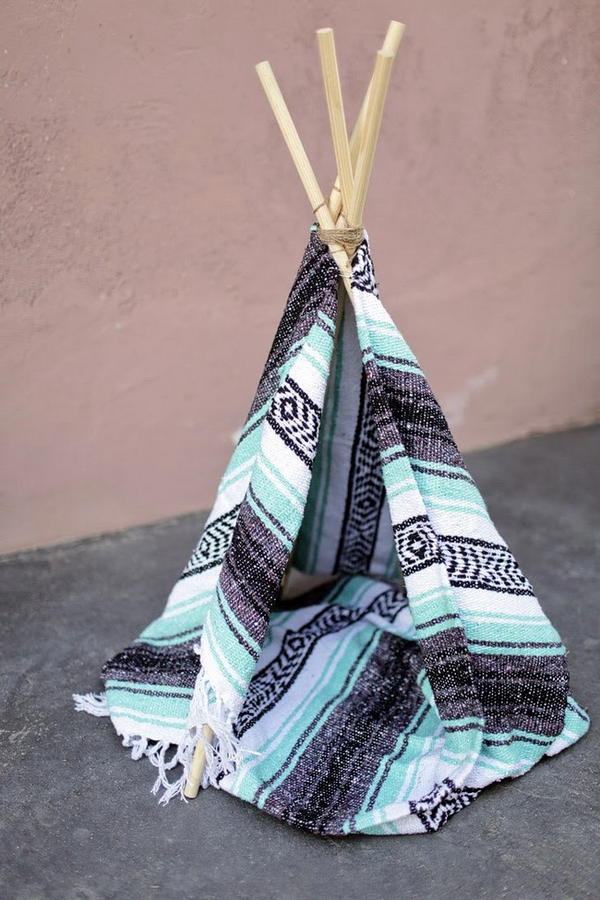 The kitty teepee will indeed become a loved play toy. Cat or kitten already used to getting a little space of their own will love this fun little hideout. The tie-dye design is a fun addition to any cat's room. Inexpensive and sturdy, it is easy to assemble and disassemble, so you can store it until next spring playtime arrives. The cute little knotted rope makes Kitty feel safe inside the teepee and encourages her to play inside it. The cotton blanket inside is soft for the animal's comfort. There are no special skills needed. You can use the teepee for relaxing with your friends and family or just for some private moments with yourself.
Skill Level: Intermediate localadventurer
Rounded Top Cat House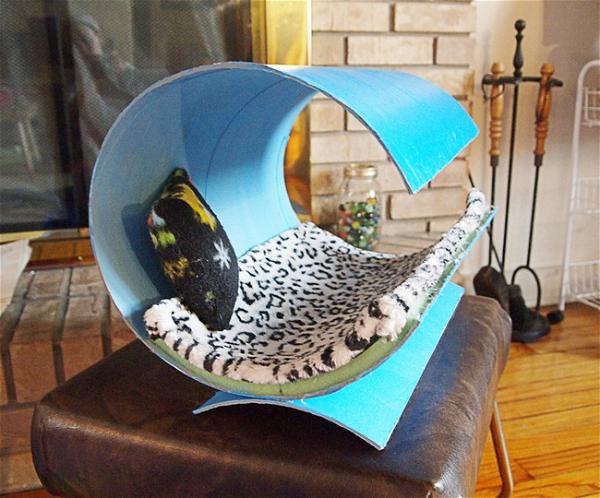 Let your cat into a safe and cozy space in this Rounded Top Cat House. It is crafted from concrete and wood, and the house has a rounded top for added comfort while offering a good sense of privacy. This pet house is easy to assemble, and the envelope will fit inside any home without making it look cramped. Use a spray adhesive to make assembly and cleaning more straightforward, and it prevents screws and the lid from falling out. A flexible slate roof is included for a cost-free and natural vibe, or you can opt for a more resilient top made up of cement. The cat house looks pretty straightforward but gives a warm feeling and even tends to look attractive in your garden.
Skill Level: Experiencedinstructables
Vintage DIY Cardboard Cat House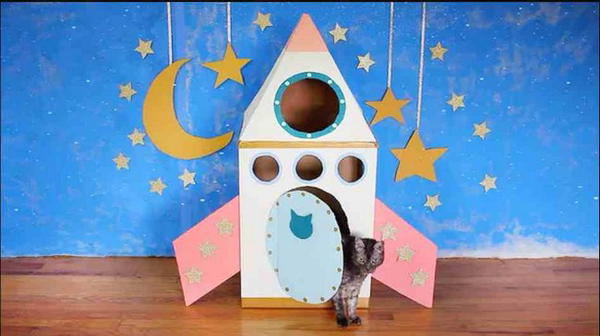 How to transform the old cardboard box into a lovely cat house or camper? This article shows how to take an old cardboard box and turn it into an adorable pet dwelling. You can make your cardboard kitty camper or shelter with the following material, tools, and steps. This retro-mod camper boasts all the amenities of home -- including sleeping quarters for pet twins, a deck, and wooden decking. The best part? It's easy to make! It's easy to follow the step-by-step instructions, starting with constructing the box that works as the campers' foundation.
Skill Level: Experiencedcuteness
Condo Outdoor Cat House DIY:
The tutorial presents a complete project on building a cat house for your beloved pet. As your cat gets more mature, it needs to turn more active, improve its physical conditions, and fight with other cats. The project is based on a large-sized multistory house with a volume of 440 cubic inches. Live commentary on the action will keep you engaged inside the enjoyable implementation. The large-sized multistory house provides sufficient feline space for its privacy. You can use it in dynamic ways or just leave it empty for your furry friend to rest lying on the top deck.
Skill Level: Beginners
DIY Outdoor Cat House for Winter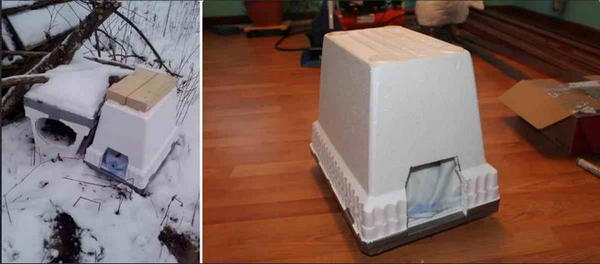 The Shelter House for Winter is an outdoor shelter designed to protect the feral from harm or even death during extended cold periods or harsh winters. It's meant to provide warmth with triple its fully enclosed doors. A Shelter House can be created from the ground up with a few common materials. Made from home, and this winter retreat can sustain some shelter from freezing air during severe storms. Built to withstand several nights' rest, the Shelter House is simple to create and uses minimal supplies as needed.
Skill Level: Experiencedinstructables
Simple Cat House DIY
Save money and build a Cat House to provide shelter and security for your loved feline friend. This simple design will keep the kitty warm in the winter months while making it accessible to get in and out. It's completely portable, making it easy to be moved indoors during the summer months. The creator has a step-by-step tutorial showing how to build this superb cat house. All you have to do is follow the video tutorial we provided and end up in this admirable masterpiece.
Skill Level: Intermediatesimplydesigning
Scrap Wood Cat House:
An innovative scrap wood cat house that is small enough to keep in a living room for a unique, hands-on approach to creating a comfortable space for your favorite feline. It is perfect for apartments or homes with limited living areas with a wall-mounted design and a size built for two cats. The product has been created with care and devotion at the request of many like-minded people. Unconventional scrap wood, considered useless for production, is widely used to create visually attractive items.
Skill Level: Beginners
Palm Springs Scratch Cat House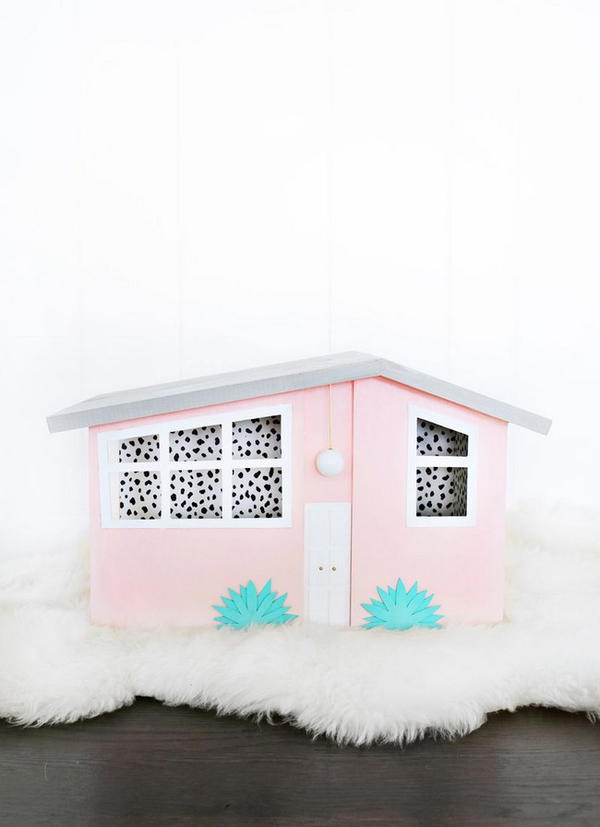 Don't fear the fury of an active feline; just build a sturdy scratching house made from scratch. Eliminate the cat from destroying quality materials with challenging plywood pieces, strong glue, nails, and a home crafted from your imagination. When your project is complete, brush on a coat of paint to personalize it for your feline's needs. A happy house cat is a happy family member. Assemble several components to make this structure sturdy for your rambunctious cat (or kitten); your pet will surely love it.
Skill Level: Experiencedabeautifulmess
Feral Cat Shelter for Winter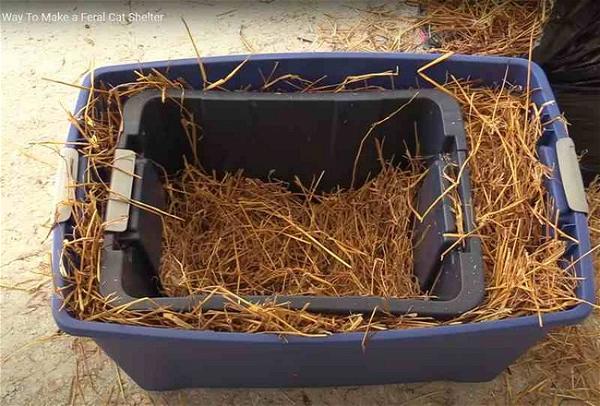 Winter is on its way, and your feral colony needs shelter to stay warm. They depend on YOU to put together this tiny house for them. I have a tutorial here on building a cover for the winter season. This video walks you through the design with tips on what works and doesn't. Almost all materials can be found in a recycling center and then transformed into a shelter for feral cats. This project might help you and at least one other creature: your newly adopted cat.
Skill Level: Intermediate thehungrypuppy
Container Outdoor Cat House DIY:
Some pet owners are lazy to let their pets go outdoor. DIYing may be a good option for you to provide a comfortable shelter for the poor animals out in the rain or shivering cold. The introduced approach here is designed to shelter stray cats. It provides the basic facilities for cats' life, including warming, absorbency, dryness & cleanliness under perfect indoor conditions. And it makes cats feel like it stays inside the owner's house. This is a do-it-yourself project that you could efficiently complete over a weekend. It comprises two nested containers, insulation, bedding, and a platform. The use of clear containers allows visibility from the outside.
Skill Level: Intermediate
Ultimate Cat Tree:
 Your cat will love snuggling up in the cozy beds and scratching on the posts of this Ultimate Cat Tree. Made specifically for cats, our tree has all of the comfy perches and comfortable beds your feline friends will love. The cat tree is the perfect way to keep your feline happy, healthy, and safe. Feline friends will love their new project! This all-in-one building kit is ideal for keeping your kitties happy and healthy. With this climb and play climber in your home, you can easily create a safe space for your cats while also making them happy by providing plenty of opportunities to play and rest.
Skill Level: Experienced
Pallet Wood Cat House DIY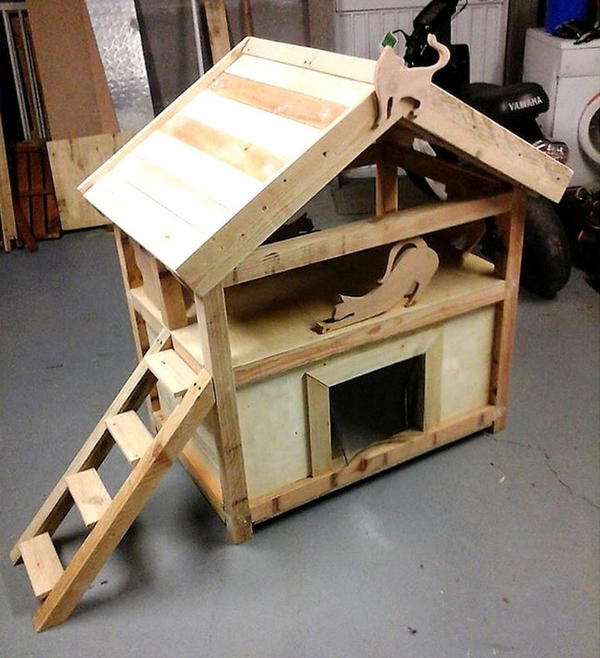 Creating a cat house out of pallets is creative, but it can also save you money. Pallets are free, and you can usually find them in many different places as long as you know what to look for. This cat house has been designed with two pallets, so your furry friend has plenty of room to play. The slanted slats will allow the kitty to have privacy and visibility inside this cozy little abode. A cat house is a great way to provide a comfortable place for your cat to sleep and rest. This DIY project uses recycled wood pallets to create a modern piece that offers plenty of comforts, privacy, and security. This pallet cat house has slanted slats that provide visibility and privacy.
Skill Level: Experiencedwoodpalletsfurniture
Eileen Tein Home Projection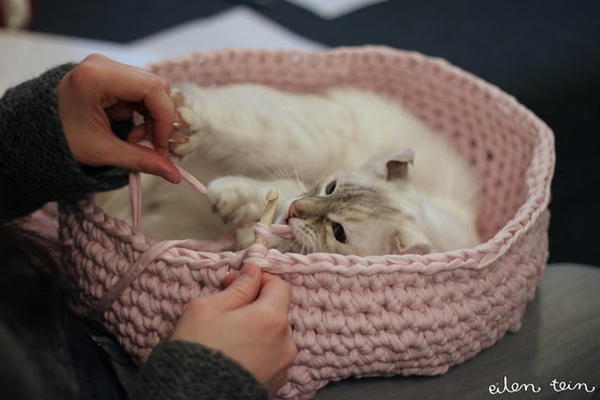 The Eileen Tein Home Projection is a sewing project that can make your home looks bigger with its shining light effect, and it also allows you to adjust the light intensity, time, and angle. It comes with three finishing patterns; Modern, Classic, and Fantasy. This home projector is easy to bring with you with its folding frame structure. To clean it is simple as well; you can wipe or vacuum all dirt around it, then wipe or vacuum the top ring. The design allows it to be folded easily for moving or packing. Its LED lighting provides an energy-efficient option that won't break the bank.
Skill Level: Beginnerseilentein
Bonus Ideas to Check for Cat House Project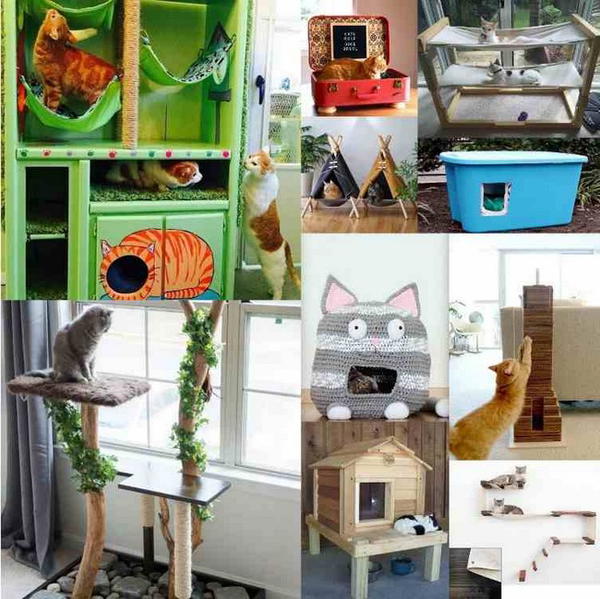 Cat House Project is an exciting new project for cat lovers of all abilities to craft wonderful houses for their furry feline friends. These beautiful structures are designed with your cat's comfort and security in mind, with plenty of space to enjoy their surroundings freely; from the foundation up, you can build it yourself at a modest cost. It will be a superb beautifying piece for your home décor, and you'll surely admire its useability. You can also personalize it with your unique touch. Whatever design you choose, there will be something attractive about this creation that makes it worth every penny. You can feel proud about adding such a unique piece of art to your home décor or giving such a wonderful gift to someone else who loves their cat.
Skill Level: Intermediatebookmypainting
Imac Bedding For Single Cat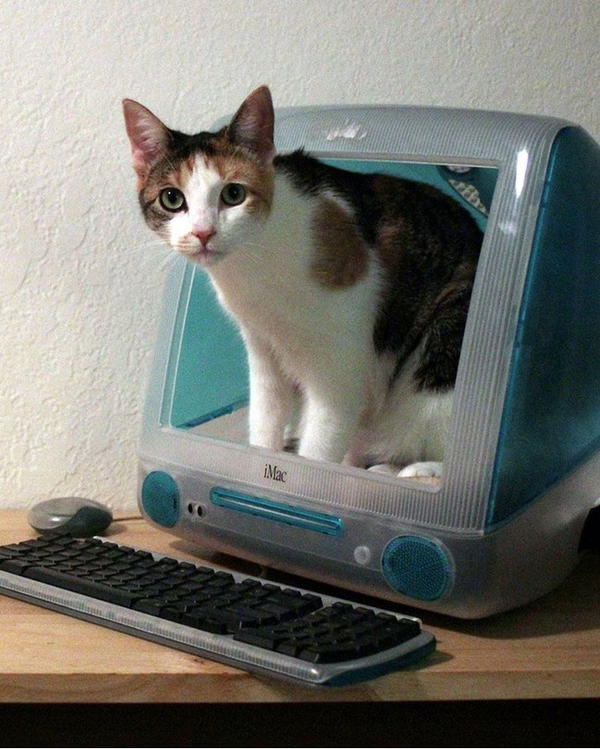 Imagine your cat in a super quiet and uncomplicated cat house, sleeping comfortably on the fluffy bedding. With this Bedding For Single Cat module, you can easily convert a second-hand computer monitor into an ideal space for any feline or small dog. The module is nicely inserted into the screen case and stands at the back of the iMac. It has a few more blocks to support its upper edge, allowing cats to stretch out without being blocked. Besides its comfortable features and stylish appearance, keeping this bed on the lowest shelf of your iMac is optimal to provide an optimal viewing angle for your cat or dog. This product considers the safety factors of both humans and animals so that they can work harmoniously together!
Skill Level: Experiencedandpossiblydinosaurs
Outdoor DIY Feral Cat House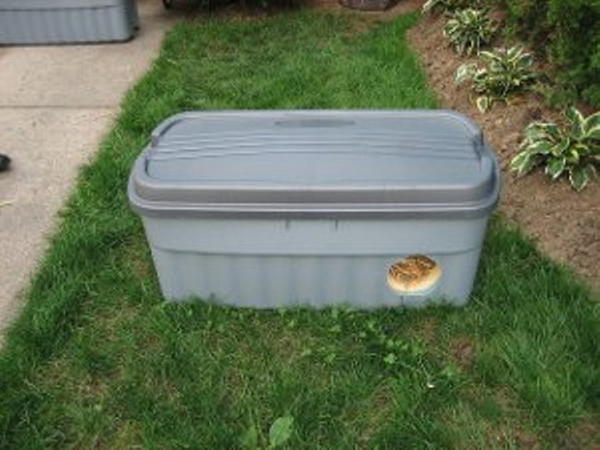 The Outdoor DIY Feral Cat Shelter is nothing but ingenious, using leftover materials and discarded items. The Cat Shelter is waterproof with a roll-top design adding protection from the elements, and quickly covering up any bedding placed inside. The raised floor helps insulate the floor and wall spaces, keeping cold or hot temperatures outside where they belong. Crafted from discarded and readily available materials, this shelter works as a tent that can be placed over any bedding. Use it to help protect your cats from predators, pigeons, debris, and other perceived threats. The waterproof roll-top design adds even more protection from the elements. An optional zip-open screened window allows for ventilation while keeping cats secure from predators. The raised floor helps insulate both floors and walls with an easy-to-use elastic cord system for securing your bedding.
Skill Level: Beginnerscatster
DIY Outdoor Cat Shelter:
An outdoor cat shelter is an easy do-it-yourself project that you can make from items you probably already have around the house. It's a great way to give back to the homeless cats in your community. A shelter should be waterproof and big enough for two to four cats to huddle together for warmth during the winter months. This project will take a little bit of time and effort, but it is easy to do and rewarding. All you need are some tools that you probably already own and an old box, some aluminum sheeting and tape, newspaper or another type of insulating material, and some cat toys for the cats that will use the shelter.
Skill Level: Experienced
DIY Outdoor Cat Shelter:
The winter months can be difficult for outdoor or feral cats, especially those without access to shelter. Save some kitty lives this winter by making simple outdoor cat shelters. These are easy to make from boxes, storage bins, and wooden pallets. Protect your furry friends from bad weather and predators with this helpful guide. An outdoor cat shelter will keep your kitties warm during the winter months, but it's not enough. You'll need to ensure they have food and water protected from the cold or water sources inside or around their shelter. Also, make sure you provide nearby sources of warmth like heaters or space heaters so they can get close to them and stay warm if they choose.
Skill Level: Experienced
DIY Outdoor Cat Shelter for Winter :
Do you wonder how to keep your pet safe and warm in cold winters? Here is a perfect solution for you. It is a DIY outdoor cat shelter that will cost you almost nothing but give your cat all the comfort he/she wants. Your pet will love it! It will be a straightforward DIY project, and all you need is an hour of your time! If you don't have any cats of your own, this model will still suit you as it can be given away as a gift item to someone who owns a pet cat. The best part about this DIY project is that it's easy on your pocket! So let's get started!
Skill Level: Intermediate
DIY Heated Outdoor Feral Cat House:
If you are a cat lover and have seen felines huddled in cold corners or hiding from the rain, this DIY Heated Outdoor Feral Cat House can help. The feral cats that are not spayed or neutered are often in danger of getting frostbite. If a wild cat house is built and placed in an enclosed area, it will keep them protected and warm! It is easy to make and only costs a few bucks. A feral cat is among the most vulnerable animals during winters and is forced to live outdoors. As such, it needs proper shelter to keep itself safe and warm.
Skill Level: Experienced
Outdoor Heated Igloo Cat House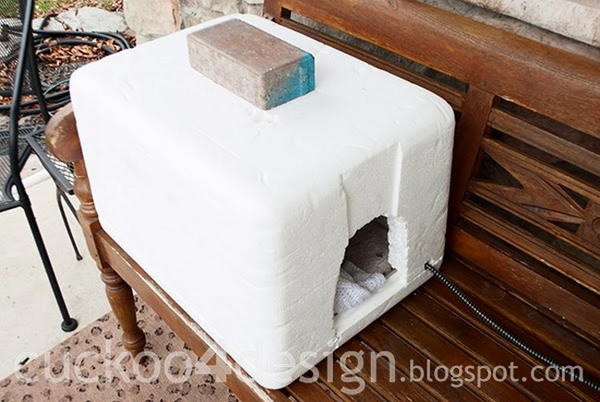 Many cat owners know about the importance of building an outdoor heated igloo for their pets. In winter, cats need a warm and cozy place to sleep in it. The easiest way to meet this requirement is by building an outdoor heated igloo for them. You can easily make it yourself with some simple tools and materials at homes, such as Styrofoam or insulation foam tubes and plastic sheeting or tarp. The outdoor heated igloo cat house is one of the most popular cat bed designs for winter. Making this shelter is very simple, but it does not mean that it does not need your attention and effort.
Skill Level: Beginnerscuckoo4design
Heated Outdoor Cat Shelters
Are you worried about your cat during winters? It is a common problem that many cat owners face. These Heated Outdoor Cat Shelters are meant to solve this problem completely. Once you start using these heated outdoor cat shelters, you'll never have to worry about your feline friend again. They are super easy to make and can be customized in any size or shape you desire. You can even create multiple shelters in different locations of your backyard or garden and place them strategically so that your kitty has a safe place to stay warm during the cold months. They can be easily made at home according to the instructions given in this tutorial, and they are accommodating!
Skill Level: Experiencedcatsinmyyard
Outdoor Cat House For The Winter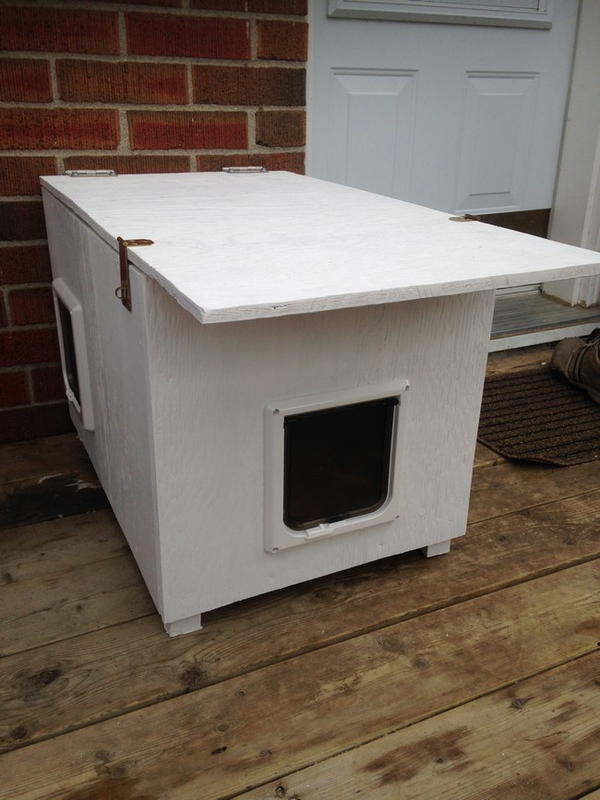 If you own a cat, then you know how much of a pain in the neck it can be to find a shelter for it during the monsoon or cold winter season. It would be best to have something warm, durable, and affordable. This Outdoor Cat House For The Winter is the perfect answer to all your problems. It is a pocket-friendly pet house that is easy to make. All you need are some essential tools and materials available at your local store. This cat house is evident so that even beginners can easily make it at home. So if you want to keep your feline friend safe and warm in the coming winter, start working on it now!
Skill Level: Intermediateinstructables
Cat House For Those Chilly Nights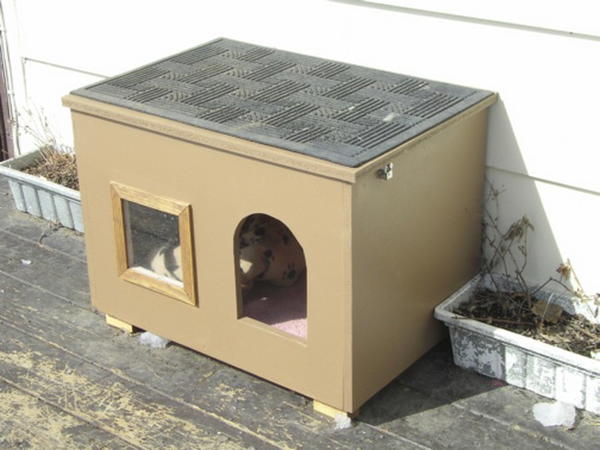 If your cat or kitten has been looking longingly at the frosty window, they will be delighted to have a cozy spot of their own with this homemade out of an old cardboard box. Make it yourself with this easy-to-follow DIY tutorial from Instructables! If you plan to build a cat house for your beloved kitty, this tutorial is just for you. Building one takes only an hour, and it's straightforward! It would be best to have supplies, essential tools, and a little bit of your time. This perfect winter project will keep your pet safe and warm on chilly nights.
Skill Level: Experiencedinstructables
Insulated Winter Cat Shelter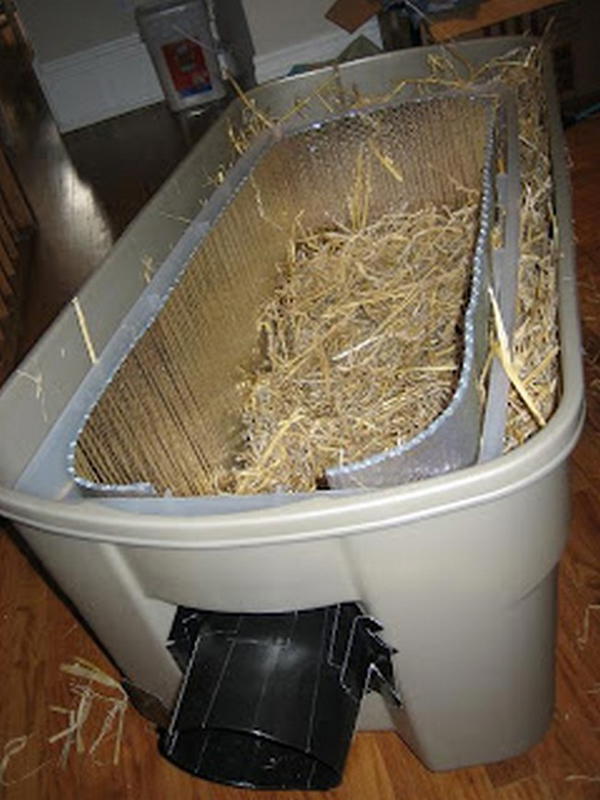 An insulated winter cat shelter is a good investment if you want your beloved pet to stay cozy and warm throughout cold winter nights. The best part about building a cat house yourself is getting creative with the design and making something unique. Also, you don't have to spend thousands of dollars on an expensive product. If you want to keep your kitty safe and warm this winter, there is no better way than building a cat house. This easy DIY project will cost you only a few dollars, but it can be beneficial and pleasant for you and your cat. The instructions are easy to follow, so building this insulated winter cat shelter should not give you much trouble, even if you have never made something like this before.
Skill Level: Beginnersdiycatshelter
If you want to do something nice for your cat, you might want to make him a house. It is not as easy as it might sound. Keep in mind that while most animals are happy to live in simple dens, many cats are rather picky about their homes. If you try to put a random box in your yard and call it a house, your cat will probably ignore it or sit outside the box and meow at you with increasing frustration. The following are some brief DIY cat house plans. By all means, feel free to change things around and experiment to see what works and what doesn't work. What tips can you add for making a good cat house?
Skill Level: Experienced
See More DIY Projects For Animals:
DIY Duck Pond Ideas: Looking for some affordable DIY ideas to create a serene duck pond habitat for your waterfowl? Check out these ideas to help your feathered friends have a splashy time in their lush new home.
DIY Cat Fountain Plans: Explore the DIY Cat Fountain Plans to create an affordable drinking station for your beloved cat and promote their hydration.
DIY Cat Hammock Ideas: Find DIY cat hammock ideas to make your furry companion a comfortable and budget-friendly relaxation spot. Your cat will enjoy the utmost comfort and a perfect place to nap.
Conclusion:
Cats are known to be very independent. They just love to play and explore on their terms. So, if you feel the same way about your feline friend and wish for it to be left alone as much as possible then a DIY cat house is a perfect choice for your darling little furball. There are many ideas for cat houses and kitty condos, but some are better than others. Some designs can be made on a budget and with supplies, you may already have around the house. Cat houses and condos can be used inside or out, depending on your cats' needs. If you're looking for a cool DIY project or gift idea, try building one of these cat houses from scratch.