Chalk bags are an essential part of any climbing gear set-up, be it rock or ice climbing, bouldering, or mountaineering. While they're often overlooked as a simple pouch to hold chalk powder like magnesium carbonate, these small sacks can play a big part in your climbing success. They can be customized to fit your personality and style and make you stand out with bright colors and unique designs. They're also easy to make at home with some scraps of fabric and a few simple tools. If you have a sewing machine and some basic skills, putting together a DIY chalk bag is a great way to get started in the world of sewing projects.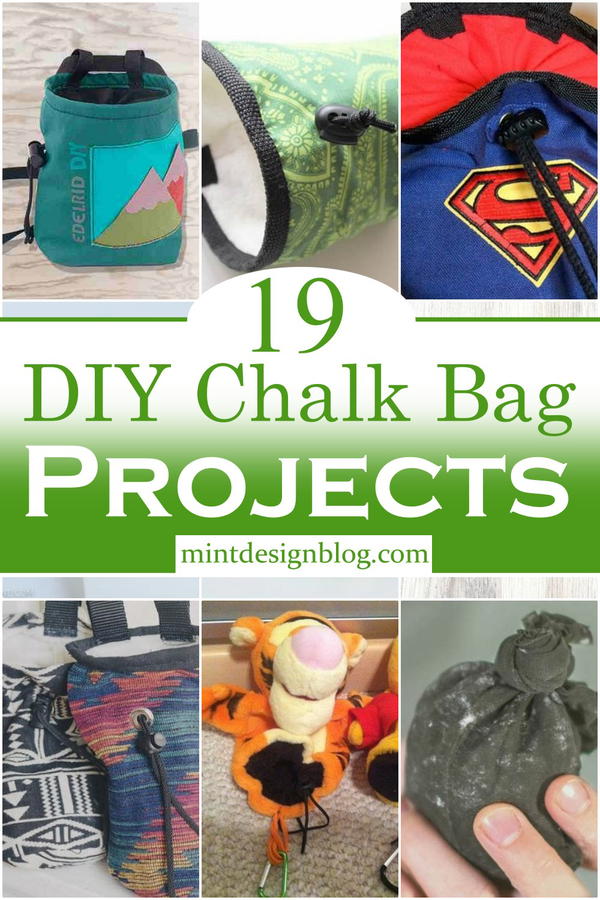 Whether you're new to climbing and want to build your own equipment without spending much money, or you've been climbing for years but need something more durable than the commercial bags that are available, here are 19 ideas for making your own chalk bag from scratch. Whether you're a seasoned climber or an aspiring one, it's good to know how to make your own chalk bag. And not only because it's a cheap and creative alternative to buying one. The process of making one yourself is quite simple, and the materials needed are widely available or can be easily substituted for others.
These 19 DIY Chalk Bag Projects are easy to make, look great, and will have you looking like a rock climbing master in no time.
Materials needed for DIY Chalk Bag Projects
Here's a rundown of the materials you'll need:
Fabric chalk bag with drawstring closure.
Wool felt or cotton fabric (for the chalk holder).
Felt (for the pocket).
Polyester fiberfill or cotton batting.
Needle and thread (or a sewing machine).
Homemade Chalk Bag
We all know taking a chalk bag to the gym is very important. It helps to keep the hands dry while climbing. But, finding a chalk bag that you will like and is worthy of your money can be somewhat difficult. The good news is that you can make a beautiful DIY chalk bag right in the comfort of your home. You do not need to be an experienced sewer to make this beautiful homemade climbing gear. Create this fun and stylish chalk bag to carry your climbing chalk with you to the crag. This is a project that can be completed by hand or with a machine and requires relatively few supplies, making it a simple process that can be completed quickly.
SKILL LEVEL: BEGINNER
DIY SuperHero Chalk Bag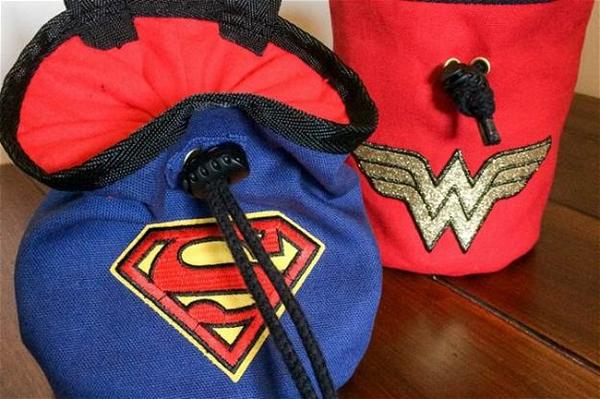 Superheroes are real… and they're hucking off boulders in this DIY chalk bag. This bag is perfect for aspiring heroes who like to boulder, whether it's indoors or outdoors. This DIY chalk bag is the perfect little gift for the young kid who loves to climb. You can sew it in just a few hours, and your climbers will love the gorgeous patterns and bright colors. With a bit of sewing and some patience, you can make this awesome chalk bag come to life
SKILL LEVEL: BEGINNER
How To Make A Rock Climbing Chalk Bag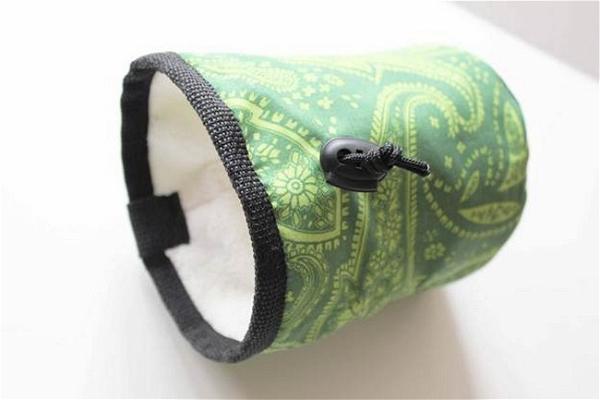 This is a very long and informative tutorial that teaches you how to make a rock climbing chalk bag. The content is mostly dominated by photos and an accurate account of the making process. It is friendly enough for anyone to read and understand, even if you have never used a sewing machine before. This is a very easy and simple pattern that can be made by anyone who has some basic knowledge of how to use a sewing machine.
SKILL LEVEL: BEGINNER
Denim Chalk Bag DIY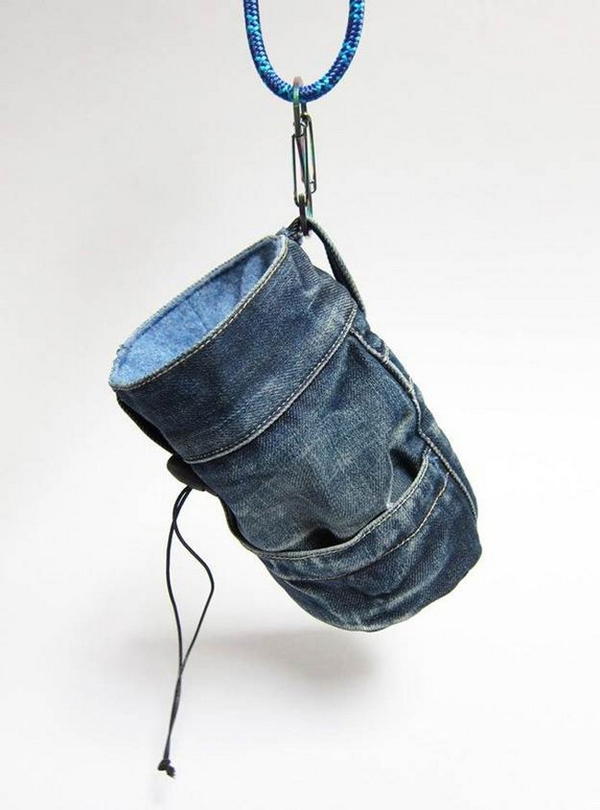 With this DIY chalk bag, you can make your own climbing chalk bag in a few minutes. Bored with boring old chalk bags? Make your own! This chalk bag is made using denim fabric. If you're an avid climber or just starting out, this DIY project is perfect for you. The creator added pockets to the chalk bag, it is perfect for placing your keys and other little stuff that would fit. Add pockets to carry keys, snacks, and other little stuff. This tutorial is easy to follow and you don't need to purchase denim fabric just convert your old jeans into a chalk bag
SKILL LEVEL: BEGINNER
DIY Climbing Chalk Bag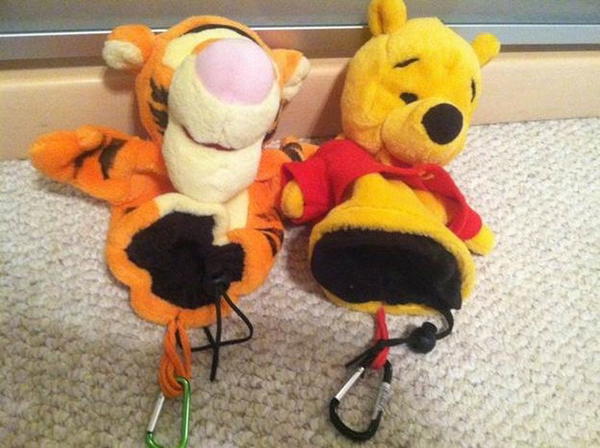 Your kids are going to love this chalk bag. It's shaped like a puppet head. You can make as many as you want in different colors and patterns. Each of the chalk bags will have its own unique personality. Remove the arms from the puppet, then cut down the middle vertically to open up the puppet's mouth. Take out the stuffing so that you have a clean area for stitching. Turn the puppet inside out, then sew up each of the elastic band tabs so that they become loops. Your kids will have a blast taking their puppets on adventures both on and off the wall!
DIY Rock Climbing Chalk Bag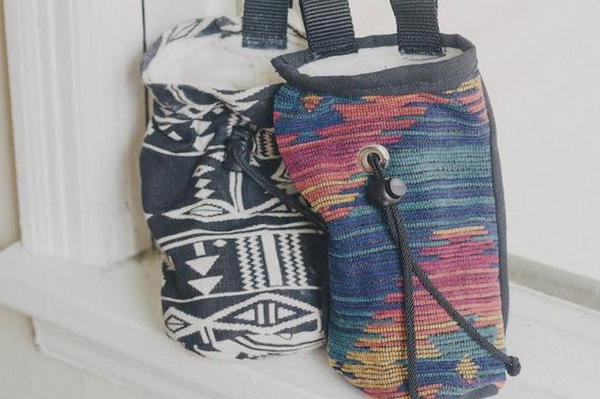 A chalk bag is a necessary item when rock climbing to keep your hands dry so you don't lose your grip. This DIY project is easy and affordable, allowing you to make your own chalk bag with the amount of fabric that works best for you. The thick canvas material is great for use in craft projects, sewing supplies, and other DIY needs. This DIY rock climbing chalk bag is also a great non-functional piece to complement your home decor. Just fill with dried flowers or other decorations and display them on a shelf or mantle. This thick, sturdy canvas will make for beautiful upholstery for a table, desk, etc.
SKILL LEVEL: BEGINNER
DIY Chalk Ball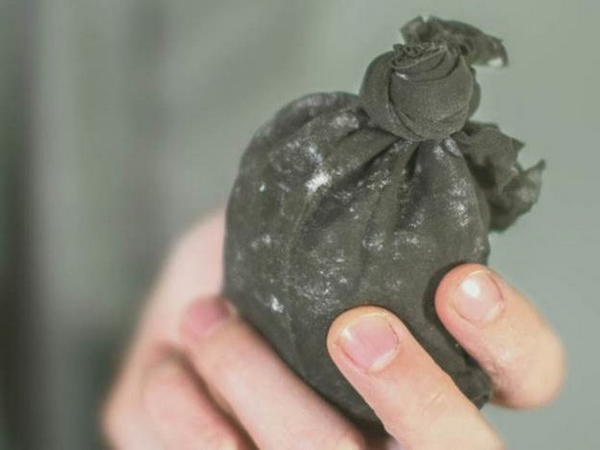 With a DIY chalk ball, you can have the chalk readily available whenever you need it. Rather than using chalk bags, it is more convenient to have something that you can easily carry around. This even makes it possible for professional climbers to have an item needed in their immediate reach. A chalk ball is a round mesh that holds powdered chalk inside when you make climbing moves. Chalk balls are popular among rock climbers because loose chalk can create a mess around them. These balloons made at house, come with materials that are easily available and the procedure is too simple to follow. So, let's start with the process.
SKILL LEVEL: BEGINNER
DIY Chalk Bag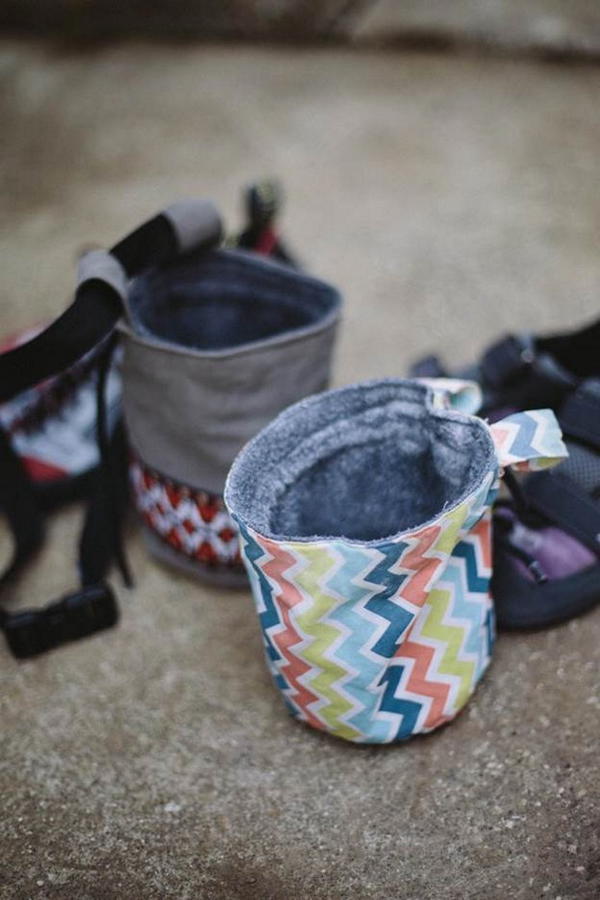 Don't hassle about the chalk spilling all over you when next you are in a yoga class, it is simple to make your own chalk bag with a little bit of creativity and dope fabric. Making your own chalk bag has its perks compared to buying one, you can make yours as beautiful as you want, it will also have you following your style rather than choosing from what's available in the store. This guide will take you through the DIY Chalk Bag step by step.
SKILL LEVEL: BEGINNER
How To Make A Chalk Bucket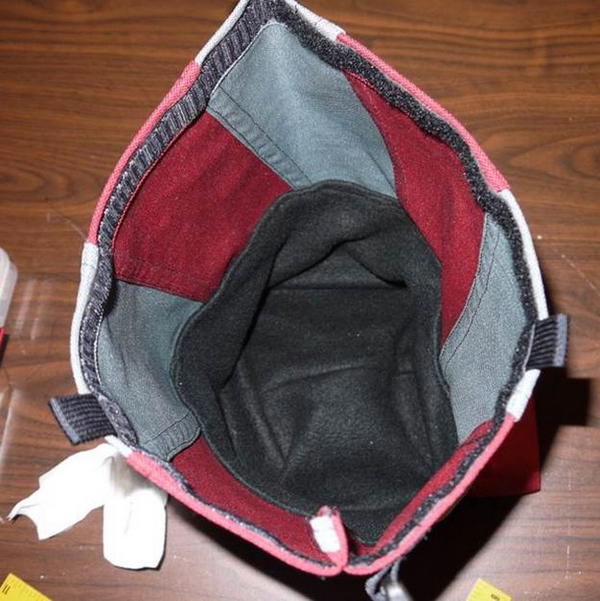 A chalk bucket is a must-have for anyone who climbs in gym boulders. If you love climbing and you take your climbing seriously you will be really excited about making this chalk bucket. This chalk bucket is large so that it can carry sports tape and other supplies for climbing in addition to the chalk. The pockets on the side are very convenient, but it would also be nice to have a pocket on the front of the bag as well.
SKILL LEVEL: BEGINNER
Customized Chalk Bag Pattern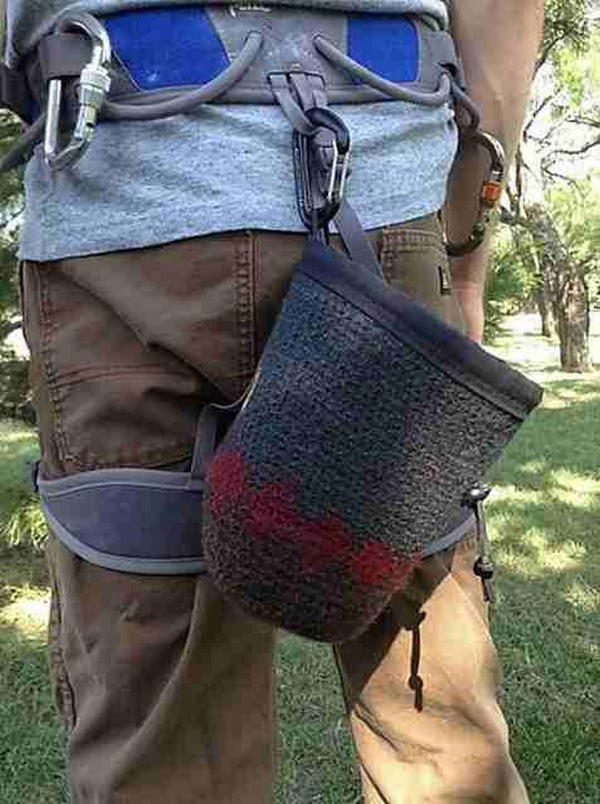 This unique custom chalk bag pattern was created to give boulderers and rock climbers a one-of-a-kind chalk bag unlike any other on the market. This woven double-layer fabric chalk bag (drawstring closure and belt loop) has a large opening to easily reach the chalk. You can choose your favorite colors for the bag then download the free chalk bag pattern and tutorial. Easily customizable to your favorite colors. Just follow the directions here to make a chalk bag any way you want. It's customized by you. Make it your original creation!
SKILL LEVEL: BEGINNER
How To Sew A Bouldering Bag
Learn how to sew a bouldering bag and make a super cool accessory for your next climbing adventure. You'll love this easy DIY project and will be carrying it around all the time. This sewing project sure can work up your imagination. Home-sewing a bag and dressing it up with the right accessories is such a creative undertaking. But don't be too nervous if you are just starting with this kind of project, because most materials and tools required here are pretty basic.
SKILL LEVEL: BEGINNER
DIY Suede Chalk Bag
The DIY Suede Chalk Bag is the perfect tool for any climber to keep their chalk handy and is easier to put on than most chalk bags. If you are looking for a personal gift or just want to learn how to use suede, this step-by-step tutorial will show you all the tips and tricks you need to know to create your own suede chalk bag. It's not a difficult project and makes for a quick sew. The best thing about it is that you can customize it however you like as we will be using lining fabric so you can use different patterns to give it a fun spin on the design!
SKILL LEVEL: BEGINNER
How To Make A Chalk Bucket
Do you love climbing or going to the gym? Then get yourself a chalk bucket by making it with your own hands. Making this bag is not at all complicated, it is easy and cheap. This bag is made from normal fabrics, some zippers, and buckles for safety. Chalk bags are important for climbing, especially bouldering because it makes climbing more convenient and safe. You will need to buy one if you are a beginner climber or make one yourself. If you want to make your own chalk bag, first find the measurement of where you want to put your pockets. Using our step-by-step tutorial, you can make your chalk bag in no time!
SKILL LEVEL: EXPERT
DIY Bouldering Chalk Bag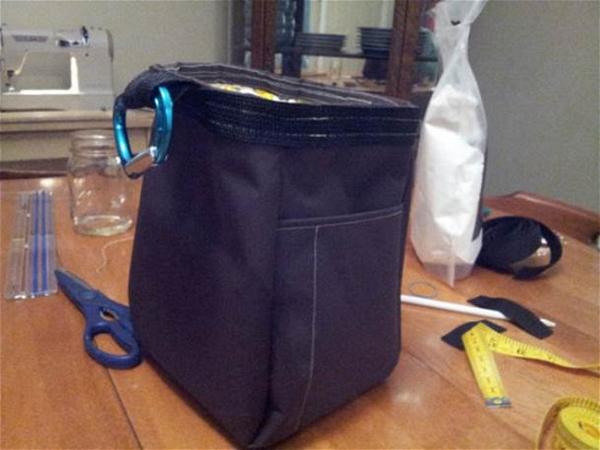 This DIY Chalk Bag is perfect for any person who loves to climb at the gym. The bag uses a strong material for the outer shell, and it also has a pocket where you can store your phone/wallet/etc. It will be a great gift for your kid who loves climbing. This DIY bouldering chalk bag is handcrafted with warm corduroy on the outside and cotton fabric on the inside. It has a drawstring for closure, a zipper pocket for valuables, a magnetic buckle on top, and also two side pockets for your phone, keys, or other small items.
SKILL LEVEL: EXPERT
DIY Quick And Easy Chalk Bag
Convert one of your old socks into a chalk bag. This tutorial teaches you how to easily turn an old sock and a drawstring into a functional chalk bag. This video tutorial will show you a quick and easy way to make a super simple chalk bag without using any sewing machine or glue. All you need is just one long sock, one long drawstring, scissors, and a pair of pliers. This chalk bag is perfect to bring along on your next climbing trip!
SKILL LEVEL: EXPERT
How To Make A Climbing Chalk Bag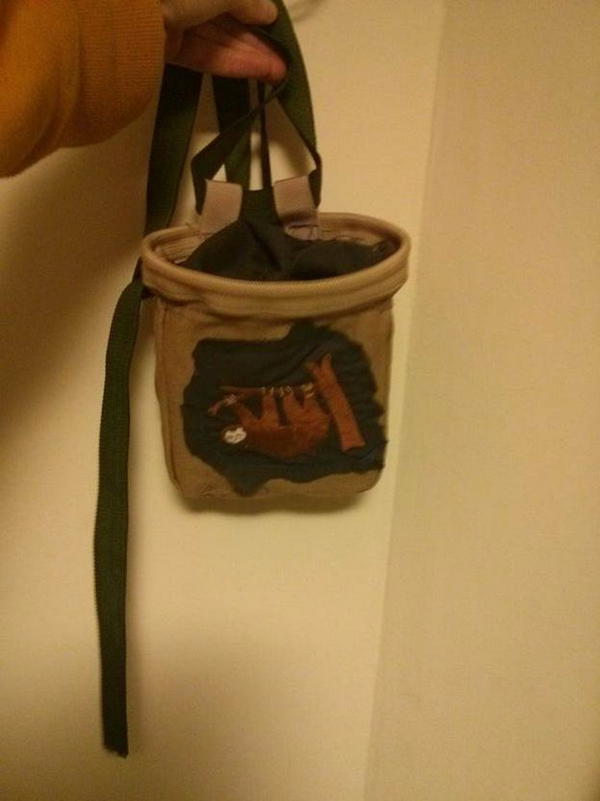 This tutorial teaches how to make your own chalk bags for climbing. It is merely a beginner's guide and if you do not like the idea of jumping right into it, it will help you become familiar with some of the making processes. To begin making your chalk bag, you must choose a design or pattern that suits your personality, whether it's an ombre effect or a funny photo. The process of creating the pattern could be a bit time-consuming, but it will be worth your time, says creator Miranda.
SKILL LEVEL: BEGINNER
Watermelon Chalk Bag Pattern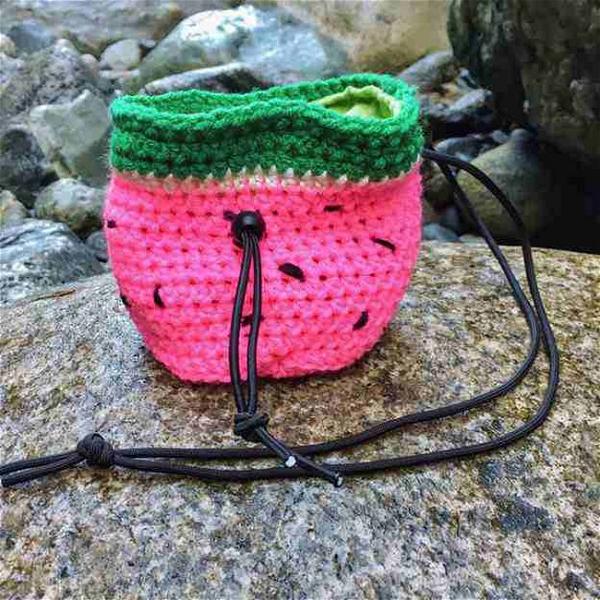 If you love the colorful yarns & magic crochet hooks, then this super fun DIY will blow your mind! This cute watermelon chalk bag is 100% homemade, and we're here to tell you exactly how to do it yourself. Start by picking out a couple of polyester stuffing bags, and pretty much just follow along with the instructions that are attached to the pictures. This crochet watermelon chalk bag is one of those accessories that would make a great gift option for any person who is addicted to climbing sports. What makes it even more special is that it comes with a big smiley face which makes it look even more attractive.
SKILL LEVEL: BEGINNER
DIY Fallout Chalk Bag For Climbing
If you're looking for the perfect present for a family member or friend, look no further than this DIY chalk bag. Using our detailed tutorial and handy shopping list, you can easily make your own chalk bag in the comfort of your home. Choose from a variety of fabrics to find the right design to make a statement at the gym. If you like to climb all year round, you probably have a kind of obsession with climbing and this fallout chalk bag is just one of the ways to express your passion.
SKILL LEVEL: EXPERT
DIY Chalk Bag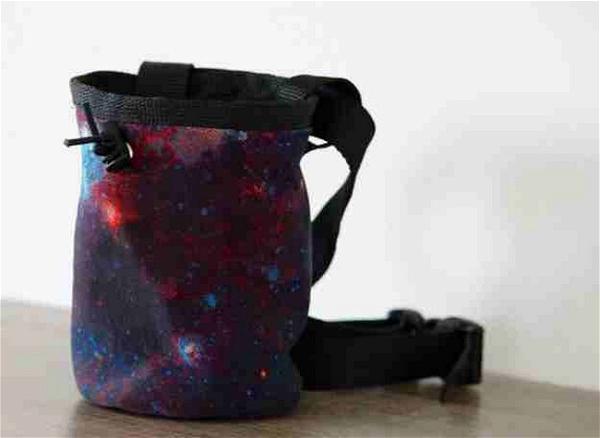 If you're a climber who loves to do things your own way, then this chalk bag sewing tutorial is for you! This tutorial by Wooly Mammoth Woolies will teach you how to sew a custom DIY chalk bag, which can be tailored to suit your personal style. Best of all, the design is simple and easy to follow, and once you have the hang of it, you can make as many as you want. The bag features a drawcord closure and hanging loop, with a light lining and soft fleece trim on the inside
SKILL LEVEL: BEGINNER
CONCLUSION
Add a pop of color to your wardrobe with this fun and easy DIY chalk bag project. This is fun and easy o make your very own chalk bag. Chalk bags are a necessity if you're going to be climbing. You can buy a bag online or at your local outfitter, but why not save some money and make your own? These 19 DIY chalk bag projects are all about doing things yourself or maybe just getting started on doing things yourself and learning in the process.