These basic and adorably stylish clay earrings are a DIY project that's easier than you might think. The endless possibilities for fun colored clay designs make it easy to customize any outfit! Whether you're looking for a quick craft activity to do with your family or an afternoon of solo crafting fun, this is one clay project that you can't go wrong with. Create your own unique style with these easy DIY clay earrings. These simple clay bead designs can be made in any color and size to match any outfit, making for a great craft for birthday parties or girls' nights!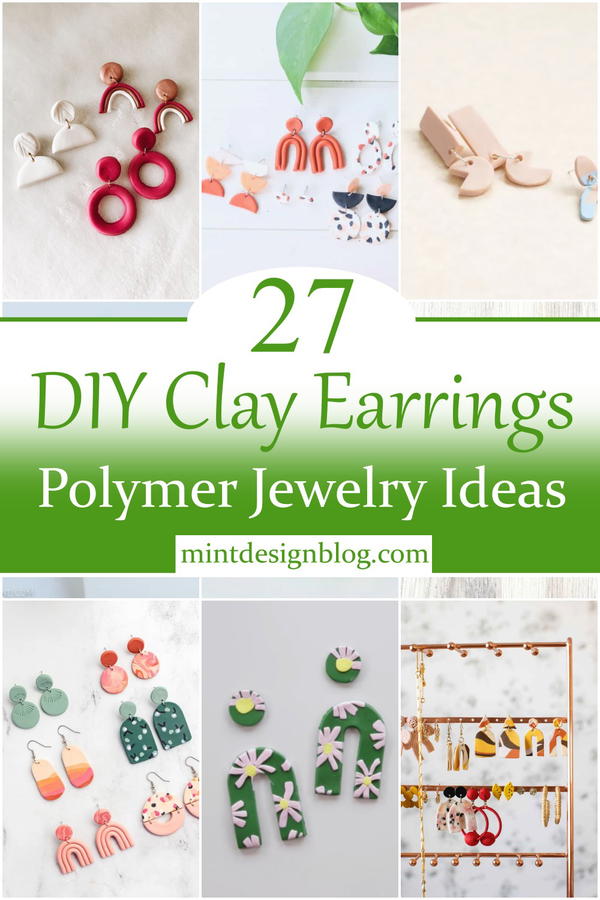 Enamorate the women in your life with this simple and affordable DIY Clay Earrings project. The materials are inexpensive, and the process is easy enough for beginners to make their own unique jewelry. These DIY clay earrings are a fun way to make a statement. With colored clays and shaped beads, you can create any style and be your own artisan. It's like having arts and crafts in the palm of your hand! These are perfect for a fun arts and crafts project for kids of all ages. They are easy to make, inexpensive, and take no time to complete. Make them in unique colors and patterns as gifts for friends, family (and even yourself!).
Tips To DIY Clay Earrings
Are you looking for DIY clay earrings? Have you ever wondered how to make clay earrings? You can create your own pair of clay earrings with a few simple steps. Follow the steps below to make your own earrings.
1. Buy some clay and tools to work with it. You can buy the clay at most craft stores or online shops. You will need something to cut the clay with and something to sculpt it with, such as a toothpick or other small tool.
2. Roll out the clay until it is flat enough to cut into pieces that will fit on your earlobe when they are finished being shaped. If this is your first time making these types of jewelry, start by cutting out one shape at a time, so you have time for mistakes before making more than one piece at once!
3. Once the pieces are cut out, use them as templates for cutting more shapes from different pieces of rolled-out clay until you have enough pieces for each earring (two per earring). Remember: don't worry too much if they don't look perfect at first; they will become more beautiful as you add details later on!
Handmade Clay Earrings
Are you looking for a fun and easy handmade clay earring craft idea? Here is the perfect thing for you to do. Handmade clay earrings are perfect for showcasing your artistic side and personalizing your fashion style. You can wear them on any special occasion and make them with cream colors to match any outfit! These earrings are aesthetically pleasing and easy to create if you know what design you want, the necessary materials, and tools. However, with many different designs to choose from, this craft can be personalized for each person.
How To Make Clay Earrings
DIY clay earrings are easy to make and are great for beginners. There are many ways to create your unique look with the materials. Choose any shape, design, or accessories for the perfect pair of earrings for you! This step-by-step tutorial will guide you how to make clay earrings at home. This crafting project is one of the easiest and most satisfying types of crafts since you can use any shape, design, and accessories for completely customizing your perfect pair. You'll learn how to mix and prepare the clay, create an impression of your earring shape, and decorate your earrings with charms.
Polymer Clay Earrings
Have you ever been in a situation where you want to add something new and trendy to your wardrobe? You are not alone! Many people want to look stylish and beautiful. One of the easiest ways to do this is by making polymer clay earrings. . These beautiful, handcrafted polymer earrings are designed to reflect the wonderful world of polymer clay. These trendy earrings are popular for ladies and men because they come in different styles and shapes. These fantastic earrings are beautiful, stylish, and unique.
Clay Gold Leaf Marble Earring Tutorial
Take on this gorgeous polymer clay earring project, or give a gift to a special loved one. We'll show you how to make your own unique and stylish polymer clay gold leaf marbled earrings. You will learn how to create a beautiful polymer clay earring with a gold leaf marble using the same techniques used for glasswork. You'll learn new techniques, including making your gold leaf, mixing translucent clay, and working with waterfall ink. After this tutorial, you can make a set of earrings as gifts or for personal use.
How To Make Polymer Clay Earrings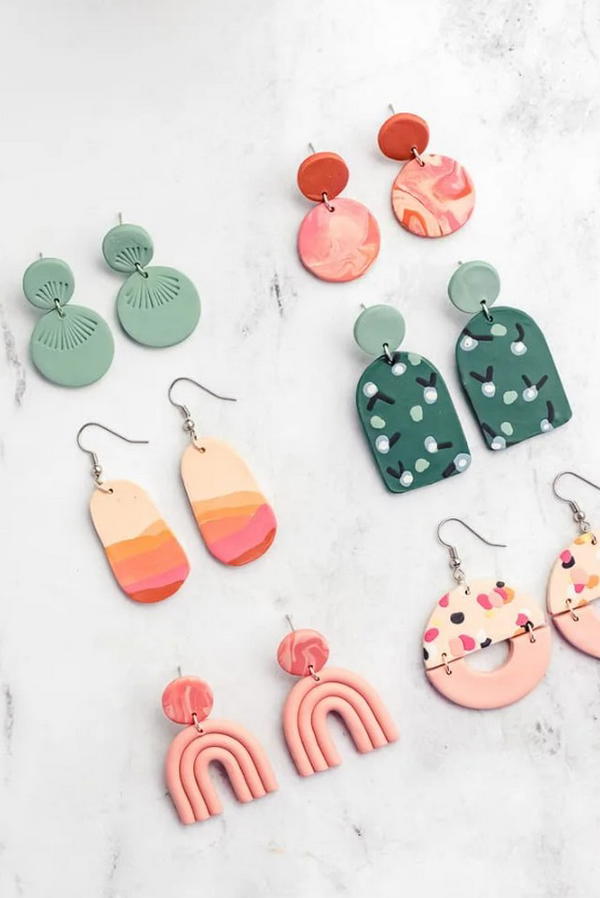 Why do people use polymer clay? Because polymer clay is so flexible and beautiful, you can make it into anything you want. Do you want unique, beautiful, and flexible earrings? If yes, then this tutorial is for you! It will show you how to make polymer clay earrings. Polymer clay is very useful in making many jewelry pieces like necklaces, beautiful paracord, rings, bangles, bracelets, etc.; unlike other fancy clays, the main advantage of using poly clay is that it won't break while wearing them. You can use your favorite colors, patterns, and designs in your own unique creations.
DIY Polymer Clay Earrings
You can assemble your own polymer clay earrings! It's a great way to decorate them to match your outfit or as a gift for someone you love. This DIY polymer clay earrings tutorial is an easy, cost-effective way to make beautiful and unique earrings. Once you have learned the technique and know your way around polymer clay, you can experiment with different shapes, sizes, colors, and patterns. This is a very straightforward project that can be completed in less than one hour (or less if everything goes smoothly!). Your own unique clay earrings will be ready in a few minutes. Add decoration with gemstones, paint, or enamel accents.
How To Make Clay Earrings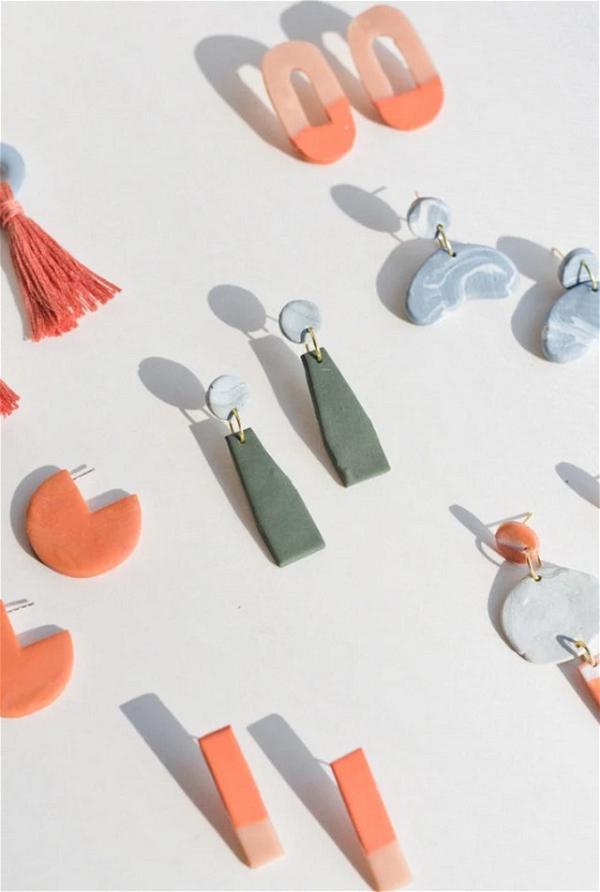 Using clay to make your jewelry is a creative and fun way to add stunning color and texture to your wardrobe. Clay-based earrings are very popular now, so why not join in the trend? You can find many great designs online as models for your creations. Clay-based jewelry is one of the easiest DIY projects. This is a simple step-by-step guide for creating your own clay earring design. It is easy to create and perfect for new hobbyists and seasoned crafters. You can create different designs using jump rings, earring studs, and clay.
How To DIY Polymer Clay Earrings
Are you searching for a wonderful handmade diy polymer clay earring with delightfully flamboyant and delicate designs? Then these wonderfully awesome DIY polymer clay earrings are the ideal choice for you. This DIY Polymer Clay Earring Plan includes detailed instructions to help you make these colorful earrings. Make them for yourself, friends, or family members as gifts. Experiment with different styles, sizes, and shapes of beads, earring hooks, and other similar elements to ensure the design is unique.
Cute Polymer Clay Earrings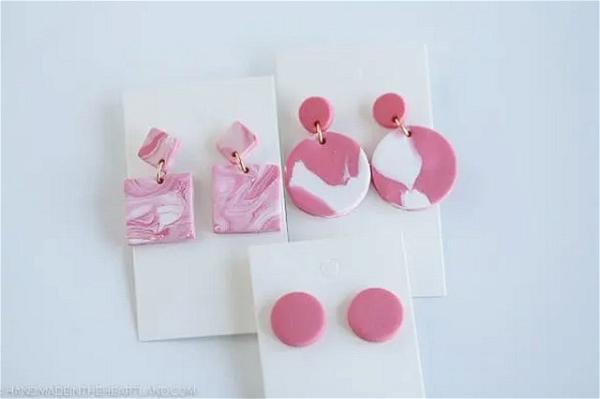 Polymer clay earrings are fun and easy to make, which makes them a great project for beginners. This DIY project can be ended in just a few minutes, so it's perfect for quick afternoon craft sessions or even for gifting to loved ones. For this hack, you'll need some translucent or white clay and a pair of gold or silver studs. These simple polymer clay earrings are easy to make and catch everyone's attention. All you need to do is assemble supplies, such as different clay colors and tools like a set of small clay calipers, beads, and faux gems from the craft store. You can make several pairs with this process or give them as gifts.
Beginners Guide To Making Clay Earrings
There are some essential materials and tools required for making clay earrings. The first is a pasta machine that helps to form the clay into a sheet of uniform thickness. The second is a cutting mat or ceramic tiles to cut the sheet into desired shapes. You could also use an acrylic rolling pin for more texture on your clay pieces. While most people use dotting tools for making holes, you can use shape cutters instead if you want to create different shapes. Whether you are a beginner, or an expert looking to make new types of clay jewelry, these are the materials and tools required to make clay earrings.
Easy To Make Polymer Clay Earrings
This polymer clay jewelry tutorial will show you how to make bright and colorful polymer clay earrings using the three basic techniques: marbling, stamping, and airbrushing. These are easy to make and beautiful polymer clay earrings for you to try. They are a great way to use clay scraps, and you can personalize them with beads and charms. The best thing about these earrings is that they dry in about 24 hours so that you can wear them within the same day!
Polymer Clay Earrings DIY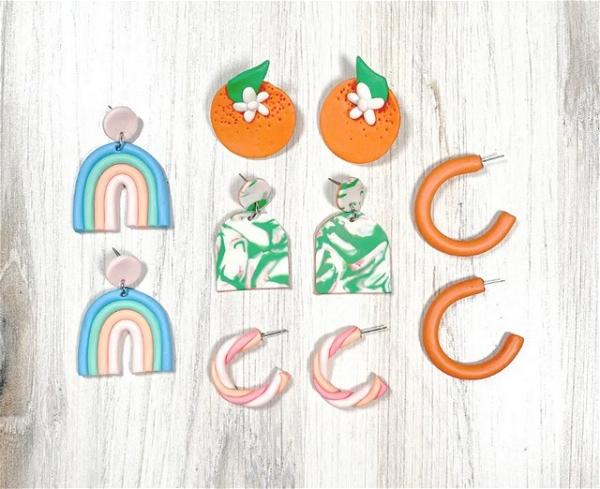 Polymer clay earrings are fun to make, and they're bound to get compliments. You can choose a style of earring to start with and then pick your favorite colors and embellishments. Polymer clay is easy to work with; you'll feel like a pro in no time! These earrings are so easy to make that you don't need to be a pro. You have to roll out your favorite polymer clay and use your imagination! They are great for gifts, too! These earrings are effortless and fun to make! You have the opportunity to choose any earrings and accessories to finish the work.
DIY Air Dry Clay Earrings
The DIY air-dry clay earrings are a great way to channel your creativity! The humid climate is ideal for the DIY air-dry clay earrings. However, in a well-ventilated area, you can leave them to dry. With this simple procedure, you will have gorgeous and unique DIY air-dry clay earrings. Create custom earrings with the help of air-dry clay and paint, and add metal studs or hoops for a lovely finishing touch. Keep in mind that some metal parts can get hot when heated by a torch, so check them often.
Polymer Clay Christmas Earrings Tutorial
These easy polymer clay earrings are the perfect Christmas craft for kids and adults alike. They feature a cute, donut-shaped mold that is super easy to make. Make these as gifts for teachers, friends, and family this holiday season. Create the base of your polymer clay earring by making two donut shapes out of green clay, and attach small leaves to them with super glue. After they are shaped and dried, get your hooks and attach them to the donuts. Just let them dry, and you are done!
DIY Cute Clay Earrings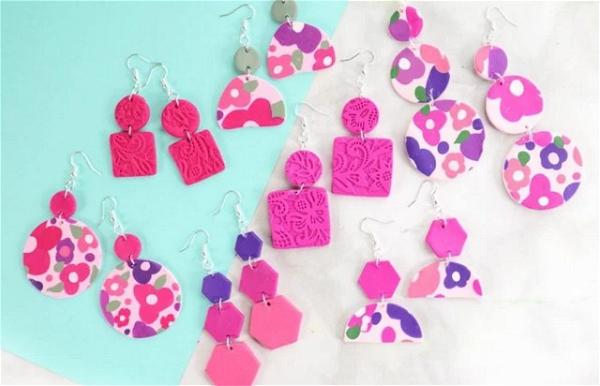 Clay earrings are one of the most popular handmade crafts. They're easy to make, and you can use them on different occasions. You can add your own designs and shapes using simple techniques and different styles. These earrings are perfect for when you want to add a splash of color to your outfit. Each pair is handcrafted with polymer clay, and each is unique. Polymer clay is a mixture of Polyvinyl Chloride base, pigment, lubricant, polymers, resins, and fillers. This indicates that no two pieces are exactly alike and are made to be molded into something else. If you mold polymer clay earrings, they will be the unique earrings in the world!
How To Make Embossed Clay Earrings
Let's start!! Embossed clay is a fun and easy project you can do with your kids. It's also a great way to use up any scrap pieces of clay. This tutorial will lead you on how to make some very nice earrings at home using your silhouette or Cricut machine. You can use the cutting machine to create pretty designs on small sheets of embossed clay, then turn them into wonderful jewelry pieces by setting them individually. Here is the final product!
Best Polymer Clay For Earrings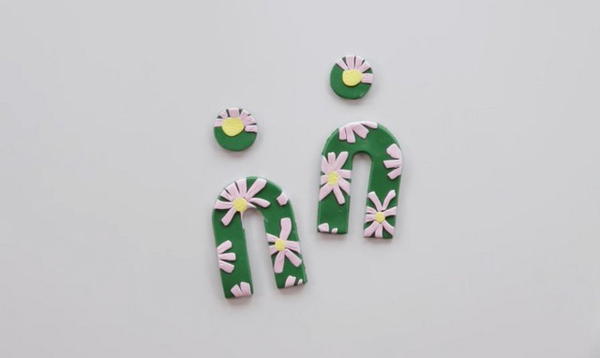 Assuming you're a beginner, this guide will give you step-by-step instructions on how to make polymer clay earrings. Aside from the different clay colors and other things like earring hooks and pliers, readers will find some tips on completing their first finished project. You will learn how to make clay earrings for your friends and family. The steps are simple, fun, and easy. They are great for beginners or those who have never made clay earrings. They are fun and easy to make, and you can use your imagination to create whatever design you want. These earrings are so lightweight that you almost don't realize you have them on!
Modern Polymer Clay Earrings For Beginners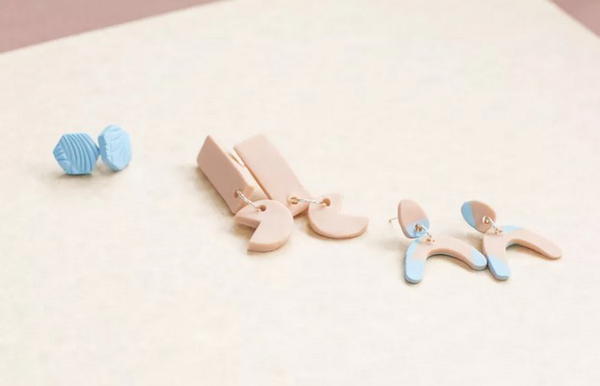 If you're scrutinizing for a delight and creative project that also makes an awesome gift, these polymer clay earrings are sure to please. You can assemble your own polymer clay earrings, and you don't need any special skills or knowledge. This project will walk you through the steps needed to create your new pair of sparkly, colorful earrings. You can even select the stain scheme that nicely fits your style. If you don't have any artistic experience, don't worry—our step-by-step instructions will guide you every step of the way!
Floral Clay Earrings DIY
This guide displays how to make three different types of clay earrings. You will learn about each project's tools, materials, and techniques. The projects are simple and fun, perfect for any crafter at home. Make your own clay earrings or gifts with this how-to guide. You'll learn to create three different designs, perfect for birthdays, Mother's Day, and more. The first design is an easy floral tree; the second is a lemon blossom, and the third is for those who love dangling jewelry. All you need is Polymer Clay, a few tools, and basic instructions.
Polymer Clay Jewelry Making Technique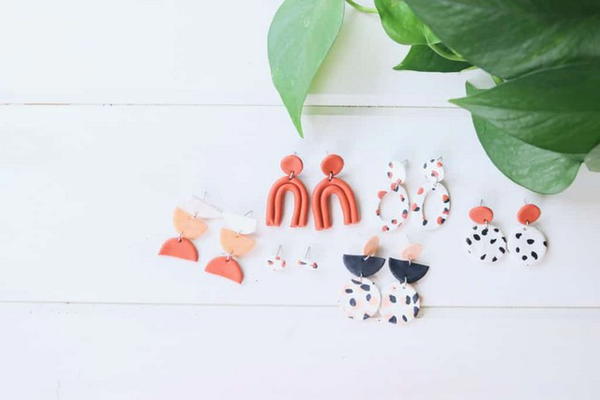 Have you ever wondered how to create your own clay earrings? With the DIY Clay Earrings set, you can make these cool earrings easily in an hour or so. Just choose any mold color, shape, and size and start working with the clay to get your desired look. These polymer-clay earrings are easy to make, durable, and add a personal touch to every outfit. They take little time to create, with basic materials purchased at any craft store, and each pair only costs about 20 cents. They can be made in any shade or style with just a few extra supplies and a little elbow grease!
Polymer Clay Earrings For Beginners
Learning how to assemble polymer clay earrings for beginners can be easy as long as you know the basics. This basic polymer clay earring tutorial is perfect for beginner or novice players looking for a simple project to practice their skills. It is so versatile that you can paint it any color and make unlimited styles. Jade howlite clay earrings are very comfortable, lightweight, and give you an elegant look. These polymer clay earrings are effortless to make and are perfect for beginners. If you have always wanted to make your masterpieces, this guide will show you how to create a variety of beautiful clay earrings easily.
Handmade Clay Earrings DIY
Create a beautiful earring for your wardrobe. These handcrafted clay earrings will make you want to stock your jewelry box with them alone. These clay earrings are different from other polymer clay earrings because it is air-dried instead of oven dry, so they will have the flexibility to form a flower shape. It is an awesome gift for your friends and loved ones or just yourself! These polymer clay earrings are air-dried instead of oven-dried. They form a flower shape by themselves, so molding or shaping them during the drying process is unnecessary!
Homemade Clay Earrings Idea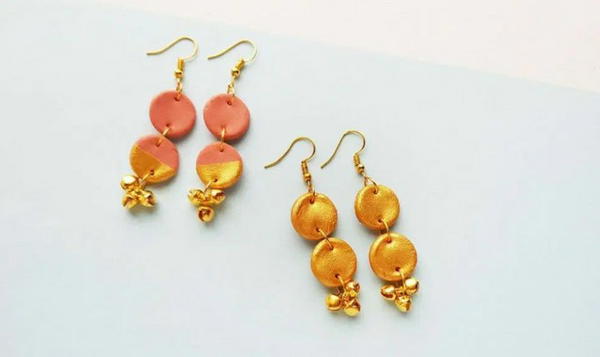 Clay earrings are the simplest and cheapest kind of jewelry you can make for yourself. Learn how to make them by hand with a simple recipe and mold, then naturally cure them to solidify. Add many other colors, patterns, and textures to create unique handmade clay earrings. Making clay earrings is very easy and doesn't require special instructions. Get some clay, preferably soft dry modeling clay such as Sculpey, Precious Plastic, or FIMO. It usually assumes less than an hour to create your own set of lovely earrings as they are not complex in appearance or design.
Roses Clay Earrings DIY
Rose flowers are a lovely way to add color to your outfit. They're also the perfect size for adorning your ears, and you can make them yourself with polymer clay. You'll be able to create a pair of beautiful polymer clay rose earrings with this kit. No baking skills are needed! Inside are all the materials needed to make your own look-a-like clay rose earrings. These little flowers are so lovely and girly that you might even want to make all the flowers at once, then pick one for each day of the week. These polymer clay rose earrings add a little magic to your everyday wardrobe. The round shape and intricate pattern of the roses make it a unique accessory that is sure to get compliments.
Cheap And Easy Clay Earrings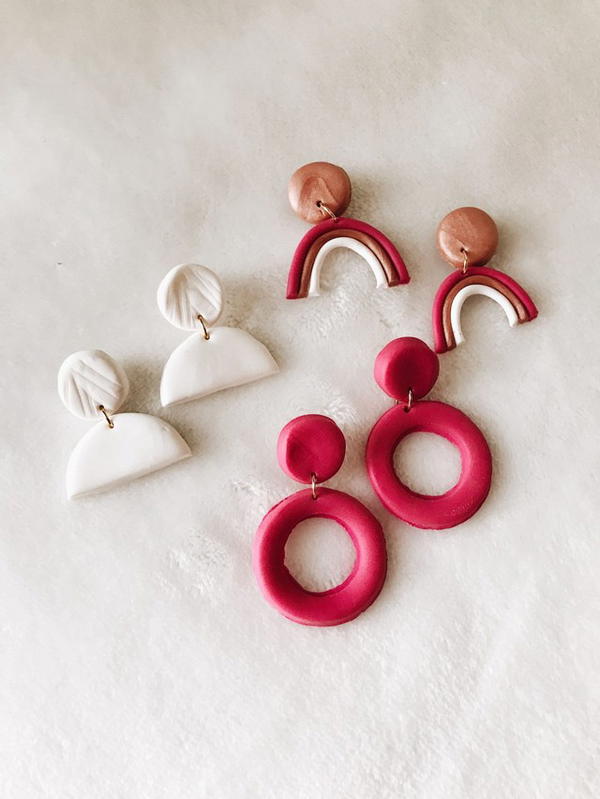 Make beautiful clay earrings in less than an hour! This DIY Clay Earrings Kit comes with everything you need to create a pair of classy, handmade earrings. The Sculpey Soufflé clay is lightweight and easy to work with, so creating your one-of-a-kind set of earrings will be such fun. Add a special custom touch by making these earrings thematic for any occasion or celebration. These classy yet straightforward clay earrings are lightweight and suitable for small jewelry and craft projects.
Polymer Clay Gold Marble Earrings
Polymer clay is leisurely to work with and comes in many colors, shapes, and sizes. The gold marble earrings are made of colored clay that has been baked individually. Baking the clay makes it strong and able to withstand everyday wear. The Gold Marble Earrings are made using polymer clay. The beauty and uniqueness of polymer clay are that it is easy to work with and shape as needed for your own design. It's even more beautiful when it bakes, giving the earrings a glossy, shiny finish. These gold marble earrings have smooth, angular edges that give them movement and glamour.
Cute Clay Earrings DIY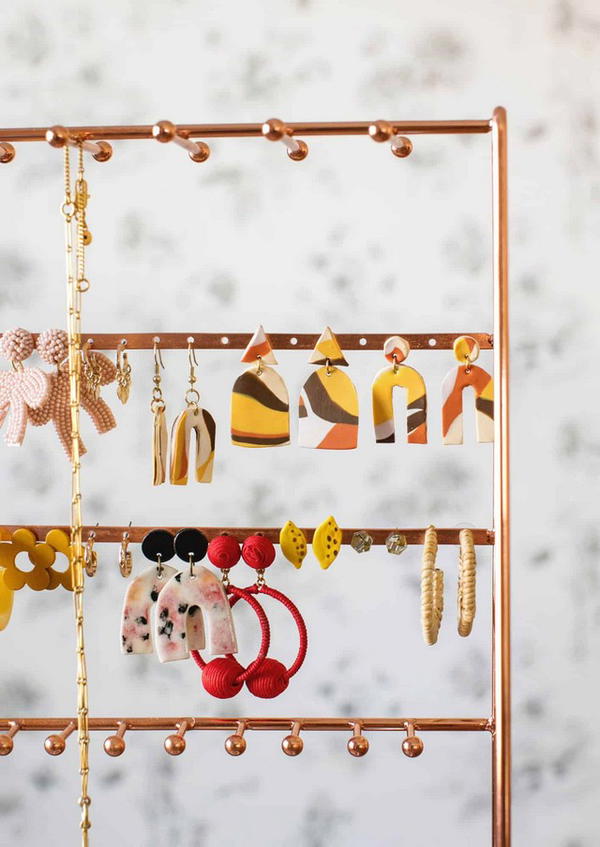 Have you ever been so happy with your choice of earrings that you just wanted to tell everyone? Or maybe your outfit has an accent color but can't find matching shoes or accessories? Well, these marbled clay statement earrings are perfect for you! They will make any outfit stand out and are one of a kind. You will be the center of attention when you wear them. They are effortless to make and can be made by any level of crafter.