Whether you're looking for a cheap alternative to your favorite jewelry or want to learn a new craft, DIY clay ring ideas are the perfect project to try. Celebrate your wedding wows with these DIY Clay rings. Grow your collection of rings with different designs and tons of masterful materials. You'll find something that suits you with everything from wood to clay! You'll love these pretty little rings, which are great to add to your jewelry collection or can be used as a wedding band that won't irritate sensitive skin. These handmade clay rings are a fun, easy project to make with kids. Mix up your custom colors and designs, or use the ones shown here. Each one is unique and truly one of a kind!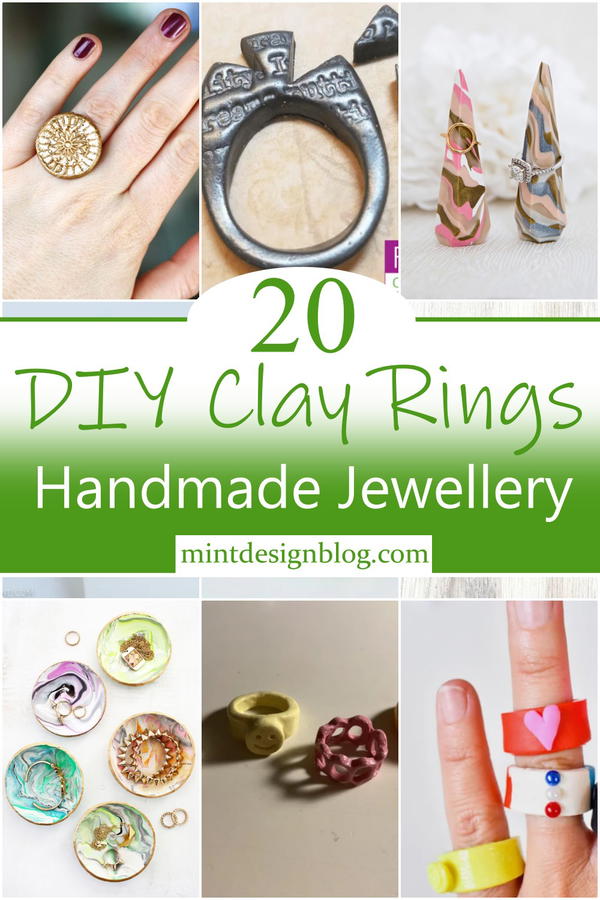 These clay rings are the perfect way to welcome the season. Making clay rings is a fun, relaxing activity that also makes great gifts. It takes a few simple steps, and you'll be on your way to creating beautiful rings sure to impress. These clay rings make the perfect gift for any occasion. Create at home by combining Mod Podge, your choice of paint, and clay. They are the perfect unique accessory to wear alone. Each handmade ring is made from vegetable clay and is distinguished by its unique shape and vibrant color. A great way to represent your style, these clay rings can be mixed and matched to create a custom look!
These 25 beautiful clay rings are easy to make and great for beginners to DIY; they're an ideal present for friends, family, teachers, and more!
These DIY clay rings are a fun and versatile craft project that can be made in various ways. You can use them as pendants or even as keychains. The possibilities are endless!
What You'll Need:
Clay
Pendant base (available at most craft stores)
Beads (optional)
A needle tool
Chunky Polymer Clay Rings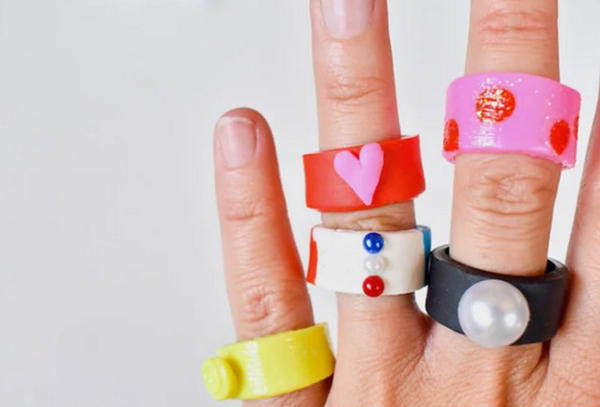 Love chunky clay rings? This is the perfect guide if you are excited about making some gorgeous polymer clay rings. Learn everything from tools to materials and processes, making it easy for everyone to make their own customized rings. You're going to love this easy DIY project! Mix and mold the clay, then use any style of ring you like to make your own thickly textured chunky clay rings from scratch. With our simple instructions and helpful tips, you'll have gorgeous rings in no time.
Clay Rings Idea To Make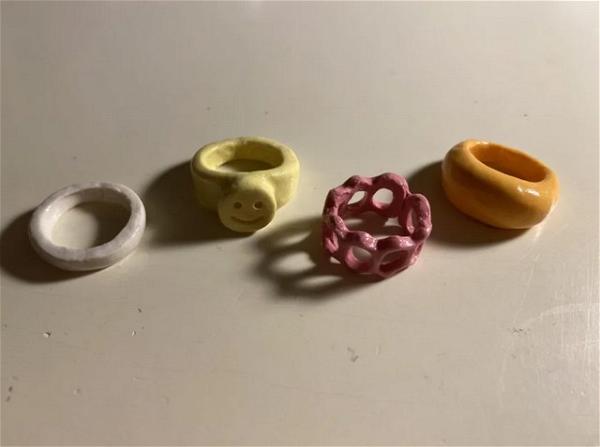 Polymer clay rings are easy, but you must understand how to use various tools and materials for this project. The entire process is very simple. You must follow the steps and ensure you use the right materials and tools. Making your own polymer clay rings can be fun, easy, and inexpensive. The best part is, you're in charge of the design! You can easily customize the color and shape of your ring to match your mood or outfit. This tutorial will guide you through everything you need to make polymer clay rings.
How To Make Clay Rings
Do you love making your own jewelry? Then you will love this polymer clay ring tutorial. In this video guide, you'll learn how to make a simple and easy clay ring that can be made in under an hour. You need the right materials and tools, and you're off with no worries. This video tutorial will walk you through everything you need to know about polymer clay rings. From the steps of kneading the clay, rolling it out, cutting it into circles, and shaping it to baking and polishing your new jewelry creation. You will have a unique, one-of-a-kind piece to wear and show off as soon as it is finished!
How To Make Clay Rings With Embroidery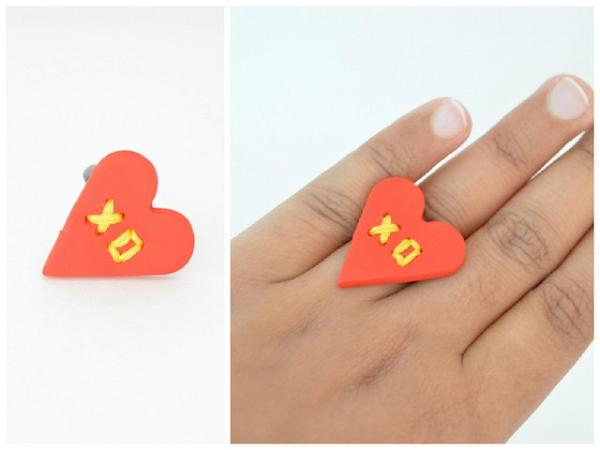 Learn how to make your own beautiful and personalized embroidered clay rings by following this simple tutorial. In just a few straightforward steps, you'll learn how to create custom, one-of-a-kind accessories that you can treasure for years. Get a fresh new look with these embroidered clay rings. These rings will make a perfect gift for your friends and family. It has everything you need to create awesome home decor that you can show off pridefully.
Pinterest Chunky Clay Rings
Learn how to make a DIY Polymer Clay Ring with this simple tutorial. It's easy and cheap! This is a great little project for practicing your skills and allows you to be creative by adding your own embellishments. These are so fun to wear on one finger that they make a great accessory for any color-blocked outfit or even a simple single color choice. This DIY Pinterest Chunky Clay ring is an easy and quick project that can be customized in any way you like. Imagine how happy your Mom would get if you made her this ring as a Mother's Day gift!
DIY Colorful Air Dry Clay Rings
This tutorial results from my many research hours and experience making clay jewelry. Air dry clays are a great material for jewelry making because they are lightweight, relatively easy to work with, and require little or no kiln firing. Clay is especially well suited for making rings that feature unique textures and designs. Follow this amazing video tutorial and make loveable clay rings for yourself and for gift-giving.
You can also take help from our series of DIY gift box ideas to make the loveable case for your gift to make it more admirable and unique. 
DIY Kawaii Clay Rings
You'll love these adorable rings that wear comfortable and are fun to play with! If you have a kid who loves playing with clay, this is the perfect project for them. These DIY Kawaii Clay rings are easy to make, and kids can enjoy creating their own unique designs. Clay rings are easy to wear, lightweight, and can be worn anywhere, anytime - even in school! This kawaii clay ring guide is about creating an adorable and pink-colored clay ring that's perfect for girls. Follow the creator's step-by-step instructions, and you'll be on your way to a cute clay ring that's sure to impress your female friends.
DIY Clay Rings Idea: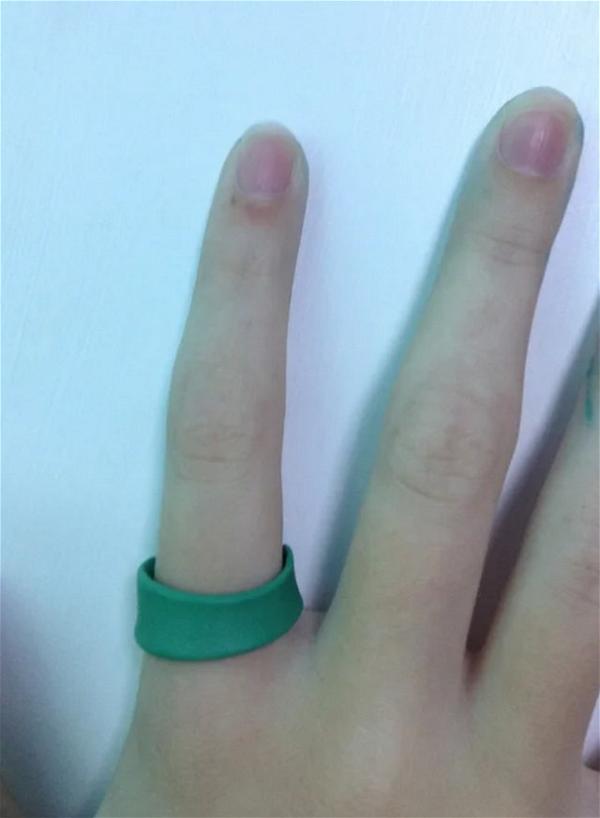 Get ready to create a gorgeous clay ring. It's super simple and affordable, so it's a perfect DIY weekend project. All you need is polymer clay and your selected colors. You can then use the markers to paint on your designs! Next comes the fun part: wrapping it around your finger. This guide to making a clay ring teaches you how to create some perfect rings by the original design. It's fun, easy, and rewarding! It's super easy, and you only need a few basic supplies.
Boho Cute Clay Rings Idea: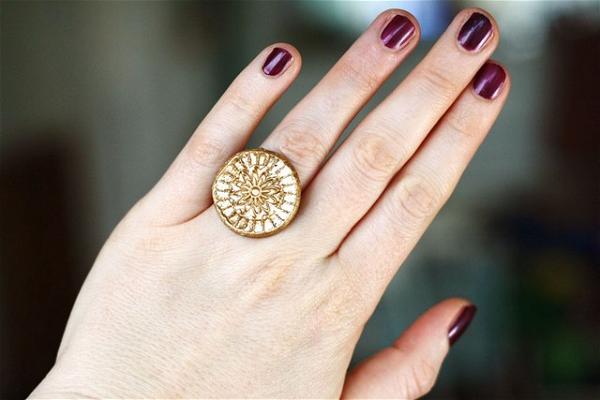 You will love this simple Boho Clay Ring. Learn how to make your very own clay ring! This guide will walk you through the process of making and designing your own clay ring from start to finish. The making process is straightforward to follow. Start by painting the clay with gold paint, and let it dry. Then add a ring blank and make sure it fits your finger. Press an imprint into the top and add a touch of glue so it sticks to your finger while wearing it.
Make Polymer Clay Rings
Making polymer clay rings is an easy and fun activity that you can do with children of any age. It's also a great way to practice your jewelry-making skills. Here You will learn how to make polymer clay rings in any shape, size, and style. This video tutorial teaches you how to do this so easily that anyone can follow the instructions. This tutorial will show you how to make beautiful polymer clay jewelry in no time!
Polymer Clay Ring DIY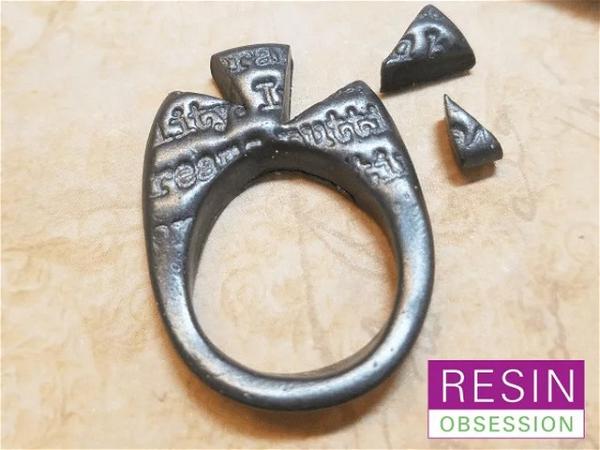 This resin polymer clay ring tutorial shows you how to easily create a beautiful piece of jewelry using resin. Just follow the steps correctly, and you'll be good to go. Making molds is easy as long as you have the right tools. This resin and polymer clay-making ring includes everything you need, from resins to mixing sticks, pearl powder colorant, and other essential supplies for creating these stunning jewelry pieces. This is a perfect guide for creating resin polymer clay rings. It is perfect for those obsessed with using resin molds in different ways.
DIY Chunky Clay Rings
DIY Chunky Clay Rings are a fun and unique DIY project to add to your wardrobe. Linking to the rest of your outfit, these rings can be worn with almost any outfit. The most useful part is that they're inexpensive to make and easy to do! These handmade ceramic rings make a great gift for your friends, family, and loved ones. The project's making process is inexpensive and easy to follow. This project is quick and easy to learn. As always, check the link to ensure you're getting all the necessary supplies.
Making A Step By Step Clay Rings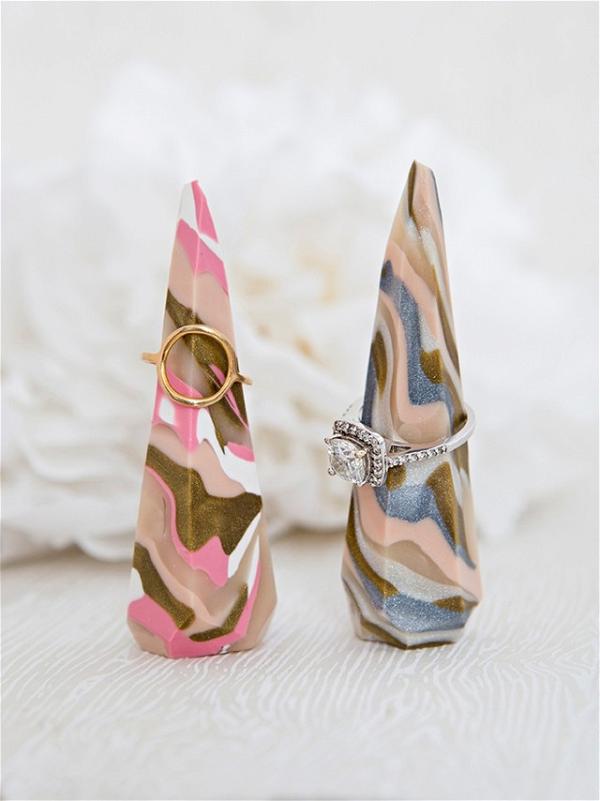 The lovely clay rings are the best step-by-step tutorial that you could ever find. It's a very simple and inexpensive idea for any home to make lovely clay rings for you and your friends. In this guide, you'll learn how to do it step by step with clear instructions and beautiful images. It is a wonderful way to beautify your home or give it gifts. It's also possible to create some very sturdy rings out of polymer clay that can last years, so there's no reason why you shouldn't wear them every day if you want!
Cutest Clay Rings
One of the easiest and most fun DIY projects you can do is to make your clay ring! You don't need expensive equipment or materials to start, just a little clay, tools like a rolling pin, oven, and some soapstone or wax paper. Adding a bit of personal flair to everyday wear, these clay rings are easy to make and can be varied in size and shape. They're perfect for stacking—and everyone tells their own unique story. The best part is that they're made from dirt-cheap materials you probably already have around the house.
DIY Trendy Aesthetic Clay Rings
This clay ring is a simple DIY project that will have you wondering how you ever did without this handy little accent. This project is a great way to create cute and trendy rings with creativity and clay skills. The outcomes are visually appealing and aesthetically pleasing. You can add jewels or cutouts as you like, and it's an easy project that requires little time and supplies. It's durable, comfortable, and makes a great gift for all the special ladies in your life!
Trendy Clay Rings Tutorial
This is the answer if you want to make your own trendy clay rings! It's cheap and easy to make them. You must purchase some materials, knead them into a clay ring and then decorate it. Your hands will look and feel great in this trendy clay ring. This is fun to personalize your look with a ring that you knead and shape yourself. Watch this video tutorial to know how to make a trendy, affordable, unique clay ring that you can add to your accessories collection. In minutes you will have your own stylish rings made of clay.
How To Make Rings With Polymer Clay
Learn how to use polymer clay to create unique and beautiful rings. Making clay rings is the easiest and most controllable way to work with polymer clay. This video will guide you on making these beautiful home rings, including painting, drying, and more. These polymer clay rings are easy to make and look great on your fingers. This video guide covers everything from choosing the right color of clay, keeping your pieces clean while working, curing your polymer clay, and how to glue together your finished jewelry pieces.
Polymer Clay Ring
Create your own polymer clay ring with this DIY project! Learn to make a ring, bake it in the oven, and then add color. You can't buy a better-looking ring than this one. This polymer clay ring is perfect for wearing every day! It's simple, durable, and fun to make. This beautiful polymer clay ring looks wonderful, and it's totally easy to make. And you can use the same techniques to make other rings of your own design. Wearing this ring is a way to show your craftiness and creativity because it takes effort to create a beautiful design. Perfect for gift-giving or just keeping for yourself.
How To Make Polymer Clay Ring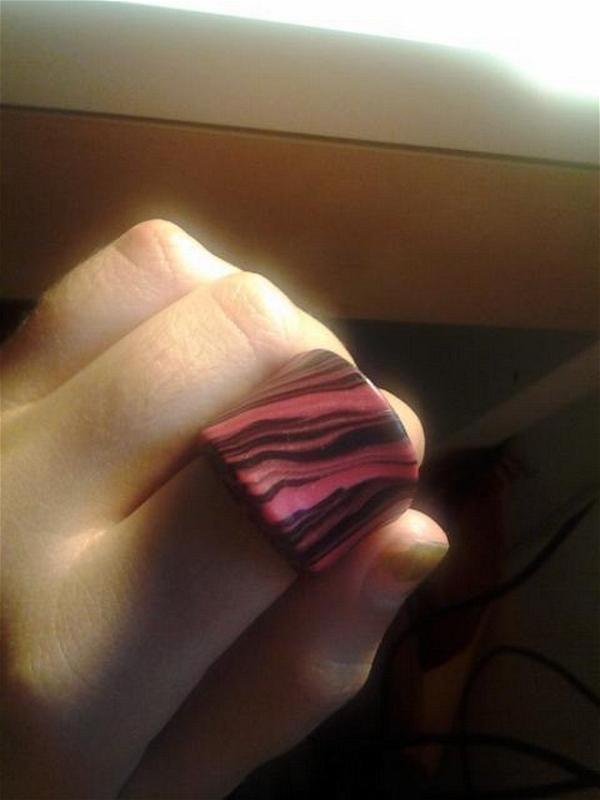 Making a clay ring with polymer clay is simple. This tutorial will show you how to make an elegant ring that can be used for any occasion and at any time in your day. This easy-to-follow tutorial shows you how to make a polymer clay ring. No matter what color technique you are using, this technique will work. This process can keep a blog reader busy for hours - even if they are not working on the project at once!
How To Make Clay Rings In The Oven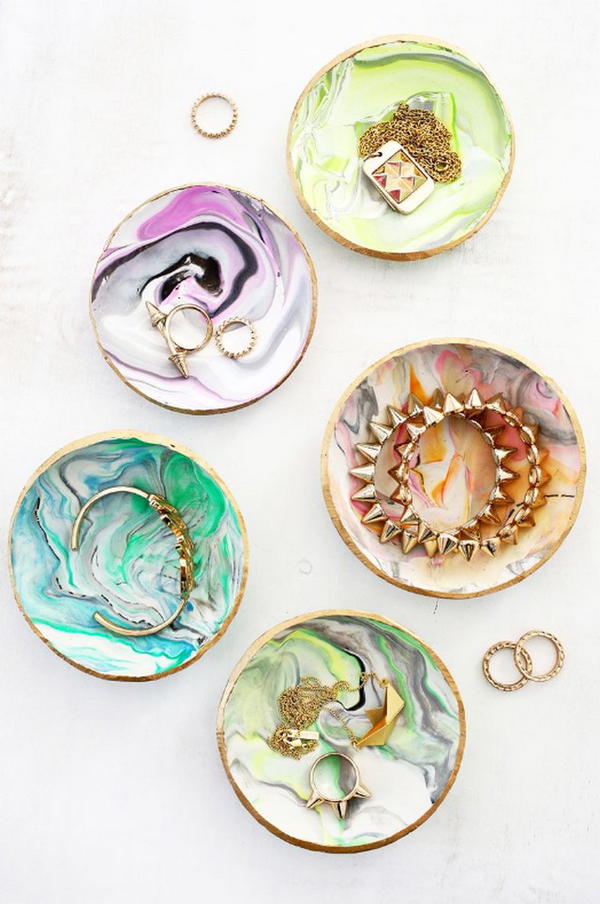 Make this Marbled Clay Ring Dish, and you can store and organize your rings. You can also store admirable necklaces, earrings, and other accessories by making this dish. The best part is that it is so comfortable with making! This beautiful marbled clay ring dish is the perfect gift for any occasion. It makes the perfect craft if you want to make a special gift, and you can customize it in any way that fits you best. You can alter the design or use different color combinations to suit your taste, or even add some decorative features like strings of beads or flowers.