If you're looking to build a gate or fence in your backyard and want it to be a focal point of your home, it's probably wise to think about getting one meant for that purpose. Rather than try and force your existing fence into a gating role, why not get the job done right with a DIY deck gate plan? These 12 DIY Deck Gate Plans range from basic to elaborate, decorative designs. This could be the perfect solution if you've ever wanted extra privacy on your deck or patio. Building a deck gate is the perfect do-it-yourself project. You'll have plenty of time to enjoy the fruits of your labor while having a chore-free summer environment for everyone in your family.
DIY Deck Gate Plans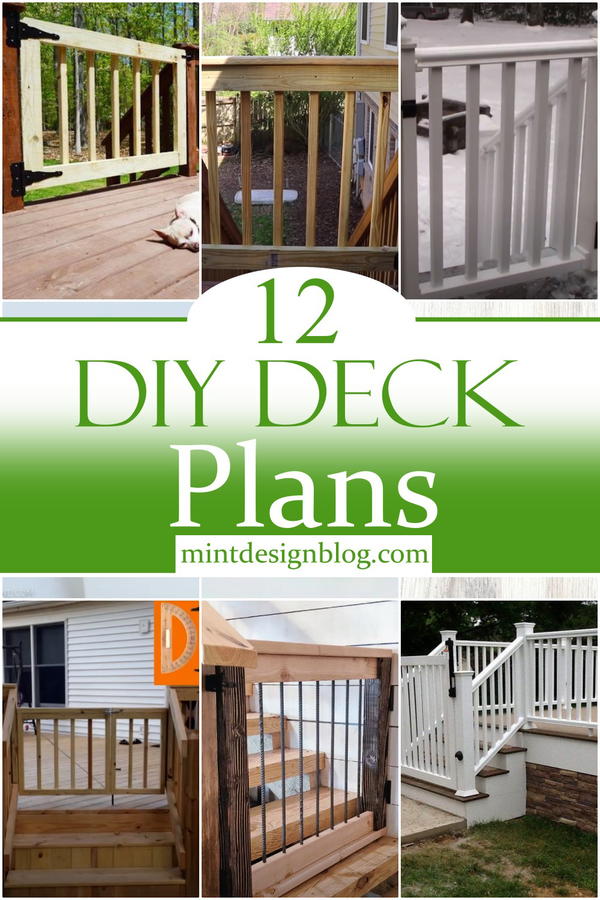 Need to build a gate for your deck? Don't let the idea overwhelm you! The projects in this book are for various outdoor spaces and use, whether you want to create a gate between two rooms or a more permanent option just for walk-through traffic. The best part is that none of these gates require complex woodworking skills or power tools; most don't even require screws! Open up your options with these DIY Deck Gate Plans, which are beautifully illustrated and include detailed instructions that anyone can quickly follow. Deck gates are the perfect way to divide your deck into separate areas.
Advantages Of DIY Deck Gate 
DIY Deck Gate Plans can be a great way to save money on your deck project and still get exactly what you're looking for. Here are some of the main advantages of using DIY deck gate plans:
Low Cost: Most DIY deck gate plans are cheap and easy to build, so you'll save a lot of money by doing them yourself.
Convenience: You don't have to hire someone else and wait around for them to finish building your deck gate; instead, you can start working on it and have it done in no time! And if something goes wrong and needs fixing or adjusting... well, you're the one who built it! You know exactly how everything works together, so correcting any issues won't be difficult!
Personalization: If there's something about the design of your chosen DIY deck gate plan that doesn't quite fit what you had in mind? No problem—change it! This is especially useful if your project has multiple parts or sections that need customizing (like different sizes). You can easily adjust each piece to match up perfectly (and look amazing).
Wooden Outdoor Gate Plan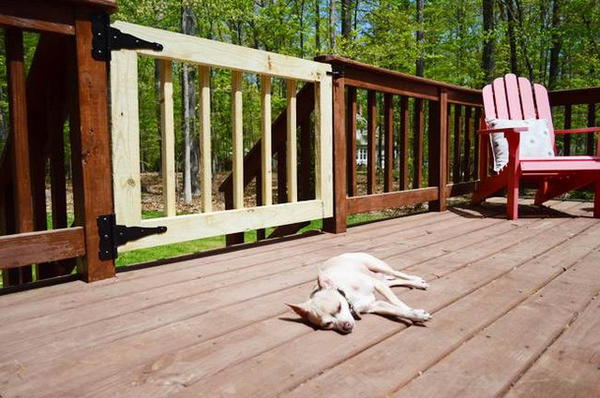 This wooden outdoor gate is a simple deck gate to let you guard your curious pets and kids against the elements. The idea comprises wrought iron metal fittings that help you install it quickly by yourself. You can use any suitable substitute for the wood used in its design. Stretching across a staircase, it keeps a reasonable distance between dog houses, toddlers, and other potential hazards. The installation process is illustrated with supporting pictures and instructions to help you along. It offers a dependable gate to guard your curious pets and kids against outside elements. It's an easy deck gate to install, using scrap plywood and essential tools.
Easy Compact 2 x 4 Deck Gate
This article is planned to guide you through the process of installing a dual-panel gate on your deck. The project requires standard 2 x 4 wooden pieces to craft the entire structure. The video tutorial lets you check the mechanical processing of woods using a concrete saw. It takes time to shape the necessary pieces into assembling size following the collection of materials. In addition, its time-lapse presentation features average playback speed on specific segments. This project is a great way to create a new gate or doorway onto your deck. It can be either permanent or temporary, so keep that in mind when planning. You'll need to make measurements and build the frame from 2x4 material.
Escape Retaining Gate Plan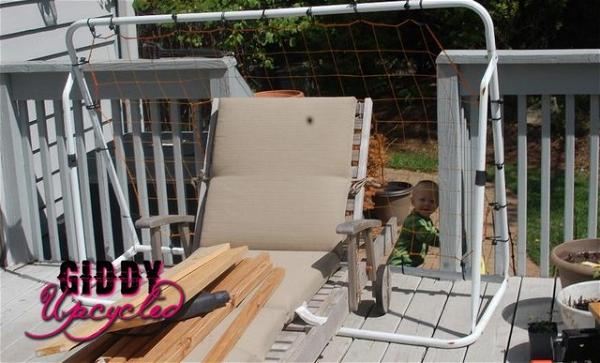 The Escape Retaining Gate with a built-in lock system is perfect for peace of mind outdoors. A sturdy swing gate, two pressure mounts, and a heavy-duty mounting bracket with optional extensions ensure that this gate will last as long as you do. The push/release handle makes it easy to open and close when entering or leaving your deck or patio. This product is a heavy-duty gate that provides an escape stop for the elderly and toddlers. The gate uses a sliding system to block off areas from access, which makes it an ideal toy or pet gate. It has a unique design that looks like a fence. You can use it for multiple purposes, such as enclosing your yard or keeping your pets in the right place.
 Secure Deck Gate Plan
Wondering how to put up a security gate for your open staircase? This step-by-step tutorial takes you through the entire process, from measuring and cutting to installing the gate. Build a perfect open staircase gate in just half an hour. This is an excellent project for beginners and homes DIY enthusiasts. This gate is ideal for any staircase or patio with a wide opening. It has been designed to provide maximum security not only to smaller pets but also to kids.
How To Build A Scrap Wood Deck Gate
Consider this DIY Scrap Wood Deck Gate if you're looking for a unique gate. This post gate can create a fun entrance to your backyard or patio area, but it could also fit perfectly between your deck rails for extra security to prevent children from falling off the deck. Make an easy, quick, affordable gate for your patio using scrap wood. Perfect for keeping pets in or out of your yard, but can also be used to separate areas of your lawn or garden.
Matching Deck Gate For Deck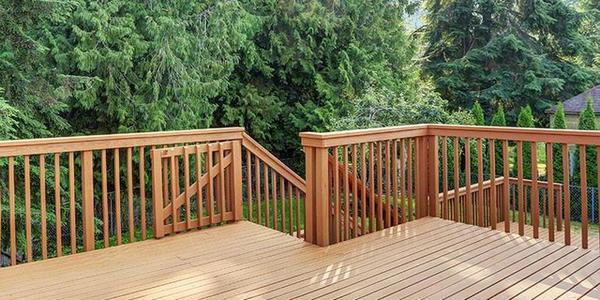 The Deck Gate is a perfect choice for your deck or garden. This design is an ideal fit for your deck. It has an elegant look to blend with any décor and is sturdy enough to give maximum security. With this gate, you can create the perfect space for comfortable hangouts. It perfectly blends in with your surroundings and is made to last long. The entrance is easy to put together and comes with a latch that keeps it closed to keep animals and unwanted guests out of your yard. It's the perfect way to add additional security to your deck or backyard while complementing its style.
You can also see: DIY baby gate ideas 
Homemade Vinyl Gate Plan
If you love working with wood but are looking for another project to try out, a DIY Vinyl Gate might be just what the doctor ordered. This project seems more complex than it is, and it is an excellent opportunity to use your creativity to make something unique. This project is not only a great way to save money and have fun but also much better than buying a ready-made gate. A set of DIY Homemade Vinyl Gates can be assembled in a matter of hours and will allow you to ensure that your pet stays in the yard where it should be.
Custom Deck Gate Plan
DIY Custom Deck Gate is perfect for your deck, porch, or balcony. This gate provides maximum security to your outdoor space with safe and durable steel construction. It is easy to install and adjust the gate length to fit your needs. You've always wanted an extra couple of feet of privacy at your deck, but it's too far away from the house to use fencing effectively. That's where this custom deck gate comes in handy. The heavy-duty metal construction allows for free movement, and an adjustable design ensures that children or pets cannot unlatch it.
Sliding Deck Gate Plan
A fantastic way to keep pets and children out of your deck area, this sliding gate is a great DIY project. It attaches easily to standard deck railings and swings open and closed effortlessly. It opens in either direction for easy use. Enjoy the freedom of a sliding deck gate that offers easy and convenient outdoor access. This DIY project is easy and inexpensive; once you realize how to put one up, you may want to do it on all your decks! If you don't have the money to hire a professional to design and build your dream deck, this sliding gate kit is an easy way to get started!
Complete Deck Gate Idea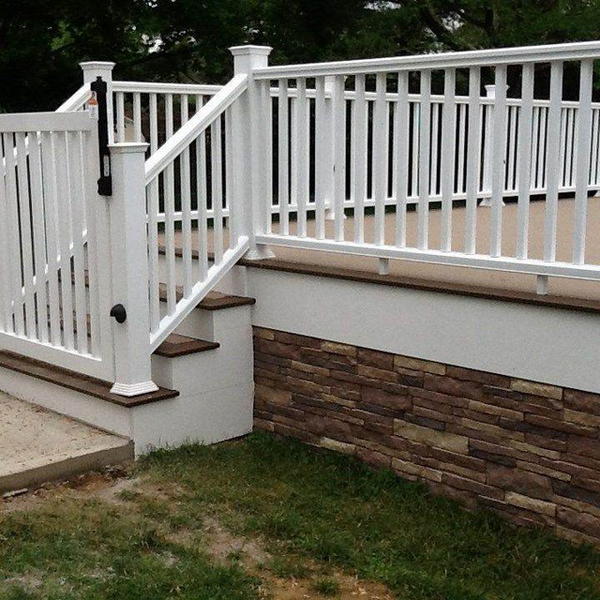 A deck gate is a great way to block your dog from entering or exiting your home. If you are looking for ways to secure your yard, you're in the right place. This guide will show you how to build a deck gate so that you and your family can enjoy the outdoors worry-free. Building a deck can be a pleasure and rewarding experience, but constructing the gate itself is usually the most challenging part. Many components must be included in the design and construction process, making it one of the more difficult parts of building any outdoor deck.
Sliding Porch/Deck Gate Tutorial
Do you have a deck or porch that needs some work? This DIY sliding deck guide is your answer from repairs to new construction. Make the most of your outdoor living space by updating the floor with high-quality decking material. DIY Sliding Porch Guide is a wooden guide that will help you build a porch or deck that can be easily moved. It is made of high-quality materials and has excellent attention to detail. The kit comes with everything you need. Follow the included step-by-step instructions and pictures, and you'll also have a fabulous sliding deck/porch in no time!
Decorative Safety Gate Plan
Add a little flair to your home decor with this gorgeous DIY Gatefold Gate Tutorial. Make it a rectangle or square shape, or combine several gate panels for a unique look. This gate is easy to make and sturdy, so you won't need to worry about it breaking down or falling over. It does require some creativity to add the hinges and latch hardware, but once you have those together, it's smooth sailing to completion! It is simple to assemble and the perfect solution for keeping your loved ones or pets safely contained. You will love how it looks in the home, too!
See Other Projects