Saw horses are one of the essential tools in woodworking. With the right saw horse, you can cut up boards and planks into the sizes you need to build furniture quickly and professionally. If you are unfamiliar with construction and have no idea how to make one on your own, below are some easy-to-make DIY Sawhorse Plans that will help you.
These simple, portable sawhorse plans will help you saw all kinds of boards, planks, and pieces, whether making furniture or building a dog house. Depending on your needs, these plans will help you create several styles of sawhorses. You can use these DIY sawhorse ideas to create your own sawhorse, and it'll be made precisely the way you want it — not how someone else thinks it should be.
DIY Sawhorse Plans
Each DIY sawhorse design will help prepare wood for your next project so you can get back to working on your masterpieces. These DIY Sawhorse Plans will give you the right one for your needs and make all costs, materials, and labor easy to understand. No matter what you need it for, we have a design here that will work satisfyingly well. We've included detailed instructions and measurements to ensure that your DIY sawhorse meets every requirement you could have in one versatile and durable tool. So, if you're looking for step-by-step instructions on building a sawhorse, keep reading the following DIY sawhorse plans that will be helpful to you!
Skill Level:
Making your own sawhorse has never been easier, thanks to the easy-to-follow DIY Sawhorse Plans included in this post. You'll find them all in this post, from the basic saw horse plan to the more advanced DIY folded sawhorse design. So whether you are just beginning your woodworking journey or have been at it for some time, you will have no problems finding a plan in this book that fits your skill level. Each plan has step-by-step instructions with detailed photos so you can build one easily, even if there's no experience in carpentry or woodwork.
Uses And Benefits:
In the craft of woodworking, a sawhorse is an essential tool. It allows you to transform lumber boards into usable pieces in a fraction of the time. This is one of the most important things regarding sawing wood boards or planks. Without a sawhorse, you can't have successful sawing. With a little bit of imagination and ingenuity, you can turn this simple tool into many different things. DIY Sawhorses come in handy when working with sheets of plywood, large pieces of furniture, and even smaller projects like picture frames.
DIY Sawhorse Adjustable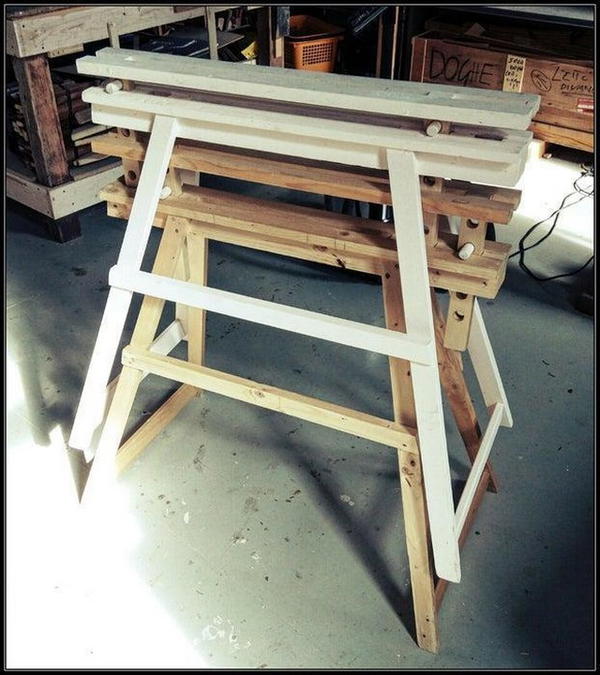 This Sawhorse is a heavy-duty, farm-grade sawhorse capable of efficiently handling up to a thousand pounds. The adjustable design allows you to adjust to the height you need for any application. The main difference between this saw horse and others is that you can fold it completely flat so it can be stored easily in your garage or basement. It uses a push-button locking mechanism, so setting up or putting away quickly and easily. Built from high-quality materials, this adjustable Sawhorsese is designed to last a lifetime.
DIY Sawhorse Folding
There is no better place to work on a woodwork project than a saw horse. But it can be tricky to make your own sawhorses because you have to ensure that they are strong enough to take the load you'll put on them. That's why today we're sharing with you our DIY Folding Sawhorses guide. With just a circular saw and a power drill, we'll show you how easy it is to create a pair of sawhorses that are strong enough to hold up whatever project you're working on.
How To Make A Pair Of Sawhorses
If you don't have a sawhorse, you're missing out on one of the most important tools in your workshop. This guide will walk through the steps to building a pair of sawhorses for your home shop. You'll learn essential information about choosing lumber and fasteners and basic design principles that can make or break a project such as this one. You'll also need basic woodworking tools such as hammers, screwdrivers, and clamps. The best part is you can build two sawhorses in about 2 hours.
DIY Micro Sawhorse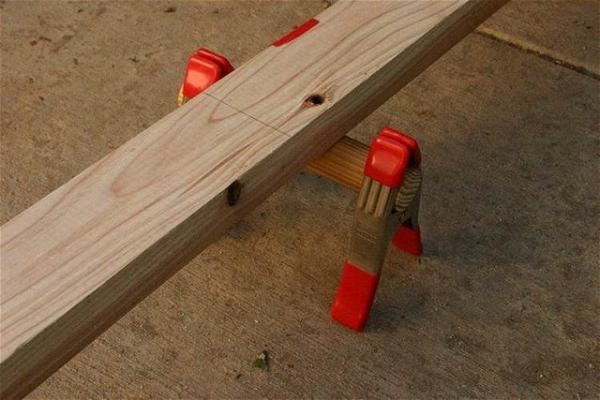 This DIY micro sawhorse is a lightweight sawhorse that takes just a few minutes to build. You can use string clamps to prop up the ends of the sticks, giving you enough space for your wood plank to be sawed on. Just make sure you get enough string clamps so the weights are spread out. This is an economical way to ensure your sawhorse stays firm while doing a simple task in your garage or home. The micro sawhorse is easily portable from area to area on site; just make sure that you have a consistent surface on both sides of the plank to make sure it stays stable as you use it for sawing.
Cheap Sawhorses Creation
The sawhorse is a simple and everyday tool made of wood planks. It combines the strength of the wood with one surface that is in an inclined position, making this an excellent aid for working on carpentry projects. The saw horses are also suitable for painting and other tasks where you need to hold something up. The good thing about building this piece of furniture is that it can be made from any parts you have at home, so if you don't have time to buy wood for the project, you simply use your old clothes.
Easy To Make Sawhorse Stool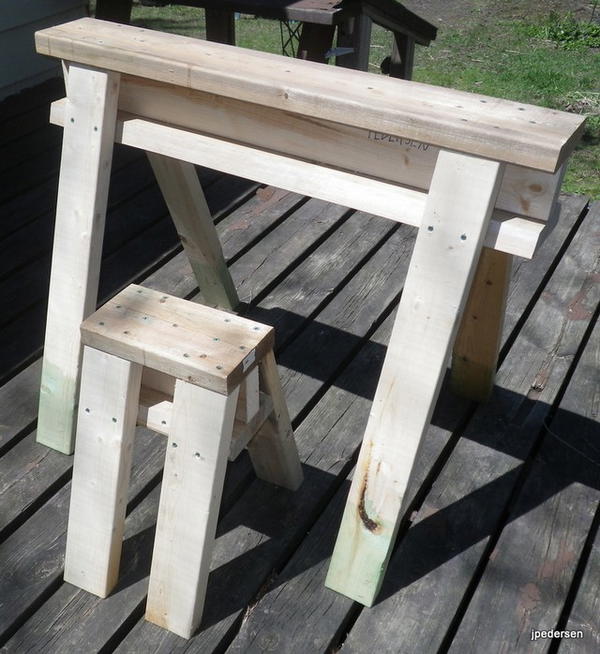 A sawhorse is a tool that every workshop needs, but did you know that you can design your own and make it look great? With the right equipment and simple instructions, this DIY Sawhorse Stool can be made in almost any shape or design. This one is extra useful with the wooden seat built-in, making it perfect for someone to use when cutting wood boards at an angle. This sawhorse design can be used for various projects in your workshop or even at home to store small items.
DIY $5 Sawhorse Plan
This excellent and cheap sawhorse project is sure to be a welcome addition to any garage workshop. This DIY sawhorse is so easy to make that you could have your kids help you build it. The wood for each piece is only 2x6 planks, and there are only three steps in the construction process. This sawhorse can fold up or be propped up against something when not in use. It is cheap, functional, and sturdy enough to hold up any load you want to put on it. The project will cost around $5, including screws and other materials.
Foldable Sawhorse Plan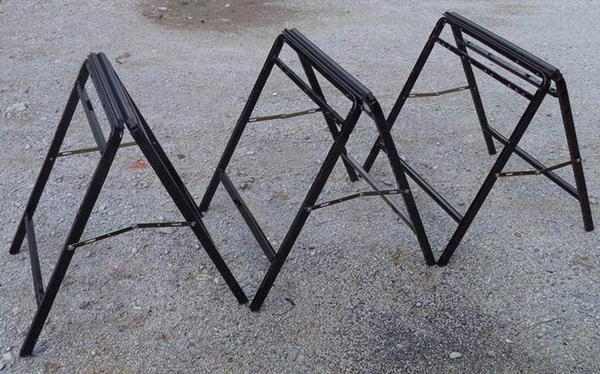 Suitable for a wide range of DIY projects, this sawhorse is made from metal, so it's very sturdy and can withstand the load you put on it. Not only does it provide a large working surface, but it also folds flat for easy storage and transportation. And, if you don't want to put the sawhorse together yourself, no sweat! All you have to do is hang on to this tool instead of assembling it by hand, and no more trying to fit pieces together or wondering if they'll stay that way after use.
Make A Folding Sawhorse
A folding sawhorse can be extremely useful in any home workshop. It's great for supporting an object while working on it or even as a portable workbench. Some people use them in their gardens to hold weight while gardening or in their wood shops to support wood while cutting it or shaping it into something else. This foldable sawhorse is made of two boards and will enable you to make all kinds of cuts more efficiently and accurately without dragging around heavy lumber with each cut. You can create this sawhorse in less than 30 minutes if you have all of your supplies ready to go.
I-Beam Sawhorse Plan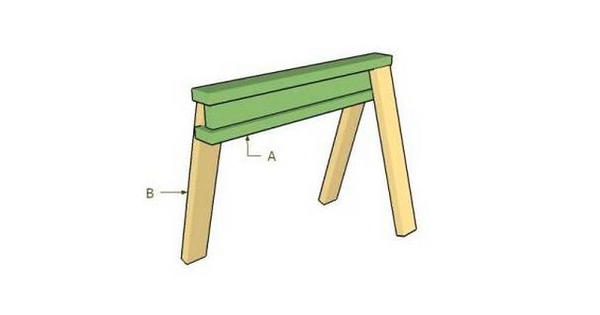 I-Beam Sawhorses are stronger than standard sawhorses, allowing you to easily saw, drill, and abrade various materials. This design allows for small portable I-Beam sawhorses that can be placed anywhere. These sawhorses will last many years, made for professional tradesmen and the do-it-yourselfer. It might look hard to do, but it is easy when broken down into steps, and with a little help, this project will be easier than you think.
How To Make A Sawhorse
A great sawhorse is easy to build, but it's not always easy to find a good guide. Here one is! In this video guide, we're going to show you how to build an incredible sawhorse using only a few tools and some common materials. This guide includes everything you need for building the world's strongest sawhorse – including the cut list, materials list and step by step instructions. This one is based on a mortise and tenon joint that is formed around three leg pieces, a top cross piece, and the supporting boards.
Folding Sawhorse Plan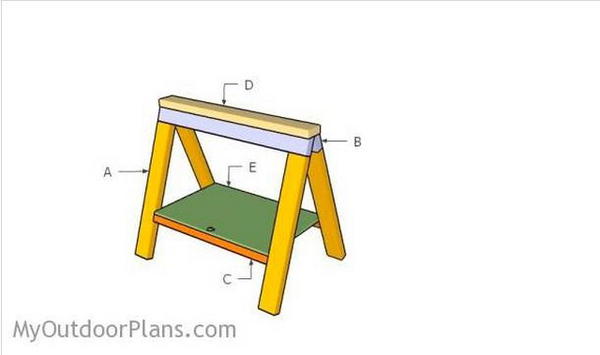 This project is perfect if you're looking for a simple and quick build. These sawhorses are foldable, so they can be taken to different job sites and stored in a safe and dry place when not in use. All you need to make these handy sawhorses are galvanized screws, cedar boards, or just redwood or pine wood. It's easy to follow instructions and will only take a couple of hours to put together. As the sawhorse folds, it becomes compact and easy to move around your yard or garage.
Three-Legged Foldable Sawhorse
This tool is easy to assemble and use. It features a unique but functional design. You can set the saw horse up on the ground or hang it from your workbench for more storage, better stability, and ease of use when working with top-heavy lumber. The 3-leg design is extremely stable and folds up for easy transport and storage. Easy to build and even easier to use, this project is excellent for beginners and advanced woodworkers alike.
How To Make Stackable Sawhorses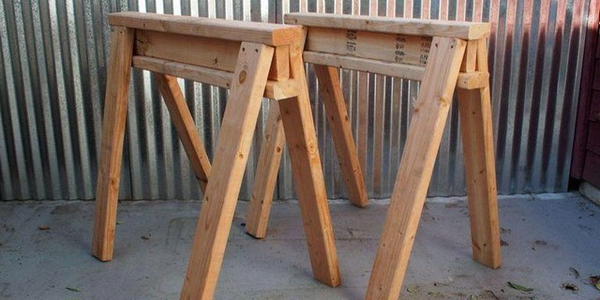 How to Build Stackable Sawhorses - If you're looking for a cheap, sturdy set of sawhorses, this project is the way to go. Build this sawhorse. The beauty of this design is that because it uses I-beam, there will be no wobbling. It's super easy to assemble, durable and affordable. This is something you'd be proud to pass down to your children in 20 years after it has survived several home projects - perhaps even with their name attached!
DIY Sawhorse Plan
Need a quick and easy project for the weekend? If you have some spare lumber on hand, this DIY sawhorse is the perfect project for you. With the help of these easy-to-follow plans, anyone can build their own sawhorses in just a few hours. You just need basic tools like a hammer and handsaw — no power tools are required. This DIY saw horse will make it easy to cut wood and lumber while also allowing you to use your chop saw at full capacity while still sitting on a stable surface.
Heavy Duty Folding Sawhorse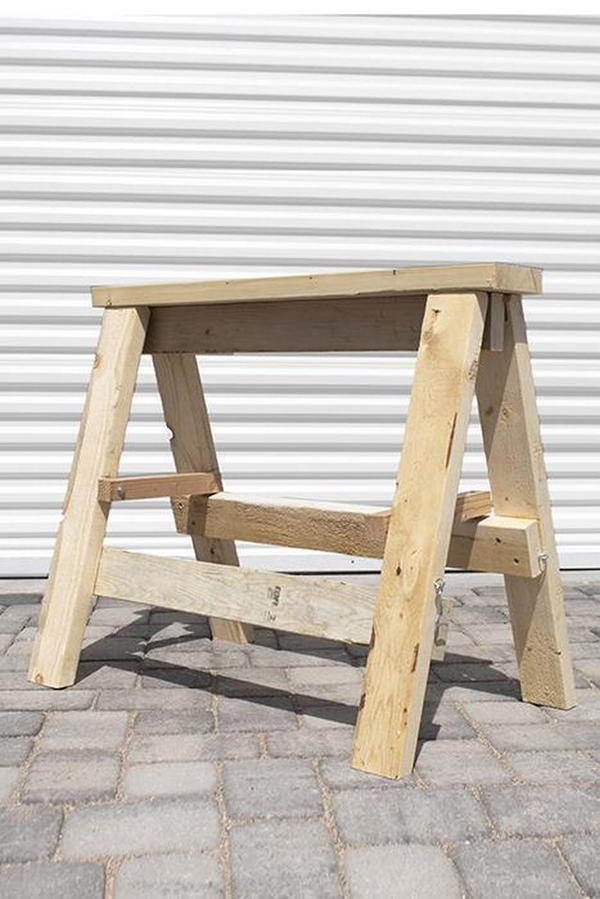 The Heavy Duty Folding Sawhorse DIY is easy to move and store. It requires lag screws, a cordless drill, wood glue, wood screw, and other supplies. Create an affordable hack saw horse that you can easily transport from your workshop to your lawn without carrying heavy tools around. The creator used non-mortise hinges, which make it easier for movement. The wood dowels help the legs secure in place, so there is no wobbling or sliding when cutting wood or metal.
How To DIY A Folding Steel Sawhorse
If you're tired of using wood to make a pair of sawhorses, then this Steel Sawhorse project is for you. You'll be using steel pipes, welding them to each other to form an extremely durable and sturdily built sawhorse. It's so sturdy that it can support a big tree trunk or some hefty lumber. Each sawhorse folds down for easy storage, making it perfect for keeping around the shop or garage. Let's see how you can make a sawhorse with steel pipes, weld them to each other and then fold it down when you need it.
How To Make A Sawhorse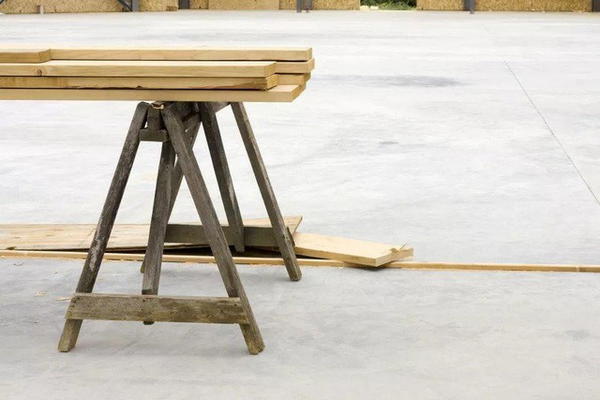 If you want a sawhorse that's easier to build and stronger than the traditional sawhorse, then you'll want to follow these instructions. This guide will show how easy it is to make your own portable workstation with only a few pieces of old wood. It's a table with two legs that you can easily move around, allowing you to place your wood plank and then cut it at will. This is also a great project for using up whatever loose wood size you have lying around - nothing goes to waste!
DIY Sawhorse Tutorial
Many saw horses can be expensive and take up a lot of space; this one is cheap and easy to build. It uses standard hardware store materials and takes roughly an hour to construct. This video guide is excellent for people who want to create their custom pieces; with this guide, you can make anything from simple furniture to complex projects because it is so affordable! The video guide is easy to follow, and you can easily make it for less than $20 in materials.
Folding Plywood Sawhorse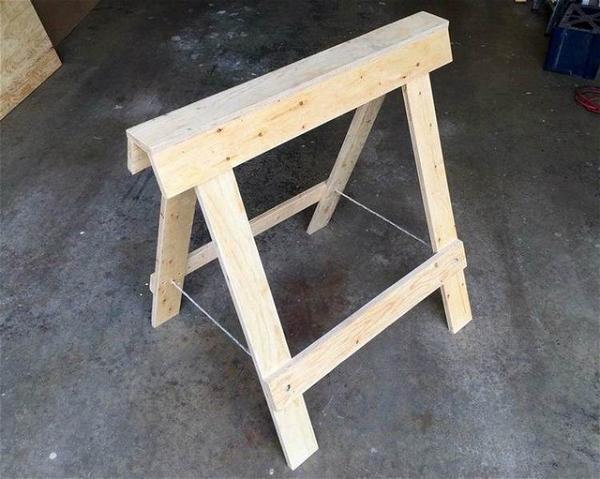 The DIY Folding Plywood Sawhorse is a valuable and sturdy sawhorse that can be used for various things. The guide includes detailed steps on how to build this project from scratch. It's made from plywood, recycled rubber flooring, hinges, polypropylene rope, and deck screws. This foldable sawhorse can easily store away when not needed, but it has plenty of power to hold up those heavy boards. It's a great project you can build on a weekend, and the materials will last a lifetime.
Heavy Duty 2x4 Sawhorse Plan
This sawhorse is made from some 2x4 lumber wood. It's built to last, and no power tools are required to make it. All you need is a handsaw, hammer, nails, and probably a drill if necessary. This simple sawhorse is perfect for jobs around your yard or home that require extra heavy-duty sturdiness. The legs can be attached, as shown in the video above, but with no gap between them. They fold flat against themselves when not in use for easy transport and storage (or store them wherever!).
Steel Sawhorses Creation
This DIY project will enable you to build a pair of heavy-duty steel sawhorses. The final product is super sturdy, built to last a long time, and can handle weight beyond its capacity. It also features a creative design produced by some creative ideas from our designers. You'll need washers, screws, nuts, some pieces of end caps, an 80cm chain, and a long pipe which will be cut into the required dimensions using your hacksaw.
Folding Sawhorse Desk
This DIY Folding Sawhorse Desk is perfect for those who want to organize their workspace. It's incredible how this was converted into a work desk. Simply adjust the height of the sawhorse to fit any project you are working on. With the versatility and durability of this sawhorse, this is sure to be a great addition to your home office or workspace. In addition, this folding sawhorse desk has a lower deck where you can store books and other items.
DIY Simple Sawhorse Plan
If you're looking for a cheap and quick sawhorse, you have come to the right place! This DIY Simple Sawhorse will be your new favorite project. This is a simple build that anyone can do in their own workshop with easy-to-find materials. You can customize it with your own choice of wood species. It converts into a work table, perfect for crafting or other activities on a budget. The plans also include an optional section for adding casters so you can roll it around easily.
Simple Sawhorse Plan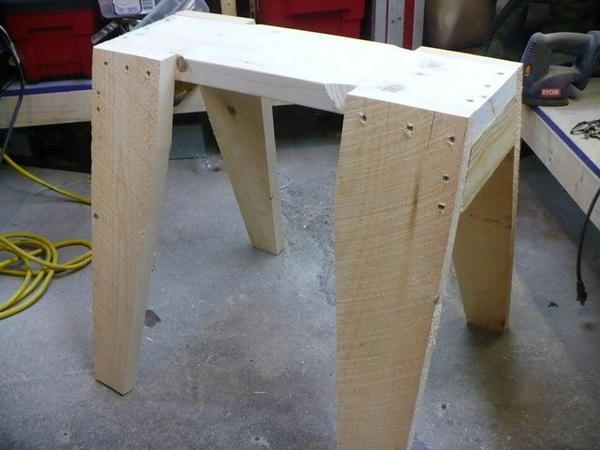 This it's an excellent sawhorse to make if you need a few, and they don't require to be foldable. Its straightforward design and easy-to-follow instructions make this a great project for beginners. The one drawback is that these are big and not very portable, so you'll want to keep them in one place and not move them around much. This project involves little more than cutting four pieces of wood to length and assembling them together. Pictures are also provided here to make your building experience as easy as possible.
See Other Projects