We all know how important it is to eat fruits, but we often don't get enough of them. They are delicious and healthy, but if we can't store them properly, they may not last long. So in this article, I will show you how to make a perfect DIY Fruit basket for your fruit or vegetable storage.
I believe the best way to show someone you care is with a handmade fruit basket. These baskets are easy to make, and you probably have most of the materials at home, so check out these cute DIY Basket Ideas. Fruit baskets are a great way to show someone you care. When you make your own, you can use your favorite fruits, colors, and styles to make one that fits the recipient's style. Take a break from your busy day and put your feet up with this 20 DIY Fruit Basket Ideas collection. From baskets made from old tins to rope-bound wicker and pretty vintage fabrics, we've rounded up plenty of ways to make your fruit look great and easy to store – no matter the season.
DIY Fruit Basket Ideas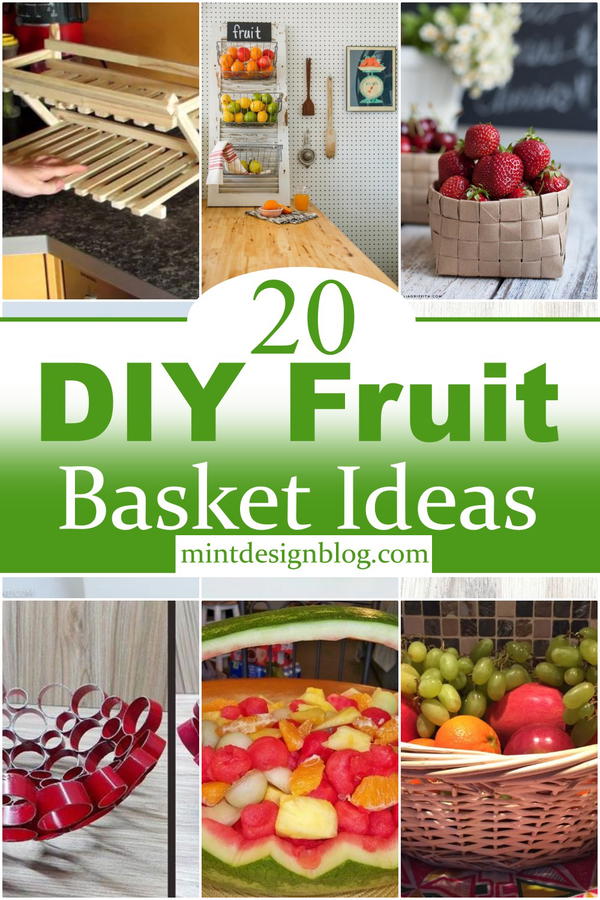 Fruit baskets are a perfect way to add color, texture, and flavor to your table. The best part? These DIY Fruit Basket Ideas are so easy and perfect for beginner crafters! Whether you have a little time on your hands or are looking for a last-minute gift. Use the season's best produce from your local farmers market to create one-of-a-kind baskets that make any table pop! Make a fruit basket from scratch with these easy DIY ideas.
Benefits Of Homemade Fruit Basket Ideas
DIY fruit basket ideas are a great way to give your friends and family a gift that they will use. You can create a beautiful basket in minutes, and it will be something they will remember for years. Here are some benefits of DIY fruit basket ideas:
Easy To Make
Cost Effective
Lasts Longer Than Pre-Made Baskets
Great For Any Occasion
If you are looking for an easy way to make a great gift, you should consider making a DIY fruit basket. It is easy to make the basket yourself, and you can use whatever supplies you have. Some people like to use newspapers or brown paper bags, but many other options are available. Adding flowers or other decorations to your basket can add extra touches.
Easy Fruit Basket Idea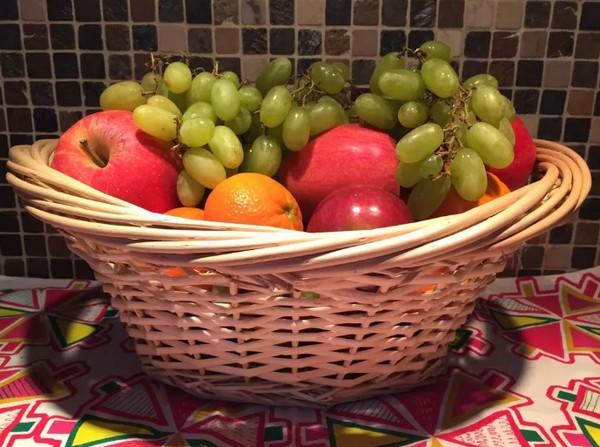 Doing art can be difficult, especially when you don't have the right materials. But if you want to add life and color to your home, here's a simple way. This DIY Easy Fruit Basket Idea is quick and easy to do, plus it looks super stylish! Make your own fruit basket using this simple tutorial. Not only will you get to customize it in a way that works for your style and space, but it's also a fraction of the cost of buying one at the store. With this easy DIY fruit basket, you'll be able to fill your home with delicious fresh fruit throughout the year without breaking the bank.
1. How To Make A Fruit Basket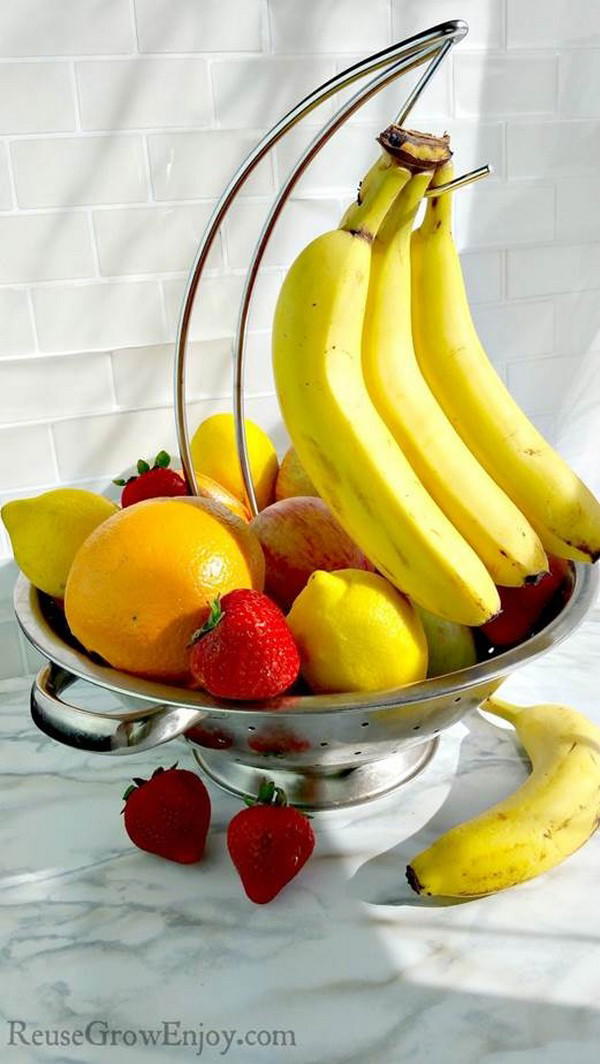 This fruit basket is a fun and easy DIY gift. Made with just a few supplies, it's the perfect way to present fresh fruits, veggies, or other edible goodies. Is it a gift for your mom or grandma? Or maybe you want to make a gift basket that is out of the ordinary and something one would not expect? If this is the case, you may consider making a fruit basket that is easy to make but beautiful simultaneously. This amazing DIY project is easy to make and perfect for gifting to a friend or loved one. You can also use it in your own home as a decorative piece.
2. How To Make A Jute Fruit Basket
It is a fantastic creation. You probably need to be patient while making it. This is made out of Jute material, and you must wait for the water to dry, which takes its own time. But if you are looking forward to giving this as a gift to someone, then it will be the best one! This Jute Fruit Basket looks perfect for any rustic or country-inspired home. The process is simple and easy to follow, which makes it a perfect project for beginners. You don't need to know any fancy stitches! With this video, you can make a beautiful Jute Fruit Basket (or two!) in just a few hours.
3. DIY Macrame Hanging Basket
This DIY Macrame Hanging Basket is a very interesting project to do. You get to learn a variety of knots, especially the Herringbone Stitch. This makes it suitable for all levels of crafters, whether you are new or experienced. It comes in handy at home, outside, and even when camping! You can make this macramé hanging basket at home. The making process is simple, but it takes time and patience. You will need a few materials like colorful string for the knotting, cardboard for making the base, and other household items required to achieve this project.
4. How To Make A Quick Fruit Basket
Want to get your kids eating healthier while still enjoying their treats? This is the perfect way to do that. It looks professionally done and would be a great gift for any occasion! This quick and easy tutorial shows how to create a fruit basket for your kitchen or dining room. The entire process takes less than 3 minutes, making it perfect for any party or occasion you plan on having at home. Make your own fruit baskets for friends, family, or yourself. For this project, you can use any container: plastic, ceramic, glass, or wood. It's great as a birthday gift too!
5. DIY Wooden Fruit Basket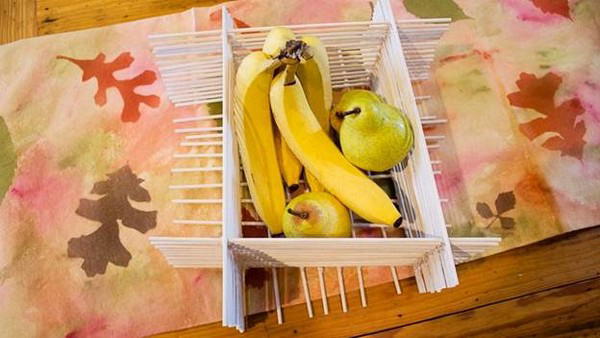 Even if you have never laid a hand on a woodwork project, don't be worried: you can make this beautiful DIY wood basket. It will look great in your kitchen and only requires basic materials to create. With this DIY Fruit Tray, you can make a beautiful fruit basket in two hours. All you would need are the required materials and your hammer, that's all! No woodworking skills are required. This simple DIY project will be a conversation starter at any dinner party. Your guests will be amazed that you made such an elegant piece without prior woodworking experience.
6. Watermelon Fruit Basket DIY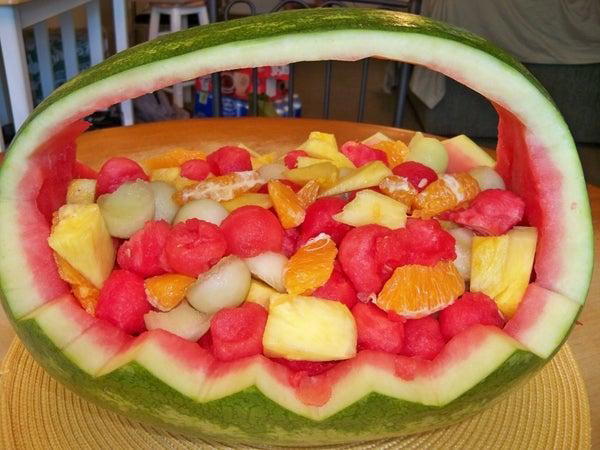 This guide will take you through each step to make your own watermelon fruit basket. It is not complicated, and once you have made one, it will be fun and easy to do again. This fruit basket can be eaten, so it's perfect for parties. You only need a few supplies and a few minutes of your time to make one of these. Whether you are having a Memorial Day BBQ or Independence day party for the family, this would be an awesome decoration for your table.
7. DIY Hanging Fruit Basket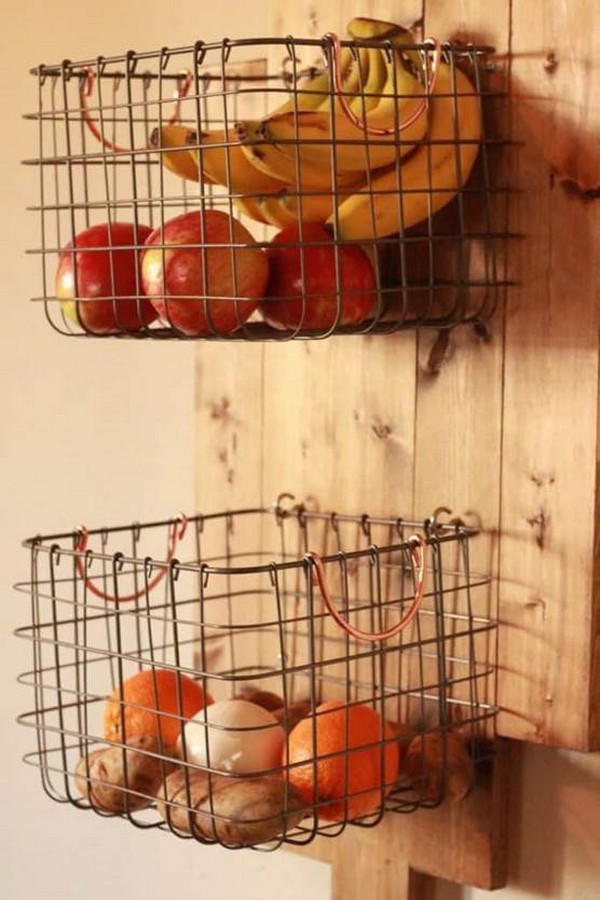 Your whole family will love this hanging fruit basket. It will be a quick way to grab fruits and can even be used to place lemons to help make your kitchen look trendy and fresh. Easy to make, with these instructions, the only thing left to do is start creating some good memories with your own family. This is a DIY project that is easy to make. First, you will need the wood, wire baskets, and bolts. Then, hang it in your kitchen for fruits and veggies to grab quickly and colorfully. Who can say no to that?
8. DIY Hanging Produce Basket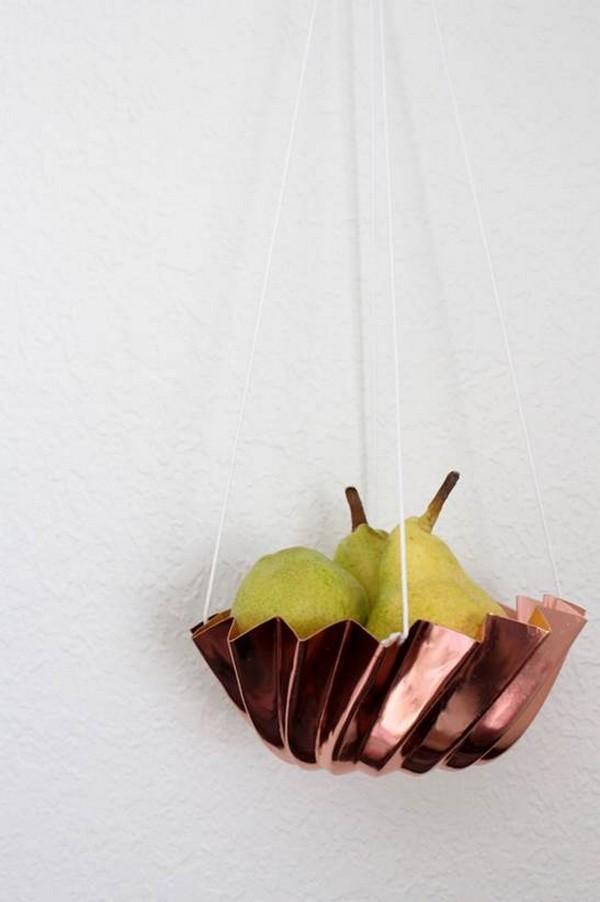 You can hang this basket anywhere in your house. The design is very modern and homely. You don't have to buy one for storage because this homemade hanging produce basket is the perfect DIY project. This Produce Basket is perfect for hanging on the back of your farmhouse kitchen door. This product will last many years with high-quality construction and the ability to hang on the wall. It's also great to display beautiful seasonal produce in your home!
9. DIY Pallet Wood Fruit Basket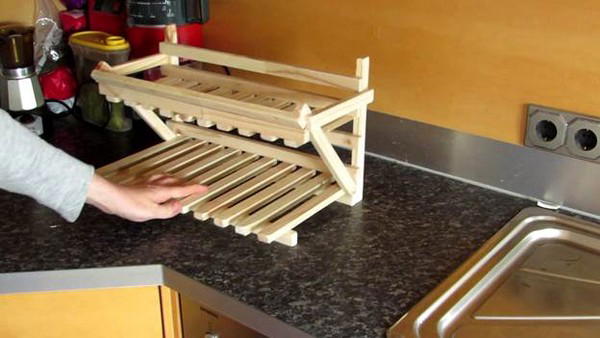 This DIY fruit basket made from pallet wood will be an amazing addition to the décor of your home. It is made from pallets, has a rustic touch, and will last many years. The best part about this DIY project is that it doesn't need many tools or supplies and can be made in a short time. This pallet wood fruit basket can be used to keep your kitchens clean and tidy. It is also perfect for outdoor use because of its sturdiness and durability.
11. How To Make A Popsicle Stick Fruit Basket
This is a Sweet, yummy, healthy and cute food basket. It's such a fun way to serve fruit, especially to the kids, and kids would love it. This ice cream stick fruit basket is a great way to add a bit of color to your kitchen counter. It's also perfect for a summer party as an easy food display piece. This project requires basic beginner sewing skills and simple tools like scissors, glue, and an upholstery needle to create this wonderful piece.
12. DIY Cardboard Fruit Basket
A pretty way to serve fruit this summer is a DIY Fruit Basket Made from cardboard and wire mesh. This fruit basket is made of cardboard, giving it a handmade touch. It is also one of the easiest and quickest projects you can make. You need to cut the pieces and glue them together, and your fruit basket will be ready within minutes. This easy-to-assemble, inexpensive, and eye-catching fruit basket will make your kitchen look more beautiful and inviting. There are many other uses for cardboard fruit baskets, such as gift baskets, Christmas decorations, etc.
13. DIY Shutter Fruit Basket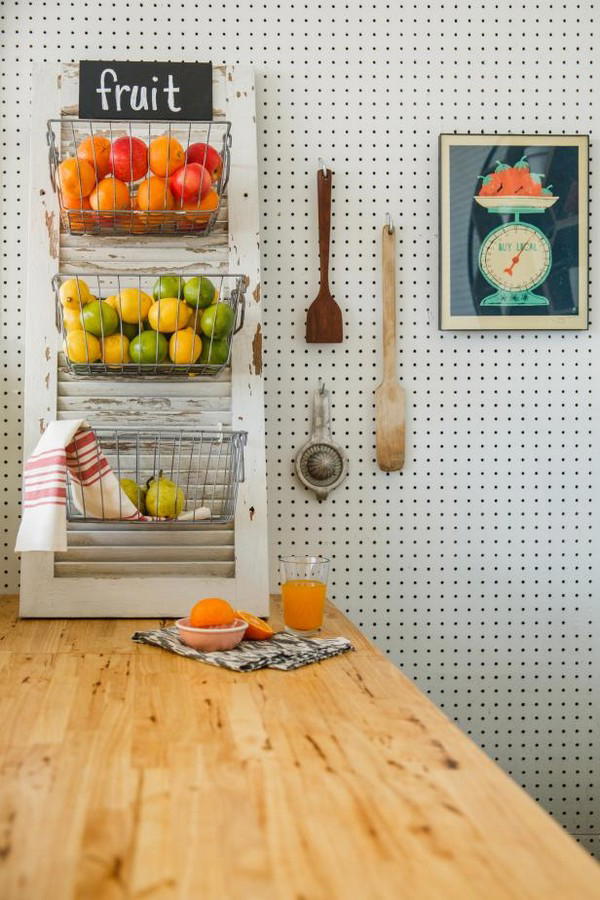 This DIY Shutter Fruit Basket is a beautiful way to store your fruit. Mod the simple materials to create this easy and super-sustainable basket. It would look even better on your kitchen counter! This easy step-by-step tutorial will take you through the process of making this beautiful fruit basket out of shutters. The DIY Shutter Fruit Basket is a simple project that easily lends itself to a wide range of customization, so you can make one that fits your kitchen's decor and style.
You can also see: DIY BIke Basket Ideas to use as a carrier while going to the fruit market. 
14. DIY Easy $5 Fruit Basket
If you love having fresh fruit in the house but don't want to spend a lot of money on it, this wall-mounted basket is the answer. You'll need some wire baskets (the larger ones), cup hooks, and drilling equipment to make this cutie. With an afternoon of hard work, you may be surprised by how nice and colorful your fruits will look! This easy and inexpensive fruit basket can be made in just a few minutes. This DIY project will look great in your kitchen, dining room, or wherever you want to hang it. The tutorial only requires two supplies, saving you money versus buying one from the store.
15. DIY Upcycled Grocery Bag Fruit Basket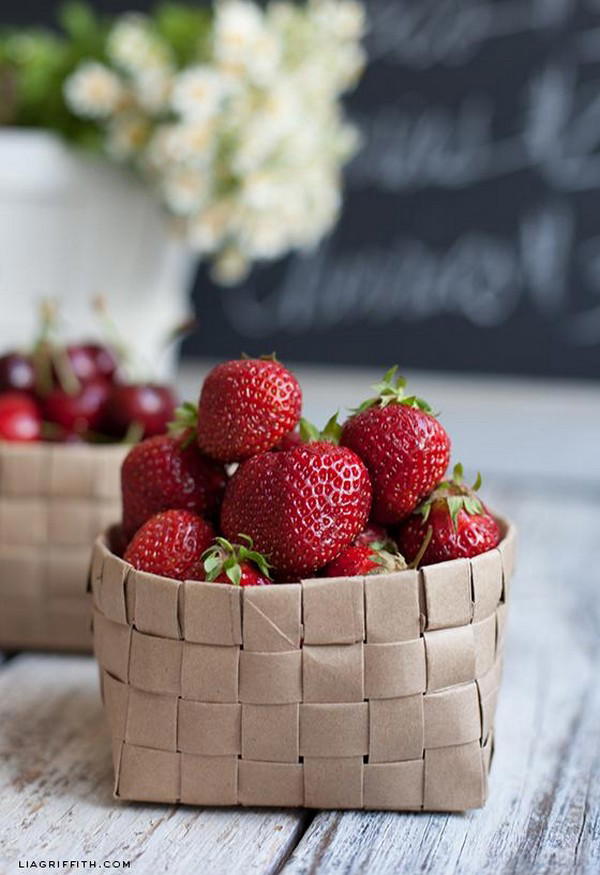 Tired of buying plastic bags and filling up landfills? Upcycle a few grocery bags into this beautiful piece of artwork. It's easy to make and will make a great conversation piece, as well as storing your fresh fruit during the summer months. Upcycle a grocery sack into a beautiful fruit basket to help preserve the life of your grocery bags and make your kitchen look sharp. The grocery bags are upcycled, so you are also cutting down on plastic use! This is a fun project for anyone who wants to reuse items around the house.
16. DIY Wall Mounted Fruit Basket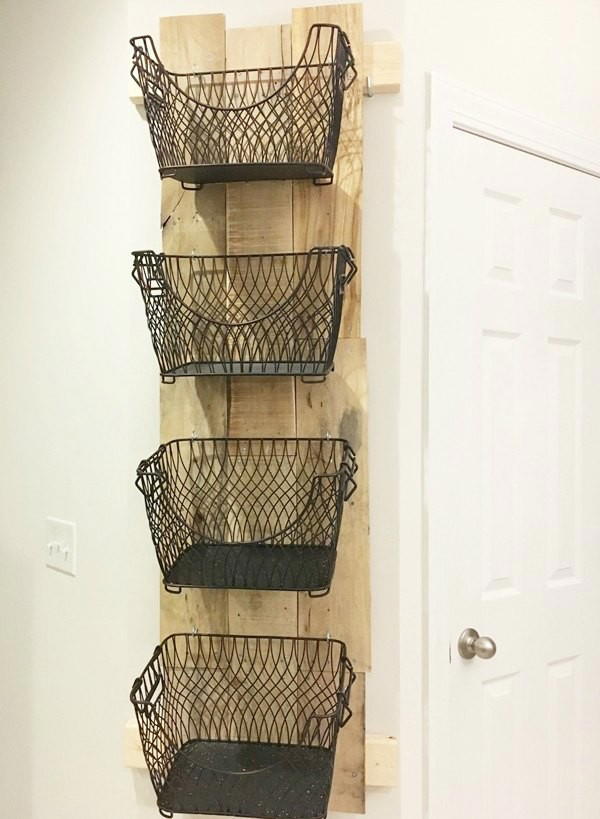 If you need a unique style for your fruits, here's an excellent idea for a wall-mounted fruit basket. This makes the furniture look beautiful and turns it into a functional and decorative piece of work. Keep your fruits clean and organized with this DIY wall-mounted fruit basket. This is a perfect project for those with woodworking skills since it requires a lot of tools and materials. From cutting the wood and assembling all the parts to painting them and drilling holes in the bottom half to hang it on your wall – this project is sure to take up some time but will be worth it in the end!
17. DIY Hanging Wire Basket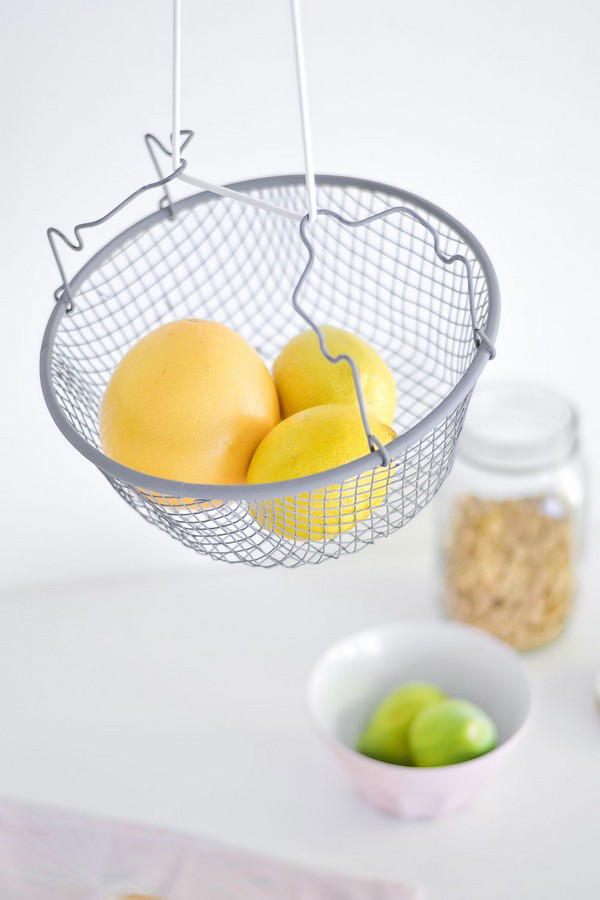 This is the perfect project for you if you want a small, functional, and simple fruit basket. This wire basket would make a great addition to any modern kitchen or dining room. There are two versions of this DIY Hanging Wire Basket, one with pineapple and another with a leaf. They both look amazing and can be hanged up on the wall or hung from your ceiling to keep your kitchen organized! This DIY hanging wire basket can be a great addition to your living room or kitchen. It is easy to make, inexpensive, and will offer your home some style and visual appeal. This small project can be finished in a day!
18. DIY Popsicle Fruit Basket
If you love making crafts and want to surprise your kids (or even yourself), then this is the perfect craft for you. This fruit basket is easy to make with a couple of popsicle sticks and some paint. You can use this for any occasion and as a grand décor on any table, no matter how big or small. This one is a very simple yet highly effective and stylish DIY fruit basket you can easily put up for display in your home or outside. It's also perfect for serving fruits at parties! Create it yourself using popsicle sticks and basic wooden beads. Enjoy!
19. Macrame Colour Fruit Basket DIY
This activity can easily be done at home, by yourself, or with your loved ones. All you need is a little creativity and the right amount of patience. In no time, you will make a colorful macrame fruit basket that could spice up your dining room or bedroom's interior. Macrame is making a huge comeback, this time with a twist! Instead of making a plain piece, the creators decided to add some flair and fun by creating a colorful macrame crocheted basket. This is a great project for kids interested in learning what they could do with the art of macramé.
20. Lazy Susan DIY Fruit Basket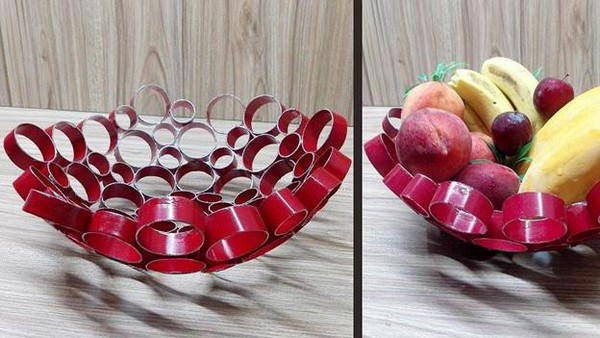 Looking for an easy fruit basket recipe? This list of lazy susan fruit basket DIY ideas is perfect for beginners. You don't have to spend much time putting together this quick and easy fruit basket for your kitchen. Enjoy a fresh and healthy fruit basket with this quick, easy, lazy susan project. Included are all the steps you will need to set up your own fruit basket and a shopping list of all the supplies you will need to create this DIY project. This project is perfect for those who don't have time to make a diy fruit basket and are looking for a quick fix.