Plastic bag holders are a great way to organize plastic bags in your home. They can be attached to the wall in the kitchen or near the garage door, so you do not have to go looking for them at the store. There are several ways to make a plastic bag holder, and we have listed 24 DIY Plastic Bag Holder Plans that you can make easily. A great way to organize plastic bags in your home is by using a plastic bag holder. This is basically a container where you can store all your plastic grocery bags in one place.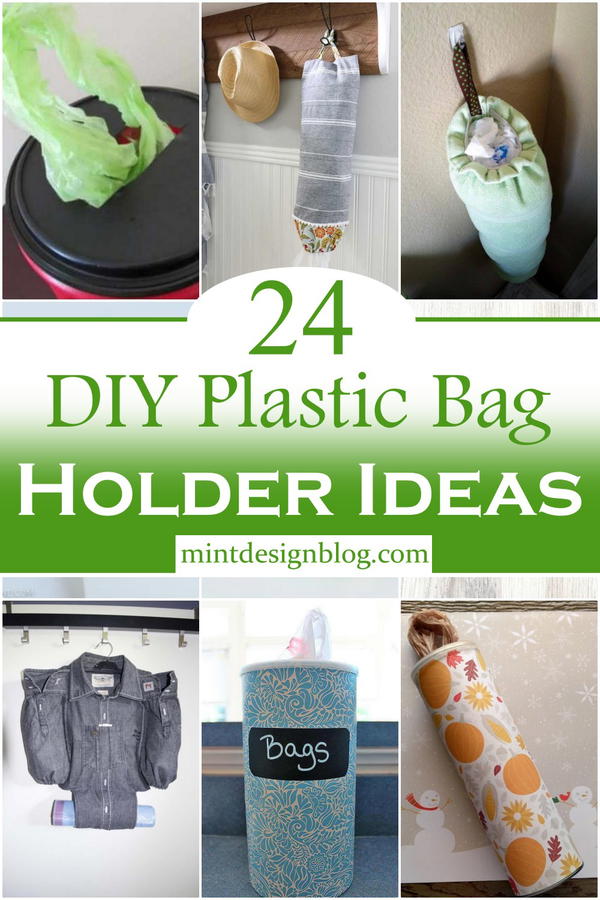 Plastic bag holders (also known as plastic bag dispensers) can be made in different shapes and sizes depending upon the user's storage requirements. You can even make a DIY plastic bag holder at home! These are extremely handy, and they can be used to organize plastic bags at home. You can even hang them on the wall or attach them to a cabinet door. These are very easy to make and you don't have to be an expert carpenter to make one. Although many types of plastic bag holders can be bought, it is more fun and rewarding to make your own custom plastic bag holder according to your own needs.
Here are 25 easy DIY Plastic Bag Holder ideas that anyone can make in just minutes. These little projects will keep you busy for sure and look great.
DIY Personal Plastic Bag Holder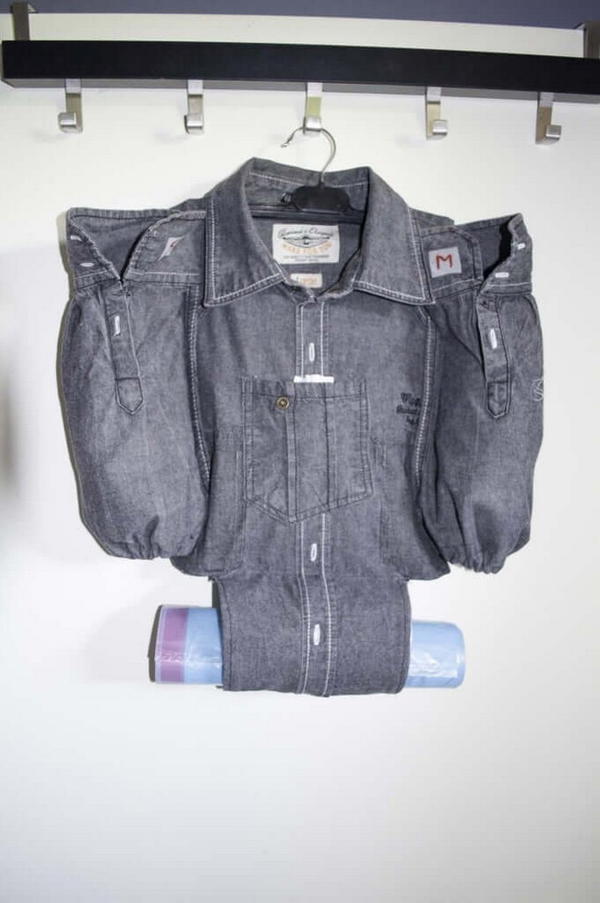 Now you can immediately locate the size of the bag that you need with this Organized DIY Plastic Bag Holder made of plastic tubes and an old shirt. Make sure to place the required sizes of bags inside each plastic tube so that they're easier to locate. To keep them from getting tangled, put them in a circular manner. It does not cost a lot of money and you can build one for your home as an environmentally friendly and fun project that can also be done in less than three hours.
DIY Plastic Bag Holder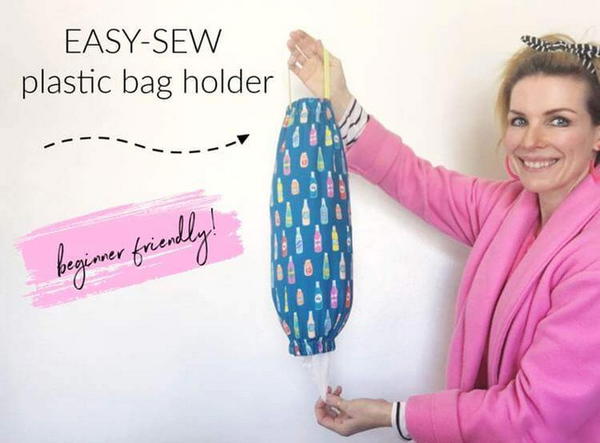 The perfect solution for storing and keeping your plastic grocery bags organized! This stylish fabric bag holder is double layered for durability and comes with two pieces of elastic for easy hanging. The smart design makes it easy to pull the bag out of this. It's very easy to make this neat, which is hung on the wall, and use the sewing machine and cut the fabric if you don't want to sew it yourself.
DIY Grocery Bag Holder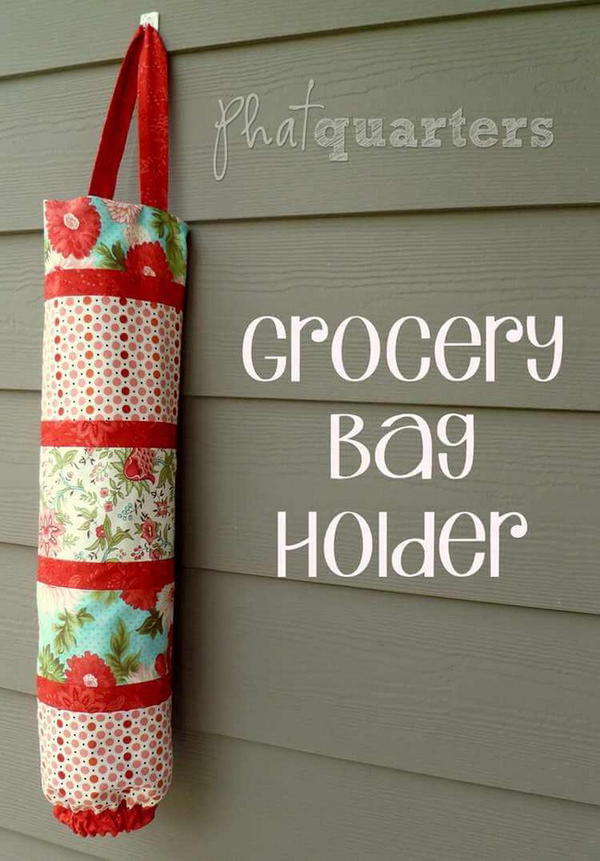 This is an easy sewing project to sew a grocery bag holder, which allows you to fold and put more plastic grocery bags and then unfold it to have easy access when needed. It's great for the laundry room, bathroom, or even outdoors. You can also style up the kitchen while organizing all your plastic grocery bags with this easy DIY project! You just need four fat quarters, a piece of fabric for the lining cut to 16.5″ x 26.5″, and one piece of 1″ elastic, cut to 10″ long. It's got a hanging loop and will keep all your grocery bags in one convenient place!
DIY Plastic Bag Holder
You can make your own DIY Plastic Bag Holder hang in your closet, on the back of your door, or on a table. This design uses two pieces of fabric: one for the bag, and one with a hole in the center for the loop handle to go through. It's easy to sew, slide your plastic bags into the top, and then pull them out at the bottom for when you need them. The whole thing is finished off with a roll of bias tape around the edge to give it an extra sturdy finish.
How To Make A DIY Plastic Bag Dispenser
Do you have a lot of plastic bags lying around in the house? Then, this simple DIY plastic bag dispenser will help you cut your expenses. You just need a thick plastic bottle to make it with and you don't have to do sewing or anything that can make it complicated. Cut out the middle part of the bottle and then just roll your bags together and place them into the bottle. Get them from around your house, from grocery bags, and from small packages that you receive.
How To Make A Plastic Bag Holder
You can make yourself a useful plastic bag holder using various materials, or a box. A box may suit your taste better. Cut the wood to size and build a box so it can be suspended against the wall. If you want, add dividers inside the box so that different bags do not mix with each other. Hang the box from somewhere such as a hook or nail. It is a practical way to store bags in your kitchen, not only will this reduce that but it will allow you to access them easily when you need one. This is a very simple project that can be completed even in an afternoon,
DIY Plastic Bag Dispenser
Create your own handy dispenser for plastic bags with a cute and easy no-sew one. Made of cute fabric, this little baggie can hold plenty of bags to help keep your kitchen tidy while helping the environment at the same time. It's made of two pieces of fabric, each one cut to the desired length and width, with a tunnel on one end to feed an elastic string through. Then, simply turn it right side out and pop the elastic in and you're good to go!
Easy-sew Plastic Bag Holder
A plastic bag holder that is easy to sew. Perfect for the kitchen or craft room. This plastic bag holder is made of 19" x 22" cotton fabric, two 10" length elastic, bias tape, or ribbon. Make this to stay more organized in the kitchen making your projects easier, get everything you need to make it and a printable pattern to make it your own. This project is simple enough for beginner sewers and layers of fabric help you guide through the steps easily.
How To Make A Grocery Bag Holder
Grocery bag holders can be made from things you already have in your home, like tea towels. Fold short ends and sew to create a rectangle. Repeat on the long edges. Turn right side out by pushing corners out with your finger, stitch around the edges to create a pocket. Here is a super easy sewing project that you can make in less than thirty minutes. It's also a great fabric saver as we take two tea towels to make one bag holder.
DIY Grocery Bag Holder
Make your own reusable grocery bag holder for hanging on a hook in your kitchen. It's simple to make a DIY this using an 18" x 18" fabric, 10" x 1½ "fabric, and elastic. Fold the edges of the fabric, then sew the edges together. These are the perfect gift for that friend or family member who always faces problems related to this. It's a useful and pretty holder with elastic loops to hold several bags at one time. Go through the video tutorials to make them easy.
Simple Plastic Bag Holder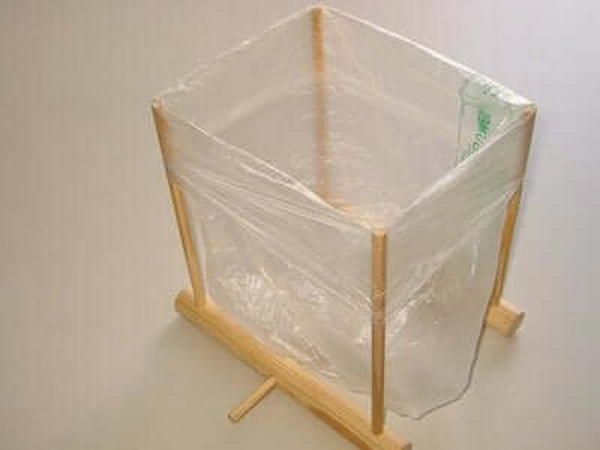 This plastic bag stand is easy to make and very useful as it keeps all your bags in one place. It makes them easier to grab from the cupboard, especially if you have more than one holder. It's also a great way to keep the environment neat, streamlined, and fresh. It is also strong and durable and very thin that it's easy to move around the house. The stand can be easily washable with soap and water, fits all kinds of shopping bags, and looks great anywhere in the house.
DIY Recycled Bag Dispenser
You can make a recycle bag dispenser by using a 2-liter plastic bottle and some craft supplies. It's easy to use, just stick the plastic bottle in the wall and you're ready to put it in and take out your bags. But it also looks really cool. All you need is to cut out the top and bottom part of the plastic bottle, spray paint it to the desired color, put an adhesive sticker on the back, then stick it anywhere you want. It can be easily taken off to re-use thoroughly.
DIY Grocery Bag Storage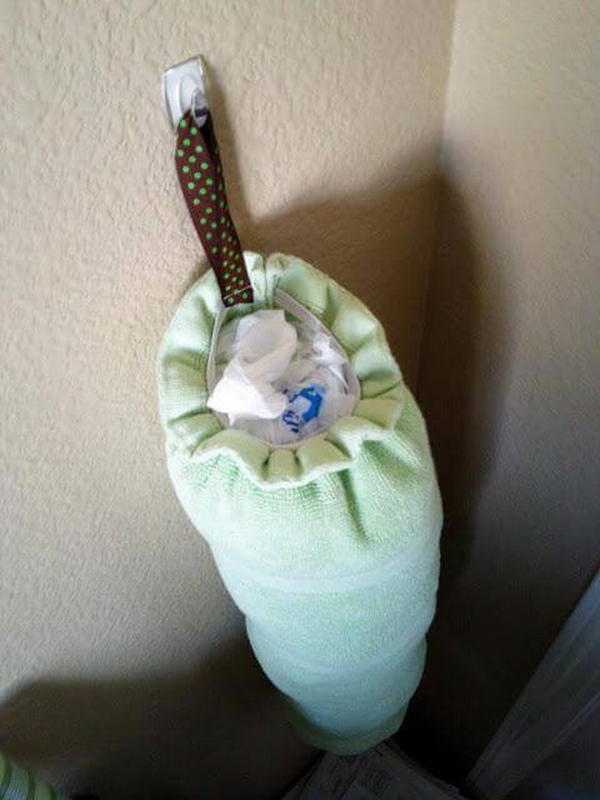 Making a DIY Grocery Bag Storage is one easy sewing project. You may not need to get the materials used here at the store because you just might have them in your home. materials used are Hand towels - the bigger the better, ¼" or ½" elastic, 9" of Ribbon and Thread. On one end of the towel sew elastic on it, bunch up and stretch. Do the same on the other end of the towel, sew the towel like a narrow tube. You're done with it...unless you want to embellish it further by adding a ribbon onto each end that can be tied into a bow at the top of each end if you want your storage stuffed with bags or by tying two together for extra large storage for grocery bags or so. These would make wonderful 'gifts' for friends as well!
DIY Fabric Grocery Sack Holder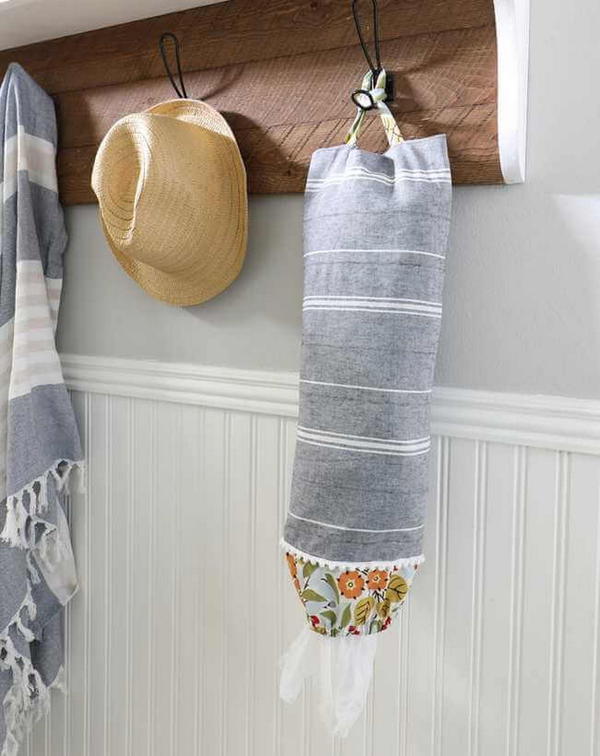 Making your own pattern is very easy and it's more flexible to make a handle sling if it's sewed into the fabric grocery sack holder. And you can use contrasting fabrics for a better look but remember that the fabric should be thick enough not to show through. This simple project is meant to decorate your kitchen with a handmade project. All you need is a couple of pieces of contrasting fabric and you are all set to go. Get creative by mixing and matching different patterns. Have fun, share!
DIY Plastic Bag Holder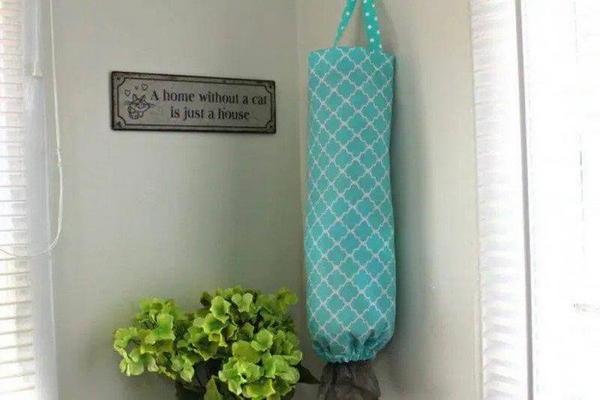 You can easily make your own no-sew fabric bag dispensers! With a variety of styles, any one of these projects would make the perfect gift for the sewing enthusiast in your life. It is a teacher-friendly, cheap and functional DIY project that requires less than 30 minutes to make. They're easy and inexpensive and each one is different, so you'll be inspired to make plenty of them! All you need is an old vintage (or new) sewing machine, some strips of fabric, ribbon, and a pair of scissors.
DIY Plastic Bag Holder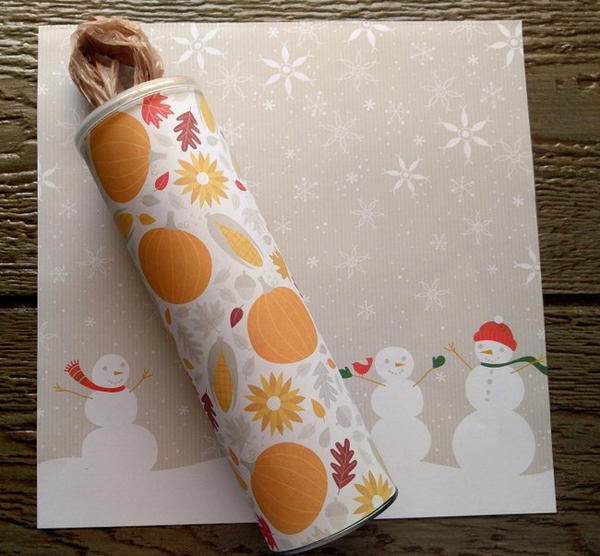 This is a fun DIY plastic bag holder made out of an empty Pringles can, spray adhesive, and scrapbook paper. This can be adapted to any design, but you can use scrapbook paper because it comes in lots of funky designs, this is quite different from the fabric methods. This has a very strong hold and works best when getting this project done quickly, In this Instructable you will get an idea of a quick and easy way to make this out of an old Pringles can. It is so easy even a kid can do it!
DIY No Sew Plastic Bag Dispenser
You can make a DIY plastic bag holder with a small roll of bags, cardboard, and fabric. Just fold, glue, and attach ribbon for hanging. This holder is a simple way to store bags and saves you money in the long run; you can have this done in no time. This easy project will keep your plastic bags from becoming a tangled mess under the sink. With just a few craft supplies, you can assemble this beautiful ribbon-wrapped nylon bag frame that holds an entire roll of plastic bags.
How To Make A Plastic Bag Dispenser
This simple DIY plastic bag dispenser is a great way to recycle and reuse your flimsy plastic shopping bags. You can use an empty wipes container to keep this upright and clean, you can also use any tall container you have lying around your house. Simply cut your plastic bags using a cross-cut saw and fold them in half before inserting them into the dispenser. It's that simple! This DIY allows you to easily store away plastic bags and have them easy to grab on the go!
DIY Plastic Bag Holder
DIY Plastic Bag Holder is an original item that is easy to make, this is made of plastic bottles! Reuse, recycle and help the environment. This dispenser is cheap and easy to make. To make the different types of dispensers here all you need is a plastic bottle, paper cutter, small rope, tape or candle, scissors, an empty tissue box, and an old rectangle container. This product saves you time and money because you don't have to waste bags anymore; watch a video tutorial to make them easy.
DIY Coffee Can Plastic Bag Holder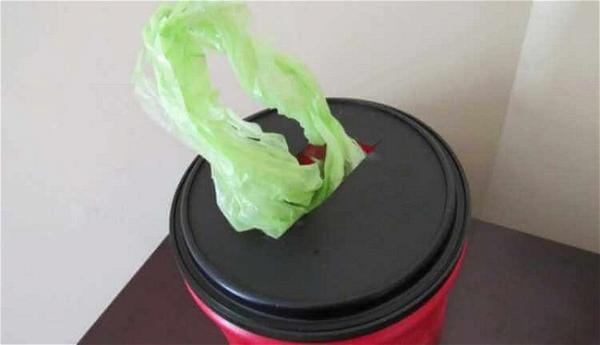 The DIY Coffee Can Plastic Bag Holder is a super creative and very functional way to put your plastic bags to use. It is the perfect solution for a small apartment, and keeps extra bags neatly organized and out of sight!. This simple step can keep that job of cleaning up under control. Since it is a small kitchen project, the results are great. For more information, step by step instructions, and pictures, check out this blog post
DIY Plastic Bag Holder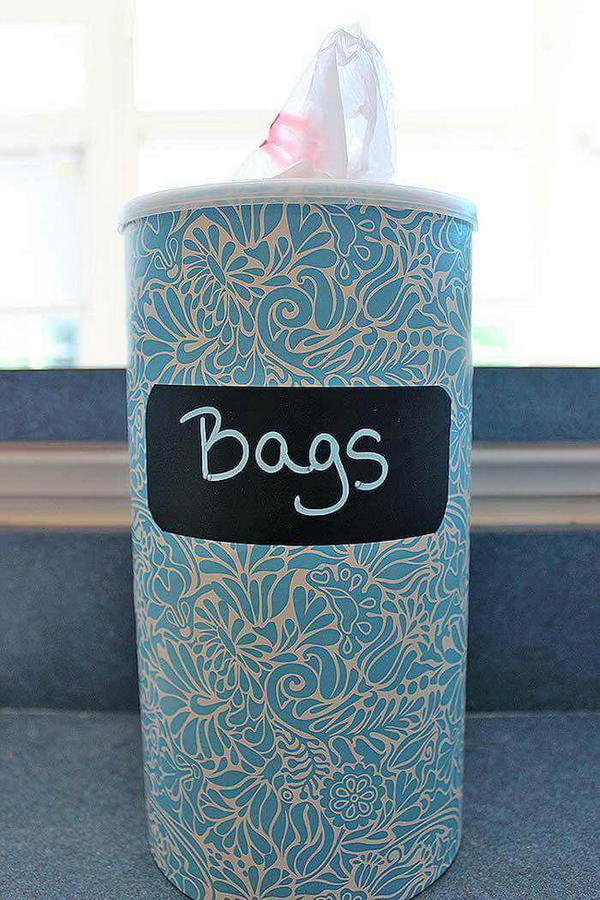 You can make an elegant bag holder using contact paper. You will need an empty oatmeal container and contact paper. Contact paper is easy to cut, this is a good project to do with friends and family and is inexpensive DIY. You can use any colors or patterns to decorate the canister. This is of generous size, so you can fit your grocery bags, handbags, and even dinner plates in it. Follow the instructions step by step to make them easy.
DIY Plastic Bag Dispenser
The DIY Plastic Bag Dispenser is just that. A plastic soda bottle is imprinted with an adhesive sticker. Simply cut out the top of a soda bottle and adhesive backing, stick it to your cabinet door, and forget about searching for your plastic shopping bags. This fun little project holds your plastic bags right on the wall with a simple adhesive sticker. No matter how much you collect, it will stay securely in place. Watch video tutorials to save you much more time.
DIY Macrame Plastic Bag Holder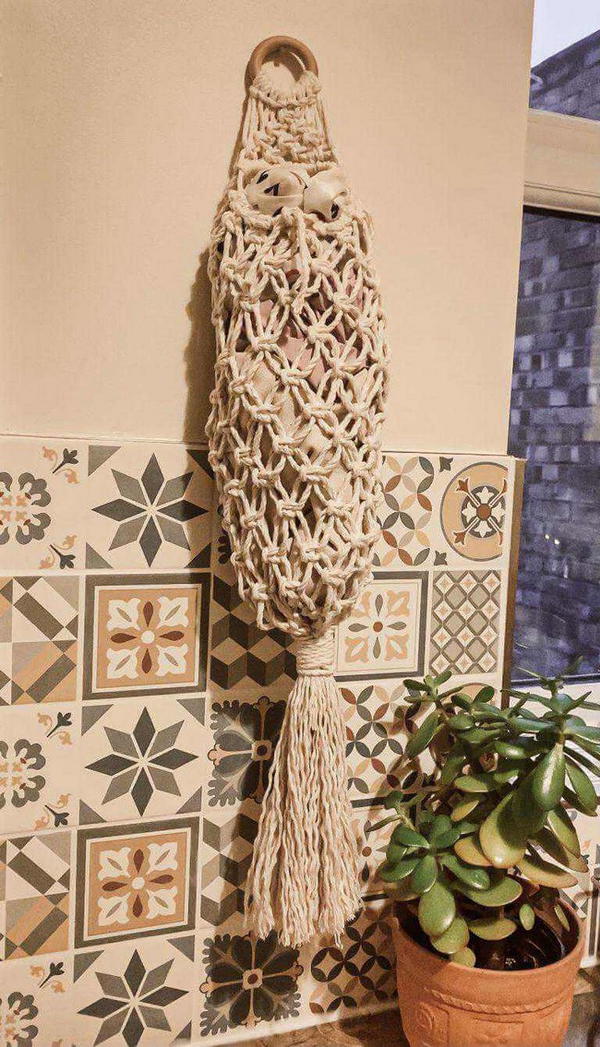 This DIY Macrame Plastic Bag Holder is super easy to do and fun for kids! Here's a project that would give you a homemade touch of green in your home. It's designed to be hung on the wall so you don't have to keep all your plastic bags on the kitchen counter unless you have an extra floor or a big cabinet. It's made from plastic bags, two wooden rings, and a macrame cord. So simple, yet very unique and stylish.
DIY Grocery Bag Holder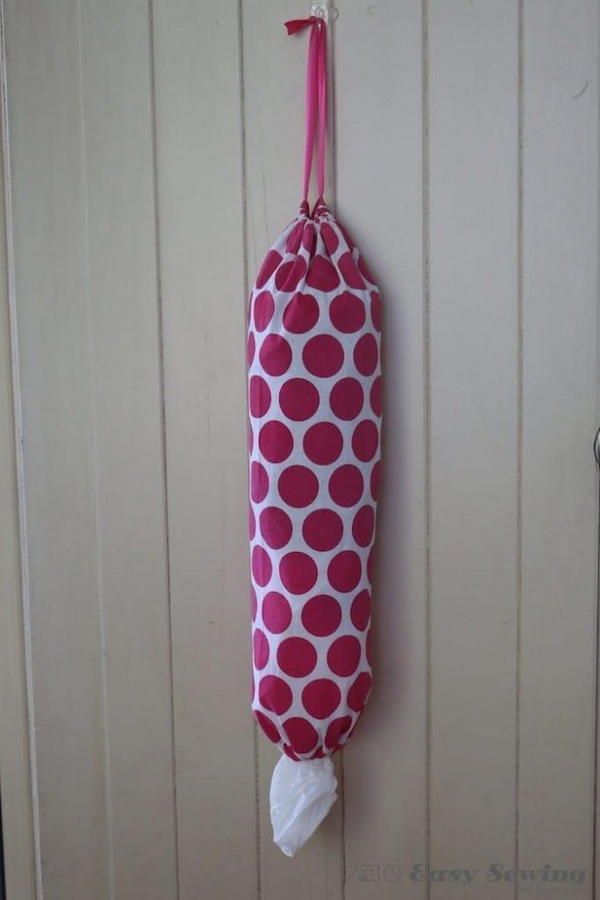 The DIY Grocery Bag Holder is quick, easy, and simple to handle. This is made from a tea towel with ribbon, elastic, thread, and a sewing machine. Definitely will be a useful project and it's also good to organize your laundry room. You'll need a 25-inch by 61-inch textile made of natural fiber such as cotton, linen, or hemp and elastic strip scissors sewing thread needle lighter pliers 2 pins fabric clips.