As parents, we are always trying to find new ideas to keep the kiddos entertained. What better way than making a few DIY duffle bags together? These adorable and functional duffle bags are the perfect craft for family weekend gatherings. DIY Duffle Bag Ideas is a book jammed full of 24 projects that range from simple to complex. You can choose a project by skill level or your child's interest level. We need to be prepared when we go on a trip with our duffle bags. It can be easy to make, and you can even DIY it out of your old jeans. You can add different pockets, maybe a zipper pocket or a pouch on the inside. There are so many possibilities!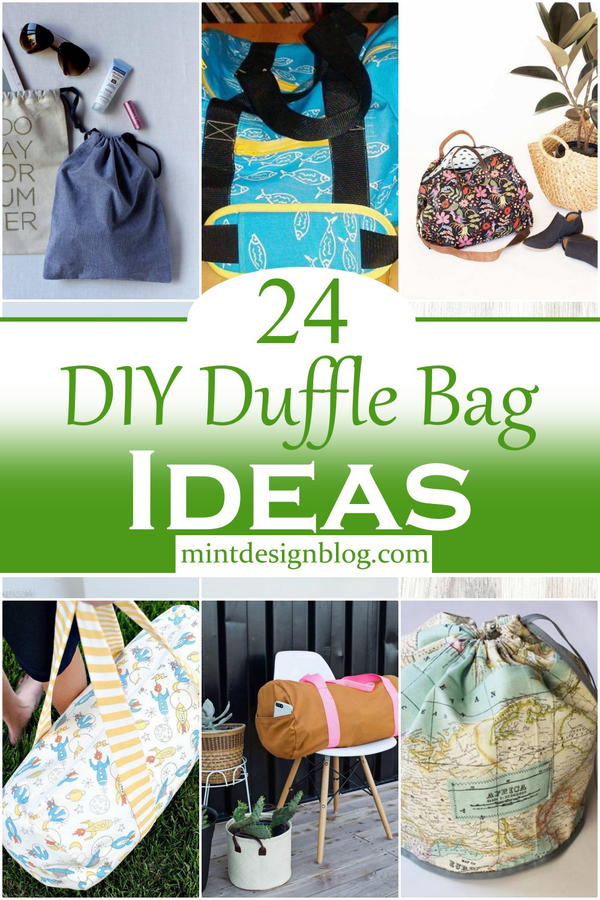 This article looks at DIY Duffle Bags for all budgets and skill levels. There are so many options available that you can make one suit your style, from friendly and simple canvas duffels to some more crafted leather duffels. From a few materials, you can create your duffel bag. A duffle bag is a beautiful way to stay organized when traveling or heading out for the day. You can make a duffle bag from home that is personal to you and made from things you have around your house or purchased at the store.
Whether you're looking for a practical gym bag or a stylish travel duffel, we've rounded up 24 DIY duffle bag projects to show you how to create your very own handmade version!
What Is A Duffle Bag?
A duffle bag is a travel bag that comes in many different shapes and sizes. They are usually made from canvas or vinyl material and have handles on either side to be carried easily by hand or over your shoulder. They also tend to have multiple compartments inside so that items can be stored safely away from each other during transportation, which helps to keep them from getting damaged during transit.
Uses Of DIY Duffle Bags
DIY duffle bags are a great way to create a custom bag that you can use for all your travel needs. The process is relatively simple and can be done in just a few hours.
The uses of duffle bags are endless. Whether you're a college student traveling home for the weekend or a professional looking to organize your tools, these bags can be used for anything.
There are many different uses for DIY duffle bags. The most common services include:
Traveling - Whether you're going on vacation or just going out of town, it's always nice to have a bag that will hold all your belongings securely. A DIY duffle bag is perfect because it has plenty of room and lots of pockets to keep everything organized.

Sports Equipment - If you're an avid athlete, you probably spend a lot of time transporting sports equipment from place to place. This bag makes it easy to carry all your gear in one convenient location. You don't have to worry about forgetting anything important when traveling from one place to another!

You can use DIY duffle bags to store your clothes when you travel, keep toys in the car, reserve books and papers, or even use them as an overnight bag when you're going somewhere for the night.

If you have a favorite fabric pattern or design, why not make your own custom DIY duffle bag? You can add pockets and pouches to customize it even more.

If you're looking for ways to organize your stuff but don't want something that looks like it belongs in a closet (or want something cute), try making some DIY duffle bags from scratch!
DIY Fancy Duffle Bag Idea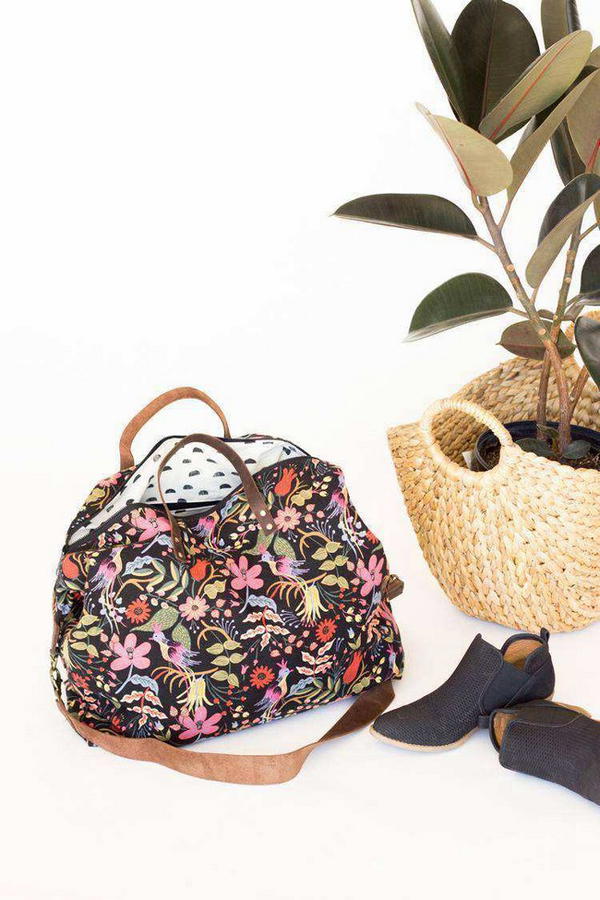 If you are an avid traveller, you should make yourself a duffle bag. It is suitable for carrying all your belongings wherever you go. To learn how to make a duffle bag, follow the instructions described below. The interior is spacious and well-organized, with five pockets for different items such as notebooks, pens, books, water bottles and more. Cut all your necessary fabrics and line the main bag panel with interfacing. You will also need to sew a small inner pocket onto the lining, attach shoulder strap pieces, and add a zipper.
How To Sew A Weekender Bag
This tutorial will teach you how to sew a weekender bag with minimal sewing skills. It's a quick project that you can make on the weekend, which is great for unexpected overnight guests or as a unique project for your beloved friend/significant other. This pattern has easy-to-follow instructions and illustrations showing each step from start to finish. And best of all, it's free! With a little bit of time and imagination, you'll be able to craft a perfect bag for your whole family!
See also: 27 DIY Dice Bag Projects
How To Make A Duffle Bag
 Making a duffle bag is a great way to increase your sewing skills while making a stylish, functional accessory. To begin, cut all of the bag pieces required. Attach a zipper to one side of a pocket, and top-stitch it closed. Sew the pocket to one side of the bag piece and then attach straps that will be used for handles later on. Repeat this procedure on the contrasting side of the bag and add any other desired embellishments like studs or appliqués.
How To Sew A Weekend Bag
Sewing a bag is an excellent way to spruce up your weekend wardrobe. This tutorial will show you how to sew a weekend bag using fabric, batting, and other supplies. Remember that sewing is like any other skill; the more you practice, the better it will be! This project is suitable for beginners, but you may need some advice when cutting out the pieces! Follow the instructions in the video below to learn how to make this travel bag for yourself or your loved ones easily!
How To Make A Duffle Bag
 A duffle bag is the best travel accessory that you can get for yourself. It's versatile and durable and can be used for several different things in your everyday life. Making one yourself is not as complicated as it seems and can be made using readily available materials from any local store. Here is some step by step instructions that will guide you through making one in no time. This bag is easy to make, and the materials are pretty simple. You can buy all materials together or find scraps at home.
Duffle Bag Backpack DIY
This Duffle Bag Backpack DIY is a fantastic project for fashionable and stylish girls or for anyone who likes to make practical and fun items. It can be used as a backpack, duffle bag, and carried around by hand. It also looks great when it is being used as a backpack to carry around all sorts of items. With this assignment, you will be able to create something fun that you can show off at school or work. This video includes all the most commonly used techniques in sewing, such as how to add piping and straps and how to use different types of zippers.
DIY Simple Duffle Bag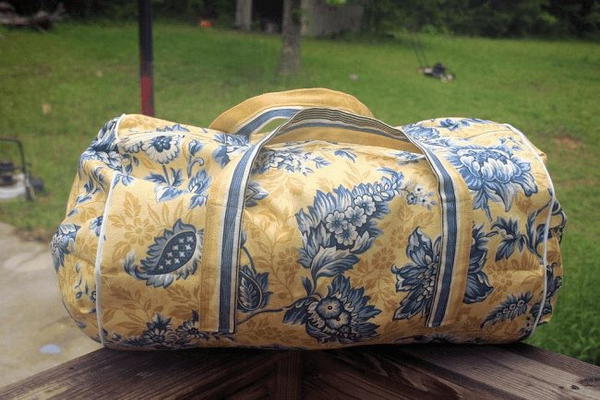 Here's the perfect addition to your wardrobe. Anyone can make this DIY Simple Duffle Bag of any age. It is fun, beautiful and easy! The materials needed for this simple duffle bag include heavy cotton, contrasting fabric, purse zipper, maxi piping, thread, stick pins, rotary cutter and iron. Once the materials are ready, you can start making this bag. Download the free PDF tutorial below to get started!
Gym Bag DIY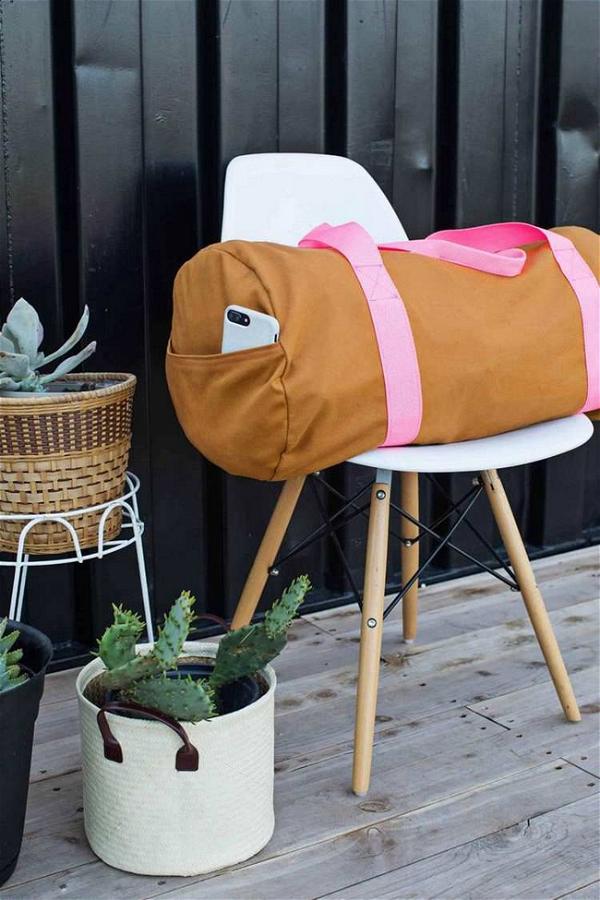 If you want to create a gym bag from your denim, follow these DIY instructions, and you're on your way. This is a great way to get rid of old jeans and add some originality to the new bag. You can make your unique gym bag using a sewing machine or hand sewing. The instructions will help you cut out pieces, sew them together and attach a zipper. Toss in some water bottles, and you're ready for your next workout!
DIY Duffle Bag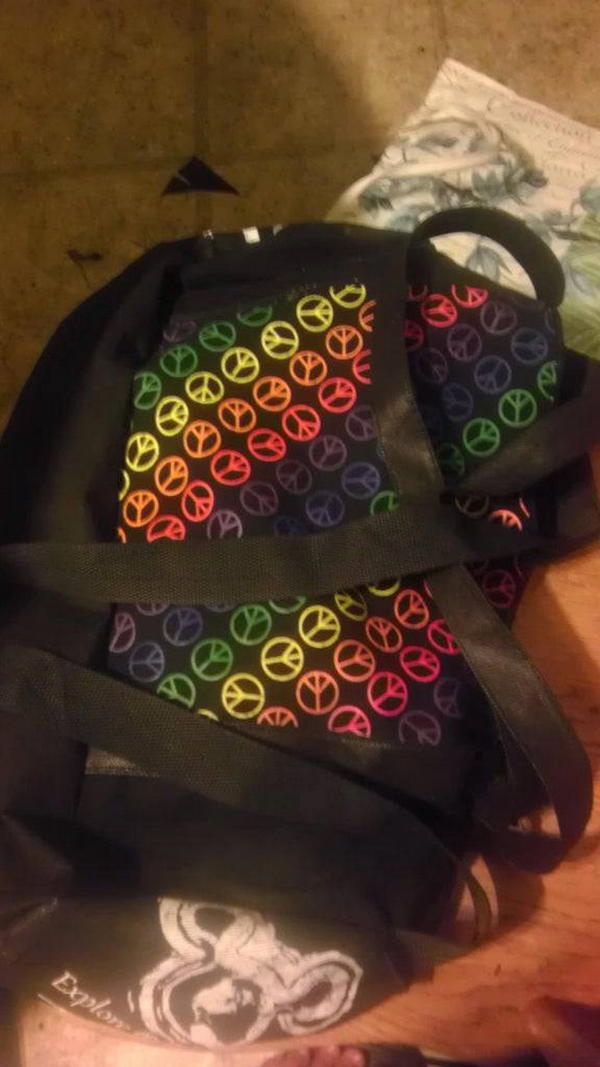 You don't need a lot of tools and equipment to make a duffle bag. Just grab your two old suitcases, a seam ripper, needle and thread, pins, sewing machine, pencil, measuring tape, and scissors. Start disassembling one of the bags by removing the stitching that holds it together and keeping each piece. Then determine the design or pattern for your new bag and start sewing! Make your own DIY Duffle Bag from old bags. Follow the instructions, and you'll be on your way to having a new duffle bag that you can use for travel, the gym, or fun.
See also: 19 DIY Chalk Bag Projects
DIY Jeans Duffle Bag
We all have some old jeans lying around, or we can ask our friends. This DIY Jeans Duffle Bag is perfect for summer and has everything you need to sew it yourself. A simple bag pattern and instructions will be provided to let you make your own jeans duffle bag in no time! It's great for carrying books, travel gear, sports equipment or anything else! The bag can take your clothes in style or be a great beach bag - perfect for the summer!
See also: 25 DIY Gift Bag Ideas
How To Make A Duffle Bag
 Duffle bags are the ideal accessory for any trainee needing a suitable gym bag or a large bag for weekend travel. This delightfully easy-to-sew duffle bag will become one of your favourite projects, as it can be personalized in countless ways. This is an ideal weekend project for beginners who want to sew something fun and unique that they can use at the gym, on a hike, or while travelling. This project is relatively simple, even for beginners. With suitable materials, anyone can sew their duffle bag!
 DIY 10 Liter Duffel Bag
A DIY mini duffle bag is an excellent gift for someone who travels often. With just a few simple steps, you can create one of these bags with any pattern. The free design, available on our blog, is easy to use and has clear instructions. This will be an excellent addition to anyone's luggage collection! This DIY Mini Duffle Bag can easily be sewn in a few hours. The pattern will give you all the instructions to make your duffle bag from scratch. Add a strap if you want to use this bag as an everyday purse or give it a gift.
DIY Mini Duffle Bag
This mini duffle bag will make an excellent gift for any time of year. The bag can be used to hold small accessories or toys for travelling. It also makes a great cosmetic bag or pencil case for school. It's a fun project to make, no matter what you need it. This duffle bag is perfect for a weekend getaway or even just as a carry-on. This DIY Mini Duffle Bag has plenty of pockets and is easy to assemble. The pattern includes five different fabric options, so everyone can make a bag they love!
DIY Kids Duffle Bag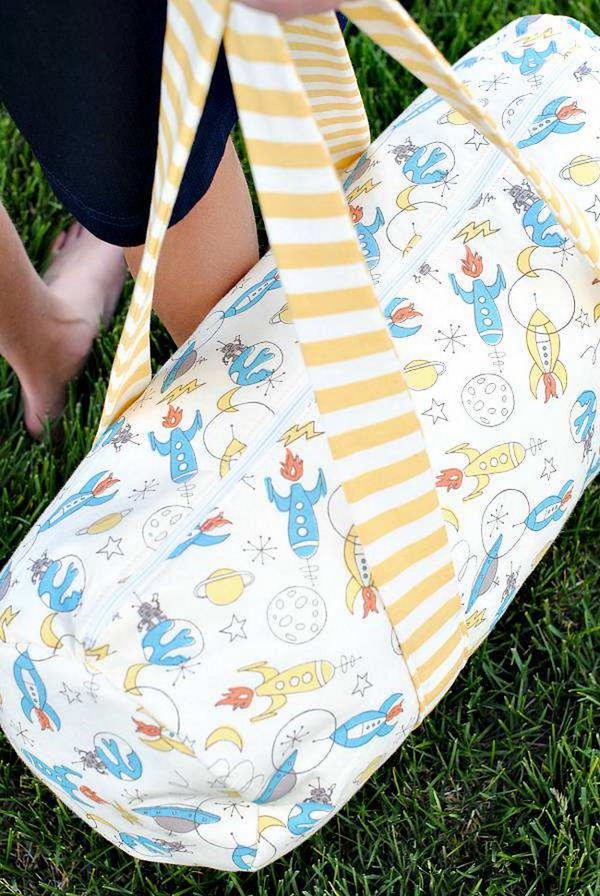 Show your kids you care by giving them an awesome duffle bag they can use for all of their sports equipment. It's a fun project, and they'll get to feel great about not making more garbage (or adding to the landfill). Here's a great tutorial that will take you step by step through creating a DIY kid's duffle bag. Sew in a zipper and make a strap for the handle. It'll be perfect for your little one!
DIY Travel Bag Tutorial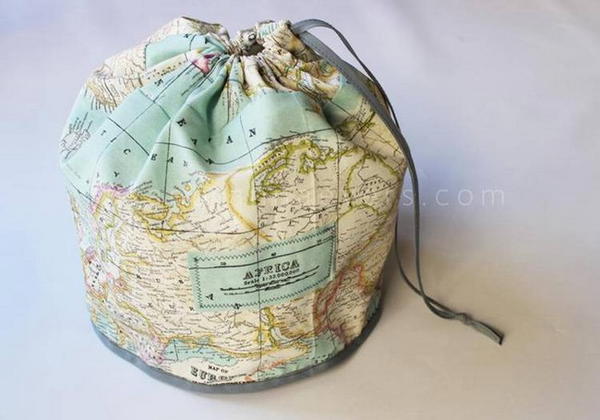 Tired of lugging around a heavy, ugly bag as you travel? Check out this DIY drawstring travel bag tutorial. This pouch is easy to pack into your suitcase yet big enough to fit all your belongings when you reach your destination. It takes just one afternoon to make and has no unattractive hardware to weigh it down. This tutorial will guide you on making your DIY travel bag out of a rectangular piece of fabric. You can use this travel bag as a laundry basket made of cloth or even as a gift box!
DIY Travel Bag For Kids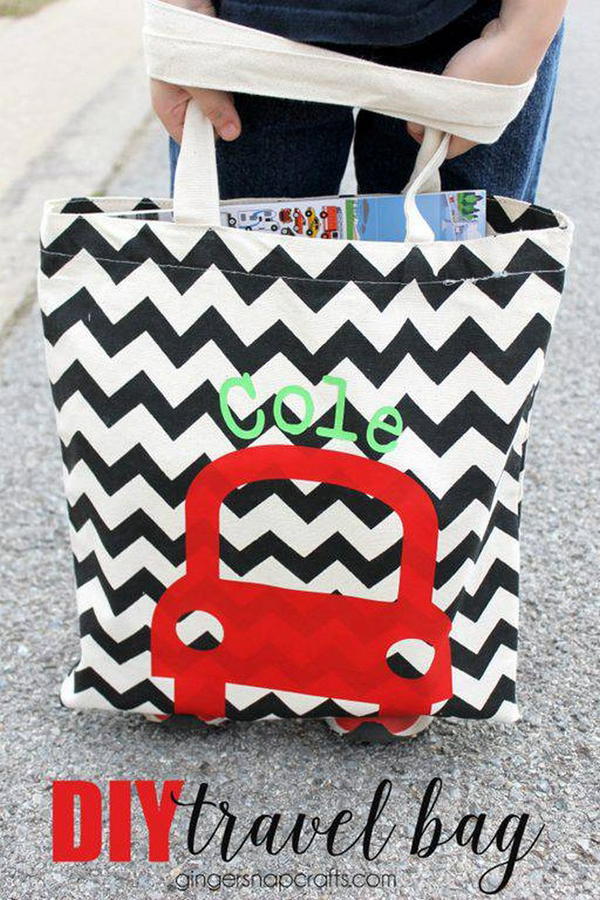 This DIY travel bag makes the perfect gift for the child who has everything or someone who needs a unique duffle bag. A simple sewing pattern makes it easy to make and personalize your travel bag. Your kid can pack their toys in this duffle bag you make yourself. Any fabrics can be used for this project, but I suggest a material that will not fray so you'll be able to sew the edges together quickly and not have to worry about frayed edges.
DIY Duffle Bag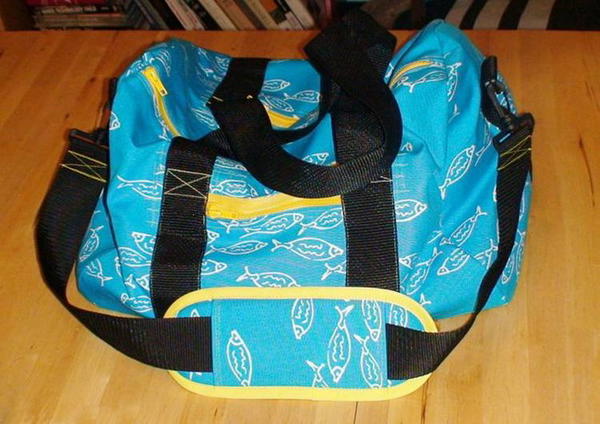 The denim duffle bag is an excellent example of a simple DIY bag project. Most of the materials needed can be found at your local fabric store, and you may even have some of what you need in your closet. If you are thinking about doing a few DIY projects for yourself or your friends and family, this project is a good one to start with. You can easily adjust the length of the straps or make them longer or shorter depending on your body shape.
Duffle Bag DIY
This duffle bag is a perfect gift for the man in your life. It has a stylish look that can be personalized to suit his tastes, and the practical duffel shape will make it easy for him to carry around his belongings. The design is beginner-friendly, so no worries if you are an inexperienced sewer! Simply follow these simple steps and make one yourself today! The addition of a zipper makes it easy to make and use, while the shoulder strap allows you to use it as a shoulder bag or backpack.
How To Sew A Duffle Bag
This leather duffle bag is made of top-quality leather. The leather comes in various colors, adding your own unique flair. You can start by cutting a long and wide rectangular piece of leather and attaching a zipper to both sides of the rectangle. Then, sew the handle strap to it. Cut and attach two circles to both sides of the bag. Follow these instructions, and you can make your own in next to no time.
DIY Duffle Bag
Make a cool duffle bag that is perfect for work or play. This bag is made from leather, durable yet lightweight and easily portable. It will keep your things neatly organized and in one place. This DIY project can help you save money by avoiding overpriced duffle bags at department stores, especially if you're using leather scraps that you can get for free from your local leather dealer. This project requires only basic sewing skills, but you will have to have prior experience with leather cutting and sewing before working on this bag.
DIY Leather Duffle Bag
This leather duffle bag is a great way to reuse your old leather scraps and craft something timelessly cool. The project features a roomy main compartment, two external pockets for easy access on the go, and an adjustable shoulder strap to carry it over your shoulder or as a backpack. Each piece is unique since it's made by hand from recycled leather! Made from high-quality leather, this duffle bag is a must-have accessory in every wardrobe. Whether you're heading off to college or travelling abroad, it's sure to come in handy. This easy DIY project takes 30 minutes or less, so get started today!
DIY Drawstring Travel Bag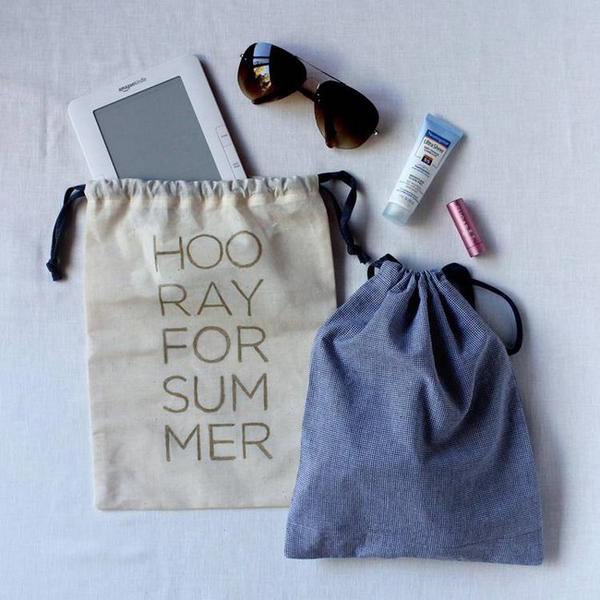 This DIY Drawstring Travel Bag features a gorgeous gold leaf print fabric, ribbons, and ribbon tassels. It can be used as a cosmetic pouch to travel or a gift bag! The bag is straightforward to make and does not require much time. Make this Drawstring Bag as a gift for your friends and family. All you need are two pieces of fabric, ribbon and some thread. You can create something meaningful with simple sewing skills with just a few steps.
DIY Laminated Toiletry Bag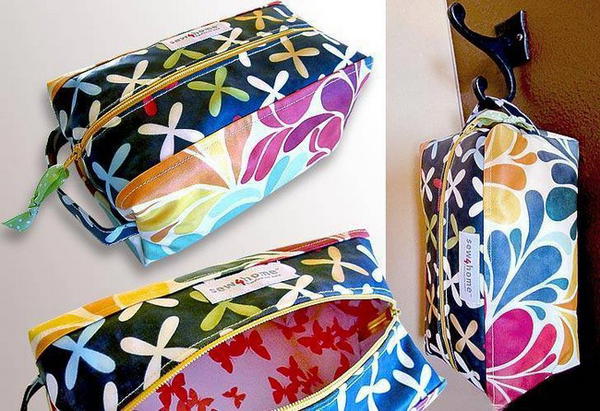 Are you always on the go? Then you need our DIY laminated toiletry bag to keep your essentials together. Pack up your shampoo, conditioner, toothbrush, razor and more in this easy-to-make bag. All it takes is a few simple steps before you're ready for takeoff! Make your toiletry bag like this one, and you know that you will have everything you need on the road. The most important thing is that it's easy to use, lightweight, and durable.
DIY Quilted Travel Duffle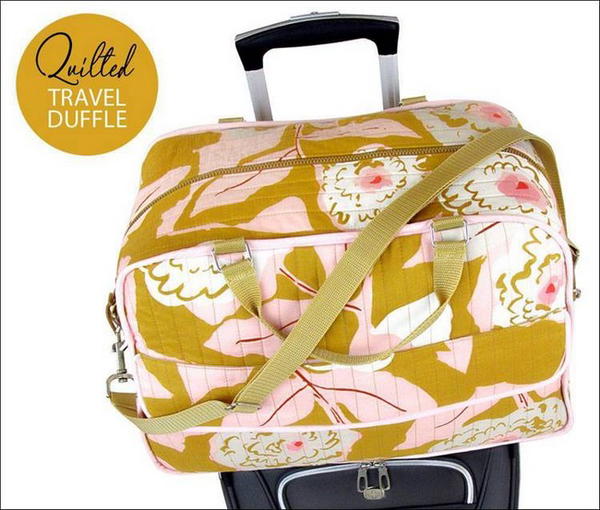 This simple quilted travel duffle is a great project for beginners. If you've never seen it before or can't remember the last time you did, this bag will be your first sewing experience. The bag is made from fat quarters, and easy to find at your local craft store. The pattern comes with instructions and a few tips that make it easy to finish in one day. You'll love having a fantastic new duffle bag! It features a zipper enclosure on the top and bottom of the bag, an inside pocket for your essentials, and a comfy strap that creates a cross-body effect.