Most of us have that moment where we have had to rent a U-haul or its equivalent to move large objects that would just not fit in our car. So this solution is good enough if this is not for regular use. Having your trailer you can use to tow is much more efficient and cost-effective for everyday use. So you can use a utility trailer for almost anything – carrying firewood from the woods down the road, moving things to a job site, hauling construction material, etc. These 20 DIY Utility Trailer Plans will provide you with 20 different plans that show you step-by-step how to build trailers that are great for various things.
DIY Utility Trailers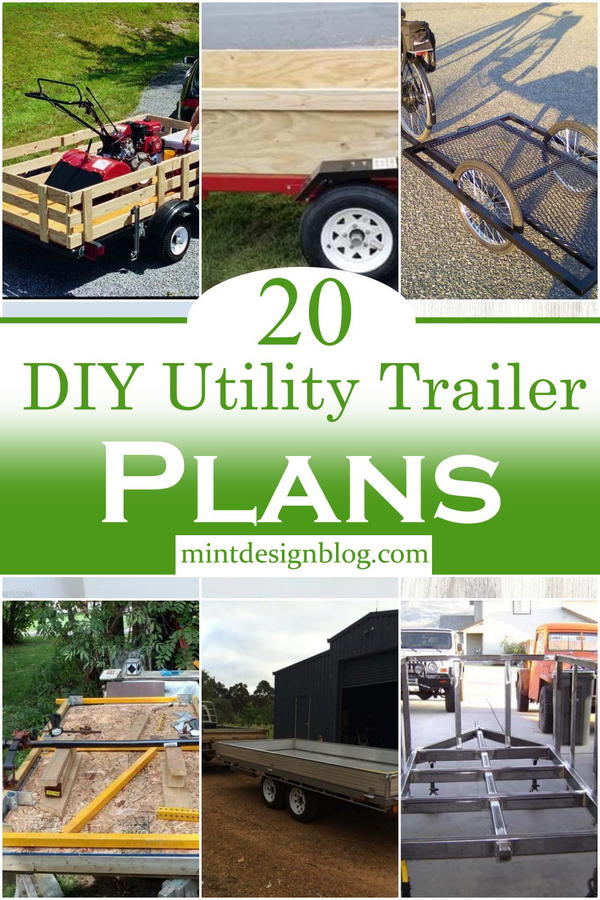 DIY trailer plans are a great alternative to spending loads of money on trailers. This article looks at different utility trailers to fit any need you may have. So these tiny utility trailers can quickly be assembled and disassembled using essential hand tools. The material requirements are straightforward to find at home or hardware stores, and they are easy to cut. After building one of these small utility trailers, you will have an open opportunity to try other designs and features. You could even come up with your plans based on these ideas. So you don't have to resort to paying for a utility trailer. This article will be going through DIY Utility Trailers Plans you can make yourself.
These 20 DIY Utility trailer plans will help you build a utility trailer that meets your specific needs, even if you're not experienced with woodworking.
You Can  See: 16 DIY Roof Rack Ideas For All
Tools and Materials:
Welder
Portable drill
Drill bits
Screwdrivers
Adjustable wrench
Wrenches set
Tape measure
Pencil or marker
Plywood
Lumber
Pine
Planks
Wood
Motorcycle Utility Trailer
This motorcycle utility trailer has been made to haul your ATV, lawn tractor, or motorcycle. It is easy to put together and looks like a backyard piece of junk, but when you start to pull it with your truck, you will be surprised at its weight and the smooth ride. The purpose of the build was to create a small, lightweight, and reliable ATV utility trailer. Motorcycle Utility Trailer plans to suit everyone from a beginner to an expert. With the essential tools and inexpensive material, you will be able to build yourself a utility trailer or dump trailer. The design is compact, easy to use, and has great potential for customization. It can be used as an off-road carrier or a dump truck for hauling purposes.
Skill Level: Intermediate
Heavy Duty Steel Trailer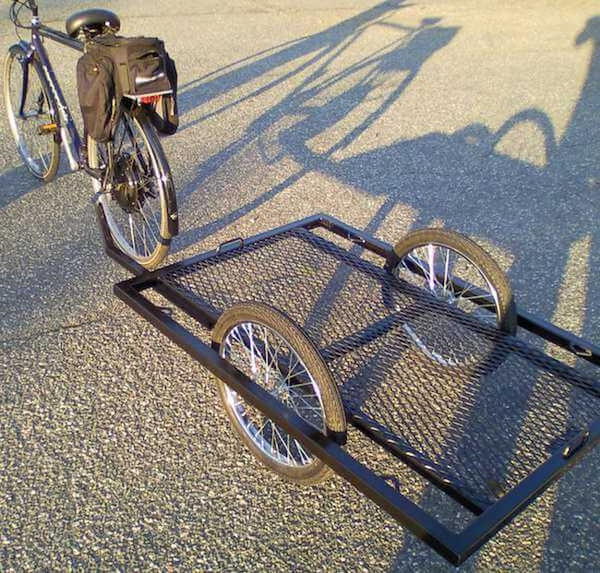 Weld this Heavy Duty Steel Trailer together and take your goods to market. This trailer isn't built to carry fainthearted things - just heavy stuff like bricks, concrete, scrap metal, or heavy machinery. It's lifted by strong wheels and has sturdy straps on each corner so you can secure your load. Heavy Duty Steel Trailer is ready to hit the road and take any gear you have to offer. The tongue of the trailer attaches to your vehicle, and the bed is attached to the wheels. The trailer's bed is made from solid mesh, perfect for carrying heavy loads. If a friend needs a helping hand, or you need something big moved, this trailer can do it all!
Skill Level: Experienced
Heavy Duty Logging Trailer
The Heavy Duty Logging Trailer is powerful and robust. It is excellent if you have big loads to move or have a lot of stuff. The trailer has large wheels that can be taken off for easy storage when not in use. Logging trailers are handy for moving items from one location to another or if you need to get something heavy up the hill. At first glance, the trailer doesn't look like much. However, it's not only capable of towing larger logs and trees, but it's also capable of carrying heavier loads. The beams in the bed have also been reinforced with steel, giving it excellent durability and sturdiness.
Skill Level: Beginners
Three in One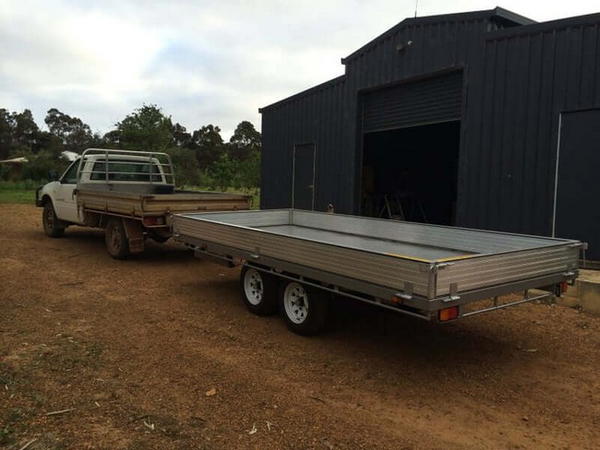 The trailer is built to be usable as a box, a car mover, and a flat top, all at once. This trailer has been made to be as versatile as possible. It can carry sand loaded with a forklift, a car, and even smaller pellets in the box. It is built from durable steel; its capability is tailored for joint sand uses in your area. It is ready to use kit with instructions on how to build it. You do not have to worry as all parts are compatible. The outside box of this three-in-one trailer is specially made to be stable and robust, allowing you to carry sand on it. The forklift and car mover combination make it sound like a flat top. Your work time is reduced with this combination, making it an ideal trailer for the farm or the job site.
Skill Level: Intermediate
Harbor Freight Utility Trailer
If you use utility trailers for work or play, you like not paying the high cost of a professionally-made trailer. The Harbor Freight Utility Trailer is easy to assemble from steel and wood and when finished, will last as long if not longer than trailers far more expensive. This utility trailer is a valuable tool to have when transporting heavy equipment. It features four large tires and a steel axle that can be adapted to various vehicles. Use this flatbed to move large objects or transport materials from one place to another. This simple flatbed utility trailer is simple to build, even for the most inexperienced carpenter. It requires a little time and some essential tools.
Skill Level: Intermediate
Build From A Kit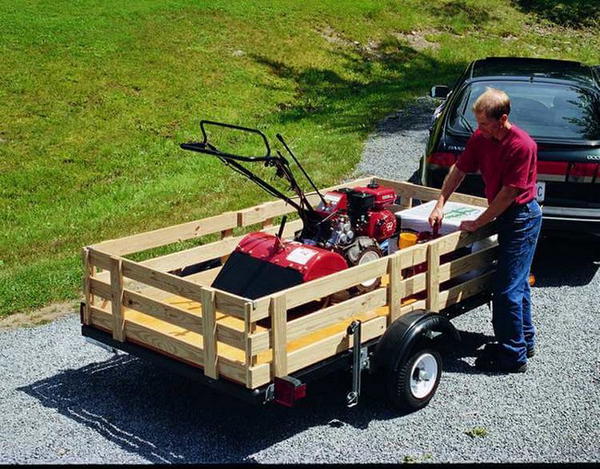 Trailers can be expensive, but you can build your own! You can make a utility trailer from ready-made parts that come in a kit. It is always fun to create something from a kit. This utility trailer is easy to assemble and does what it says. This trailer works great for hauling plywood and other heavy construction materials with rugged metal and heavy-duty tires. You will love its durability and performance, and you can easily replace the parts. To assemble, put the bed together and add the electrical system and wheels. Upon completion, you have a trailer to haul plywood and other heavy construction materials. When you finish building it, you will have something reliable and last for many years.
Skill Level: Intermediate
An aluminum trailer
The trailer you are looking at is an aluminum trailer made of aluminum. It is used to transport your boat or vehicle quickly. You can also use it to pull a variety of other items around. Fold it, load it up and tow your equipment. The Aluminum Trailer is an excellent option for anyone who needs to haul their motorized toys around or those who need to transport sensitive equipment regularly. An aluminum trailer is strong, light, and affordable. It will hold up to almost any weight you can haul behind your vehicle. It has an excellent strength-to-weight ratio. They are easy to transport since they fold flat for easy storage. Aluminum trailers are generally compatible with most vehicles.
Skill Level: Beginners
Homemade trailer with an enclose
This homemade trailer is ideal for those long trips where you might need extra storage. The diamond plate steel sides and top and the sturdy steel beams will withstand any wild adventure you decide to bring this trailer on. It also makes for a suitable enclosure for those who want to protect their cargo, whether fragile items or precious pets. A homemade trailer with an enclosed bed is better for those ferrying fragile goods or those worried about security. It is an affordable alternative to the enclosed trailer if you want to utilize your existing recumbent trike frame. It can be easily adapted but still provides the additional benefits of a fully enclosed trailer. The use of the steel plate makes it much more robust than all-aluminum trailers and makes it hard for someone to cut their way into your cargo.
Skill Level: Experienced
Bike Cargo Trailer
You can make your bike cargo trailer if you have a bicycle. You'll need some wood and steel to make it, but the parts are easily found at your local home improvement store. The steel frame attaches to the wheels, while wooden boards are fastened to create a bed for you to attach boxes or other items too. This cargo bike trailer uses a bicycle as the power source. It can be pulled by a bicycle instead of a motor vehicle. The trailer also includes a wooden bed for storage purposes. A trailer allows bicycles to be used for more jobs. Bigger trailers are often used with motorized bikes and scooters, but a simple bike cycle trailer is easy to make on your own.
Skill Level: Intermediate
Affordable utility trailer
It's no secret that utility trailers are expensive. This super flexible design will allow you to haul any load while keeping the price in the comfort zone. The beauty of a dual axle trailer is that if you save up, you can drive right over to your friend's house with a Ford Explorer and a pick-up truck in tow! This build will help you get a great trailer while saving money. Remember not to cheap out on the steel beams, but you can save money using a salvaged axle. Youu can save money when using salvaged wood to create the trailers with some creativity and patience.
Skill Level: Intermediate
A kayak trailer
This trailer is a perfect solution for storing or moving your kayak. The trailer comes with a fork to quickly move the kayak on land or water. The ideal companion for your Balance kayak is a kayak trailer. This innovative, lightweight, and durable all-terrain design will get you to and from your favorite places. Assembling a kayak is simple since all parts come with assembly instructions. You can even enjoy its use while still under your pine tree on your lawn. The one-of-a-kind design was created to be completely loaded and unloaded by one person – even in deep mud. Attach the trailer to your truck, and you'll be prepared for any adventure, whether it's the ocean or isolated lakes far away from civilization.
Skill Level: Beginners
Harbor Freight Trailer With Removable Sides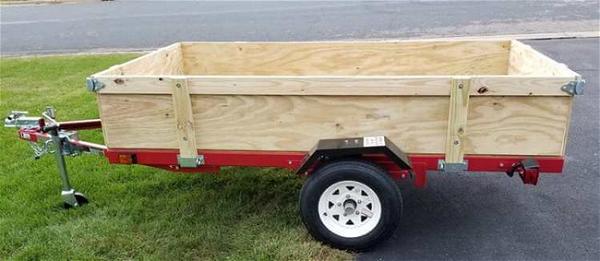 You can use this trailer to haul the items you need to transport. It's made with an inexpensive kit. The trailer itself is easy to use. It can hold small things, rocks, dirt, and even fine sand. You might even want lights or a cover for it at some point. If you're looking for an inexpensive trailer that could last for a long time and that can be modified, this one is for you. The Harbor Freight Trailer With Removable Sides can be used for many different things. You can transport materials from one place to another, or you can use it to haul yard sale items. This trailer is very versatile and helpful. The trailer's bed is made from plywood, and the sides are made from the same material.
Skill Level: Intermediate
13. Affordable bike trailer
The Affordable Bike Trailer is a straightforward design. It would be easy to build one with a selection of wood from your garage or basement. The trailer is built around salvaged pieces, a futon frame, two wooden crates for the shelves for an adult and child, some clamps to attach it to the bike, and some wheels. The Affordable is an affordable and straightforward trailer option. It can haul almost anything you need to take with you when biking. The Affordable bed is built from a futon frame and wooden crates; then, the whole thing is mounted to bicycle wheels and axles. You can haul two kids on your bike and still pedal all day with the affordable bike trailer. This trailer takes just a few hours to build.
Skill Level: Beginners
Off the grid bike trailer
This bicycle trailer can house all of your survival needs and be easily configured to suit your needs. The trailer is made from a bike hand cart which enables one to cart around everything you will need for a quick getaway. Create an off-the-grid bike trailer for you and your bike! This custom cart gives you room to store all of your belongings and has extra space for food and water. Your food and water should be kept inbox on this trailer so that you do not have to leave all of your provisions if something happens and someone steals the things on the trailer. The bike trailer is lightweight with wooden panels. With this bike trailer, you can explore and have freedom like never before in a cart.
Skill Level: Experienced
Trailer With A Tie-down System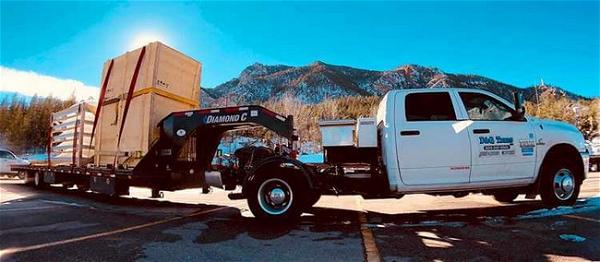 These track hooks are an excellent option when securing loads. Hitch rings will provide you with the security and peace of mind that your cargo is safely secured to the trailer. You can stop worrying about having poorly tied loads on your trailer. Taking the time to load your goods correctly can help prevent property damage and injuries. To ensure that your loads are correctly attached to the trailer, you can use hitch rings. Hitch rings keep your track secure at both the front and back of your trailer. You can also secure the track ring to the floor of the trailer. It creates strong anchor points that you can use to tie down your loads.
Skill Level: Beginners
Trailer With A Self-lifting Tailgate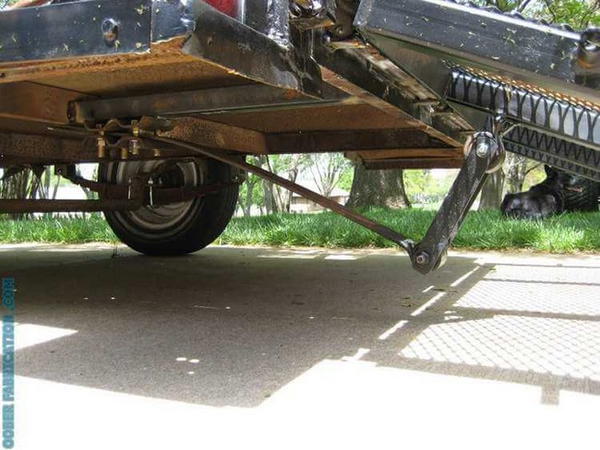 A self-lifting tailgate is a great thing to have, especially when you are in the field or have to move the trailer around the yard. It does not require any electricity and is a pretty easy way to make your tailgate lift on its own. A self-latching, self-lifting tailgate is a great do-it-yourself project to add versatility to your old trailer. So you can add a self-lifting tailgate to any trailer. Installing a leaf spring makes the whole process easier. Attach a heavy-duty leaf spring under the trailer with some heavy-duty bolts, and then attach U-bolts to it when the doors are open. With that, you have a trailer with a self-lifting tailgate.
Skill Level: Intermediate
Simple 4*8 trailer
The Simple trailer is made from a spring, salvage minivan axle, and steel beams. The frame is fashioned with steel beams, and all you need is a welder to attach the trailer to the axle. So it is perfect for hauling plywood and other construction materials; this 4x8 trailer has forks on one end for lifting the load and handles for pulling. Break open your toolbox and grab an axle that holds a spring well, some steel beams, and some welding equipment. It is all you need to fashion a frame for a trailer. So with this trailer's steel beams, you can comfortably haul plywood and other construction materials.
Skill Level: Beginners
Trailer with LED lights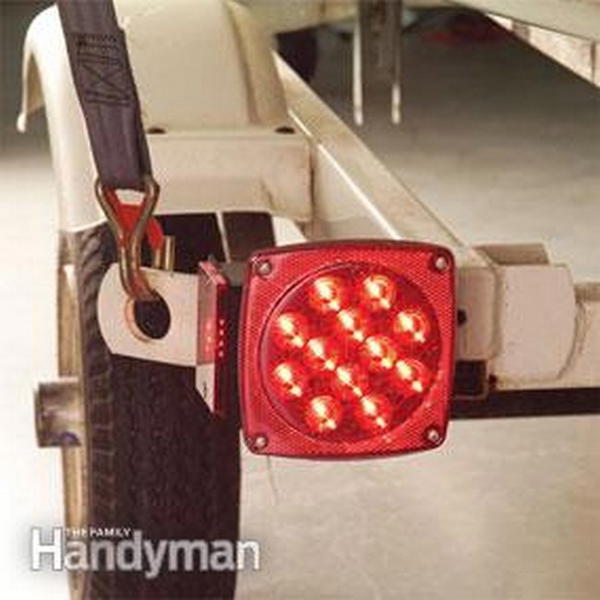 Having LED lights on your trailer is a smart way to stay safe and make it easy for others to see your rig when you are on the road. Solder the wires to add even more resistance to corrosion down the line. To ensure that you maximize safety at the rear of your trailer, it makes sense to use LED lights. LEDs will last longer, and they don't break because they don't get shaken as much as incandescents. They drain less power, don't break as quickly, and can last for a long time. Also, aside from being more resilient to bumps, they are brighter. It can be a big help when driving behind a trailer at night.
Skill Level: Experienced
Off-road Utility Trailer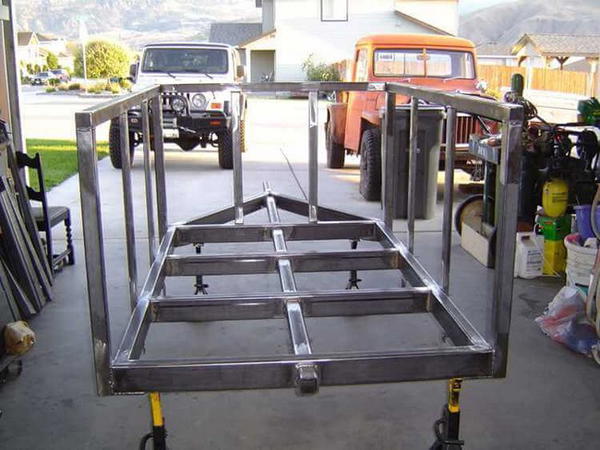 The Utility Trailer is a heavy-duty off-road trailer that must be capable of operating over rough terrain. The ultimate goal is to provide a smooth, comfortable ride for the rider and all of his gear. The Utility Trailer from the latest generation of RAM is designed for those looking to load up and go. So with a towing capacity, this trailer should be capable of carrying most ATVs and side-by-side vehicles. The off-road tires and rims give it the grip to stand up to rocky and muddy terrains, making it perfect for an afternoon of hunting, some leisurely off-roading, or just hauling away your weekend project supplies when they've exceeded their usefulness in the garage.
Skill Level: Intermediate
Homemade Trailer Made With Bolts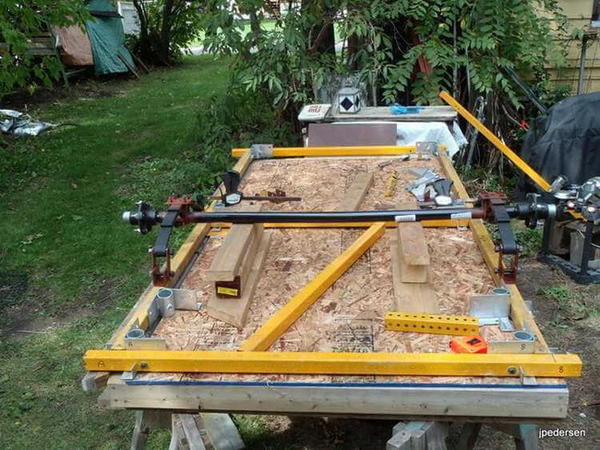 Arranging steel rods in a square arrangement and joining them with bolts will provide a rigid trailer with a simple structure. This trailer can be of different sizes as per your need. Square steel rods are the most common rods available in hardware markets and can be used to create your homemade trailer. This homemade trailer made with bolts is simple. But it requires some tools such as a saw, pliers, wrench, drill, screwdriver, and a bit of imagination and patience to put it back together. It is sturdier than the standard metal trailer, and tests have been done to check its durability. The trailer is made in a jig to make sure that all the joints are of the same size, flat and neat.
Skill Level: Intermediate
Conclusion:
Building your trailer can be a fun weekend project and an economical alternative to purchasing a trailer. The plans provided within this tutorial are easy to use. The designs offer a sturdy frame for your utility trailer and can accommodate a variety of uses. These plans will guide you through each step and every detail required to build a powerful utility trailer that is sturdy, practical, and designed for your needs. Everything you need is covered in this collection of 20 DIY Utility Trailer Plans!