Making a teddy bear is a fun and easy project. Just imagine the smile on your child's face or that of anyone special in your life when they see you've made them their very own teddy bear. This collection of 25 free teddy bear patterns will help you sew bears of all shapes and sizes, using modern and vintage patterns. They're a cute and cuddly way to get the hang of sewing, whether you're looking to make something quick or spend some time perfecting your skills.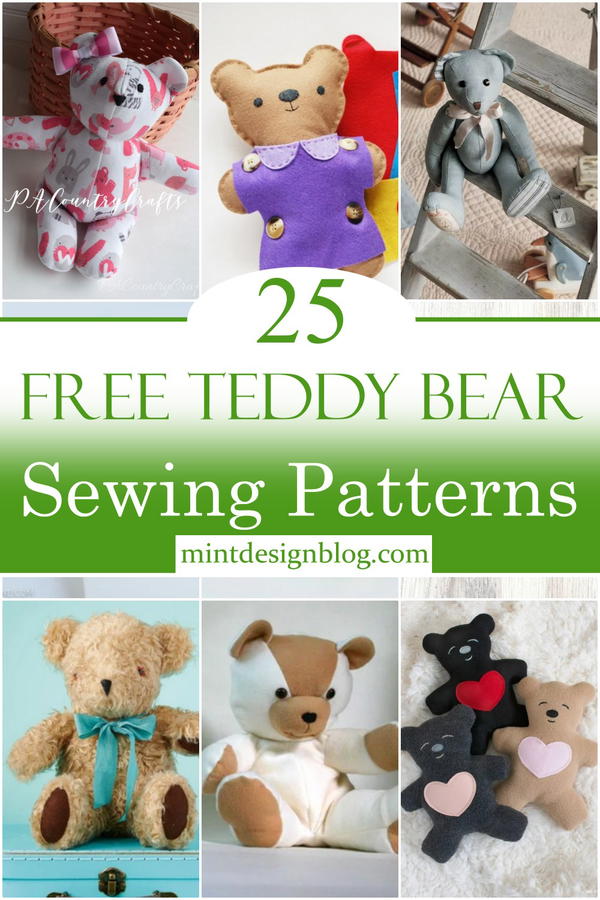 This free teddy bear pattern list is a great place to start if you're new to sewing these sweet toys; no matter your skill level, you'll find something that will be easy for you to sew. Whether you are looking for the most miniature teddy bear or one of the more giant bears, you'll find a tutorial or pattern here. Many of the patterns here can be used as part of a fundraiser for your favorite charity. You'll find that these tutorials use some of the most popular fabrics available today, making them very stylish. The best part about these free teddy bear patterns is that they are all free. You don't have to worry about trying to find someone else who has made one when you want to try it yourself.
These 25 free teddy bear patterns will show you how to sew a perfect teddy bear for baby showers, birthdays, or even just as a gift!
If you want to make your teddy bear, you will need a few supplies:
A sewing machine or needle and thread
Scissors
Pattern paper or card stock
Fabric
Stuffing
Uses Of Teddy Bear Patterns
Teddy bears are loved by children and adults alike. They're a part of childhood that sticks with us long into adulthood, and they come in all different shapes and sizes.
But did you know that there's more to teddy bears than meets the eye? Teddy bears can be used for a variety of purposes, including:
 As a gift for a new baby
 For a child's birthday
 As a condolence gift
 To soothe someone who's sick or hurt
 As a way to welcome someone new to your workplace
 To thank someone for their kindness
Free Teddy Bear Sewing Pattern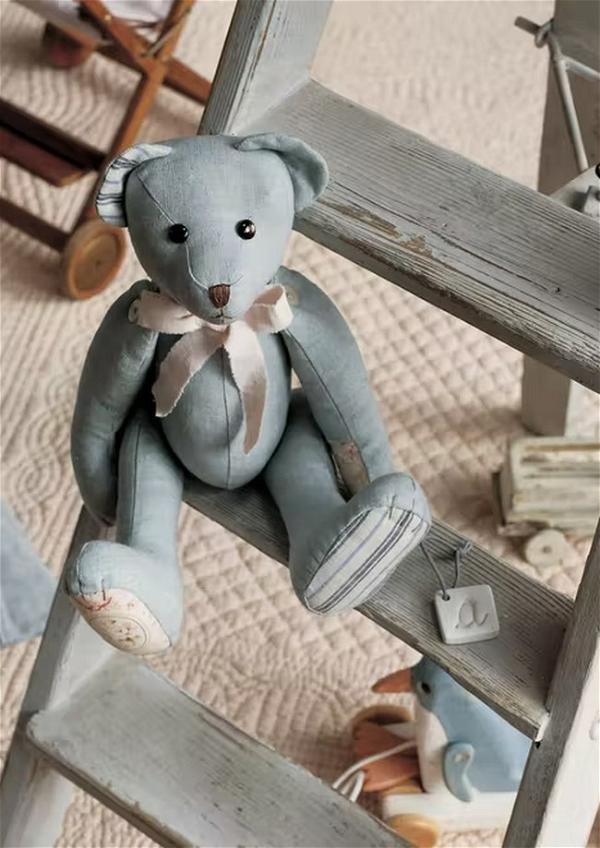 This teddy bear pattern will guide you through the steps to preparing your fabrics and making an adorable teddy bear that is just right for snuggling. Because of the free teddy bear sewing pattern's cute appearance, it will be loved and cherished by children everywhere. The teddy bear sewing pattern is crafted with great attention to detail and well-constructed, plus it's easy to personalize in whatever fabric you have on hand. This teddy bear sewing pattern is perfect for beginning sewers and more experienced sewists. This is a simple sewing pattern and would make a great gift!
Teddy Bear Pattern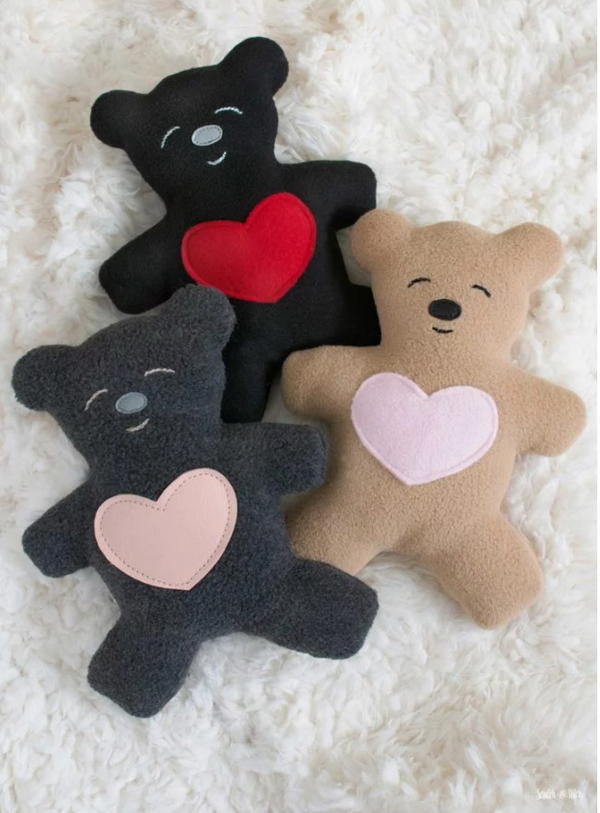 Dear Teddy Bear, Love is in the air, and so are you. It's Valentine's Day. But it's also every other day of the year as well. You can make them small or large, soft or hard, and with different clothing. The bare bodies with their attached legs, arms, and ears line up perfectly on the cutting mat, so you don't have to worry about rotating and cutting them separately. They will all match, even if you are making more than one at a time. A soft, cuddly bear looks great on the couch, the bed, or anywhere in your home. So fun for kids to give to friends and relatives, teddy bears turn any occasion into a warm and lasting memory.
Free Teddy Bear Sewing Pattern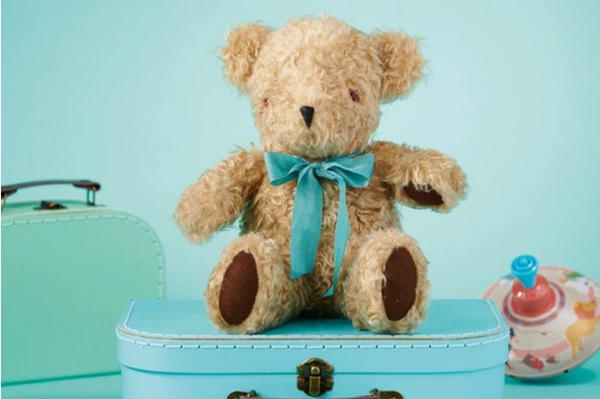 Make this fabulous free teddy bear sewing pattern to create a gift that will be treasured for years to come. Lucy Ward's gorgeous teddy has sweet honey brown faux fur, cute felted ears, and paws and is filled with lovely cuddles. She recommends making it in a self-coordinating fabric like her miniature quilt in the picture. And with the instructions for felt appliqué lips, button nose, and hand-stitched eyes.
Free Teddy Bear Sewing Pattern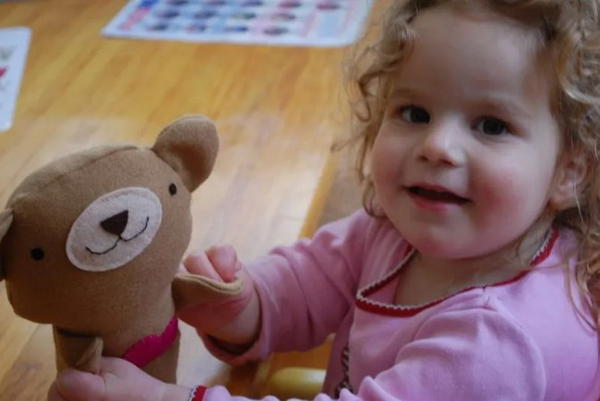 Pete is a fun and easy sewing project. He's a great scrap buster, requiring just a few small pieces of fabric. This is a fun, easy, and fast teddy bear sewing pattern to make. Whether you're new to sewing or not, you'll be able to make this adorable bear. The finished bear is small enough to fit in your hand and big enough to snuggle with. You will have so much fun making Pete the Bear that you'll want to make one for everyone in your life!
Baby Clothes Memory Bear Pattern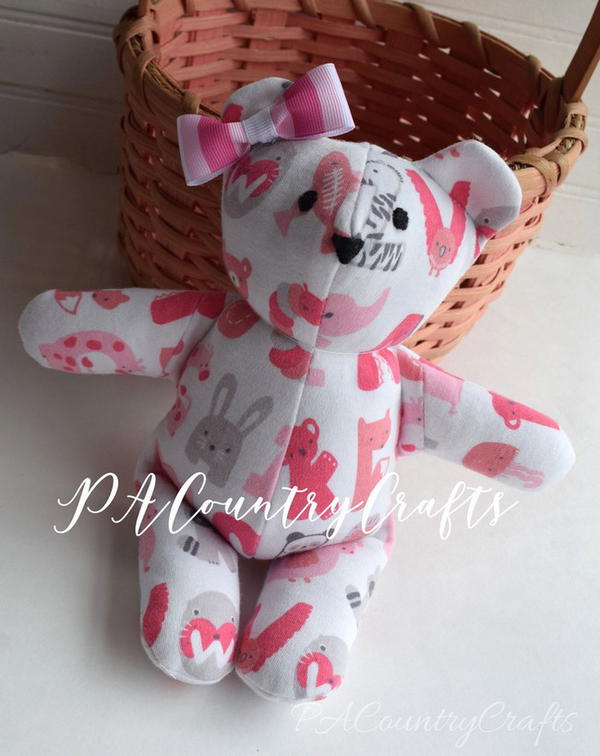 The Baby Clothes Memory Bear is the perfect gift for a mother to remember all the little outfits, booties, and hats the baby wore as they grew. The memory bear features several sizes of clothes that can be made repeatedly. Although no two bears will ever be alike, they will all serve as a beautiful memory of the precious clothing that has been given to the baby. A quick, easy and fun sewing pattern that makes a beautiful gift for the baby who has outgrown those tiny outfits. You can either use the front of the outfit as the bear's front panel or back panel.
DIY Felt Dress-up Bear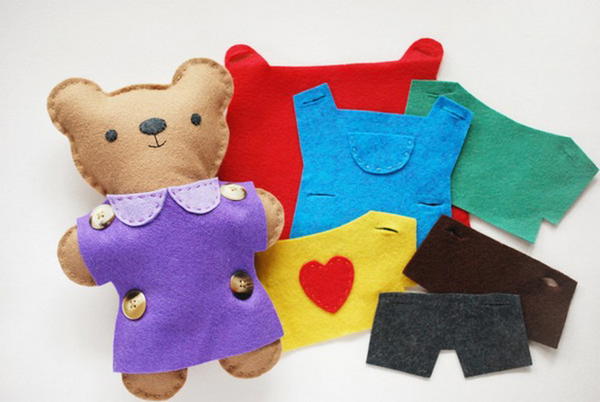 Say hello to the DIY felt dress-up bear! This sweet little guy is just waiting for you and your kids to add some personal touches. Make these adorable, hand-sewn felt bears for the kids in your life! These teddy bear patterns are simple enough for beginner sewers to make but creative enough to keep experienced sewers entertained for hours. Perfect for a glimpse of sewing or even an introductory project into more complex crafts, you can quickly put together this silly little bear. Best of all, he makes a fantastic gift idea!
Mr. Foofs The Polar Bear Free Sewing Pattern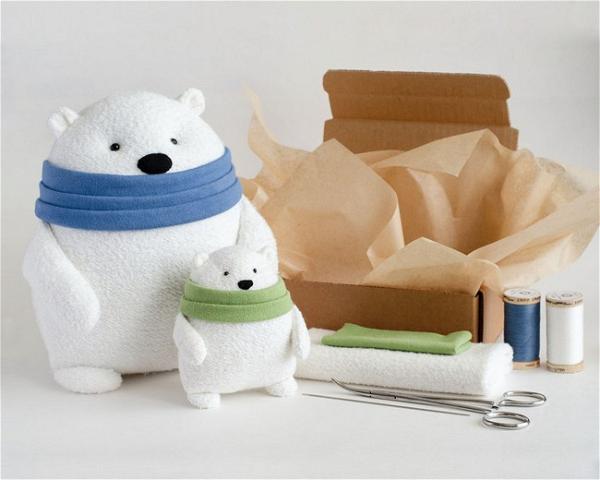 Mr. Foofs, the Polar Bear, is a free sewing pattern that's so adorable and easy to make that you'll want to make a bunch of them! You can make one using scraps of felt or fleece or fabric you've been saving for a special occasion. It is the perfect handmade gift for kids, friends, and family! He's easy to sew and has tons of details that make him unique. This Bear Sewing Pattern is the perfect project for beginning to intermediate sewists or crafters, and the instructions are detailed and precise.
Teddy Bear Tutorial and Pattern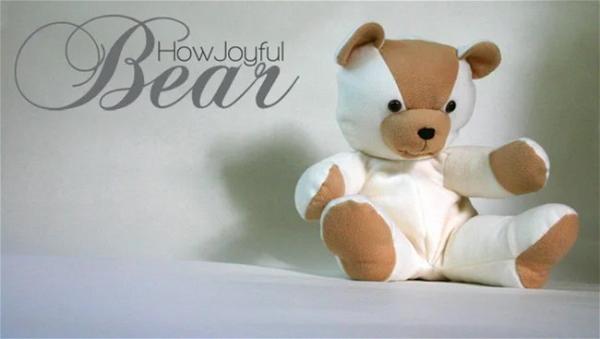 This Teddy Bear sewing pattern is perfect for anyone just learning to sew. It's cute, soft and easy to make, even suitable for kids! Included free are instructions told primarily on pictures so that even a beginner can make their own Teddy Bear. It's straightforward - All you need to know is how to chain stitch and slip stitch. Since this pattern can be easily adapted to any size, it makes a great gift! This tutorial includes the materials you will need, the pattern, and pictures of what the bear will look like when it is finished.
More Fun With Pete The Bear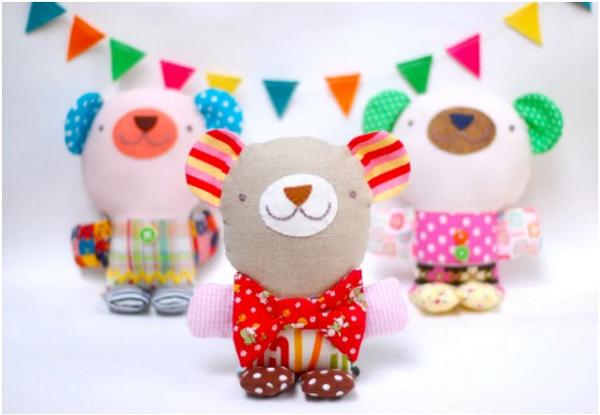 This simple and inexpensive craft kit will make your child feel creative. The Pete The Bear kit comes with everything you need to create a series of fun, silly scenes featuring the lovable character. This Bear is a fun, inexpensive, and straightforward craft kit that will have your child feel creative. This Pete The Bear kit comes with everything you need to create a series of fun, silly scenes featuring the lovable character. Pete the Bear is a smart, friendly, and fun toy with many moving parts. He provides hours of entertainment and has surprise elements that help children learn as they play.
Vintage-style Teddy Bear Pattern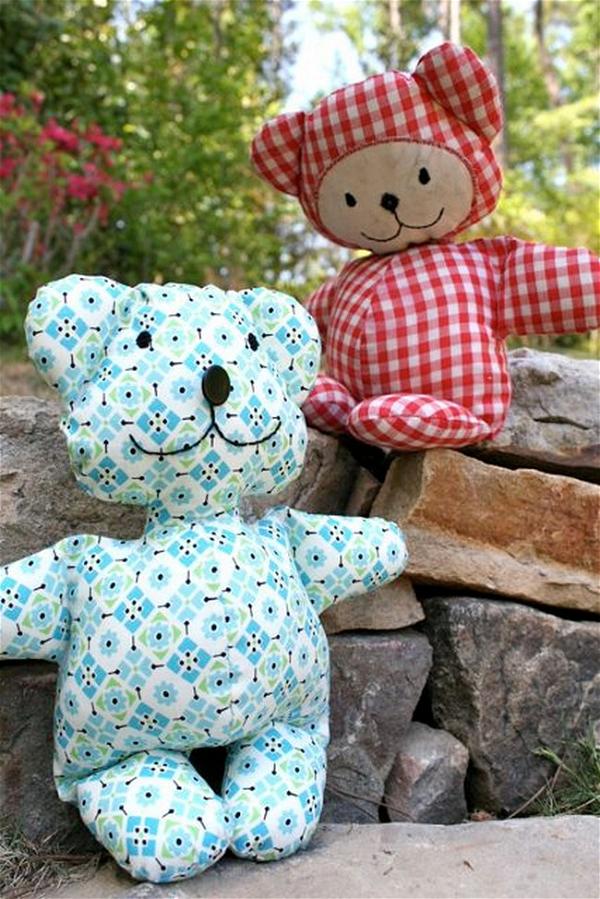 Add warmth and comfort to your home with this Teddy Bear pattern. This vintage teddy bear pattern features a modern take on your favorite childhood friend. This pattern can be fully customizable to create various products, from hair clips to coasters and more. This is an easy-to-use image in which you can make your ordinary room become a cozy living space by placing it on the wall. Suitable for beginners, the pattern includes instructions for sewing a snuggly teddy bear with a happy face and an adorable sleeping teddy bear.
DIY Gift Card Bear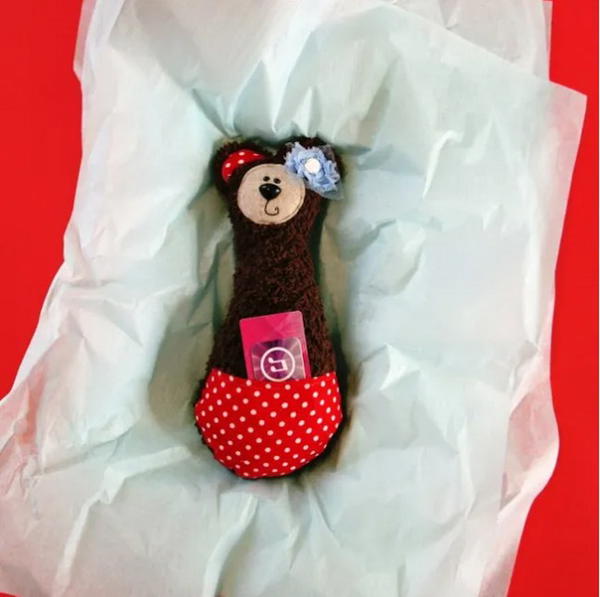 Looking for an easy way to display gift cards? Gift card bears are a fun DIY project that can be finished in an hour or two. This gift card bear cuts out the middleman so you can give the ultimate present to your best friend. An adorable plush bear comes wearing a customized t-shirt and holding a gift card of your choosing, making it perfect for birthdays, anniversaries, or any other special occasion. A DIY gift card bear is an easy, fun, and practical way to give a gift card that the receiver can use up. A perfect last-minute Christmas gift idea!
Amigurumi Teddy Bear Crochet Pattern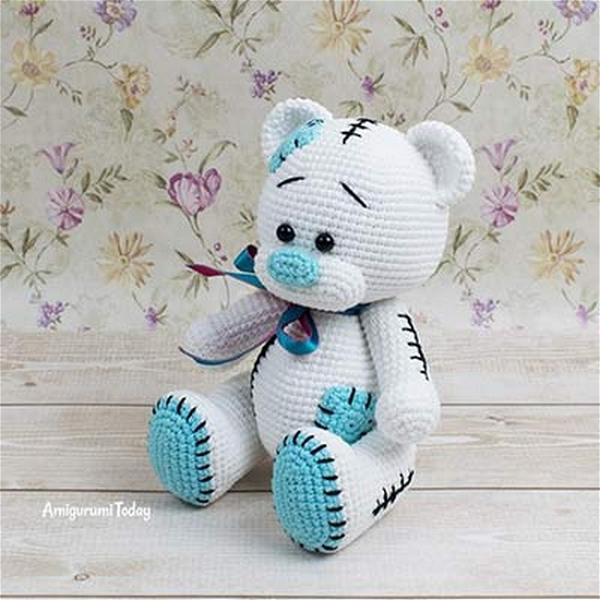 The Medley of Amigurumi Teddy Bear Crochet Pattern is the adorably huggable amigurumi teddy bear you always wanted! This crochet pattern will make the perfect gift for someone you love. It works up so quickly you can easily make a whole family of teddy bears in one day. The pattern is easy and fun to follow, even for those new to crocheting. It is perfect for a beginner in amigurumi. The project is worked in several pieces, and the materials are available from your local craft store.
Teddi The Bear
Making Teddi is easy and fun--you will have him done in no time! The arms, legs, and head are all separate pieces that can be attached using straight pins or sewing. He is made using only scraps of fabric so that you can make one in any color choice. Get creative and make a keepsake to treasure from your baby's first year! You'll want to spread out the process so that baby can enjoy having Teddi along for the ride when you take them for walks or shopping sprees.
14. Little Stuffed Bear For Children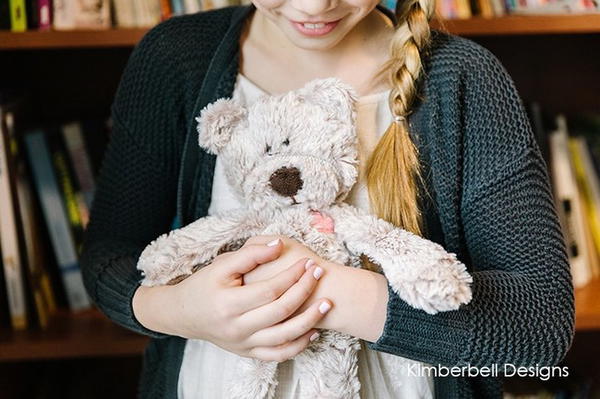 This is the Kimberbear, and he's so unique, not least because you can make him and give him to someone else. The little teddy bear is a model of a lovable childhood friend. It is given to children in healthcare institutions and disaster recovery programs. If you're looking for the perfect little stuffed bear pattern, this is it. It's cute and cuddly and part of an industry-wide effort to provide kids with the opportunity to receive a new stuffed friend.
(via Kimberbell)
Memory Bear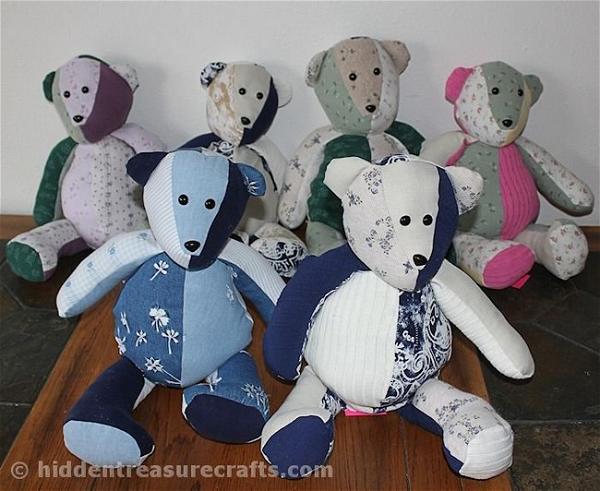 Make a memory bear in just a few hours! Turn your baby clothes, clothing from loved ones passed, and other keepsakes into a memory they will treasure forever. It is simple to sew and includes large, loveable arms and legs. It is the perfect way to make a keepsake from your favorite fabrics. Crafted with love and simple enough for beginners, everyone can create a memory bear to hold forever. Bears are the perfect way to keep hold of a particular time, whether it was the first time your child put on a lucky jersey or if it's part of a wedding dress that you want to reminisce about.
(via Hidden Treasure Crafts)
How Joyful Bear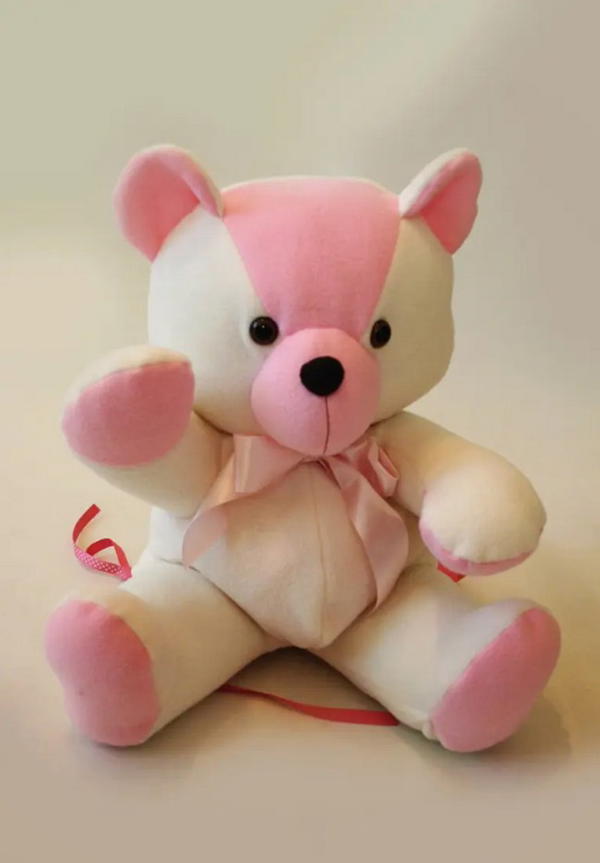 Joyful Bear is a sweet and straightforward pattern perfect for those with a bit of sewing experience. Joyful Bear is an easy-to-make stuffed Bear with perfect proportions and a fun design. You can sew him in the traditional method with traditional sewing materials or, if you have access to sewing machines and pneumatic stuffing machines, in this case, it is better to choose more lightweight fabrics for the bear body. The ears are very easy to make, and the result is truly stunning.
(via How Joyful)
Wool + Liberty Teddy Bear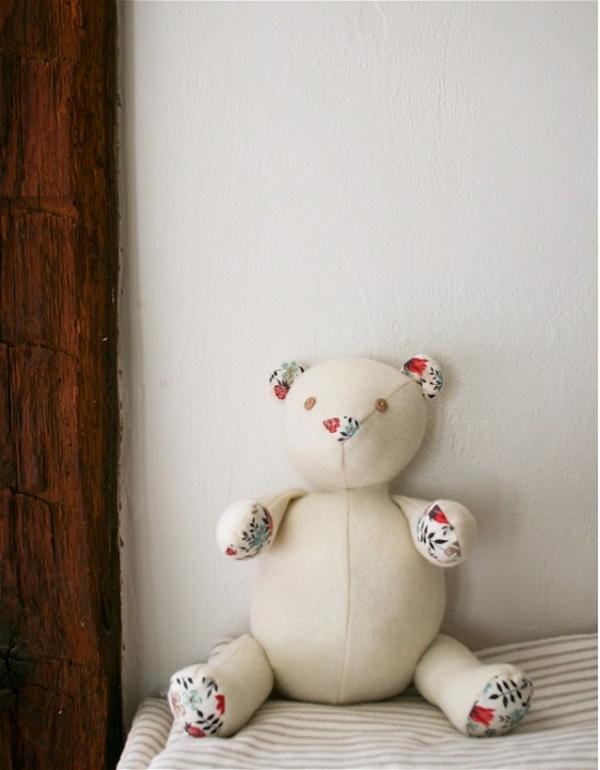 Wool and Liberty have incredibly detailed patterns up for grabs for free! This teddy bear pattern is one of many you could make as a gift or for yourself. Get your free pattern for this adorable teddy bear right here! This charming bear does an excellent project that even the most novice sewers can take on. It is a beginner-level pattern, and the pictures help you understand what you need to do on different rounds. The creator of this pattern has graciously made this an easy-to-read and -follow a pattern.
(via Purl Soho)
Folk Mohair Teddy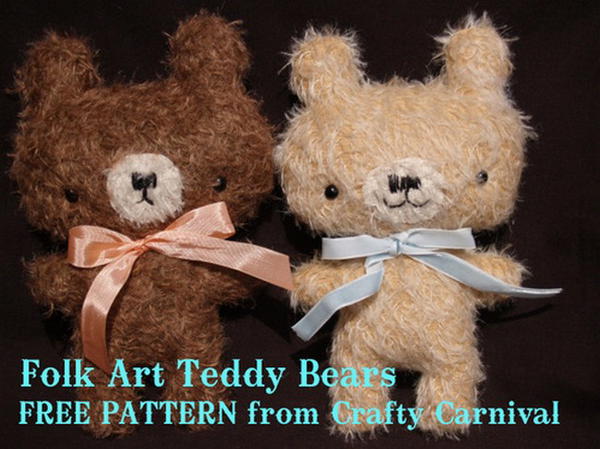 This teddy bear sewing pattern is a must-have for any collection! The Folk Mohair Teddy bear features a classic style with a cute accent bow. The plush fabrics and soft detailing on the feet make this a lovely plaything for little ones. Sew it in your favorite colors, or choose this mohair version for texture. It's a perfect size since it's so easy to make. This teddy bear sewing pattern will bring joy into your little one's life and make them feel extra special.
(by Crafty Carnival)
Warren The Charity Bear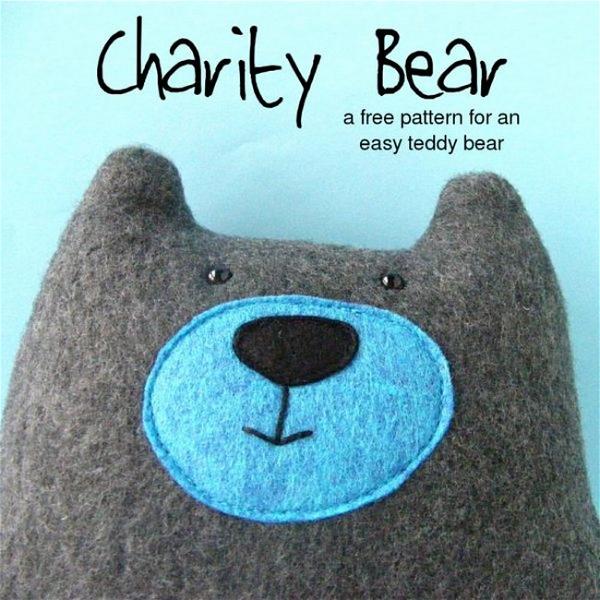 Warren, the Charity Bear, is the perfect gift to sew up for baby showers and charity events. With just a few huggable parts, he can be sewn together in just a couple of hours. Warren is the perfect beginner project! These fast and straightforward crochet instructions will help make a simple teddy bear that can be donated to a local charity, given to a child you know, or even kept as a plushy for yourself. It is perfect for anyone who wants the goodness of making give-away items!
(via Shiny Happy World)
Cuddly Bear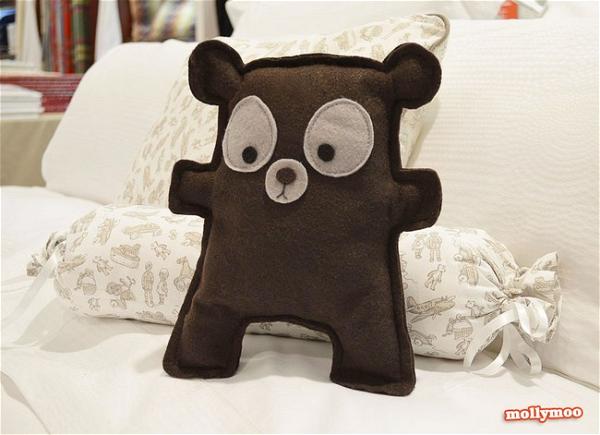 This lean and cuddly Teddy Bear will bring a warm smile to the face of absolutely anyone who sees it. This simple pattern is quick and easy to create and can be personalized with sewn-on facial expressions (available as an optional add-on). It's a great pattern for beginning sewists, or you can use it to bring a smile to the face of your favorite little people - the kids!"This is a "Lay-Flat" pattern, so you don't need to worry about pop-ups or fussy piecing.
Backpack Teddy Bear
Who doesn't love a Teddy Bear? This Teddy Backpack keychain is designed to be small enough to hang from a purse or bag, big enough to cuddle with, and made just so adorable you can't help but love it! You'll love taking this bear backpack on vacation, road trips, or as a gift for your friend or relative. It is the perfect gift for a child who loves traveling and teddy bears. An excellent idea for a stocking stuffer or as a gift for special occasions. It's the perfect way to let your child take their best friend on any adventure.
(via While She Naps)
Quick Baby Bear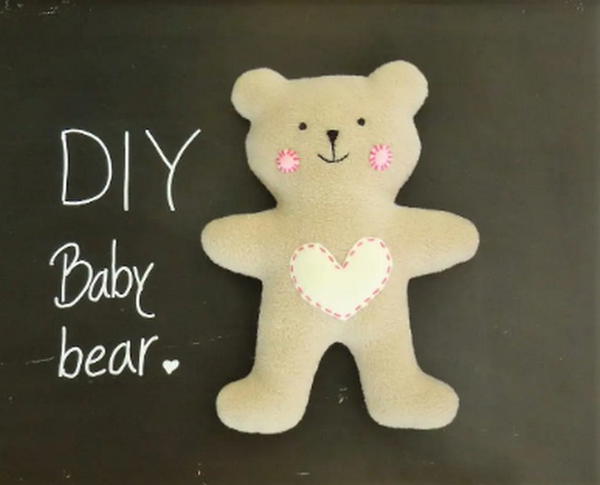 Need a last-minute baby shower gift? Try the Quick Baby Bear to sew up in virtually no time! Whip up a quick-sewn teddy bear from this pattern if you're looking for a fluffy friend for your new baby. With this pattern, you'll be the fastest gift-giver in town, as it only takes four steps to create. It's also easy–great for beginners! This bear makes a great gift for a newborn or anybody who loves teddy bears. You can personalize these patterns by adding embroidery or fabric paint to make them your own! The possibilities are endless.
(via Sew Toy)