Elephants have long been a popular figure in crochet projects, as they are full of personality. These fantastic creatures are well-loved everywhere in the world, and you can immortalize the majesty of the Elephant whenever you crochet with one of these 25 Crochet Elephant Patterns. In this collection, you'll find a variety of elephant amigurumi patterns. There are elephants with trunks up, trunks down, and trunks raised high. You'll find elephants in bright colors as well as neutral tones. There are simple elephants and more complex ones. And there are also some adorable baby elephants!
Crochet Elephant Patterns

You can use any of these patterns to make a lovable toy for a child or a plush decoration for your home. Any elephant lover will be thrilled to receive an elephant made from one of these patterns! Check out these cute crochet patterns and get inspired to create something that is sure to be a hit with anyone who sees it. These crochet elephants will be perfect as gifts because they're practical in addition to being adorable. You'll definitely love crocheting one of these projects.
Fantastic collection of 25 crochet elephant patterns from cute little amigurumi toys and nursery decor to fun home decor and more.
Uses of crochet elephants
Check out this website for small and large crochet elephant products
Find decorative use for them at home or at your desk.
Check out other cute animal related products instead.
Look at all the cute crochet elephant products.
Use small items to brighten up your workspace.
Use larger crochet elephant products as home decor.
Other Patterns
Elephant Amigurumi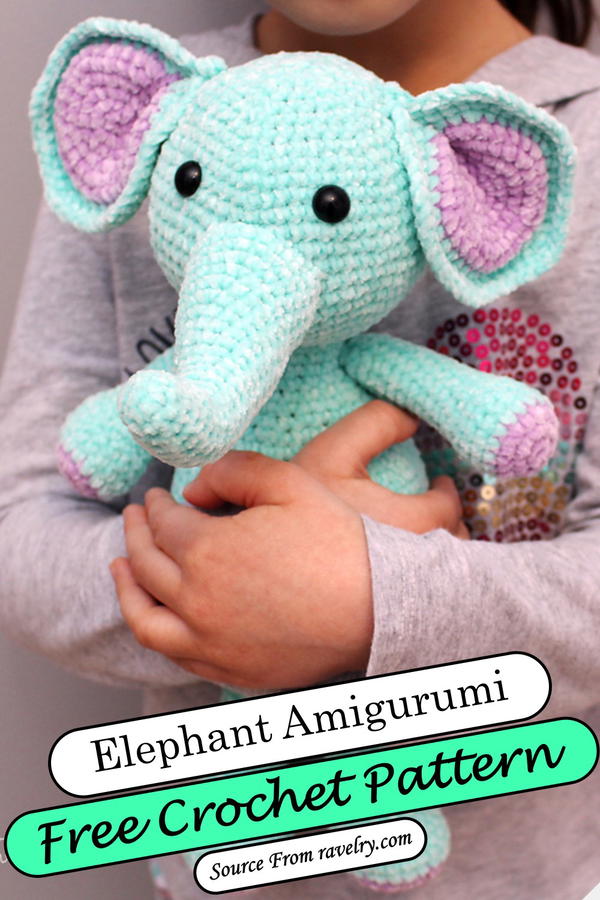 If you love elephants and crocheting, then this Elephant Amigurumi is the perfect project for you! This sweet little Elephant is sure to delight kids of all ages. The Elephant Amigurumi is the perfect size for playing with and cuddling! It works up quickly and has a great stitch definition, so both crochet hooks and stuffed animals alike will be happy. It is the perfect size to play with and cuddle or quickly become a unique gift for someone special.
Elephant Lovey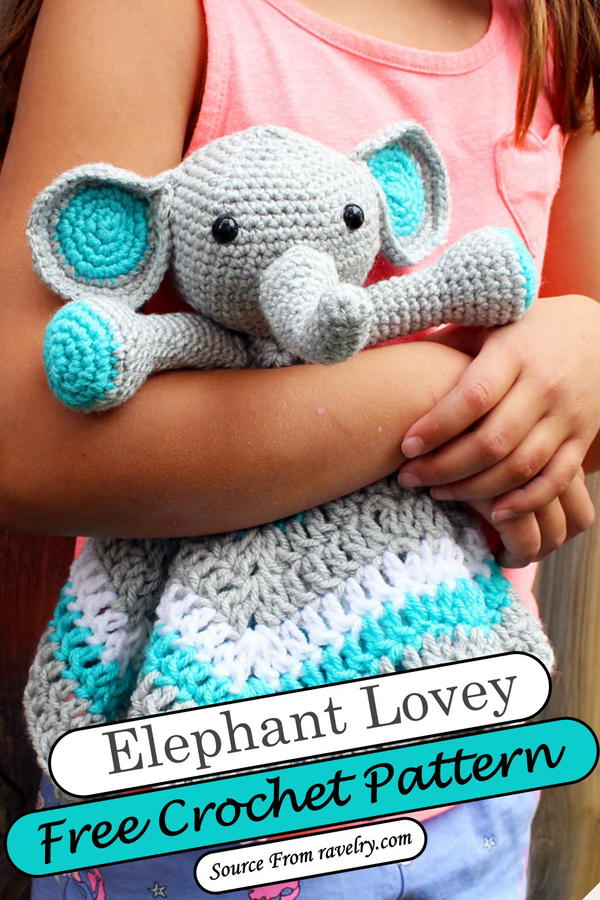 Elephants are one of the most beloved and respected animals in the world! Little ones will love cuddling up with this adorable Elephant Lovey. It is the perfect combination of sensory toy and snugly blanket for nap time and bedtime, but also fun to play with during playtime! This lovable Elephant, Lovey, will certainly have a place of honor. The Elephant is small enough to be toted around but big enough for large toddler hands to grab. The fringe blanket is extra cuddly and fun for babies and toddlers. The perfect quick crochet project makes a wonderful handmade gift for little ones.
Elephant Plush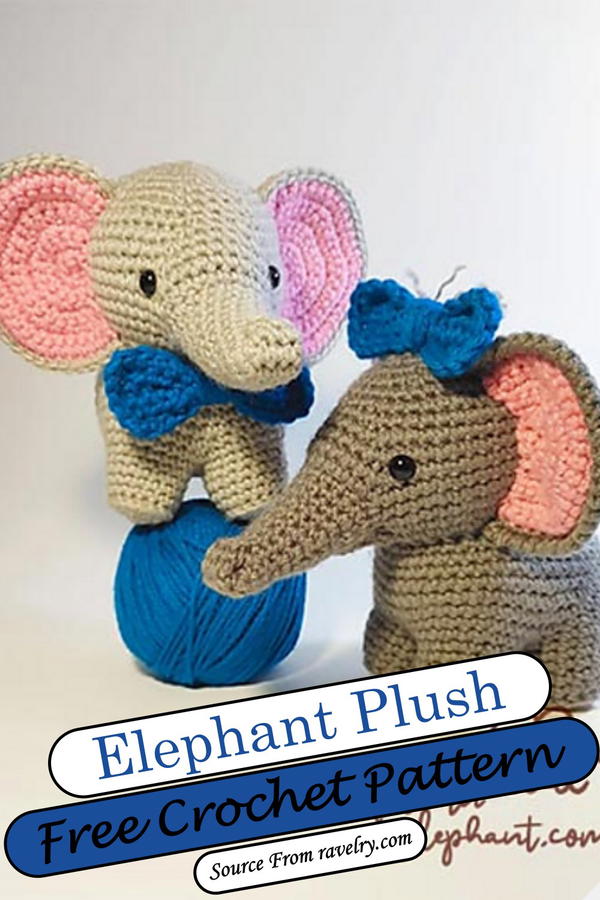 This elephant crochet plush pattern is perfect for animal lovers and stuffed animal collectors. Crochet the perfect gift for a little one or make a pair to cuddle up with on cold nights. Their little ears are just begging to be touched. This is the perfect pattern if you want to make something new and fun! It's fairly simple, with a repeating sequence. You can make these friends in so many color combinations; they're sure to look cute wherever you put them!
Elwis Elephant Amigurumi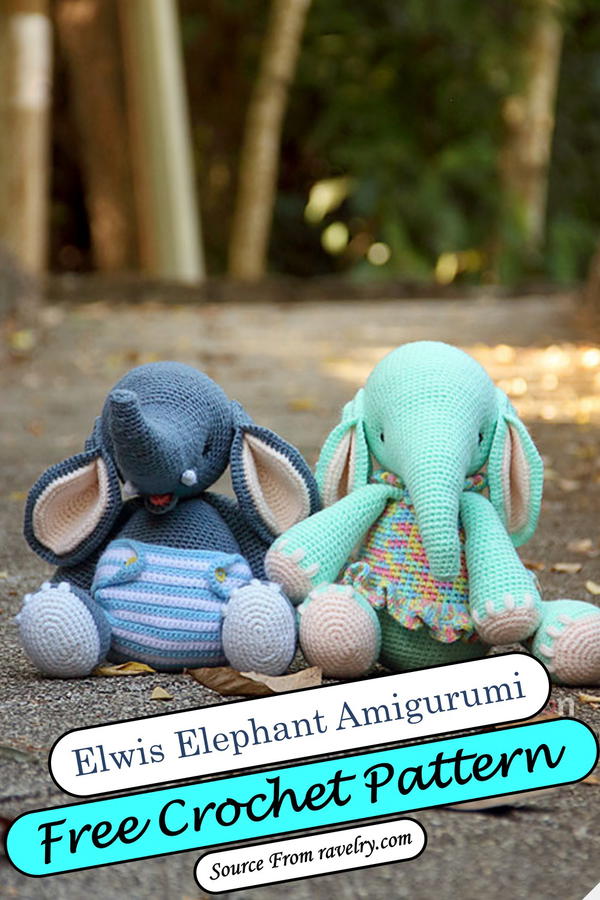 Try this super cute & huggable-size Elephant Amigurumi, Elwis & Elyra! This pattern will teach you how to crochet the elephants. You can use them as decor in your living room or as a toy for your little ones. This is a super cute crochet pattern that is easy to follow, even for crochet beginners. The finished elephant amigurumi will be huggable and cuddly. You can use any yarn weight to make the elephant amigurumi bigger or smaller; just change your hook size to match your yarn weight and use it to create yarn tension.
Esther The Elephant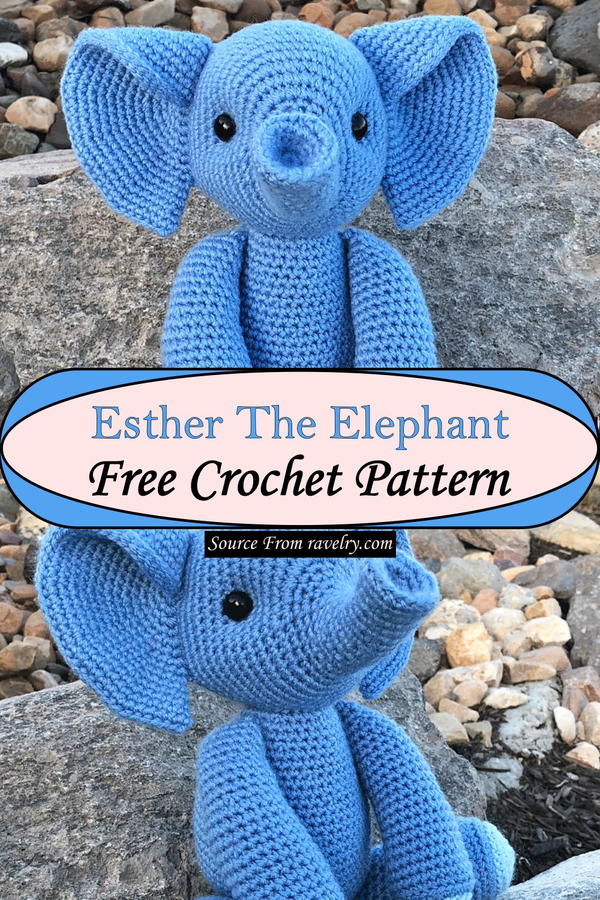 This adorable crochet elephant soft toy makes a beloved addition to any kid's toy box. Esther is sure to be treasured, soft and cuddly, with a chunky body ideal for young children. Elephants never forget, and Esther certainly won't forget the hours of love you put into her with this Elephant Crochet Kit. With some gorgeous printed packaging and a cute little elephant to make, this kit makes a great gift for any beginner. It's a unique take on an amigurumi project and will be fun and challenging at the same time!
Crochet Elephant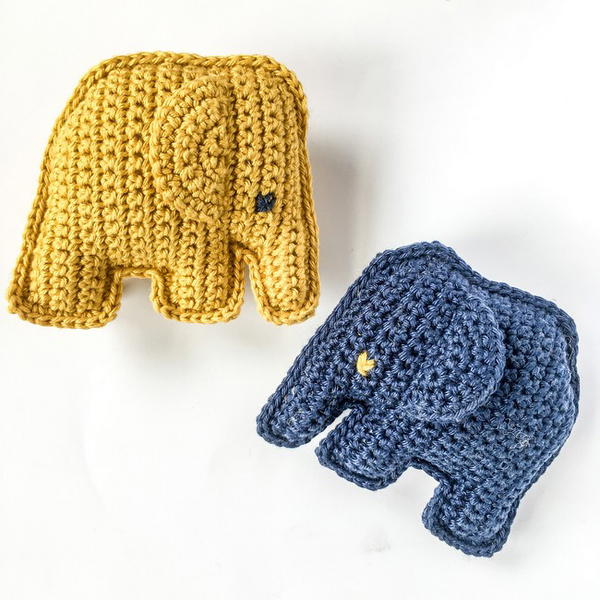 Making an elephant is easy. It took me about an hour to make one. You will be surprised how fast it works and how nice your result will be! This crochet elephant took us a lot of hard work to complete. It is a collectible toy and perfect for bedroom decoration. It is well made with much attention to detail, high-quality material, and no sharp edge. The Crochet elephant is the perfect gift for a newborn, baby shower, birthdays, Christmas, and other occasions.
Cuddle Me Elephant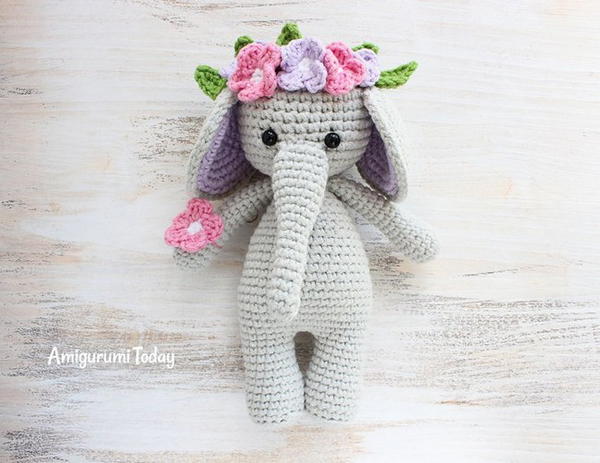 Bring home this very cute crochet elephant to help make your little one's nursery or bedroom a cheerful, adorable place. Quickly crochet an adorable elephant plushie with this Cuddle Me Elephant Kit. The kit includes everything you need to create this huggable friend. The Crochet Cuddle Me Elephant is a soft, cuddly elephant for your little one. Perfect for snuggling and playtime, this Elephant is the perfect gift for any child. He's their elephant friend that never forgets. This adorable plush toy from Cuddle Me features a super soft pink body and white accents on its trunk and feet. Perfect for snuggling, this cute elephant l makes playtime lots of fun for the little one in your life!
Elephant Applique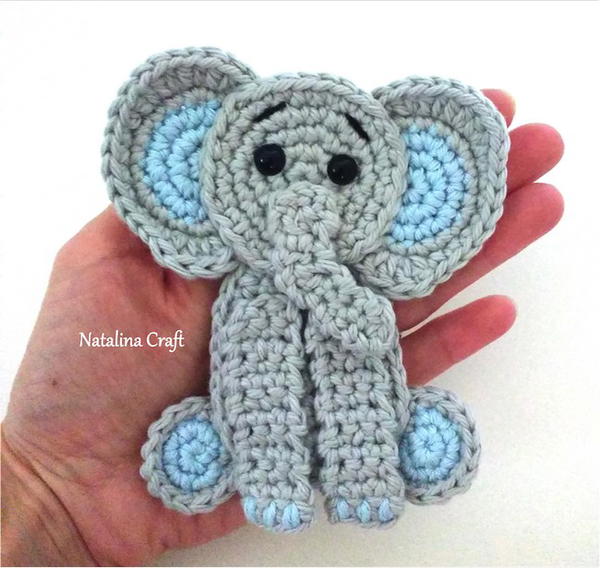 Appliques can be used in various ways such as creating a unique brooch, kids' clothing, embellishing headbands, and more! This listing is for One applique. These hand-crocheted cute elephant appliques are perfect for embellishing your projects! Use them to decorate headbands, kids' clothing, you name it! These little elephants can be used on virtually anything – blankets, headbands, scarves, hats, beanies, and even shoes.
Elephant Baby Blanket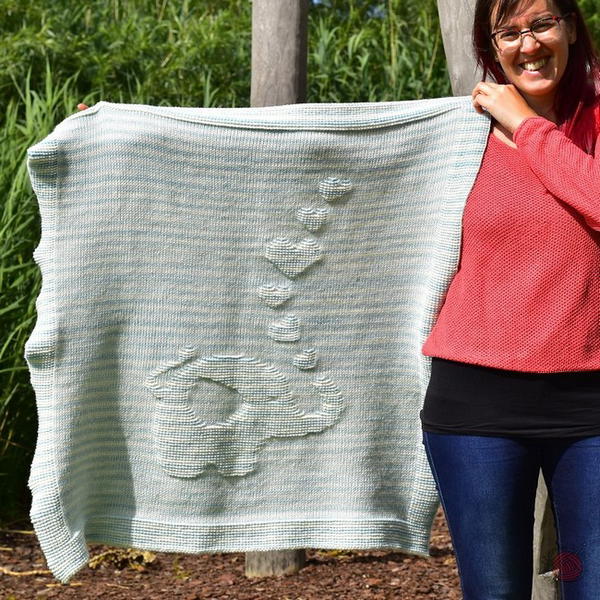 If you want to make something special for your little one with a personal touch and make a gift that will be cherished forever, then this is it! The Tunisian Crochet Elephant Baby Blanket is known to be a precious blanket pattern that is just right for a newborn, boy, or girl! So, just perfect when the parents decided not to know the sex of the baby. Even if you are not an experienced Tunisian crocheter you will not have any problems following this pattern. The entire blanket is worked up alternating two basic Tunisian crochet stitches, the Tunisian Knit Stitch and the Tunisian Reverse Stitch.
Elephant Amigurumi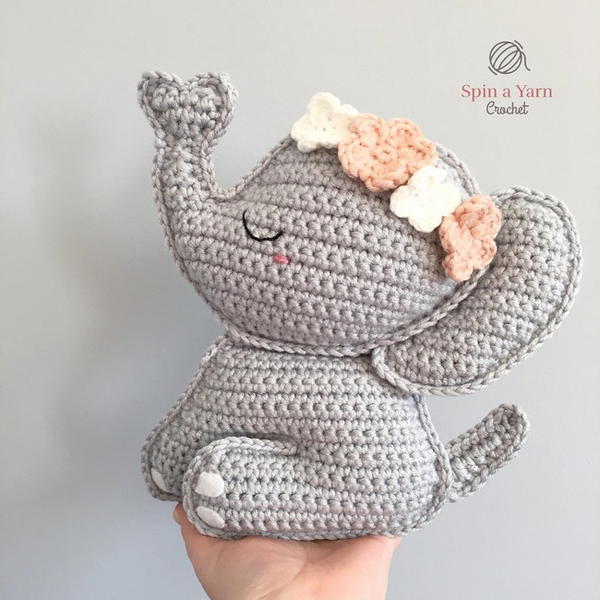 Make your baby's nursery something to remember! This sweet elephant amigurumi would make a darling nursery decor item as a wall hanging, chair cushion, or even just a snuggly stuffie to cuddle. This adorable Elephant is a great way to learn the basics of crochet. Make it for a nursery decoration or use it as a stuffie for a child's playroom. Or make it just for yourself as a super soft stress-ball! This amigurumi elephant is crocheted in the round, so there are no seams to sew together. The accessories can be sewn or glued to the Elephant.
C2C Elephant Baby Blanket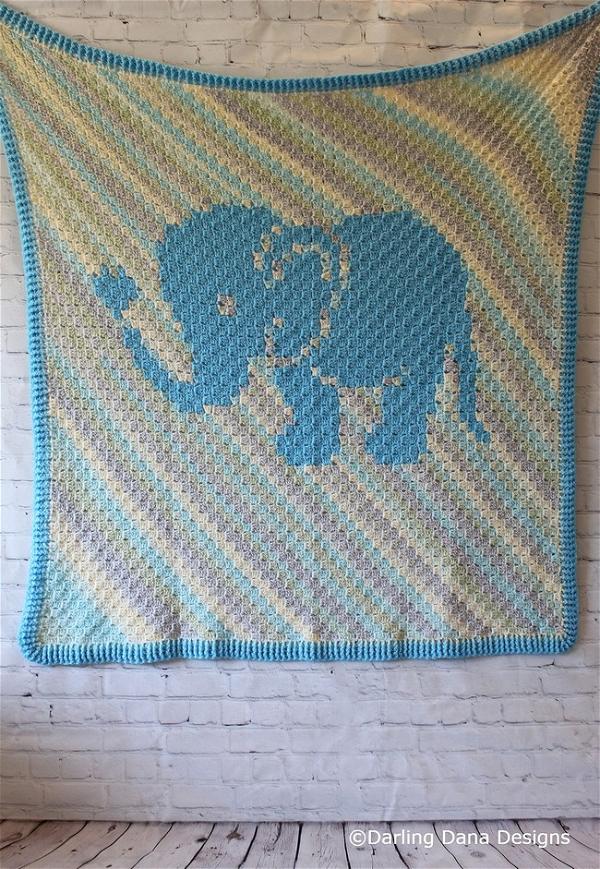 Adorable elephant baby blanket with tassel trim. Perfect gift for the newborn or baby shower. This listing is a customized unique baby blanket. The Elephant is crocheted with the C2C method, a form of the corner to corner crochet where you work your way across the entire blanket using increases and decreases to create the design. You are welcome to choose your own colors. This crochet afghan pattern is easy enough for beginners and offers great results, especially when worked up in a color combination of your choice!
Crochet Elephant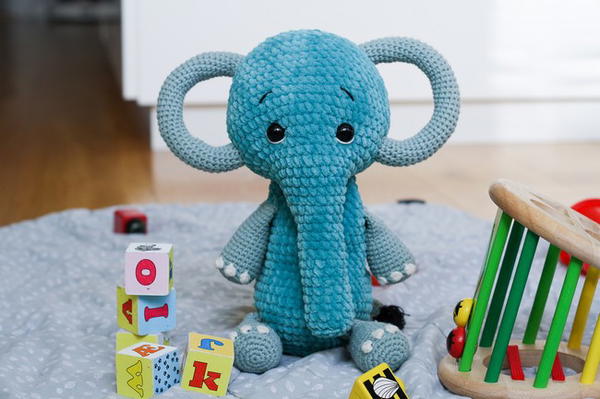 This handmade crochet elephant will be a lifelong companion to any child (or adult!). Its long nose and big ears are perfect for hugging and riding. Make it into a toy or a nursery decoration – you decide. Give the gift of crochet love to a special someone today! Captivate your little one's imagination with these beautifully hand-crocheted elephants. With their lifelike appearance, these adorable pachyderms make a unique addition to pretend play and room decor alike. Handmade using sustainable materials and artisanal techniques, they'll bring joy to children and responsible parents alike.
Henry Elephant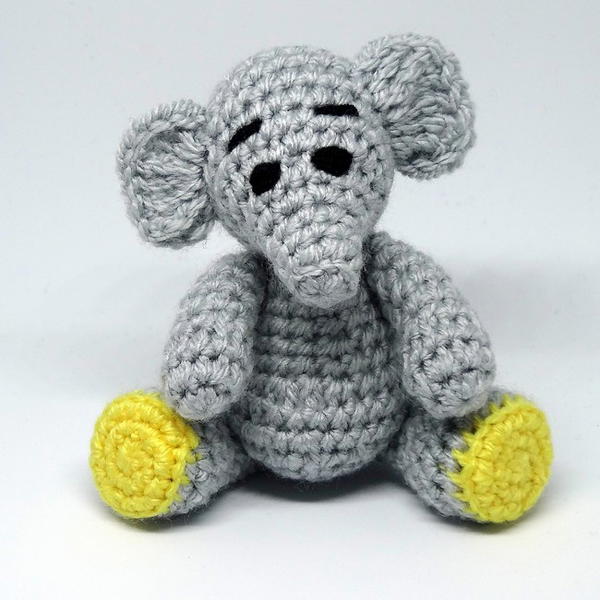 Crochet Henry is super cute and attracts attention wherever he goes. He's still small enough to put in the car without taking up too much space, so you can bring him with you on all your adventures. He's a great friend - always there when you need him. He brings a smile to your face, even on the worst day. A plush elephant, the Henry Elephant is a perfect gift for any newborn. The soft elephant body can be personalized with the baby's name and birth date. Babies will love to snuggle with this sweet and fluffy animal friend while they lie in their crib or play on the ground.
Mini Pals Emily The Elephant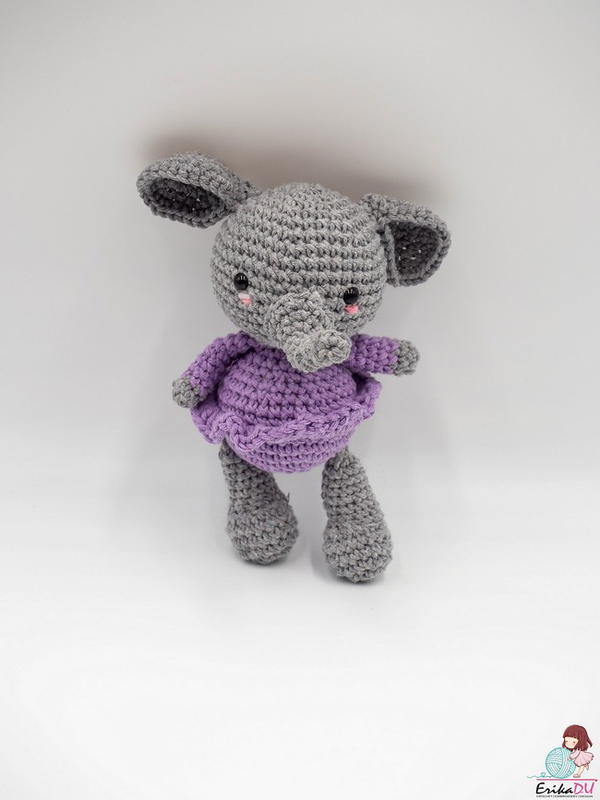 Emily the Elephant is a soft toy elephant with a touch of playfulness and innocence. Crochet Mini Pals Emily the Elephant is the perfect size for playtime with its easy-to-handle size and soft textures. She's a special friend that encourages play, bonding, and cuddles. With everything you need to make your very own elephant buddy, this kit is great for crafters of all abilities. She's got big ears, great details, and all the things that make her extremely huggable, including safety eyes and ultra-soft polyester.
Sunny the Elephant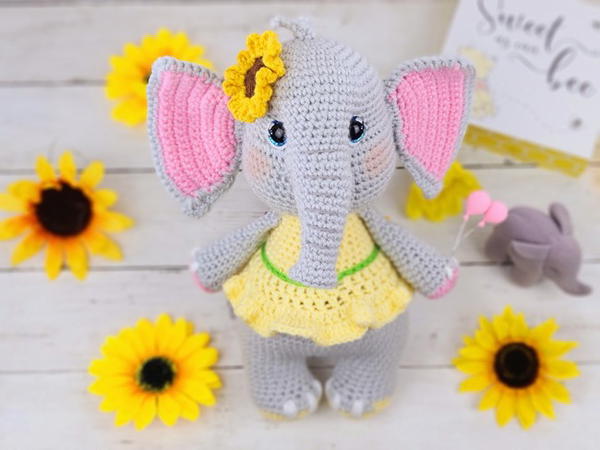 Children of all ages love elephants, and this Elephant is fun to make. The kit includes a paper pattern and all crochet materials needed to complete the project (cotton yarn, stuffing, crochet hooks). Cuddle up with this huggable crochet elephant. He's always ready for a snuggle and his long trunk will wrap your little one in comfort. With his whimsical eyes and tiny tusks, Sunny will look delightful in any nursery or child's room. His round belly and floppy ears bring the charm to life. Bring this cuddly crochet elephant home and your child will never be alone. Its velvety soft exterior is machine washable, so feel free to let it go on a field trip or two.
Blue Elephant With Balloon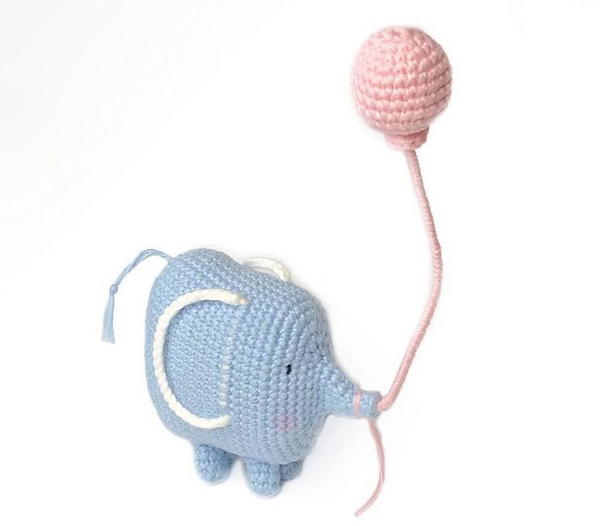 A cute and huggable little friend, this blue Elephant with a hot-air balloon is sure to be a hit at baby showers, children's birthday parties, or as a holiday gift for kids. If you look for the best present for your amazing friend or adorable sweetheart this tiny blue Elephant with a balloon is what you need! This super simple crochet pattern for this amigurumi elephant will be a great gift for office colleagues, Christmas, birthday and others. . Crochet this tiny Elephant for yourself or make it a unique gift for someone else.
Mini Mal Elephant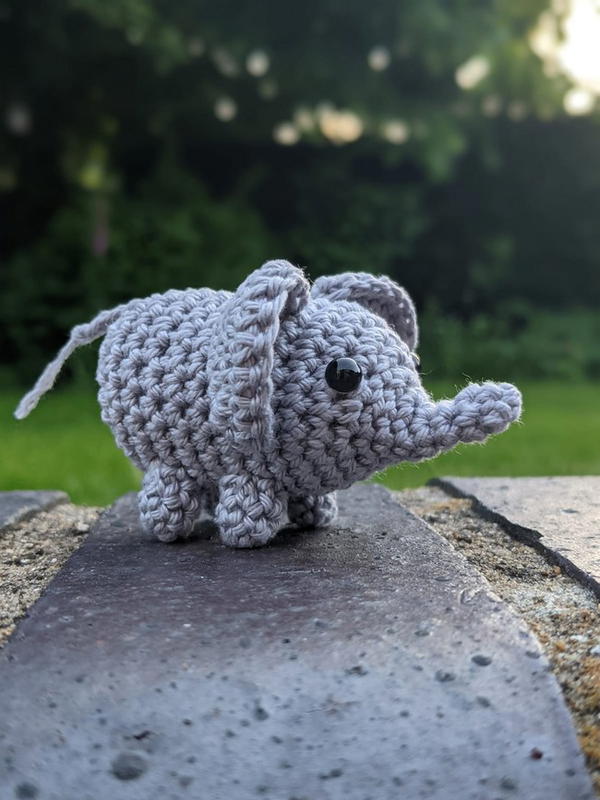 This is an adorably simple elephant which can be worked up in an hour or so. The pattern uses minimal stitches, so it is perfect for those wanting to try their hand at amigurumi for the first time, or for those looking for a quick project. This mini elephant amigurumi is extremely cute, but also very easy to sew together. It would make a great nursery decoration or little stocking filler.
Enid The Elephant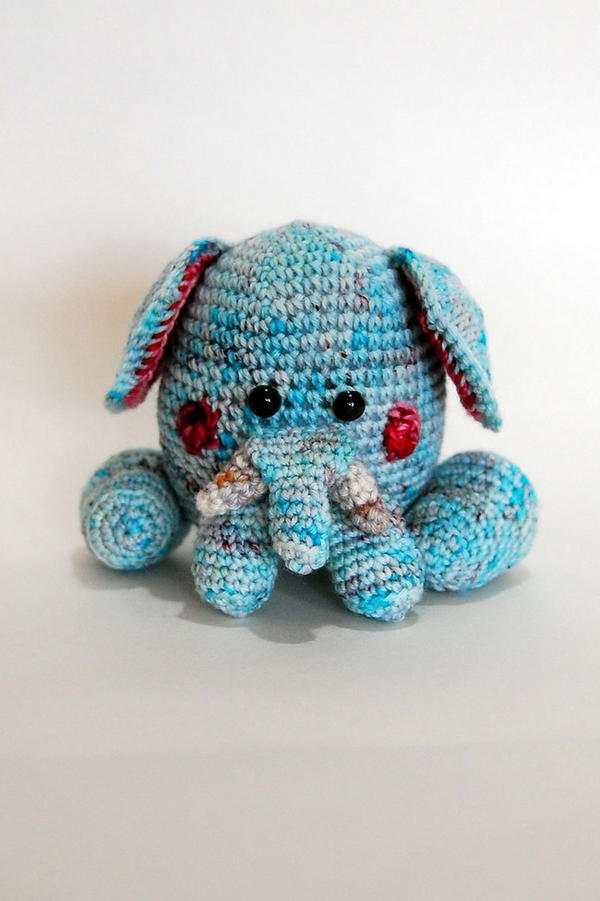 Enid the Elephant is a gorgeous grey and cream crochet elephant with a cute happy face. She will make a wonderful companion for your little one, as she is both soft, huggable, and totally adorable. A great gift for all ages, she will be treasured by everyone who meets her. This is the perfect handmade gift for anyone who loves elephants! With its round body and cute feet, your little one will have a lot of fun with this little friend. Crochet animals are the best for small imaginations: They can become anything. You could even start your own zoo! Each crochet animal is made with 100% organic cotton, making it the safest and softest option for both you and your children. This unique toy will make a great gift for babies and toddlers.
Ellie The Elephant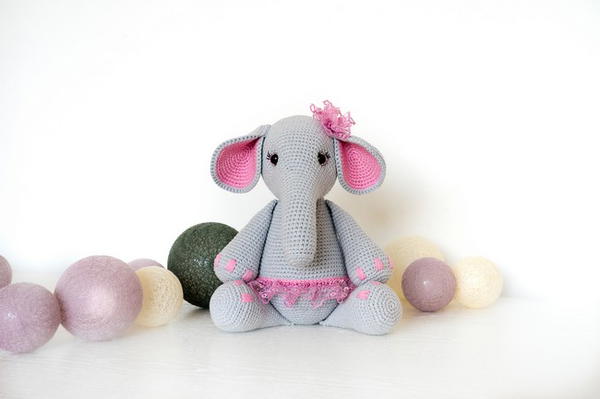 How cute is Ellie the Elephant? She is a happy little elephant who is ready to hug and play with you. Her big floppy ears and long trunk just wait for your kisses! This crochet elephant pattern makes a lovely crochet toy that kids of all ages will love. Ellie the Elephant loves your hugs and loves to play together. But she is also the perfect companion for a long journey because she is soft and light but large enough so that you can stay warm and comfortable during the cold season or have a nice pillow during a trip by train or plane.
Elzo The Elephant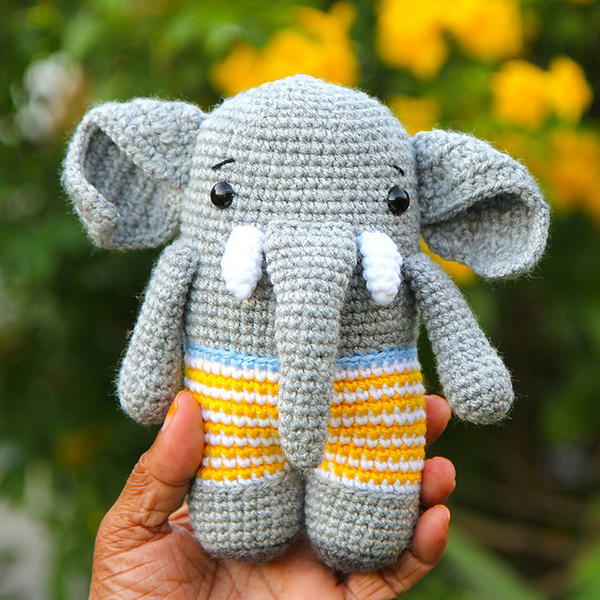 Elephants are one of everyone's favorite animals and we're very excited to share Elzo with you! He's crocheted in the round, so there are no complex shapes or seams to worry about. His floppy ears and swim shorts give him tons of character and personality. You can stuff him with polyester stuffing or a sock full of rice if you want him to be able to sit up on his own. Elzo the Elephant is fun to crochet and fun to play with. He's basically a big stuffed animal with a great big smile, and he'd love to become your child's toy or even a new home decor addition. With this pattern and a little creative inspiration, you can make your very own Elzo the Elephant!
Ellie And Eugene Elephants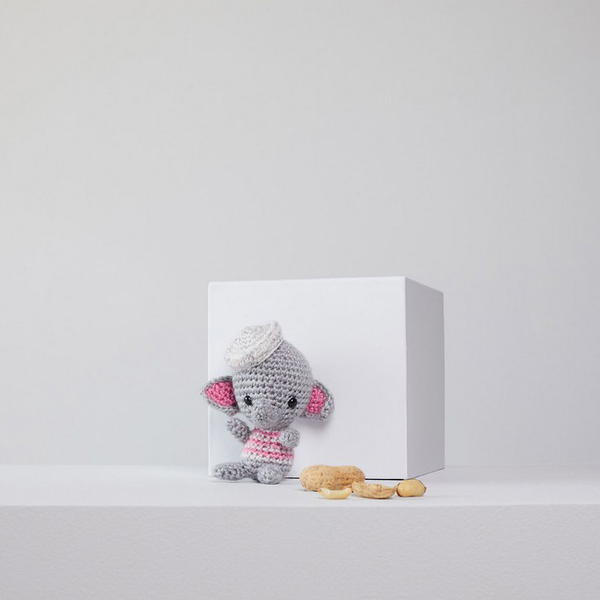 An adorable soft toy for your child to love, play and snuggle with, this Crochet Ellie And Eugene Elephants pair together to make the perfect baby shower gift. The perfect toy for any little boy or girl, this soft crochet elephant is made from the softest cotton yarn. Their tiny trunks poke out, ready for a cuddle! Crocheted from the softest cotton yarn, both elephants are non-allergenic and safe for children of any age. They're all dressed up in sweet love heart collars and are just waiting to meet the latest addition to any family.
Flip Flop Elephant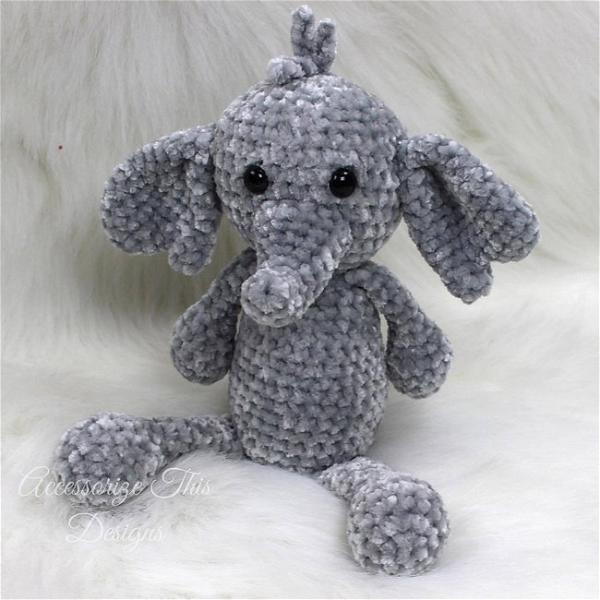 Great for anyone who likes to crochet and fans of cute little elephants. Create a quick, fun, friend to be loved for years to come. This adorable crochet flip flop elephant is the perfect gift for the little one in your life or a great addition to your craft table. This flip-flop elephant crochet pattern was designed to be the perfect gift for yourself or for the little one in your life. This easy-to-follow pattern will help you create a cute, quick, fun friend to be loved for years to come. This is a great addition to your craft table, the sock basket that needs a new home, and even the toy box!
Funny Elephant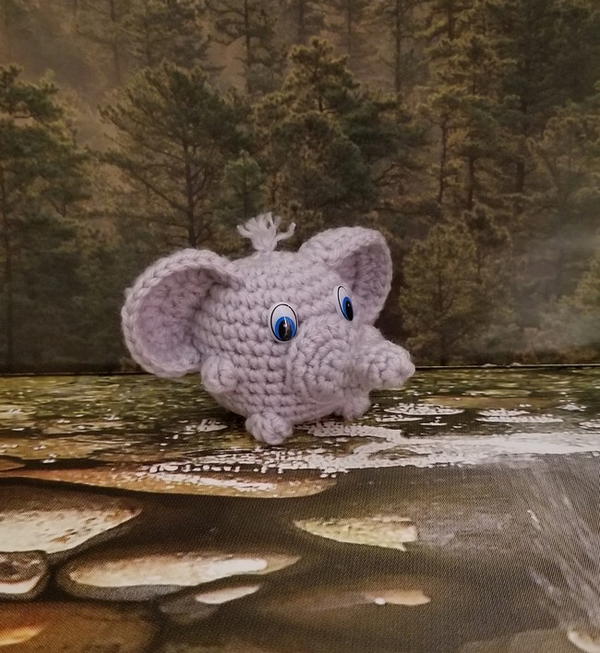 This adorable crochet Funny Elephant is very easy to make and has a lot of character. It will be great for playing or as an interior decoration. This sweet little Elephant is a perfect gift for any crochet lover, baby shower, or expecting mom. Perfect for that coming home from the hospital outfit or just to have as a photo prop. This will add the perfect touch to any baby's wardrobe and is great for pretend play for toddlers! This pattern is easy enough for beginners too!
Elephant Lovey Puppet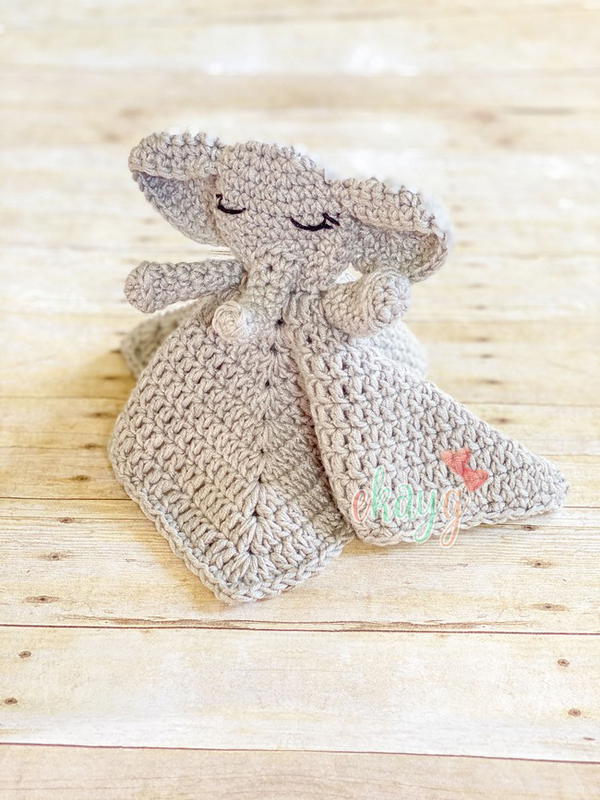 A lovey like you've never seen before! This unique design is a fun combination of lovey and puppet, perfect for little babies as they grow. Tiny fingers will learn to grasp new textures as they play with this toy, and toddler hands can explore as they develop their imaginative minds. A toy that can provide both comfort and creativity for years to come! This plush Elephant Lovey design is perfect for tiny hands to explore and can quickly become your baby's favorite companion. Guaranteed to bring comfort and nourish creativity, the Elephant Lovey Puppet is perfect for any child in your life!
Baby Elephants Tom & Mia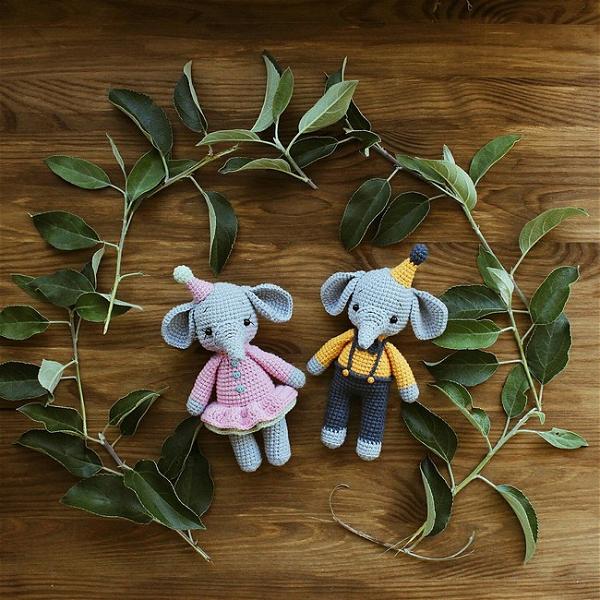 Elephants, along with their trunks, are always in fashion. They are gentle and cute, and also a fun project to crochet! When I was working on these toys, my kids were keeping an eye on them. They grew up as if by magic, but still at the same time didn't get anywhere close to elephant size. This pattern includes instructions on how to crochet two elephants: Tom and Mia. With their trunks raised high for good luck, these loveable little cuties will help you celebrate any baby shower.