Making crochet minion patterns is one of the latest trends among many crochet enthusiasts. These beautiful toys attract children and adults with their unique design, making them a great gift for children and those in your family who would like to watch the movies again! If you're looking for crochet minion patterns or other Despicable Me crochet patterns, you'll find plenty here. You'll find instructions for crocheting a cute minions hat pattern or completing a full costume with everything from boots to hats. There are also instructions for making smaller versions of these characters that can be used as toys, key chains, or decorations. If you prefer crocheting something more simple, there are Despicable Me amigurumi patterns that are easy enough for beginners.

Handmade gifts are super simple to make, and with 20 Crochet Minion Patterns to try, you can create something amazing for everyone in your family. So, get your hooks ready!.  They are fun to make and great gift items for anybody. You will love these adorable crochet Minions. Based on the Despicable Me movie characters, you will love making these quick and easy patterns. They also make great gifts and are quick and easy to complete! Based on the Despicable Me movie characters everyone loves, you will enjoy making these fast and fun Minions. You will find here crochet minion hats and booties, minion amigurumi, minion scarf, and so on. There are many patterns for these cute yellow guys. It's a fast and fun project.
Tips to make minion crochet patterns
Use these tips to make your minion crochet patterns more accurate and realistic-Use these tips to make minion crochet patterns
-Remember to be careful when changing colors
-Get advice on what makes a good pattern
-Download these ideas for the colors, eyes, and hair
-Find tips on how to make your minions unique
-Crochet basic minion characters
-Make custom minions
-Make sure holes are crocheted in the right direction
-Create a buttonhole on eyelids
Uses of minion crochet patterns
-Minion crochet patterns can be used in so many different ways.
-Use minion patterns to decorate your home, or give as a gift.
-Minion crochet patterns can be used as pincushions and desk accessories.
-It can be used as a holiday gift or party favor to celebrate the opening of your offices.
-The minion can be a great gift for your friend, neighbor, or co-worker too.
-Minion crochet patterns can be used for anything from pillows to costumes.
-You can even use the patterns for Christmas tree ornaments.
-You can make keychains, pillows, and more
-Give it as a gift to your friends and family
Sitting Minion Amigurumi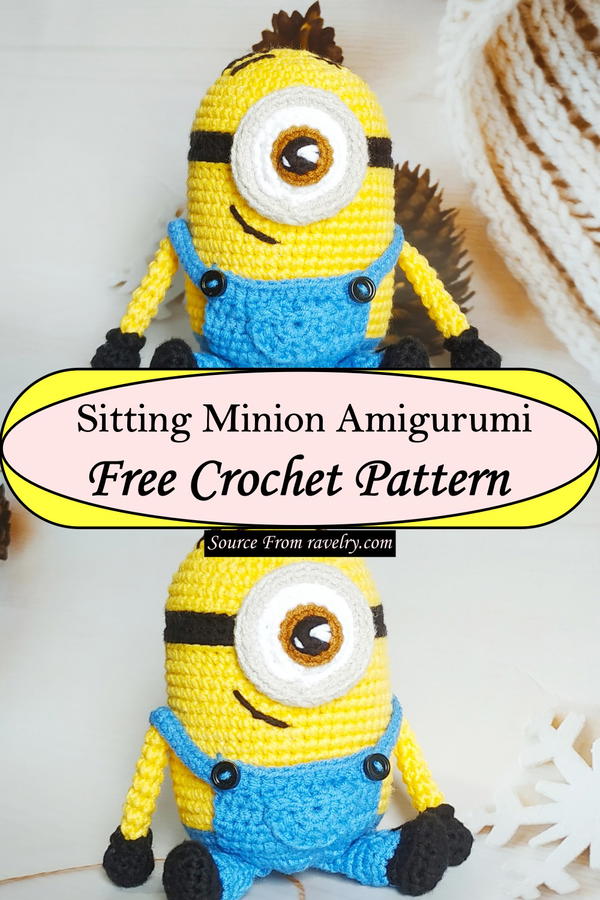 Ready for adventure, this amigurumi minion is eager to play. The pattern begins by crocheting the head and body with overalls. Next, the arms, legs, and eyes are sewn on and then stuffed with fiberfill. A pattern for a one-eyed minion. Adorable when made into a keychain, hanging ornament, or just as a playmate for your little ones! Add your favorite toy features like string or eyelashes to customize the doll. This pattern will help you to crochet a soft, little fellow minion. He is a simple, quick project that is sure to delight everyone, especially kids.
Minion Inspired Baby Booties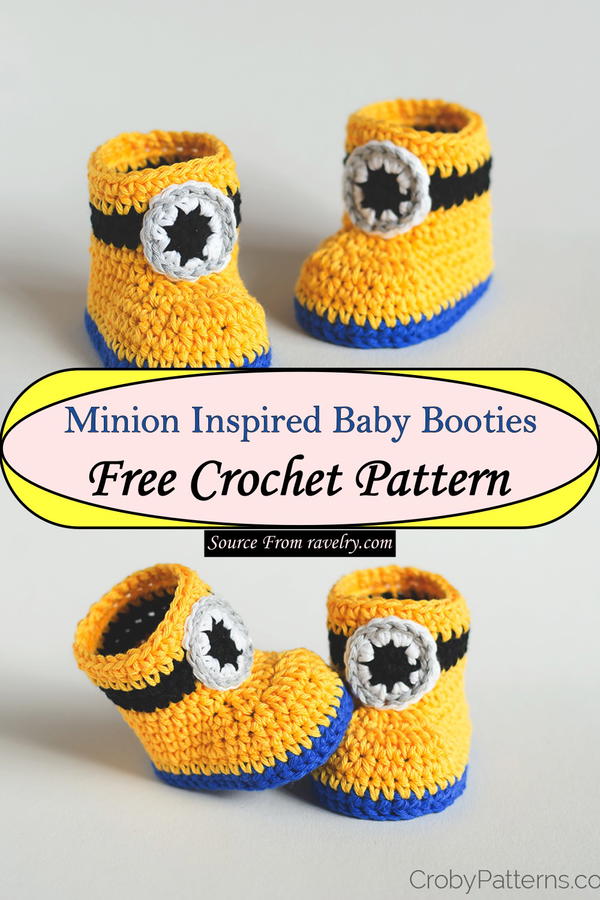 Super fun and super cute the baby minion-inspired booties. These crocheted baby booties/shoes are perfect for your little one. So adorable to wear with those little onesie outfits. Newborns to toddler sizes will be perfect for these booties. They are also a great gift for an expecting mom. These crochet baby booties are the perfect gift for a special family or to keep your own little one warm. These adorable shoes mimic the outfits of Despicable Me's minions and feature both freehand embroidery and machine embroidery. They are made with acrylic yarns and cotton thread, so they are machine washable.
Funny Minion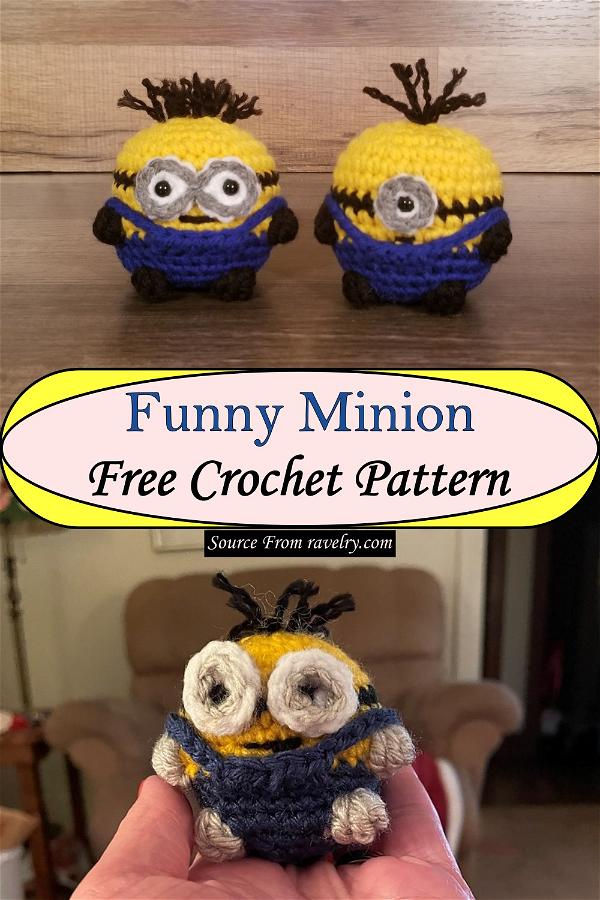 Amigurumi is a Japanese art where you make stuffed animals or dolls with crochet thread and a hook. This cute yellow minion from the new Despicable Me movie will bring smiles to everyone who sees him (and to you as you create him). This design uses soft acrylic yarns and small crochet hooks, with simple stitches (slip stitch and single crochet) to create cute little stuffies – perfect decorations for the home, gifts, and toys for babies, children, family members, and friends! This plush is the best for kids and adults alike! It makes a great gift for Christmas, Birthdays, Valentine's Day, Easter, and more. This little Buddy works up fairly quickly using small amounts of yarn & minimal sewing.
Minion Bottle Sling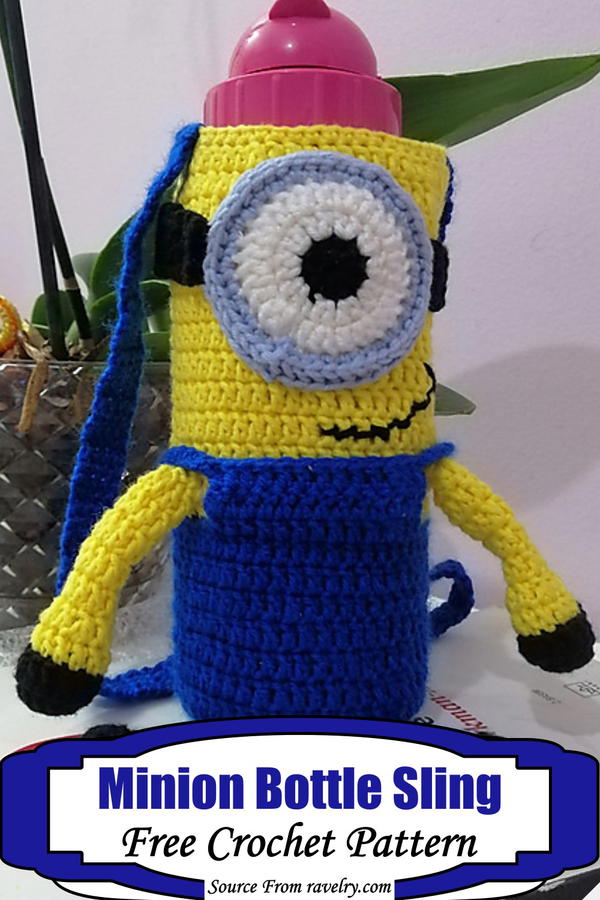 Minion lovers! If you're looking for a cool gift, this cute minion bottle sling is an excellent choice. Original and fun, comfortable, and easy to use.Its acts like a nifty cushion for your bottles! It doubles as a decoration or a gift to your loved ones. Uses comfortable cotton yarn to create a lovely character that everyone loves. This small unique sling is perfect for the smaller bottle or beverage container. It works up quickly for a gift that's sure to please! Kids love this handmade crochet minion bottle sling, which can hold a water bottle or thermos. Made of cotton, it is comfortable and easy to use.
Minion School Supplies
Have your kid or a kid you know in love with minions? Make their life super cool with these cute and easy-to-crochet minion school supplies. The kid is sure to be the envy of the class and all their friends! This kit includes a bag keychain, a bag holder for hand sanitizer, a bookmark pencil case, and a water bottle wrap to help keep condensation off your hands. Each product makes the perfect gift and is sure to spark up great conversations. Add this little minion and some fun to your school day. All the kids are going to be jealous of your back to School Supplies with this crochet kit.
Minion amigurumi
Amigurumi? Yes, it is not enough with the Minion so funny that appears on the screen, now you can have one at home. With this pattern, you can make your crochet minion. This Amigurumi Minion Crochet Pattern makes a sweet and simple little minion toy perfect for a child or anyone who is young at heart! You only need a small amount of yarn to make this yellow minion, and he's definitely a quick project! After you master the single crochet stitch and figure out how to work in the round, making this amigurumi will be a breeze!
Minion Inspired Finger Puppets
Add a unique handmade touch to your child's favorite finger puppet collection with these handcrafted crochet Minion Inspired Finger Puppets. Each lovable puppet is made from soft cotton yarn and features a flexible band that fits snug on the fingers of both kids and adults, so the entire family can enjoy hours of imaginative play together. Make all your friends jealous with these cute, little minions. They make a great unique gift for anyone who is a fan of Despicable Me. Or gift them to your friend for their baby's nursery!
Minion Inspired Blanket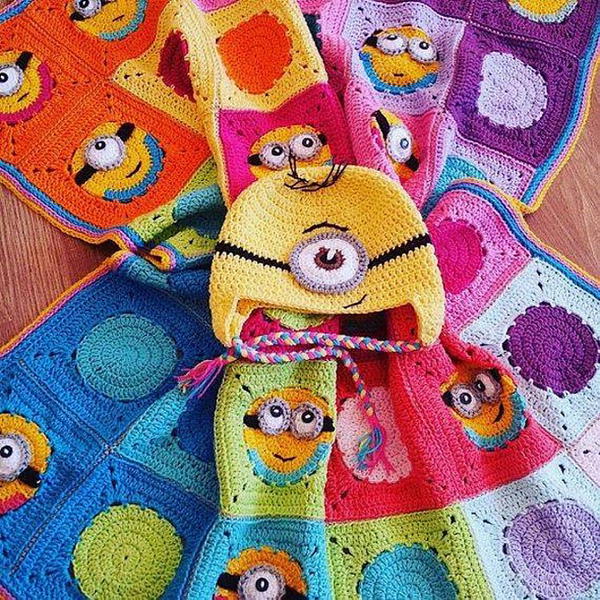 This gorgeous little blanket is just so cute. It will be very nice and interesting for your baby. It is an interesting blanket that your baby can even play with. This stunning little blanket is just so cute. Your baby will snuggle up to laugh and cuddle with these little minions. This blanket is made of various colors of granny squares and some of the granny squares are shaped like minions. It's a nice blanket that your baby can even play with! Perfect as a baby shower gift, birthday present, or just because. If you are looking for the perfect gift for a newborn then this is definitely it.
Minion Mini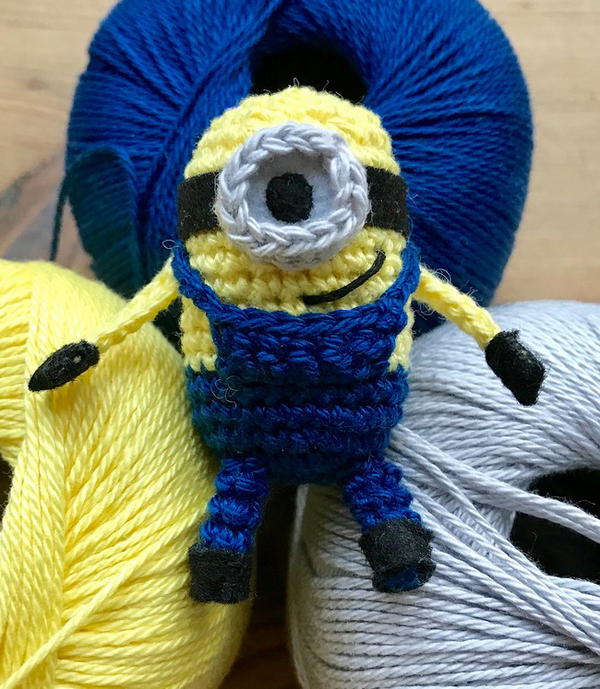 Huggable, adorable and all kinds of fun, this crochet mini version of your favorite Minion is handmade using bright blue and yellow acrylic yarn. This stuffed Minion toy stands 4" tall and has black safety eyes and embroidered facial features. This adorable crochet minion mini is ready for fun! Perfect to brighten up any day, this little guy can be displayed on his own, or he would make a great addition to your key rings! These kits include everything you need to crochet your very own huggable friend, perfect for both children and grown-ups, whether you're a beginner or an experienced crocheter.
Minion revisited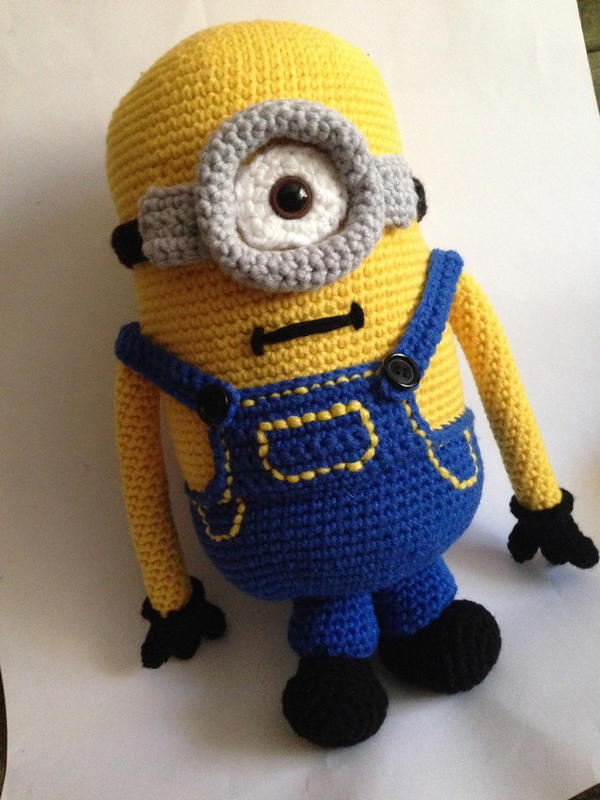 With this crochet Minion pattern, you can create your own Stuart as a big doll or a little one as a keychain. The pattern comes with detailed explanations and many photos and is therefore particularly suitable for beginners. It makes a great keychain or backpack charm! Perfect for giving as a gift, this easy-to-make design also works up quickly as a last-minute addition to your collection of handmade gifts. The toy is crocheted from cotton threads, the eyes are embroidered with cotton thread and a needle. The clothes are removable.
Minion Bob And Bear Tim From Minions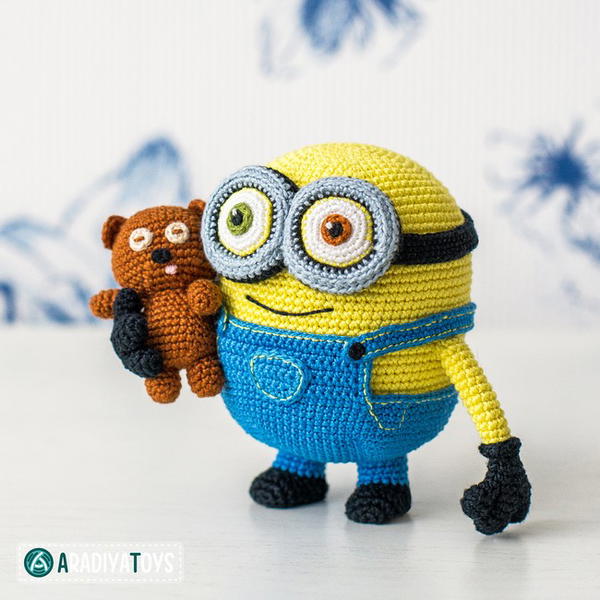 Add 2 friendly fellows to your home with these 2 cute MINION crochet items. Bear Tim and Bob Minion are a great addition to any collection. This toy set is made of high quality materials, uses a humanized design to carefully nurture every detail of the process, exquisite gift for your children. This is a crochet item, soft and comfortable, with thickening soft thread needle. Very cute toy, your little ones can play with it or as a decoration in their house. You can also give it to your friends as a lovely gift.
Minion Snack Bag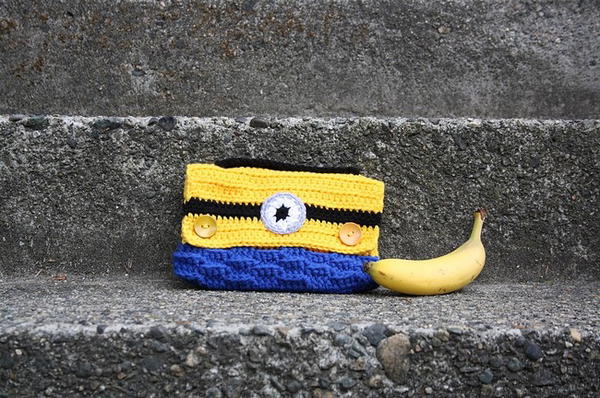 Are you a huge Minion fan? Or do you know someone who is? Or If your children are fans of minions, then this fun snack bag is the perfect accessory for their lunch box. It can fit a banana with ease and can also hold other snacks! Our hand crocheted bags are made from 100% cotton yarn and are machine washable so they will last for years to come. This crochet Minion snack bag is just what you need! The perfect size for a sandwich and a banana, or to hold your produce while grocery shopping. With a big enough opening to hold snacks all day long, but small enough to fit inside some of the smaller lunch boxes. Also great for carrying around fruit & veggies while shopping!
The Minion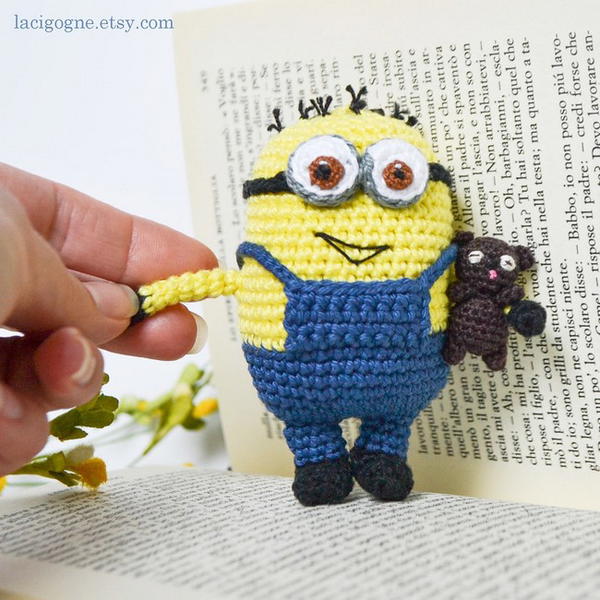 Any crochet beginner can make this minion with ease. This is such a quick project - and so cute! It's a great beginner improvement project. He is very easy and fun to make, you can crochet before watching the movie or after watching it. This is a crochet pattern to make your own minion, a yellow henchman shaped like a capsule with two eyes. Great fun for the kids or anyone young at heart. This pattern would be great to give as a gift for any child and would make a fantastic birthday present, housewarming gift, or Christmas present. Just enjoy every minute when you are crocheting this Minion. And you will have lots of fun with your little Minion.
Summer Minion Hat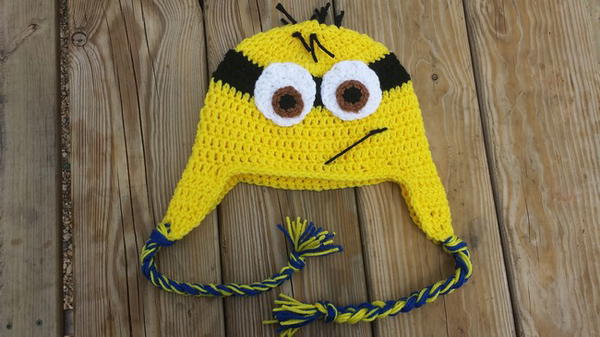 Made with yellow, blue, and white cotton yarn. The goggles have black beads for the eyes. This hat fits a child or adult because it is very stretchy. The hat is made with acrylic yarn and is very soft, comfortable, and lightweight for Summer. Any child can look like a cute Minion with this fun hat. This hat is made of cotton yarn to keep the head cool during hot summer days. The hat is available in multiple sizes from newborn to adult male. This is a minion hat, the perfect way to beat the summer heat and still keep your cool while hanging out with friends or at a theme park.
Despicable Me Minion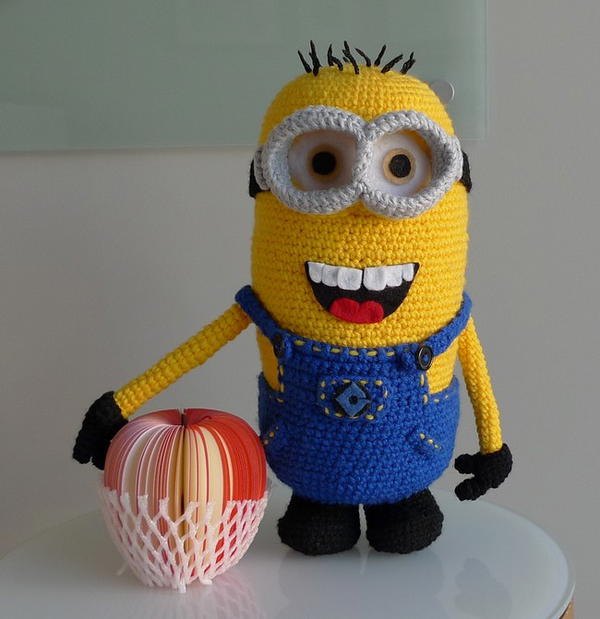 Looking for the perfect crocheted minion? Look no further! This cute little minion is made with clean and soft acrylic yarns. Perfect gift for a Despicable Me Fan!!! Encourage your child's imagination with this crochet Despicable Me Minion. It's so cute, unique, and special, you'll want to make one for yourself! Don't forget to wear the removable goggles and overalls while you roll around in the grass making mischief. These delightful little guys are all handmade and ready for your little minion to play with!
Sitting Minion Amigurumi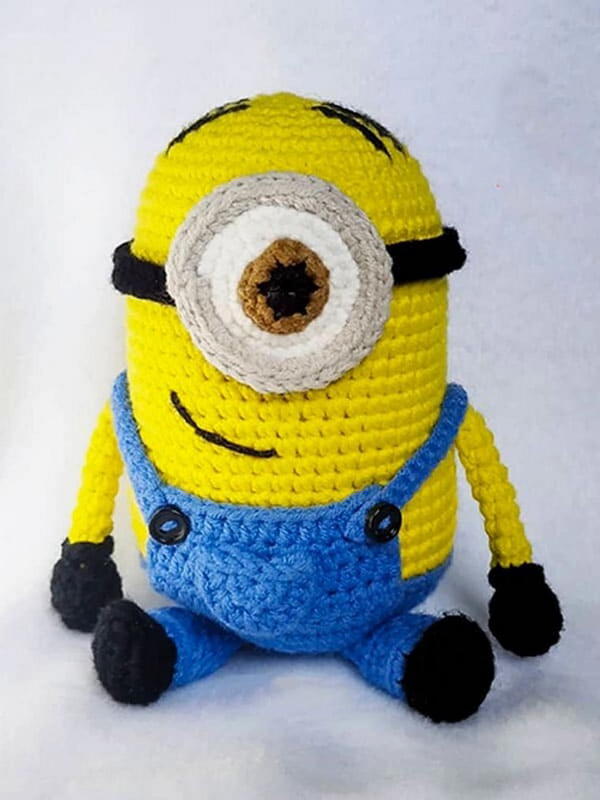 If you love crochet amigurumi patterns, let yourself go with this Sitting Minion Amigurumi. This is a handmade crochet item made by a stay-at-home mom. Very well made with lots of detail. A perfect gift for anyone that loves Minions! This cute Sitting Minion Amigurumi is handmade and ready to ship. Made of 100% acrylic yarn (pantry tangerine, midnight, primary yellow) and stuffed with 100% polyester fiber fill. Stands 4 inches tall when made with worsted weight yarn. Especially if you are making toys for boys, then this Sitting Minion Amigurumi Pattern is waiting to be added to your list. Don't miss it! Be sure to add this beautiful amigurumi pattern to your favorites, good crocheting ...''.
Dave the Minion Crochet Pattern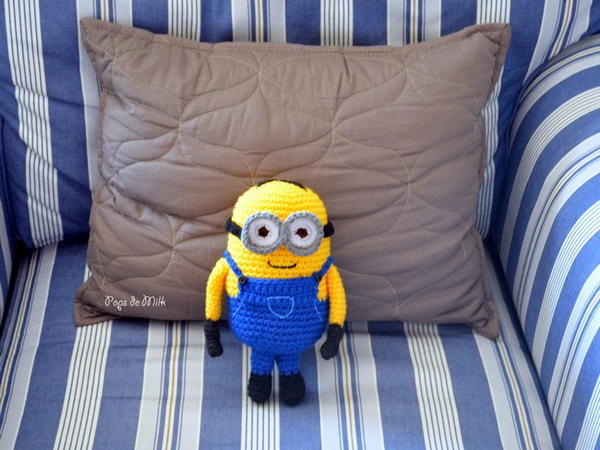 Are you a Minions lover? Then this Dave crochet pattern is ideal for you! This crochet pattern features detailed instructions on how to make a crochet minion. Perfect as a birthday gift. This crochet pattern is perfect for the intermediate crocheter or advanced beginner that is ready to take on a more complex pattern. This single minion crochet pattern will guide you step by step through the process of creating your own minion. Choose your favorite colors, then pull up your sleeves and get creative with this fun crochet project!
How to Crochet Minion Bob
Want to try your hand at a quick and fun, beginner-friendly crochet project? Check out this free pattern for a Minion Bob. If you're just getting started with crochet, crocheting Minion Bob is a great way to practice the art of crocheting in the round. And it takes less than an hour to complete! This video will show you how to crochet a minion. This tutorial is targeted towards intermediate crocheters, since this is created on a much lower scale the stitches are smaller and more delicate than a regular-sized crochet amigurumi.
Amigurumi Minions
Want to know how to crochet a minion? You'll love these crochet minion patterns for amigurumi. This crochet kit contains everything you need to create three adorable minions in your own home, right down to the overalls and goggle straps. Cute, creative, and very easy to crochet with this crochet pattern. All you need is to know how to crochet a few basic stitches and you will transform your living space in just a few hours. These adorable little crochet minions are the perfect toys for children (and adults!) and are great for building confidence in your crocheting skills! This tutorial includes a free pattern and video tutorial to help you follow along.
How To Crochet Minion Hat
It is a wonderful thing to see your child happy. When they have those cute and funny hats on in the winter, they definitely look adorable. Cool crochet projects that are inspired by their favorite cartoons and other fun things will make them smile! Hats with minions motif will be a great idea! If you know how to crochet, then it won't be hard for you to handle this project. These are the hats for the modern-day minion fans. They are cute, funny, and adorable to look at. They like to have some fun with your kids too.