When you think of a traditional Christmas scene, one of the most noticeable features is the presence of Santa Claus. As a result, you might be wondering how you can really complete your Christmas decorating without creating a crochet Santa Claus pattern or two. Surprisingly enough, there are plenty of options for crocheting this adorable holiday icon. So what do you need? There is a little bit of yarn and some time devoted to making any of these adorable crochets Santa Claus patterns. You might also want some yarn in other colors because there's a good chance you will want to make more than just one sweater or hat.
Crochet Santa Claus Patterns: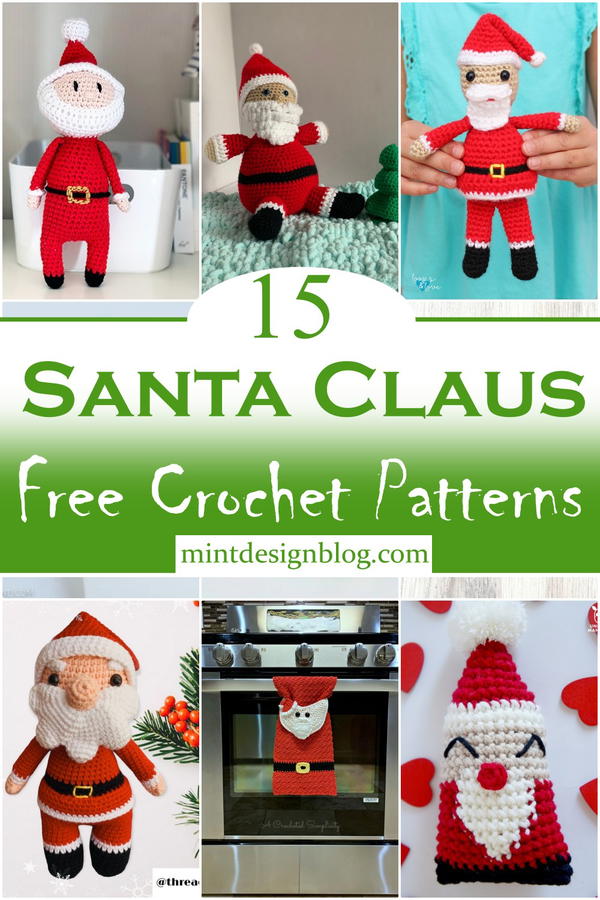 You don't need to be naughty this year to get a lump of coal in your stocking. These Crochet Santa Patterns will show you how to make everything from an adorable amigurumi Santa to a classic Santa Claus. Santa Claus is one of the most beloved fictional characters of all time. He's a kind and jolly man who loves to bring presents to all the good kids in the world. While Santa comes from the North Pole, he's got nothing on some of these crochet Santa patterns. Warm and toasty, these old bearded men can be for your home or someone special in your life.
Whether you're a beginner crocheter or an expert knitter, there are easy patterns for you when it comes to making the perfect crochet Santa Claus Patterns for the holidays. These crochet Santa Claus patterns will inspire you to get in the holiday spirit and make some adorable characters for your Christmas decoration.
Santa Claus Gnome
With this Santa Claus Crochet Gnome, get ready for the holiday season before it even begins. Whether you want one for your collection or would like to make several as gifts, this crochet Santa Claus gnome will be loved by those who receive him.
Santa Claus is a fun character who brings Christmas cheer around the world. This crochet Santa Gnome is a great basic pattern, you can improvise all you want to add to the embellishments. This pattern offers in-depth pictures and detailed instructions that will make your Santa Gnome project an easy one.
Santa Claus Armigurumi
Awwww! It's time for Christmas, and what better way to prepare for the holiday than with this adorable little crochet Santa Claus? This crochet pattern is super simple and quick for you to whip up in an hour. Amigurumi can be made in any color, so decorate this little guy however you like! This little Santa Claus is a quick knit that makes for an adorable decoration for your mantle or can be used as a cute keychain holder.  Pictured here in Aran weight, he can also be made using fingering weight yarn such as Caron Simply Soft and smaller needle size. Cute amigurumi crochet pattern. Make this adorable and festive-looking crochet Santa Claus to decorate your shelves and or laughingly surprise someone at the Thanksgiving or Christmas dinner table.
Mini Santa Claus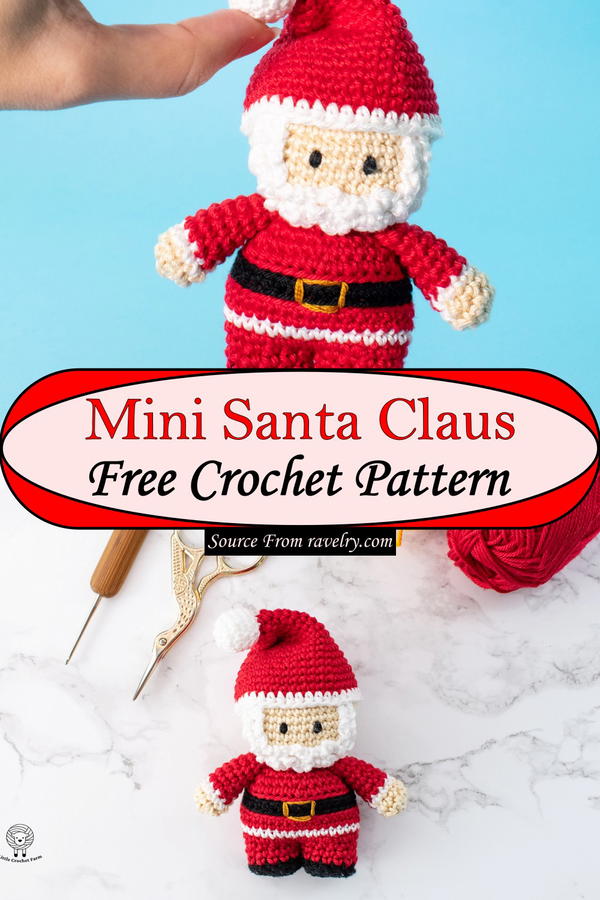 When Christmas comes, the house is filled with a warm atmosphere. Baking and cooking are in full swing. Above all, it will be warm and comfortable. For the beautiful moments of Christmas, we like to hold a little Santa Claus at our desk or bookshelf, or even dining table. These cute little Santas can bring us happiness and flashes of joy every time we see them when we go back home after a busy day, and they may remind us of the fine old days of Christmas.
Mini Santa Claus is a good Christmas gift for your friends, family members, or yourself. This mini figurine comes with a nice design, durable material, and a great price. It will be a highly appreciated present for anyone who loves Christmas. Nice decoration for Christmas and other festive occasions, including Thanksgiving, Halloween, Birthdays, Weddings, and more. It will be perfect for home decoration and decoration for restaurants, hotels, and other public places.
Chubby Santa Claus Amigurumi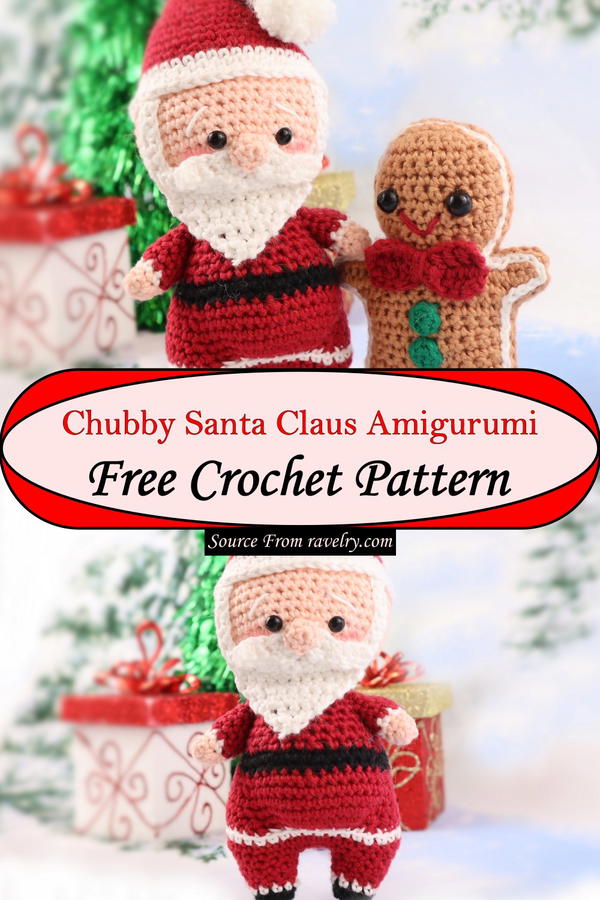 This Santa Claus amigurumi is an adorably chubby and soft fellow ready to spread holiday cheer! He likes to dance and have fun and loves to spend time with all of his friends. The great thing about this free amigurumi pattern is you can make him any way you like, so mix up his colors or make him all white instead of his brown beard and hair, or make the red on his coat a different shade. He's looking forward to seeing what you come up with! Chubby Santa Claus amigurumi is a very festive and happy fellow, that's really committed to delivering all the gifts on time. Start by simply making two legs and connecting them. Then form the body and make the face and arms, you'll get a big present – Santa Claus! It's absolutely adorable!
Santa Claus Hat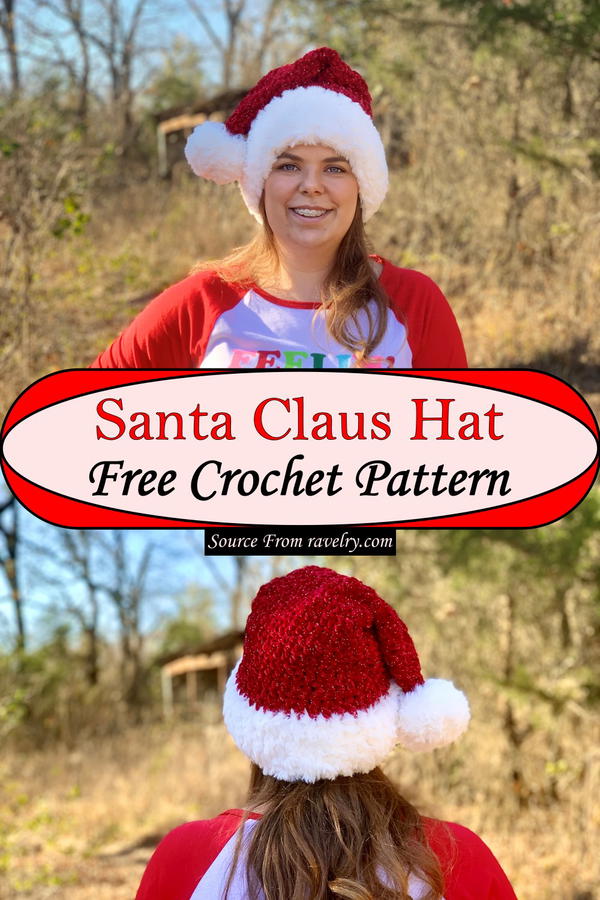 The Crochet Santa Hat is made of acrylic yarn, so it is easy to care for and machine washable! Of course, if you have a little one, you will want to be careful they don't pull it off their head or chew on it. It takes approximately 2 hours to make this hat with basic crochet techniques. You will need some skill with a crochet hook and knowledge of basic crochet stitches. This crochet Santa hat is modeled after the Santas we see around town. It makes a great gift for children or adults and is so easy to make. These hats can be made in a matter of hours.
Santa Claus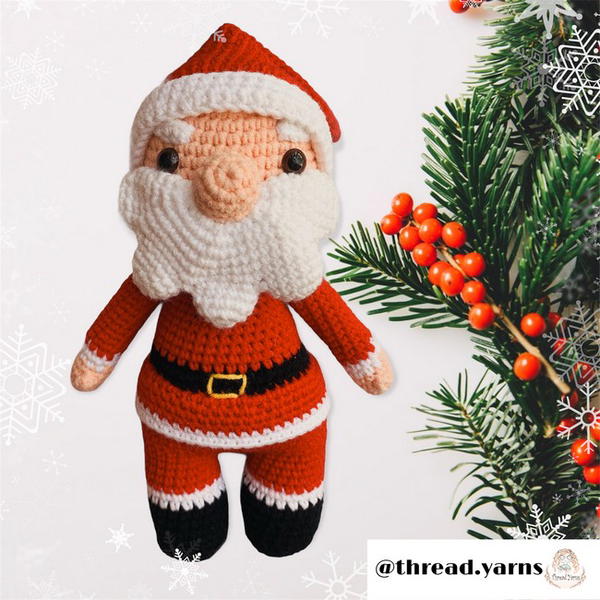 Lights are the heart of Christmas decorations, and Santa Claus is wearing them. At the same time, Santa keeps a small present for you under his red coat. That makes the Christmas decoration very informative and fun to look at. The Christmas decoration made of crochet is a great idea for you to have anywhere, and at the same time, it can become an amazing designer element. It can be hung on the window, simply over a fireplace, or put on the table and will look completely attractive and unusual. Every member of your family can make this Santa Claus by themselves.
Santa Claus Decoration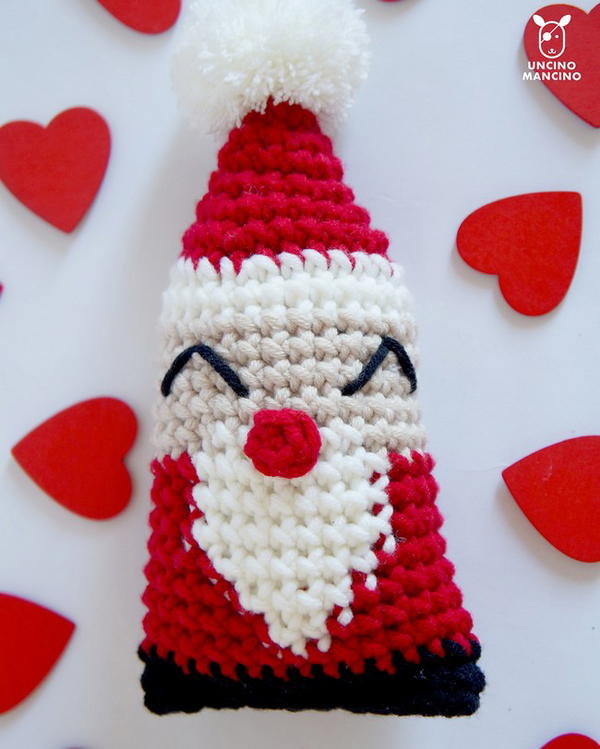 When you need to decorate your home for Christmas or want to add to a gift basket or give as a gift, this crochet Santa Claus decoration is a fun and easy way. Great for beginners and especially great if you are tight on time! This pattern uses basic crochet stitches. Not all Christmas decorations are created equal. Some are beautiful, some are fun, some are ugly… but this will make you smile! You can't help but smile when you look at this crochet Santa Claus decoration.
Cuddly Santa Claus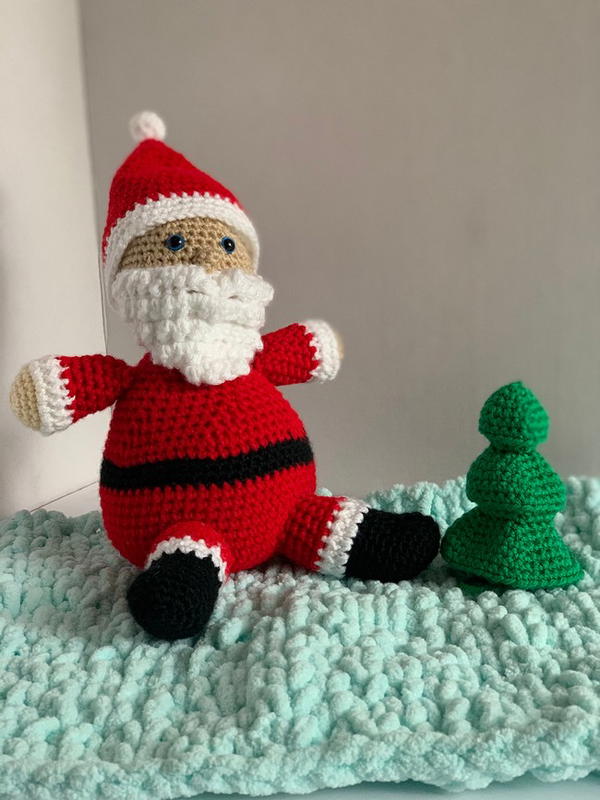 The Cuddly Santa Claus would make a great gift for anyone with an affection for stuffed animals or collectible dolls. The doll works securely with top-quality materials and stuffs firmly with safe stuffing. We assure you that you will be pleased with the quality of this product and that it will bring happiness to anyone receiving it as a gift. Who wouldn't love to snuggle with a Cuddly Santa Claus? This crochet pattern will add some Christmas cheer to your days, whether you're young or just young at heart. This easy-to-make Cuddly Santa Claus is made from solid red yarn and detailed with contrasting white trim. A pattern for a hat, striped scarf, and belt are also included and are crocheted using a simple technique that can be easily mastered. Christmas will never be the same!
Crochet Santa Claus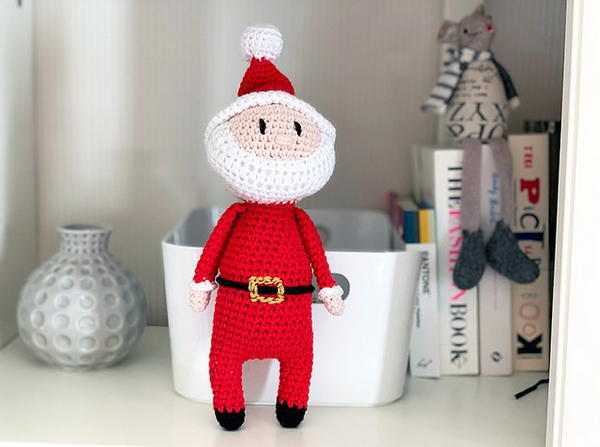 Kids of all ages will enjoy our crochet, Santa Claus. This easy-to-follow pattern will teach you how to construct crochet, Santa Claus. You can follow the colors in the photo or change things up and use your colors to make a crochet Santa that matches your Christmas decor. Make this Santa Claus ornament to decorate your Christmas tree or display on a shelf. You can even hook him while watching a Christmas movie! Have fun with this easy and very colorful crochet Santa Claus pattern.
Santa Claus Mini Amigurumi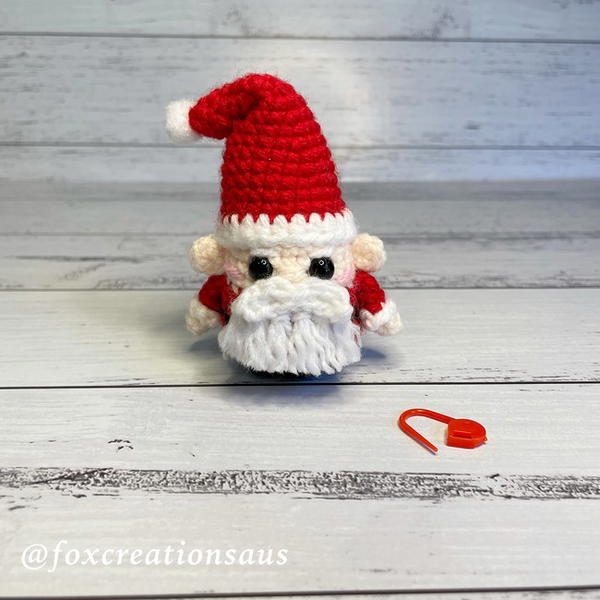 Adorable, festive, and funny crochet Santa Claus for your shelves. Perfect for Christmas. If you love crocheting, if you like doing creative and funny things, or if you simply want to make someone laugh - Santa Claus is exactly what you're looking for! His little red hat, beard, and earmuffs are just a few of the many details that make this amigurumi Santa a very special gift - one that can't stay unnoticed! This crochet pattern will teach you how to crochet Santa Claus. It's easy to follow and can work with any type of yarn, it is the proper gauge. It makes a great toy for children, but could also use as a decoration for your house, or even a gift for someone special.
Santa Claus Amigurumi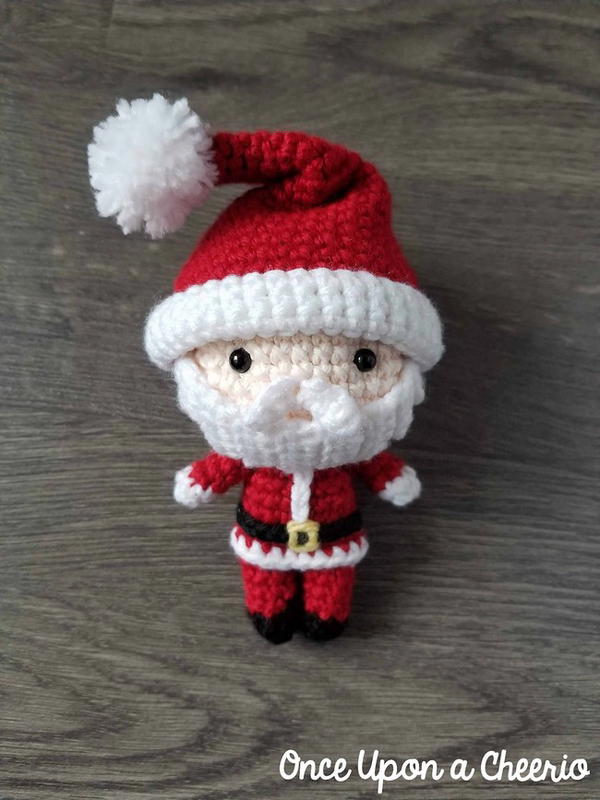 This Santa Claus amigurumi pattern will bring a smile to anyone's face. He is the perfect little decoration for your Christmas tree or the gift of a lifetime to anyone you know who loves Christmas! This would also make one great last-minute holiday gift since it only involves one skein of yarn and is fairly simple. Make your own adorable Santa Claus with this crochet pattern. Santa is a quick and easy beginner project that stitches up quickly! You'll need stuffing, thread, and a 3.5mm hook to start on your tiny Santa today!
Santa Claus Kitchen Towel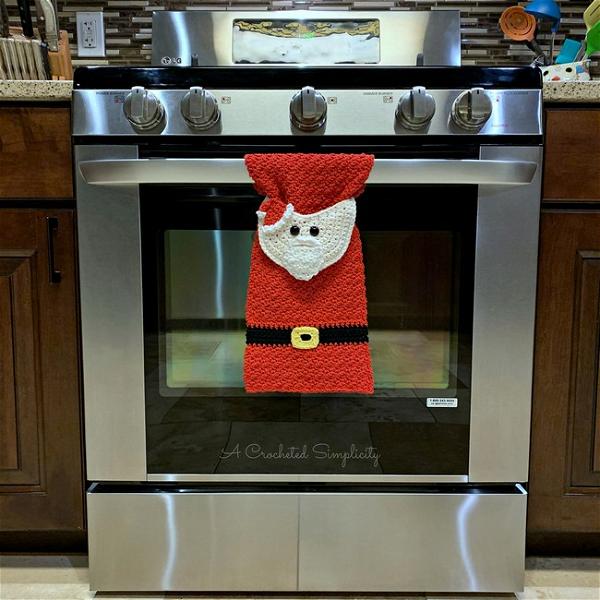 Sweethearts will feel as warm and cuddly as a little red-cheeked boy with this woven towel. It features an adorable Santa Claus to spread holiday cheer in your home. With this Santa Claus Kitchen Towel, you can add holiday cheer to the kitchen or family room. Crocheted in red and white yarn with a large white plush pom-pom on top, the arches and stripes make it resemble a candy cane. Keep a Santa Claus Kitchen Towel hanging in your kitchen to keep your counters covered while preparing your Christmas feast. This cotton dish towel will be a hit with the family and make a great gift idea or stocking stuffer. A perfect holiday kitchen accessory as we count down to Christmas.
Santa Claus Hat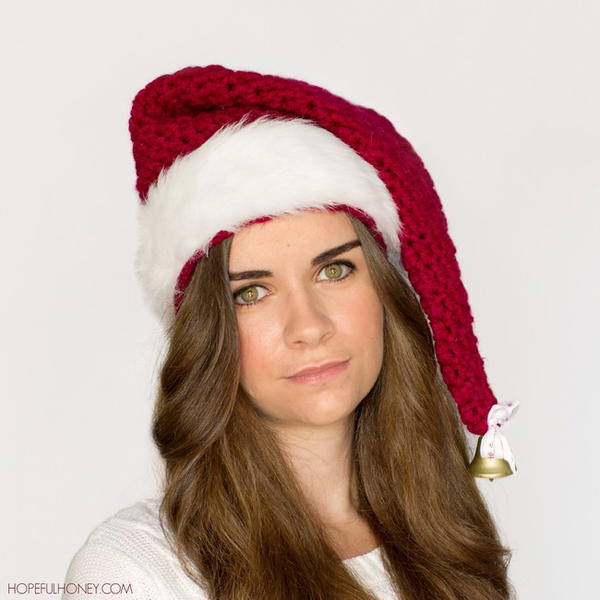 Are you looking for a quick and easy last-minute Christmas gift? Crochet this Santa hat modeled from the Santas you see in department stores and shopping malls. After completing it, wear it when volunteering at your local hospital, nursing home, or donation center. The more you give to others who are less fortunate, the better you will feel. This crochet Santa Hat is a playful, fun, and easy project for your holiday gifts. This pattern includes both the adult-sized hat and a smaller version for children. Make one for everyone on your Christmas list as well as yourself! This cozy, comfortable hat will become a favorite for many years.
Santa Claus Coaster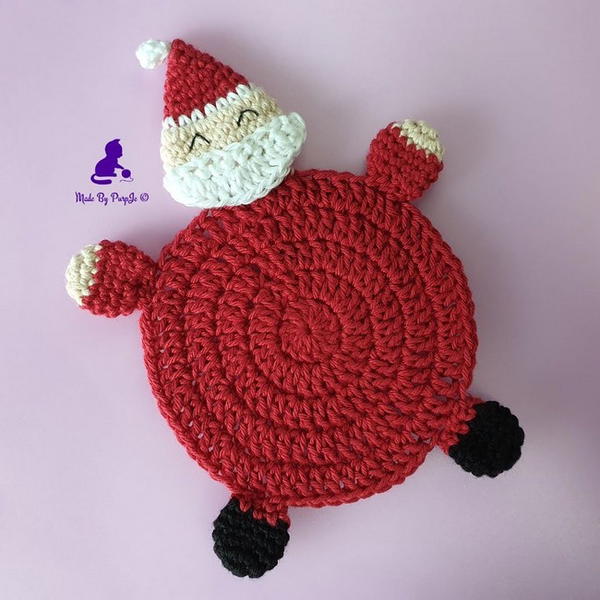 Looking for a quick and easy gift to crochet? These Santa Claus Coaster Patterns are so cute you'll want to make them all year long. The Santa Coaster is a super easy crochet pattern perfect for first-time or experienced beginners. Your friends and family will go crazy over these cute and unique Santa Coasters. Crochet Santa Claus Coasters make Christmas gifts that will be enjoyable all year long! These coasters are so cute and make great stocking stuffers or party favors! Make a lovely addition to any holiday decor with these Santa Claus Coasters. It's a quick and easy crochet project, perfect for gift-giving or your own Christmas/holiday season.
Mini Santa Amigurumi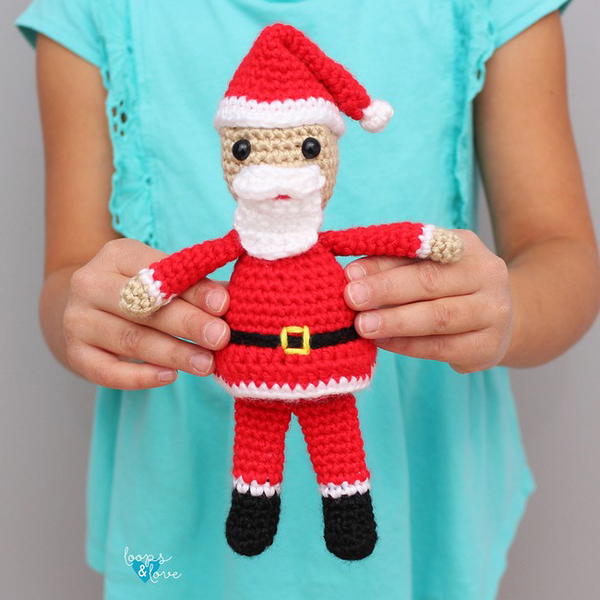 You will fall in love with your new little friend. Such a cute little Santa Amigurumi. This Christmas, crochet something that will bring out Santa in everyone.  These adorable Santa amigurumi will add holiday cheer to your home and be especially great for kids and adults.  The pattern mostly uses basic stitches, making the project easy for even a beginner crocheter. This miniature Santa Amigurumi is the perfect size to take on your holiday adventures! These little Santas are quick to make a hit each time they appear. You will love this pattern; enjoy!