Studio Ghibli fans rejoice! Celebrate the wondrous world of Studio Ghibli with these crochet patterns inspired by the films. Crochet your own Totoro and Kiki, or perhaps a small creature to accompany you on a journey through the forest. This series features 20 adorable crochet Totoro patterns for crocheters who love to stitch. Whether you plan to make a toy for a child or something soft and cozy for yourself, these projects include the perfect items that any Totoro lover will want!
Crochet Totoro Patterns

If you or someone you know loves Totoro and friends, then take a look at these crochet Totoro patterns we have below. Whether you want to crochet your own Totoro plush or recreate a scene from the movie, there are plenty of options here. No matter if you are a beginner or have experience in crocheting, you will be able to make your own Totoro. You can choose from different Totoro sizes, all of which come with their blankets. This makes them so much more cozy and cute! Some other characters from the movie 'my neighbor Totoro' are included.
Crochet Totoro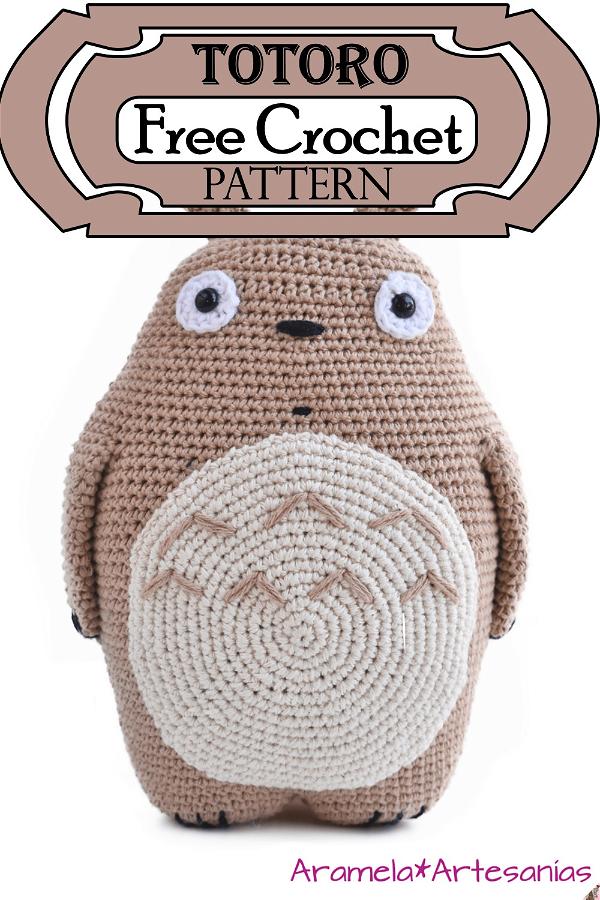 Here we come with the perfect crochet pattern to make a cute Totoro stuffed toy. Your kids will love to play with it, and you can add a touch of sophistication to your home decor by making the grey one! Easy-to-follow instructions and lots of photos help you understand how each step is done. This crochet Totoro pattern is suitable for all skill levels and includes detailed instructions on making little Totoro and giant Totoro! This perfect project is to learn a new stitch, practice your skills, and make it a gift.
Totoro & Friends Plushies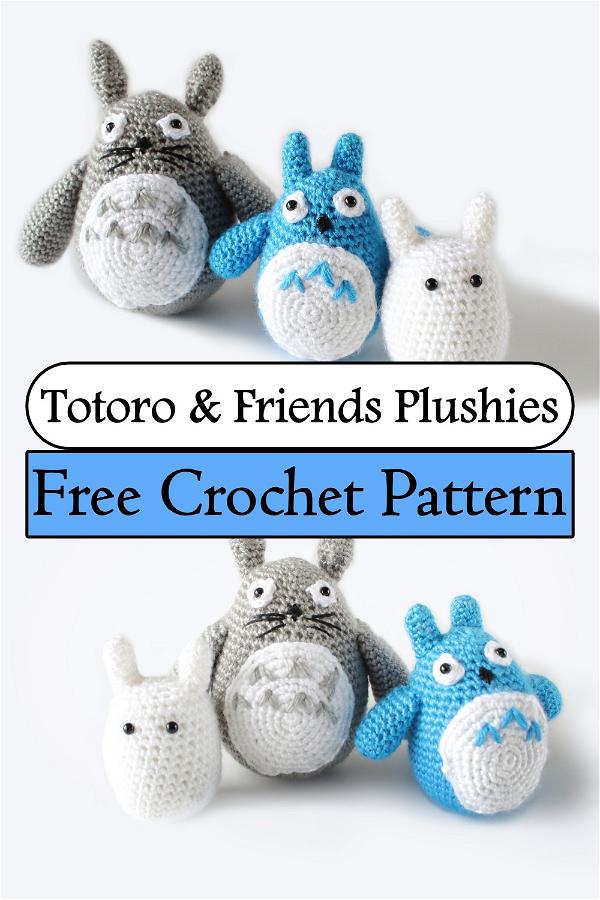 Crochet Totoro, Gori, Catbus, and My Neighbor Totoro are all in one handy pattern! Make them as decorations or to give them away as gifts. You'll enjoy making your favorite forest friends so much that you won't even mind the fact they are incredibly cute. They each take less than 2 hours to make (the smaller ones take much less) and are easy to create. The finished pattern measures approximately 8 inches tall, except for Teto, which sits at around 6 inches tall.
Crochet Totoro Amigurumi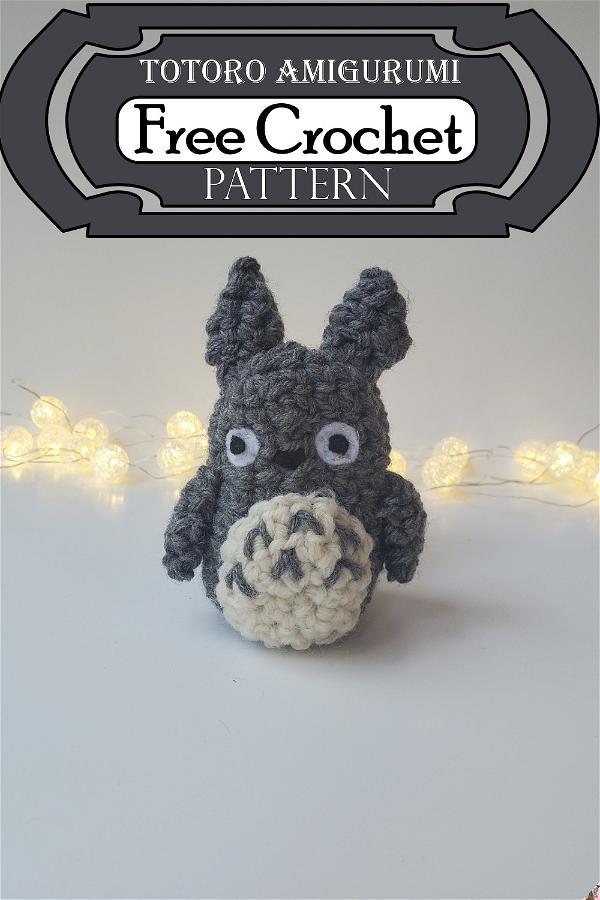 This free crochet pattern makes a Totoro amigurumi that is the cutest little thing you'll ever see. This is a simple pattern for beginner crocheters or someone new to amigurumi. It also makes a great gift for any friend or family member who loves their Totoro. This crochet pattern includes a step-by-step walk-through that is easy to follow and suitable for all ability levels. Helpful tips and instructional photos are included, so you'll be able to make the perfect Totoro!
Totoro Crochet Pattern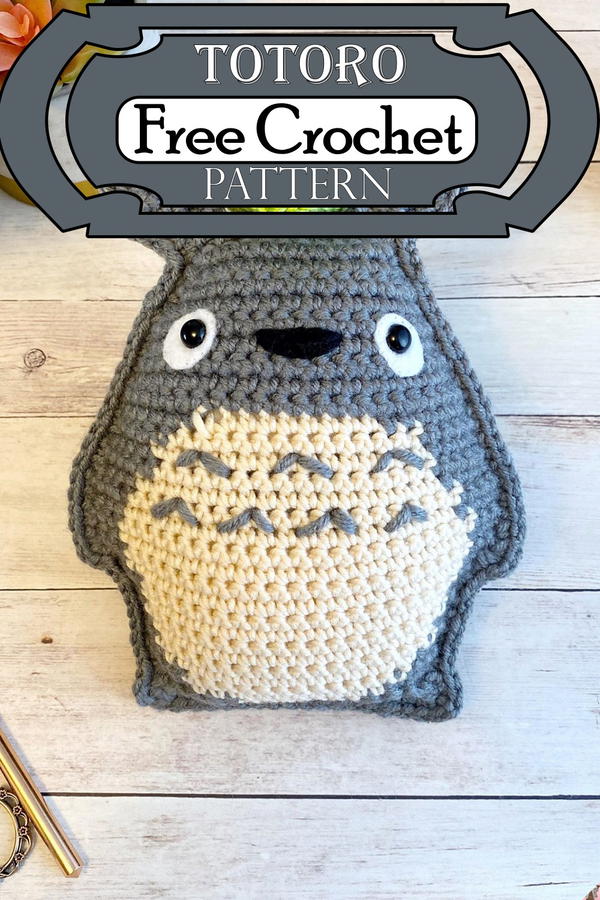 The lovable favorite, Totoro, is the star of one of my favorite Studio Ghibli films. Using only two body panels for construction, this sweet ami works up incredibly quickly. Using bulky yarn creates a dense and sturdy finished product that easily stands up to playtime or cuddling! With only two body panels, this sweet ami works up incredibly quickly. Perfect for making gifts and decorating your home, these little cuties will be loved by all!
Totoro Nesting Baskets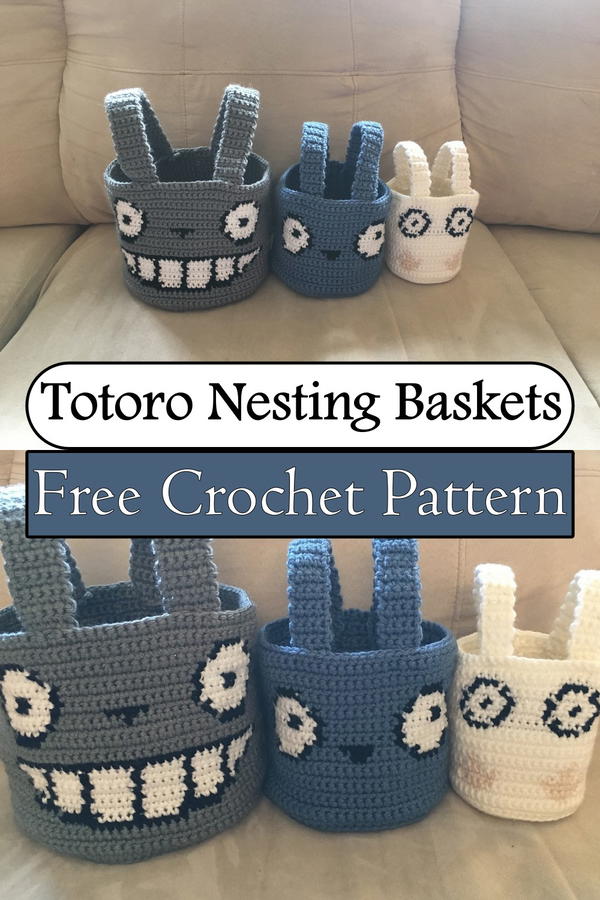 Nestle these Totoro baskets in any room in your home or give them as gifts to fellow fans of the beloved Studio Ghibli film My Neighbor Totoro. Crocheted Totoro Baskets are the perfect addition to any home or child's room. With a simple design, they are easy enough for beginners, with even more experienced crocheters able to appreciate their intricate details. The Totoro Baskets pattern is made using bulky yarn, but you could also make them in super bulky yarn.
Crochet Totoro And Chu Totoro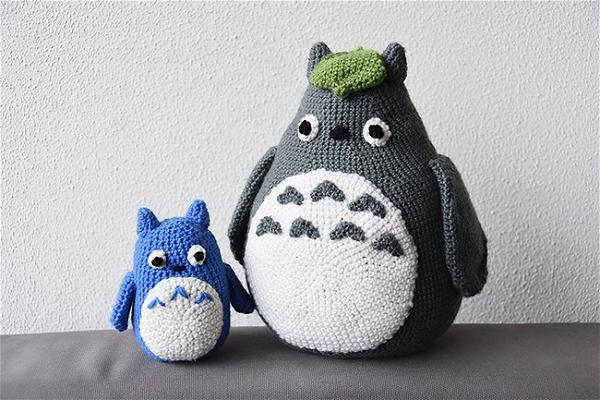 This is a beautiful pattern and very easy to follow. It's straightforward and includes all materials needed to create two of the cutest characters ever! It's a great gift for Totoro or Ghibli fans but also makes a charming nursery decor, photo prop, or just for fun! They are around 12" tall and make great gifts to give away (or keep for yourself!). They also make lovely decorations for a child's room or nursery.
Chibi Totoro Amigurumi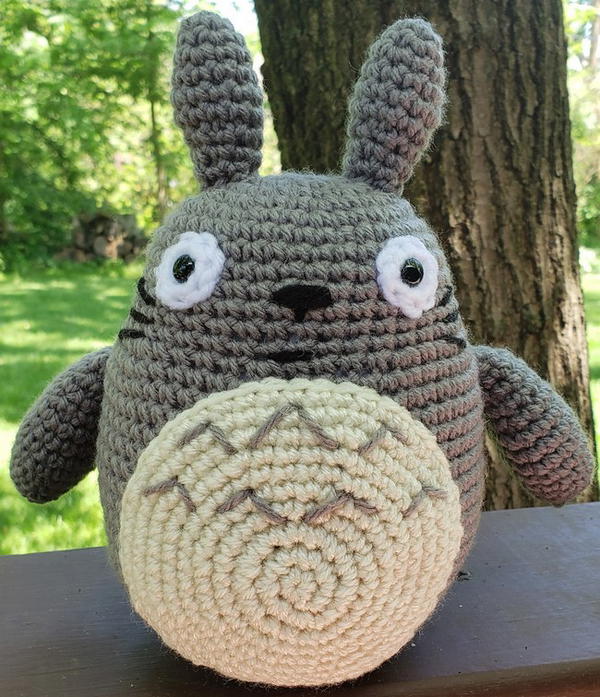 This nifty Chibi Totoro Amigurumi pattern is a perfect gift for your little one. It's also great for collectors as well as crafters. Simply complete the steps to learn how to crochet this adorable amigurumi, and turn it into some lovely gifts. If you want to surprise your little one with a cute stuffed toy crocheted in the shape of Chibi Totoro, then this pattern is just what you need. The instructions are easy to follow, and the pictures guide you through each step.
Totoro Medium Size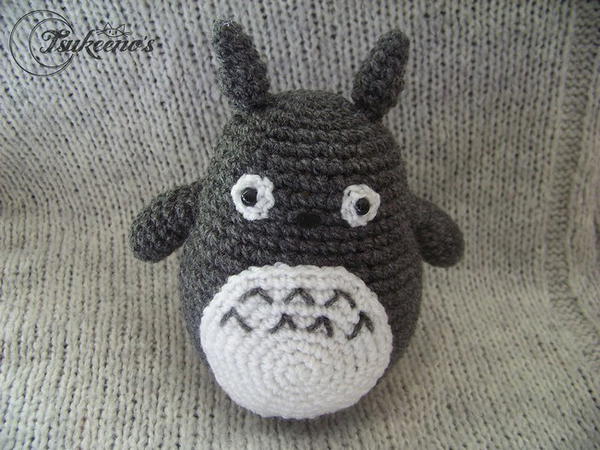 This Crochet Totoro Medium Size Pattern will help you create your version of everyone's favorite forest spirit. This medium-sized Totoro crochet pattern is for all of your large cuddling desires. The actual difference between medium and large sizes is the body length, the small one is about 12cm, and this medium one is about 20cm. It will take you only a day to finish, and I hope you'll love this pattern!
Totoro Large Plush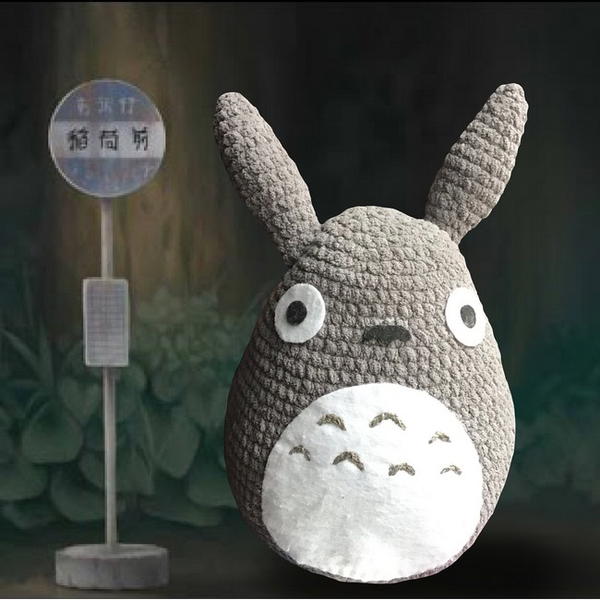 This project comprises all beginner-level stitches and can be completed with one skein of the suggested yarn. With only a few hours of your time, you can create a unique and cuddly plush that makes an ideal gift or outfit accessory. This plush is made with beginner-level crochet stitches and can be completed with ONE skein of the suggested yarn. The project was designed as a DIY Christmas gift for my sister, a huge Totoro fan.
Crochet Totoro Applique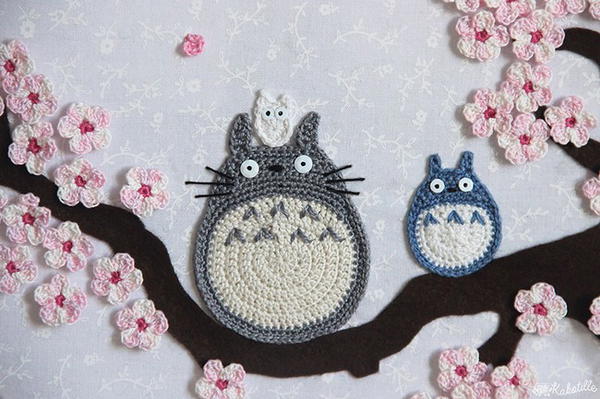 Crochet your own three Totoro characters from a crochet appliqué! You can make all of them in one color or three different colors. These adorable little guys are perfect for crocheting onto anything you can think of blankets, hats, shirts, or even baby clothes! When you make these appliqués and crochet them everywhere, your laundry bag will look cute! This is a great pattern for beginners, and I hope you'll fall in love with it.
Totoro Round Plush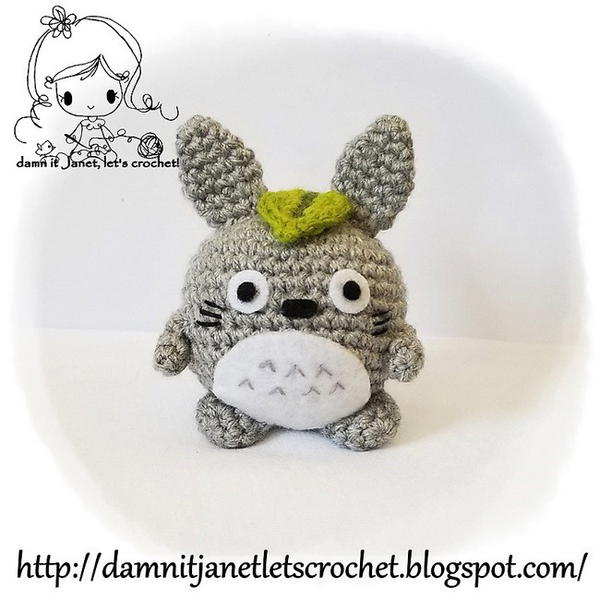 This pattern will show you how to make a crochet Totoro plush round in one piece, like the original fictional character of the same name. He is the size adults can hold in their hand or attach to your bag as a keychain. Also, he makes an excellent love for your little one. This adorable round plush pattern is a great project for those who love cute things. It's easy to make and can be attached to your bag as a keychain or made into a small blanket so you can snuggle with it at night.
Totoro Key Cosy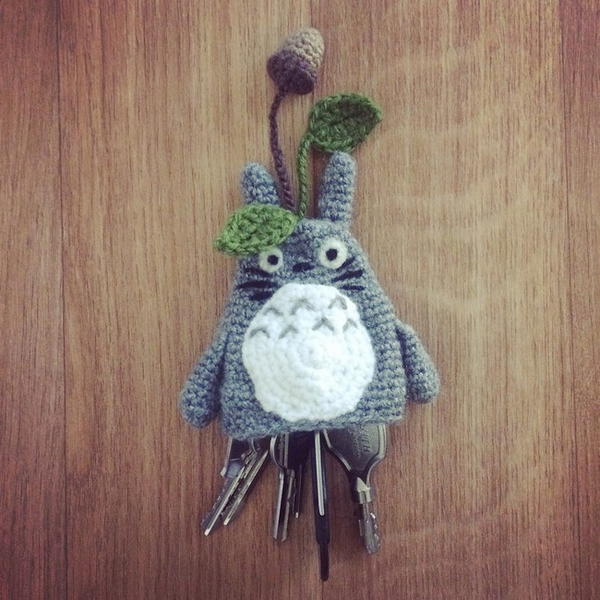 This crochet Totoro key cozy is the perfect gift for any Totoro fan. This cute, fun, and easy-to-make crochet pattern includes detailed photo tutorials in addition to the written step-by-step instructions. Make one for yourself or as a gift! It is simple enough for beginners while still being useful and attractive. And because you have the pattern, you can easily make these as cute loveable gifts for others.
Crochet Totoro Beanie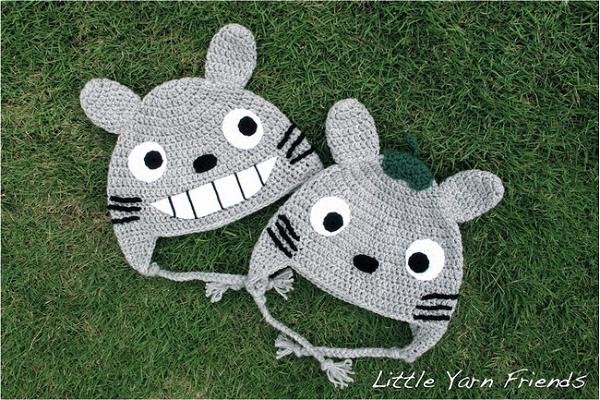 Do you want a fun and simple crochet project? Crochet Totoro beanie is the perfect choice for you! You can find as many patterns as you like online. Get cozy in this handmade beanie as you watch the movie. Each project is unique and for adults, but there will be a kid's version too! But this one is most suitable for beginners. With our easy-to-follow instructions and pictures, you'll be able to make this hat in no time!
Totoro Amigurumi Set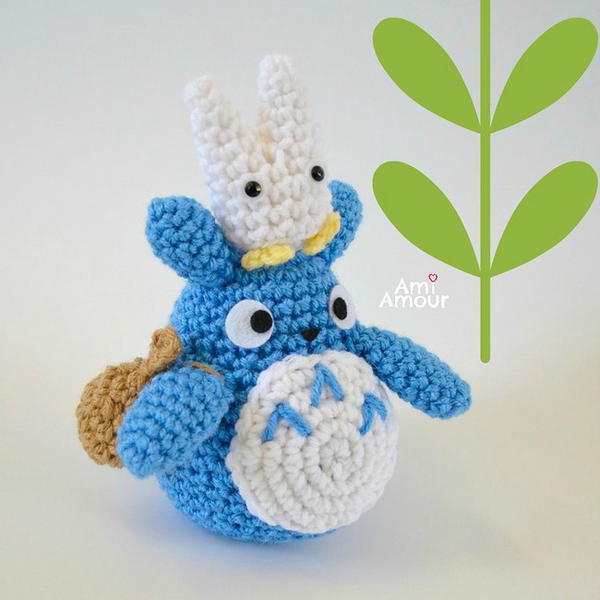 This amazing crochet set is easy to make using basic crochet skills. This Totoro amigurumi is an easy, fun, and quick project to do, and It makes a great, quick gift for the Totoro lovers in your life! You can use the pattern to create either the Blue Totoro or the Gray Totoro with a leaf hat. The final size of these guys is approximately 8 x 8 inches. If you want to connect the little guys, they will still be cute as long as they are between 2-3 inches each.
Moon Sleeping Totoro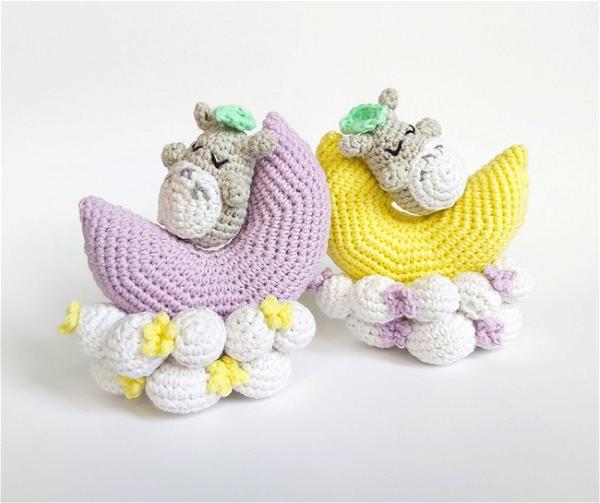 This crochet amigurumi pattern will help you create a tiny Totoro to accompany you on your imaginary adventures. This amigurumi pattern features a sleeping Totoro on a moon self-standing toy. The cute design and large size make a perfect gift for any anime or knitting geek fan. Follow step-by-step instructions to create this adorable character using only basic crochet techniques and materials. It's a perfect size for cuddling and will make a great addition to your desk or bookshelf, but be careful not to add it to a shelf or table with anything fragile.
Studio Ghibli Totoro Trio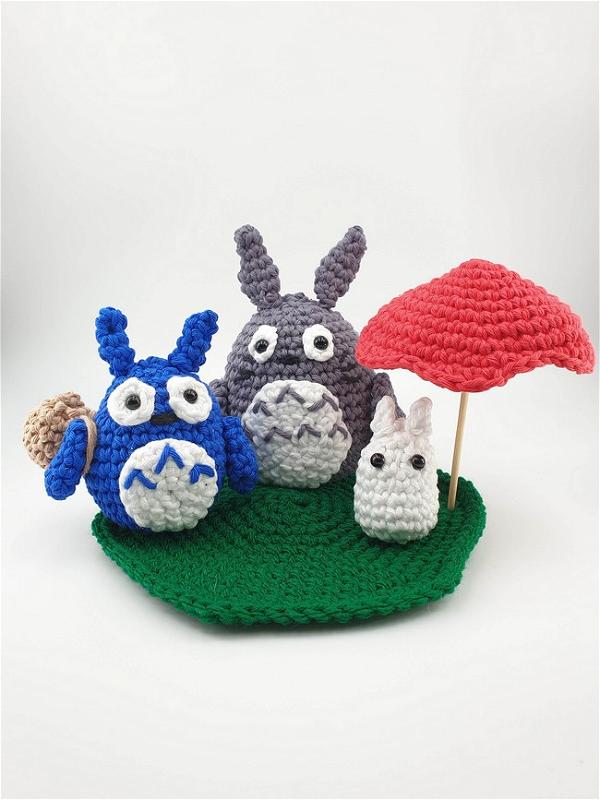 Do you love Studio Ghibli? Well, our Studio Ghibli Trio crochet pattern will allow you to create your own charming little Totoro friends. These adorably cute crochet toys are inspired by the much-loved movie My Neighbor Totoro and are great for any fan of the famous Japanese animation. You can make them individually or create a whole family with our Chu Totoro and Chibi Totoro patterns too! It will also be a great loveable gift-giving accessory, and I hope you'll love it.
Chuu Totoro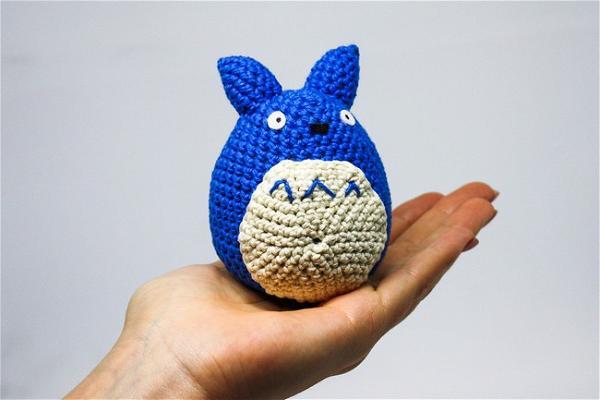 Create this adorable crochet Totoro pattern that has beautiful details and is easy to make. If you have the materials, you can create them in your home using basic crochet skills. This beautiful crochet chuu Totoro pattern is an amazing project idea for those who love making gifts and decoration pieces. Crochet chuu Totoro pattern has only a few steps to create the finished product, the materials needed to complete this project are easy to find at any craft store and online.
Crochet Totoro Amigurumi Chaveiro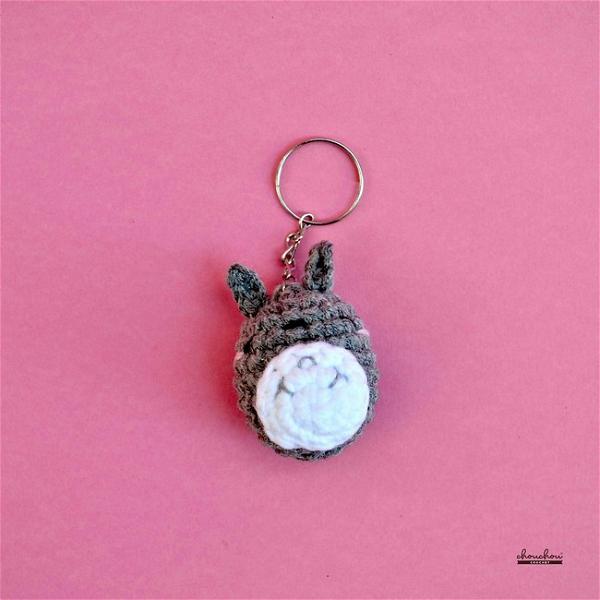 Crochet Totoro Amigurumi Chaveiro Pattern is one of the cutest and most loveable crochet amigurumi chaveiro patterns you will love. This crochet Totoro amigurumi chaveiro pattern is the most adorable and cutest character ever that you can make for a birthday, Halloween, or just to spread love and joy. This totoro amigurumi chaveiro is creatively designed to be held by your child as they run about your household with all the presence of a furry friend.
Blue Chu Totoro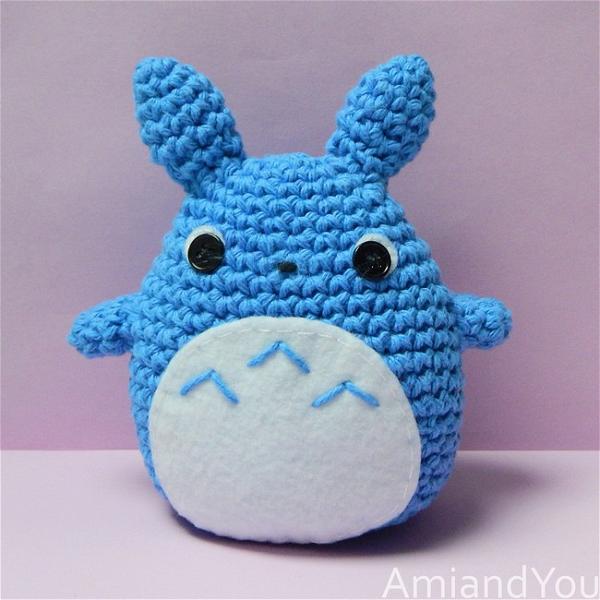 This pattern will show you how to crochet a blue chuu Totoro using a worked-in-the-round style. The pattern uses only basic stitches and can be completed in any color. Still, if you use blue or grey yarn as specified in the pattern, your finished Totoro will have the same appearance as the character from the book and anime series "My Neighbor Totoro." This cute and lovely doll works quickly and is a great family project or gift idea!
Crochet Tawashi Totoro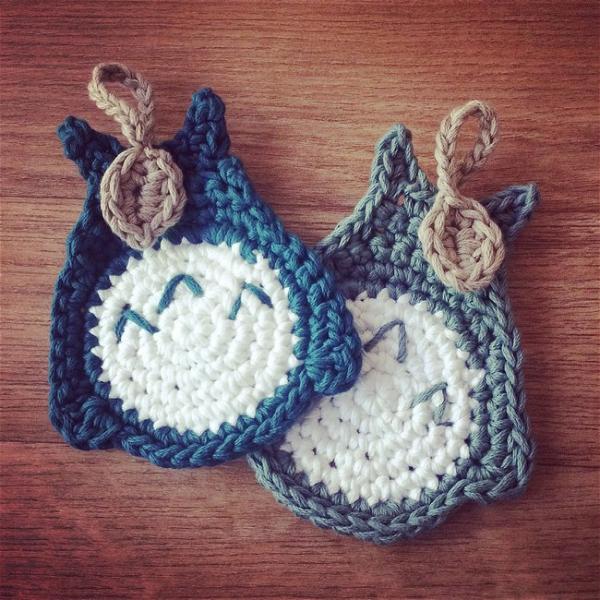 This is an adorable and easy-to-crochet chu Totoro pattern. This is a must-have for any true Totoro fan. The pattern is detailed, easy to follow, and looks great when finished. It will make a perfect gift for any Totoro lover in your life! This is one of the easiest patterns to make and can be completed in just a few hours. You can easily personalize it according to your taste. I swear you will love this unique crochet pattern if you have done some amigurumi.