Whether you are an avid fashionable woman or simply looking for the perfect bag for the summer, these Cross body Bag Patterns will provide the inspiration you need to craft your very own. Complete with hands-on instructions and clear step-by-step photos, this guide will take all guesswork out of designing your own cross body bag. Whether you need a small crossbody bag for an evening out or a roomy cross-body bag with zipper pockets for your daily commute, we have the perfect pattern! Our selection offers a variety of styles allowing you to choose the right one for your needs.
Free Cross Body Purse Patterns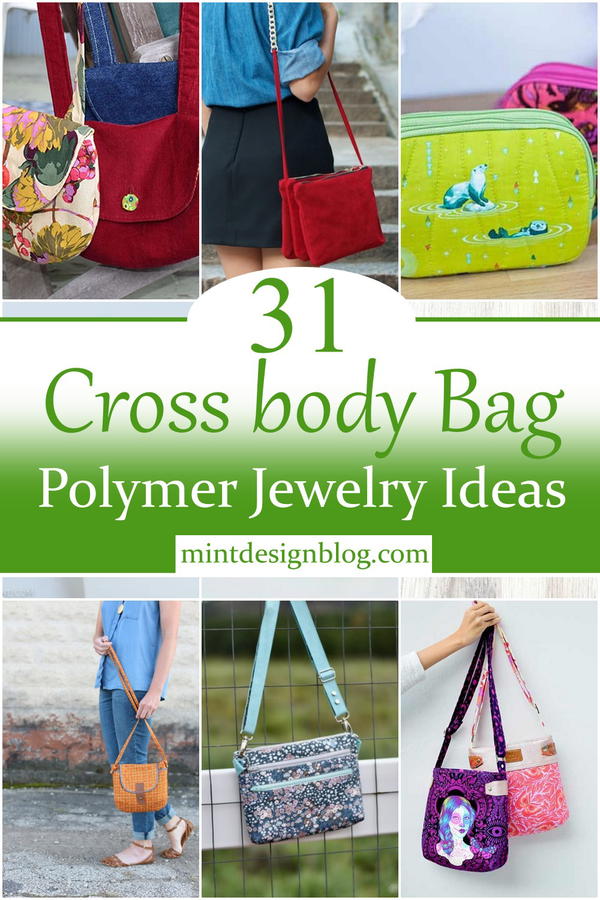 Our Cross Body Bags Patterns allow you to create the perfect bag for your everyday. These patterns are sure to please, from a small crossbody bag to carry your essentials to roomy cross-body bags with added zipper pockets and adjustable closures. Whether you need a small crossbody bag for your phone, keys, and wallet or a roomy cross-body bag with zipper pockets to keep your items organized, here are several versatile cross-body bag patterns to choose from.
Cross-body bags are a trend that's still going strong. Whether you are whipping up a quick bag for everyday use or a creative project, you'll find that these free cross body bag patterns are great options. They're super easy to sew and perfect for carrying the criss-cross strap, so they make a great gift or project for kids just getting started with sewing. These free cross-body bag patterns are surprisingly easy to sew and suitable for beginner sewists as they use simple techniques. Most of them have step-by-step tutorials and great visual guides to show you what they look like while sewing.
Crossbody Bag Pattern From Placemat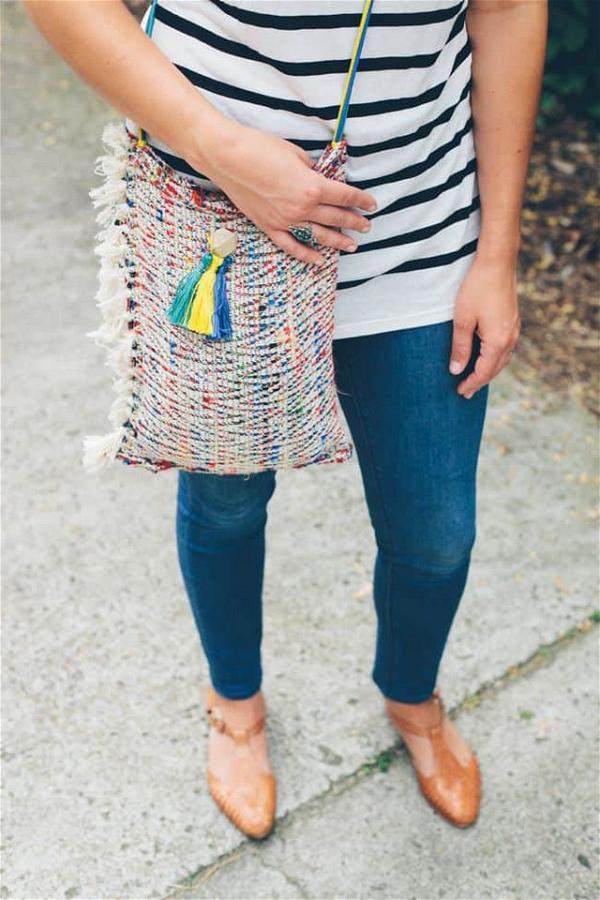 If you love tote bags and are looking for a unique way to make one, this DIY crossbody tote from placemat is just the project for you. It's surprisingly easy to create, very functional, and has a retro hippie vibe. And if you don't want a crossbody bag, this project can easily be adapted into other types of bags such as clutches or backpacks! Follow these steps and get a gorgeous crossbody tote at an incredibly low cost.
Perfect Cross Body Bag Pattern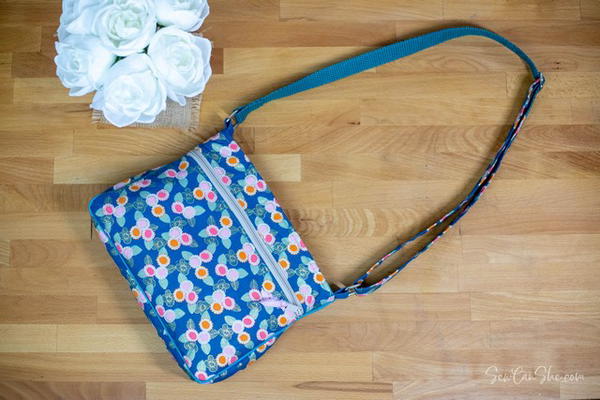 This beautiful cross-body bag pattern has everything you need pockets to spare, optional piping, and an easy envelope closure. With such a fun shape, this bag can be made of any number of fabrics, including cotton canvas, if you prefer a simpler look. This pattern comes in 3 sizes and has pockets to spare! So many options for this easy sewing pattern. The Perfect Cross-Body Bag Pattern comes in 6 sizes, from purses to larger evening bags.
Sew A Convertible Cross Body Tote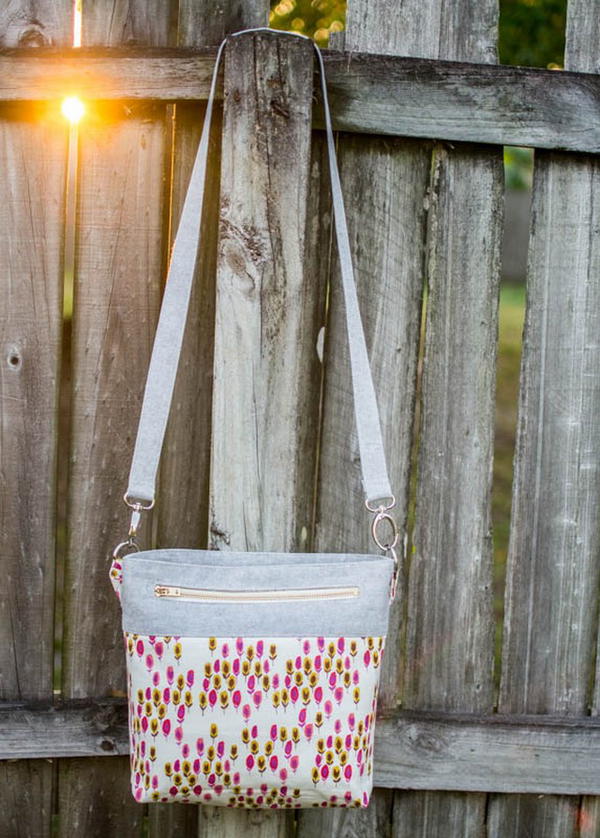 A well-made tote bag is a staple for any woman's wardrobe. Whether a beach trip or an evening out on the town, a stylish tote makes all the difference. This Convertible Cross Body Tote pattern offers the perfect place to start; it includes instructions on creating your own stylish long striped tote that can easily be converted into a backpack or handbag by changing its handles. Follow our detailed instructions, and with just a few materials, you too can create your own designer-style convertible cross-body bag!
Double Compartment Cross Body Bag Sew Pattern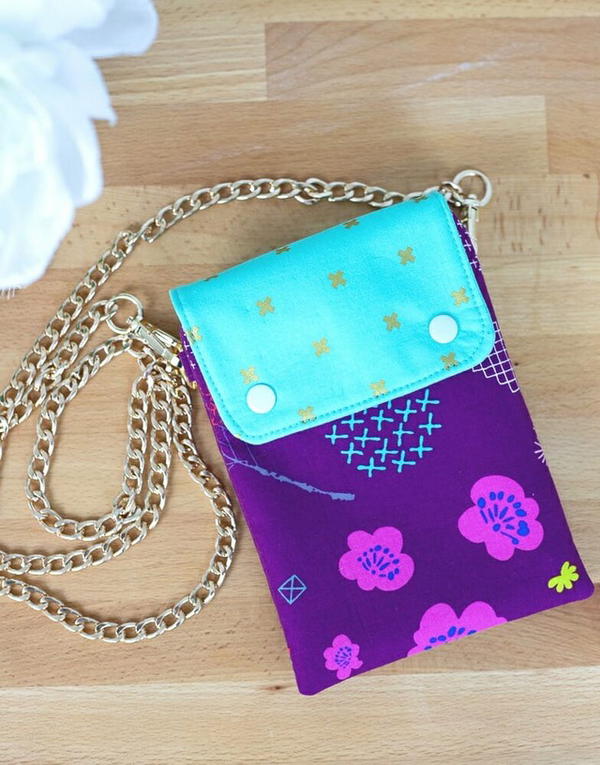 The Double Compartment Cross Body Bag Pattern is a great new pattern with two main pockets, one slim pocket, and a zipper pocket on the back. Beautifully stylish, this bag can be used for carrying daily essentials or as a diaper bag for young moms. This is perfect for those who don't want a big bag or for those who carry their phone and wallet when out on the town. It's smaller than our full-size bags but still has room for your stuff with two main pockets, a slim third pocket, and a zipper pocket on the back of the bag.
Leather Crossbody Bag Free Pattern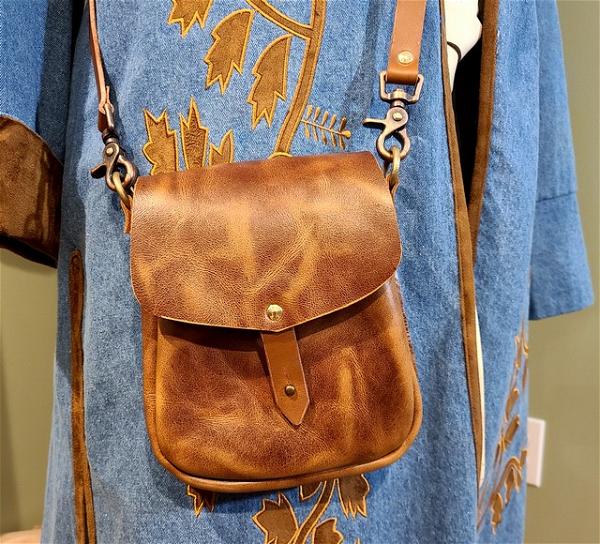 Featuring beveled, antique metal buckles and a wide, comfortable strap, this bag will carry all your essentials with ease. The bag is made of waxed brown leather and looks like an antique. This bag is designed to fit the bare necessities. A slim wallet, phone, and cosmetic case can be easily tucked in its three open pockets while preventing them from falling out. It is a great solution for carrying everyday items when you don't want to take a larger bag all day.
Gatherer Crossbody Bag Pattern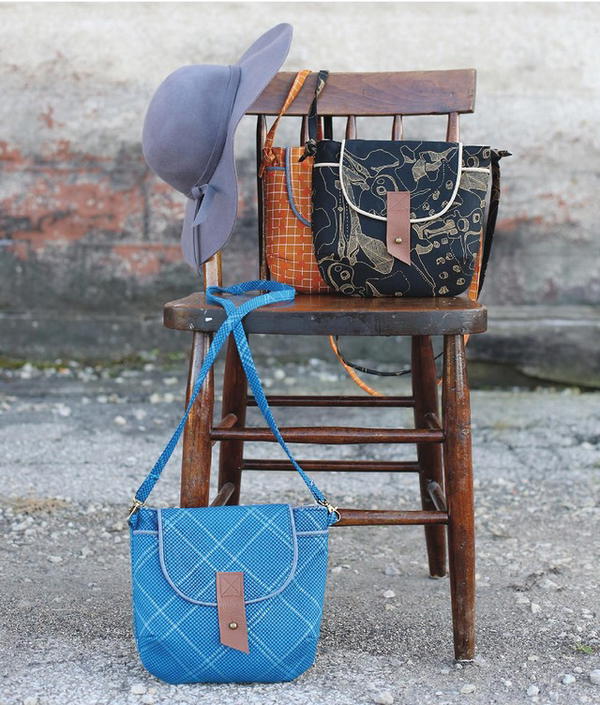 The Gatherer Bag is bold, fun, and easy to sew. It's just the right size to carry what you need without weighing you down. It's the perfect fall bag! With a roomy interior and a flap that rolls down for extra security, get ready to make all your friends jealous of your new handmade bag this season! This bag has strong webbing straps and holds up well to everyday use. The vinyl lining means that it's also machine washable at home!
Crossbody Bag Sewing Pattern
This Simple Crossbody Bag Sewing Pattern is a great way to utilize some of your favorite fabrics. This is a free pattern, which means you can use it for personal or commercial purposes. You can make this bag in any color and size, as there are no limitations. It's easy to sew using plain construction and two side pockets that add pizzazz to the simple design. This crossbody bag features a wide and comfortable strap and plenty of space for extras. Add a zipper pocket to keep important items within reach.
Crossbody Bag Pattern For Loved Ones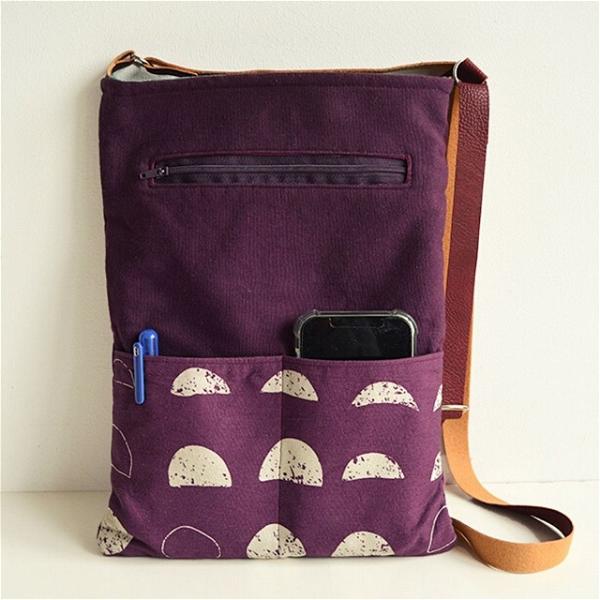 The free Cross body bag pattern is designed around my day job. This cross-body bag is perfect for carrying all your essentials and can be worn as an on-the-belt shoulder bag or a perfect cross-body carry. And since it's made with your chosen fabric, you can get a timeless style that matches your personal style. It has an exterior pocket on one side and a large interior pocket. This bag can fit your tablet plus two mobile phones and more! Many creative uses for this pattern.
T-shirt Yarn Crochet Crossbody Bag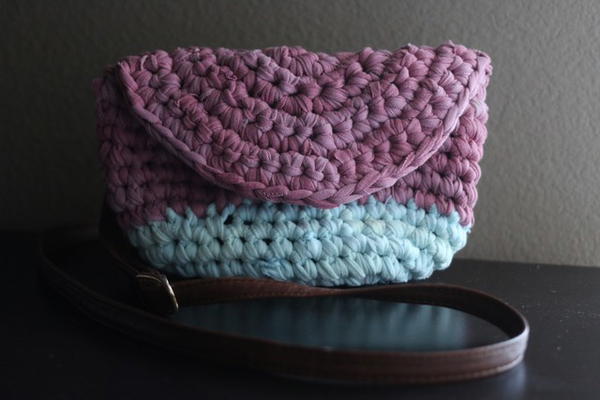 This bag is crocheted from a t-shirt and is a great way to use the extra fabric. It's lightweight and perfect for bringing to the beach or carrying books, magazines, pencils, and whatnot around in your daily life - it's cute enough that you can toss it over your shoulder instead of putting your purse on the floor in a restaurant. Crocheting a crossbody bag will use up most of the length of your shirt but is easy to do. Finish it off with beautiful embroidery.
DIY Crossbody Bag Tutorial
This bag is perfect for your daily use or as a gift. You can easily customize this bag to suit your style. You need basic sewing skills and knowledge of how to use a sewing machine to make it, but if you want to learn, you can check out my youtube channel, where I have shared lots of tutorials. It has full-size prints on both sides of the fabric, so you know exactly where to cut and which lines to sew as you make your bag, making it quick and easy to create a stylish accessory that is sure to be worn over and over again.
Sew A Faux Fur Crossbody Bag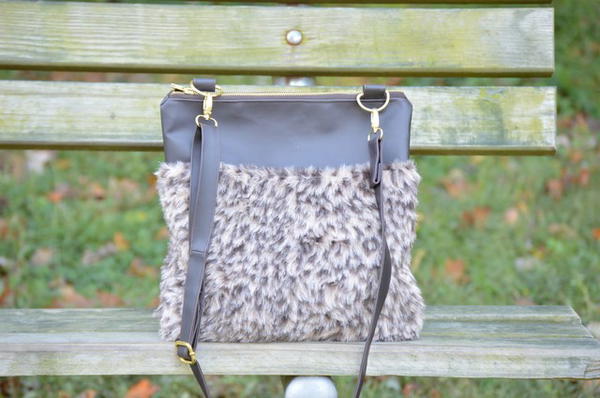 The DIY Faux Fur Crossbody Bag is an easy and inexpensive bag to sew. It requires no lining, making it a great project for beginners. This faux fur crossbody bag is perfect for carrying everything you need when going shopping, running errands, or heading out for dinner. Learn how to sew your crossbody bag with a faux fur strap. It's a great alternative to buying a designer bag and will easily take you from daytime to evening.
15 Minutes Crossbody Bag
This is a great pattern for you to make your crossbody bag. It's really easy and goes together quickly. This is a lovely size to slip on the shoulder, either with the strap or without. The exterior pocket is large enough for a smartphone and keys but small enough that all the other stuff doesn't get lost! The bag has a main compartment for your essentials, making it function as a purse or travel bag - or carry all your necessities in one handy place! Make one for yourself or make them as gifts.
Celine Inspired Trio Bag Pattern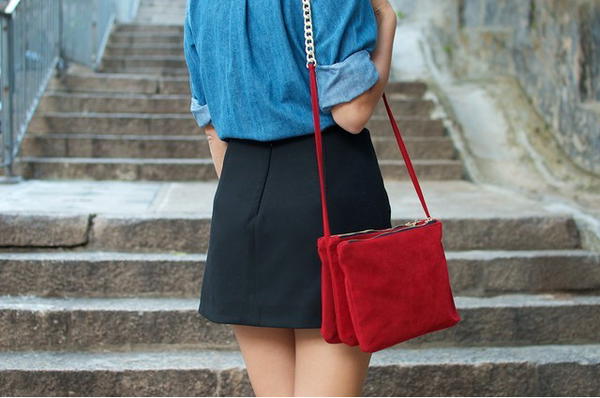 Create a beautiful Celine-inspired trio bag with your hands by joining three zipper pouches together. It's an easy project that you can make in no time. The bag looks chic and gorgeous, with its half fabric and half golden chain strap, along with three sections that can be separated when needed, thanks to the snaps that keep them joined together at the corners. Perfect for all your essentials, this gorgeous cross-body bag will look like a high-end accessory on your everyday outfit.
Crossbody Bag Tutorial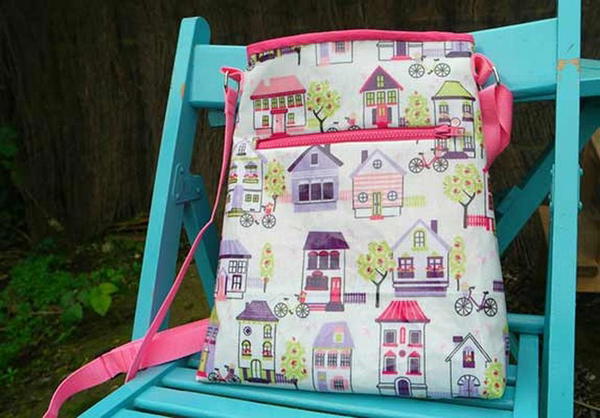 This bag is easy to sew and takes minimal fabric, offering great value. The construction is solid, thanks to the inner layer that fortifies the main section and the outer pockets. Two identical units are best sew together to create this bag's asymmetric shape. The main pocket is large enough to hold your wallet, phone, keys, and more. While the outer pocket gives you even more space for small items.
Large Cross Body Bag Pattern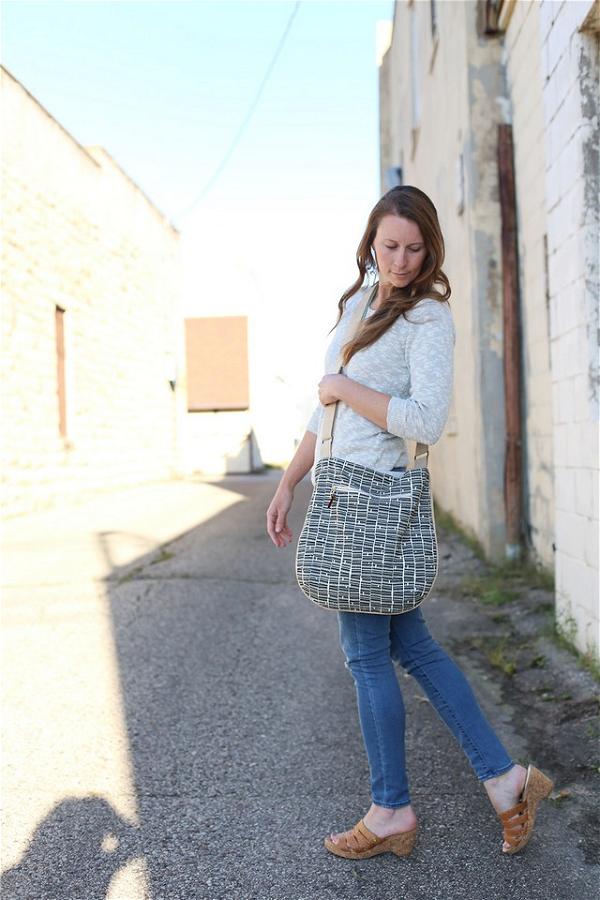 This bag is made with durable cotton and durable snaps. This bag is sure to be a lifelong companion. You can wear it on the plane, in class, or to the beach. It will keep your things safe and dry, even if you accidentally drop them in the lake. This tote bag features beautiful features that you can use for both formal and casual occasions. It has a curved bottom, a shoulder strap with rings, an exterior pocket with a zipper, an open main pocket, and a smaller interior pocket with snaps that can hold your wallet or sandwich. You will love this bag so much that you might want to make one for every occasion.
Double Zipper Crossbody Bag
This stunning bag is made of luxurious genuine leather and has a casual style that makes it the perfect accessory for everyday use. The fact that it is made of genuine leather will add to its longevity, while the zipper closure on one side and a strap with metal rings will keep your belongings safe. The casual look of this bag makes it suitable for a wide range of events and occasions, so whether you're going to school or out with friends, you will look good even when your backpack isn't at hand.
Small Crossbody Bag Tutorial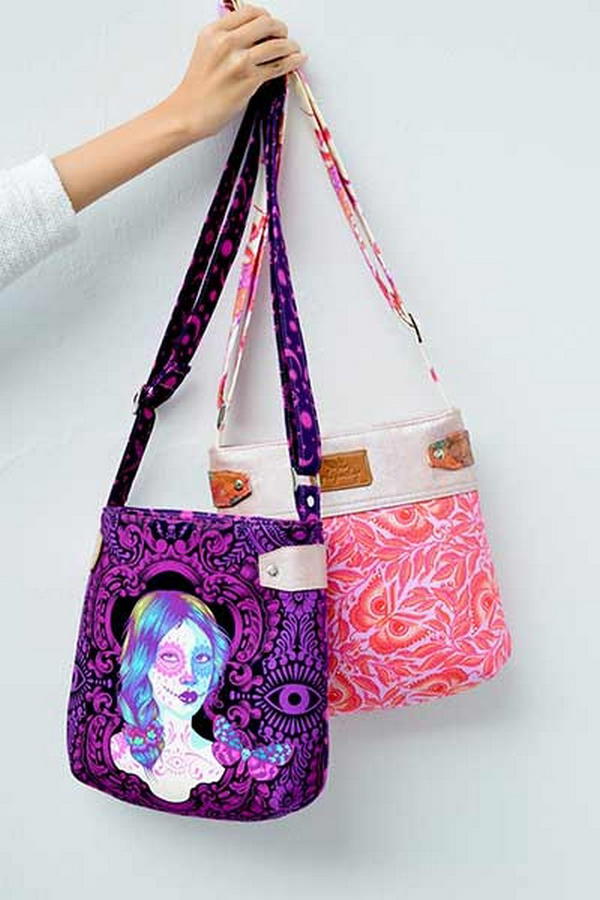 The small crossbody bag is perfect for carrying an ultra-portable phone, small wallet, and keys. The straight bottom design is fitted with curved corners and has an adjustable shoulder strap. Three pockets include one main pocket, one outer pocket on the front of the bag, and an inner zipper pocket on the interior. This bag is quick and easy to make, great for on-the-go errands or weekend getaways. The pattern also includes directions for sizes 2-6, so you can whip up a bag in no time!
You can get help from our series of plastic bag holder ideas to hang your cute crossbody bags.
Cool Crossbody Bag Pattern
This high-quality crossbody bag can be used for travel and everyday use. The main pocket with zipper closure ensures that all of your items are secure, while the outer open pocket allows you to quickly access things like lip balm or earphones. The adjustable strap secures in two places and makes it easy to adjust the length according to your need. Its adjustable strap makes it comfortable to wear on your shoulder or crossbody.
Convertible Crossbody Bag Pattern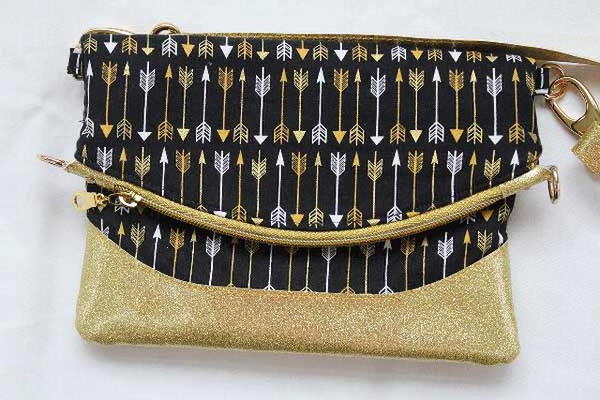 Designed to suit every occasion this convertible bag can easily be transformed from a smaller handbag into a larger crossbody bag with the help of its hollow top flap, curved edge, and metal rings. The main pocket doubles in size, courtesy of the hollow top flap that covers it and zips shut. The smaller inner pocket becomes an outer zippered pocket at this point. An adjustable crossbody strap allows for hands-free carrying options.
Hobo Bag Pattern

Make this fashion bag and carry it over your shoulder or body. It features a U-shaped top edge that extends into shoulder straps, a big main pocket, two smartphone-sized inner pockets, and two pencil holders between them. The closure is open but has a large decorative button on one side. It adds a nice touch to the whole look. The closure is open, but it does have a large decorative button on one side that adds a nice touch to the whole look.
Cute Crossbody Bag
If you love to sew and want to make adorable accessories for your use, this pattern is a must-have! What better way to show off your unique style than with a bag that shows off your personality? Following the included pattern, you can customize this cute crossbody bag with any fabric. Use it as a gift, or keep it for yourself. This is the ultimate project for creating a one-of-a-kind handbag you can use every day.
Men's Crossbody Bag
Use this pattern to create a cool bag for your man that he can use to carry around his tools, his beer, and everything else he needs on the go. This rectangular design bag comes with curved sides, a flat bottom, and a zipper closure on the side that is slightly under the upper edge. The strap goes over the bottom and is stitched, acting as a peculiar and interesting decoration. It can be made in any fabric you desire as it is suitable for any taste: for men who like to spend evenings alone or with friends playing cards at home, watching sports events on TV, at school or outdoors having fun in parks.
Gatherer Crossbody Bag Sew Pattern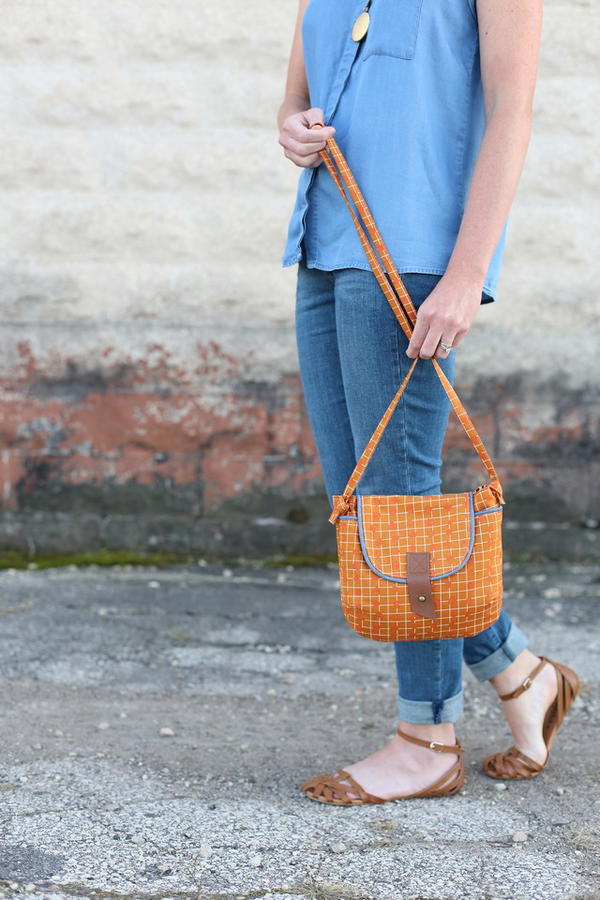 Here we come with a beautiful crossbody bag designed to accommodate your essentials. Crafted with a slightly flared top edge, a bottom edge with curved corners, one large main pocket, and an additional side pocket, the Gatherer is a great all-around bag that can be dressed up or down. The flap and secondary pocket have decorative piping around their edges, while the closure flap has a leather strap with snaps to help keep the bag securely closed.
3 Zipper Crossbody Bag Pattern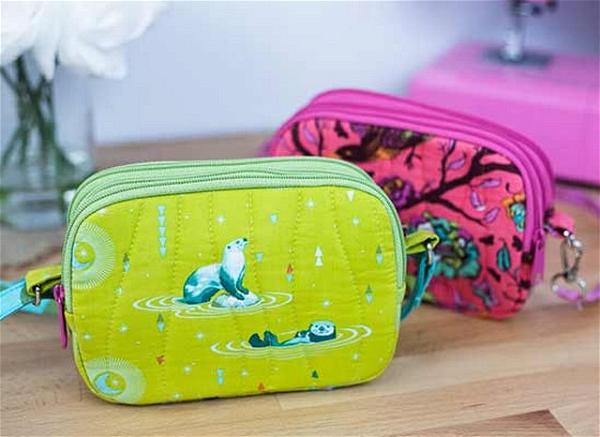 This bag's shape is simple and elegant. It has three zipped pockets that open parallel to one another and vary in size. The main pocket is the largest and perfect for all your stuff, while the other two smaller pockets are great for things like a wallet or keys and will help keep them from being lost inside the big pocket. The strap makes it easy to grab and go, whether you want to use it cross-body or over your shoulder. It will be a great loveable accessory, and I hope you'll admire making it.
Crossbody Bag Pattern For A Tablet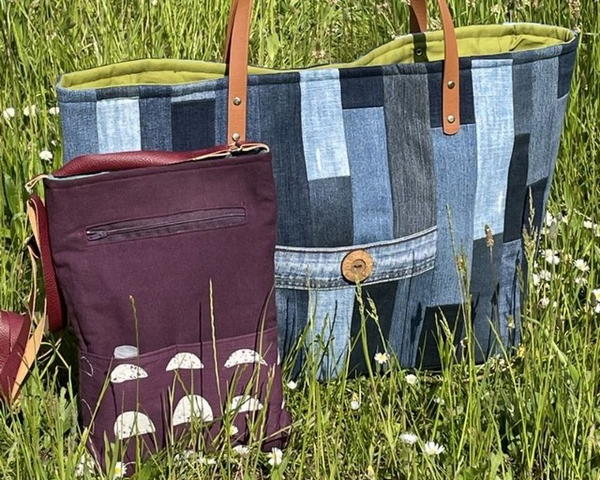 Whether you're using your tablet on the go or at home, this crossbody bag has enough room to accommodate its small size and anything else you want to carry with it. Use this pattern to make your tablet bag in any size you like. It features a main pocket with a magnetic closure, two short pockets at the bottom, and two side pockets with a zipper. The inner pocket can fit your tablet and other personal items such as a phone, pens, and notepaper. This bag also has handles, so you can carry it along easily!
Crossbody Bag Tutorial For Wardrobe
Make this bag and show off your stitching skills. The pretty argyle pattern makes it easy to identify your project at a party or in a crowd. It's quite simple to make, but you'll need basic sewing skills to put it together. We'll walk you through how to sew each step and encourage you to use this as an intermediate sewing project, teaching you a little bit more about different stitch types and what they can do for your projects.
Men's Bag From Jeans
If you're looking for a stylish and different men's sling bag, then this new design is the one you should consider. It has a uniquely curved top with a zipper going along it almost to the bottom edge, and also placed vertically instead of horizontally is its clip hook strap. There is an outer zippered pocket set vertically and an inner open pocket set horizontally, making storing all your necessities easy. There are two zippered pockets set vertically on the outer side. An inner zippered pocket sits horizontally in between on the inside of your bag.
Elementary Crossbody Bag With Button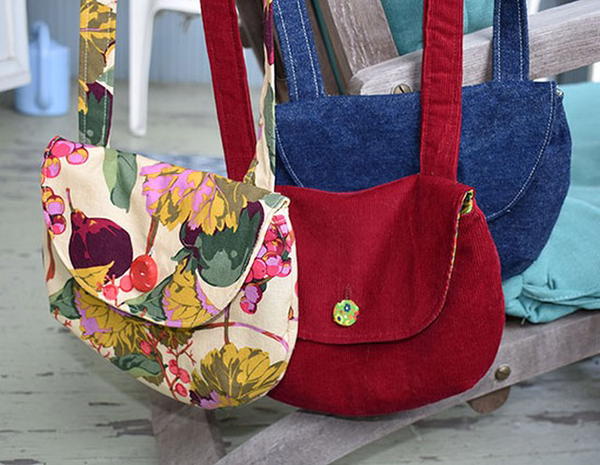 Our elementary crossbody bag with a button has a simple and sleek style, making it easy to wear with all kinds of outfits. This rectangular-shaped bag has no interfacing or plastic, so it can be called a sustainable option and environmentally friendly. When you're in need of a casual bag that can hold anything from your clothes and books to snacks and diapers, you could use a bag like the one here. The ample capacity makes this lightweight and comfortable to carry around long days away from home.
Cross Body Bag With Zipper And Card Pockets
Treat yourself with this beautiful cross-body bag. The bag works of high-quality materials that are easy to maintain, durable, and easily repel stains. The inner lining is made of soft fabric, and the outer material is PU leather, so you can be sure that your valuables are safe in this bag. The main pocket has a zipper while the two outer pockets do not, so more care should be taken when you put things in there without zippers.
Adjustable Crossbody Passport Purse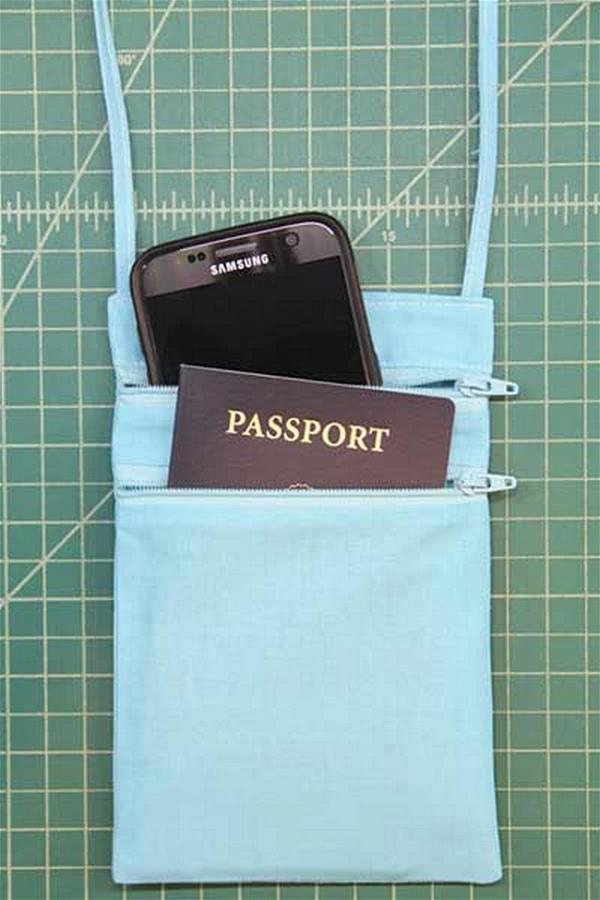 The Adjustable Crossbody Passport Purse is the perfect accessory for any traveler. It can wear across the chest, on the hip, or waist, making it easy to carry your phone and passport with you at all times—even when departing and arriving at foreign airports. The zippered pockets allow you to safely store valuables such as cash and documents without fear of theft. With two pockets, an adjustable strap, and secure zipper closure, you can carry your passport, phone, and wallet in one place while you are moving.
Triple Zip Crossbody Bag Pattern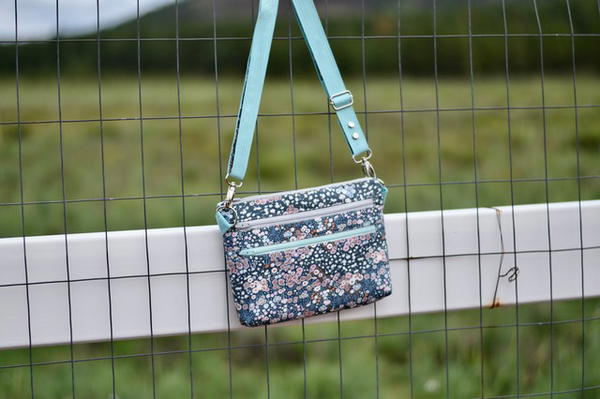 This bag is perfect for the traveler who needs a little extra room. The size can easily expand to hold your phone, small wallet, an electronic reader or tablet, cords, chargers, or a small snack. Its design has six interior pockets of varying sizes. It allows you to securely store your travel documents while traveling or any other time you need quick access. The main compartment has a zipped top closure, allowing you to store all your smaller items inside. This bag also includes a single zip pocket on the back so you can stash paperwork and other extras on the go.