Aprons are one of the most valuable pieces of clothing you can make. Aprons are a great way to keep your clothes clean while cooking, baking, or crafting. They're also a great way to show off your personality. Uncover your creativity with one of these DIY aprons. You'll find everything you need to get started in this list of 30 DIY apron ideas. These fun projects will help you make a suitable apron for any occasion and every event. There's something for every style and personality type, so take a look through the list and see which one speaks to you! They don't take long, they're easy to sew, and aprons make great gifts. It's not too late to whip up a few aprons to give as homemade Christmas gifts.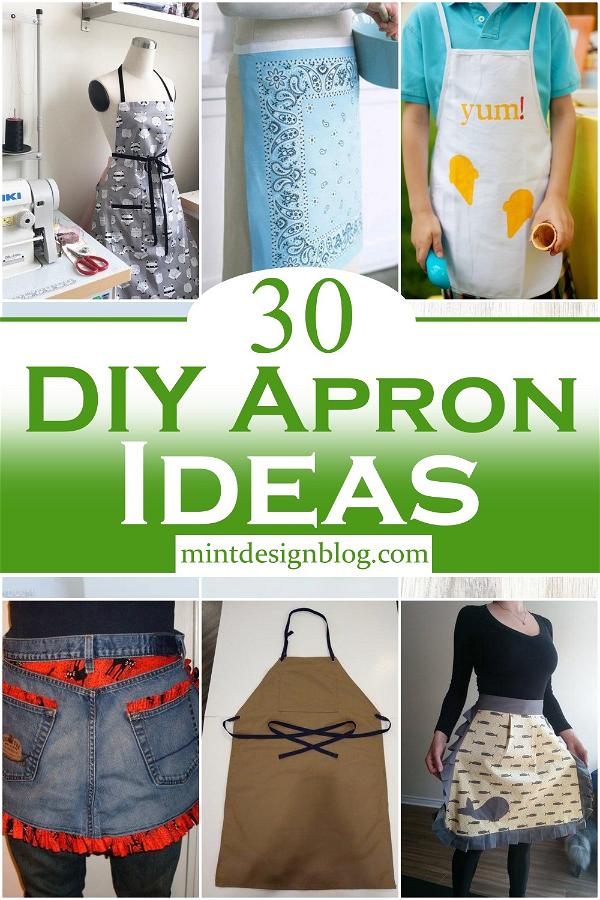 These DIY aprons are great for adults and kids. Make them for yourself or as gifts for anyone who likes to cook or bake. Aprons are not only fun to wear, but they also help keep your clothes clean and free from stains. Whether you are cooking a fancy dinner for friends or doing the laundry, aprons will protect you from splatters and spills. Aprons also make great gifts because they can be customized to fit the receiver's personality. Homemade aprons are easy to make, no matter what your sewing skill level is. There are many different styles that you can create, such as a pinafore, half-apron, or even a chef's apron. You can also incorporate different colors and patterns into the design so that the finished product is unique.
A variety of these 30 DIY Aprons Ideas are sure to impress the women in your life, whether they are mothers or aunts.
Importance of DIY Aprons Ideas
DIY apron makes baking easy
Keep your clothes clean
Avoid mixing ingredients onto your clothing
-DIY Aprons Ideas Make your life easier and save your time
DIY Aprons help chefs, home cooks, and anyone interested in cooking to dress up for cooking.
Make it a family activity
-Easy do it yourself project
-Helpful tips to save money
-DIY exclusive sewing apron ideas-DIY apron will keep your clothes from getting dirty
-Creates a unique touch to your personality
It-Fun and easy to make
Uses of DIY Aprons Ideas
Aprons are versatile pieces of clothing that can be used for a wide range of purposes.
You might wear an apron in the kitchen to protect your clothes from splashes and spills, or you might use it while gardening to
protect your clothes from dirt and stains.
If you're painting, wearing an apron will keep paint off your clothes so they stay clean.
If you are doing work on cars or bikes, an apron protects your clothes from oil and grease.
Some people who work in construction wear aprons to protect their clothes and because they hold tools and other items that the
worker may need during the day. In addition to these more common uses, there are also some more unusual uses for aprons.
Whatever the reason you need an apron, we have some great DIY apron ideas for you!
DIY Ice Cream Apron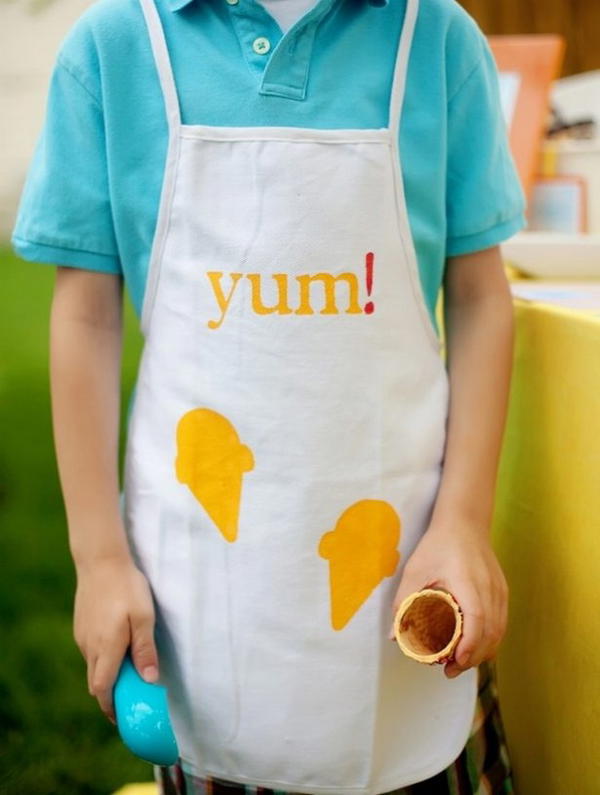 Make and wear cute treat-inspired aprons with the DIY Ice Cream Apron! The perfect apron for your little one to wear while creating their perfect summer treat! Keep it cute while whipping up some adorable ice cream treats with this DIY Ice Cream Apron. The apron includes a color in and transfer decal of ice cream, popsicle, and sweet treat graphics, so you can make and wear the yummiest looking apron ever! It's the perfect accessory for any little chef in the making!
Easy Square Aprons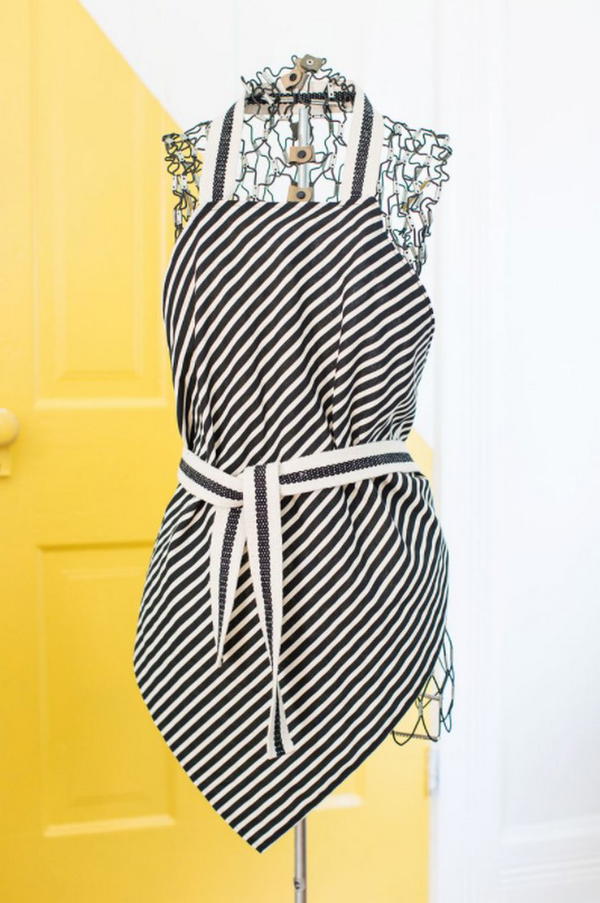 A basic square apron that looks great in any kitchen. Features three handy front pockets and adjustable ties. Decorating your kitchen has never been easier or more stylish! These aprons are so quick and easy to make. For a simple apron, you simply fold a square piece of fabric in half and sew along the sides. They are perfect for everybody, from the beginner sewer to the more advanced seamstress. This simple apron is made from one square piece of fabric plus straps. A perfect beginner's project or a quick and easy sewing project for anyone. You can do it in less than an hour, from start to finish!
How to Make a Men's Bespoke Apron
Learn how to make a handsome apron befitting a sophisticated chef to celebrate Father's Day. Wow, Dad this Father's Day by giving him a gift for the ages: a practical, versatile denim apron he'll want to wear every day. This workhorse of an apron features durable leather straps and loops for hanging his most useful tools and spices from. Plus, its back pocket can be used to store hot food trays or even his phone, so he can stay connected while you grill up some hotdogs together.
This bespoke apron looks great and will also help protect your garments from those pesky splatters and drips. So even when you're cooking up a storm, you'll stay neat and polished. You'll learn how to measure yourself and design an apron that fits perfectly, customize your apron with pockets and patches, and sew up the seams using different decorative stitches.
DIY Jeans Apron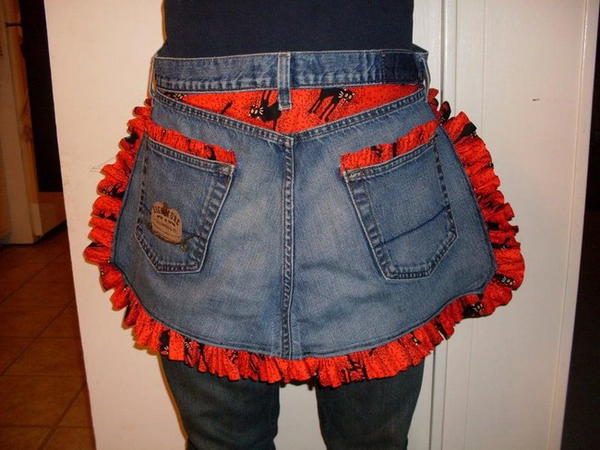 This is an old jeans apron. You can recycle your old jeans with this DIY project and create a fantastic jeans apron. Sewing jeans with a needle and thread is quite difficult; you would need a sewing machine to make this jeans apron. Discover how to make an original apron out of old jeans. Create a useful item that will keep your clothes clean and make the perfect gift for anyone who loves cooking or working in their craft room.
DIY Shop Apron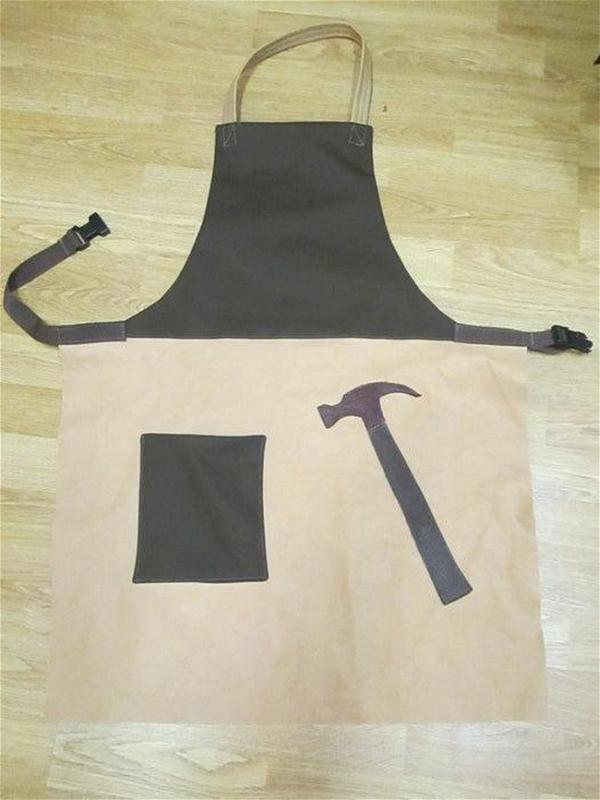 If you want to keep your clothes clean and maintain a proper posture while working, this DIY shop apron is for you. It is easy to make and with its details such as the pockets and the hammer, it will help you enhance your experience at the workshop. You can easily carry all your tools in the apron's pockets and stay hands-free while working. This shop apron is very convenient for workshops, garages, and shops. The pockets are more than sufficient to hold tools, cell phones, notebooks,s, etc.
DIY Art Apron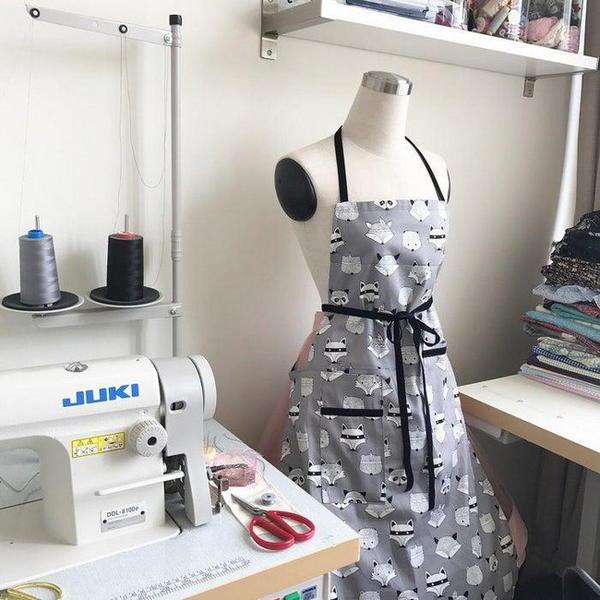 You are an artist and you want to protect your clothing while working on your latest project. You do not have time to go to the store, make a template, sketch out a pattern, and sew it. With this DIY tutorial, you will be able to make this art apron for yourself in no time. Make this simple, versatile DIY art apron! It's the perfect way to protect your clothes from all those messy DIYs. This step-by-step tutorial and pattern are great for a beginner sewer or an advanced seamstress who needs a quick project to make!
Simple Apron DIY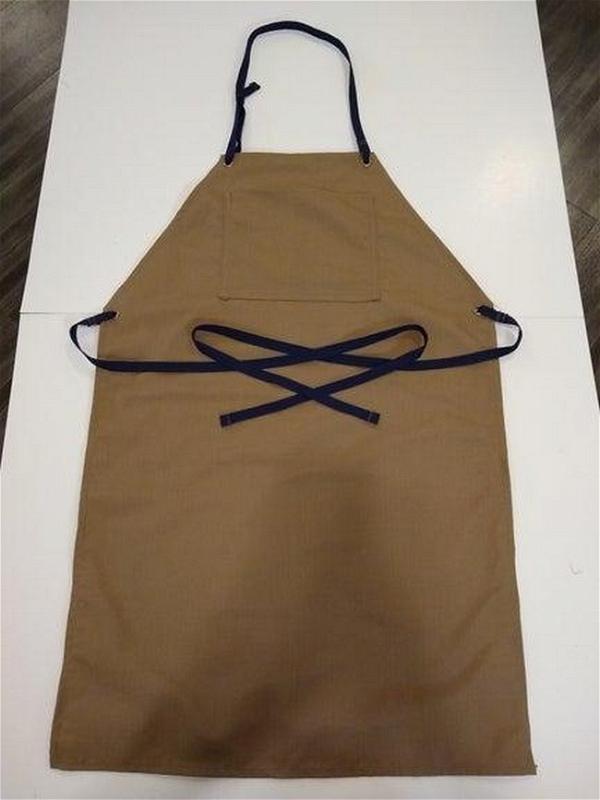 Are you looking for something simple? Here it is. This is by far one of the most simple aprons to make. You can use any fabric of your choice. Here's a pro tip "use a fabric that will match with the decor of your kitchen." This Simple Apron DIY is straightforward in every sense of the word. This apron makes for a very functional piece, from the fabric to the design to keep you from getting dirty while in the kitchen. If you are a beginner and have waited to start sewing, this is the apron pattern. This apron is perfect for your beginner sewer.
Retro Style Apron DIY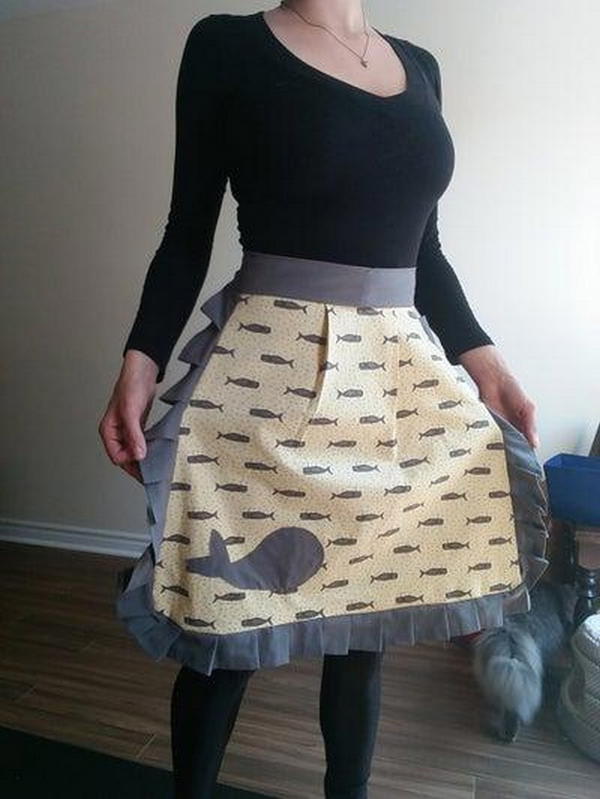 A gorgeous retro-style apron. If you know to sew, it is much easier to sew this cute apron. Otherwise, a beginner can make this retro style too without having to be a pro tailor or seamstress. Create your own retro-style apron and dazzle your friends. All you need is some chalk, an iron, scissors, a sewing machine, and other tools. If you have experience in sewing, the making process will be overly easy for you. If not, then a beginner can make the retro-style apron without having to be a pro tailor or seamstress.
DIY Bandanna Apron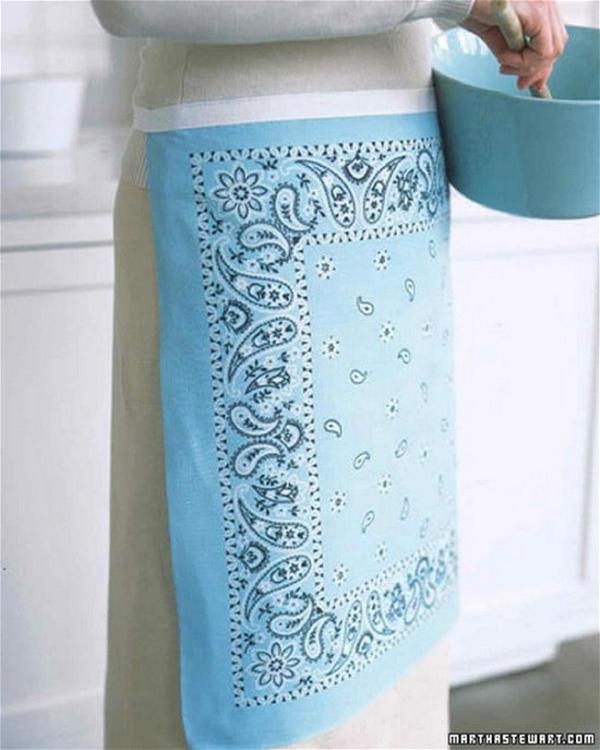 If you love the vintage look of an apron, then you will love this bandanna apron. It's very easy to make and looks fantastic. You can sew this project by hand or on a sewing machine. Either way, you'll end up with an adorable DIY apron that is better than anything you can find on the market. This apron is a fast and easy sew for a variety of sizes. The adjustable neck lets you customize the fit, and its extra-long waist ties let you secure it in the front or back.
DIY Easy Kids Apron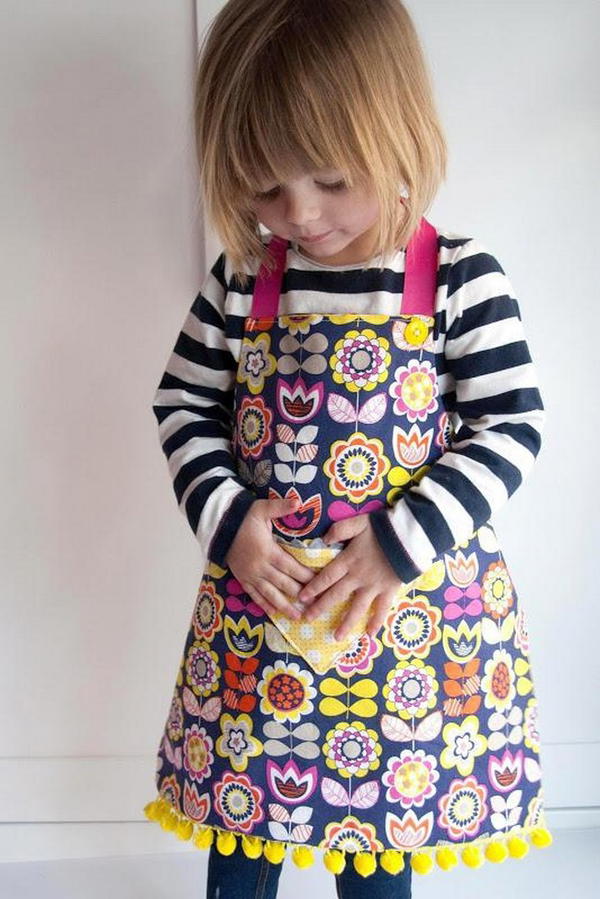 Making something for yourself is great, but making something as a gift for someone else is even better. There is no better gift to give than one that you have made yourself. And now you can tackle it with your kid! Kids love to be in the kitchen, whether helping take out food to serve or adding ingredients while everything cooks. This DIY project will show you how to create an easy apron that kids will love. It's an ideal way for them to help out in the kitchen, and it's an excellent activity to keep your little one busy.
DIY Flirty Apron Idea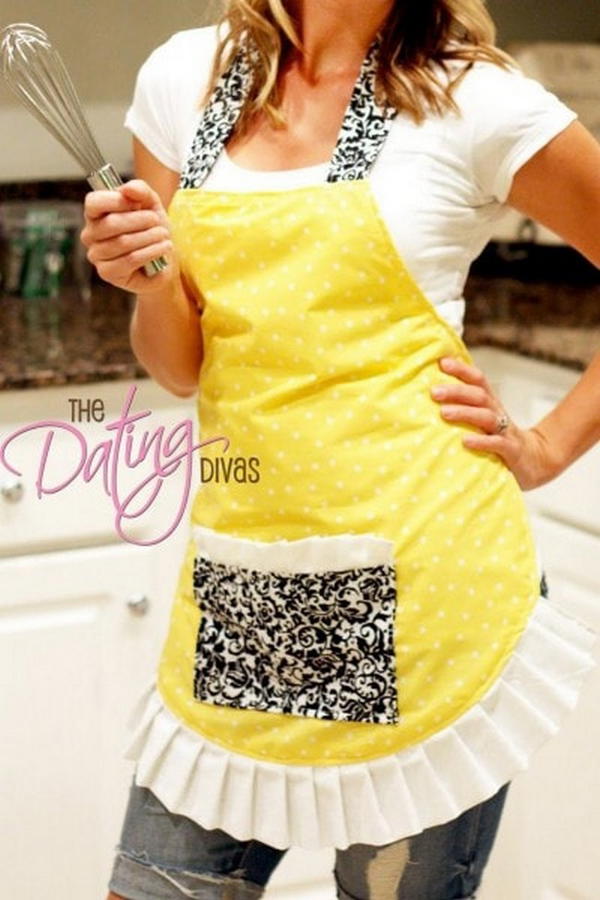 This DIY Flirty Apron Idea is a great way to add some fun, feminine character to your cooking. The overall design of this apron is pretty. It's hard not to notice the lovely ruffles on the bottom edge of the apron. This tutorial shows you how to make your own apron out of cloth, giving you complete control over the design and quality of your apron. You can have a lot of fun with this! You can easily adjust and modify it as much (or as little) as you like. This is better than a store-bought apron, which can also be a thoughtful gift for friends and loved ones.
DIY Gathering Apron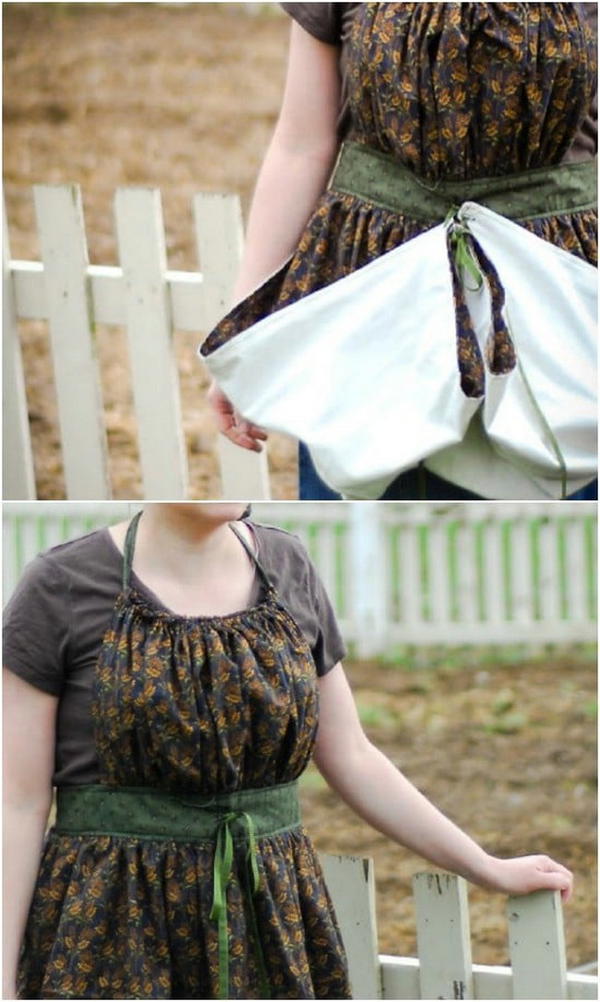 Gathering aprons are super useful! They come in handy for projects, from harvesting to cooking. The best part is that you can make a gathering apron with materials you probably already have lying around at home. Make this adorable gathering apron for all your gardening needs, or use it to craft your home decor projects. The project takes less than an hour and is a perfect beginner sewing project. Gather your loved ones and let's take a look at this apron. Get ready to learn how you can make your very own gathering apron. You'll be the best-dressed hostess on the block.
DIY Toddlers Apron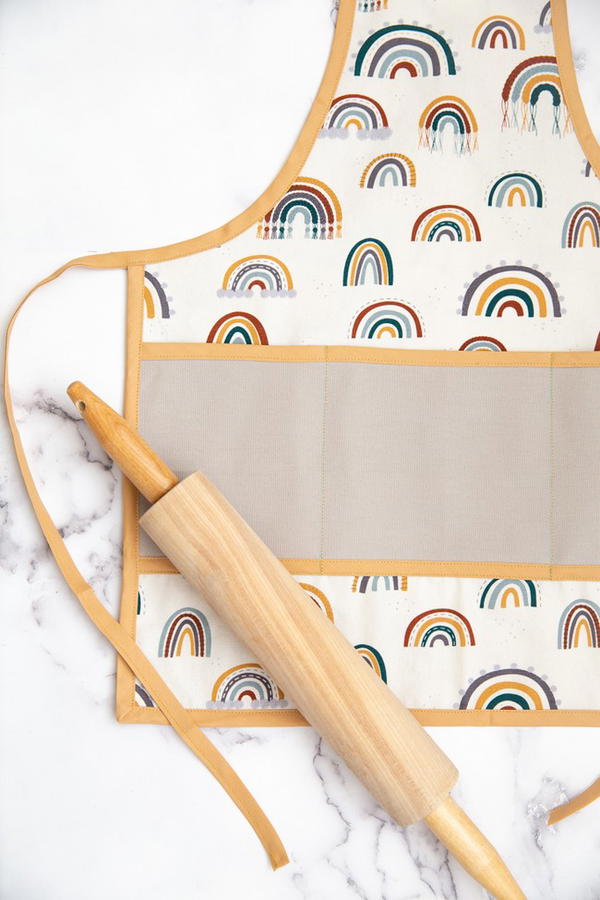 This toddler apron protects your pint-sized chef from spills, splatters, and mishaps and it's so cute, you may want to make a few. Show your little chef the joys of cooking with this adorable apron. Sewn from the same pattern that we use for our adult size aprons, these will fit children 2-6. Get your children involved in cooking by making them aprons to wear while they help you out. This cute apron is easy to make, too – so easy that you can whip one up in an hour or less!
DIY Waterproof Table Cloth Apron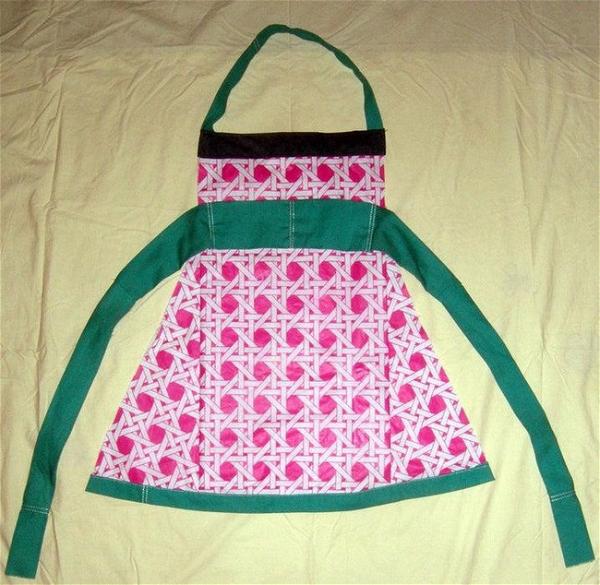 Looking for a way to help you stay dry in the kitchen? Protect your clothes from spills while working on messy projects with the Waterproof Table Cloth Apron. This DIY accessory is super easy to make and acts as an extra layer of protection. Protect your clothes from painting mishaps, water, and other fluids with this waterproof table cloth apron. This handy apron will keep you clean and dry from spills when scrubbing or coating the table. With a sturdy strap that adjusts to fit over the head, this protective apron is easy to put on in a snap. The versatile design can be used while doing household tasks or cooking in the kitchen.
Placemats Transformed To Aprons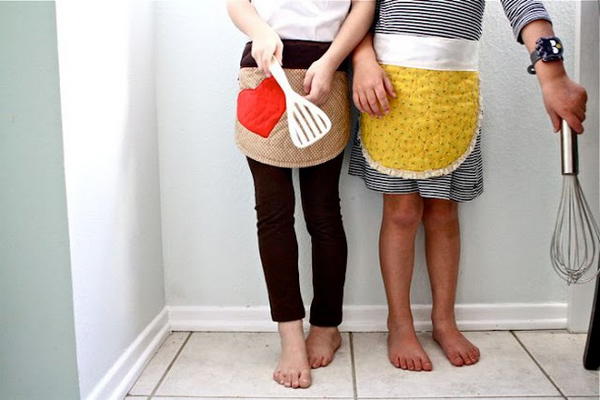 His and hers are aprons out of placemats. The husband and wife wrote this pattern themselves. A great project to embellish and personalize with fabric paints, stamping, or iron-on decals. This beautiful apron can be used by those who love to cook in style. It is easy to make and uses your beautiful placemat. Beautify your kitchen by using placemats to make very pretty aprons for your cooking. It is easy to do and does not take much time. If you have beautiful placemats, why not make them into a pretty apron for use in the kitchen?
DIY Box Pleat Apron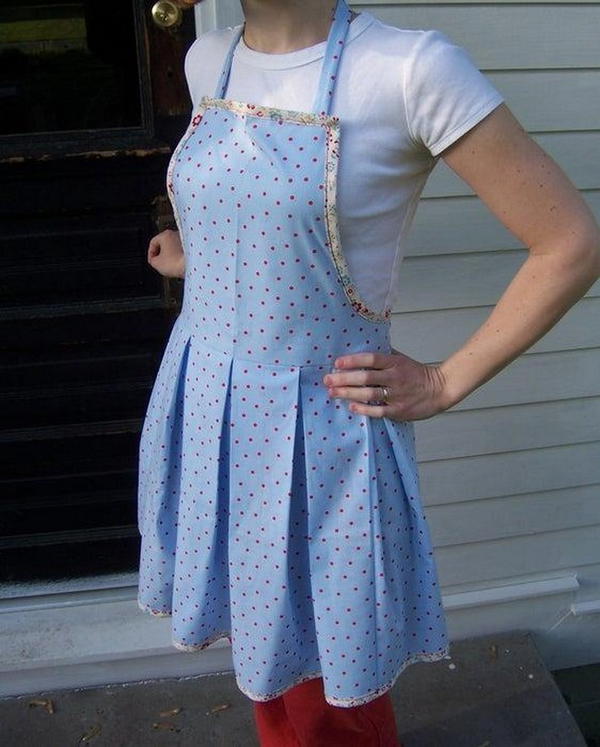 If you like cooking at home and want to start a DIY project, you can make this beautiful Box Pleat Apron. This lovely apron is designed to fit snugly around any waist. This is a beautiful handmade apron that will inspire you to keep cooking your favorite dishes. Make this DIY Box Pleat Apron in just a few simple steps, as a handmade gift or to spruce up your own kitchen. Just grab your needles and get started on making this beautiful handmade apron. You won't need a machine - just a needle, some thread, and patience.
DIY Coffee Bag Apron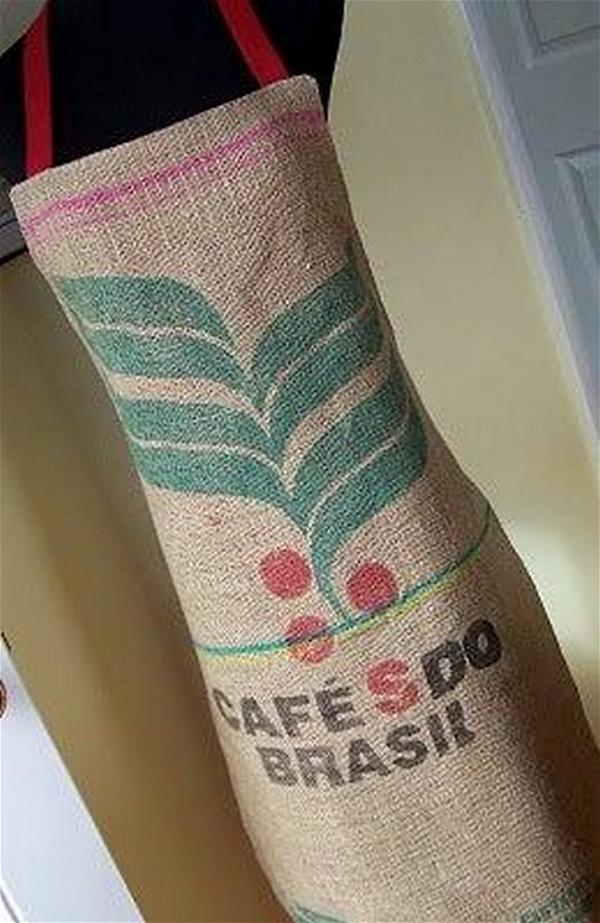 If you love coffee, this coffee bag apron is the perfect apron project for you. Get organized in the kitchen with this DIY coffee bag apron – perfect for tea lovers and coffee addicts. Unique, this cotton coffee bag is repurposed into a stylish apron. It's easy enough to be made in an afternoon and will add an extra bit of personality to your kitchen. You don't need any stitching skills as it just involves using scissors and a hot glue gun. It has coffee written all over it!
Put A Bird On Apron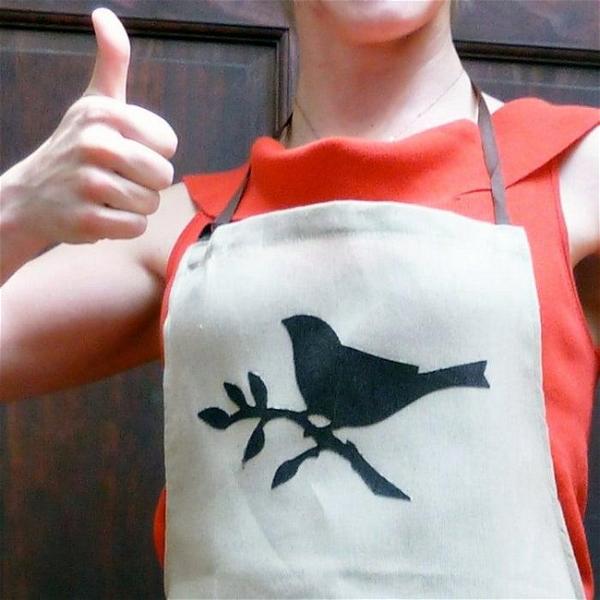 Aprons are an essential part of your kitchen attire. They're functional, they look good and they show you know how to get things done. But there are a lot of boring aprons out there. You need to stand out! Try this easy sewing project using a few simple supplies, and you can Put A Bird On Your Apron in just a few hours. This unique apron adds a little pattern, a little ruffle, and a lot of style to your kitchen.
Dress Shirt Transformed To Apron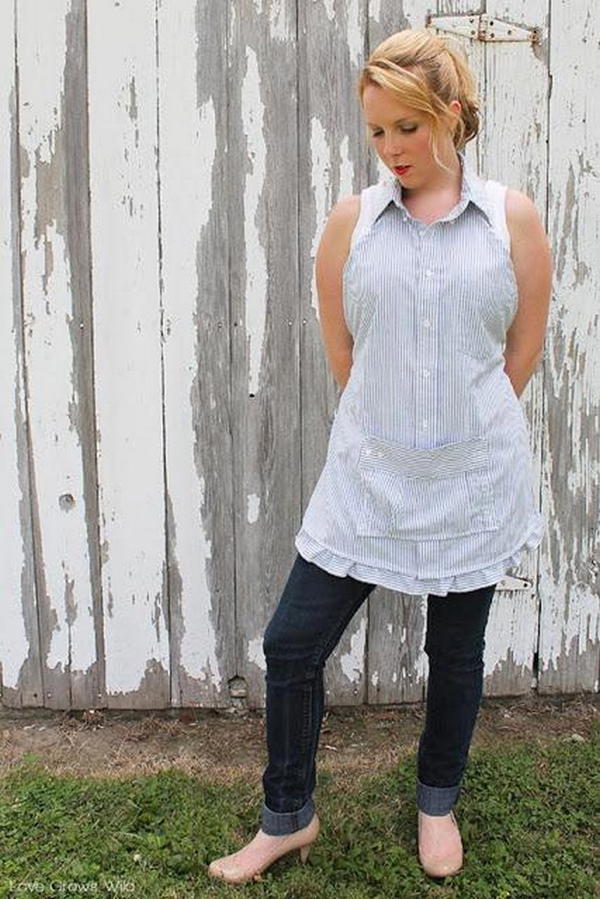 Find out how to transform a men's dress shirt into a fashionable apron. This DIY project is easy and requires just a few materials you probably already have in your house. There is no need to go out and buy an apron when you can make one yourself using your old dress shirt. This DIY apron project will show you how to use simple pockets from the shirt, and now you have a new apron and new cuffs for your dress shirts.
DIY Half Apron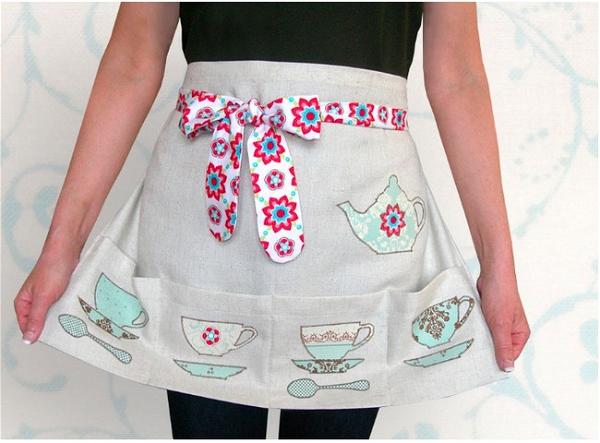 Get ready for a bit of sewing! This easy DIY half apron is the perfect project to keep you looking stylish while cooking, crafting, or gardening. Style it to be whimsical and fun with a teacup fabric, or go for something a little more sophisticated with a chevron weave or simple gingham check. Once you've mastered the technique for one, what's stopping you from making dozens more in all your favorite fabrics? This half-length apron is the perfect way to protect your clothes when working on messy jobs in the kitchen or garden. With four pockets, it's convenient for carrying tools, a phone, snacks, and more.
Child Sensory Apron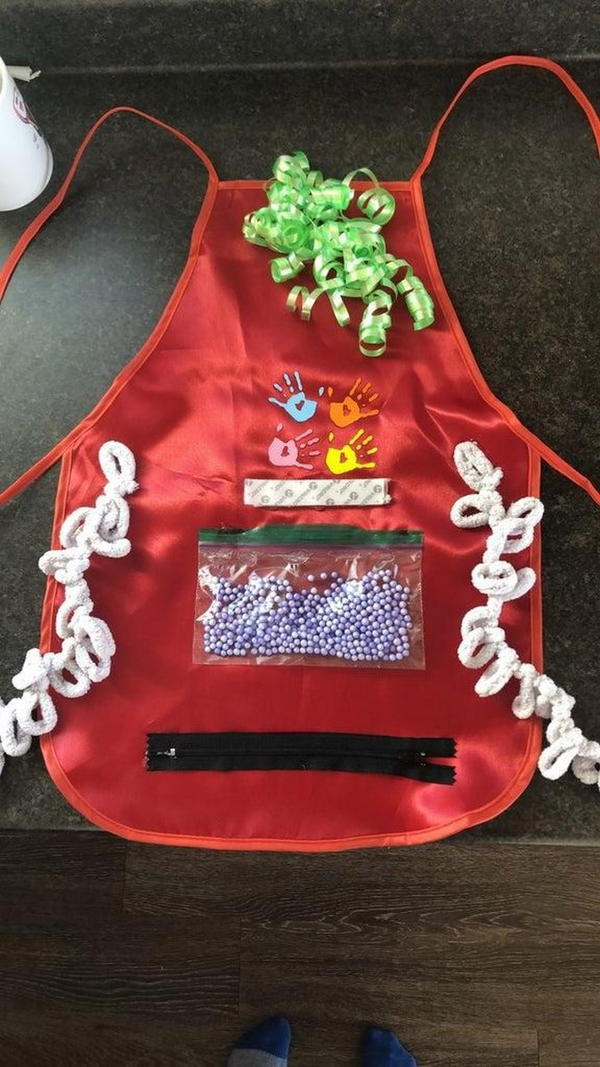 This personalized apron is so much fun, it will quickly become an essential tool for all of the little ones who visit your home. A sensory apron is a great way to keep the young ones occupied, and it is easy to make! Help your child increase fine motor skills and build coordination with this simple pattern. This sensory apron is designed to offer children several different tactile sensations while also providing visual stimulation.
Old Dress To New Aprons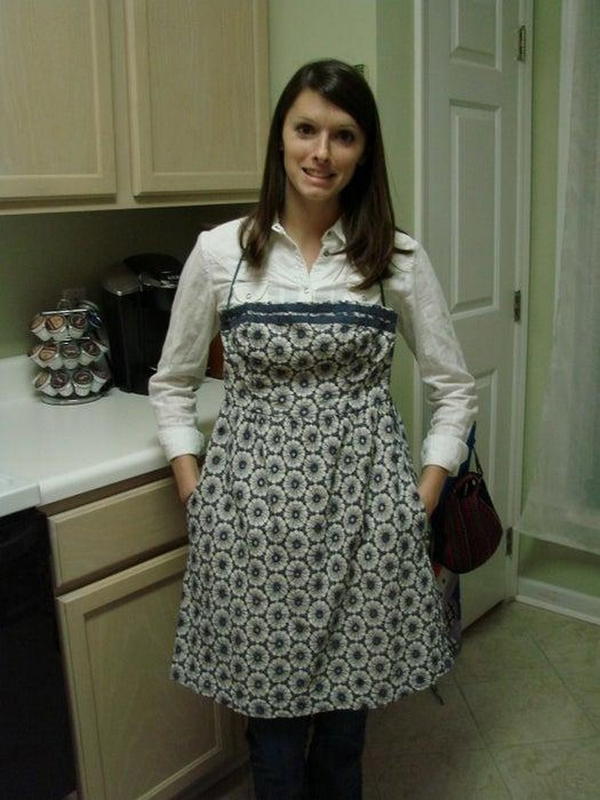 You can quickly make a pretty-looking apron by converting an old dress into an apron. This is one of the simplest ways to make an apron, and you can use the same steps to make any number of aprons with dresses you have in your wardrobe. To make this apron from an old dress, you will need a sewing machine or needle and thread, sharp scissors, and your chosen dress. This project is easy for beginners as well.
DIY Button Up Shirt Apron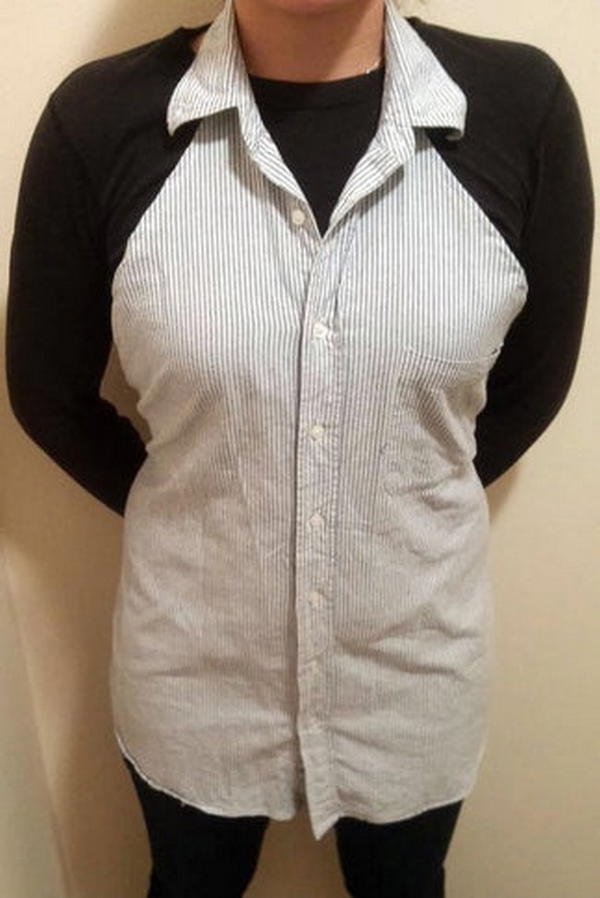 Would you like to be different? Start by changing the apron you wear. This DIY Button Up Shirt Apron is a creative way to make a statement while running your household business. The colorful buttons will make you stand out from your neighbors and friends who wear regular fit aprons. You'll be amazed at how accomplished you feel as the compliments pour in even before each task of the day is completed! This Button-Up apron pattern is an easy and inexpensive way to repurpose your old shirts! When you're finished, simply throw them in the wash, and they're ready to go again. You can use it as an apron in the kitchen or garden, a smock for painting, or to protect your clothes while working at your desk. So grab yourself an old shirt, and let's get started!
DIY Leather Apron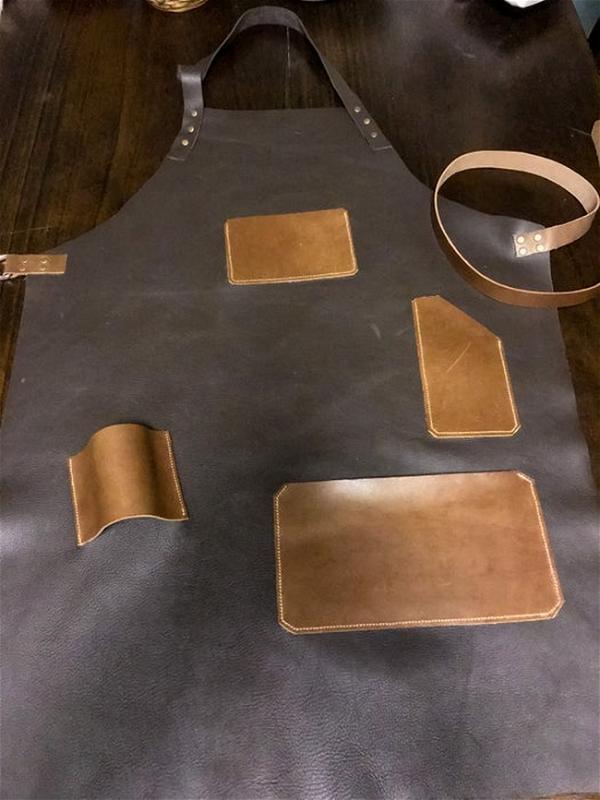 DIY Leather Apron is a handcrafted rustic leather tool apron ideal for the metalsmith, fabricator, or carpenter. The leather apron is an ideal apron to use in your woodshop and other areas of your home. Leather aprons are highly customizable and easy to clean. This project is recommended for intermediate leathercrafters and above but can be done by beginners with patience and careful attention to detail. The thick leather is designed to be extra durable and protect your clothing when working with power tools. And while this apron was made with makers in mind, it would also make a handsome accessory for your kitchen.
DIY Woodshop Apron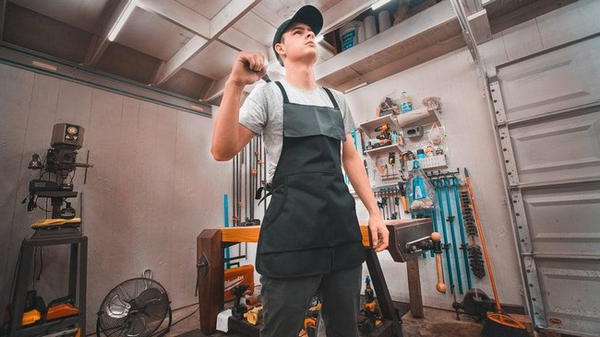 DIY Woodshop Apron will turn you into a professional carpenter. You can give this apron as a gift to your best friend who loves carpentry. This black woodshop apron can be used to save your clothes from getting dirty and damaged. The utility of this apron is not limited to your woodshop. It can also be used when working on cars, oil painting, and other projects. This DIY Woodshop Apron is perfect for any workshop and the perfect solution for woodworkers, cabinet makers, carpenters and machinists, car mechanics, and other tradesmen.
Adjustable Chef Apron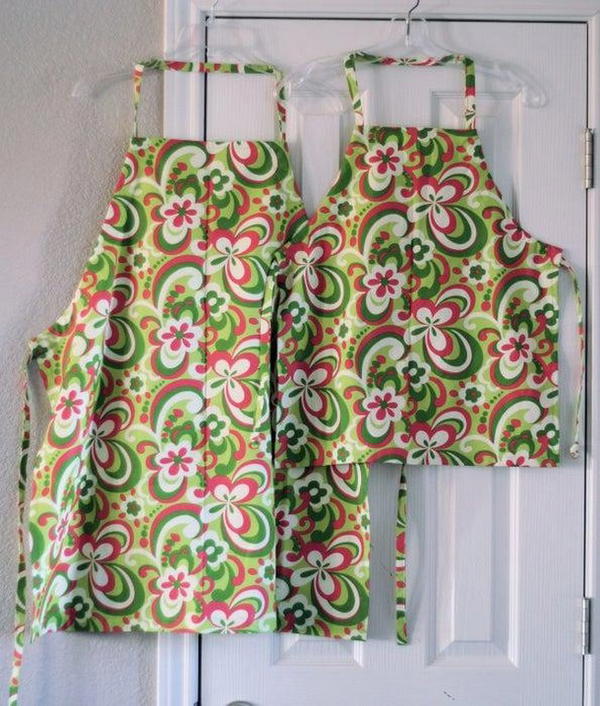 This multipurpose apron is ideal as an everyday kitchen apron. Its adjustable neck allows it to fit on nearly anyone and its waist tie can be adjusted to ensure a perfect fit. This handsome apron protects your clothes from drips and splatters with a hardworking blend of poly-cotton twill. An adjustable tie at the neck and waist ensures a perfect fit, and a handy pocket keeps essentials at the ready.
DIY Hostess Apron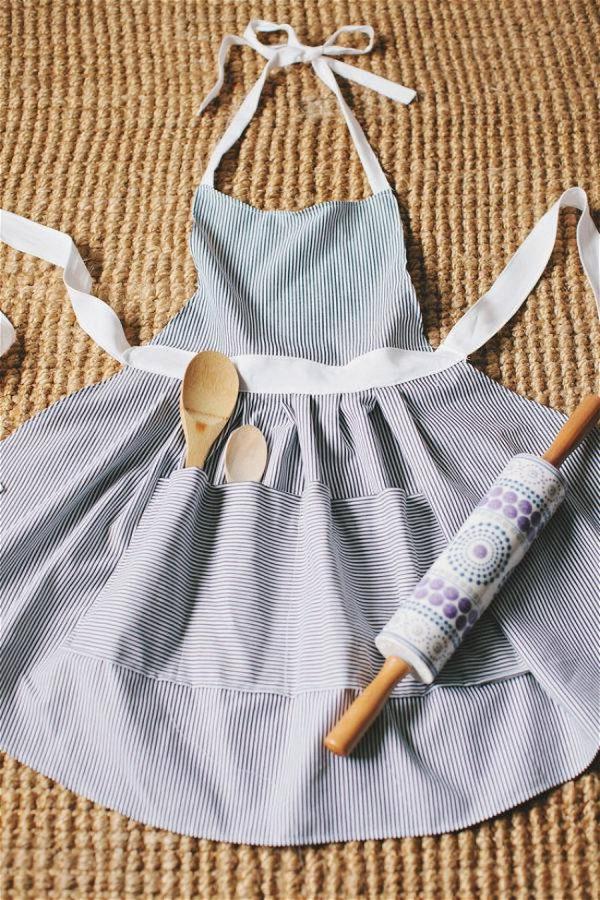 This DIY Hostess Apron is easy to make and requires basic sewing skills. The apron has two pockets to hold spoons while cooking or stash your phone or notebook while hosting. The pockets thoughtfully placed on this apron make for the perfect storage of cooking spoons, gadgets, or your afternoon snack. The classic styling and eye-catching details speak for themselves - this apron will quickly become your new favorite kitchen accessory. It also makes a thoughtful gift for a loved one.
DIY No Sew Kids Apron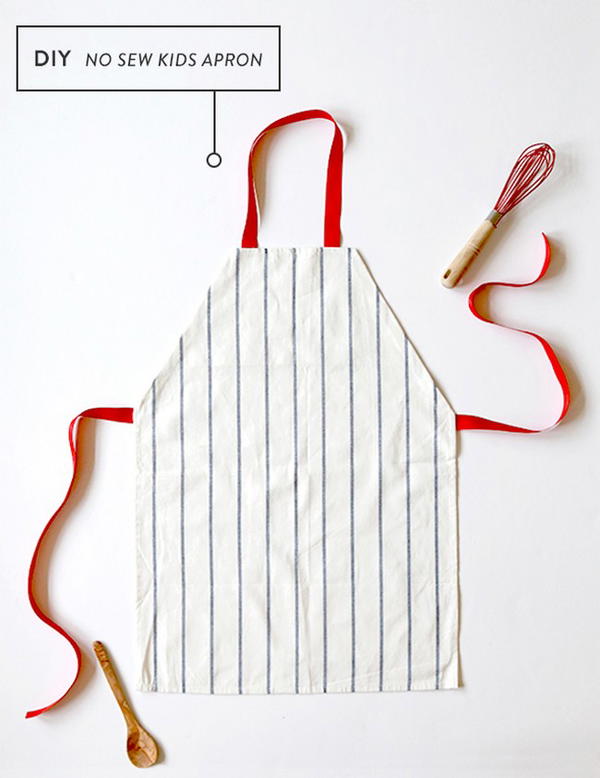 Are your kids anxious to help out in the kitchen, but you worry about their clothes? No need to worry anymore with these adorable DIY no-sew aprons! They're simple and easy to make from materials you may have on hand. These colorful aprons are adorable and festive and the perfect way to get your kids excited about cooking and baking. They're so easy to make, we can't wait for everyone to make them! Your kids will thank you for giving them the freedom to get messy without having to worry about getting dirty!
Men's Dress Shirt Apron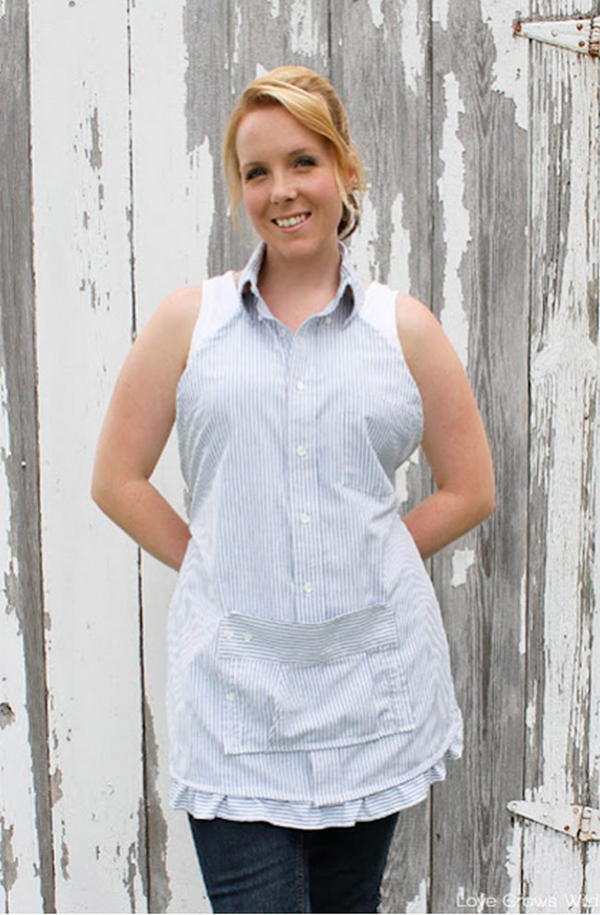 Backyard cookouts and business meetings may call for completely different moods, but the Men's Dress Shirt Apron is ready for both. This apron was originally made from an old men's dress shirt, but any button-up shirt will do. It's really simple to make and can be made in less than an hour! This is a perfect project for anyone looking for a great gift idea but not sure what to get. Plus, it's great for anybody who enjoys cooking and getting messy in the kitchen. It's incredibly affordable and fast to make, so let's do this!
10 Minute Dish Towel Apron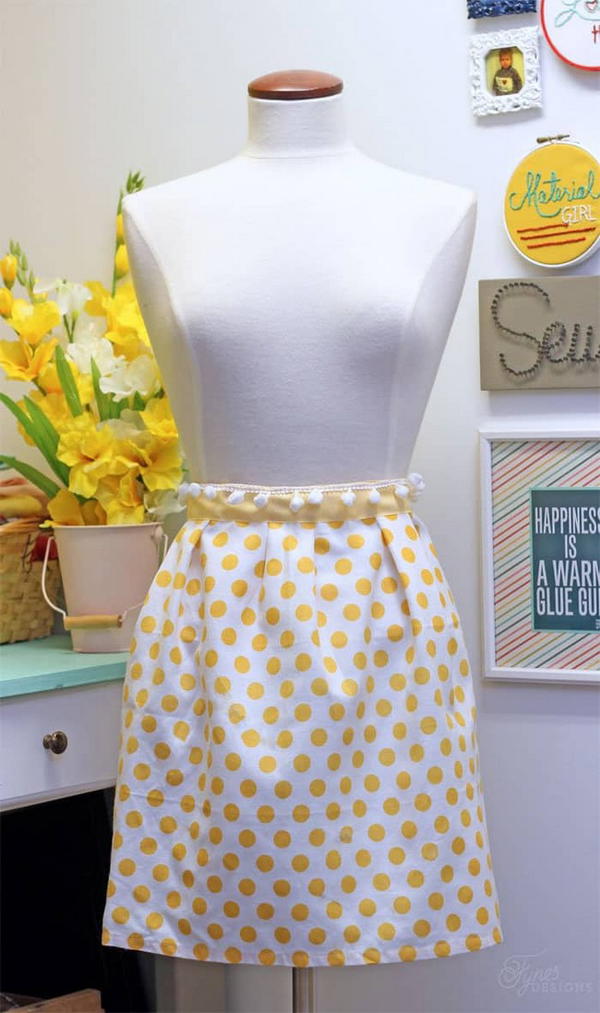 Cute, easy, and fast—everything you could want from a kitchen accessory. A perfect project for the beginner sewer that is guaranteed to yield an apron that will be used for years. Keep your bath, kitchen, or kids' craft room clean with these all-purpose aprons. These super-soft flour sack dishcloths/towels will protect your clothes and are quick and easy to make. This 10-minute dishtowel apron takes the guesswork out of gift-giving. It's the perfect gift for your daughter, granddaughter, or bestie that loves to cook.