If you are into photography, having your own backdrop stand is essential. The backdrops are useful for reflection and professionally taking images and videos. With the backdrop stand, you can add magic to your photos and videos, especially if you plan on uploading them online. These DIY Backdrop Stand Ideas are a great addition to your camera kit. They are easy to build and work exceptionally well when trying to create professional-looking photos and videos that grab everyone's attention. If you are into video creation or photography, you should check out these easy-to-build DIY Backdrop Stand Ideas and plans. Hopefully, this list will inspire you to build your own DIY backdrop stand in the style that suits your needs!
Homemade Backdrop Stand Ideas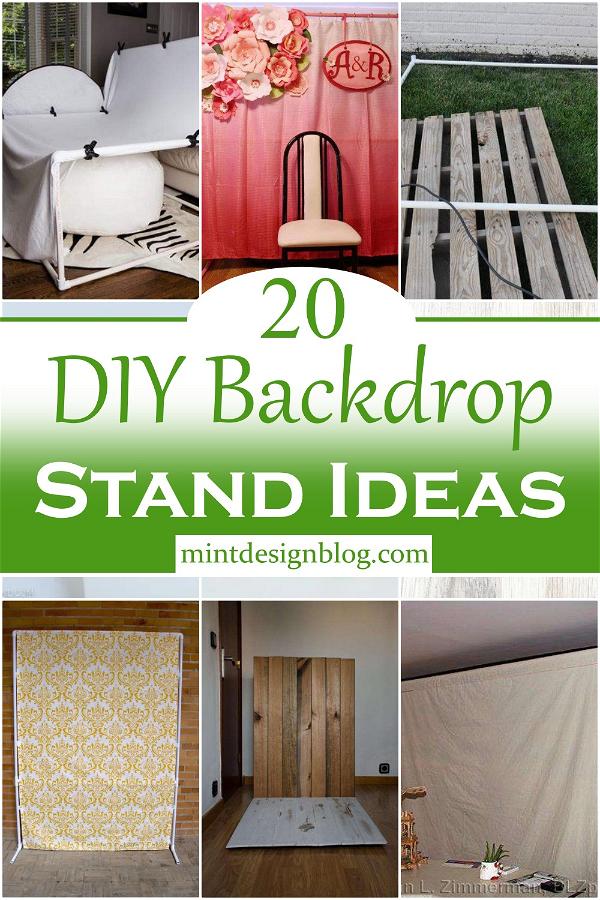 These DIY Backdrop Stand Ideas will help you to create a professional setup for your photography and videography. They are simple enough that you can do them with virtually no prior experience in carpentry, handiwork, or photography. You can either get supplies from your local hardware store or order them online. Plus, they are good ideas if you want to learn how to make stuff with your hands. With these amazing DIY backdrop stand ideas, you can easily build yourselves a high-quality setup at almost no cost. So, if you are into photography, give these ideas a try!
You Can See: 25 DIY Light Box Ideas For Photography
Uses And Benefits:
If you want to get the best shot, a backdrop stand is a perfect way to direct light on the subject of your photo or video. This can be an incredibly useful tool for photography, videography, and video blogging. Below you will find different DIY Backdrop Stand Ideas for all occasions. Some of them are good for wedding parties; others are perfect for simple portraits, and still others make it easier to do photo shoots and videos. If you want to get more creative with your cameras, backdrop stands will be a great asset in helping you reach your goals.
In this DIY post, we have collected 20 DIY Backdrop Stand Ideas for all those photographers who want their images to stand out from the crowd!
Homemade Cheap DIY Backdrop Stand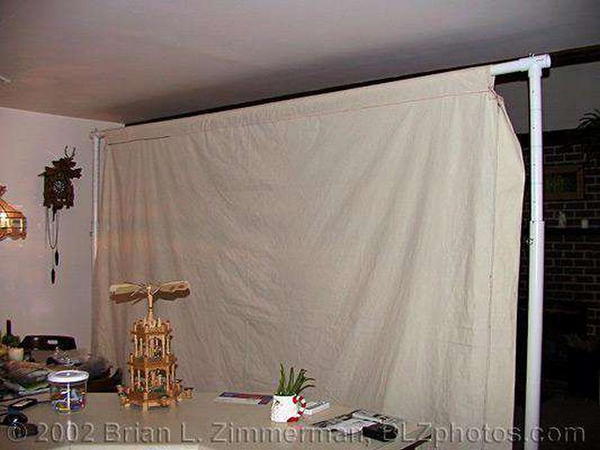 This DIY backdrop stand was designed to be easily constructed with a few pieces of wood and some fabric. It is lightweight, making it easy to transport your panels from place to place. Also, the structure is easily adjustable; once you have constructed the base, it is simple to disassemble and rearrange it as needed. It's cheap, it doesn't take long to build, and you will be amazed at how much of an improvement it can be overhanging your backdrop from the wall.
DIY PVC Backdrop Stand Tutorial
The DIY PVC backdrop stand is very easy and simple to make, as it is made from PVC pipes and accessories. All you need to do is get a roll of fabric to use as a backdrop cover. Next, go to your nearest hardware store and find some PVC pipes, elbows, etc. After you have tightly connected everything, there might be no movement, especially when you are taking photos. Stand the backdrop straight and hang the fabric on it! It may cost less than $15.
DIY Easy Backdrop Stand
Do you want to create a simple but elegant DIY backdrop stand? If so, then try this project. You only need PVC pipes, elbow joints, and some glue or cement to attach the pieces together. It will take 10 minutes to complete the whole process, but it will take you much longer if you add additional details such as finishing coat etc. It's so simple that you can use it for your own photo shoots, parties, or even at home. You can also add accessories like pipe threaders and floor flanges.
DIY Photography Backdrop Stand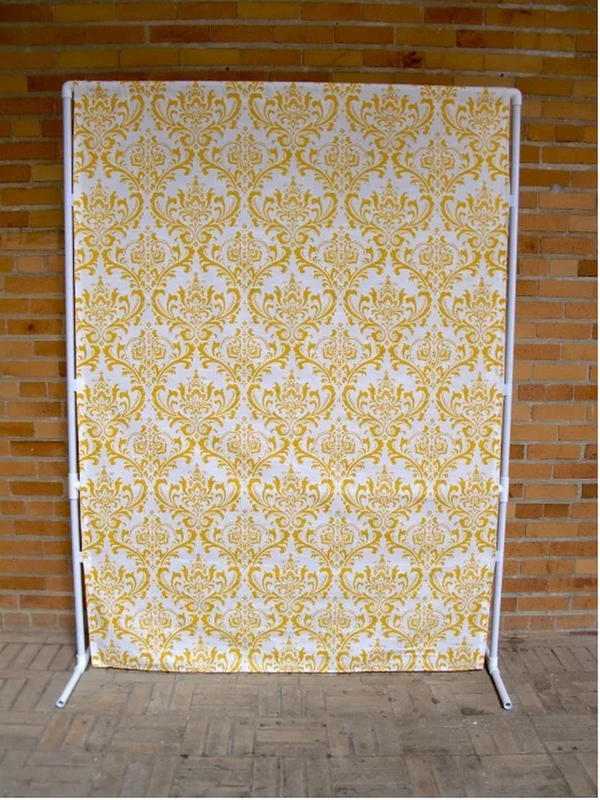 The DIY Photography Backdrop Stand was created to make it easier for you to do professional photo shoots in your home or office. This stand measures 16 inches and has a height of 28 inches, making it perfect for photography enthusiasts who want to showcase their work. The best part? You make it! The DIY Photography Backdrop Stand is perfect for those who want to take their photography game up a notch but don't want to pay hundreds of dollars for the privilege.
DIY 10 Minutes Photo Backdrop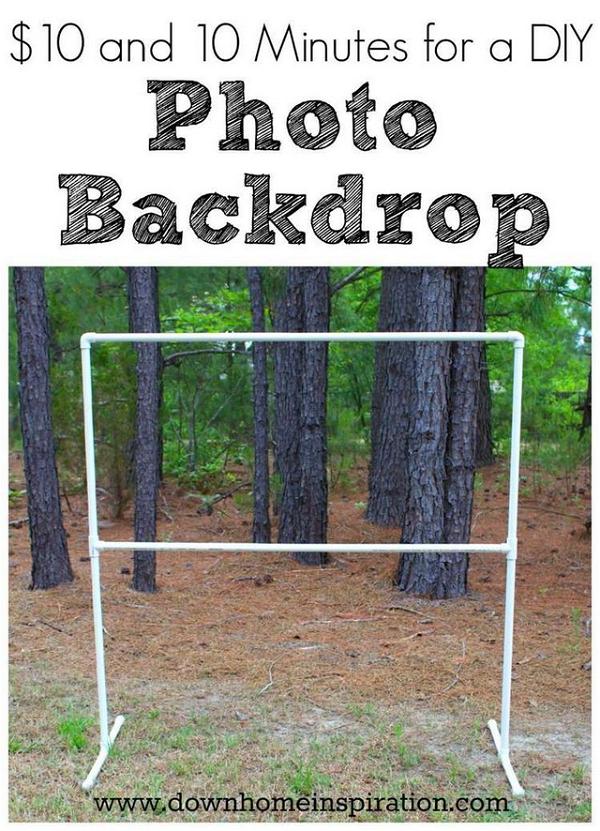 A DIY 10 minutes photo backdrop is easy to build and can be done in a relatively short amount of time. The DIY backdrop stand will create the perfect environment for you and your family or friends to take awesome pictures with your camera. The materials needed are 10′ lengths of ¾″ PVC, 5′ lengths of ¾″ PVC, ¾″ PVC end caps, ¾″ PVC Tee pieces and ¾″ PVC elbow pieces. What's more? You don't need to spend money on expensive photo backdrops with unnecessary features you do not need.
DIY Backdrop Stand Under $25
This DIY Backdrop Stand is a must-have for every photographer. It is extremely simple to set up and can be assembled in minutes, so you can get more done faster. The best thing about this stand is that it is made from PVC pipes. All the nuts and bolts needed are available at any hardware store, making this project accessible to everyone. This tutorial will show you how to build this PVC Pipe Backdrop Stand for under $25 in the most economical way. With this project, you can create a full-size backdrop that you can use for photo shoots or decorations.
DIY PVC Backdrop Stand
The PVC backdrop stand displays photographs, art pieces, and posters. The basic construction idea is to connect three PVC pipes together using threaded couplers and slip nuts. The length of each pipe depends on the background size you want to achieve. You will need three basic tools for the project: a PVC cutter, a tape measure, and a permanent marker. The very first step by the creator is to measure and cut the PVC pipe to length. In the tutorial, you can read how to cut the PVC pipe to the exact length while making sure it is long enough to support the number of backdrops you plan on using.
DIY Cheap & Sturdy Backdrop Stand
A sturdy PVC backdrop stand, this product is the perfect way to add height to your pictures and give them a professional look you need. This PVC Backdrop Stand is guaranteed the most durable and sturdy PVC backdrop stand on the market. The only tool needed for this project is a hacksaw. Assembly will take about 20 minutes or less, depending on your skill level. The six end caps, 2 L fittings, six tee fittings, and one 4-way fitting make this a sturdy, safe, and portable backdrop stand.
DIY PVC Double Backdrop Stand
In this video tutorial, you will learn how to make a double backdrop using two layers of fabric. This is one of the most common types of background stands. You will also learn how to create a seamless double backdrop without black seams in your final pictures. All you need is a long straight edge, yardstick or ruler and some PVC pipes. Use our easy-to-follow instructions and essential tips to create a beautiful photo backdrop at home instead of buying expensive ones!
DIY Cheap Double Backdrop Stand
Are you looking for a double backdrop stand on a tight budget? Make your own! We have provided instructions and our own materials list so you can build one at home. This DIY is made from a sequin fabric, bridal satin ribbon, dowel rods, and rope. It's simple to set up, and after the first backdrop, you can easily add another rack to hang the second backdrop. It is simple to set up, and adding another rack to hang the second backdrop is easy after setting up the first one.
DIY Party Backdrop Stand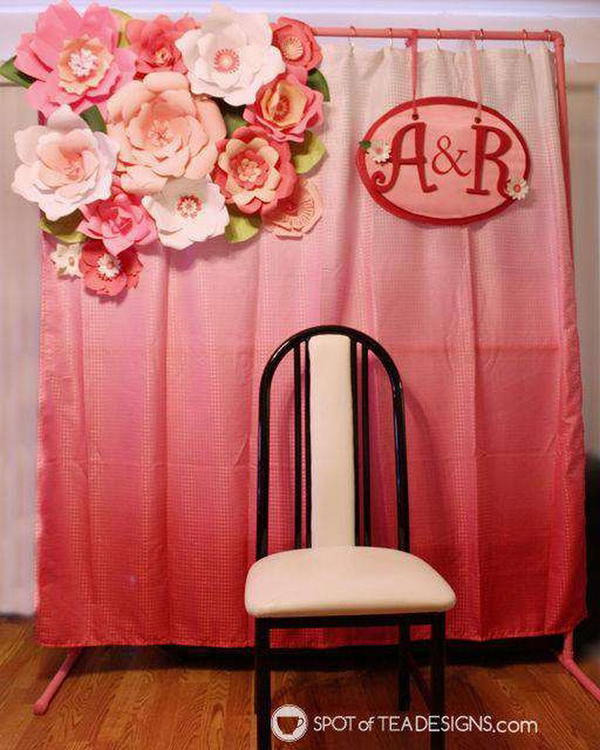 If you're looking for a centerpiece for your next party, here's a perfect idea! Our DIY Party Backdrop Stand will not only center attention to your festivities but can also elevate the ambiance with its vibrant and dazzling design. This backdrop stand is made from PVC pipes and color caps that are easy to assemble. It comes with four base feet and eight 1-foot pipes. The top pieces are 5" wide; the middle pieces are 6" high, then the two side pieces are 4" high.
See more 25 DIY Flower Wall Ideas For Wall Decor
DIY Affordable Backdrop Ceiling Stand
This DIY backdrop stand is easy to assemble and can be painted to match any color scheme. Use it as a partition in a room or as a divider to mask another part of the room. This guide describes two distinct ways to make them stand: The first is by simply hanging a reflector to the ceiling, and you're good to go. Alternatively, you can use one or more strands of Christmas lights for decoration purposes. Either way, this simple backdrop stand will add value to your home or business by providing a practical and attractive partition from which to display items.
Freestanding PVC Backdrop Stand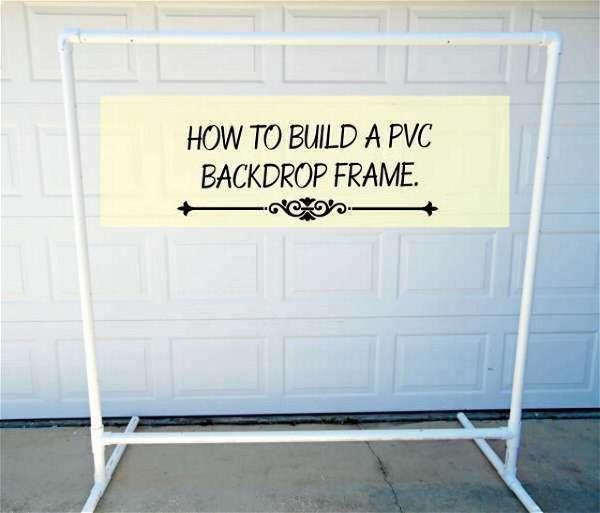 This is the most simple and budget-friendly way to make a strong backdrop stand. The material used is PVC, which is durable and long-lasting. Also, this backdrop stand is freestanding; it can stand independently without extra weights. This instructional guide is for anyone that wants to enjoy a PVC backdrop stand that is portable, lightweight and easy to set up. It provides step-by-step guidance on making your own strong, slim, and light PVC backdrops stand with all the necessary materials and tools laid out clearly in a sequential manner.
DIY Wood Backdrop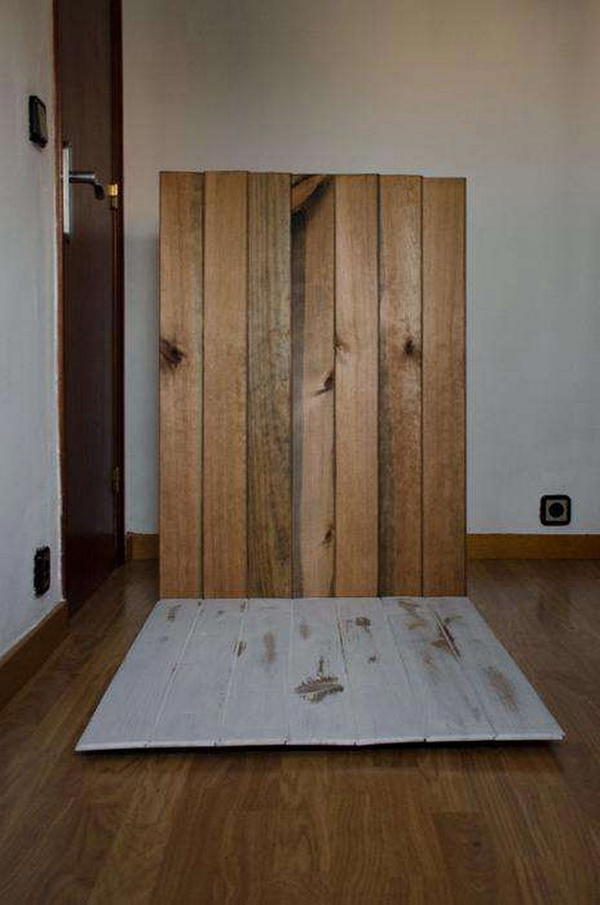 Are you planning to take your photography skills to the next level? If so, you'll need a backdrop that's as good as your product. This tutorial will teach you how to make a backdrop using wood so that you can create a quick and easy background. This DIY Wood Backdrop can be the perfect addition to your collection. It is made from purely wood; pinewood flooring boards, pinewood beams, wood glue, wood screws, measuring tape, sandpaper, etc. Paste this to a wall or partition, giving your photographs a sparkling background.
DIY Backdrop Stand For Youtube Videos
Do you have a long-depth backdrop that needs to be lit before it? Or maybe you just want the background to fade into a blur? No matter what, we have the perfect backdrop stand for you. Our PVC pipe backdrop stand is easy to build and can be designed to fit whatever purpose you need it for. It uses regular-size PVC pipes and fittings, which are easy to find at any hardware store. Assembly requires woodworking skills since you will need to cut and drill the PVC pieces together. Once completed, this project can be disassembled so it can be easily transported to other locations where needed.
DIY Circle Backdrop Stand
Our DIY circle backdrop stand is perfect for photographers looking to add extra space to their home studio. This versatile, lightweight metal frame can be used in a variety of ways: as a cyclorama, supporting backdrops and fabrics, or even as part of your flash setup. Simply fasten the elements together using the provided screws and Allen keys. The two repeatable elements make assembly easy and efficient--perfect for those who disassemble their shoots.
DIY Newborn Photography Background Stand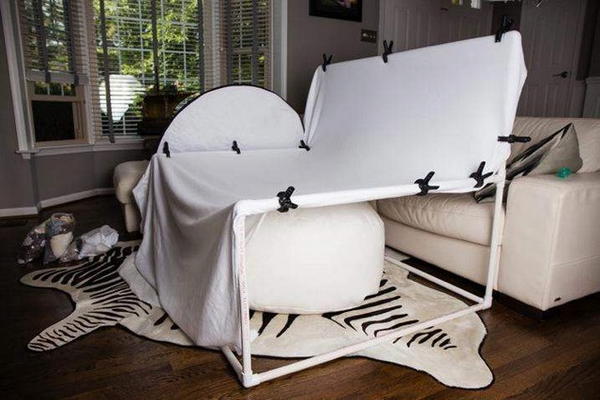 With this DIY Newborn Photography Background Stand, you can create a unique backdrop in just minutes, saving you time and making your photos stand out. This easy-to-assemble structure lets you attach any material to it, including the white paper, cardboard, or foam board, and easily be adjusted to produce the desired effect. Ideal for both indoor and outdoor portraits, it features easy folding legs with wide feet that keep it secure. It is also very flexible, so you can adjust the height and the angle of your backdrop according to the portrait lights or flash you're using.
DIY Photo Backdrop Stand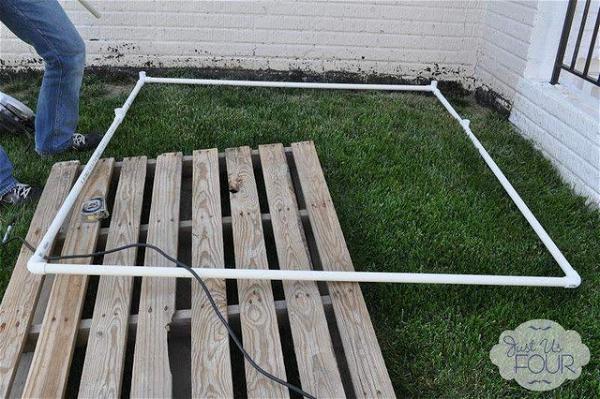 This DIY backdrop stand is the easiest way to create a photo booth for your next party. It allows you to place a custom print behind your guest, with the ability to use clips or hooks to keep it taut and smooth. The fully adjustable frame has handle barrettes that allow you to twist, turn, and customize its shape to fit any party space. This easy-to-follow tutorial shows you how to create a professional-looking photo backdrop using PVC pipes, clamps, and connectors.
DIY Round Backdrop Stand
Your event venue does not need to be abandoned because you do not want to buy a large, expensive backdrop stand. This DIY round backdrop stand is ideal for parties and events requiring backdrops larger than the conventional ones. Using balloons, glue sticks, and other basic materials, this tutorial will teach you how to make a circular backdrop stand using plywood and balloons. This DIY project is a great way to add color and flair to any party or event.
DIY Backdrop Stand With Hula Hoop
This project will not only give you a great backdrop stand, but it can also be used as a baby monitor. When used as a backdrop stand, you can use any fabric you want to cover the hoops and attach it to the hula hoop with twine or tape. The spray paint adds more character to it, especially when you choose a multi-color pattern. Once sprayed, it should dry up in about an hour or two. For your DIY backdrop stand to last long, it is important to clean them from time to time.