Video recording is an excellent way to showcase your talent, share knowledge with the world, or just have fun. Have you ever tried recording a video at home? If the answer is yes, you probably know that it can sometimes be challenging. This is especially true if you are trying to record while speaking a lot and forgetting some lines while recording. A teleprompter is a tool that comes in handy for video recording. But, it is not always possible to have a professional teleprompter when you are filming at home. Don't worry; with the following DIY Teleprompter Ideas, you'll be able to record videos effortlessly at home with just a few bucks and a little effort!
Easy DIY Teleprompter Ideas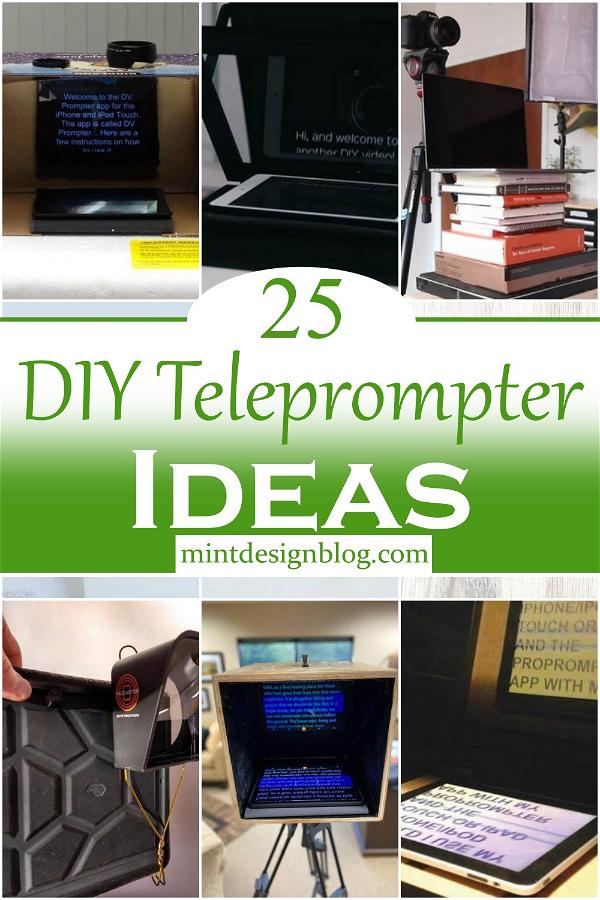 This DIY post provides some of the best DIY Teleprompter Ideas that can be made using materials like a mirror, a piece of cardboard, and a laptop. These DIY teleprompter projects are easy and cheap, have high accuracy in displaying words, and are portable. With these DIY teleprompter plans, you'll be able to create a professional-looking teleprompter at an affordable price. Perfect for anyone who wants to save time and money recording videos, these simple projects are easy to follow and will have you up and recording in no time.
You Can See: 26 DIY Tablet Stand Projects You Can Build Easily
Easy To Make Ideas:
For those looking for a way to improve their recording skills, a DIY teleprompter is an answer. It's not just an easy project but also very cheap. Below are some awesome DIY teleprompter ideas you can make at home at a low cost and with minimal tools and materials. All these DIY Teleprompter projects mentioned in this guide are relatively easy to make, install, and carry!
Uses And Benefits:
A DIY teleprompter is a device that allows non-professional speakers to deliver a professional presentation by displaying text on a transparent glass plate at the bottom of a sheet in front of the delivery. It helps you remember your lines and pay attention to what you need to say instead of being confused. You can use a DIY teleprompter anywhere, anytime, because it works great for recording videos in studios and on location. The DIY Teleprompter Ideas listed in this guide will help you achieve professional results quickly at home.
If you don't want to spend money on expensive teleprompter devices, you can readily make your own DIY version with the help of 25 DIY Teleprompter Ideas using everyday items available in your house and some things; from hardware or office supply stores!
How To Make A Teleprompter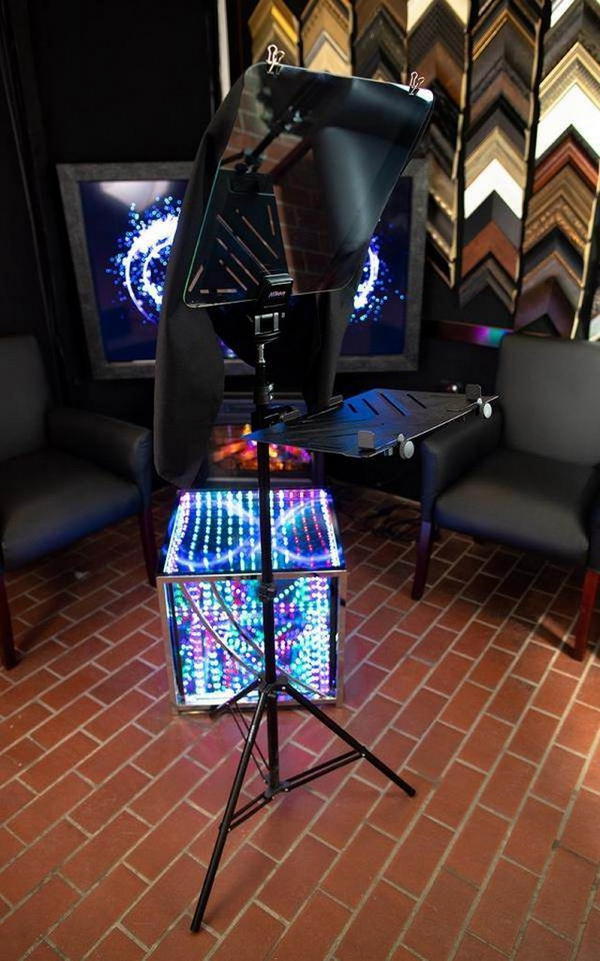 The teleprompter is very important in various situations, not just for public speaking. It can be utilized to put on an interview, bring some life to a classroom, or any other setting that necessitates a second camera to help out with the production. This comprehensive step-by-step guide shows you how to make your own teleprompter easily. The best thing is that it will only take 30 minutes of your precious time! All you need are simple tools and a few materials you can find at your local hardware store.
$10 DIY Teleprompter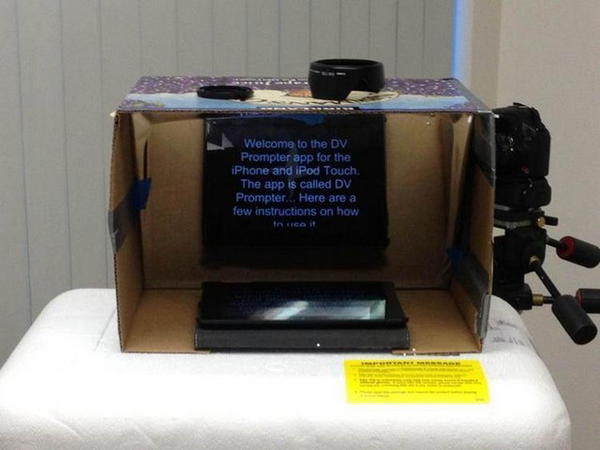 This great and straightforward DIY teleprompter works with your smartphone or tablet. You can use it as a teleprompter, selfie camera, or simply just as a magnifying glass. This professional and stylish teleprompter project will make you feel like a pro. With a few simple parts, plus about 20 minutes of your time, you can DIY this affordable and portable teleprompter for reading off scripts. It is inexpensive and easy to make but still strong enough to support various devices.
DIY Padcaster Parrot Teleprompter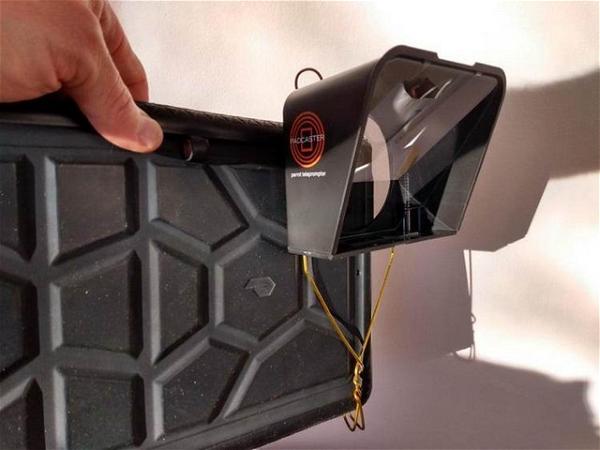 Do you know you can repurpose your wire hanger as an adorable iPad adapter? In this video, you will learn how to fit a wide-angle lens on your iPhone and use it to record great-sounding footage. In addition, it also comes with a thumb rest so you can film without holding the phone in your hand. This video will teach you how to fit the wire hanger to adapt the iPad to the podcaster parrot. It is effortless and straightforward!
DIY $4 Teleprompter
The seemingly expensive teleprompter is made by customizing a black binder and adding a few cheap materials. Using binder clips around the book, the glass frame serves as your screen while you attach a wire hanger to the back of the unit to support your iPad or paper. The black electrical tape is used to make sure everything stays in place. To set it up, just place your iPad or paper on top and press play on Apple's built-in presenter app!
How To Make A DIY Teleprompter
A teleprompter allows you to stay focused on your script and deliver your lines with the confidence of knowing what is coming next. This homemade teleprompter is simple to make. It can quickly be taken apart when not in use. This video will show you how to build your own teleprompter using parts available at any hardware store. Just follow these simple steps, and you'll be making your own DIY teleprompter in no time.
$35 DIY Teleprompter For LCD or iPad
With this Teleprompter, you can create a professional-looking teleprompter in minutes. This Teleprompter's basic principle is a flat monitor with a single piece of glass attached to it at 45 degrees. A camera shoots behind the glass and reflects the monitor on the glass. This whole concept is based on a $35 budget and can be assembled by anyone, even if they have no experience in hardware building. Once completed, you can use it with any LCD or iPad (for neatness, use a transparent sheet for the iPad).
Cheap DIY Teleprompter
In today's market, teleprompters are sometimes forgotten as a part of video production packages. Yet they should be considered an essential part of every video production kit. A teleprompter is an invaluable tool that allows you to focus on your subject while keeping your lines in view while filming. This project makes a teleprompter enabling you to scroll through the script while recording your lines smoothly. In this tutorial, we'll show you how easy it is to create a teleprompter that works perfectly with your iPhone. This project is simple and cheap, making it a great beginner's guide to building DIY equipment!
DIY Laptop Teleprompter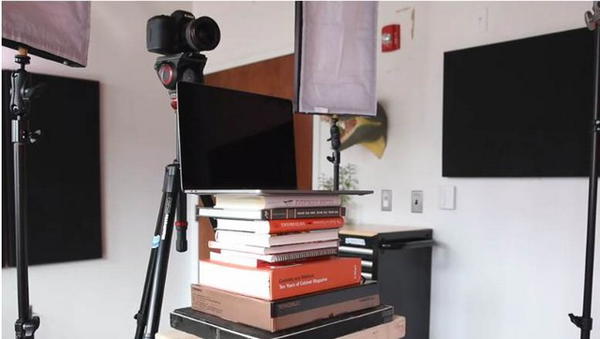 This teleprompter is the perfect way to introduce yourself on video. The setup takes less than 5 minutes, and all you need are some chairs and a few props. The camera and light stand can go above the chair and then use books or other objects to raise the laptop's height so it's perfectly in front of your eye line. Once you have an awesome teleprompter set up, use this DIY teleprompter script template to create your own videos. This product gives you complete control over your video production and allows you to add fun elements in post-production or add direction cards as needed.
DIY Teleprompter In 5 Minutes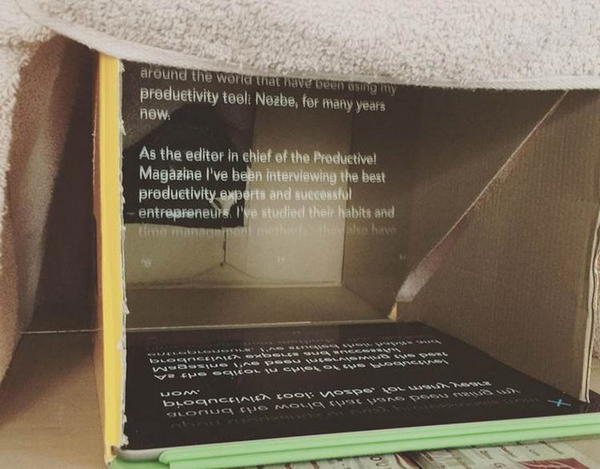 This guide will help you understand all about teleprompters, who uses them, and how they work. You'll learn the theory behind using a teleprompter, including what you need to have in place from the perspective of both the camera and the speaker. We'll explore some tips and tricks for ensuring that you operate your teleprompter well and have fantastic footage. In 5 minutes, you can create this incredible tool for yourself or for someone else.
DIY Teleprompter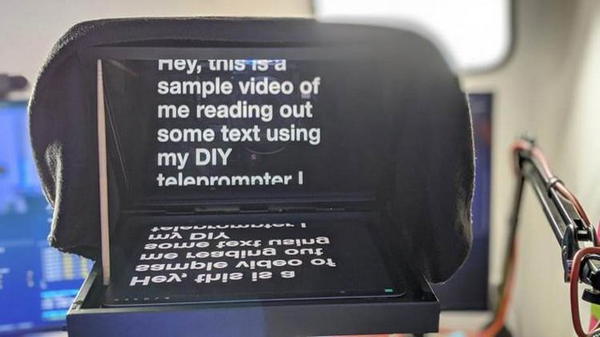 Use this handy DIY teleprompter to create your own little studio on the go. It's easy to make and requires just a few supplies, including a wooden picture frame with clear glass and brass hinges. Mount your phone or tablet to your device's monitor, then attach it to the center of the picture frame using a plastic cord or duct tape. Once you have your script written out on paper in front of you, simply hold up your notes at the appropriate time so that they reflect in the mirror beneath your screen for ease of reading when reading off-camera.
Teleprompter DIY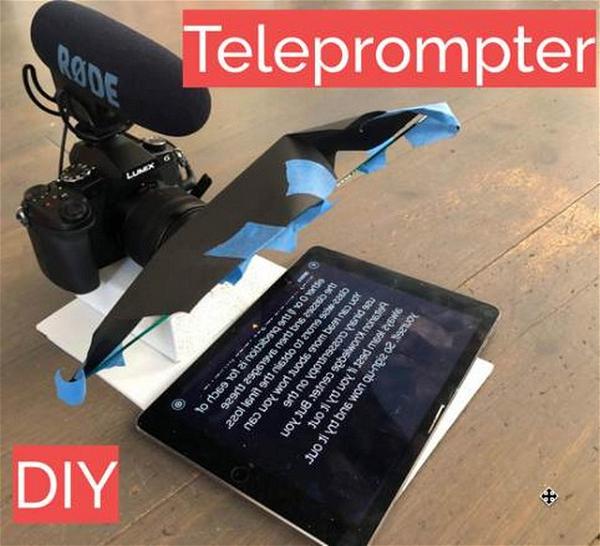 In this DIY project, you will create your own teleprompter using a few simple tools. A teleprompter is used to help the speaker stay on track with their speech since it displays words in front of the camera. Use this guide to build your own teleprompter to practice speaking in public more effectively. You need to have some tools and materials which you can use for this project, such as scissors, plywood, a pen, and a saw. This DIY project will take about 2 hours, depending on the quality of the cameras and the resolution of the stream you are producing.
DIY Cheap Teleprompter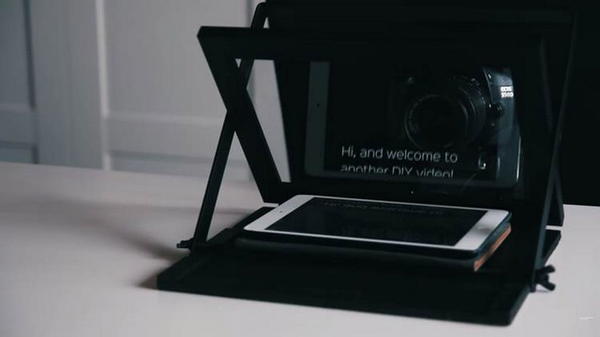 The creator will show you how to make a cheap teleprompter for iPhone or iPad using free software in this instructable. The key ingredients are an old picture frame, plywood, hinges, and screws. First, get a picture frame of your choice. Then remove the glass by unscrewing it from the frame. Cut your plywood to size and attach the hinges to each corner of the back of the frame. Use wood glue to secure those pieces together and add some screws to hold everything secure.
How To Build A Teleprompter For Smartphone
In this video tutorial, the instructor made a teleprompter for smartphones. He used ½" MDF and black spray paint to prevent light from reflecting into the teleprompter. In addition, he assembled a transparent acrylic glass before installing it into the metal base of the drone. After that, he established two motors on each side of the drone at different heights. Finally, he attached stepper motors on each side of it and programmed it with Arduino IDE software so that it could move left or right according to his voice command.
How To Make A DIY Teleprompter
This is a DIY teleprompter that anyone can use. Literally anybody. It uses two glass picture frames; some cardboard cut into the shape and size of a standard teleprompter and some angular hinges from the back of each frame. The cardboard is thick enough to hold a GoPro or DSLR camera quickly, and after attaching it to the drone, you are ready to go. This is just a basic setup that will work well in most situations, but you can use the same process for any surface that can be made into a screen!
How To Build A Prompter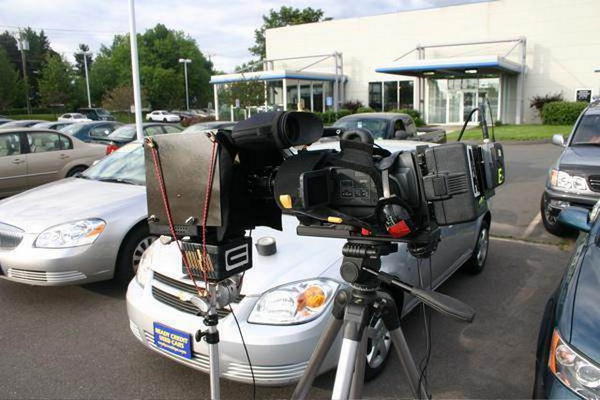 This tutorial aims to teach you how to build a prompter using inexpensive materials. This tutorial shows how to use the first two types of prompter design: the traditional set-up utilizing a box, a screen, either a laptop or smartphone screen, facing up, and a 45° piece of glass attached to the monitor to reflect the image displayed on it; and the second type of design, which uses no box as in the first one. This one is much lighter to carry around than those with an enclosed design.
DIY Tablet Teleprompter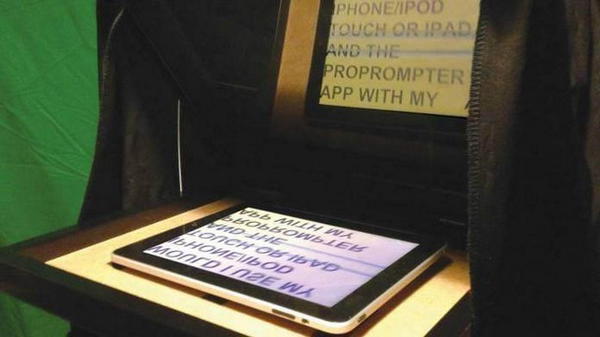 This DIY teleprompter is simple and only needs a few materials to build. You can get the large elastic band, staples, glue, picture frames, plywood, and black fabric from your local hardware store. For the wire coat hangers, you can use your old ones or buy new ones from the same store. The hinges and screwdriver can be easily found in any home repair shop. Once you have collected all the materials needed for building this teleprompter for yourself, click the link below to learn how to make this teleprompter that's quick and easy to set up and can be used with any phone or tablet.
DIY Teleprompter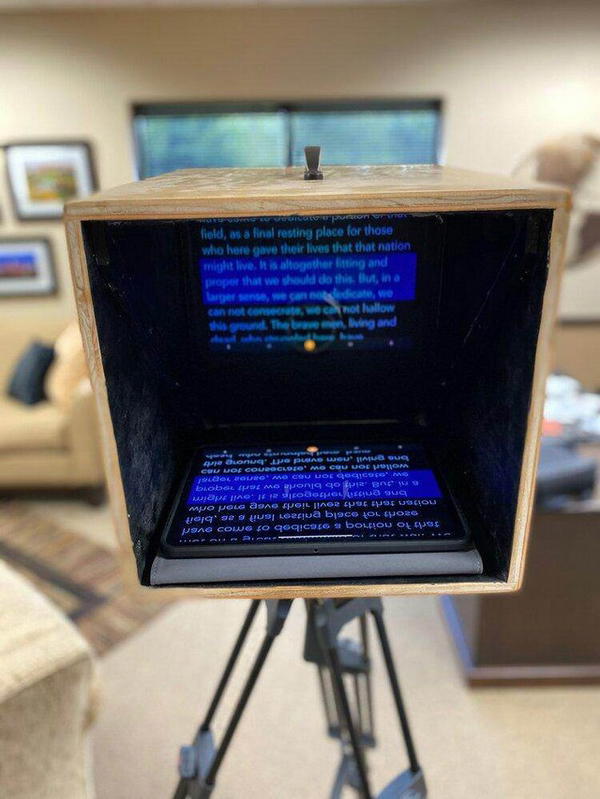 Have you ever wanted to do an excellent presentation but found it tough to read from the slides? Worry no more! With this DIY teleprompter, you can now give your best talks and presentations. The teleprompter allows you to read your script to ensure that every word appears on the viewer's screen as you speak it. Even with complex scripts and no more than two takes, your viewers will look at you as though they are hearing you speak live and in person.
DIY Teleprompter On A Budget
This DIY teleprompter is the perfect solution if you are on a budget and want to be able to make high-quality videos with a display. It is effortless to use and inexpensive, making it suitable for beginners who don't want to spend thousands of dollars on a professional teleprompter. The video will show you everything you need to know about creating your own DIY teleprompter on a budget. In less than 30 minutes, you can be up and running with this DIY teleprompter that costs around $3.
How To Make A Teleprompter For Youtube
This is a simple and easy-to-follow guide on how to make a teleprompter for YouTube. All you need are a glass picture frame, paper folder, knife, electric tape, and ruler. To start, rip the frame and take out the glass. Then, cut the folder into two pieces measuring 4 inches wide x 6 inches long. Use sheets of paper as backing, glue them together, and stick them between both pieces of the folder to form a single sheet. The next step is to put some tape around the edges of the glass/poster board so they adhere to each other firmly enough. Finally, mount it on your tablet facing you while angled towards the camera.
DIY Teleprompter Plans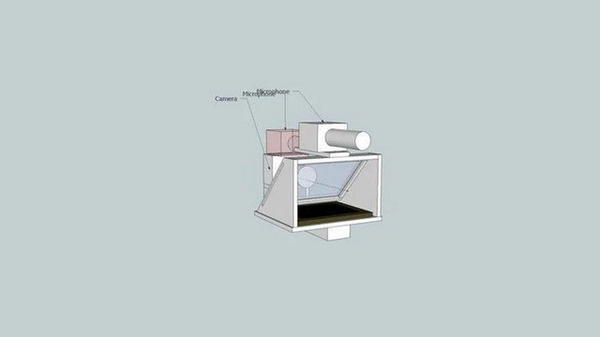 This DIY Teleprompter is the perfect solution for anyone just getting started, needing a second unit, or an upgrade. We recommend it over models that use clear acrylic or see-through glass because the plexiglass provides a sharper image. All you need are our easy-to-follow instructions and five materials: plexiglass, velcro, rod, and two mounts, plus a tripod stand to hold it steady on your camera. The plan is simple and straightforward. You will be able to create a teleprompter that's cost-effective, easy to make, and durable.
Teleprompter DIY
This DIY teleprompter features a wooden base and a building-block-style cartridge holder and is designed to be mounted on a tripod. The most challenging part of this project is cutting the glass to size, but it's not as difficult as it might seem. For those who do not have access to power tools, we recommend having a local service cut the glass for you. You just need a solid wood picture frame with glass on the front, felt or matte board to blacken the side glass so no reflection goes through, an LED light source like an Ikea LED strip light, a tripod, and some zip ties.
DIY Teleprompter For Smartphone
The DIY Teleprompter for Smartphone is extremely handy and uses a camera app to produce the teleprompter text. By simply holding your smartphone in front of you, setting the camera app live, and projecting it onto this digital display, you can easily see what you were previously looking at when recording. This teleprompter will not interfere with your audio or video recording. Just place the phone on top of the tablet stand, slide the glass against the back window of the stand, and start reading with your hands-free teleprompter.
How To Make An iPad Teleprompter For $20
Are you an aspiring videographer or video blogger? This is a well-organized tutorial on how to make an iPad Teleprompter. The instructor shows you how you can use your device as a teleprompter for your slideshows, videos, presentations, and more. He gives you step-by-step instructions and handy tips along the way that makes learning this skill a lot easier. So what are you waiting for? Watch the video now!
DIY Teleprompter Tutorial
Are you looking to add a teleprompter to your video equipment? This DIY tutorial will show you how to make an easy but effective teleprompter that is cheap, portable, and quick to set up. It is step by step with clear instructions and illustrations, making it easy for even beginners to use. We also have action shots that ensure that you understand each phase of the project. Just follow the video tutorial, and you will get your own DIY teleprompter in no time!
DIY Teleprompter For iPad
A teleprompter is a device that allows you to read from a script with your eyes focused on the camera's lens. If you need a teleprompter for your iPad, there are many options on the market. But if you are committed to do-it-yourself, this easy-to-make teleprompter is for you! It will allow you to have your iPad in front of you and, at the same time, have what you need to say ready in front of the camera. You just need to get a picture frame with glass, wood, some screws, and a pencil. Then attach your iPad to it and get started.
See Other Projects