A subwoofer is a speaker designed to deliver low frequencies. They are typically used in audio systems to reproduce the thumping and shaking of good music, movies, and games. If you love spending time in your garage, shed, or man cave working on DIY subwoofer projects, this book is for you! These builds are easy to make and require no soldering or special tools outside your basic DIY kit. These Subwoofer projects are geared toward those who want to build themselves one-of-a-kind speakers of their own design and those who need a quick refresher course on how subwoofers work.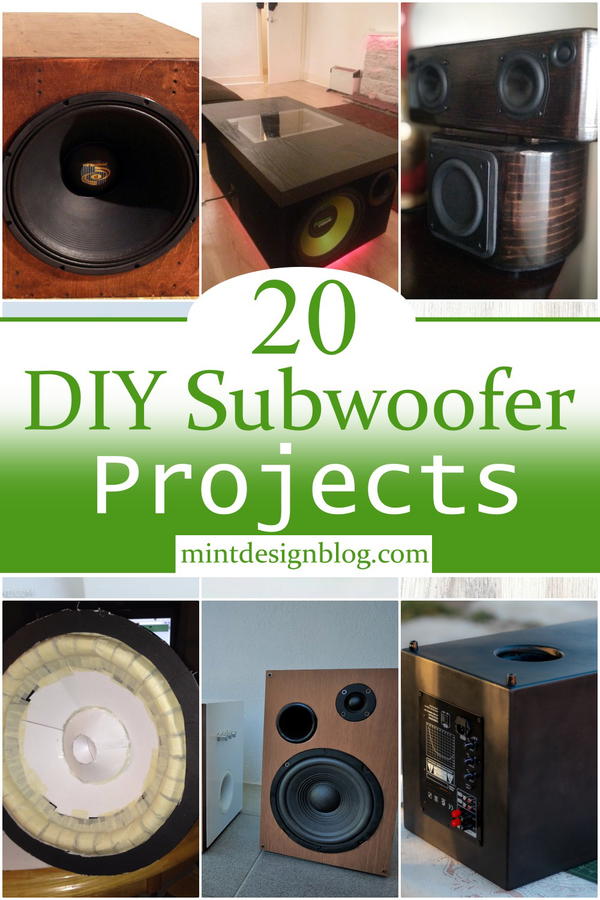 Getting the most out of your subwoofer requires a little time and creativity, but with the right tools and some elbow grease, you can build your own custom subwoofer to complement your music collection. With only a few simple components and basic tools, you can build your own subwoofer for those old car speakers you have sitting in your garage. Subwoofers add booming bass to any sound system, which enhances the listening experience by boosting the lower frequencies in music. These DIY subwoofer projects are simple enough that anyone can do them and still sound great when finished.
Perfect for bass lovers, these 20 DIY subwoofer projects are the perfect addition to any home entertainment system.
You Can See: 20 DIY Studio Desk Plans You Can Build Today
Advantages Of DIY Subwoofer Projects
DIY subwoofer projects have become very popular in recent years. This is because they have several advantages over buying high-end subwoofers. Some of these advantages are:
Affordable – When you do your project, you can choose what you want to pay for it and how much time you want to invest in it. This means that no matter how much money you have, there is always a way for you to build a subwoofer at an affordable price.
Customizable – Depending on your needs and preferences, you can make your subwoofer as big or as small as you want it to be. You can also choose between different materials based on how loud or soft you want your music to sound.
Easy To Install – Most DIY subwoofers are very easy to install and don't require any special tools or equipment other than what comes with them out of the box.
DIY Subwoofer Amplifier Kit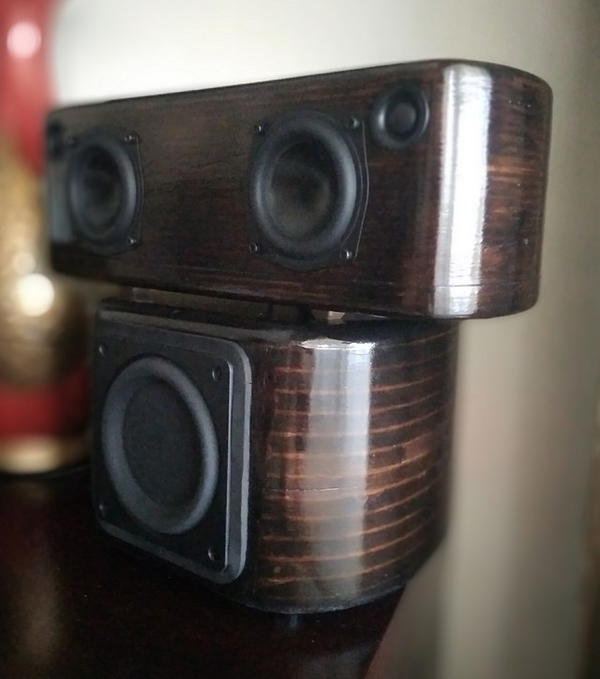 Do you love to listen to music but hate when the bass in your song is tinny? Build your own Subwoofer Amplifier Kit and add some much-needed bass to your life. With this all-in-one project guide, you will build not only a subwoofer amplifier but also a Bluetooth speaker to go with it. No more tinny bass; now you will be able to appreciate great sound quality music! This DIY Subwoofer Amplifier Kit is the perfect project for a weekend. It has everything you need to build an awesome subwoofer, yet it's a breeze to assemble.
DIY Ported Subwoofer Build
A ported subwoofer can give you great bass without sacrificing the length of your box. A ported box provides a deep, accurate bass response. You can build a ported subwoofer enclosure in many different sizes, but this is the best starting point for anyone new to building ported boxes. This is the perfect subwoofer for a small car, like a hatchback or SUV. It's also great for an apartment with limited space, and you still want great bass sound performance. The DIY ported subwoofer is small but powerful. With this build, you'll get excellent performance for the price!
DIY High Powered Subwoofer
The DIY High Powered Subwoofer is a powerful and compact subwoofer ideal for mono or dual channel systems. Its compact size makes it easy to integrate into any home theater system. It includes an active electronic crossover, so you don't need extra gear, plug 'n play! This project is for those who enjoy making their own things and like being creative with their furniture. The DIY subwoofer you can build at home has a wooden frame and is large enough to fit in a normal-sized speaker. You will also need to install the wiring, the speaker and all the other components needed for this project.
DIY $23 Subwoofer
Most of the cheap subwoofers you could find online that break quickly and only sound good for a short time are not worth the money. But this diy subwoofer will save you $200 and is easy to build. Try following these instructions in just an hour, and you will listen to your favorite music with crystal clear bass in no time! This tutorial will show you how to build a cheap and simple subwoofer that you can use for any sound system, whether it's computer speakers or your home theater setup. The materials are easy to find and cheap, so you won't need much money to make this project happen.
DIY Subwoofer
To improve your music listening experience, look no further than this DIY Subwoofer. You will need a subwoofer when you want to upgrade your home audio system and make it more powerful. Subwoofers come in different shapes and sizes, so this build is perfect for the DIY enthusiast who wants to add another piece of furniture to their living room and do some woodwork simultaneously. You can build your own subwoofer using various materials, including MDF, plywood or acrylic. This wooden subwoofer is ideal for anyone who wants a unique sound system that stands out from the crowd.
How To Make A Subwoofer Out Of A Speaker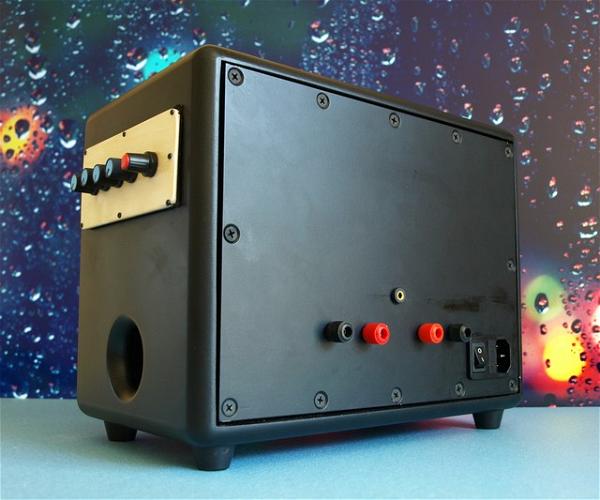 You can easily make your own subwoofer for a fraction of buying one. You will need to buy a speaker and amp separately first to get started. This is one of the easiest DIY projects for those who aren't very handy with tools or electronics. It also provides excellent results in terms of sound quality. This video will show you how to make a subwoofer from an old speaker. It shows you how to attach it under your car seat and test it out. This DIY project is about having fun, learning from mistakes, and being inspired!
Home Theater DIY Subwoofer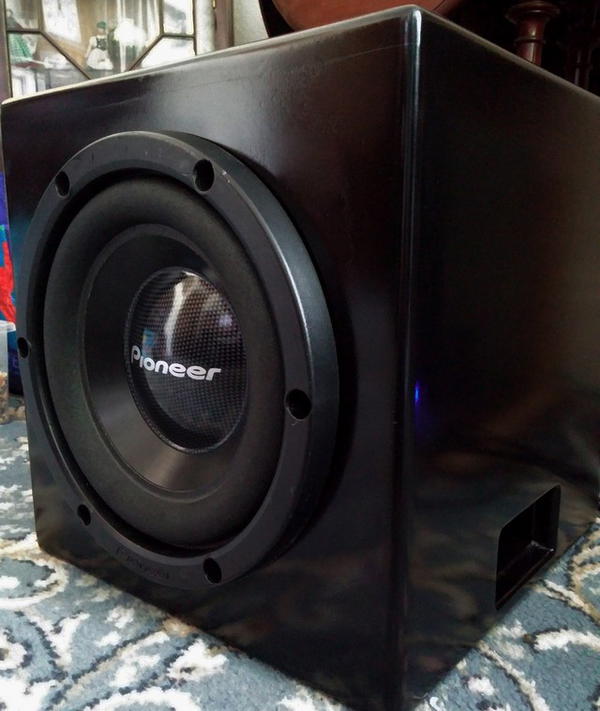 You can't deny the beauty of a home theater setup, but there's nothing better than having your own subwoofer that makes you feel the music deep inside. Well, they say: "It's not easy being deep ."Luckily, we have a DIY solution! It is a simple and easy solution to get excellent bass. These kits include everything you need for high quality, high-value home theater surround speaker system. If you're planning a new setup or just looking to upgrade, this kit can help you make the most out of your audio system!
DIY Subwoofer Box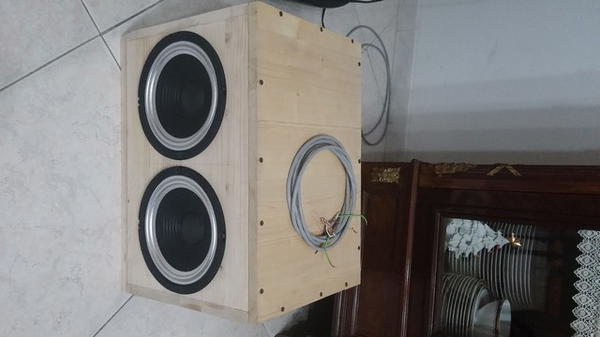 If you're a bass head who loves music and fine woodwork, this DIY subwoofer box project is just the thing for you! It takes some work to build, but the end product is a beautiful piece of furniture that will enhance any room. Build it yourself with this guide! This DIY subwoofer box is quite simple to make and will provide you with a subwoofer that is a great addition to your sound system. It increases the sound quality of your audio equipment and delivers excellent bass effects.
DIY Small Subwoofer Idea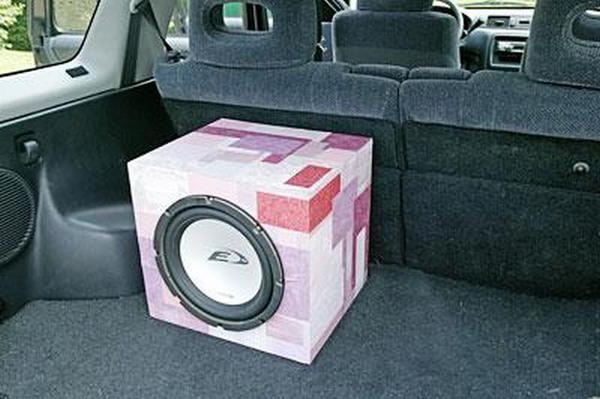 This project is perfect for you if you want to save a few bucks on your next subwoofer build. This build can be made with no special tools and requires just a few simple materials from the local hardware store. The whole project should take less than an hour and can make your home theatre sound amazing. This subwoofer project is ideal for those who enjoy building their own audio equipment. The materials required for this build are quite inexpensive and easily attainable, especially if you have miscellaneous items in your garage, like a set of old speakers or bookshelf speakers that are broken but still functional.
DIY Subwoofer For DJ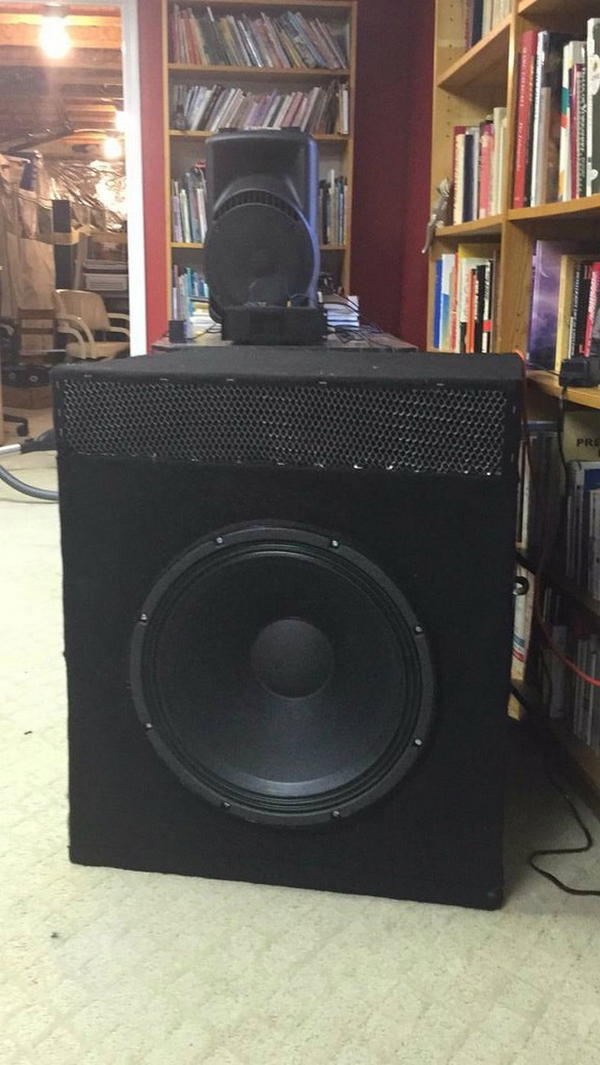 If you're a serious DJ, you already know that investing in professional-grade audio equipment is one of the best investments you can make. Whether you play out often or jam around your house with friends, having a good subwoofer is an absolute must. Luckily, if you have a little DIY knowledge and a few tools, you'll be able to build your own for about $600. Don't let a shortage of reserves stop you from creating the perfect sound system for your needs! This guide will show you how to build with high quality and all the components chosen by professional DJs; you'll save hundreds of dollars compared with buying a premade system.
DIY Mini Subwoofer
This DIY Mini Subwoofer is a great way to step your audio game up. You can easily build this mini subwoofer in an afternoon, and it has amazing sound quality. It has a detailed video tutorial that includes everything you need to know. Build your own DIY mini subwoofer and hear your favorite music like never before. This is an easy-to-build project with a clear step-by-step video guide that allows anyone to make this amazing audio product home using simple tools and items. You can use this DIY project to improve the sound output from any amplifier, receiver or computer system that does not have a built-in subwoofer attachment.
DIY Subwoofer
This subwoofer packs a punch, and you will get the best sound with this simple DIY project. It is easy to follow along, and best of all, it's cost-saving. This very well-made and simple guide shows how to build the best subwoofer for your home theater system using some simple tools and materials. This DIY Subwoofer is a large subwoofer better suited to a small room, large parlor, or bedroom and can deliver high-quality sound even at maximum volume. This system is cost-effective and simple to understand.
DIY Loud Subwoofer
If you have an iota box and want to add more power and bass to your system, this is a great guide for those DIY enthusiasts who want an easy-to-build loud subwoofer that is good for small and large rooms. This DIY Loud Subwoofer is the right tutorial for people who have built subwoofers in the past via DIY or any other means, but it wasn't loud enough. Here's a guide that will show you how to build a subwoofer that is small in size but very loud. The first thing to do is lay out a plan, and then other things would follow. The materials used for this build are easy to get and can be fun because anyone can do it.
DIY Subwoofer Build With LED Light
This project allows you to build a subwoofer that is more than just an amp and a speaker cone. It combines the two, adds lights that can be programmed to respond to the sound, and even has Bluetooth connectivity so you can send audio from your phone to play over the built-in subwoofer amplifier! This DIY subwoofer built with LED light was created to bring your home theater system a world-class audio experience. It is easy to build and inexpensive, adding a great look to any room in your home. With the right tools and parts, anyone can build a DIY cabinetry shop in one day.
Custom Fiberglass Subwoofer Idea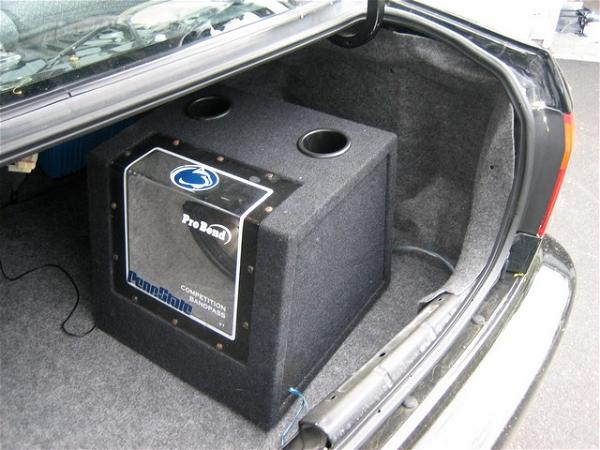 You love bass and want a subwoofer in your car, but you don't like the idea of a bulky square box in your trunk. It would be best if you had something custom-shaped and molded to your trunk's interior, elegant but functional. This project guide shows you how to build your own enclosure that looks factory installed. You want to install a subwoofer into your car but don't like how large boxes look and feel. You're not alone. This video will show you how to create a custom fiberglass enclosure that will fit perfectly within your trunk area and look great. The creator of this video walks you through the process step by step with plenty of tips and tricks along the way so you can create your own high-performance subwoofer enclosure.
Infrasonic Subwoofer To DIY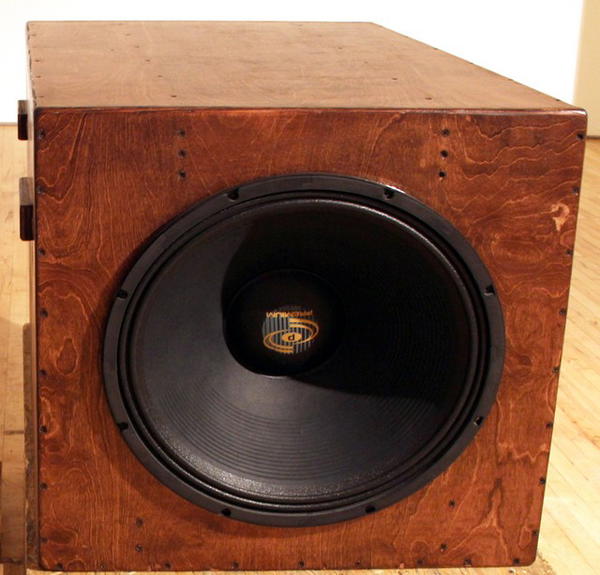 This Infrasonic Subwoofer DIY Kit is the perfect gift for any audiophile who loves bass. It includes all the materials you will need to make a subwoofer that is completely safe for your home or office and is surprisingly easy to build. This is a great project for DIY hobbyists and electronics enthusiasts. You can build your own subwoofer that is safe for use in your home or office. Learn how to build an infrasonic subwoofer using this tutorial, which will help you experiment with infrasound in your own home without danger.
Subwoofer Fit In Coffee Table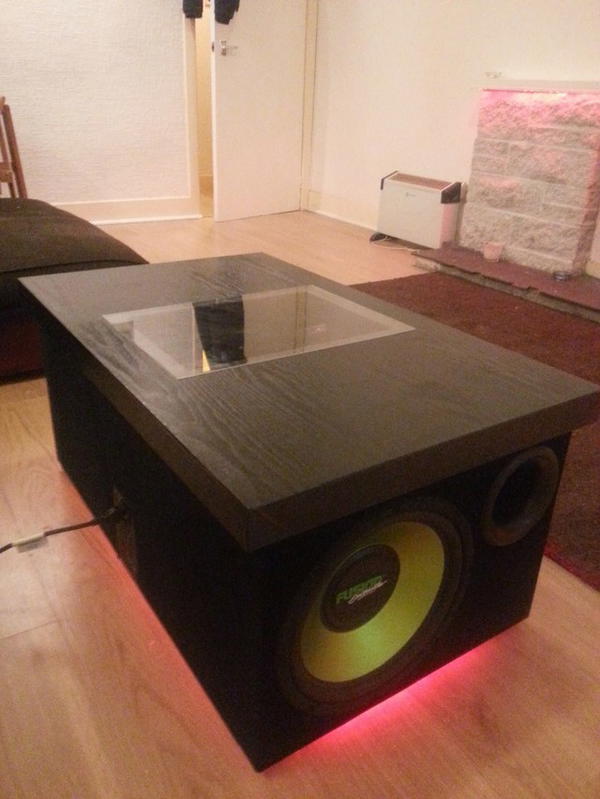 This Subwoofer Fit In Coffee Table creation is a unique and creative way to add an extra level of functionality to your living room or rec room. This tutorial merges a coffee table and a subwoofer creating this one-of-a-kind masterpiece that serves multipurpose. This unique coffee table merges a subwoofer with a coffee table. The only downside is worrying about your coffee spilling from the cup while playing your favorite song with this subwoofer. In this tutorial, the creator merges a coffee table and a subwoofer creating this one-of-a-kind masterpiece that serves multipurpose.
Homemade DIY 12 Subwoofer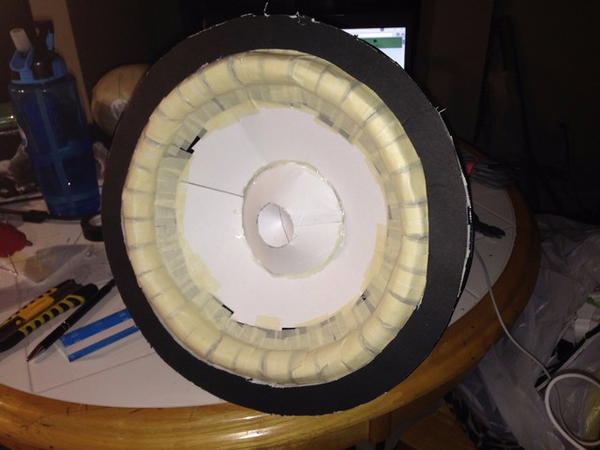 An excellent DIY subwoofer build can deliver great power at a low cost. With its price and performance, this subwoofer is popular for those on a budget. This is a great build for beginners who want to make a subwoofer at home but are new to this project. The guide contains pictures and videos illustrating how each step is done so you can be sure that everything will go well. The only tools required for this project are hot glue, soldering iron, foam board, cardstock and other basic electronic tools such as an oscilloscope or multimeter.
DIY Subwoofer Box Design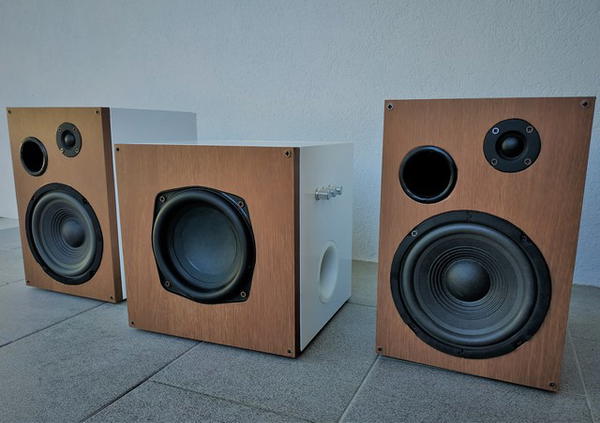 Have you ever wanted a complete sound system in your room that can be used for music, movies and more? This project will teach you how to make a DIY box design with woofers and tweeters that you can place in any room. This is a big project, but if done right, it could be the best school project you've ever done. This is a DIY subwoofer box design that can be used to improve your room's sound. The box can be used with or without the fans (that are built-in). You'll need four speakers, which you can find at any electronics store, and some other supplies. Use a wood of your choice for the project interior, but please feel free to use any wood you like best.
DIY Subwoofer Amplifier Circuit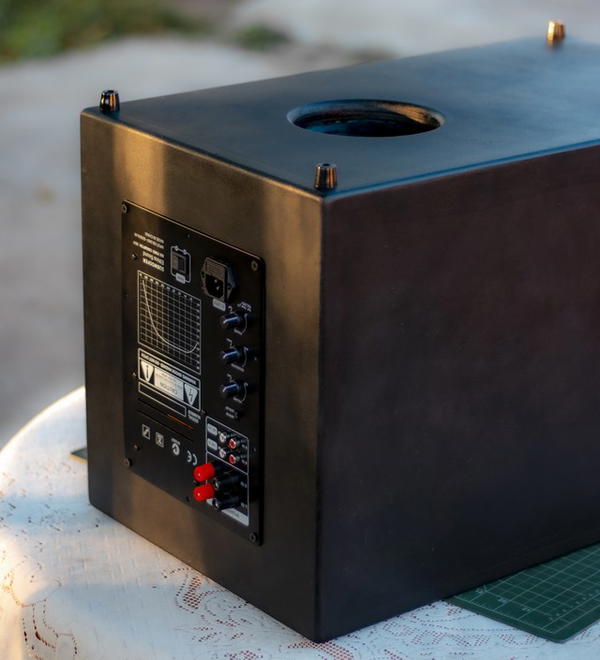 This DIY Subwoofer Amplifier Circuit is designed to be stable, heats up very little, and offers great sound performance. Consider this 12-inch active subwoofer enclosure a do-it-yourself kit that includes everything you need to build it. The amplifier is stable and heats up very little, so you can listen to your favorite bass-filled music for many years without worrying about damaging the enclosure or amp. It is tuned to 35Hz and has strong bass output without port noise. This build will surely impress if you are looking for something very professional in quality and appearance! The project is quite easy to build and recommended to anyone looking for a high-quality bass speaker system.
See Other Projects