Turn a drab backyard into a welcoming haven for your family with the help of one of these super easier and cheaper DIY Bike Shed Plans. You can store your bikes, cycles, and other equipment related to your two-wheelers under the shadow of these bike sheds to protect them from severe weather conditions and dirt.
Easy DIY Bike Shed Plans

Hey, DIYers, want to get rid of the mess created in your garage by the number of vehicles standing here and there? Want to keep them safe from the elements and potential theft? Building a bike shed is the perfect solution. It will be great to protect your bikes from the weather, but it can also be a stylish addition to your backyard with minimal expense. However, purchasing a pre-made bike shed can be costly. That's where DIY bike shed plans come in handy. This super exciting and unique post will give you all the information you need to build your bike shed from scratch. From selecting the materials to step-by-step instructions, you'll find almost everything in this series of DIY bike shed ideas. So, grab your tools, and let's get started on creating the ultimate bike storage solution.
What's The Best Material For A Bike Shed?
Choosing the right material for your bike shed ensures its durability and longevity. With so many options available for your bike shed creation, it can take time to determine which material best fits your needs, but the endless result will be worth it. You can use wood, metal, plastic, and other materials that suit your budget and needs. When selecting the ideal material for your bike shed, climate, security, and budget must be considered. In this article, we'll explore the materials available and help you decide the best material for a bike shed.
Does A Bike Shed Need A Floor?
A bike shed, while primarily designed to provide shelter and protection for bicycles, can benefit significantly from including a floor. A well-constructed floor can offer improved stability, cleanliness, and security for the shed and its contents. While some individuals may opt for a bare ground or grass surface, a floor made of concrete, wood, or other durable materials can better protect bikes from moisture, dirt, and potential theft.
How To Make Bike Shed
Our super easy DIY Bike shed is a great way to store your bike, whether in a shed at home or in the garden. This video shows how to build one that ticks all the right boxes and makes fun, unique additions to any home garage. In this amazing tutorial, we'll show you making a bike shed out of pallets, and we will provide step-by-step instructions for you to follow.
Build A Bike Shed
This How To Build A Bike Shed series will show you how to make everything from the shed frame to the flooring and even finish off your home garage by installing a heavy-duty tarpaulin roof. This project is inspired by the need for a place to store mountain bikes and commuter bikes.
DIY Storage Shed
This DIY storage shed is sturdy and attractive for storing kids' bikes and toys. Located at the rear of your home, the durable steel construction will keep yard clutter organized, making it easy to find what you need when it's time for play. This DIY outdoor storage shed will be a great addition to your backyard and can hold your kids' bikes, toys, and play equipment. This step-by-step tutorial is a great project for families to do together.
DIY Bike Garden Shed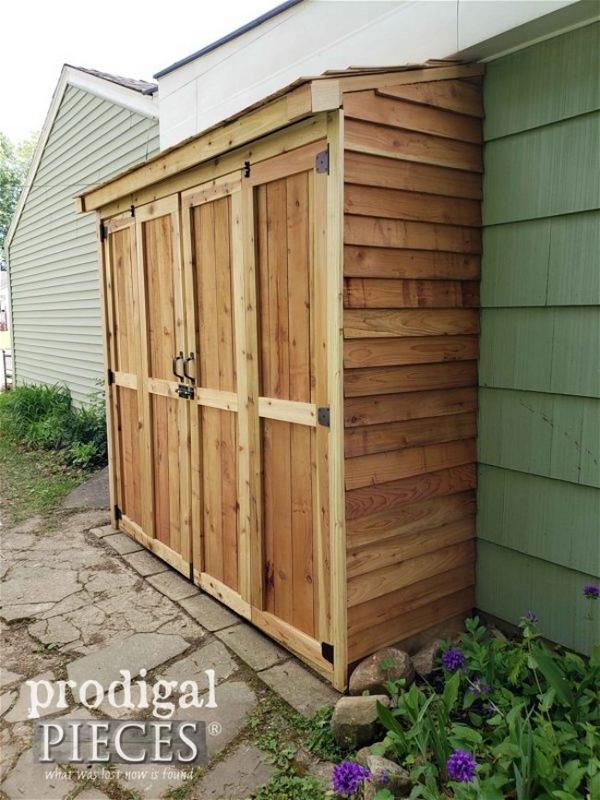 When it came time to build our shed, we wanted something that fit the feel of our house. We decided on a design that works for both bikes and gardening tools, so it's great for weekend getaways since there's plenty of room for bikes and a decent-sized garden area. This garden shed was built completely with DIY tools, materials, and straightforward instructions. All you need to do is follow the plans and pictures to build your bike shed.
DIY Bike Storage Shed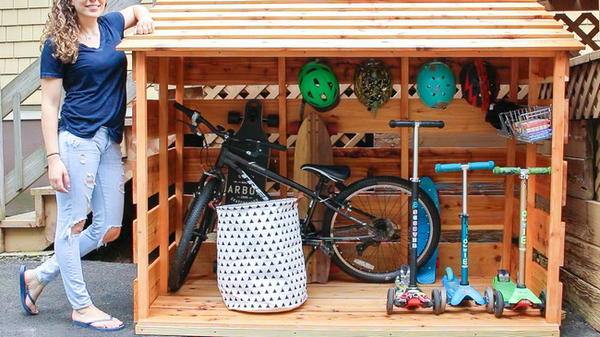 Is your garage overflowing with bike parts, tools, and bike gear? This DIY Bike Storage Shed is made for you! It's an innovative and unique solution to organize all your bike gear. This sizable shed can also be used for other gardening tools or any other type of outdoor equipment that you may want to store out of the way in your garage. Follow the detailed instructions and illustrations for a perfect fit every time.
DIY Bike Shed with Log Store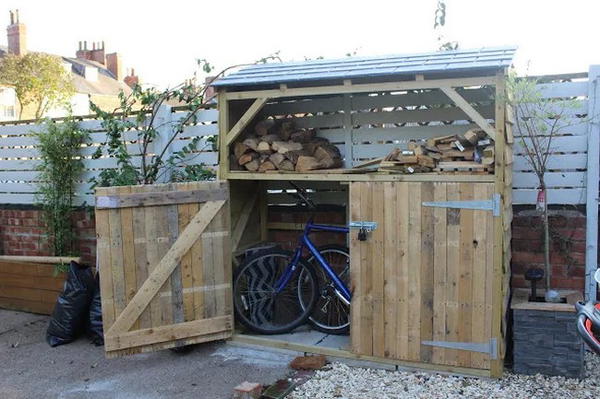 This DIY Bike Shed with Log Store is designed to store logs and tools while providing enough space for your two-wheeler. The shed's doors can be folded, which helps you to load stuff easily. After assembly, the shed is easily foldable and portable so you can move it from your garage or backyard to another place.
DIY Bike Shed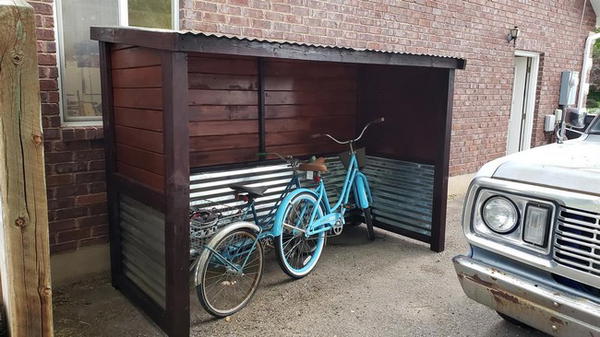 Design a bike shelter or bike shed with this simple plan. This tutorial will help you build a bicycle shelter or shed to store your precious bicycles. This simple design can customize for small, medium, and large bikes. The shed is designed to be built on a concrete slab and may require structural revisions if support columns are needed.
DIY Bike Shed With Free Plan 7ft X 4ft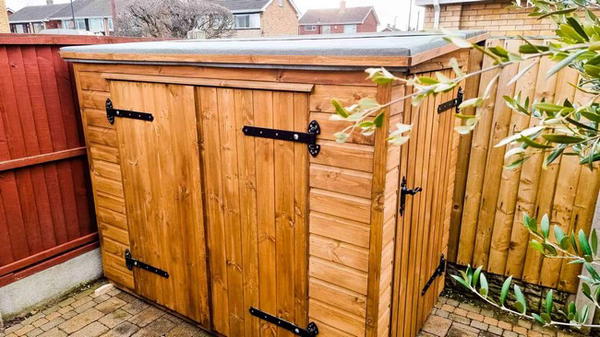 Our 7ft x 4ft DIY shed plan is perfect if you want a great-looking, secure bike shed that is easy to construct. The plans include an exploded diagram, a cutting list, and full-size printable drawings. This simple, straightforward guide will help you build your bike shed using common tools and materials in just a few hours. Leave yourself plenty of time to assemble your shed - a weekend should be long enough, depending on your available help, and you will only need a basic tool kit.
DIY Bike Shed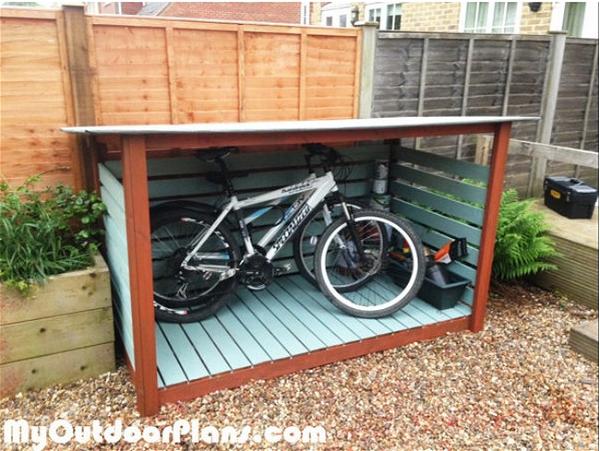 In this project, you'll learn how to make a bike shed that will perfectly fit in your garage and provide tons of protection for your new or existing bike collection. This project is perfect for you if you'd like an easy-to-make unique addition to your garage! Applying this idea, you can also get a separate storage space for your bikes, so what are you waiting for? Gather the materials and start making them and thank me later.
Bike Shed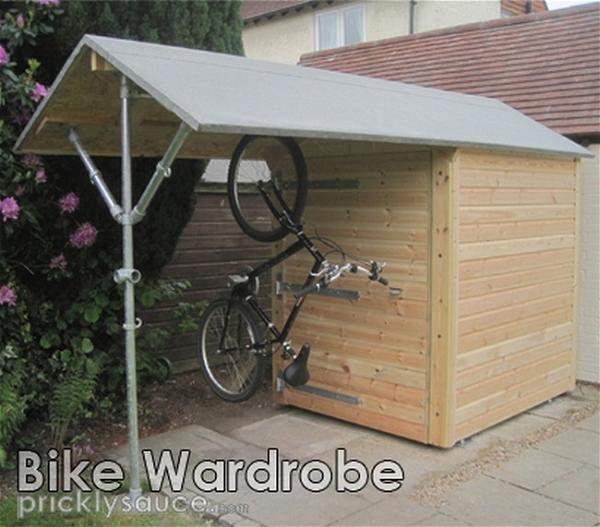 Add storage and extra space to your garage or backyard with the ultimate DIY Bike Shed. This outdoor shed is easy to make, is good for the environment, and will last for years. This amazing shed is best for storing all the gardening tools so they don't end up somewhere else in the house. Applying this idea, you can also get a separate bike storage space.
Designing And Building A Bike Shed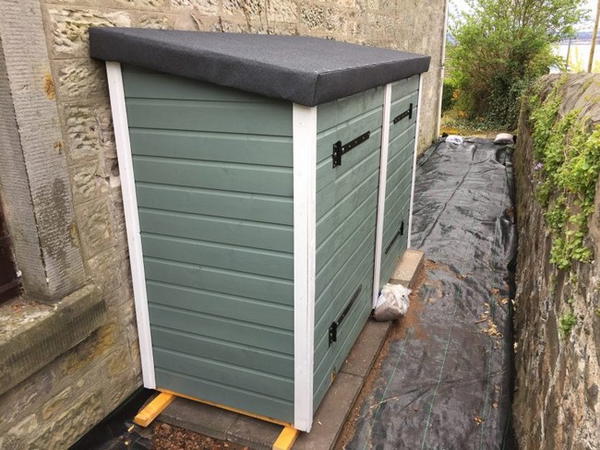 Build a bike shed to organize and protect your home's bicycles and cycling gear, or use it to house gardening tools or other small items. It's the best guide for designing and building a bike shed perfect for your space and your requirements. Whether you need a large storage space or a small workspace for an enthusiast, it's easy to construct a bike shed from scratch.
More DIY Ideas:
DIY Liquor Cabinet Plans: Are you looking to save of your liquor bottles occupying precious space in your kitchen cabinets? It's time to consider a liquor cabinet. Sure, you may think it's an optional piece of furniture, but trust us, it's a game-changer.
DIY Folding Staircase Plans: Tired of lugging heavy items up and down your staircase? It may be time to upgrade to a folding staircase. Not only do they provide convenient access to different levels of your home, but they're also incredibly space-saving.
DIY basement stair ideas: If you want to add a touch of elegance and practicality to your home, then DIY basement stair ideas may be the perfect solution.
DIY Lifeguard Chair Plans: If you want to add a touch of elegance and practicality to your home, then DIY basement stair ideas may be the perfect solution. Not only do they improve accessibility, but they also provide an opportunity to flex your creative muscles and inject your style into your living space.