Deciding how to attract birds to your backyard can be a fun and rewarding experience. Attracting birds is a great way to add a little natural beauty to your yard while reducing the number of pesticides you use in your garden. Birds can also help with pest control, eating up insects in your garden, and keeping them from infesting your home. There are many ways to attract birds, but one of the most popular methods is by building a birdhouse. These DIY Finch Bird House plans are designed to be fully customizable, allowing you to build a home for finches and other songbirds. The dimensions of the birdhouse are easy to adjust, and you can even change the entrance hole to make it easier for different species to enter.
Free Finch Bird House Idea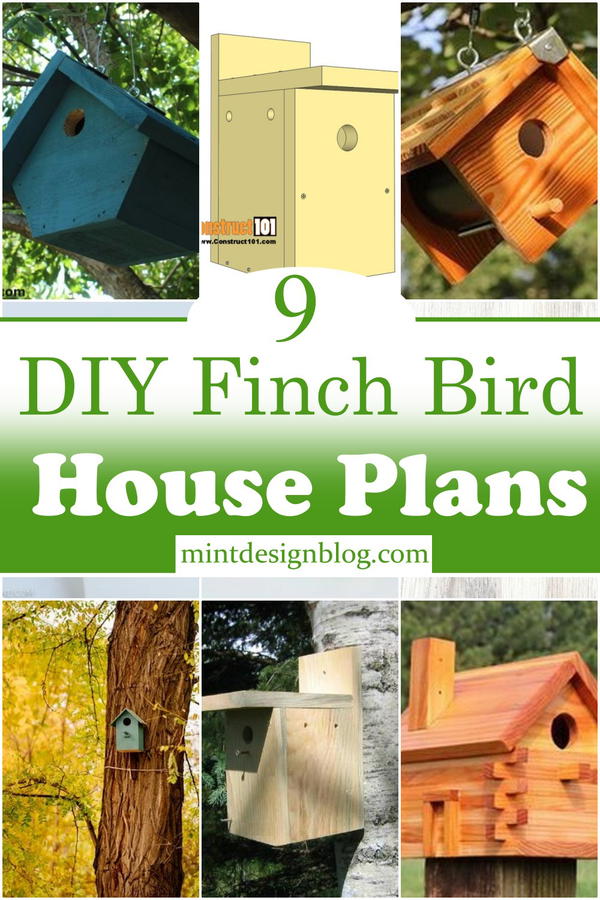 All the materials you need to make this birdhouse are readily available at your local hardware or home improvement store. You can also purchase a kit online that includes all the materials pre-cut and ready to assemble. Plus, you can add your own personal touches with paint or stain! If you're new to birdhouses, it can be confusing trying to decide which type of birdhouse will work best. There are so many different types available, that it can be difficult to choose the one that will attract finches. All of these birdhouses are made from wood and wood glue, making them easy to build even if you're not very experienced in carpentry.
Here are some easy-to-follow instructions on how to build a DIY Finch Bird House for finches using only a few tools and supplies.
A Word About Finch Bird Houses
Most birdhouses are designed for larger birds. A lot of people are confused about what type of birdhouse is good for a finch. Luckily, there is a perfect birdhouse for finches. It stops predators from getting in, and it's small enough to not be inconvenient to the bird that lives inside. You can use it to attract a lot of different species of birds since waxwing and mockingbirds take up the same type of nesting area.
This birdhouse can also be used to attract chickadees or titmice by adding an extra nesting box on top of designing the bottom entrance into something a bit better for those species. Sure, there are several modern inventions that can help you build or purchase a birdhouse, but they all have their flaws. You can also make houses on trees for our ownlsef don't be wonder our list of free DIY tree house plans will help you in this regard.
How To Build A Birdhouse For Finches
Finches are small birds that don't require large birdhouses. You can make a finch birdhouse with scrap wood or pieces you buy at a lumber store. Using a saw and some screws and/or nails, you can build a birdhouse for finches in no time. Once you've built your birdhouse, make sure you put it in the right place and make it safe for your new feathered friends to nest and raise their chicks. A birdhouse for finches can be as simple or elaborate as you like. Though you can buy a birdhouse ready-made, if you have scraps of wood lying around and a few basic carpentry tools, you'll have a nice home for these tiny songbirds in no time. While it's true that finches don't need a large home, it's also true that they don't want one too small. Consider their size and build your finch birdhouse accordingly.
Skill Level: Beginner
Tools: wood, wood paint
Supplies: saw,  Screws, Nails, glue, straw
Free Bird House Plan
Get the free birdhouse plan now and have your own beautiful woodworking projects. This birdhouse is easy yet impressive and may be painted or stained in any color. This birdhouse plan is designed to encourage the growth of urban wildlife in your backyard. The one-story design allows for easy cleaning and maintenance, and the overall footprint is small enough to minimize the impact on your property. Plus, with an attached porch, you'll help birds who don't build their own nests! Discover more bird house plans or discover more ideas on nesting boxes and bird feeders. Share your experience with the free log cabin birdhouse building plan to attract wildlife and birds in your backyard, garden, or neighborhood.
Skill Level: expert
Tools:
Wood (cedar, redwood, cypress, and pine would make good choices).
Screws.
Power drill.
Saw (table saw or miter saw).
Drill
Supplies: Wood, Glue, Screws, Nail
Wren Birdhouse Plan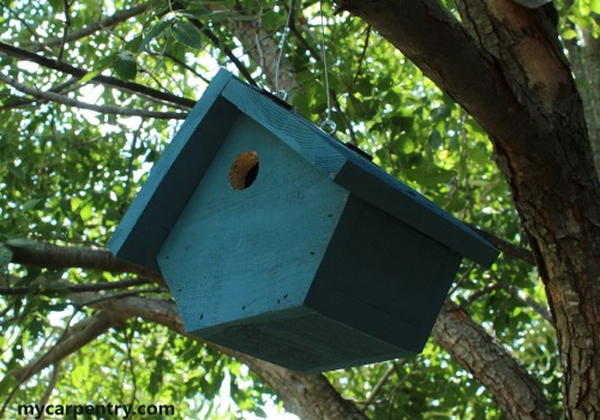 Are you interested in house plans or want to help save the local birds? The Wren Birdhouse plan is a small wood-working project that can be made from scrap material and easily constructed by anyone. One of the best ways to attract birds to your area is to provide them with a good home. . Wren birdhouses are a great addition to any yard, and will provide protection to the local birds. These wren birdhouse plans are designed for wrens or house finches, but other small birds might find this particular design suitable for nesting. These plans will show you how to build the perfect birdhouse for wrens or house finches.
Skill Level: expert
Tools:  Drill, marker, round hooks, metal wire
Supplies: Wood, Glue, Screws, Nail
Wooden Bird Box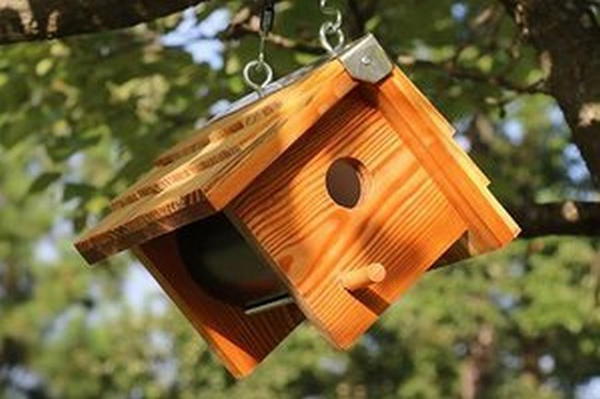 Our Wooden Bird Box provides a perfect home for little feathered friends, protecting them from predators and the elements. Simply hang the box outside your window or door, and watch as birds flock to your backyard or porch. Give your garden a splash of color, whether with bluebirds, wrens, hummingbirds, chickadees, orioles, finches, or hawks. This wooden birdhouse is made from all-natural untreated redwood that has been stained to give it an attractive maple finish that birds will love. It is the perfect gift for the bird lover in your life, this wooden box is a unique Christmas decoration. This is a beautiful wooden bird box. It will look good outside your window and make for a more practical way for birds to enter your home.
Skill Level: Beginner
Tools: Threaded rod, PVC Pipe or Coffee Can, Wooden dowel for perch, Wood, Eyebolts
Supplies: Wood, Glue, Screws, Nail
Wren Bird House Plan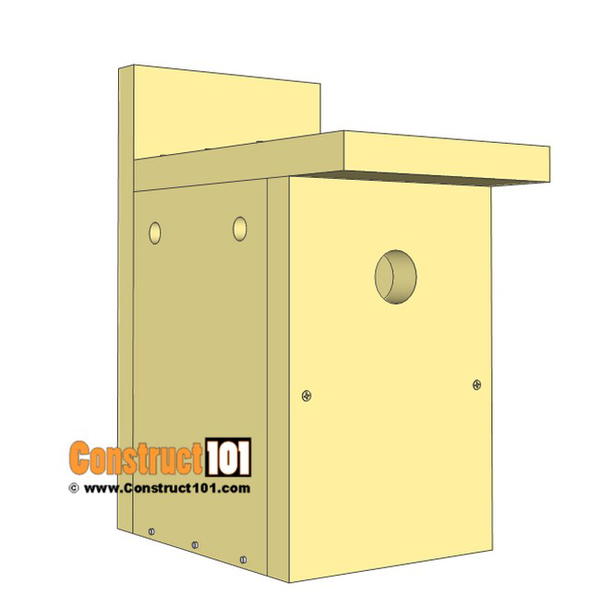 Wren House Plan is a simple and easy-to-build birdhouse that doesn't need to be mounted on a post or hung from a tree. The house is built to rest on a flat surface such as a deck, patio, or railing. This birdhouse is designed with a natural look of cedar shingles and features a removable back for easy cleaning. With the bluebird box included, birds will love making their new home in this little retreat. Wren is the perfect addition to your yard! It's a charming birdhouse plan chock full of delightful detail and materials that will delight you and the birds. Decked out with all the accessories, from wire guard over the entrance hole to its colorful slate roof, it's just waiting for you to create it with your own two hands.
Skill Level: expert
Tools: Drill, Tape Measure,
Supplies: Wood, Glue, Screws, Nail
How To Build A Birdhouse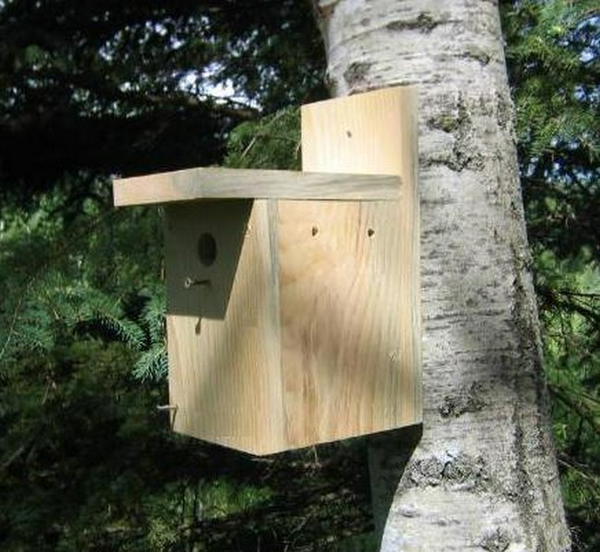 Have you ever wondered what you can do to attract birds to your yard or garden? The perfect birdhouse can help, but before you even start looking for one there are a few questions that need answers. Birds need shelter and food, so it is important to have a birdhouse that offers both. Woodpeckers especially enjoy sitting in a deep hole they can call their own, while other birds such as chickadees prefer an enclosed home with holes that let in some light. Build a place for birds to live where you can watch them from your window. Plans and Instructions for Birdhouses of All Shapes and Sizes contain everything you need to know to build the perfect spot for bluebirds, chickadees, cardinals, and other songsters to visit.
Skill Level: Beginner
Tools: Exterior Wood Filler, Exterior paint or polyurethane
Supplies:  pine board, Galvanized Wood Screws, galvanized nails,
House finch Birdhouse
This sweet little house finch birdhouse comes complete with pre-drilled holes and a mounting hanger to ensure that you get it up fast and secure! Bring the charm of natural wood to your yard with our house finch birdhouse! Built for years of enjoyment, this birdhouse features a cedar roof and cedar siding, with a pine board floor. Use the removable paddle to clean and maintain this birdhouse. Attract more than just finches with this great addition to your outdoor decor! Crafted from unfinished, Western Red Cedar, this birdhouse will weather naturally over time, providing a stunning backdrop for your feathered friends. A neat and tidy front entrance with wire mesh keeps away pesky squirrels, which can cause problems for smaller birds.
Skill Level: expert
Tools: Saw, Sander, Drill, Tape Measure,
Supplies: Wood, Glue, Screws, Nail,
Free Birdhouse Plan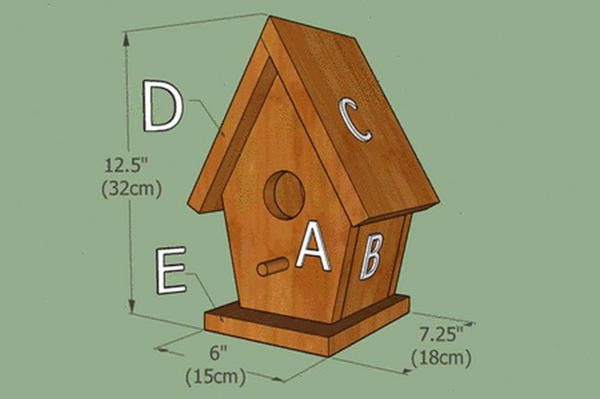 The Birdhouse Plan is fun to make. It's a snap to assemble, with no joints to cut or tools required. The entire project is very simple and economical. This birdhouse makes a fine gift that even the kids can make. Perfect for bird lovers have a cozy place to put up a birdhouse in your backyard or garden! This DIY handmade wooden nesting box will attract birds of many species, from bluebirds and chickadees to woodpeckers and wrens. A birdhouse plan is a perfect gift for anyone, including yourself. You can choose from birdhouses with multiple compartments, or create your own unique home. These are just some of the ideas we've come up with so far, why not grab yourself a copy and start crafting?
Skill Level: Beginner
Tools:
Wood (cedar, redwood, cypress, and pine would make good choices).
Screws
Power drill.
Saw (table saw or miter saw).
Drill bit to match appropriate entrance hole size.
Supplies: Wood, Glue, Screws, Nail
Finch Bird House Plans Free Modern Home Design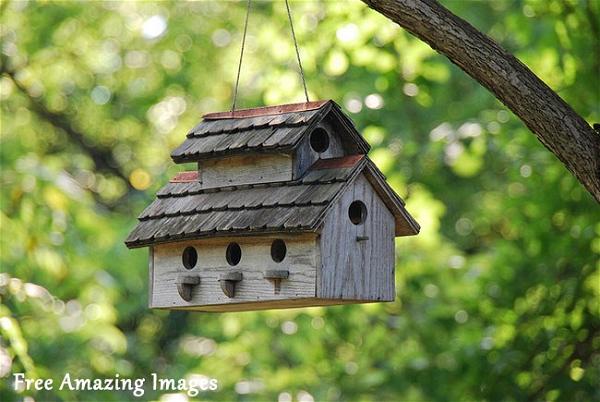 Many thanks for visiting our website. The Finch Bird House Plans Free Modern Home Design is an efficient, meticulous design that can either be made from wood or from common materials such as insulated foam cylinders, coroplast, and more. This design is a fire-resistant liquid and heat-resistant birdhouse that will provide the small birds with a safe home environment. you will enjoy this fascinating, quality woodworking project. Start by selecting the wood and lumber types you want to use, then choose plans that fit your needs. Impress your family and friends when you finish your birdhouse; it will be a fantastic addition to any backyard environment. With these Finch Bird House Plans, you can build a birdhouse that will be the envy of your friends. Enjoy the beauty and serenity of birds in your garden.
Skill Level: Beginner
Tools: Saw, Sander, Drill,
Supplies: a plank of cedar Wood, Glue, Screws, Nail
Conclusion
Howdy! WE hope you enjoy these patterns for Finch Bird Houses, my patterns are more detailed than you will find anywhere else. Our Finch Bird House Plans might be just what you need to add a unique touch of nature to your home or garden. These easy-to-build birdhouses will ensure that finches are visiting your yard as soon as warmer weather arrives. These Finch Bird House Plans are easy to follow and produce a perfect birdhouse that you can put up year after year. You can put your finch birdhouse onto a pole, deck, or tree and it provides a home to some sweet birds.