Love comfort? You'll love our jumpsuit sewing patterns. Jumpsuits are ideal for casual summer or winter outfits, parties, and special occasions. These pieces of clothing are super comfortable and easy to wear because they don't have zippers, buttons, or fasteners. They are the perfect choice for all your spring-summer activities, whether relaxing in the pool at home or heading out for a girls' night out on the town!
Whether you need a basic black jumpsuit or a bold statement piece to spice up your wardrobe, this collection of twenty sewing patterns has something for everyone! Check out the full range of these delightful designs, which include slimline styles and wrap shapes, as well as variations in length, sleeve detailing, and fabric choices.
Women's Jumpsuit Sewing Pattern Free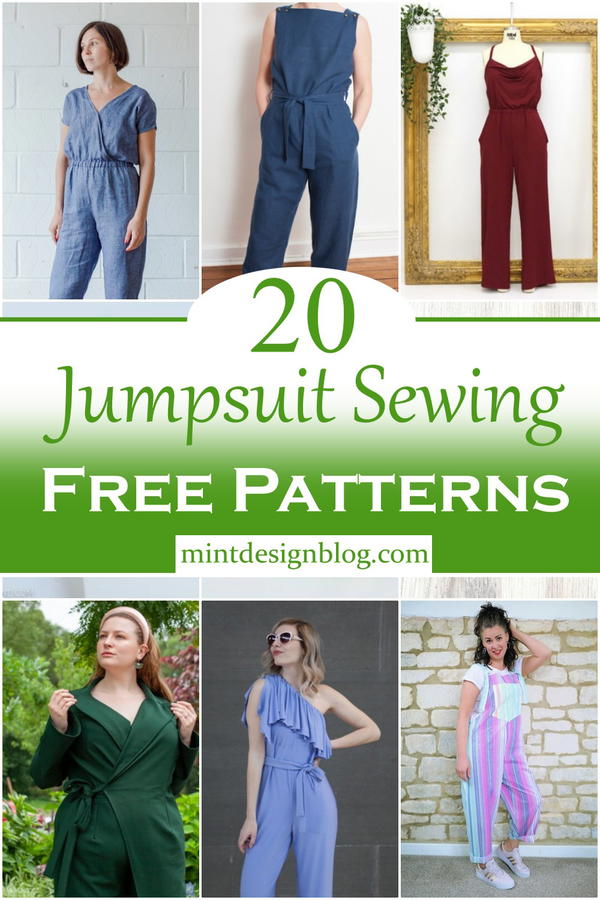 You'll love the simplicity of these sewing patterns for jumpsuits, rompers, and jumpsuits. These sewing patterns are perfect for lounging around the house and even work great over leggings as a quick and easy outfit. These jumpsuit sewing patterns not only keep you cozy, but they also look super cute! They are perfect for all shapes and sizes and incredibly versatile! Use them to make work clothes, play clothes, and activities clothes. These styles make great maternity clothes too! These Free Jumpsuit Sewing Patterns are the perfect style to hit the gym, lounge around on your day off, or even go out in style with your girlfriends.
How To Select The Best Jumpsuit
When wanting to sew a jumpsuit pattern, you first need to consider whether or not you can wear this style. Maybe you don't want to create something that has such a bold shape and prefer something that fits more like a dress instead. That's fine! However, if you want a design that will allow for total freedom of movement and comfort for your body, then the classic jumpsuit is one pattern type you should consider.
Tips For Sewing Jumpsuits
Sewing a jumpsuit is not as hard as it may seem. It's just a matter of understanding the pattern, fabric, and how to sew the different parts together. Jumpsuits are made from various fabrics and can be worn in many different styles.
Here are Five Pro tips for sewing jumpsuit patterns:
Read and understand the pattern instructions before cutting out any fabric. You'll save yourself lots of time and frustration by doing this step first.
Make sure you have enough fabric for your size - especially if you're using a knit or stretchy fabric that doesn't have much give.
Ensure your pattern pieces line up properly before you start sewing them together into a garment - especially when making something like a jumpsuit with lots of seams!
Try on your finished garment every few steps while sewing to make any necessary adjustments (this is especially important when making clothes that fit well - like pants or shirts).
If you're having trouble getting some parts of your jumpsuit to fit right, try re-drafting those pieces onto paper first (say by reducing or enlarging them slightly), then cutting new ones.
The Fern Jumpsuit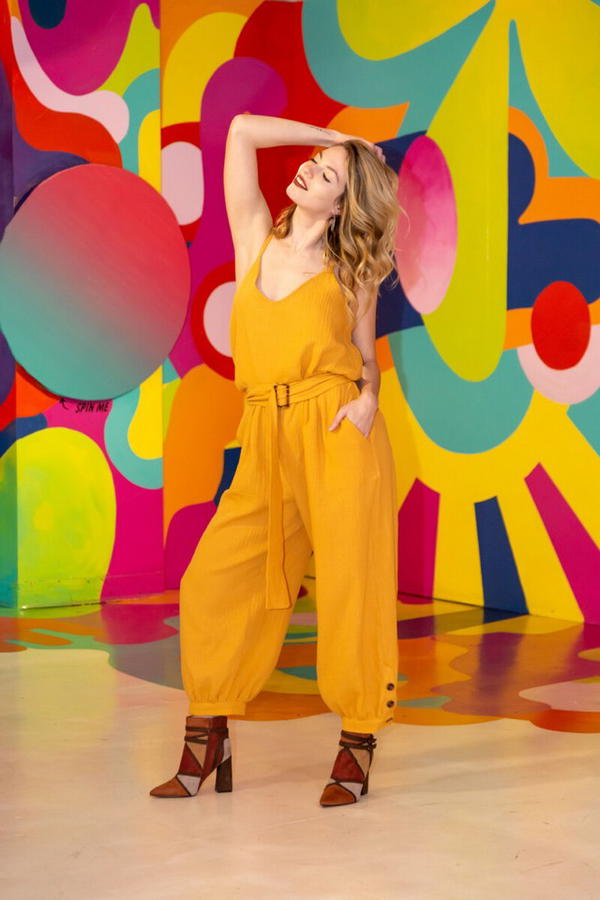 Dress up or dress down the Fern Jumpsuit. Pair a blazer for an office vibe or a tee for a casual weekend look. The Fern Jumpsuit is a breathable, figure-flattering masterpiece. Pair it with a bold statement necklace for the ultimate head-turner. The silhouette of this jumpsuit makes it one of our most flattering silhouettes, and the fit is perfect for all body types. This jumpsuit is perfect for working out and keeps you comfortable all day long. Its slightly modified silhouette will make you look fabulous in any setting.
Luna Jumpsuit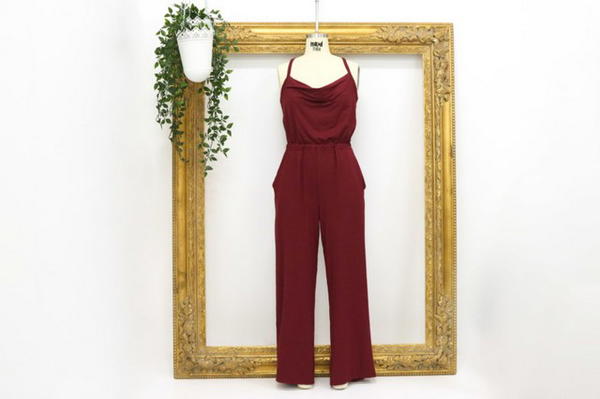 The Luna Jumpsuit is the perfect dress for that special occasion. Just add your favorite heels and be ready for the heads to turn! This simple but flattering jumpsuit has all the right elements: spaghetti straps, wide legs, and a gathered waistline accentuating your curves. Perfect for summer with strappy sandals, or dress it up with a cute top-handle bag and heels. The bottoms are full-length with flared legs and a gathered waistline for extra comfort and support.
Valley Jumpsuit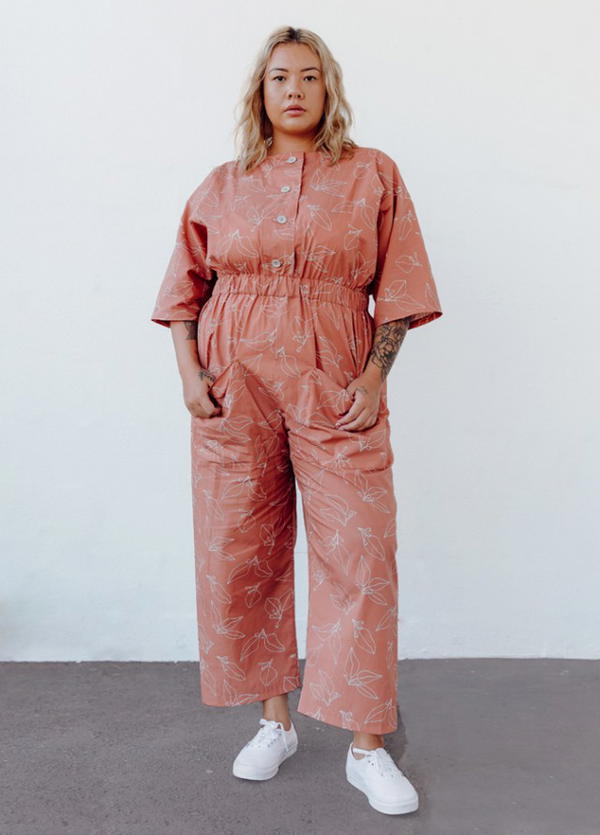 This pattern will help create a versatile jumpsuit with a button-up closure in front and a back slit near the neck for extra comfort and arm movement range. Made from lightweight fabric such as cotton, it is easy to wear on hot days and perfect for pairing with sandals for an outdoor event. This fun jumpsuit is perfect for wearing and moving around. The high neckline and slit at the back will provide you with all the comfort and elegance you need. Since it comes in seven different colors, you can match it with any outfit in your wardrobe.
Morina Jumpsuit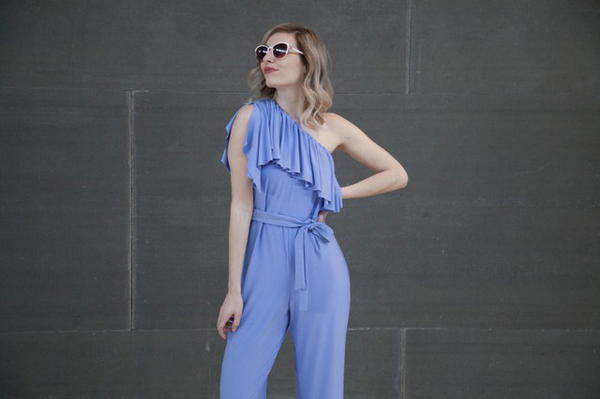 It's time to walk the runway! Get ready in this elegant and fashionable jumpsuit with ruffled flaps, long and loose legs, and sleeves. The seamless design makes wearing a hassle-free affair. This jumpsuit is so fashionable and elegant that it will catch your eye. The sleeveless bodice goes over just one shoulder, while the long, loose legs flow down to a ruffled flap hanging off the neckline. The seam that joins the bodice to the bottom is hidden thanks to a stylish fabric belt, which adds an extra touch of class.
Poplar Overall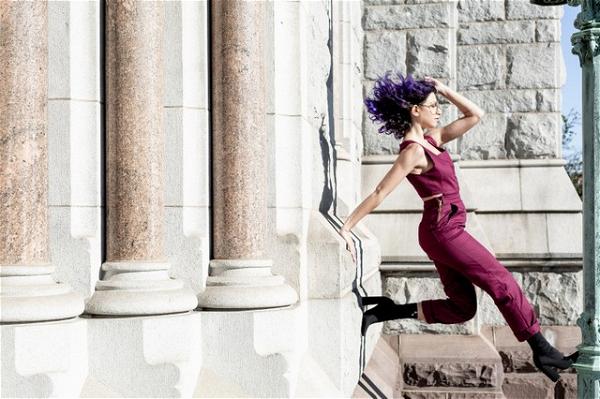 A chic jumpsuit that you can pair with any sewed top underneath, letting your own personal style shine through. Dazzle all who lay their eyes on you wearing this chic jumpsuit that seems like it's not one clothing piece but two. The two are connected only at the belly, leaving a gap between them at the sides and the back. The top has a zipper along its entire length, while the bottom has a side zipper, meaning you can put the suit on in seconds.
Strapless Playsuit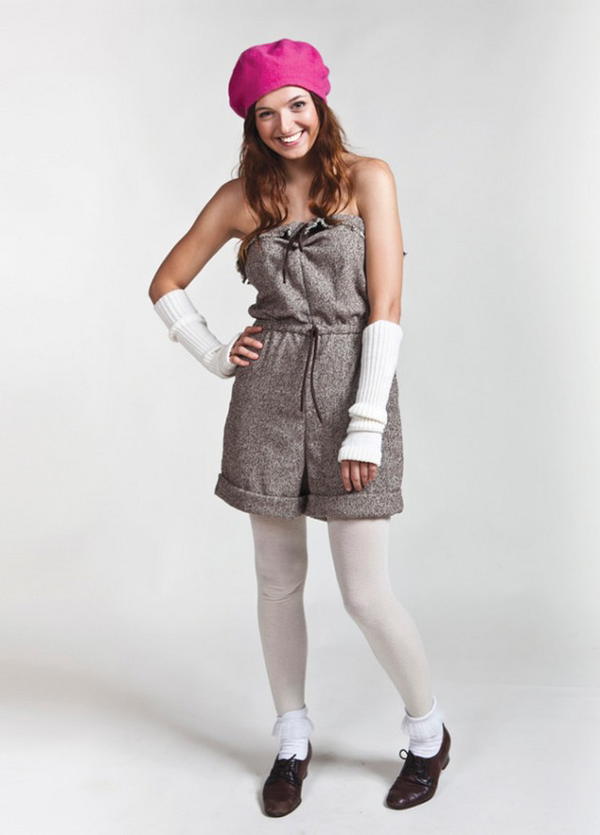 This is a great summer playsuit that's simple and flattering. This strapless playsuit is a great design choice for the summer. The sleeveless tube top bodice features a racer-back style and a drawstring you can use to tighten or loosen as you like. The pant legs are strapless and cut above your knees, with an elastic waistband that you can adjust if needed. A drawstring at the top edge of the bodice creates a clean-cut look without being too tight or loose. The design is completed with fraying at the top edge of the bodice for added charm.
The Oliver Jumpsuit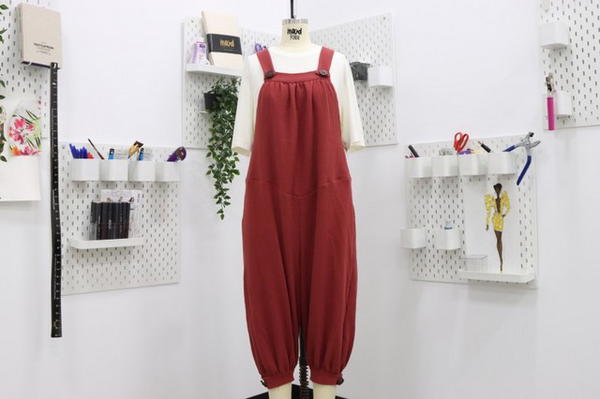 Sweat-wicking fabric, a flattering fit, and fun pops of color make this jumpsuit a keeper. It's versatile enough for everyday wear but dress it up for date night with a pair of heels. The Oliver Jumpsuit is your new wardrobe staple. This jumpsuit has a classic look that makes it perfect for any occasion, from the office to cocktails. This style is completely relaxed and comfy with a soft crepe knit fabric, adjustable straps, and a waistband. The Oliver jumpsuit features a flared collar, button front, and wide leg silhouette. Pair with a pair of flats, and this outfit is ready to go!
Make This Jumpsuit Pattern And Keep Cool This Summer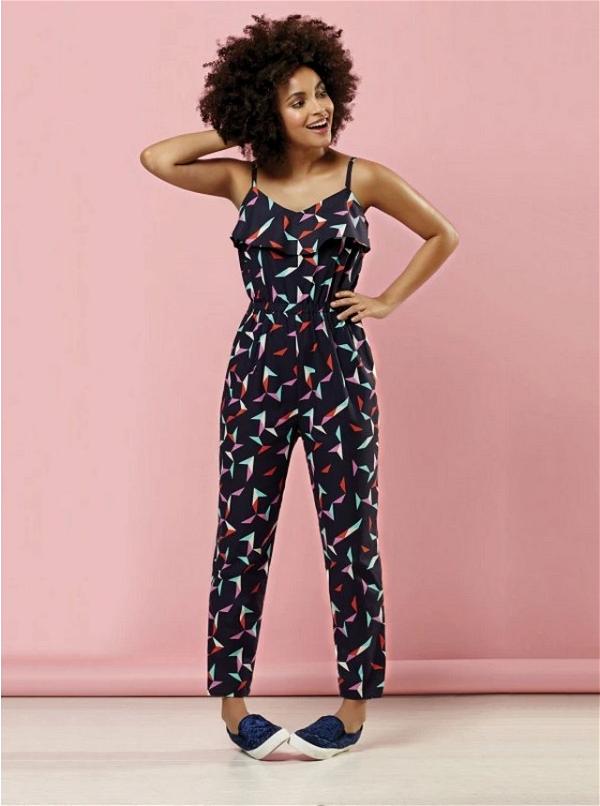 Keep cool this summer with this fun and easy jumpsuit sewing pattern. This project is perfect for beginners with a bodice tied in the back. Make this jumpsuit pattern to keep cool this summer. The breezy wide legs and elastic waist are designed to keep you comfortable all day long, while the gathered sleeves keep the style interesting. It's a great piece you can wear on its own or as a top over leggings or tights. Make it in solid or striped fabrics to add some style and keep you looking cool in the heat.
The Bergenia Jumpsuit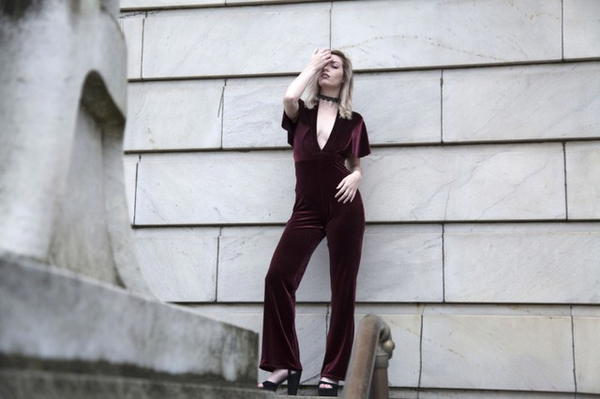 A feminine take on the classic jumpsuit, this piece can be paired with heels for an hour-long catch-up with a friend over cocktails or worn with chunky sandals for an easy afternoon stroll. The Bergenia jumpsuit is a quirky take on a traditionally feminine silhouette. The structure of the bodice is barely there—just a hint of a boat neckline on both the front and back, but nothing that's constricting or uncomfortable. Instead, the focus is on the wide-leg pants cut to sit just above the knee.
British Sewing Bee Jumpsuit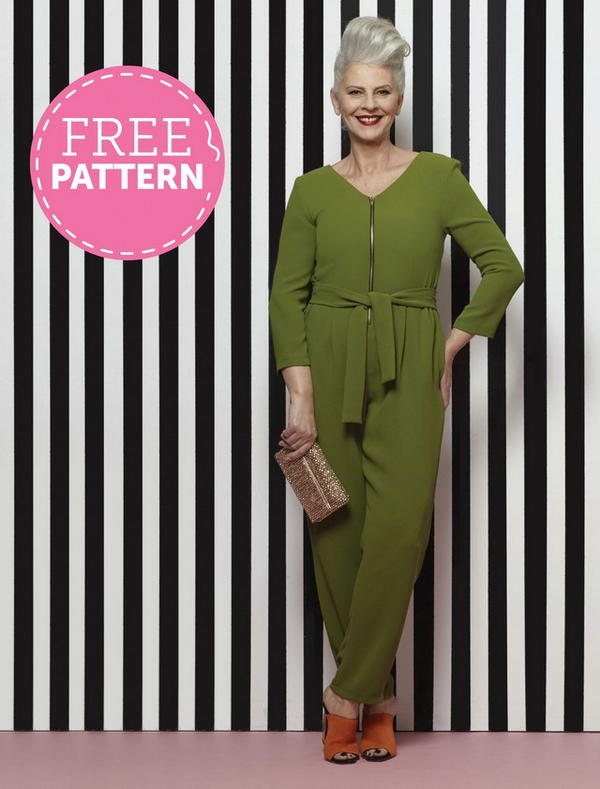 You will sew a classic jumpsuit with ease. The best part about the British Sewing Bee Jumpsuit is that it is versatile - it can be worn on its own or as part of a smart casual outfit when paired with the right accessories. The British Sewing Bee Jumpsuit is a must-have for any weekend away, holiday, or occasion. It has a classic fit with a belted waist and wide legs to cinch at the ankles. Crafted from lightweight fabric, this jumpsuit is great for all-year-round wear.
by Click Here
Forrest Jumpsuit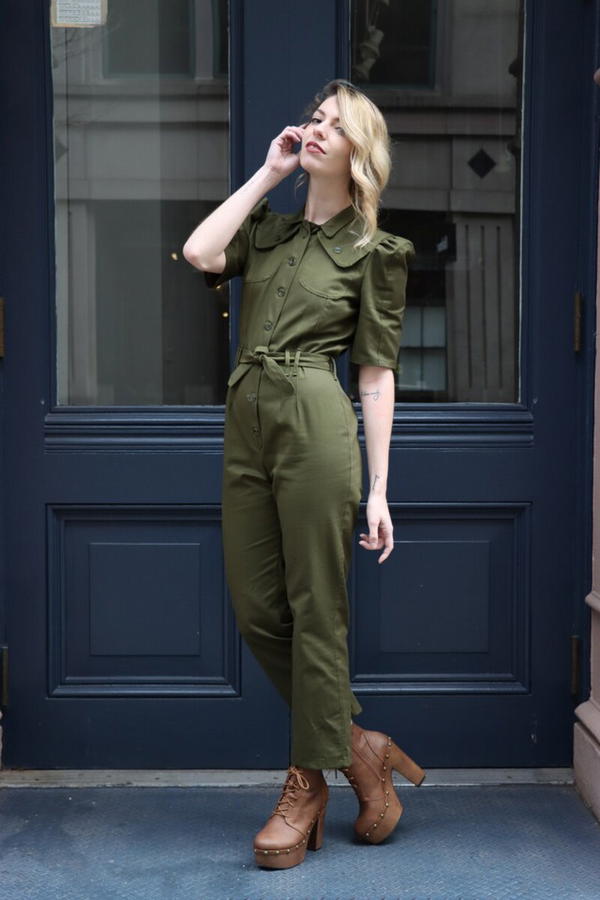 The Forrest Jumpsuit has a major jungle explorer vibe. You know that outfit you see in movies? It's got short puff sleeves, an interesting collar, and two enticing patch pockets set at an angle just below the collar. The front button-up closure goes from the neckline down to the cross point. This is one for those who want adventure. You are the explorer of your imagination. Now you can look like one in this forest green jumpsuit with short sleeves and a jacket-like collar. The front button-up closure covers the entire length of the suit, going from the neckline down to the cross point.
Stylish Jumpsuit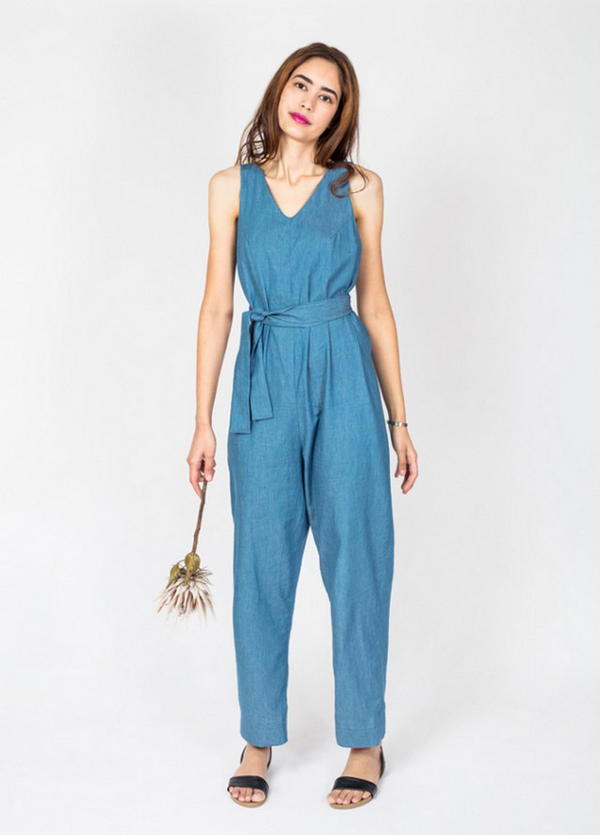 This classic jumpsuit is perfect for all your warm-season excursions. Your search for the perfect jumpsuit ends now. This adorable piece offers roomy comfort in a breezy shape that's perfect for those spring or summer days. The drop shoulder bodice and V-neck at the front, along with flattering wide armholes and long pants, ensure you feel confident whether you're out for a walk or watching a movie. Wear it with a summer turtleneck and leggings for an easy weekend look.
Oversized Dungaree Overall Draft Your Own Pattern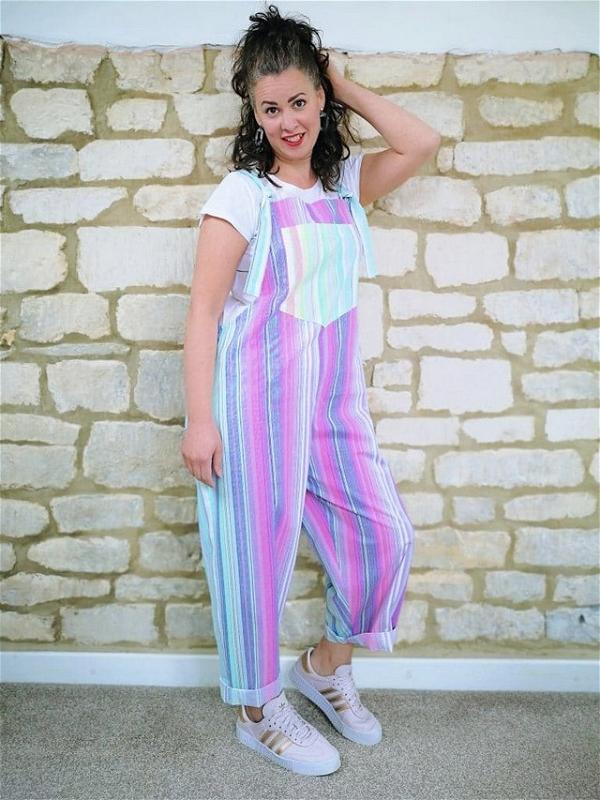 The Oversized Dungaree is an overall pattern that has long pants and straps. You can tie the straps together once you put the suit on, but it's unnecessary to untie them afterward because you can easily take the dungaree off and put it back on when tied. This is the best way to become a handyman. The overall pattern features long pants and a straight neckline for coverage and comfort. You can tie the shoulder straps once you have put them on and leave them tied as long as you like because they won't get in your way.
Palm Jumpsuit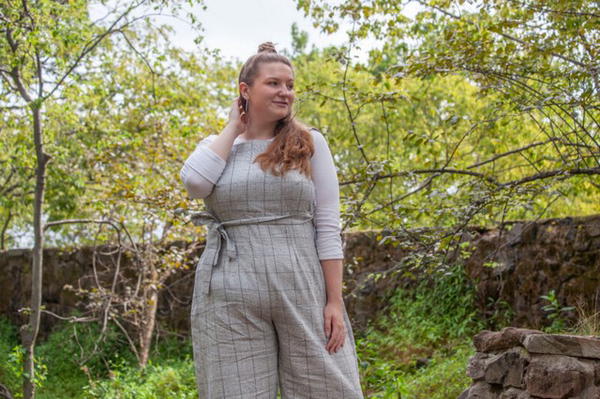 Ready to take on the day? We've got you covered in this Palm Jumpsuit. It features a high neckline with narrow shoulder straps, a neat fabric belt that conceals the high waist seam, flared long leg legs with cuffs, and a practical side zipper that allows you to put it on and take it off more easily. You can wear this suit year-round thanks to its soothing neutrals, which make it appropriate for all seasons—a dungaree jumpsuit with a clean silhouette, straight neckline, and practical side zipper.
Meadow Jumpsuit With Wrap Front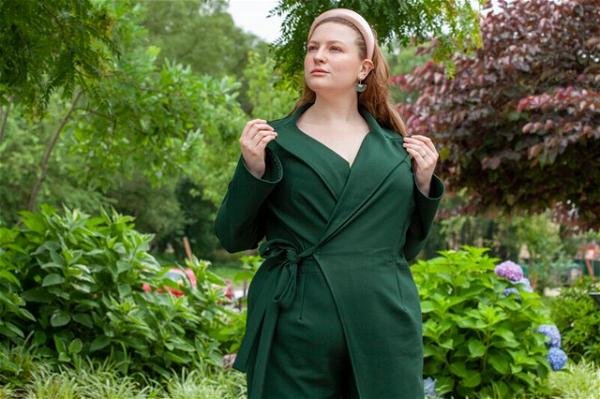 This jumpsuit is the perfect addition to your summer wardrobe. The wrap front and side pockets give it a stylish silhouette, while the notched collar with lapels creates a sense of sophistication. The jumpsuit's outside legs are cut short, giving you a relaxed look and an easy fit, while the front piece wraps over each knee in a stylish flourish. This jumpsuit is perfect for a casual day out with friends or a night on the town and will make you feel comfortable, stylish, and elegant. The wrap-front design gives it a flirty touch, while the long sleeves and waist belt will keep you warm.
by Moodfabrics
Dana Linen Jumpsuit
This is the perfect jumpsuit for any occasion! You jump in and out of it easily thanks to elastic cuff pant legs. Easy to wear and versatile, this jumpsuit features a sleeveless cut, fabric waist tie, and large sections of pockets to keep all your essentials safe. This versatile jumpsuit is made from a lightweight, flowing fabric that is perfect for warmer weather. The slightly flared pant legs and elegant fabric waist sash make it great for spring and summer parties, but the long sleeves will help to keep you warm during the colder months.
Pull-On Jumpsuit Pattern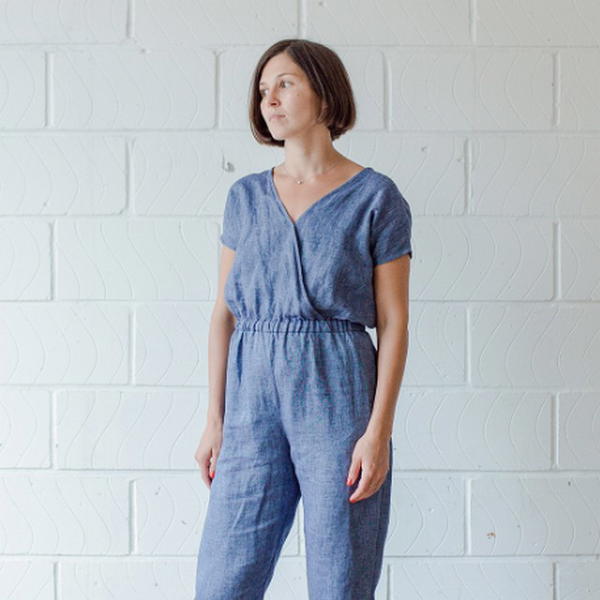 This classic and casual jumpsuit has an elastic waistband and deep side pockets just in time for spring or the end of summer. The bodice wraps above the bust and can be unwrapped to give you more room to get in and out of the suit. This casual jumpsuit makes for the perfect summer outfit. Relaxed and comfortable, it's a quick and easy way to get dressed in the morning — no need for an undershirt; just pop it over your head and zip it up. This pattern is also low maintenance: no zippers or buttons are needed!
Short Playsuit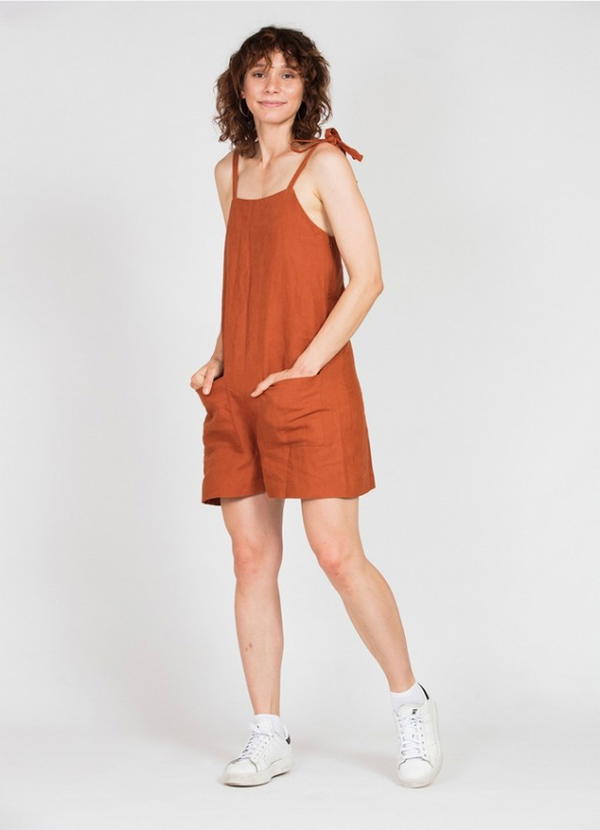 Free yourself from the chains of long-sleeved and high-necked pieces! Hop into this short jumpsuit that is perfect for summer days, featuring thin shoulder straps, short pant legs that go to your mid-thighs, and cute front pockets. Summer is the happiest time of year but can also be the hottest. If you're feeling hot and bothered, this jumpsuit will keep you cool and comfortable. With its deep straight neckline that starts above your armpits and its back that has its top half open, you won't have to worry about being too covered up, even when it's hot outside.
Linen Work Overall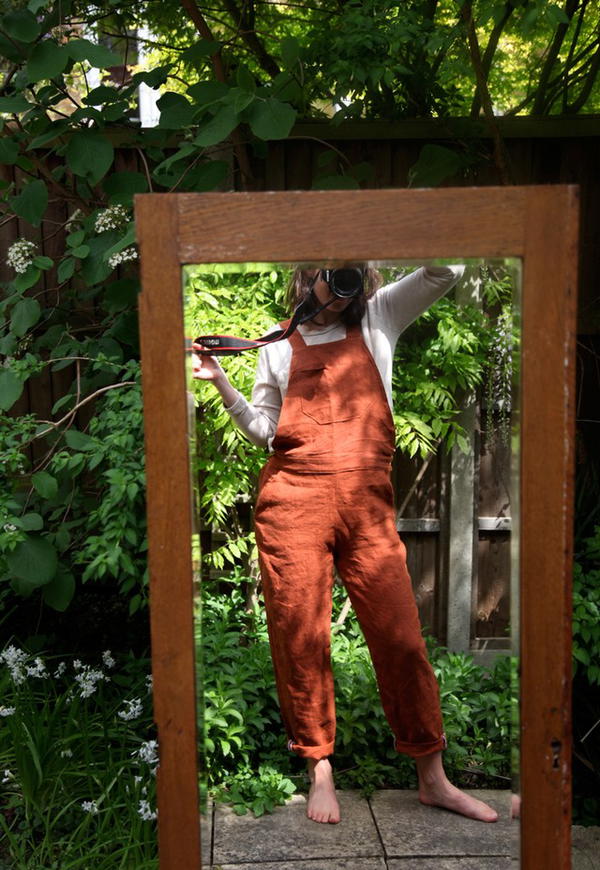 Make a jumpsuit you can wear to do some light physical work in style. The top of this overall pattern starts at the top, where a straight neckline sits at the armpit height. The shoulder straps on the exposed back meet at the middle of the waistline, so they don't slide off your shoulders while you wear the suit. This jumpsuit has an exposed back, broad shoulder straps, and a straight neckline at armpit height so that your straps don't slide off your shoulders as you wear them.
Toddler Jumpsuit Pattern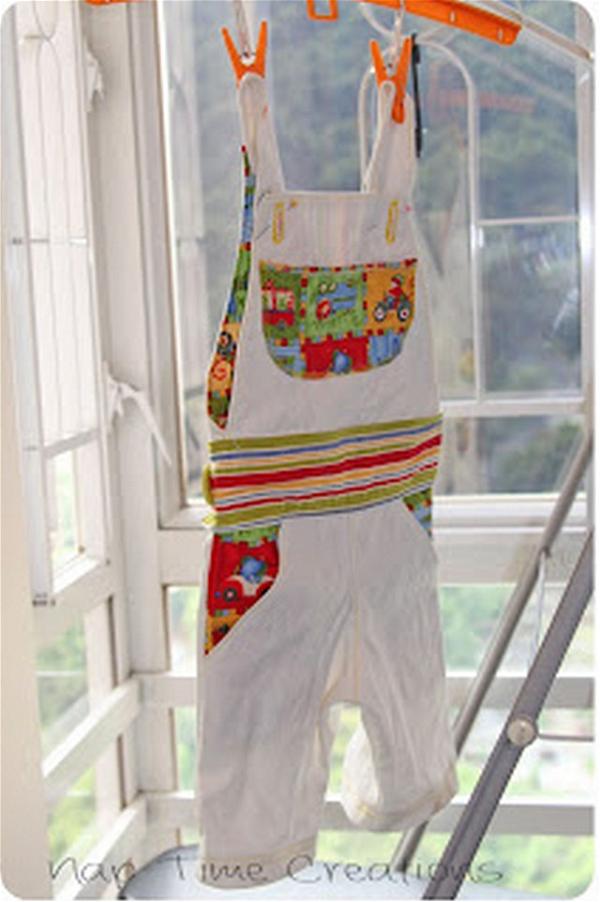 This Toddler Jumpsuit Pattern is perfect for your slightly older toddler. The jumpsuit is made from woven fabric and features shoulder straps that secure to the front with buttons, a button-up waistband, and short pant legs. The front of the jumpsuit has a bib pocket that's perfect for your kid to stuff rocks or bugs into! This jumpsuit is great for slightly older toddlers who love playing in the dirt and throwing rocks. It has shoulder straps that secure to the front with buttons and a button-up waistband.