Here we have gathered this roundup features poncho sewing patterns and tutorials, plus plenty of inspiration photos to get you started. Whether you're looking to make a poncho for the kids to wear around the house or want an adult-size one as an easy outerwear addition, these free sewing patterns will help you get started. Sew one for yourself, or sew one for everyone in your family!
Poncho Sewing Patterns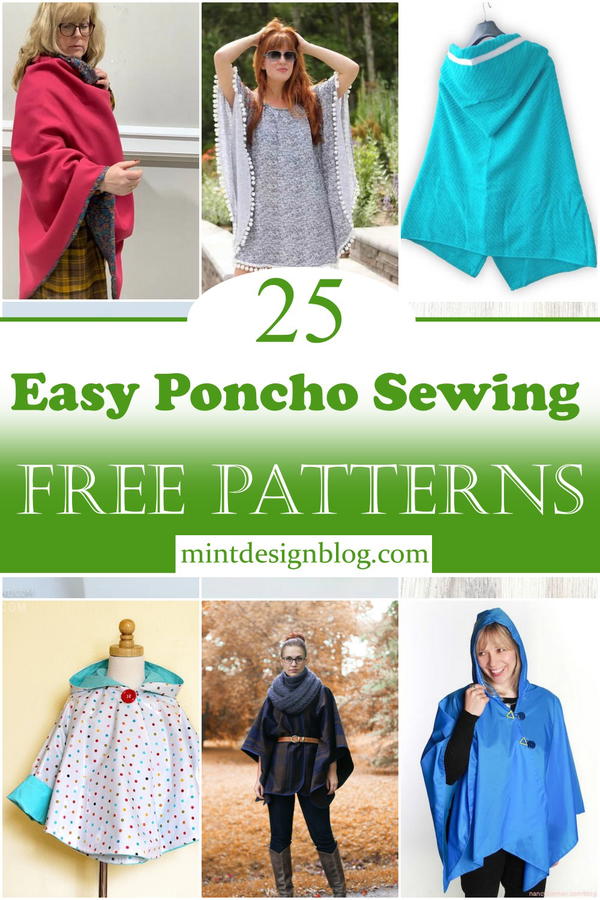 Poncho sewing patterns are a great way to make warm shoulder covers or capes. Paired with jeans, it's super stylish and comfy as well. It also makes a great gift during Christmas time! The right poncho sewing pattern can be a staple in your wardrobe. It can keep you warm, cozy, and stylish when colder weather hits. Check out these great free poncho sewing patterns to see if one will work for you!
Whether you're short on time or want a simple project to try out a new sewing machine, our poncho patterns are quick and easy to make. Our patterns range from kids to adults, so no matter your skill level, you will find one that is perfect for you.
Hooded Poncho Sewing Pattern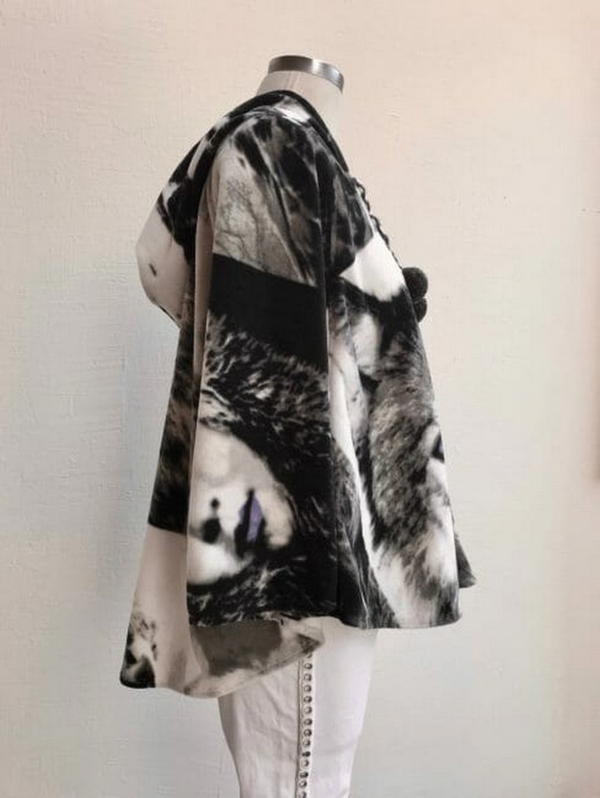 This stylish little hooded poncho is designed to keep you warm on even the coldest summer nights. Use fingering weight yarn and a slightly larger hook than what is recommended on the ball band for an extra cozy feel. The pockets are kangaroo style so they won't sag or pull down over your hands or face. With a little hand sewing and an i-cord edge, the scarf comes together quickly! The classic design makes for easy wearability and can be made in any color.
Wool Cape Sewing Tutorial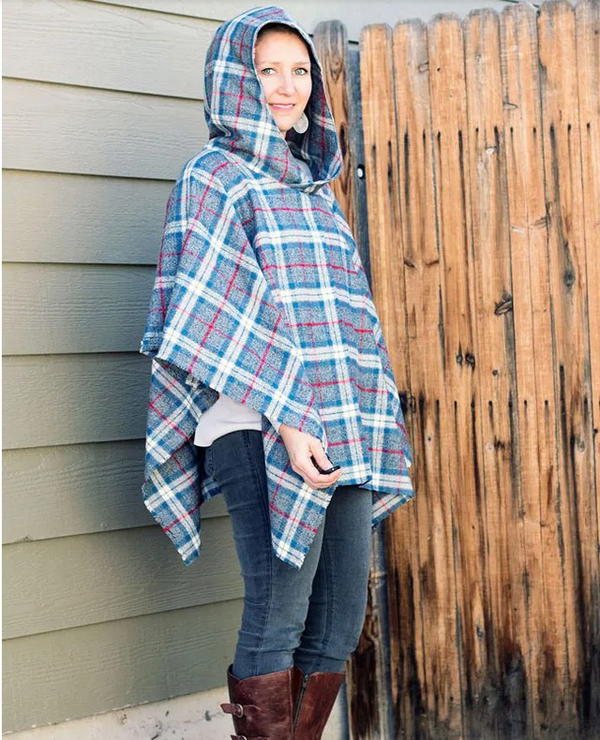 Sew this beautiful hooded cape for yourself or someone special in your life. The hood is fully lined and gusseted, and when finished, it's big enough to fit over a winter coat. The hooded wool cape is a classic garment that lends warmth and comfort to the wearer. It is easy to sew and can be made with a vintage feel or contemporary, sleek look, depending on your fabric choice. The instructions are simple, and the pattern instructions make assembling the cape easy!
Poncho Shirt Pattern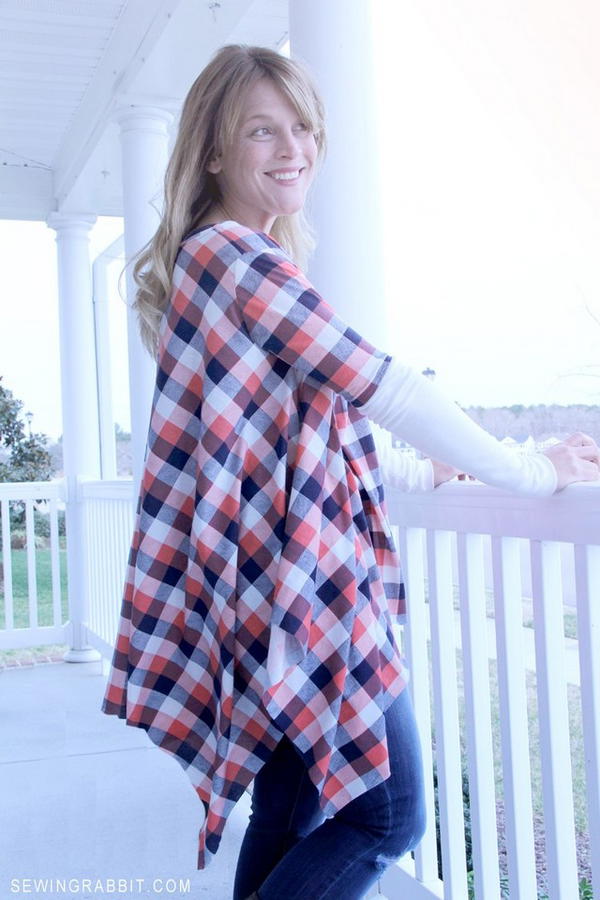 Take your wardrobe to the next level with this free poncho shirt pattern. The free poncho shirt design will make a great addition to various outfits adding warmth and style. This free poncho skirt pattern requires only a small amount of fabric and can be made in any weight of yarn. It's a great project for beginners and advanced knitters alike. Make up a few in different colors and become the fashion icon you've always wanted to be!
Easy Fleece Poncho Pattern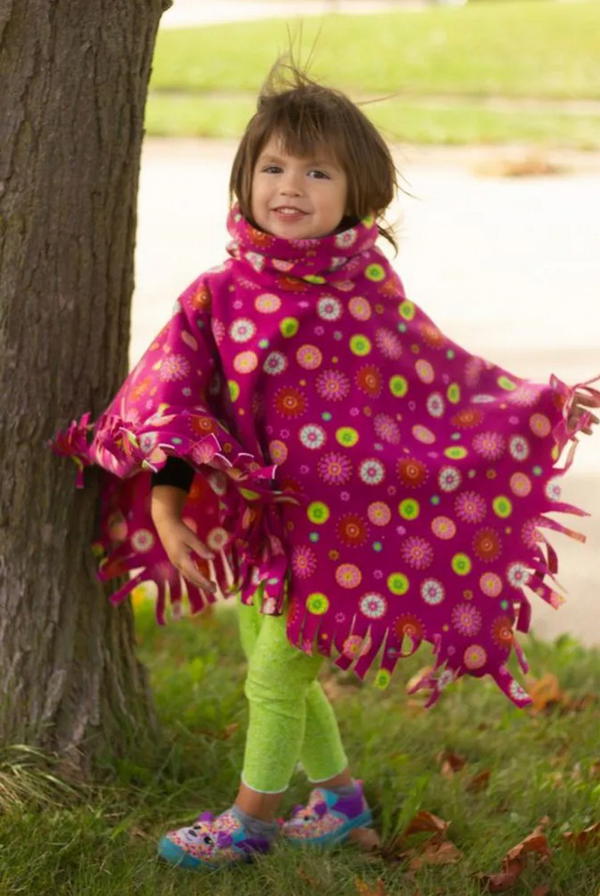 The Easy Fleece Poncho Pattern for Kids is a great sewing project for any beginner. This pattern uses simple techniques, such as cutting and stitching, to create an easy fleece poncho perfect for infants, toddlers, and kids up to size 5X. The fleece does not fray, and there is no extensive skill or finishing required, so this project can be finished in just a few hours. Great for beginners who want to learn how to sew. This is the perfect sewing project!
Free Fleece Poncho Sewing Pattern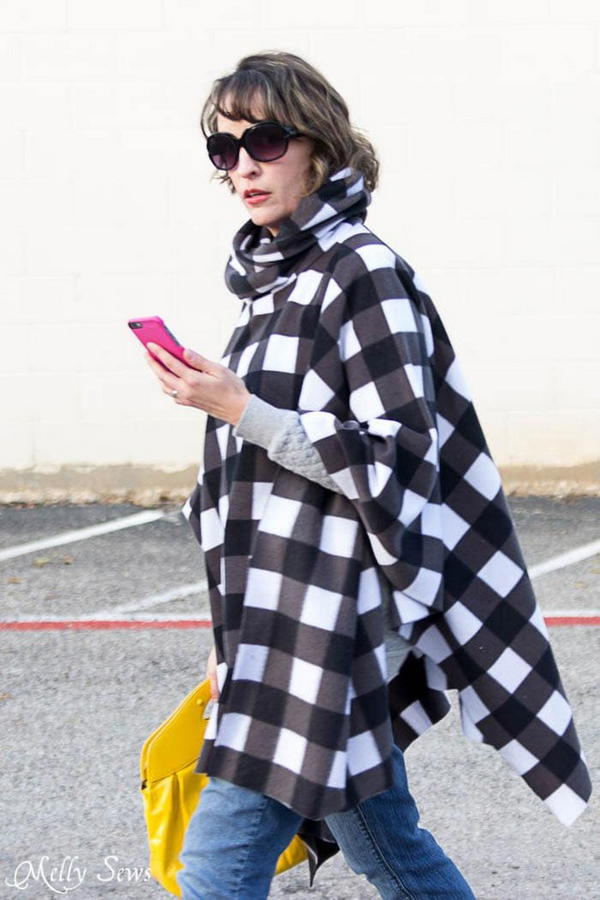 Add a cozy layer of warmth to your wardrobe with this sewable fleece poncho. This fleece poncho is SUPER easy to make and includes a cowl that can be worn as a hood. This is a great beginner project if you've never made anything before. You only need basic sewing skills, which you can learn in just one week in our How To Sew a Chair Cover tutorial! In addition to being warm and comfy, this shawl makes a perfect gift because it's so quick to make.
Make A Cool Poncho Blouse
You need a yard of non-fraying fabric, fabric glue, and some large safety pins. Start by cutting your fabric into two rectangles. With one rectangle, you will form the ties; the other is needed for the actual poncho neckline. Use fabric glue at the ends of each tie to adhere them to the second rectangle. Once they are glued, pin the ends together and wrap the whole thing around yourself to see how long it should be. Because it's stretchy and drapes beautifully, pick a size that fits over your shoulders and is comfortable for you.
Easy Poncho Sewing Pattern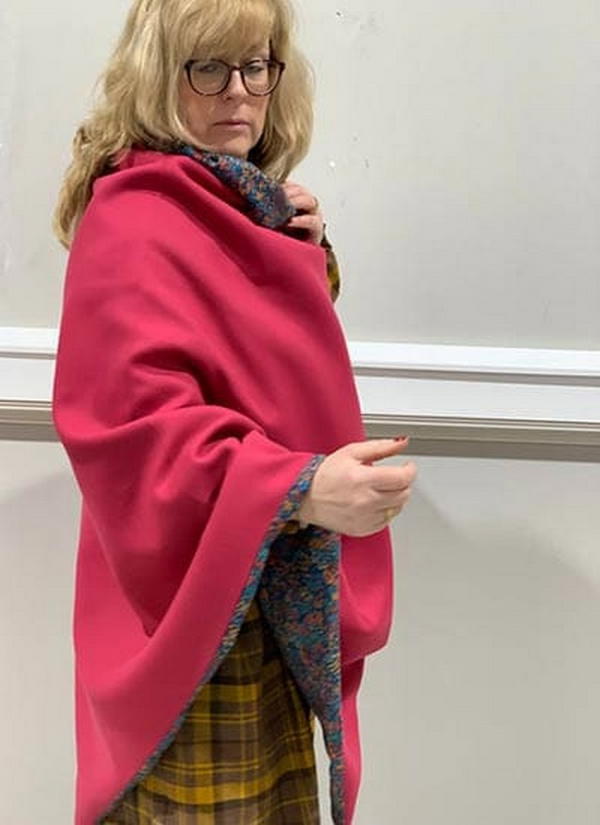 The Asymmetric Poncho sewing pattern is a perfect garment for the cold winter and fall seasons. It's made with a warm and comfortable knit fabric, which will keep you warm while looking stylish at the same time. The asymmetric shape gives it a unique look that stands out from the crowd. The simple yet elegant design makes this a great poncho to wear on all occasions. The asymmetric shape of this poncho can be worn multiple ways, depending on your mood or personality.
Easy Cowl Neck Poncho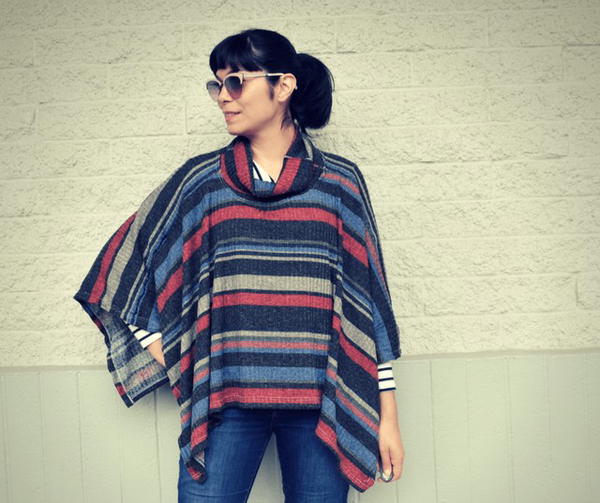 The Cowl Neck Poncho is a free crochet pattern you can use to make your beautiful cowl poncho. The pattern is easy and quick to follow, it only takes one skein of yarn, and the result will be a beautiful piece of clothing you can wear and enjoy for years to come. This is a simple project and will make you look great. You only need to count the number of stitches and rows, follow the pattern instructions, add your style, and have a beautiful cowl neck poncho.
Rectangle Wool Poncho Sewing Pattern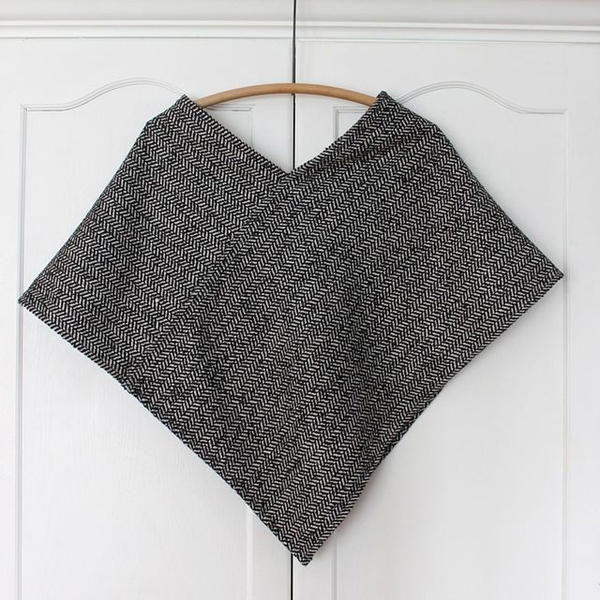 The wool poncho is a fun little knitting project for you to tackle. It's quick and easy too. The wool forms this blanket around your shoulders, and the V-shape allows you to put the top of your arm through the opening so your hands are free to do other things. You can create this garment in any color or yarn weight you choose by varying the number of stitches or rows used in each section. Choose your favorite color, take your time, pick up a few threads, and you'll wear this as soon as you're done stitching together the two pieces!
Cape Poncho Sewing Pattern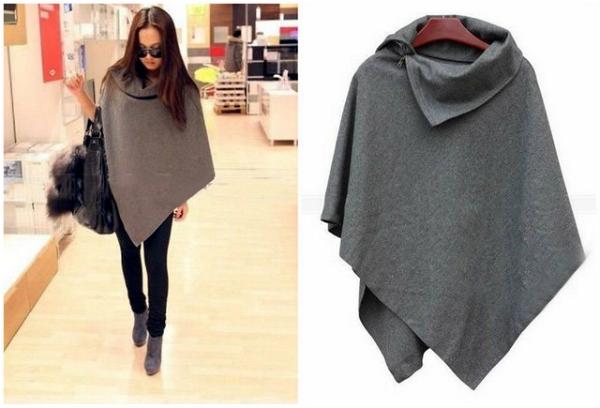 The Cape Poncho is an alternative to a heavy winter coat that is stylish and easy to wear. The triangular bottom edge gives it a flattering silhouette, and the flipped collar provides an elegant alternative to collared shirts. It can also be worn with a belt or over your shoulders. It's a classy poncho with an easy-to-make collar so that you can wrap yourself up in comfort and style. Use it to stay warm in the winter or for extra warmth at night. The instructions are for smaller sizes but easily adjusted for larger ones too!
Poncho With Collar Sewing Pattern
The poncho is a must-have item for the coming seasons! This pattern isn't just for beginners. It's also a fun project for knitters ready to add new skills to their repertoire. This shawl has a collar that is knitted directly onto the body of the garment, meaning that it doesn't require a complicated finishing process (no seams!) to look good. The result is an easy and quick project that is perfect for fall, winter, or any time you want a warm layer but don't want to stop yourself from looking cute.
Simple Poncho & Scarf Pattern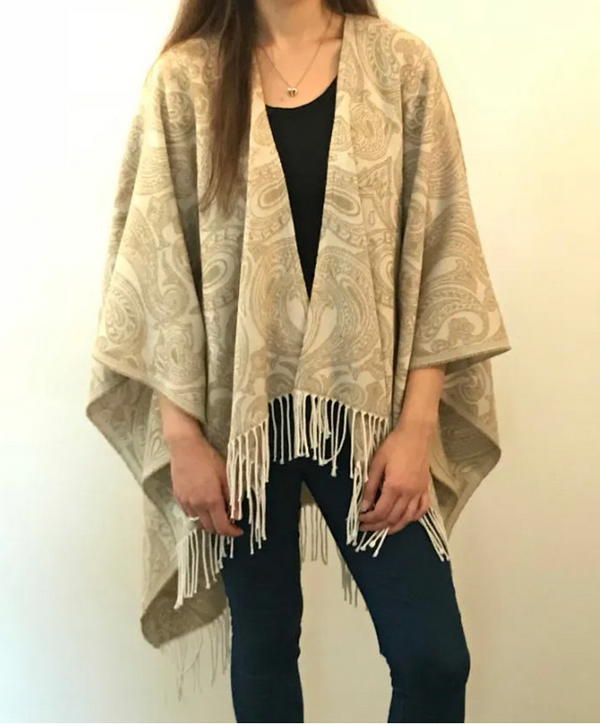 If you're looking for a way to upcycle your scarf, look no further than this simple scarf poncho pattern. It's great for beginners and only requires basic sewing skills. The best part of this project is that you can cut costs by doing it yourself, rather than buying pre-made items that often cost more and have fewer options. If you don't have any scarves that aren't being used, consider donating them to a shelter or organization in your community! Follow the instructions in this free pattern, and you'll finish with some impressive additions to your wardrobe.
Hooded Rain Poncho Pattern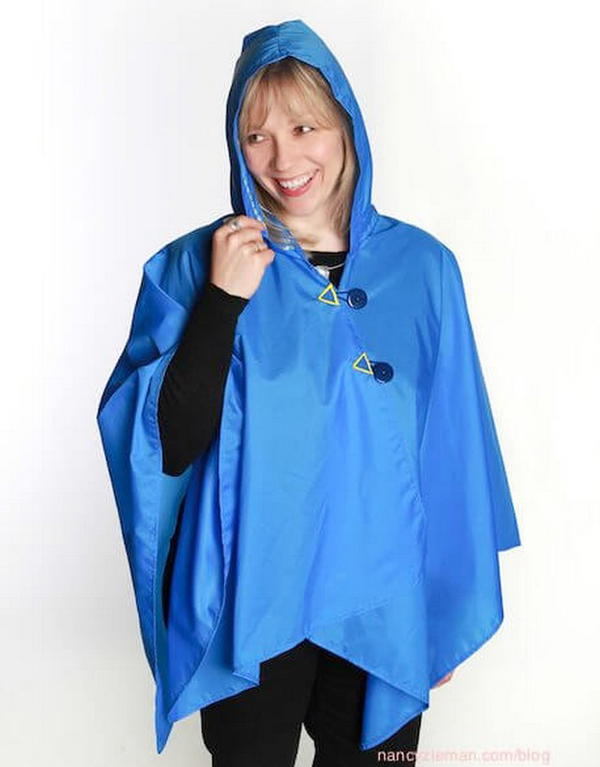 Made from lightweight polyester, this rain poncho is lightweight and perfect for commuters. With an adjustable hood and elastic at the wrists, it offers full coverage to keep you dry no matter what. Its wrap style makes it easy to throw on as you leave the house without worrying about getting too dressed up while still being comfortable. It's also incredibly lightweight, meaning it won't feel like a burden to carry around when folded up in your bag.
DIY Fleece cape/poncho
Our fleece cape poncho is a great addition to any wardrobe that is perfect for those cold winter days. It has a flat bottom edge with frayed endings and covers the entire length of your arms. Much like our previous poncho, it's open as well, but it has a neat tie at the top that you can keep undone or tie up, depending on how you prefer to wear it. It covers the entire length of your arms and is open as well, but it has a neat tie at the top that you can keep undone or tie up, depending on how you prefer to wear the poncho.
Easy Beach Poncho Sewing  Pattern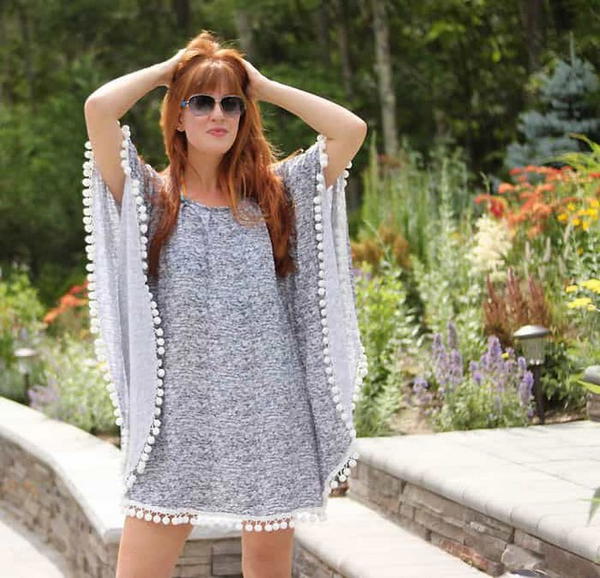 Perfect to wear at the beach, this stylish poncho blocks out the sun and provides good coverage. Slightly curved round fabric pieces come together gradually in three tiers to create a long flattering piece that reaches your mid-thighs. The edges have decorative pom-pom balls for added flair. It's long enough to reach mid-thigh and covers your arms up to the elbows, so you never have to sacrifice comfort for style when you're out at the beach!
Crop Poncho Pattern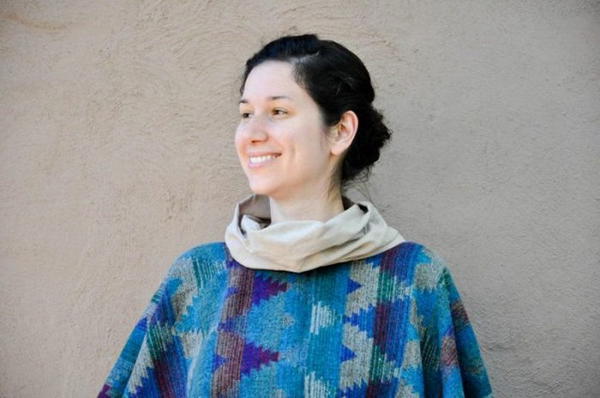 This comfy cowl poncho is a great choice for those chilly days of the year, with its rectangular shape and comfortable fit. The versatile design makes it easy to pair with different outfits and styles so that you can adapt your look without ever getting bored. This beautiful poncho can be made from cotton or wool, depending on how warm you want it to be. The rectangular shape and the cowl collar help create a cozy feeling for anyone wearing it, adding a touch of uniqueness to every style. It is made from cotton yarn and can be washed by hand or machine in cold water.
Superhero Poncho Sewing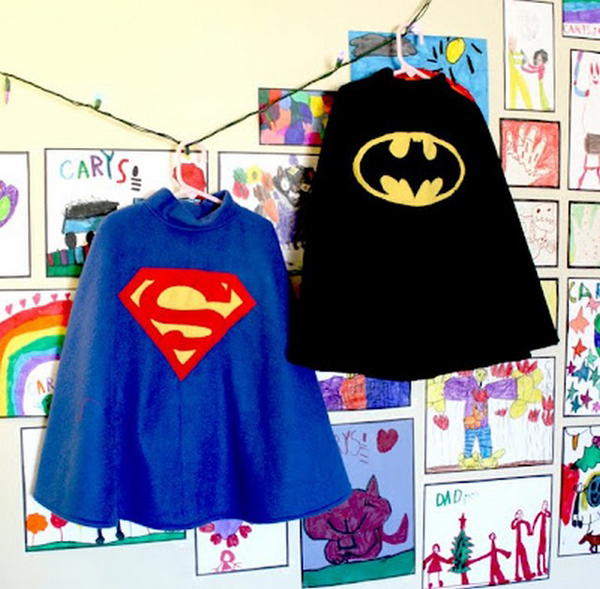 The perfect Halloween costume accessory for your superhero-obsessed little one, this poncho is made to look like your kid's favorite superhero cape. The cape is round, making it easier to put on and take off. It comes with an elastic loop that keeps it on its back, with a matching button that snaps into place. It's open in the front so your kid's face will be visible, and there are even straps to keep it from falling off.
Easy Poncho Sewing Pattern With Wool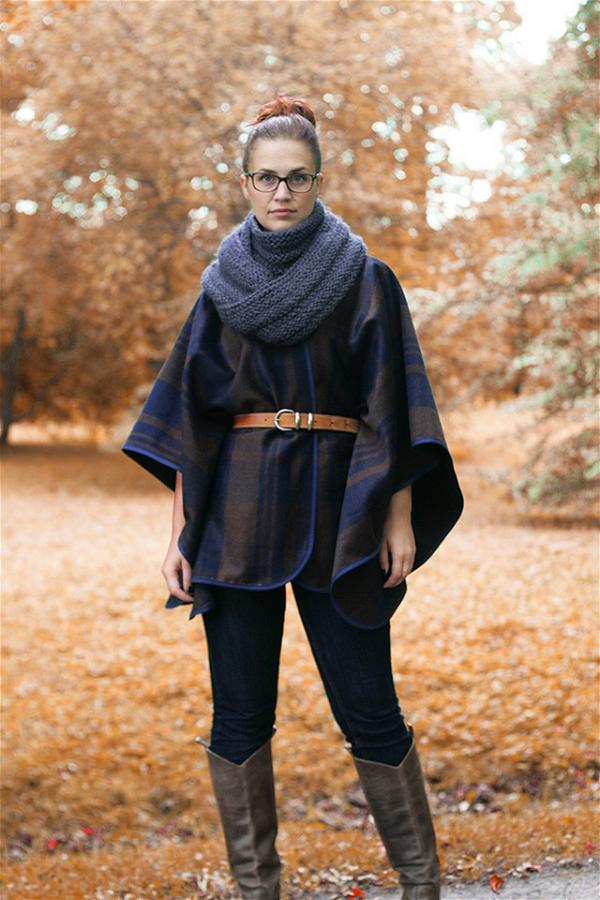 This cape poncho is made out of pure wool. It's super warm and comfy. Two large buttons on each side of the opening can be used to close or open the double-breasted version of this garment. You can wear the collar up or down, depending on how you see fit or according to your mood that day! This is the perfect poncho pattern for the cold months, made of wool blend yarn and featuring a regular collar, an opening that wraps around the neck, and a soft yarn-dyed lining. It's versatile, easy to wear, warm, and cozy!
Bath Towel Poncho Sewing Pattern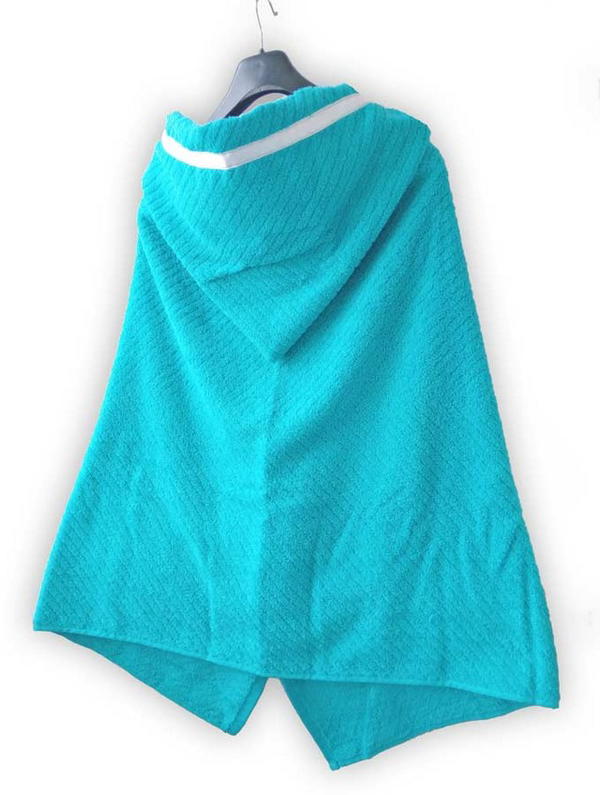 This bathrobe poncho is a towel that's also a robe, making it perfect for drying and warming up after your bath or shower. The hood can help you dry your hair faster, and using it as a towel provides an additional function to this robe. It's rectangular, made up of one piece of fabric you cut out and fold onto. You can use a store-bought kids' bath towel or make your own from scratch. Made out of a bath towel, it's perfect for kids (or you at home).
Easy DIY Cowboy Poncho
This is an exclusive DIY cowboy poncho for men. The best part about it is that it works from super soft, light, and breathable fabric, so you can also wear it during cold seasons. It's a little different than the classic ponchos that no one wears anymore. But it's great to emphasize your strong character - besides, there are no sleeves, so why not? This cool poncho has a fringe that creates volume while accentuating the look of your character; make several ponchos following this pattern in different colors; you'll surely love them all.
Poncho Pattern For Kids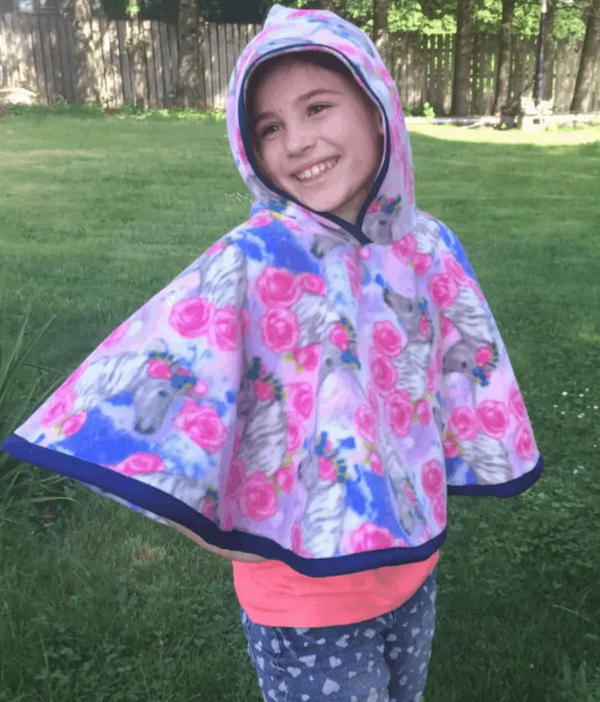 The best poncho for kids! The 100% cotton camping poncho compose of superior materials to ensure proper warmth and protection against the elements. It's designed to cover your child up to their wrists, has a soft hood, and is made to feel cozy as if they were tucked in while they sleep. The round shape of the poncho makes it easy for them to put it on and take it off by themselves. Perfect for hiking, playing in the sandbox, or just being outdoors! It also comes with a drawstring to tighten around the waist, so it fits your child perfectly.
Kids Beach Towel Poncho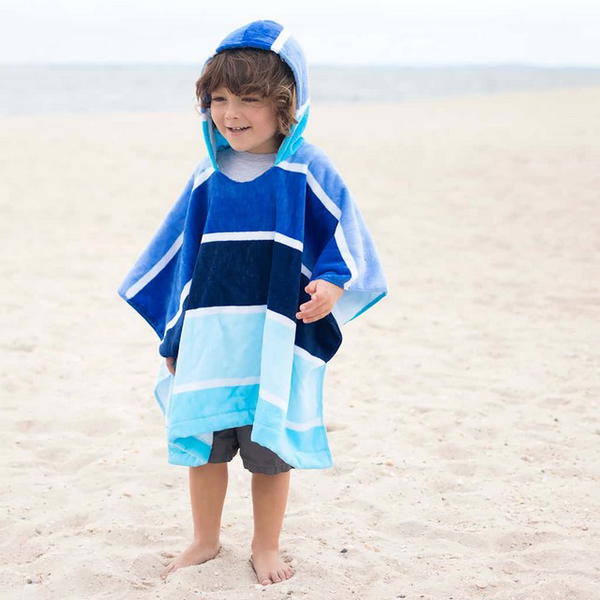 The Kids Beach Towel Poncho is a lightweight, easy-to-wear towel poncho that will keep your kids warm and protected from sunburn while they play on the beach. It has a hood that keeps their heads dry and sleeves so they can enjoy their time at the beach in comfort. With this poncho, kids can be comfortably active during summer without worrying about getting burn or too cold! This shawl will keep your kid nice and cool while they splash around in the water! The hood is big enough to cover their head and has ties on both sides to ensure it stays put.
Poncho Sewing Wool blanket
This poncho is the perfect addition to any guy's wardrobe. This rectangular fabric composes of a wool blanket and is great for warm days or nights. All you need are some scissors, and you're ready to go! This is an upcycling poncho you can easily make with a wool blanket and a pair of scissors. We will show you the step-by-step process to make this rectangular poncho, which covers your entire arms and doesn't have a frayed bottom edge.
Hooded Car Seat Poncho For Toddlers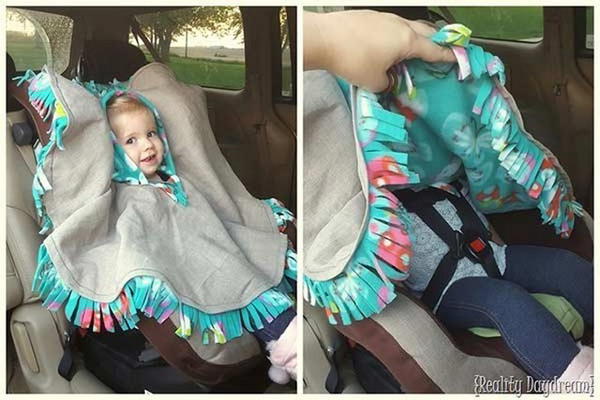 Children love the Fleece Lined Hooded Car Seat Poncho to keep them warm and cozy. The poncho is round-shape, and the hooded car seat poncho has a tight fit around the body, protecting your child's clothing from getting dirty with messy snacks and lunches. The Fleece Lined Hooded Car Seat Poncho protects your child from cold temperatures while riding in the car seat or stroller while allowing them to see out of the windows easily. Made from 100% polyester microfleece, this cozy car seat cover is easy to put on, lightweight, and machine washable. The bottom hem features fringe detailing, adding a fun touch to this functional product.
Raincoat Poncho For Kids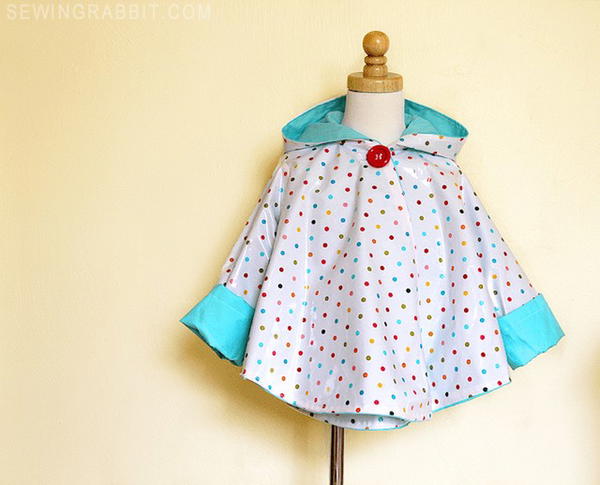 The Circle Raincoat Poncho is a unique piece of rainwear. It's an incredibly versatile hooded cape that can wear for protection from the weather or as a fashionable accessory. The front side of this poncho works in one color and the backside from another contrasting color. It's design looks gorgeous with two overlapping lapels that button at the throat when closed or button open when need. Each cuff has adjustable cords and buttons to ensure a comfortable fit for all sizes. This raincoat poncho makes an ideal gift for any occasion. Especially if you add on our optional mesh bag conversion kit!