When the winter weather shows its teeth, "gather round" around the fireside and pop one of these warm and toasty crochet hats on your favorite people. Featuring shades of beautiful yarns and designed for all family members, this assortment makes it easy to create identical or coordinating looks. If you're fond of adding some cute and awe-inspiring accessories to your winter wardrobe, nothing would be better than this series of stunning crochet hat patterns. You can toast your head and add some fascinating flair to your wearables in no time by following these amazing hat patterns; they have a superb variety of amazing designs and also endless color combinations to suit almost everyone's will.
Crochet Hat​ Patterns: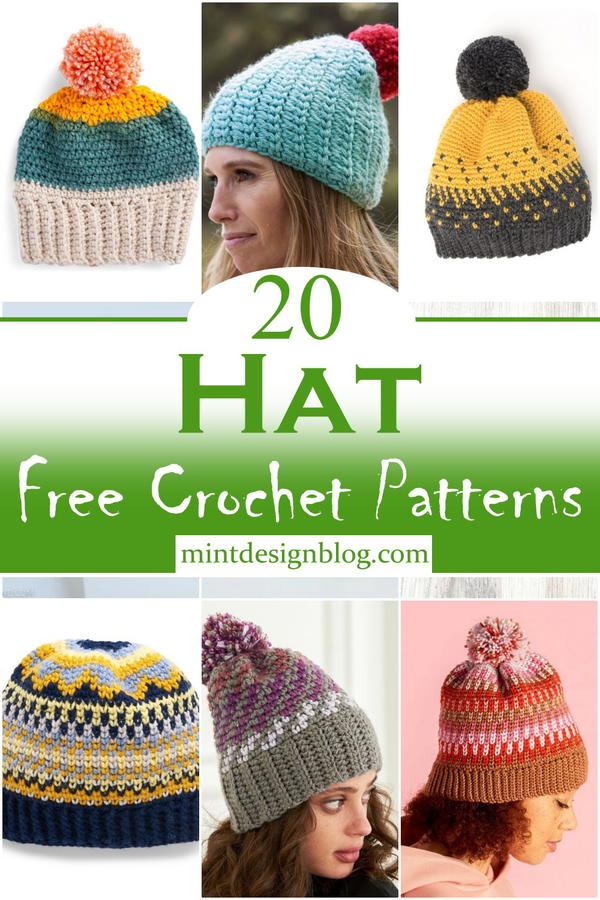 Consider choosing a yarn with a similar weight and texture to Red Heart Super Saver so your finished products will be similar and easier to match up. Crochet a hat for the women of your family, one for the men, one for the girls, and one for the boys. Select coordinating buttons or embellishments for each hat to be paired up easily when wearing them together. You can even make some admirable crochet ear warmer patterns to use as an alternative for these hat patterns, they'll also serve best to keep your head and ear protected in a chilly atmosphere.
Crochet hats are great gifts for any occasion: Birthdays, holidays, even "just because." They're easy to make in a variety of sizes and can be worn by most anyone lucky enough to receive one. First choose the style you want — slouchy, beanie, bucket hat, or earflap style — then use this collection as your guide to creating crochet hats in all shapes and sizes!
Other Patterns
Beginner Crochet Hat​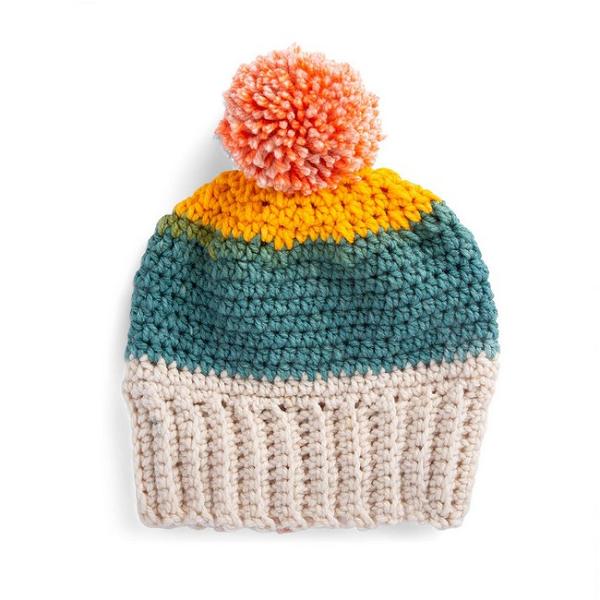 Get your needles and yarn ready for this beginner-friendly crochet hat! Worked in half double crochet with a mock ribbing and decrease in the crown and brim, this winter warmer will brighten up dreary days. Caron's O'Go yarn combines perfectly curated neutrals and exciting brights, perfect for mixing and matching, a great project for using up leftovers from other projects!
This beginner crochet hat is worked in half double crochet and decreases to create a mock ribbing with a nice chunky texture. The stitches are easy to master at a wide range of yarn weights, which means you can try this unique stitch in any color! So go ahead and make yourself or someone special a new hat full of personality.
Big Pom Crochet Hat
Easy to work and quick to make, this crochet hat will brighten up a dreary day! Stitched in Caron Colorama O'Go, the colors in each ball combine perfectly for a beautiful blend. O'Go is perfect for beginners because you don't have to worry about mixing colors when creating your custom color combos. The lightweight chunky texture and the playful pom-pom make this hat perfect for any age!
With a splash of yarn and your imagination, you'll produce stylish accessories and gifts on any scale, at any time. You don't need to search for color instructions; simply mix the color you want in your ball and follow the simple pattern!
Colorwork Hat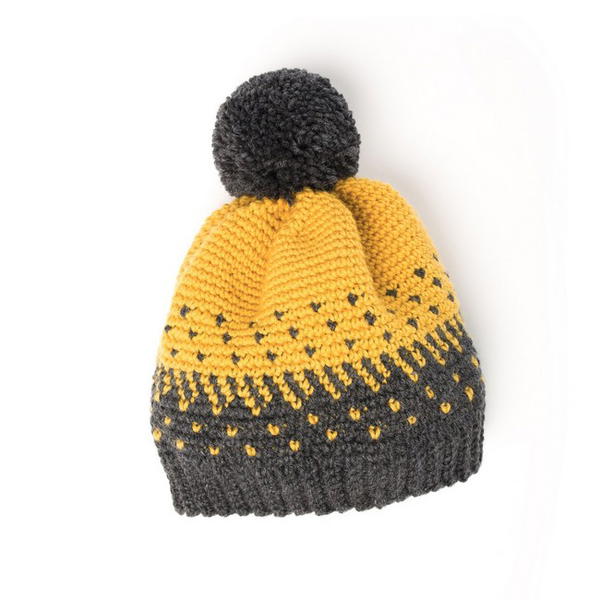 If you love bright and vibrant colors, then this Colorwork Hat is perfect for you! It combines crochet Fair Isle with a simple but trendy crochet ribbing construction. Also, you will learn how to create a fun pom-pom. This hat can be worn in different ways, depending on your mood: as a slouchy hat or rolled up for that retro beanie look. It's great for everyday wear or to brighten up a casual outfit.
Get in on the colorwork craze in this super-simple, double-stranded hat that would look just as awesome over soft waves as it would a short bob. Soft and warm, this hat is a great blank canvas to try yarns you've been dying to use!
Nordic Crochet Hat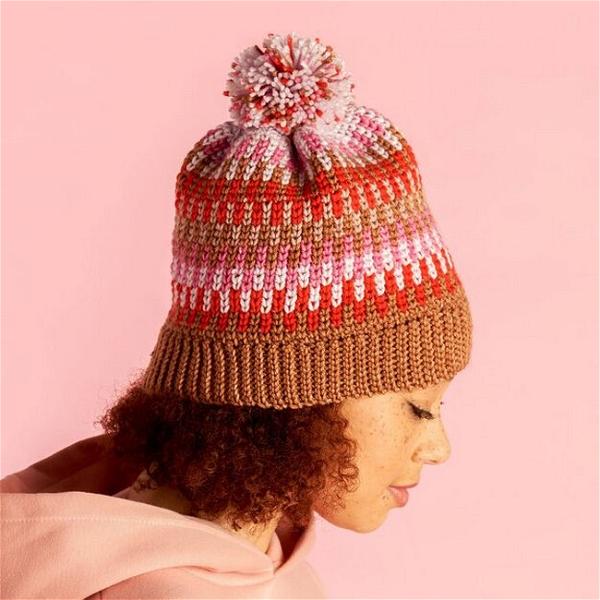 In this free crochet pattern, you will learn to make Nordic Crochet Hat! It is a great beginner-level hat that worked in the round. You can use any worsted weight yarn and appropriate sized hook.  This hat has a cozy mock-knit design and is topped with a multi-color pom-pom. Once you've mastered single crochet split stitches, this hat will be sure to brighten up even the dreariest of days!
Spiral Striped Hat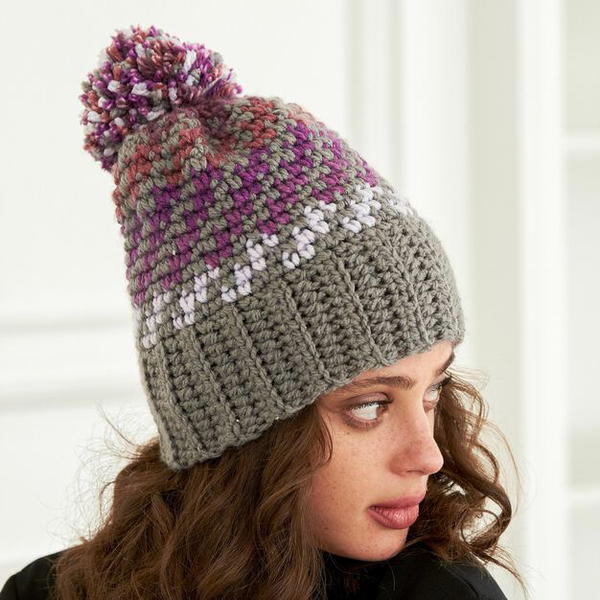 This spiral striped hat is the perfect accessory for fall. The body of the hat is worked in tapestry crochet, which gives it a unique texture and drape that I really like. Combining this with ribbing makes for a hat that fits well and is comfortable to wear all day long. The ribbing also allows for a little bit of stretch in the hat, which is always nice.
This pattern works up quickly and uses just 1 ball of Caron Colorama O'Go yarn, so it's an excellent choice for gifting or holiday knitting. A pom-pom combines all the colors nicely, but you could choose only to use one or two shades if you prefer. Either way, this will become your go-to hat when the weather turns!
Colorwork Hat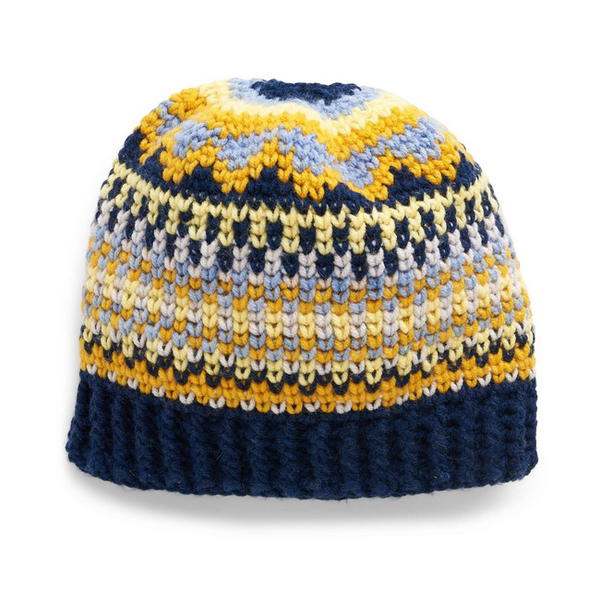 Whether you're turning heads on a night out or looking your best around the office, this Colorwork Hat is the ultimate addition to your winter wardrobe. Crocheted in parts, it's designed with a solid and color-blocked ombre look, available in any of Caron's gorgeous colorways. Ready to be customized into any shade you please, it will keep you warm and stylish during the coldest months of the year!
Crochet Fair Isle Hat​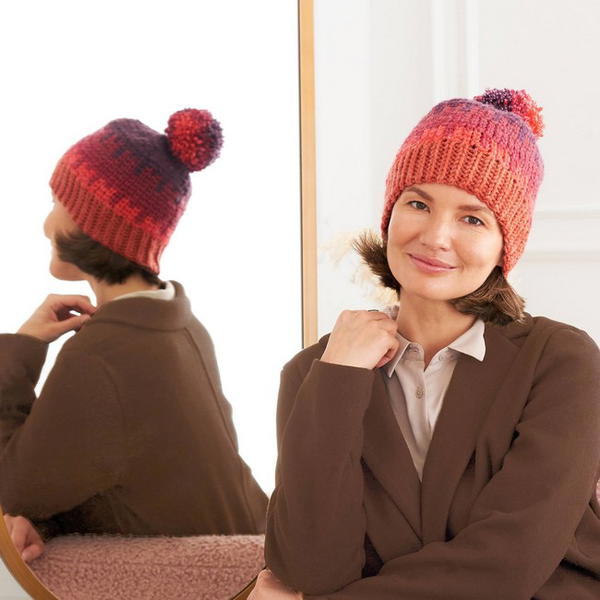 It's time to think beyond beanies this winter. Let your imagination run wild and get crafty with Fair Isle crochet. With one ball of Caron Colorama O'Go, you can create this graphic hat. Worked in the round, you don't have to worry about matching colors - they are all on the wheel of yarn! Practice split single crochet, ribbing techniques, and more on this relaxing project that will fly off your hook. Since the pattern features a simple, easily memorized repeating sequence, you'll want to do it more than once!
Dippity Doo Crochet Hat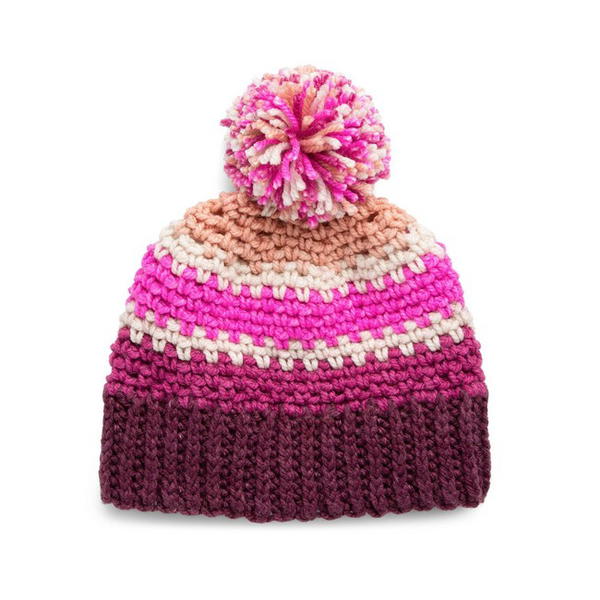 Keep the spirit of the warm season going by crocheting this fun hat! This pattern features stitch numbers to make sure your end result turns out perfectly. Wear it with sunglasses and a cool pair of earrings or go crazy and add a scarf, gloves, and cute boots! The simple pattern features stitch numbers to ensure a perfect fit every time! And if you're a fashionista, make sure to accessorize with fun sunglasses and a scarf.
Fair Isle Hat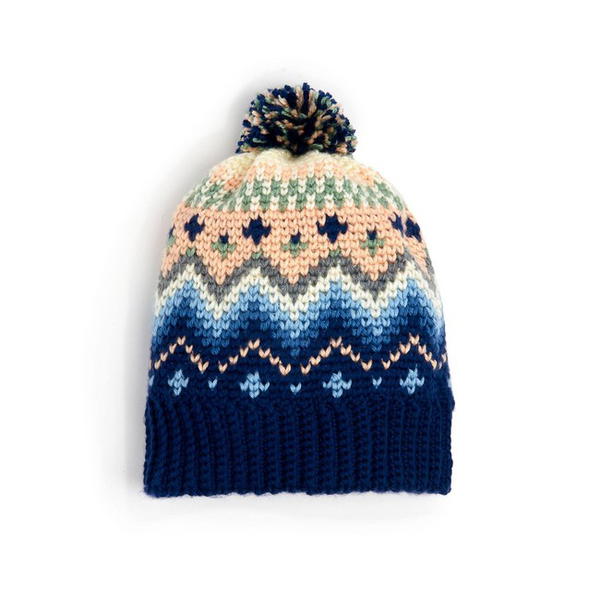 You can't go wrong with a classic! The Fair Isle Hat by Caron is a double-layered crochet hat that features cool winter tones. Fashioned using Caron Simply Soft yarn, it works up quickly for the perfect last-minute gift or Ravelry project this holiday season. This hat pattern uses traditional fair isle colorwork as well as split single crochet techniques, making it great for those new to colorwork or who want a simple quick-knit pattern. This hat pairs perfectly with the matching Fair Isle Mitts and Fair Isle Scarf patterns (separate patterns) to create a coordinated outfit you can flaunt all winter long!
Colorwork Family Hats
Colorwork Family Hats features instructions for a child, adult small, and adult medium color-work hats. The hats are worked in single crochet in the round, with a color change on each round. The back loop single crochet ribbing is worked first, then the body of the hat is stitched around it. Take a memorable family photo by making the matching family dog coat too!
Pull out your crochet hooks and cozy up with these winter classics: Colorwork Family Hats (ages child through adult) and the matching Colorwork Dog Coat. Featuring shades of Red Heart Super Saver, we've included sizes for a child, adult small, and adult medium. Keep warm this winter. Choose your family's colors to track whose hat belongs to who!
Triangle Valley Crochet Hat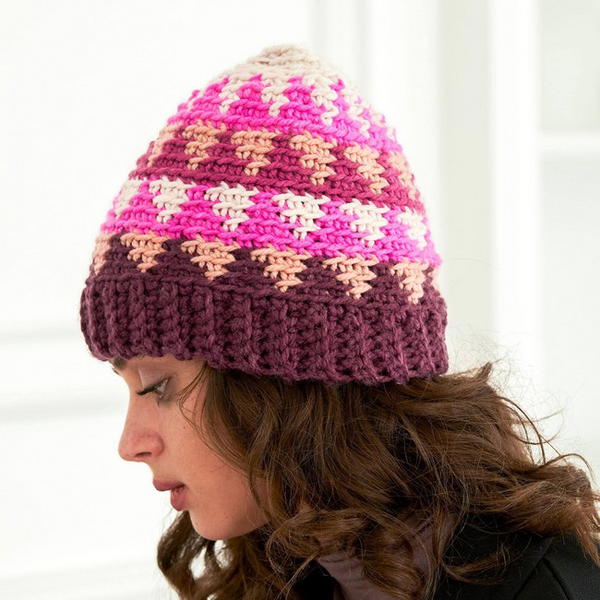 Make your winter hat decor trendy with this free crochet hat pattern. Worked in a rich, autumn orange, the stitch pattern creates a triangle-filled geometric design that is both stylish and fun to wear. It is crocheted using the single crochet stitch (US term) in the back loop only, which helps create its interesting texture by forming a ridge around each triangle in the design.
Triangle Valley Crochet Hat is a super-quick, super-easy crochet hat pattern made in fingering weight yarn. Fast to work up, it makes a great gift or a last-minute project. It's stitched in single crochet in the back loop only and uses the tapestry crochet technique. The graphic triangle pattern on top makes for a super fun and unique hat!
Crochet Shell Stitch Basic Hat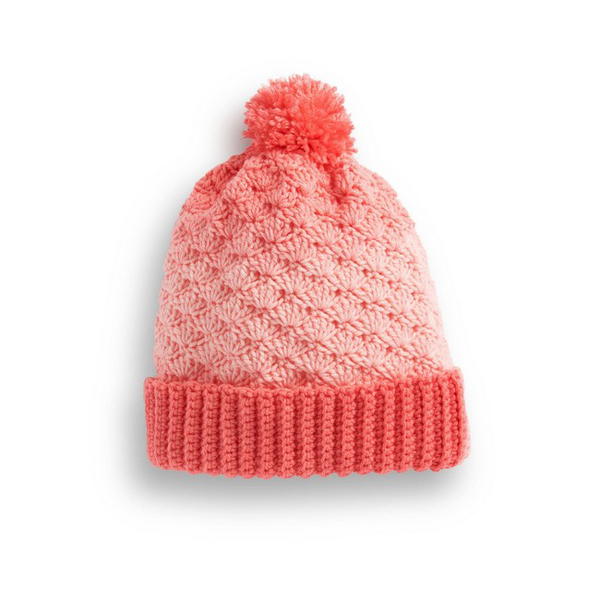 Start your crochet journey with this stylish crochet hat pattern. Crochet shell stitch Basic Hat is the perfect crochet project for beginners or advanced crocheters looking for a fun, quick, and stylish project using any of the wonderful colors available in Red Heart Super Saver Ombre yarn. A hat featuring a shell design is ideal for keeping warm during the cold winter months. This fun crochet pattern is easy to memorize, drawing attention by mixing the yarn colors. Match it with this free scarf pattern for an extra stylish look.
Crochet Hiking Hat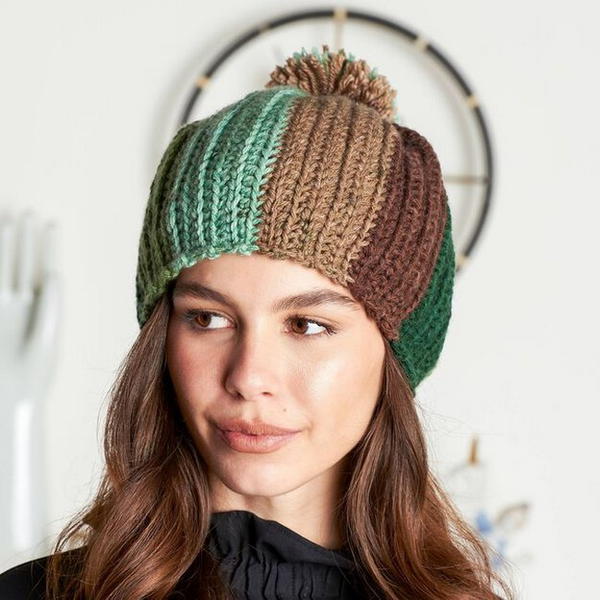 Take on the chill of winter in style with this adorable crochet hiking hat. Crocheted from Red Heart Super Saver O'Go yarn that gets warmer when exposed to sunlight, the adult-sized hat will keep your head warm during outdoor activities, as well as add a bit of fun to your everyday winter wardrobe. Featuring a fun combination of crochet stitches, this pattern is easy to follow while helping you stay engaged while crafting.
Marlo Hat and Scarf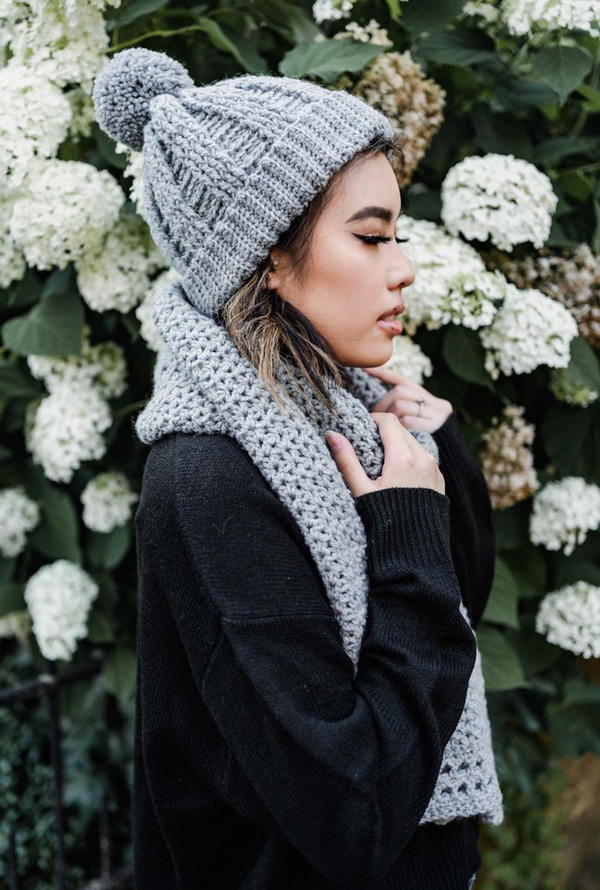 Layer up for every season with our Marlo Beanie and scarf combo. With a soft, supersoft pom beanie hat, plus an oversized rectangle scarf that can be worn long or wrapped around your neck twice, this set takes winter's best looks to a whole new level. Pack it in your pocket for mini-adventures and be ready for anything, anytime.
The Marlo Hat and Scarf set lets you express your own personal style with a scarf that's right in tune with your sense of fashion. The oversized scarf is easy to throw on, while the pom-pom beanie adds interest and flirty fun. And since each piece offers two different looks – one with the hat and one without – they're perfect for cold-weather layering. So stay warm but never boring!
Fair Isle Colorwork Hat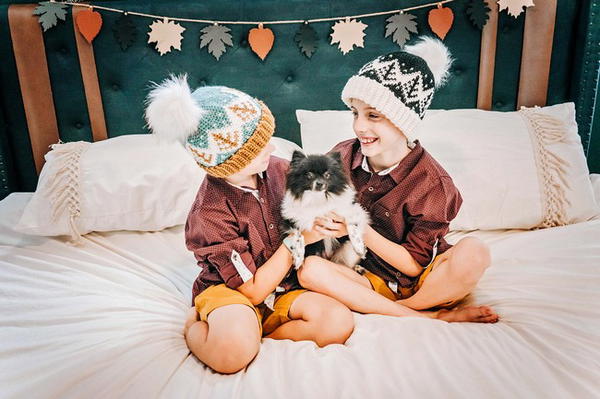 The Fair Isle Colorwork Hat is a great first colorwork project. This hat pattern contains 2 rounds of Griddle Cake stitch and then, using just 2 colors is followed by a fun striped version, before finishing up with the classic Fair Isle checkers in the final round. This hat makes a quick, stylish, and modern accessory and would make a perfect gift! Whether you're new to fair isle crochet or a seasoned pro, these colorwork hats are sure to impress. This Tutorial will guide you through making your own colorwork hat from start to finish.
WIP Wednesday Cal Juniper Hat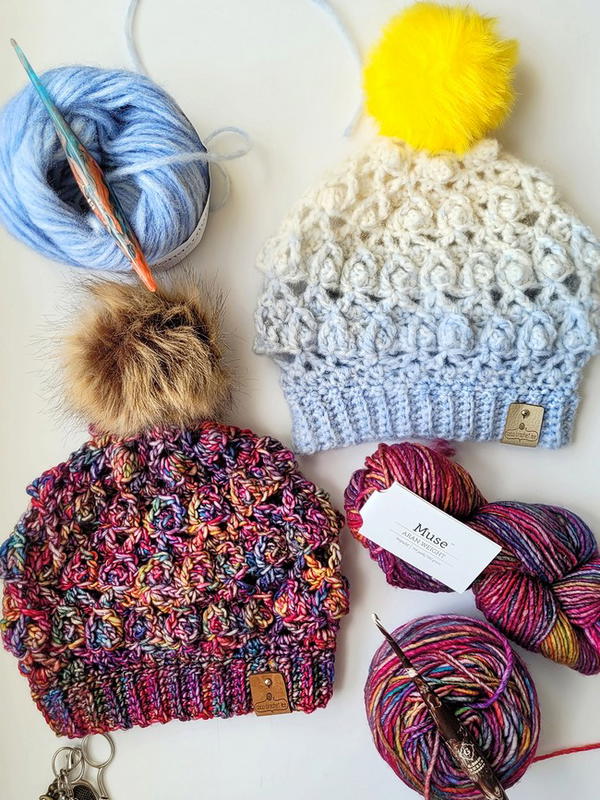 Grab your favorite garter stitch project when you want to relax with a little knitting. Then stuff it with colorful bits of your favorite holiday sweater and pull it over your head. Worked in the round, this quick-to-knit tube is a great beginner's project that works up quickly using fingering weight yarn and a large hook. The cheery colors of the Juniper Hat playfully coordinate with each other! This pattern incorporates the use of "Magic Loop", a process that allows you to knit small diameter circular items on double-pointed needles.
Cookie Monster Hat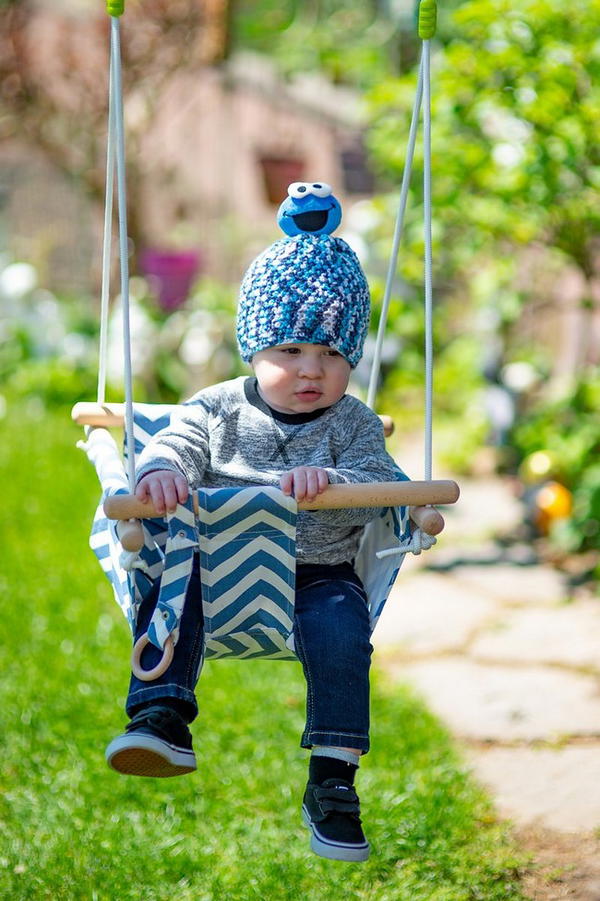 Open your door to the world of excitement with the clever Cookie Monster Hat. This crochet hat pattern is crafted with lacy stitches and features a huge opening for your head for easy donning and doffing. Complete with googly eyes and bite marks, this cozy crochet hat will keep you comfy while trick or treating! Be prepared for storytime or a party when you have this Cookie Monster Hat to wear. It can be worn by both kids and adults, perfect for thematic parties like Sesame Street!
Chunky Pebbles Hat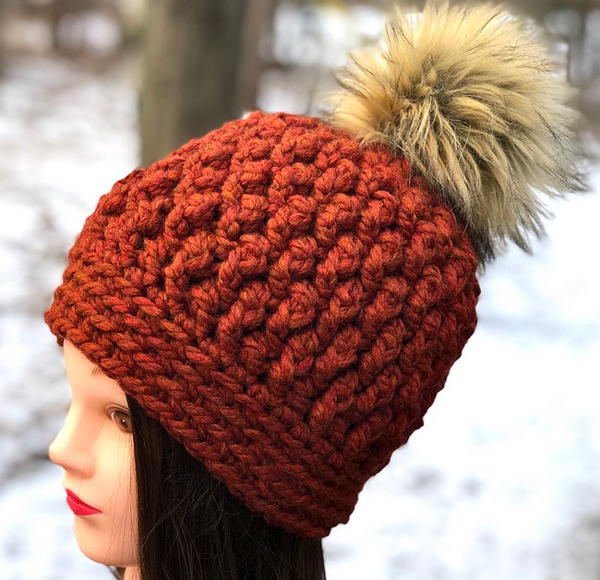 Add this chunky pebbles hat to your winter wish list! This quick beginner-friendly hat is made using the chunky pebbles stitch pattern by Red Heart and is worked in two strands of yarn for a quick and cozy hat. The pattern instructions are given in one size, however, it is easy to adjust for a smaller or larger size by using smaller (or larger) crochet hooks and lighter (or heavier) weights of yarn.
Rocky Shore Hat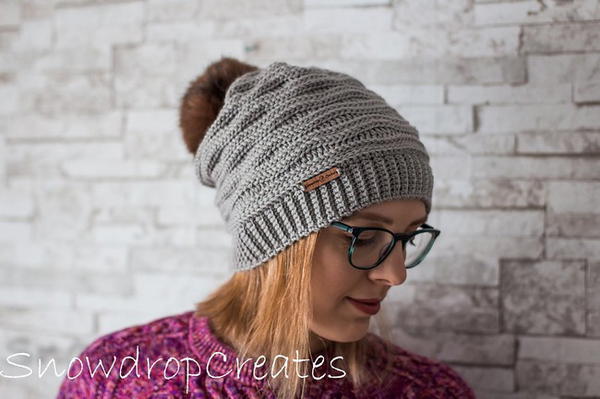 This adorable hat is such a pleasure to make. The design is a simple combination of garter stitch and eyelet rows and works up quickly in a soft DK weight yarn. The raised ridges and subtle waves on this piece are reminiscent of shoreline on the ocean. The hat will keep your mind engaged as well as your fingers! The Rocky Shore hat is beautiful and comfortable to wear. The subtle wave climbs up the ridges of the slouchy hat and then back down on the way to the crown.
Ribbed Wonder Easy Hat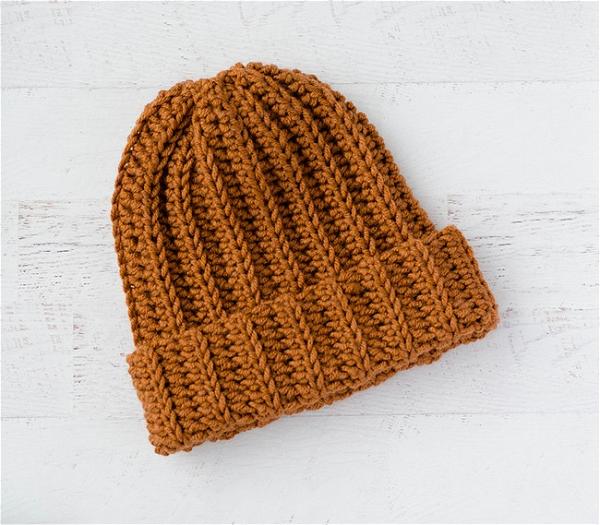 So, you want a hat that is easy to wear, yes? Try this Ribbed Wonder Easy Hat. This will keep your head comfy and warm. The look of the hat is classic and stylish. All sizes are included in the pattern and each step is photographed for your crocheting pleasure! The pattern uses chunky weight yarn which makes it quick and easy! You have just found one of the hottest crochet patterns! Be the first one on your street to wear this beautiful Ribbed Wonder Easy Hat! This chic hat features a beautiful ribbed look and slouchy fit - perfect for the cold days ahead!