Crochet ear warmers make great gifts to give others, and they are amusing to make. Fans of this particular craft have developed crochet ear warmer patterns to customize their ear coverings. These crochet ear warmer patterns are great to protect your ears from the cold in the winter or the fall, or if you want to add a stylistic flair to your outfit, these ear warmers will still suit you best.
Crochet Ear Warmer Patterns: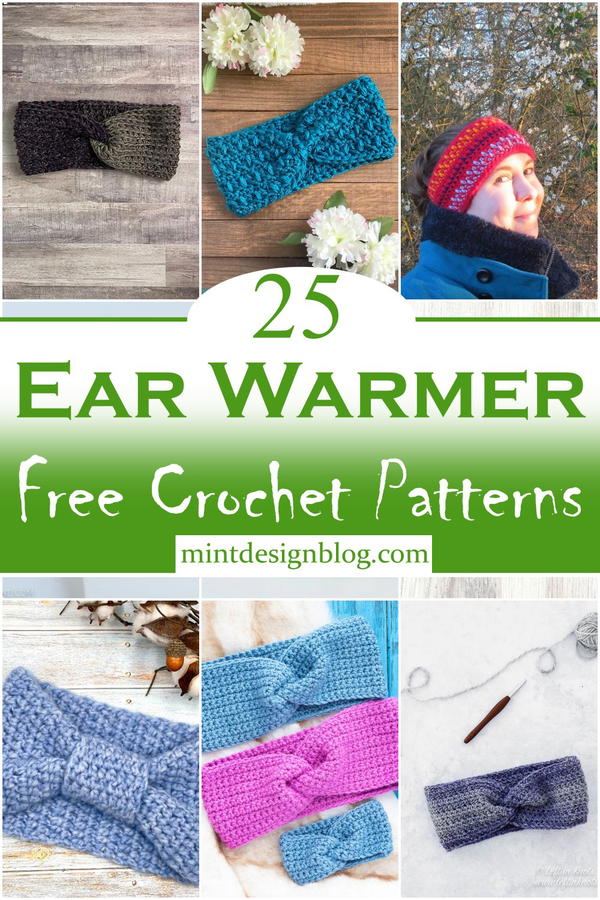 Crochet Ear Warmer patterns are the perfect gift to give out this winter season or last-minute gifts for Christmas gifts. They are easy to make and don't take long to complete either. Plus they can be worn by both men and women. Men tend to get cold ears just like women do, so why not help them keep warm with a nice crocheted Ear Warmer? They can also be made into a matching pair of earmuffs that are sure to keep their ears warm during the winter months. You can also make matching sets for family members or friends as well! if you're curious about keeping your legs protected from the cold we still got you covered with our series of crochet leg warmer patterns. Most of these patterns use bulky weight yarn, creating a nice thick fabric for maximum warmth!
Crocheting ear warmers are a popular trend right now and for good reason! They're cute, easy to make, and a fun project. I put together this roundup collection of 25 Free crochet ear warmer patterns that are stylish and warm. You'll love how cute these are and how quick they work up!
Other Patterns
Free Crochet Ear Warmer Pattern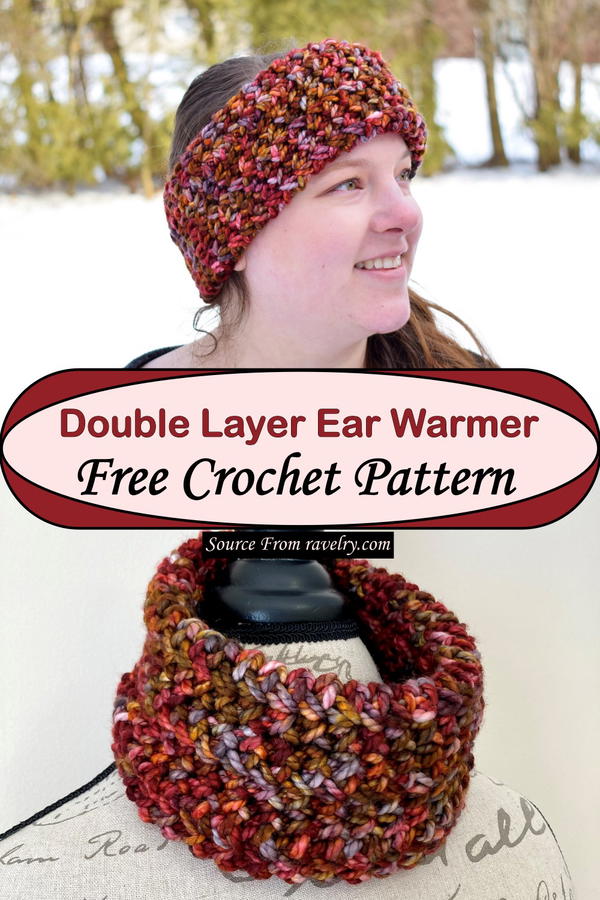 Let us make our winter memorable and fashionable by adding some unique and free crochet Ear warmer patterns to our wardrobe. Like this one discussed here, it has double-layer crochet threads making it thicker and cozier to protect against cold and provide an impressive gratified look to anyone's appearance.
This double-layer ear warmer is made with super bulky weight yarn, making it quicker to make than most winter ear warmers. The pattern has lots of pictures in a very detailed way so you will never have any trouble making these warm and comfy ear warmers. This pattern makes these ear warmers come together very quickly.
This ear warmer is super cozy. The base is made up of a double layer featuring a ribbed texture. This pattern is made to be worn with two strands of worsted weight yarn held together for a thick look. The sizing is for an adult women's head but can be easily sized up or down with more or less height in the stitches.
Off The Grid Ear Warmer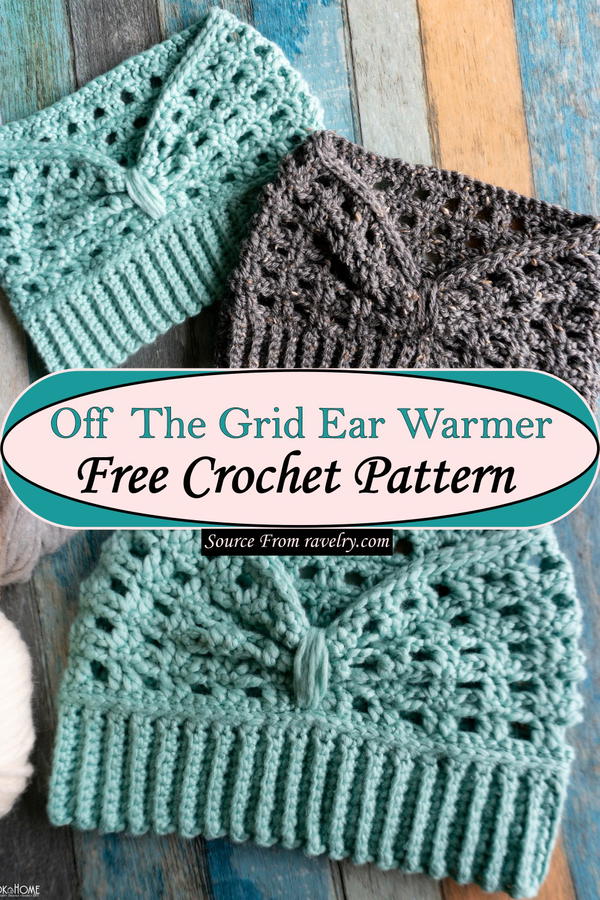 The Grid ear warmer is the thermal cover of choice when freezing temps are involved. It can be worn in 2 different ways to keep ears warm or pulled up to protect the chin and nose. An excellent choice for bicyclers and skiers, cross country skiers, hikers, or anyone who wants a lightweight ear warmer that packs away easily.
These are knitted tube-like hats that can be worn over or under the hair to keep your ears warm. They're also called skull caps or beanies if they're close-fitting. The hat is versatile – with or without the lovely pom-pom on top – and can be worn in many different ways, depending on how you loop it up around your ears.
Tunisian Twist Ear Warmer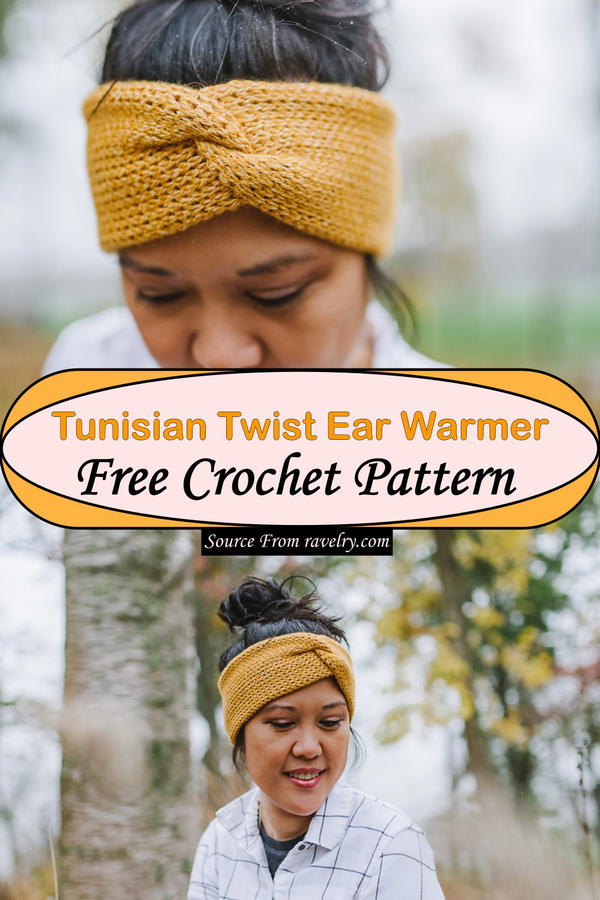 Tunisian Crochet is a simple, versatile stitch that is perfect for beginners. It creates a thick, squishy fabric that can be used to create scarves, hats, blankets - anything you'd like! Tunisian Crochet is worked back and forth across a long strip of yarn. With every row, you've got to keep turning your workaround. This might sound tricky, but it's actually pretty easy once you get the hang of it.
This hat uses basic Tunisian stitches so if you're new to Tunisian crochet, this is a great pattern to try! The unique way the stitches are joined creates more of a ribbed texture than traditional Tunisian. This allows for double the warmth and makes this hat extra cozy.
Everglade Ear Warmer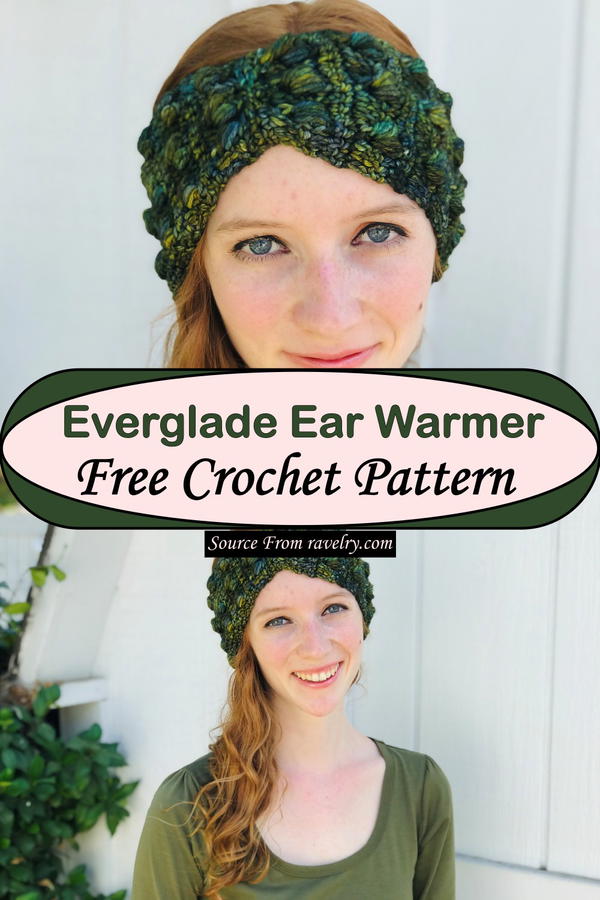 Everglade is a cowl and ear warmer pattern, using both puff stitches, chains, and single crochets to make a beautiful fabric. This pattern works up fairly quickly, making it great for gift giving. Since it is easily adjustable, there is no gauge given. Be creative and make this cowl perfect for you! Everglade is a beautiful, double-breasted cowl with a wide-open pattern. The beautiful colors make up for the fact that no gauge is given, there are only instructions for the number of stitches to make it perfect for you!
Winter Skies Ear Warmer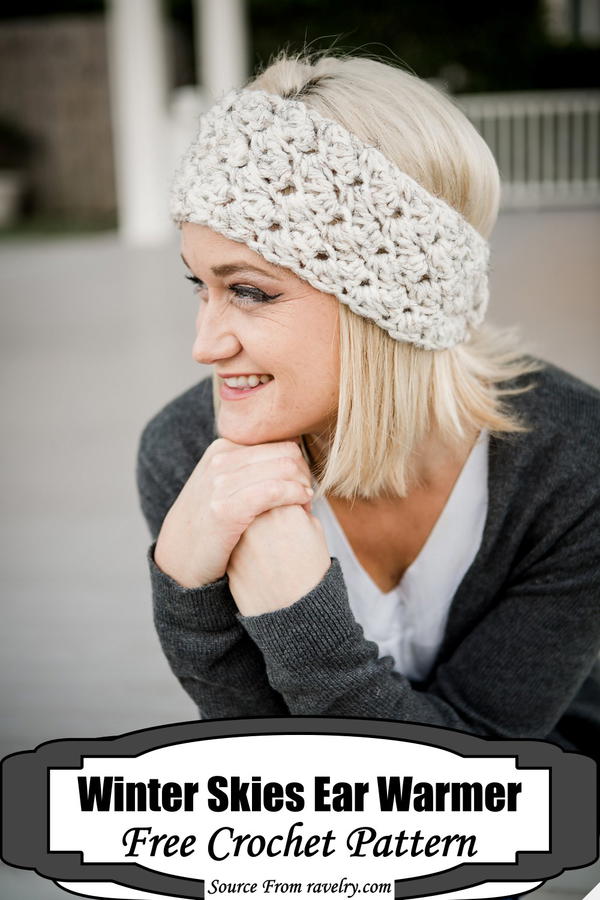 The Winter Skies Ear Warmer only uses half a skein of yarn, making it a great project to use up your stash. This simple design takes less than one hour to make. The adult sizes have a crocheted top band, and the small child size just has a pom-pom for decoration. Take a look at the pictures to see the different looks you can create with this fun winter accessory. Winter Skies Ear Warmers were designed with three different sizes in mind so that you can get them just right.
Tnh Ear Warmer & Cowl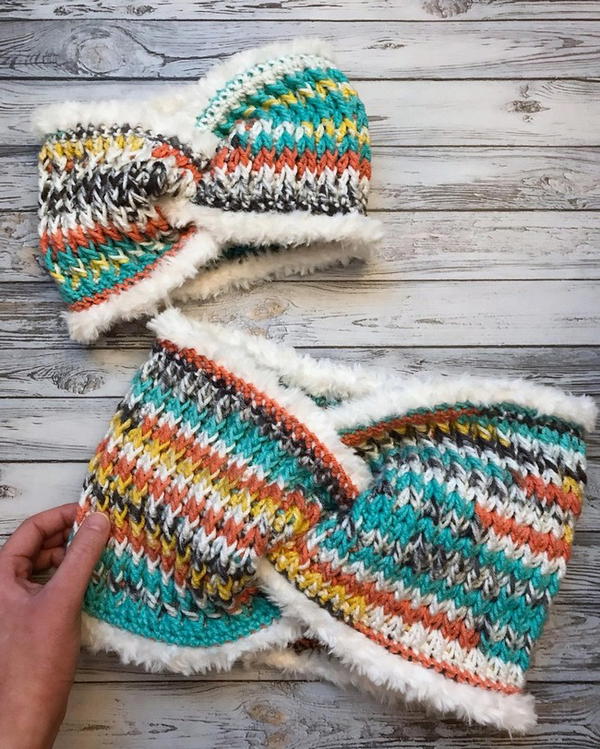 The Tnh Ear Warmer & Cowl pattern is great for beginners and more advanced crocheters! This pattern features simple stitches that create beautiful texture. This pattern is perfect for beginning crocheters as it only requires a few stitches. Start your adventure with this cowl and ear warmer set. This ear warmer and cowl is a combination of simple stitches that create a beautiful texture. The colorwork in the ear warmer will keep you warm while traveling to your favorite fairytale land.
Abrazo Ear Warmer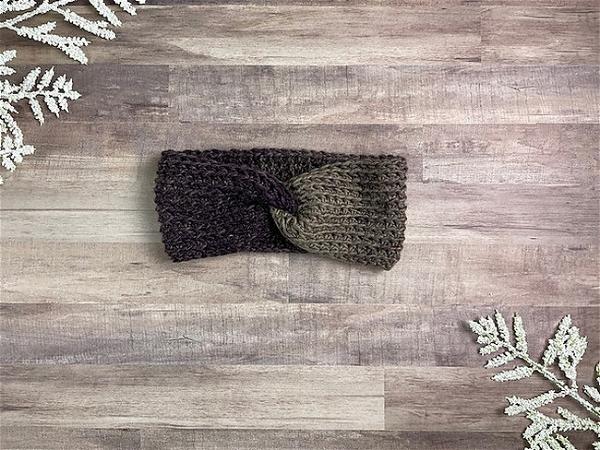 The Abrazo Ear Warmer is an easy introduction to Tunisian crochet. The foundation row is completed using Tunisian Half Double Crochet, a lovely and relatively simple stitch that differs from the Tunisian Simple Stitch in that the foundation row consists of forwarding passes rather than back passes. Even more beautiful, this stitch allows you to work with two strands at once!
The Abrazo Ear Warmer is a crescent-shaped accessory that sits around your neck to keep you warm, featuring a combination of Tunisian Half-Double Crochet and Double Crochet stitches. Although the starting stitches may look intimidating, this versatile pattern is a great jumping-off point for learning the Tunisian Half-Double Crochet stitch.
Flame Ear Warmer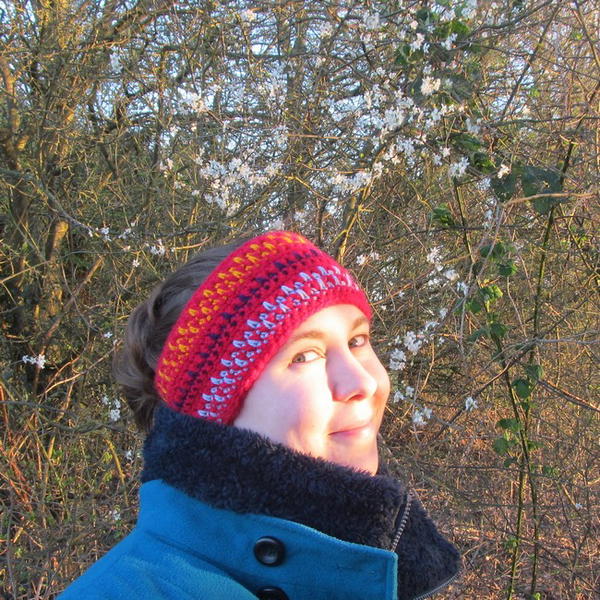 This cozy and colorful Flame Ear Warmer is worked in the round in one piece. The pattern relies on repetitive stitches for a fun, easy-going project that also doubles as a great travel craft. A quick to work up a gift for both men and women alike. This ear warmer will protect you from the cold this winter. It can be crocheted in less than an hour and only uses one color of yarn! The construction is clever, but simple, and will keep your ears warm due to the double layer tie-knots that go around your ear.
XOXO Ear Warmer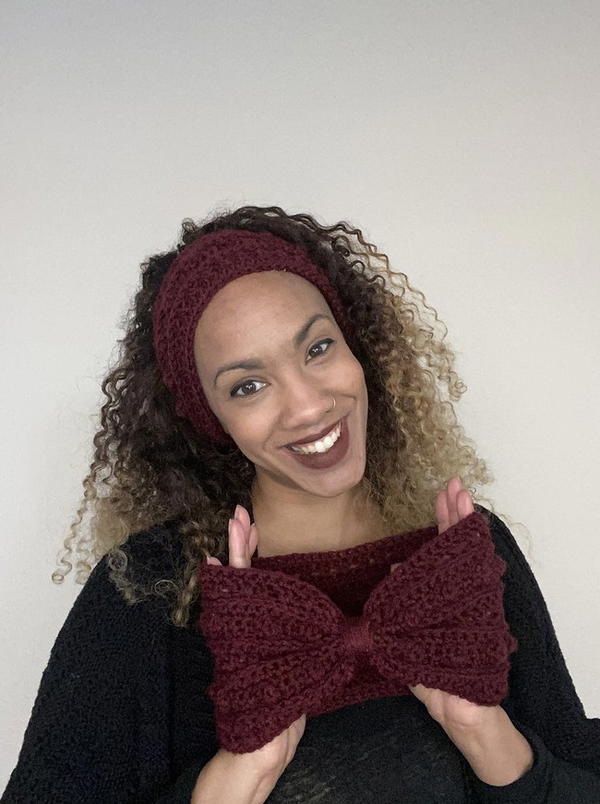 The XOXO Ear Warmer is the perfect project for those new to colorwork or for those of us who need a quick winter fix. Worked on the bias or straight, this pattern creates an eye-catching texture that looks perfectly in sync with the other pieces from this collection. With one skein of Socks that Rock yarn, this project will make a welcome gift.
This pattern is easy enough for a beginning lace knitter but still offers some challenges to an expert. The twisted stitches that form the XOXO lace pattern are charted out for you. There are also notes to help the less experienced knitter with the stitches used in this project.
Suzette Stitch Ear Warmer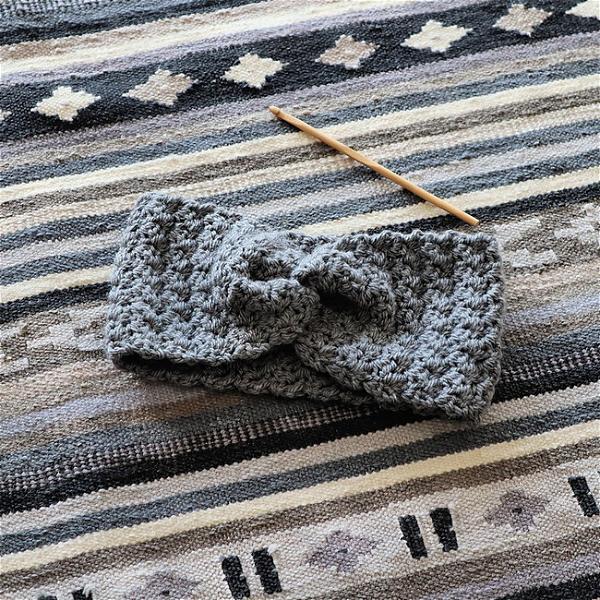 Suzette is perfect for your ears! This ear warmer pattern uses the Suzette stitch to create a fun and fashionable winter accessory. Make these cute ear warmers to keep you cozy this cold season! This beginner-friendly pattern uses full and half double crochet stitches and includes instructions for single crochet versions. The twisted seams ensure a professional, sturdy finish that won't come loose while you're keeping warm. With sizing included for the whole family, you can make up a set of matching pairs or give them to your friends and family to spread the warmth!
Alpen Ear Warmer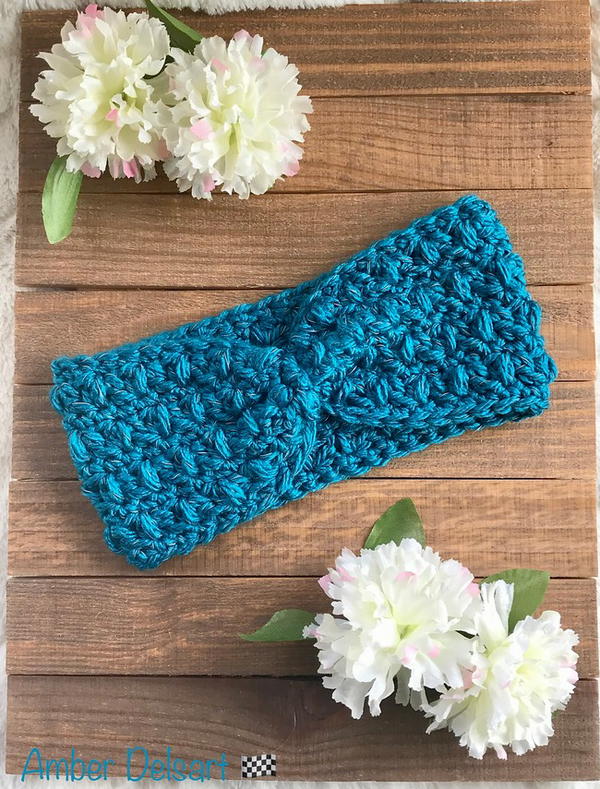 The Alpen Ear Warmer is sure to warm ears in the chilly fall, winter, and spring months. What a great gift for your favorite knitter! The simple pattern could easily be adjusted to fit an extra small to an extra-large head. Why not make a few in different colors and get ready for the fall season?
This ear warmer is knit with bulky yarn, so it works up quickly. If you prefer a thinner ear warmer, you can substitute worsted weight yarn and a smaller knitting needle. If you'd like a larger one, go with super bulky yarn. Either way, the stitches have a nice cozy look with fiberfill stuffing or have a warm look with a soft yarn.
Linley Ear Warmer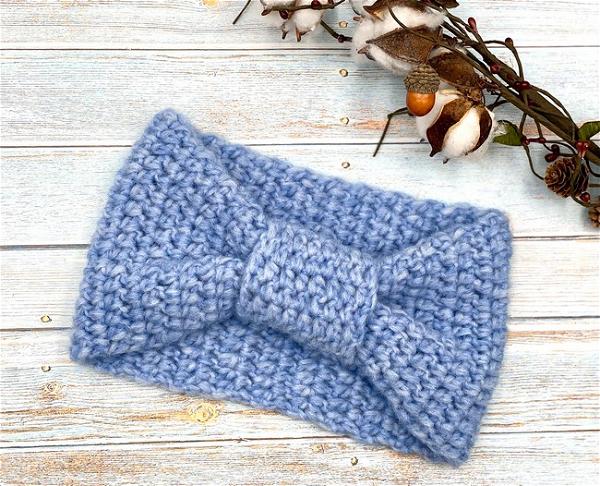 This ear warmer is the perfect project for last-minute presents or making something pretty for yourself! It makes a great gift for anyone in your life, including your friends and family. The stitch pattern of Linley Ear Warmer is paired with bulky yarn creating a quick and easy repeat suitable for all levels of crochet. The Linley Ear Warmer is a quick and totally cute make, perfect for gifts. The stitch pattern paired with bulky yarn creates a fast and easy-to-crochet repeat suitable for all levels of crocheter. And as soon as it finishes, it's on your head, keeping you cozy.
Twisted Ear Warmer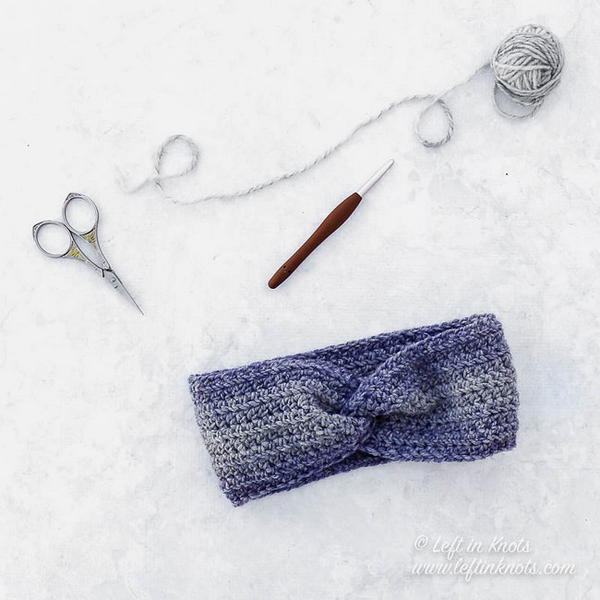 Make a Twisted Ear Warmer for everyone on your Christmas list this year! You'll love how quickly this easy pattern works up, and your friends and family will be so appreciative that you made them something so cozy and cute. Forget that bulky, itchy scarf you've got hiding in your bag. Put on this ear warmer instead for a quick and easy project that looks great! Worked in a super soft worsted weight yarn, it is the perfect travel buddy.
The ear warmer is knit in stockinette stitch, starting with a provisional cast-on. The provisional cast-on makes it easy to knit your ear warmer wide enough to cover your ears comfortably while still being able to take off your hat and protect them from the cold.
Twisted Ear Warmer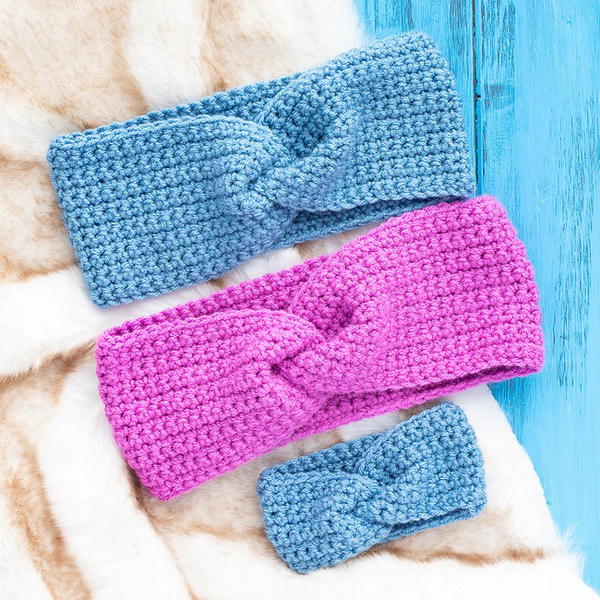 There's nothing better than wrapping up in a quilt around the fire on a chilly autumn evening. If you're looking to craft your own cozy covering, try the Twisted Ear Warmer. It's worked in a flat rectangle and single crocheted together at the bottom for an edge that won't roll. A simple, classic stitch pattern mimics the look of a traditional garter stitch ear warmer, making it perfect for beginners. The super-easy ear warmer is worked from side to side, then joined and twisted for a fun detail. Worked with bulky weight yarn, this winter headband is sure to keep your ears warm for chilly days and nights.
Easy Crochet Ear Warmer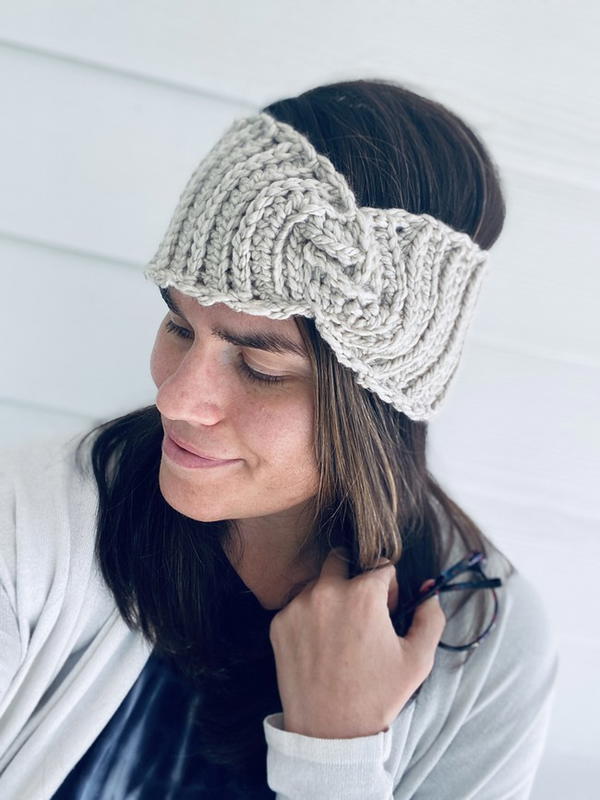 The Easy Crochet Ear Warmer is quick to make, great for beginners, and can work in 5 different sizes! This design works in short rows using basic crochet stitches and is a great pattern if you are looking to learn an easy technique. Crocheting a hat is a very fulfilling project, but there are times when you just want something quick to wear for the warm months that's versatile too. The Easy Crochet Ear Warmer combines both convenience and fashion-forward style into one fun accessory!
Snow Drops Knotted Ear Warmer
Looking for the perfect knit headband pattern? This versatile ear warmer pattern is a classic design that will suit anyone! The Snow Drops Knotted Ear Warmer Crochet Pattern can be worn in multiple ways and is great to keep you warm when working out or just hanging out by the fireplace. It's perfect for these cold winter days!
An ear warmer is a quick project that makes a great gift! Crochet these pretty Snow Drop ear warmers in fun, bright yarns to match your favorite coat or winter hat. This crochet pattern works up quickly and is a great project for beginners to work on while developing their crochet skills.
Alpine Stitch Ear Warmer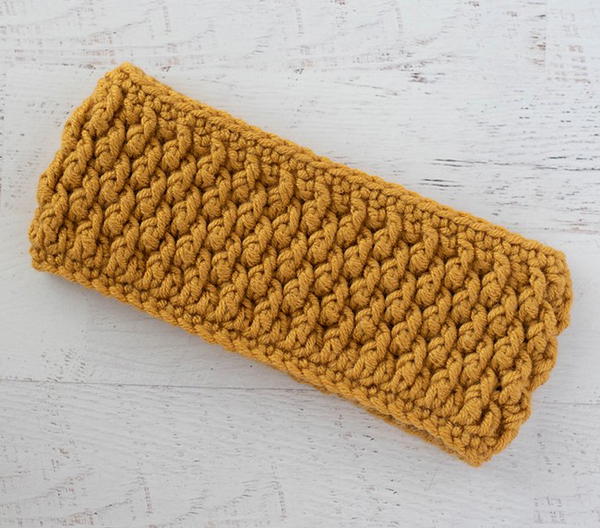 Alpine Stitch Ear Warmer is a fun and quick ear warmers and headband. It works in an easy stitch pattern that goes fast and has options to make it longer. This pattern is worked in simple stitches and makes a great gift using leftover yarn. Sized to fit an adult. The alpine stitch pattern creates a unique texture and interesting lines. They are perfect for the winter months when you need to keep those ears warm – or try them in the summer just to add some color and texture to your life!
Faux Knit Twisted Ear Warmer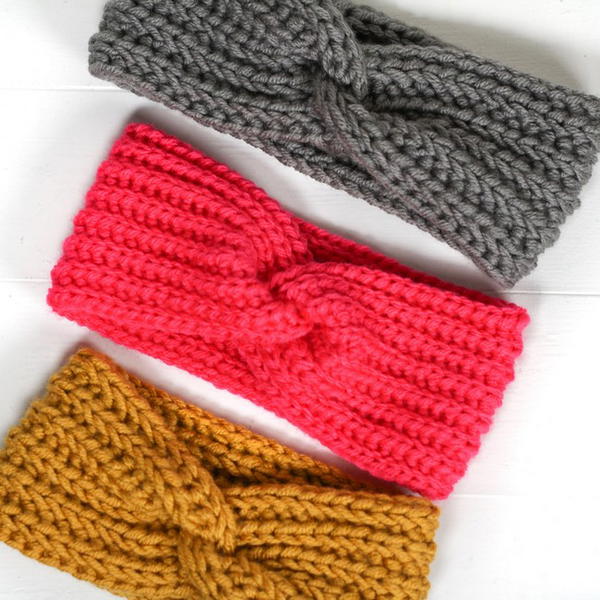 This faux knit twisted ear warmer will keep your ears snug and warm all winter long! The band starts at the bottom of the ear and twists up towards the top for a fun play on texture. The pattern works well for one size but can easily modify for a larger head, and larger ears. Elastic loops keep the warmth in and the cold out, and the ear warmer can also wear as a headband. It works with chunky yarn so it's cozy warm. Great for holiday gift-giving!
The Faux-Knit Twisted Ear Warmer is a very quick and easy project from start to finish. This ear warmer is designed to fit nicely on the width of your head and has two braids for fun. Looks great on kids and adults alike!
Mainstream Ear Warmer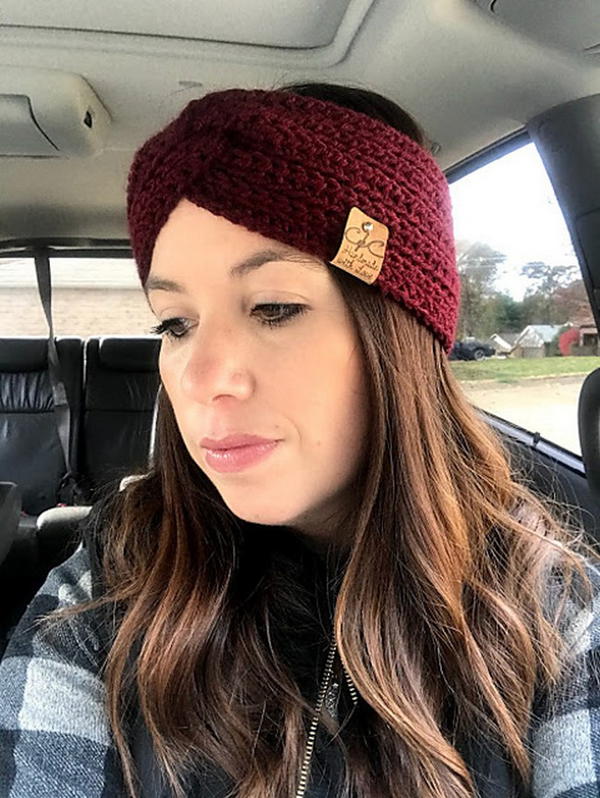 The Mainstream Ear Warmer is a contemporary twist on a classic style. It covers more of your ears and head than a traditional ear warmer, making it perfect for chilly fall weather. It also features an interesting front Twist. The pattern itself is easy to work on and can complete within one evening.
The Mainstream Ear Warmer is a super easy crochet headband pattern that works up in less than an hour! Use a bulkier yarn if you want to make these as earmuffs. And keep your ears cozy during the winter months with this trendy mainstream ear warmer. With options of 8 sizes, you can make one for everyone in the family, or give them away as gifts.
Fur Lined Plaid Ear Warmer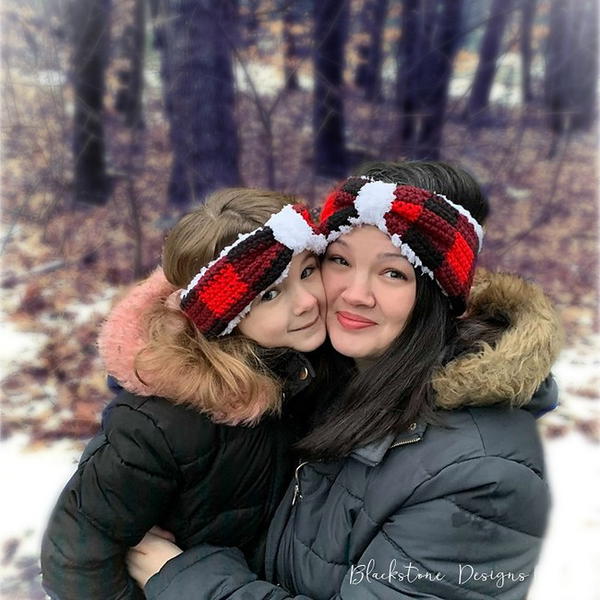 Crocheting this ear warmer is a beginner-friendly project, and it can easily modify to fit any adult size. The quick-to-work-up pattern uses a single crochet ribbed technique and includes video tutorials for the more complicated stitches like slip and provisional stitch.
Any beginning crocheter can make this ear warmer, and once you learn the pattern, you will be able to adapt it to your desired length and thickness easily, or even start making matching fingerless gloves! The finished product is thick, soft, and perfect for experienced or novice crocheters alike. You can choose any similar worsted weight yarn in your favorite color or chunky yarn if you would rather have a bulkier look.
Autumnal Ear Warmer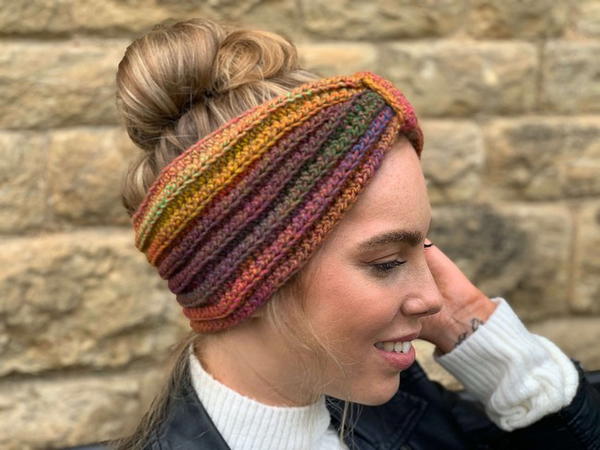 Get cozy with this crochet ear warmer pattern. Worked in the round, this ear warmer will keep you warm and stylish for all your autumn adventures. This is a very beginner-friendly pattern as it uses basic stitches. The Autumnal Ear Warmer crochet pattern comes with full video support. It also features a ribbed technique that gives it a fun texture. This beginner-friendly, Autumnal inspired faux cable ear warmer pattern is great for a chilly fall morning or a crisp winter walk. This pattern fits most adults and teens and will be best comfortable to use with the softness of the medium-weight yarn.
Forest Ear Warmer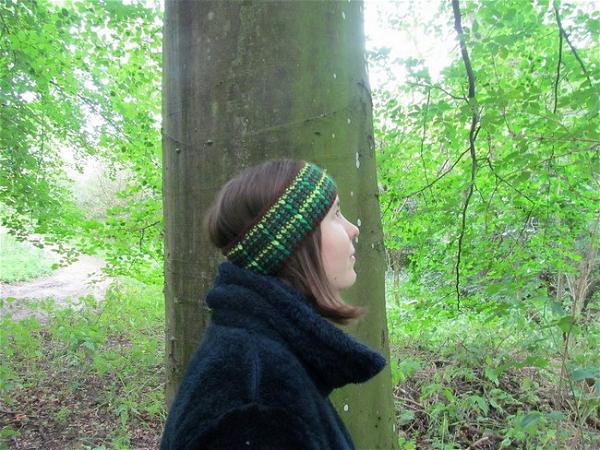 The forest ear warmer is a cozy, super quick, and easy-to-knit ear warmer featuring a spike stitch. It works using the spike stitch, a really easy lace stitch that looks really pretty. The details are picked up in a contrasting color giving it a very autumnal feel. These ear warmers will keep your ears nice and snug without blocking your ears so you can still hear what's going on around you or hear your music or phone calls if you are listening to these through your ears.
Frosted Petals Ear Warmer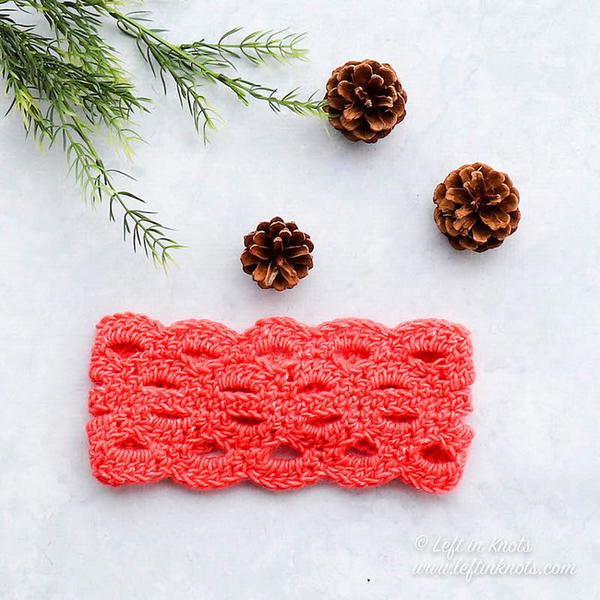 Frosted Petals is a pretty ear warmer that looks complicated but is actually quite easy to crochet. Using the Arcade Stitch, it works up quickly and can work in less than an hour. The crochet flowers sew on as you go and add a lovely embellishment. Frosted Petals Ear Warmer is a lovely crochet pattern that can crochet in any color you like. The Arcade Stitch gives it dimension and texture, and makes this project both pretty and practical!
Edgewood Ear Warmer
Edgewood Ear Warmer is a stylish and fun ear-warmer that offers a perfect combination of style and practicality for cold winters. Do you want to get into the Christmas spirit, but are not feeling the cold? We've got you covered with this cheerful red & white striped warmer. The Edgewood Ear Warmer consists of a structured hatband which means it stays in place better, especially when wearing glasses or headphones underneath.
The Edgewood Ear Warmer protects ears and doubles as a thermal ear warmer to keep you warm during cold weather. The multi-functional design will work not only as an ear warmer but also as a neck warmer and head wrap that will keep you warm no matter what the time of year.
Ear Warmer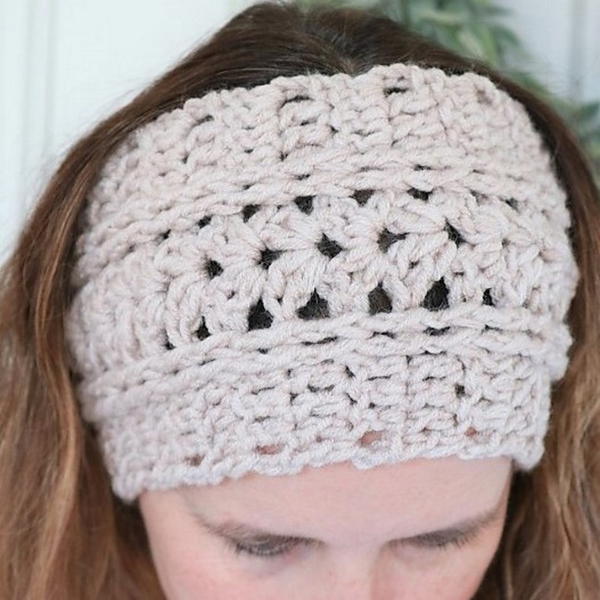 The perfect accessory for cold weather and chilly nights, the Ear Warmer is a gorgeous and versatile cowl. Comprised of an easy-to-memorize lace stitch pattern and made in simple stockinette stitch. The neutral yarn color allows you to wear this cowl with any outfit regardless of season or occasion. Whether you are wearing a suit or jeans, the Ear Warmer goes perfectly with all outfits. The neutral blend of the acrylic helps mask the hat so it can wear with just about any outfit.