Crocheting a cowl is a great way to keep your neck and chest warm during the winter. These free crochet cowl patterns will get you excited about making one for yourself. These free crochet cowl patterns are perfect for beginners because they're simple, classic styles that look great with any outfit. They're also great for the winter months, so you can begin crocheting as soon as the holidays are over! These free crochet cowl patterns range from chunky to lacy and from short to long. Whatever your style may be, you will find a pattern in this collection to suit your needs.
Crochet Cowl Patterns: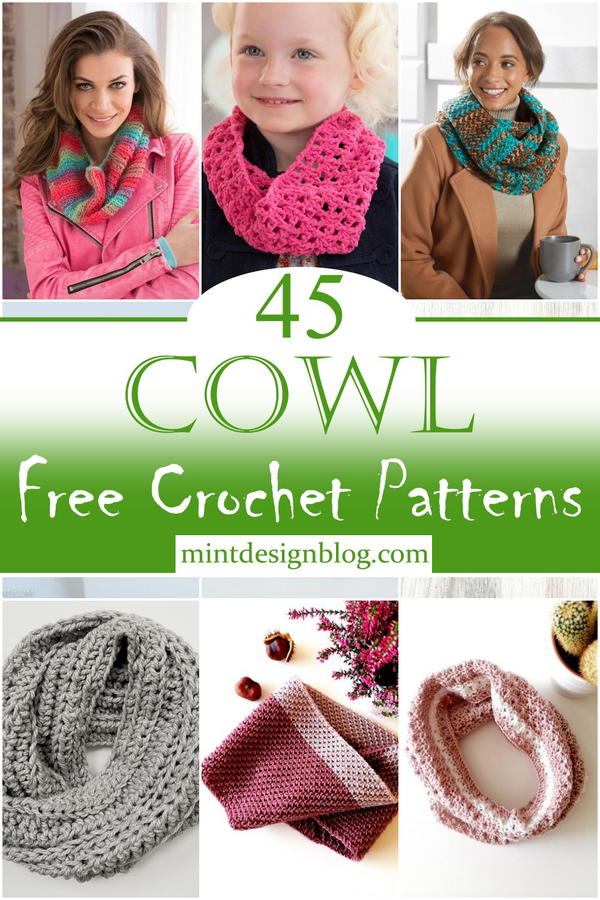 Whether you are looking for an easy crochet project to work on during holiday parties or need something cozy to slip on while watching the snowfall outside your window, these crochet cowl patterns will satisfy all of your needs and keep you looking stylish all winter long! The best part about cowls is that there's a free crochet pattern for every taste and color preference out there! This collection is a great place to start if you want to add a trendy accessory to your wardrobe!
Other Patterns
Hearts Around Cowl
Hearts Around Cowl can be made in two color versions or, as shown here, with a simple half-color changing effect. You will need three balls of each color. If you wish to change the look and put a full-color change in a different place, simply add or drop a stitch/turn (included in instructions) before and after your change. This is a simple project that uses only basic stitches, making it ideal for beginner crocheters. If you love the color combos of my Hearts Around Cowl, then you will enjoy making your own! The pattern is written with exact details to help you create the exact item pictured.
Planned Pooling Argyle Cowl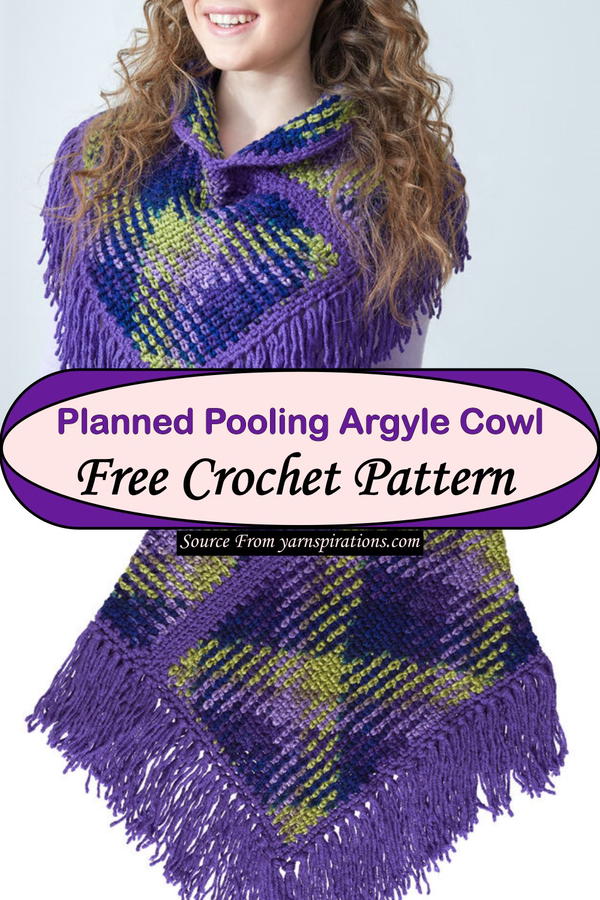 Planned Pooling Argyle Cowl is worked in the round with a clever method that is fast, fun, and intuitive. The graphic argyle pattern is crocheted using several colors and repeated several times across the cowl. Fringe is added at the end - it really finishes this piece beautifully. Wear this cowl with any outfit, and all eyes will be on you. The generous size of this woven piece makes it perfect to wear all the way around your neck. Worked up in a palette of engaging colors, it's an original accessory sure to bring a little joy to your day.
Soft And Squishy Cowl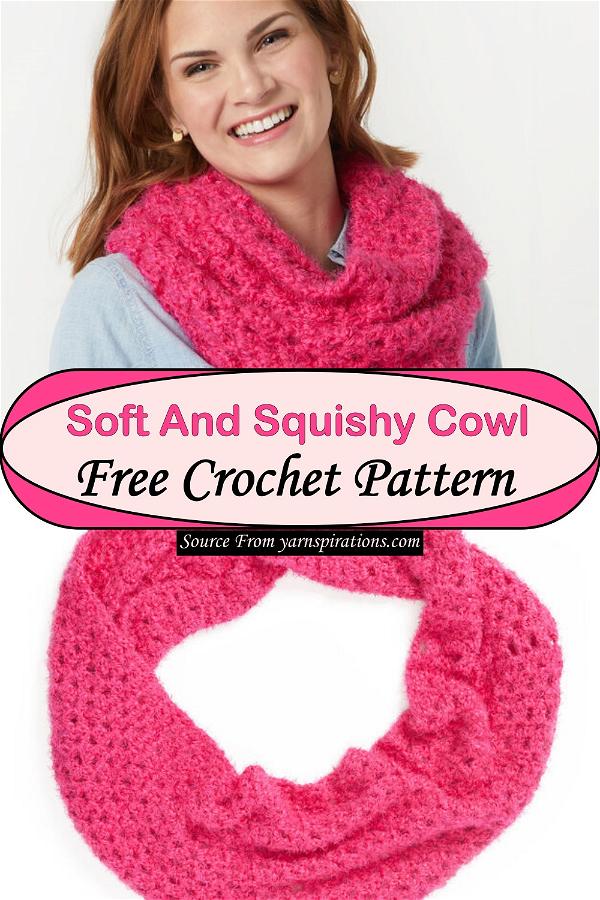 Keep your neck warm and comfy with this Soft and Squishy Cowl. It is made of super chunky yarn, so it works up in a flash. Versatile, this garment can be worn double looped, one loop around the neck and a second loop around the bottom of your neck to keep your chin warm, or single looped just wrapped around your neck for an elegant asymmetric look. The cowl is big enough that you can also pull it up over your head if needed! Cowls are the ultimate luxury accessory. Wrap up in this sumptuous and fluffy soft cowl for extra warmth, free to crochet instructions. Make a gift for someone or put it on your own neck to keep your head extra warm
Chic & Charming Cowl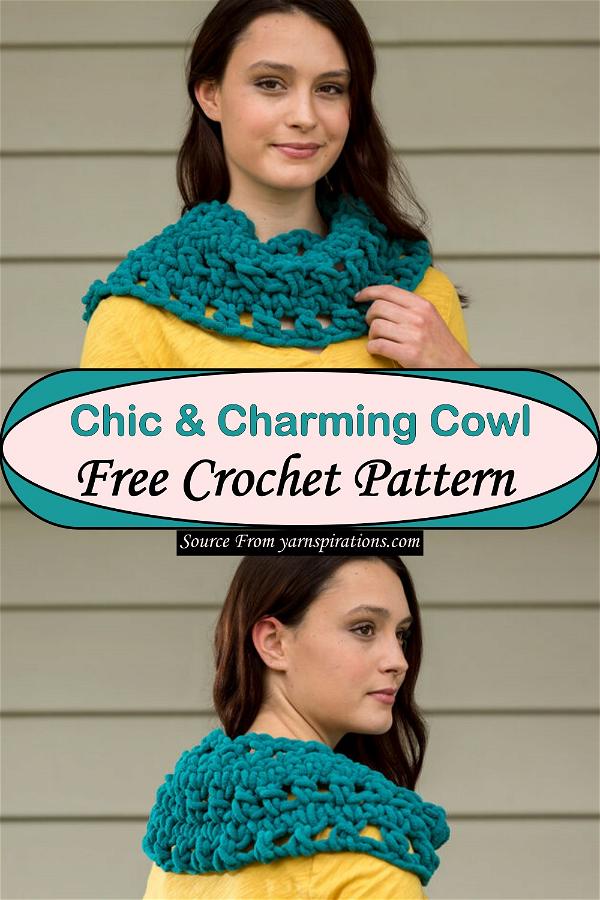 The Chic and Charming Cowl is the perfect way to add a little warmth without extra weight. You can wear it alone, or layer it with another cowl for extra warmth on those chilly days.When the chill of fall and winter starts to set in, this chunky cowl is just the thing to keep you warm. With its warm blend of plush chenille, the Chic & Charming cowl is a great accent for your outfit. It will keep you cozy on those chilly afternoons at home or out and about while being fashionable and fun at the same time.
Fair Isle Crochet Cowl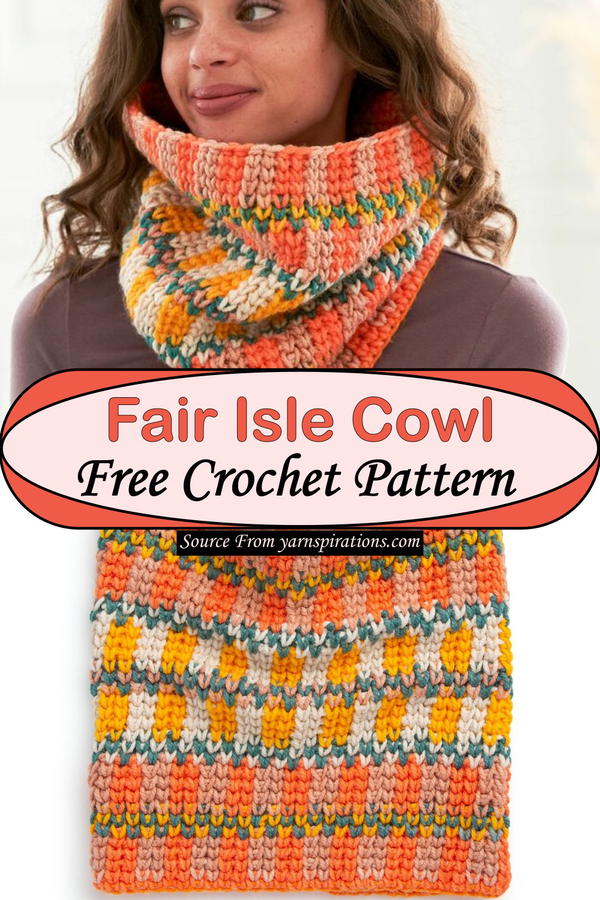 The Chic & Charming Cowl is the easiest crochet project you'll ever tackle—and the most stunning! It's made with a lovely worsted-weight yarn and embellished with texture for added dimension. This beautiful, cozy piece can be worn in many ways, including doubled over your neck as a cowl and folded under as an infinity scarf. Just adjust the length to make it fit your style.
Make your outfits pop and add a bit of luxury to your everyday wardrobe with this chic cowl. Explore your bold side with this splendid crochet pattern that adds a touch of sophistication and glamour to your day. This chic accessory is a stylish way to show off your sophisticated side and make everyone else envious.
Easy Tropical Cowl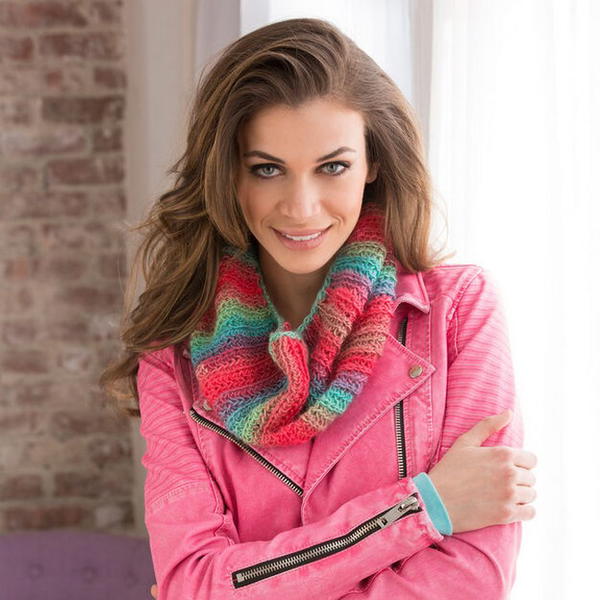 This Easy Tropical Cowl uses instantly gratifying color changes to create an elegant and unique accessory. It is a wonderful piece to show off your skills, or a fun pattern to do with someone new to crochet. The free pattern makes use of Beautiful by Berroco, a multi-shaded yarn that completely changed the way designers see color. And a quick look at the supply list will make you feel excited to start! This easy crochet cowl is designed to be crocheted with a variety of colorful self-striping yarn. It may look intricate, but it's very simple; perfect for a new crocheter.
Kiddo's Crochet Cowl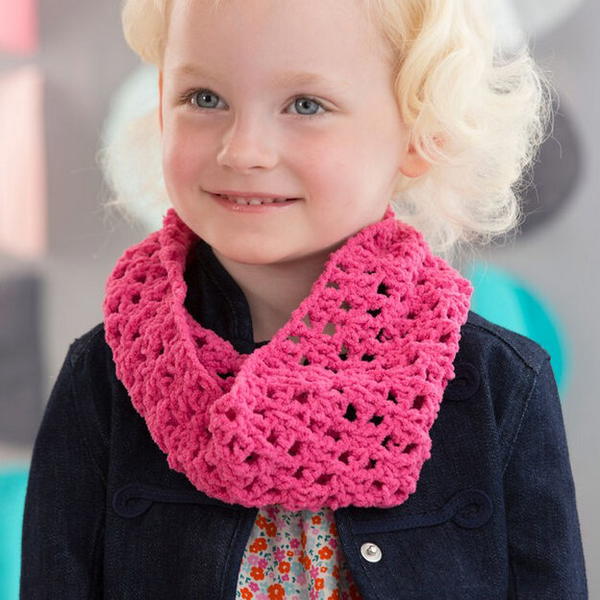 Your little baby will think you are "The Bestest Mommy in the Universe" with this stylish cowl. The Kiddo's Crochet Cowl is made from a soft, velvety yarn that really feels good next to her skin, and has a pretty lacy pattern that will crochet up quickly. The soft, velvety yarn of this cowl cuddles your little baby while still allowing her to move freely. Thanks to a lacy pattern, this simple crochet cowl is super quick to finish.
Camel Stitch Cowl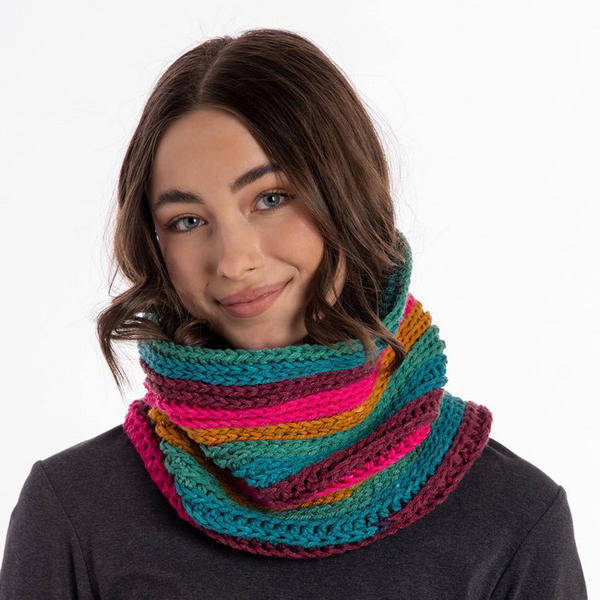 This cowl is a great way to practice your half-double crochet, and it's a fun way to learn about a new stitch. The stitch pattern creates colorwork without any ugly seams, so you'll work in one long spiral and not have to jog where you change colors. The yarn, Red Heart O'Go, comes in an amazing palette of colors--and they're all easy care!
This cowl is such a hit with anyone who sees it, they want one of their own! Choose your favorite self-striping yarn to make it in your school colors, and you're sure to be the most popular kid on campus. It's really quite simple, and a great way to practice the camel stitch if you haven't tried it yet.
Stone Mountain Cowl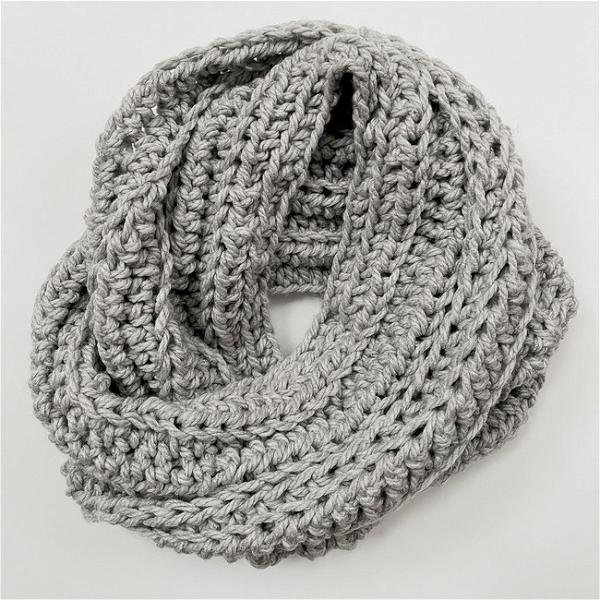 The Stone Mountain Cowl is a basic stitch pattern made into a stylish, cozy accessory. This free crochet cowl pattern is an ideal first project for beginners and new crocheters looking to build skills. Practice foundational crochet skills such as slip stitches, foundation chains, and half double crochets while creating your own style with cheerful brights, earthy neutrals, or mellow pastels. Lightweight and draping, Stone Mountain Cowl is a great quick-to-knit gift. The crochet cowl can be customized to your length preference, so you only need one skein of yarn to complete it.
Long & Twisted Cowl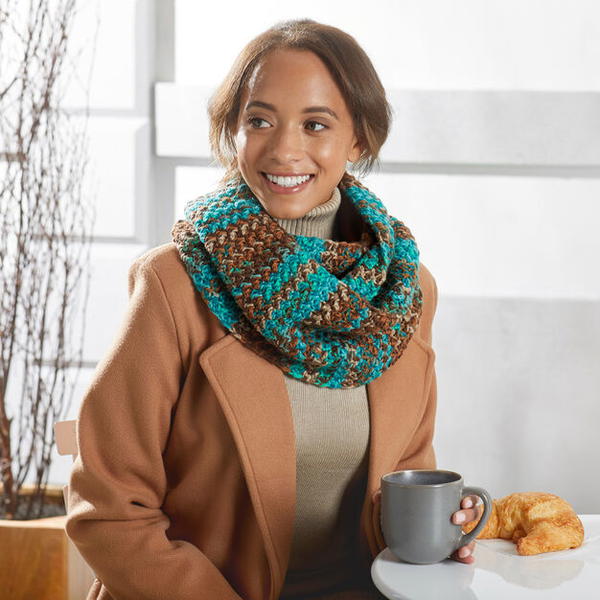 Long & Twisted Cowl is a unique pattern that is perfect for beginners!  A single strand of yarn forms the loop base, which can be worn at multiple lengths for a fun and stylish statement piece. It's so simple to make and wear that you'll want to make it in several colors! This is a trendy and exotic cowl that brings out the best qualities of wool. Wrap once for an elegant twist cowl, or double it to get that extra warmth!
Cowl Unisex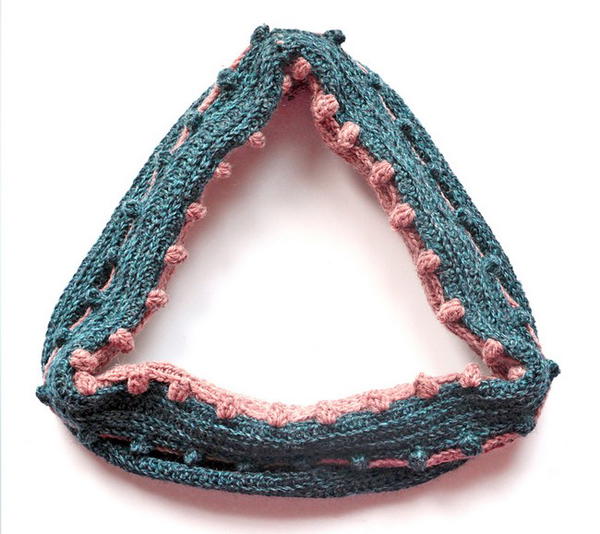 Cowl Unisex is a seamless knitwear cowl with an urban touch. It's made from premium pure wool that will keep you warm in the cold months. Soft and comfortable, it will be a perfect fit for those who love to wear simple yet creative pieces. The Unisex Cowl will make an excellent addition to your wardrobe. It is a one-size-fits-all item that will allow you to wear it in many different ways: this cowl can be worn as a shawl, neck warmer, scarf, or even a sarong!
Cowl Primrose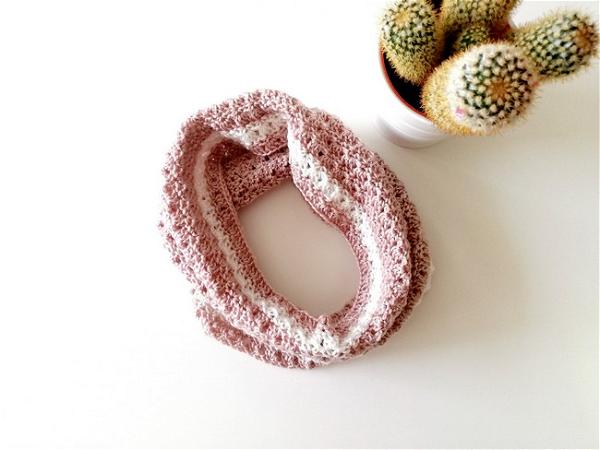 Primrose is a seamless cowl that is worked in the round. No sewing is needed. It's a perfect accessory for chilly days when you'd like to snuggle under something comfy, cute, and warm. This pattern includes detailed written instructions as well as a photo tutorial for the primrose stitch.
A lovely crochet pattern for Cowl Primrose will help you to enjoy a nice, calm and restful weekend with your best friends. It is also an attractive present that can be given to your friends and family members in different occasions like Christmas, birthday or Easter.
Cowl Scarlett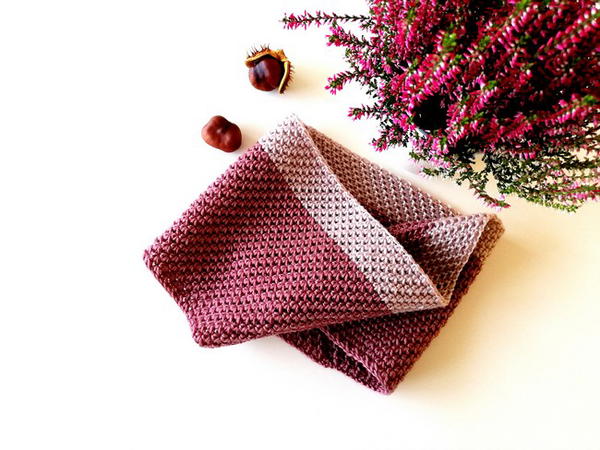 Scarlett is a cozy, cotton crochet cowl with ribbed edges. In the pattern instructions, you'll find detailed instructions, as well as pictures of the specific stitches used in the pattern. If you're planning on making this, use your favorite worsted weight yarn in two different colors. The example seen here has white and a soft reddish-brown. Using a size K (6.5mm) hook and worsted weight yarn, and changing hooks if necessary, make yourself a scarf to keep you warm when it's cold outside!
Modern Picot Cowl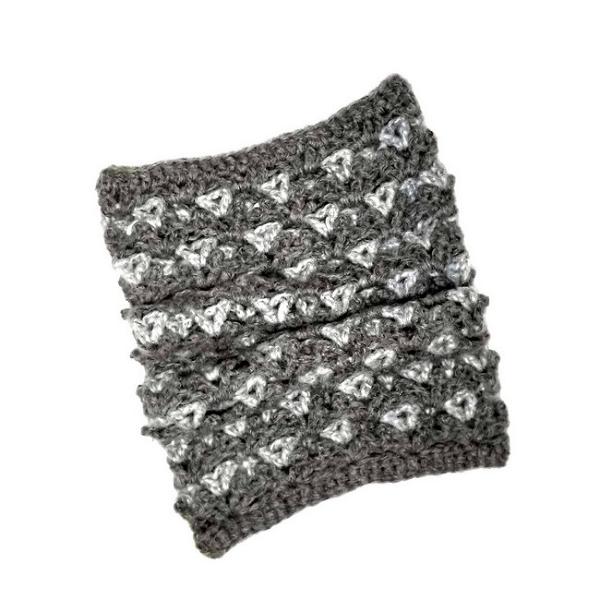 Make your own stylish cowl using Patons Ancient Norse. Picot stitches add a delicate touch to this simple accessory that you can wear in a variety of ways. The uniquely textured pattern creates an interesting and modern look, one that you will love to wear.
The Picot stitch makes a beautiful, textured finish on this quick crochet cowl. This cowl is made using two balls of yarn. Crochet in Patons Modern Wool in your favorite colors to create a unique accessory that will look great with everything!
Stained Glass Cowl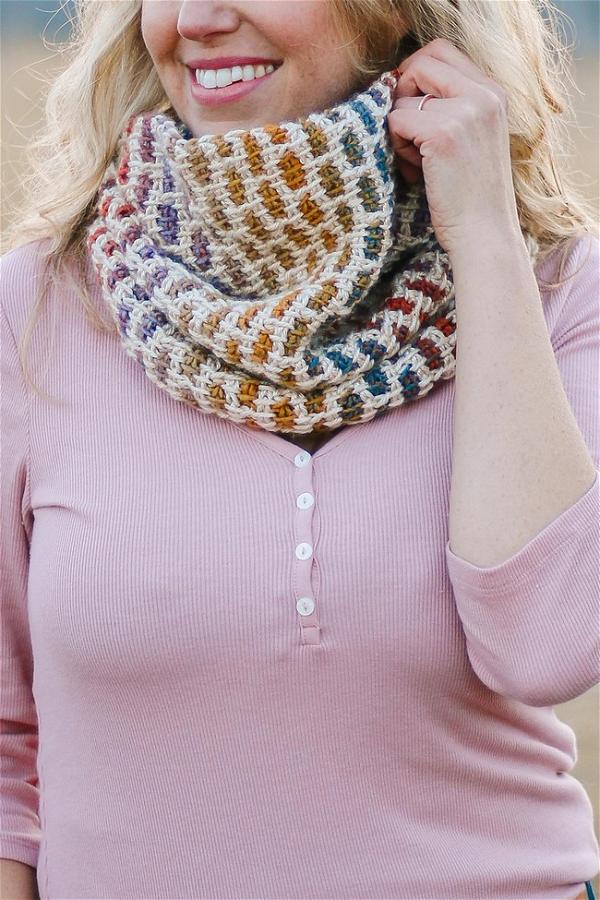 The Stained Glass Cowl is a great unisex design that works up in just one weekend! Crafted with self-striping yarn, you'll be amazed how changing the base color and the size of your hook create completely different looks. Using a Tunisian simple stitch, you'll make quick work of this cowl. Plus, the seaming is minimal, which means no sewing is required!
Richly textured and flattering to any wearer, our Stained Glass Cowl combines the beauty of self-striping yarn with a Tunisian simple stitch. The pattern is easy to memorize and quick to master, for a beautiful accessory that's as practical as it is stylish.
The Herringstone Cowl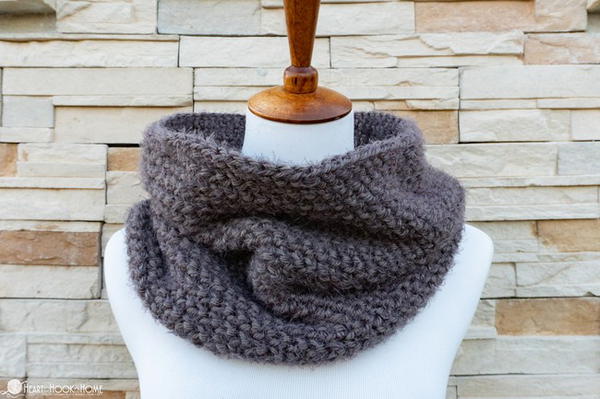 Herringstone Cowl is a seamless cowl pattern worked in a spiral. It's the perfect way to tackle your first lace project because of its circular construction. The center of the cowl (where all the increases are done) always looks good because you are knitting in a spiral and have nothing to count, no stitches to mark, and involves minimal thought at all. This easy and fun pattern is worked in a spiral until you run out of yarn. It's designed to be a little slouchy and can be made to suit any adult or child. It's great for using up any odd balls of yarn so you can make it as long (or short) as you want, without having to worry about running out of yarn.
Pumpkin Muffin Cowl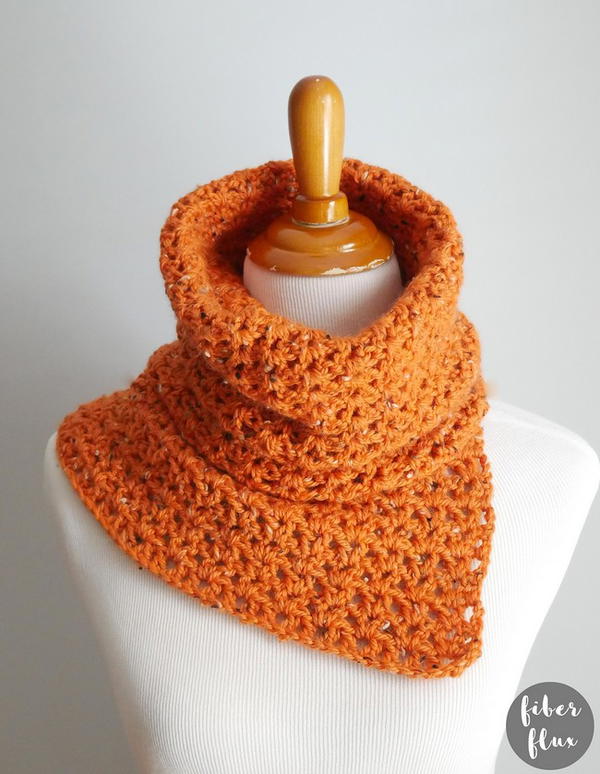 The Pumpkin Muffin Cowl is a lovely and super cozy cowl featuring a fun split shoulder detail and a toasty fold-over around the neck. This is a wonderful pattern to use up a special skein of yarn too! Long enough to wrap around twice, this cowl can be worn tiered like a muffler, or simply around your neck. Use up that special skein that you've been saving for years!
The Pumpkin Muffin Cowl looks great in solid colors and painted yarns. The double knitting creates a clean finish on both sides. Wear it long and loose or folded over for extra warmth, the Pumpkin Muffin Cowl is sure to be your favorite Fall accessory!
Culmination Bandana Cowl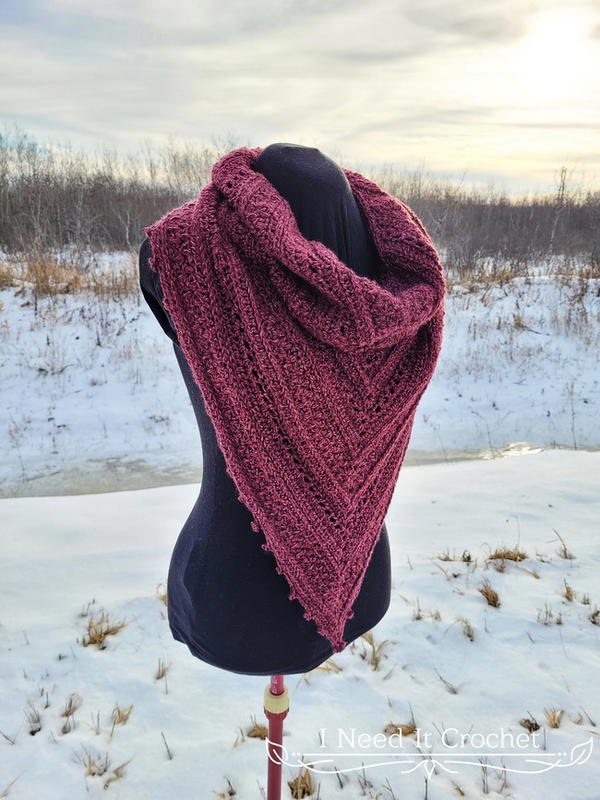 Have you ever wished you could just throw on a scarf and be done with it? Well, now you can! Culmination is a cowl that you simply tie around your neck. The pattern works up quickly in a super soft worsted weight yarn. You can use just about any yarn, as long as it's a similar weight to what I used. The length of the cowl will vary depending upon the type of yarn you use and how tightly or loosely you crochet.
Ribbed Cowl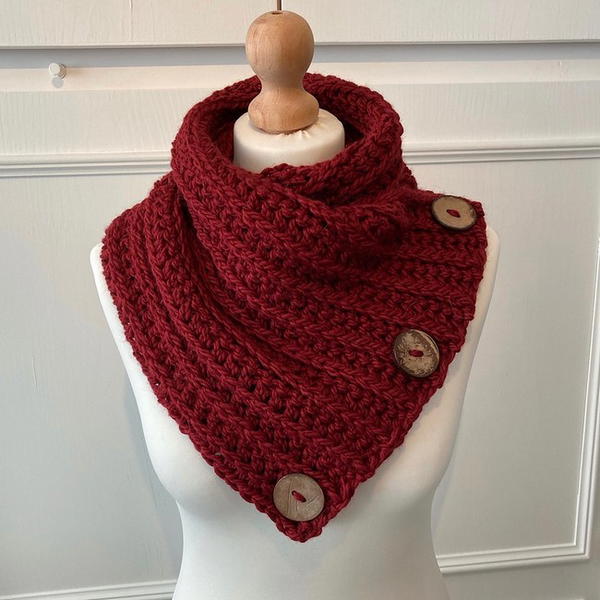 The Ribbed Cowl is a versatile accessory to have in your winter wardrobe. The cowl can be worn several ways: as a neck warmer, or doubled up as a hat, or even around the shoulders! This pattern works up very quickly and makes a great gift for both men and women.
The ribbed cowl is a great accessory for fall and winter. It's also very versatile because it can be worn in so many different ways. This pattern works up very quickly, but I think it really makes a statement! The cowl is simply a rectangle with three buttons sewn on.
Copenhagen Cowl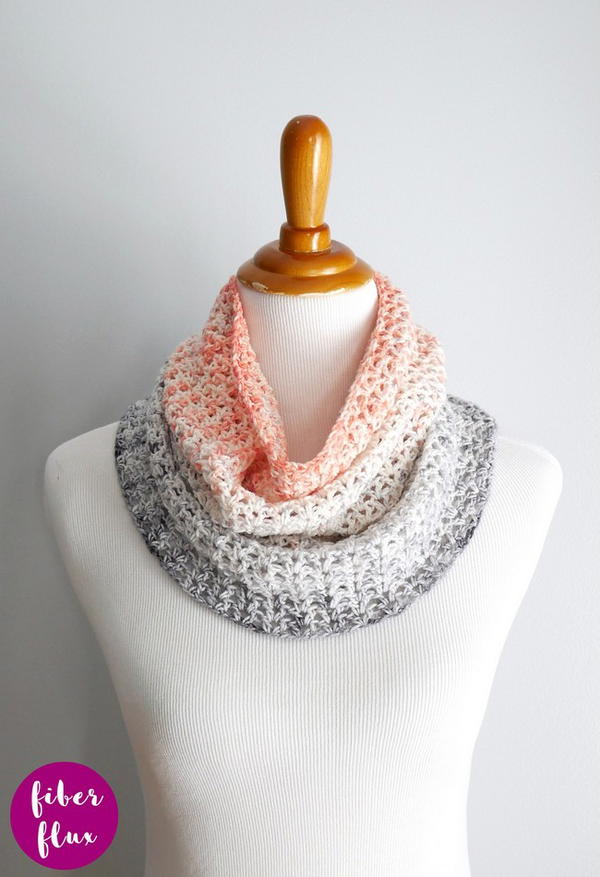 The Copenhagen Cowl is a perfectly luxurious accessory to wear when strolling the streets of your favorite city. This flattering cowl is crocheted in an easy and beautiful v-stitch with a gradient of coral, gray, and cream. Subtle color changes are made easy by working with sock yarns. Everyone will love it! The delicate color graduations of coral, gray, and cream will allow you to knit this cowl and never have to worry about finishing with the color changes; they happen while you are knitting the cowl!
Trinity Stitch Cowl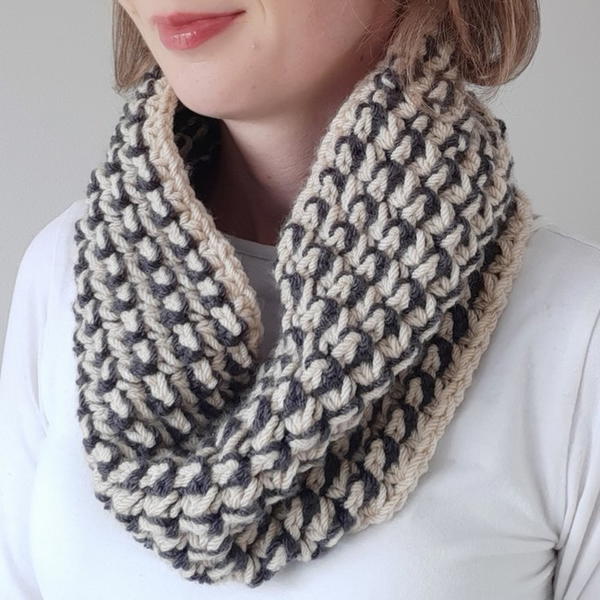 Embrace the cold weather with the Trinity Stitch Cowl, a Double-striped cowl made in Bernat Softee Chunky. Made with two colors of yarn, this free crochet pattern is perfect for beginner to intermediate crocheters and only takes half a skein of each colour. Add this chunky cowl to your cold-weather accessories today, and snuggle up while you're at it!
Keep warm and stylish in cold weather with this Trinity Stitch Cowl. The crochet cowl is perfect for when you want extra warmth around your neck, but don't want to feel limited by a heavy scarf. The Trinity Stitch Cowl is a free crochet pattern – just add yarn!
Follow Your Path Cowl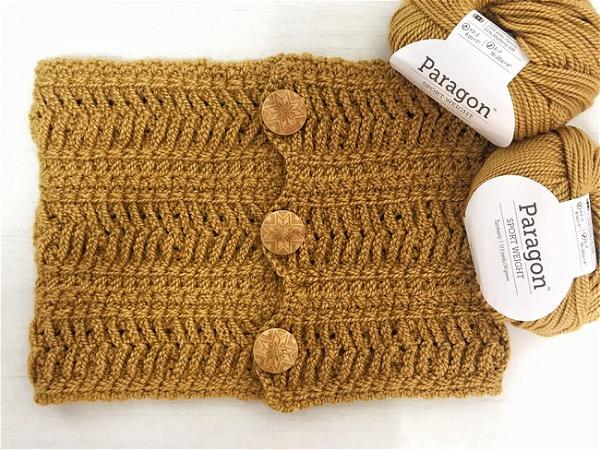 Follow Your Path Cowl is a feminine and playful knit that incorporates the Arrow Lace stitch. This pattern can be worked either as a cowl or infinity scarf―the length is up to you! The Arrow Lace stitch flows across the fabric in diagonal lines, creating a beautiful texture and making Follow Your Path Cowl almost reversible. If you love the look of an arrow pattern, this cowl will be right up your street! Charted and written directions are given for both a cowl and an infinity scarf version.
Granny Chevron Cowl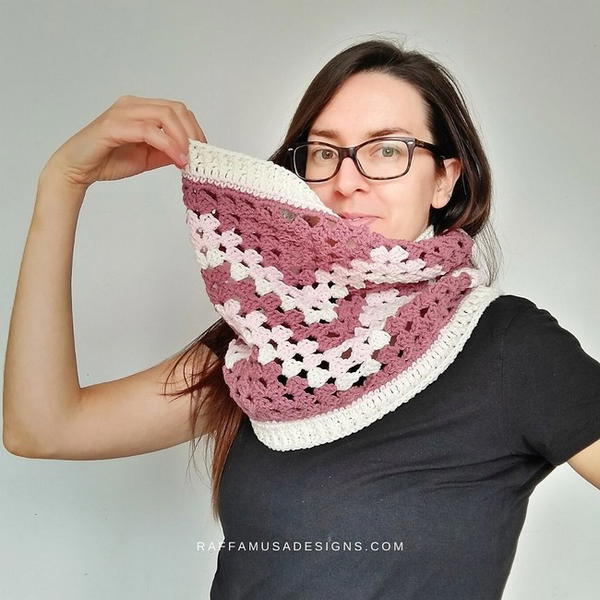 This chevron cowl is a fun and quick project that you can whip up in just one day. Made using the granny stitch, it will give you that cozy comfort, your wardrobe needs. It's a great addition to any outfit. This simple yet fun design makes a perfect gift. The Chevron Cowl is worked flat, with alternating panels of garter stitch and granny stitch. It is a quick and satisfying knit, and the pattern only uses two stitches - knit and purl.
Athena neckwarmer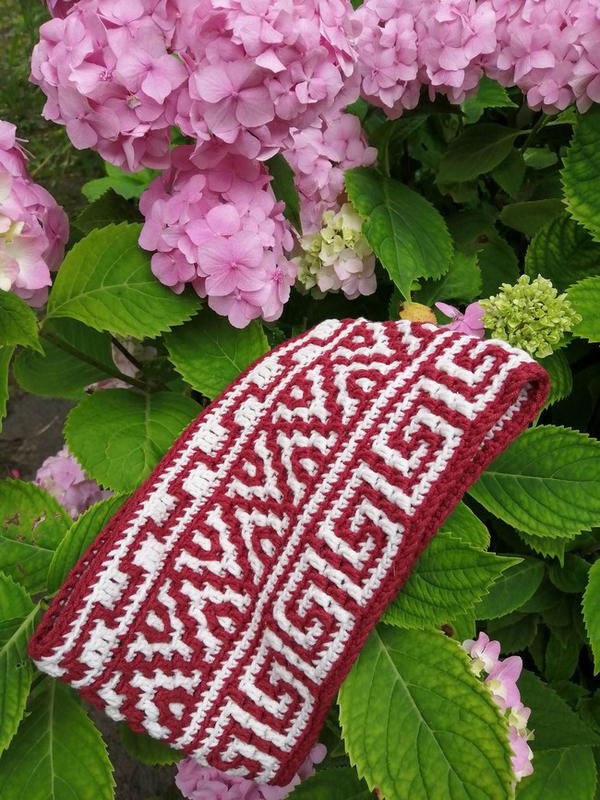 The Athena pattern is a neckwarmer with an accordion shaping that makes it unique and adds a diagonal stripe design. The mosaic stitch gives the Athena more sophistication and it can be worn in several ways. With the addition of some fringe, this scarf becomes even more interesting to work with.
The pattern gives you all the instructions needed to make the Athena cowl or neckwarmer using the mosaic stitch technique. This could be used as a beginner project since it only uses basic stitches. You can use different yarns and hooks but take note that the result will be different. You also have the possibility to add or remove parts of the pattern to make your own unique cowl!
Falling Feathers Cowl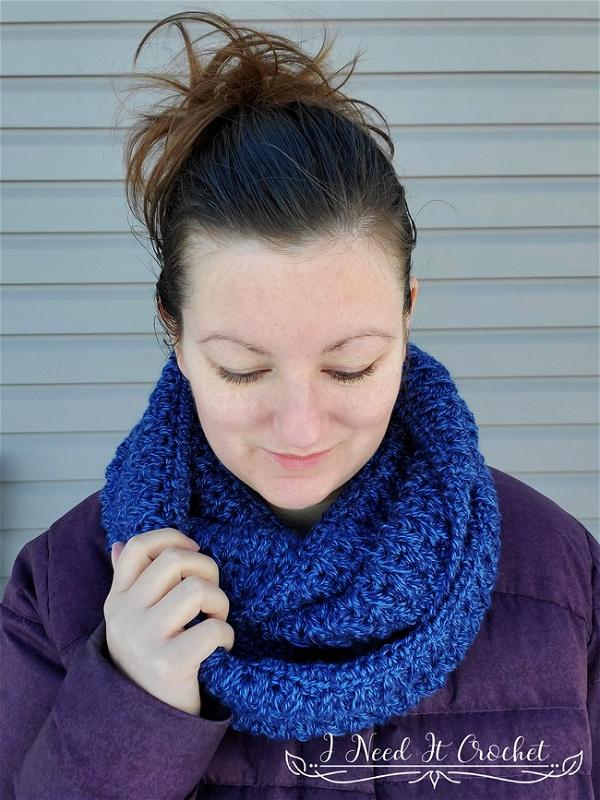 The Falling Feathers Cowl is the perfect pattern for a beginning lace knitter. It creates a super warm, chunky cowl that drapes nicely over your shoulders and keeps you warm on a cool day! The feather stitch is not only soft with pretty lace detailing, but it creates a design with plenty of stretch for all body types. The cowl can be worn on its own as a statement piece or layered under a jacket to add some extra warmth.
Ribbed Cowl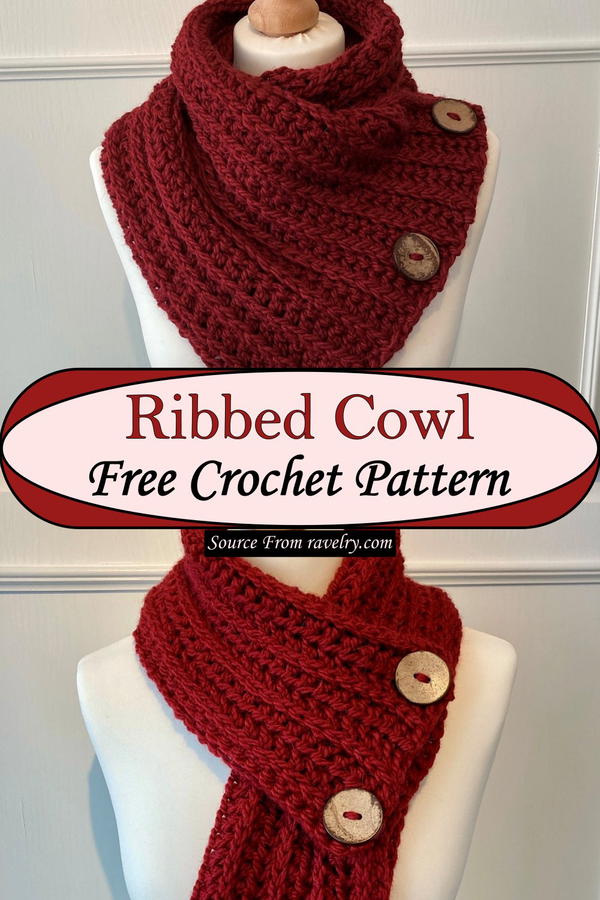 The Ribbed Cowl is a really fast, really easy project that yields a super cozy final product! The ribbed stitch pattern makes this piece a great project for cowl newbies. It's squishy, soft and the perfect accessory to dress up your favorite outfit. While it's incredibly simple in design, Ribbed Cowl gives you a lot of freedom in color choices – make it as colorful or as neutral as you'd like!
A touch of elastic gives the Ribbed Cowl a snug and warm fit, perfect for those cold winter days. This cowl is super easy to make and makes the perfect last-minute gift, especially when made in a pretty variegated yarn.
Snowflake Hat & Cowl
Make the beautiful crochet Hat & Cowl for yourself or as a gift this holiday season! Inspired by vintage patterns and ancient Mongolian motifs, it is a perfect wintertime accessory. The hat has an adorable pompom on top and a cable pattern running around the bottom edge. The cowl is sleek, warm, and fast to crochet with simple shaping. Multiple sizes are included in this pattern to fit everyone!
Worked in two pieces all in the round, this cowl and hat set makes a cozy and versatile winter accessory. The set (the cowl pictured above) combines two different crochet patterns that share a common motif, a snowflake! First, you'll make crocheted snowflakes using super chunky yarn. Then with super bulky yarn and very large hooks, you'll make granny squares. Each snowflake granny square is joined as you go and the ribbing is done in the round.
The Herringstone Cowl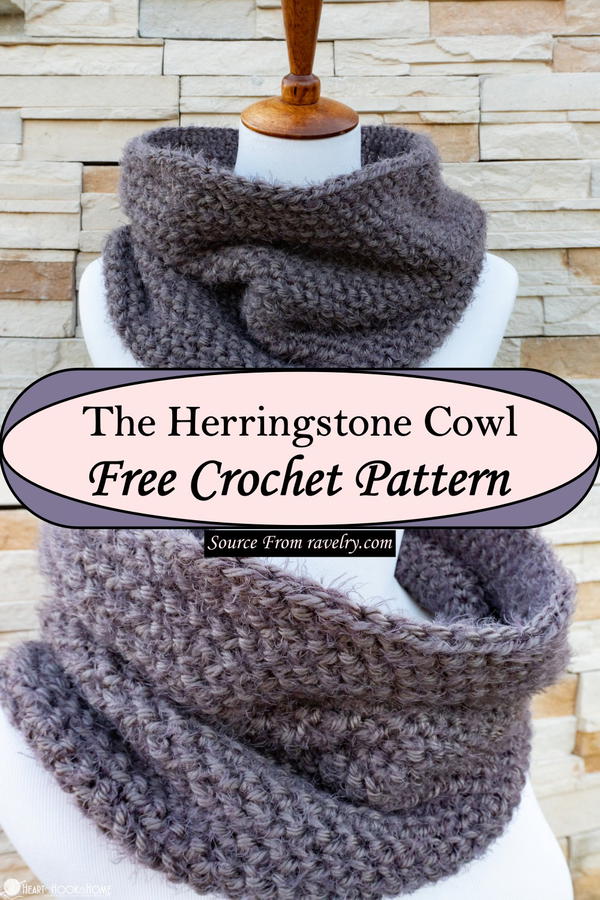 The Herringstone Cowl is a lovely, textured piece that works up quickly in super bulky yarn.  You literally have nothing to count, no stitches to mark (unless you want to of course), and involves minimal thought at all. - You choose your favorite bulky weight yarn and get knitting! Small and simple, this little cowl will be knit up in no time at all. A great introduction to circular knitting for beginners, the pattern is straightforward and easy to follow.
Trinity Stitch Cowl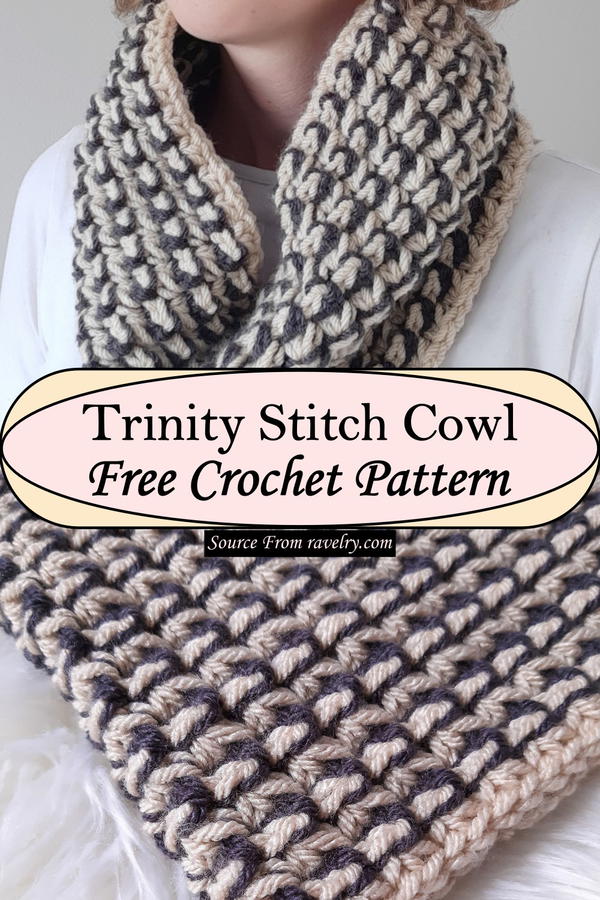 Wrap yourself in cozy comfort with the Trinity Stitch Cowl! This chunky, textured cowl is easy-to-make and worked only in the round. Using a striped color pattern, it creates an intricate and fun look that adds versatility to any outfit. This simple cowl will be your new favorite accessory!
The Trinity Stitch Cowl is a quick-to-knit rectangle with a unique striped effect. The pattern includes a fully illustrated tutorial so you'll know exactly how to achieve the stripe pattern, and the stitch pattern is really simple—a good beginner project!
Cowl Primrose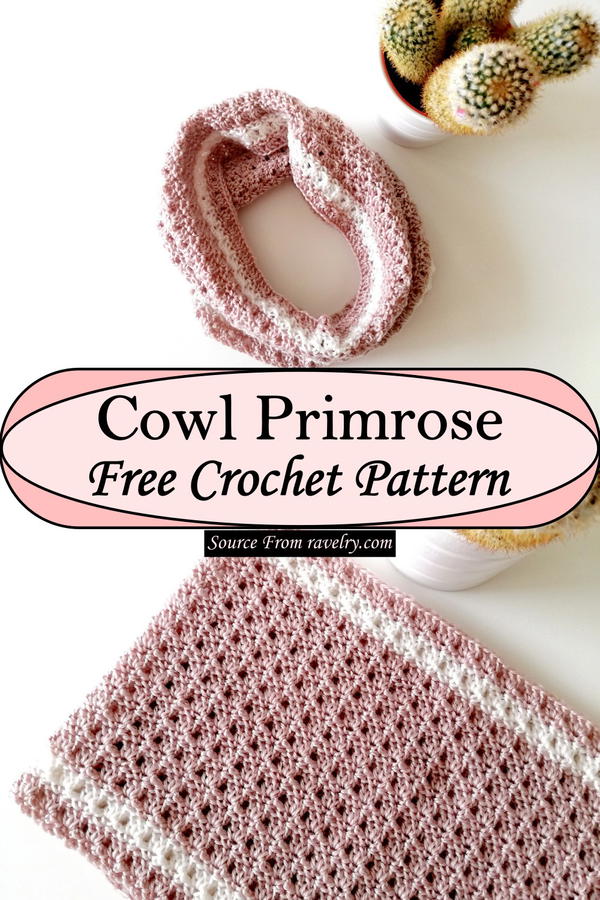 The cowl Primrose is crocheted with a simple pattern for chunky yarn. This vibrant combination of colors will make it a perfect accessory for any cold season, but also to match many outfits during the rest of the year. The cowl is perfect to be worn normally or as bunched. The stitch is firm and soft, ideal for cold weather. This cowl has great insulation properties and due to the filling, it will always lay flat. It's a no-sew project that you can make in any color you like
Quinn Cowl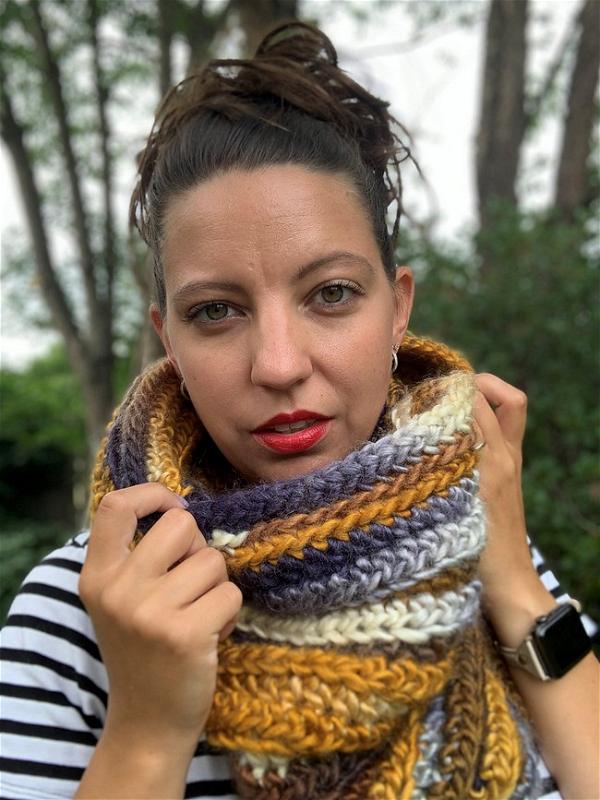 Do you love the look of a cozy cowl, but are afraid that knitting one will be too hard for you? Well, fear no longer! This lovely cowl is easy to make and is super fun. This pattern includes clear instructions on how to make your own cowl, written in standard US terms with both a picture tutorial and step-by-step written instructions.
This cozy cowl is the perfect pattern for beginners or more experienced crocheters. It's simple and quick to make–you can have one made in a day! Just choose your favorite shape, stick with the suggested yarn weight or substitute with a favorite yarn that is within two sizes larger or smaller, and you'll be ready to start this project and have it completed in no time. It's the perfect yarn-wasting project because it makes great gifts and they look better than store-bought cowls.
Crazy Fast Halloween Cowl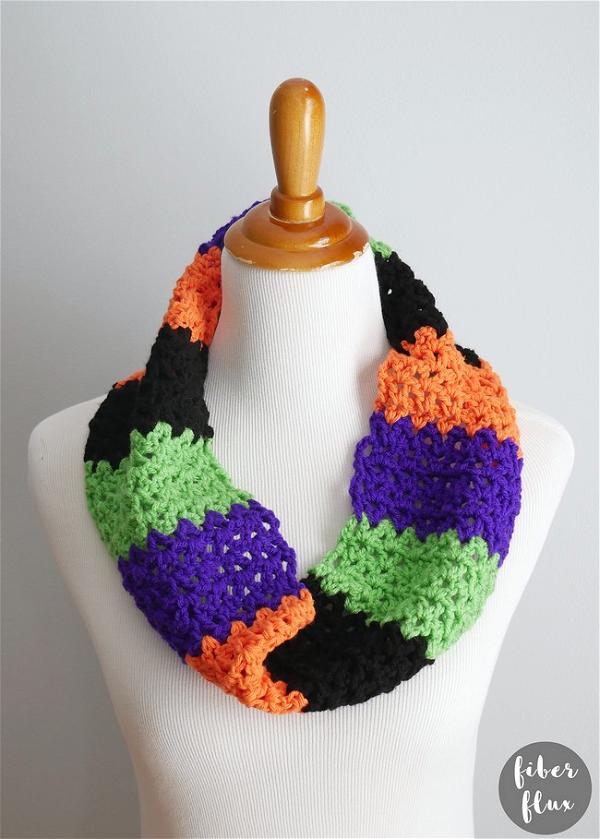 Crazy Fast Halloween Cowl knit up in no time flat. Perfect for that last-minute costume addition! Knit up in your favorite worsted weight yarn, this one is worked in a small circumference and at a tight gauge, so it works up quickly! The Crazy Fast Halloween Cowl is a great way to add some spooky cheer to your Halloween outfit. Whether you're trick or treating, attending a party at school, or just running errands, this cowl is perfect for keeping your neck warm while showing off your favorite color!
Celestine Cowl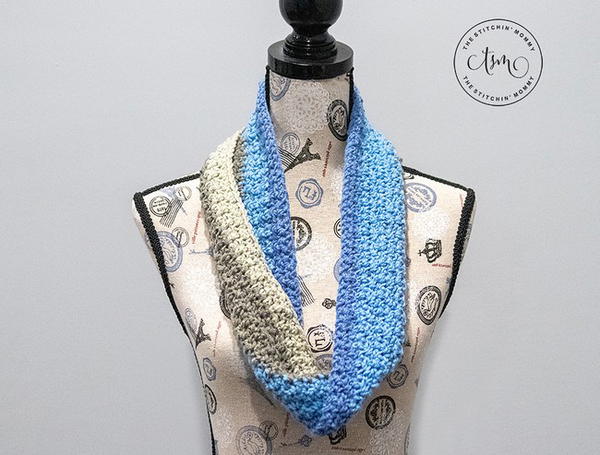 The Celestine Cowl is a great project for a last-minute gift! It is so quick to work up and has a beautiful Mobius twist to give it an interesting look. The loop cast-on allows you to easily adjust the width of the cowl by increasing or decreasing the number of cast-on stitches. The Celestine cowl looks like a fancy, ribbon cowl, but it is really made with only three yarn overs. And it's even easier to work because it's really twined knitting. A Mobius twist in the middle of the cowl makes this a great project for a gift!
Lansdowne Cowl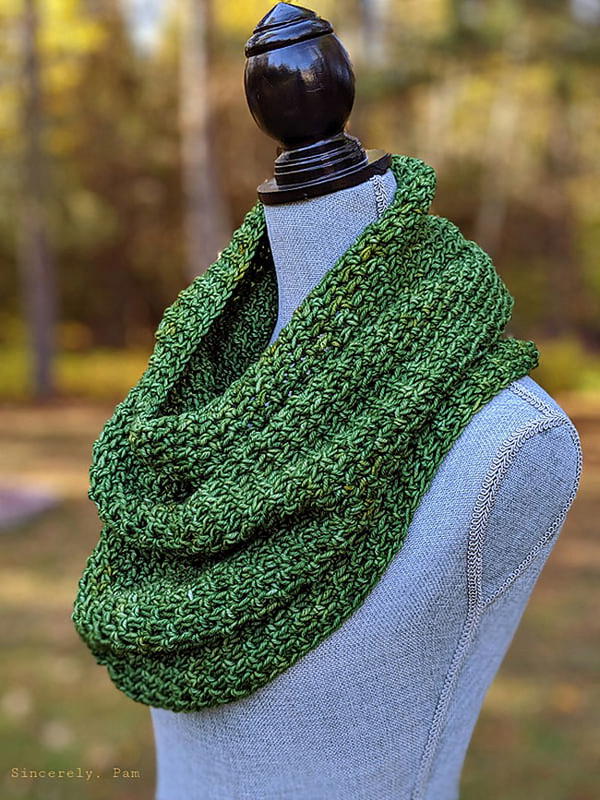 Crochet this lovely cowl with soft worsted weight yarn in your favorite colorway. Endless possibilities are available, by mixing the pattern and colorways up with each repeat you can create a unique piece each time you make it! Bring your hands and needles together again and make a fabulous crochet cowl. Keep it casual with super soft acrylic yarn or unwind with wool. The bottom edge resembles a ribbon framing your face. The cowl clasps at the neck with an easy button closure style that adds even more flair.
Culmination Bandana Cowl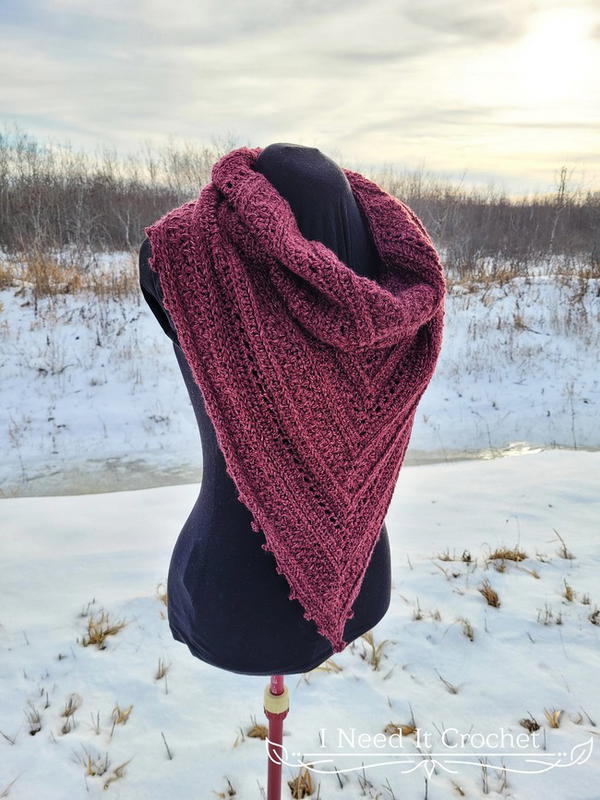 Snuggly and stylish all year round, the Culmination Cowl is worked in a traditional granny Stitch. The Culmination pattern is achieved by holding 2 strands of yarn together while crocheting. The pattern creates an interesting designer fabric with a beautiful depth and texture. A fringe at both ends further highlights the intricate stitch work.
This cowl can wrap you up like a warm hug, keeping you cozy in any weather. It's made for layering, so wear it on cold days and evenings, or during yoga sessions indoors. The bandana-inspired stitch pattern is easy to remember and fun to crochet. It's designed to fit snugly around your neck and shoulders; choose a chunky yarn that works up quickly and fits well a little loosely.
Pumpkin Muffin Cowl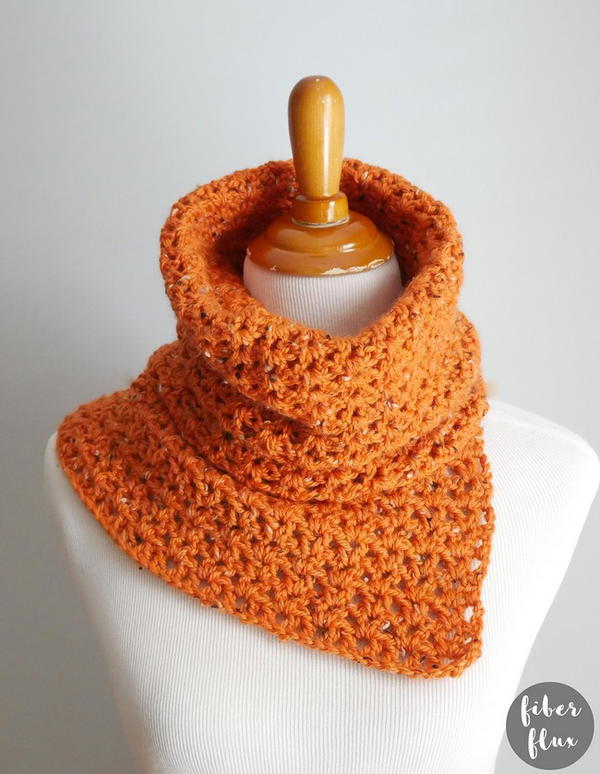 The Pumpkin Muffin Cowl is a textured, cozy cowl designed with a fold-over around the neck, thus saving you the trouble of attaching a traditional hood. Perfect for fall and winter weather, this lovely topper will keep out the chill and get you in a festive mood!
The Pumpkin Muffin Cowl is a fun and easy cowl to work up! It's quick enough for last-minute gifts, and you can use any worsted weight or bulky yarn that you have on hand. While this pattern is written specifically for worsted weight yarn, you can use any weight of yarn and adjust where necessary - the total drape of the finished piece is dependent upon the type of yarn used!
Facets Cowl
Facets Cowl is a happy, fast scarf design that lets you enjoy the look of a complex project without the time investment. Multi-colored garter stitch ridges create an eye-catching diagonal pattern, crossing over a simple stockinette background, in a single row at the center front and back. One size fits all: Facets is a wearable length cowl and works beautifully as an accessory wrapped twice or three times around your neck.
Copenhagen Cowl
The Copenhagen Cowl is a wonderfully easy, but special project. You'll work this closed shape in an easy and relaxing v-stitch, in a striking gradation of coral, gray, and cream. The cowl wraps twice around your neck to create a versatile accessory that you're sure to love. It looks fabulous paired with tees and turtlenecks, or try it over a dress on a warmer day!
The Copenhagen Cowl is such a lovely thing. It will keep you extra warm on chilly days, and it is so light and soft that you may not want to take it off! It's also a really fantastic way to use up the special beautiful sock yarn that you've been saving for just the right project.
Cowl and Hat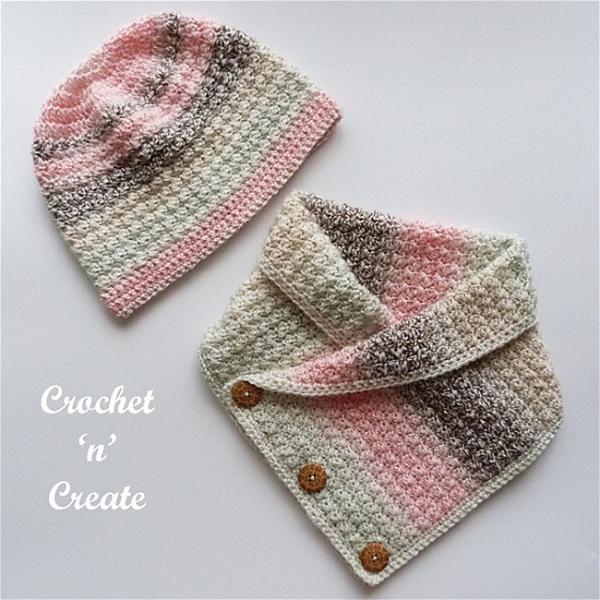 A super quick and easy cozy set for chilly days, the crochet cowl is designed to fit snugly around your neck to keep out the cold. It's made in a warm and close textured stitch so, in fact, you could use it as a scarf, cute and versatile this will be hand at any time of year. The set also includes a matching beanie-style hat.
This is great crochet set for those who are just starting out with crocheting, or for those who like quick 'n easy projects. The cowl neck warmer is worked up quickly in an open pattern. The hat is worked up fast in a nice textured stitch, perfect to show off variegated yarns
The Bauble Bandana Cowl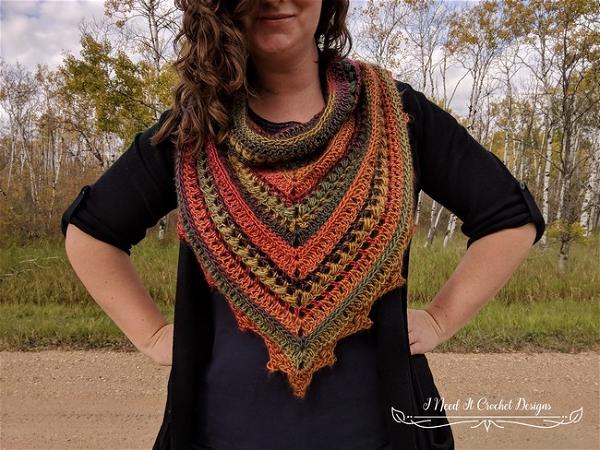 The Bauble Bandana Cowl is the perfect crochet accessory to accompany you on any adventure. It features a simple yet striking design and can be worn in a variety of ways. A great stash-buster, this quick project is ideal for beginners who are new to crochet, but not new to travel. The unusual color combination makes the finished product quite striking without being difficult to crochet. This project uses chunky yarn making it very fast and an interesting crochet technique called, "cloud stitch".
Cowl & Cuffs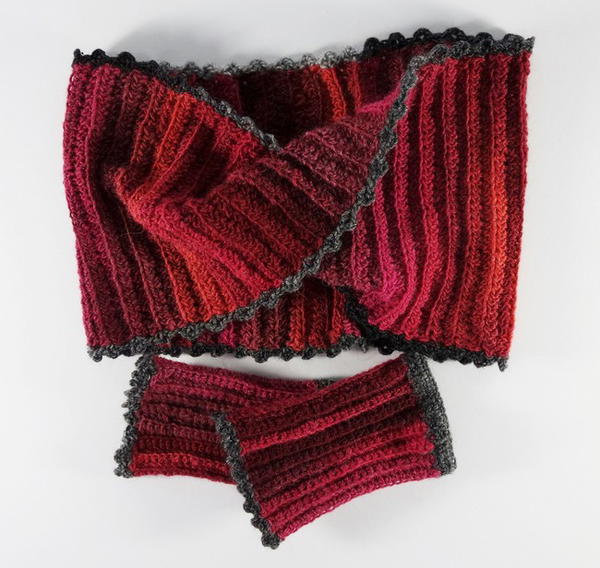 Give your outerwear a touch of luxury with the beautiful Crochet Cowl & Cuffs. Knit out of two strands of luxurious cashmere yarn, this double-layer cowl and cuffs will keep you extra warm and looking great. Crochet cowl & cuff is a simple pattern that is perfect for using up your worsted weight yarn. Fast to make, and fabulous cozy, it has the potential for a ton of color combinations. The cowl is styled in two directions so it can be worn as usual or as a light hoodie effect.
Cowl Unisex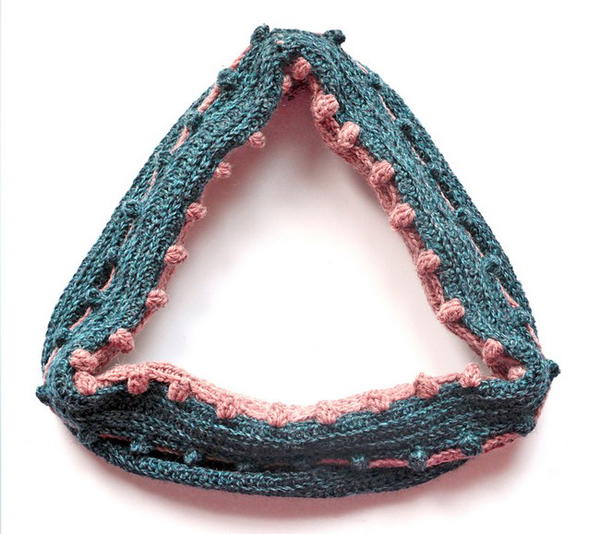 A soft, lightweight, and cozy wool cowl for those early fall days when the weather is still warm enough to show off your neck. This accessory will be a perfect match for both men and women and will be a nice, stylish alternative to scarves. Triple-twist stripes on an undyed natural background will add a bit of playfulness and attitude to any outfit. The Cowl is a pure wool garment that was designed to be worn snugly around the neck as well as draped loosely over the shoulders.
Cowl Scarlett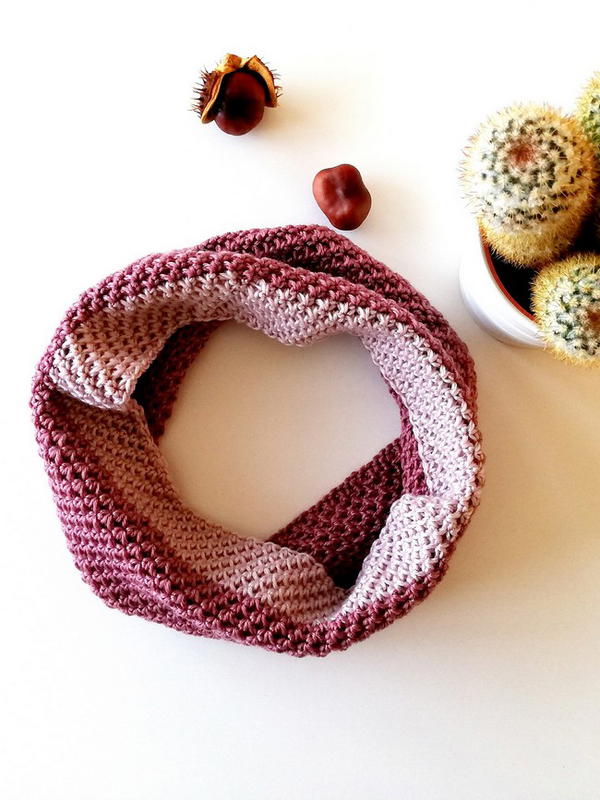 Scarlett is an elegant cowl crocheted from the bottom up, in a simple slip stitch ribbing. It features a wide, scalloped lace border and is finished with i-cord ties for a clean finishing effect. Scarlett cowl is Ideal for everyday layering, it's easy to put on or take off and can be knotted or worn open at the neck, depending on the weather.
Scarlett is a beautiful accessory to add to your fall wardrobe. It looks gorgeous worn long or wrapped once or twice around the neck. This cowl works up very quickly in a bulky yarn, so you can make it over a weekend and wear it out to dinner!
Crochet Cowl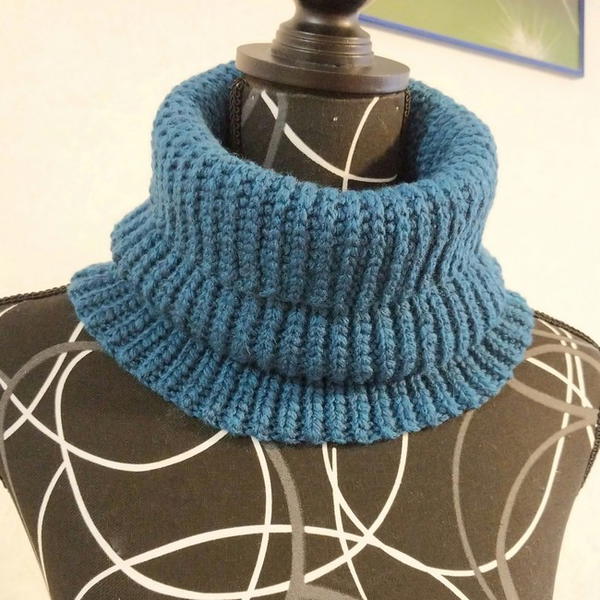 This bright cowl is worked in a pretty repeat pattern of eyelets and bobbles, with a reverse slipped stitch edge that provides movement along the selvage. The simple lace body is framed with a wide-ribbed scarf; both ends meet up in the middle with an elastic join to create a snug fit around the neck. It's the perfect accessory for Fall, warming you up for those crisp cool days, or keeping your ears toasty when it's windy.
Felici On The Double Cowl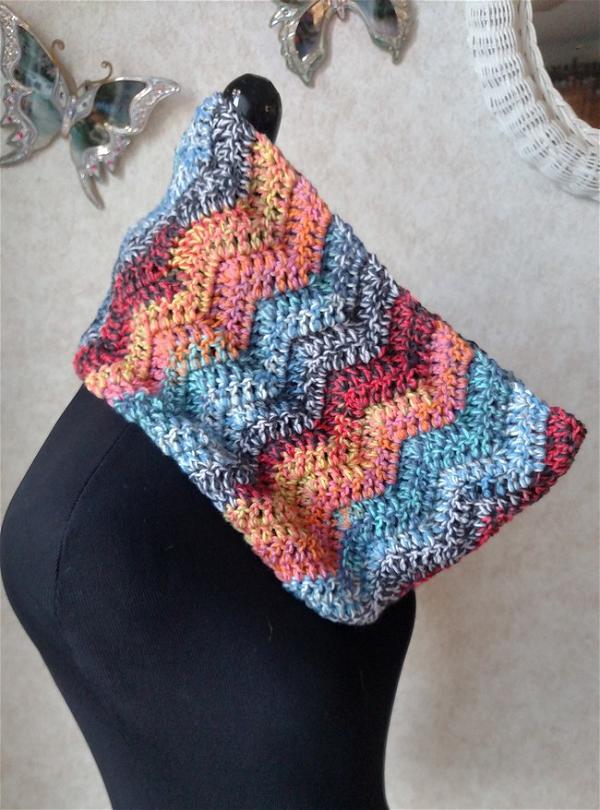 Snuggle up with this super soft crochet cowl. The double stitch creates a thicker fabric that drapes beautifully and is comfortable yet substantial when worn. Pair it with your favorite sweater or vest, or wear it all on its own when the weather gets cooler. Worked in one continuous piece, this cowl is quick to make and easy to put on. This lacy cowl worked in the round from the bottom up, features an interesting stitch pattern, and will keep you warm on even the coldest of days. The free pattern on our website makes a luxurious gift.
Fashion is now more than just what you wear on the outside. Fashion can express in your hairstyle, nails, shoes, accessories, and even your home decor. Crochet cowls are a great way to express yourself through fashion because they are so versatile. You can make them out of any type of yarn that you like or You can add all kinds of embellishments to make them look exactly how you want. The only limit to crochet cowl patterns is your imagination!
Crochet Cowls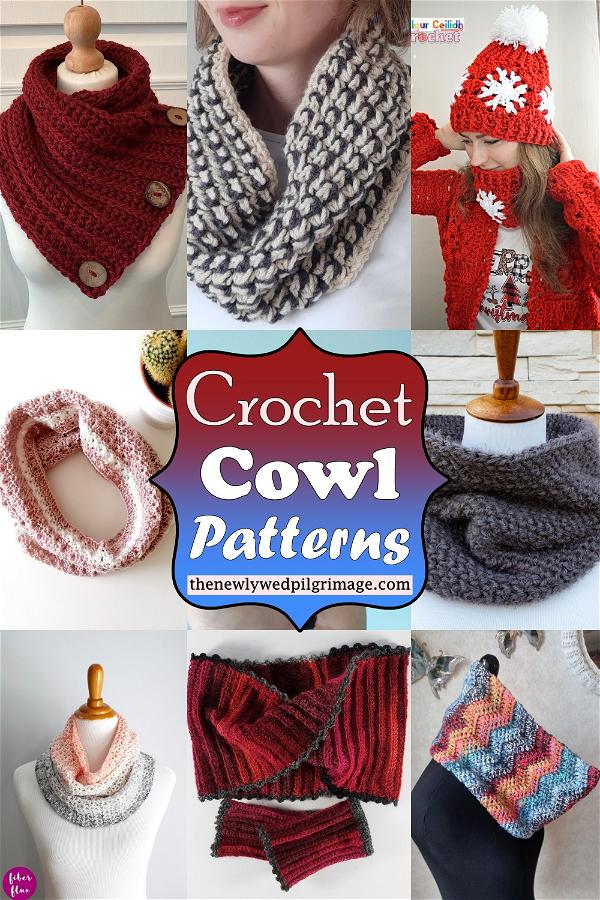 Crocheted cowls are perfect for fall, winter, and spring. They keep your neck warm but let your face and head breathe. Crochet cowl patterns are one size fits all, so you can make them for everyone in your family. You can even crochet cowl patterns for men or boys. In any case, crochet cowls are a great way to use up leftover yarn. Crochet cowl patterns have the added benefit of being a fashionable accessory that will add color and style to any outfit. Winter is the ideal season to wear a cowl. These crochet cowl patterns are perfect for the colder months and you can easily make one for yourself or your loved ones. Also, it is a great way to show off your creative side and put your crochet skills to good use.