Everyone loves camping and outdoor trips, but the main reason not to do it is tiresome to carry all the essential things with you. However, you need a camper trailer to provide all the luxury amenities you need. Thus, here are some DIY ideas for camper trailers to make your planning easy and manageable. Camper trailers are for sale by many dealers. You can also make one yourself if you're a DIY enthusiast. So here we have come up with the best 14 DIY Camper Trailer ideas, which will save you time and money.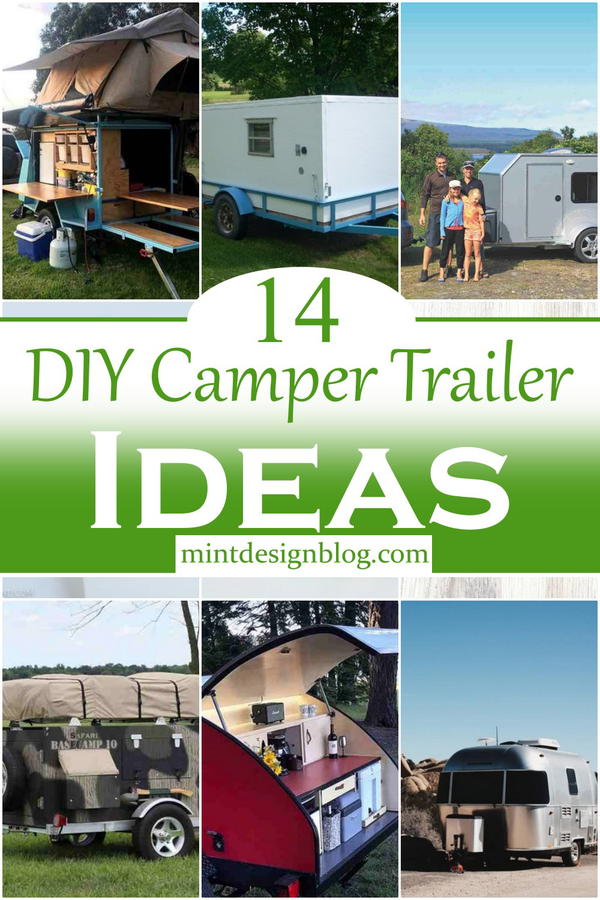 Family Camping is an excellent way to spend time with your family, especially when you are out in the open. But it's not easy to travel at all times and often. If you organize a camping trip with your family and friends, the best option would be to travel in a camper trailer. This kind of vehicle allows you to enjoy nature elegantly. However, these trailers come at an exorbitant cost making them unavailable to many people. But there is nothing to worry about, as 14 DIY Camper Trailer Ideas are available here to help you reduce expenses while enjoying a unique vacation. With these DIY camper trailers, you can reduce the pressure on your wallet.
You Can see: 20 DIY Utility Trailer Plans
Simplified Trailer Base

The simplified design keeps freight secure and protected while remaining economical and easy to install. This amazing trailer base offers a simple design to reduce the time and cost of building a trailer. The base unit comprises the main body and some rubberized undercoating, providing weathering protection. This item is designed especially for moving trailers with no surrounding confinement or components. The size range could be varied according to your intended use, with a small freight trailer as one example that could carry some weight at the back.
Skill Level: Easy
Protective Camping Trailer
The Protective Camper Trailer is built with superior materials to ensure its strength and durability. With tons of space for equipment, this item allows you to enjoy the great outdoors even more by making any trip more accessible and comfortable. Now your place is fully equipped to go camping and enjoy nature. It is built with heavy-duty materials and provides a comfortable space for four people to sleep. There is enough space to store your equipment, making it one of the strongest. This camper van makes any hunting trip more accessible, whether it's a one-night or four-night excursion!
Skill Level: Expert
Old Pop-Up Camper Trailer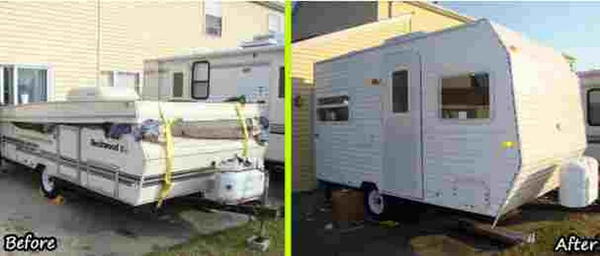 This old pop-up camper trailer is in excellent condition, and ready for a new owner. It was built back with quality materials and had hardwood floors that were solid and ready for sanding and varnishing. The camper also has windows, allowing natural light to come in quickly. The roof can be opened with one hand while sitting inside the cabin. This old pop-up trailer has been refurbished and converted into modern use. It is excellent for camping trips with friends or family and a quiet getaway from the city. The roof's canvas material is waterproof, keeping out rain and sun. You can easily find this old pop-up camper on Craigslist or eBay.
Skill Level: Experienced
Customized Camping Trailer
A customized Camping Trailer combines a solid metal frame with wooden ground. It is built with a minimalist design and appearance, giving you more space to put your belongings there. As for the customization part, you can improvise some features according to your need: add a wooden pavilion on top to store some kinds of stuff, install some wall panels for better privacy or even add a colorful rug on the floor. Whether you are a traveler or a camper, this customized camping trailer is necessary for taking a fantastic trip. It looks simple, but it can fulfill your every need on the way with ample space and enough storage.
Skill Level: Easy
Very Own DIY Trailer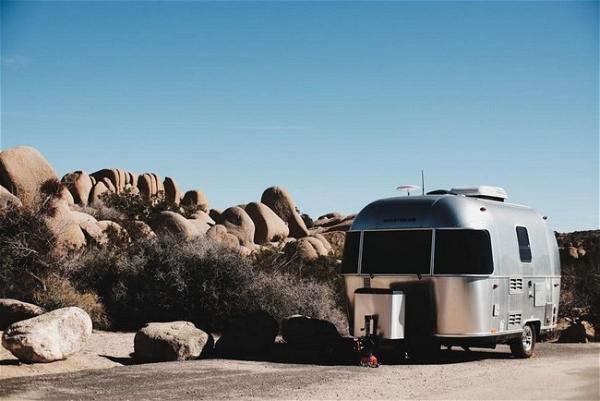 A trailer can be a happy addition to your truck.  This DIY project is for you if you want to update your trailer! Plans are available to build a custom-sized trailer from scratch. The final result is a luxury custom-sized trailer that matches your truck and needs. This is an exciting project that we think most can manage. You will also need some basic skills and knowledge of the construction process. It's definitely worth the time and effort because, after all, it's your trailer! Join us on a DIY adventure to show you how to design and build your very own trailer from start to finish! With our handy video guide, you'll be taking road trips in style.
Skill Level: Expert
Scratched Metal Trailer
This video demonstrates how to create a Metal Trailer from scratch and the very beginning. It's easy enough but might require some help from others on the job site. They have tried their best to make this tutorial easy to follow and understand to create a high-quality product quickly. This video tutorial will show you how to create your trailer out of scratch metal. This project requires modifying a flatbed trailer with wheels and axles to make it horizontal. You have some scrap metal at hand that you can use for this project. It's pretty easy and fantastic too!
Skill Level: Intermediate
Teardrop DIY Camper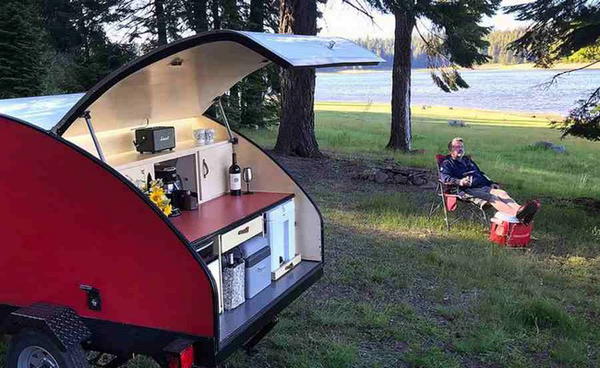 Scratched Metal Camper Trailer is the trailer you need if you are happy campers who love to go off-roading. This will be your next choice if you have access to scrap metal, which you can use to create a stylish and customized trailer. Step-by-step instructions to build a teardrop camper out of scrap metal. My daughter and I have been building this camper in our spare time, between our full-time job. I show them how to make the main structure, including all the relevant holes, joints, and welding; she helps me install the windows, kitchenette, and cabinets. We use a torch to bend some of the metal, but most are cut with an angle grinder.
Skill Level: Easy
Budget-Friendly DIY Trailer
The Budget-Friendly DIY Trailer offers a simple yet complete kit that can use to create a trailer for your next camping adventure. The trailer comes in 2 pieces and will easily fit in any car – no need to wait for the correct size or style of camper. This trailer is perfect if you're on a budget but still want to explore the outdoors. However, with the help of detailed instructions and pictures, anyone can do it. The Budget-Friendly DIY Trailer is ideal for saving money while having a fun camping trip. This trailer was built by a family of 4 out of "roadkill" materials and cost under $600 in total, including the cost of tools.
Skill Level: Simple
You can also add DIY molle panels to your camper to make it much more useful. 
Basic Trailer Construction
Basic Trailer Construction is a video that shows you how to build simple wooden support for your camper. This project will be perfect if you want to do something productive in your free time. If you're looking for a simple task, this is it. All you need is patience and precision. The structure of the basic trailer contains three main elements: the base, sides, and top. These are all connected by glue. This tutorial will guide you through the process of making an introductory trailer for your camping session using materials that you can find at the local hardware store.
Skill Level: Simple
Homemade Micro Trailer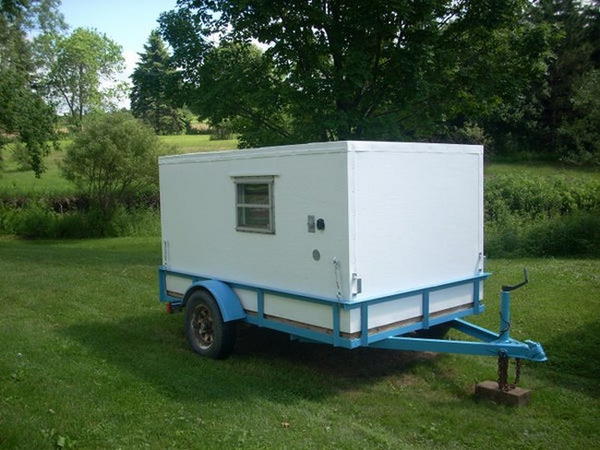 A DIY micro trailer is a perfect way to enjoy nature and camp. It can comfortably fit up to 6 people and has electricity, a kitchen countertop, sleeping sheets, and a window. You can take it anywhere you want to enjoy camping and leisure time. This micro trailer is an excellent choice for a mini-sized camper. You can comfortably camp with your family and enjoy nature! The trailer has electrical wiring and a kitchen countertop with a sink and running water. It has sleeping sheets with comfortable mattresses so you and your family can rest each night. These features combine to have a fantastic time camping out in the woods.
Skill Level: Easy
Self-Made Camping Trailer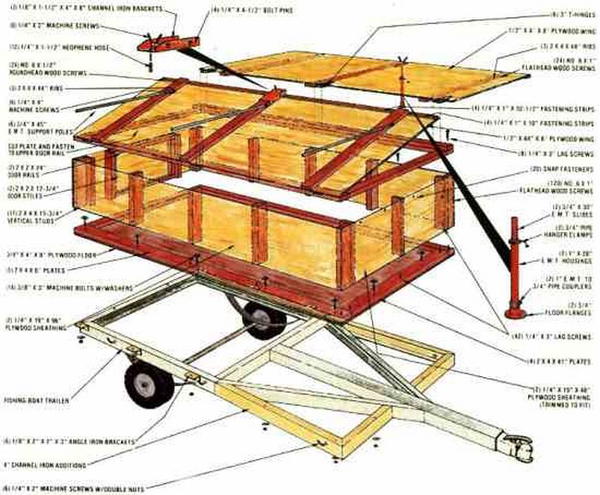 A self-Made camping trailer is not usually a luxury item and is usually a necessary gear when you go out on the road. Your own hands make the specific tutorial. The design sketches and the instructions show and guide you through how to make this customized camping trailer. The detailed instructions will help you put together the basic structure and parts and dress up the interior of your camp in a truly 'homey' atmosphere. This self-made camping trailer is a perfect project for your weekends. The idea of this project was inspired by the lack of a low-cost camper on the market. The result is not bad, with little cost, effort, and time.
Skill Level: Simple
Lightweight Camper Setup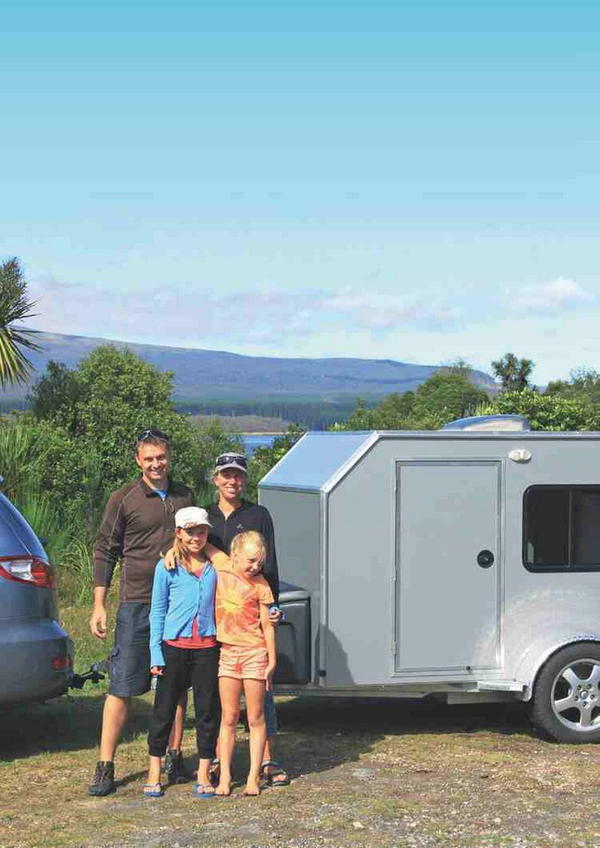 This camper uses inexpensive materials and can be built in a few hours by anyone who knows how to use a screwdriver. It includes parts with intricate designs and instructions on putting them together. The outcome seems pretty impressive, fitting the size & budget. Despite the lack of processing steps, it takes no specialty to put the gears together. This lightweight camper setup is a step-by-step tutorial that shows you how to build your lightweight campers. It's light, practical, and affordable. Using items from your local hardware store and Walmart covers, Follow this lightweight camper setup guide, and you'll end up with a camper that's not just cheap but also very good for road trips and camping.
Skill Level: Simple
Heavy-Duty Camper Trailer
This camper trailer is an easy way to get out on the road and enjoy some time on the water. The heavy-duty frame and aluminum wheels make this product extremely durable. You can easily use it anywhere in the backyard or at a campsite, but be sure not to take it on long-distance trips. The Heavy-Duty Camper Trailer is just what you need for camping and RV trips! The articulated frame allows for easy setup in the backyard and better storage when not in use. Just like a natural home, you can extend or shorten the legs of this unit to accommodate your space. Another great feature is the two windows at either end, so you can see who's knocking on your door.
Skill Level: Intermediate
self-Sufficient Camper Trailer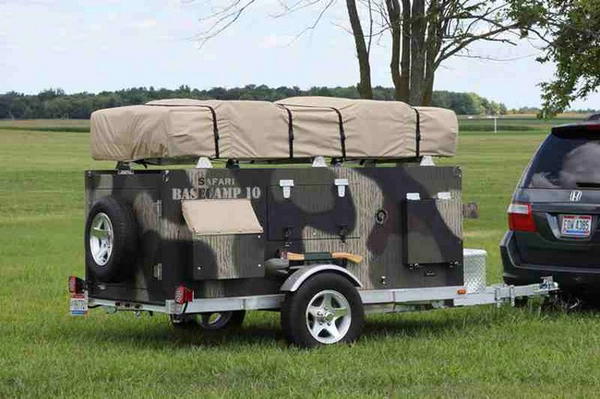 A self-sufficient camper trailer is essentially a mini house on wheels. Its construction includes a framework of wood or metal that can accommodate the body of your camper, along with a roof and walls. The exact measurements taken from top to bottom will make it more robust against the weather, but it's entirely up to you how you want to build it. You can also use plywood to craft your version of a DIY camper. When creating your self-sufficient camper trailer, you must have some extra hands. The planning process is critical and will ultimately deliver a sturdy trailer to stand against the weather. Using concrete for some key stakes is a must, but it's also essential to use steel reinforcement bars underneath to hold up the heavy camper body and roof.
Skill Level: Expert
Conclusion:
Camper trailers and RVs are great for vacations and long weekends. They can be parked at public camping facilities if you prefer not to sleep in your vehicle. They provide all the amenities of a home except a kitchen sink and stove. Even though camper trailers are large enough to store all your "stuff", in reality, there isn't much storage space. A camper can make your trip so much more enjoyable.