Are you looking for a way to spruce up your entryway without breaking the bank? Look no further than these cheap DIY entry table ideas! With just a few simple materials and some creative inspiration, you can create a stylish and functional DIY entry table that will impress all of your guests. The possibilities for your DIY entry table are endless, from repurposing old furniture to creating something entirely new. So roll up your sleeves, and let's get crafting! In this article, we'll show you some unique and trendy DIY entry table ideas that will make your entryway the envy of all who enter.
Easy DIY Entry Table Plans

Look at our superbly unique and admirable list of DIY entry table ideas for you to try. Entry tables are a great way to enhance your home and add style. They can be used to add practical storage or as a place to put up mail. Some entry tables can be room dividers, while others are purely decorative. Our given easy DIY entryway tables can work in different shapes, sizes, and forms so that you can choose the most appropriate one for your space. These DIY entry table ideas will help you create an ideal table for your entranceway that suits all your needs.
How To Build A Table Step By Step?
Starting your journey of building a table from scratch can be a highly rewarding endeavor for a woodworker. A detailed plan should outline the desired dimensions, materials, design features, and a comprehensive list of required tools.
DIY Farmhouse Style Entry Table
Welcome guests in style with this superb DIY Farmhouse Style Entry Table! Yup, I am talking about this super unique entry table for adding to your home decor, so get ready to roll up your sleeves and craft a stunning piece of functional and chic furniture. With easy-to-follow instructions and affordable materials, you'll be amazed at how quickly and easily you can create your own beautiful entryway that's the envy of all your friends.
DIY Entryway Console Table UNDER $40
Are you looking for a stylish and affordable way to spruce your entryway? Look no further than our DIY Entryway Console Table under $40! You can create a stunning piece of functional and fashionable furniture with just a few simple materials and some basic tools. Even if you're new to DIY, this project is perfect! With just a few basic tools and creativity, you'll have a beautiful and affordable addition to your home in no time.
DIY Console Table Build - Entry Way Table
Here we come with a unique DIY Console Table, which has got you covered to make decent decorations for your home with minimal effort! In this super easier guide, we show you how to make a stunning console table that's perfect for organizing your everyday essentials while adding a touch of style to your home. It will be a superb loveable masterpiece addition to your home, and I hope you'll love it.
DIY $20 Console Table Project
Follow this super unique and exciting DIY $20 Console Table Project to make loveable decorations for your home with minimal effort. It has several benefits that make it a great choice for anyone looking to add a touch of style to their home. First and foremost, the project is budget-friendly, as it can be completed for just $20. This makes it an affordable option for those with little money to spend on furniture. Plus, this project will be your best option if you're a DIY lover who always looks to make something new.
DIY Console Table Ballard Designs Inspired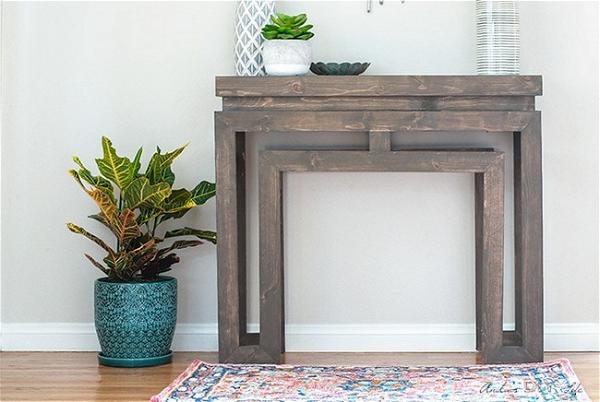 Wanna make a cool table for your home without spending too much money? Try building a DIY console table inspired by Ballard Designs! It's easy, and you'll love how stylish and simple the legs look. Plus, it will match any decor you have in your room. So let's get started! All you need is the simplest supplies described in the link below, and follow the woodworker step by step, and surely you'll love this amazing table idea.
DIY Rustic X Leg Console Table With Plan
Are you ready to make a rustic console table for your home? You can create one with the DIY Rustic X Leg Console Table plan! This easy project uses 2x4s and other construction lumber to build a farmhouse-style table with X-shaped legs. Don't worry if you've never built anything before because the full tutorial and plan will guide you every step of the way! Just go with the flow and have fun with this amazing DIY project.
DIY Mirrored Console Table For Under $150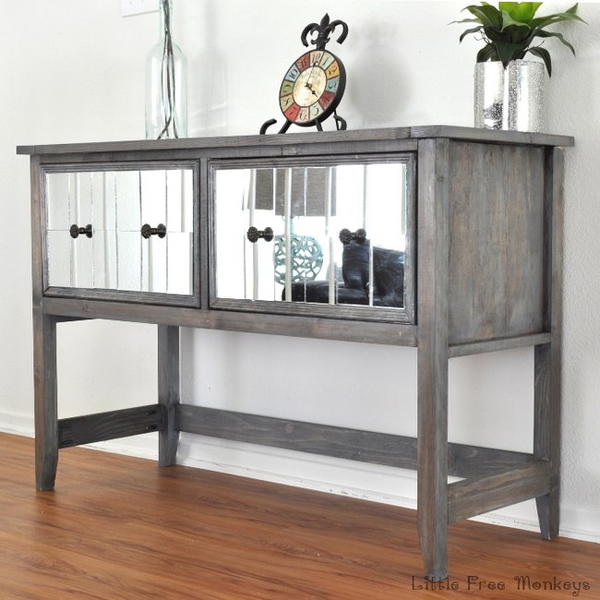 Are you ready to make a fancy console table for your home? You can create a DIY Mirrored Console Table for under $150! This amazing table is a great way to add some glamour to your home. If you're looking for something simple and requires a limited number of tools, this is the best project for you!
You can also see: Easy DIY Mirror Stand Ideas 
X-Based Console Table
Are you looking for a cool table to add to your home? You should build an X Based Console Table! This table is extra tall compared to other tables and is super versatile in style. You can use it in a farmhouse, industrial, or modern room; it will look great in all of them! This is a great entry table project to customize to your needs. Plus, it's easy to build and will look amazing in your home.
One Sheet Plywood Console Table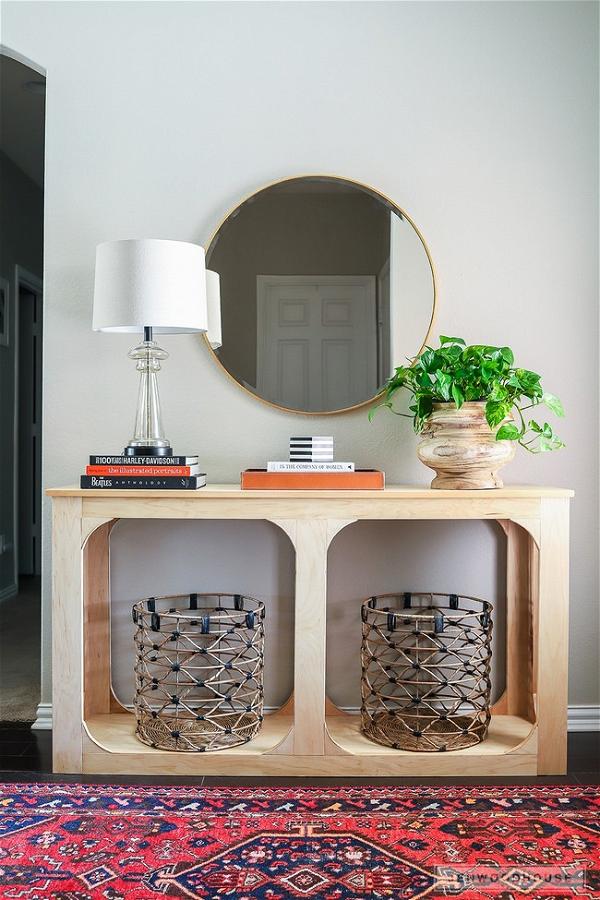 Build a stylish and functional One Sheet Plywood Console Table for less than $50! Cut the plywood, build the frame, attach mirrors, and enjoy a customized and versatile piece of furniture. It will be best to add glamour and storage and are easy to make even for beginners. Plus, you can easily customize the size and style to fit your space and taste.
DIY Wood Console Table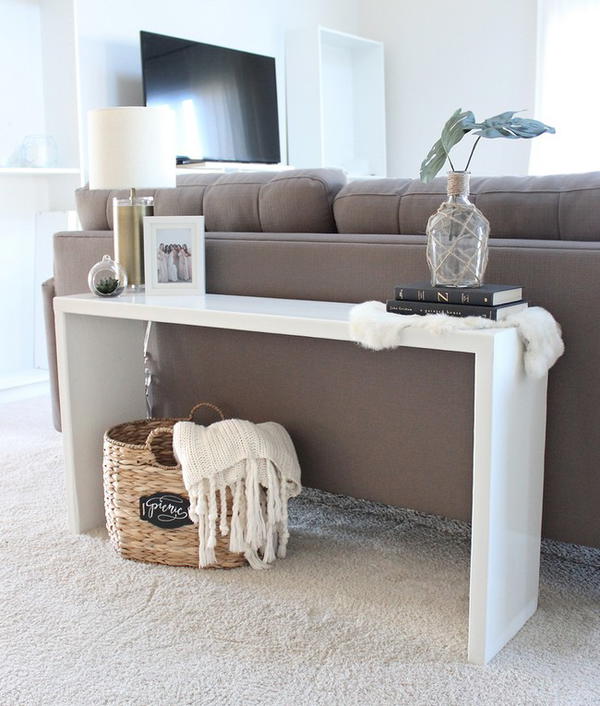 Are you looking for new furniture to add to your home? Consider building your DIY wood console table! This versatile piece can be used as an entryway table, a TV stand, or an accent piece in any room. With our easy-to-follow instructions, even beginners can create beautiful and functional furniture. Building your console table allows you to customize the size and style to fit your home decor perfectly. Follow our step-by-step guide to create your own DIY wood console table today!
DIY Farmhouse Console Table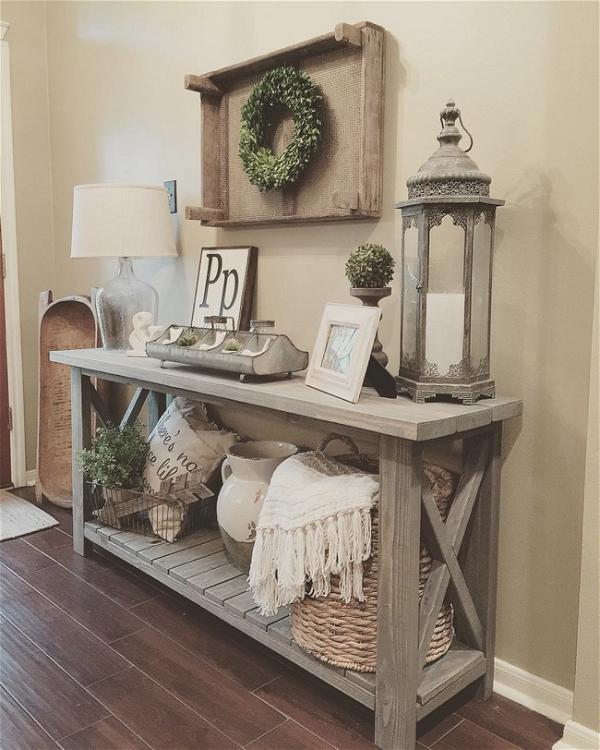 This farmhouse console table is the easiest DIY project ever! Anyone can do it, and it is only your effort. So without wasting any time, get the material and create a beautiful piece of farmhouse decor that you can proudly display in your home. In addition to being simple, it's also very inexpensive since all you need are basic supplies and tools.
DIY Entry Table For UNDER $15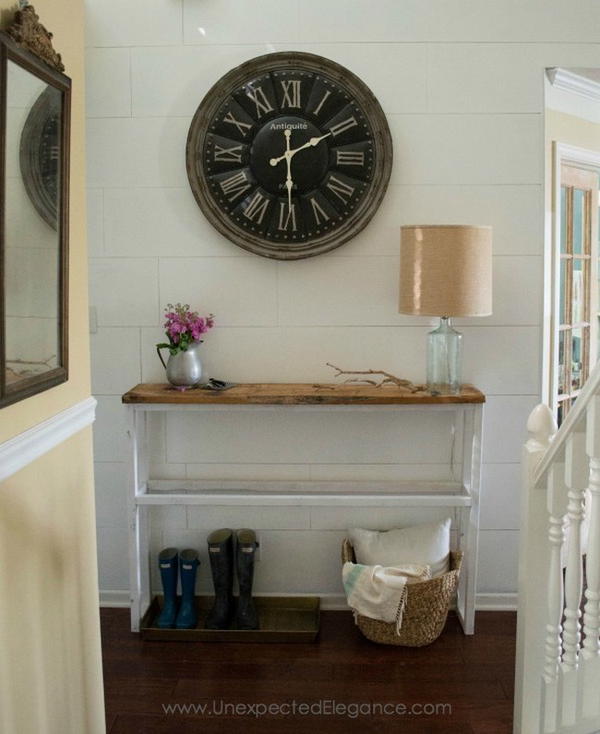 Here we give you a step-by-step tutorial on how to make an entry table with wheels under $15 so easily. Make it yourself and save money; this is a great way to upgrade your space and save some cash! This amazing entry table creation will add a gorgeous touch to your living room, and I hope you'll love it. You'll find this entry table easy to make when following the instructions.
How To Build A Simple Entryway Table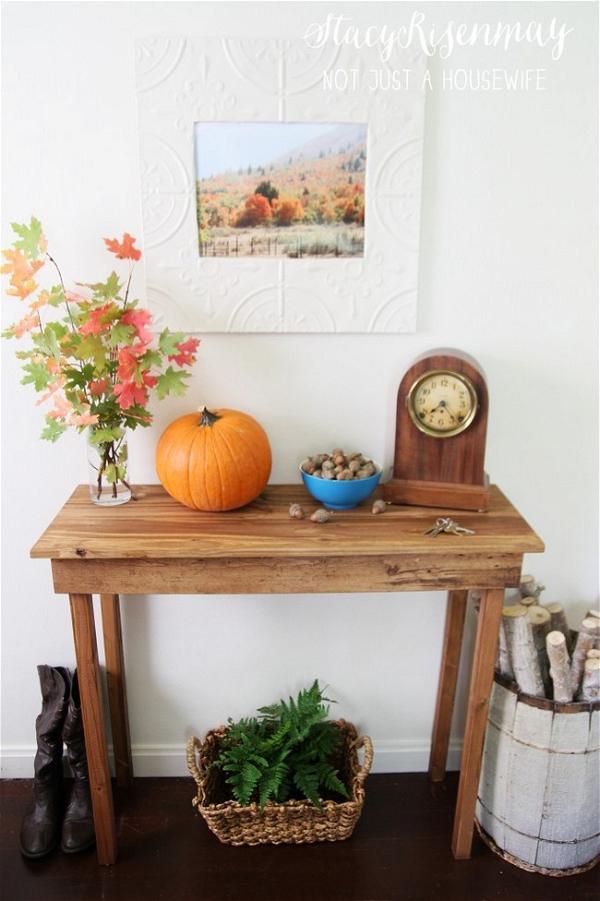 This entryway table is a great addition to any room. This piece works as a standalone table; you can add it as a side table to your living room. This tutorial will show you how to build a simple entryway table with basic tools and inexpensive materials. It just takes a few pieces of lumber, and you will have this simple table ready for use in your home within a few hours.
Entry Table Black Distressed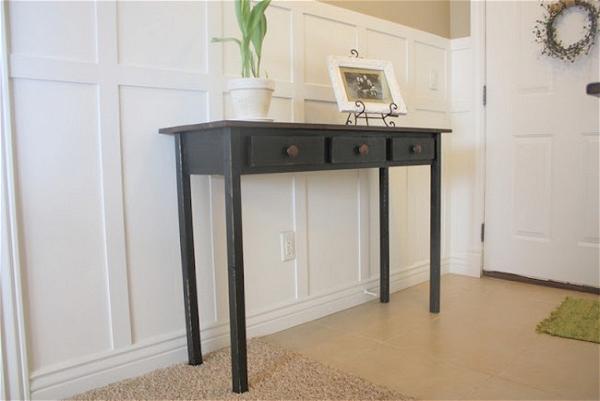 This entry table is about character, with a distressed black finish, hand-planed top, and natural base. It's perfect for an entryway or a small hallway and is easy to assemble. The purpose of this tutorial is to show you how you can use different pieces together to make your table, which is unique. This table is made from 100% reclaimed wood and can be used as a room divider, extra seating, or even a small bar. The distressed look gives this piece character and charm, perfect for any home!
DIY Pallet Console Table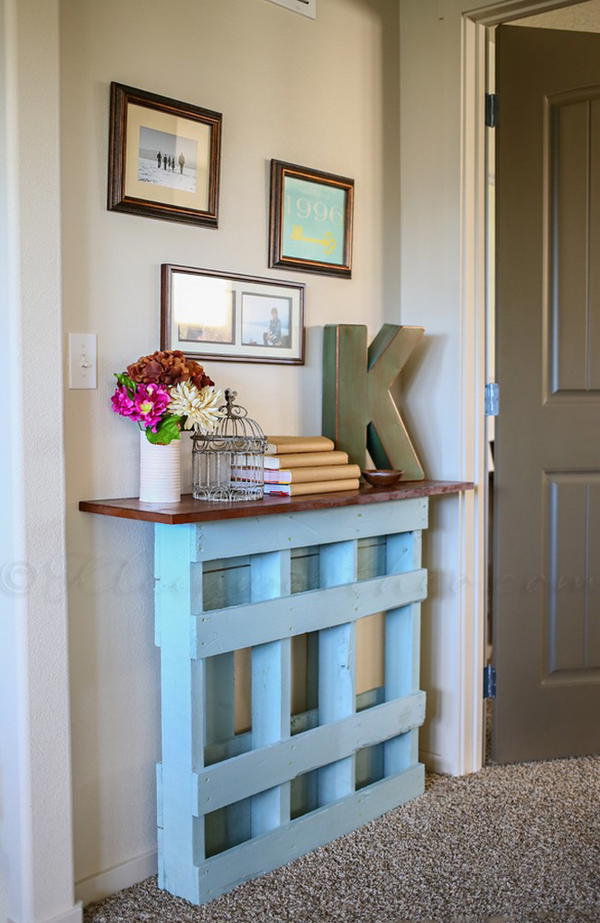 Here we come with a super easy weekend project and a great addition to your home entryway, hall, or kitchen. This pallet console table is the perfect addition to an entryway or hall. Made from salvaged wood and a few supplies from your local hardware store, this DIY project can be completed in just a couple of hours.
Entryway Key Throw Table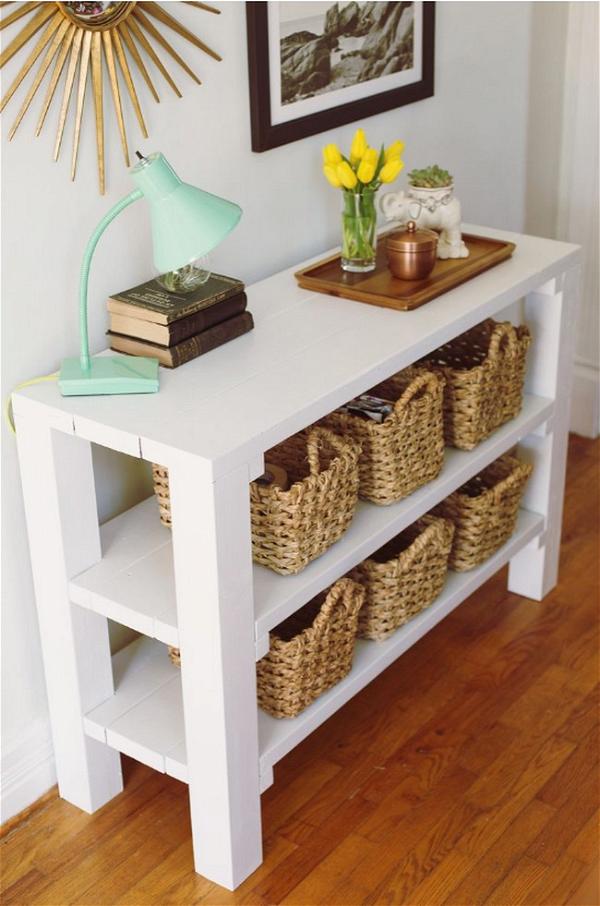 This Entryway Key Throw Table is the perfect solution for your small entryway. The table has hooks allowing it to hold your key and other things while keeping the area tidy. Its purpose is to ensure that your keys, mail, and anything else will stay safe on the top of this table while you're running around the house doing your daily activities. It's simple but very functional.
More DIY Ideas:
DIY hall tree bench projects: Whether you're a seasoned woodworker or a novice, our DIY hall tree bench projects provide step-by-step instructions and inspiration to help you create the perfect piece for your space. So why wait? Roll up your sleeves, grab your tools, and start building!
DIY entryway bench plans: Get ready to transform your entryway into a functional and stylish space with the help of DIY entryway bench plans. Not only will you have a cozy spot to sit and take off your shoes, but your guests will also have ample storage for their coats and accessories.
DIY TV Stand Plans: Ready to put your DIY skills to the test and then build your DIY TV stand? With a plethora of online tutorials available, you're going to love these amazing ideas.